Even though I'm super close with my best friends, they're some of the hardest people to buy for.
There's something about knowing someone too well. It makes it so much more difficult to pick out a cool gift that they'd actually want.
Sometimes, I want a cute trinket for my BFF that represents our friendship, while other times I want to buy them something trendy that they'll use and like.
I tried to put a bit of both types of gifts in this list. Regardless of what type of gift you need for your best friend, you should definitely find something here!
When in doubt, check Etsy. There are always super cute gifts for best friends on Etsy, although they tend to be more memory-based and less useful.
I also love Anthropologie for trendy gifts that any girl will love.
No matter who you're shopping for or how tight on budget you are, there's always something out there they'll love. With so many options available it can be hard to figure out what exactly someone would want. Thats why we've compiled a list of different gifts perfect for any friend in your life!
Gifts For Your Best Friend:
Here are my favorite 35+ gifts that your BFF will love. Feel free to shop using the links or just browse to get inspiration!
Whether it's for Christmas, a birthday, or just out of the blue – this is one of the best gifts for best friends to give someone who really cares about you.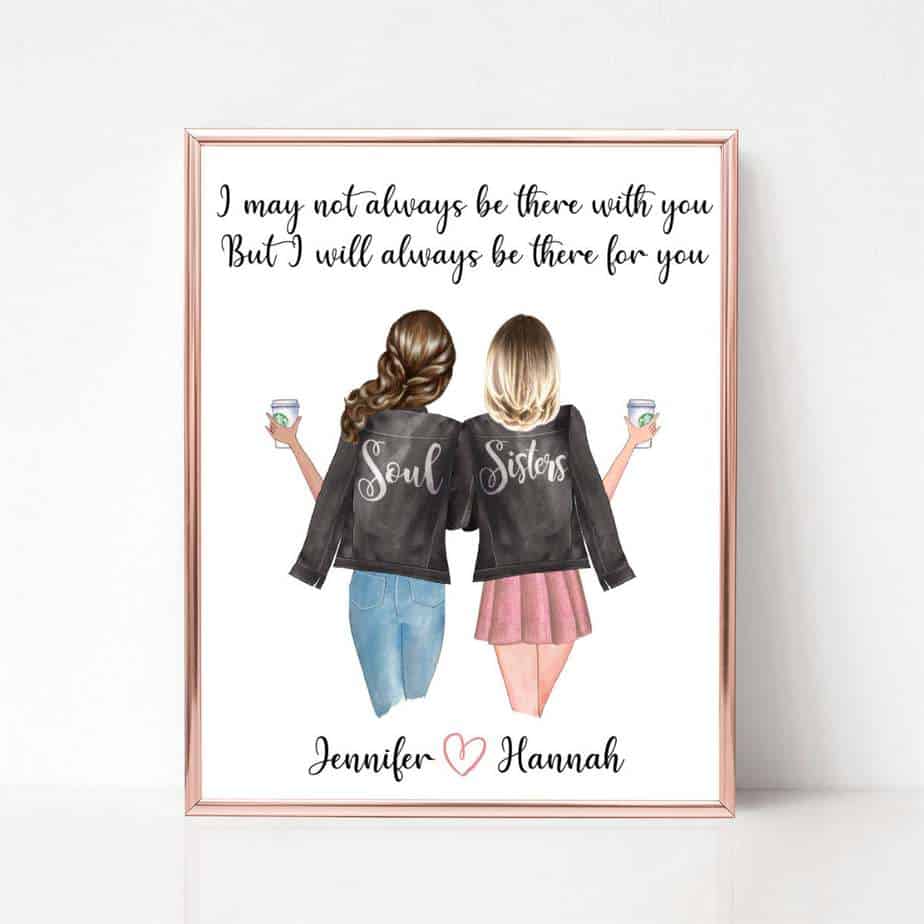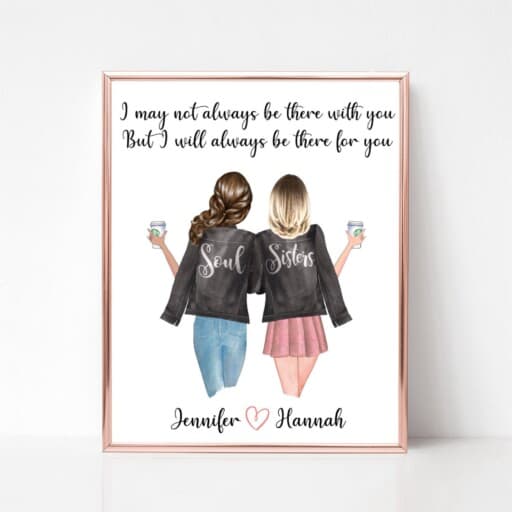 This print is done on high quality paper and it's such a thoughtful gift! If you're looking for a unique present – this is it!
This Tarot deck is full of Jane Austen's fascinating insights and wisdom, illustrated with beautiful, vintage-inspired artwork.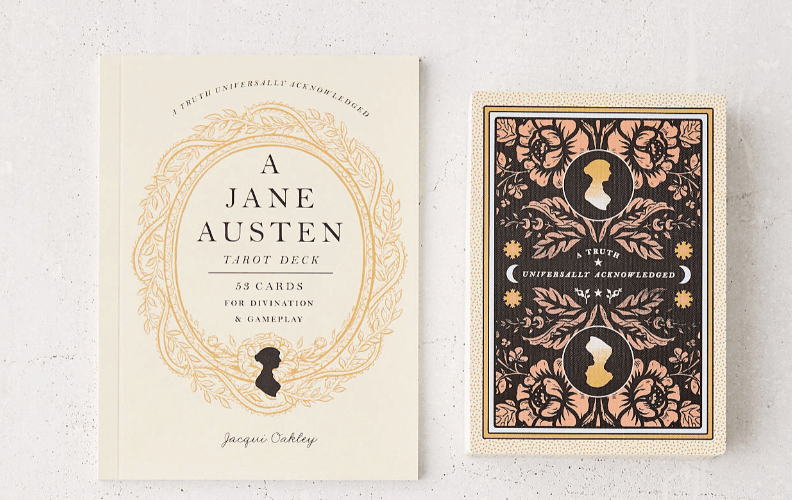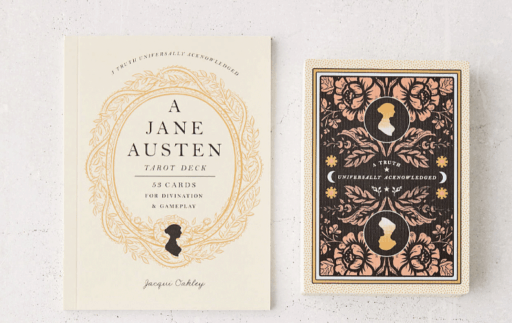 The 78 cards reflect the tarot archetypes that are most relevant to understanding the Austenian world. This historically accurate deck captures the essence and beauty of the writer's work. Impress your friend with this one-of-a-kind gift.
A potted plant is a great way to show someone that you care. You can find plants for sale at any garden center, or you could make your own.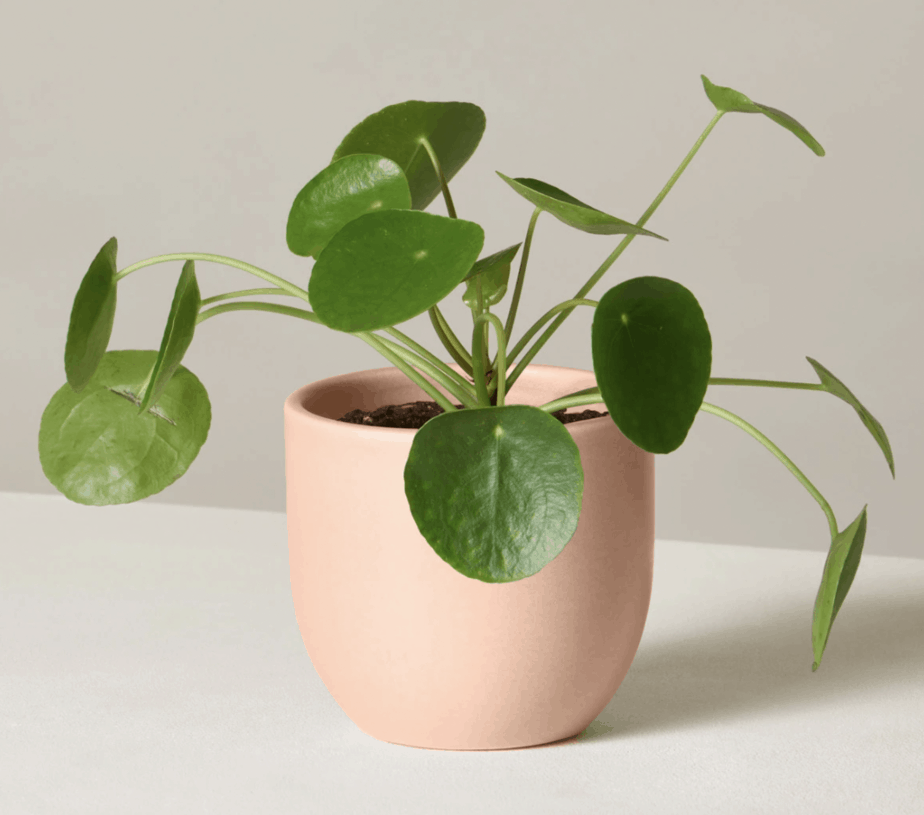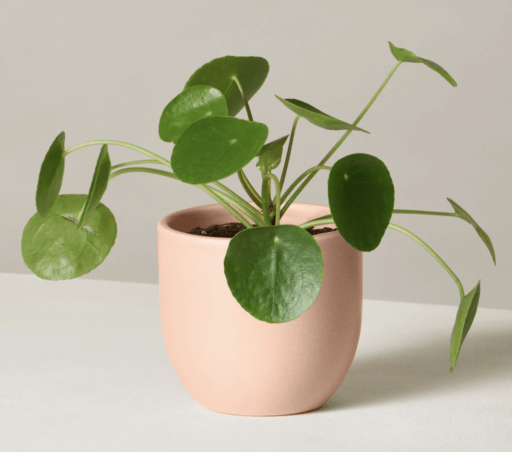 Some good options are ferns, hibiscus flowers, and ivy.
Simply buy a pot (or potter up one), some soil, and the plant of your choice! Or if you're feeling crafty, use some acrylic paint to make your gift extra special.
This book is full of love spells, but it also teaches about the whole process of magic.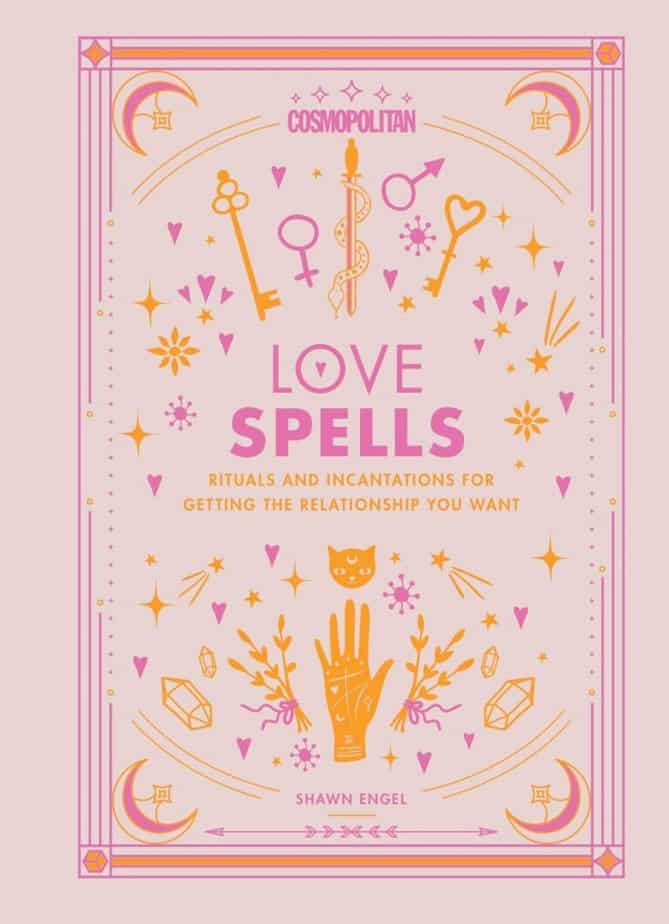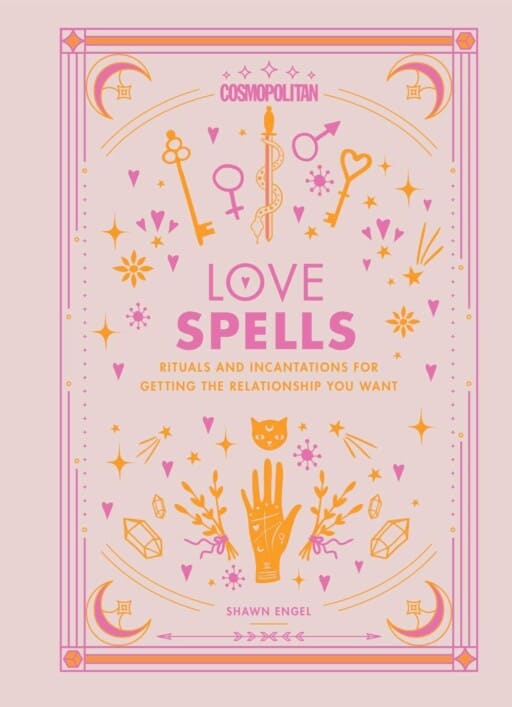 It's got some awesome advice for people who are into that kind of thing; plus, you get a bunch of really cool spells that you can use to make your love life a lot better! Heck, it even has some simple charms in there to make yourself more attractive or easy to love.
The agate cheese board is a high-quality, beautiful piece that's perfect for any friend who loves cooking and eating. It's such a unique gift idea, too! I never would have thought of it myself – but when I saw it, I knew that best friend would love it.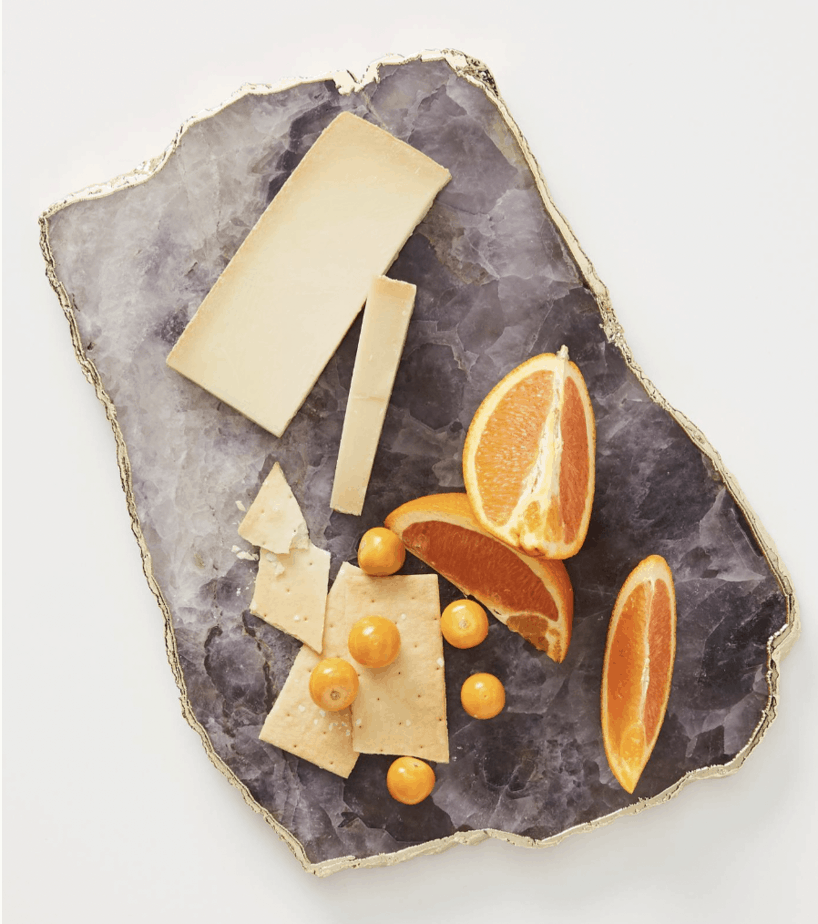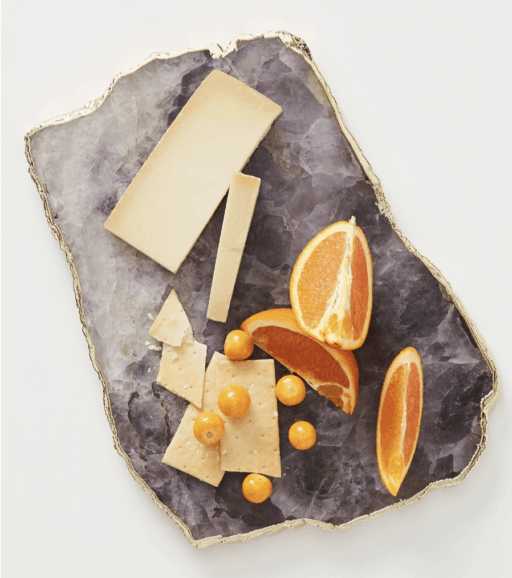 Your best friend will love you forever if they get this – and trust me, they'll have a lot of fun chopping up their favorite veggies on it! This is one of my favorite gift ideas for best friends because everyone needs a pretty cutting board, and you can never have too many.
Gucci Bloom is a perfect gift for someone who loves perfume.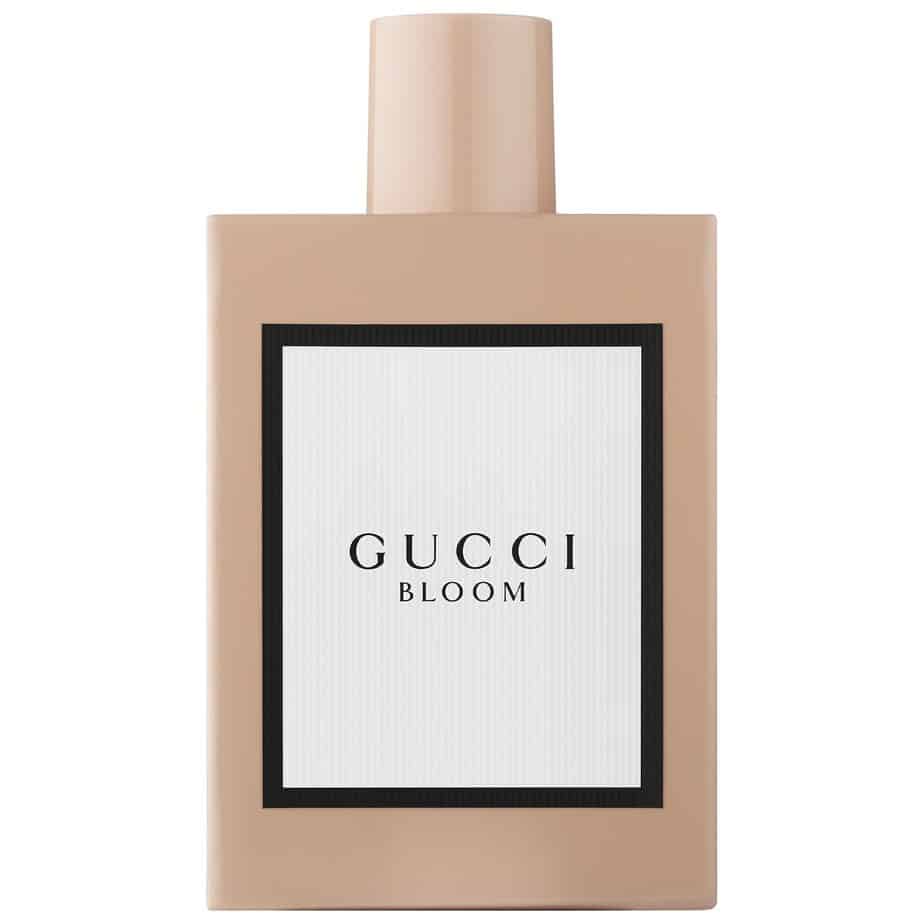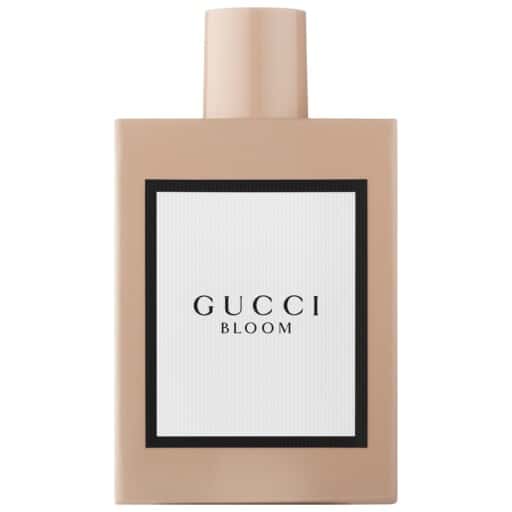 The perfume has notes of bergamot, mandarin leaf, pink peppercorn, and water lily. The fragrance started as a limited edition but it ended up becoming so popular that they decided to make it permanent.
I always include this perfume on my list of gifts for best friends because it's high end and can be used only for special occasions if they already have everyday perfume choices.
We all have that one friend who is impossible to shop for. It's like you know they don't need anything, but it still feels weird getting them a gift certificate (AKA the worst gift in existence). Thats why mugs are so great. Everyone needs a mug! And if your friend already has a million of them, you can personalize it with their name or something cute.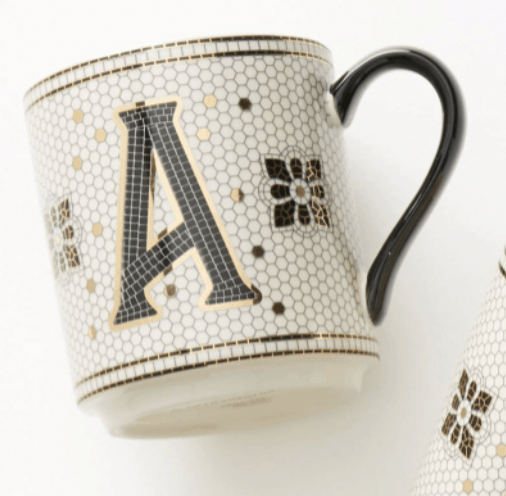 You could even add some chocolate or cookies to the inside and save yourself from forgetting an extra present.
A gifts idea for gifts that like "Friends" might be a gifts that comes with a quote from the show. There are gifts that come with the quote "I give you my wine glass" and gifts are personalized so it's perfect gifts for best friends. The gifts also make great gifts for a bridal shower, present at weddings or even gifts in general.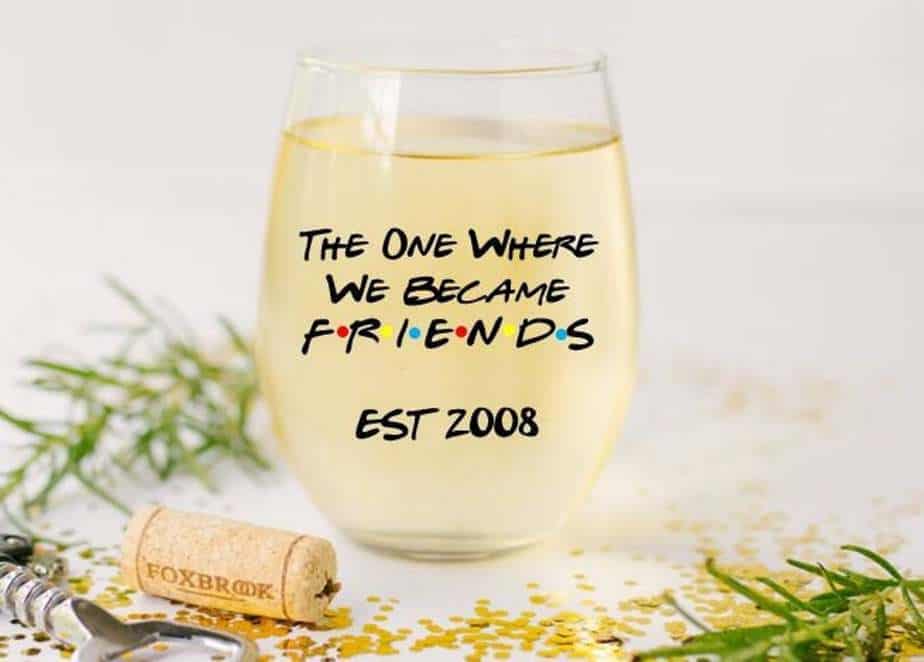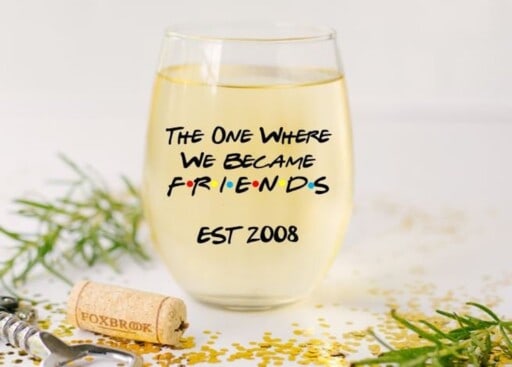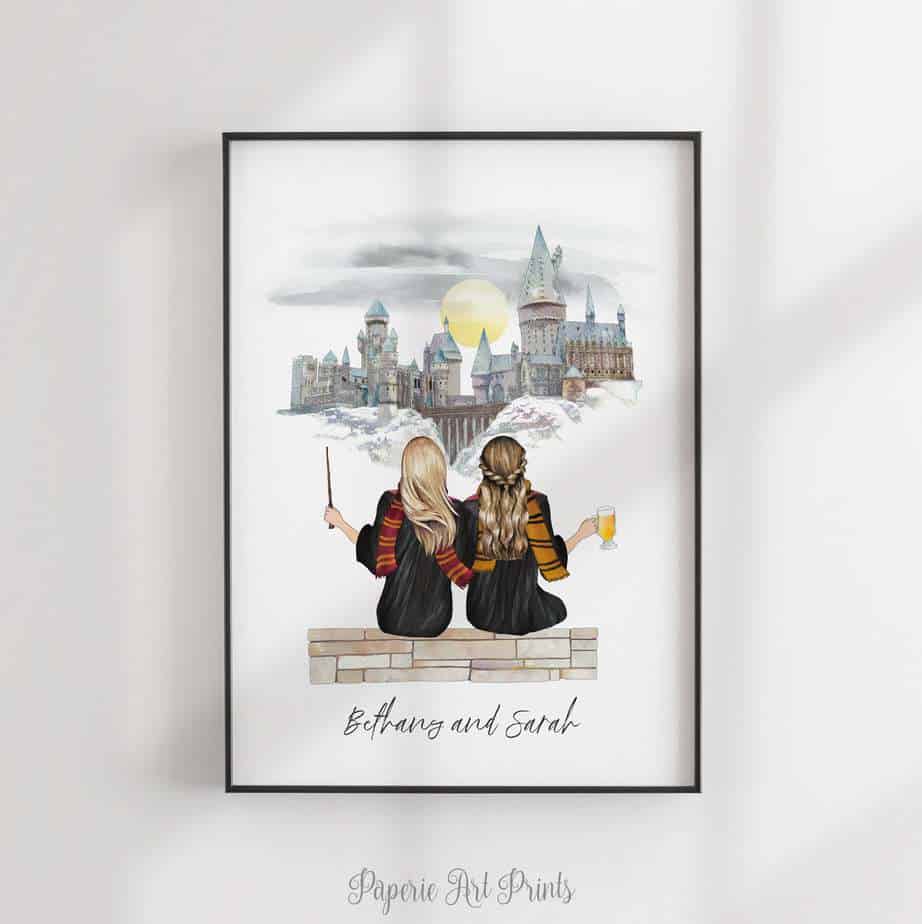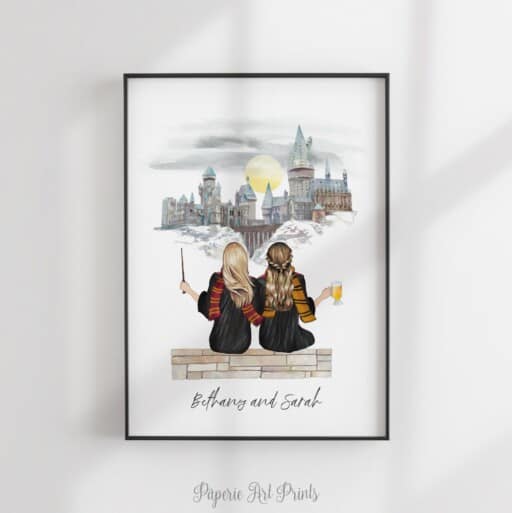 Tickets To A Concert
If your friend has told you they've always wanted to go somewhere but never had the chance – here's your shot at giving someone an unforgettable experience.
Depending on who it is, tickets for just about any event available are relatively cheap. They'll never forget the time you took them out and made their dreams come true!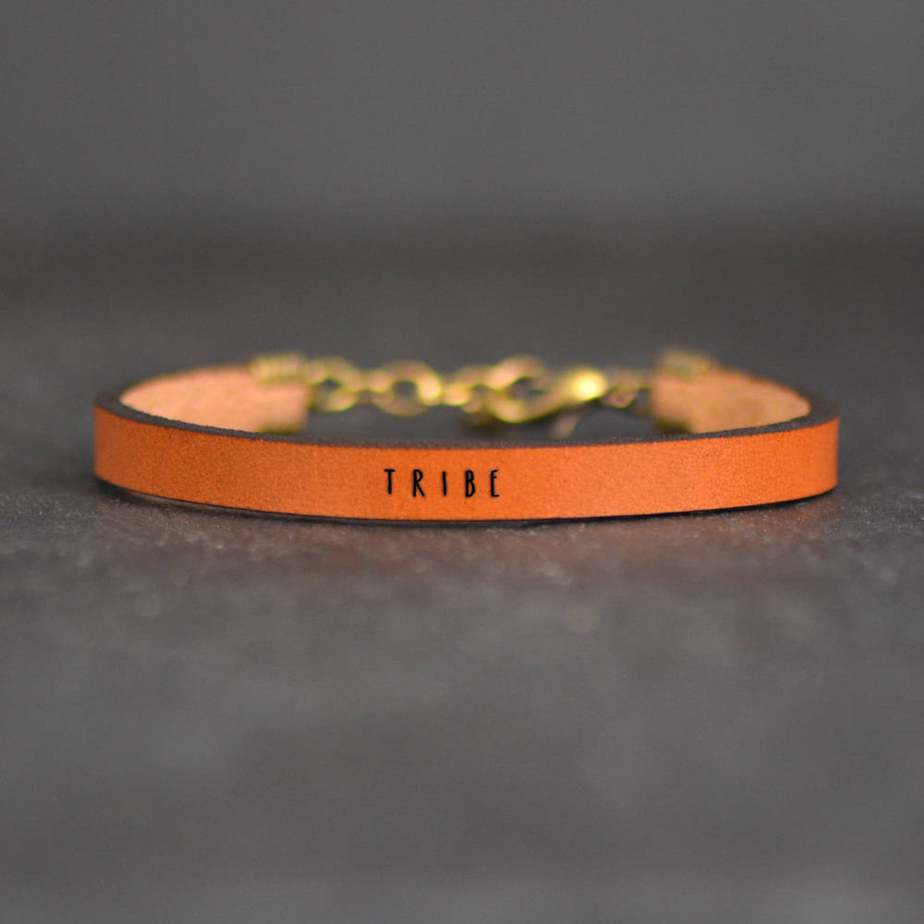 A 2-Piece Compass Keychain is a gifts for best friends that would make a great gifts for best friends. This gifts is made with two pieces, one piece is the keychain and another piece is a compass. The compass comes with a directional needle that points in the cardinal direction.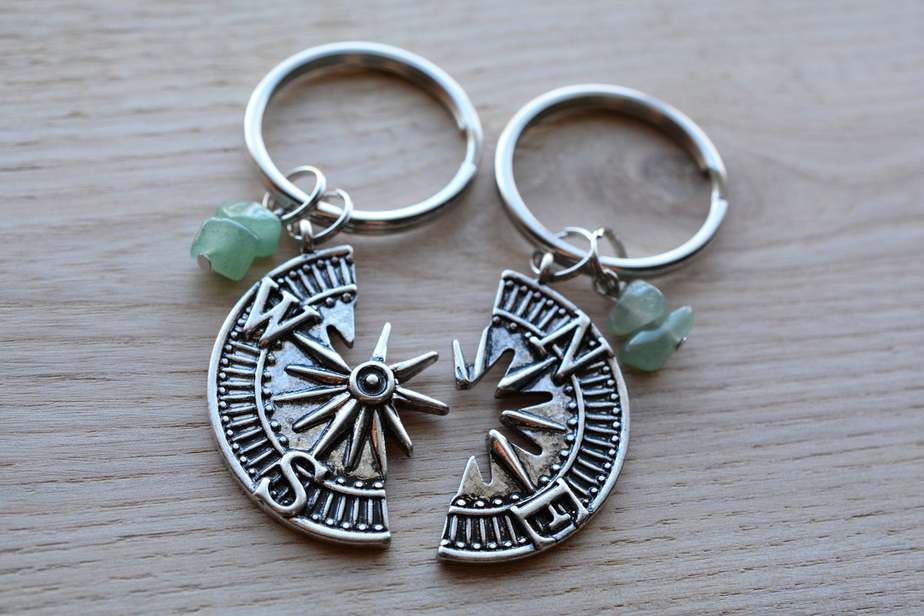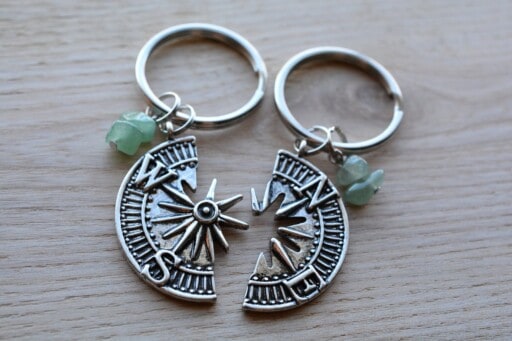 It would be great as gifts to keep on you if you are outdoorsy or if your friend likes hiking, camping or fishing. If your gifts enjoys these things, they will love this gifts because it will always point them in the right direction, like north!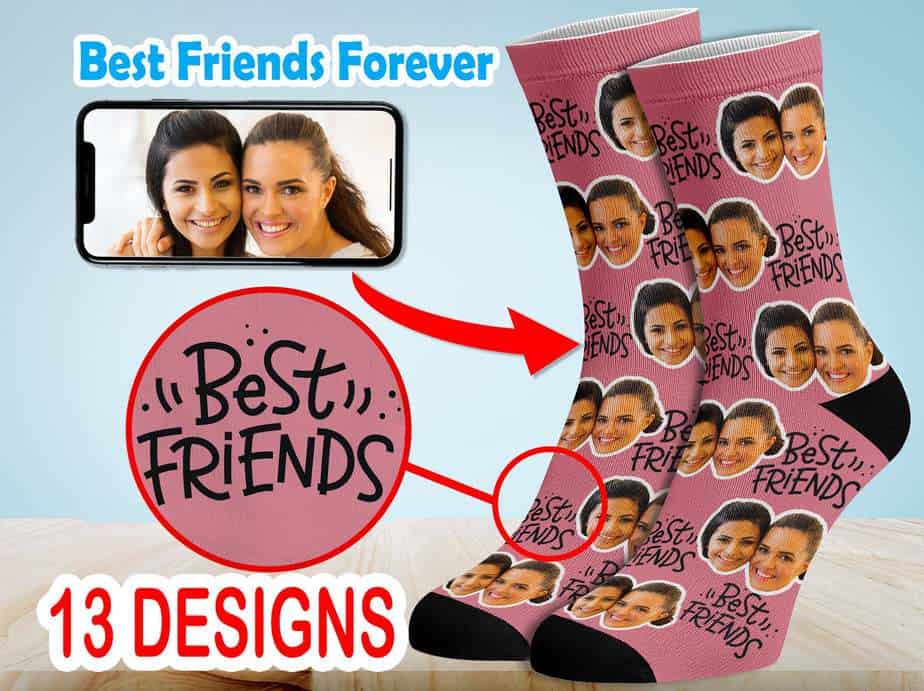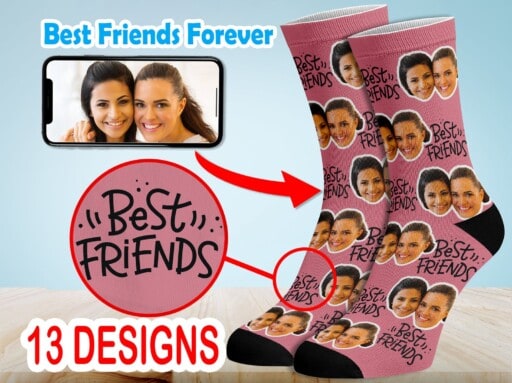 Exact Place Necklaces are gifts for a best friend that you can get engraved with a special message, quotes or dates, similar to the gifts for safety.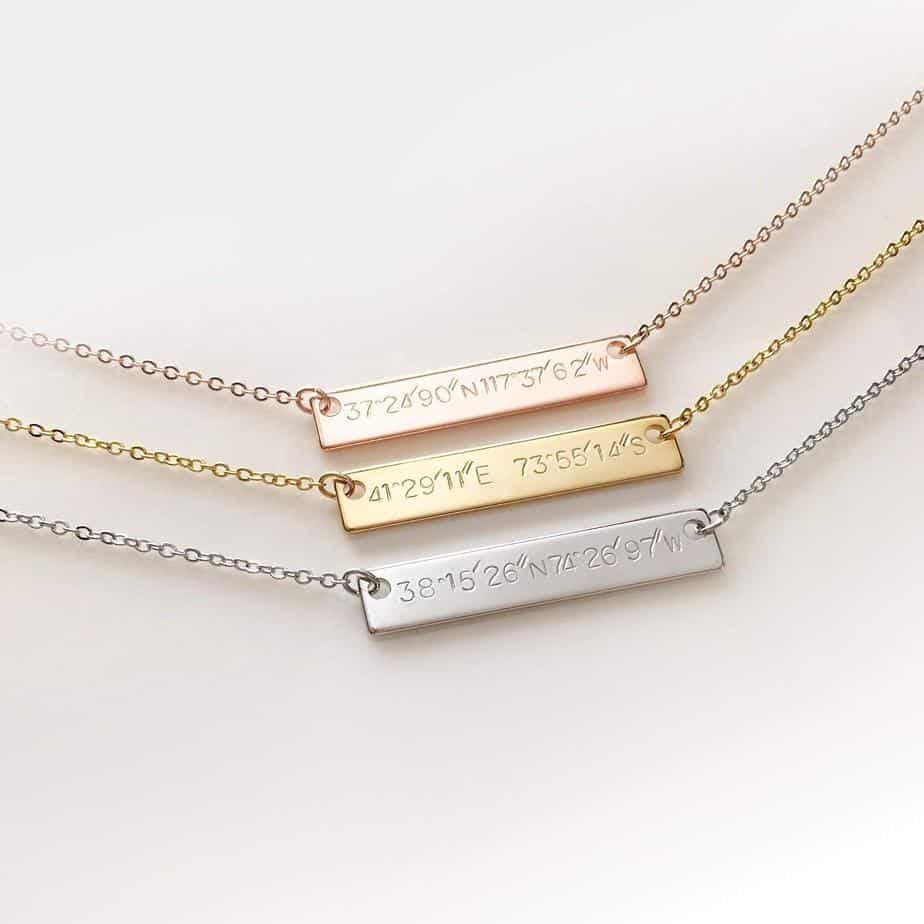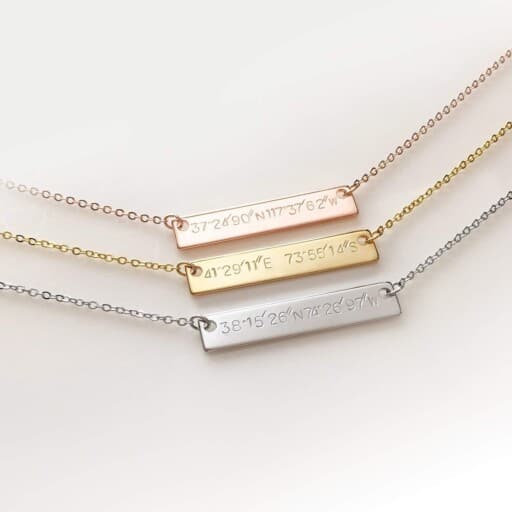 These gifts are beautifully crafted from stainless steel and you can use them as gifts in many different situations such as weddings, family members' birthdays, and anniversaries.
A Weekend Getaway
If you have extra cash to spend, an awesome gift for your best friend is a weekend getaway! Who wouldn't want to go away with their best friend?
It doesn't have to be anything extravagant like going to Hawaii; just something simple and memorable they'll always appreciate.
With so much on technology nowadays people forget how important it is to stay in touch with those around them. Taking your friend away for a weekend can be really meaningful and fun!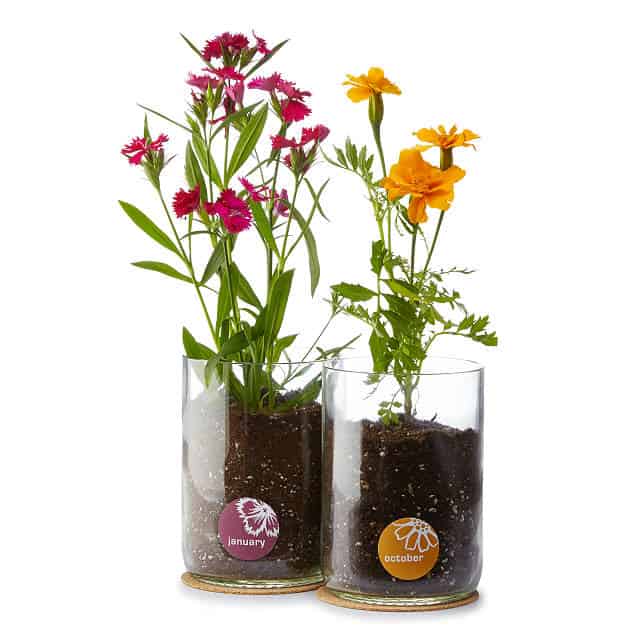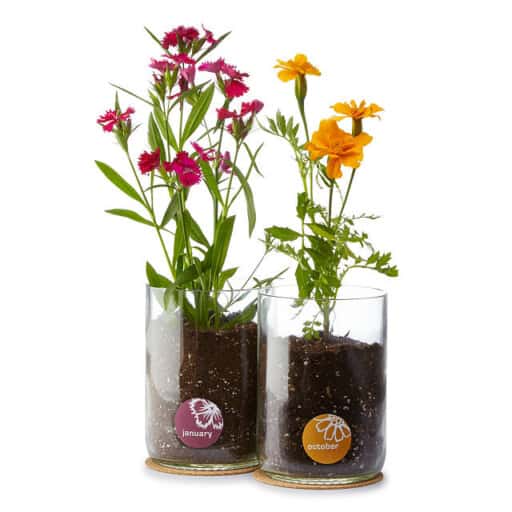 A pottery jewelry plate is the most useful and unique gifts for a best friend. It's a small and inexpensive gifts that can be personalized with a name or initials.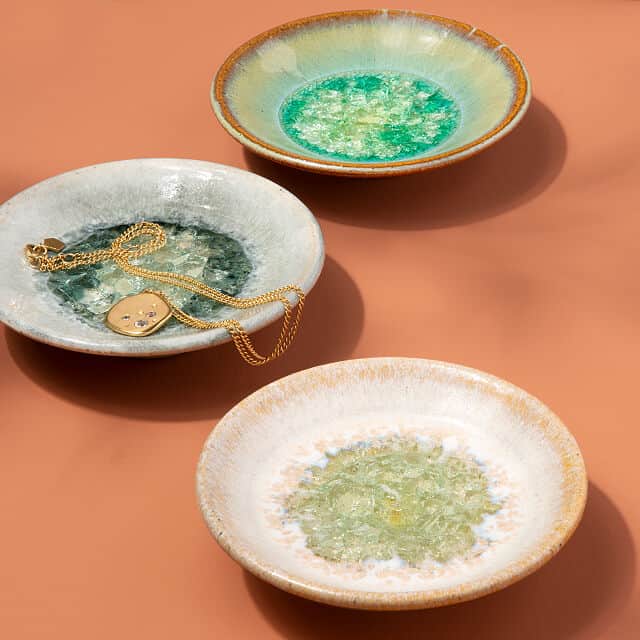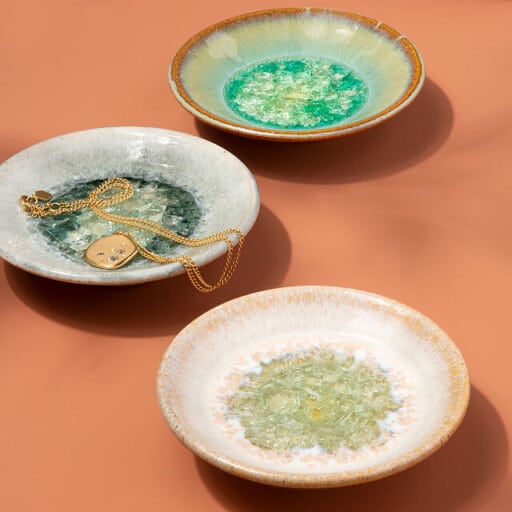 The design of the pottery jewelry plate is up to you, although it's best to use ceramic pieces that are food safe so they won't be ruined if food is placed on them. It comes in a wide variety of colors, patterns, shapes, motifs, and designs so it should be easy to find one for your friend.
When you're shopping for your gifts for best friends, I highly suggest going with something like a knitted blanket they won't ever want to take off.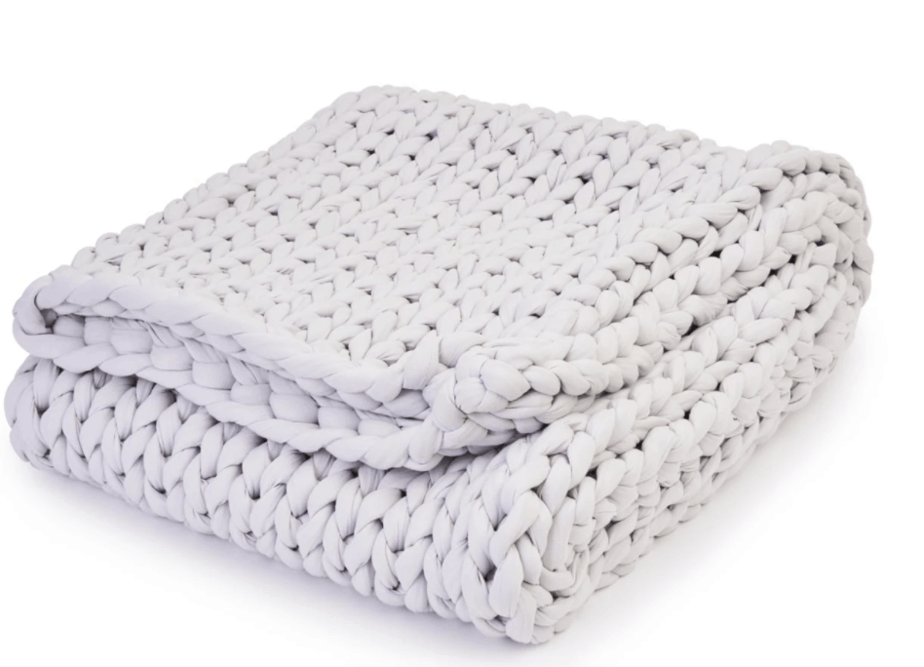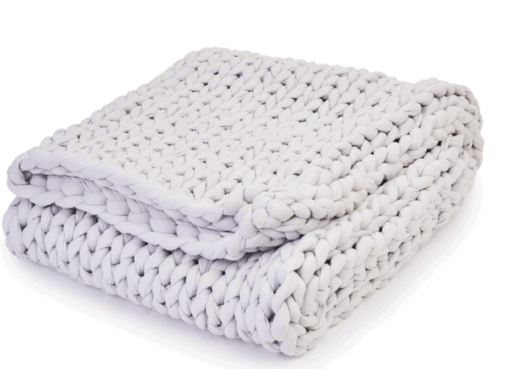 If you can't find a nice knitted blanket – then consider getting them an electric blanket; that'll help keep them warm whenever they're stuck inside.
Another idea for gifts for best friend would be a gold stone bracelet.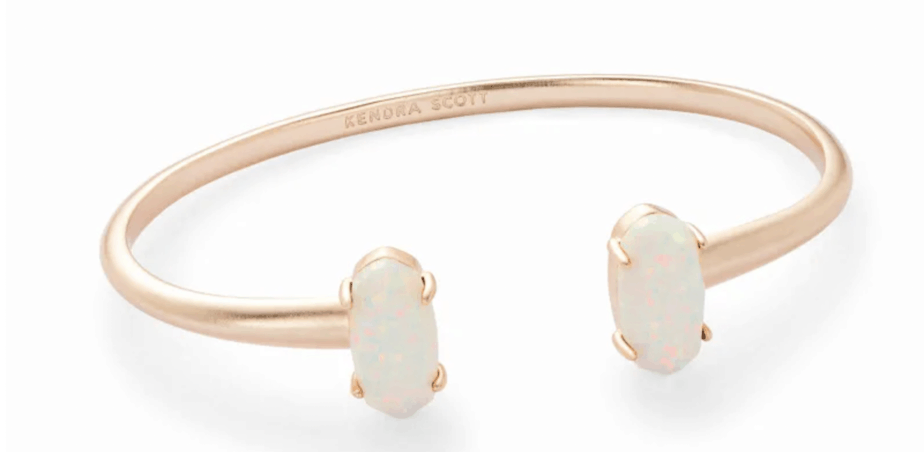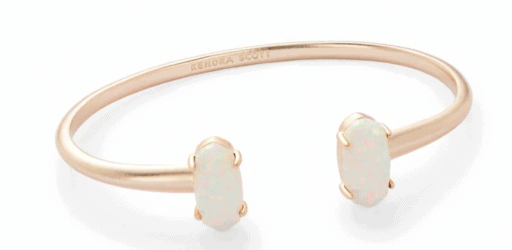 A gold stone bracelet is an elegant and simple gift that can be worn on its own or paired with other gifts. The gold stones are often shaped into round bracelets or thin bangles and it comes in many different colors, sizes and patterns.
An Initial Wine Stopper is a fabulous idea for gifts for your best friend. It's a luxury wine bottle stopper that can be personalized at the time of purchase.

The initial on the wine stopper will be engraved with a personal monogram or name so it's a gift that can be made specifically for someone. It also comes in a gift box and there are many designs to choose from.
Everyone loves jewelry. If your budget allows it, one of the coolest things you can get someone for Christmas is personalized jewelry. And what's more personal than your birth star?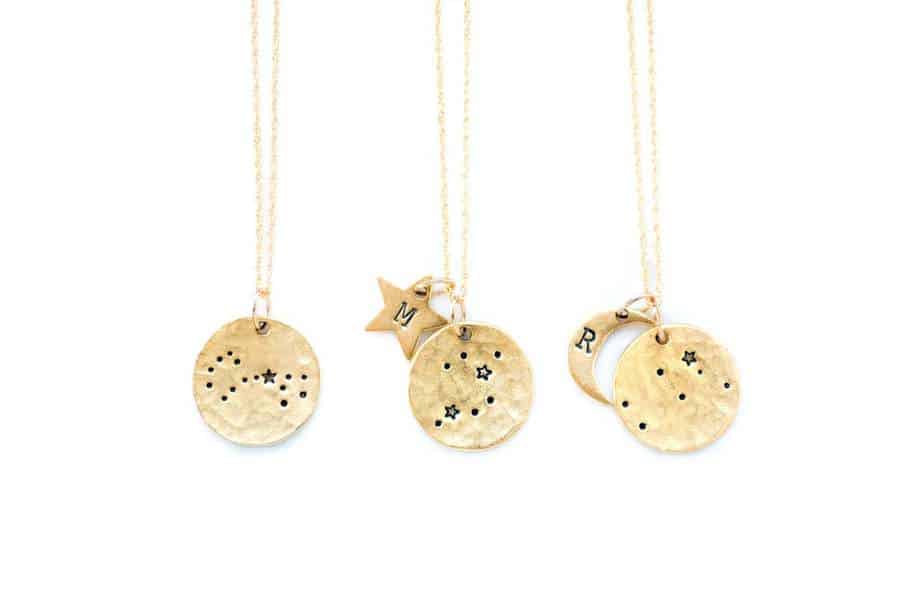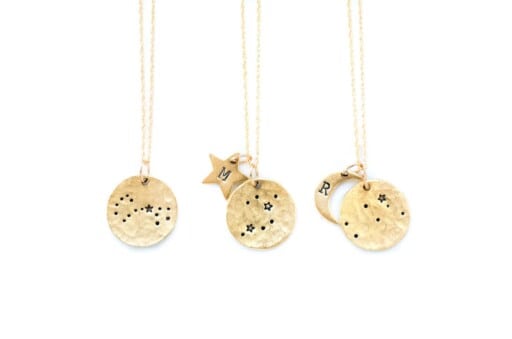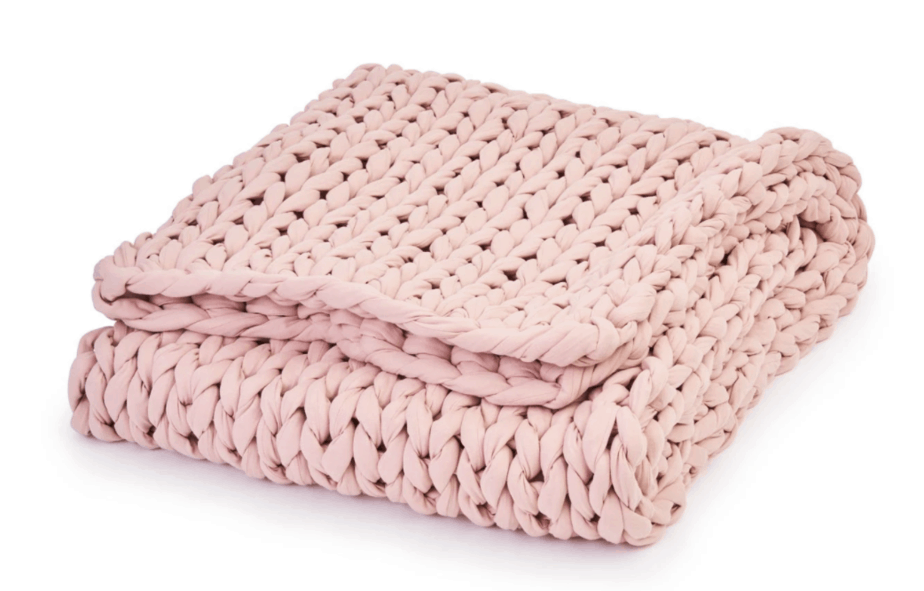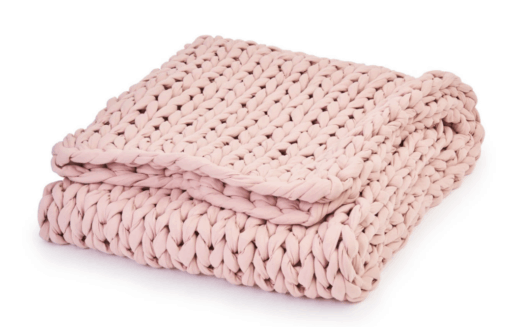 Candles are gifts that every girl loves, especially if you get them customized gifts like 'Me & My BFF'. Setting the mood for a romantic evening or just reading a book with your best friend is always fun and candles make it easy to do so.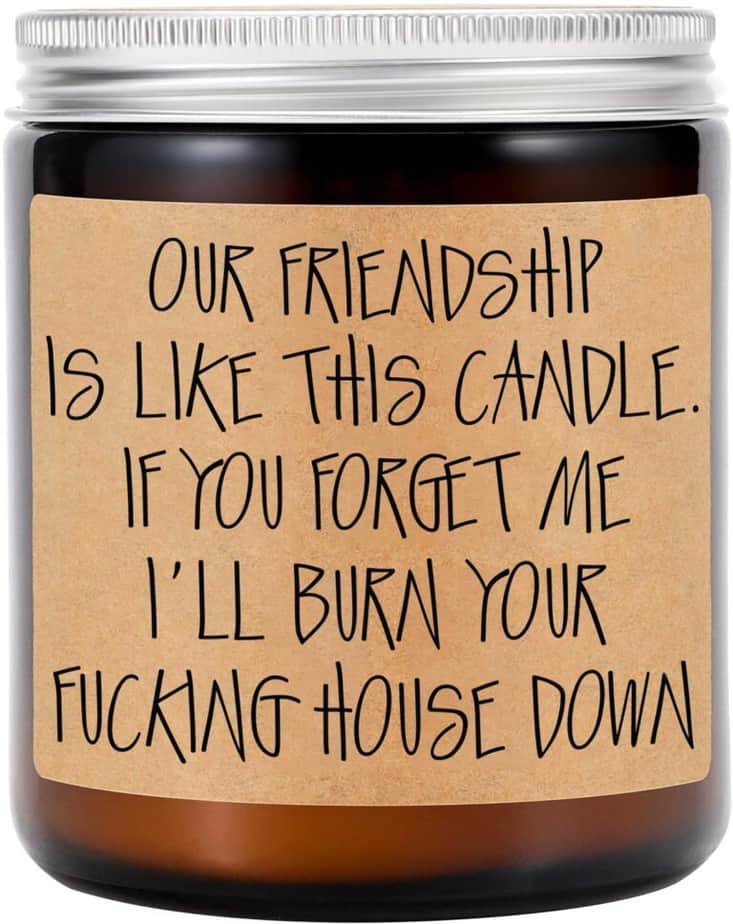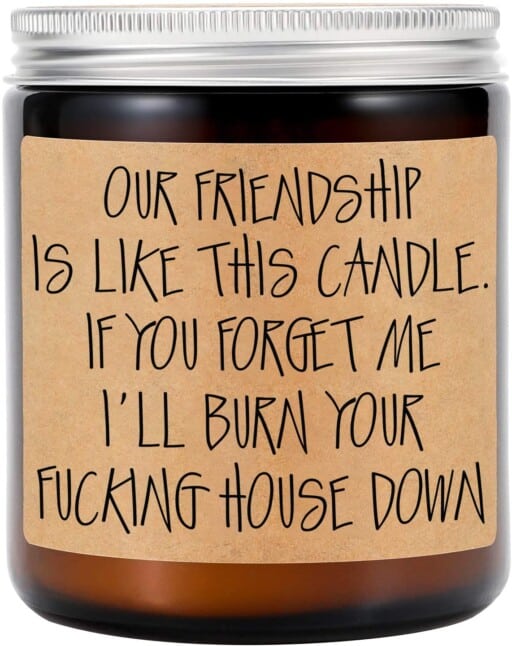 They come in different scents and sizes so there's nothing that can go wrong when gifting this kind of gifts for best friends!
A Book
Books make for an awesome gift that almost anyone can use! Everybody from adults to children enjoy reading, so getting someone a book that they've been dying to get their hands on is one of the best things you can do as a friend.
If your friends are avid readers chances are they've been talking about it online – or at least mentioned it in passing once or twice. Make sure you pay attention when you're out with them; then go home and search where to buy this book online (or just keep it up until Christmas).
A White Claw Koozie is a great gift for your claw-loving best friend that's simple and unique.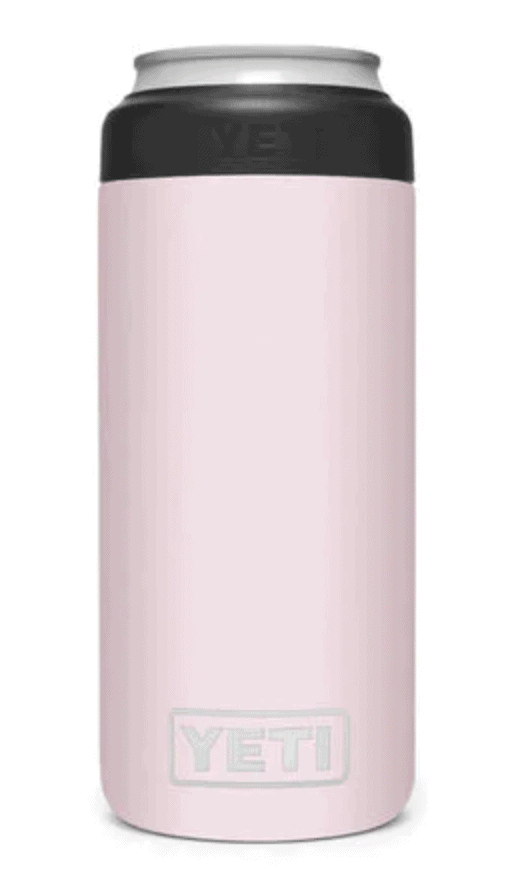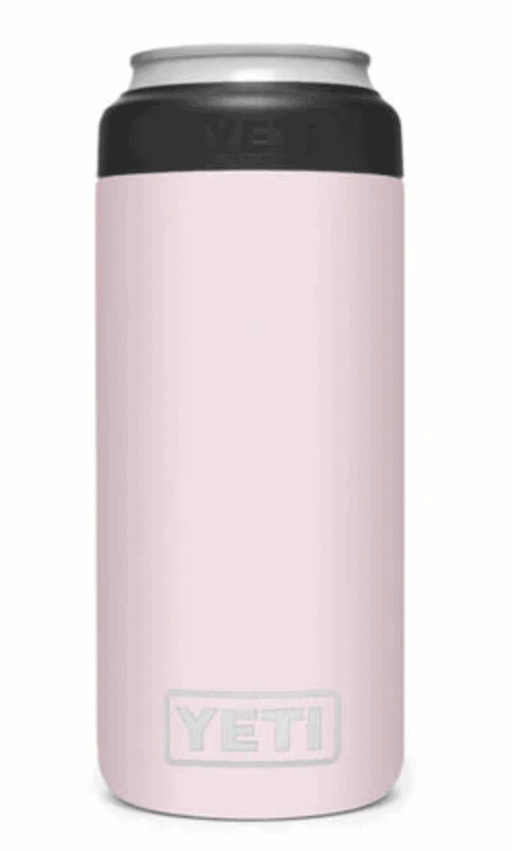 This little camera is so cool and stylish – your best friend will love it!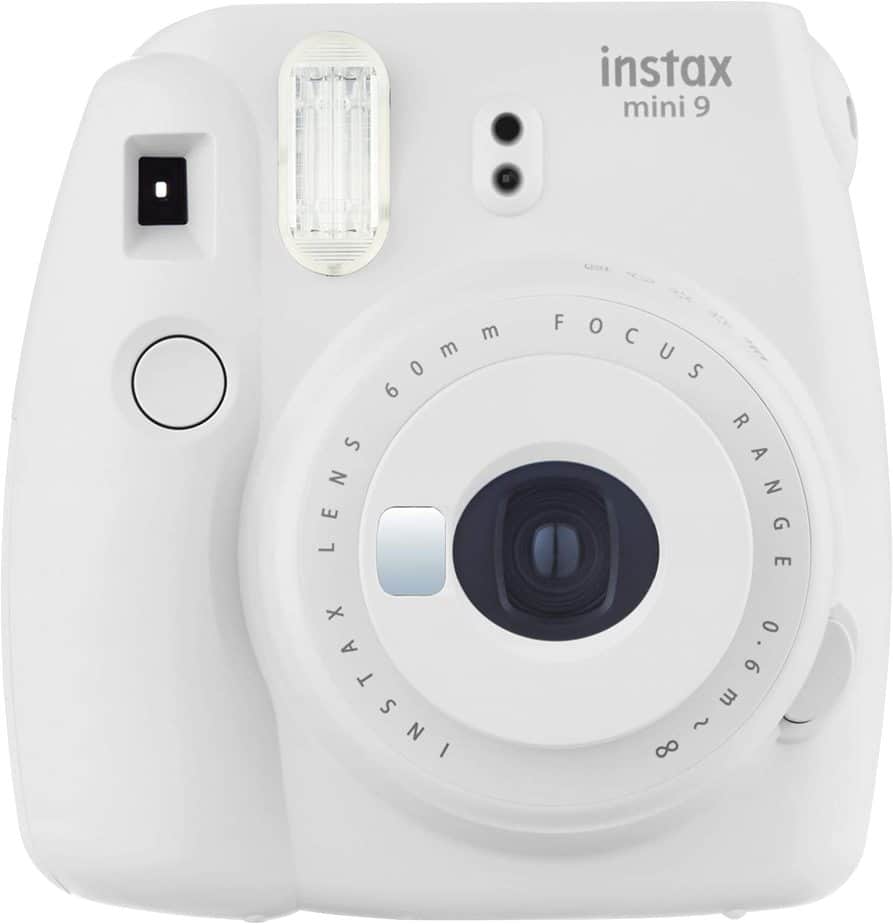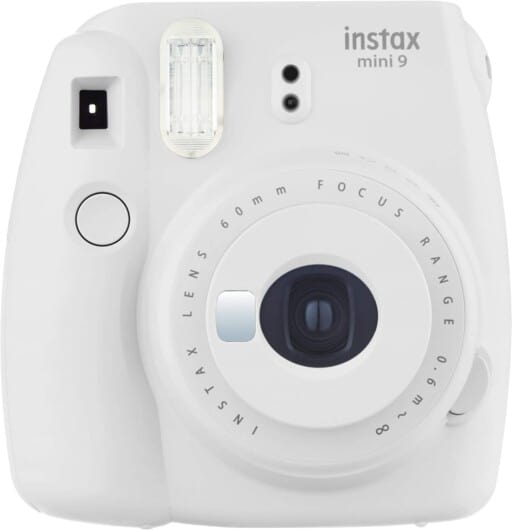 You can use it to capture memories, or for your everyday shots. Plus, you don't need to worry about all the expensive accessories that come with other cameras because this one comes with everything you need. All you have to do is purchase the film separately and start shooting!
The white tea kettle is a great gift idea for people who love tea.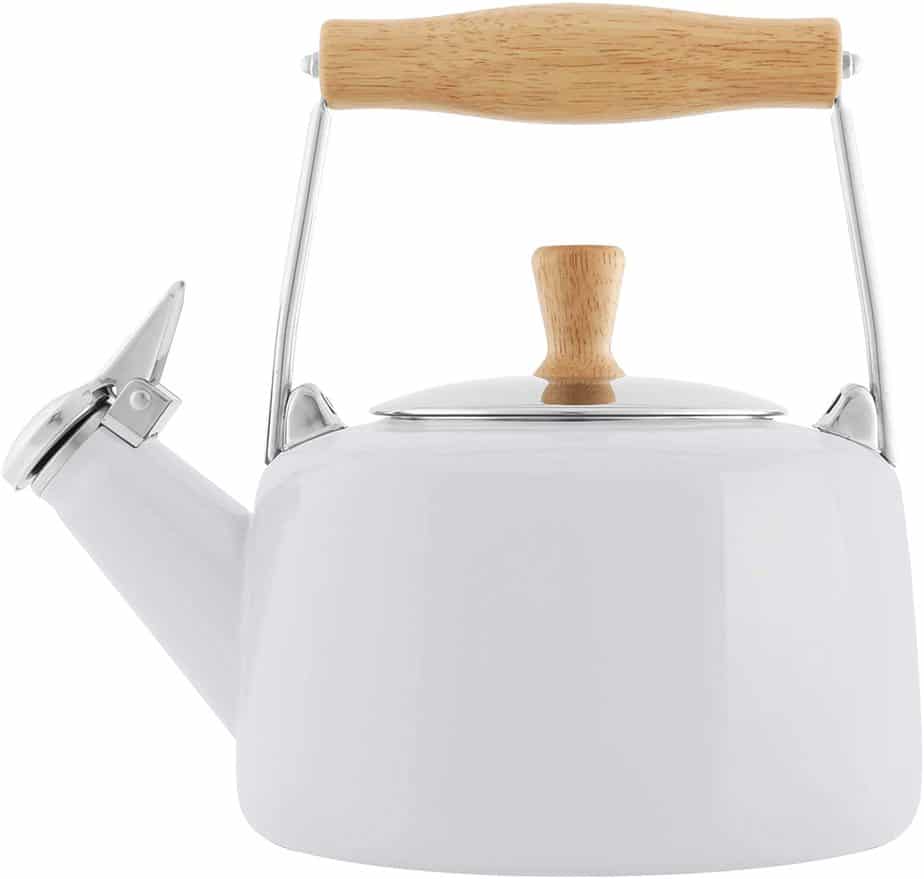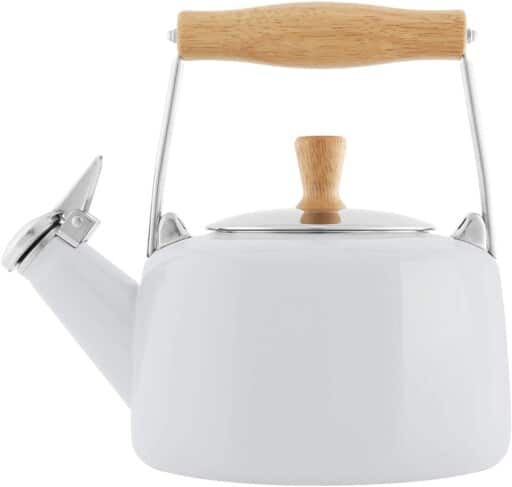 It's a high-quality, beautiful piece that's perfect for any friend who loves cooking and drinking tea. It's such a unique gift idea too!
I don't know about you, but I love gifts that are both aesthetically pleasing and practical at the same time. Well, what's more beautiful than a pretty marble diffuser? That's right – nothing!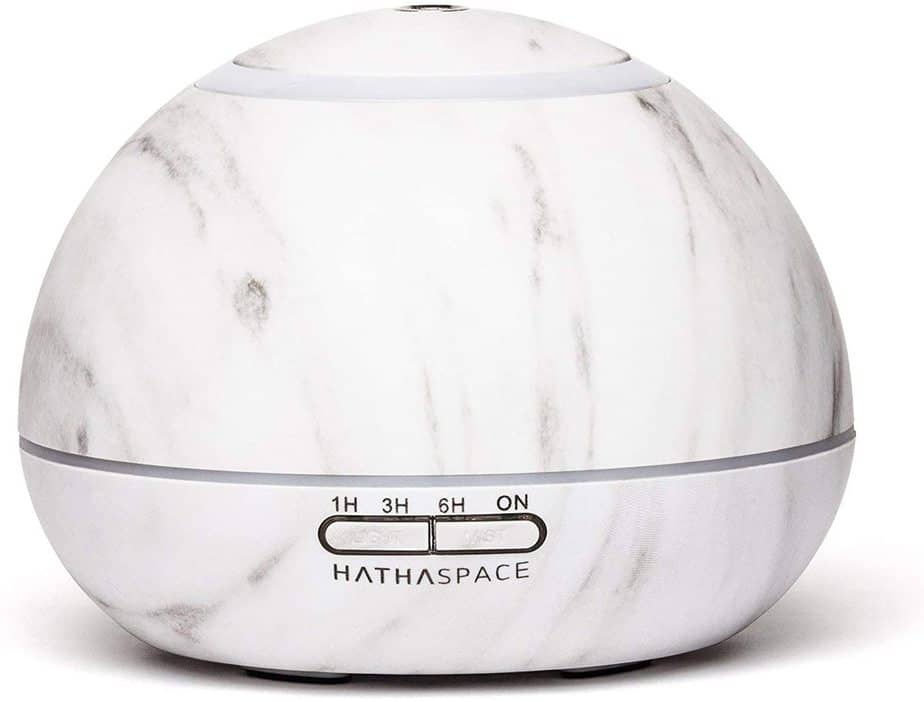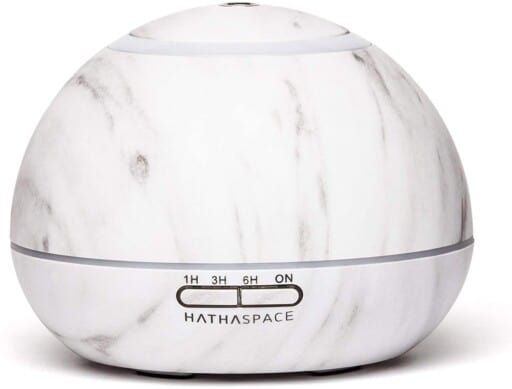 These little guys can be used in either large or small spaces, and they help create a really nice ambiance while also giving your home a lovely scent. Plus, they're refillable (which is great because they won't overflow), and you can use any essential oil to make them smell as gorgeous as possible.
As far as gifts ideas for best friends go, this is an easy choice – everyone loves a high end diffuser!
Nail Polish Set
Another gifts for your best friend might be gifts that don't cost very much but can make a big impact. For example, a nail polish set is a good idea for gifts for your best friend because it's inexpensive and it can help them out in a pinch. Plus, you know they're going to really appreciate it! Nail polish sets come in many different price points so there should be one to fit your budget.
An Anklet
An anklet is a bracelet that is worn by some people to signify love, remembrance or friendship.
One type of anklet is made from string or chains and are most often charms that have been suspended on the string. The charm may be a pendant, cameo or any other small object.
Another type of anklet is made from leather knots tied with cord. It's a good idea to have an assortment of different types of gifts for your best friend so they might appreciate having gifts in more than one category.
Car Accessories
One idea would be car accessories such as gifts for a best friend. You might want to consider gifts that are special to him or her, gifts that they will enjoy using and gifts that they will find useful when driving their car.
Car accessories can be broken down into three types of gifts: gifts for safety, gifts for the inside of the car and gifts for the outside of the car.
For gifts for safety, you might want to consider things like a child's safety seat and seat belt covers. Gifts for the inside of the car could include phone holders and air fresheners. For gifts for the outside of the car, there are things like window clings and cup holder coasters.
Perfume Set
A perfume set is something that is never wrong when it comes to choosing gifts for best friends especially if these gifts include the top fragrances from designers like Calvin Klein, Escada, Burberry and many more.
The prices of these gifts range from 50$ to 500$ depending on how big the package is that includes more than one perfume bottles.
Jewelry Boxes
Jewelry boxes are gifts that every girl considers as gifts for best friends but why? The reason is: since we keep all our jewelry in them, we obviously want them to look beautiful with enough space to store more than one set at a time.
It's better if you choose wooden boxes instead of plastic boxes because they are usually more expensive. You could also try gifts like a makeup box which she can use to keep her makeup and beauty products in one organized place instead of carrying them around together with their respective bottles!
Diamond Necklace
A girl without at least one diamond necklace is like an ocean without water! Diamond necklaces are gifts which every girl will love to have but sometimes they feel it does not matter if they do not get one because they already own so many!
Help her fill up her jewelry box by gifting her something really special. You can always look into designer pieces which might cost a lot of money but may also be really worth it.
Watch
Every girl wears watches these days from children to adults; they come in different shapes, sizes and designs so there is nothing wrong if you choose this kind of gift for your best friend.
You could also personalize them with inscriptions like: 'Be There' or 'Friendship'. It could also work as a gift for your sister from another mother! If you do not want to go with a watch, you could try gifts like bangles and rings that can be worn with almost every outfit in the girl's closet.
A Unique Ring
If you want to show your friend how much you care about them, then consider getting them a nice ring like this; it's got a cool diamond design which will let them know that you're always thinking about them whenever they look at their fingers!
A High Quality Pen
If you're looking for some subtle way to show your friend that you care about them – then consider getting them a nice pen like this; it's got a cool diamond design which will definitely help remind them of you whenever they use it!
Most people have to do a lot of writing at work, so you should definitely get your best friend something like this; it has an awesome design and it's shiny to boot! If you're looking for something else with a cool design or color – just go online and look for one that suits your taste.
Vitamin Box
If your friend is really busy and doesn't have the time to keep track of everything they need – why not get them this cool pill box that does everything automatically?
A Phone Case
If you've got some money on your hands – then consider getting your best friend this cool cell phone case that's got a nice design around it. However, if you're on a pretty tight budget, then you could always buy something else with a different design; just make sure it fits their style as well!
Portable Coffee Cup
If your buddy is always running late every day – why not get them a nice coffee cup that will help them out? If you're looking for some ideas, then go ahead and check out this black coffee cup with the world's coolest design around it.
High Quality Wallet
For all of those friends out there who love going shopping – why not buy them a new wallet or bag to take wherever they go? Even if making purchases isn't their favorite thing, this gift is unique and useful enough so that any friend can appreciate being able to carry their things around in style.
I know several people who would love to get a new shopping bag or wallet every now and then; so if you have any idea what they like – go for it! Even if the item isn't that special, they will appreciate the fact that you remembered them.
A Personalized Picture Frame
If you're trying to get a nice little gift for someone who mostly keeps to themselves – consider getting them a personalized picture frame!
This way, the next time they're at home or somewhere else with enough space; they'll be able to put up photos of your adventures together and thank you for all the good times you've shared together in one place.
It might not seem like much, but this really is an awesome gesture and will make any friend want to get out more with their favorite person in the world.
Tickets To Their Favorite Comedian
Are you friends with someone who's into music? Consider getting them tickets to see one of their favorite musicians or bands! Everyone loves to be able to listen to the people they admire, so why not set up a night in where the two of you can go out and enjoy the show?
This is definitely one gift that will never fail; everyone loves being entertained by talented artists and this will ensure that both of you have an amazing time together.
A Personalized Keychain With Their Initials Or Name On It
Another really simple gift idea is getting someone a keychain with their initial or name on it! Put some effort into this gift; you don't need to make something super elaborate, but add a little touch of your own and they'll be thanking you for some time.
A Cool Puzzle
If your friend likes to spend his or her free time solving puzzles – get them a challenging one! Sometimes it's easy to forget that people actually like doing these things, but if you can think back on all those evenings when you had nothing else to do – why not pay your friend back for them?
It doesn't even have to be anything too special; just something they haven't solved yet. The fact that you took the time out of your day just for them is a great gesture and will definitely bring you closer than ever before.
A Photo Album With Photos Of You Together
If you spent any time at all over the summer together – consider getting your best friend some neat photos from your favorite trip!
This doesn't have to be anything big or expensive; just make sure that there are enough pictures in here for them to see how much fun you had while thinking of them.
One of my personal favorites is going through old photos of when I was little and sharing cute stories with family members about their lives – they love looking back on these moments because they're hilarious and can make everyone smile.
Friends Customized Wall Art
Friends Tv Show Customized Wall Art is a great idea of gifts for the best friends. This gifts can be customized in a number of ways to suit the personality of your friend. For instance, you can customize the art to show various themes from Friends and features different characters. The art also comes with personalize gifts such as plaque, canvas, print or personalized gifts. Friends Tv Show Customized Wall Art is a theme that celebrates the Friends Tv show which is one of the most popular sitcoms in US television history. This gifts expresses your appreciation for your friends and says thank you for being there through good times and bad times.
Self Care Gift Box
The Self Care Gift Box is a great idea of gifts for the best friend. This gifts box includes all the gifts that your friend can use to self-care such as bath bombs, massage oils, facial masks, and lip balms. It's like a spa in a box!
Personalized Toiletry Bag
The Personalized Toiletry Bag can be a great way of gifts for your best friend. The bag comes with an organizer so that your friend can have a central place to keep all their toiletries in the one place. This gifts bag is made from durable canvas material and also comes with a clear PVC cover sheet to protect the gifts inside the bag from rain or any other bad weather conditions. All gifts inside this personalize gifts are made in the USA, so you know that you are getting quality gifts.
Birth Month Flower Necklace
A Birth Month Flower Necklace is a great gifts idea for your best friend. These gifts come with a personalized message card that you can write personal messages to your friend. The gifts are made from sterling silver and designed according to the month of birth. The gifts are also made according to the astrological sign, so they come with twelve different symbols/flowers. This will always remind your best friend of how much he or she means to you.
A Succulent
A Succulent is one of the gifts that you can give to your best friend. This gifts is something so small but mean so much. It's a symbol of life and it says thank you for always being there for me through thick and thin.
A Dream Journal
Perhaps you could give a dream journal as gifts for your best friend. When you wake up each morning, you can record the previous night's dream in a journal before going about your day. You can get really pretty designs on Etsy or you can personalize a design as one of your gifts for best friends in your group!
Aromatherapy Candles
Aromatherapy candles are a great gifts idea for your best friend. These gifts come in a wide range of scents so that you can find one which suits your friends taste.