I can't believe it's just about time to decorate the patio! After we spent most of last year at home, our patio became more important than ever.
I'm more likely to splurge on my own home than on a vacation because it's where I spend most of my time. On the other hand, I don't want to go too crazy and miss out on deals.
Right now is definitely a good time to get patio furniture and decor. There are so many great deals and coupons out there!
If you're like me and want to upgrade your patio this year then you've come to the right place. Read on for patio shopping tips and inspiration!
Where To Buy The Best Patio Furniture:
Walmart: Even though Walmart isn't typically known for quality, it's definitely the best place to shop for the actual furniture on your patio. You can get sectionals, patio chairs, bistro sets, egg chairs, and more for insanely affordable prices.
The furniture is all well-made and lasts for a while. You'll get the same brands at other stores but they're around 20% cheaper at Walmart.
Pottery Barn: So Pottery Barn is obviously much less affordable than Walmart, but all Pottery Barn furniture has a look that you just can't get anywhere else. I especially love the wicker sofas, the chaises and lounge chairs, and the outdoor bars.
Overstock: I'm a little biased because I basically only shop at Overstock for furniture, but I do feel that their patio stuff is especially great. They kind of have a mix of everything so check out the furniture, decor, and accessories.
Serena & Lily: If you're looking for boho, airy, beachy patio furniture then you'll love Serena & Lily. It's definitely on the pricier side but all of the items are so unique and gorgeous.
You can easily get that white, soft blue, and yellow patio vibe that feels very South Carolina at Serena & Lily. If you can't afford the furniture, check out the decorations. I find that adding bits and pieces of decor to my affordable furniture brings it up a level.
Home Depot: If you want full-on sets that are already designed then Home Depot is a great option. The furniture is high-quality and affordable. They're especially good for modern and coastal patio styles. I also get my wooden arm chairs for seating around the fire pit at Home Depot.
Outdoor Patio Ideas:
Here's some inspiration to get you started while you decorate your outdoor patio this season!
I linked the full post (if available) under each photo so you can check out what products each blogger used on their page. Enjoy!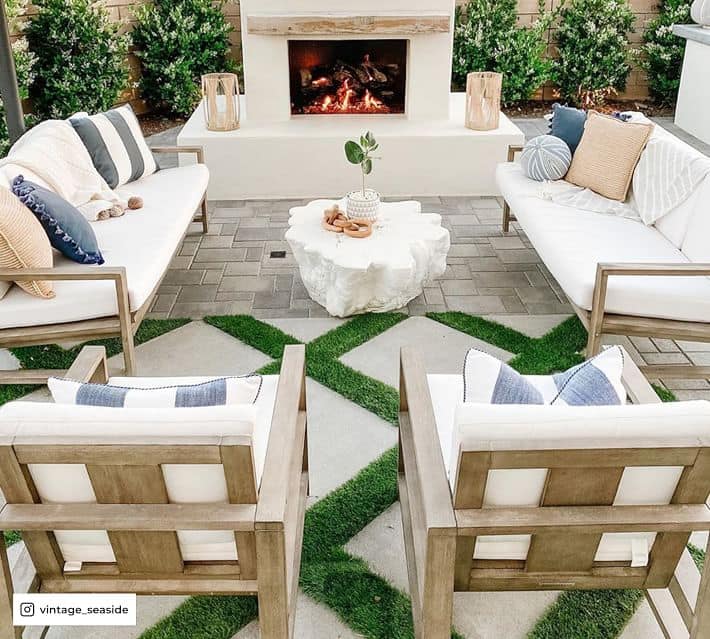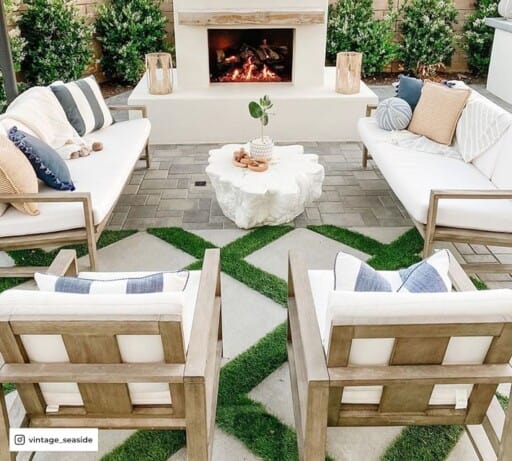 \