Cape Cod is known for its sunny beaches, laid-back lifestyle, and stable social culture. However, their craft wine, beer, and distillery scene are also on the rise.
Expect wine spots that offer good-to-great local to internationally made wines, beachside bars, community-ran distilleries, and fun tasting excursions year-round.
When you're in Cape Cod, supporting local is the name of the game, and there's no better way to do that than to check out some of the best local wineries in Cape Cod!
Things to Know Before Visiting Cape Cod Wineries:

1. Tips Aren't Required
Tips are not customary but always appreciated. If the experience lacked what you expected, don't feel pressured to tip.
2. Most Wineries On The Cape Don't Have Actual Vineyards
Not all wineries and tasting rooms have vineyards. In Cape Cod, most bars and shops source their grapes from a third-party farm unless their offerings state that their wine is "estate-grown." If that's the case, the winery/shop has its own vineyard.
3. Seafood Is A Popular Choice
Even if you're at wineries in Cape Cod, you can still find a bunch of amazing seafood. Cape Cod is known for its delicious fried fish dishes, clams, and butter-broiled lobsters. Wine and food go together, after all – might as well make it seafood!
Top Cape Cod Wineries:
Here are our favorite Cape Code wineries that you should definitely check out this summer.
6. Cape Cod Winery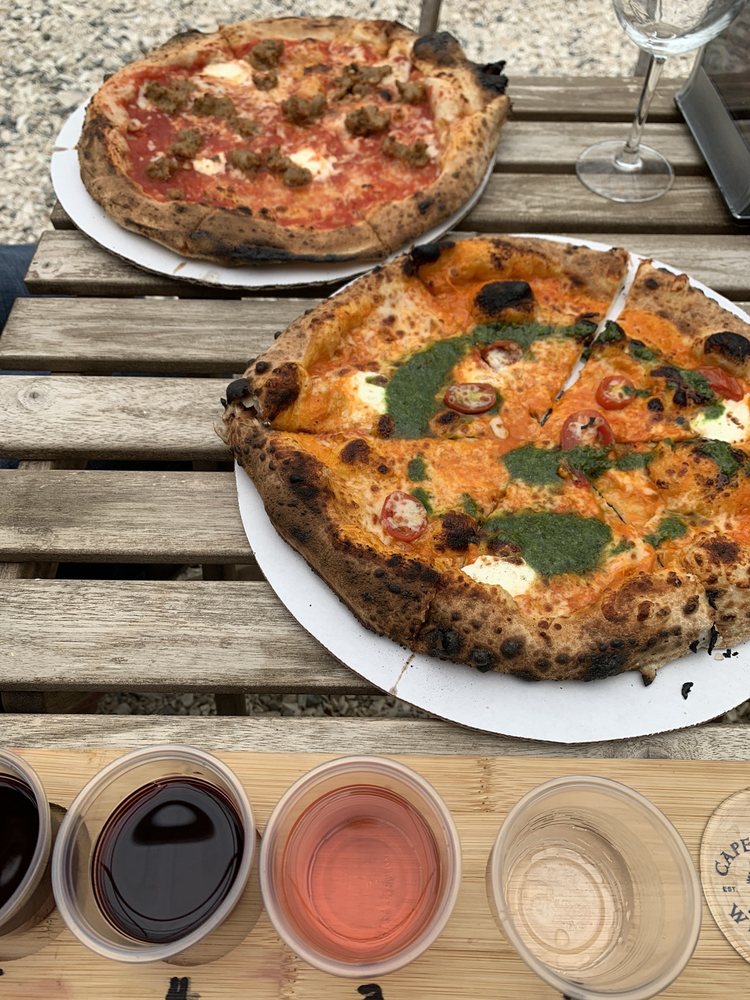 Cape Cod Winery's estate in the east Falmouth neighborhood was one of the pioneering strawberry farms in the early 1900s. Later on, the Orlandella family started their own winery located in the bustling Upper Cape town and became successful in the 20th century. When you visit Cape Cod Winery, you experience the legacy and history of their family's wine journey.
Aside from their wide selection of wine from whites to reds, the winery also has fun, special events scheduled throughout the year so they really have something in store for you to look forward to. What we loved most was their pizza food truck where you can order small plates with your glass of wine.
They do not have indoor seating but their outdoor tents are airy, cozy, and relaxing. Plus, they are pet-friendly!
This is a wine spot you won't want to miss and is definitely one of the best wineries in Cape Cod. If you're searching for little items to bring home, they have a nice, quaint gift shop with a decent selection.
Serves: 12:00 PM – 6:00 PM (Friday-Sunday)
Location: 4 Ox Bow Rd Falmouth, MA 02536
5. Truro Vineyards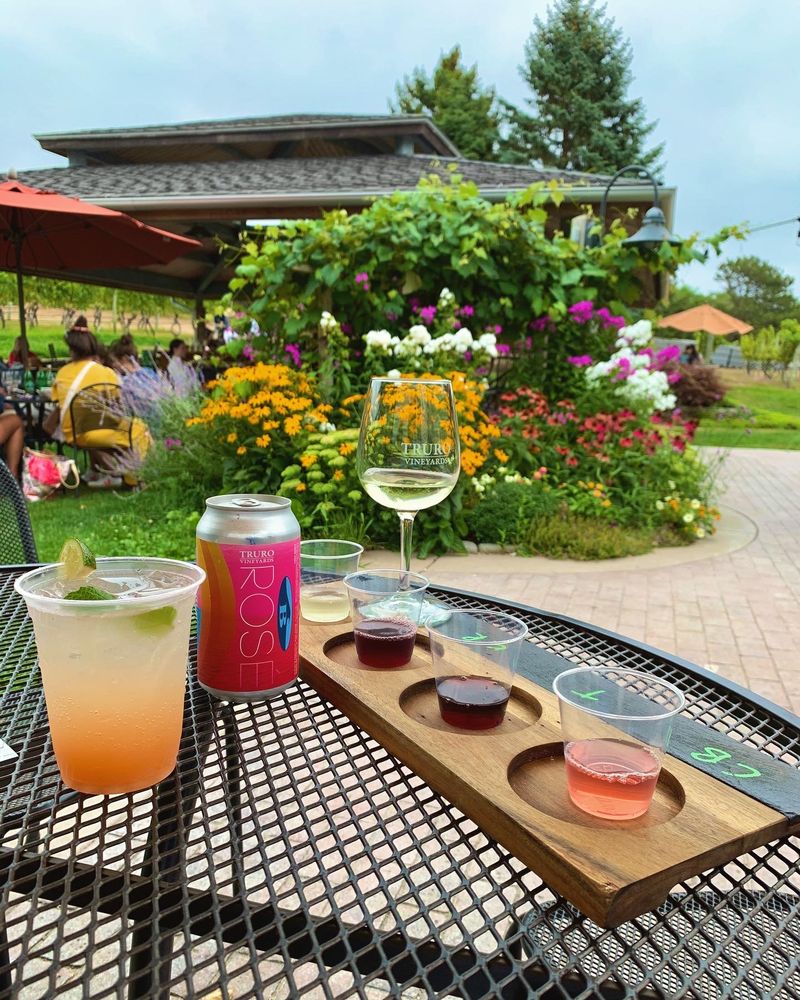 Truro Vineyards is one of the first few growers of maritime grapes in town. Their iconic 5-acre vineyard was established in 1991, growing popular wine grape varieties such as merlot, chardonnay, and cabernet franc. Their area's climate and sandy foundation also allowed their grapes to develop a distinct flavor, heavy body, and rich character.
Their tasting room offers a great 5-wine tasting flight that changes weekly. They cater small to big groups and have an option for a guided private tasting that provides each guest with a keepsake wine glass.
The flight is typically composed of a variety of white wine, red wine, rose, and sweet wine. They also have cocktails that are uniquely crafted and reasonably priced for a specialty drink.
Their outdoor picnic veranda with a fire pit has a Tuscany-vibe that we all loved. If you get a little hungry after a session of tasting, they occasionally have food trucks in their outdoor area.
If you plan to visit, definitely make a reservation to get a table. The winery is quite small and can get filled up pretty quickly. This is one of the must-see Cape Cod wineries, especially during the summer.
Serves: 11:00 AM – 5:00 PM (Thursday-Mondays)
Location: 11 Shore Rd, North Truro, MA 02652
4. First Crush Winery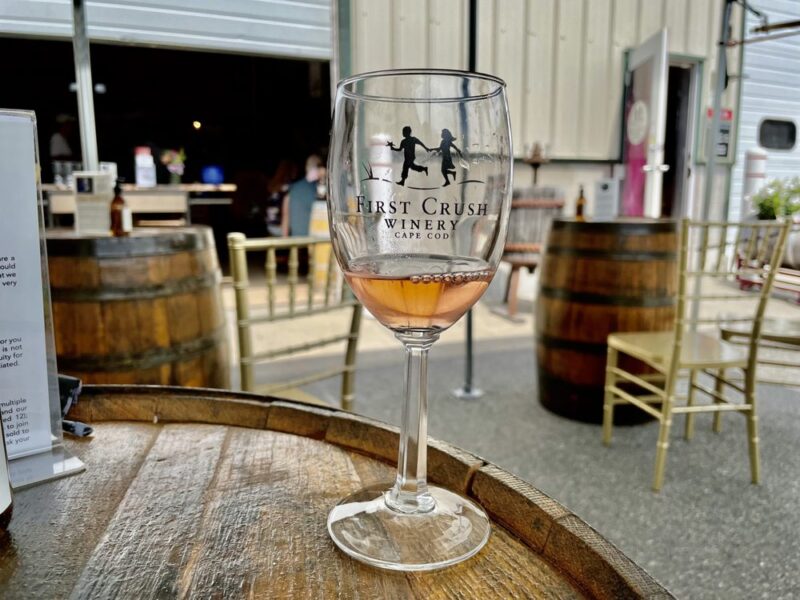 If you have read a couple of articles about Cape Cod, you probably heard about First Crush Winery a bunch of times already. It's one of the most popular wineries on Cape Cod for a reason!
First Crush Winery produces the most award-winning wines in town. What makes the winery unique from others is the fact that it is run by a community of connoisseurs with the mission to provide the finest technology and fruit source to produce the best wines. When you go there, expect a lot of engaging members and knowledgeable staff that are happy to assist you.
For their wine selection, expect to have base notes of blueberry and cranberry, perfect for pairing with savory nibbles like almonds, pecans, or hazelnuts. If you simply wish for a break from the humid weather, you may opt for their famous wine slush.
The exterior and ambiance of their tasting room are unpretentious and bare. Some guests regard it as something completely unexpected and underrated. But don't let this fool you – their wines look good as it tastes.
Serves: 11:00 AM – 4:00 PM on Thursdays, 11:00 AM – 5:00 PM Friday to Saturday
Location: 527 Main St Harwich, MA 02645
3. 1620 Wine Bar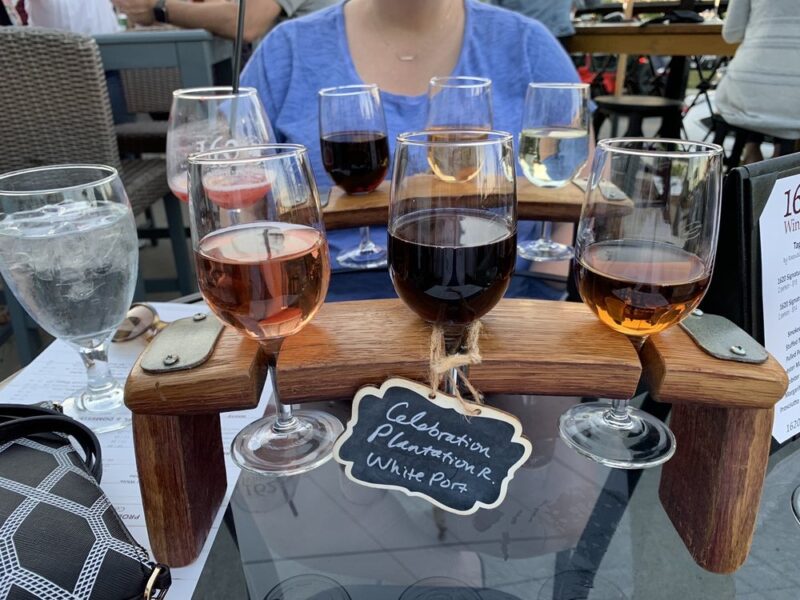 1620 Wine bar is not just a tasting room, but a dining spot offering a great selection of light to full tapas, live music concerts, and a neighbor to numerous local art stores in the area.
We had their in-house 1620 Oaked Chardonnay at a decent price of $14 a glass and a couple of tapas dishes including Caprese Salad, Arugula Salad, and Garlic Shrimp. Everything was cooked and seasoned perfectly. The food and wine we ordered tasted well together. Everything we consumed tasted even better with the music that played in the background. If you're the wine flight type of person, they also have an option for three variations of 6oz wine.
What we also liked about the place is the romantic vibe that their outdoor area gives off. Their seating includes high-top chairs, lounge seats, and tables. The indoor area also feels like it was given a lot of thought. The beautiful wooden bar and the fireplace definitely caught our eyes!
Serves: 4:00 PM – 10:00 PM Thursday-Friday, 12:00 PM – 11:00 PM Saturdays, 12:00 PM – 8:00 PM Sundays
Location: 170 Water St Ste 25 Plymouth, MA 02360
2. Taptastings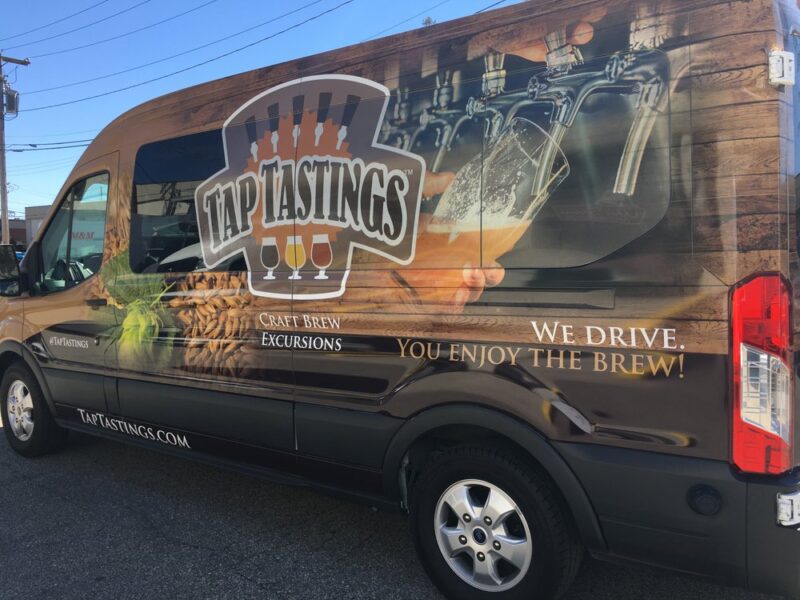 TapTastings is not your typical tasting room or distillery. They offer one of the best wine and beer crawl excursions that you will want to consider if you are staying in Cape Cod for a short period of time. Their company is also a great go-to especially if you are still starting with your wine journey.
What makes TapTastings different from other wine trip providers is the fact that you can customize your own itinerary. It is your choice to go for an all-wine trip or mix it up with brewery options and local foodie spots. The hosts are knowledgeable, approachable, and patient, so you don't have to worry about asking too many questions.
A sample itinerary includes a cheese & wine tasting session at a selected winery, a visit to a local beer brewery, then to a distillery cafe that offers a few tapas dishes to indulge in after the excursion. Itineraries are slightly different for every guest.
For their transportation, they provide a comfortable and clean van with disinfectants and masks included. Guides follow covid-protocols and wear masks as well.
This is one of the smaller, super-cute Cape Cod wineries that you should definitely add to your list.
Serves: Open Anytime
Location: Mashpee, MA 02649
1. Trevi Cafe and Wine Bar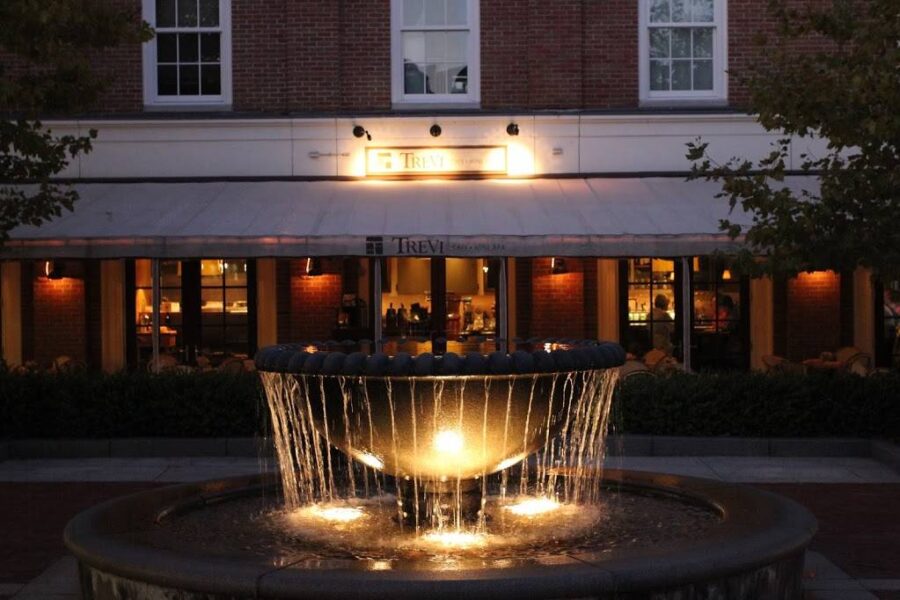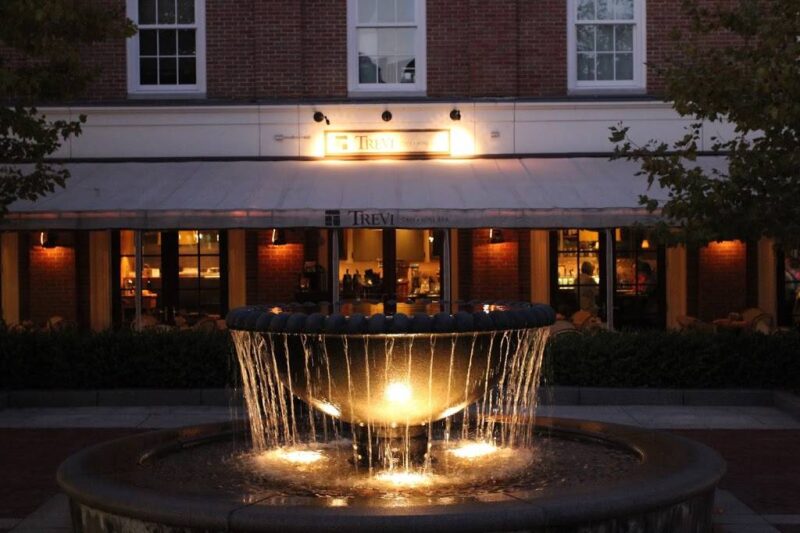 Trevi Cafe and Wine Bar have a diverse selection of both old and new world wines along with their fine Mediterranean-style cuisine. From our discovery, we could safely say that Trevi Cafe and Wine Bar is the perfect place for hybrids – a.k.a. wine-foodie connoisseurs.
Their Strawberries and Arugula salad were pretty thoughtful and unique. Their main specials including their Braised Short Ribs and Trevi Burger were both juicy and delicious. Their Salmon dish was perfectly seasoned and cooked as well. Their cheesy and creamy cheesecake paired nicely with a glass of their Pinot Noir.
Their wine menu had everything from best-to-casual wines and old-to-new world wines. They had a list of rare Cabernets that we wished to take home.
Serves: 12:00 PM – 4:00 PM & 5:00 PM – 9:00 PM Daily
Location: 25 Market St Mashpee, MA 02649