If you're heading to a rave or a music festival and have absolutely no idea what to wear, don't freak out: we've got you covered!
Today, we'll be going over what to wear to a rave or music festival for every single style and type of event, from Coachella to Tomorrowland.
What is Rave/Festival Culture?
Before we dive into what to wear to a rave, it's helpful to know where rave culture actually came from. This will give you a sense of why certain pieces are fashionable.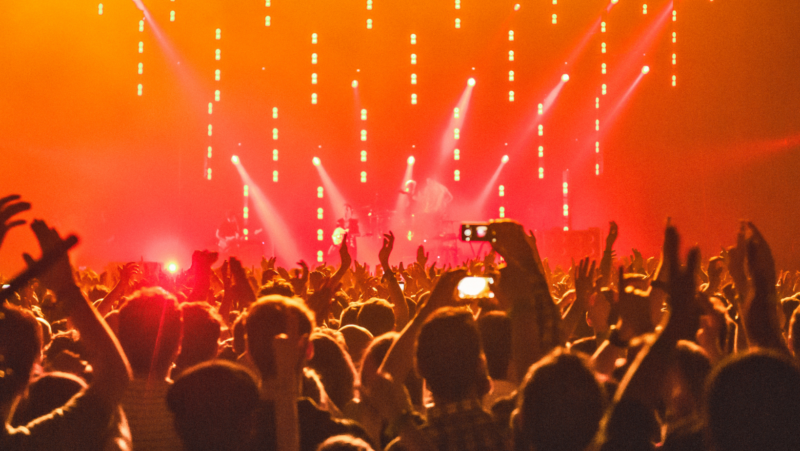 Rave culture has a rich history filled with creativity, out-of-the-body experiences, inclusivity, fashion, and, of course, music. It was "invented" by several DJs who wanted to recreate the conventional party scene.
Rave parties were only recently founded in the early 1990s by one of the most popular DJs and party producers in New York, DJ Scotto, so rave culture is relatively new and is super trendy.
Rave culture is rooted in otherworldliness, high-energy, and free-spiritedness. But rave parties also have an air of exclusivity and secretness.
Of course, any culture cannot be defined thoroughly without the help of fashion. Rave culture has inspired outlandish, psychedelic, and unconventional fashion. It sort of combines Bohemian, eclectic, glam rock, gothic, and over-the-top styles like camp fashion.
No one event shows rave culture better than Coachella. In its first event in the late 1990s, Coachella didn't have any dress code, so partygoers and celebrities kind of invented it. Wide-brimmed hats, sunglasses, summer dresses, shorts, and boots slipped in the scene so naturally that this style became a fashion staple for raves in general.
However, there are different types of fashion for different types of raves. So, what do you wear to your upcoming rave?
In this article, we will be discussing how you can express yourself in the most fashionable way. Let's hop in!
Where To Shop For Festival Clothing:
You can find a lot of festival clothing at regular clothing stores that are relatively inexpensive. I don't recommend spending a ton for festival outfits because you aren't likely to wear them again!
Some of my favorite places to shop for rave outfits are:
What To Wear To A Rave:
In this section, I'll talk about the specific rave outfit pieces that are really popular, before putting them all together to make an actual music festival outfit in the next section.
Keep in mind that more is usually better. Once you choose a "theme" for your festival outfit (boho, goth, etc.), you'll want to add tons of pieces that go with the theme. Rave outfits are all about over-the-top style so the more accessories the better!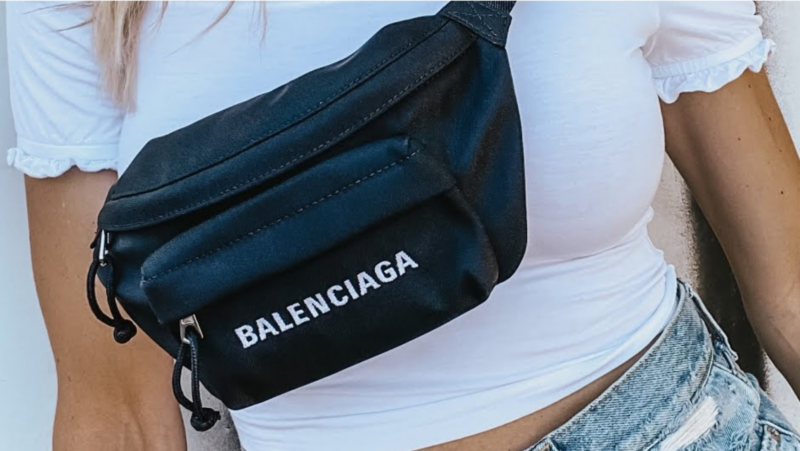 1. Reflective/Neon Clothing & Accessories
Reflective clothing may not go well with your bohemian-style outfit, but if you're going for all-black, you should consider adding a reflective accessory. In fact, reflective/neon pieces work for almost any outfit combo that isn't super boho and feminine.
If you're going for an eclectic style, don't hesitate to go overboard on reflective clothing. Want to go all green or neon orange? You definitely want some reflective pieces. Going gothic? Add a neon hair accessory, bracelet, or necklace.
Aside from others being able to see you in a sea of people (which was the original reason really bright clothing become popular), adding a neon accessory adds life to the party, especially if it is going to be held in the darker hours. Even just a neon pack or bag can do the trick.
2. Backpack/Fanny Pack
When you attend a rave party, the last thing that you would want to do is carry something in your hand. A purse or a handbag is also most likely to be left behind, especially if you start to move around or have fun.
When it comes to rave fashion, backpacks and fanny packs are the way to go. I recommend shopping for these rave pieces on Etsy for unique affordable options.
If you want a seamless option, you can also opt for biker bags or the ones used to cover up a hydration pack. They are lighter and easier to carry around.
Kandi accessories are a must for most rave outfits. They give life, vibrance, and personality to any outfit.
Aside from style goals, adding Kandi accessories to your outfit can help you express and connect with other partygoers by spreading P.L.U.R (Peace, Love Unity, & Respect). The reason why ravers also keep more than one accessory is that they use it to trade with strangers-turned-besties. This little tradition has been around for years and is continually embraced by today's partygoers to remember newly met friends
Kandi accessories are mostly worn as arm candies and look best with vibrant, youthful fashion styles like Y2K or Coterie Couture.
4. Unique Clothing
Rave clothing is not just about looking stylish, but also considering the comfort and functionality of each piece of clothing you wear. Rave parties usually last hours (days for some) and it's important that you feel good in what you wear, both inside and out.
Rock your style with corsets, combat boots, stockings, neon crop tops, rompers in one condition: try it out before the event. If you're going in a potentially painful outfit, you have to try it on for a day, one or two weeks before to make sure you can hold up.
You definitely want to choose comfort here since there are so many options for what to wear to a music festival – you don't need to endure clothing that isn't comfy.
Styling your outfit for a rave event is different from any other day. In fact, the clothes you wear to a rave event may not be close to appropriate for everyday wear, so you won't want to pull from your closet for this event!
5. Stylish & Comfortable Shoes
Fit and comfortable shoes are a must. Rave parties and musical festivals last hours (even days) and you have to be sure you can last that long with the shoes you choose.
When picking for a pair, look for something that can give you style and comfort. Some of the best versatile, stylish, and comfortable pairs that you can use for a rave party are Classic Chucks, Combat Boots (with high-quality soles), or any closed-toe shoes.
If you're wearing low-cut shoes, you might want to wear long socks to prevent blisters. From personal experience, I can tell you that having blisters at an EDM musical and dance festival is a complete nightmare.
6. Ear Plugs
Earplugs are your best friend at a festival. They protect the ears by reducing the noise but without altering the quality of the sound. It never hurts to have ear plugs in case you need them.
Aside from that, earplugs can help you sleep better if the rave party is more than a day.
7. Hydration Pack
Like earplugs, Hydration packs are one of the accessories you'll unexpectedly wish you had. Festivals all lead to extreme dehydration for a whole bunch of reasons.
Plus, bottled water at rave events is most likely way overpriced. Hydration packs, on the other hand, can be refilled for free. Most packs can be refilled up to two liters of water, so imagine how much you save!
You can get a really cute hydration pack on Etsy to actually contribute to your music festival outfit!
8. Face Mask/Bandana
Face masks, bandanas, or tube turbans are helpful in protecting your face from being exposed to dust, debris, and unforeseeable particles. There's a lot of stuff flying around at music festivals.
Any of these accessories can also add a little layer to your overall rave outfit depending on how you match or style it.
9. Rave sunglasses
Level up your rave outfits with a pair of sunglasses. I personally think that every person at a music festival or rave needs cool sunglasses!
If you're going for a techno outfit, a pair of goggles might be the best choice to consider.
For bohemian outfits, you might want to rock a pair of John Lennon sunglasses (the ones with round frames), which are the staple glasses in Coachella and bohemian-themed musical festivals.
10. Face Glitter & Jewels
Express free-spiritedness and otherworldliness by adding something sparkly to your typical make-up look. If you're feeling a bit adventurous, go ahead and do creative face make-up using bright and vibrant colors.
For a techno rave outfit, you might want to go with neon shades like lime green, popping pink, and flashy orange. For gothic outfits, you might want to go with silver-toned jewels or any sparkling glitters that are goddess-like. For a bohemian outfit, a love bird-themed face make-up or a fairy glitter set is your best bet.
Excessiveness is never a problem at raves and music festivals – just have fun!
Rave Outfit Combos:
Now that you have a handle on music festival accessories, you need to actually pick your outfit.
There are many "styles" that you can wear to a music festival or rave. I recommend that you choose one style to wear and then build your rave outfit and accessories around that style.
Keep in mind: these are just suggestions. Rock your own style and wear whatever makes you feel good, inside and out. Rave parties are about self-expression, after all.
1. Coterie Couture (Glam Rock/Eclectic)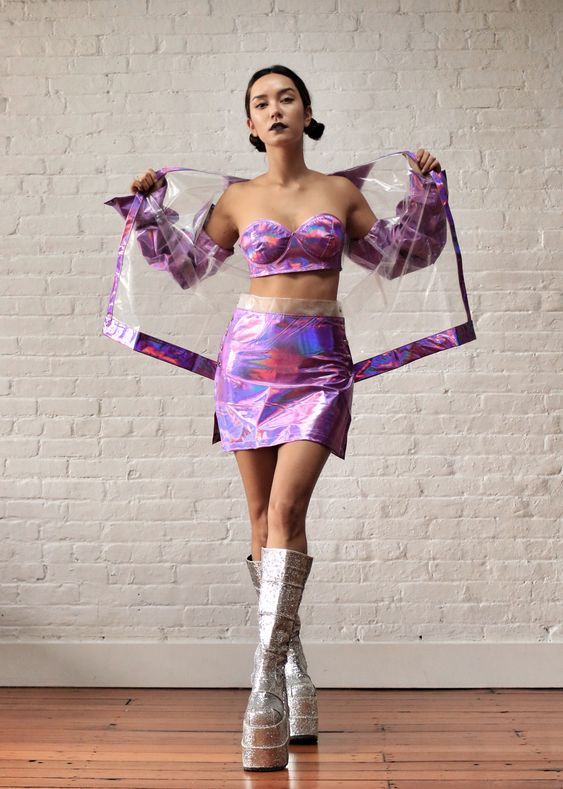 Coterie Couture is the emblem of techno rave culture. It is closely related to camp-like and eclectic style, two of the loudest fashion styles out there.
Think reflective goggles, shiny outfits, neon jumpsuits, oversized clothing, and flashy accessories.
Coterie Couture, popularly known as "Glam Rock" agitates conventional looks, aiming to make a bolder statement than normal. If there's a celebrity that can best describe this rave fashion style, I'd choose Lady Gaga or Beyonce.
If you're dressing in this style then you want to start with a rock look but make it super edgy and techno. The more color the better!
2. All-Black Punk Rock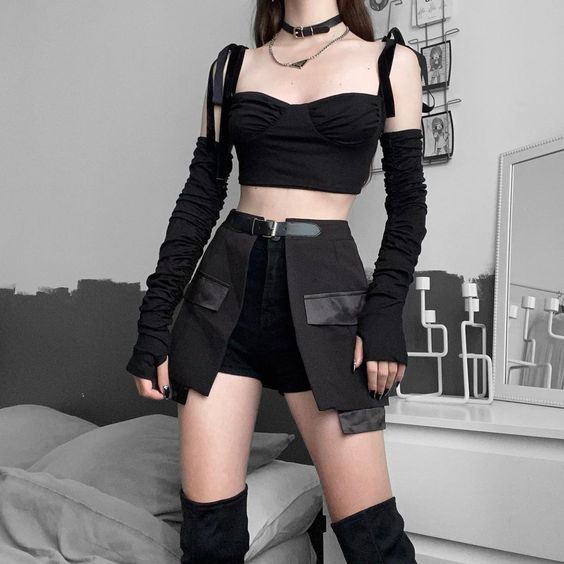 Because punk rock culture holds some of the major principles of rave hippies, punk rock fashion gained traction among the partygoers. The edginess of this style is meant to make a bold statement.
You'll want to incorporate lots of black (obviously) as well as some edgy metal pieces like rock studs. Go as edgy as you can without using color here, or throw in one pop of color for a really electric look.
This style is more popular at hardcore raves and isn't seen so much at gentler, boho music festivals.
Rock in this studded dress from H&M , for example.
3. Gothic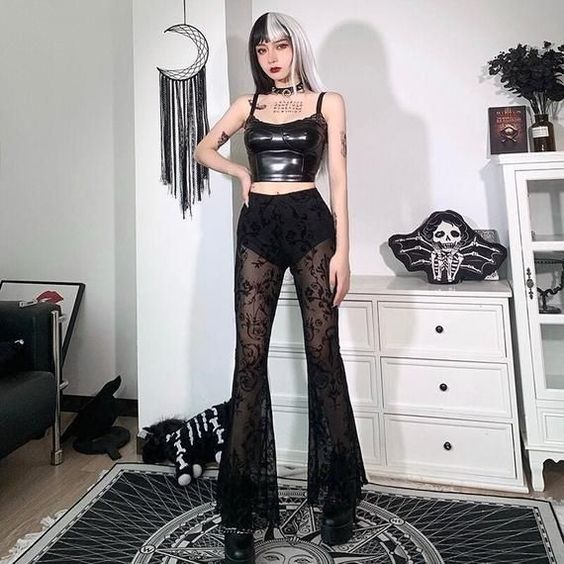 Visually, gothic fashion is a lot like punk rock. But if you dissect the details, you can see the difference between the two.
Gothic and punk culture both like to stand out against the unconventional norms but are slightly separated in taste and mindset. However, gothic is a little more extravagant and Victorian. Think corsets, harnesses, stockings, organza fabric, and floral lace instead of rock studs.
Because gothic and punk rock fashion is slightly similar, you can mix up the two to come up with a more unique rave outfit.
4. Bohemian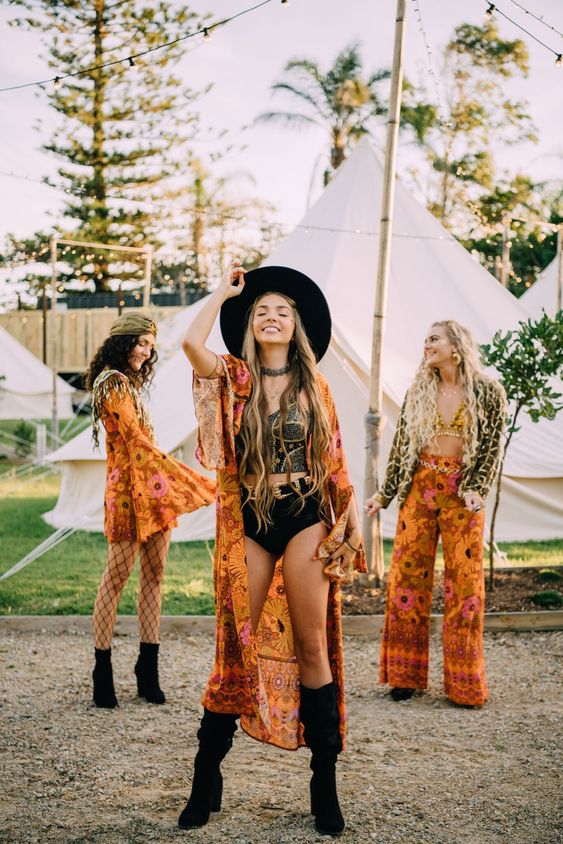 Bohemian is a fashion style inspired by the 60s hippies that is all about nature, peace, love, and self-expression. Notice that bohemian clothing is full of floral and artistic prints, linen fabrics, and excessive jewelry.
The most accessible boho outfit that you can wear to an event is a combination of black undergarments and a boho-print kimono. Add a couple of accessories like flower crowns, turbans, sunglasses, etc.
Boho is popular at a lot of rave events because of Coachella. You'll see lots of boho music festival outfits below that are really gorgeous and easy to put together!
Rave Outfits:
Here are some of my favorite rave outfits to give you more inspiration. If you have no idea what to wear to a rave, I recommend that you start here and think about what the vibe is at your rave. Is it more boho like Coachella or is there an EDM vibe like Ultra?
Plan accordingly and see what kinds of rave outfits appeal to you.
Note: I tried my best to link the source of these photos, but some are from really obscure places/I couldn't find the original photographer. Please contact me to add more specific credit or for immediate photo removal.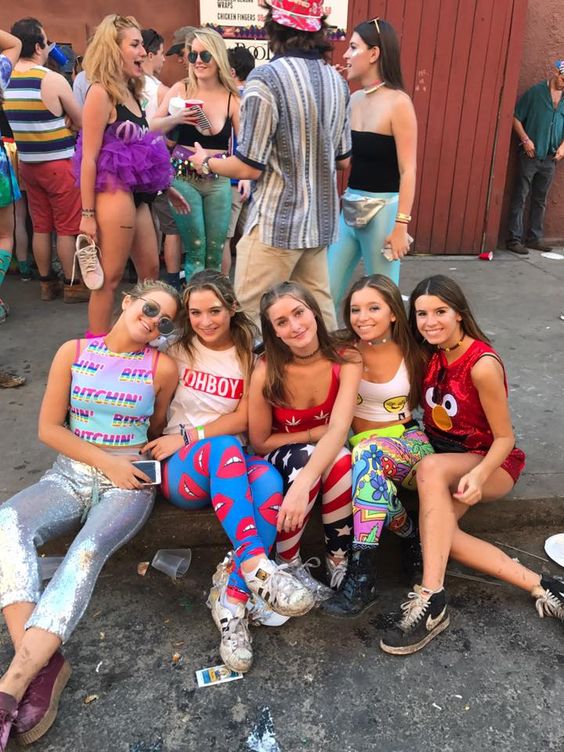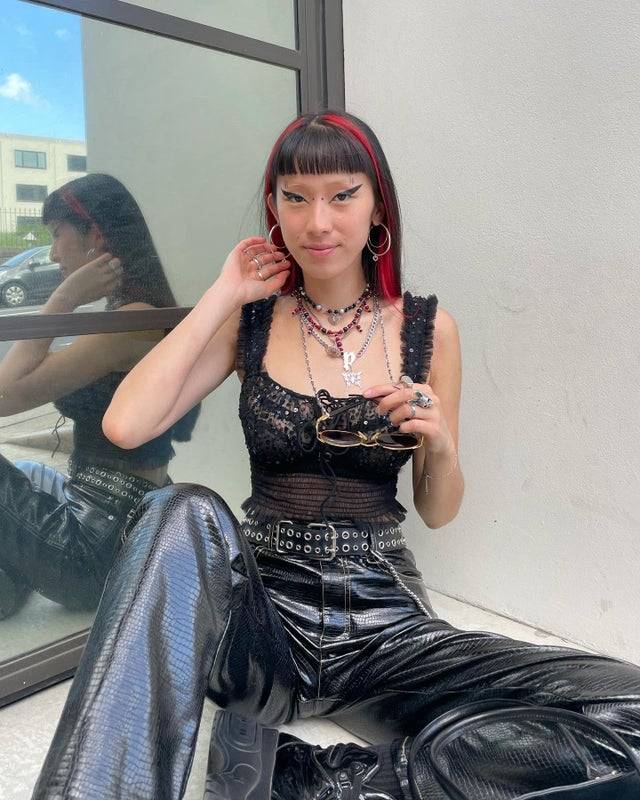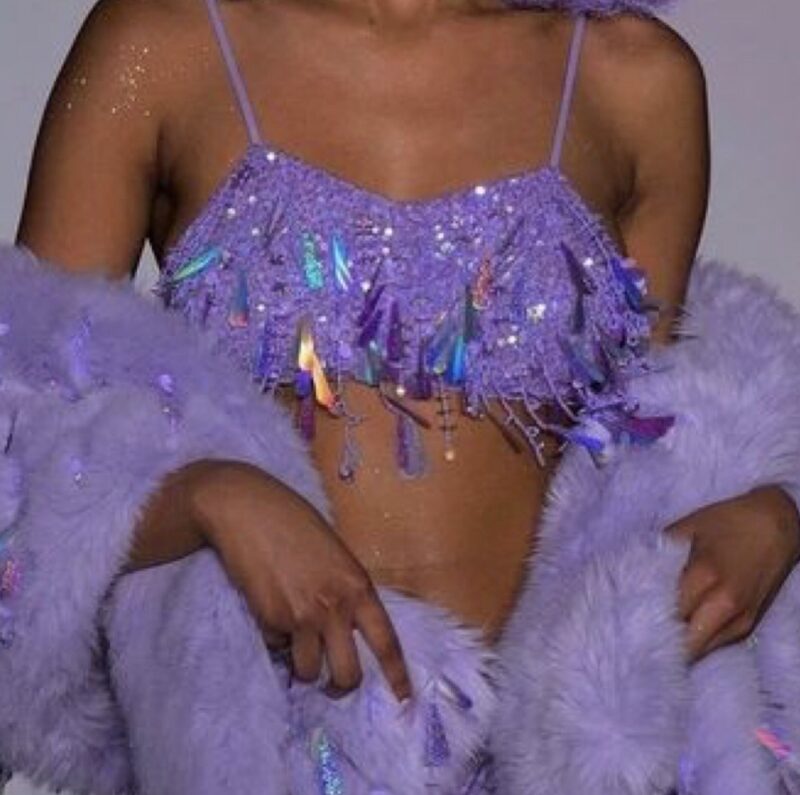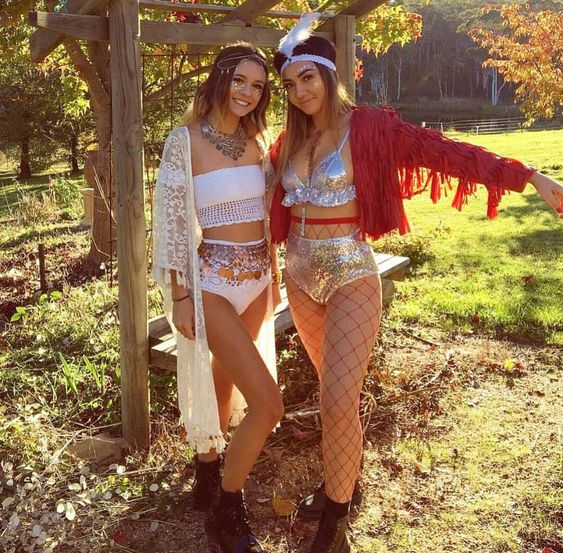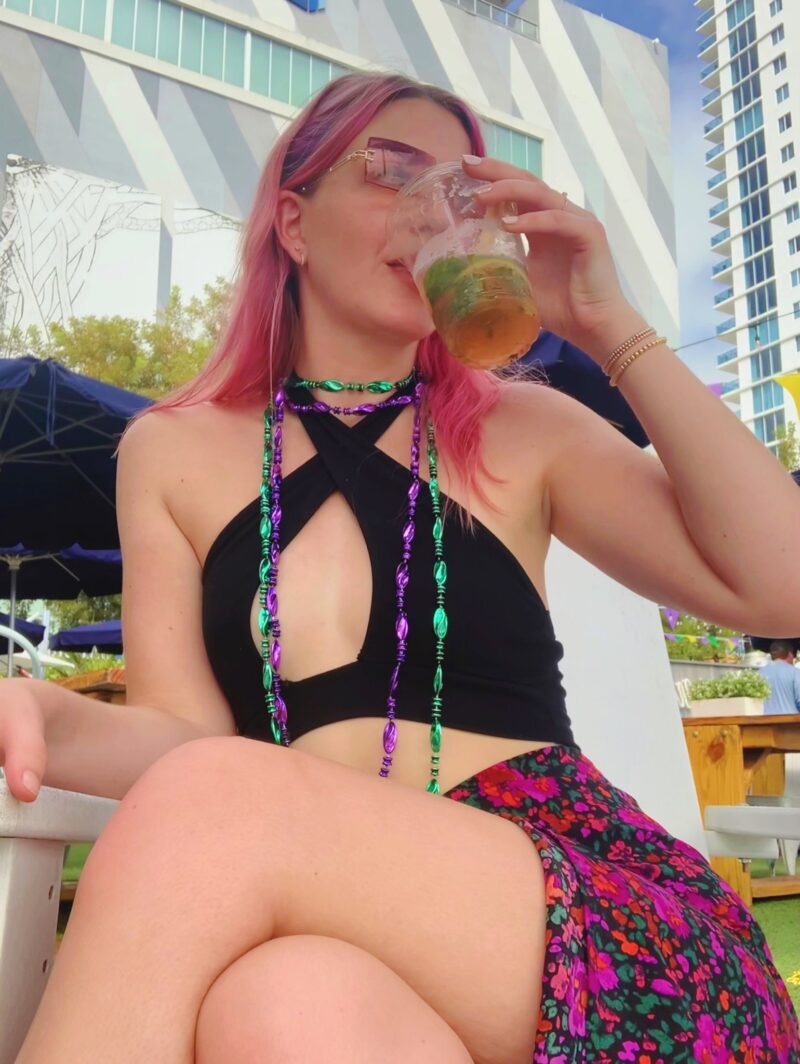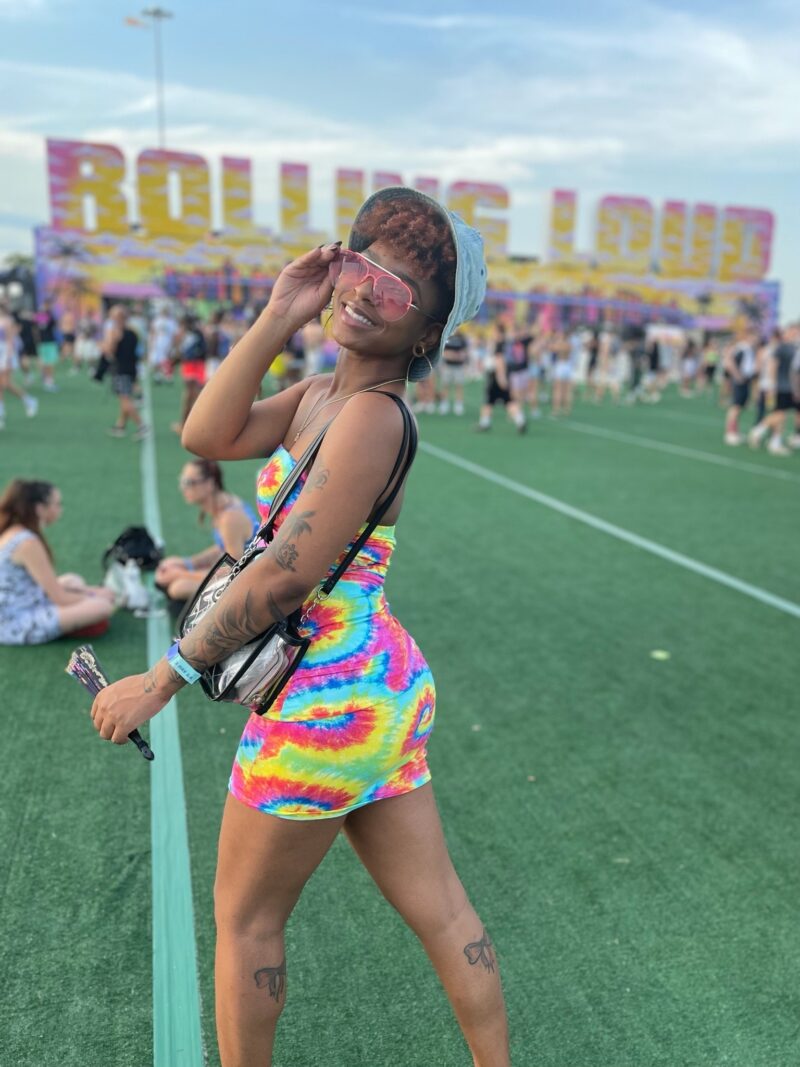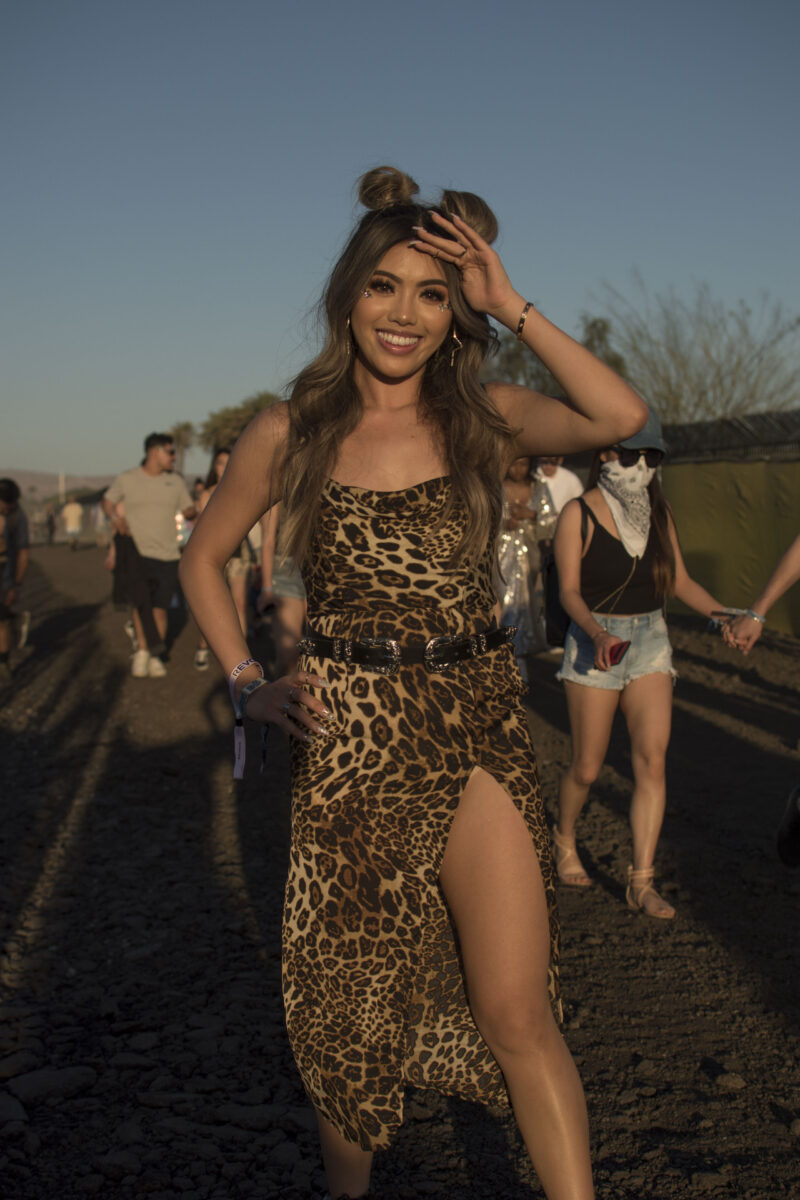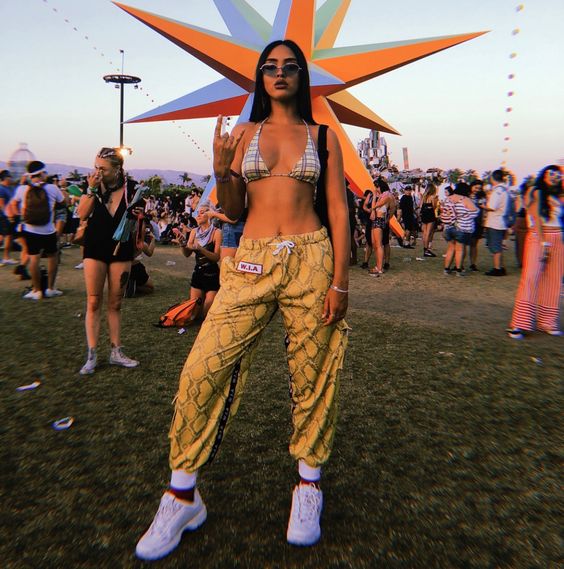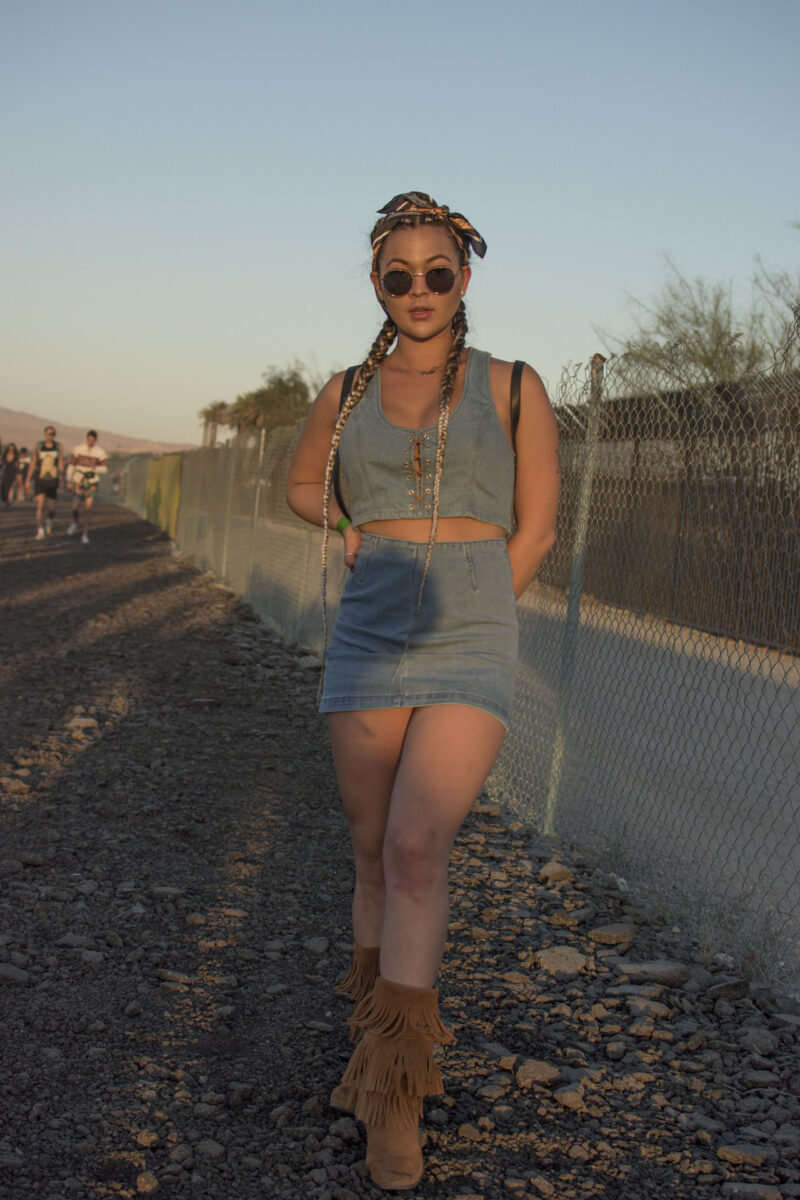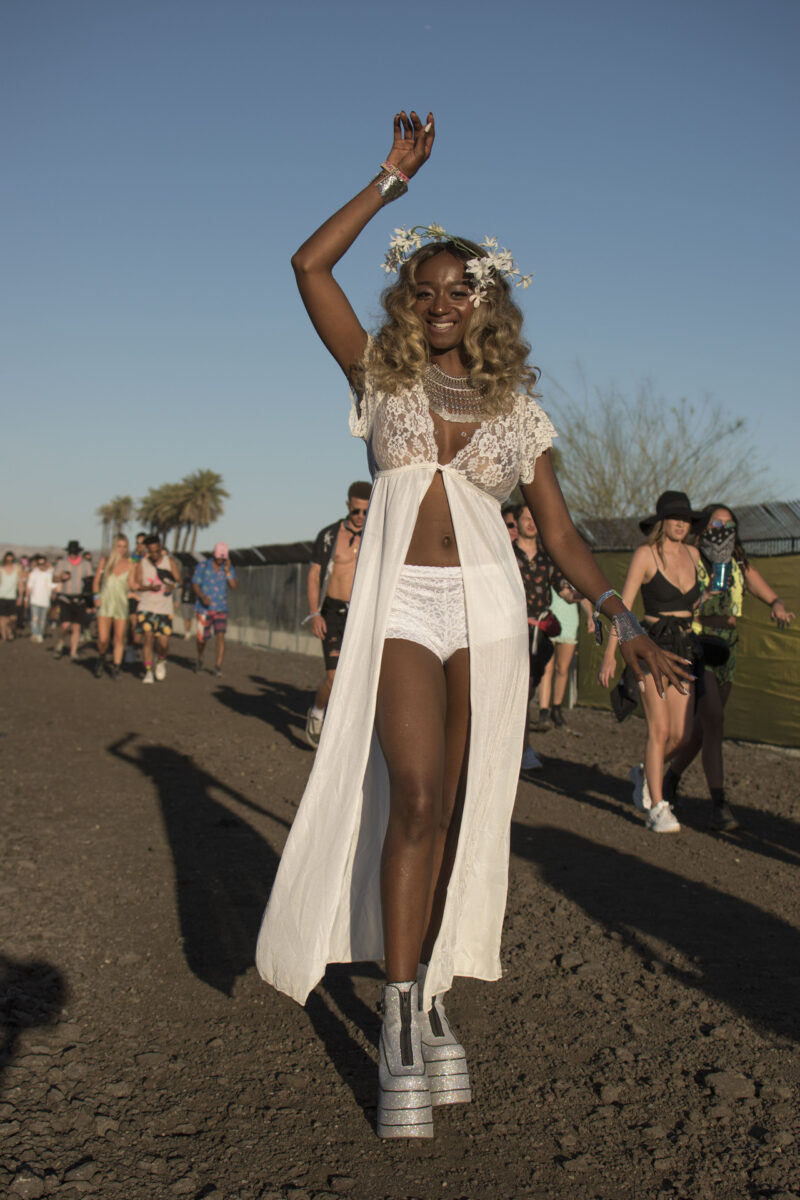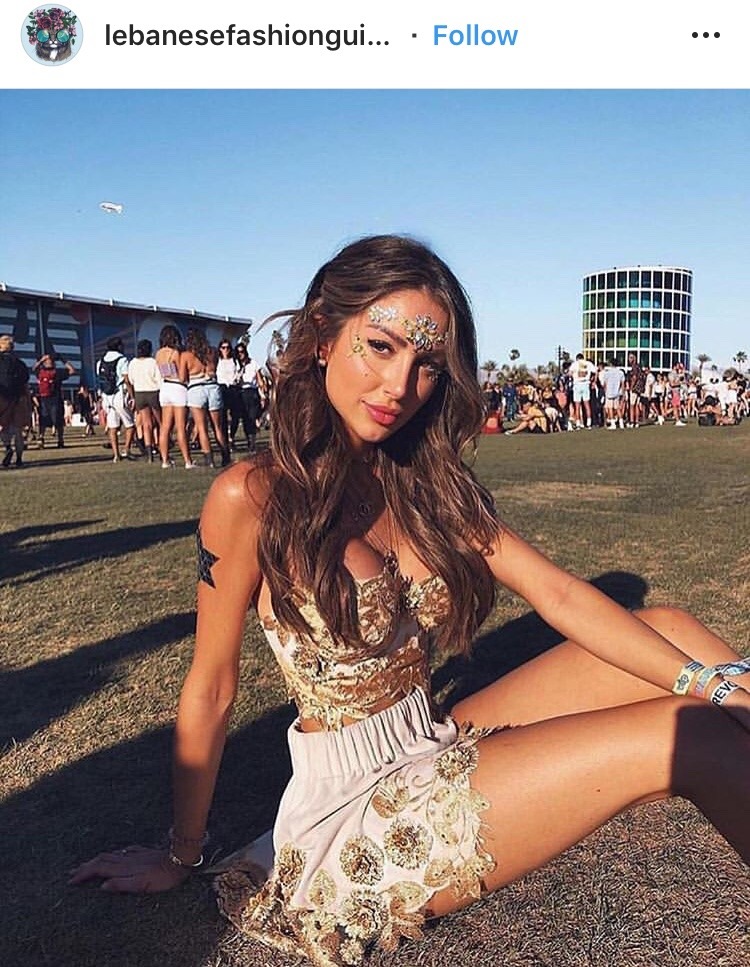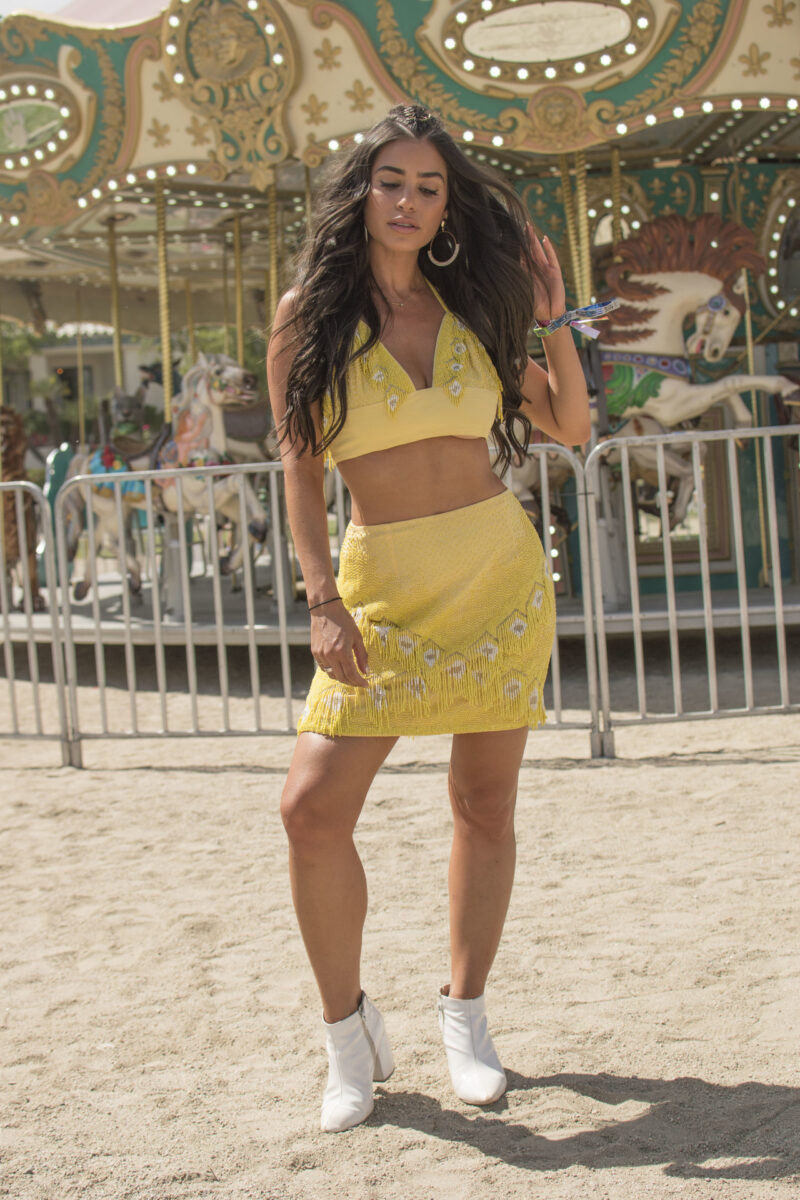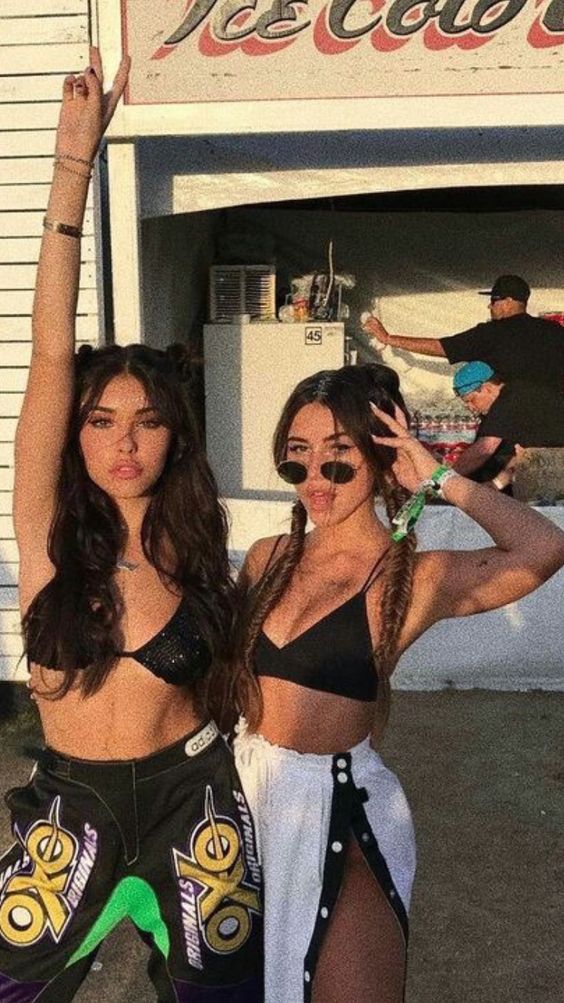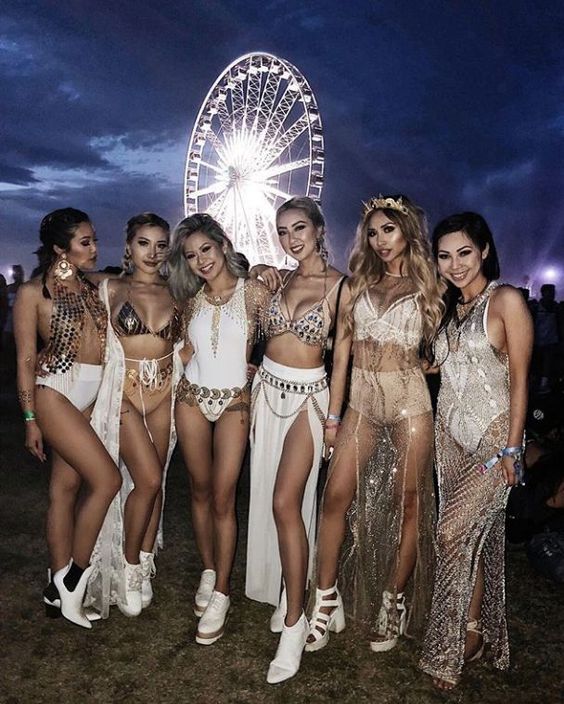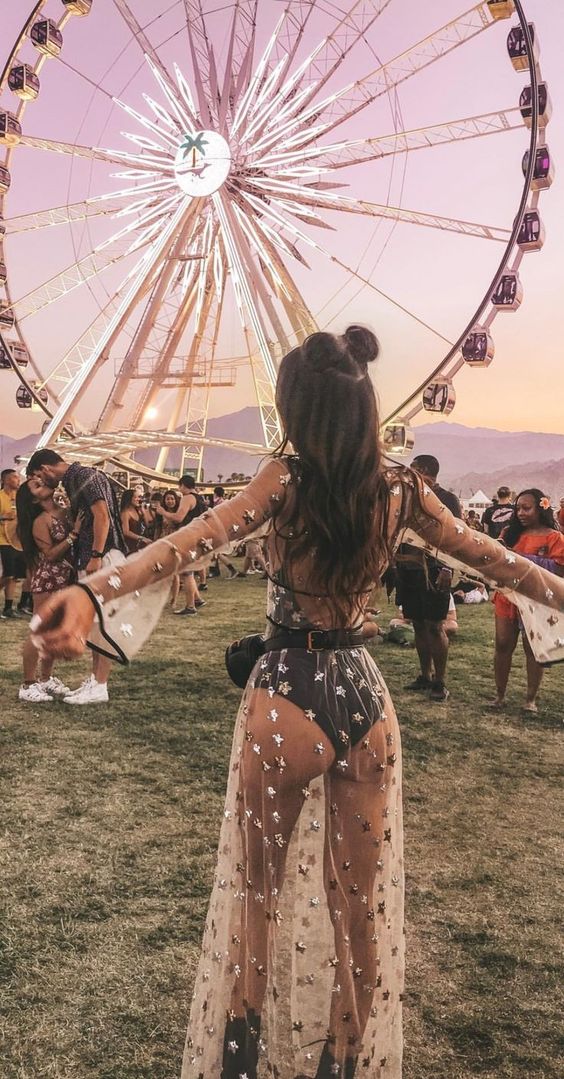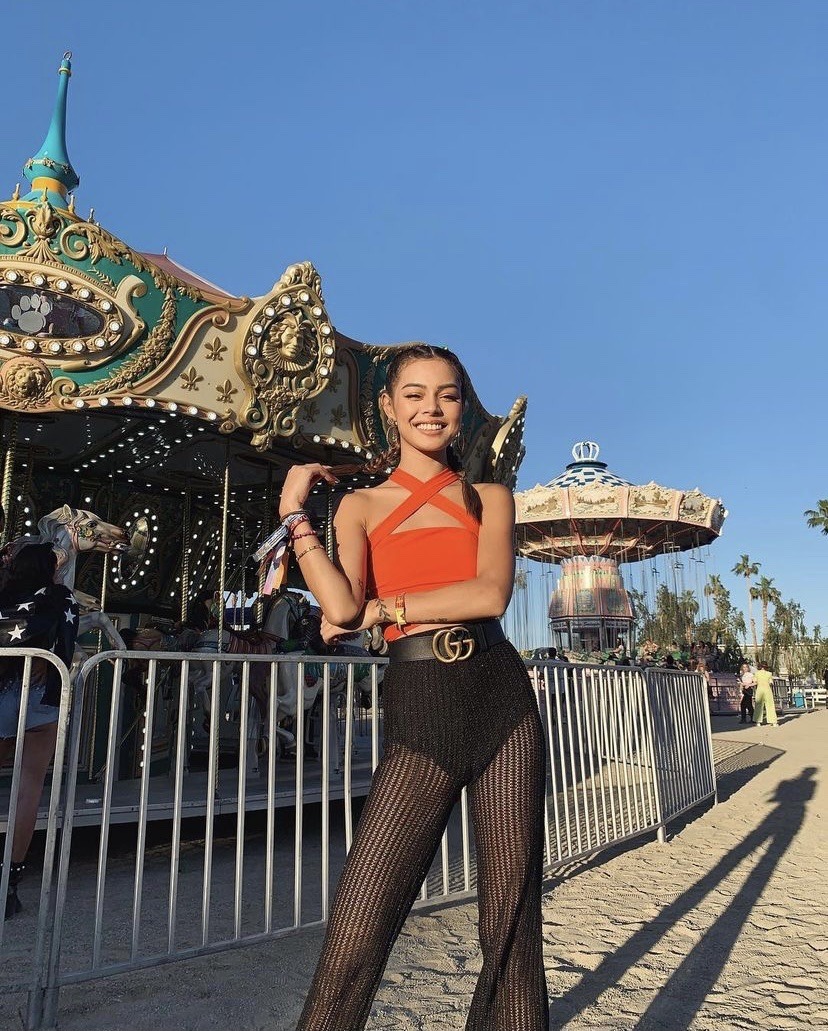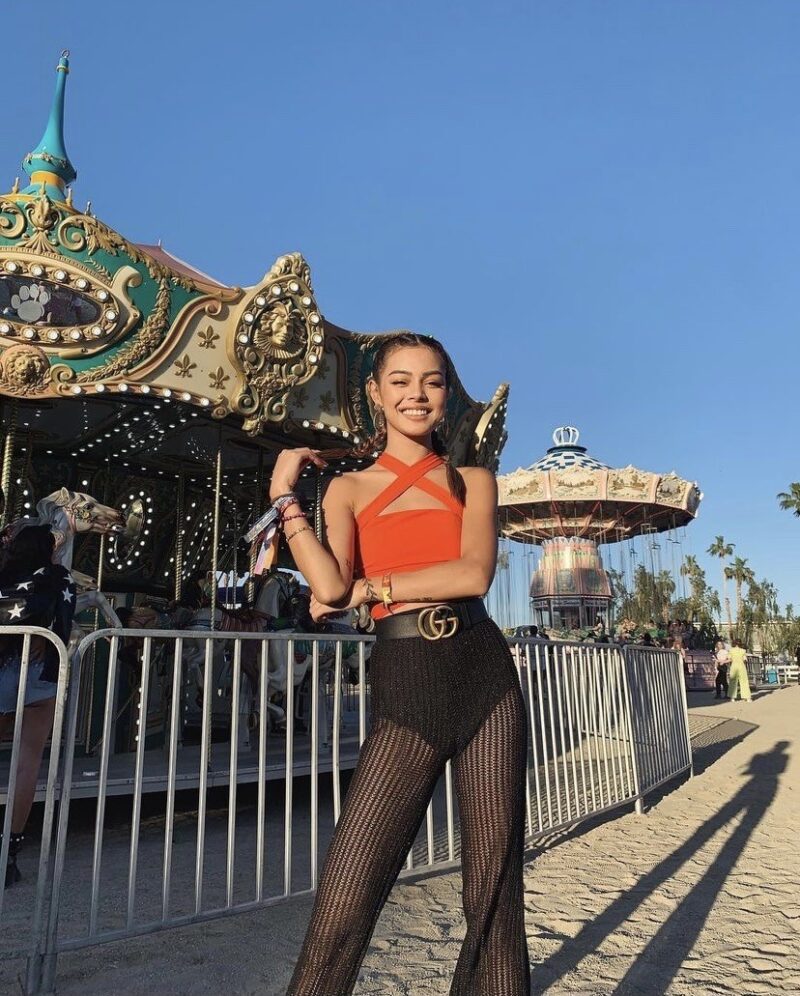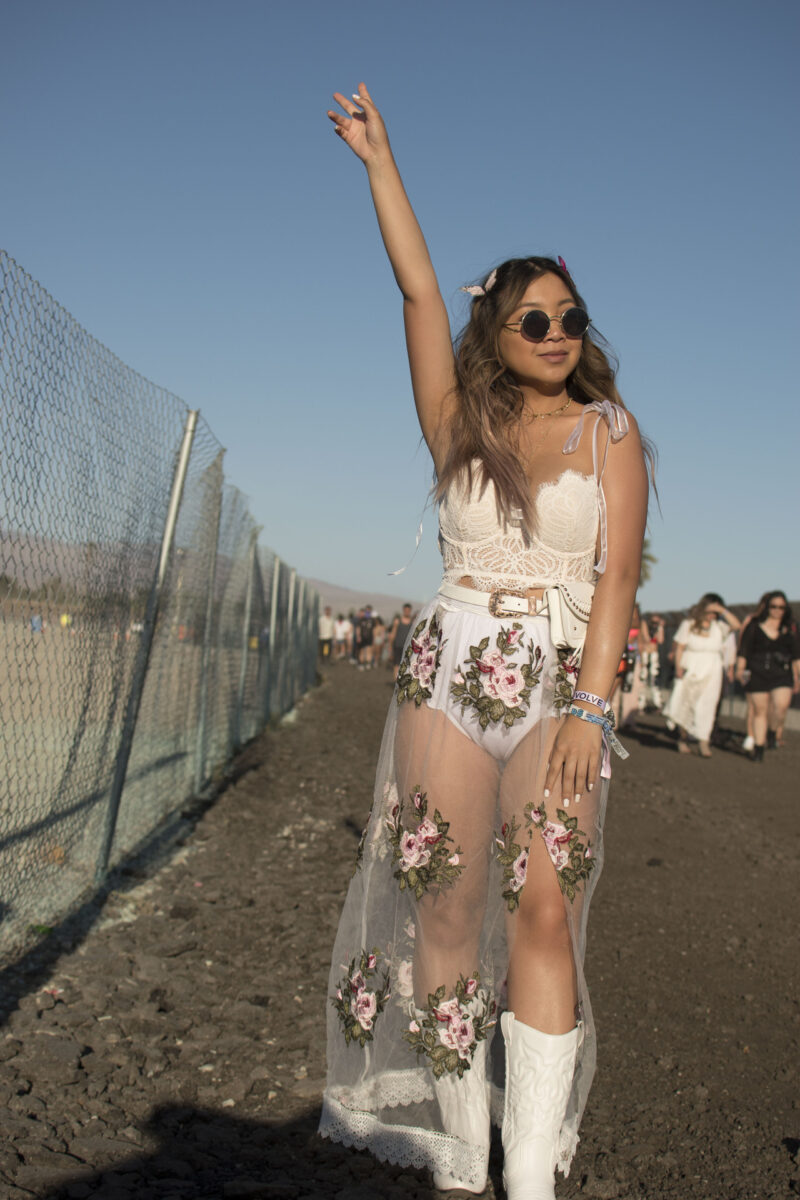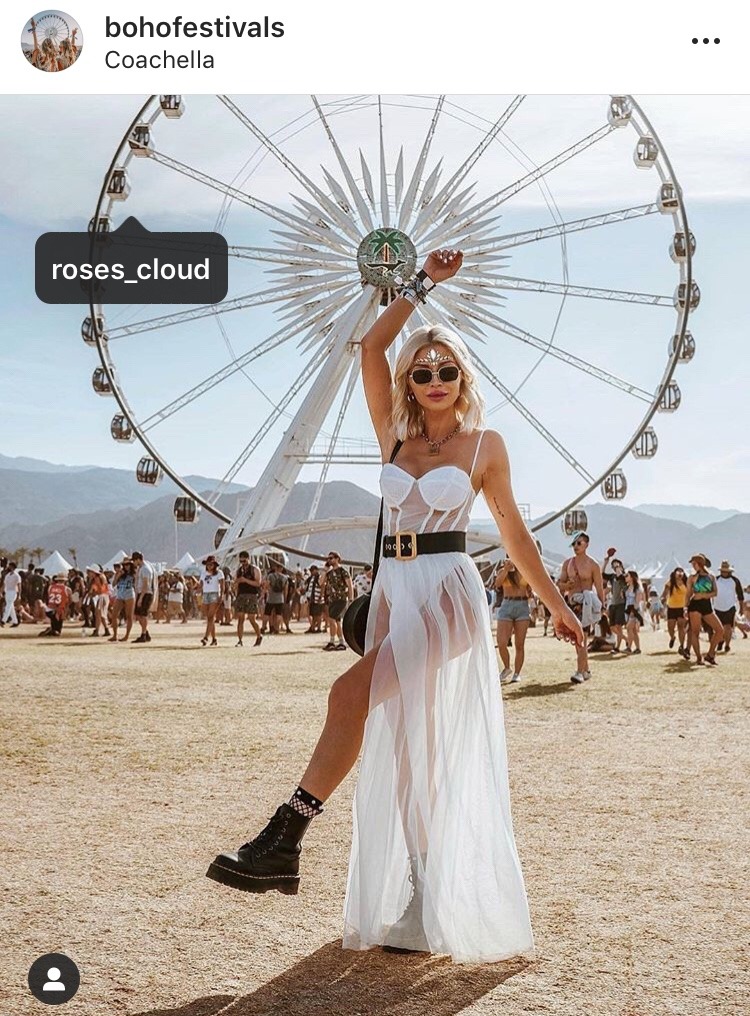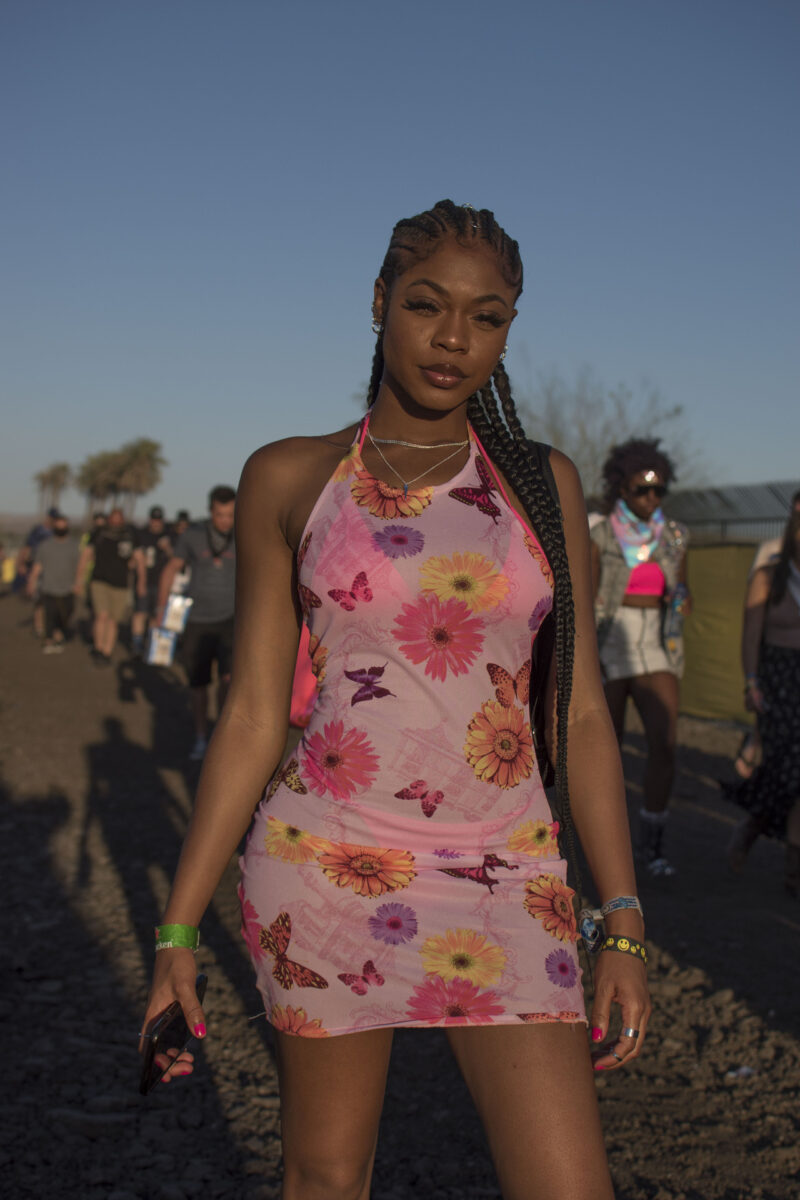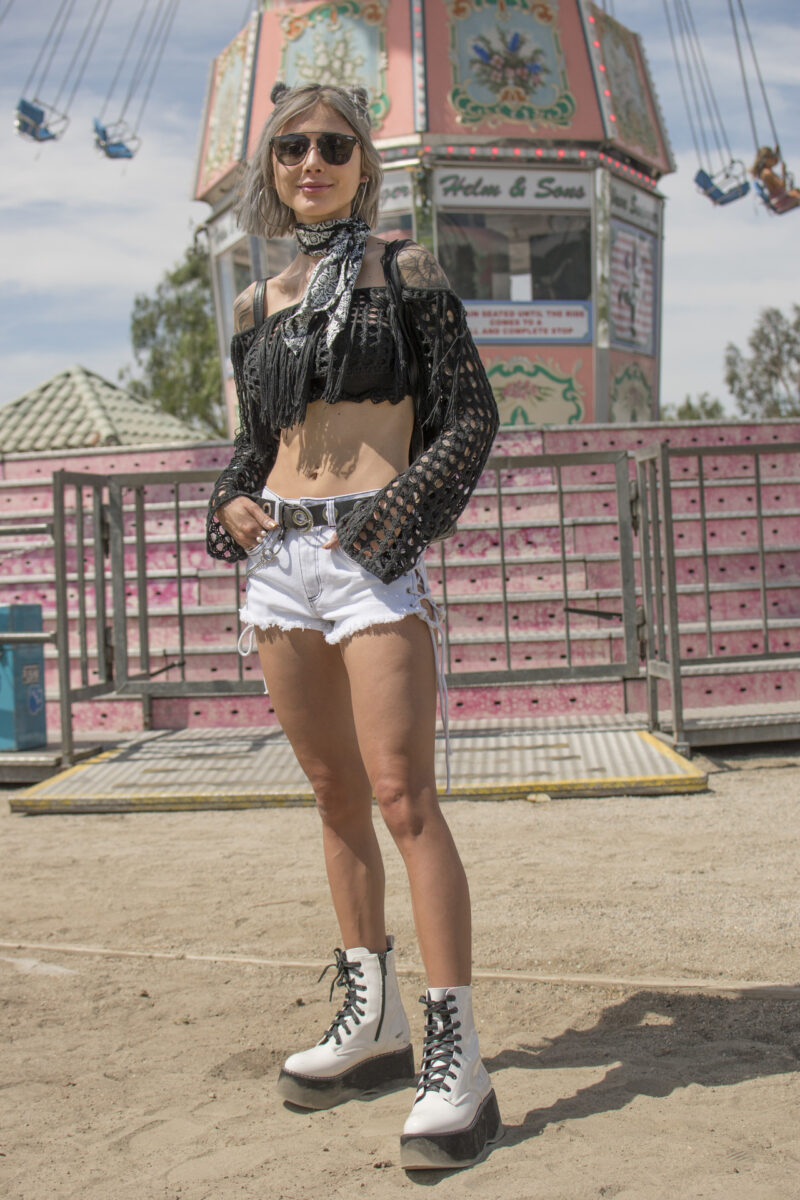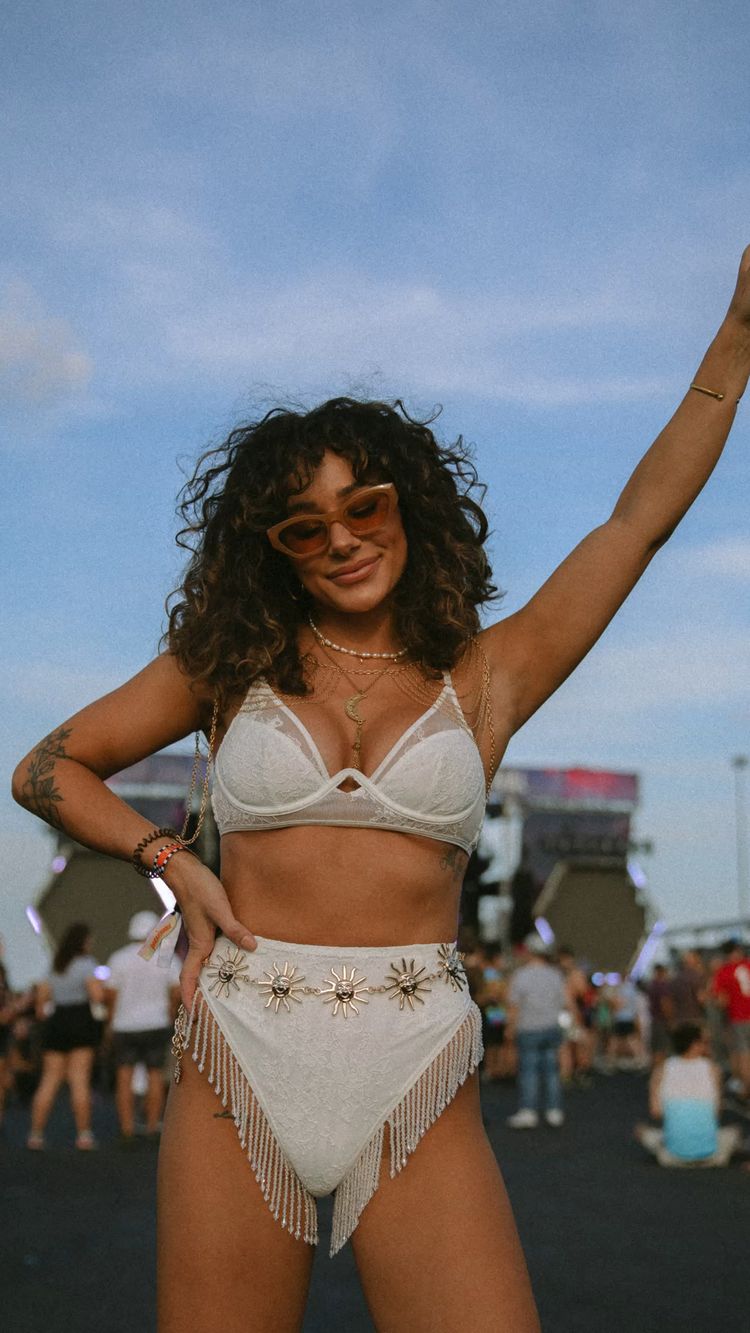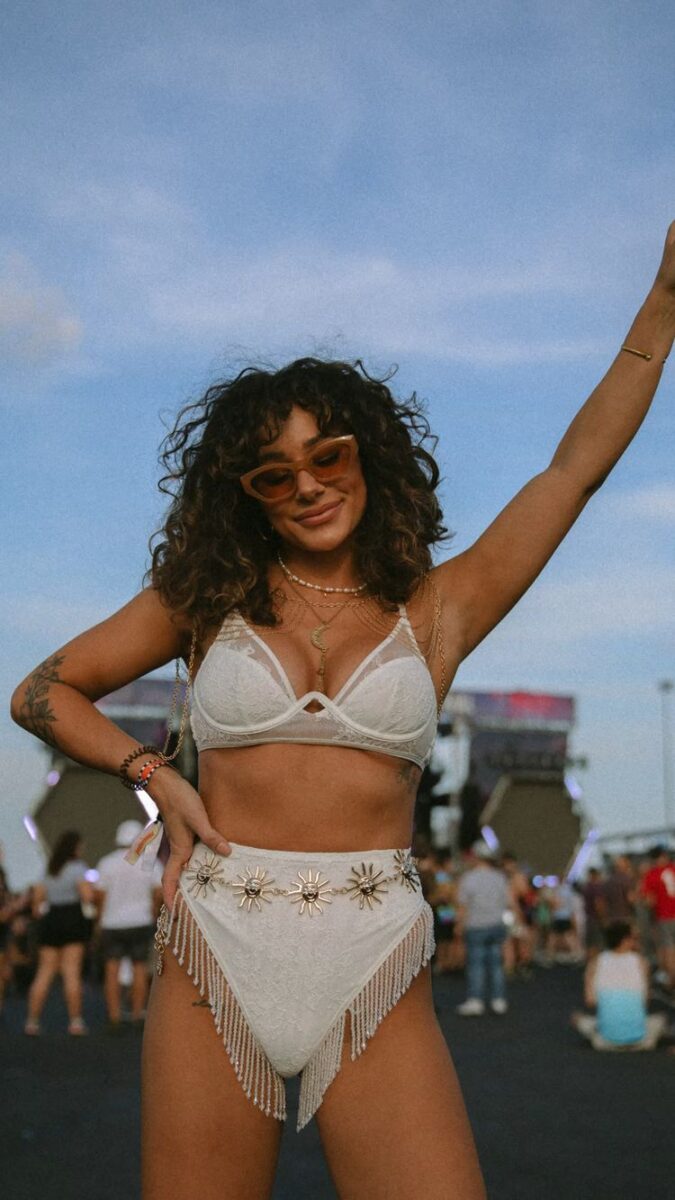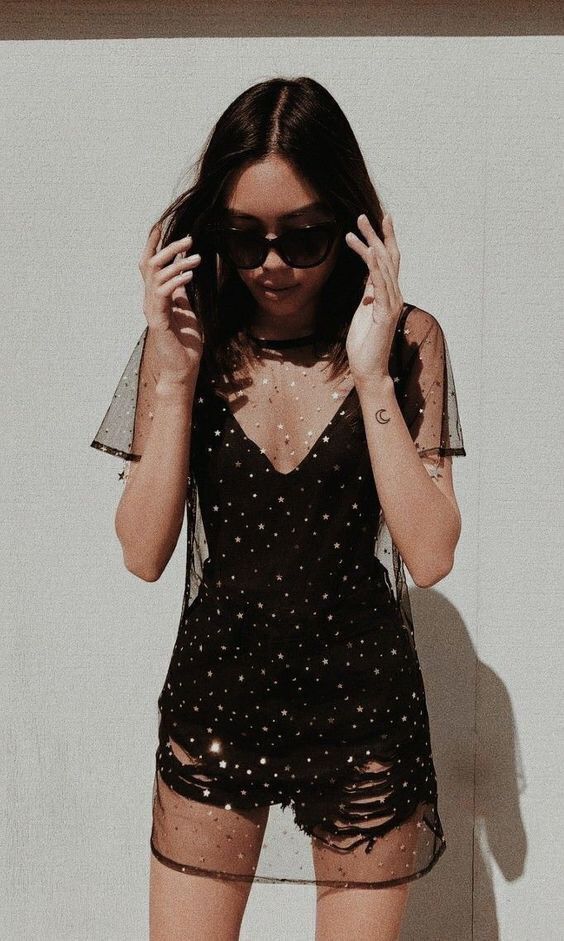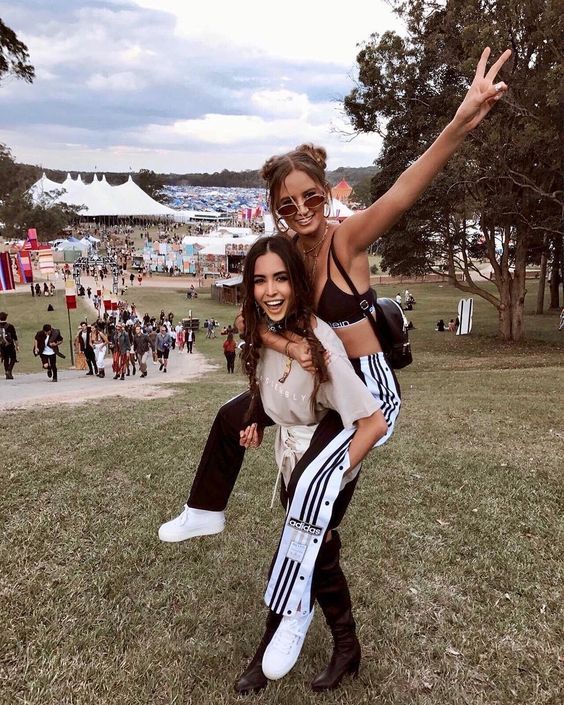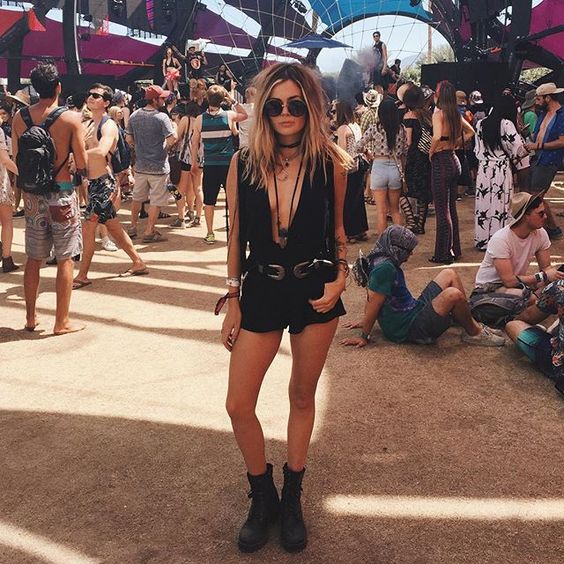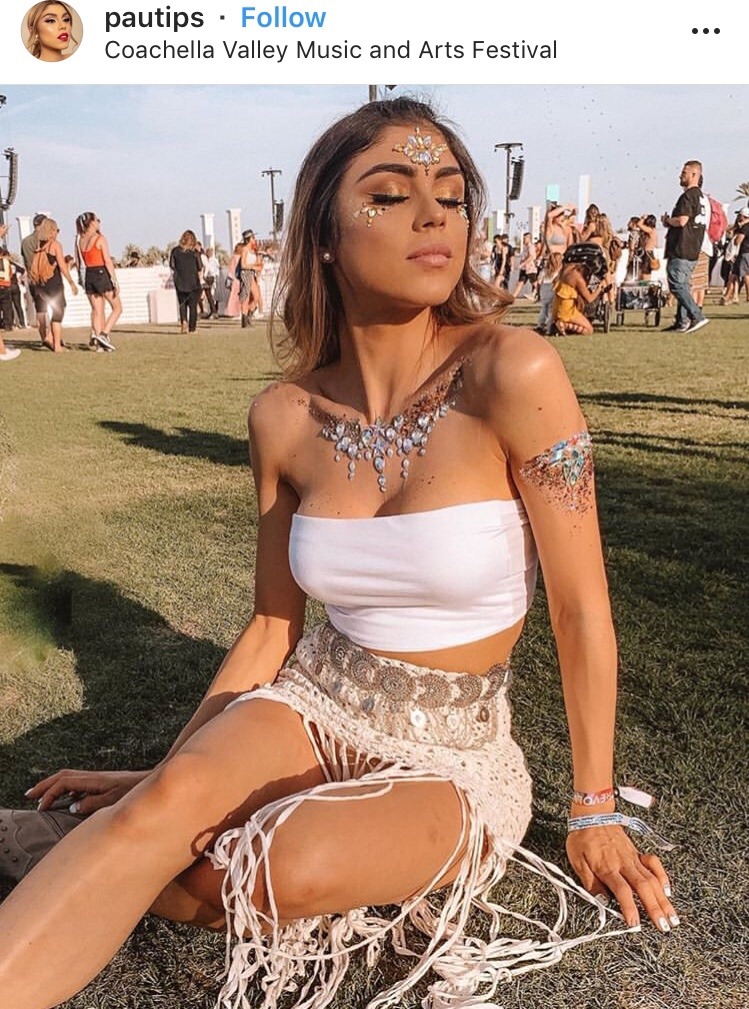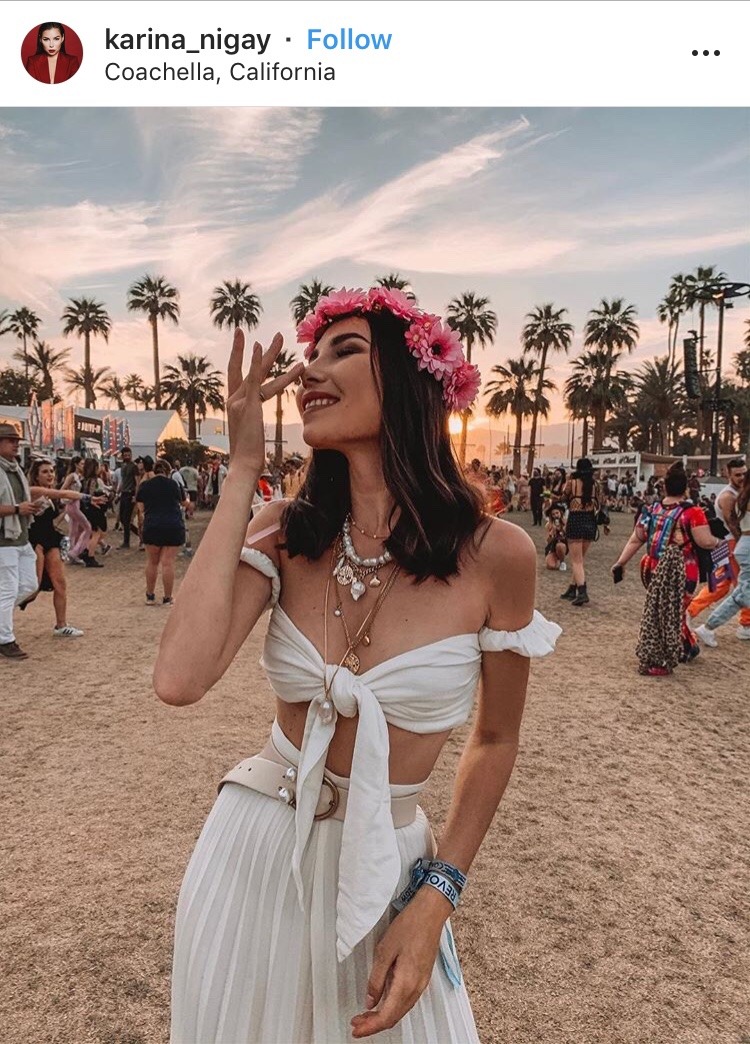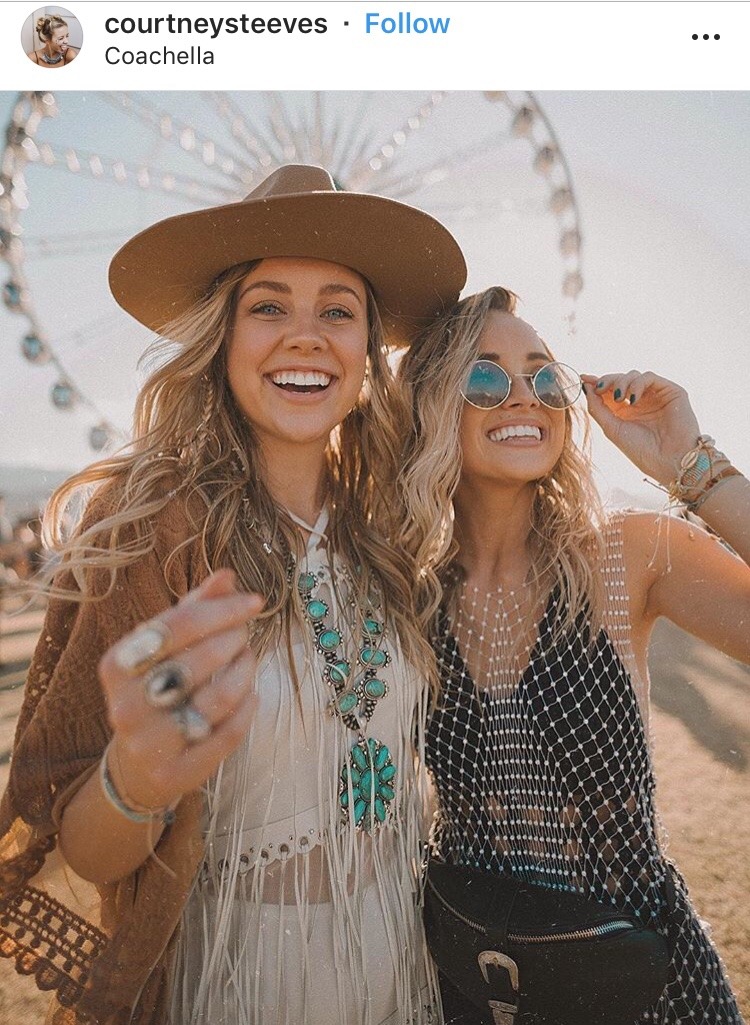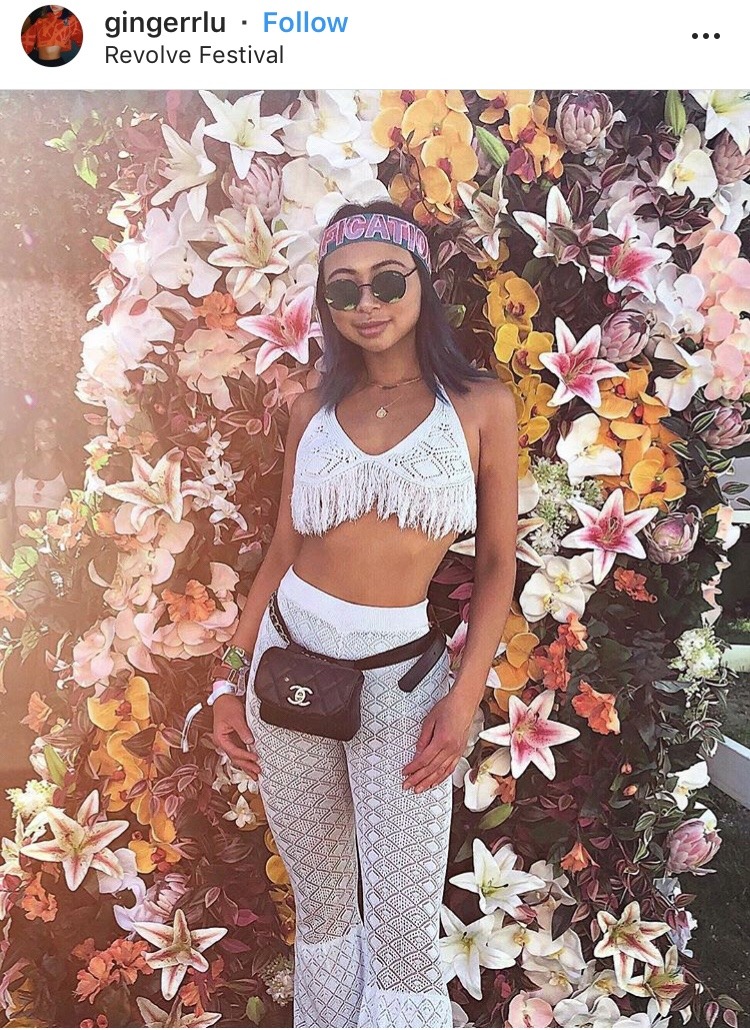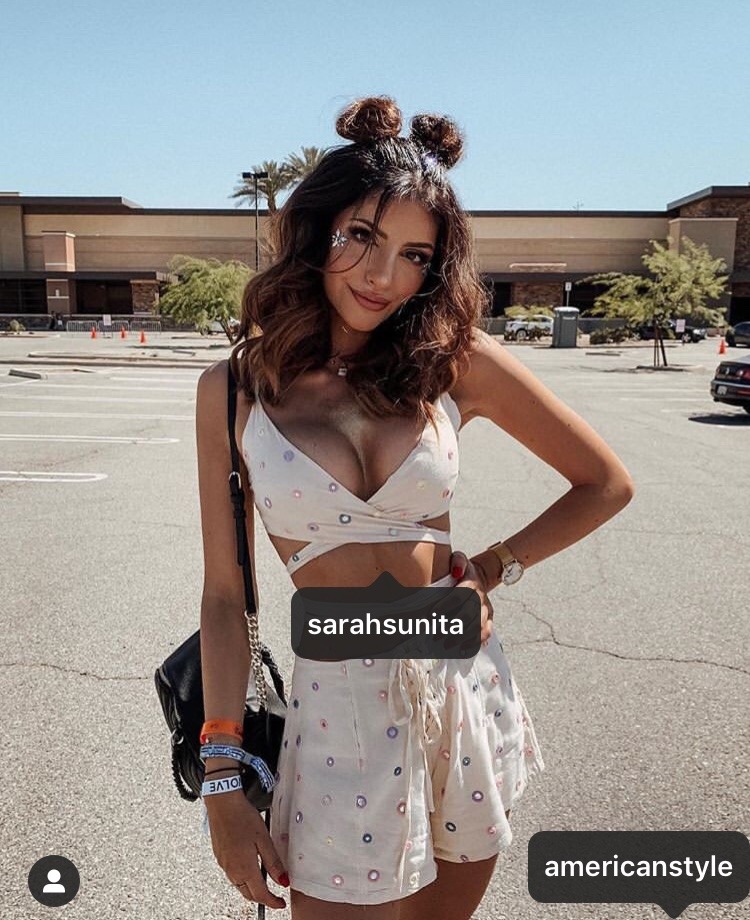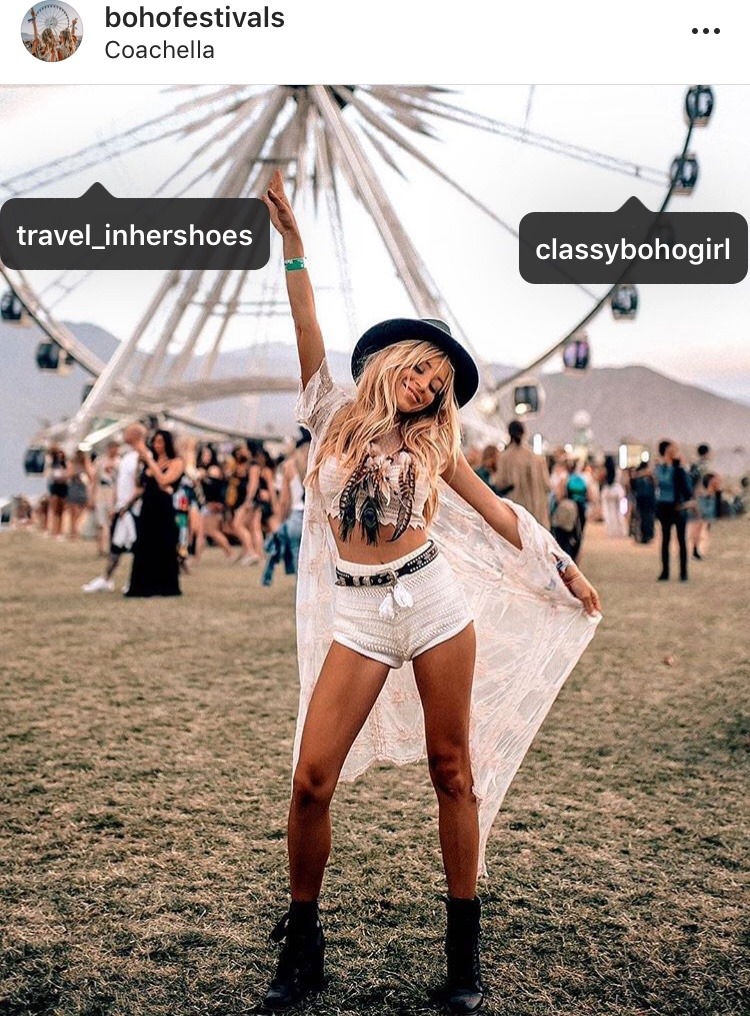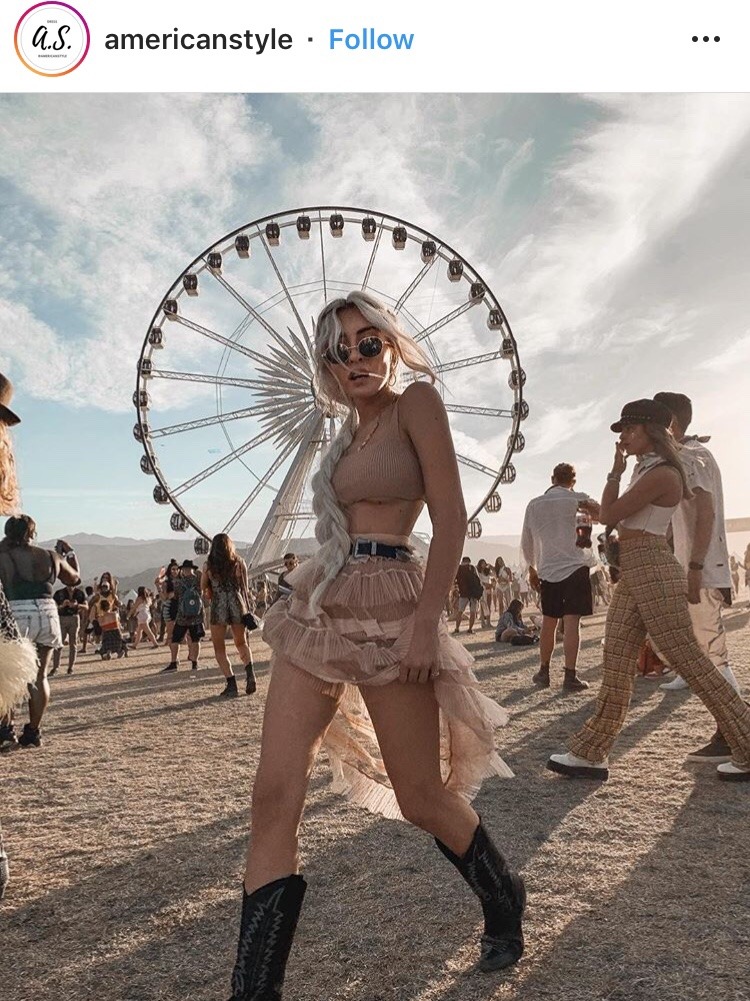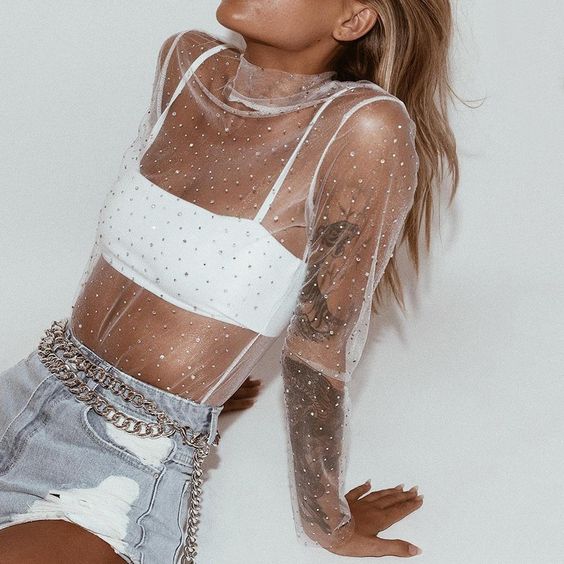 Source