Visualize this: After a long break indoors, somebody finally invites you to a pool party at a hotel. Or perhaps to their newly installed backyard pool. Then, you dig into your closet and you barely find anything to wear.
As someone who has been to many pool parties and often showed up dressed wrong (at least in my mind), this is my worst fear. But if this is you too, don't worry: you can totally look chic with what you have in your closet.
In this article, I will be discussing the A-B-Cs of pool party outfit planning. Whether you plan to recreate new outfits with what is already in your closet or refresh your poolside look with new pieces, you've come to the right place.
The first part will be about the general "rules" of pool party outfit planning, followed by a straightforward run-through of what not to wear, and several fashion styles to engage your creativity in coming up with your final look.
So let's help you figure out what to wear to a pool party so you look chic and casual!
The 10 Commandments of Poolside Fashion…
Here are some rules (and some of our own ideas) to make your pool party outfit insanely chic.

1. Assume your clothes will get wet
Before anything else, the first general idea is to always assume that your clothes are going to get wet. Getting accidentally tipped into the pool, sitting on a wet chair, being splashed with water – these are just some of the possible occurrences that you should expect in a pool party. When picking out your clothes, choose lightweight and natural fabrics that can easily dry off when wet.
2. Style your bottoms
So the pool party is in hours – HOURS! You only have your timeless black bikini and the white one-piece suit that you've already worn countless times and you're freaking out.
However, you can add a twist to these oldies by simply combining them with a bottom cover-up from your closet. To make a fresh look, choose anything with prints: floral shawl, Aztec-printed sarong, or bohemian-inspired culottes. The possibilities are endless!
To add, here are a few ways to experiment with your shawl cover up:
Short skirt

Halter dress

Shoulder dress

Side slit dress

Toga Dress

Jumpsuit
It's also great to add fun bottoms because you'll probably spend a lot of time in your bikini with just one piece of clothing on (a coverup or shorts), so it's definitely a fashion statement.
See: 20 Top Australian Online Boutiques To Check Out
3. Keep one coverup item on but ditch the rest
I wouldn't recommend this for a club party or a formal occasion, but a pool party is an exception! If you're feeling a little confident, there's no reason to shy away from taking off your pants or top and leaving one piece on.
We love how a cropped or knotted shirt looks over a bikini. The confidence in wearing that combo unleashes a fun and carefree persona. Plus, you're ready to jump into the pool anytime!
4. Cover up with overalls
How else can you add a twist to your timeless yet overworn black bikini? Wear overalls!
Overalls are easy to wear and take off before a dive in the pool. These lifesavers make a great cover-up when your friends decide to pick up drinks in-between a pool session or make spontaneous plans to go resort hopping.
Of course, they are really hard to dry off when wet but unless you plan to soak them in water, overalls are kind of an exception. Just opt for the short ones to give yourself a little air to dry up in between swimming sessions. Add a straw hat and a pair of espadrille sandals to complete the outfit!
5. Bring a lightweight jacket or sweater
A pocketable lightweight jacket is a wardrobe and a pool bag essential. It protects you from sudden changes in weather during a pool party. (Can you imagine freezing from an unexpected storm at a pool party?) I've been to so many pool parties where the weather suddenly turned chilly, and it's no fun.
Aside from that, warming down with a jacket can be really helpful especially if you're staying into the later hours. It serves as extra clothing when all your clothes accidentally get wet as well.
6. Accessorize!
Back to the timeless, old black bikini. If you have one, I'm glad you invested in it because a versatile piece like that only needs a few touches of magic to turn into a completely different bikini.
Stylish layering may be impossible with minimal clothing, but with the help of some island-inspired accessories, you can come up with a fresh new look with old pieces. Add this to your accessory list: Macrame earrings, medium to large hoops, net tote or basketweave style tote bag, and large sunglasses.
7. Bring a versatile white buttondown
Almost always, a white button-down makes a good contrast with flashy or printed bikinis. It also easily turns into a classy and sexy coverup no matter which way you wear it. Long-sleeved ones can also keep you warm from cold breezes off the pool.
Alternatively, you can use the opportunity to mix up your outfit with printed button-downs. You can also match your sets or do color blocking for a playful look.
8. Wear a hat
Wearing a hat keeps your face from sunburn and other perilous effects of the sun's rays. The skin on the rest of your body may forgive a bit of sunlight (considering you put on sunscreen), but your face is more vulnerable than you think. So better keep it protected with a bucket hat or a wide-brimmed straw hat.
Plus, it's a great addition to your overall poolside outfit. Hats are super trendy right now! More on this later.
9. Wear sunscreen
A sunburn is not pretty! This isn't exactly a piece of fashion advice, but please, wear sunscreen especially if you're wearing minimal clothing. A bit of tan may look nice, but excessive stay under the sun without protection can cause the skin to peel and be painful.
10. Skip the heels
The last thing you want to wear to a pool party is a pair of heels. Skipping these can keep you from potential hazards that can happen in the poolside: slipping on wet areas around the pool, digging up holes in grassy/muddy parts in the resort, and getting in slippery bathrooms.
If you're doing a photoshoot that requires a pair of heels, don't forget to bring a pair of flip-flops to change in after the pictures are taken. But otherwise, heels just aren't the look at a pool party. Opt for casual but chic shoes.
See: One Piece Swimsuits Under $20
What NOT to wear to a pool party…

Oversized tees
Oversized tees are no-no's when it comes to poolside or beach fashion. If a shirt covers your whole bikini or goes down to your knees, it will look like you don't have anything on and just isn't really the vibe.
Love oversized tees? There's a way to make it work: knot it! Turn your oversized tee into a cropped shirt for a chic and sexier look. More on that later.
Hotel Bathrobes
Spending the night in a hotel just in time for the pool party? Hotel bathrobes with the hotels' logo on them may seem like a luxurious replacement for a cover-up, but unless you're going to the bath, these are the last thing that you'd want to show up with.
Leather Bags
Leather bags go with heels, as heels go with leather bags: they do not belong to the pool. They may look like the extreme statement accessory for a poolside outfit, but trust me – it's one of the last things you'd want to bring to a pool party. Both expensive and faux bags can easily damage when exposed to moist environments. It's best to opt for a knit or canvas bag.
Stilettos
As mentioned earlier, a pool party is not a good time to give yourself a height boost with a pair of heels. Save the stilettos for formal events. Besides, you will be on your feet most of the time (if you're swimming).
Too much perfume
If you're meeting people, a little perfume won't hurt – just to get that nice first impression. Expensive perfume can go to waste once you get wet and you may put people's risk by adding unnecessary chemicals to the pool. Even if you're not swimming, don't put on too much. Perfumes can attract mosquitos and mosquito bites are easy mood-killers.
Wool Hats
Wool hats are also not your poolside best friend. A hot day can easily make you sweat and ruin your hair game (if you're not swimming). A soaking wet hat is also not what you want to wear after bathing. Go with lighter and fresh-looking options like canvas or straw hats. A shawl can also make a pretty cover-up for your face during a hot, blazing day.
I wanted to include this because, weirdly enough, I've seen a lot of wool hats that look "beachy" being sold lately. Make sure you read the label before purchasing a hat for a pool party or you'll literally sweat through the hat.
Excessive Gold/Silver Accessories
Tons of body chains look pretty in pictures, but look silly at a poolside party. Save the body chains for club parties or rave events. Wearing layered jewelry can easily loop by itself – making it an unnecessary hassle for you.
Expensive jewelry like necklaces and earrings should also not be worn because of the high possibility of losing it forever. It can run to the poolside drain, get lost in the cloudy pool, or get snatched by a stranger once left unattended. Remember Kim K. when she lost her $75,000 earring at the beach? Yeah, don't let that be you.
I love a few pieces of jewelry, but it's best not to go overboard. It looks great on celebrities but can be a bit much in real life. Opt for a few pieces (earrings, a necklace, etc.) that won't get ruined by the water and then focus on other accessories like sunglasses or a hat.
Best Styles for Pool Party Outfits:
Here are the top ways to style various sorts of outfits. If you're wondering how what to wear to a pool party in your style specifically, then this is the section you'll want to check out.
Modest Style:
Modest style is for conservative types and those with religion/beliefs requiring a fully clothed outfit. If you're one of these people, let me tell you this: you don't have to show up in unstylish or very limiting clothing like jeans. In fact, there are so many cute pool party outfits that are super modest!
If you're dressing based on your personal belief commitments, you can wear a long-sleeved rashguard and a printed sarong or a long maxi skirt to use as a cover-up. Some rashguard suits come with skirts like this trendy one from Lyra Swimwear. Pair it up with a Nike Dri-fit Hijab if you'd like.
If you're not swimming, you can show up in a printed or vibrant-colored maxi dress and a matching cardigan.
The goal when figuring out what to wear to a pool party, when you want to dress modestly, is to make your outfit feel like summer. Work with lighter fabrics (linen or swimsuit material), add in tropical pops of color, and focus on beachy patterns so you give off that summery vibe.
English Country Style:
Country Chic is English Countryside-inspired. So boots are not part of the plan here – this is more of a peasant-inspired, Victorian reminiscent style.
If you wish to emulate Country Chic poolside style, try to stick with earthy colors, bow-tie blouses, and tunics. A tunic as a cover-up is your best bet! Pair it with a straw or rattan hat for beachy hints. Don't be afraid to play with silhouette when going for this style!
Focus on "peasant-like" fabrics such as linen and cotton. These fabrics in neutral colors can be so chic.
Get this Eyelet Tunic Dress from Zara here.
Plus-Size Style:
Get this Mix and Match Polka Dot Spot Bikini from Asos here.
This style is more like a bonus style tip to all the styles mentioned. This doesn't just apply to plus sizes, but also to women who have emphasized curves. Because you want to show off your curves and feel comfortable in your pool party outfit!
When choosing an outfit to wear at a pool party, things can get really challenging. Minimal clothing, fit clothes, exposed skin – it simply feels overwhelming for a lot of us. But don't decline the invite yet. There are tons of chic options!
Opt for high-waisted bikini bottoms to complement your curves and to add depth to your outfit (think Marilyn Monroe). If your belly makes you especially conscious (we know the feeling), choose swimsuits that have small to medium prints on them. Printed clothing can highlight your main and most flattering curves. When in doubt, wear what you're confident in!
We recommend choosing swimsuits that do flatter your best assets. Figure out what body shape you have and then work with it. There are so many swimsuit styles nowadays, from high-waisted to wrap one-pieces, that you don't have to feel self-conscious.
The same goes for your coverup. Choose something that covers up the areas you think about the most (so you're not worried during the party) and leave the areas you enjoy on your body more exposed.
Shein has great options for various types of swimsuits (they literally have every style) as well as tons of different cover-ups. You can basically find something that looks good on any body type!
Sophisticated Style: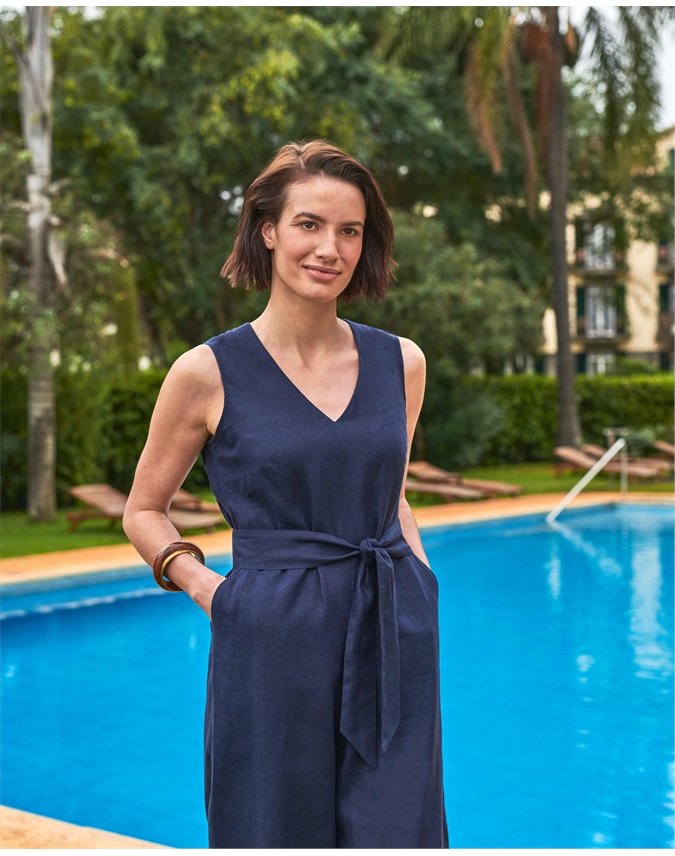 For beautifully aged women and classy moms, a sophisticated style is the perfect poolside style to choose. Opt for one-colored full-length dresses or a linen jumpsuit.
If you manage to have a long shawl with you, wrap it in a toga dress or a full-length dress. Pair it with espadrille sandals and a straw hat to complete the look!
Basically, work to create long lines with this style. If you prefer to stay more covered up, choose lighter fabrics, like linen or cotton, that compliment your body type.
Get this V Neck Linen Jumpsuit from Pure Collection here.
Floral Style: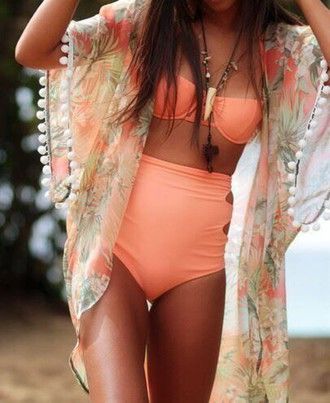 A guaranteed style to wear to a pool party is a floral dress, buttondown, or bikini. For some reason, this style can also be classified as gypsy or boho fashion. For the beachy or island-inspired twist, wear a floral printed kimono over your minimalistic bikini or use a floral wrap as a bottom coverup. Accessorize with a fabric anklet and round sunglasses and you're good to go.
All-Knot Style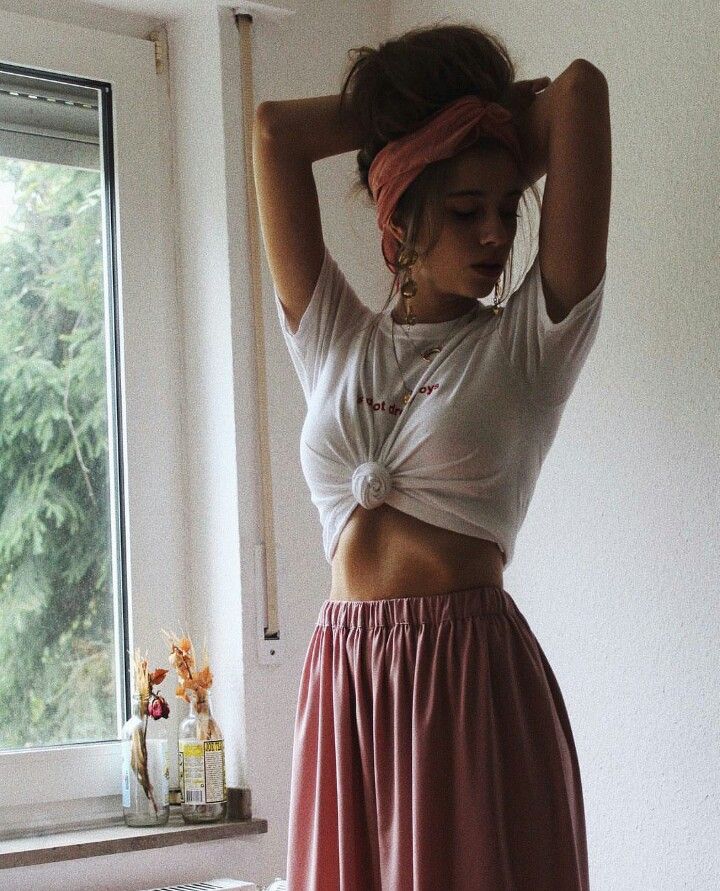 Knotted tee, knotted button-down – knotted anything! All-knot style makes any everyday pieces into a vacation staple. If your wardrobe is filled with oversized tees, you don't have to hesitate to bring them to the pool party.
To knot a shirt at the front, first, fold it in the back. If it isn't neatly folded, don't worry – now isn't the time to be a perfectionist! Gather the remaining fabric in the front and twist it until it forms a spiral. Wrap it around until it forms a ball, insert the fabric from the back, and pull it to the front. Secure tightly. You can also make a back knotted shirt with the help of a friend using the same instructions.
If you want a shirt to mimic a bikini top, you can fold the back higher than usual until it reaches the lower part of your bikini top or bra. You can pair this with a long skirt or a maxi dress to balance the outfit.
More Pool Party Outfits: