Australian brands are known for being super feminine and perfect for warm-weather months. If you're looking for anything frilly yet trendy, then you'll definitely want to look at Australian boutiques.
Luckily, there are tons of amazing Australian online boutiques that ship to all over the world.
If you are familiar with big boutique brands like Hello Molly and Princes Polly, you'll discover Aussie designers' passion for prints and silhouette play.
Color-blocking, print-on-print, oversized puffed sleeves – these are just some of the styles that you'll find in most online Australian boutiques. If that's your style, then you're likely to find a new favorite on this list!
Here are our favorite Australian boutiques and Australian online clothing stores with super trendy and girly yet affordable clothing. Let's dive in!
Esther and Co. embodies the softness, femininity, and creativity of the Australian woman. Flowy dresses, skin-complimenting palettes, and curve-enhancing fits are just some of the things you can expect from their collections.
They also follow the latest trends, but without forgetting their love for timelessness. You'll find that a lot of the dresses and clothes they offer can actually be worn again and again without losing their charm.
Esther and Co. is guaranteed to have a statement dress for every occasion- from wardrobe staples to formalwear. Despite being limited as an exclusively online Australian boutique, this Australian brand drops hundreds of new dresses, tops, bottoms, and basics each week to keep your wardrobe fresh and on-trend.
Additionally, their wedding collection is not to be overlooked. Regardless of your role, their dresses can reassure you to own your moment.
Sabo Skirt is one of those brands that encountered an unexpected and positive turn from a clueless creative start. The brand started as a fashion blog in 2010 and eventually launched an online boutique the year after. Since then, Sabo Skirt became a success story.
The success of Sabo Skirt is evident in its wide and impressive social media following. Their reputable name is even supported by celebrities including Gigi Hadid, Vanessa Hudgens, and Demi Lovato.
Their edge leans on to beach style, modern-day feminine, and trendy silhouettes. This is one of the most beachy Australian brands on this list.
Hello Molly is another full-on feminine Australian clothing boutique. Fun, playful, and youthful, Hello Molly is a haven for unlimited trendy clothing!
Hello Molly is said to be born out of the founder's desire to offer great in-style selections to women without having to break the bank. Their pieces also scream out confidence with their body-complimenting silhouettes.
From casual wear to formal wear, Hello Molly has a dress for every taste. It launched in 2012 and is one of the fast-growing, Australian retail brands in the world.
Hello Molly competes alongside fast-fashion brands like Princess Polly, ASTR the Label, Sabo Skirt, and Petal + Pup. While Hello Molly is one of the best Australian brands for wedding guest attire, they also have more casual pieces that are high-quality and trendy.
Hello Molly is definitely one of the more feminine Australian online boutiques on this list, so check them out if you're into romantic but still current clothing.
Salty Crush takes pride in its boho twist on modern and on-trend feminine styles. Prints, patterns, and seasonal clothing are restocked regularly that you'll find yourself looking at at a completely different boutique as soon as you check it out again.
Regardless of the flashy nature of this brand, Salty Crush maintains a style that embraces elegance and sophistication. And, like the modern Australian woman, Salty Crush is inspired by a relaxed and laid-back loom. As soon as you check out a couple of items from their boutique, you'll easily look like a natural beach babe.
A boho printed dress paired with casual sandals is the ultimate Salty Crush look.
Australian women patronize this brand, especially those based in Sydney where the beautiful Northern Beaches are located.
Beginning Boutique is a long-standing Australian clothing brand that started in the year 2008. At that time, online shopping is still underrated — particularly because the internet was not quite well introduced to the public then.
The company's CEO, Sarah, was inspired to open this boutique back when she visited Paris during her 21st birthday. She always thought a go-to events shop would be a great idea during a time when it was hard to find a decent dress to wear to a birthday, a wedding, or a formal event. Fortunately, she was able to build a successful online community among women around the globe.
Today, she takes pride in spotting the latest trends, recreating them, and offering them to the modern woman. Evening wear, gowns, cocktail dresses, and formal footwear are just some of the great categories that you can find on their website.
This is definitely one of my favorite Australian online boutiques, but keep in mind that you only have 14 days to make a return.
Princess Polly is true to its name, providing fun-spirited girls with creatively made clothing. Inspired by the latest trends, pop culture, hipster style, and street style, Princess Polly never stepped down its reputable name as the ultimate go-to shop for weekend-loving women and girl bosses.
Believe it or not, this big boutique started as a humble startup out of a beachside apartment on the Gold Coast of Australia in 2010. The company gained sustainable traction after linking with influencers and celebrities.
Princess Polly is the type of boutique where you may find everything that you see on Pinterest. Their pieces help to romanticize your life!
I'll be honest: I love Princess Polly. It's definitely one of my favorite Australian brands because the clothes are super trendy but are also great for everyday life. If you haven't checked out PP, you should definitely start here!
Madison Square is an Australian clothing boutique that stands out with the fabric they use in their clothes. They are also known for creating a sustainable and environment-friendly name despite being in the clothing retail industry.
"Effortless sense of cool" is Madison Square's ultimate goal. They specialize in offering luxury-made linen products and planet-friendly alternatives that reflect the roots of Australia.
Despite being timeless, their designs never look outdated at all. And like most Australian brands, Madison Square maintains a relaxed and laid-back aura.
What I love most is their linen bridal collection — I mean, where else can you get a full wedding collection in linen?
As one of the largest growing boutiques in the global scene, Mehski is one of the more up-and-coming Australian online clothing stores.
Mehski is a Sydney-based brand encored in providing people a rack of selections inspired to make them confident, ambitious, and unstoppable. Slowly but surely, this brand was able to creep into famous celebrities' and influencers' wardrobes. These include Kim Kardashian, Madison Beer, Selena Gomez, Hailey Baldwin, and Kylie Jenner.
As you browse into this Australian boutique, you'll see lots of gorgeous dresses. On their website, you'll also see a tab dedicated to the mentioned celebrities above, which you can use for inspiration while shopping.
With a collection of reputable reviews and a huge celebrity following, this brand is sure to be around for a long time.
The Australian brand specializes in formal wear, party dresses, and evening gowns. They also offer basics, swimwear, and activewear tops.
ShowPo is a competitive Australian boutique that showcases unique, elegant, and showstopper pieces. They simply do not stop at providing feminine-forward dresses but also recreate looks that represent the unconventional and new face of a modern woman: strong, masculine, and open.
This is mostly inspired by the brand's CEO, Jane Lu, who has a history of working in a corporate job. Wanting to change to the retail game, she took the initiative of making a garage office into a fashion empire of 140 team members.
ShowPo is a trend-forward fashion boutique with over a hundred styles dropping weekly.
They also carry about 80+ local brands and classic international brands like Wrangler, Levis, Rollas, Lioness, WeWoreWhat, Runaway the Label, and more that can make shopping easier than ever. There are many Australian brands on this site as well as some American-made pieces.
This is one of the best Australian online stores for wedding guest dresses, though they also have lots of casual/trendy options, too. Keep in mind that shipping can take a week or two if you aren't located in Australia.
The Iconic is not your typical clothing boutique. The boutique delivers a selection of apparel for men, women, and kids, sourced from iconic Australian brands, independent designers, and international names.
Find everything from dresses to jeans, ankle boots to sneakers, watches to wallets, and beauty essentials. The Iconic is somehow a stylish counterpart to a brick-and-mortar department store with all the things you can find.
The Iconic is a haven for elevated basics and off-duty essentials. Classy, sophisticated, and elegant is what you can make of their collections. Even their taste in swimwear does not fall out from the tree.
Their Australian online boutique encourages fun and engaging hunt for clothes, dresses, denim, suits, and formalwear. With the mix of both local boutiques and international cult classics present, there's bound to be something for everyone to capture within the walls of The Iconic.
Fortunate One is a notable Australian clothing brand that features a classy and playful style. For them, "it's summer somewhere in the world," just like it always is under the Australian sun.
Travel-inspired, free-spirited, and feminine, Fortunate One has gained a reputation for offering flowy dresses, floral prints, swimwear, and laid-back footwear.
Their style is also grounded with travel destinations and inspirations from the by-gone eras of the 70s and 80s. Nostalgic elements are their competitive edge.
What I like most is their playful use of textures and fabrics to create unique clothing pieces. Best guaranteed, they have every piece for every exciting venture. This is one of the best Australian online clothing stores if you're planning to find a fresh fit from top to bottom in one check out!
Billini is a 100% Australian-owned footwear online boutique that offers a wide variety of selections for every occasion. Find must-have classics, chic wardrobe staples, and trendy shoes that compliment and complete the silhouette of a modern-day feminine.
With their high-end and impactful styling, Billini caught the attention of influencers, celebrities, and fashion icons in the fashion industry. Sexy, feminine, and on-trend is the online Australian boutique's main aim.
There are also lots to love about Billini's online website. It's clean and everything looks fresh and very much on-trend. What I love most are the vivid and bold palettes they use in their shoes' designs. Nothing like it anywhere else!
From sandals, heels, platforms, and boots — everything you need to elevate your footwear game is available in this online boutique.
If you're a fan of Hello Molly and Princess Polly, this Australian brand is a great addition to your wardrobe. They offer pretty selections of dresses that are hard to pass by. Two-pieces dresses, floral skirts, and summer fits – you can find them all here!
Stelly embodies the personality of an Australian woman: sexy, feminine, and laid-back. They achieved in recreating familiar pieces into something more open and digestible to the eye.
Most of their casual fits also look prominently well with sandals or sneakers, a popularized trend in Australia. Aside from that, they also offer a selection of party and formal wear that you can choose from.
If I were to decide for my birthday fit from brunch, lunch, to dinner, I'm certain to find a dress for every outing here. I'm impressed by the playful, feminine, and stylish energy their dresses give out! This is one of my favorite Australian online clothing stores because the shipping process is always easy.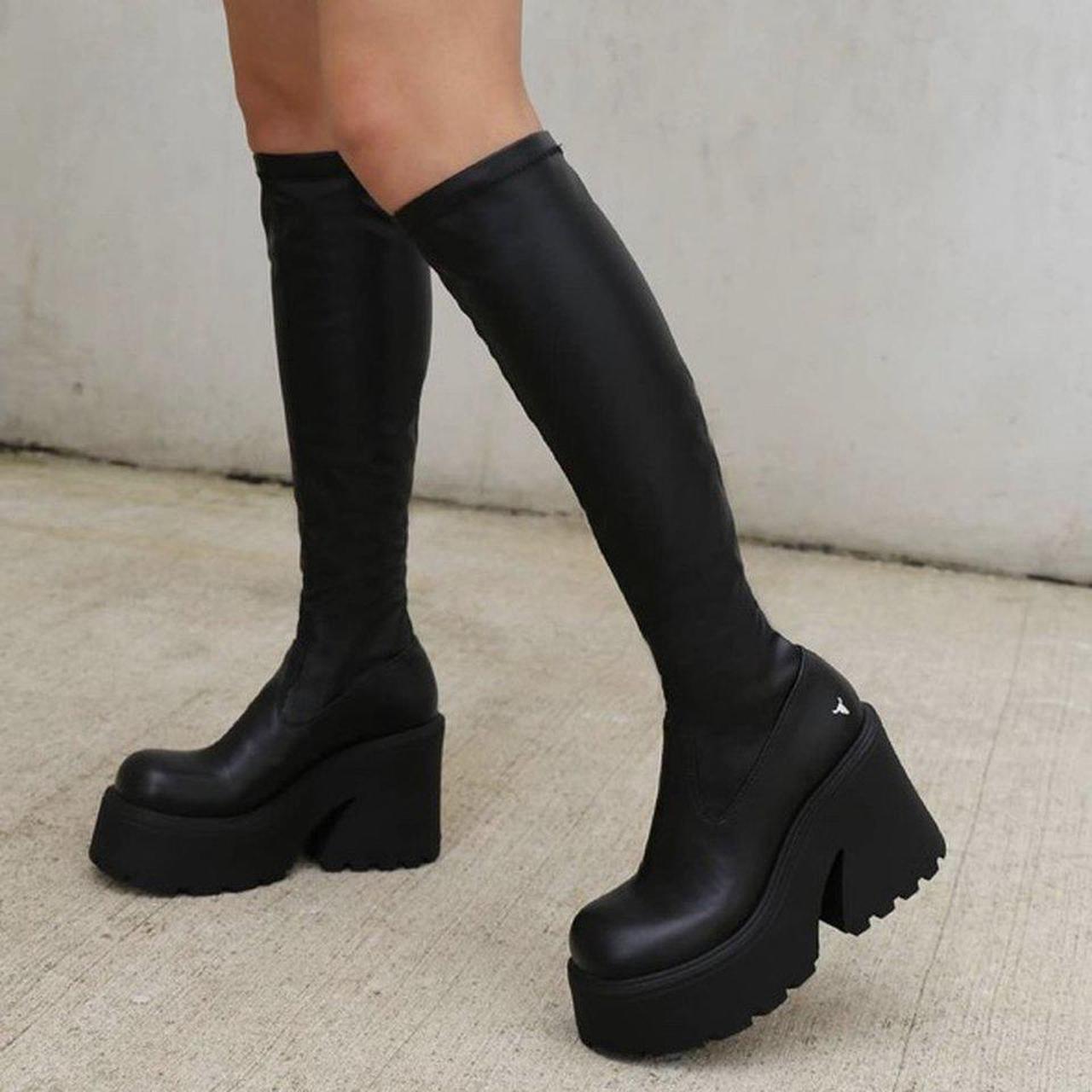 Windsor Smith is a revolutionary footwear brand established in 1964. This Australian footwear brand is known for its iconic street-style forward designs and expertise in its application. Despite being an early pioneer in the fashion industry, the brand continuously follows and delivers the latest trends.
Windsor Smith is not exactly a brand that defines the conventional Australian designer. They are off-the-grid, bold, and innovative – always seeking a sense of individuality in each of their creations. If you're the type to deviate from the commonly accepted style, Windsor Smith is your potential one-stop-shop.
They particularly take pride in their platform heels, block heels, leather boots, and chunky sneakers. Their logo is subtly placed in each of their pieces with minimal silverware, which makes it look so classy, mysterious, and high-end.
Runaway the Label brings a sense of nostalgia with its vintage charm. The brand specifically caters to women who are open to experimenting with their style and riding with the flow of trends. Their collections are mostly inspired by tried and tested elements of decades past yet well recreated to fit a modern woman's personality.
They offer party dresses, casual blouses, and basic ensembles that stop a crowd no matter the occasion — despite being travel-forward in nature.
Runaway the Label is probably one of the best go-to for neutrally feminine picks that you can find in the market.
Two Sisters the Label is one of those likable feminine clothing brands in Australia. Equally fast-growing as its competitors, Two Sisters the Label offers a consistent release of designs that are in-style and up to date.
Two Sisters the Label has a similar resemblance to Hello Molly and Princess Polly. You'll find body-complimenting pieces and highly-feminine fits in every corner of its online boutique.
Despite being compared with the two other brands, the brand proves itself different from them with their "repeatable" but trendy semi-formal and formal pieces. This is one of the best Australian online boutiques to get dresses for a wedding or event that are somewhat sexy but still classy.
Like most successful boutiques in Australia, Two Sisters the Label started as a garage office. Soon enough, the brand became a definite success story.
Bec and Bridge is an Australian brand that was started by two designers who became best friends during their studies at Sydney's University of Technology. The two met on their first day in a course for Bachelor Of Arts in Fashion and Textiles. When they crossed paths, they felt bigger plans were ahead of them. A few years later, Bec And Bridge was born.
There's nothing stronger and more inseparable than a pair of best friends with a similar mindset and a goal in life. For them, two is better than one. Soon enough, they started collaborating with prestigious partners like Farfetch, Luisa Via Roma, Harvey Nichols, and Shopbop which led to their extended success.
The epitome of a Bec and Bridge woman is fun-spirited, confident, and modern.
Bird's goal is to grasp the attention of self-made women of every size, personality, and style. Unlike other feminine brands, Bird's Nest caters to a wider selection based on a diverse range of model sizes.
This Australian boutique is also quite unique because it has very particular filters that can help you find the perfect fit. You can search by body shape, color, fiber, occasion, and style. Bird's Nest's main aim is to create an easier way for women to shop and to prove that self-confidence lies in finding the right garment to emphasize the curves on one's body.
Bird's Nest doesn't simply cater to young women, but also to women of age who usually have a hard time looking shopping for the perfect fit. This is one of the best Australian online stores for really feminine, flowy pieces!
BKNR is a clothing brand based in Adelaide. Their online boutique is a one-stop shop to find your local faves from around the world. BKNR takes pride in its versatile collection of pieces from streetwear, formalwear, accessories, and footwear.
Their unscratched reputation for good customer service also enabled the brand to keep its name in a high position. It's definitely one of the better Australian online stores customer-service-wise.
BKNR is only the provider and retailer to offer products from C/MEO Collective, Finders Keepers, Keepsake, and The Fifth. There are hundreds of fresh releases each week, so you'll never have to find another shop to "mix up" your wardrobe. The brand also boasts its online stylists whom you can chat with if you need extra help figuring out what to wear.
BKNR brand is internationally accessible as well.
Little Party Dress sounds like a brand for little girls, isn't it? Well, it's lived up to its name. Little Party Dress is a haven for child-like and playful designs built to encourage the modern woman's creativity. Find bold, playful, and fun prints that are bound to stand out wherever you are going.
Little Party Dress is also patronizes circulating trends, which means you can expect in-style recreations within their boutique. Their motto, "Queens come in all different packages" is evident in their wide selection of styles, pieces, and silhouettes. Every time I visit their website, I always choose dresses like it's my birthday.
Little Party Dress has a bit of rich history of its own. Starting in 2012 as an eBay store, they built a studio and an incredible team as they went. With the collections and designs that they own, you can see how much of their team's personality shone through them. So much positive energy!
This is one of the newer Australian online stores so it's fun to check out because you won't find a lot of other people wearing these fits.
No matter what you're style is, Australian boutiques have it all. Australian style is as flexible as it gets and all of these Australian brands reflect that!
If you want to dress kind of edgy without losing the feminine feel then you'll love any of these Australian online boutiques. Happy shopping!