If you're looking for house party outfits or wondering what to wear to a party that's coming up, we've got you covered! This post will go over every aspect of dressing for different types of parties.
Dressing for a party can be quite overwhelming. Who will be there? Workmates? School friends? Close friends? Relatives?
Where it will be held? In the backyard? The basement? Or the dining area? All of these factors are important in figuring out an outfit to wear to a party. You might be open and liberated with other people, and reserved with some.
House parties strip off an awkward layer that appears in workplaces and formal settings. That is why house parties are big opportunities to make new friends, meet people, and, in other cases, discover new business ventures. Whatever the case, you probably want to look good and dress fashionably. And we're here to help!
Different Kinds Of House Parties & How To Dress For Them:
Here are our favorite different types of house party outfits depending on the vibe of your specific party.
House Party With Friends
Going to a house party with friends is probably the most unfiltered event whether you're going for a daring look, a stylish but modest look, or a feminine fit.
If you want to dress to impress, the best general way to do this is by wearing a specific accent. Examples of accent pieces include printed skirts/dresses, accent colors, and dainty jewelry. But you'll probably want the rest of your outfit to fit in with current trends, which we'll go over below. Jeans and a cropped top or sweater is never a bad choice!
Knowing where it will be held, indoor or outdoor, is also important in curating your house party fit. The season when it will be held is also crucial, which we will be discussing later in the article.
House Party With Coworkers/Industry Friends
When going to a house party where you expect to see industry friends and co-workers, the best way to dress is by mimicking a familiar style among the group. This is not to say you can't wear something that's personally your style, but wearing one familiar statement piece (e.g. footwear, headdress, shirt, or vest) can allow you to become more approachable, especially to people who are yet to be your acquaintances/friends. So consider how the people around you will dress before choosing an outfit.
House Party With Relatives
When you're going to a house party with relatives, then you're most likely celebrating a milestone with family. It could be a bridal shower party, a casual potluck, or a backyard BBQ night. Knowing what you will be celebrating first before curating an outfit is important, because, whether you like it or not, you will be in a lot of pictures.
For a bridal shower party, you would want to wear something sweet and feminine to reflect the spirit of the party. For a casual potluck dinner, you can show up in more casual attire with jeans and a dressy blouse. This goes the same with a backyard BBQ night.
How To Dress For House Parties
Wondering what to wear to a party specifically? Here are a few general types for each kind of house party you could encounter.
Keep it cool
When dressing for a house party, you don't have to be too dressy. Clubs may have dress codes, but house parties most likely do not. Going overboard can be a bother since you will most probably be surrounded by people in casual clothing. That being said, do skip cocktail dresses, dress shoes/heels, and over-embellished formal dresses, unless there is a theme stated in the invitation. A dressy blouse paired with a skirt or a pair of jeans is your best bet. If you're wearing jeans, you can upscale your outfit by putting on loafers or block heels.
Consider Skipping Skin-Tight Clothing
If you can, try to avoid skin-tight clothing when attending house parties. Consider where you will be sitting or staying for hours. Informal house parties with a lot of guests can't guarantee you comfort. So if you can, try to avoid skin-tight clothing like tight bodycon dresses and pencil skirts. However, this is not to say that you can't wear these to a house party. If you think you can endure the possible discomfort, or if that discomfort is inexistent, go ahead and wear that bodycon dress.
One way to keep your outfit cute without choosing skin-tight pieces is to opt for a loose crop top or sweater that's just barely cropped (that may not even show any skin). This makes your outfit look a little trendy without going overboard.
Keep It Casual But Chic
A party usually isn't a time to wear clothing like pajamas or sweatpants. After all, it is a party, and whoever hosted it will be delighted to see the guests if they see a bit of effort on your part. Wearing a casual but chic outfit is the standard. Plus, wearing clothes that look good on your body can give you extra confidence to interact with others. It's a win-win situation!
Spring House Party Outfits
Although ppring is associated with accumulating warmth, it is not time to bring that sun dresses out. Spring can be a bit chilly like fall, but the colors are different. Flowers will start blooming and the grass will be visible once again.
The best colors to wear to a house party in the spring are pastel colors, vibrant green shades, and fresh white colors. This reflects the color of the season and gives you a spring glow as well. If you would like to stay with black, you can incorporate spring colors by wearing them as a skirt or a complimenting accessory.
Some of my favorite spring party staples are a white leather jacket, retro straight-cut mini dress, corset top, midi slit skirt, long-sleeved button-down, and a pastel sundress. A white leather jacket keeps you warm when the cold breeze starts. I would have picked a black one just fine, but a lighter color gives a brighter and lighter aura which is great for spring.
A retro straight-cut vintage mini dress is also one of my favorites because it usually comes in vibrant prints and colors and they're fairly easy to style. A corset top is something that I wear with a cover-up, especially in the coldest months of spring, but if it does get warm inside, I leave my coat or cover-up in the guest's changing area.
A midi slit skirt is something I wear when I have to wear a closed-up top because of the weather. This gives my outfit a little mystery and spice despite being majorly covered up. And when nothing works, I just grab a long-sleeved button-down and dressy shorts and go with the night. Trust me, anything with a button-down will work. Just keep the first few buttons unbuttoned if you want to show a little cleavage.
Summer House Party Outfits
House parties in the summer are probably the ideal time to dress up and show a little skin without having to worry about the cold breeze. The only thing that you will have to worry about is sweating too much when the crowd gets heavy inside of the party. That's why layering may not be the best fashion choice you can make during this time of year.
Summer is the best time to put on backless tops, halter cropped tops, shorts, tube tops, mini skirts, and sun dresses.
If you want to maintain a conservative style, you can opt for clothing that's made with airy fabric like linen, sheer, and thin cotton. If you're conservative but want to show a little skin, start with a tube top as a base. Then, add your shorts and a printed or matching button-down. If you come to parties often, collecting several more printed button-downs can save you time and energy before the party. It gives off summer beach vibes too!
Fall House Party Outfits
Dressing up for a fall house party can be a lot more challenging than dressing up for a spring party, despite the similarities of the weather. Some people find it hard to choose between an airy outfit and a layered one because of the weather fluctuations and the transitional period between summer and fall. There are also large chances of rain during this time of year, so having a handy pocketable rain jacket in your purse/bag is important.
Wearing heels is also one of the things that you would want to avoid during this season. If you really want to, you could change from flats/sneakers to heels as soon as you get to the party.
Like spring, bringing a cover-up like a leather jacket or a cardigan is pretty helpful, especially if you plan to wear something showy. For fall, dark earthy colors like brown, olive green, and burnt orange are great for reflecting the season's palette. If you want to keep it classic, opt for navy blue or black. Dark colors trap heat, so if you're planning to wear showy clothing, these colors may help keep you warm a bit.
Winter House Party Outfits
Winter parties may be the most challenging time to dress up for a house party, but it's one of the jolliest of the year. Winter is when Christmas and New Year's Eve are celebrated, and the colors of the season retaliate against the freezing coldness during this time of year. Sequins, silk/satin, the colors red and green, bold patterns, and prints are just some of the winter trends that you can incorporate into your winter house party outfit.
For pre-Christmas parties, I usually like to reflect the colors of the season, which are red and green. Red is my go-to since it adds a fresh glow to pale skin. I also like to add a red lip, if it's not too much.
For New Year's Eve, satin tank tops and sequined skirts are my favorites. I also like to take inspiration from the 1920s-inspired movie, Great Gatsby, for some of my outfits. For house parties, I tend to go with jeans and a pretty top with booties or a casual dress with tights and boots. Fine that middle line for these occasions and add a dressy piece without going all-out.
And of course, you wouldn't want to freeze in a tank top or a mini skirt. Add necessary layers, like stockings or tights, to keep you comfortable all night long. Bringing cover-ups, like a faux fur jacket or a leather coat, can also keep you from the cold outside. Like fall, don't be too reliant on your heels for walking on slippery streets. Bring pocketable flats or sneakers to wear outside or once the party is over.
House Party Outfits
There are still a lot of house party outfits that you can wear and experiment with, so I collected these outfits to help you curate your own. If you're still wondering what to wear to a party, these inspo photos will definitely get your creativity working!
Here are some of our favorite house party outfits.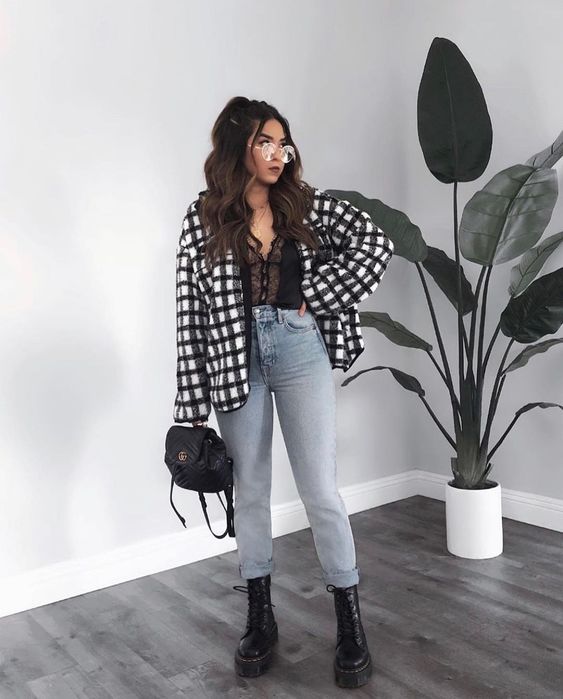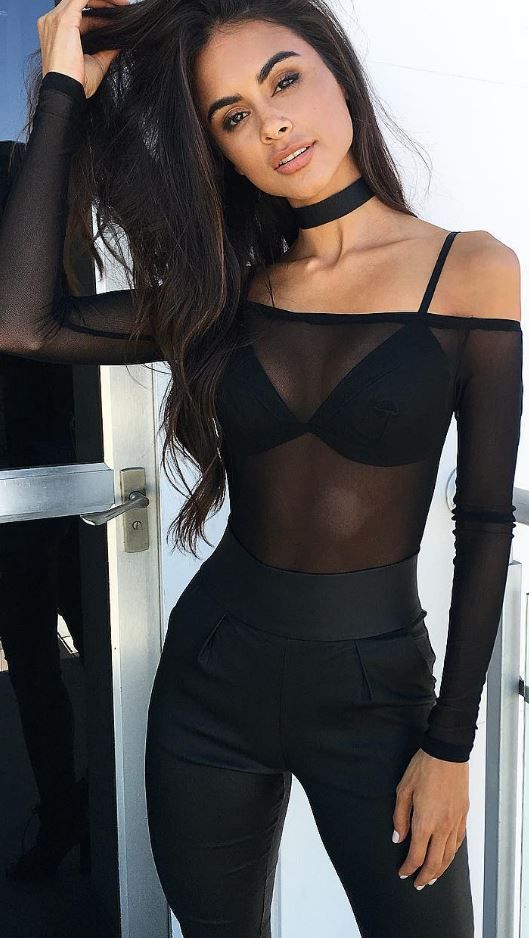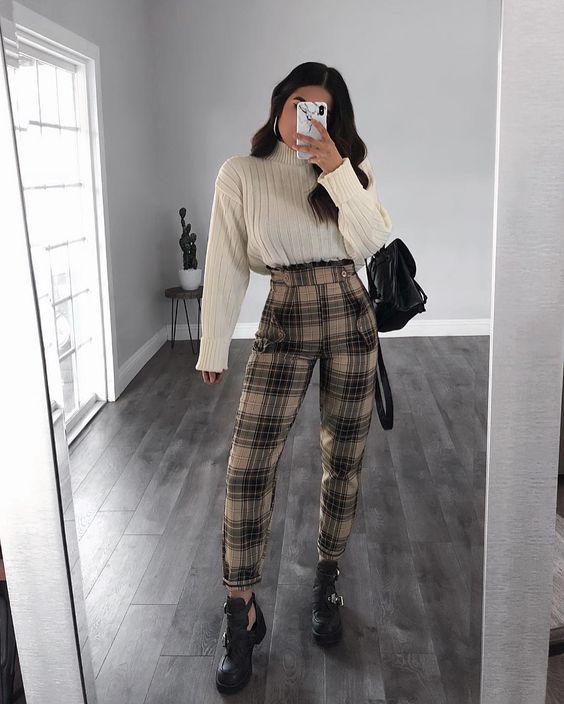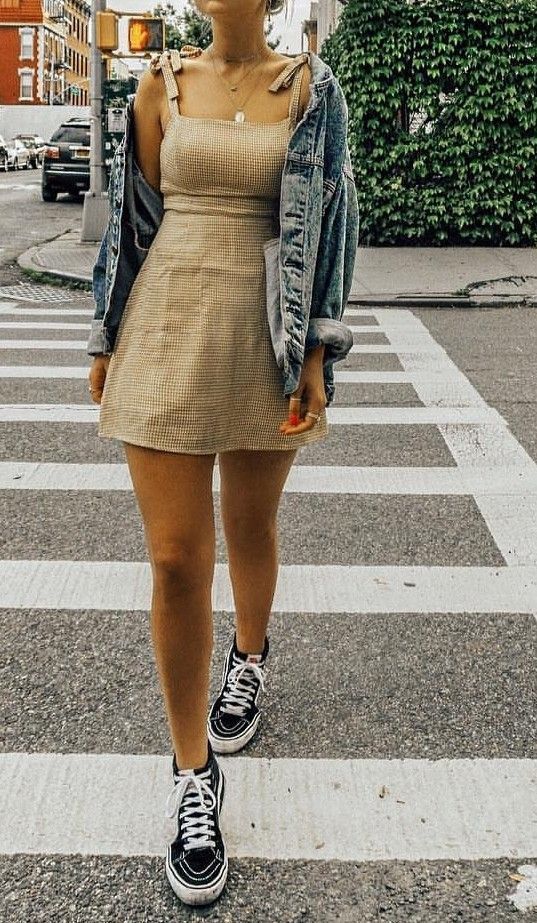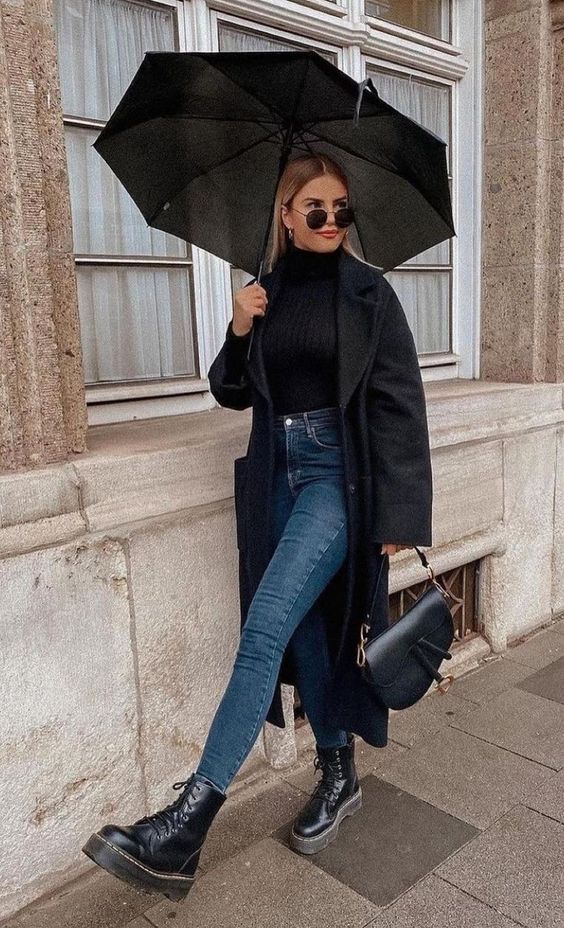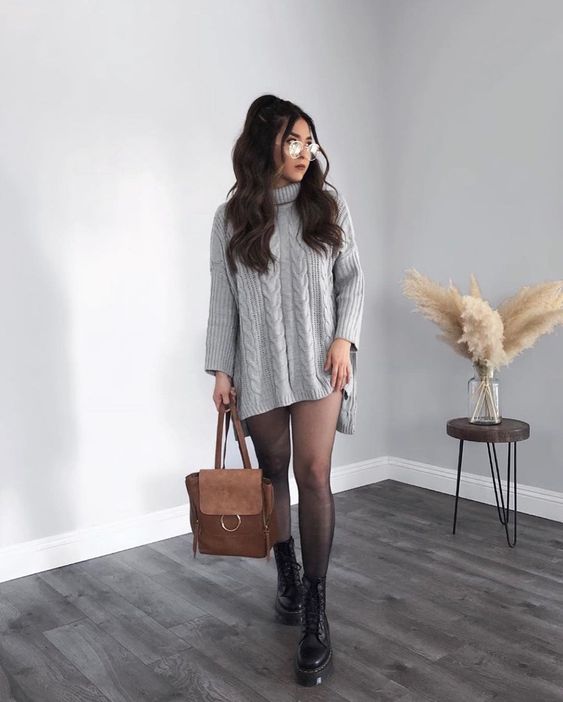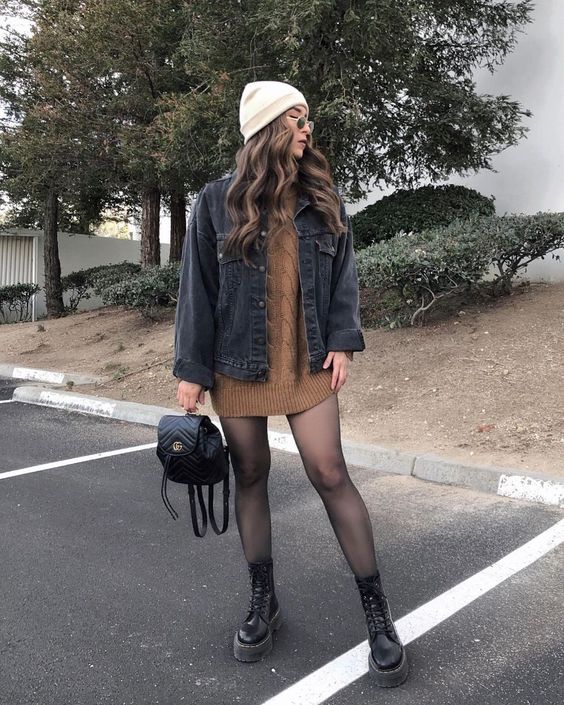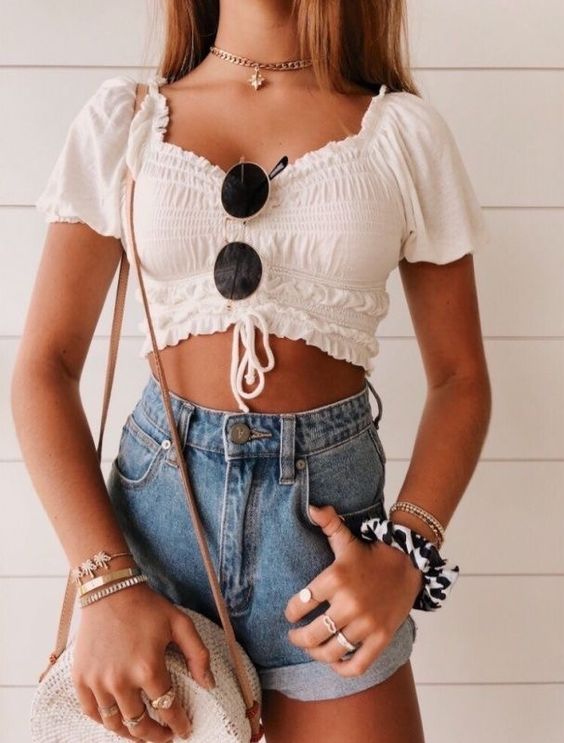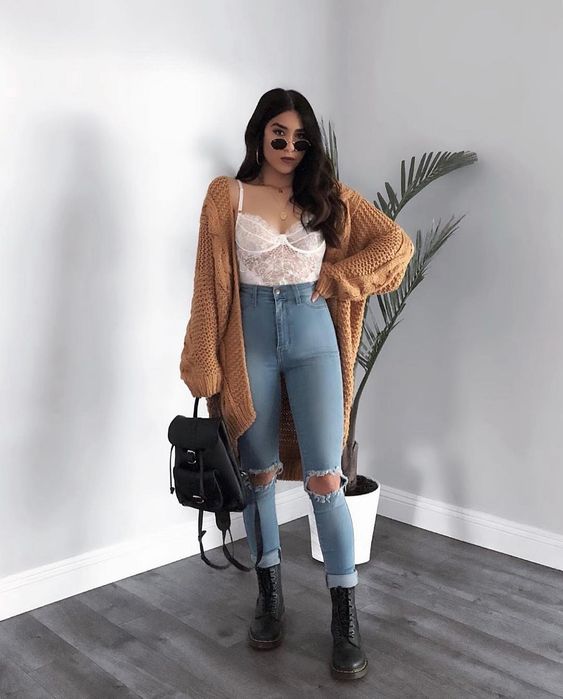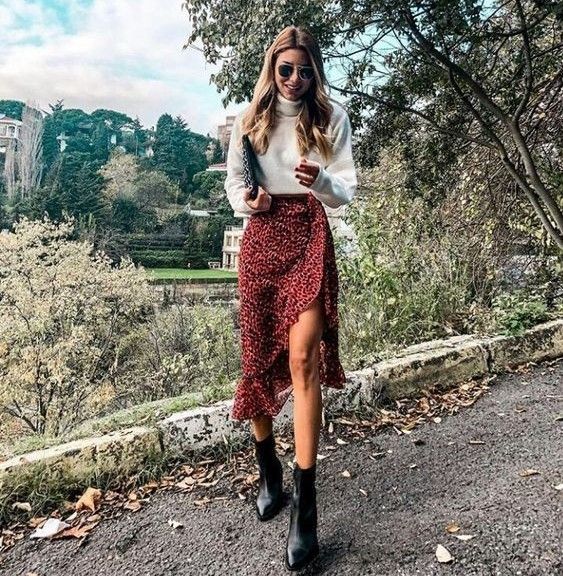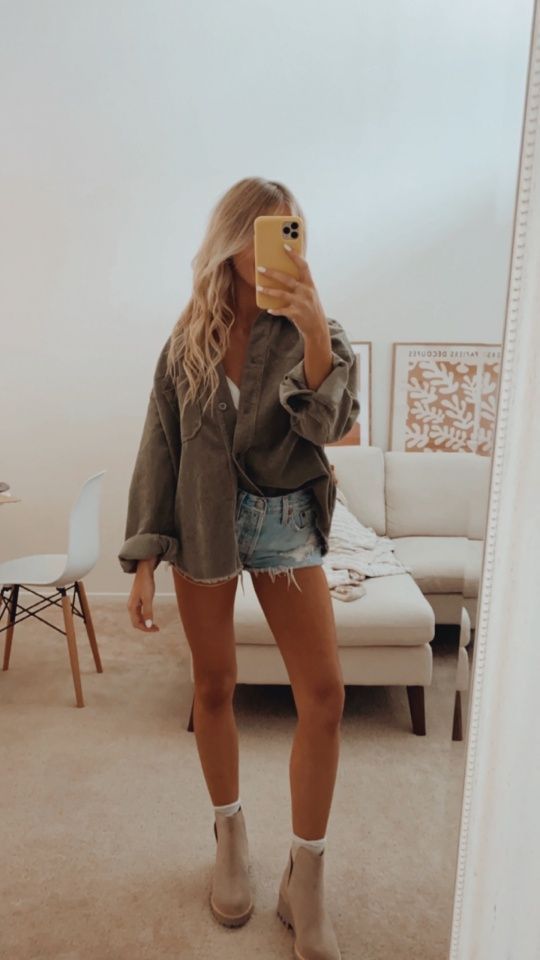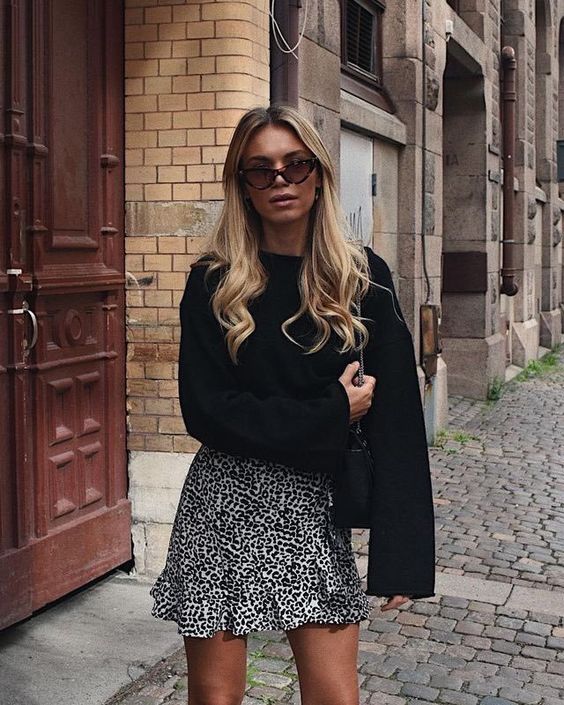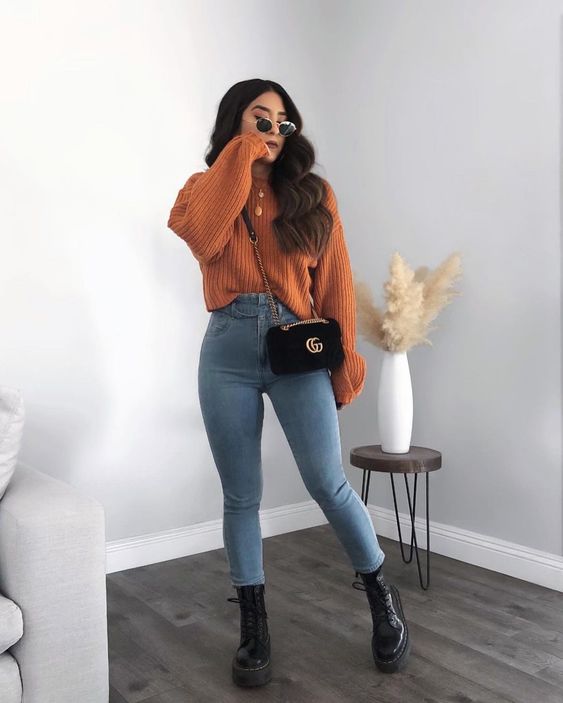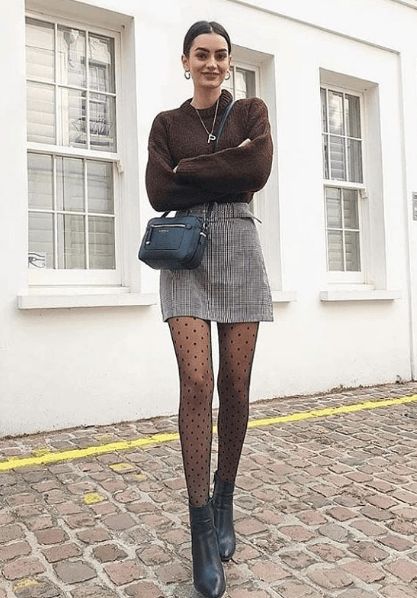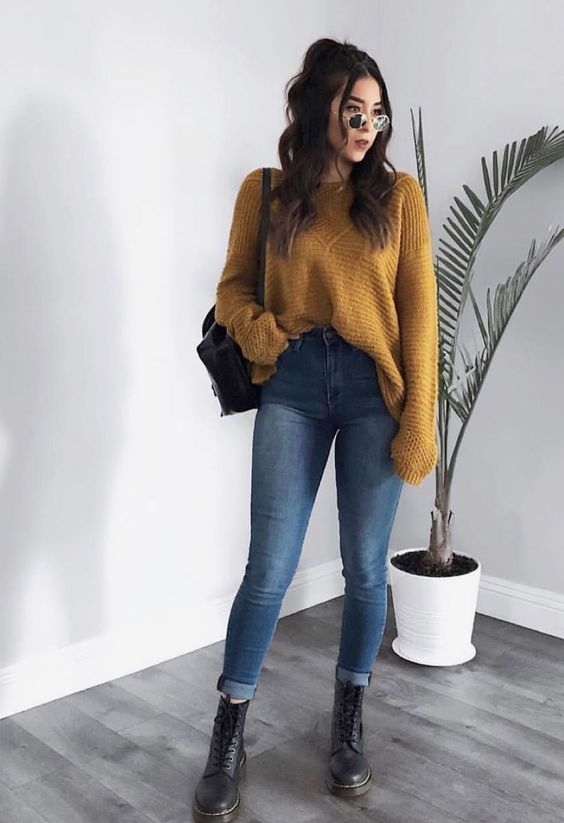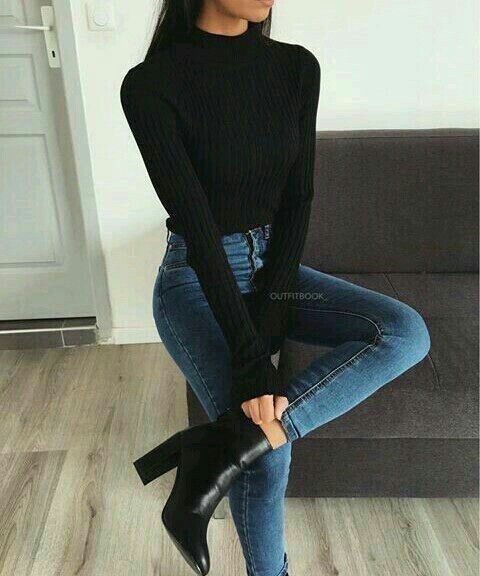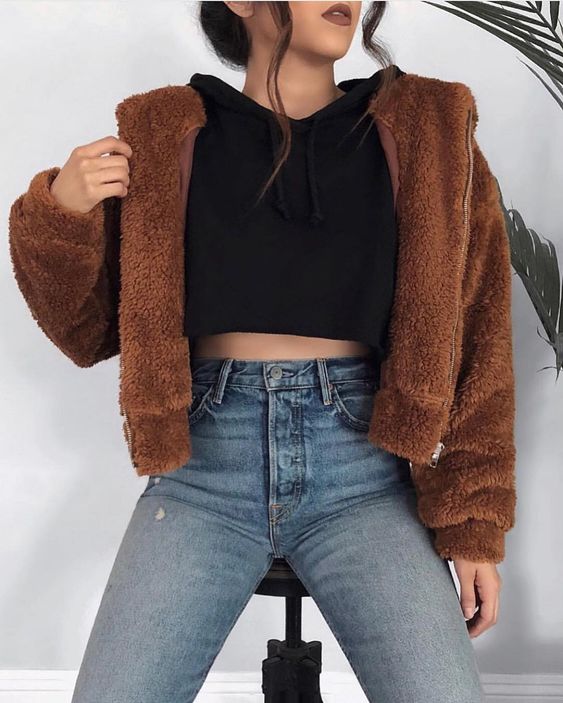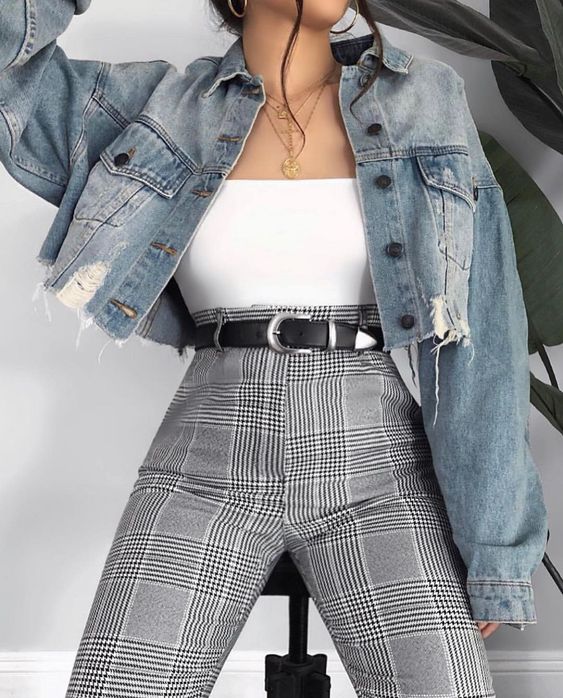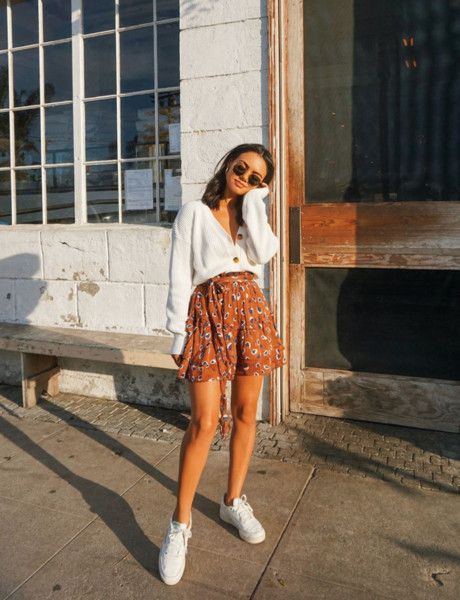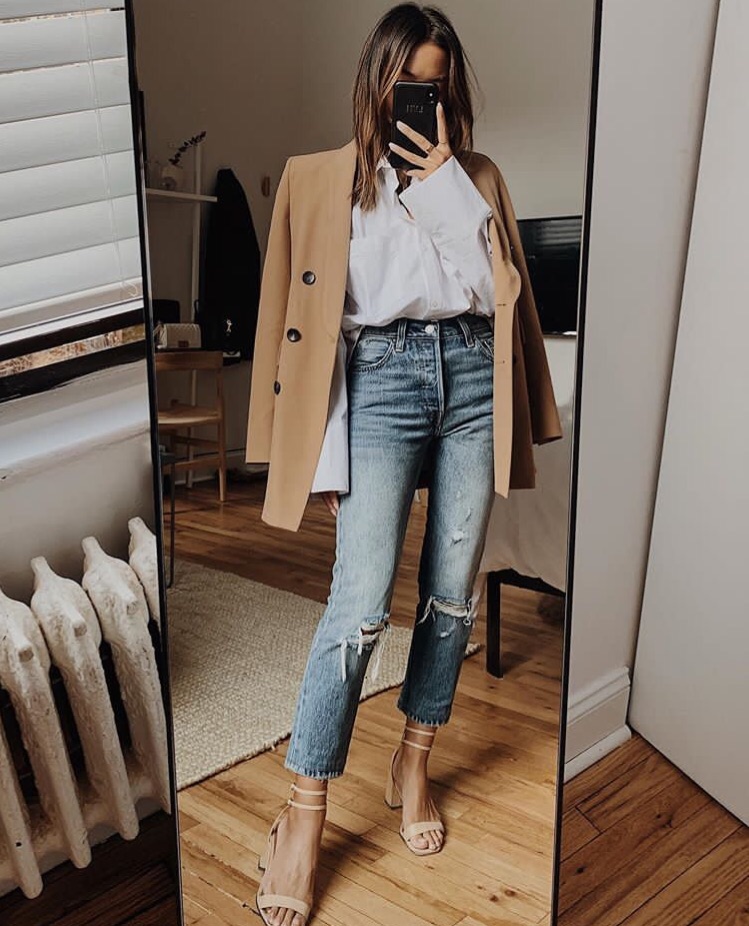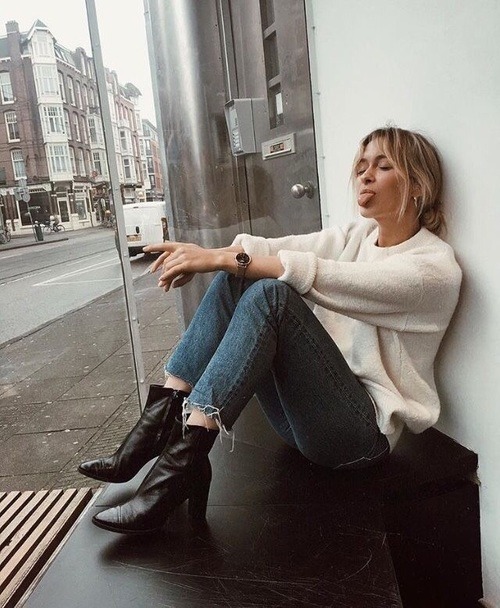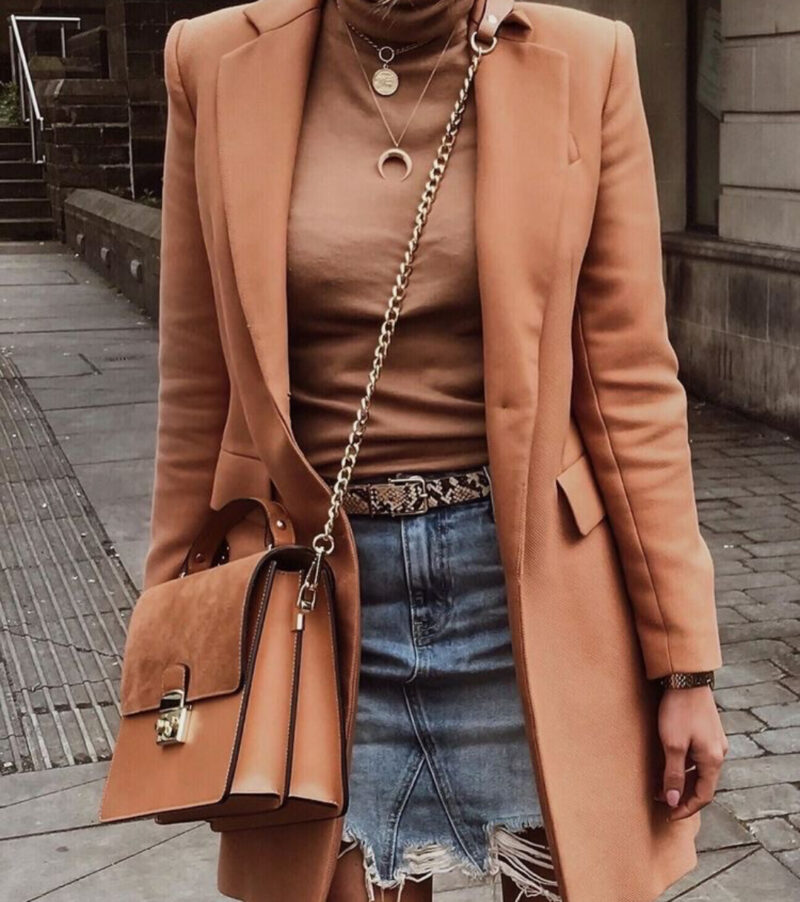 Here is a simple but chic outfit that you can wear to a house party. A lacey satin mini dress, boots, and a nice purse! Normally, I would add a little cover-up when traveling to the main event, depending on how far or how cold it is outside, but apart from that, this outfit is simply perfect!
I love how classy, sophisticated, and stylish this simple outfit looks! From the fuzzy knit sweater to the silk/satin midi skirt, to the dainty open-toed heels. Something I would most likely wear to a chill fall wine night type of house party.
A house party outfit would not be complete without two things: a dressy piece and a casual element. I love how this dressy silk-sheer top pairs so well with these straight-cut jeans! I think her heels look fitting too.
This outfit is something that you can wear to the club and to the house party! If you're expecting a spontaneous night out, you can definitely benefit from something smart but not overly embellished like this jumpsuit. I also love how the light reflects on the pleated areas!
If you're into vibrant and retro colors, this is one of the house party outfits for you! I love how smart, simple, and sophisticated this one looks. Something that's appropriate for a dinner and a little house party!
On the flip side, you can also switch up your heels with white, dainty sneakers like this. This keeps the outfit casual and fun. Also a perfect partner for standing up for a long time. Because you can't always guarantee a seat at a house party!
Trying to get that girl-next-door vibe with house party outfits? All you need are ripped/distressed jeans, a tube top, and a plaid button-down! When the party starts, you would want to wrap the button-down around your waist. When a cold breeze comes around, you can use it as a handy cover up!
If it's made with velvet, then it's made for a party. I like how this one pairs beautifully with these unbleached skinny jeans. I also think the layered necklaces are perfect! Overall she looks laid-back, relaxed, sexy, and stylish in her outfit!
There's nothing that a sparkly skirt can't fix! See how this one transformed the casual graphic tee it's paired with. It's like magic!
Bonus fit! If the house party has a swimming pool (and the guests are permitted to use it), a great way to add spice to your swimsuit is by adding a knitted kimono cardigan and a statement belt. Trust me, you'll look absolutely good in the pictures!
Who says button-downs can't be party-friendly? Look at how this one was styled with a green, sparkly skirt! A few unbuttoned buttons also transformed this into an off-shoulder V-top. Love it!
Can't think of anything to wear? Then this is your sign to wear matching/complimenting fits with your best friend! One of my favorite styles is the 1990s when minimal grunge was in trend. Definitely love this double take!
Slightly conservative? Try wearing this lacey long-sleeved top with a deep V with fitted high-waisted denim! I love how the minimal cleavage gives the spice this minimal party outfit needs.
For some informal house parties, all you really need is a good pair of distressed shorts, a statement shirt, and a pair of white sneakers to keep you confident and comfortable all night long.
I love how surreal this dress looks – reminds me of Elsa Schiaparelli's greatness during the '30s. The youthful reworking of Schiaparelli's style makes a perfect fit for a memorable house party!
Do not underestimate what a good quality white tee and a black mini skirt can do. Love how this simple fit can be a head-turning look! You can also switch up the heals with something more laid back, like Doc Martens or white canvas sneakers.
Love how she managed to add the layered necklaces to this edgy, minimal rock-n-roll outfit!
This outfit can easily be brought to the city and to a house party! The animal print, the minimal cleavage, and the chic hemline make this look like something a model in an after party would wear!
Dressing up for a house party poses a little challenge for every guest: how to find an outfit that's smart and presentable, but also stylish and casual. It's all about experimenting, and I love how this blazer was paired with these lounge shorts. So seamless!
Anything with satin can make any house party outfit work. Pair it with a plain cotton halter top and you're ready to rock that laid-back, stylish French girl fit.
A bumster mini skirt, a feminine top, and a pair of Doc Martens? Count me in! Love how this outfit gives '90s clique girl vibes. Definitely something I would wear to a summer house party!
Keep it laid-back and cool with a black sleeveless top, black shorts, white canvas shoes, and a plaid button-down. Whether you wear the button-down on your waist or wear it as a cover-up, you're sure to turn heads all night long!
Bikini as a top? Why not! Love how this one was styled with a cropped blazer, embellished mini skirt, and classic black canvas shoes. The chunky heart pendant also takes the stage as a stunning accent! I'm sure this would look party-ready – even without the blazer on.
When you want to look like you make an effort while also looking relaxed, all you need are lounge shorts to pair with a strappy/dressy top! Finish off with statement jewelry, like chokers, layered necklaces, or large hoop earrings.
Going to a hipster house party? It's time to put on that hipster denim vest tuxedo that has been collecting dust in your wardrobe. Pair it with a white tee and a mini skirt and you're ready to go! If you want to add a little accent, you can throw in a printed scarf or a cute purse.
This outfit wouldn't be the same if it had been a plain button-down. I love how easy it is to incorporate smart/formal outfits to party fits when it's animal printed! Would have loved this with a satin black skirt, too.
Feeling extra? It's time to throw on that fuzzy top you've been meaning to wear all year long! Just pair it with a pair of denim jeans to tone it down for a house party.
If you're celebrating a grand milestone or if you're just feeling a little fancy, no explanation is needed for you to bring out that sparkly top! You can always switch the bottoms down with white/bleached denim to tone it down like the last outfit.