When it came to supernatural dramatics, The Vampire Diaries definitely had all the spice and their fashion styles were just as good. If you're looking for the best Vampire Diaries outfits of all time, you're in the right place!
Despite The Vampire Diaries finishing their run on their eighth season last 2017, its popularity hasn't decreased one bit. The fandom still rewatches the series every now and then (along with the spin-offs) to satiate their nostalgia for this iconic television show.
But another thing that really made The Vampire Diaries stand out (aside from its steamy love affairs) was its edgy fashion styles. So if you're looking to channel your favorite Vampire Diaries character, you're in luck!
For today's article, I've rounded up the best Vampire Diaries outfits on the show, with a focus on the female characters. So whether you're looking for some inspo for your personal aesthetic or your next Halloween costume, we've got you covered!
BEST Vampire Diaries Outfits Of All Time
Without further ado, here are some of the best Vampire Diaries outfits on the show!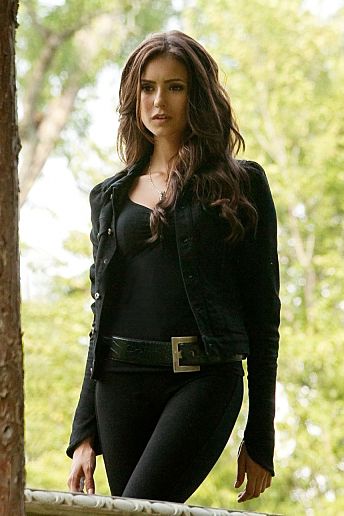 Starting off with everyone's favorite villain, Katherine never misses with her outfits, regardless if she's in a flashback or in modern times. This tight, all-black outfit really captures Katherine's seductive appeal.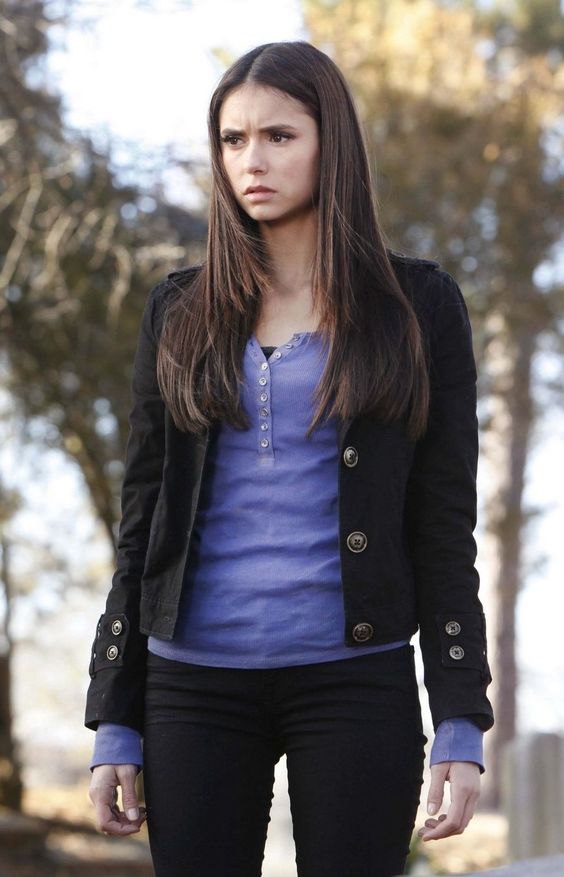 Elena and Katherine tend to share similar styles, but Elena tends to lean more on the conservative side compared to her antagonist counterpart. So even if they're almost wearing the same outfit, you can easily see the difference in how they carry their personal styles. With the same denim jacket and jeans, swap out your dark-colored blouse with a bright purple one to be more like Elena!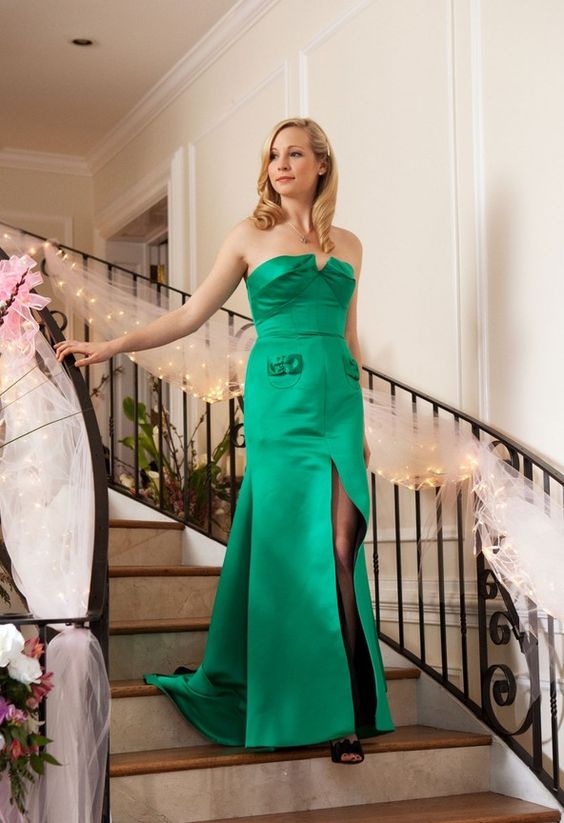 During the Miss Mystic Falls episode, Caroline definitely stunned everyone with this gorgeous green dress!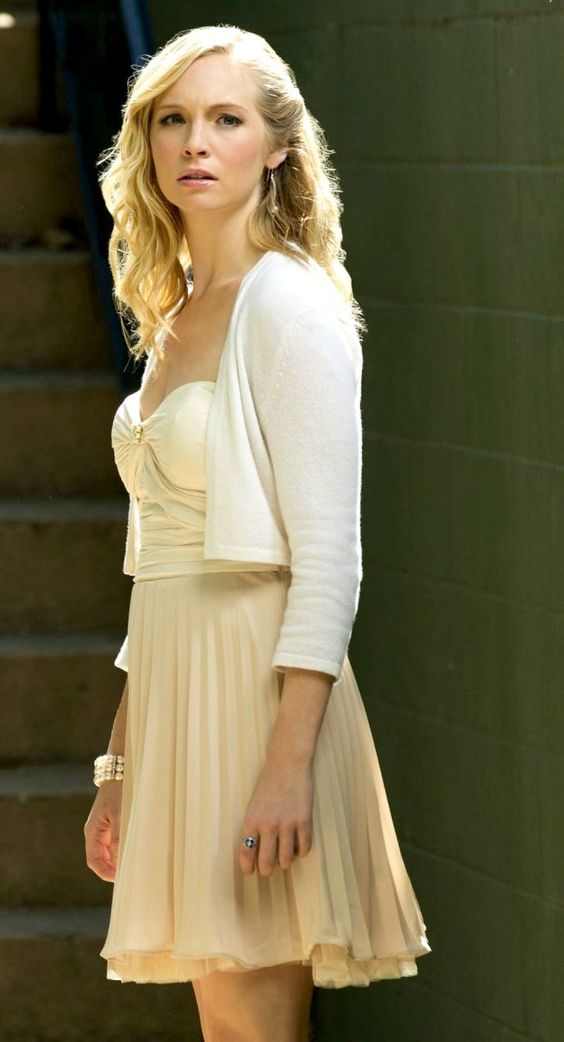 When it comes to sundresses, Caroline certainly delivers! Her demure beauty is so perfect for these pretty, dainty dresses that she wears on the show.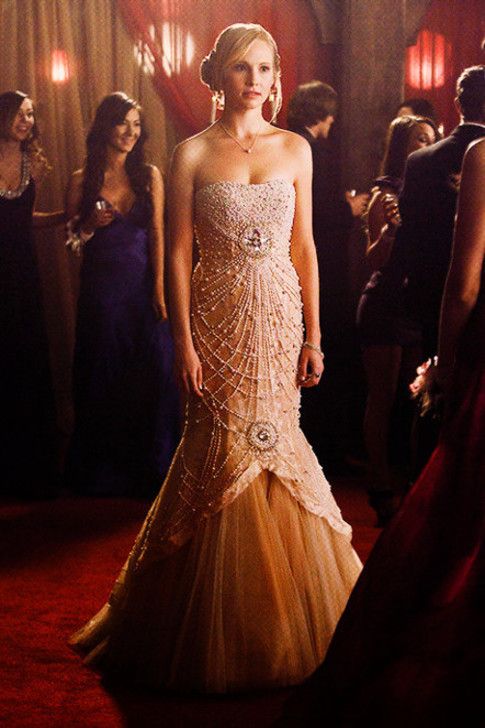 Planning for your prom dress this upcoming year? Why not take some inspiration from Caroline's prom dress? It's perfect for a glitz and glamorous look.
Just in time for the winter season, you can take inspiration from Elena's winter outfit right here! You can make your color accents pop from the contrast by wearing a dark-colored coat.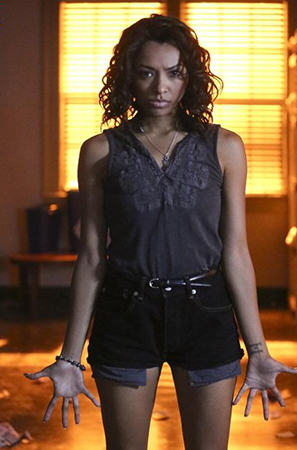 Bonnie's style is not one to be overlooked! I love this embroidered tank top on her, paired with these denim shorts. You can also opt to accessorize to give the outfit more oomph!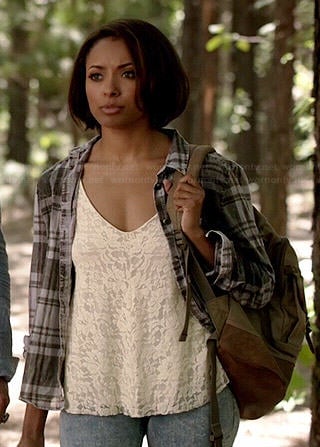 When it comes to casual outfits, Bonnie definitely knows how to balance between stylish and comfortable. Her outfits are perfect for the spring and summer seasons and this lacy and flannel combo look shows it!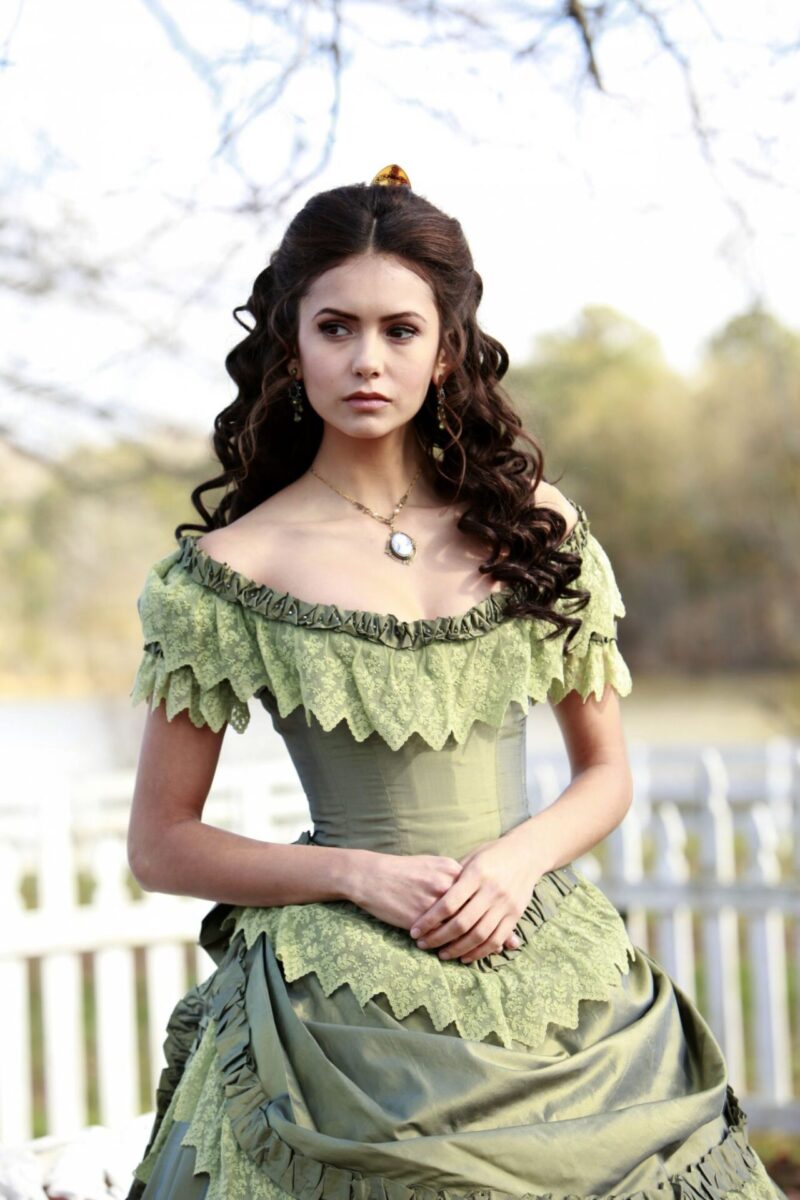 When it comes to period dresses, Katherine never looked better! I just love how regal yet seductive she looked in this green gown. This is definitely one of the absolute top Vampire Diaries outfits from the historical flashbacks.

Here's another prom dress idea you might love! This shimmery black and gold gown worn by Elena was absolutely stunning!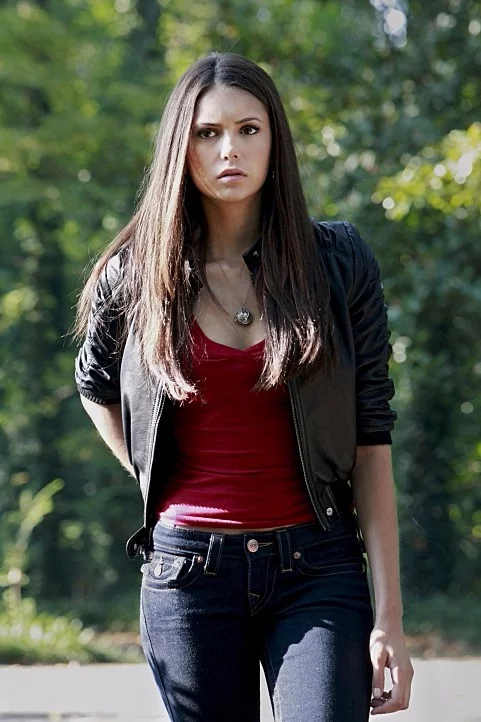 Elena loves her leather jackets and tight jeans combo, plus the red tank top really ties the whole look together. And honestly, I'm loving it as well! This is definitely one of her most memorable looks in the show! This is one of the most well-known Vampire Diaries outfits and is Elena's go-to look if you want to be Elena Gilbert for Halloween.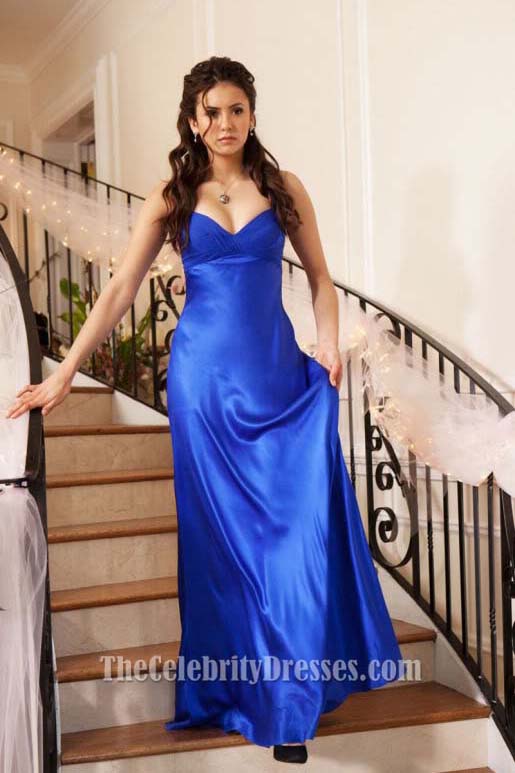 During the Miss Mystic Falls episode, Elena's stunning royal blue evening gown was an instant favorite of mine!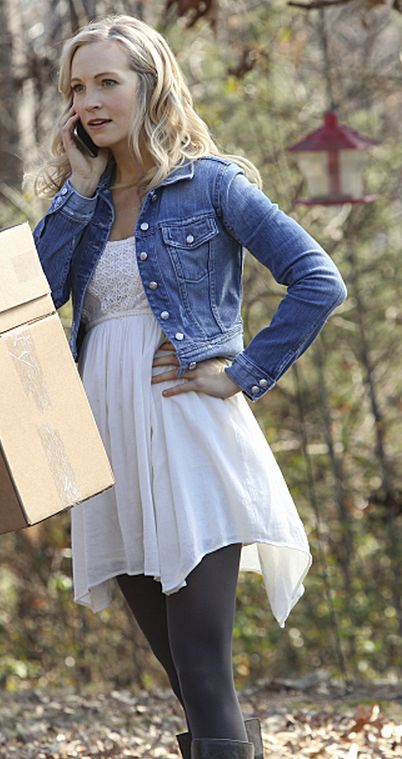 When the weather gets colder, it's smart to pair your sundress with a denim jacket and some grey tights to stay warm during the winter.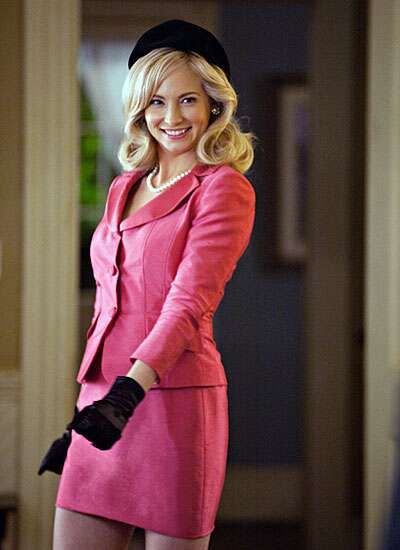 During the 1960s Decade Dance episode, Caroline totally rocked this pink attire! She looked so cute and adorable!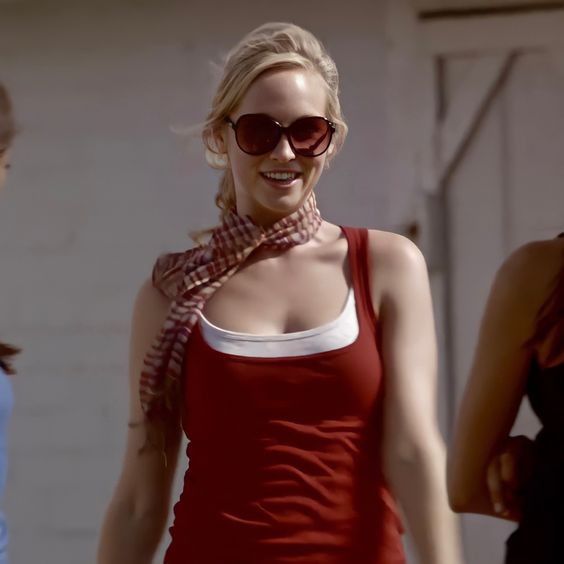 Red definitely suits Caroline and she looked so gorgeous even with the plain, red tank top and plaid scarf that she wore on this episode!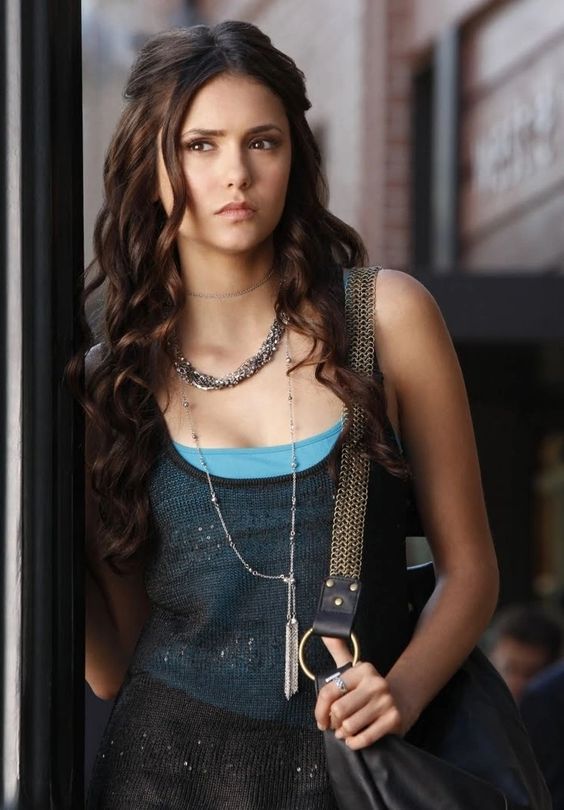 Elena's personal style is undeniably stylish. She knows how to layer her clothes well as seen in these blue and sheer tank tops and as well as finding the right accessories to suit her outfits.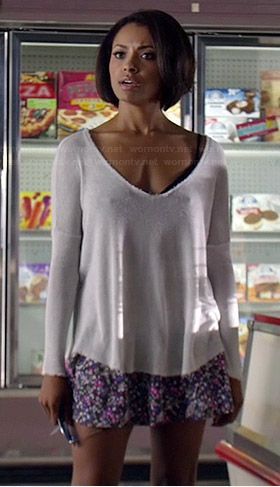 This loose, white blouse paired with a floral miniskirt suit Bonnie so much! It's simple yet so feminine!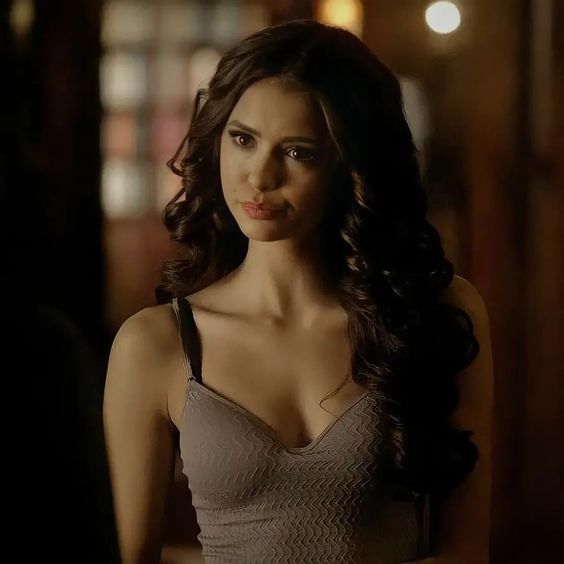 Katherine is never afraid to show off some skin the moment she stepped onto the present world and we love her for it!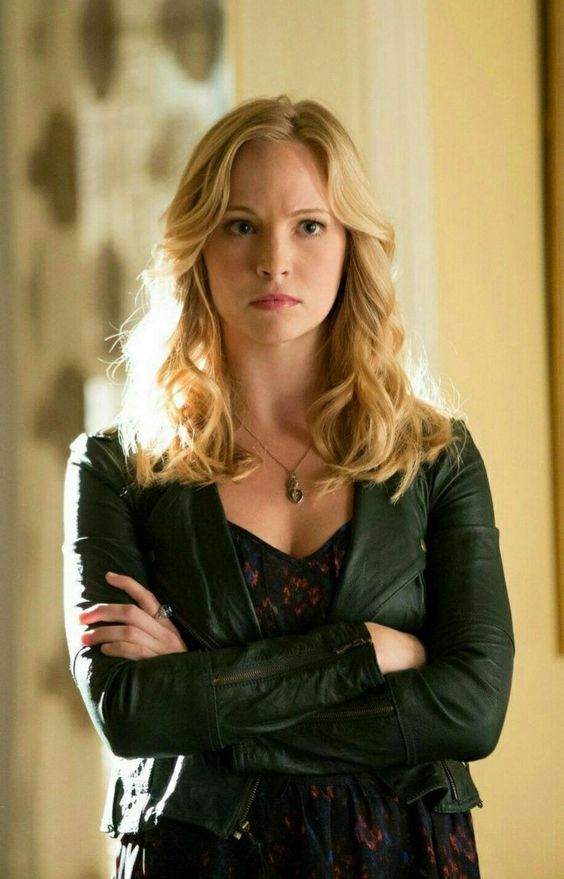 Even with a sour look on her face, Caroline remains looking pretty in her deep green, leather jacket and the floral dress she's wearing underneath. Most of the classic Vampire Diaries outfits incorporate a leather jacket, but if you want to go as Caroline, make sure you wear a flowery dress underneath.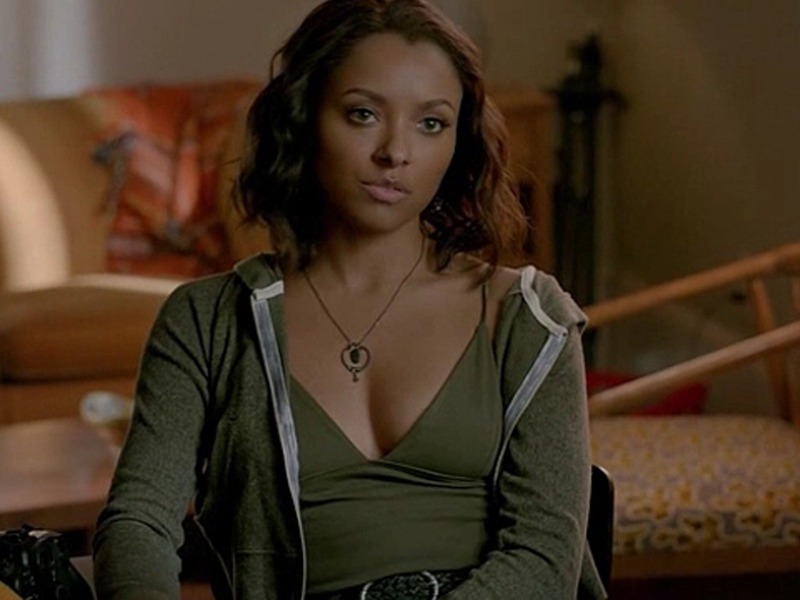 This all-green outfit suits Bonnie so much! It's definitely her best color and I love the green and cami top pairing!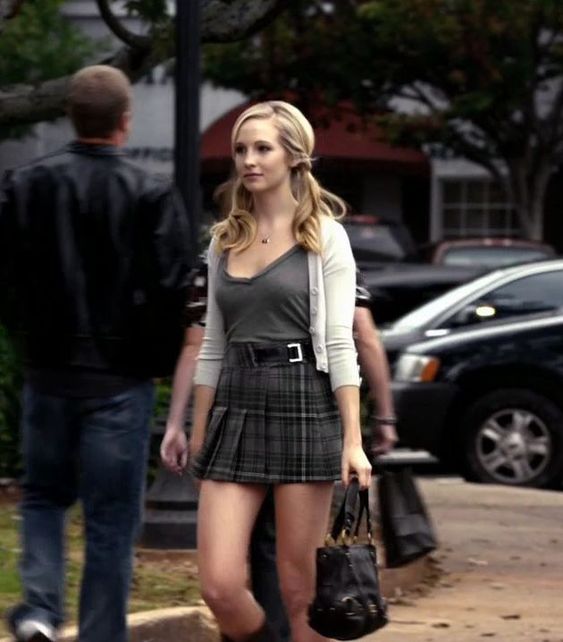 Playing into a sexy and preppy look, Caroline looks both stunning and cute in this plaid miniskirt outfit!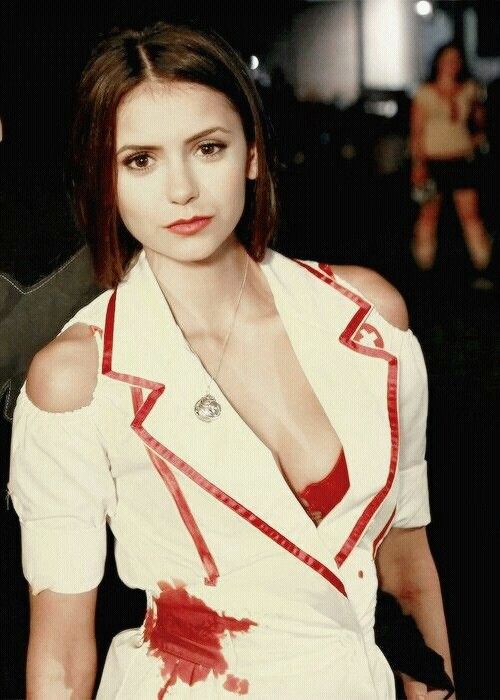 Who could ever forget that episode where Elena wore that sexy nurse outfit? Definitely one of her most iconic looks in the series!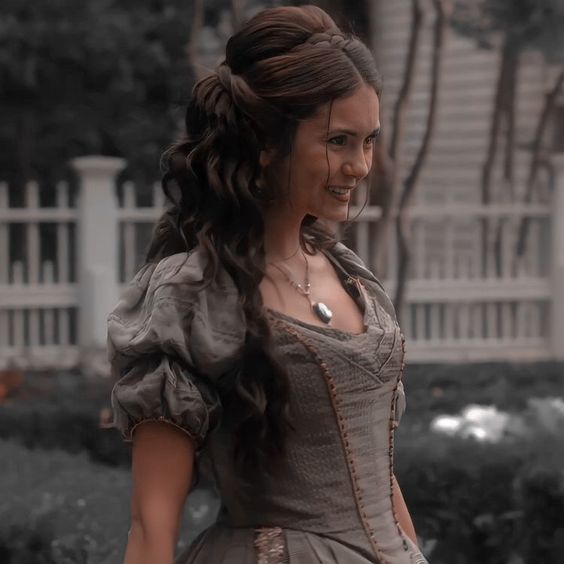 How can someone so sinister be this beautiful? This grey, period own on Katherine was utterly beautiful!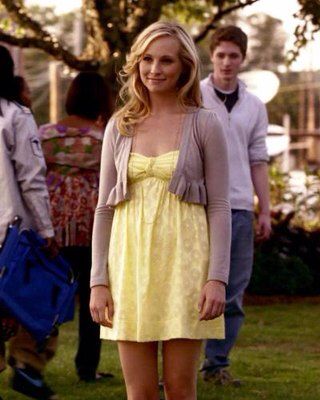 In her quintessential outfit, we see Caroline wearing a gorgeous, yellow sundress paired with a lilac cardigan that fits her bubbly personality!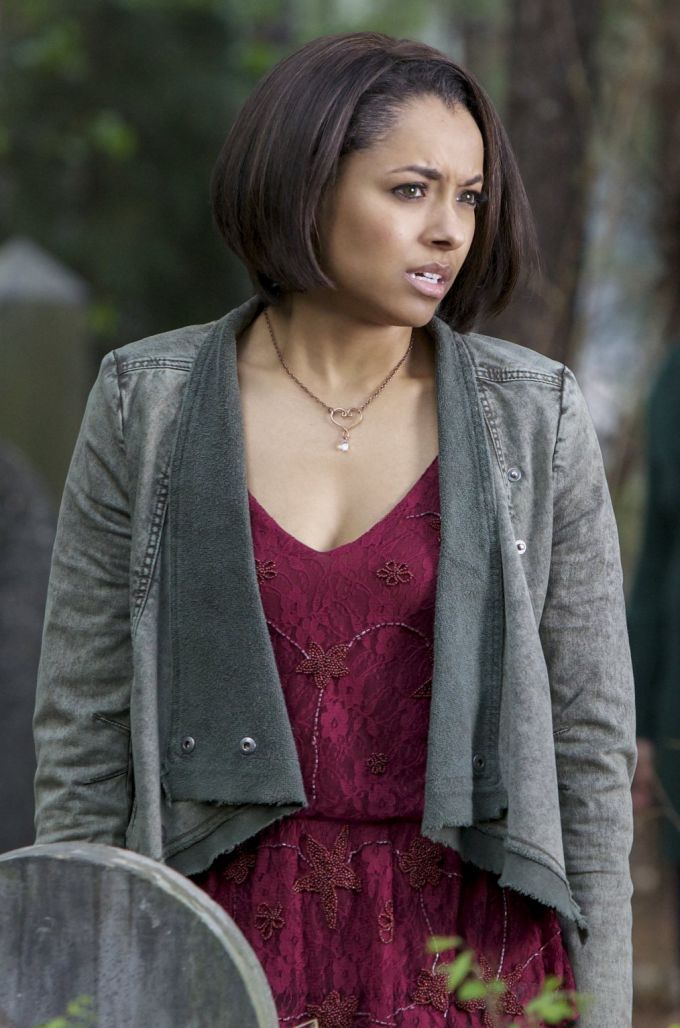 Apart from the pretty, magenta blouse Bonnie is wearing, I am totally obsessed with the twill jacket as well!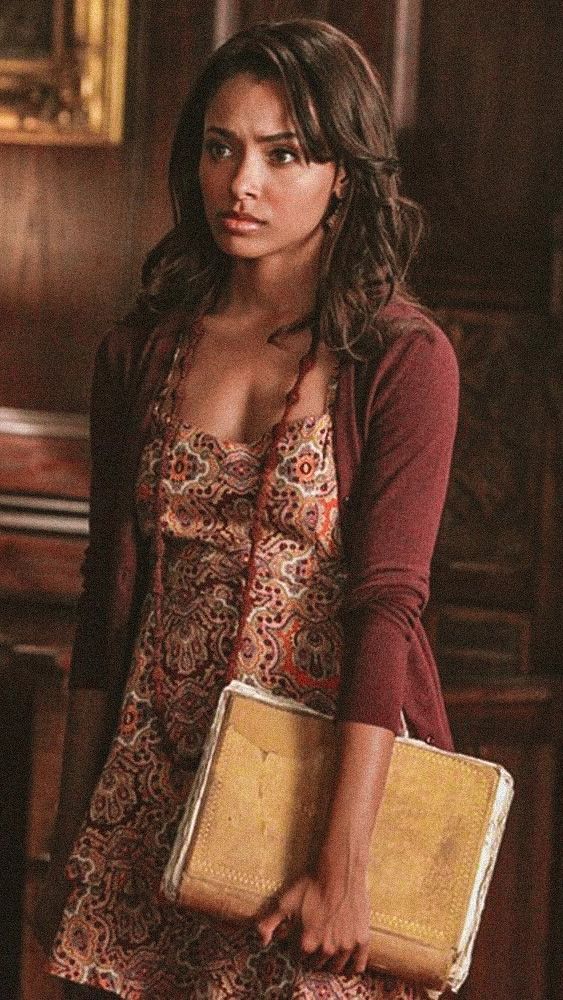 I am honestly in love with this particular outfit of Bonnies! I love how the colors come together and the quirky abstract print of her dress is just utterly pretty!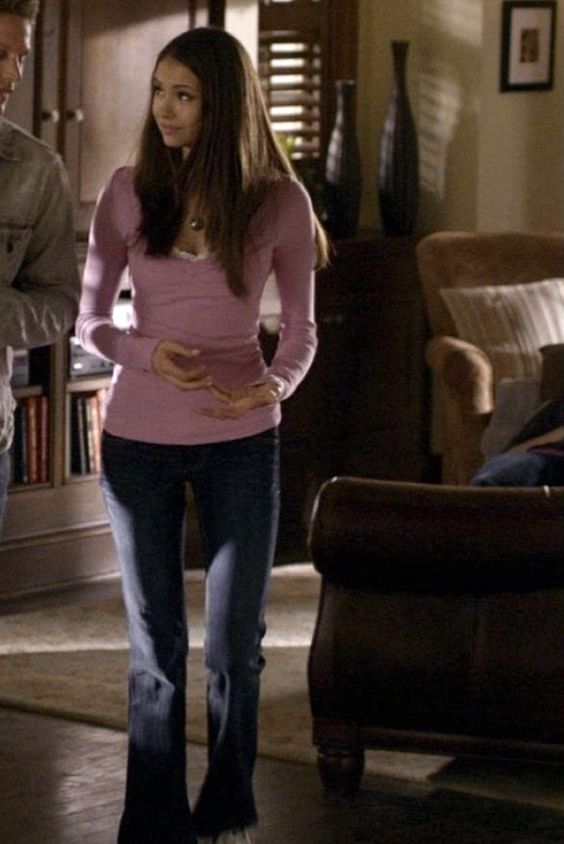 I can't get over this pink sweater that Elena wore in one of the episodes of Vampire Diaries. It's cute and casual, and perfect for everyday use.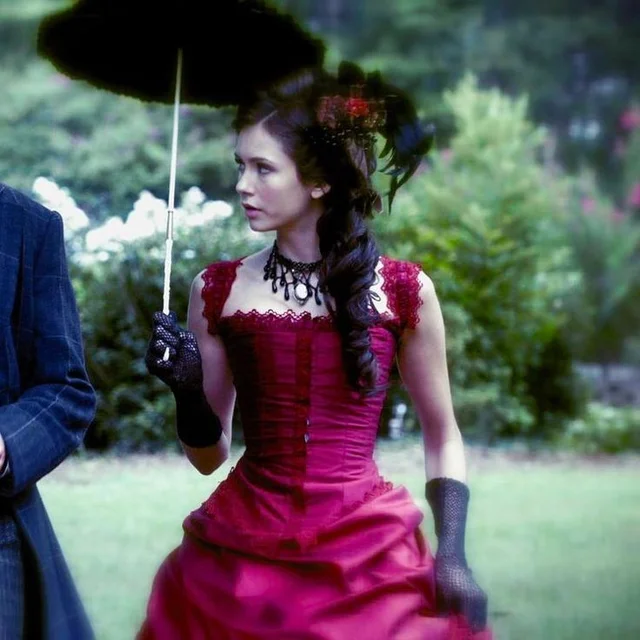 Here's another favorite of mine from Katherine's dresses. I love the gorgeous shade of red in her gown as well as the lace accents of her gloves. This would definitely be great to consider for next Halloween!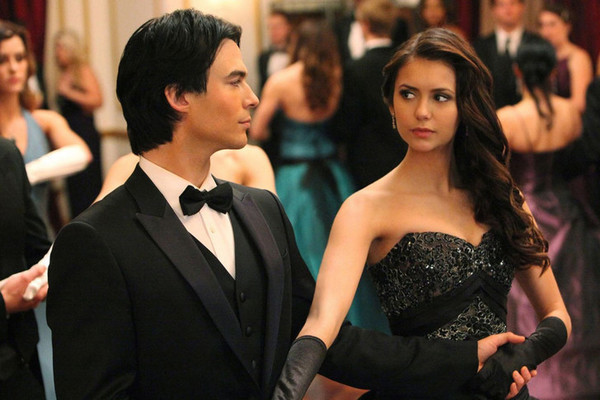 With all the dresses that were worn in The Vampire Diaries, it's hard to leave out the sparkling black gown Elena wore as she danced with Damon in that one episode!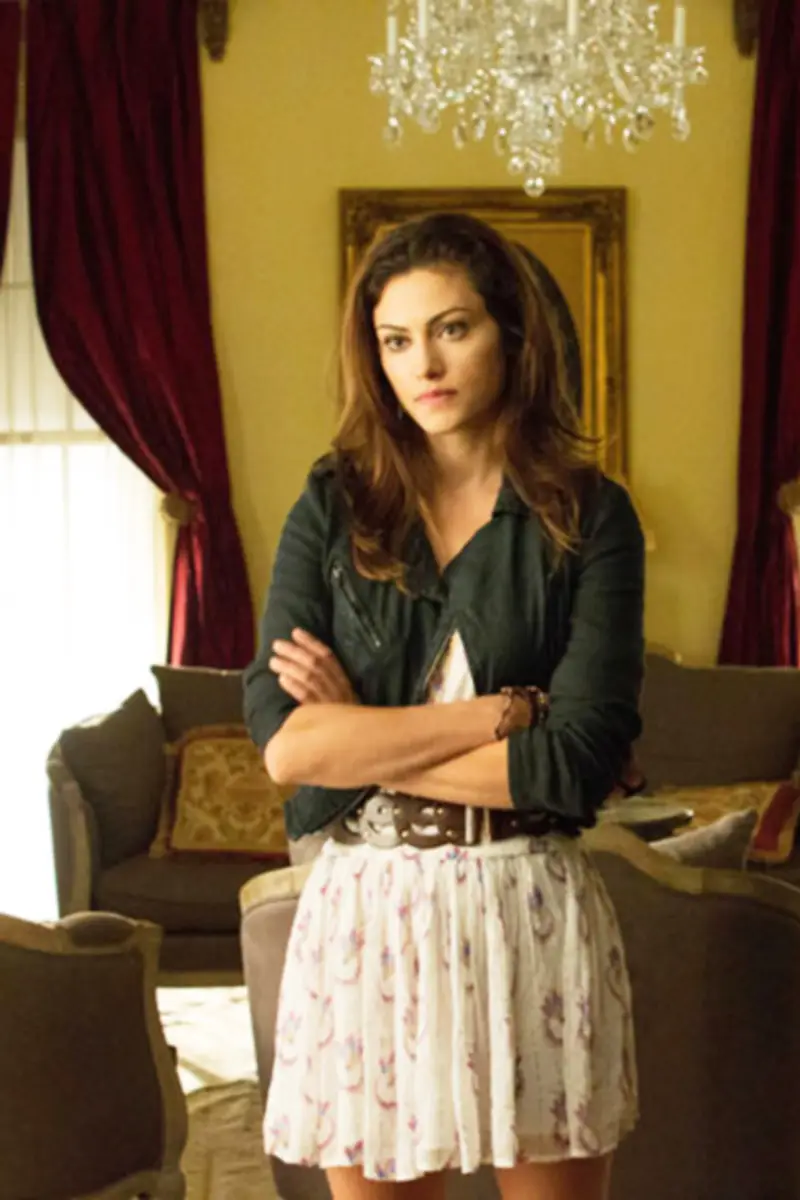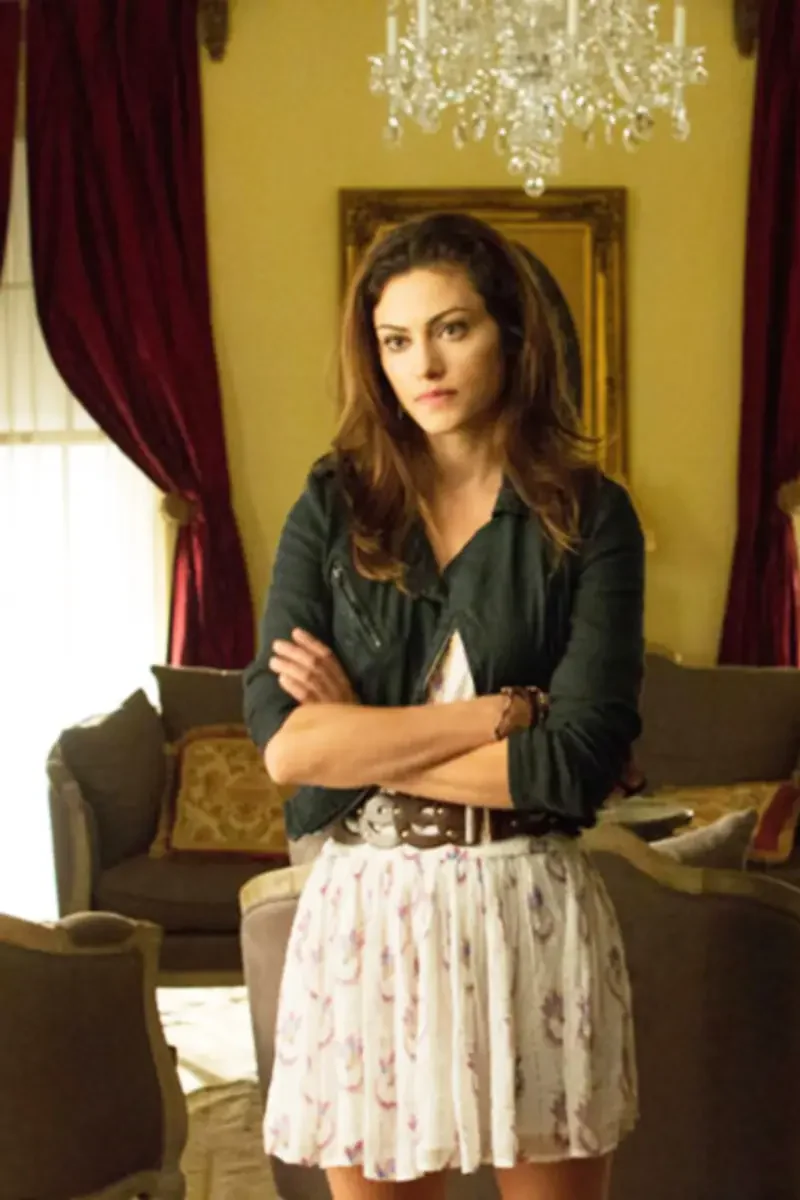 Give your sundress a bit of an edge by styling it up with a denim jacket and a chunky brown belt just like what Hayley did in this episode.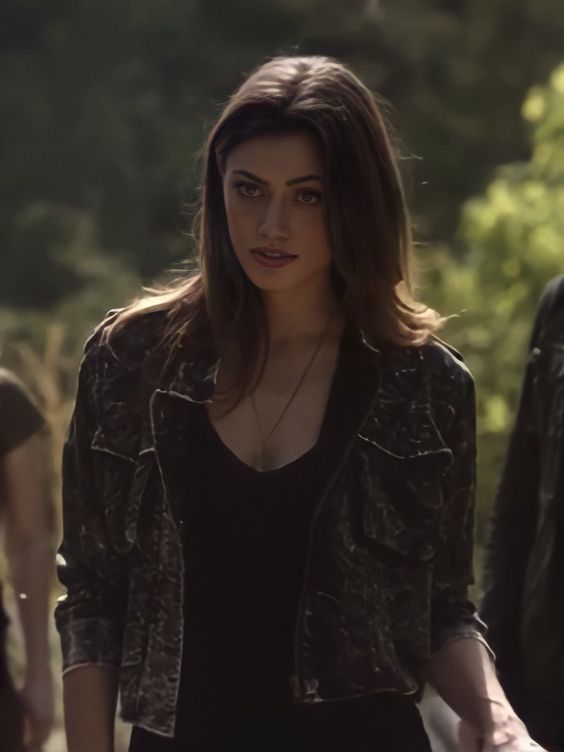 Just like Elena, Hayley also loved wearing her leather and denim jackets. This gave her overall look an edgy vibe that I honestly loved in the series!
This plain, grey sweater looks so good on Hayley! I love how it fits her so well and you can also easily recreate this look with any plain long-sleeved shirt you have!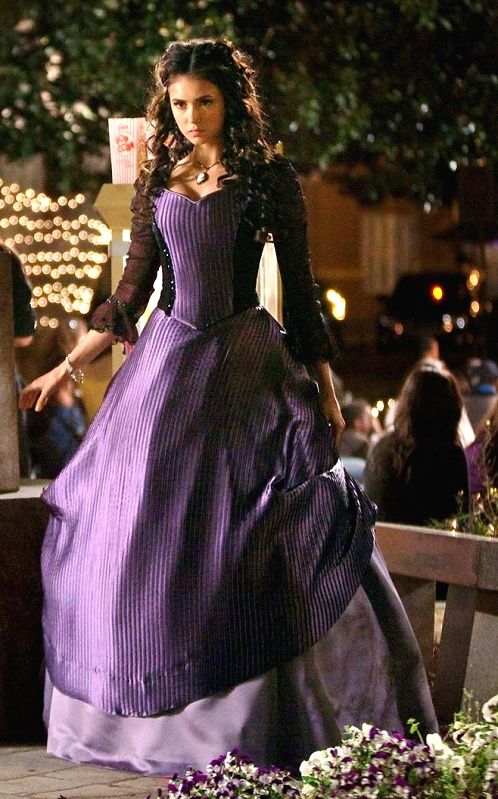 Can't get enough of Katherine's period gowns? Me either! So here's another iconic dress that Katherine wore on the show. I am so in love with how vibrantly purple this is!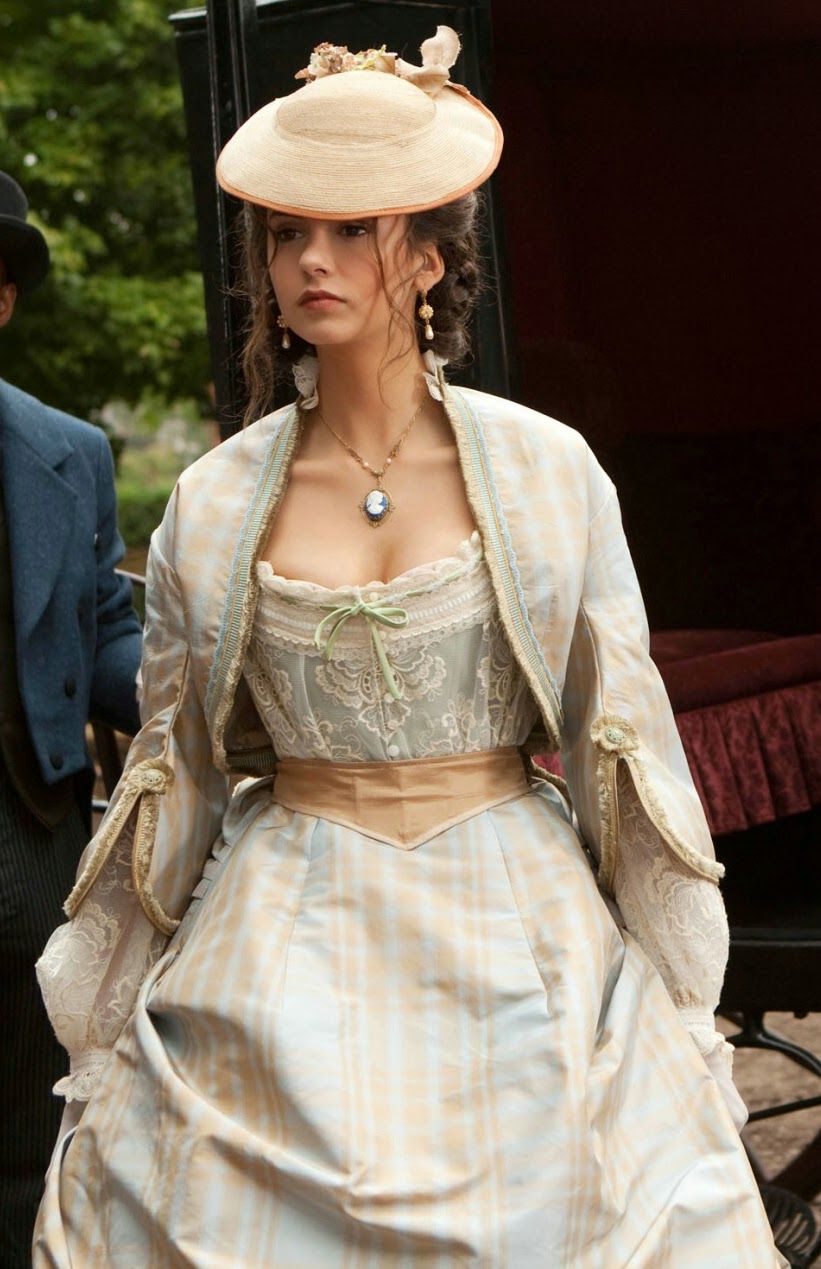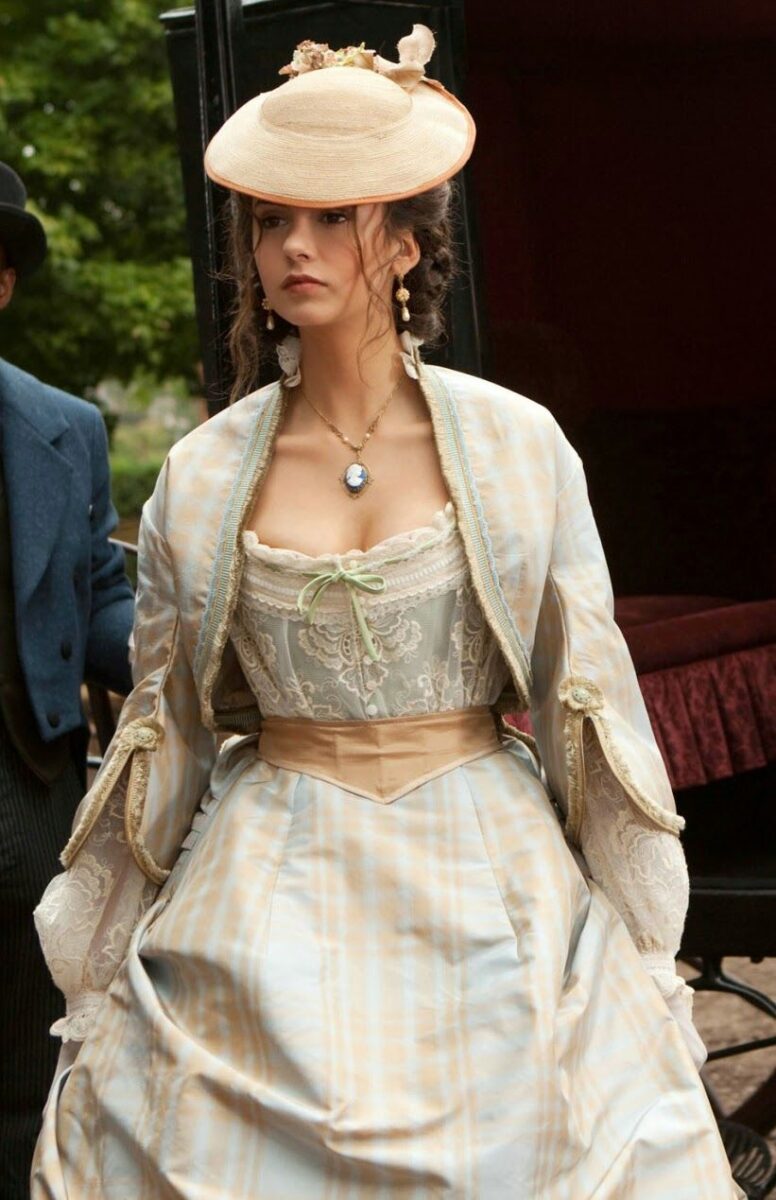 Without a doubt, this is my favorite dress of Katherine's. From the dainty, delicate details to the overall color scheme, she looks so ethereal here!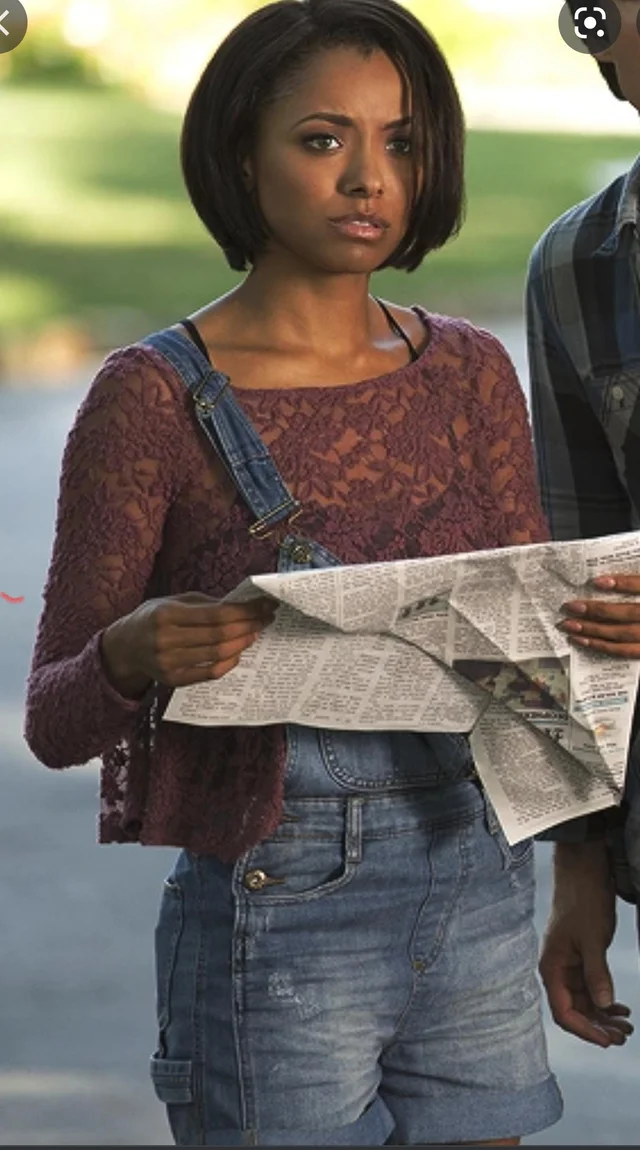 This sheer, plum blouse and denim overalls hat Bonnie wore looked so good on her! It could be a perfect outfit for the summer or spring seasons!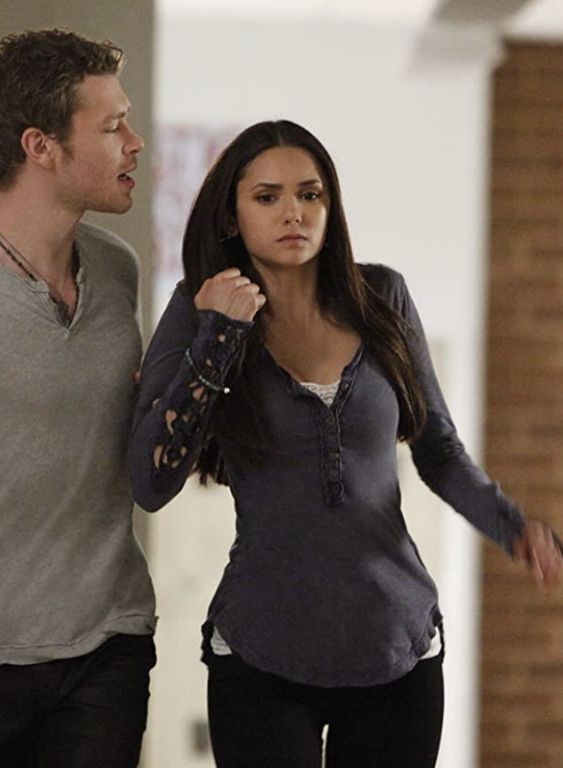 Even in a time of distress, Elena looked gorgeous in this dark grey, ripped sweater.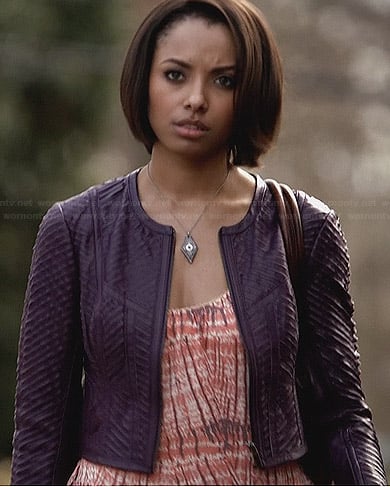 This dark purple and orange printed cami was such a nice color combo for Bonnie!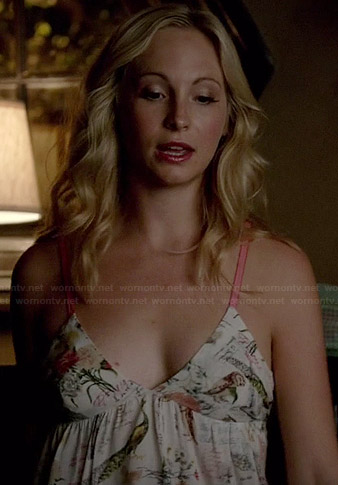 This bird-printed cami that Caroline wore was such a cute look for her!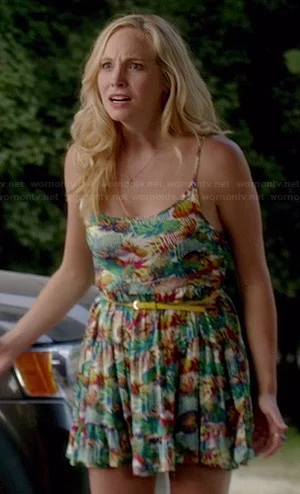 This tropical dress on Caroline honestly makes me so excited for the summer season!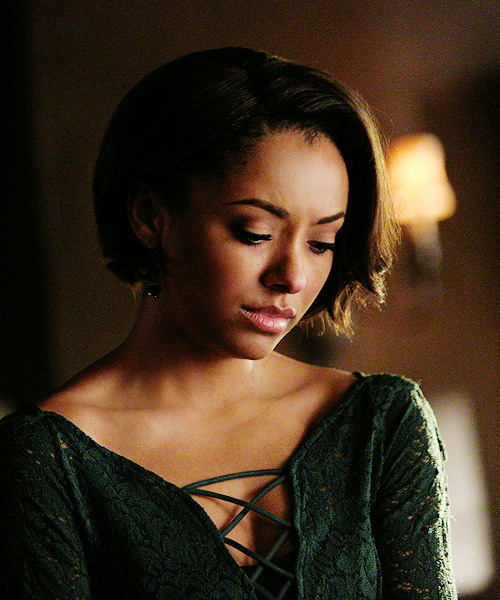 I've said it before but green is definitely Bonnie's color! This sheer blouse makes her look so glowy!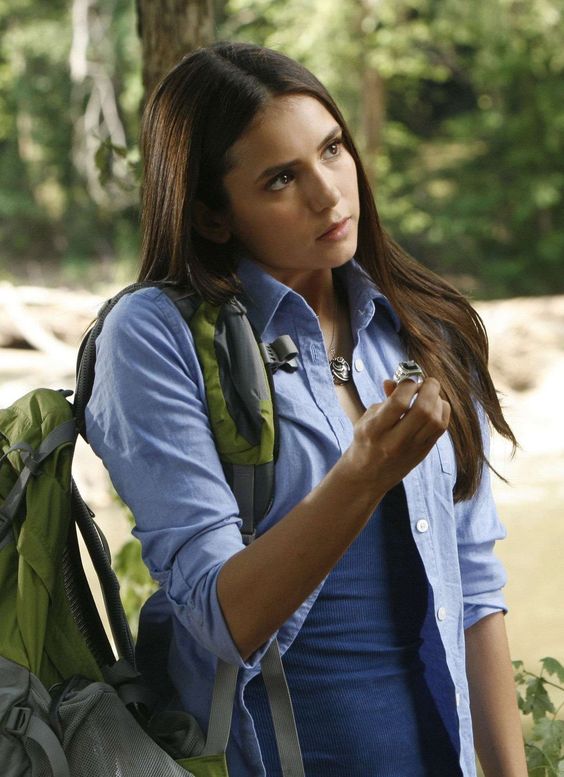 Love this all-blue outfit for Elena! Honestly, I don't think there's a color that won't suit Nine Dobrev.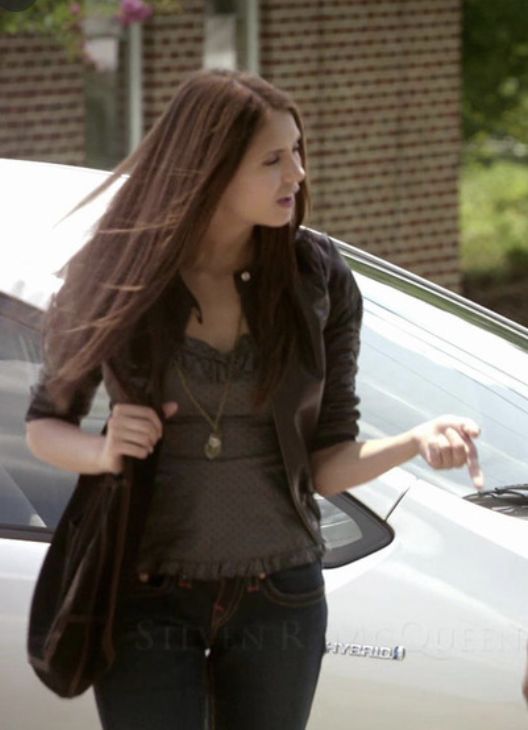 You already know that a leather jacket is a staple in Elena's wardrobe but it definitely looks even more stylish paired with this frilly cami!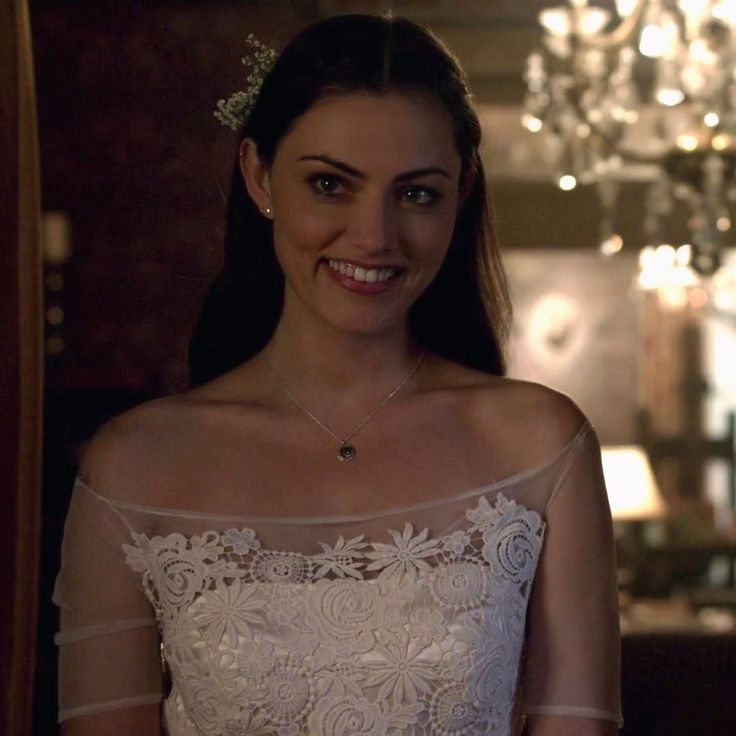 Hayley looks so angelic wearing this lacy, white dress!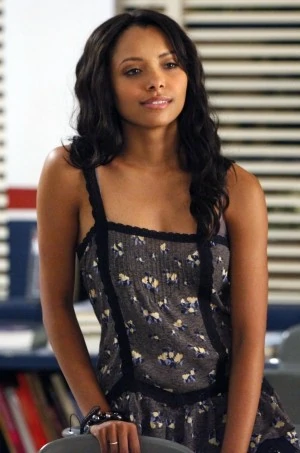 Another favorite of mine from Bonnie's outfits in the show. I love the white florals against the black and grey color scheme of her blouse.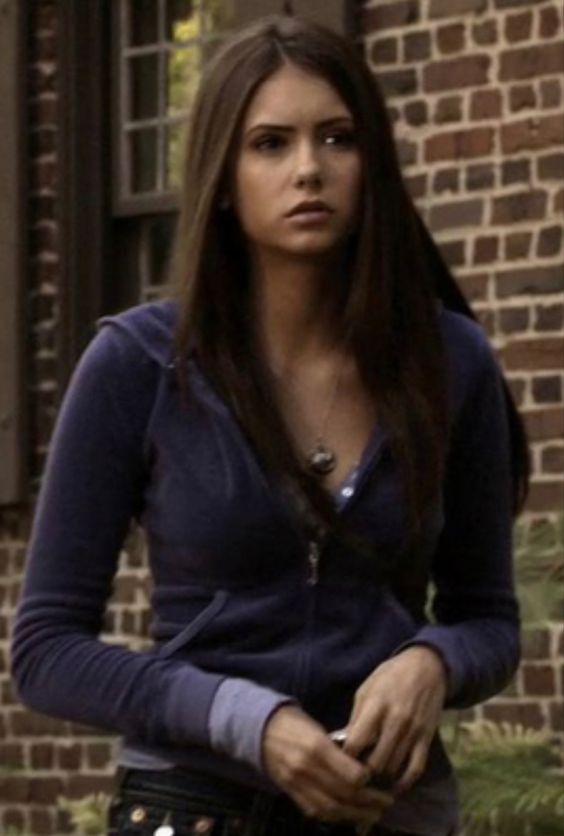 This dark purple hoodie from Elena would be such a good outfit to wear for the fall season. it'll keep you snug and warm!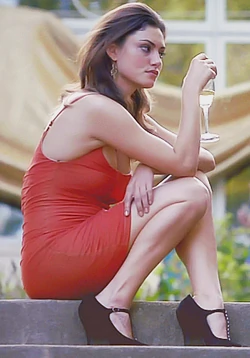 Probably one of the sexiest outfits on the show was Hayley's mini red dress and she totally looked stunning. While most of us didn't love Hayley during this point, we all have to agree that this was one of the hottest Vampire Diaries outfits of the episode.
As you can see, there are some iconic Vampire Diaries outfits that still work well as a look today. The stylists of this show definitely did something right!