Thinking of what to give to your friends, family, and Valentine's date this year? Test your baking skills by trying out these Valentine's Day cookies! There's no better way to show everyone how much you love them this month of February than with some homemade treats!
Valentine's is just around the corner;; whether you're celebrating this romantic holiday or not, it's hard not to notice when love is in the air! When it comes to Valentine's Day presents, nothing beats homemade goodies crafted with love!
That's why for this article, I picked out the best cookie recipes I've found online that deliver flavor and creativity! Whether you're making something special for your Valentine's date or sending out treat bags to pals, these homemade baked treats are sure to be an instant hit with your loved ones!
Nothing beats freshly baked cookies, and this is especially true on this romantic holiday. So instead of getting them something expensive or storebought, try your hand at baking instead and give them something packed with flavor and your love!
Valentine's Day Cookies
Whether you're an experienced baker or a rookie in the kitchen, we've got you covered with these amazing recipes for Valentine's Day cookies!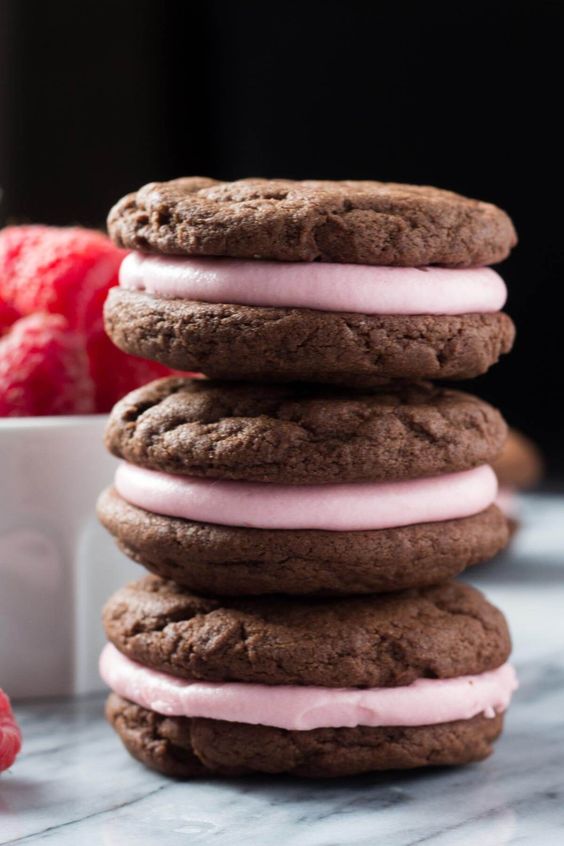 Ditch the classic chocolate chips for this decadent Chocolate Raspberry Sandwich Cookies recipe! Because what's better than a cookie? Two cookies with raspberry cream frosting sandwiched in between.
Are you craving s'mores this Valentine's Day? Then you should definitely try out this easy, 3-ingredient recipe for these Heart-Shaped S'more Cookies!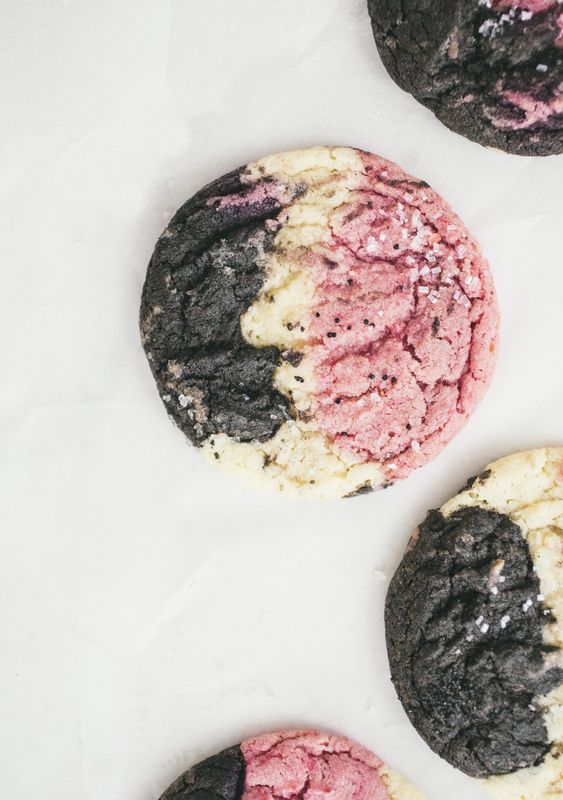 Check out Sarah Kieffer's recipe for these scrumptious Neapolitan Cookies! What you get are these buttery soft, colorful cookies that are bursting with the right amount of sweetness in every bite!
I love chocolate crinkles, and these strawberry-flavored ones are just as yummy! If you're looking for the perfect homemade treats that are both fruity and light, try this recipe out!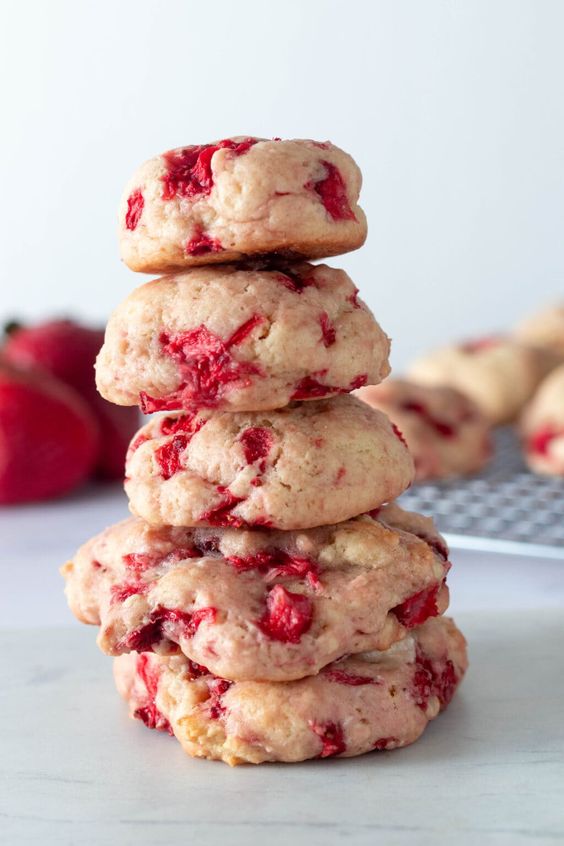 If you can't get enough strawberries this Valentine's season, then this Strawberry Shortcake Cookies recipe is definitely for you! Pair it with some cream cheese filling for some added decadence with every bite.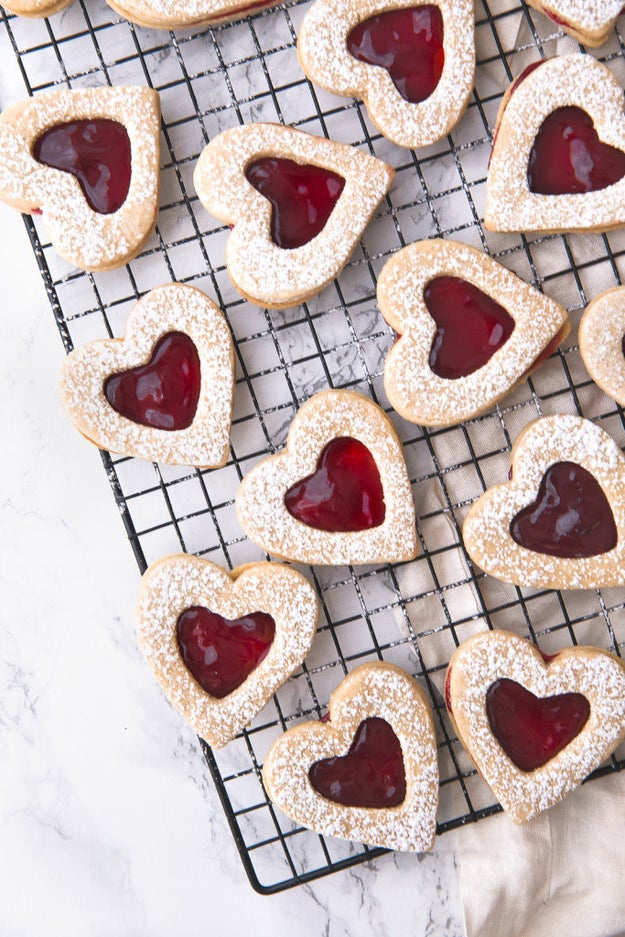 I love Linzer cookies, and I love them even more during Valentine's and on any other holiday. These cookies are so butty and crunchy on the outside and buttery soft on the inside along with some sweet, fruity filling.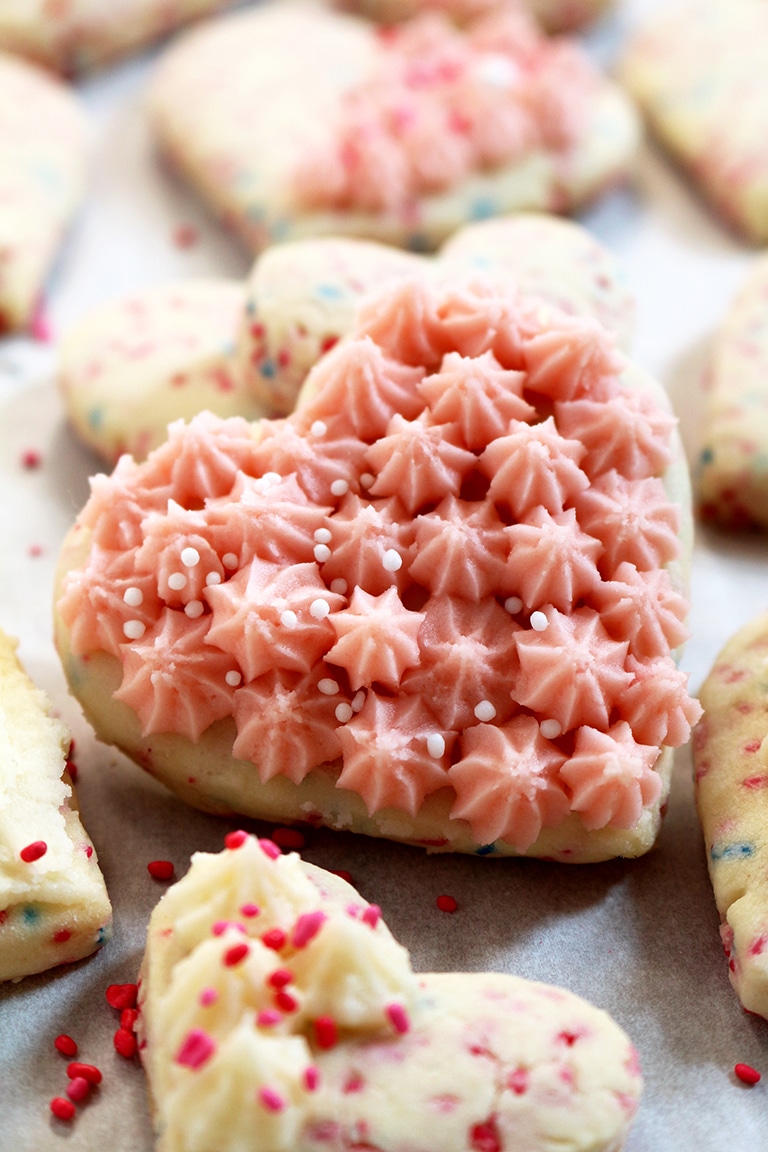 This Valentine's Sugar Cookies with Vanilla Buttercream Frosting recipe is a great way to sweeten up your Valentine's Day and surprise your loved ones.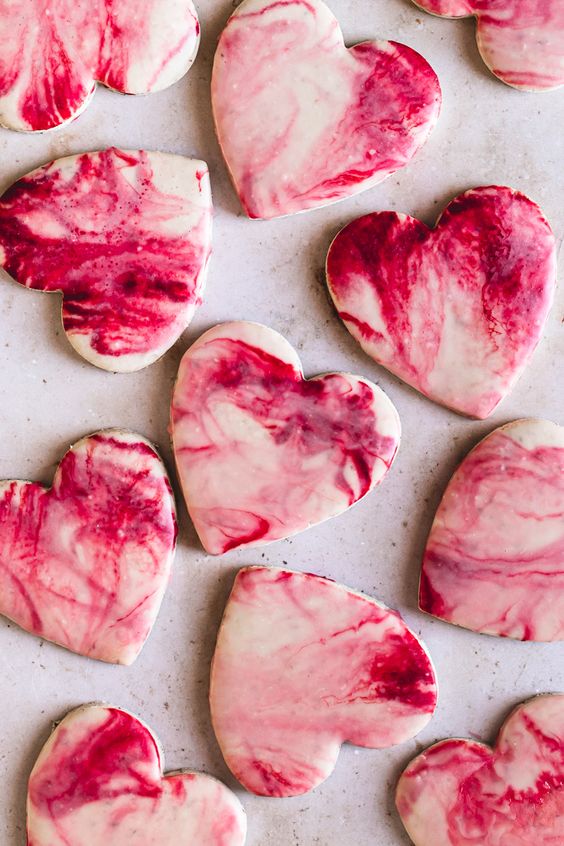 Looking for a gluten-free, vegan option for your Valentine's Day cookies? These sugar cookies topped off with marble icing might just be your next Valentine's staple!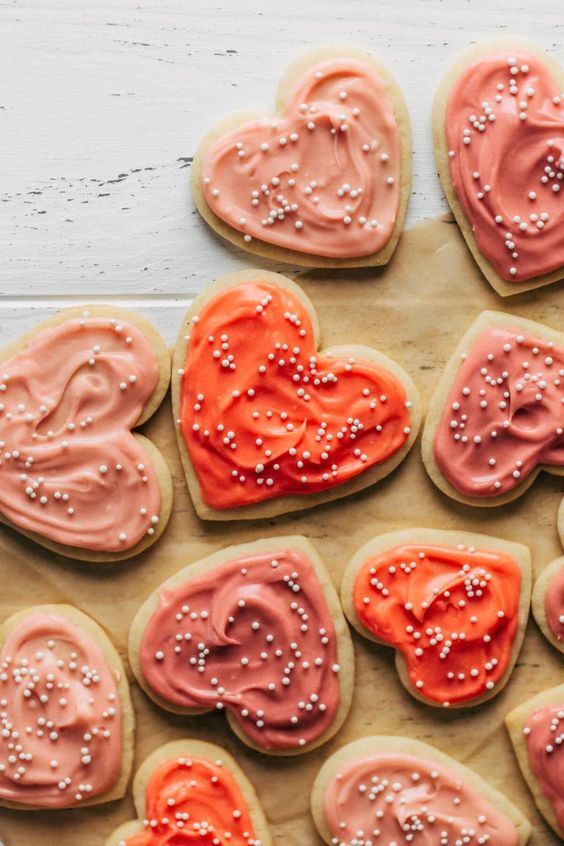 This fool-proof recipe for sugar cookies is an absolute must-try! If you're tired of your sugar cookies turning gritty and dry, these cookies are going to give you that irresistible sweetness and softness without being too overwhelming.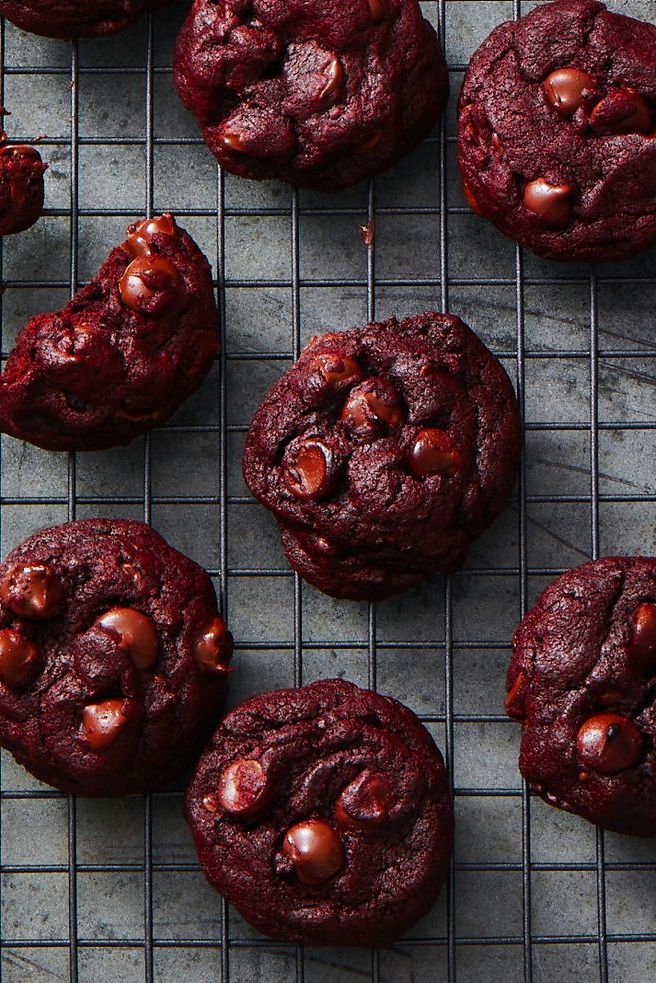 These red velvet cookies are a twist on the conventional chocolate chip cookie recipe, loaded with yummy chocolate chips and dyed a rich and vibrant crimson to match the Valentine's Day theme.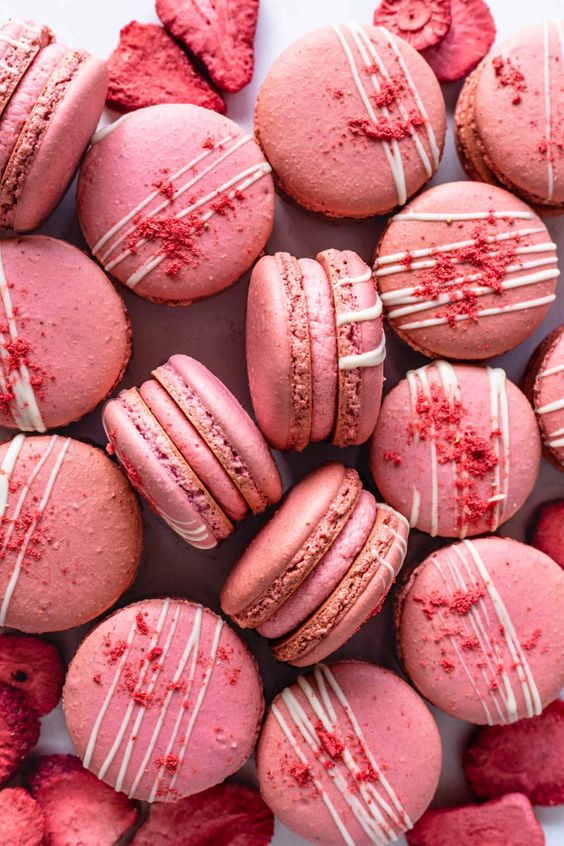 Make use of freeze-dried strawberries with this delicious Strawberry Macaron Shells recipe! Utterly decadent, these treats will have your Valentine's Date looking forward to your second date already!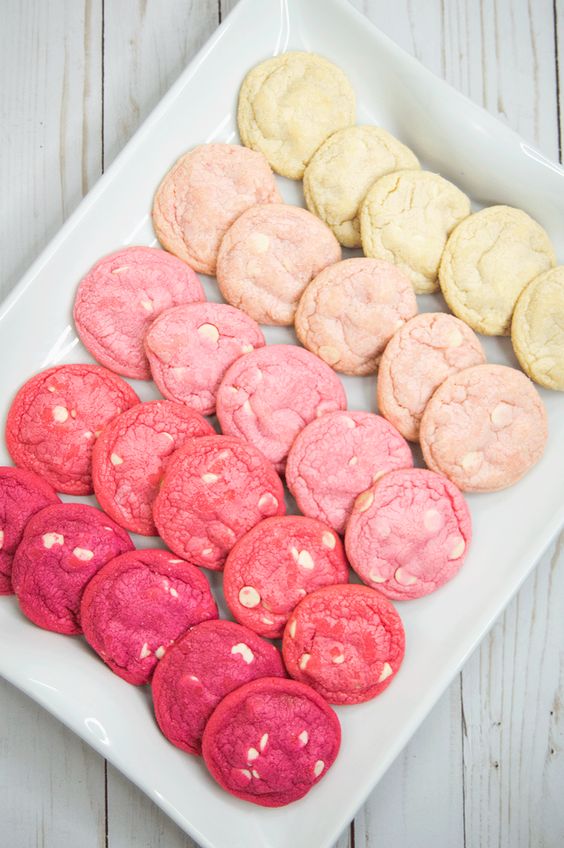 Get creative with your classic chocolate chips by dyeing them a fun, ombre pink for Valentine's Day! This is a quirky way to match the romantic theme of this special occasion.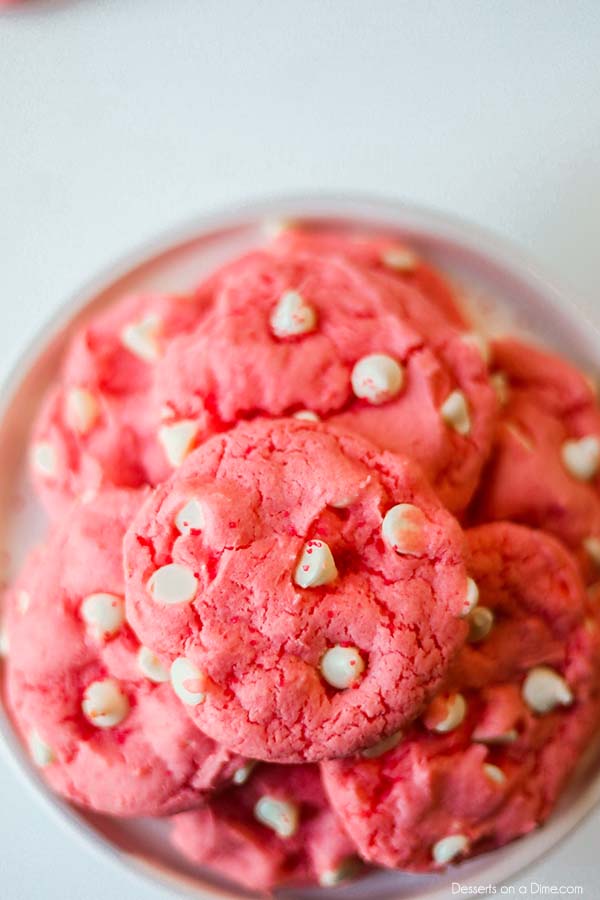 Try out this Valentine's Day Cake Mix Cookies recipe for a fun and delectable treat this month of February. What's more, this quick cake mix cookies recipe requires only a few simple ingredients.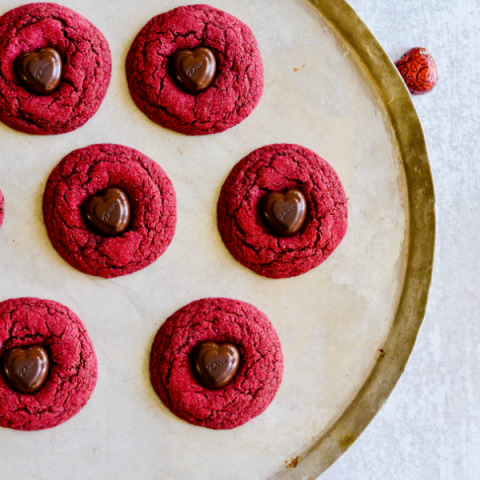 These Red velvet cookies are rolled in hot pink sprinkles and topped with a dark chocolate truffle. Anyone who gets a taste of these is sure to be asking for more!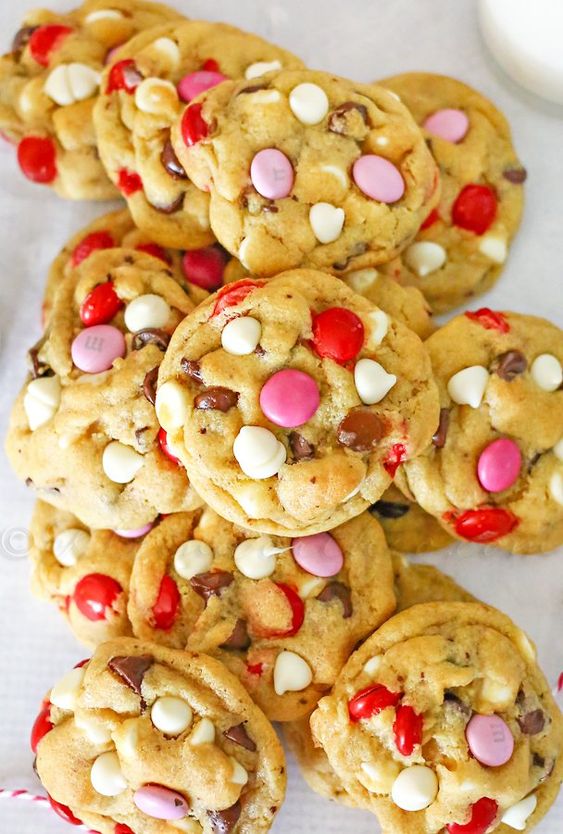 These Valentine Chocolate Chip Cookies are soft, chewy, and loaded with M&M's. Great for giving to your loved ones this Valentine's Day!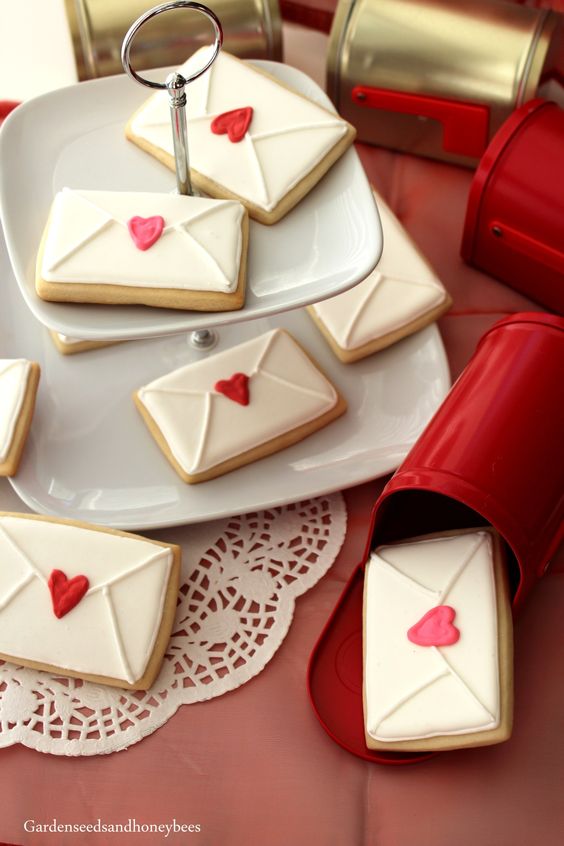 The best thing about sugar cookies is that you can get creative with them as much as possible. If you're looking for some ideas, try out this particular recipe!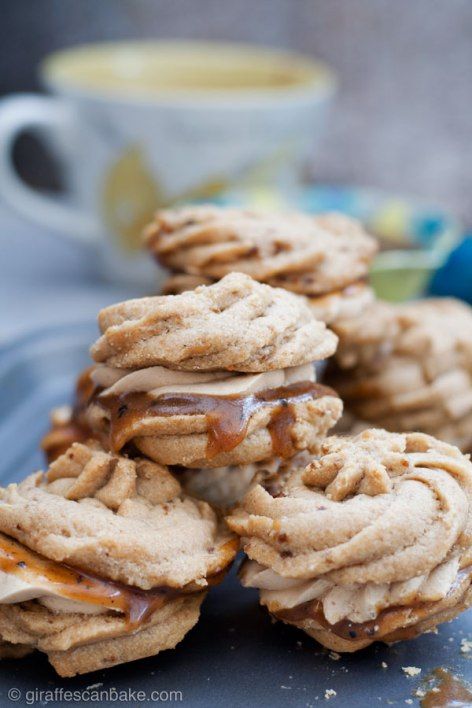 This must-try recipe results in a buttery shortbread that melts in your mouth and is infused with freshly brewed espresso, sandwiched between handmade butterscotch sauce and espresso buttercream. It's perfect for coffee lovers alike!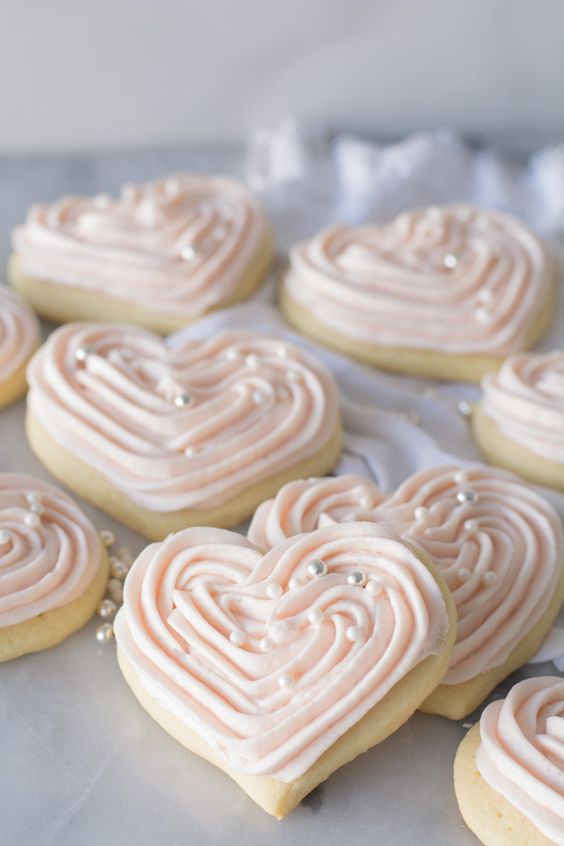 This cake-like cookie is made rich with sour cream and butter that will become a staple treat for your loved ones during Valentine's Day.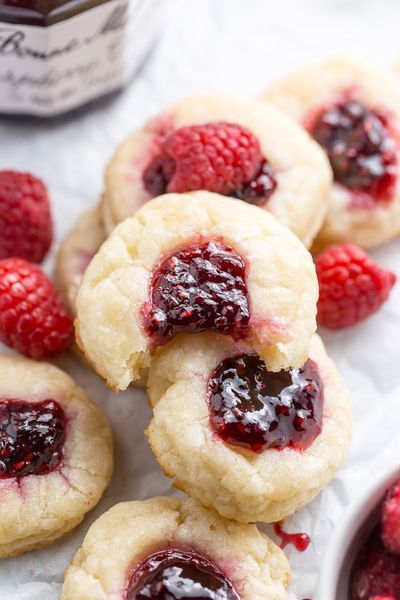 You'll be delighted to find that these delectable little treats, with exquisite cream cheese-flavored crumbs and dark, jammy raspberry fillings, are created with only 5 easy ingredients!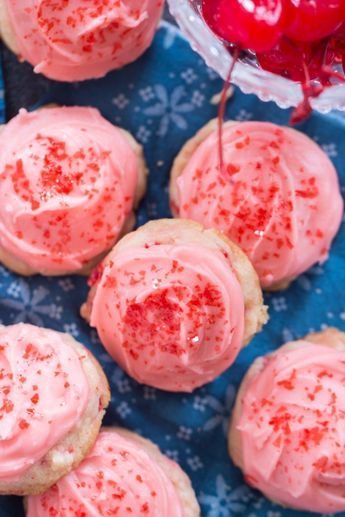 This particular recipe is going to give you soft, fluffy, melt-in-your-mouth sugar cookies with cherry and almond accents and a rich cherry-almond frosting! These Cherry Almond Amish Sugar Cookies are a surefire favorite for any occasion, especially Valentine's Day!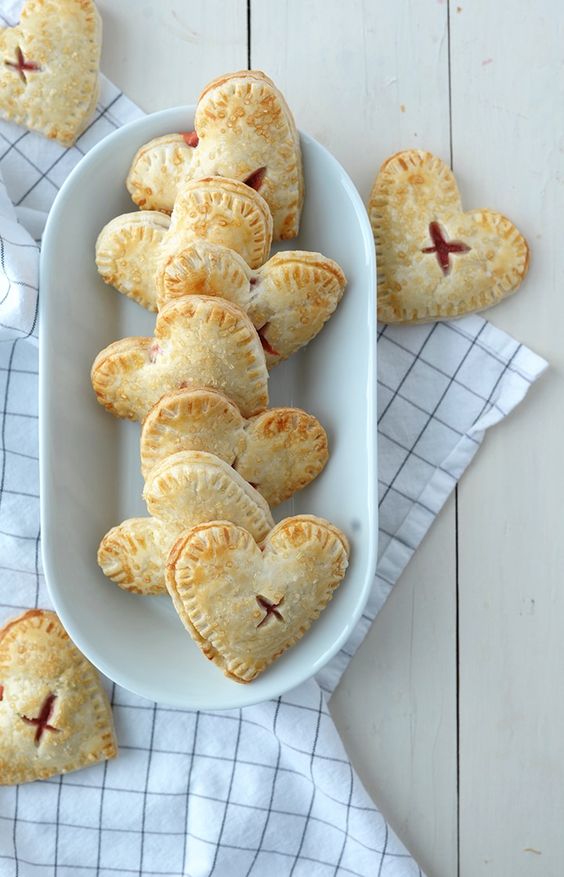 If you're looking for something crunchy on the outside, yet buttery soft and filled with sweet strawberry filling on the inside, this is the recipe for you. This is totally perfect for afternoon tea with your friends on Valentine's Day.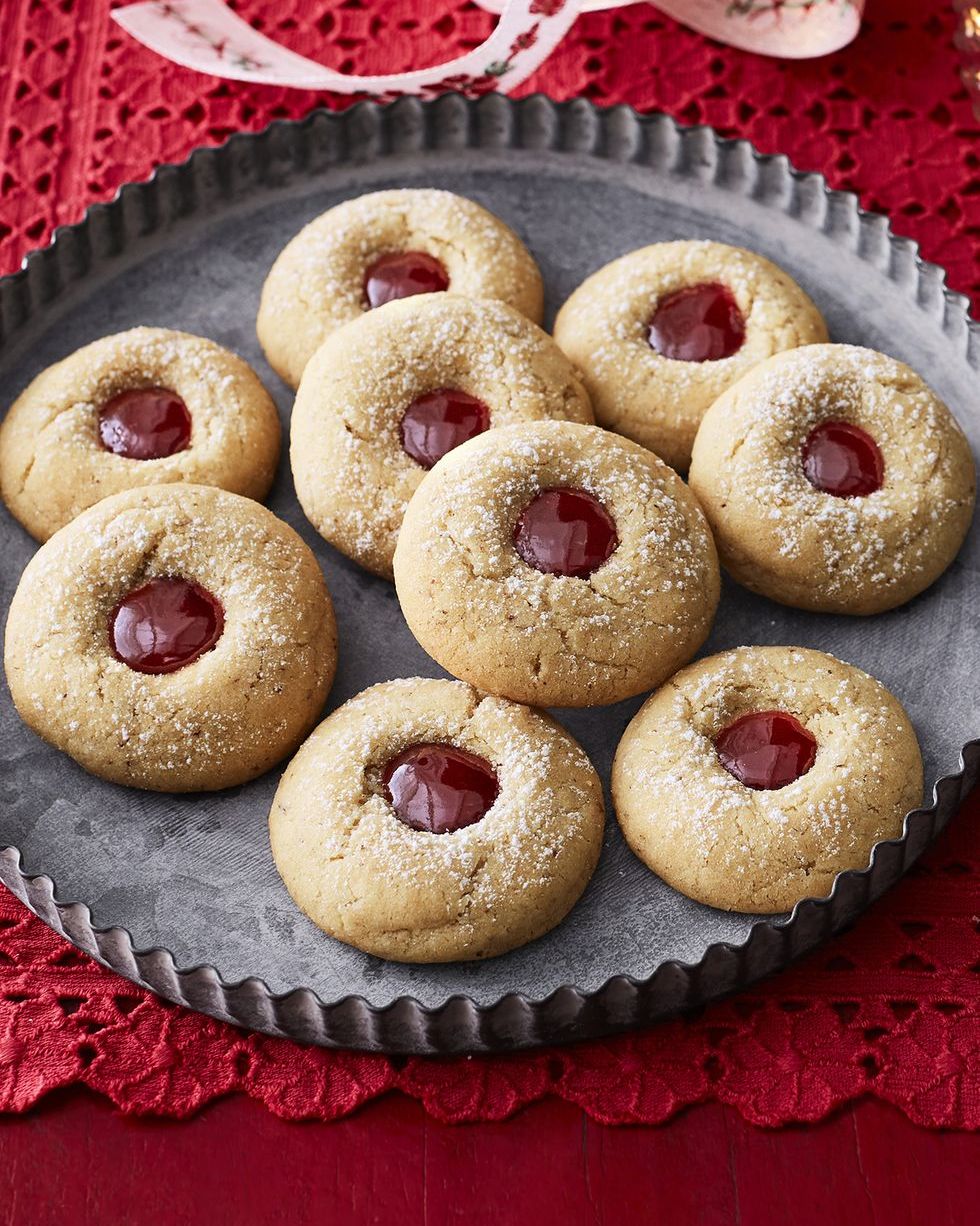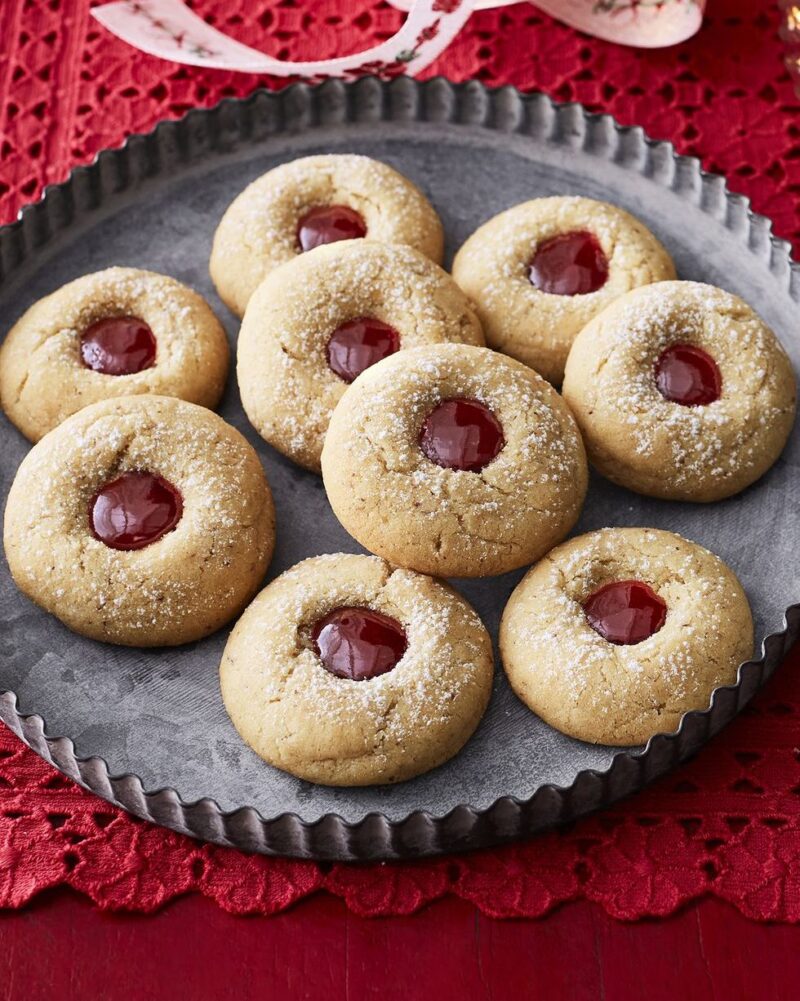 These thumbprint cookies are flavored with almonds, almond extract, salted butter, and raspberry jam, making the final result a buttery, flavorful cookie that will get your friends pining for more on Valentine's Day.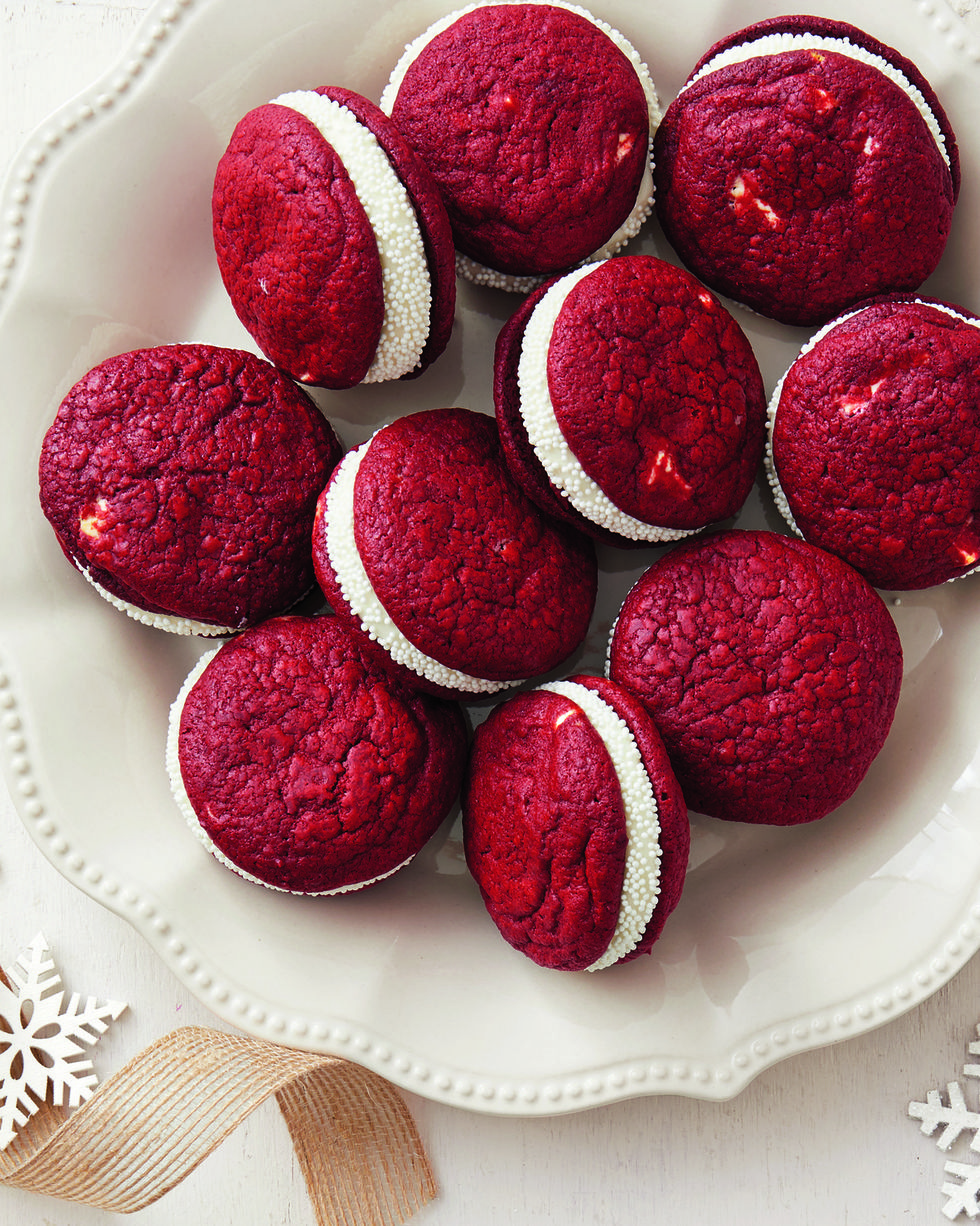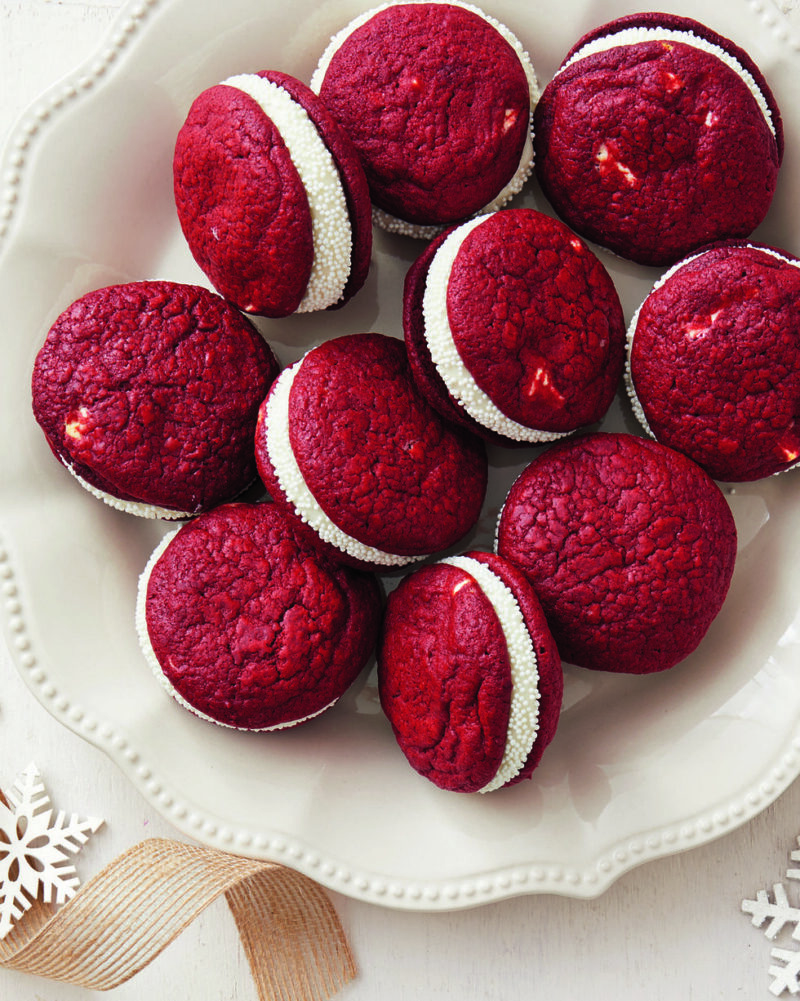 You'll fall in love with the creamy cream cheese filling in these red velvet sandwich cookies. They're almost too stunning to eat!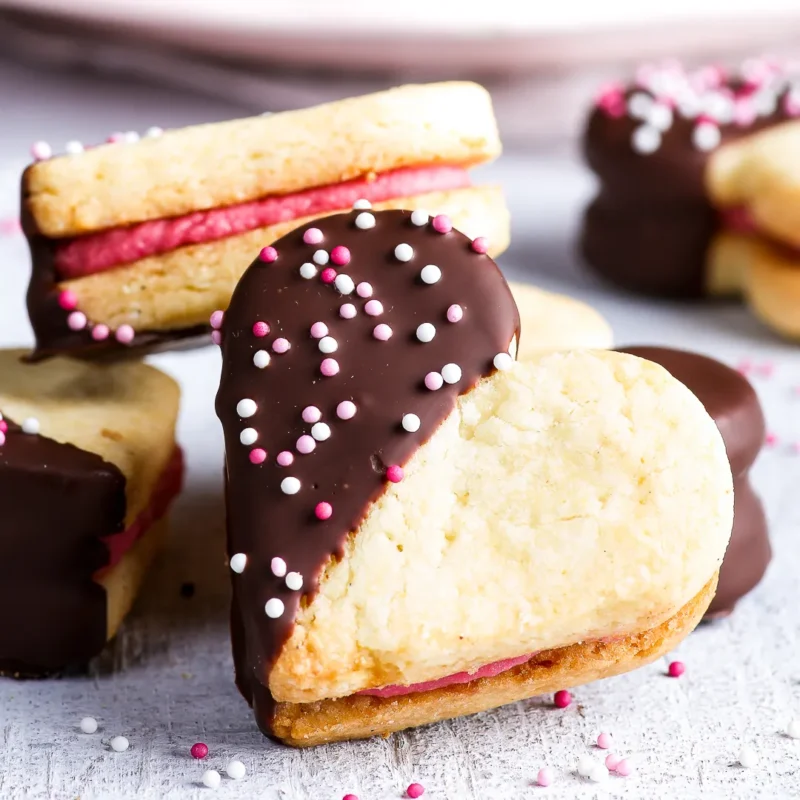 Share some gluten-free chocolate-dipped heart cookies on Valentine's Day. Buttery, crumbly heart-shaped cookie sandwiches filled with luscious raspberry filling and coated in dark chocolate for a burst of flavors. These heart-shaped cookies are the perfect Valentine's treat!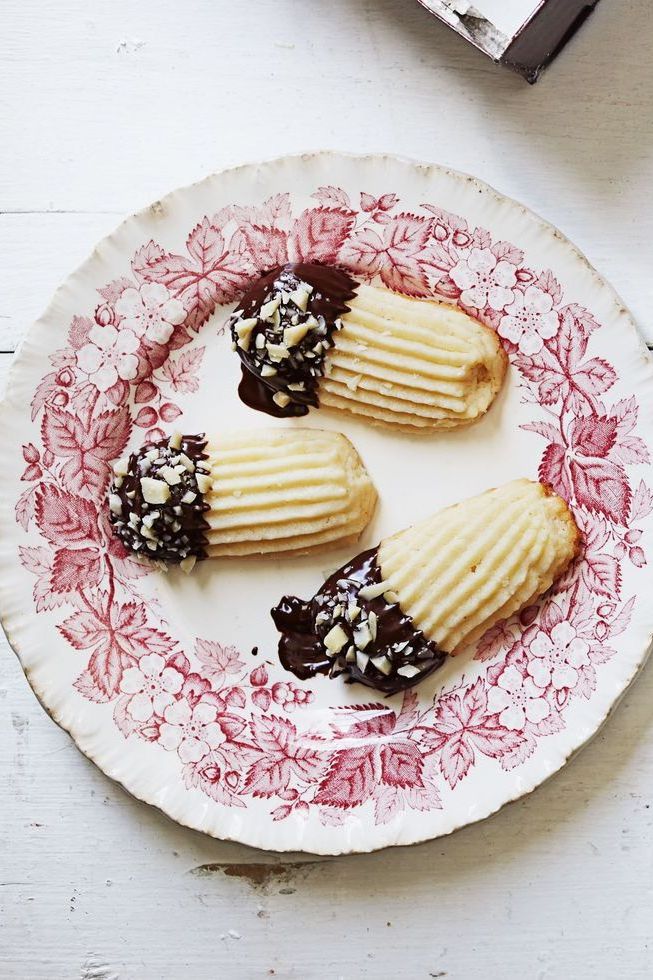 Whether you're looking to spend an afternoon with your friends or hoping to have some tea with your special someone, these Chocolate-Almond Tea Cookies are the perfect pastries to pair them with!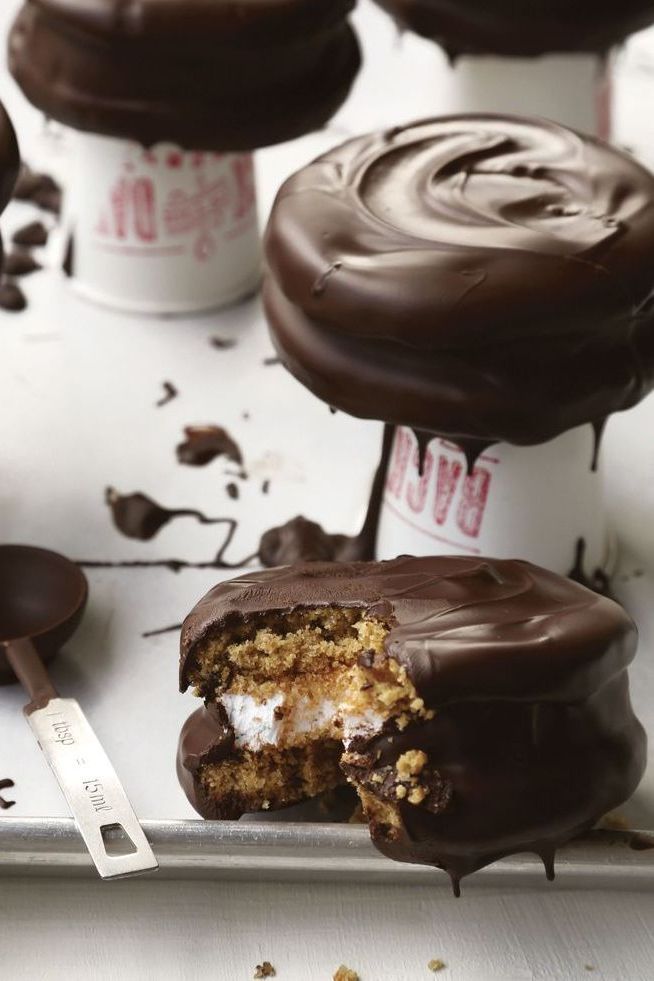 Oozing with decadence and chocolatey goodness, you can't simply miss out on baking some Marshmallow-Chocolate Cookie Sammies for your friends and loved ones this Valentine's Day!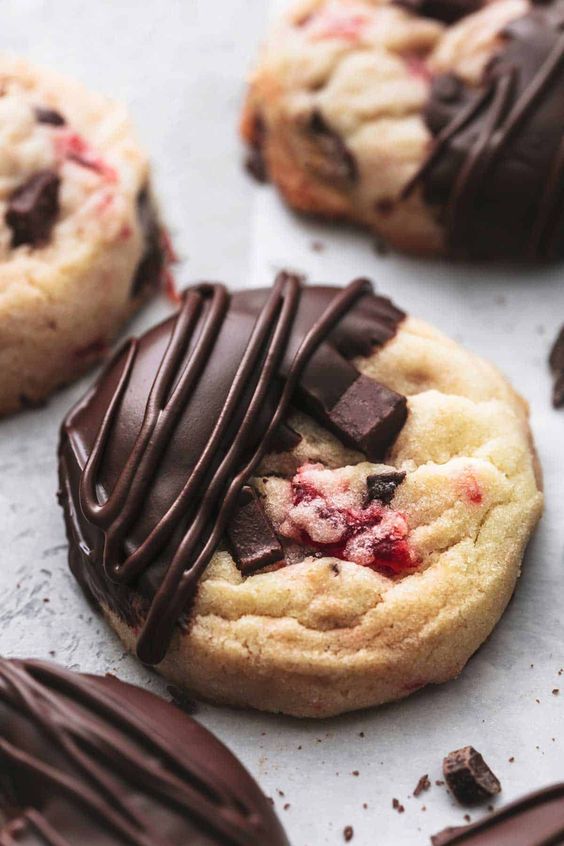 According to the recipe, these wonderful shortbread-style cookies are heavy on almond, chocolate, and cherry flavors inspired by the iconic Ben and Jerry's ice cream flavor, Cherry Garcia!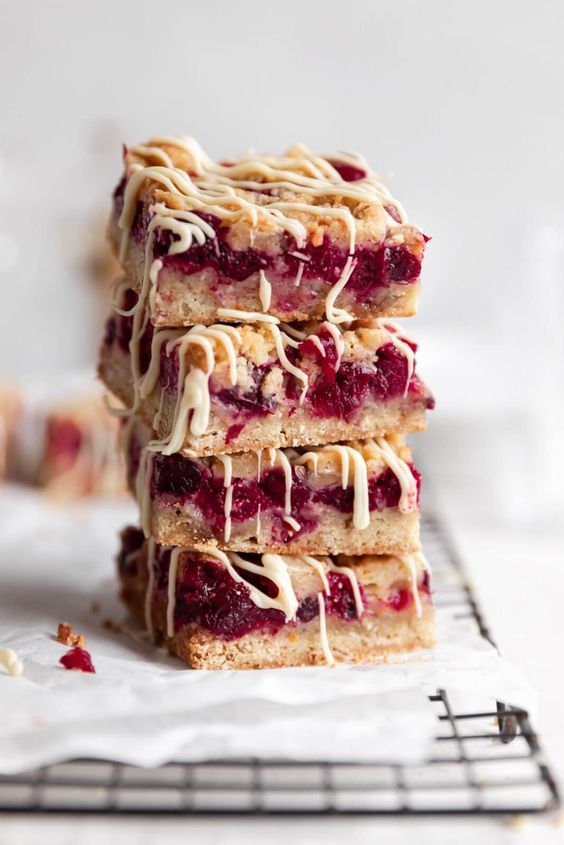 These white chocolate cranberry crumb bars are easy to make and have the ideal blend of sweet and tangy flavors! Your friends, family, and anyone else who receives these treats from you will unquestionably be appreciating this gift on Valentine's Day!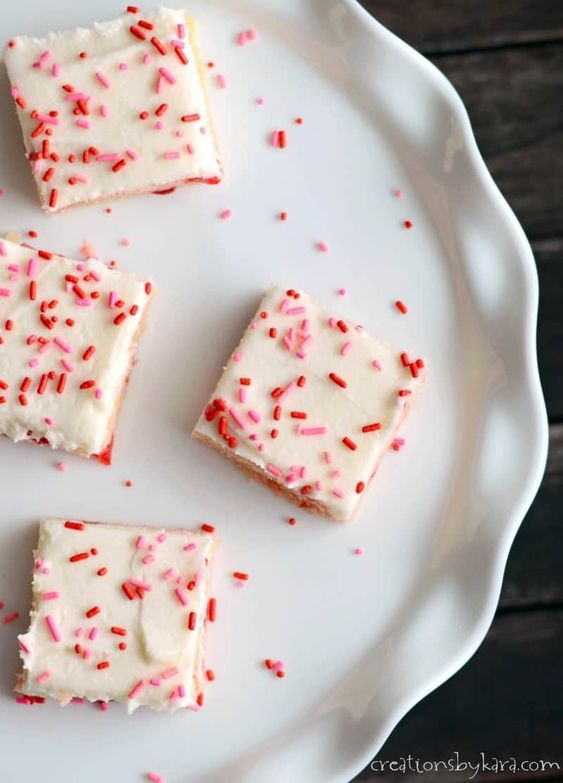 If you love cherry flavors as much as I do, then you will absolutely love making these Maraschino Cherry Sugar Cookie Bars! They're utterly irresistible and the perfect treat for all your loved ones on Valentine's Day!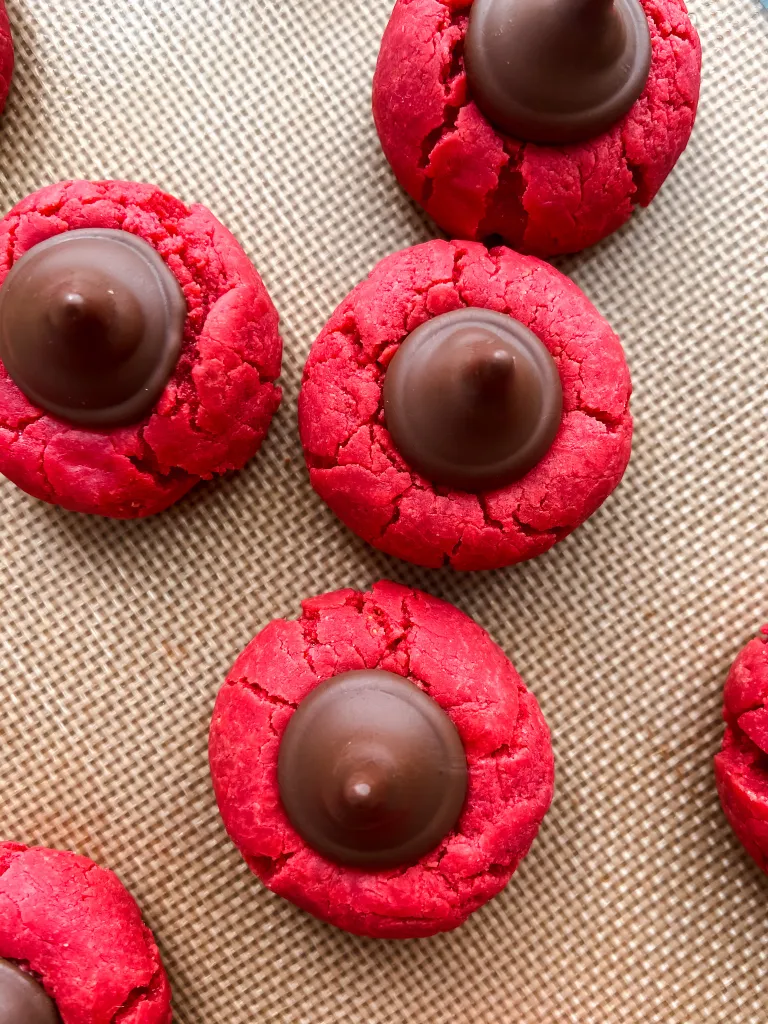 Don't you just love the vibrant colors on these Peanut Butter Kiss Cookies? Not only are these pretty to look at but they're also just as yummy and delectable!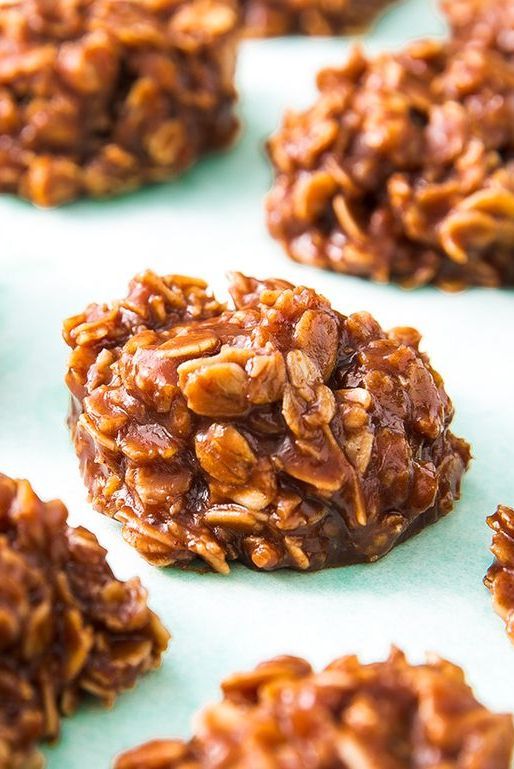 These No-Bake Oatmeal Cookies are so simple to make. This recipe is nearly impossible to screw up without having to comprise flavor. They're the ideal cookies to make if you're not the most confident in the kitchen. Not to mention, these cookies are gluten-free too so it's perfect for those who may have gluten allergies.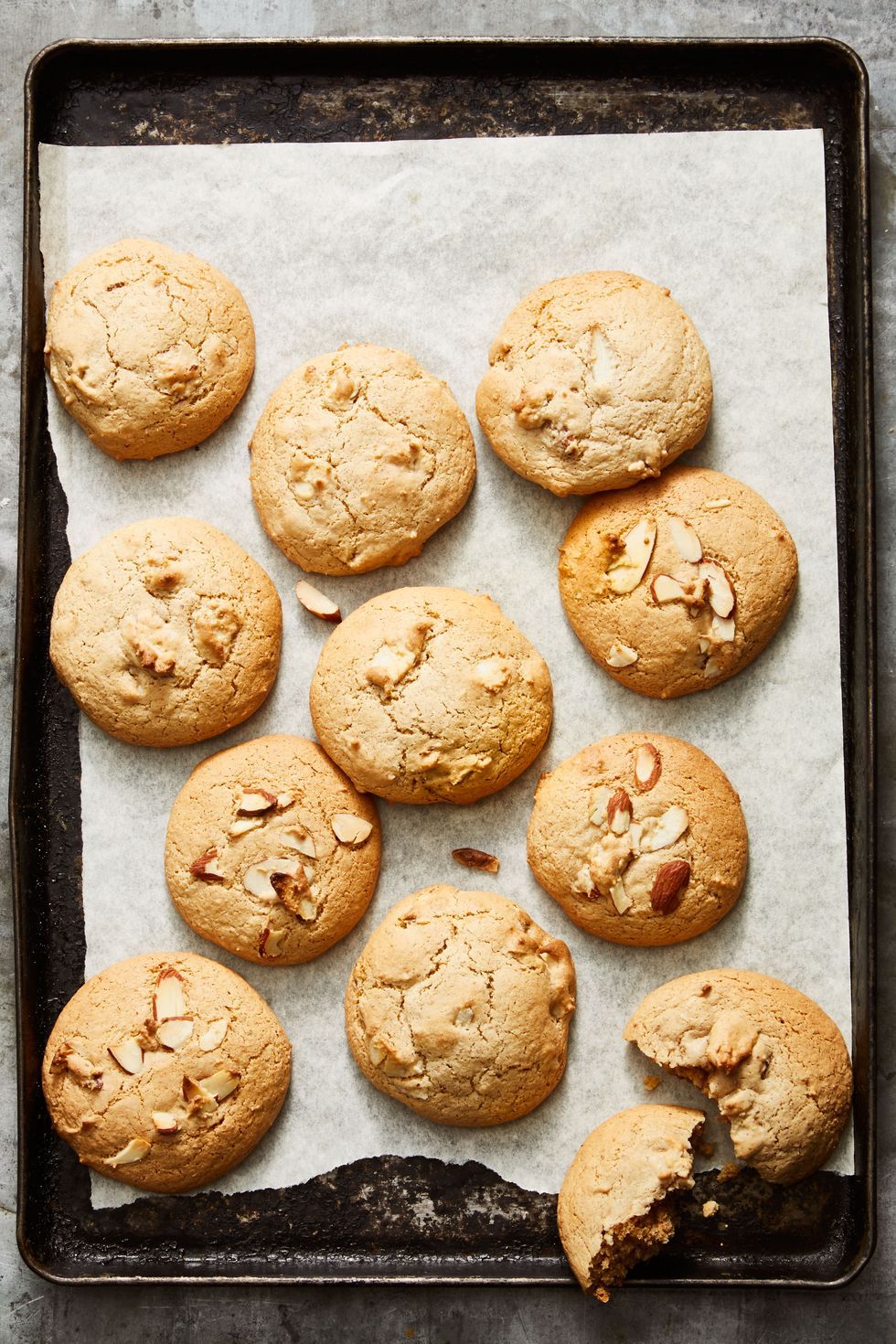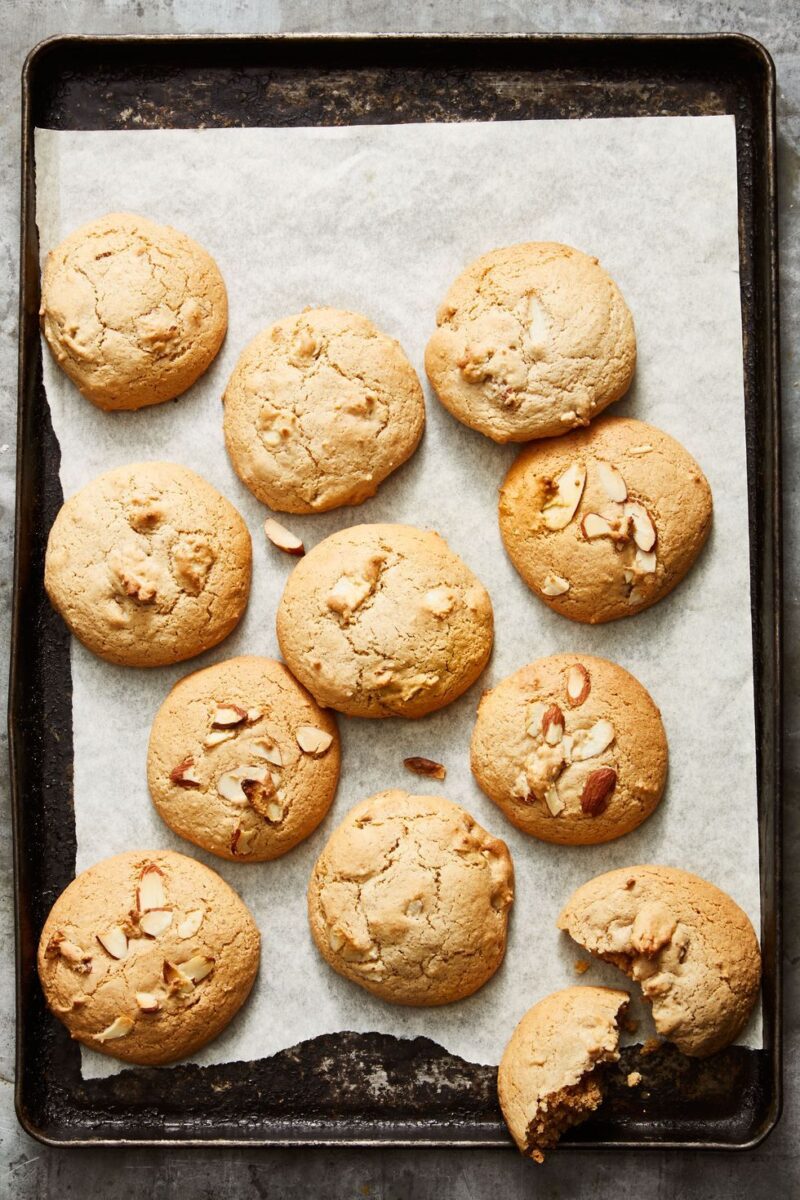 Ditch the traditional chocolate chip and go for these delicious Chunky Nut Butter Cookies instead! These cookies will an instant fave among your friends once they take a bite out of them!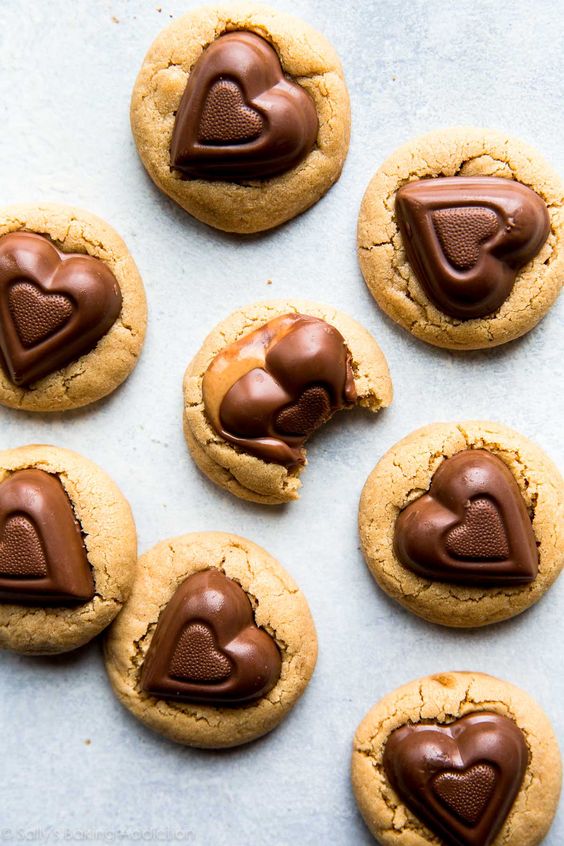 You can never go wrong with peanut butter-flavored cookies. To match the theme on Valentine's Day, try recreating this recipe for Peanut Butter Sweethearts!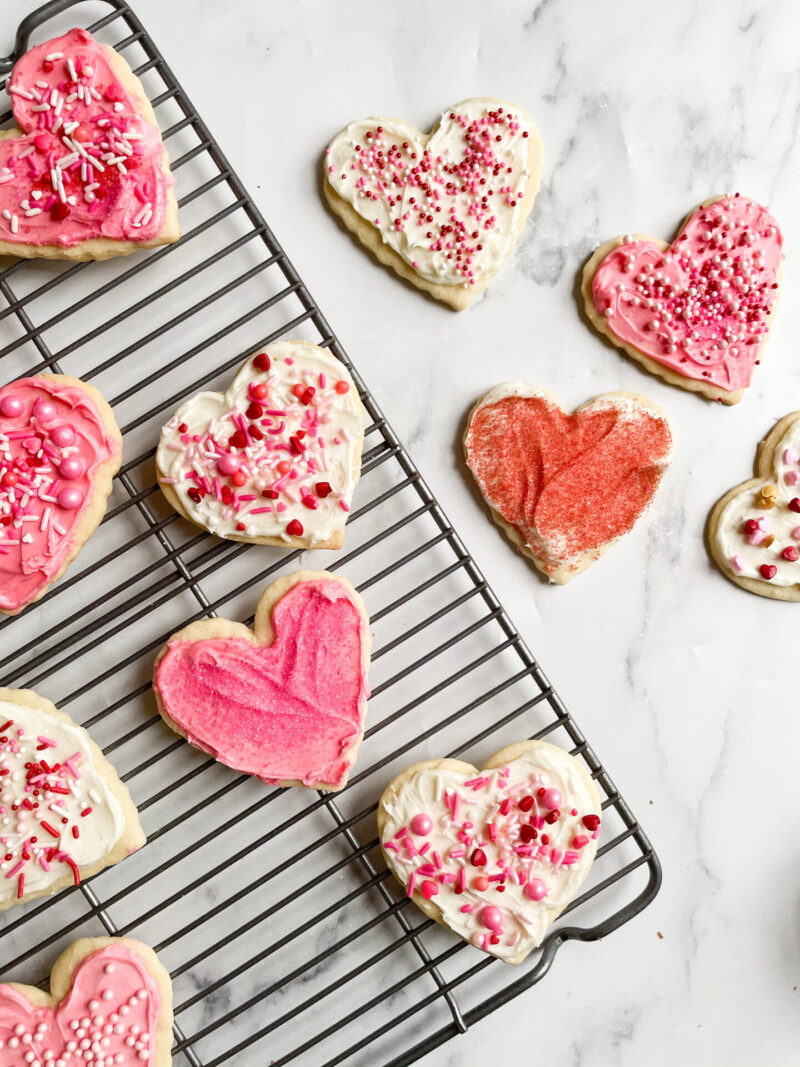 So pretty and delicious at the same time, these sugar cookies are an absolute must-try! Get creative with your frosting and sprinkles to delight your loved ones on Valentine's Day!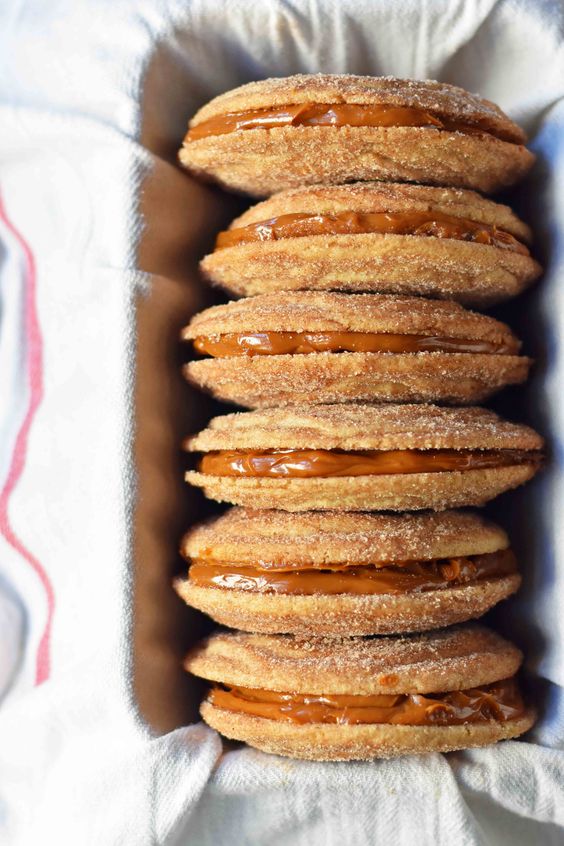 If you love caramel flavors, then you certainly need to try out this Dulce de Leche Cinnamon Sandwich Cookies recipe!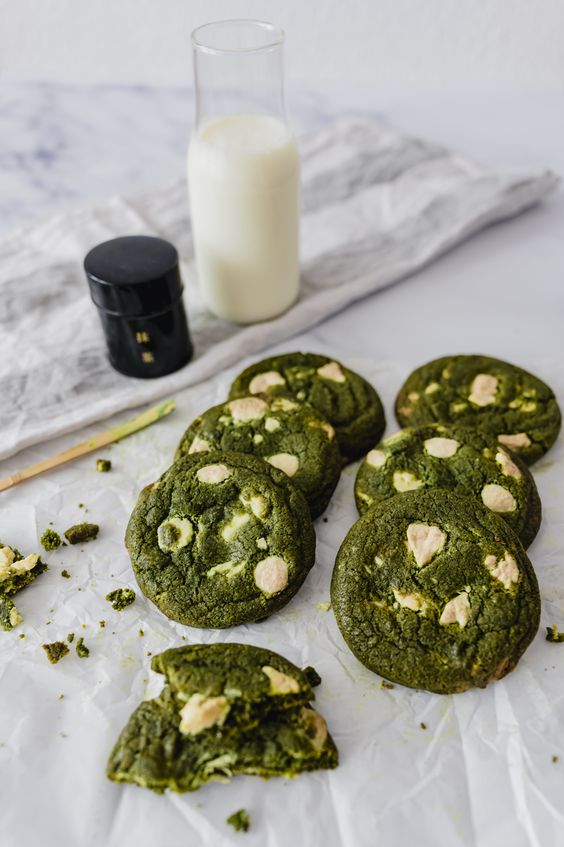 If you and your loved ones love matcha flavors, check out this recipe! Infused with white chocolate chips and matcha flavor, your cookies will be soft, chewy, buttery, and sweet. But not too sweet.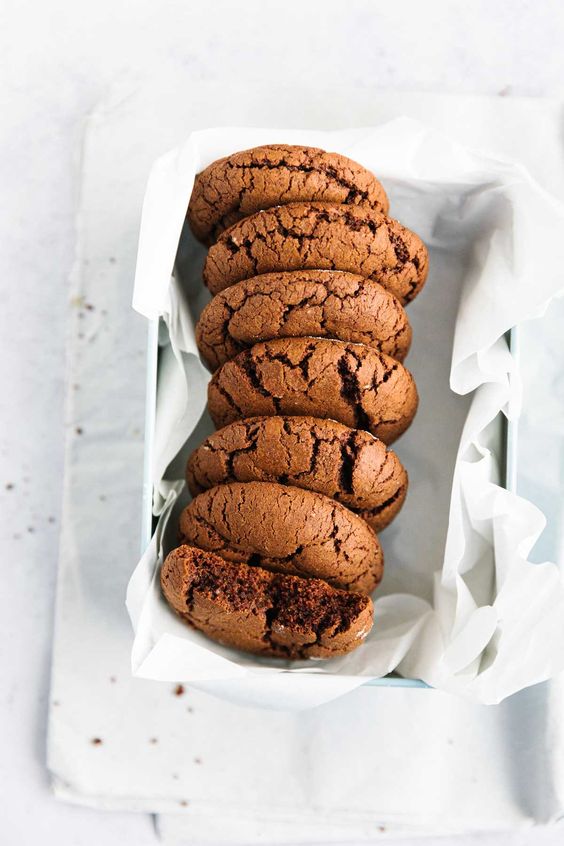 If you're looking for an easy recipe for cookie brownies, you need to check this one out! Fudgy, chewy, and buttery soft, you can't get any better than this!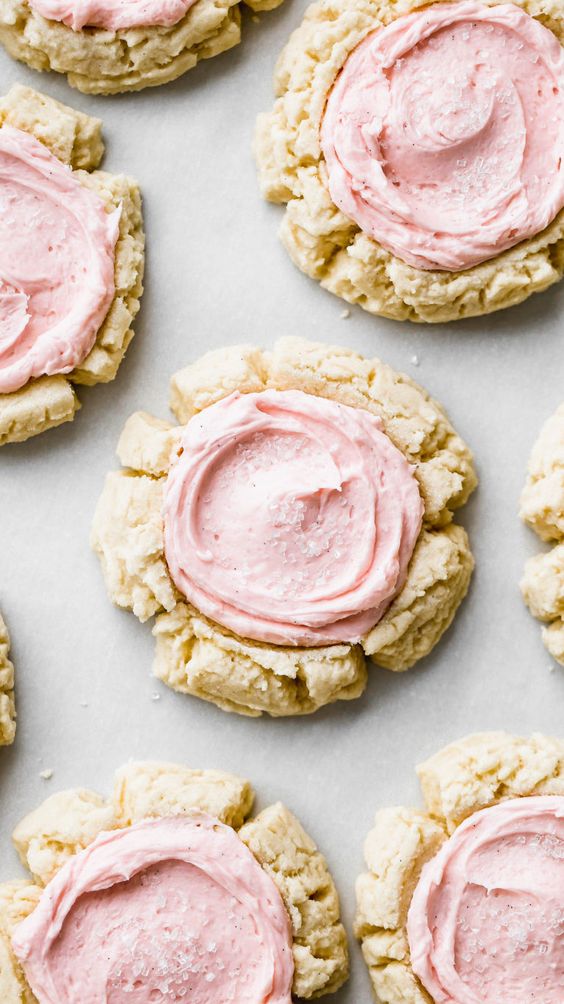 The cookies are incredibly delicate and soft all the way through. Covered with silky vanilla buttercream and sprinkles, these cookies ooze sophistication and flavor.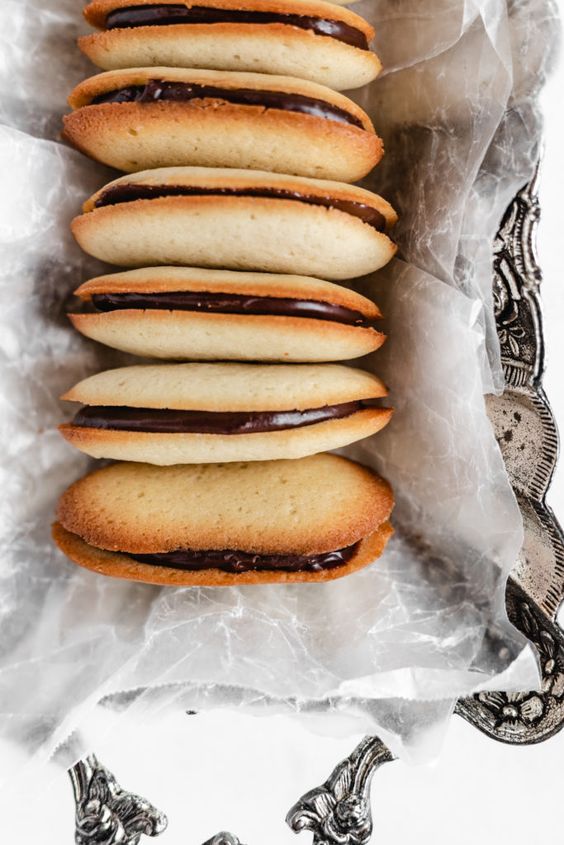 If you love Pepperidge Farm Milano Cookies, then you will absolutely want to look out for this homemade Milano cookies recipe!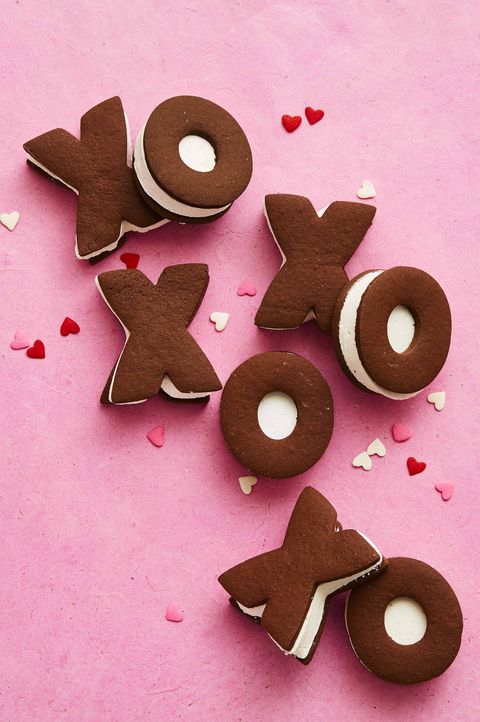 Send a message to your sweetheart or friends on Valentine's Day with these adorable X and O cookies packed with gooey marshmallows.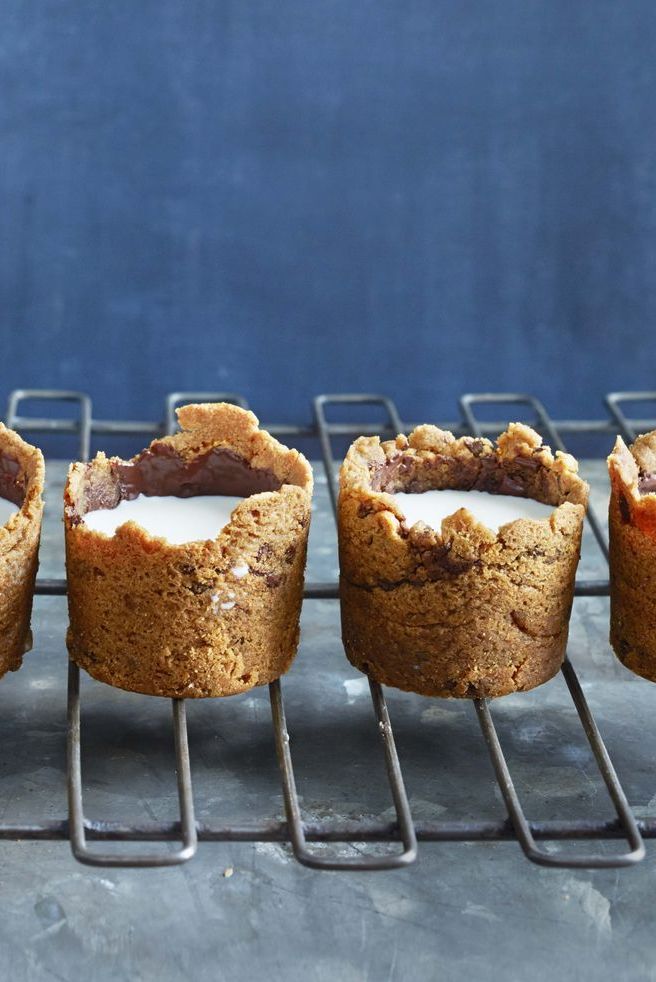 If you want to do something completely unique this Valentine's Day, these cookie shooters will certainly do the trick!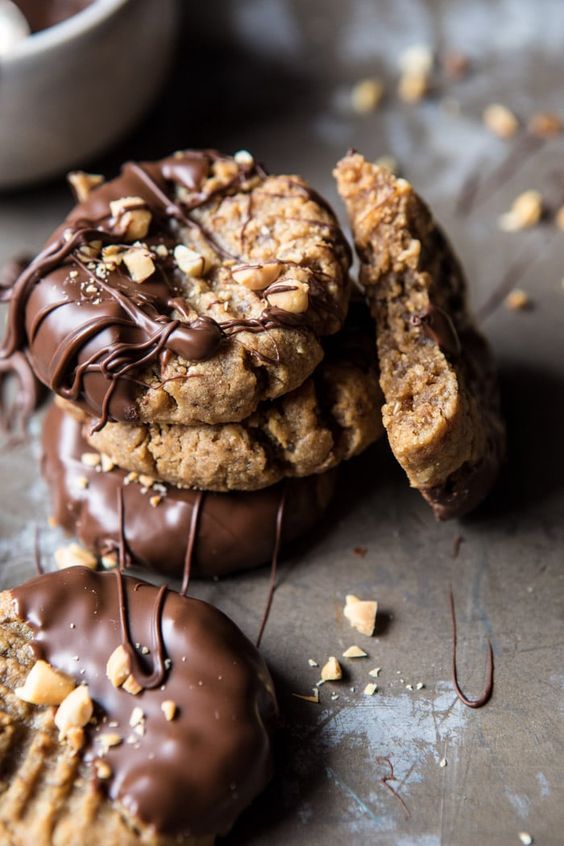 Can't get enough of peanut butter-flavored cookies? Check this recipe out!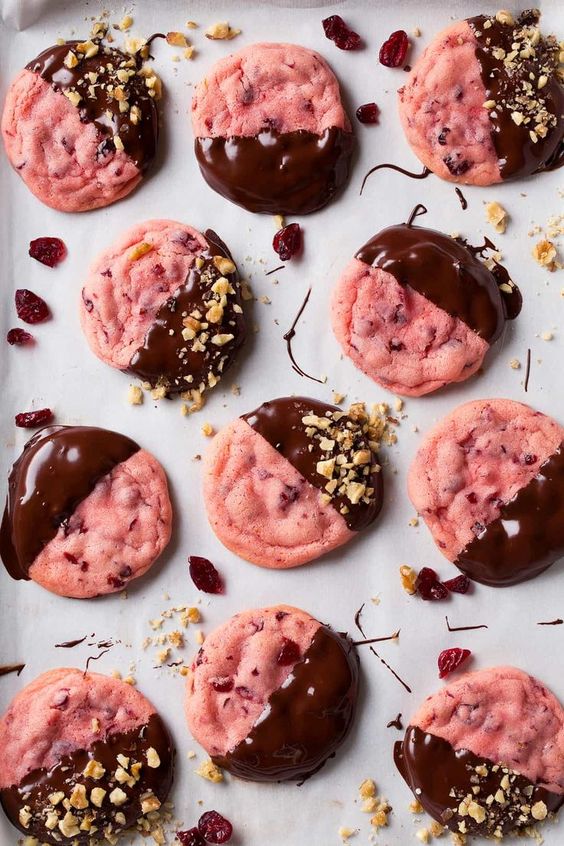 Decadent and irresistibly chewy, these chocolate-dipped cranberry cookies will have your friends and loved ones smitten with these treats!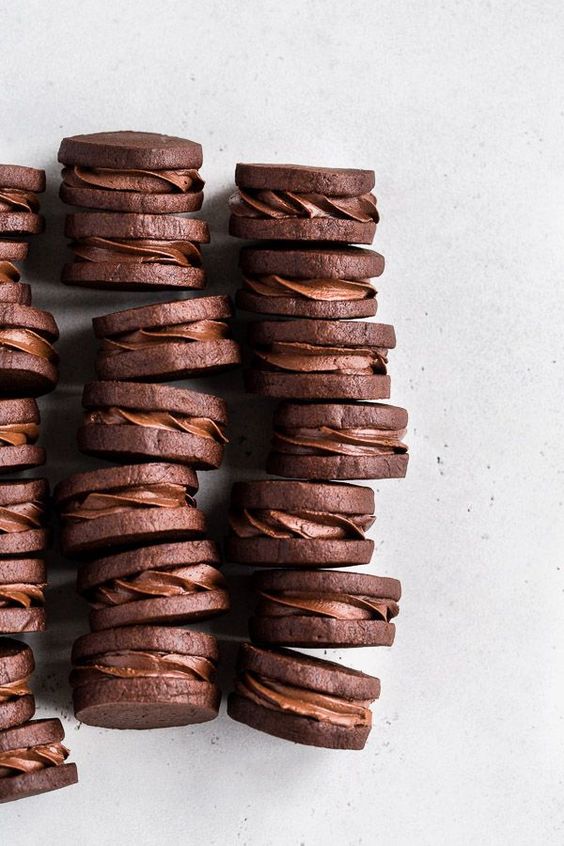 Sandwiched between two dark chocolate slice-and-bake cookies, these chocolate hazelnut sandwich cookies are sweet, tiny, and bursting with rich, chocolaty flavor.
I just absolutely love the nutty flavors in these cookies! If you like them as much as I do, then these would be the perfect treats to serve on Valentine's Day!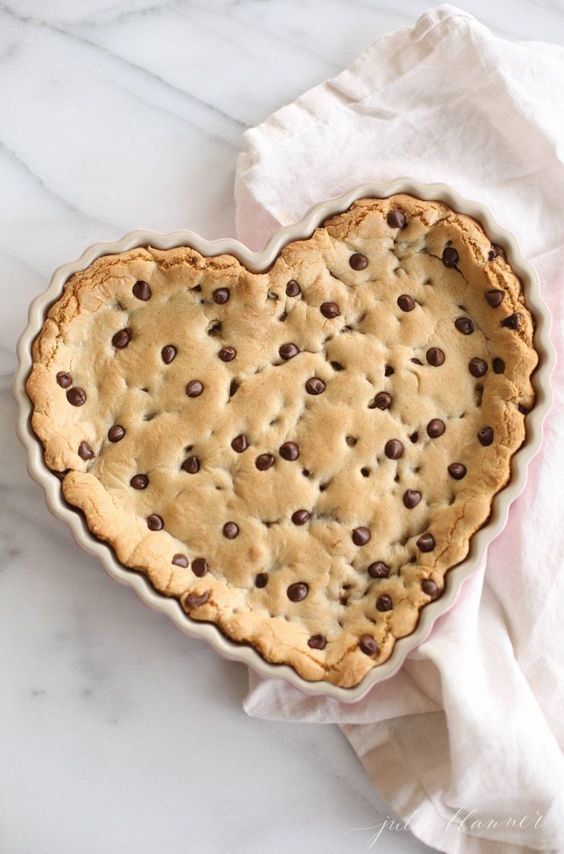 Why settle for just a cookie when you can bake a whole cake, right? Chewy, soft, and easy to make, this recipe is foolproof and great for even the most novice of bakers!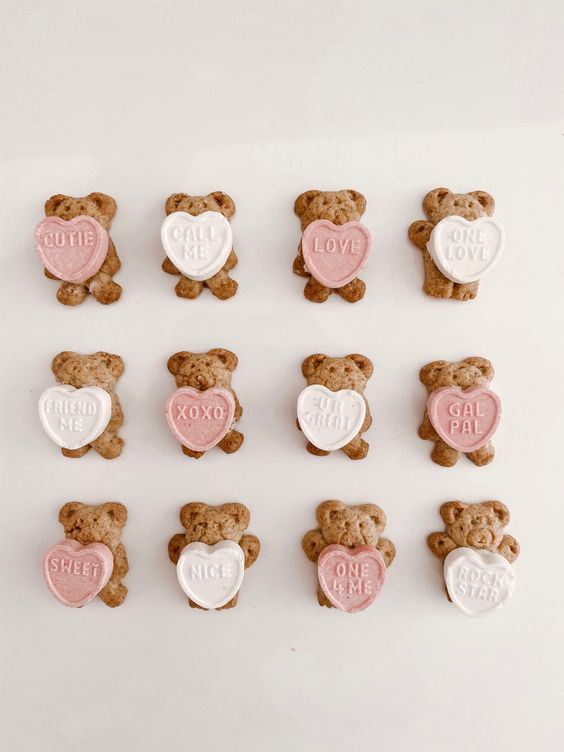 Just look how adorable these teddy bear-shaped cookies are! They look too cute to eat!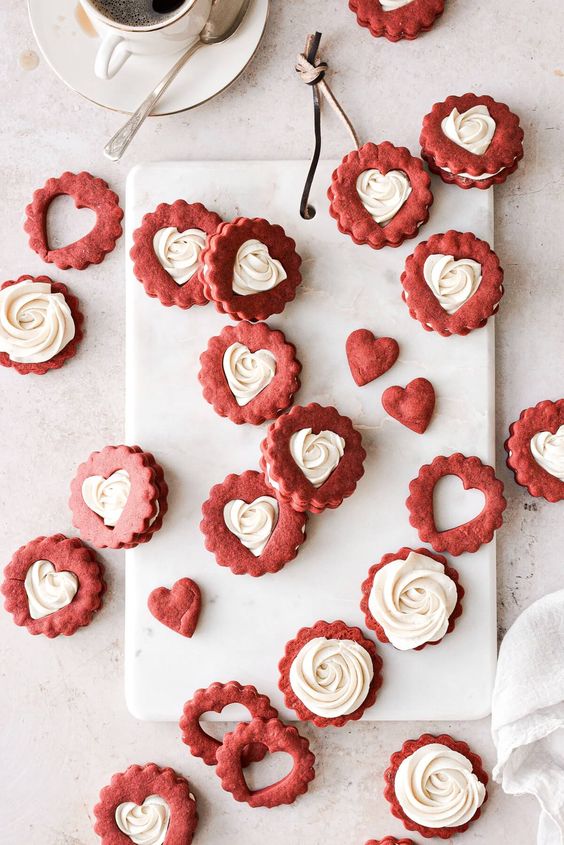 Red sugar cookies with a heart cutout are sandwiched between layers of vanilla bean buttercream in these lovely Valentine Linzer cookies. If you want to opt for a romantic dessert, these are a great choice!