Looking for the next trendy manicure? Check out our collection of the most whimsical unicorn nails you'll find on the internet!
If you have been wanting something magical and whimsical for your nails, you might want to consider getting unicorn nails on your next manicure.
Right now, unicorn nails are steadily rising in popularity. They're ideal for girls of all ages, whether you're a teen or a teen at heart!
The fact that unicorn nails may be worn with any nail shape is one of their best features. Therefore, you won't need to worry if your nails are square, long, pointed, or very short.
There are various ways to explore unicorn nail art ideas, including rhinestones, vivid pastel rainbow colors, iridescent hues, unicorn horn patterns, and marbled designs.
So if you're looking for inspiration for your unicorn nails, you're in luck! In this article, I have compiled a list of the best unicorn nails you'll find online. So sit back, enjoy, and just keep scrolling!
Unicorn Nails
Your nails are sure to feel magical with these unicorn nail designs!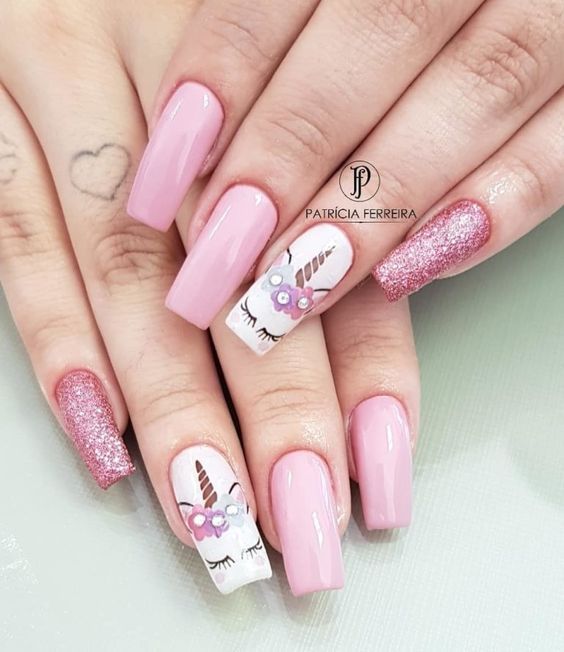 If you're unsure whether the unicorn nails trend is for you, you can always take it one step at a time. For starters, you can just do one accent nail with a unicorn design while the rest of your nails can be your usual manicure.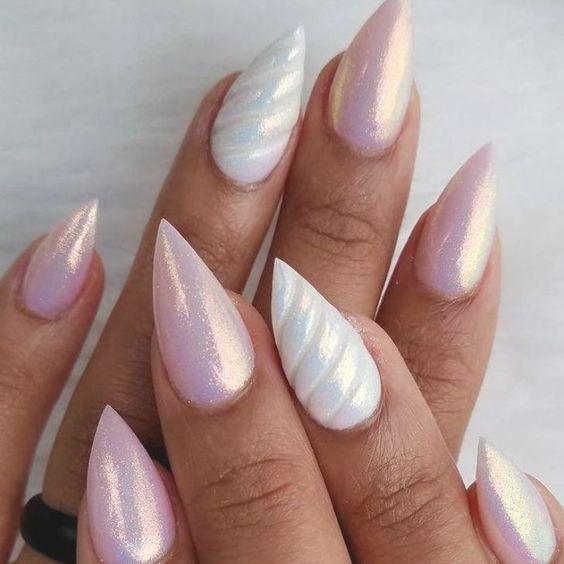 For a more subtle unicorn nail, try doing a unicorn horn accent nail! This is actually where the unicorn nails trend started and I think we'll see more of this in the coming months.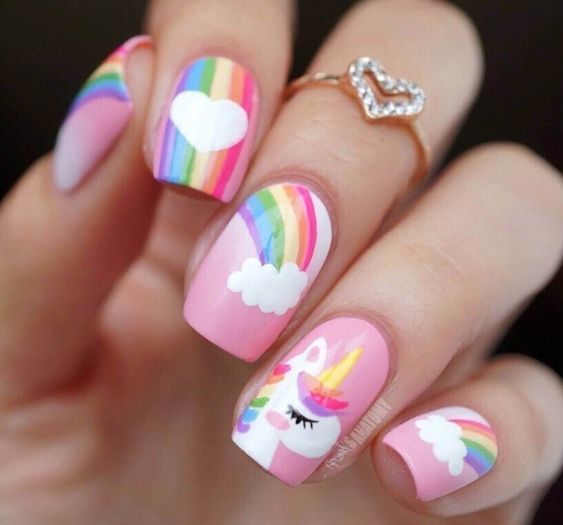 Perfect for teens and young girls, these quirky rainbow unicorn nails are so cute! The best thing about it is they don't need overly long nails to achieve this design!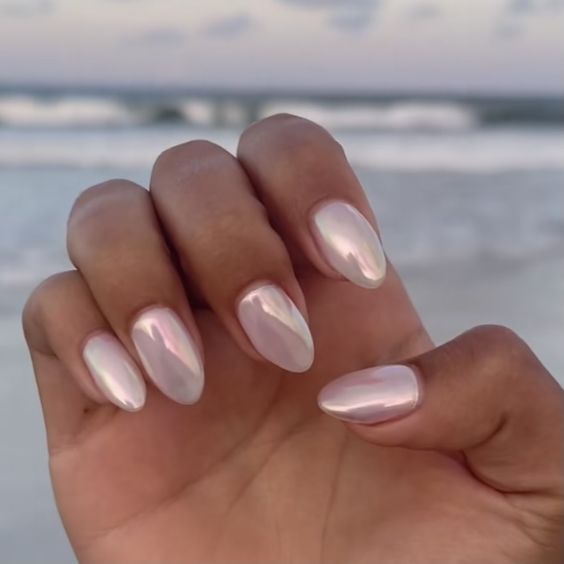 If you only want the vibe of having unicorn nails without drawing an actual unicorn face for your manicure, these iridescent nails could be for you. All you need is a chrome powder to top off your polish. They're so chic and extremely popular!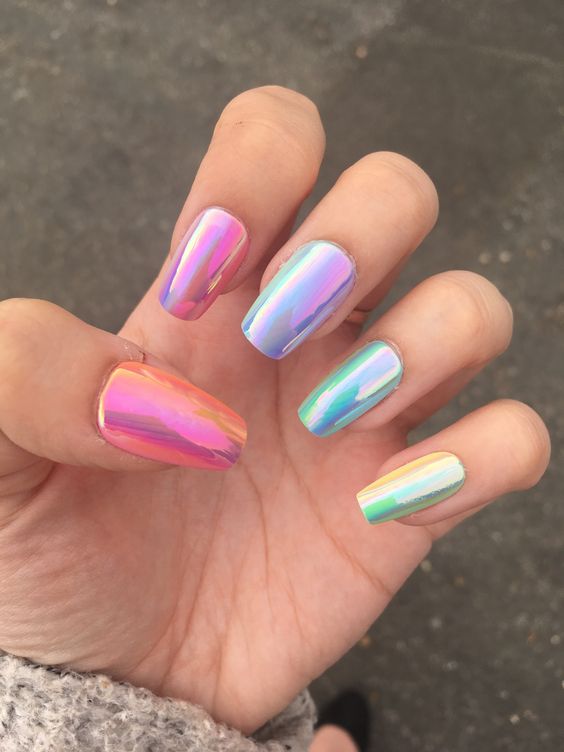 Here's another set of iridescent unicorn nails you can try out for your next nail appointment! Just like in the previous photo, all you need are some chrome powders to get this stunning finish. But this one features a different and more vibrant color for each nail.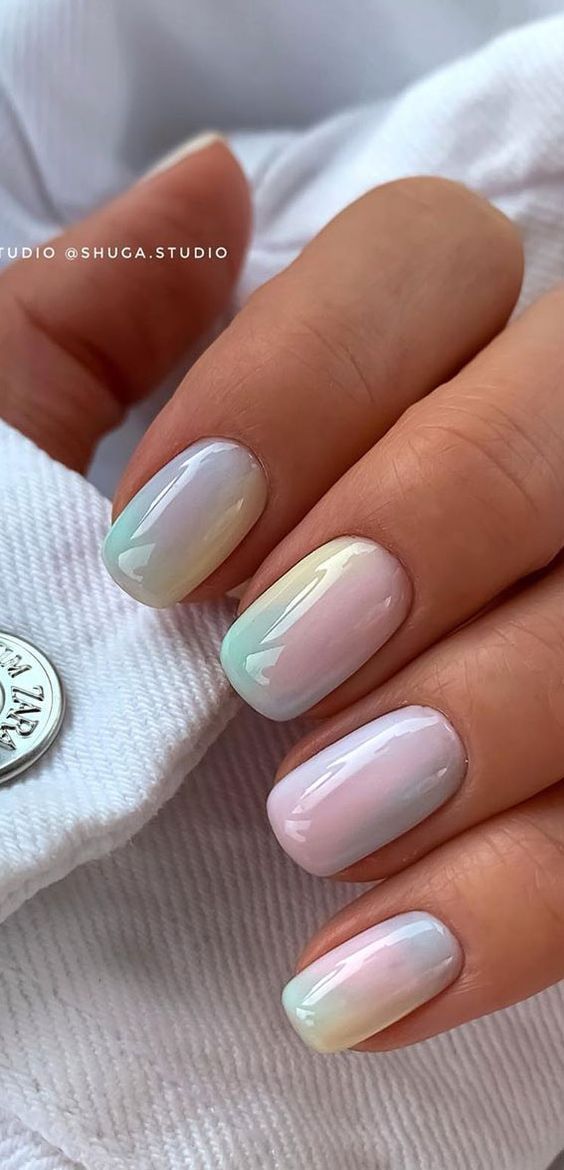 Pastel colors are definitely the perfect shades to achieve a unicorn-themed nail. So if you want a subtle unicorn nail that's not over the top, try doing these gradient pastel nails.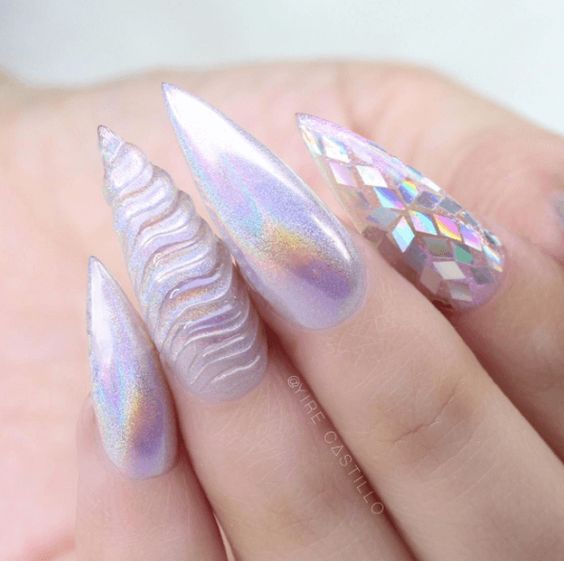 No need to be a pro or have expert skills in nail art to achieve unicorn nails. Sometimes, all you need are some press-on nails to get a non-fussy unicorn manicure. But if you want to practice, you can try getting some gel extensions to achieve these whimsical unicorn nails.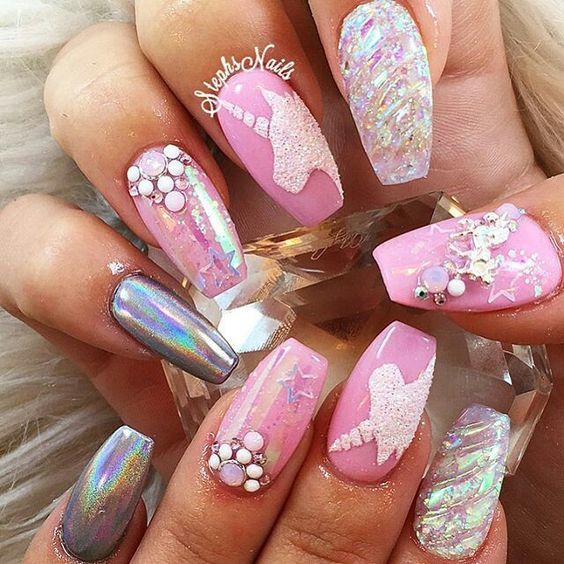 Sometimes, more is more! And these unicorn nails are the perfect example of that. I mean, just look how gorgeous the different patterns and dimensions on each unicorn nail are!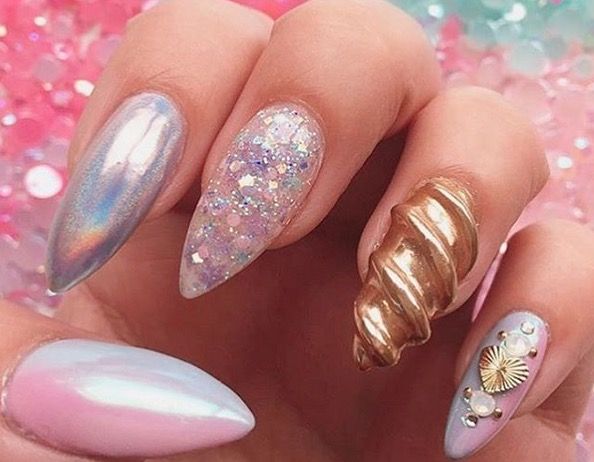 Can't decide what unicorn pattern to do on your manicure? Why not do every pattern for each nail? This will give your manicure an utterly magical and really unique look!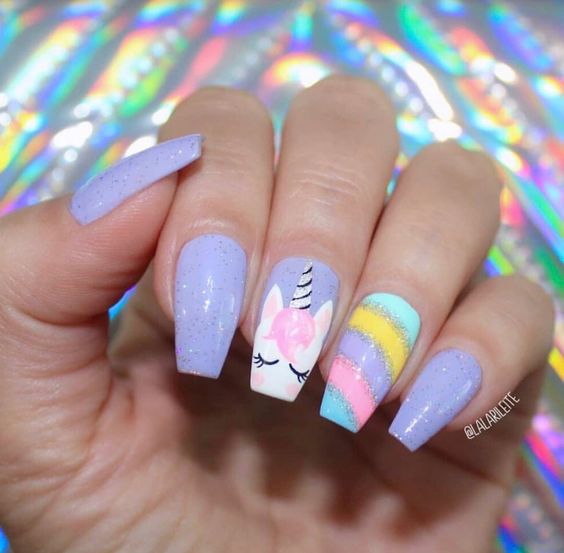 I love the color scheme of this unicorn manicure! I love how the pastel purple base coat makes the unicorn nail art and patterns stand out so much!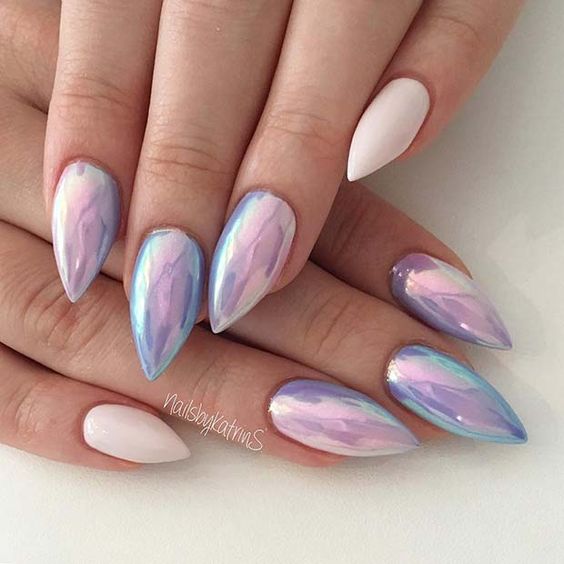 So iridescent and stunning, these chrome nails would be the perfect unicorn manicure that doesn't want anything too tacky.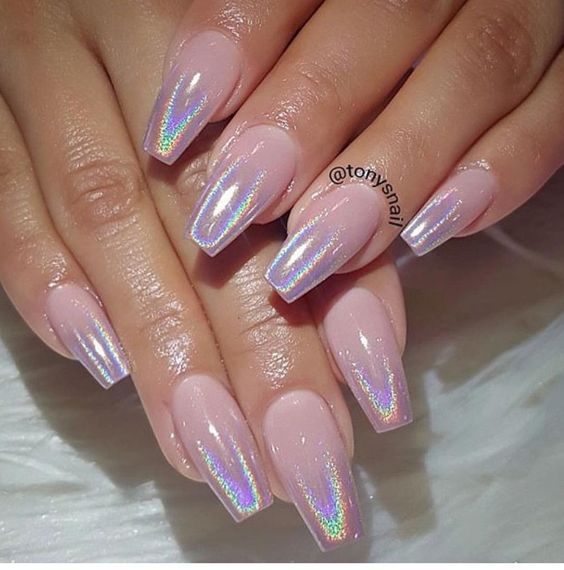 This is probably the epitome of a whimsical unicorn manicure. From the iridescent shine of the tips to the gorgeous gradient effect.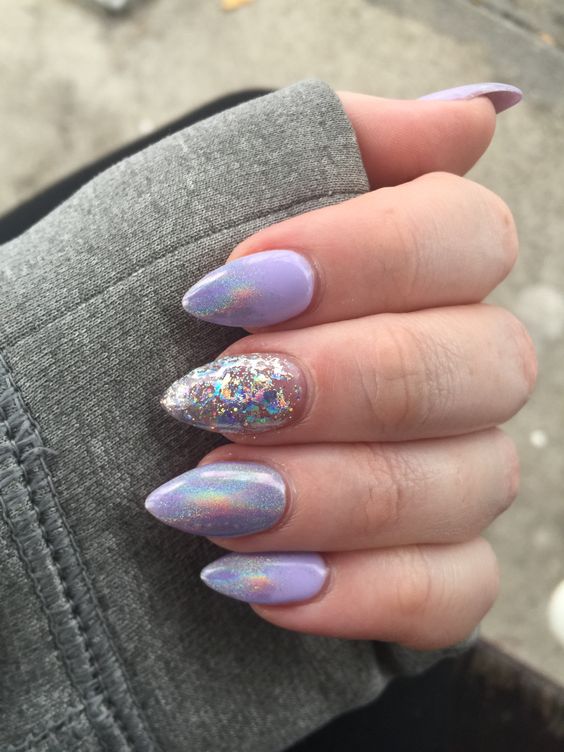 As you might already know, I love purple so it's hard to resist not including these gorgeous, shimmery unicorn nails! For the accent nail, you can use a colorless base coat and top it off with some glitter.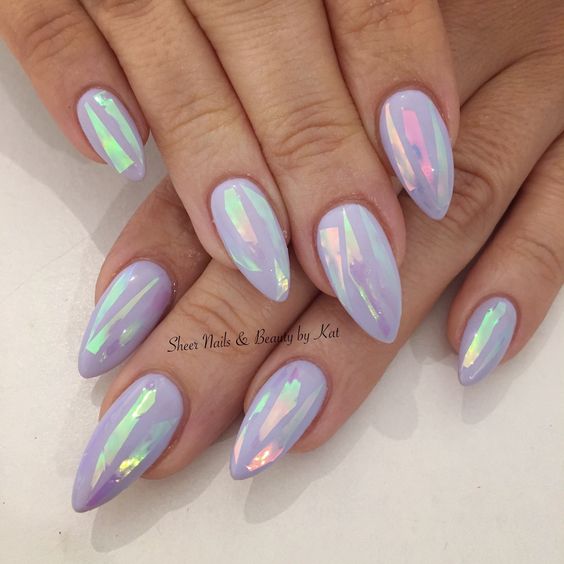 Here's another beautiful lilac manicure that can still be considered unicorn nails. The iridescent shine adds a magical and whimsical feel to your nails.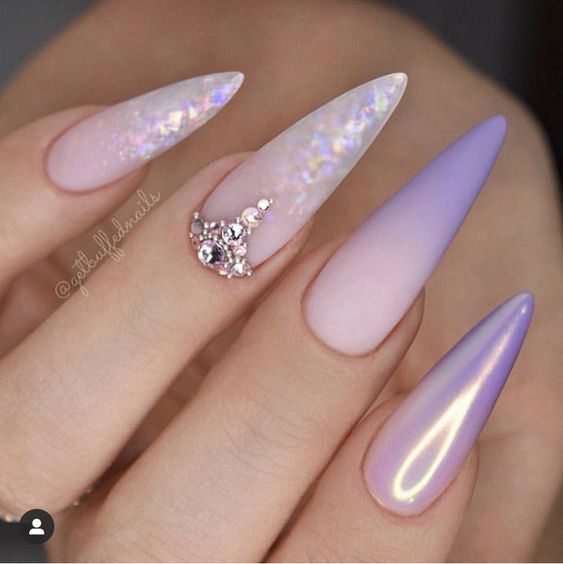 I love the gradient pink and purple effect on these nails and the different finishes make it even better! To add a touch of sparkle, top off one of your accent nails with some rhinestones.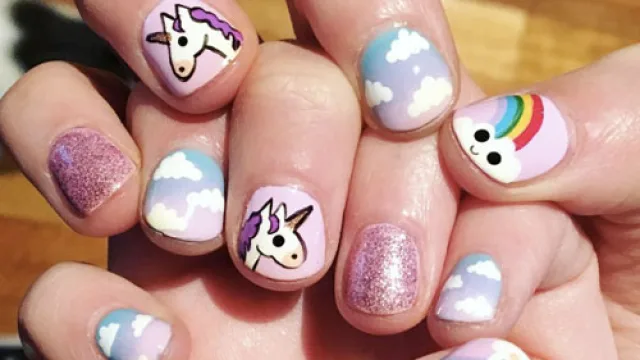 These unicorn nails will be so perfect for kids and teens! They don't need to add gel extensions or grow their nails very long to get this fun and quirky unicorn nail art!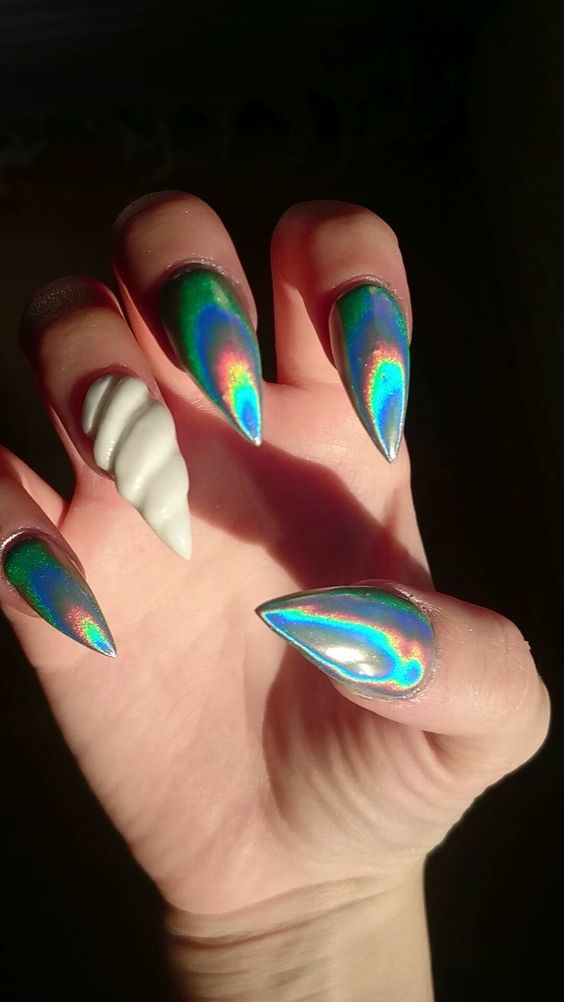 These iridescent nails are totally stunning and the unicorn horn accent nail provides such a cool contrast against the rest of the manicure!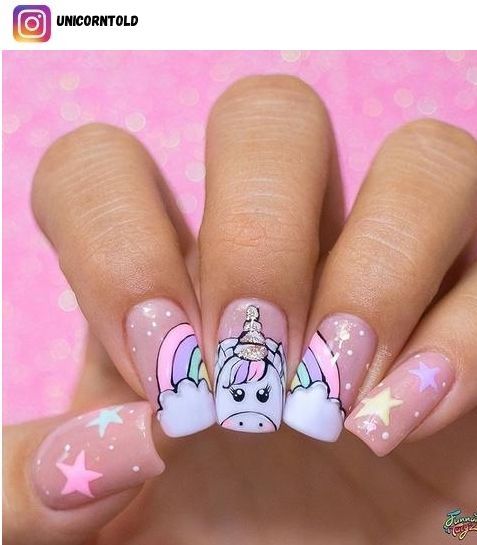 These unicorn nails look so fun and quirky! I love how this unicorn nail art comes together when you put your nails together.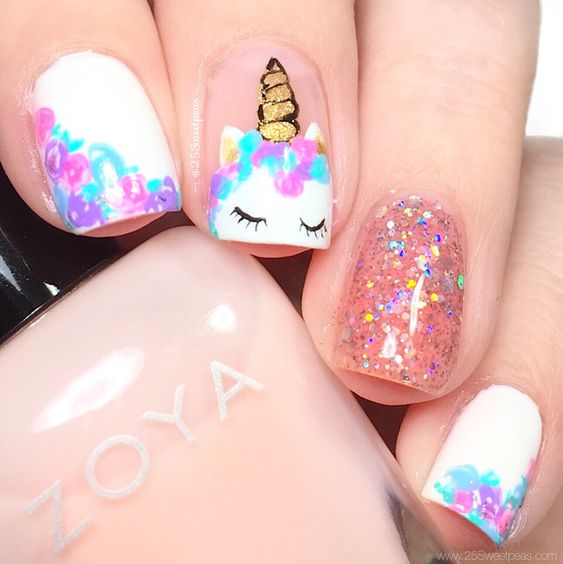 For your unicorn accent nails, use a shimmery polish while the other has unicorn nail art. Then you can paint the rest of your nails with the same color scheme of your nail accents for a more cohesive look.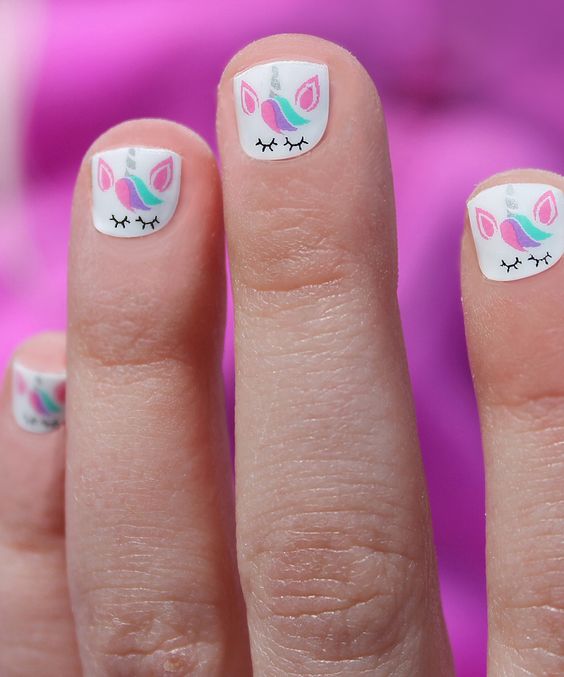 This unicorn nail art is perfect for anyone who has short nails! Drawing the unicorns may take a bit of practice but the effort is totally worth it!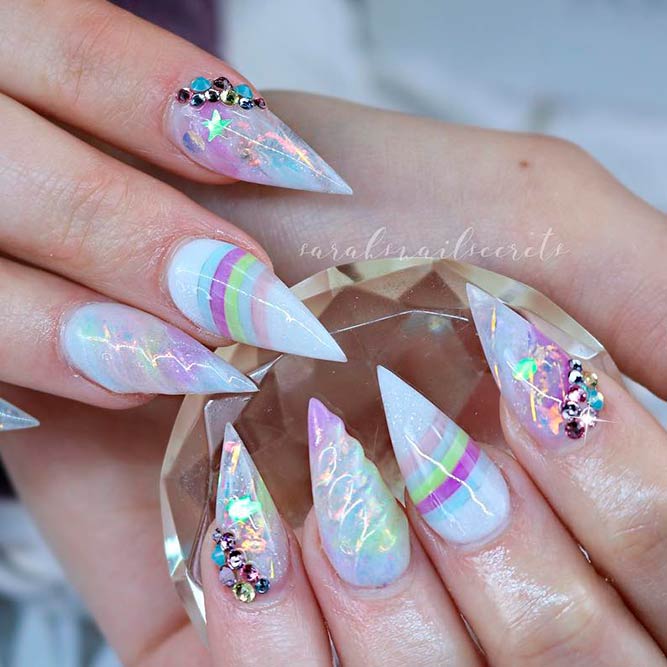 I love how magical and enchanting these unicorn nails look! With some practice with gel extensions, you can also achieve this iridescent manicure!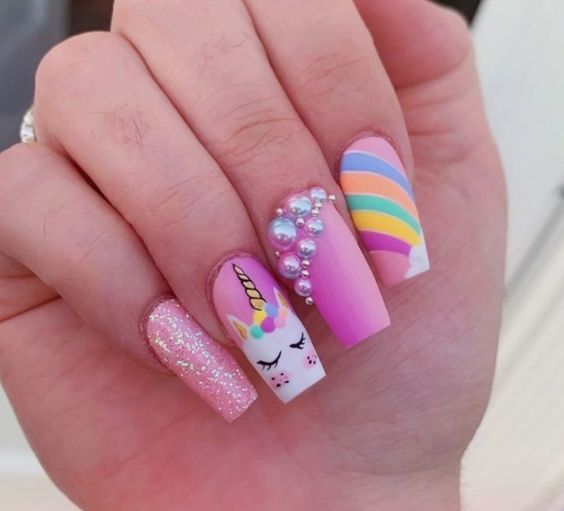 Can't decide which unicorn theme to go with for your nails? Why not try doing different patterns and textures for each nail to create nail art that's totally unique to you!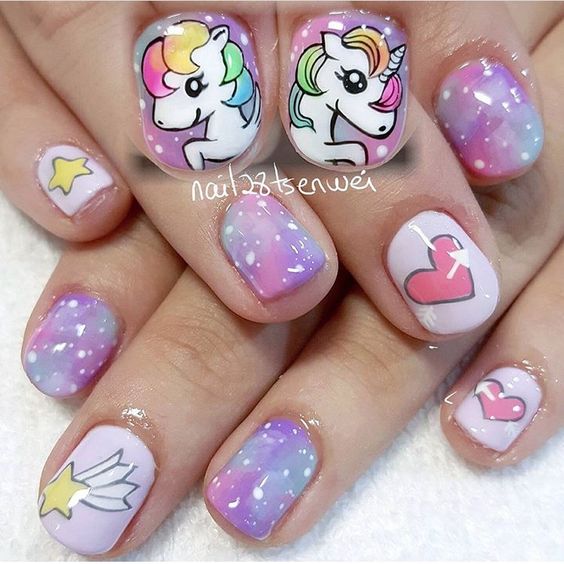 I love how girly and fun this unicorn nail art looks! And you don't need overly long nails to achieve this manicure too!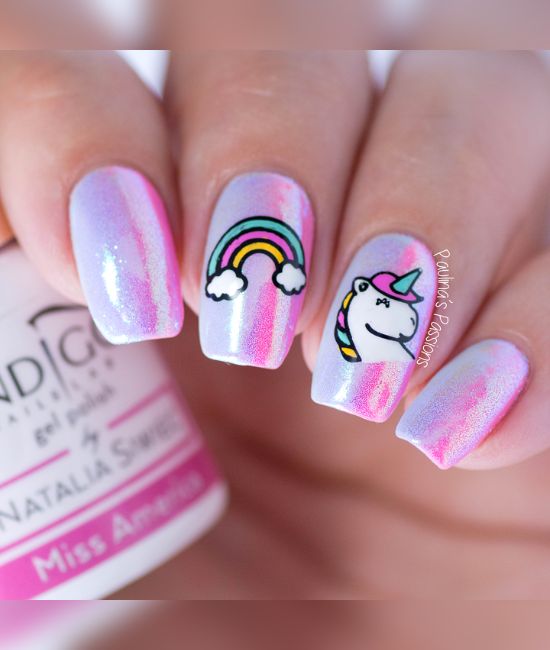 Painting your own nail art is really satisfying, especially if you get very magical results like this one! But for those who don't have the time to practice, you can always opt to get unicorn nail stickers to top off your manicure.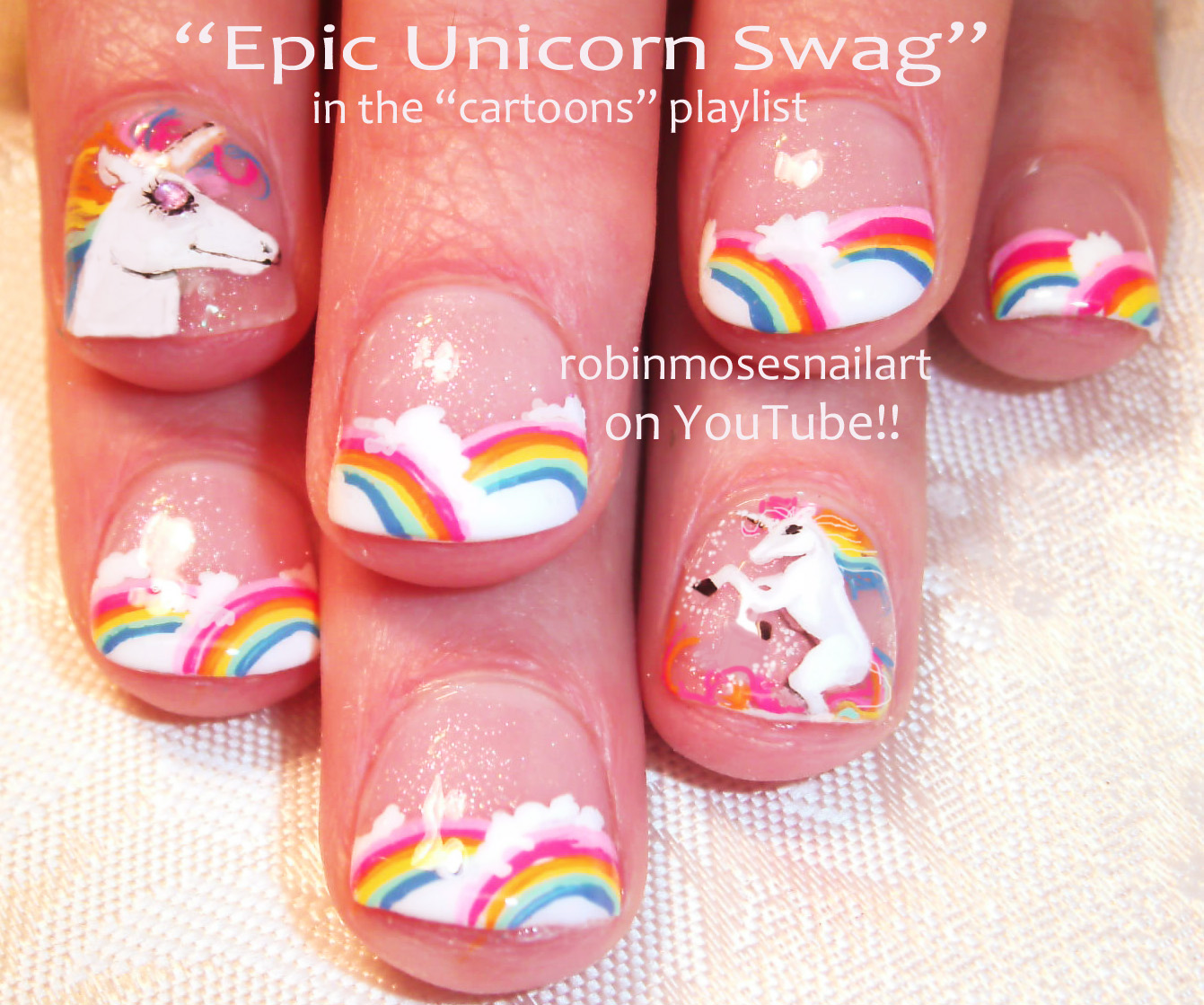 If you're looking for a unicorn-themed French tip, this is the design for you! I love how the tips are detailed with rainbows with a unicorn accent nail.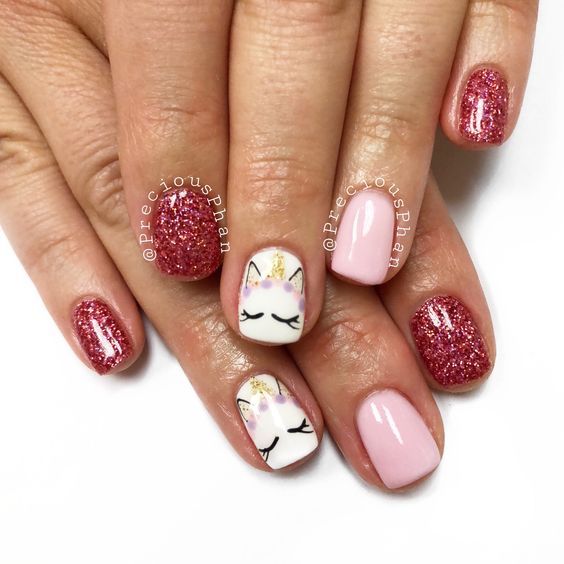 This berry-themed unicorn manicure is stunning! The shimmery berry tones look so effortlessly elegant!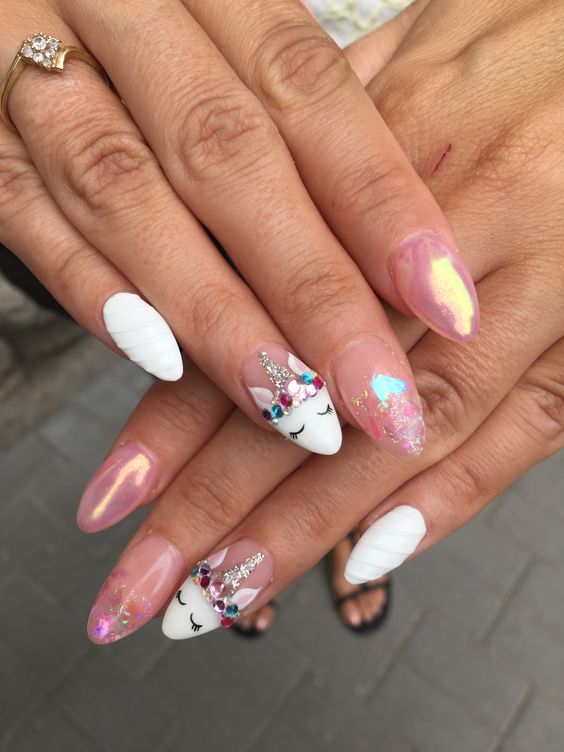 Gel extensions are your best friend when it comes to long nails, they'll provide you more length and more room to create intricate unicorn nails like this one!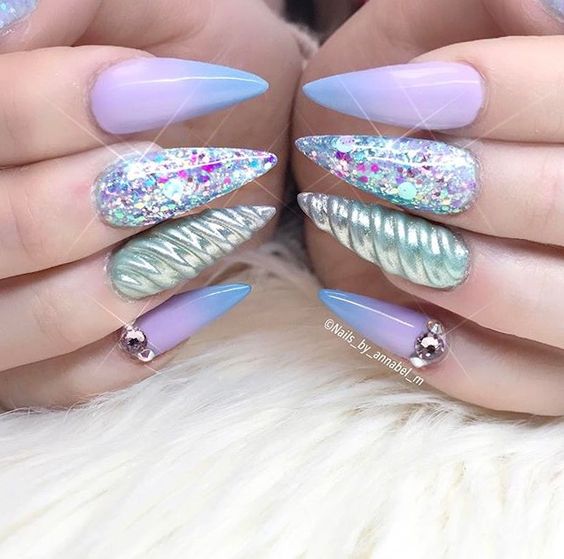 This is probably one of my favorite unicorn nails on this list. I love the iridescent hues, the rhinestones on the pinky nail, and the silver unicorn horn accent nail.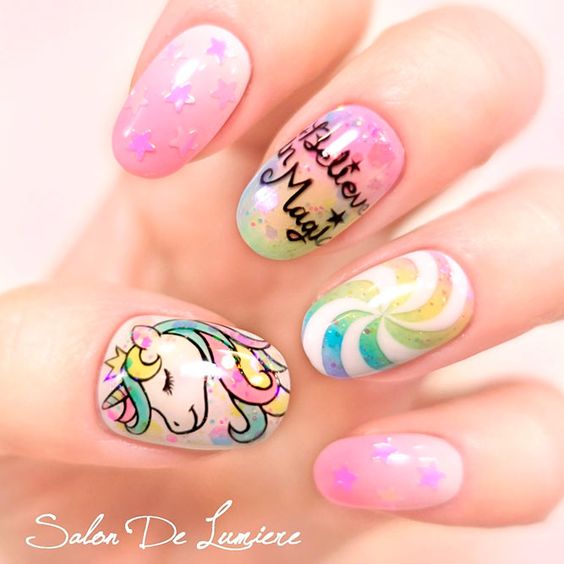 This particular unicorn nail art is so ideal for teens and kids who are wanting to get their nails done! It's fun, it's colorful, and it looks utterly cute!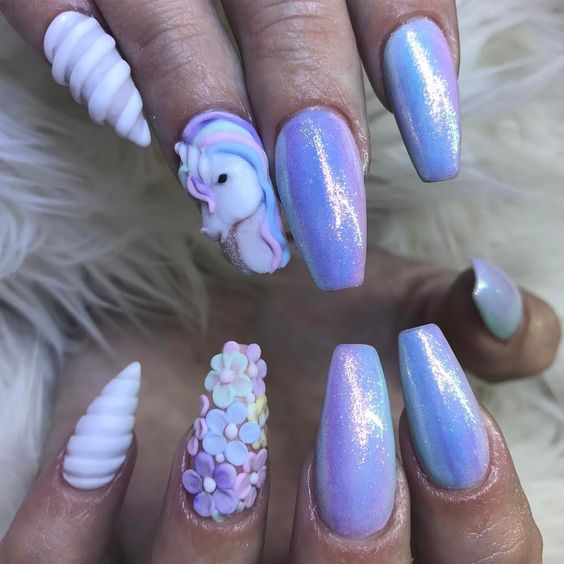 Pair up your unicorn horn accent nail with some florals to add more whimsicalness to your manicure!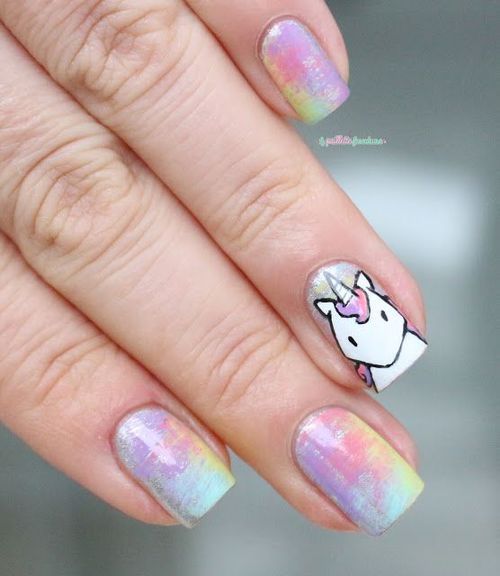 If you're looking for a soft, pastel manicure with a unicorn accent nail, this one is for you!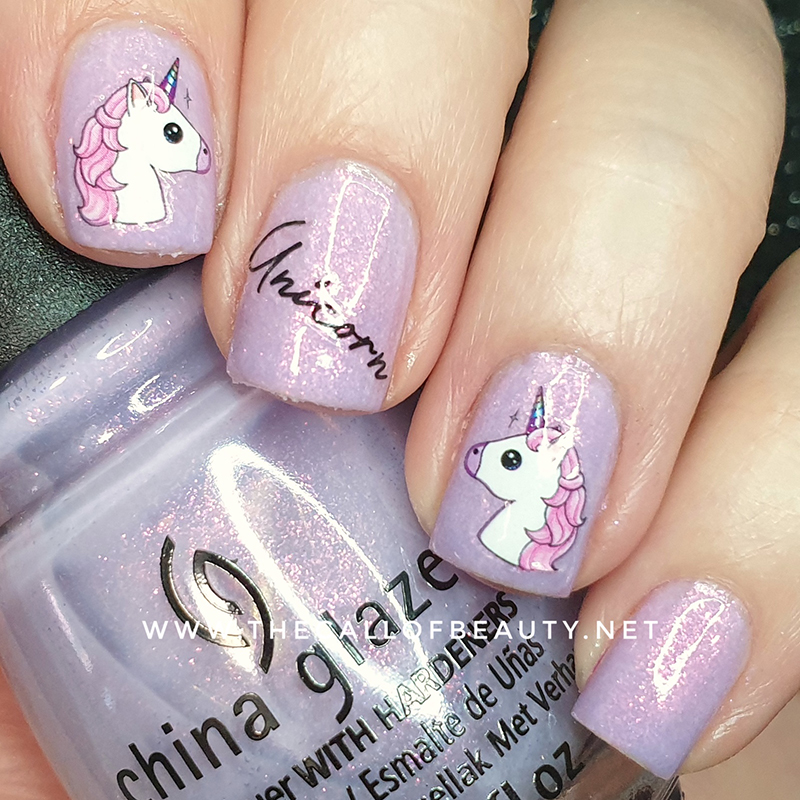 I love the shimmery glaze on this pretty lavender, unicorn nail! Definitely another favorite of mine! You can also opt to use unicorn stickers if you want something less fussy than drawing it yourself.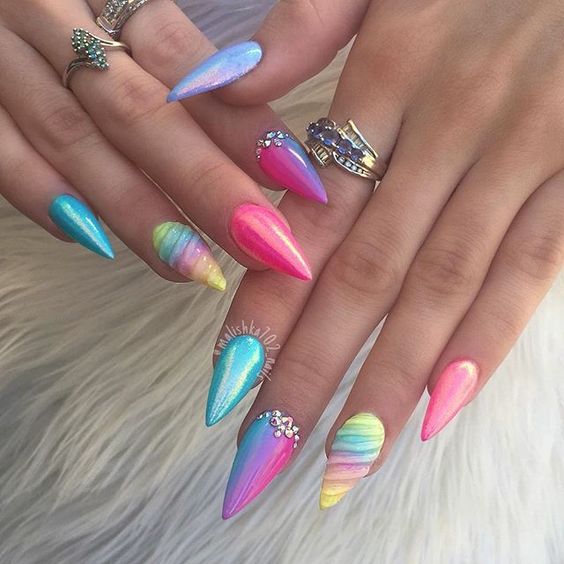 This rainbow-colored unicorn manicure is absolutely stunning! It's perfect for the summer season!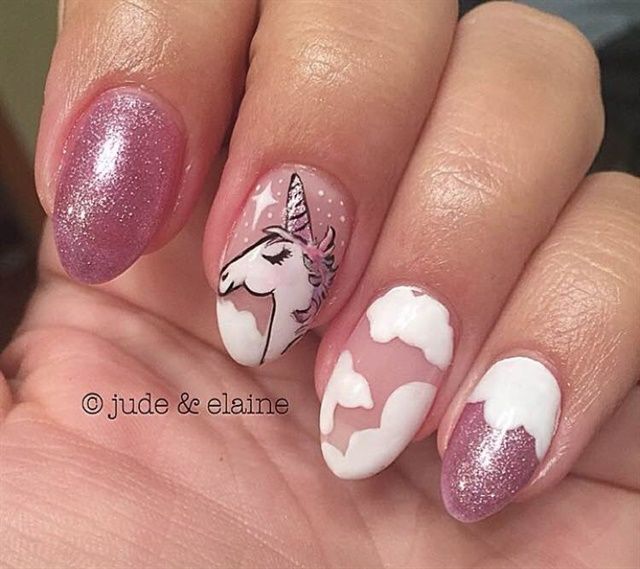 There's just something about cloudy nail art that looks so ethereal to me! Plus the unicorn accent nail makes it even more unique!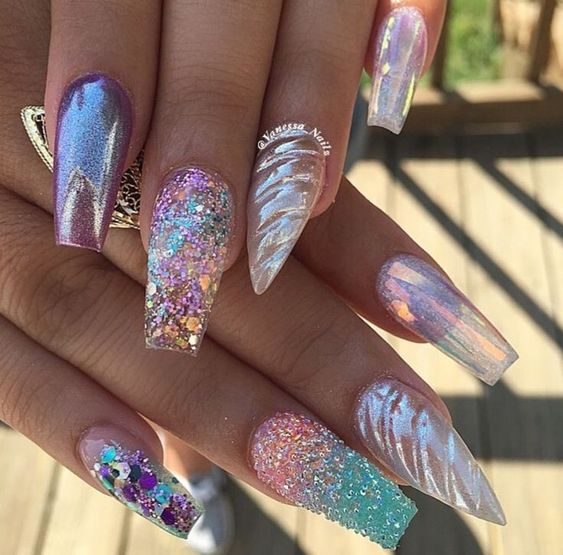 For a unique, iridescent touch on your unicorn manicure, try using a sheer coat on your gel extensions!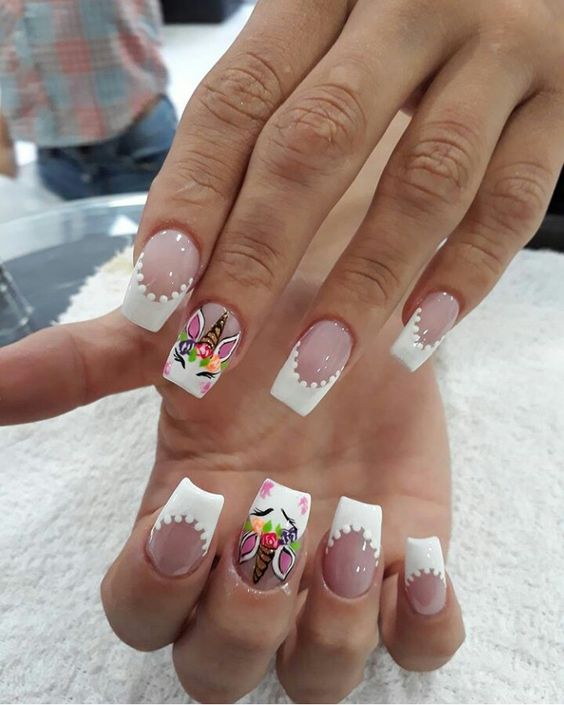 Here's a fun, unicorn twist on the classic French tips! I love how quirky this idea is!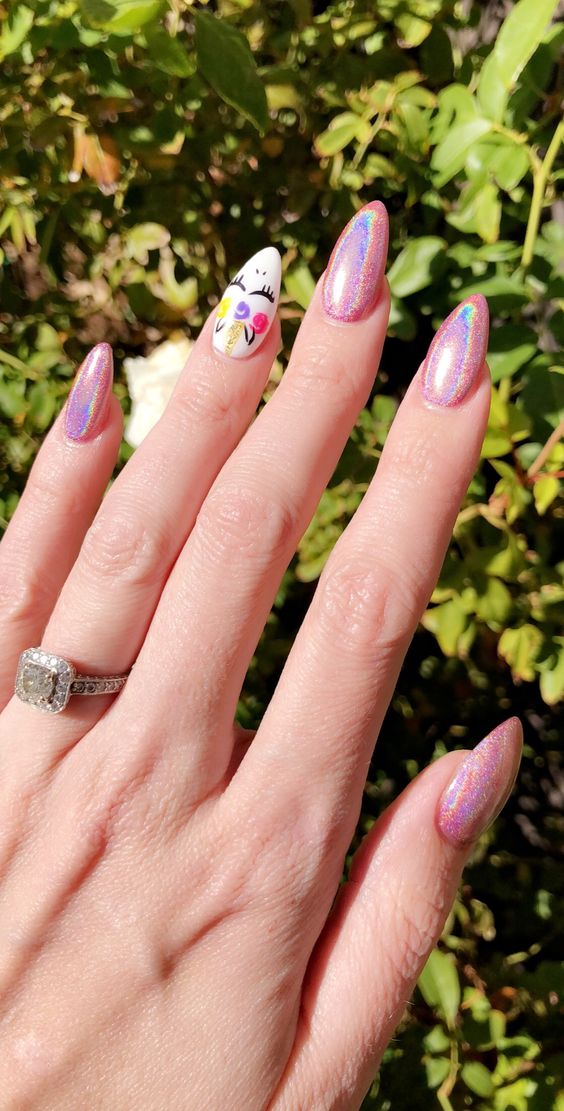 I love the pink iridescent shine on these unicorn nails!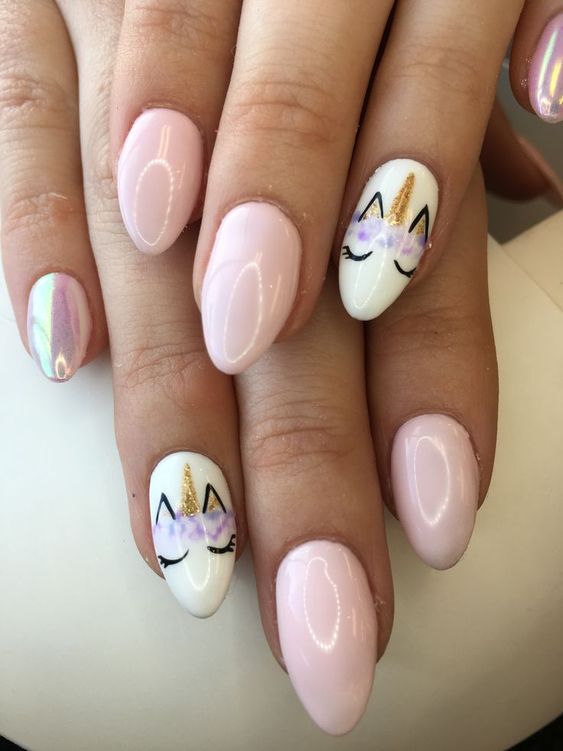 If you want a feminine and soft look on your unicorn nails, try painting the rest of your manicure with a pastel, muted pink color.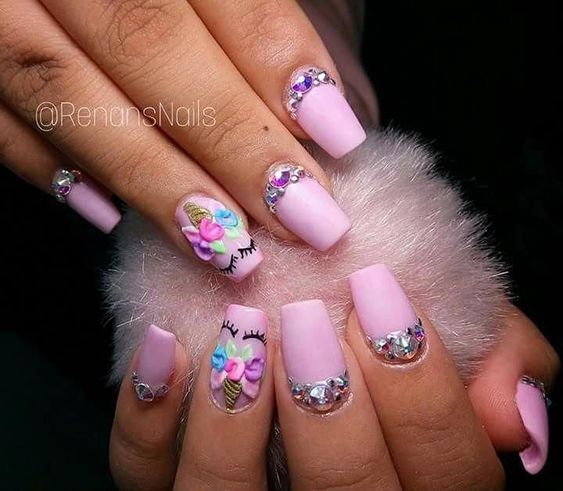 Add some sparkle to your matte unicorn nails by topping them off with some rhinestones!