Looking for the outfits where Nina Dobrev killed it? Scroll on to see 35+ of the Best Nina Dobrev Outfits of all time here!
Whether it be on the red carpet, a professional photo shoot, or a casual day out, Nina Dobrev is one of the stars in Hollywood right now that will surely not disappoint with her style!
In case you didn't know, Nina Dobrev was born in Bulgaria. But when she was a young child, her family relocated to Canada where she eventually pursued an acting career. Best known for her role as Elena in The Vampire Diaries, the actress has also had lead roles in several full-length movies.
When it comes to her personal style and aesthetic, her streetwear is usually wearable and simple, in contrast to the feminine, vibrant styles she wears on the red carpet. So without further ado, let's take a look at our vampire-loving fashionista's best looks!
Best Nina Dobrev Outfits Of All Time
From daring dresses to smart casual looks, the best Nina Dobrev outfits of all time are here!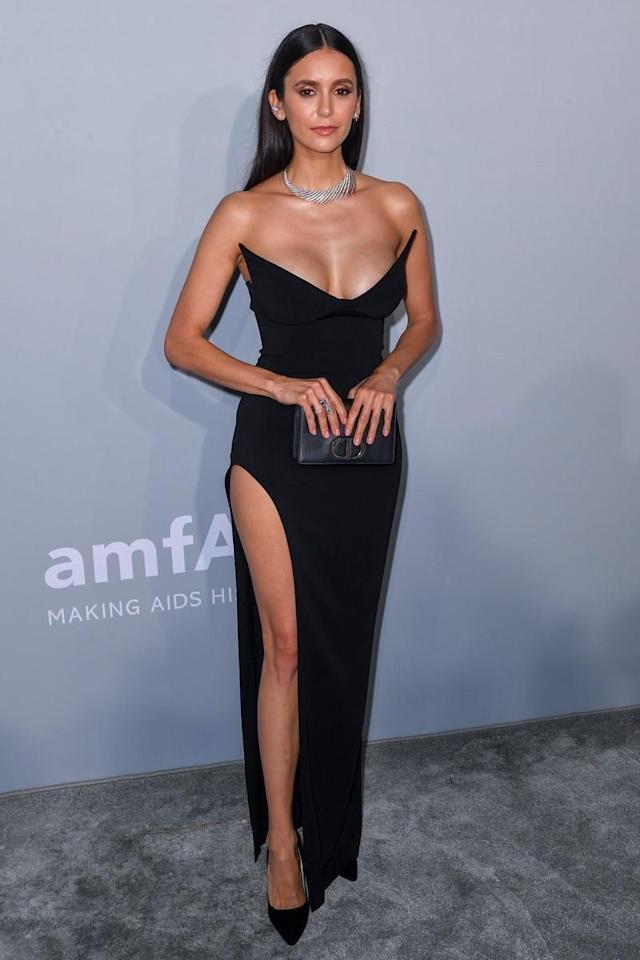 So daring and chic, Nina Dobrev never shies away from showing off a bit of skin in red carpet events and this sultry, black dress says it all!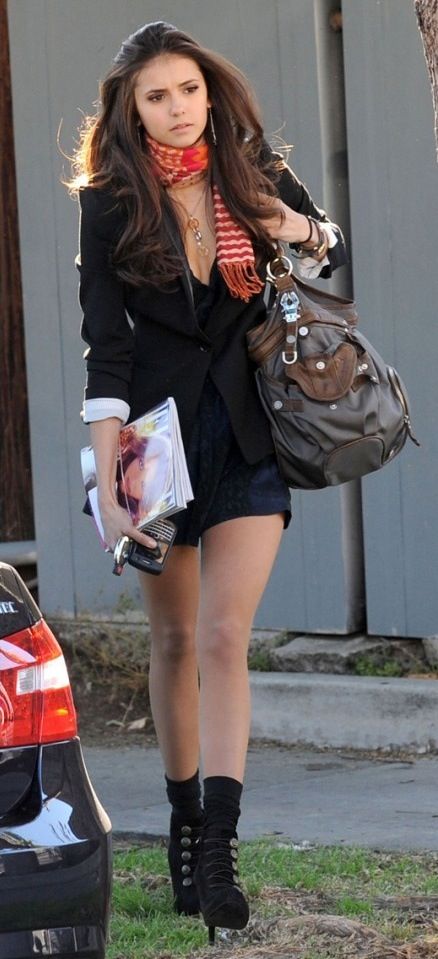 Sexy yet still maintaining an air of professionalism, this smart casual look perfectly suits Nina Dobrev! And I just love that bold pop of red on her scarf. This is one of my favorite newer Nina Dobrev outfits!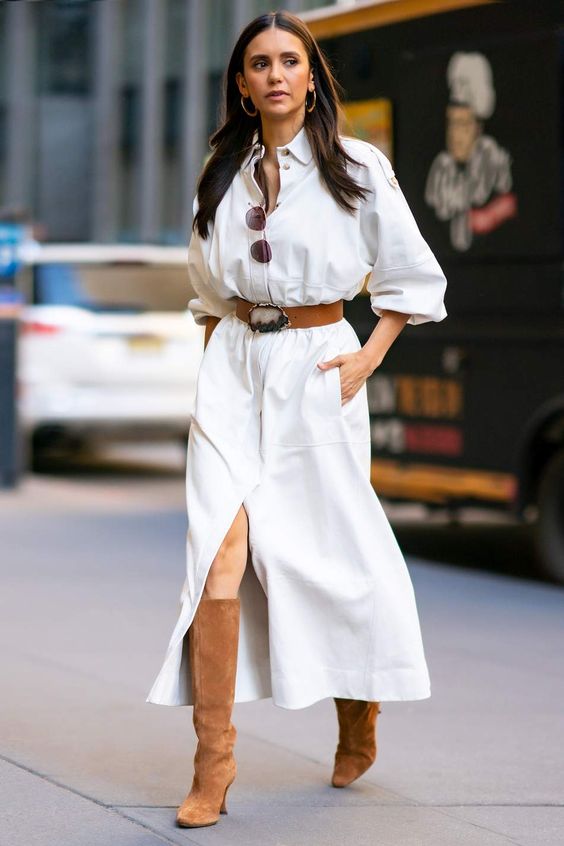 So chic and elegant, this white long-sleeved dress paired with brown suede boots just looks so timeless and classy.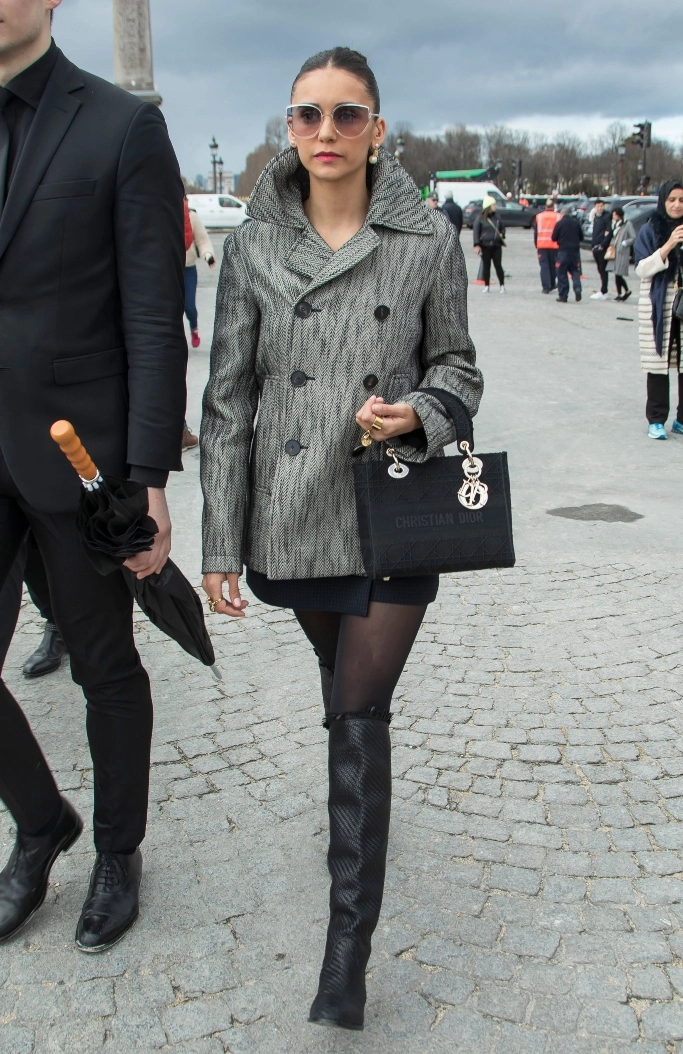 Nina Dobrev looks utterly chic during the Paris Fashion Week last February 2020 in these black leather, knee-high boots, a grey coat, and oversized sunglasses.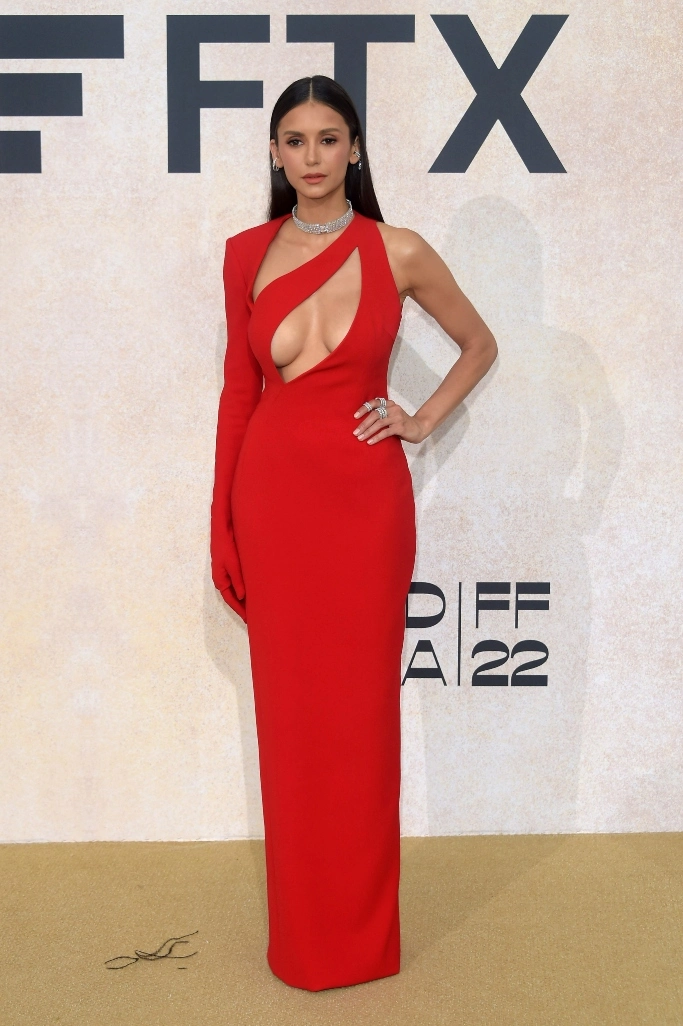 Who could ever forget this iconic red Mônot gown that Nina Dobrev wore at the 2022 amfAR Gala in Cannes? It's easily my favorite red carpet look of the actress!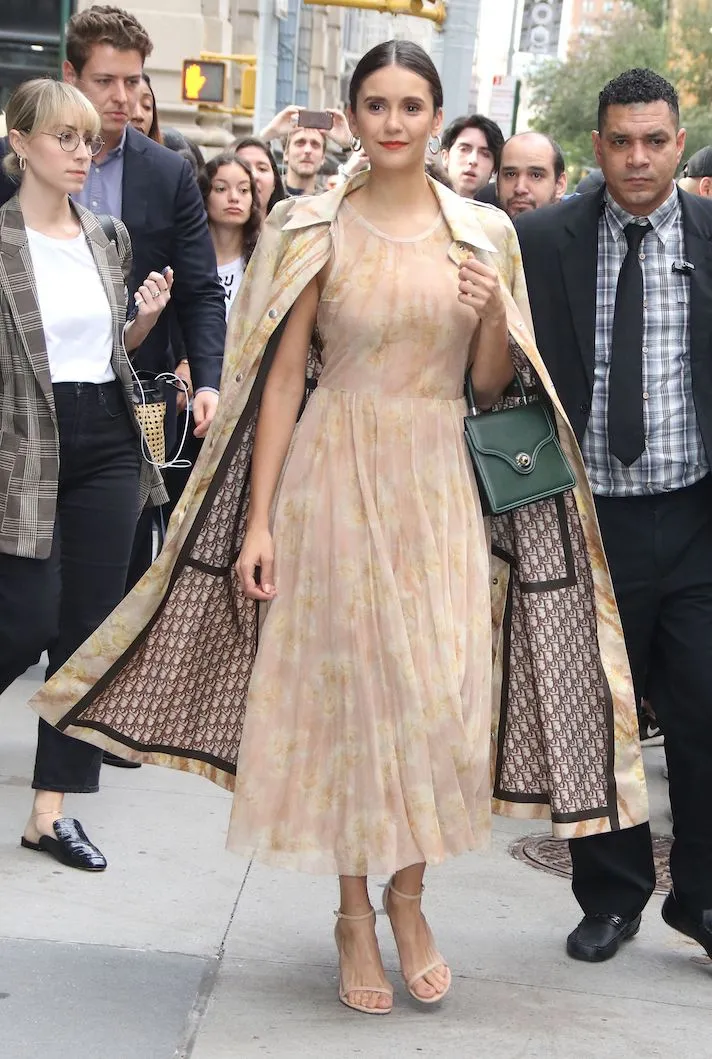 With the weather starting to get colder, trench coats are one of the best ways to keep yourself warm. And of course, we have to highlight Nina's amazing fashion sense when she wore this gorgeous trench coat with her classic Dior ensemble.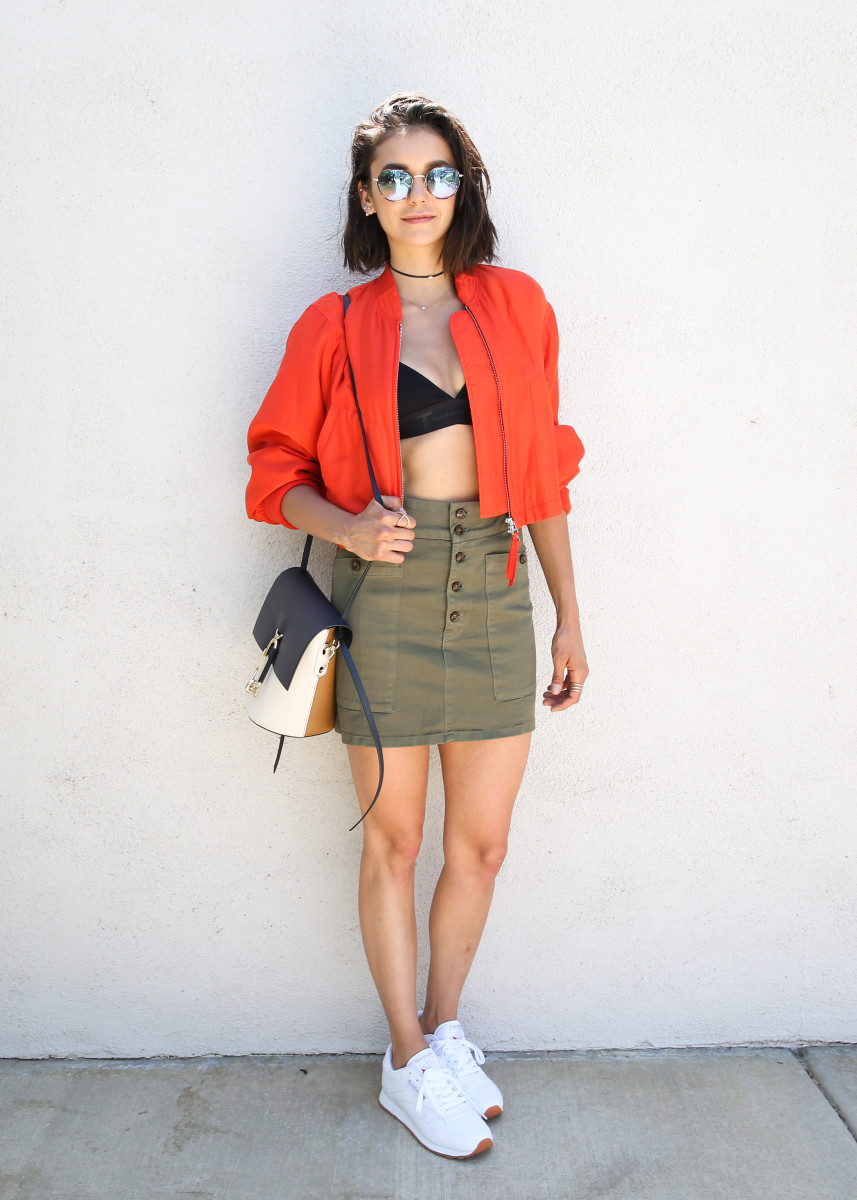 Nina Dobrev looked stunning in her new bob and this bold orange cropped jacket as she made an appearance in the Reebok Classics crib in California.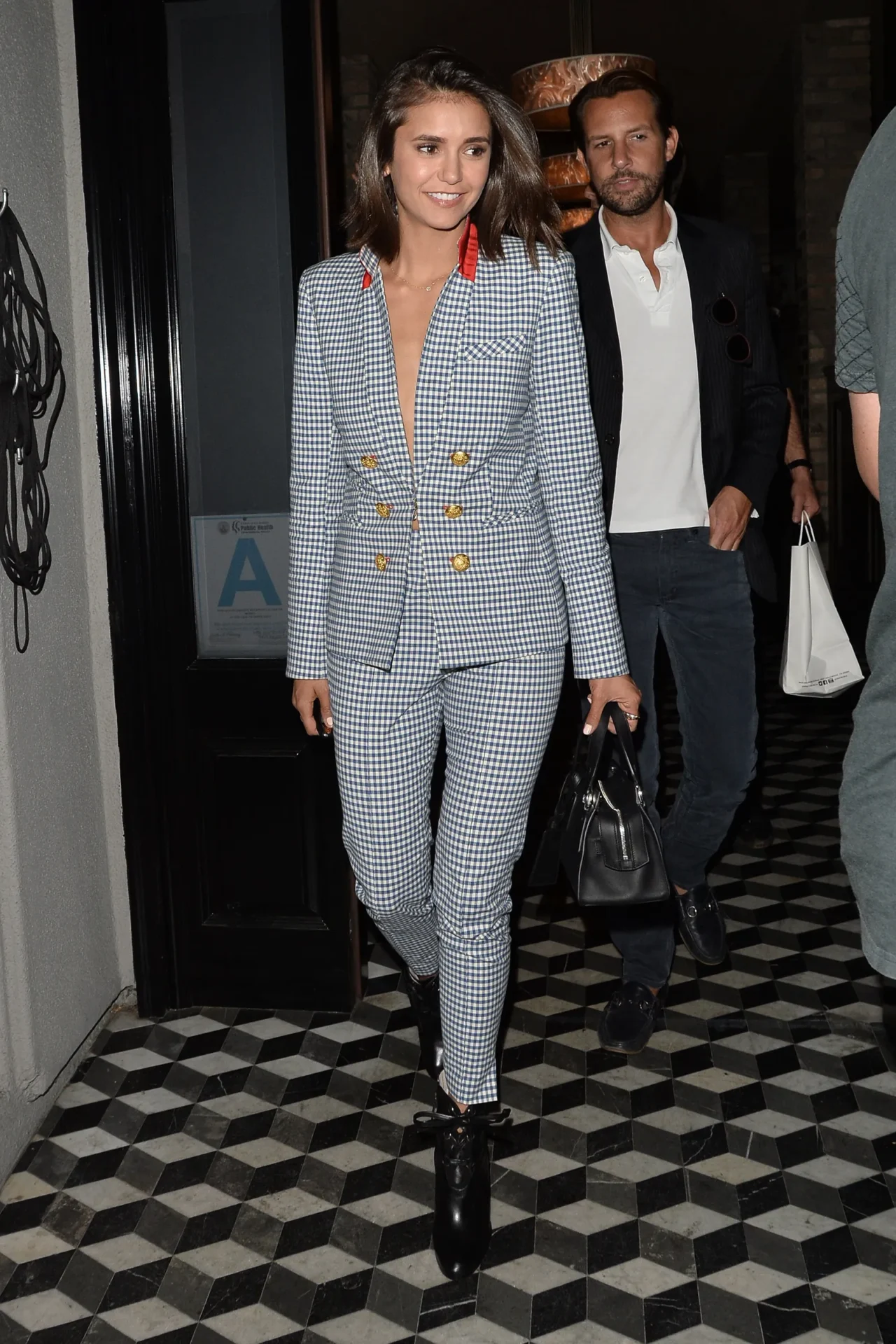 If there is anyone who could pull off an all-plaid suit, it's undoubtedly Nina Dobrev. Just look how chic she looks!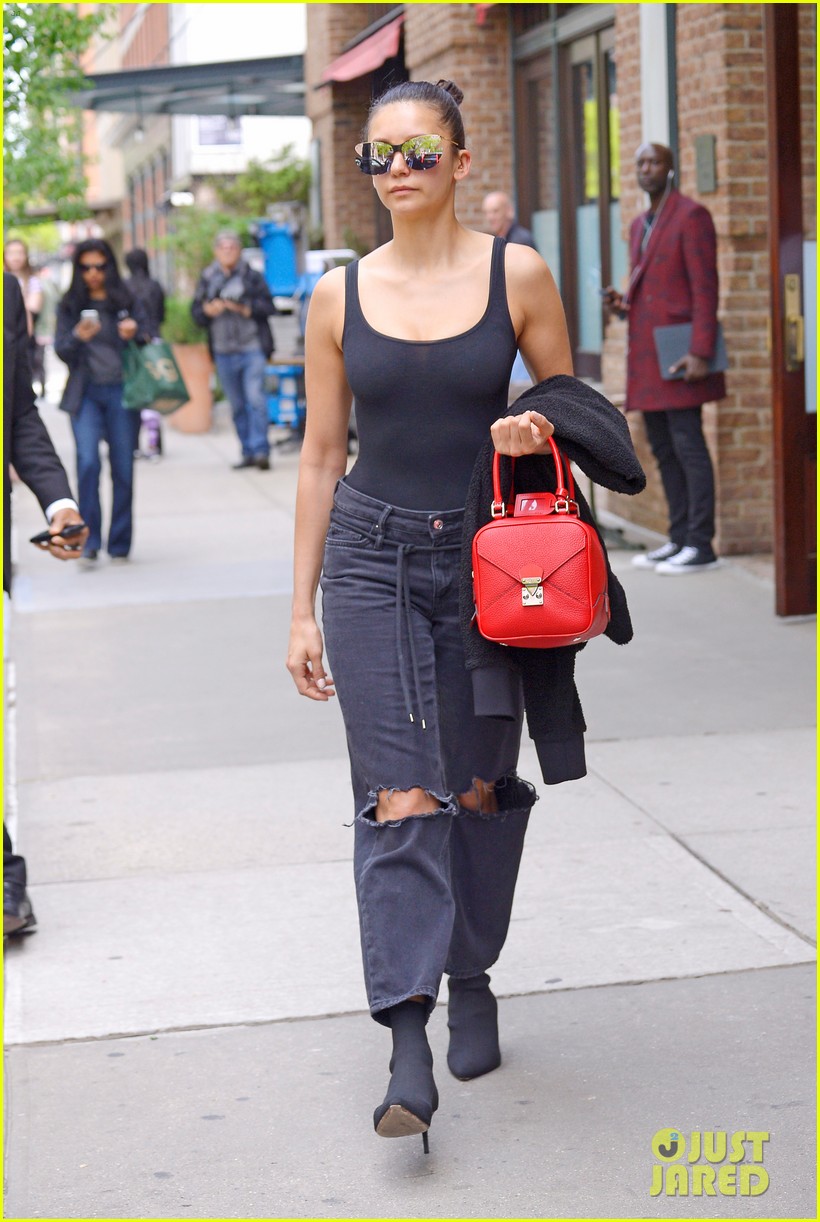 Keeping it trendy and minimalistic, Nina Dobrev sports a simple cami top and ripped jeans with a bold red bag for that pop of color.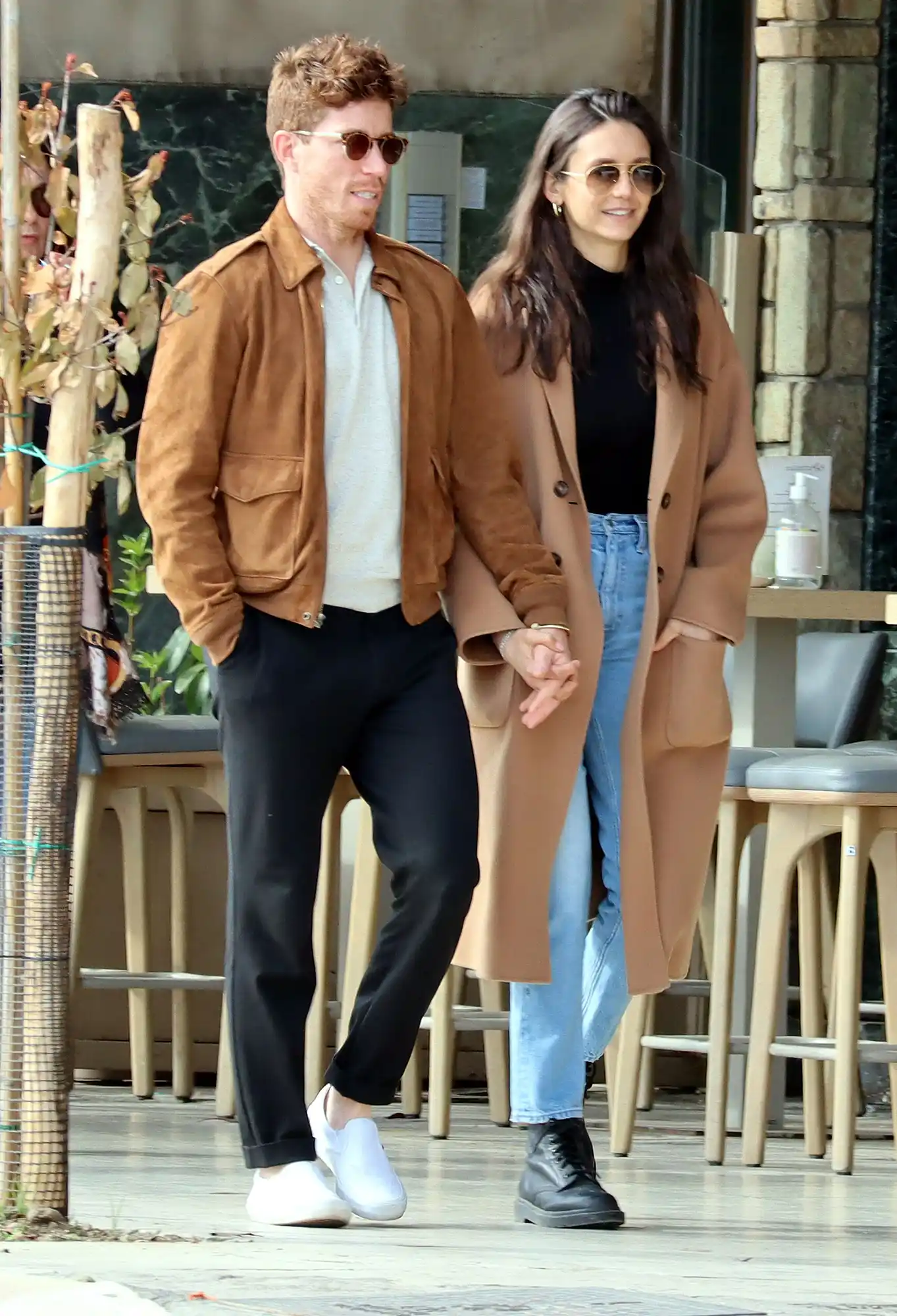 Walking with her beau, Nina and Shaun show off how cute they look together wearing matching coats and jackets! They look so chic and brimming with romance!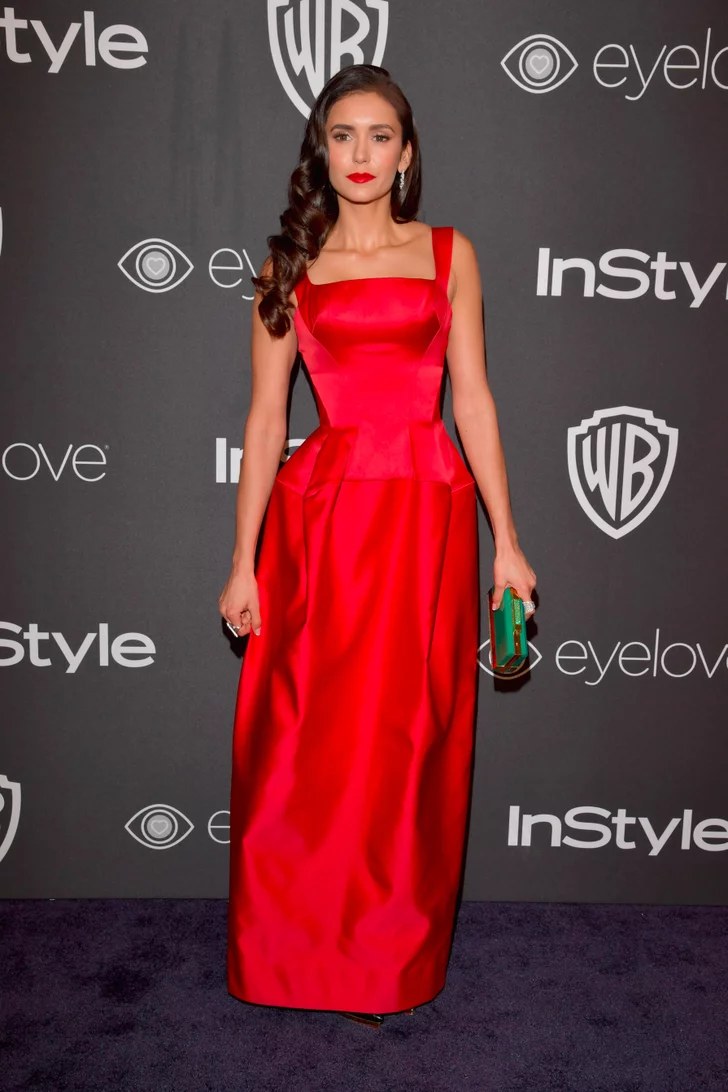 Nina Dobrev definitely rocks the color red! And this structured Zac Posen dress really made her look so glamorous!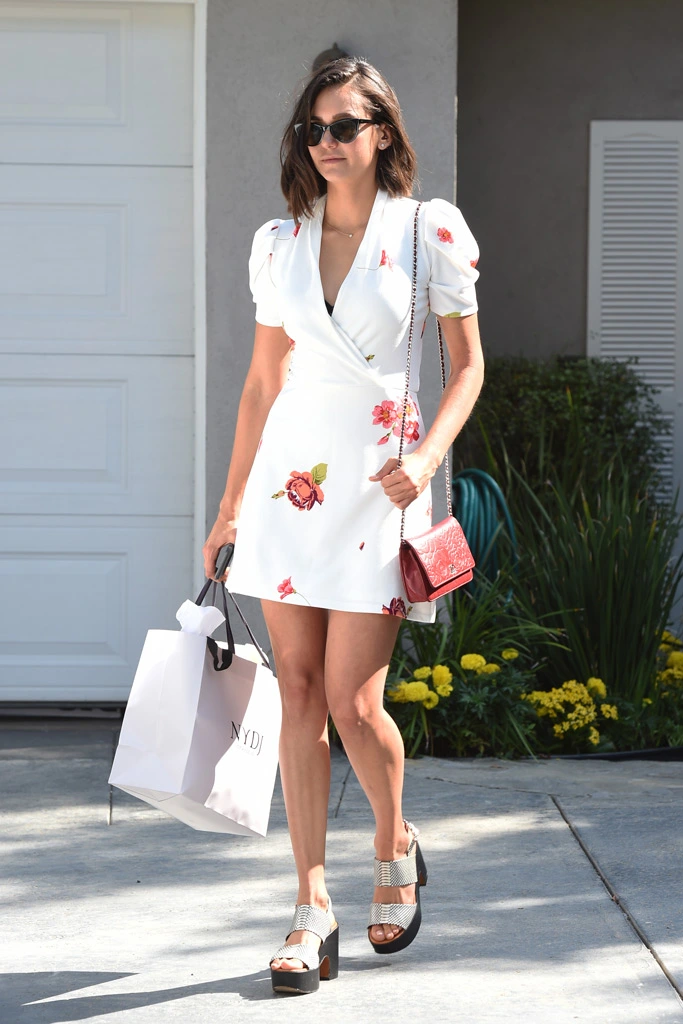 During the InStyle "Day of Indulgence", Nina Dobrev was spotted wearing this elegant white dress with a floral pattern, oversized sunglasses, and croc-printed Robert Clergerie clog sandals. This look is just perfect for the summer!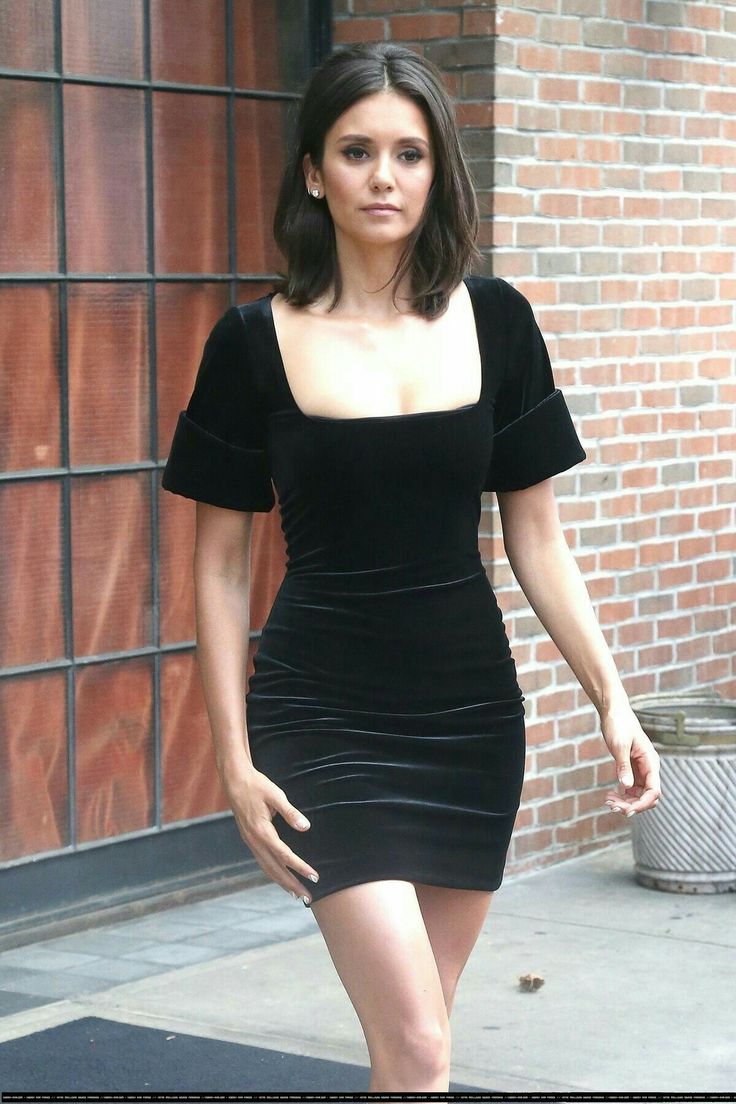 Another personal favorite of mine, this chic black velvet mini dress is just utterly stunning! Its minimalistic style is perfect for any occasion.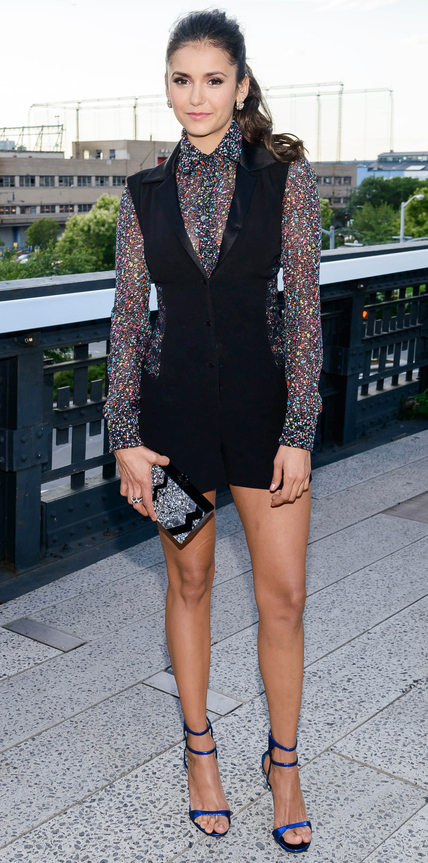 So unique yet chic, who would've thought that you could pair a see-through blouse with a tuxedo romper and make it look this good?!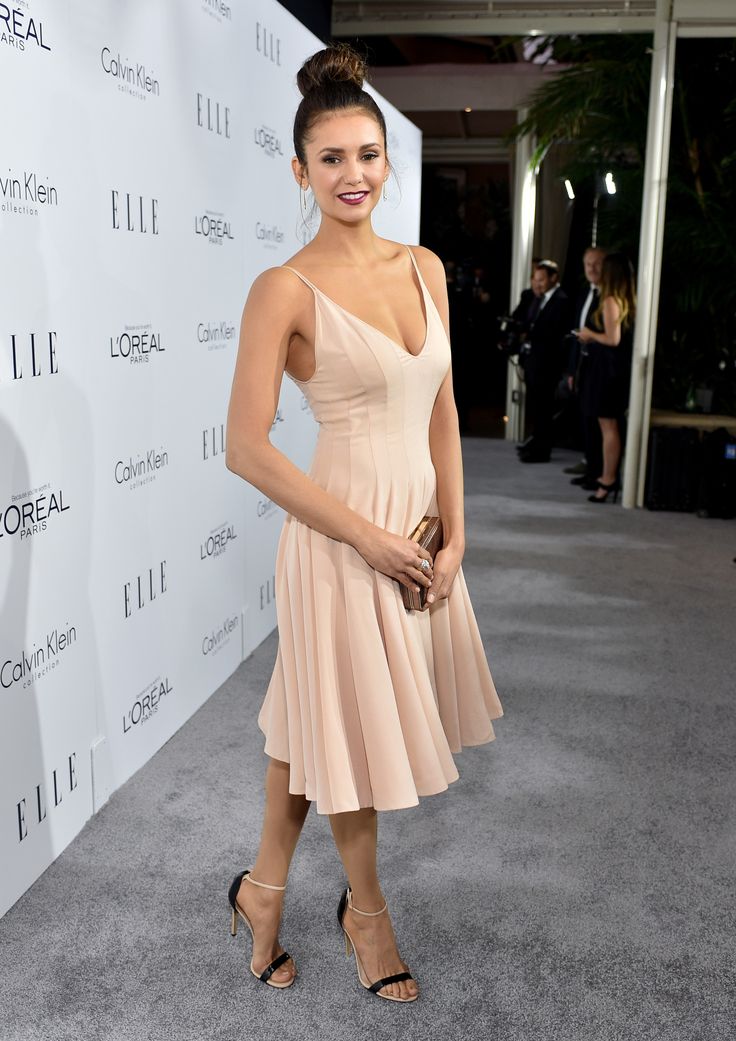 To celebrate ELLE's 22nd Annual Women In Hollywood Awards in 2015, Nina Dobrev was spotted wearing this stunning Calvin Klein dress!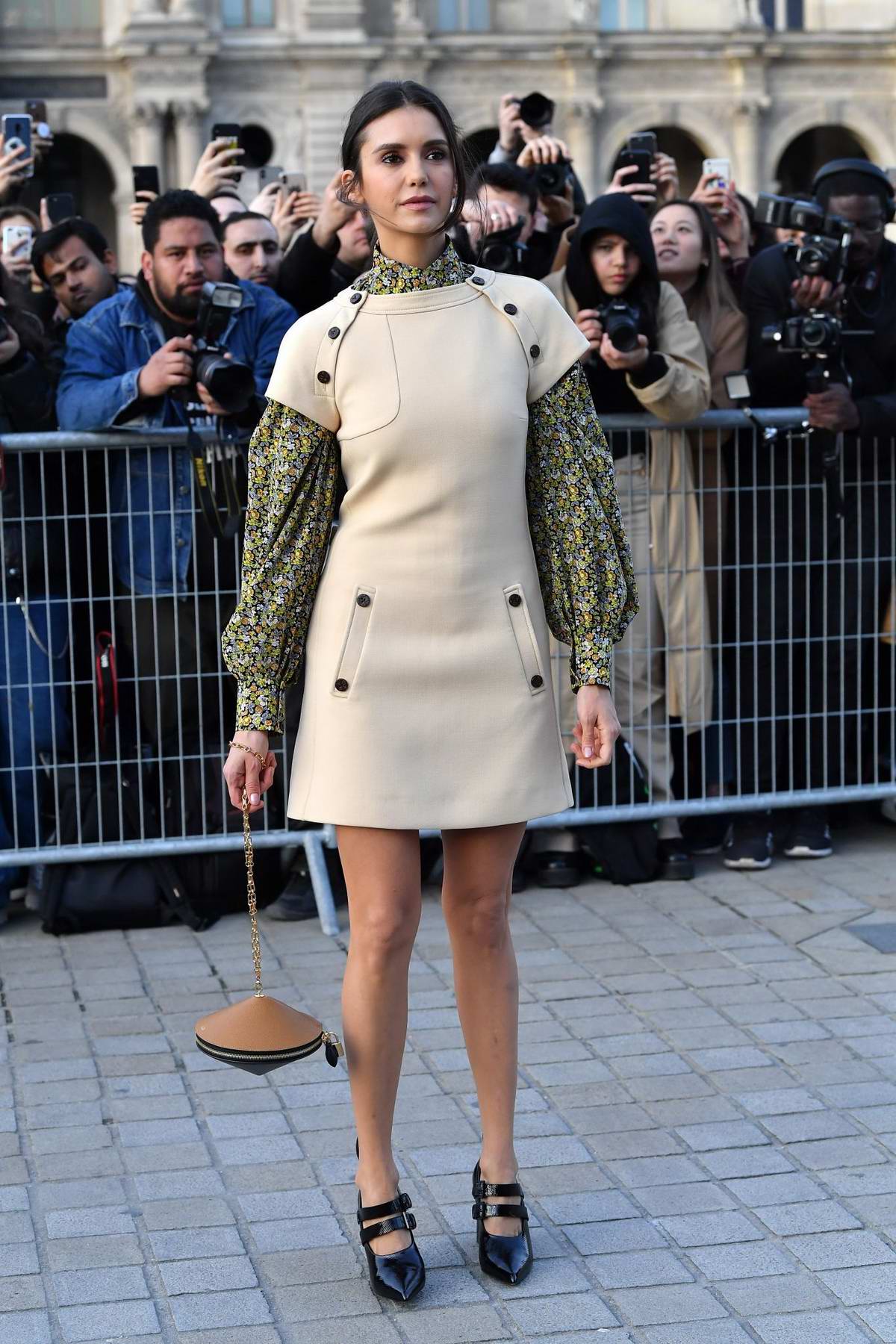 Wearing this gorgeous floral dress underneath a beige, mini dress, Nina attended the Louis Vuitton show at the Paris Fashion Week last 2019.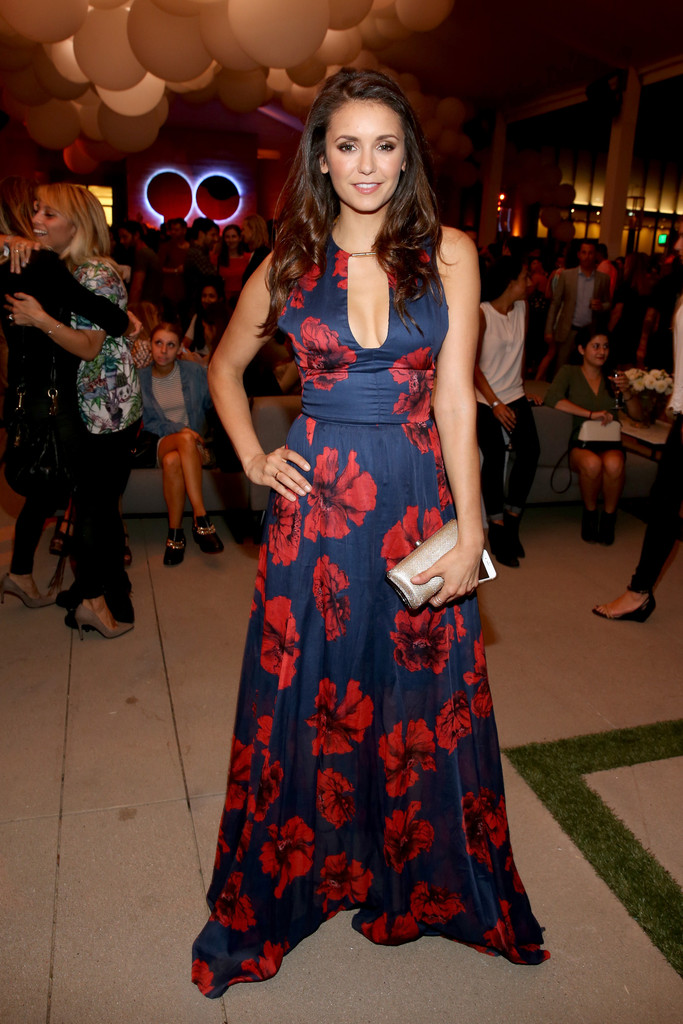 I love the contrast of colors in this stunning blue and red floral dress! It's so perfect for the holiday season too if you're looking to recreate Nina's looks for a Christmas party!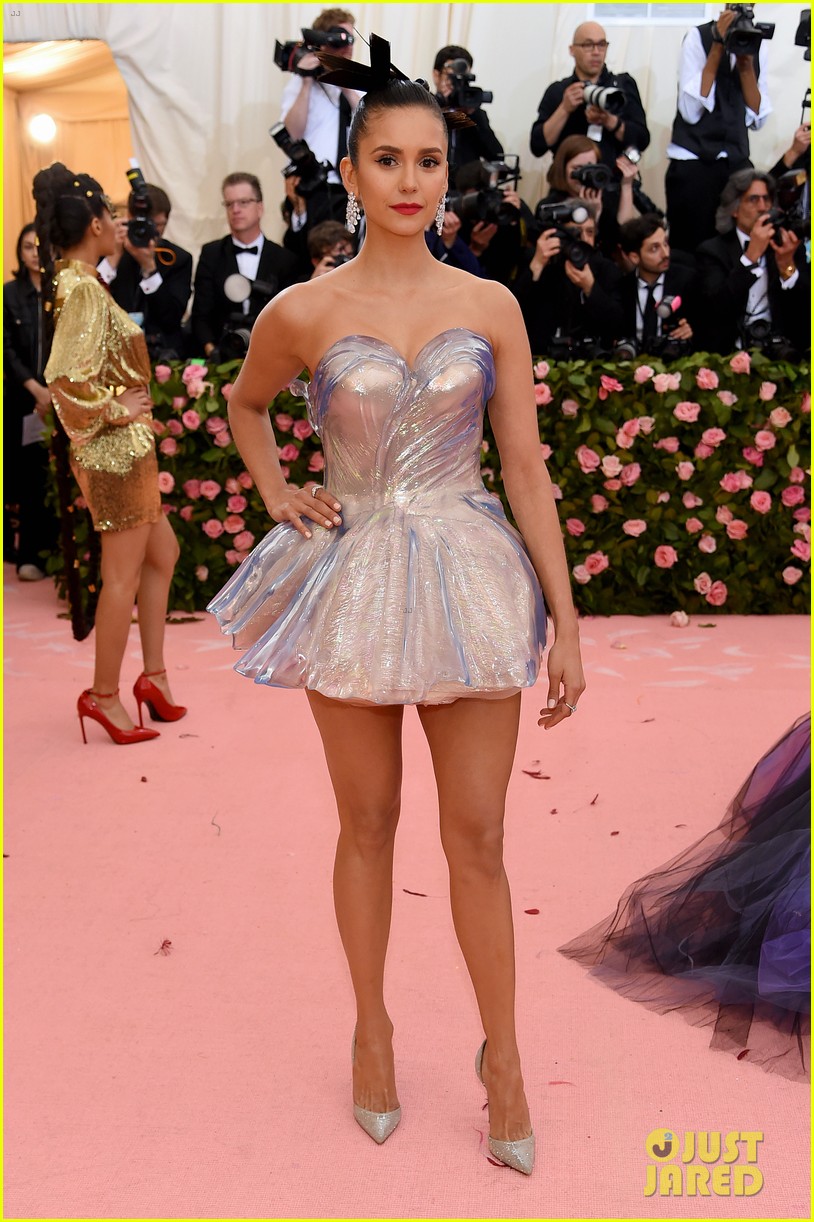 Probably one of her most iconic moments to date, Nina Dobrev's 3D-printed dress for the Met Gala was absolutely show-stopping!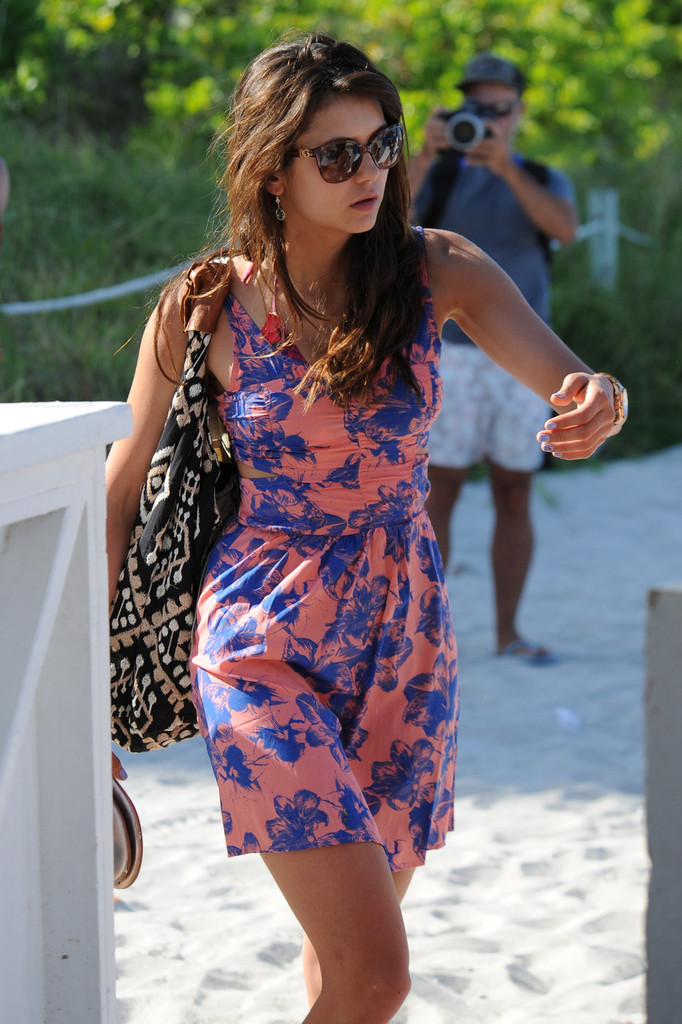 Even on a casual day out, Nina Dobrev never misses with her style when she was spotted in this cute pink and blue dress!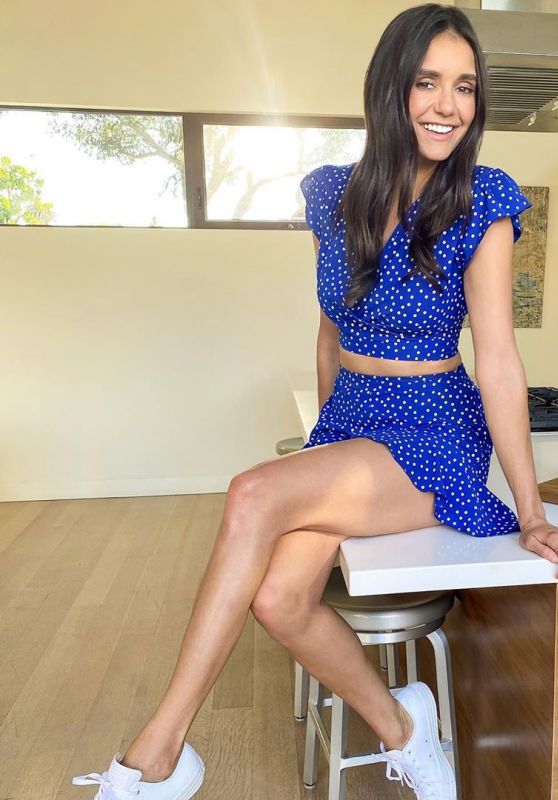 Another cute casual fit from Nina Dobrev is this royal blue polka dot matching outfit!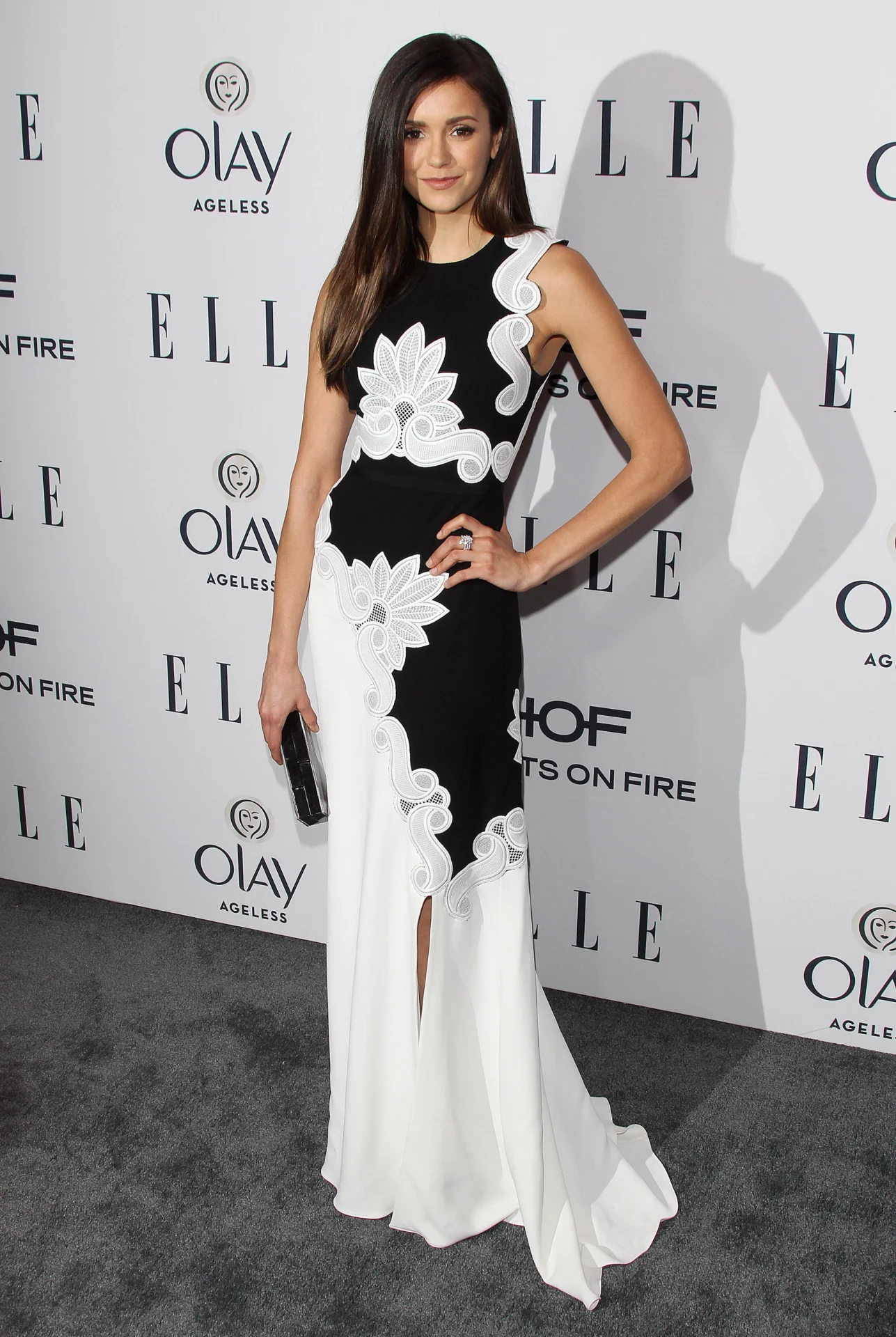 Seriously, Nina Dobrev looked gorgeous in this black and white dress when she was invited to be Covet Fashion's Celeb Host.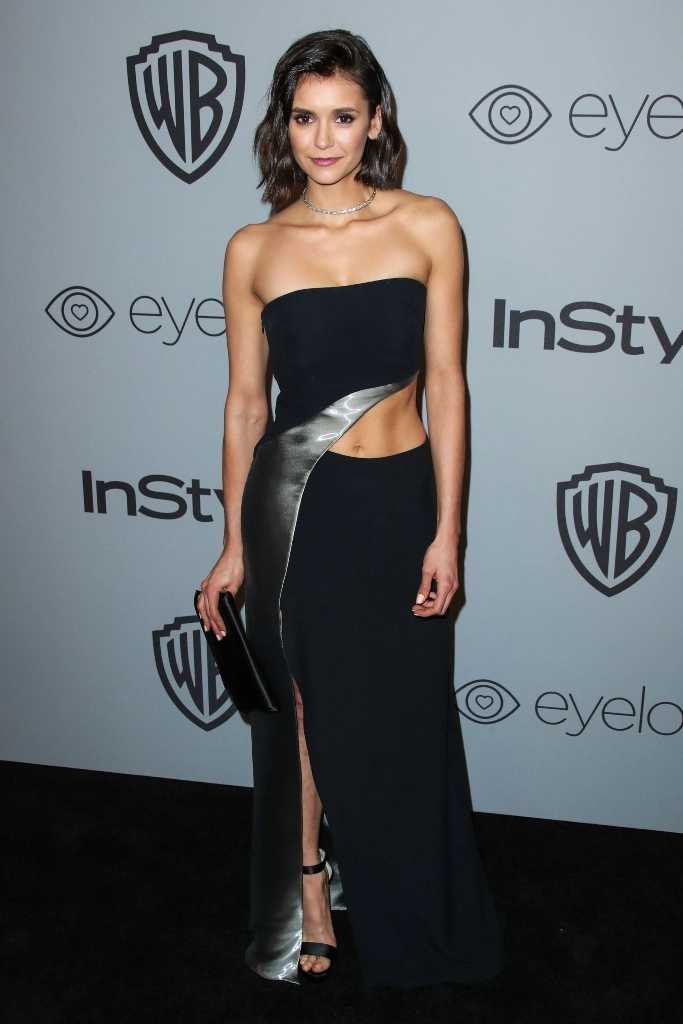 This black strapless dress with a belly cut-out detail was definitely a great look for Nina Dobrev to show off those toned abs!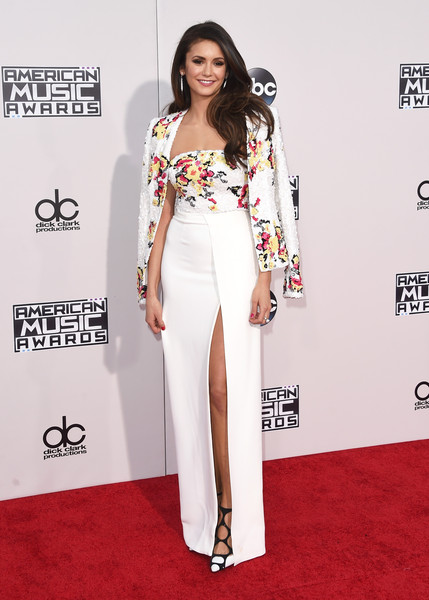 During the American Music Awards, Nina Dobrev wore a high-slit strapless column dress by Zuhair Murad with a matching jacket that made her so elegant and chic.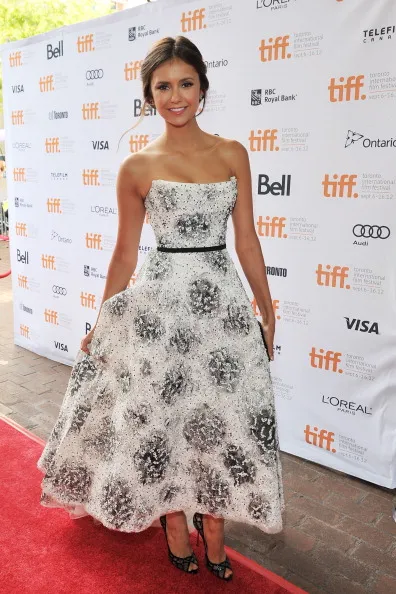 During the premiere of "Perks Of Being A Wallflower", Nina Dobrev was spotted in this frosted printed teacup dress!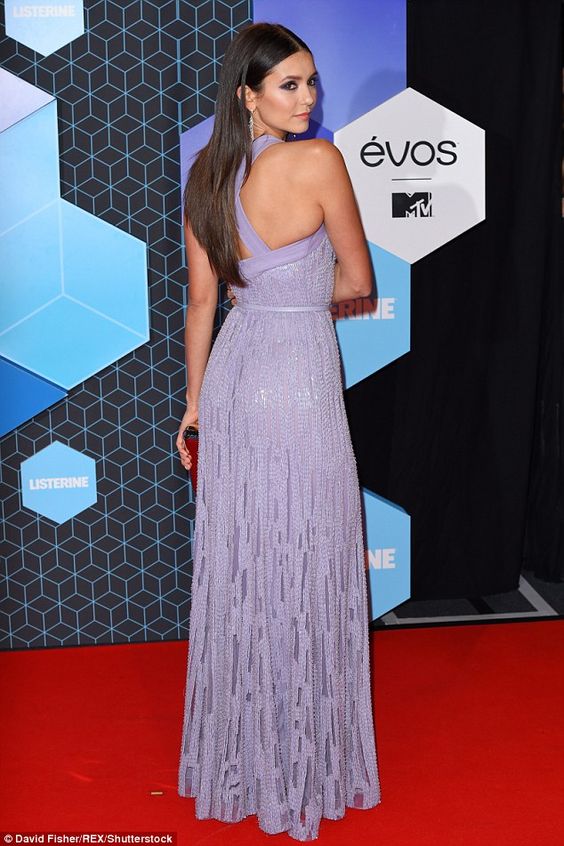 Nina Dobrev looked utterly stunning and elegant in this shimmering lilac gown as she walks down the red carpet on the MTV EMAs last 2016.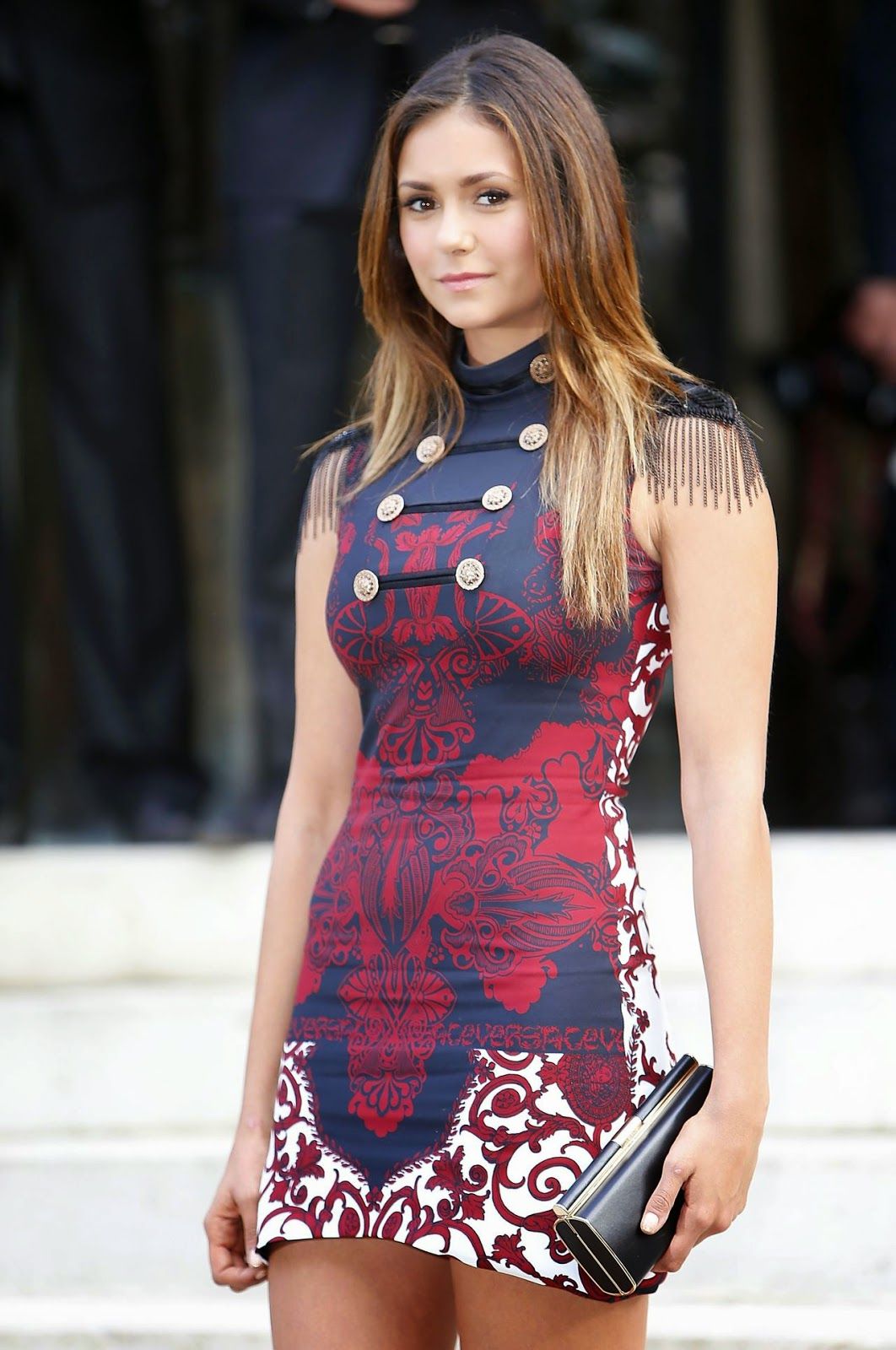 Nina Dobrev totally stunned everyone when she showed up at the Atelier Versace Fall 2014 Show in Paris in this mini Versace number! The colors, the structure, and the patterns were just so perfect on her!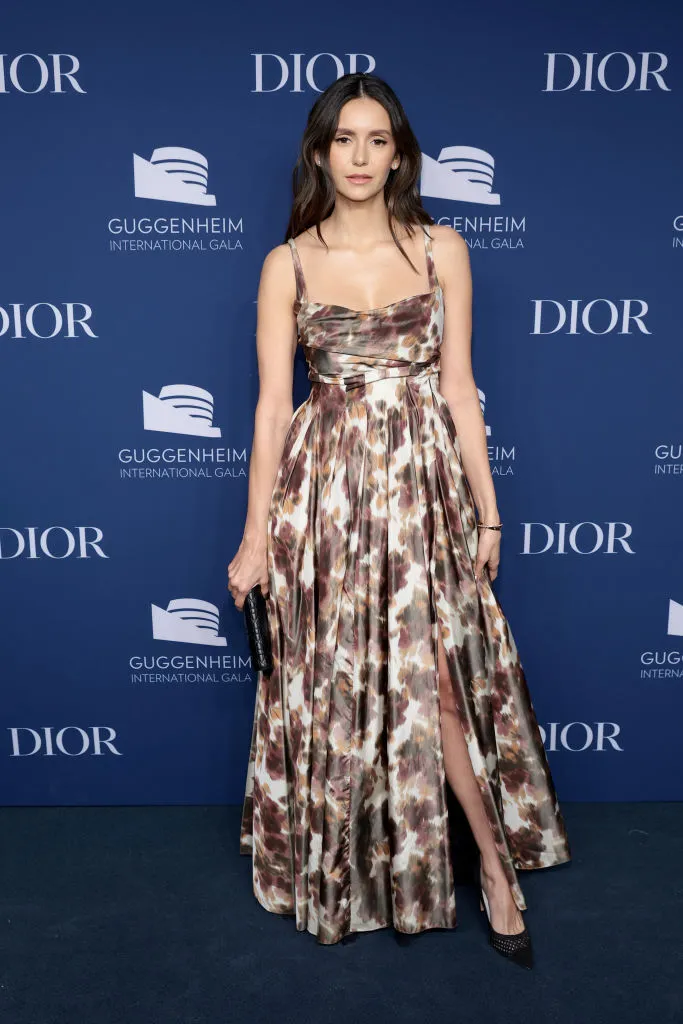 This floral warp-print Dior dress became another personal favorite of mine the moment I saw Nina Dobrev wear this during the Guggenheim International Gala last November 9 in New York.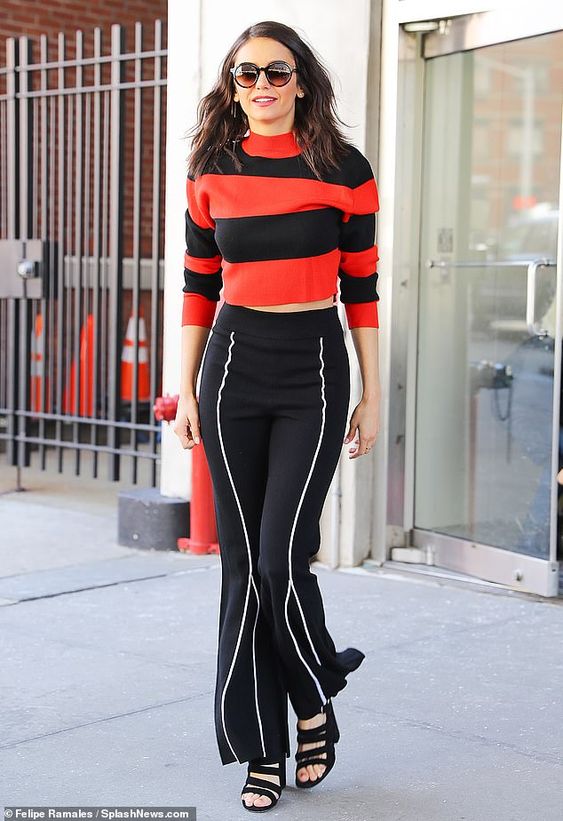 I love how Nina Dobrev mixed and match different patterns in this outfit! She totally rocked that striped sweater and black bell bottoms!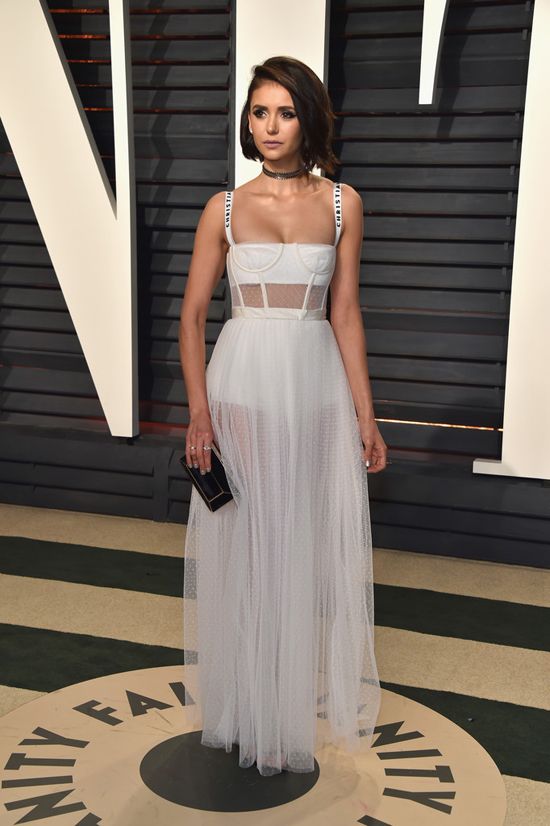 Oozing with both sexiness and sophistication, this see-through Dior dress looked absolutely stunning on Nina Dobrev at the Vanity Fair Oscar Party 2017.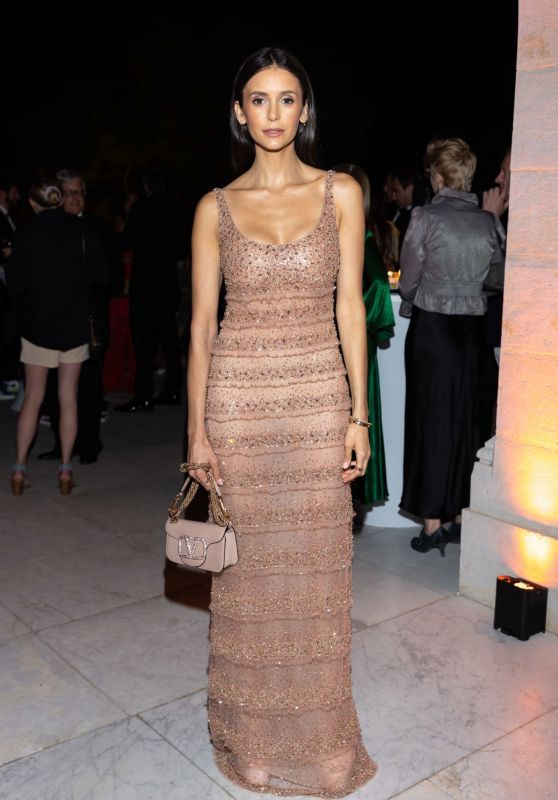 Nina Dobrev truly dazzled everyone in this shimmery, flesh-toned gown at the With Love For Peace Gala in Cannes. Some of the best Nina Dobrev outfits are formal!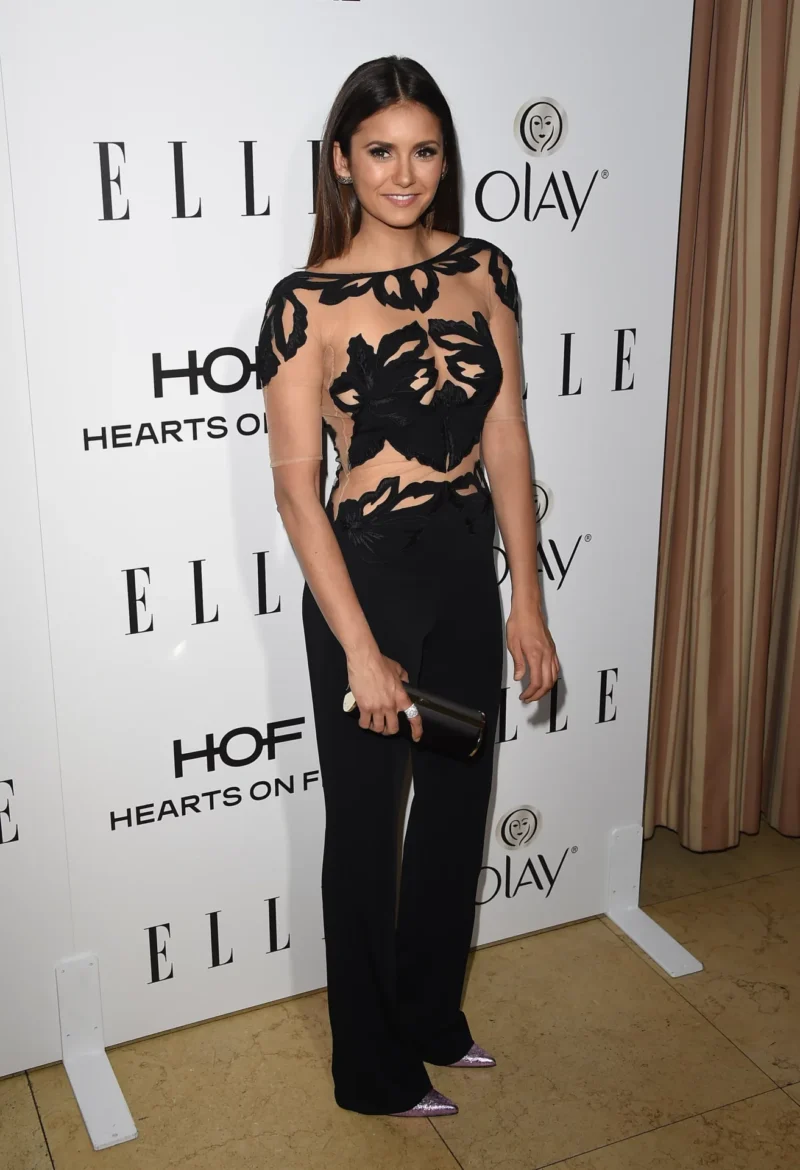 Nina totally stunned everyone in this sexy, sheer Zuhair Murad jumpsuit at Elle's Annual Women in Television celebration.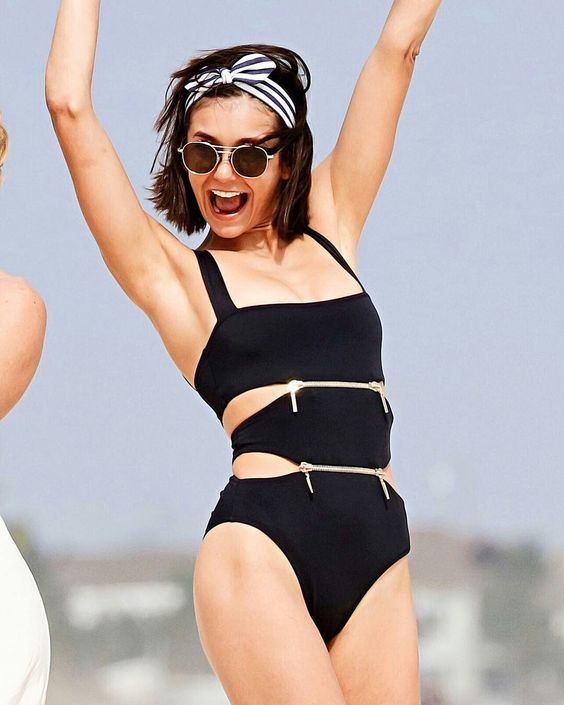 Nina was spotted having fun and all smiles in this gorgeous zippered one-piece swimsuit!
Looking so edgy and cool, Nina totally rocked this outfit! This is definitely one of the top edgy Nina Dobrev outfits.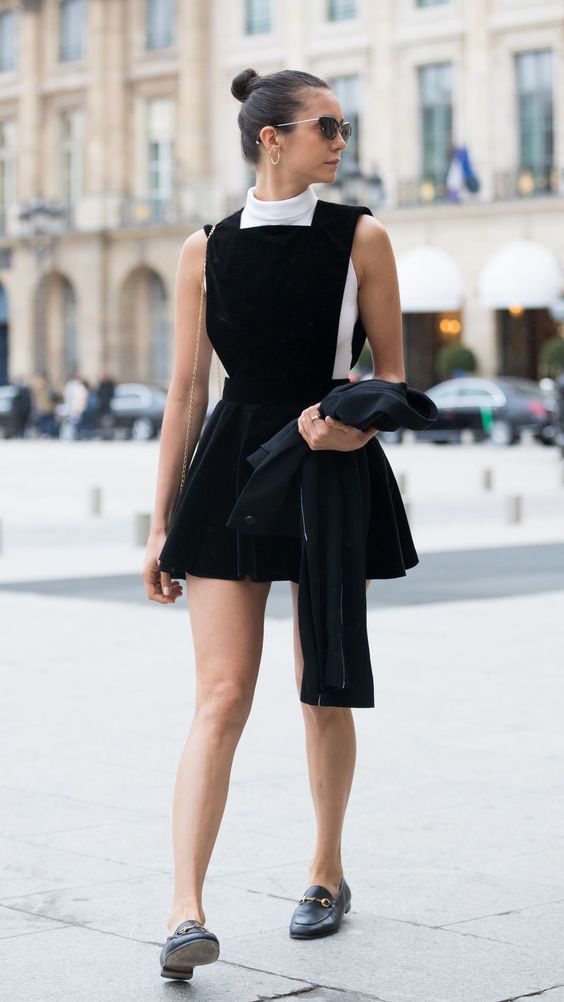 Out of all her casual streetwear outfits, this is definitely my favorite! I just love how effortlessly chic she looked here!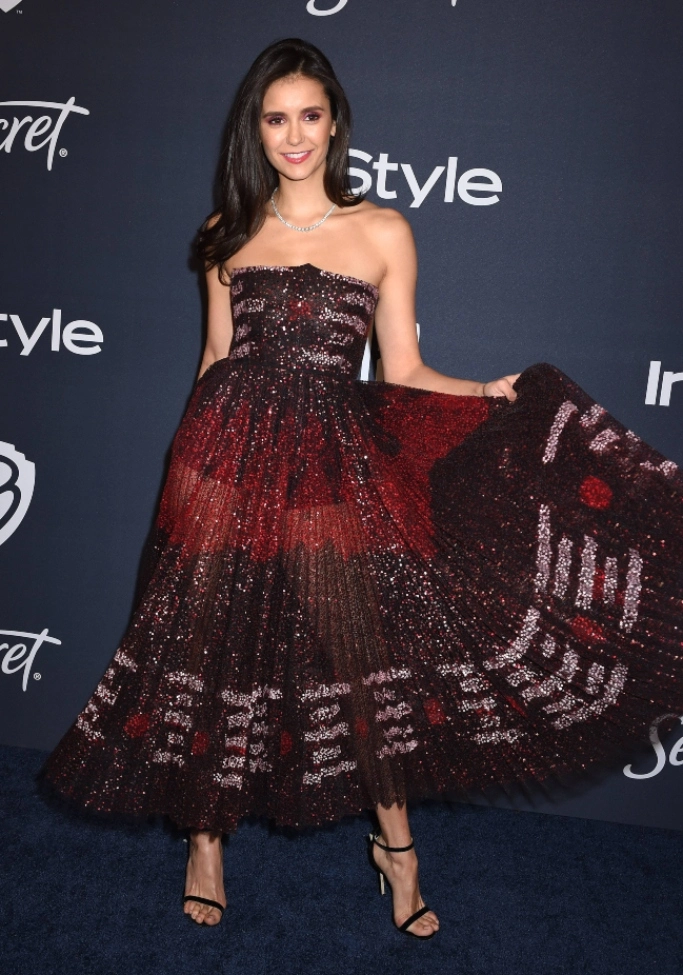 This strapless oxblood dress was to die for! I love the varying shades of deep reds in this outfit. This is one of my favorite Nina Dobrev outfits for a formal event!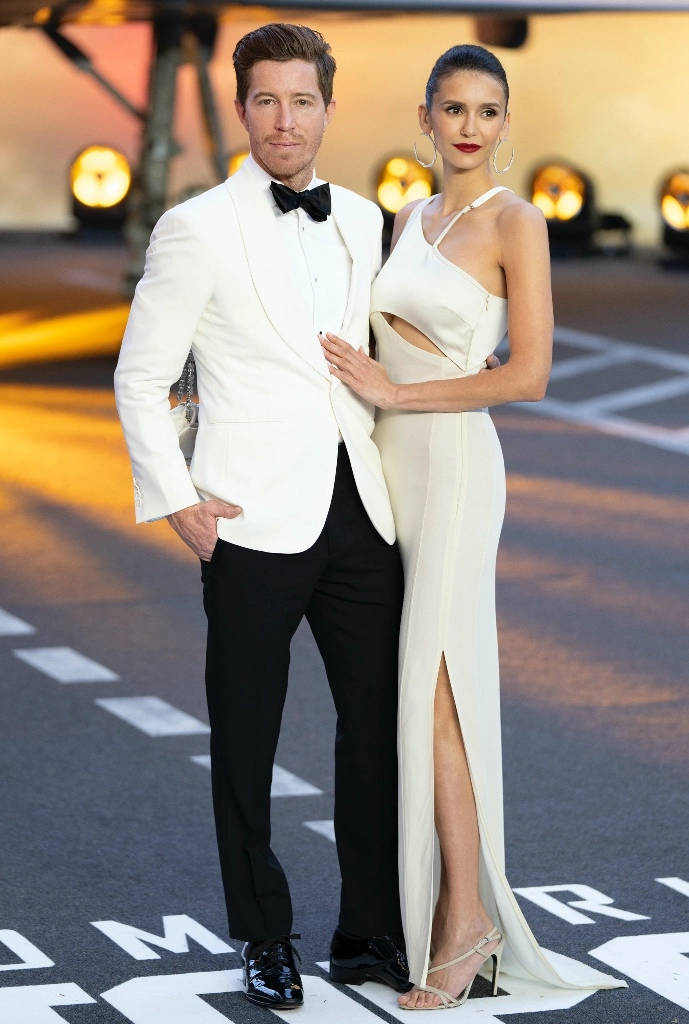 Nina Dobrev looked stunning in this off-white gown with her beau as they attended the Top Gun: Maverick premiere on May 2022.