The weather is warming up and we're breaking out the swimsuits. That means that it's time to put together some cute and casual summer outfits that are trendy for this year!
I'm a huge fan of being comfy in the summer. So most of my summer outfits are super casual, which is luckily pretty easy to do while still looking cute during the warm weather.
Today I'll be sharing some of my favorite casual summer outfits from top influencers!
Essential Casual Summer Outfit Pieces:
1. A pair of shorts is a must for any summer outfit. Whether you prefer denim, chino, or linen, shorts are a versatile piece that can be dressed up or down.
2. A light and airy top is the perfect complement to your shorts. Opt for a cropped style to show off your waistline, or go for a flowy tunic to keep cool in the heat.
3. A summertime staple, a sundress is an easy way to look put-together without much effort. Choose a style that flatters your figure, and don't be afraid to experiment with bold prints and colors.
4. Rompers are a one-and-done outfit that is perfect for any summer activity. Whether you're headed to the beach or a backyard barbecue, a romper will keep you cool and stylish all day long.
5. For a more dressed-up look, try pairing your shorts with a blouse or button-down shirt. Tuck in the front of your shirt to create a sleek silhouette, and add a belt to cinch in your waist.
6. Complete your summer outfit with a pair of sandals or espadrilles. Choose a comfortable style that you can wear all day long, and make sure to pack a pair of sunglasses to protect your eyes from the sun.
Where To Shop For Casual Summer Outfits:
Looking for super chic pieces that are also casual? Here are some of our favorite shops for casual summer outfits!
Shein: For super budget but cute pieces including dresses, tops, shorts, and swimwear
Pacsun: For edgier, beachy pieces that are really "in"
Lulus: For cute dresses, going-out tops, and beachy coverups
Urban Outfitters: For unique, cute pieces that have a really casual vibe such as fabric shorts and crop tops.
Other cute boutiques include:
Plus, you can always shop your closet. Many of these casual summer outfits work with really basic pieces – it's all about combining them in the right way!
One thing you may want to invest in is some inexpensive summer jewelry for your outfits for summer. Anklets, super-thin gold necklaces, and beaded jewelry are really popular right now, and the layered look is in. I get most of my jewelry on Etsy and find that they have some great pieces that are super affordable.
Casual Summer Outfits:
Here are my favorite cute and casual summer outfits for inspiration!
Note: I tried my best to link the source of these photos, but some are from really obscure places/I couldn't find the original photographer. Please contact me to add more specific credit or for immediate photo removal.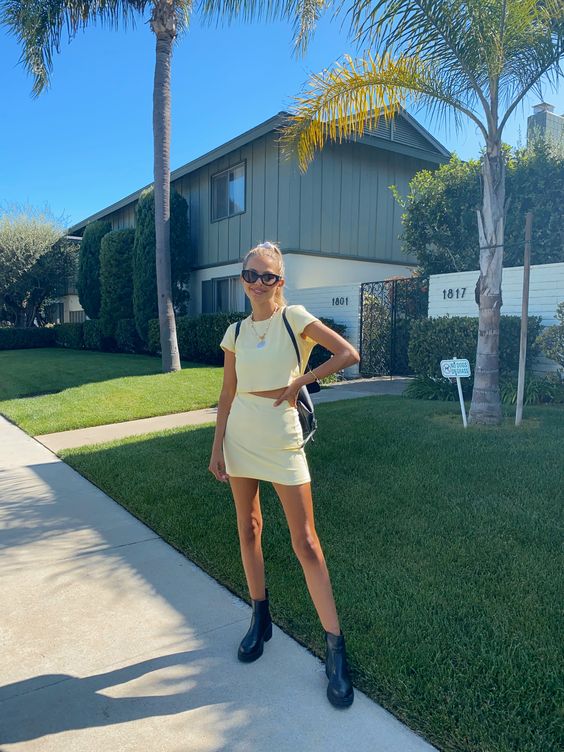 This is such a cute summer outfit that's also really comfy. I love the addition of the boots, which is definitely a trend this year!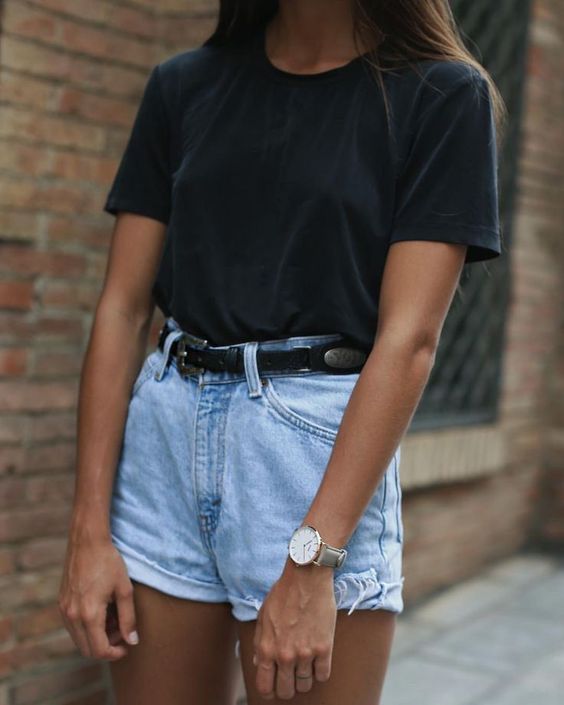 If you're looking for super casual summer outfits, then keep this picture on hand. It's the ultimate easy-going outfit you can literally wear to do anything!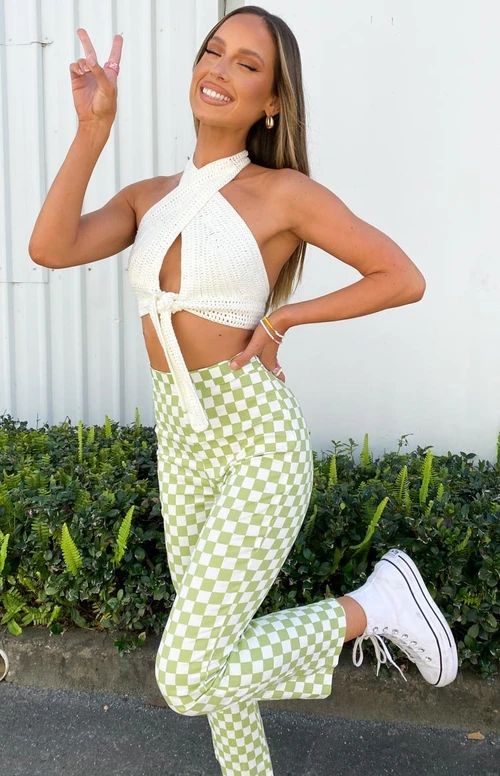 This is a casual outfit that's still cute enough to wear out. It's one of my favorite looks for a day party because the pants are just so comfy.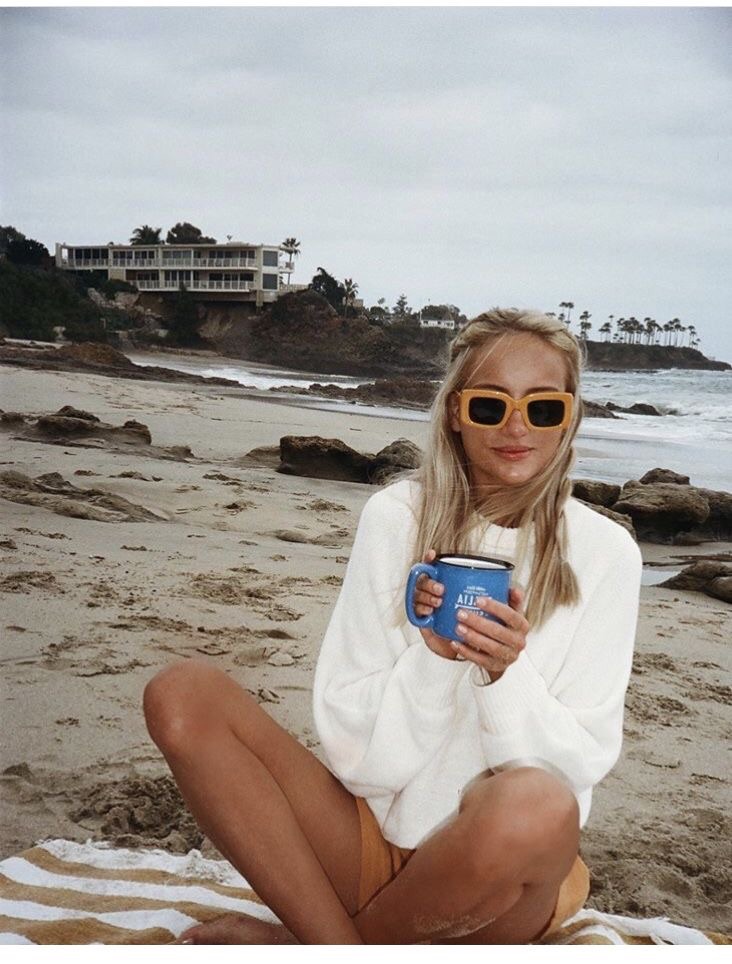 This is one of my favorite cute summer outfits to wear on the beach, especially for an afternoon picnic or late night walk.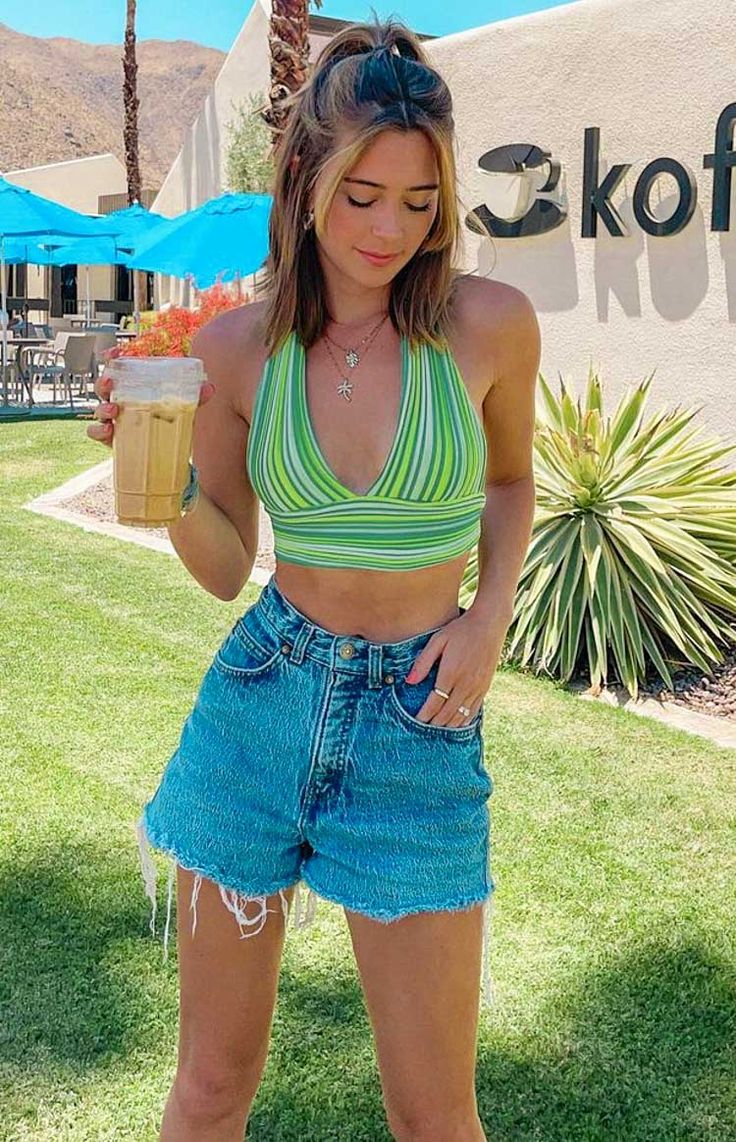 This is one of the cutest outfits for summer for daytime events.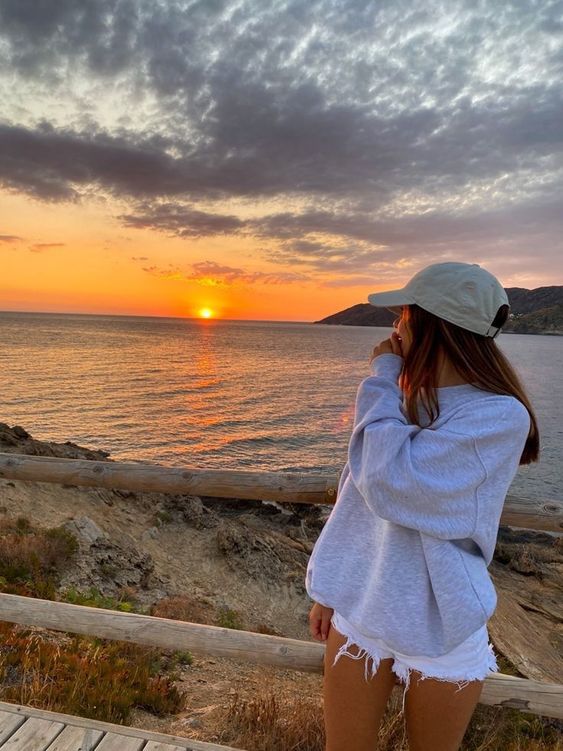 Looking for outfits for summer that are comfy and casual? You'll definitely want a faded crew neck sweatshirt!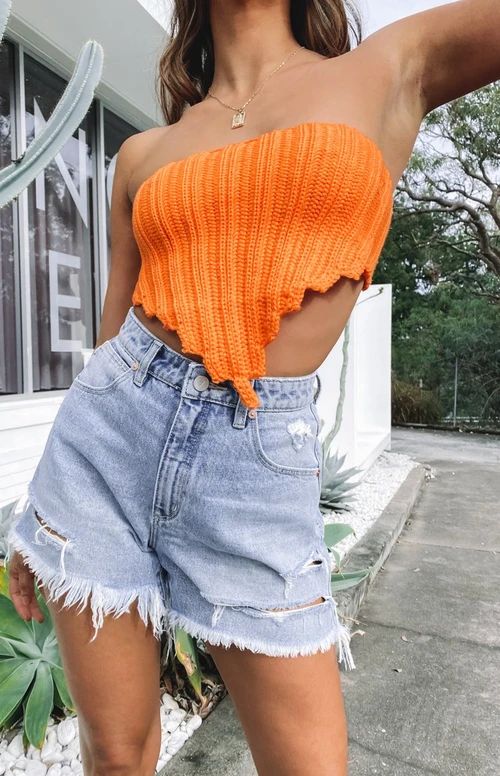 If you're looking for some summer outfit inspiration that is cute, fun, and has some bright pops of color, you should definitely recreate this look! Ripped, light-washed shorts and a vibrant orange top are the perfect summer combo! This would look so good against your perfectly tanned skin too!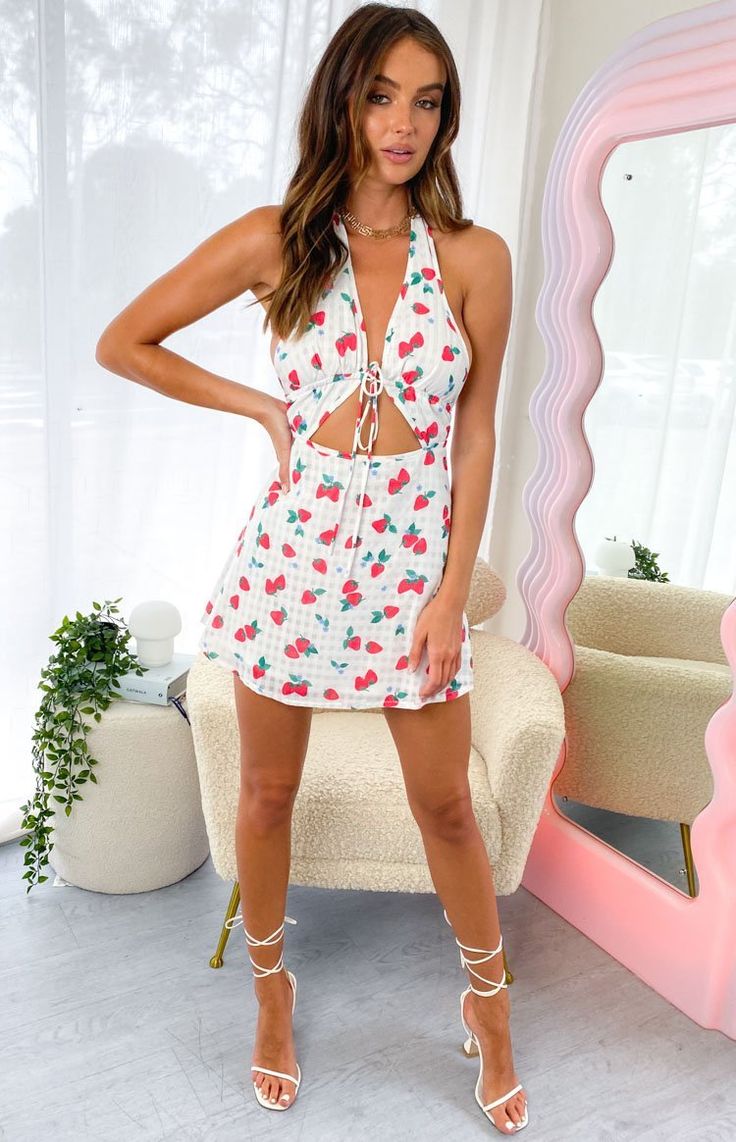 This strawberry-themed dress is so cute! Perfect for your summer dates, you'll surely be turning heads everywhere you go!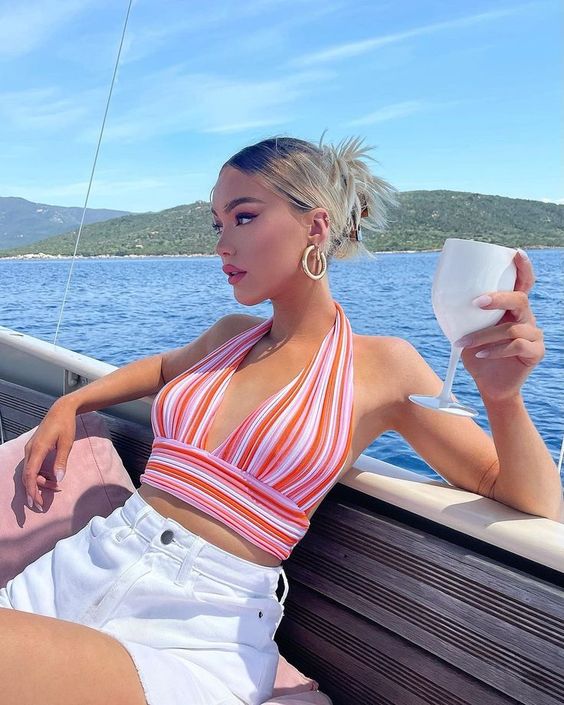 Enjoy your favorite summer cocktail with this gorgeous striped halter top! I love the stripy combination of red and pink hues against the white colors.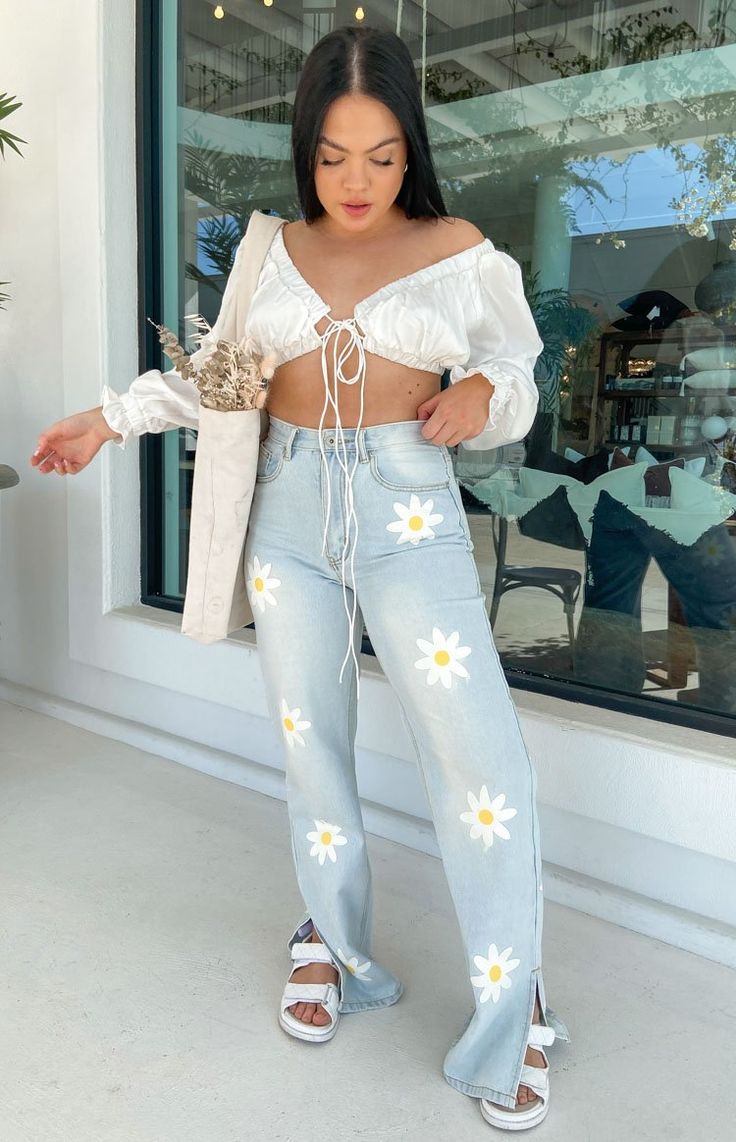 Who doesn't love a floral ensemble during the summer, right? Pair up your silky, white cropped blouse with this cute pair of daisy-print jeans. Whether you're going on a date or brunch with your friends, this would be the perfect outfit!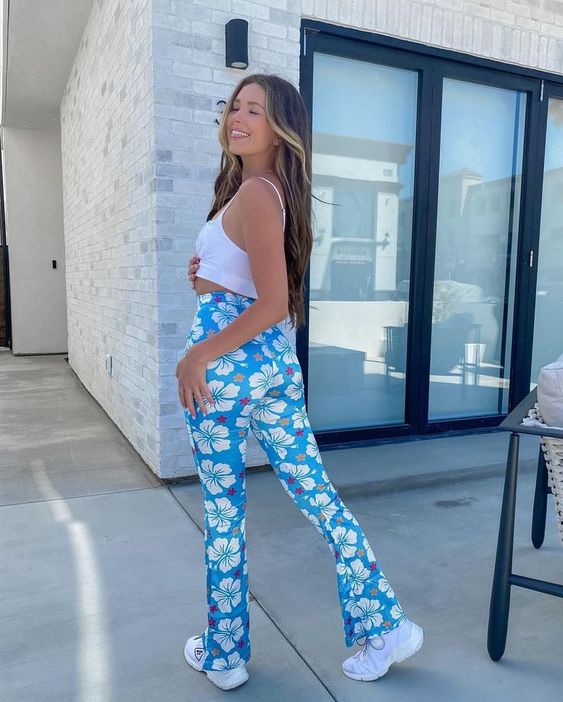 Colorful, summery tops are cute but have you ever seen a pair of pants this adorable? I love the bright blue tropical theme on these jeans!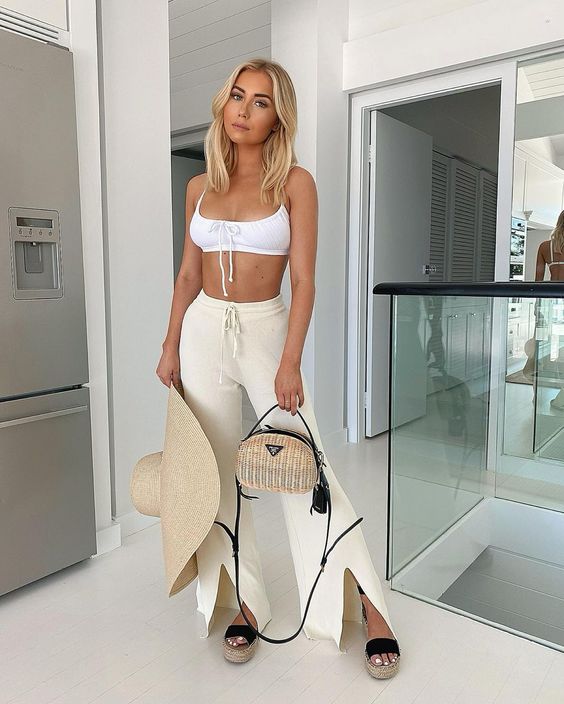 Not a fan of bright colors? Then this beige outfit is the perfect summer ensemble for you. It's subtle yet so chic. Mix and match different shades of beige to make interesting dimensions on your summer outfit.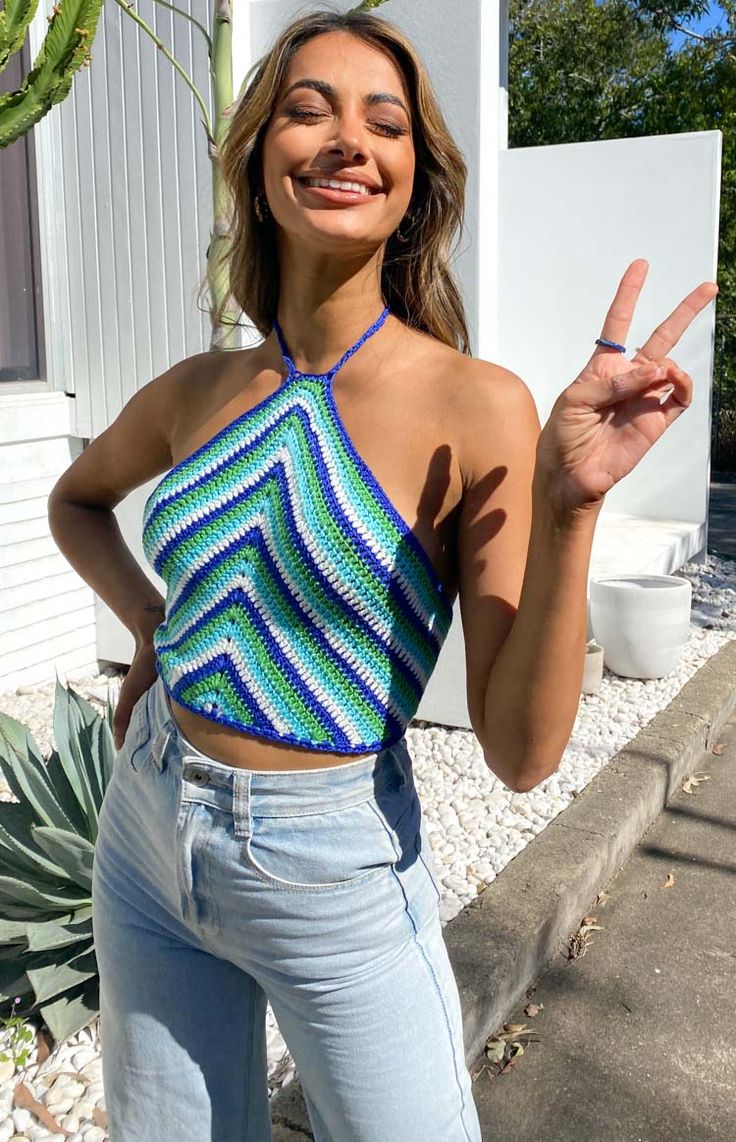 This green and blue crochet halter top is the ideal beach outfit! You can pair this with your most comfortable jeans or shorts if you want to show off your legs.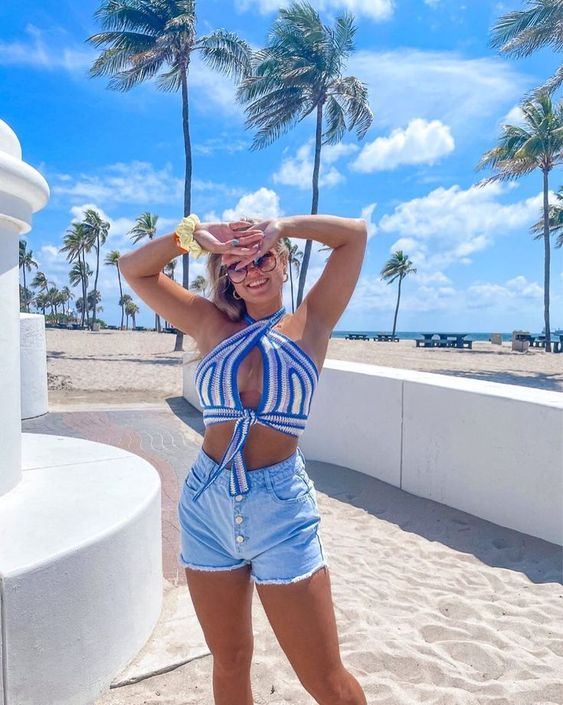 This blue halter-neck top reminds me so much of the ocean. If you're looking for a cute beach outfit for your next summer getaway, this is a great outfit inspo to take ideas from!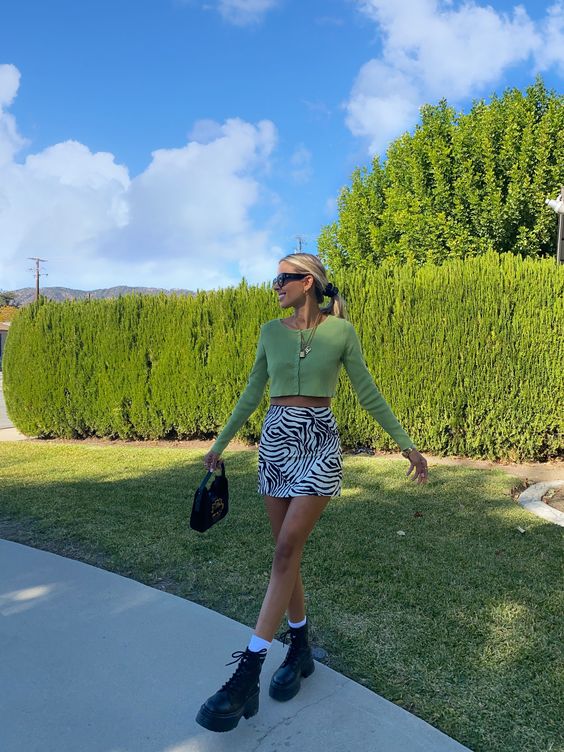 Animal prints never go out of style. And what better season to wear this fun pattern than the summer months, right? They go well with almost any ensemble. So you can easily match this zebra print skirt with your favorite top and a pair of ankle boots.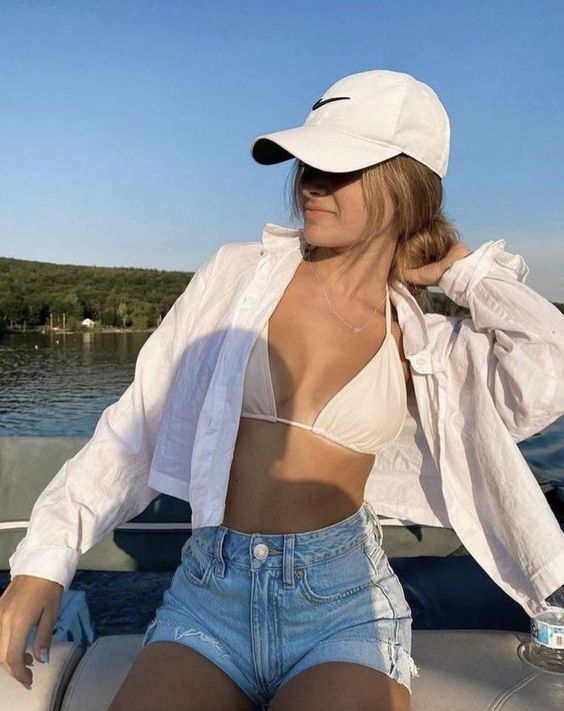 If you want a beach-ready outfit, then you should opt for wearing an oversized polo on top of your bikini. This way, you can just conveniently take off your top before taking a plunge in the waves.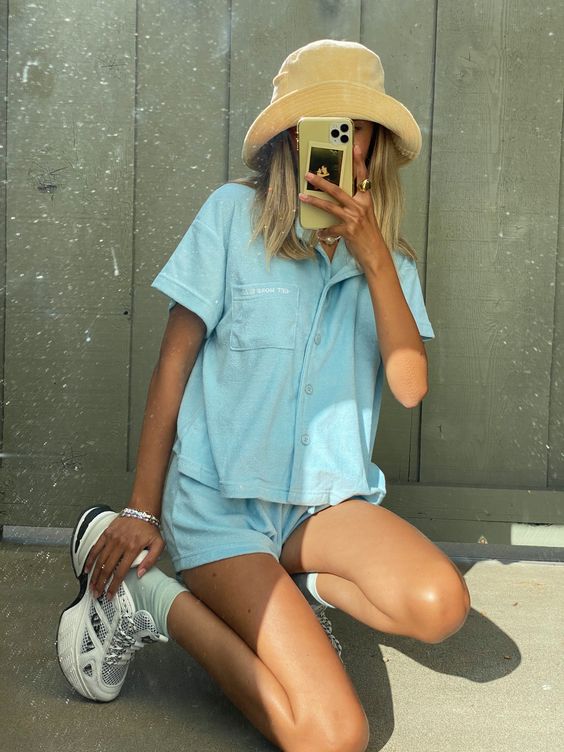 Looking for the perfect summer casual outfit that's ideal for both day trips and lounging inside your house? This matching outfit is for you! You can pair this with some chunky sneakers and a hat whenever you're going out.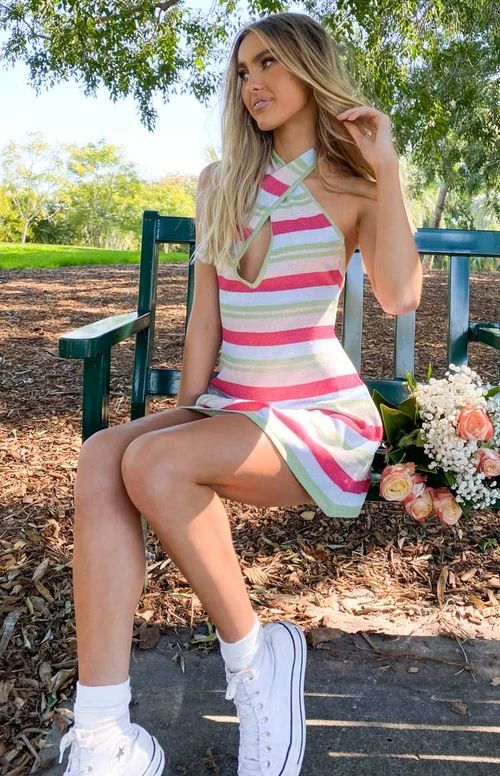 This colorful stripey sundress is so gorgeous! Not only are the colors so perfect for the sunny season, but it's flowy enough to be comfortable for long periods of wear.
This is such a cute yet sexy way to flaunt your body during the summer season! The neutral color scheme makes it easy to style up as well!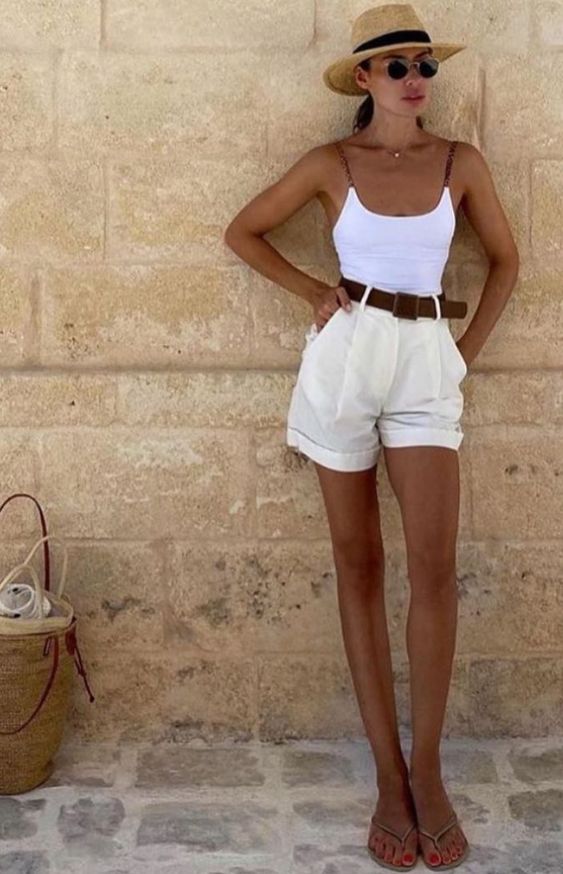 If you're looking for a casual summer outfit that you can wear comfortably throughout the day, this is the outfit for you. You won't have to worry about getting sweaty with this tank top and shorts combo! Not to mention, this outfit gives me sophisticated vibes as well!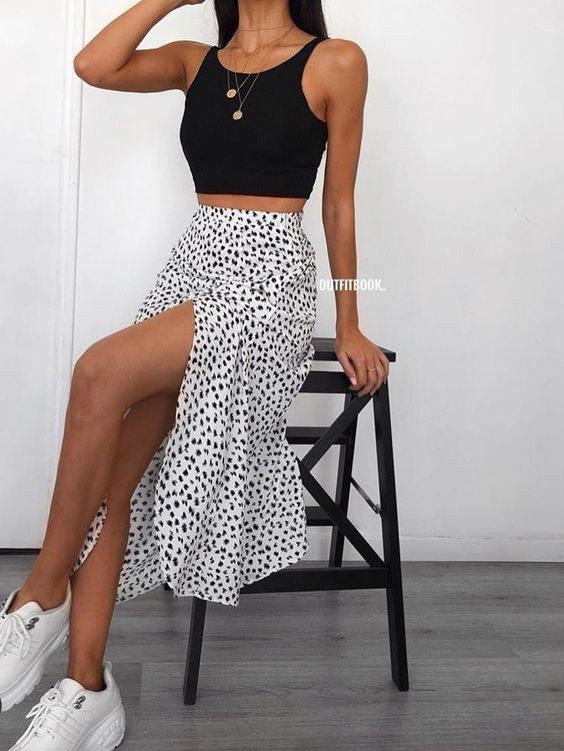 Here's another cute summer outfit to try out! The flowy, maxi-skirt has a gorgeous animal print that you can pair with practically anything!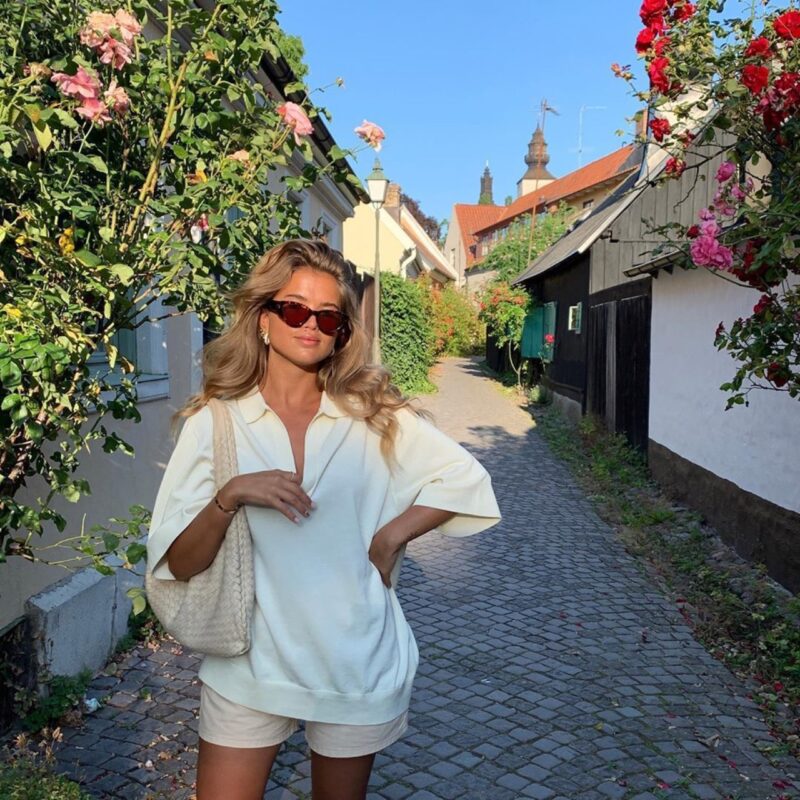 This casual summer outfit must be one of the comfiest ensembles I've seen on this list! I just love oversized tops paired with my favorite pair of shorts. One of the best things about this fit is how the neutral color scheme gives a touch of sophistication to your overall look!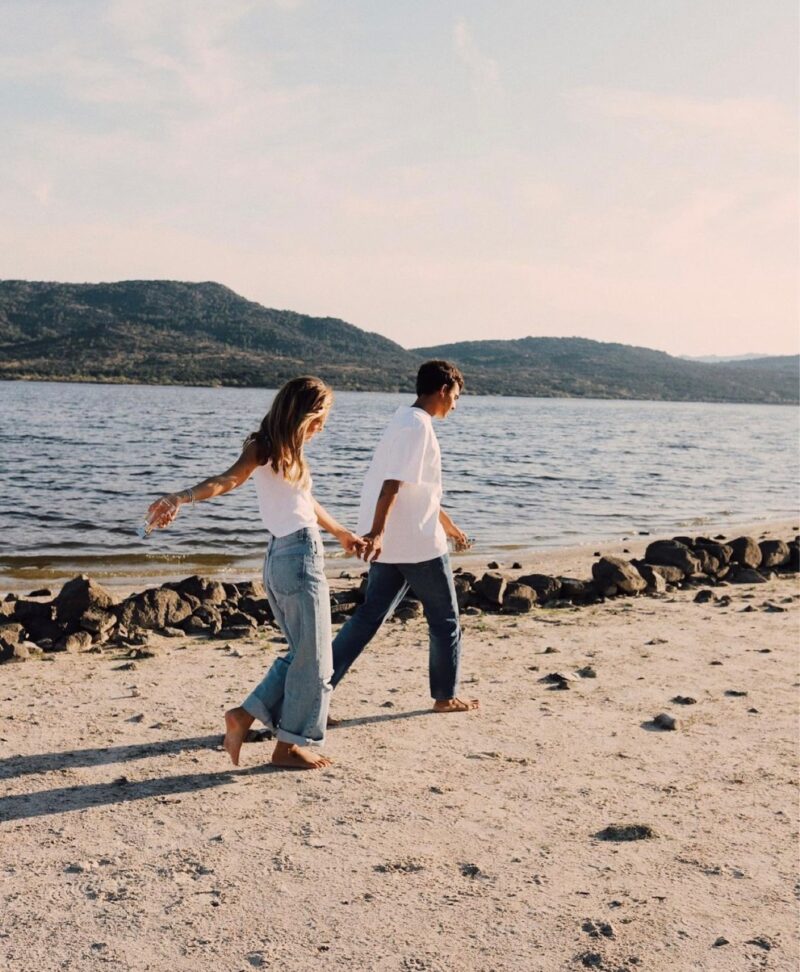 Who says you can't wear jeans during beach dates? If you want to be comfortable walking around the shores, this is an outfit to consider!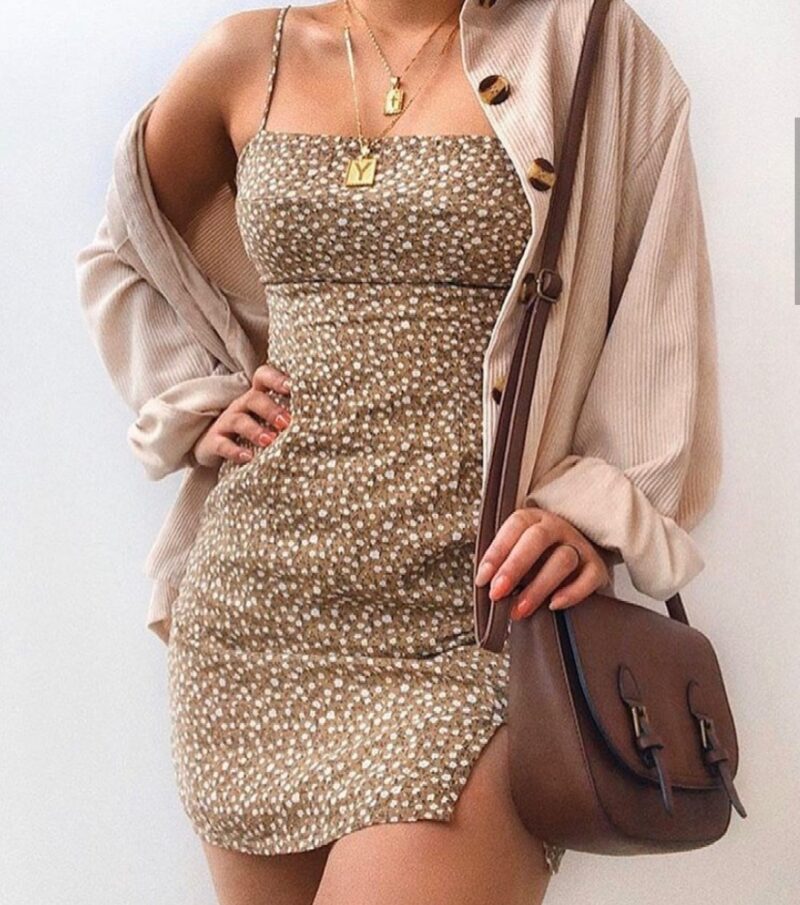 This fitted mini-dress is absolutely gorgeous! Not to mention, I'm obsessed with the earthy-toned color scheme of the overall outfit.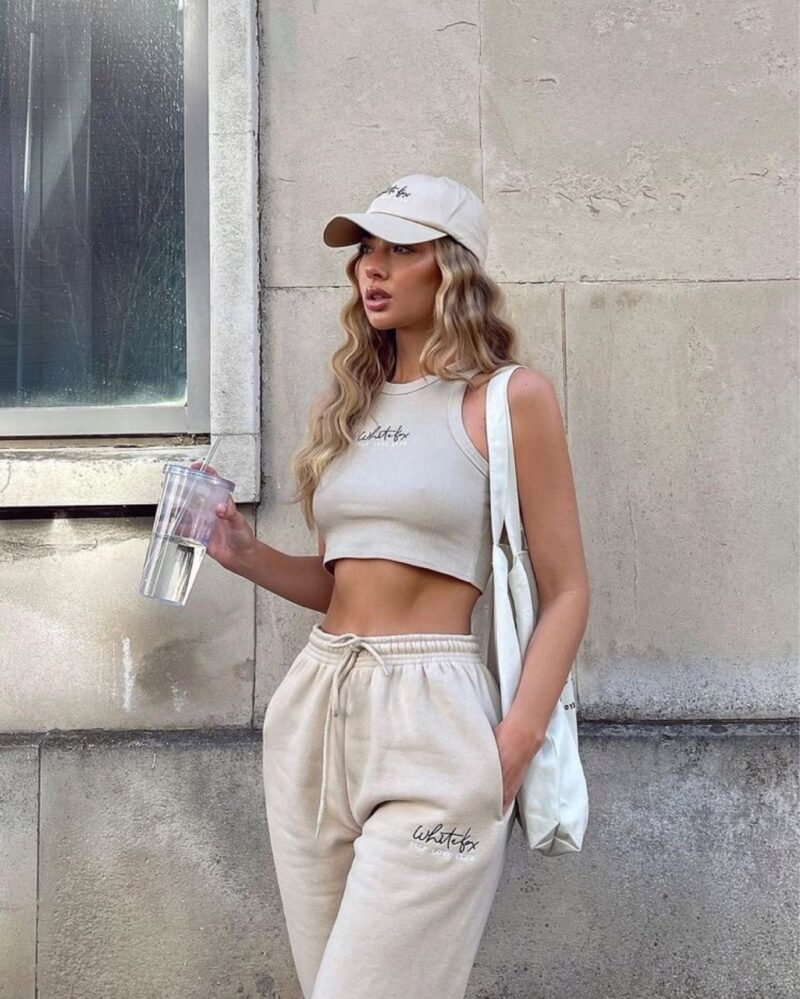 Keeping up with the neutral color scheme outfits on this list, here's another one you might like. For a comfy fit that's perfect for long hours, you can't get any better than this cropped top and sweatpants combo.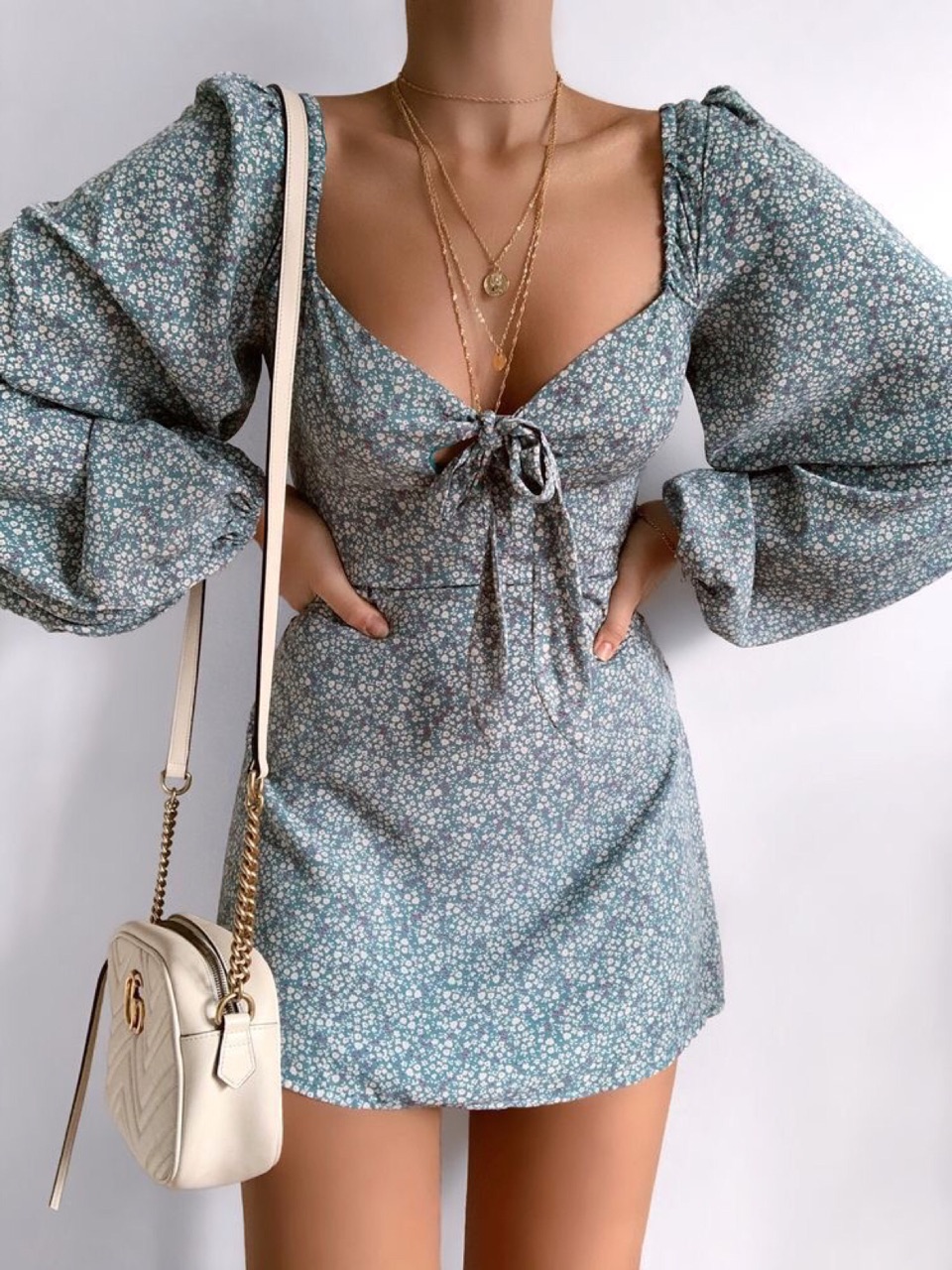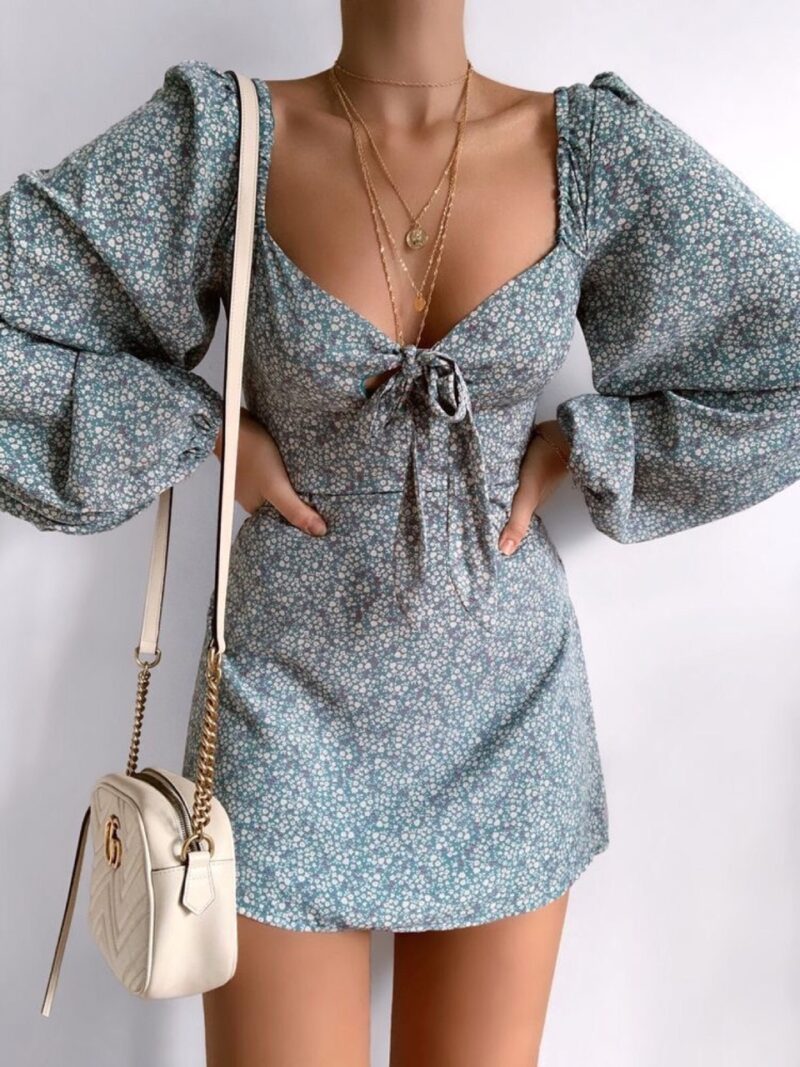 If you want a lighter, brighter dress with beautiful floral patterns, this is such a cute option! I'm a huge sucker for puffy sleeves and this one looks absolutely stunning!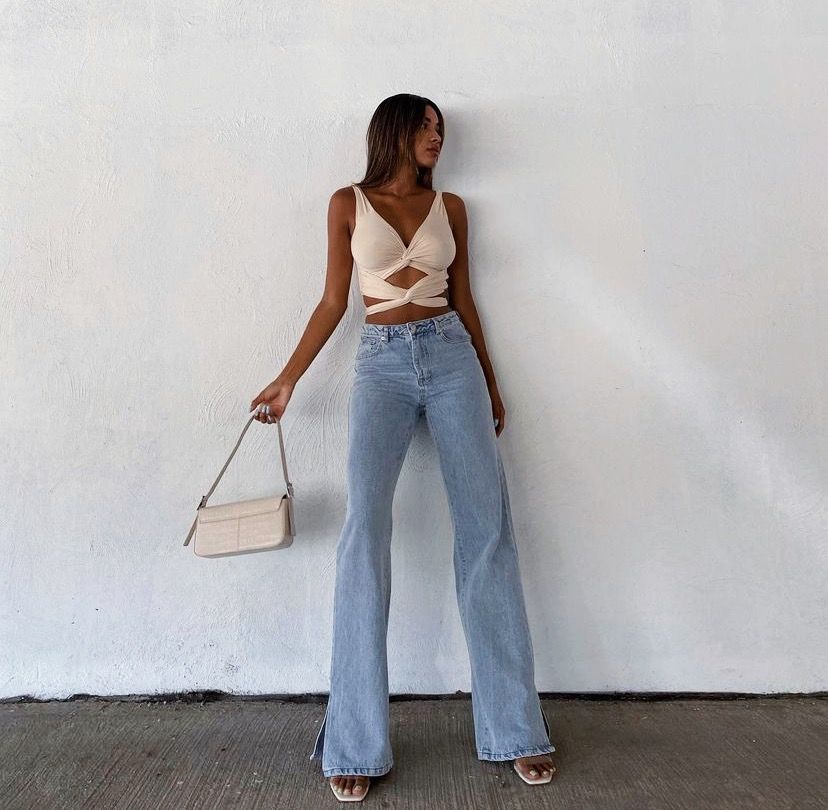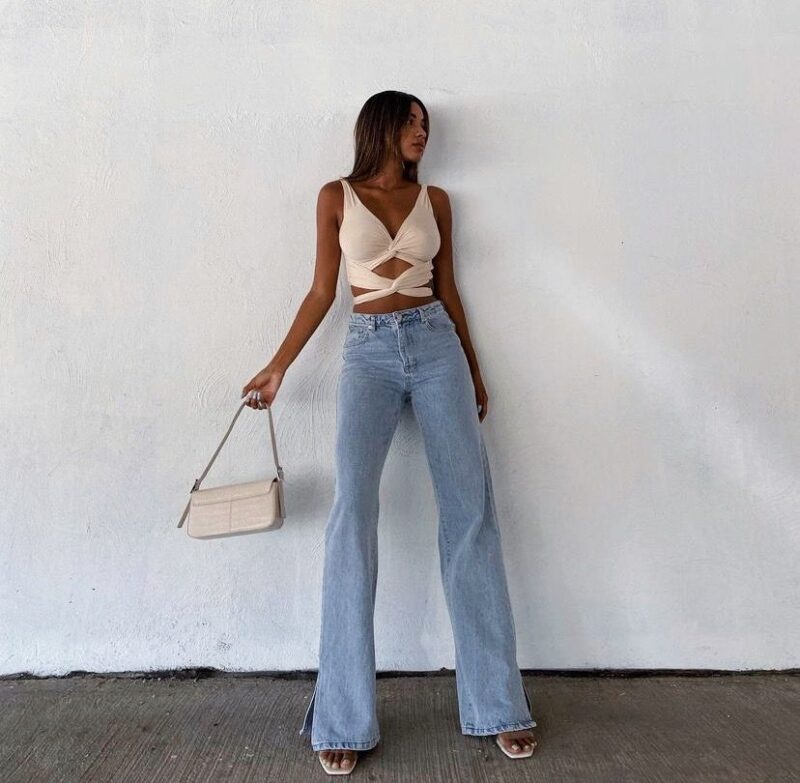 I'm loving this beige top and light-wash jeans combo! It looks sleek and sexy, but sophisticated at the same time. If you're looking for a casual summer outfit that's perfect for both daytime and nighttime wear, this is for you.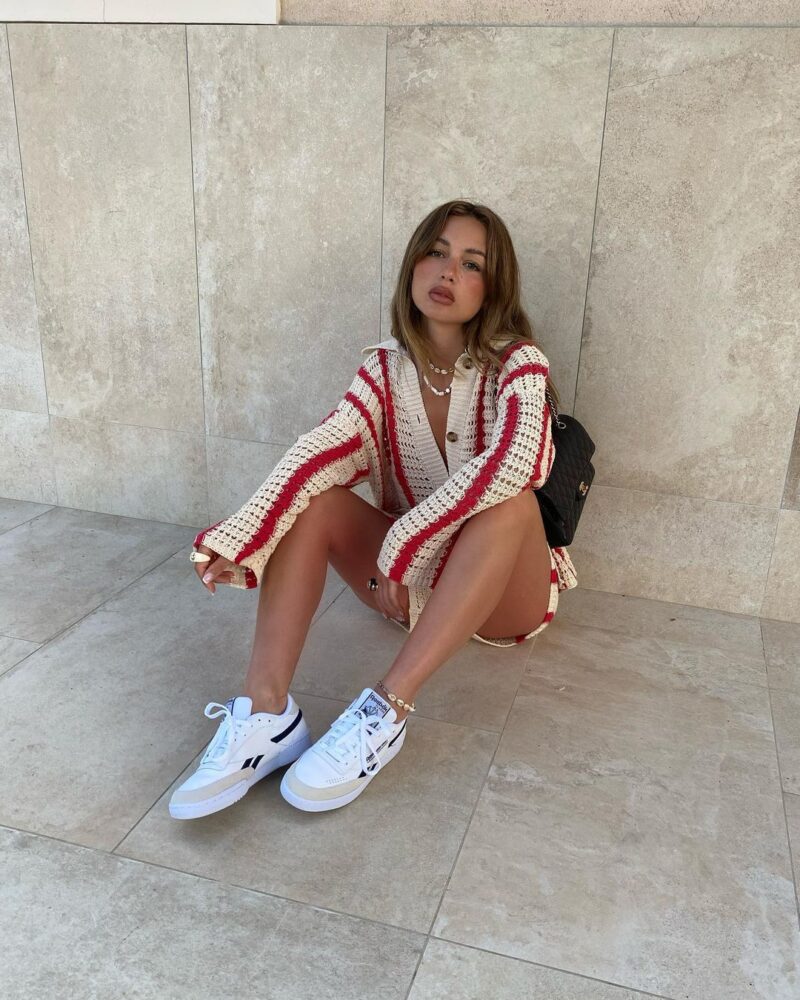 I just love a pop of red on any outfit. That's why I find this red-striped knit sweater and shorts combo utterly cute! It's so perfect for a beach day or brunch with friends.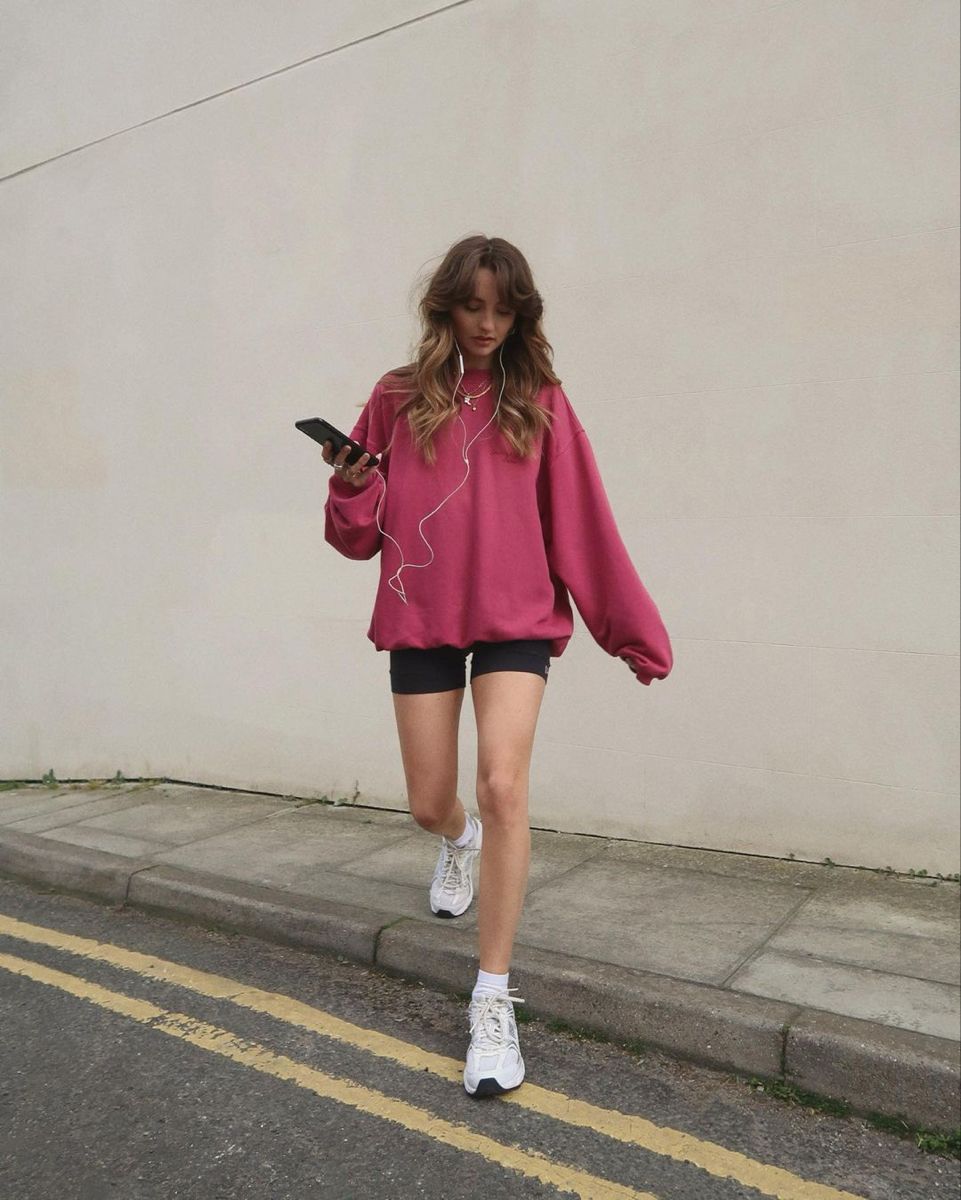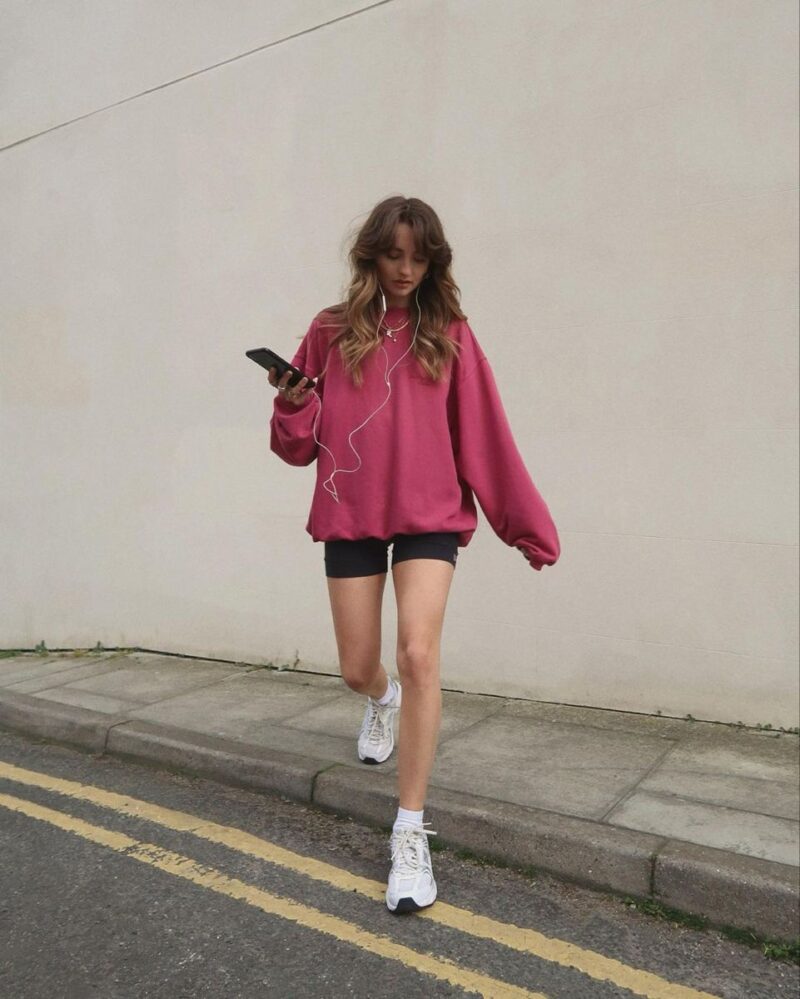 Nothing gets more casual than an oversized sweater and biker shorts on a hot, summer day. Wearing a sweater may not be your first idea but this would be perfect when we're nearing the fall season.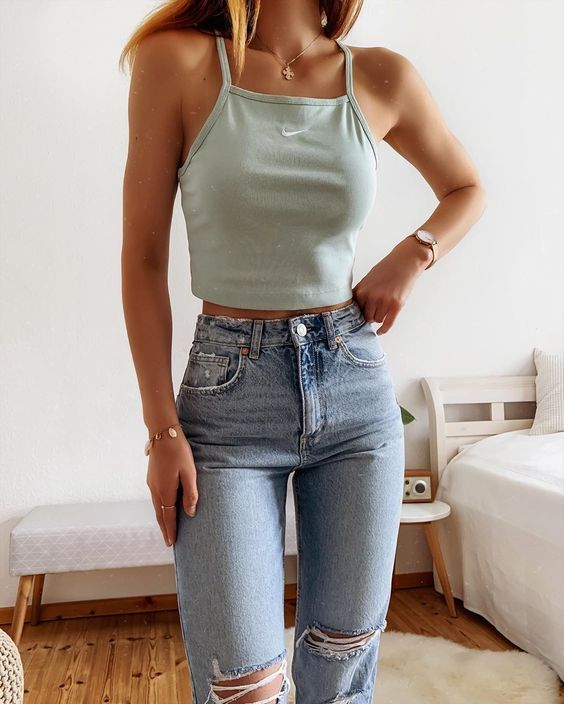 Sometimes all you need for the perfect casual summer outfit is a cute, cropped tank top and a pair of ripped jeans. It's not too fussy and you won't have to worry about sweating out in the sun.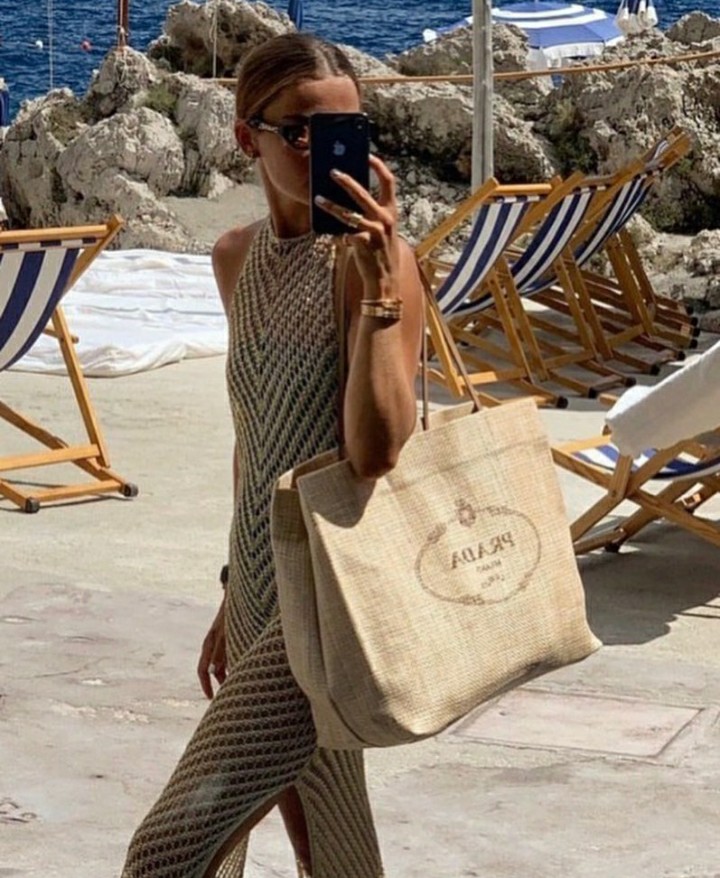 This maxi knit dress is utterly elegant and sophisticated! If you're looking for a coastal grandmother look that's a bit on the sexier side, this outfit is something to consider!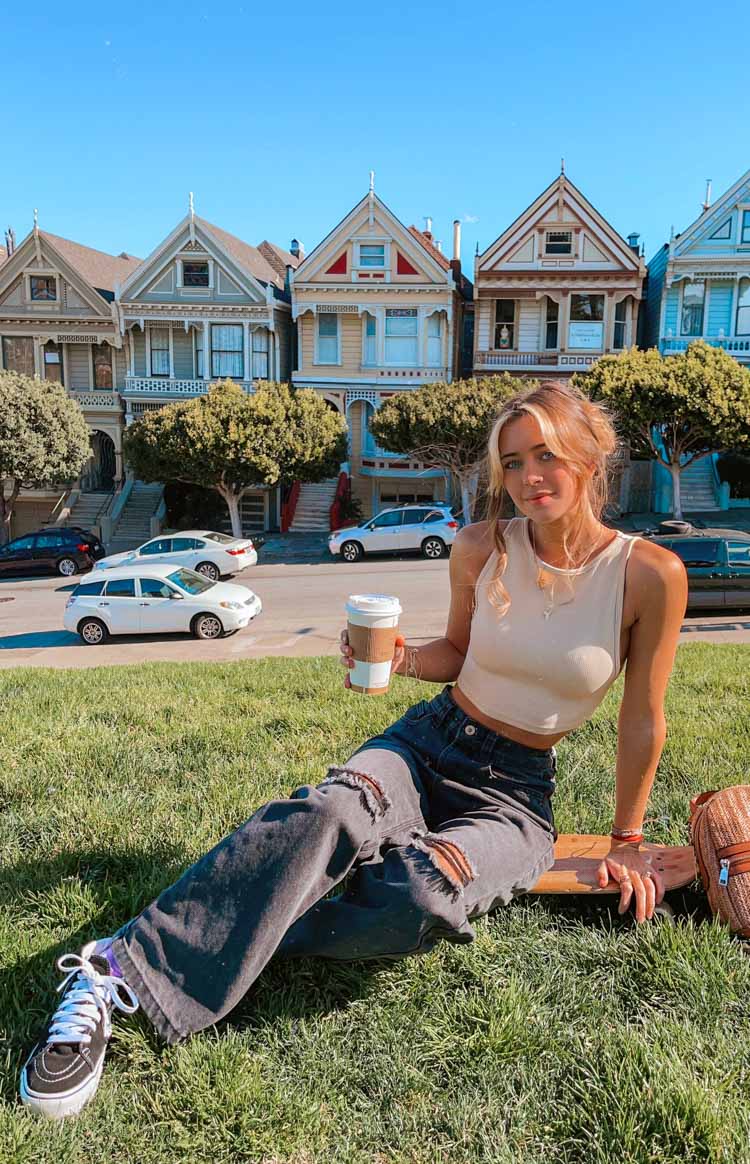 Ideal for any casual day out, a simple fitted, cropped top and dark-colored ripped jeans would certainly make you look stylish without much effort. You can also pair this outfit with your favorite jewelry and accessories!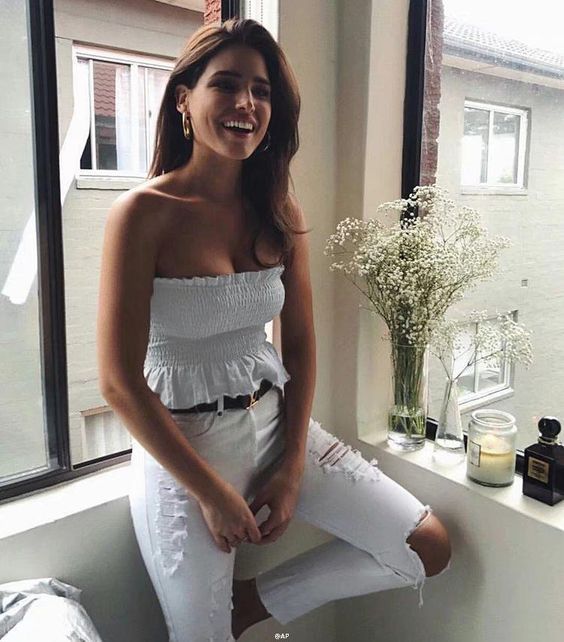 This all-white summer outfit is all too cute! You can opt for a dark-colored belt or something with bold hues for a pop of color to break the monochrome color scheme and keep the dimensions interesting.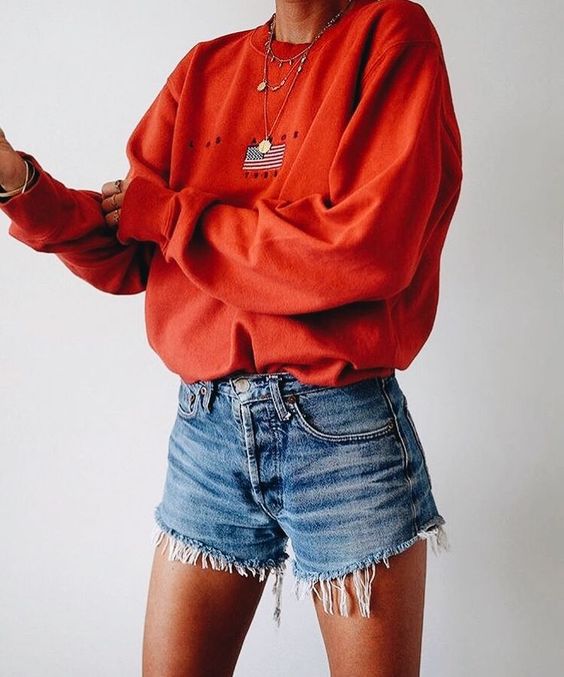 I'm totally loving this bright orange, oversized sweater! The color is perfect for the summer season and you can match this with a distressed pair of shorts.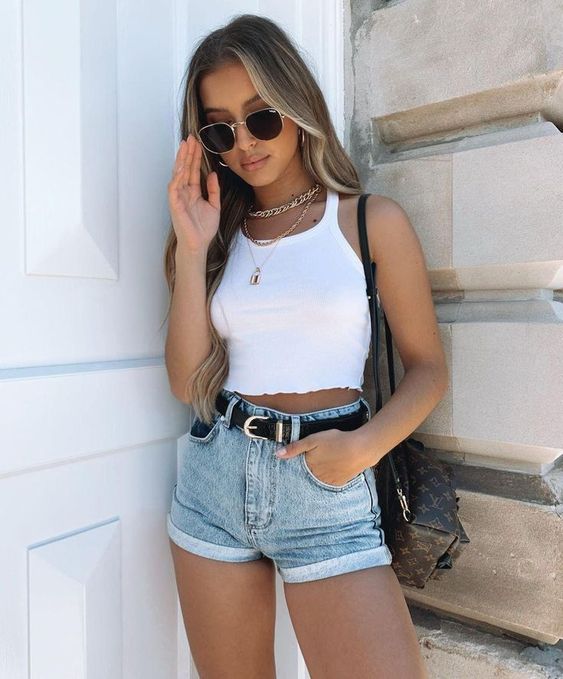 For a sleek, understated, and casual ensemble that would look good on any summer day, this classic white top and denim shorts combo is perfect for you! Wear some gold accessories for a touch of sparkle on your outfit.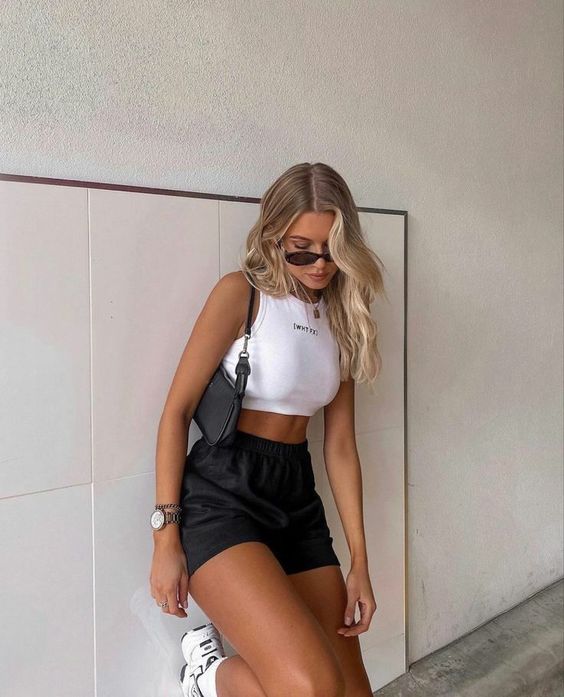 If you're not a fan of denim shorts or jeans, then how about these nylon shorts? They're not as tight-fitting and some pieces are very comfortable to wear for long summer days too!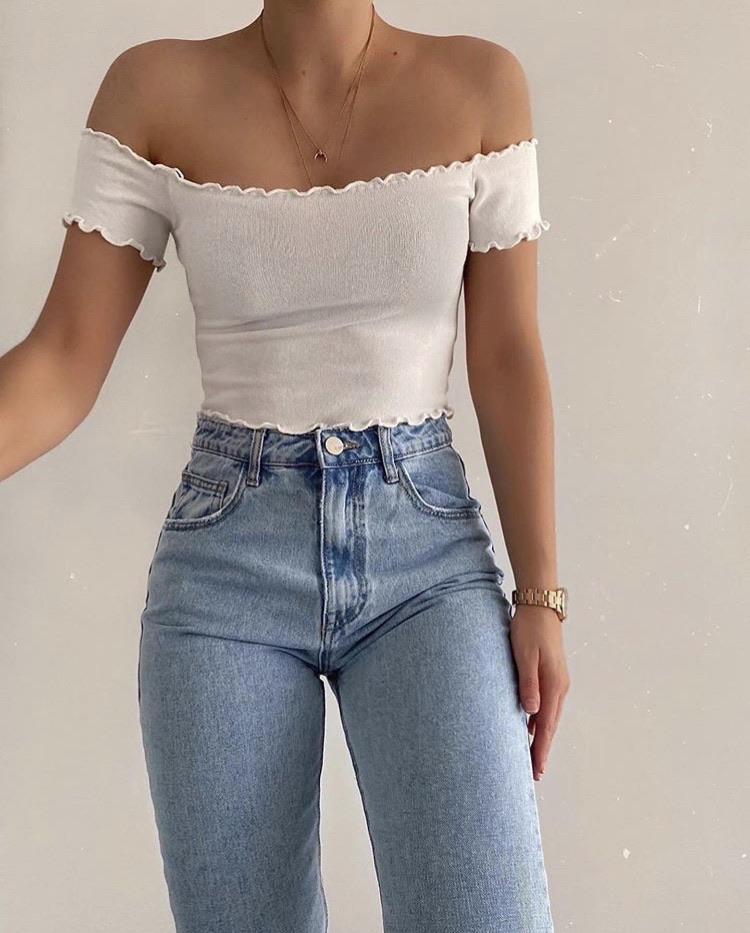 This off-shoulder blouse is so cute! If you're looking for an outfit you can wear for both spring and summer seasons, you should definitely give this one a try.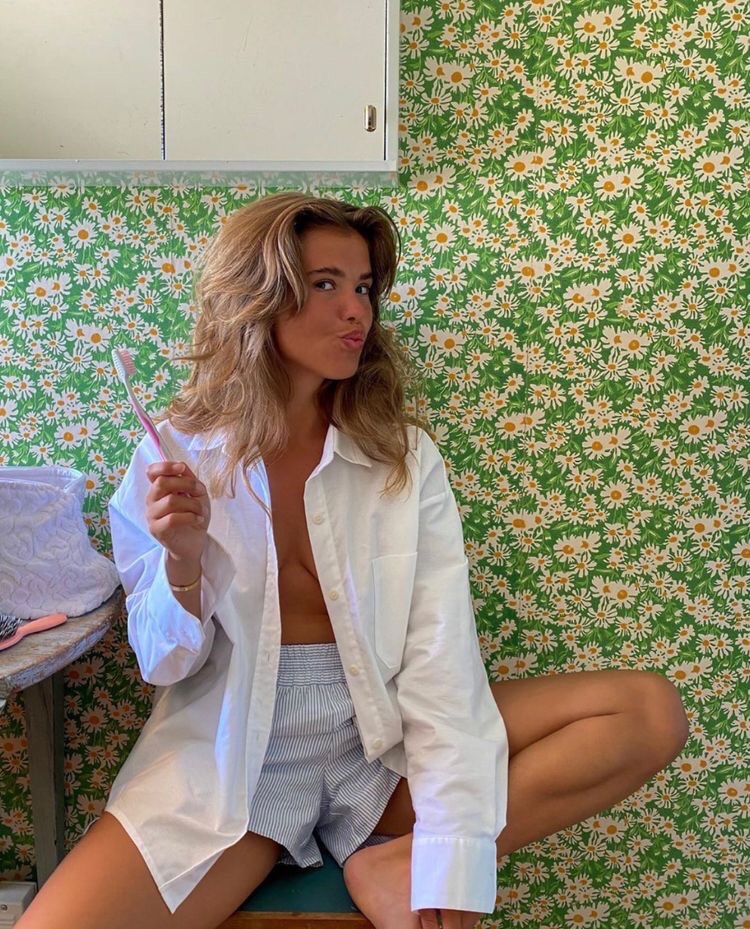 Perfect for lounging indoors all day long, this oversized polo and shorts combo is my ideal outfit for some cozy relaxation. Underwear is optional!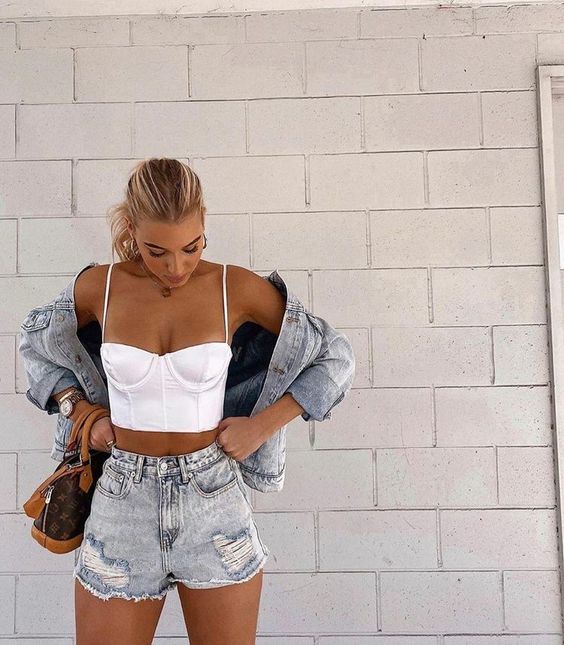 For a sexy, flirty look for your summer outfit, this white corset and denim combination is stunning! This would be so perfect if you're going to a mall or going shopping all day long.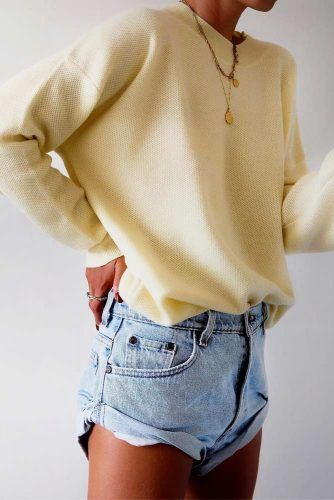 Yellow is one of my favorite things to wear during the summer season. It's just so summery and bright! And you can also pair this with any color of denim of your choosing.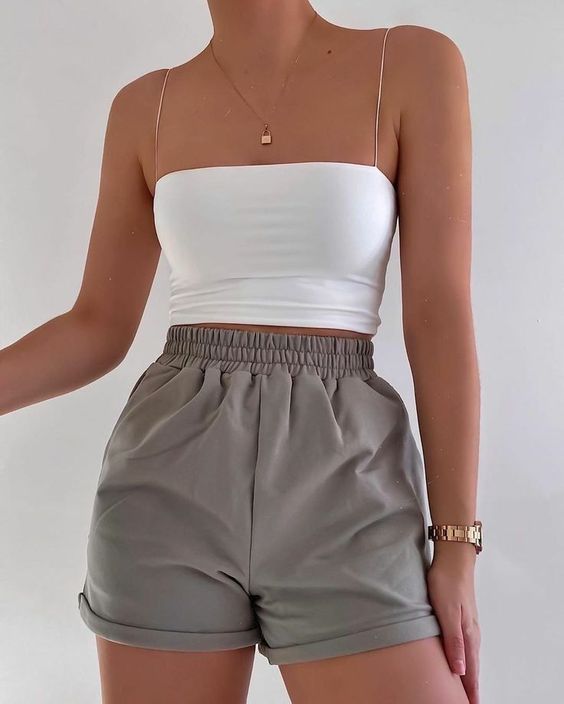 While I like to play with bold and bright colors during the summer season, I also love a neutral ensemble every now and then. They're just so understated and sophisticated!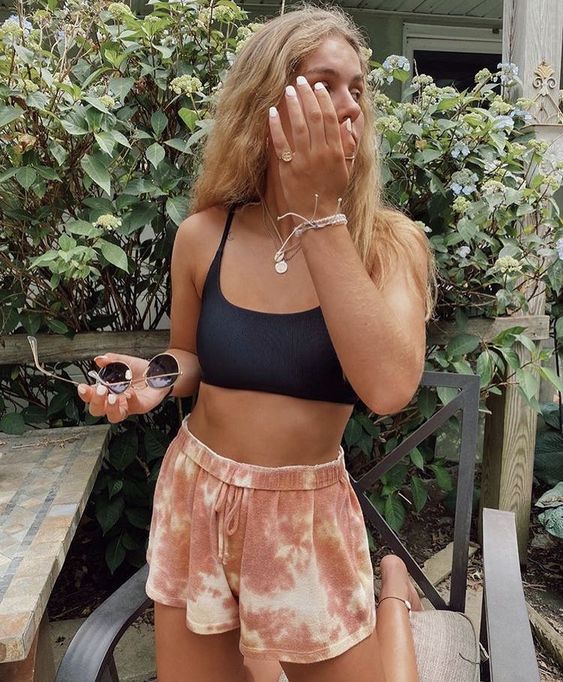 If you're attending a BBQ party or any poolside event, this outfit might just be an ideal fit! This is also perfect for a day of working out and exercising!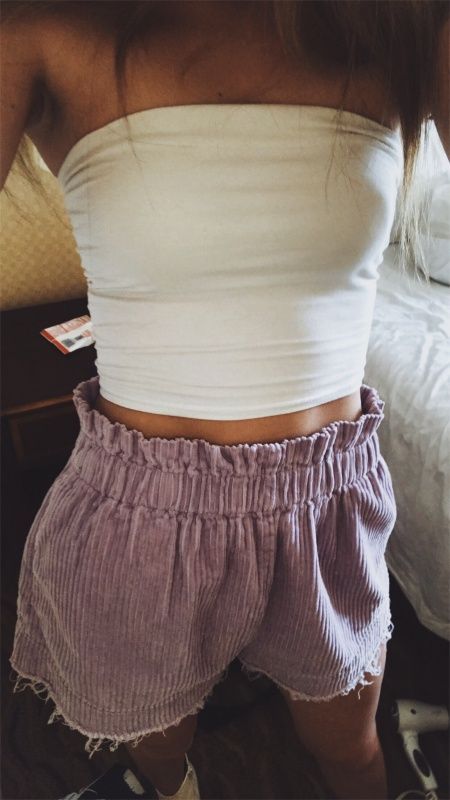 Here's another casual summer outfit that's perfect for staying indoors and just lounging around. These shorts have such a cute look to them and you can pair them with a simple tube top.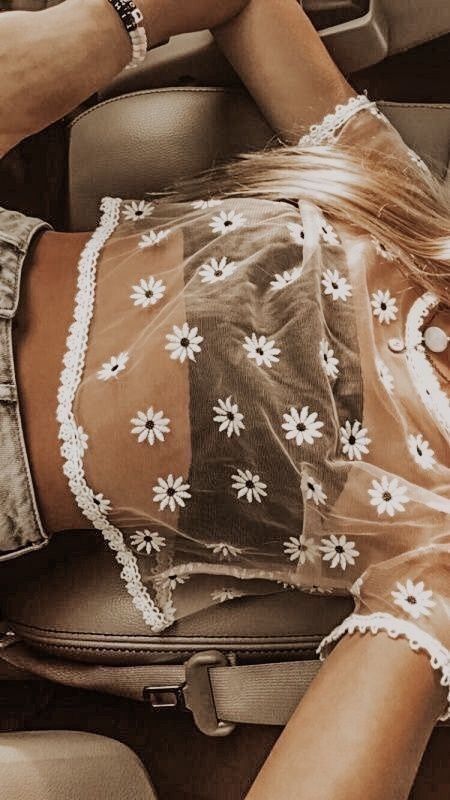 This see-through lace top is so cute and fun to wear! You can also opt to wear your cutest bra or tube top underneath to make this outfit even better!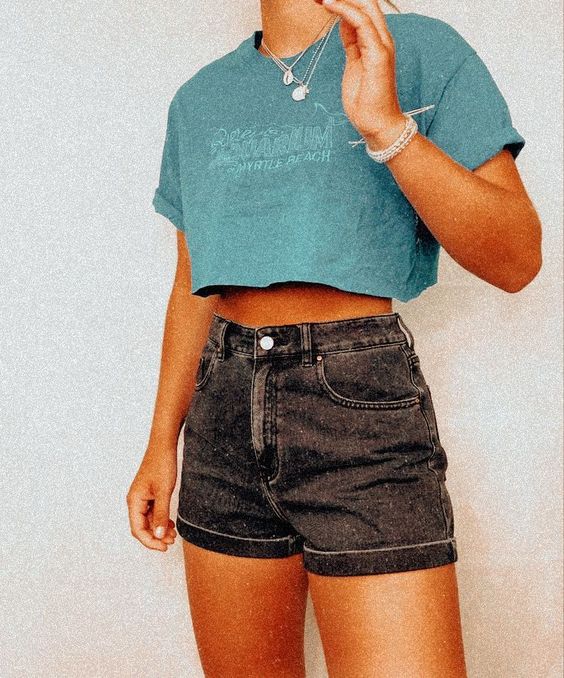 Summer is truly the season of cropped tops. And I totally understand why. They're airy, not too fussy, and you don't have to worry about overheating when you're out and about in the sun.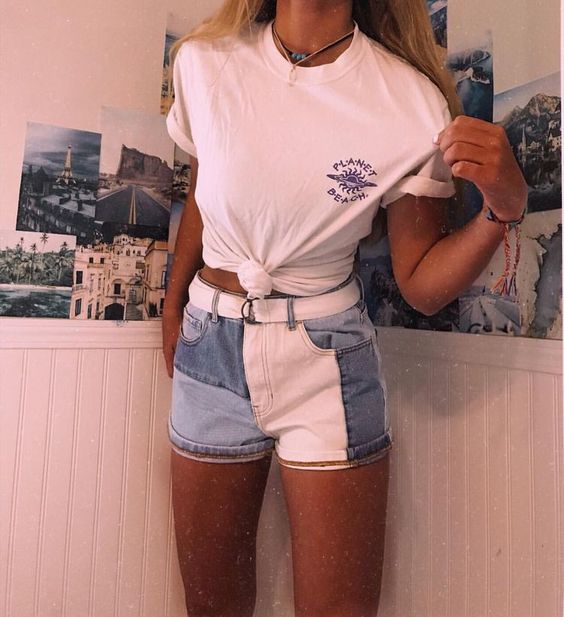 No cropped tops in your wardrobe? No problem! You can always tie the hem of your shirt like in the photo and pair it with your favorite denim shorts.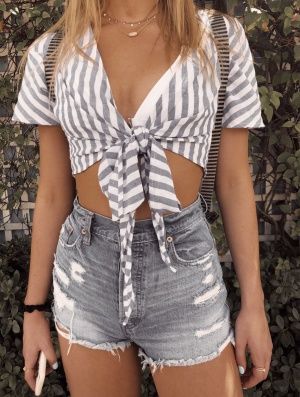 Stripey patterns are definitely the perfect designs to wear on your casual summer outfits. They give such fun dimensions to any ensemble! But this gray and white color scheme has such a cute, understated vibe.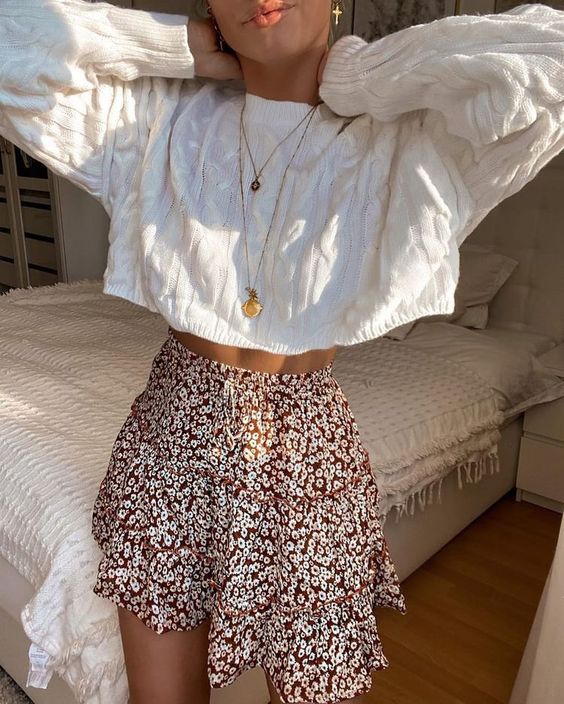 I usually wear and prefer knit sweaters during the colder seasons but if a summer outfit is going to look this good, then why not? This could be an ideal fit when you're on the cusp between summer and fall.
I'm loving these deep green denim shorts! There's just something about colorful denim that is so perfect for the summer season. You can pair it with a basic white top or combine it with another bold and vibrant-colored shirt.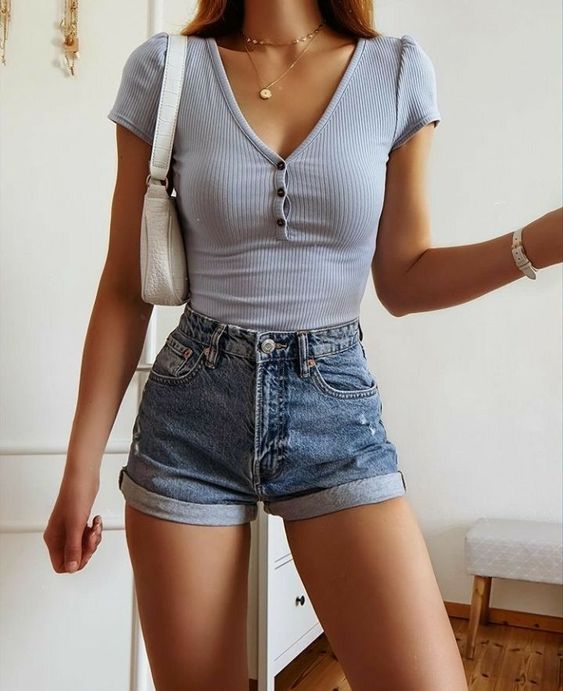 This muted blue-grey ribbed top has such a casual yet flirty vibe to it. if you like a summer outfit without a lot of fuss but still makes you look dolled up, this outfit is the perfect blend of that!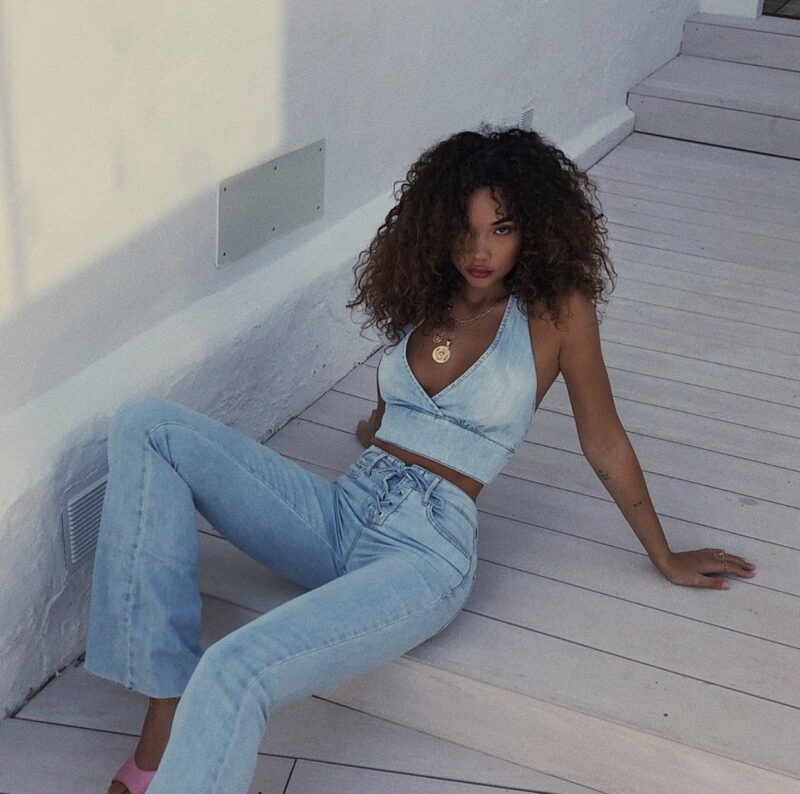 This all-denim ensemble is so chic! This would be such a cute outfit for your brunch with friends or any summer event! Pair this with some wedges or brightly-colored heels or platforms.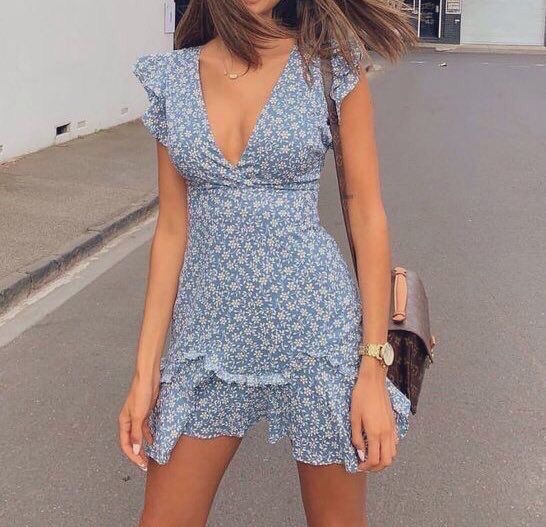 If you want a simple and casual outfit without looking too plain, a floral mini-dress might just be what you're looking for. These are such popular pieces nowadays and practically almost all brands carry a variation of this dress. So you won't have a hard time shopping for one!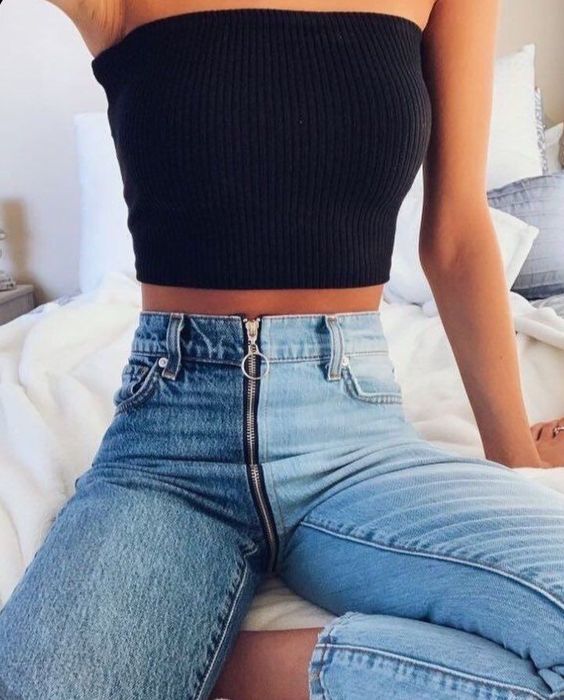 Tired of the basic white tops on this list? Why not go for something a little bit edgy like this black tube top? You can also add an oversized polo shirt over this outfit to make it a bit more sophisticated.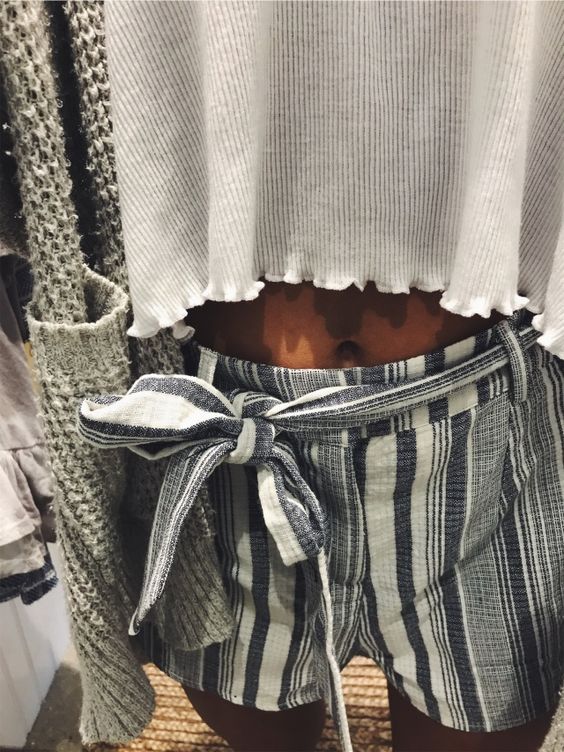 You've seen a bunch of stripey-patterned tops here but this outfit features a pair of shorts with stripes instead. This versatile piece of clothing can be paired with any casual blouse or shirt for the perfect summer fit.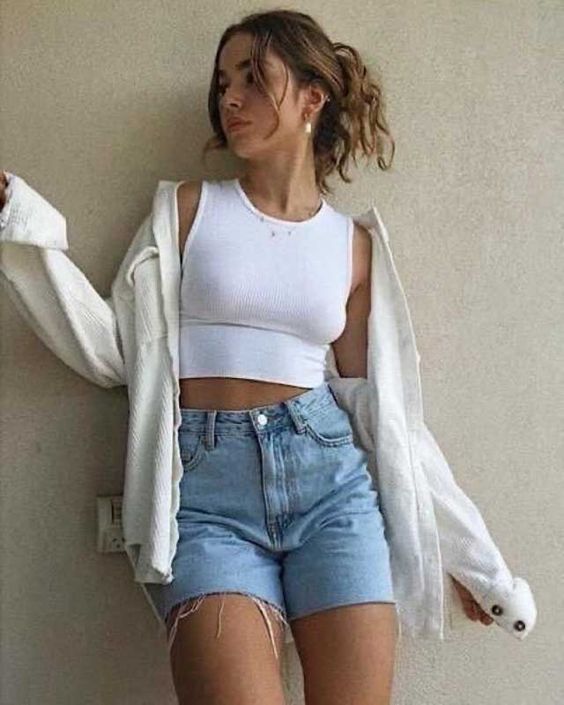 This is such a cute, coastal grandmother-inspired look! It's understated, it's casual, and has that touch of sophistication that this particular look usually goes for.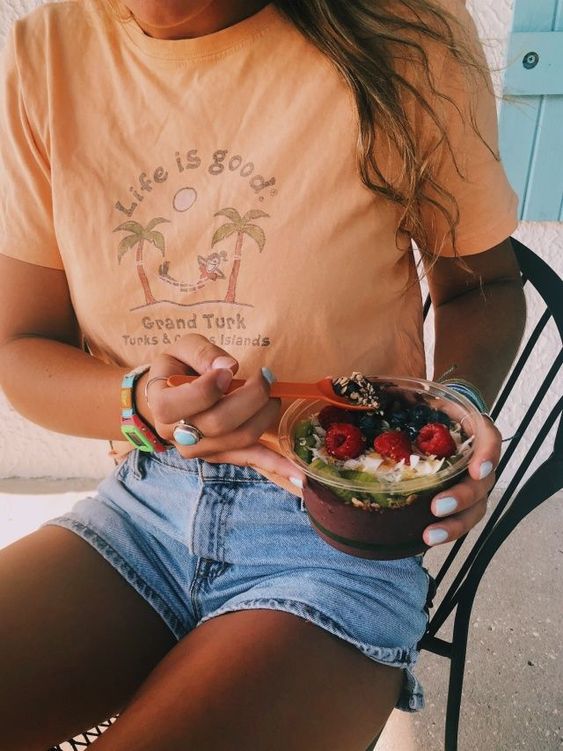 Nothing gets more casual than a simple shirt and a pair of denim shorts. It's an outfit that anyone can easily pull off and put together within minutes!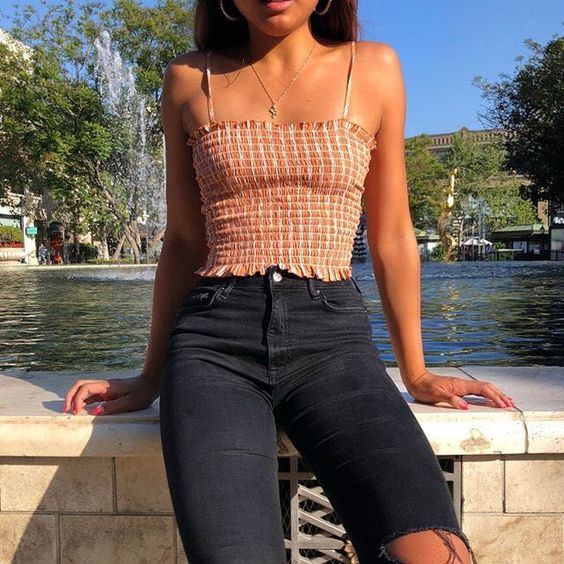 If you're looking for a contrast of colors with your casual summer outfit, then why not recreate this particular look? You can opt for a bright-colored top and a pair of dark-colored jeans. The good thing about a dark-colored pair of jeans is they can easily fit any style of top.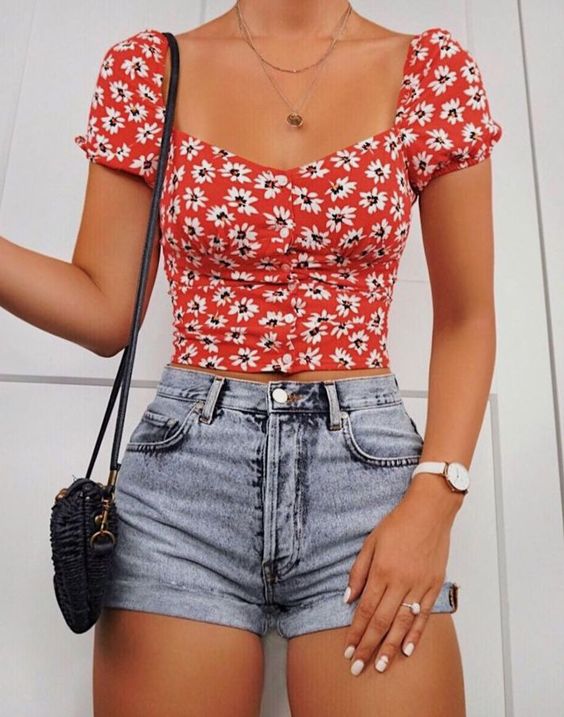 I love how cute and bright this red, floral puffy blouse is! It looks so flirty and it fits perfectly well with a tight-fitting pair of denim shorts. Perfect for a daytime date!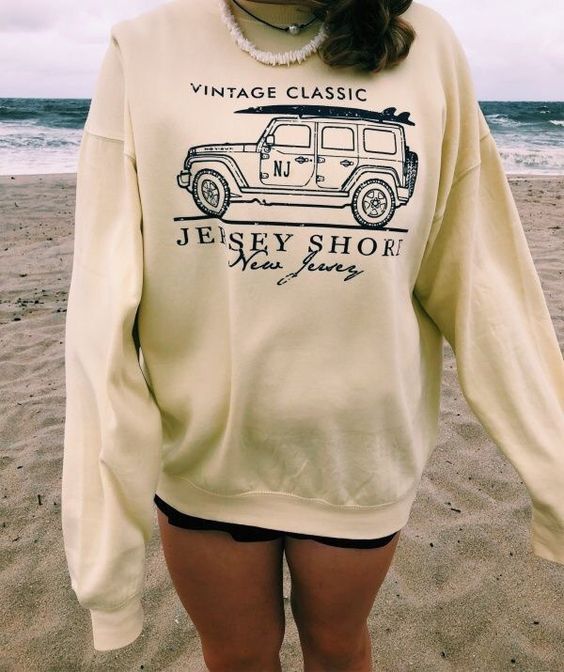 Who doesn't love a comfy, oversized sweater, right? While sweaters are usually for the colder seasons, you can also wear them on the beach. Particularly when the weather is a bit cooler that day or you're going when it's nighttime when it gets chilly by the shore.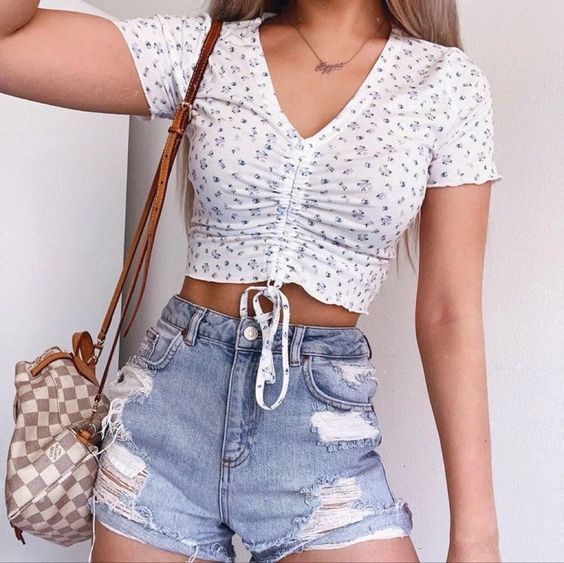 For a light-colored ensemble with playful floral prints, this is the summer outfit for you! You can also opt for a distressed pair of denim shorts to give the overall look a little edgy touch.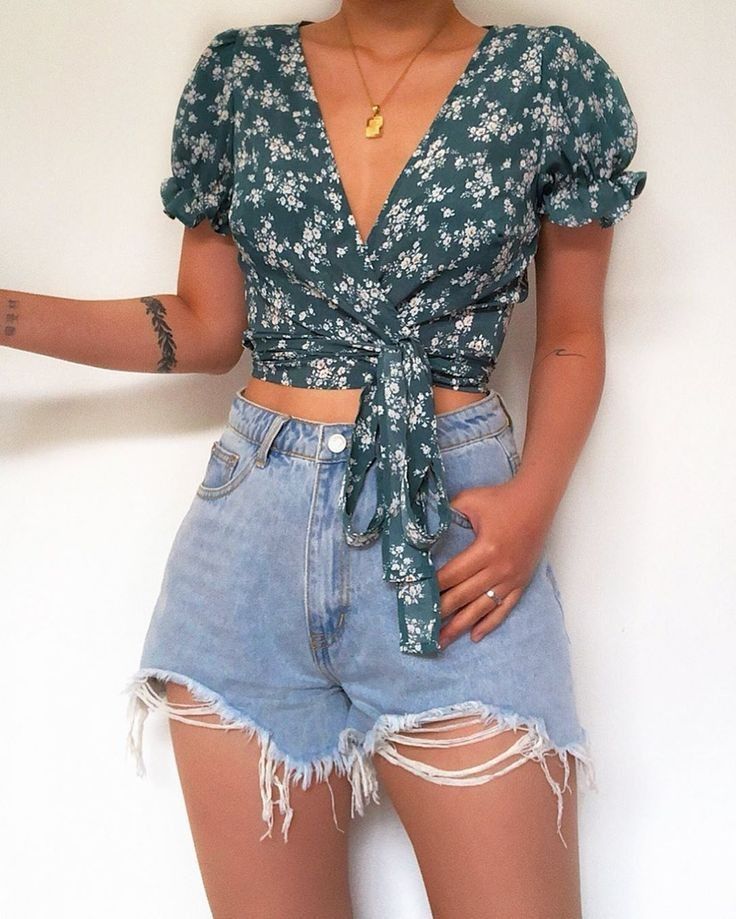 If a white, floral print top is a little plain for your taste, then this green-hued blouse might be more your preference. The ribbon around the waist gives this a more feminine touch too!
T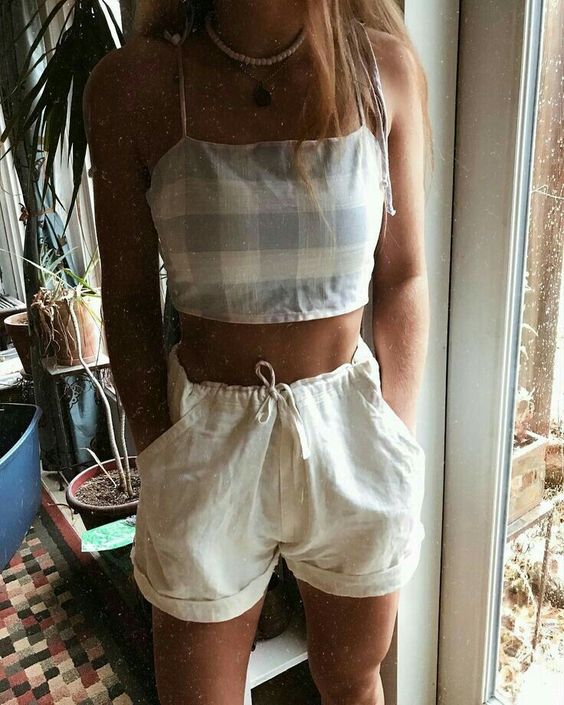 This gingham tank top and shorts combo are so gorgeous! It's casual and it just reminds me of the ideal summers by the beach.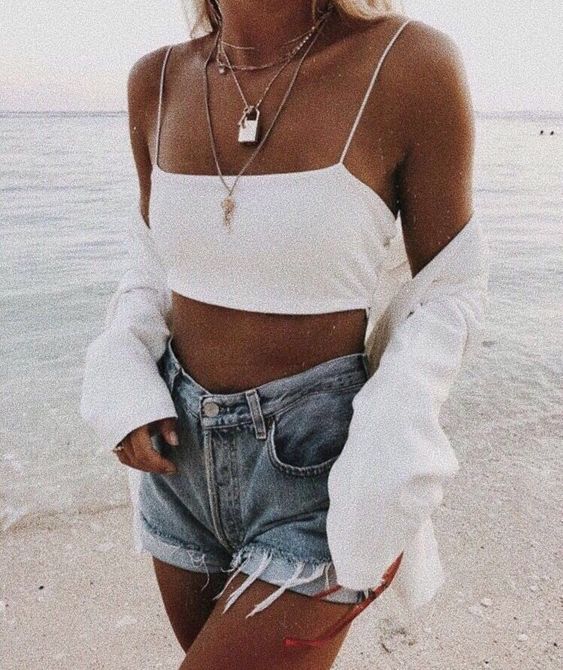 This tank top and oversized polo combo are such a cute yet timeless look that you can never go wrong with. When in doubt, go with a classic outfit right?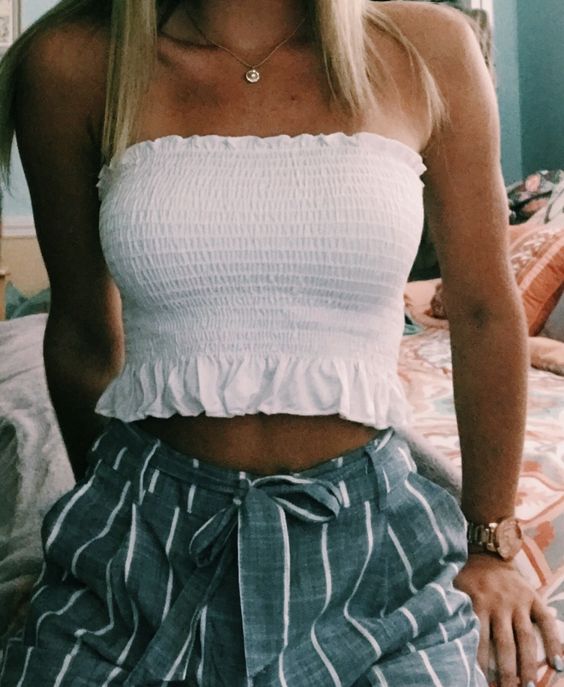 The summer season is the perfect climate for cute tube tops like this one! You won't have to worry about getting chilly and you can get a nice tan without worrying about pesky tan lines!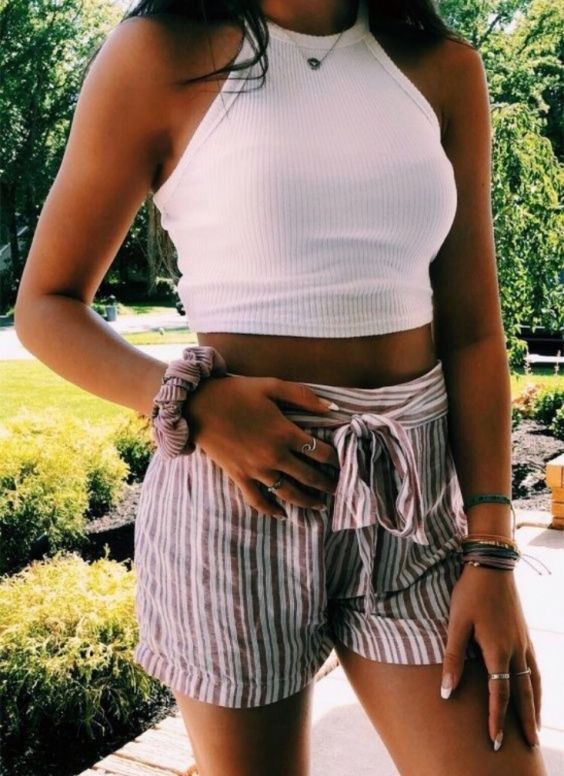 But if a tube top doesn't feel as secure or you have a heavier bust, a halter top like this one might be more suitable for you during the summer season.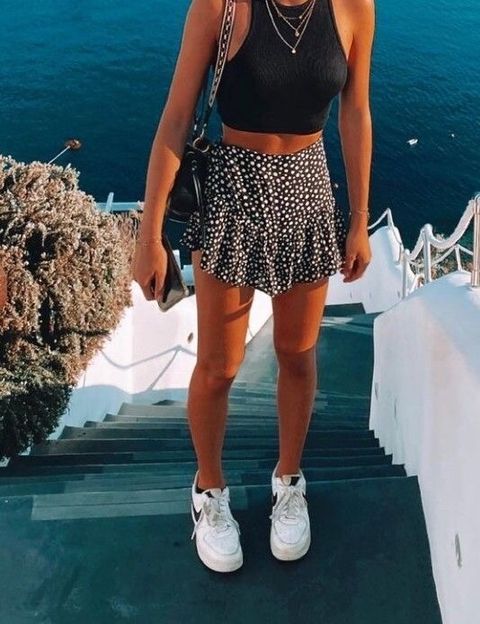 I just love wearing skirts during the summer season. They're so flowy and you can comfortably wear them for long periods without a worry!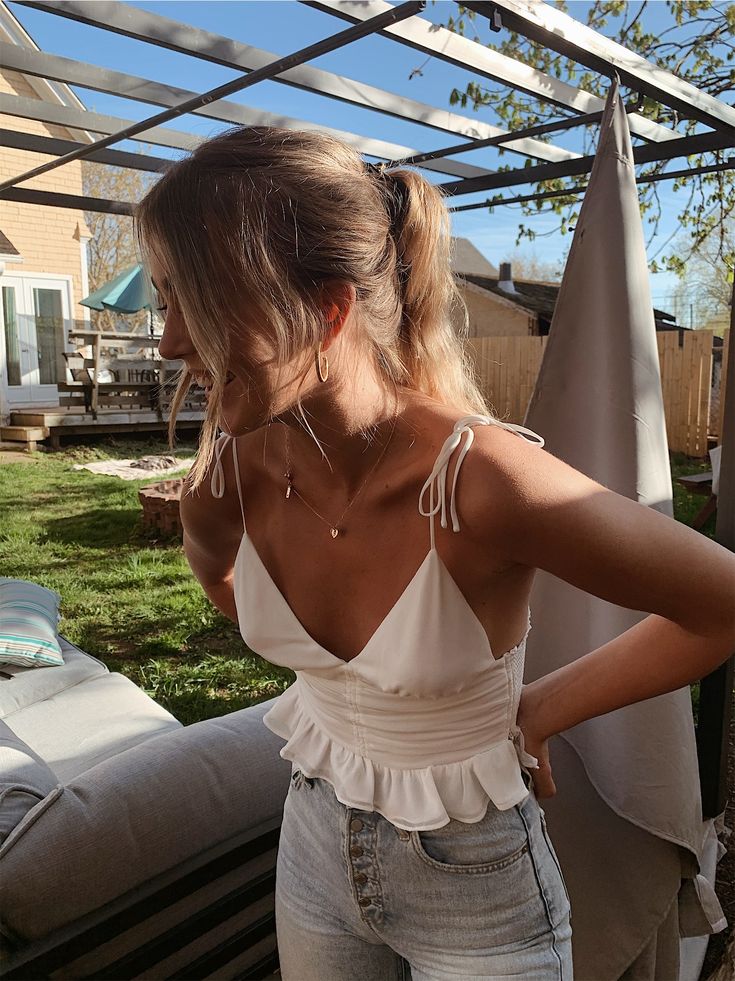 I love how stunning this white top is! You can pair this with denim bottoms like jeans, shorts, or even a mini-skirt!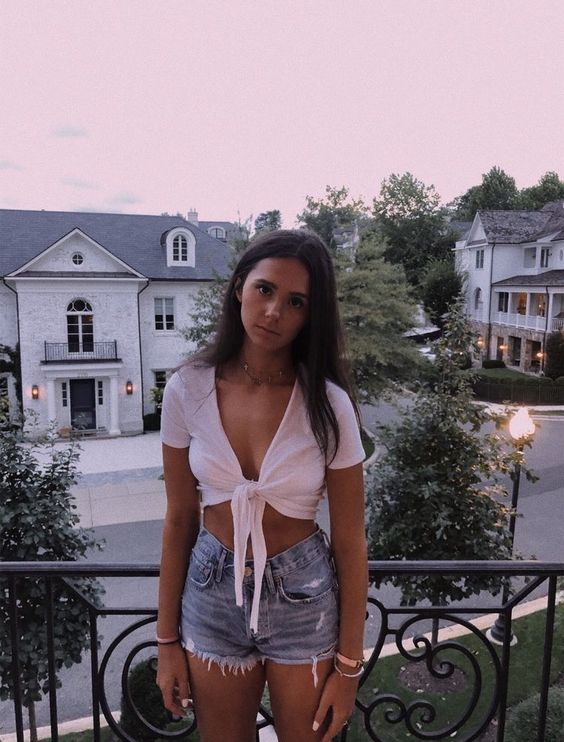 If you want a cropped top with sleeves and you can tie it on the front, then this is a cute outfit perfect for you!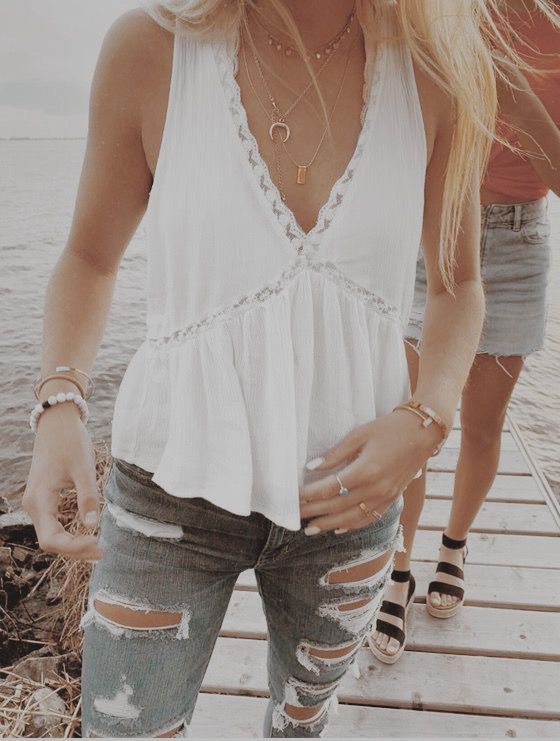 For those who want something a bit loose and flowy, then this cute, sleeveless top is for you. Though I would definitely rather pair this with some denim shorts for a flirtier outfit.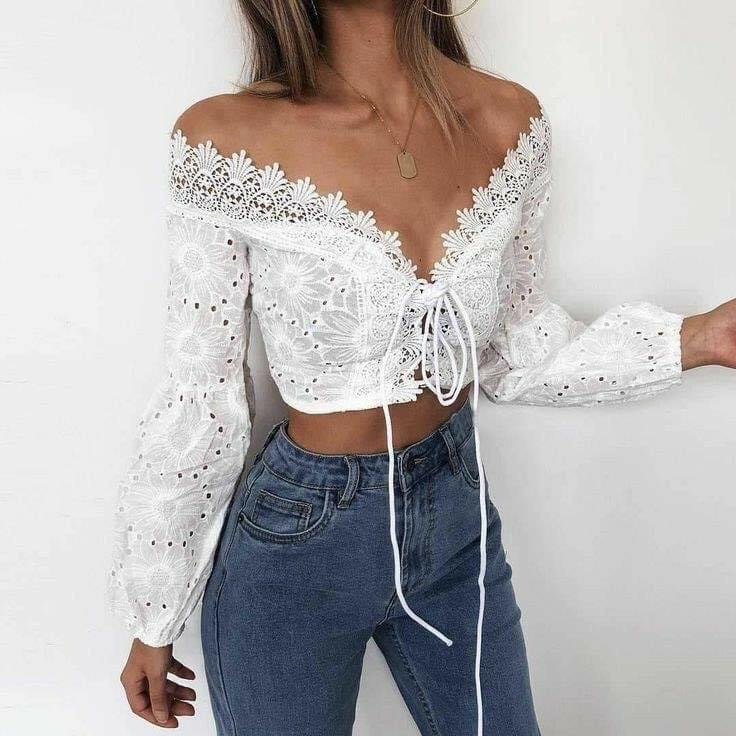 Laser-cut blouses like this one give such an intricate and feminine vibe to your summer outfit. If you're attending brunch or going on a lunch date, this would be such a cute summer outfit to wear!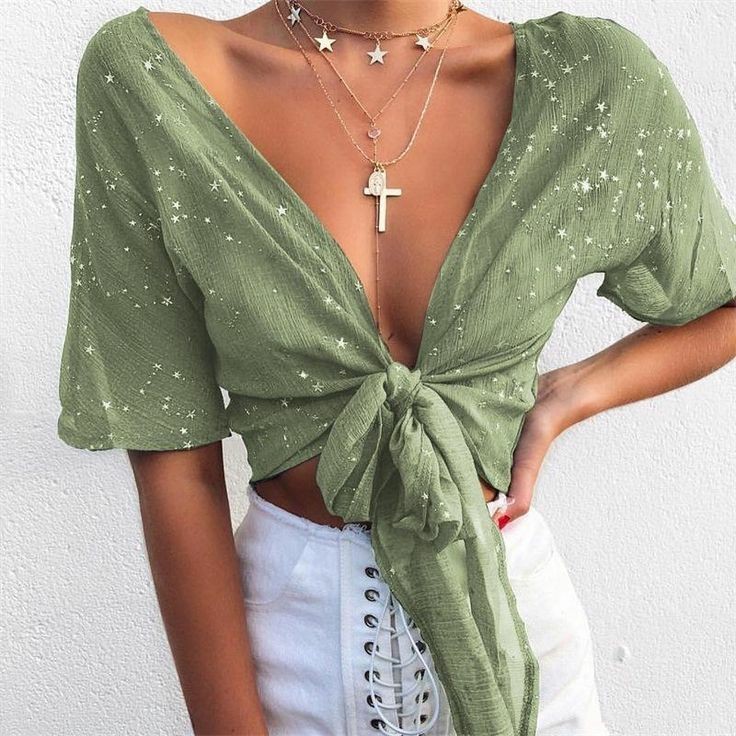 This outfit gives me such cottagecore vibes! It has this whimsical feel while still maintaining a cute, casual look for the summertime.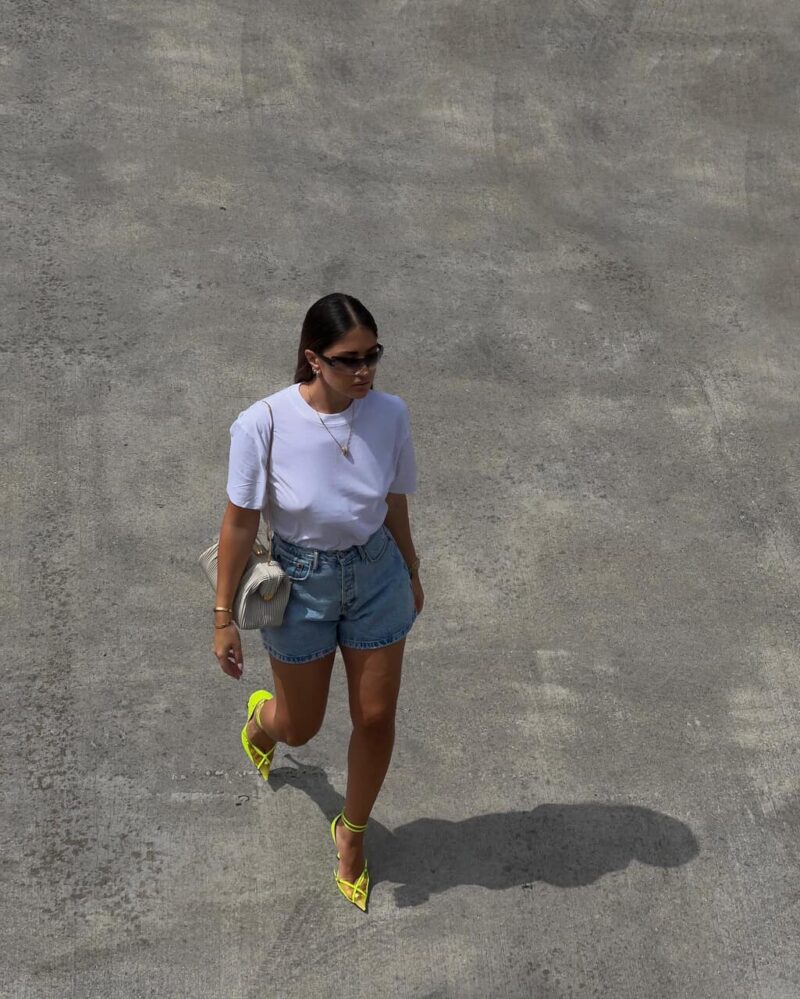 Make a statement with bright, neon green heels to spice up your casual summer outfit!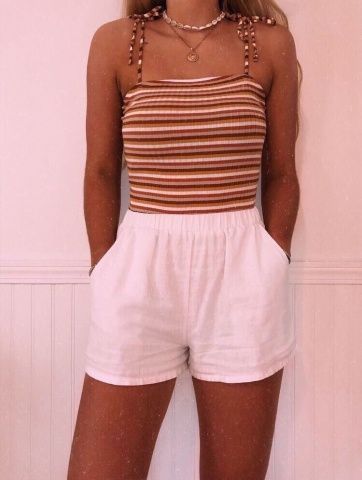 Here's another cute summer look that you can easily pull off! Whether you're staying indoors or running errands or maybe even going for casual dates, this outfit won't let you down!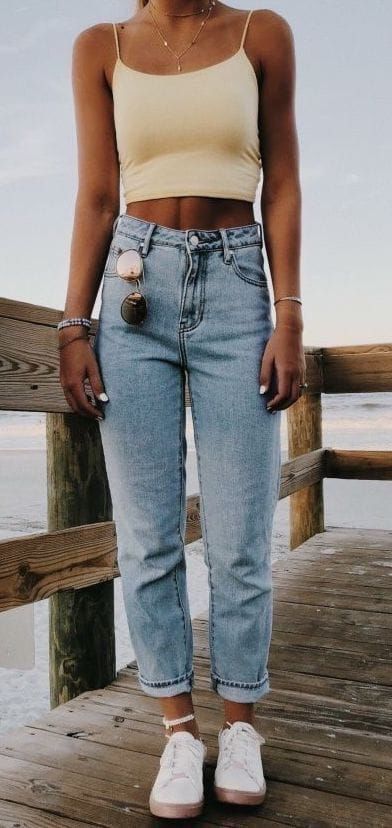 Forego the usual basic, white tank top and pick out a bright, yellow top instead for a more summery look!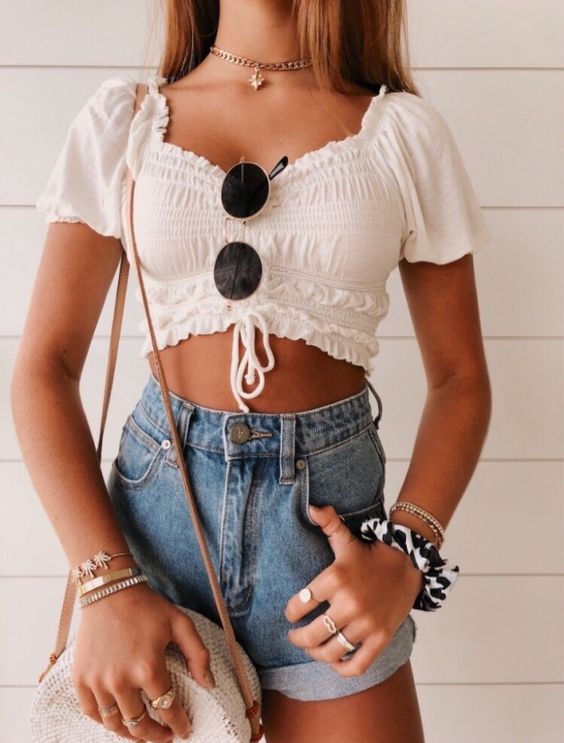 I just love these kinds of blouses. They just look so feminine, soft, and a little bit whimsical. You can also wear this during the spring season!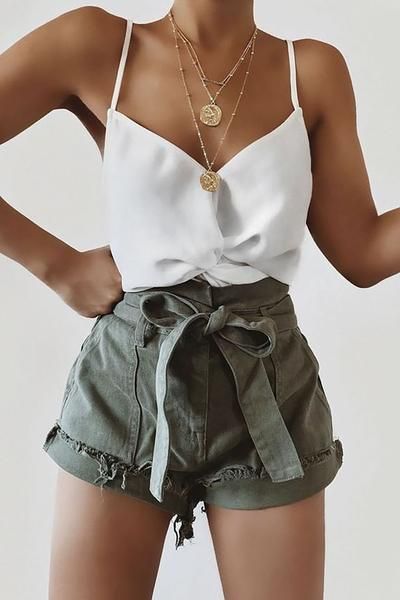 This has got to be my favorite pair of shorts on this list. It has an elegant and sophisticated touch that can be worn in any daytime summer event or party.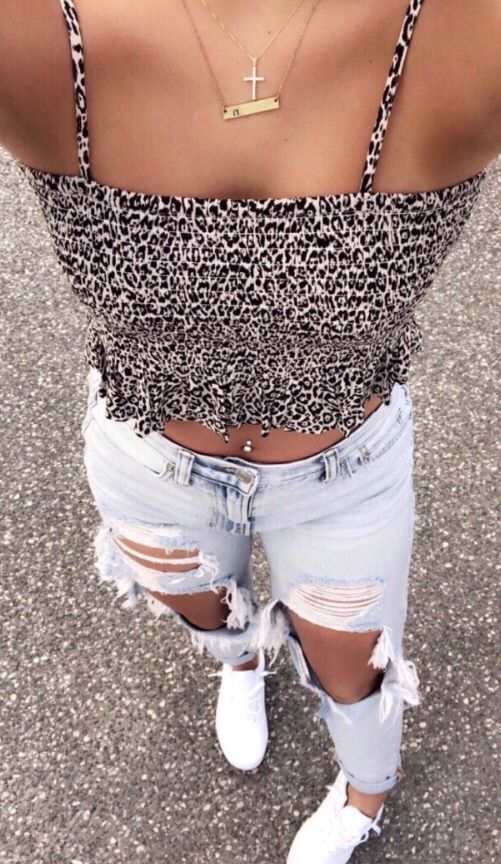 This animal-print tank top would be so cute and fun to wear! If you're looking for a top with interesting prints and patterns, this is an outfit to consider.
Where To Wear Casual Summer Outfits:
If you're wondering where you can actually wear these cute summer outfits, here are some ideas!
1. The beach – Whether you're going for a swim or just soaking up the sun, a casual summer outfit is a must-have for any day at the beach.
2. A backyard barbecue – From grilling hamburgers to playing lawn games, a relaxed summer outfit will keep you comfortable all day long.
3. A music festival – With so much walking and standing, you'll want to be sure to wear a pair of comfortable shoes. A cute summer dress or romper is the perfect choice for a day spent listening to live music.
4. A picnic in the park – Pack a picnic lunch and head to your favorite park for a casual summer outing. Don't forget to bring along a blanket or towel to sit on.
5. A day of shopping – Whether you're hitting the mall or browsing through your favorite boutiques, a comfy pair of shorts and a cute top will keep you cool and stylish all day long.
6. A House Party – You want to be comfortable but also look good. A pair of denim shorts or a flowy sundress is the perfect choice.
7. 4th Of July – Celebrate America's birthday in style with a patriotic outfit. Pair a red, white, and blue striped top with denim shorts or a star-spangled skirt.
8. A day at the zoo – Wear comfortable shoes and clothes that you don't mind getting dirty. A romper is a great option for a day of animal watching.
These casual and cute summer outfits are perfect for any number of activities and events. With a few key pieces, you can create a variety of looks that will keep you cool and stylish all season long. Happy summer!