Valentine's Day is such a fun, extra holiday that can be done in a really classy way. I love decorating my home, baking, finding a gorgeous outfit, and even doing my nails for the holiday. In fact, Valentine's Day nails are one of my favorite parts of winter!
This year, I wanted to compile my favorite trendy Valentine's Day nails in one place. These nails are various shades of pink and red, but they're very classy and on-point for current nail trends.
Most of these nails are either acrylic or dip, but you can also find similar press-on nails on Etsy that are super professional if you don't want to go to a salon.
There is, however, no better time to head to the salon than before a Valentine's Day date night!
Valentine's Day Nail Trends:
This year, there are specific Valentine's Day nail trends that are especially popular.
The Minimalist Heart Design: If you want a look that's classy but still has a nod to V-Day, choose a neutral or red-toned color and add a few minimalist hearts. You'll see plenty of these Valentine's Day nails in the example photos below.
Heart Tips: Instead of French tips, opt for a heart shape. This is a really trendy look right now that's perfect for Valentine's Day!
Black On Black: The color black is especially popular right now and there are so many gorgeous (and kind of French-girl) ways to incorporate this into your Valentine's Day nails. Check out the inspo photos below to see what I mean!
Valentine's Day Nail Inspiration:
Here are my favorite Valentine's Nails for 2022. I recommend bringing your favorite pics to your nail technician if you want it copied exactly.
Enjoy!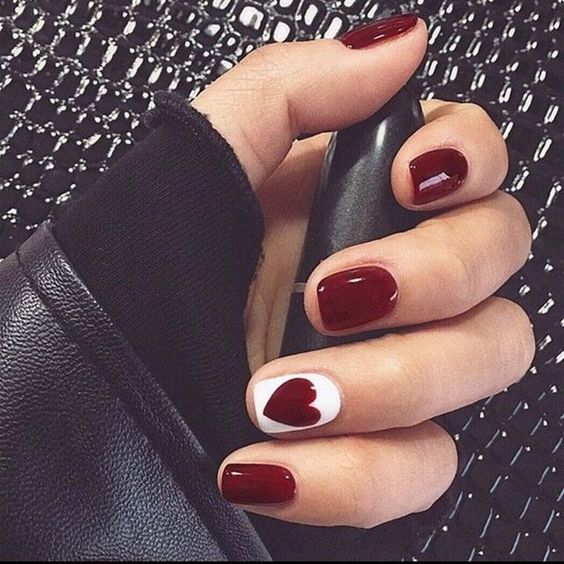 When you're doing a Valentine's Day manicure, you can't possibly leave out the hearts! If you're planning to do Valentine's Day-themed nails, this gorgeous deep red shade is something to consider as well.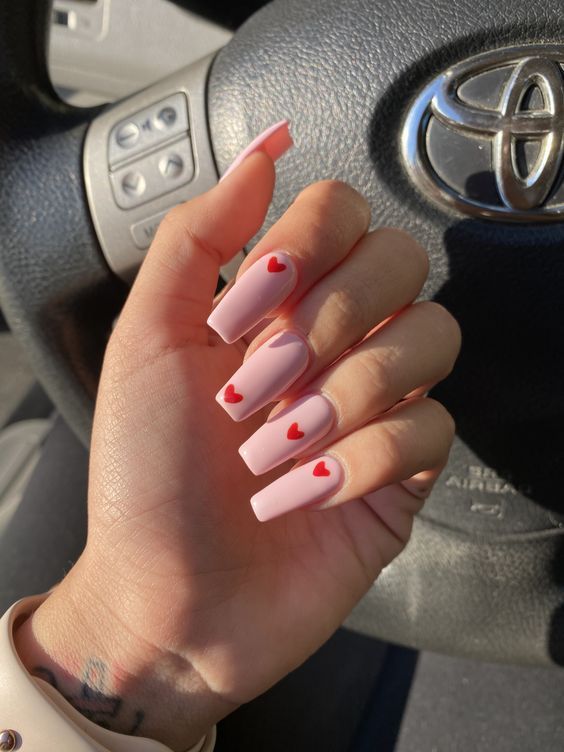 For a more feminine touch that will give your nails a fun and flirty vibe, these soft pink nails with red dainty hearts will certainly do the trick!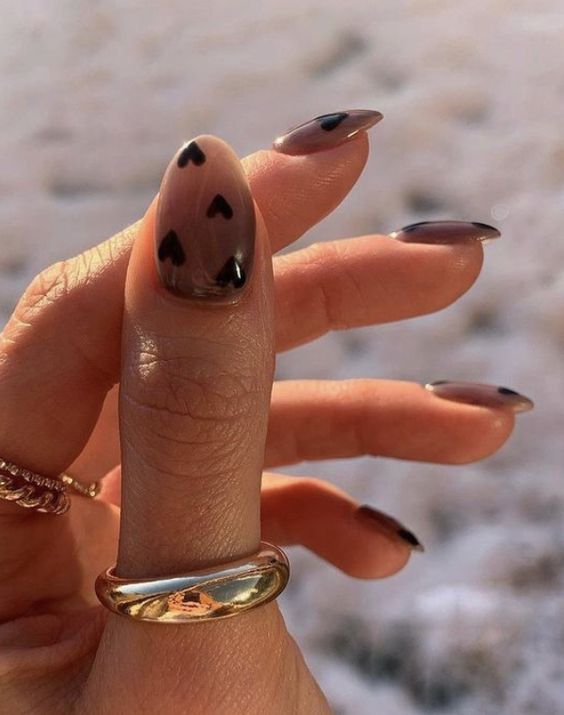 If you want something more chic and understated, why not try doing black jelly nails topped off with hearts? This will give your nails that beautiful sheer jelly-like appearance that's so trendy these days.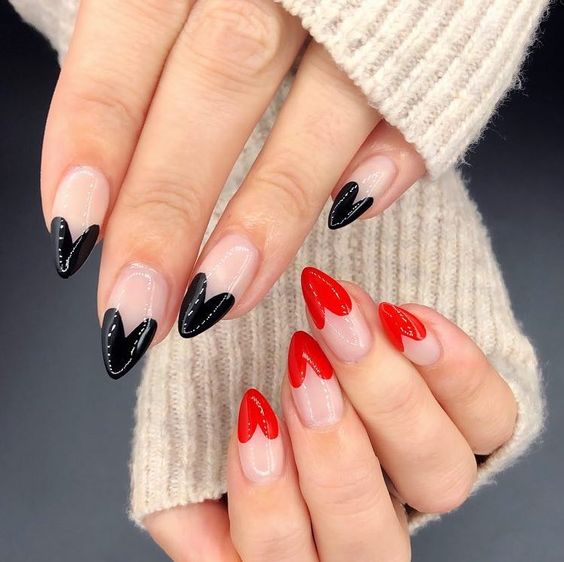 Forego the classic French tip and instead, do heart-shaped tips for this year's Valentine's Day! You can even mix and match colors like black and red for each hand.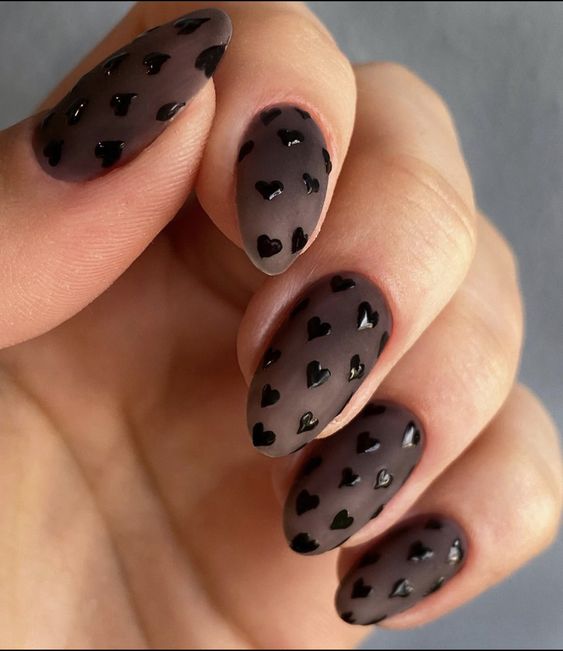 Here's another iteration of the previous black jelly nails. Though this one features a matte finish. So if you're not into the glossy or jelly-like effect, this one is for you.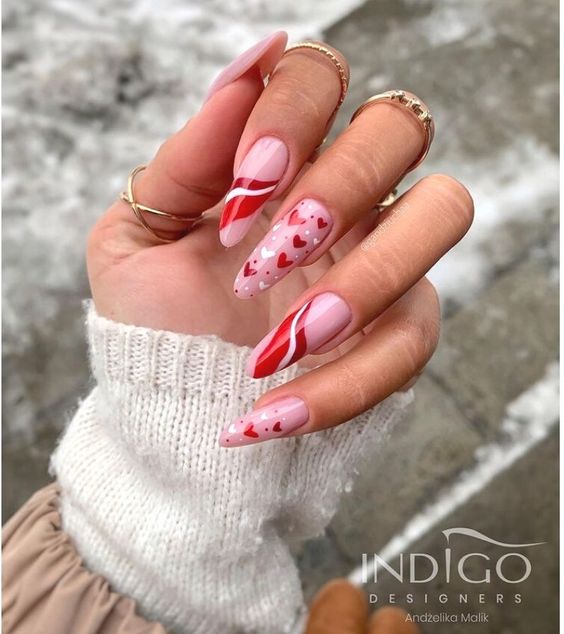 You'll surely feel that love is in the air with these fun and quirky nails! I love the abstract lines as well as the heart-filled accent nails!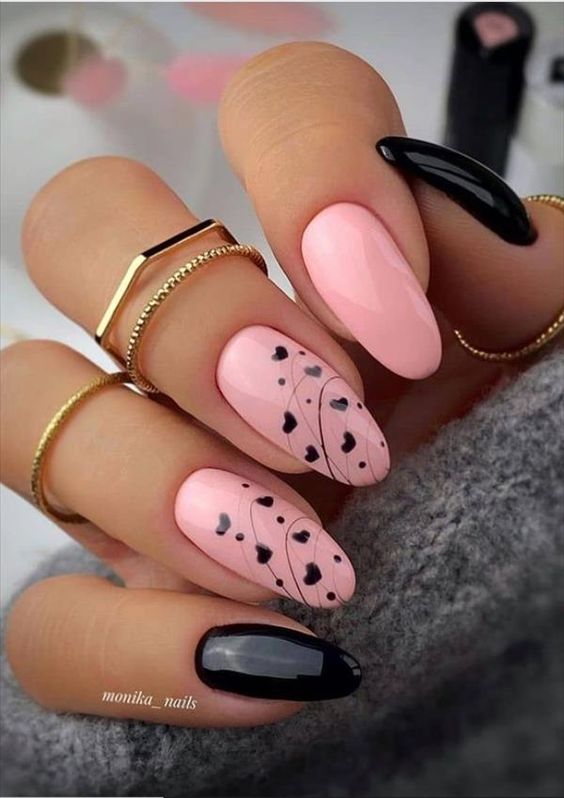 If you're not too fond of red, you can always opt for pink and black on your next manicure appointment. Look how gorgeous this color scheme is! These Valentine's nails add a cool gothic edge which I love.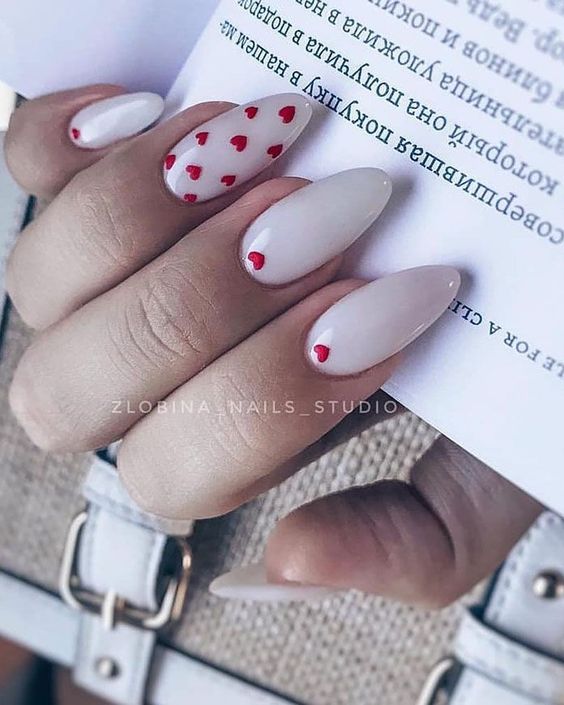 For a rather dainty style that looks classy, chic, and perfect for your Valentine's Day date, try drawing tiny hearts on the base of your nails. Then for your accent nail, you can fill it with more hearts so it stands out more.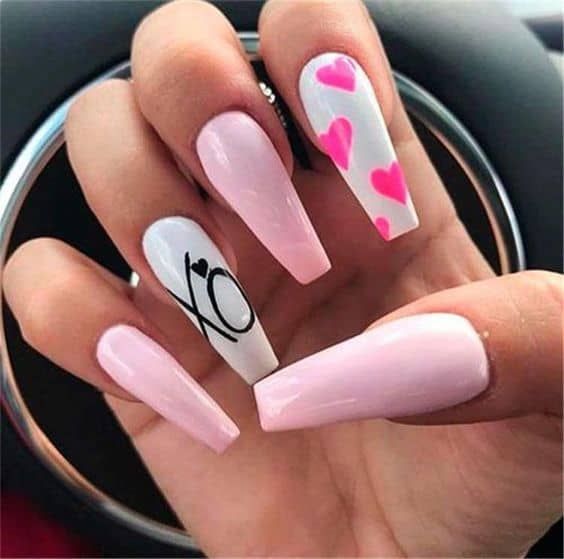 Undoubtedly girly, fun, and, quirky, this particular manicure screams "Valentine's Day". The white and pink color combination creates a pretty contrast against the neon pink of one of the accent nails.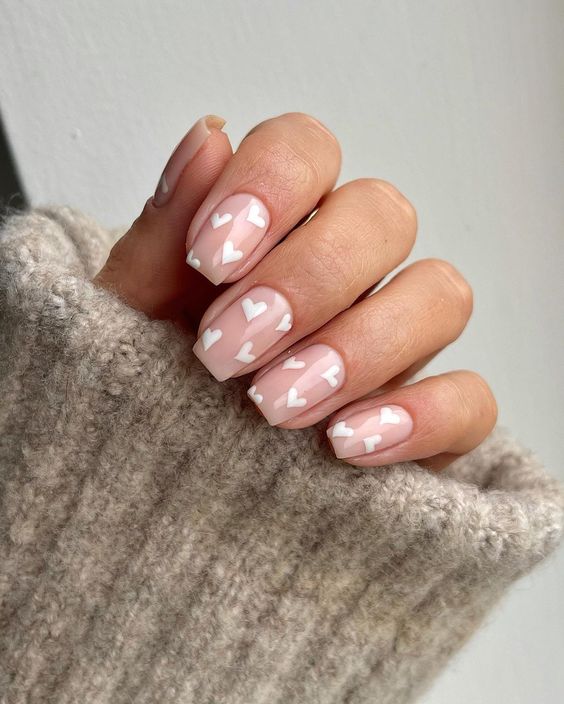 I just love how gorgeous this muted color scheme is! I love the soft pink base coat against the white tiny white hearts. You can either opt to draw these on yourself or get nail stickers for a less fussy application.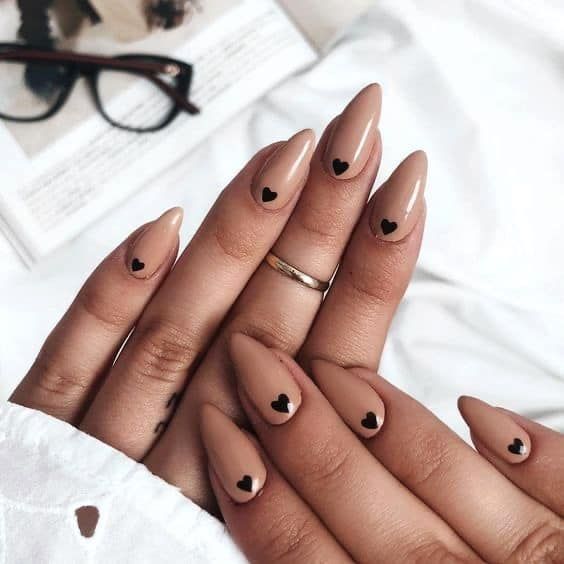 If you want a Valentine's Day manicure that's not too overwhelming or bright, you might try using a nude base coat close to your skin tone. This gives a really chic and understated aesthetic to your Valentine's nails look!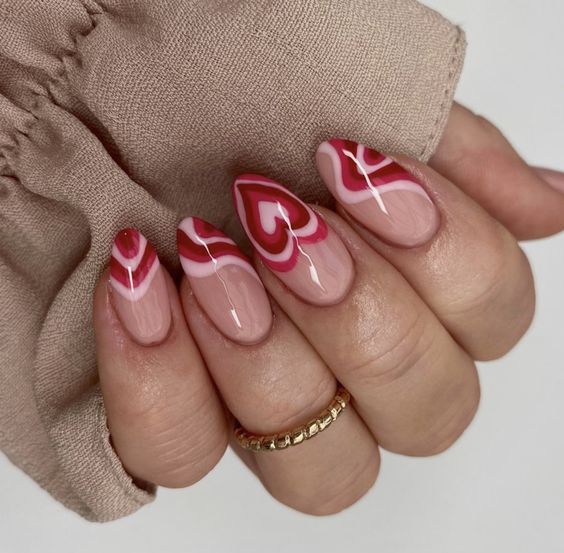 This is definitely one of my favorites on this list! I love how the colors come together so perfectly to form the heart-shaped tips and abstract accent nails!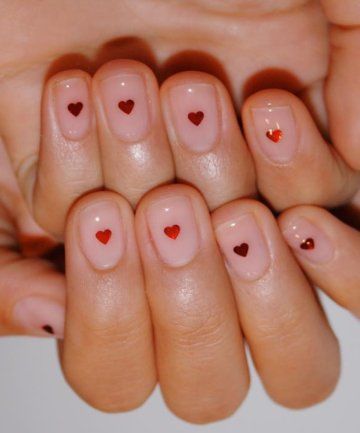 I love how minimalistic this Valentine's Day-themed manicure is! It looks so dainty and delicate with the tiny heart-shaped nail stickers placed in the middle of your nails.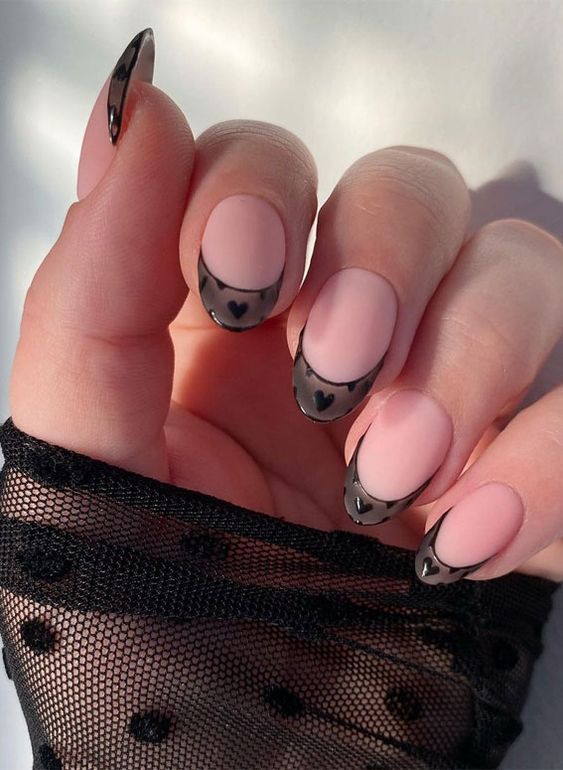 A classic French tip is great on its own but these sheer black French tips are just as chic! It'll even look better with the tiny hearts around it to suit the romantic vibe this month.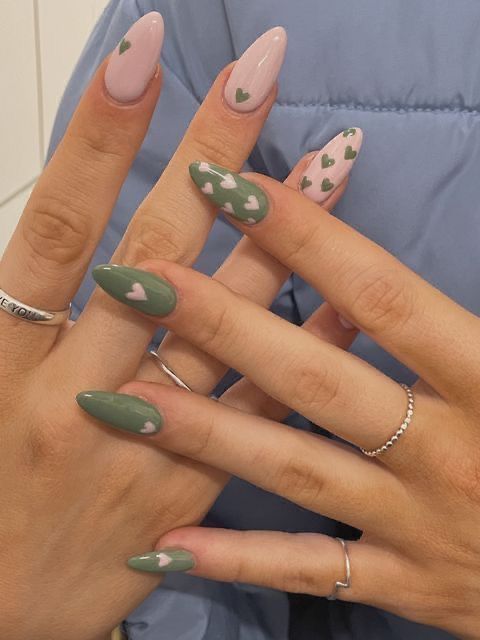 Pink and green may not be your first choice for the ideal color scheme this Valentine's Day but it definitely should be! I mean, look how pretty these nails are!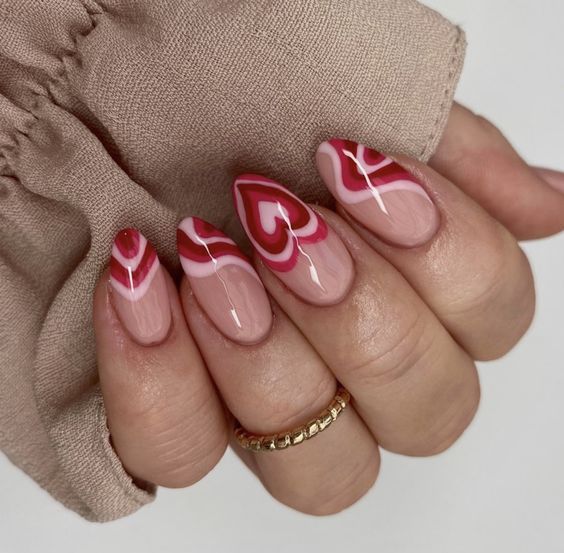 Totally love how cool this nail design is! It does take a lot of practice to perfect those squiggly lines but if you don't have the time, you can opt to get it done by a professional or just get some press-on nails.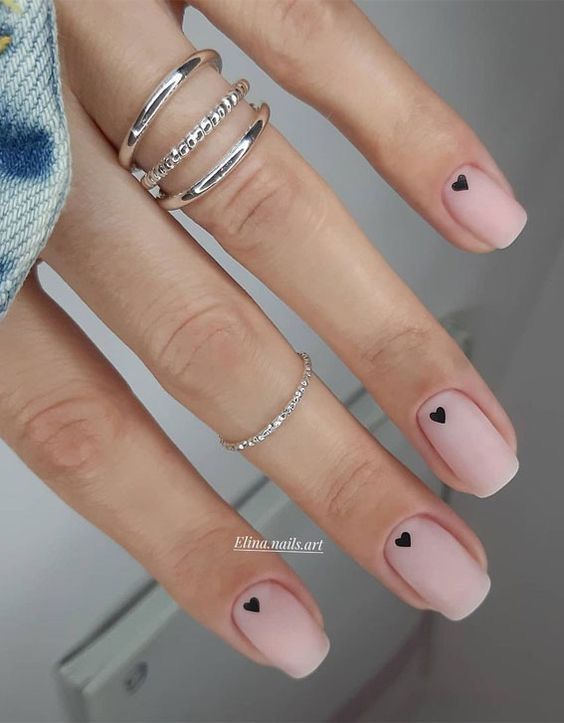 If you're looking for something completely minimalistic, you might love these nails! It incorporates a natural, soft matte base coat and is topped off with tiny black hearts on the base of each nail.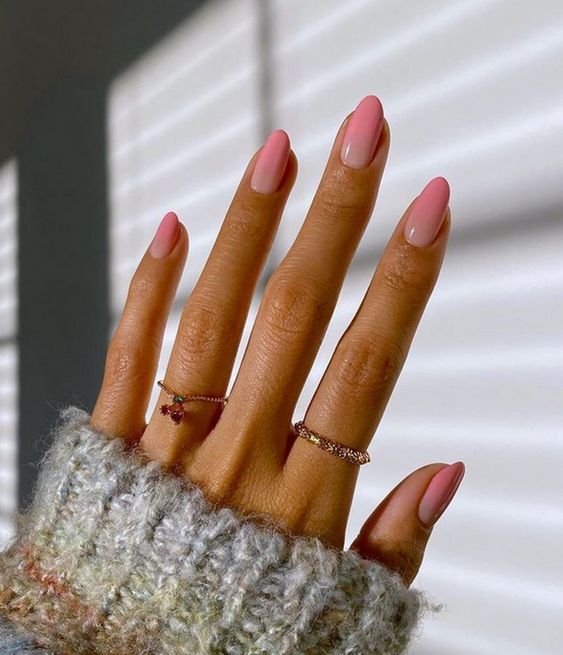 These pink gradient nails are utterly stunning! I love how feminine and romantic it looks, giving your nails a natural flush of color.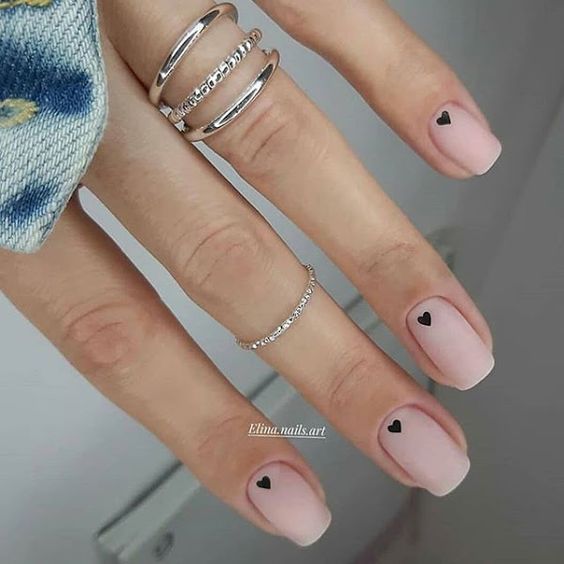 Doing your own nails don't always have to be so fussy. These minimalist nails just have the right amount of detail on them that's perfect even for beginners.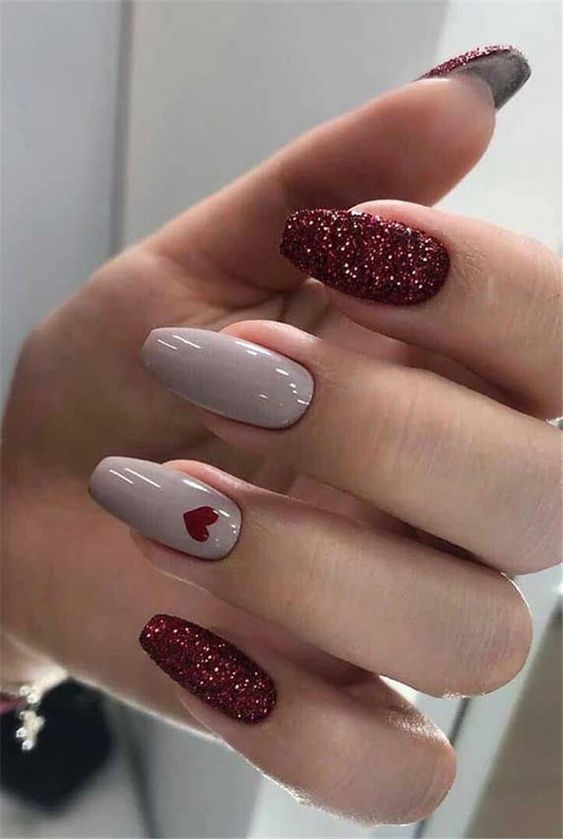 If you're all about the glitz and glamour on your Valentine's Day date, these are the nails for you! Just look how stunning those shimmery and glittery accent nails are!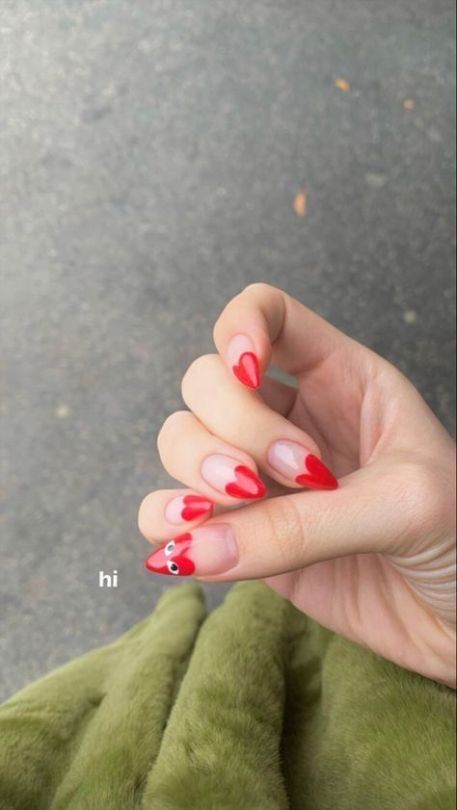 These heart-shaped tips are so fun and quirky to look at! They'll surely be trendy this Valentine's season!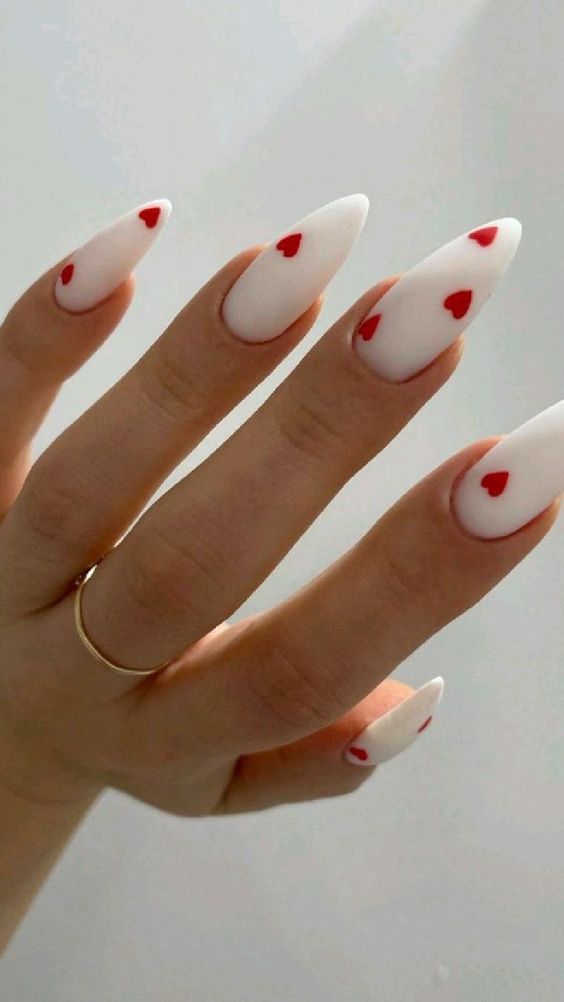 Instead of polka dots, opt for tiny hearts instead to top off your white base coat. You can also go for a matte look instead of the regular glossy finish.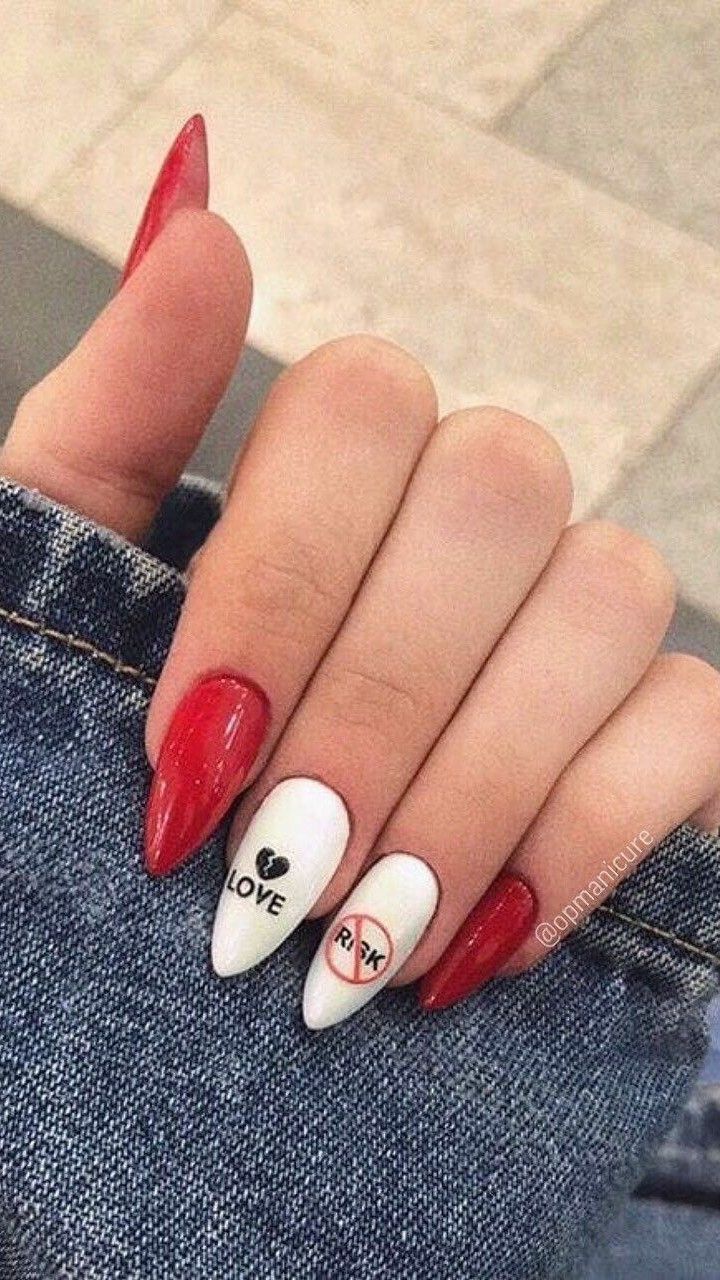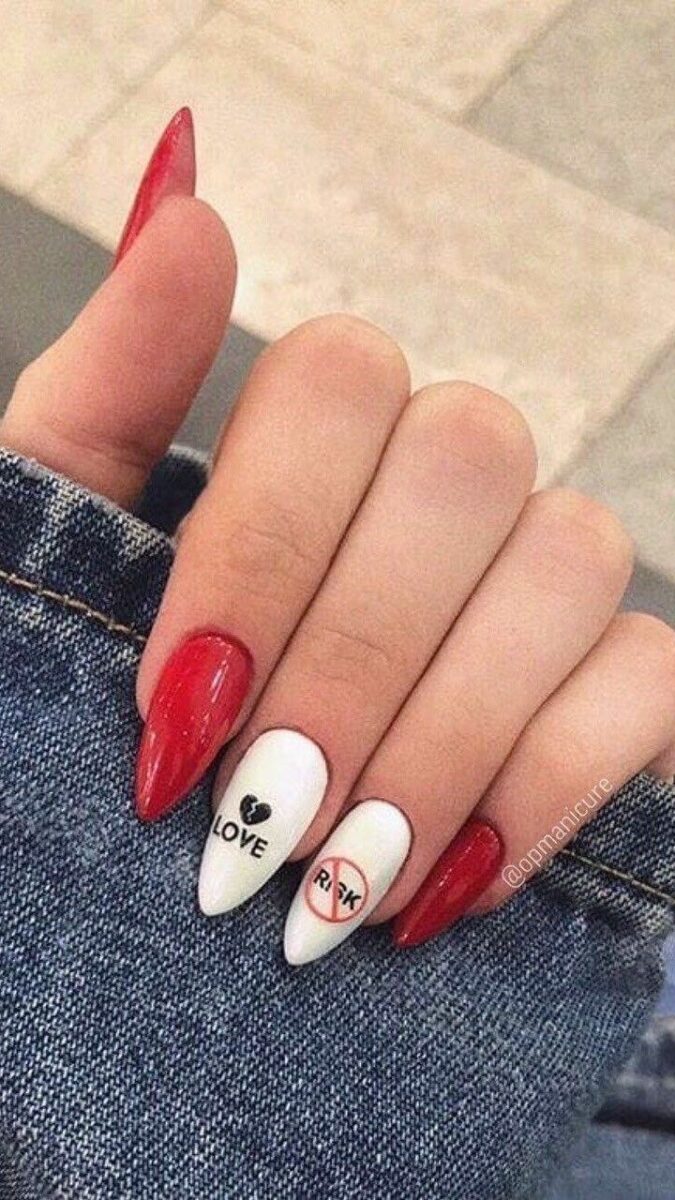 Single this Valentine's season? That's fine! You can use this to pamper yourself to an amazing manicure appointment and let your nails speak for your current situation! It'll be hilarious and lots of fun.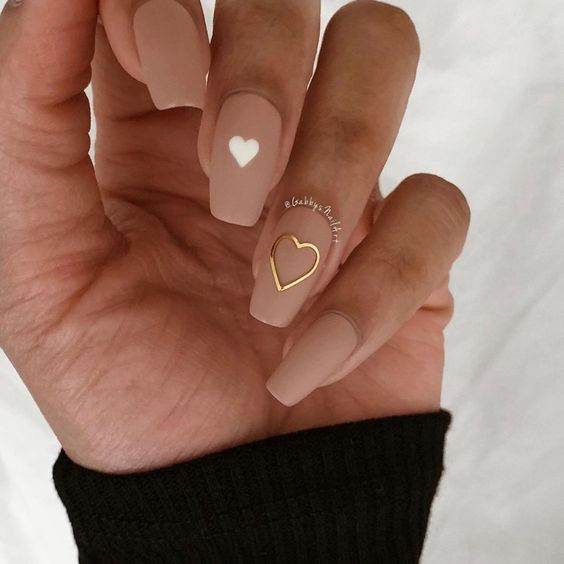 Chic with a little bit of glam, I'm totally obsessed with these nails! I love the nude base coat and how it's topped off with dainty gold accents to make it feel more luxe!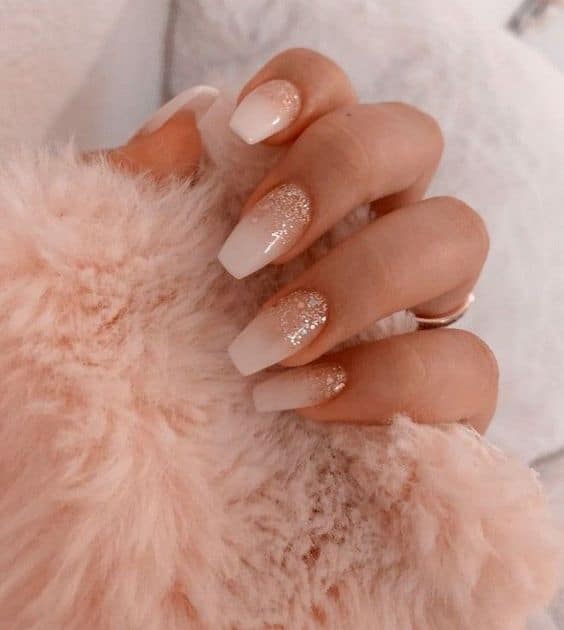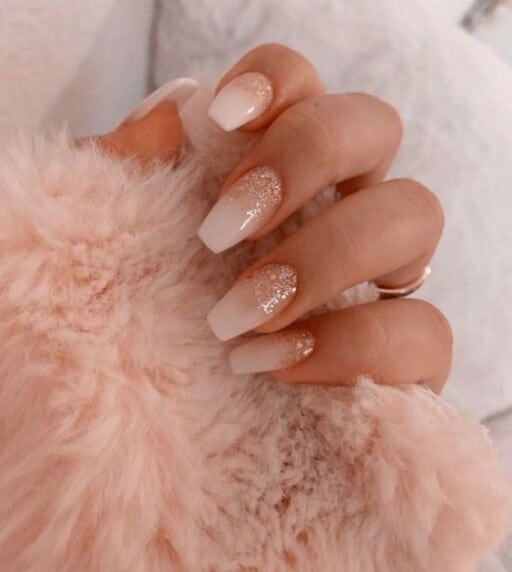 Add some sparkle to your nails as you plan your date night on Valentine's Day. This would be so perfect if you're going somewhere quite fancy!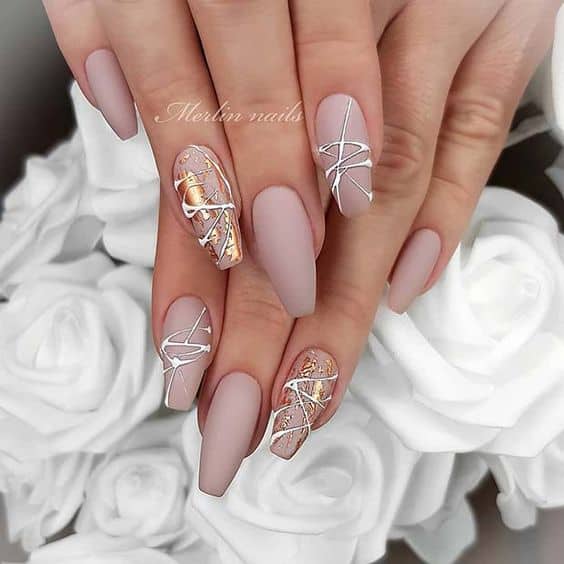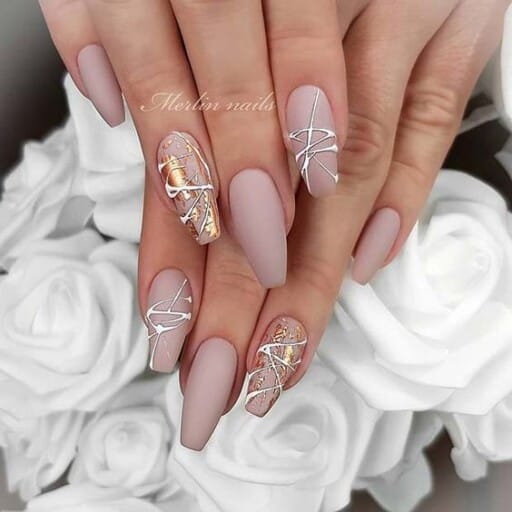 If you want something a bit more over the top for your Valentine's Day nails, then this is something to consider! It has a rather unique design that you won't see anywhere so easily!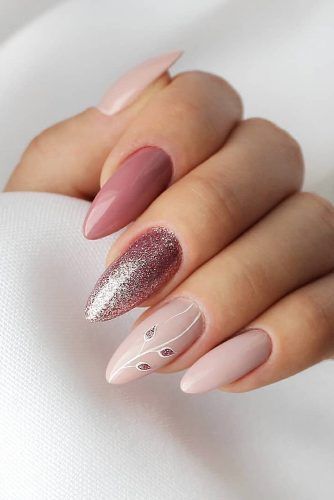 If you can't decide which shade of pink to use on Valentine's Day then don't settle for one! Choose two to three different shades of pink with varying textures and details to add dimension to your nails!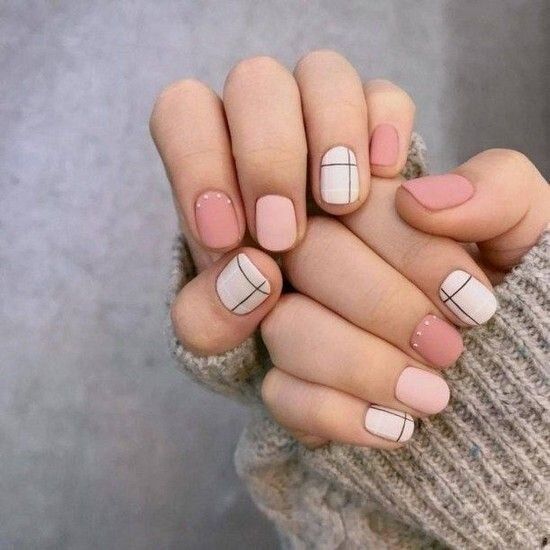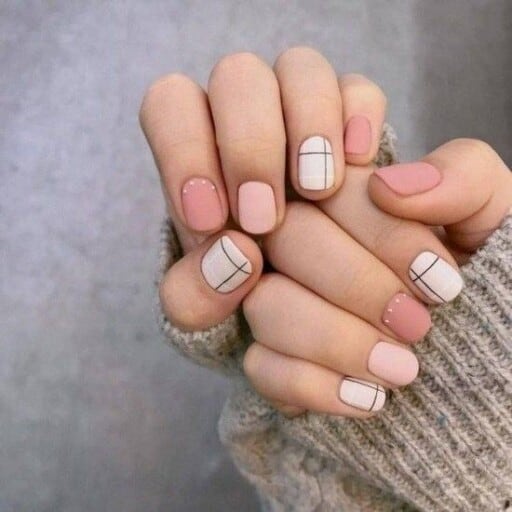 If you're looking for a manicure with some pretty linework, then this kind of design could be for you. It also uses soft shades of pink for a more romantic look suitable for Valentine's Day.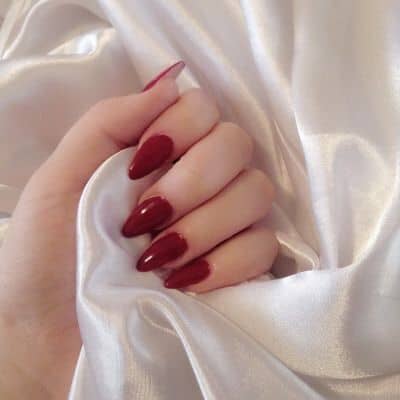 If you don't want a lot of fuss on your nails, then going for a classic, regular manicure should be fine! Opt for a deep red polish to create a sexy and romantic look on Valentine's Day.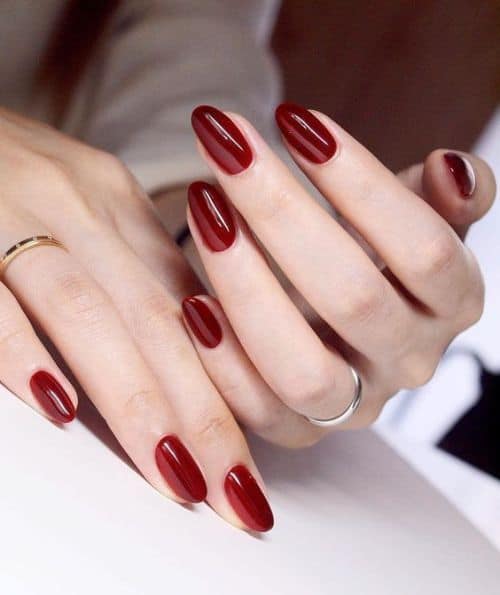 Here's another red shade you might love for Valentine's Day! It has a subtle design where the small side of the nail is left matte rather than glossy, making it a delightful surprise to anyone who notices!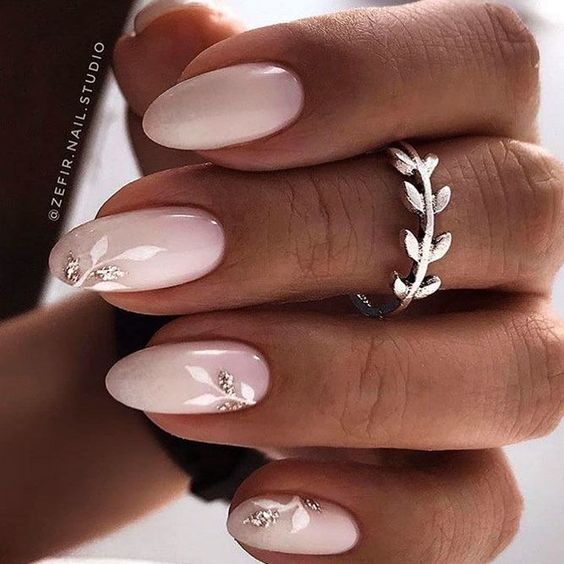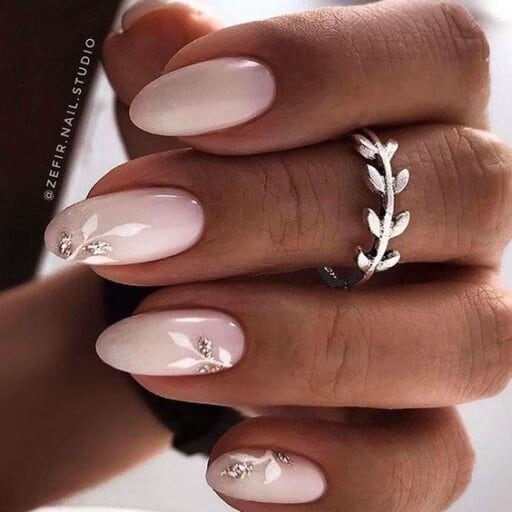 Rhinestones are a great option if you're looking to accessorize your manicure. Just like in the photo, you can get them to look like flowers as you draw the leaves with white nail polish.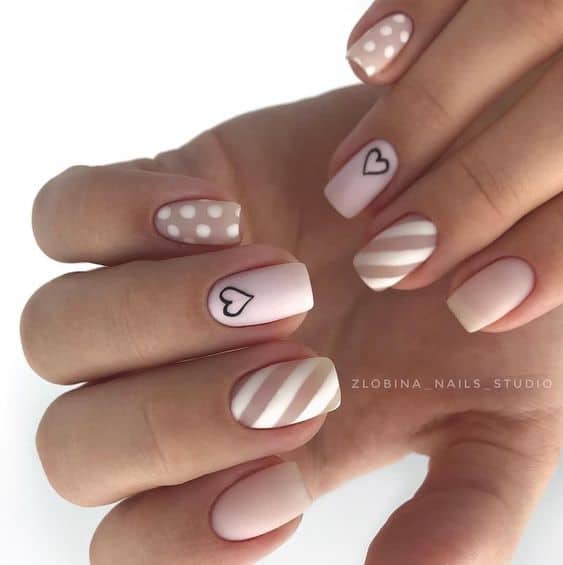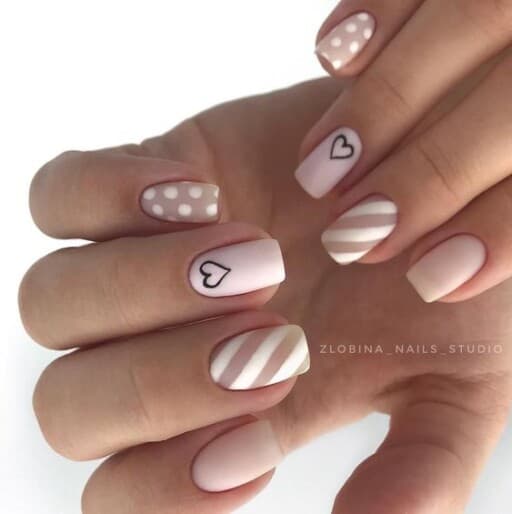 Mix and match different patterns and shapes on your Valentine's Day manicure for a fun and quirky aesthetic. Choose natural pink shades for an even more romantic vibe.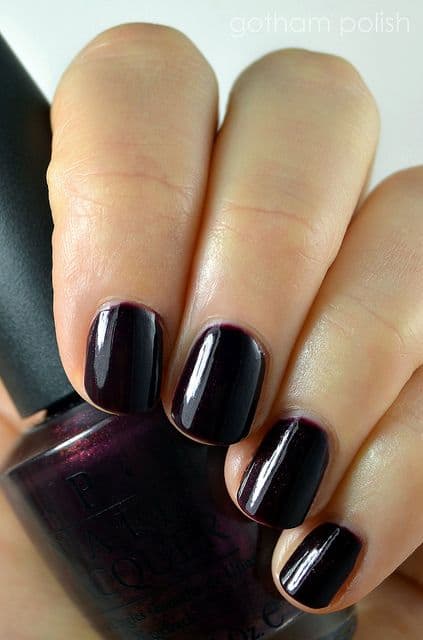 February is still pretty much winter season so there's no better time to wear moody, dark nail polish than this month! It may not be the most romantic color but it's hard to resist how gorgeous this plum shade is!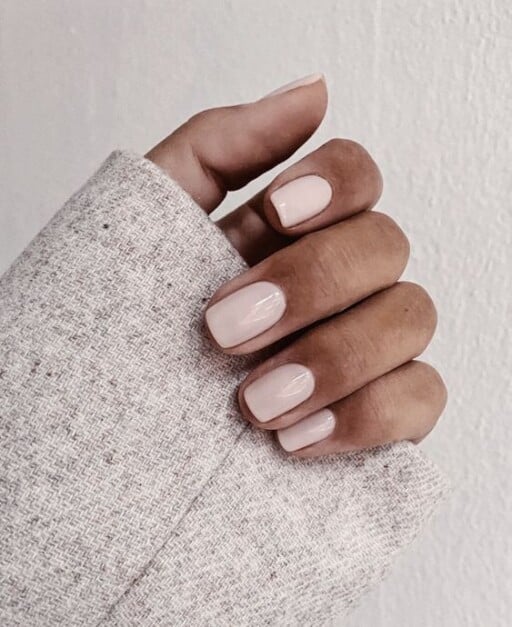 If dark colors aren't your thing then you can always stick to lighter shades like this pinkish, off-white color.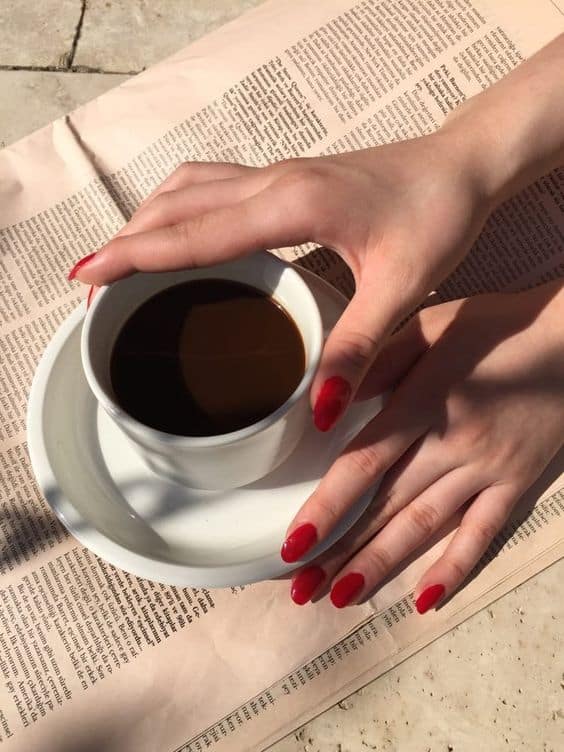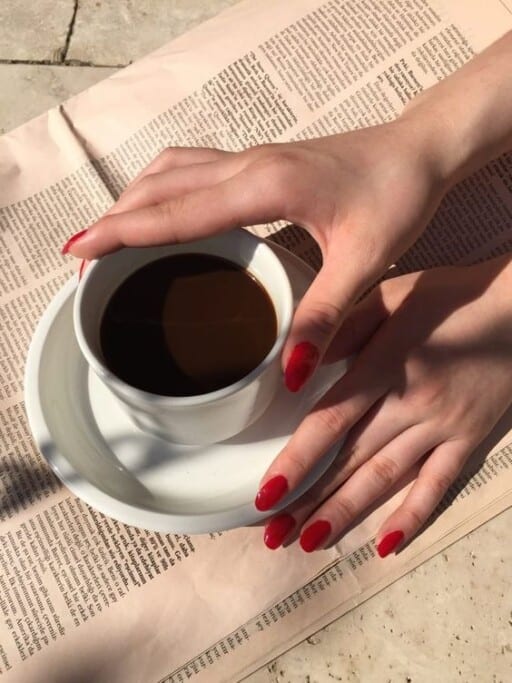 But for those who are looking to suit the romantic vibe this Valentine's season, then you can never go wrong with a classic red polish for your nails.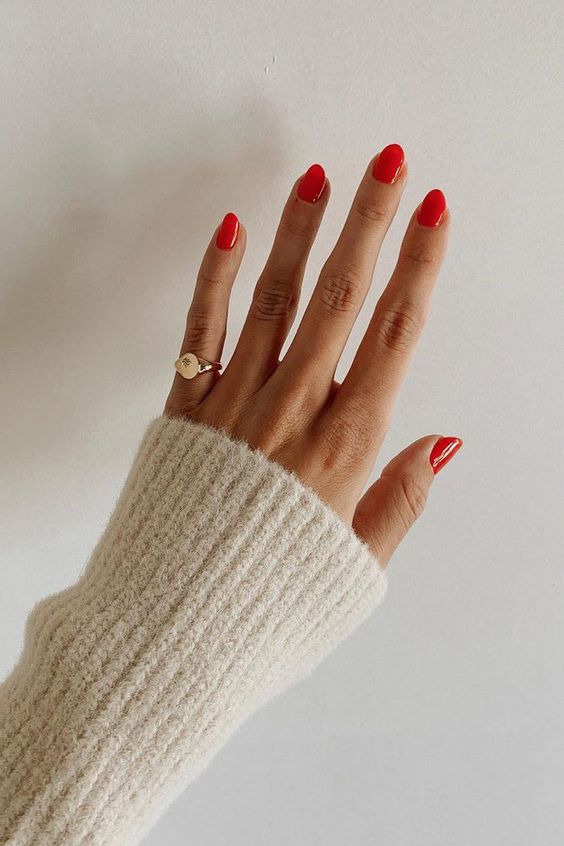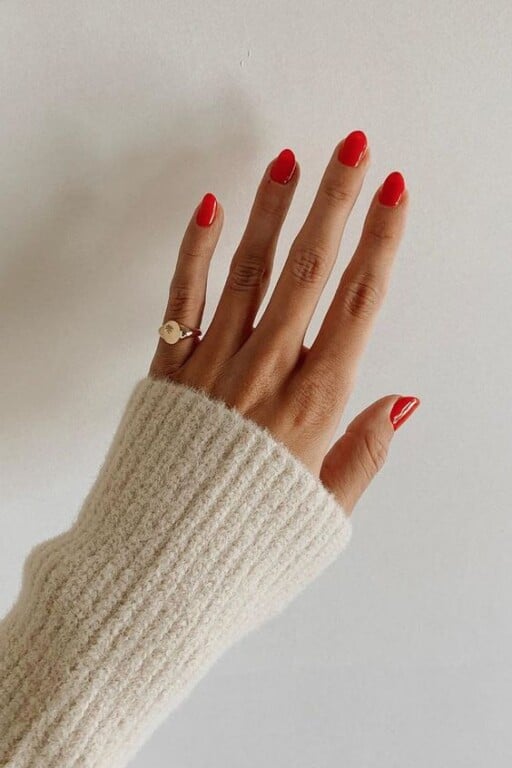 At a distance, this may look similar to the previous polish but this shade of red has a much warmer undertone that will perfectly complement those with warm skin tones.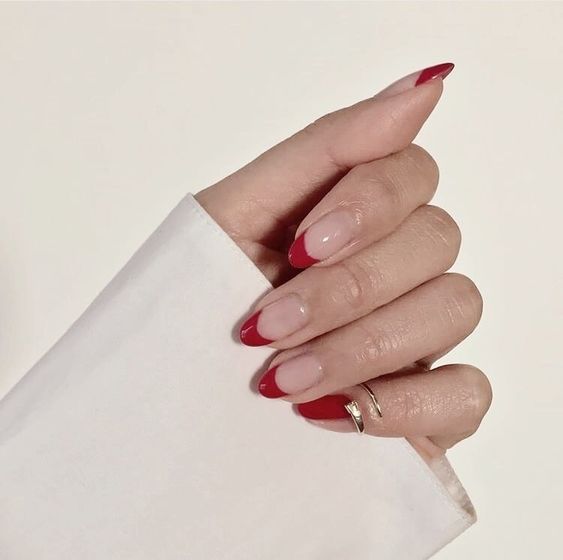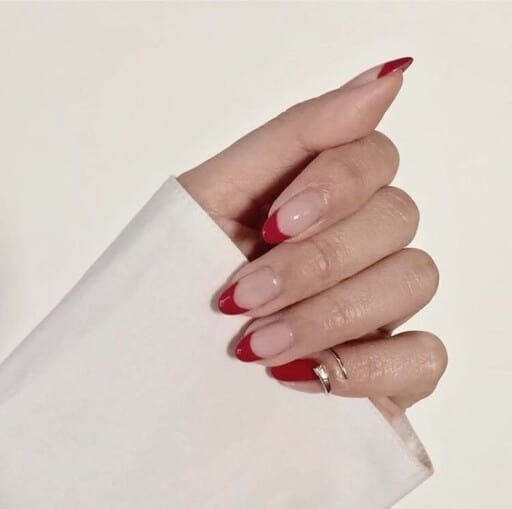 Nothing looks classier than a red French tip for Valentine's Day.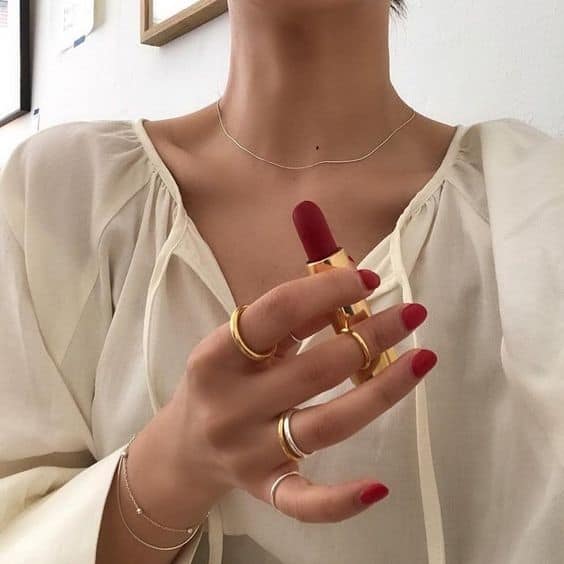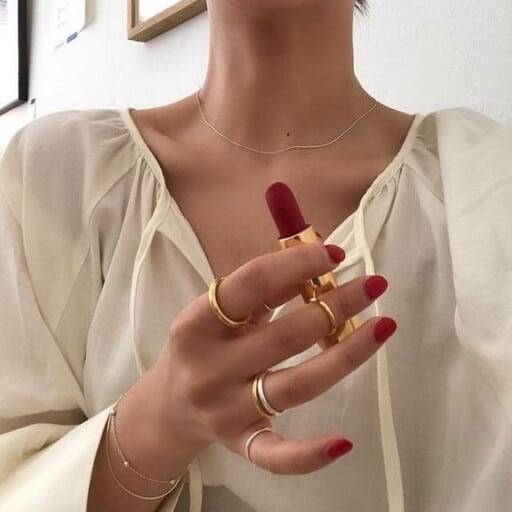 If you want something a bit more unique but don't want to stray too far from the classic red manicure, try using a different finish like a matte texture for your nail polish.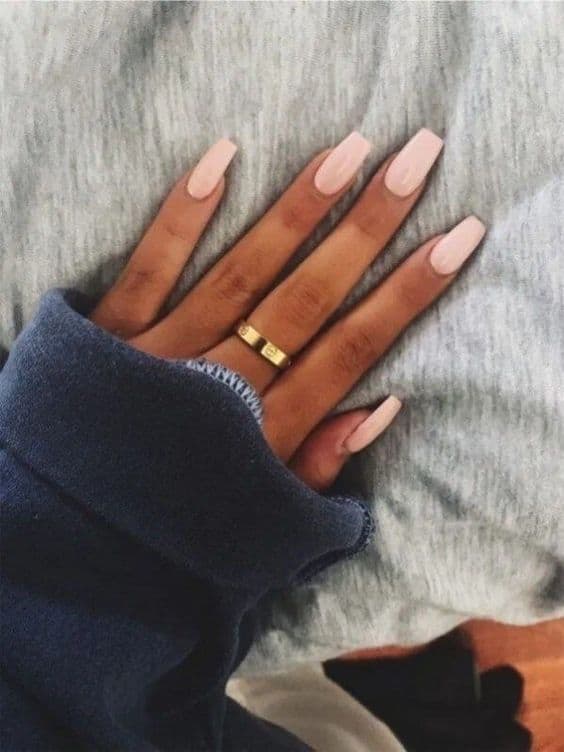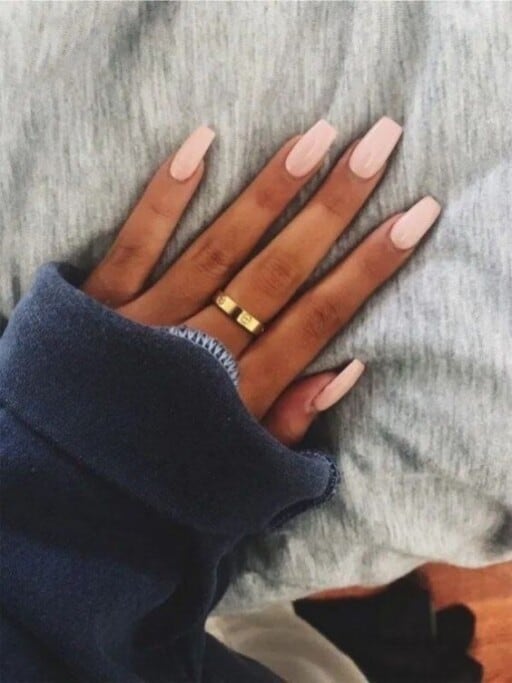 This nude pink color is just utterly stunning! It looks so good on its own so why add any more details, right? This is perfect for girls who want something simple and easy to do at home.
Love Pink: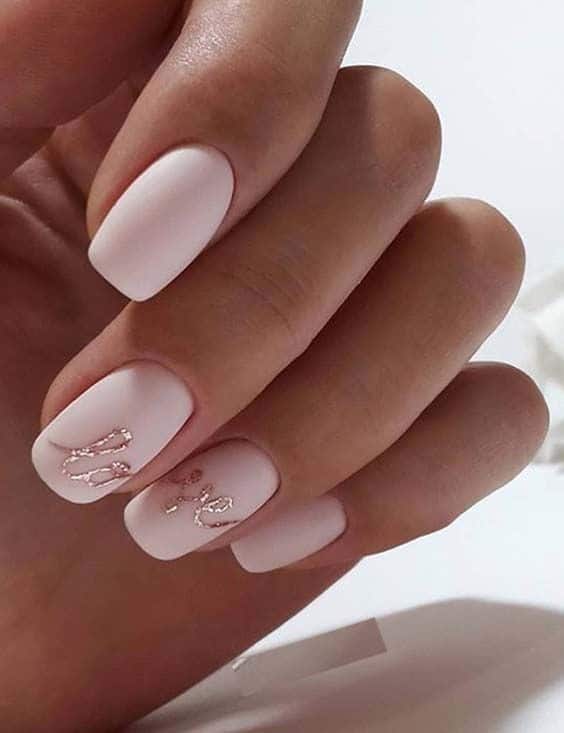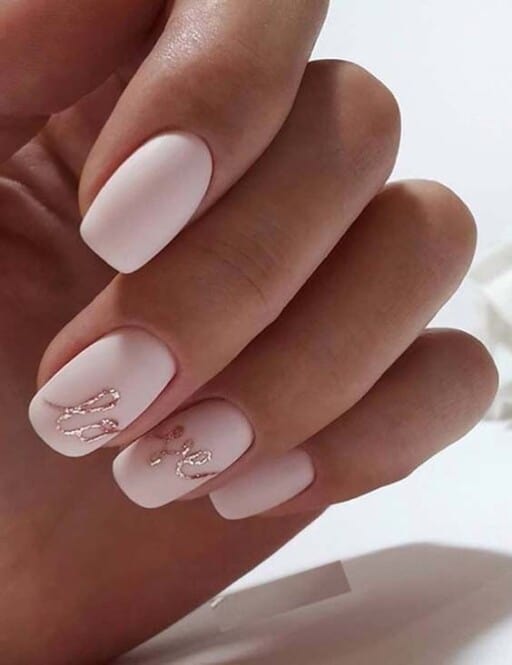 This is a soft pink manicure with a sophisticated and romantic touch. The added sparkle gives it an elegant vibe perfect for your date nights.
Candy Stripes: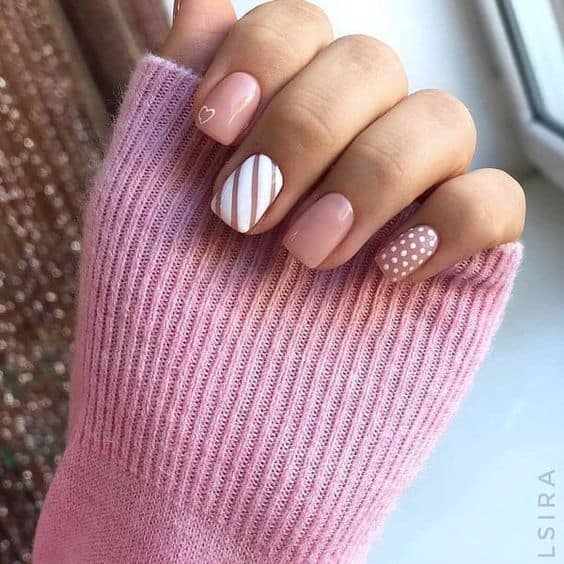 Pair different patterns together like stripes and polka dots for your accent nails to create this interesting and youthful manicure.
Mauve Pink: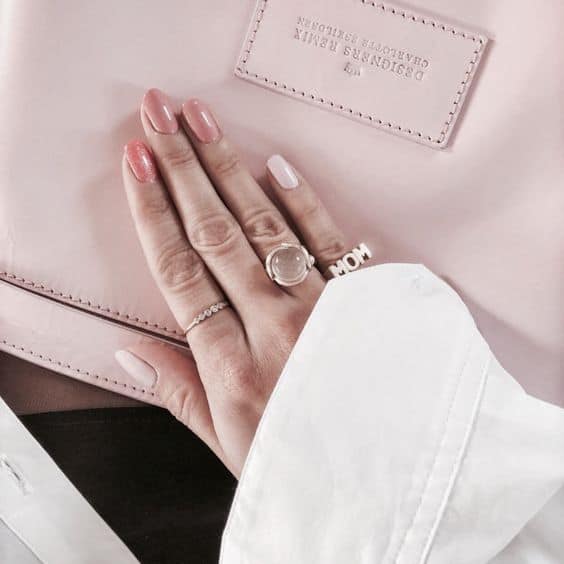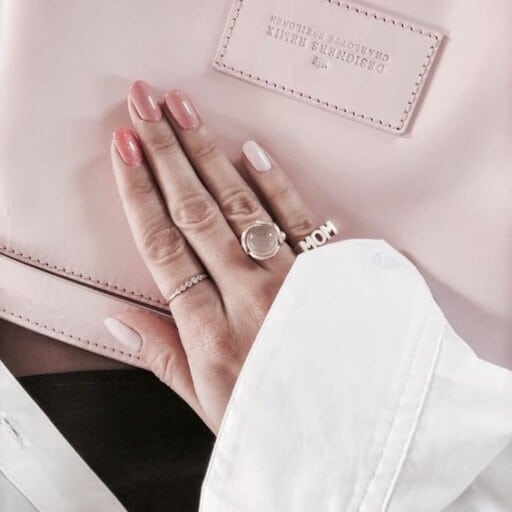 For a rather elegant vibe without the fuss, try matching different shades of pink together to create an effortless gradient with your nails.
Pink & White: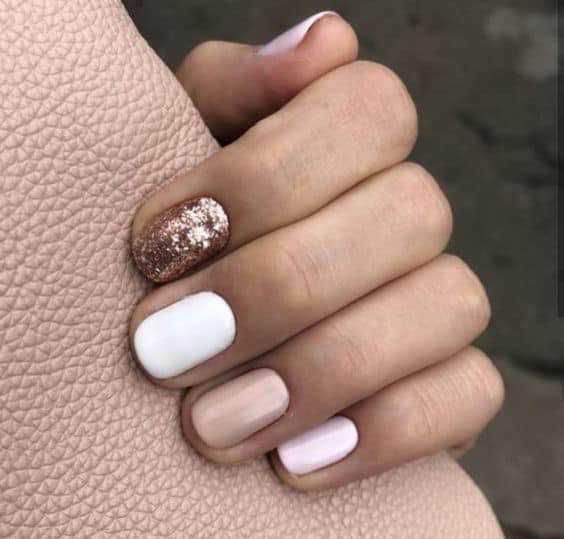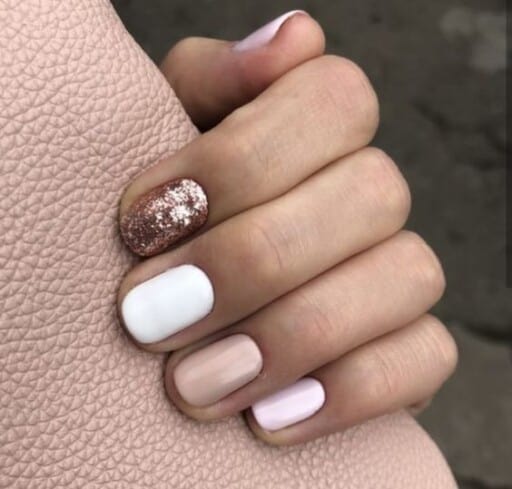 Pink and white look so elegant and romantic together. It's such a classy and sophisticated color combination for Valentine's Day.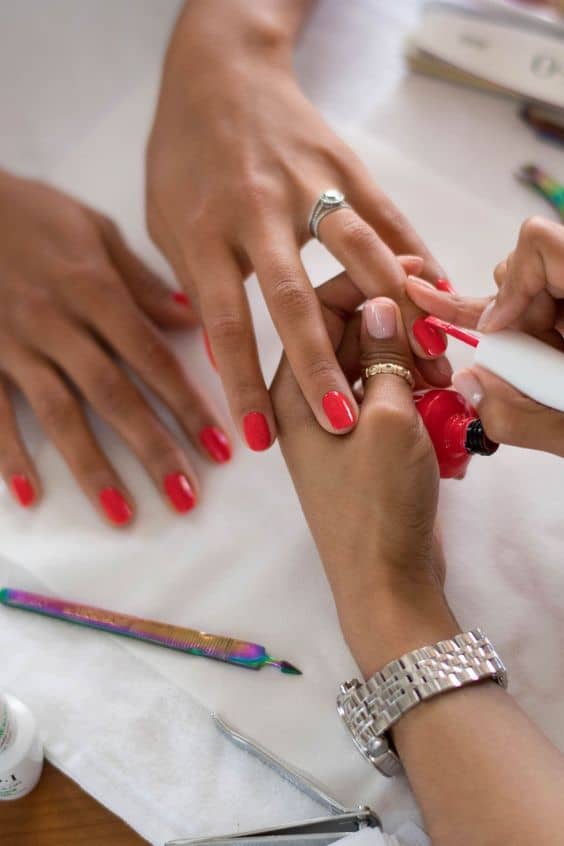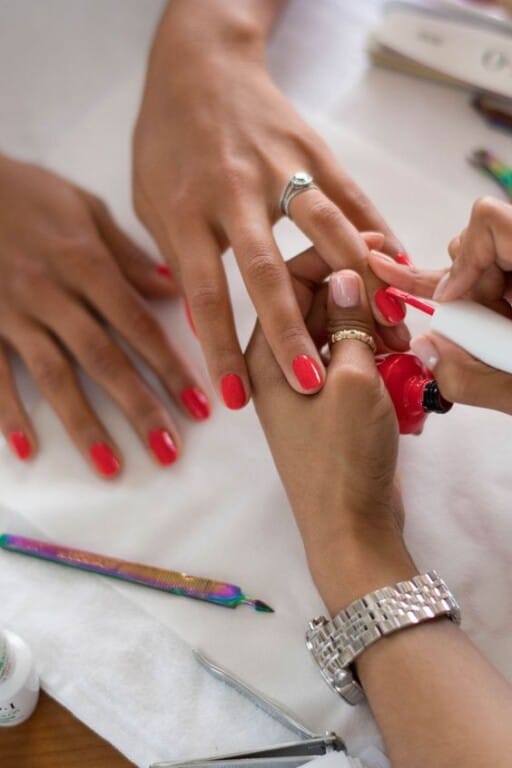 If you're tired of the usual muted colors of pink, white, and nudes, then perhaps it's time to go for a bright (almost neon) pink this Valentine's Day!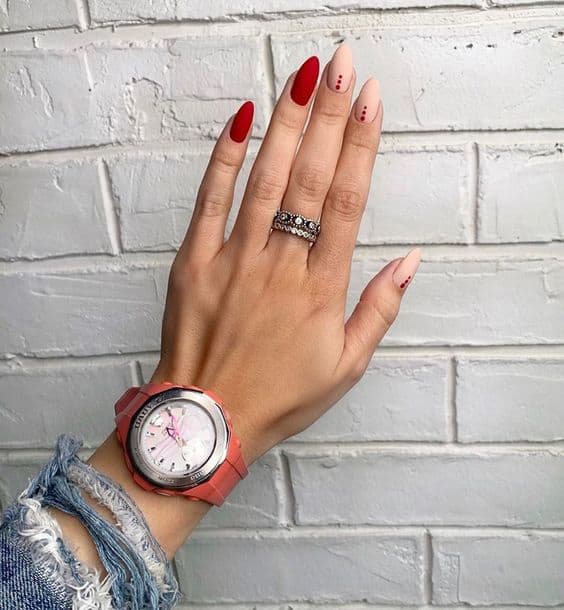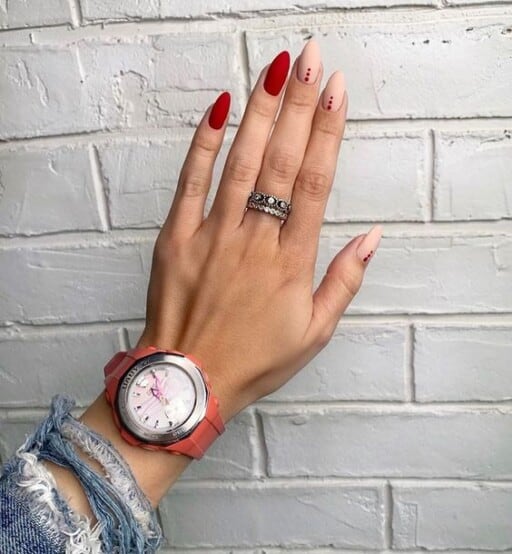 Create gorgeous contrasts with your nails by marrying two different colors together like a deep red and soft pink. These colors are sure to give you a romantic vibe this Valentine's Day.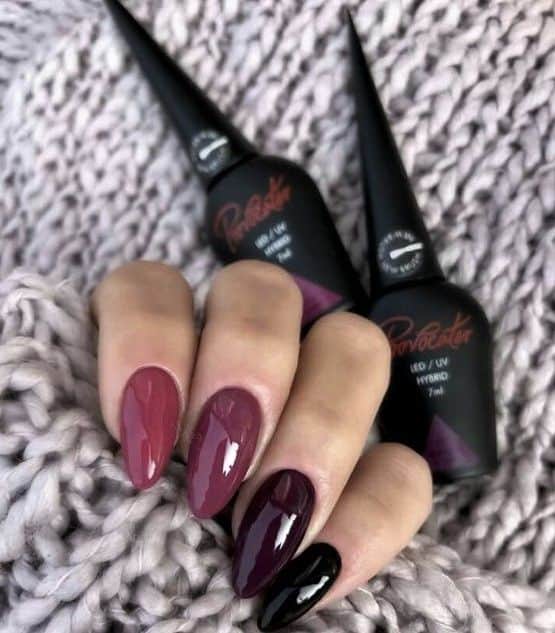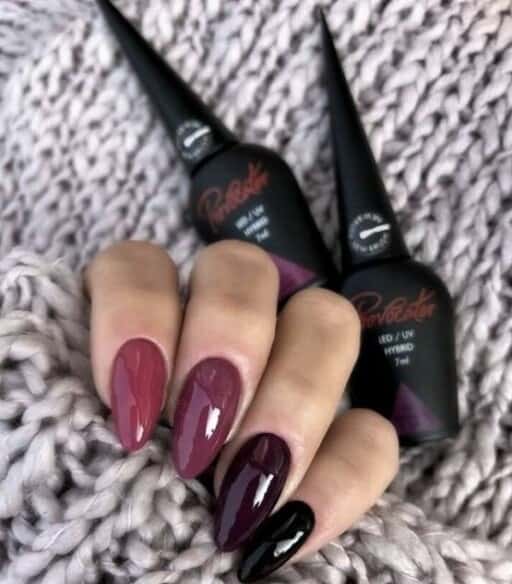 Want something moody for your nails this Valentine's Day? Then these gorgeous plum shades will certainly do the trick!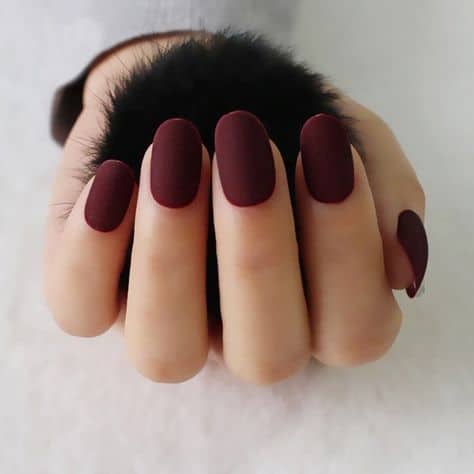 This burgundy nail set will surely give you a sultry and mysterious aura throughout February.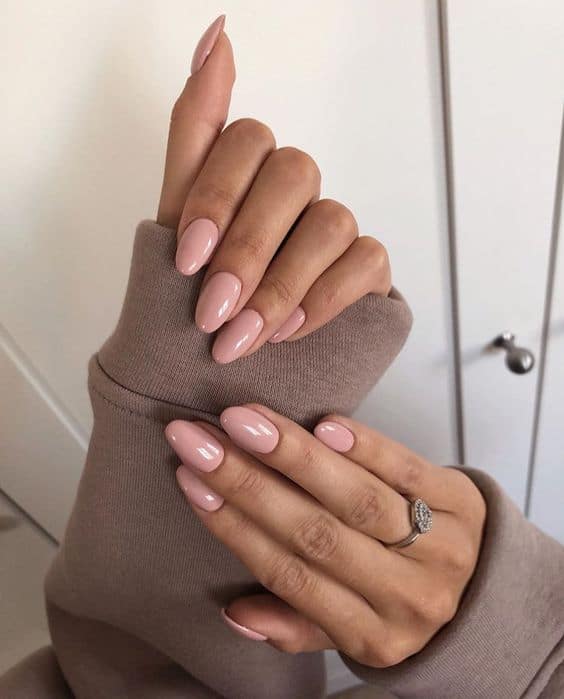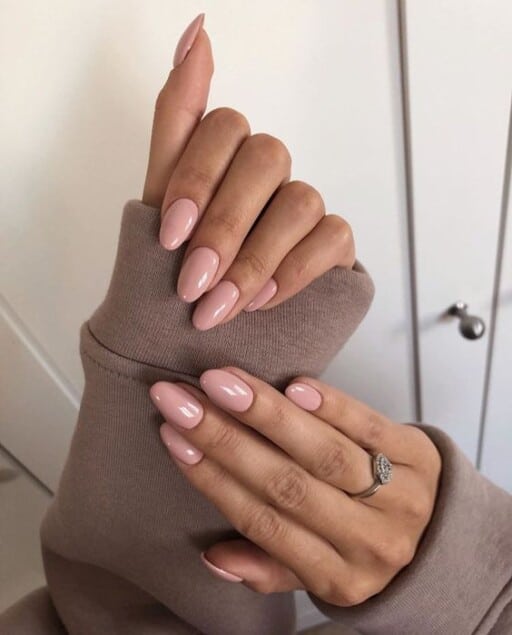 You can never go wrong with a soft, muted pink during Valentine's Day. It's a classic color and it's perfect for any occasion.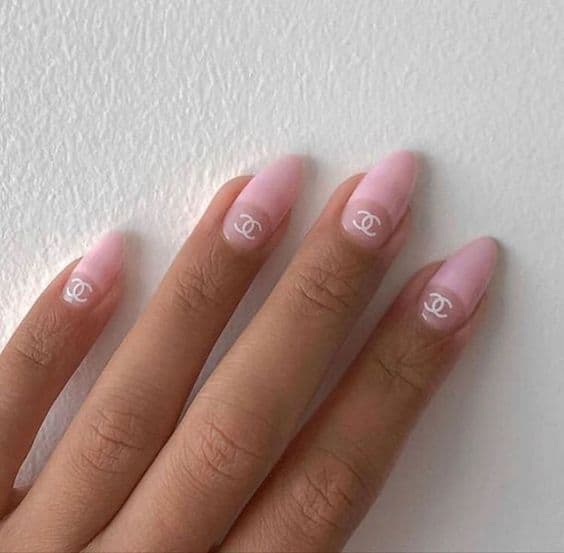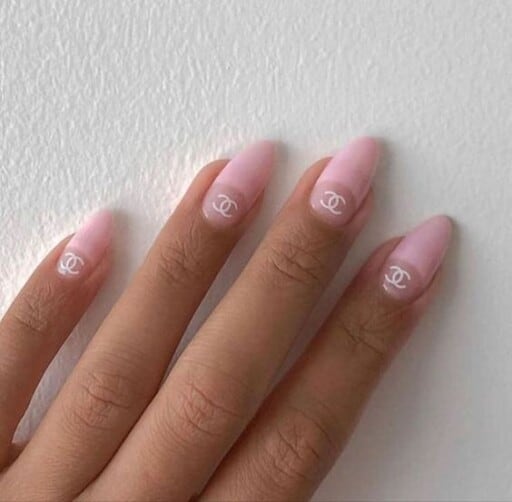 Make your nails look high-end by drawing on a luxury brand's logo for your manicure. This will give your nails such a chic style!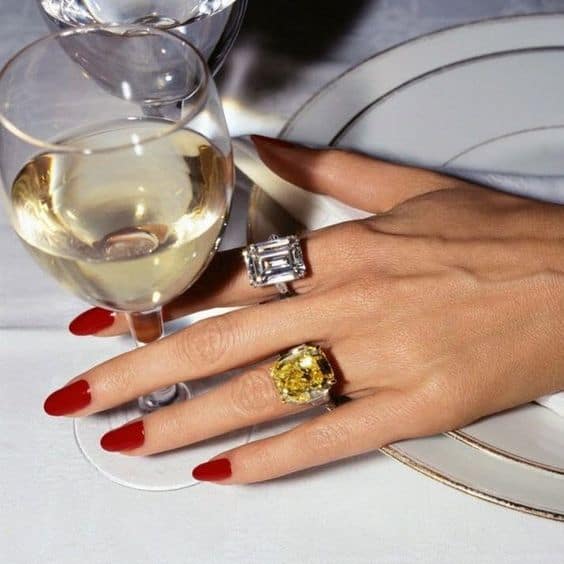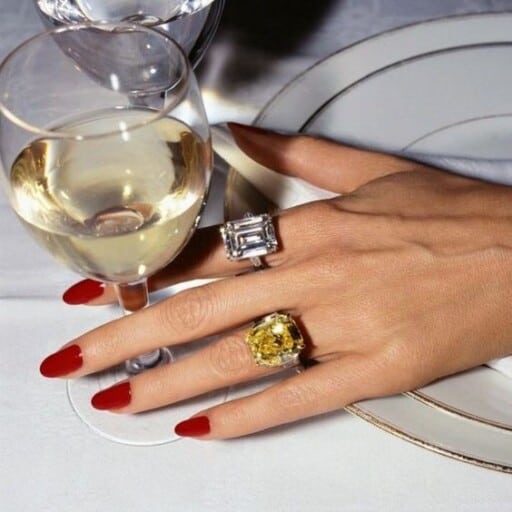 When in doubt, go red this Valentine's season. It's a classic color for a reason!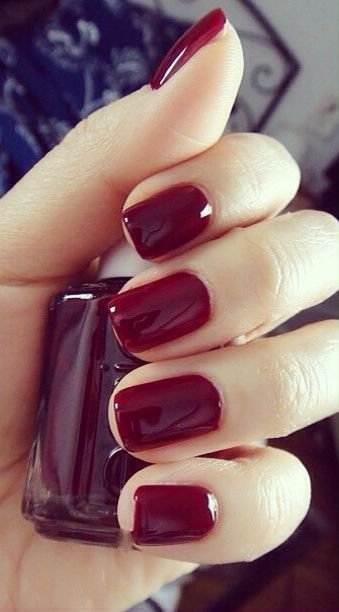 To be a little different from the usual cool-toned reds you see on everyone's manicure, go for a deeper shade of red like this ox-blood color.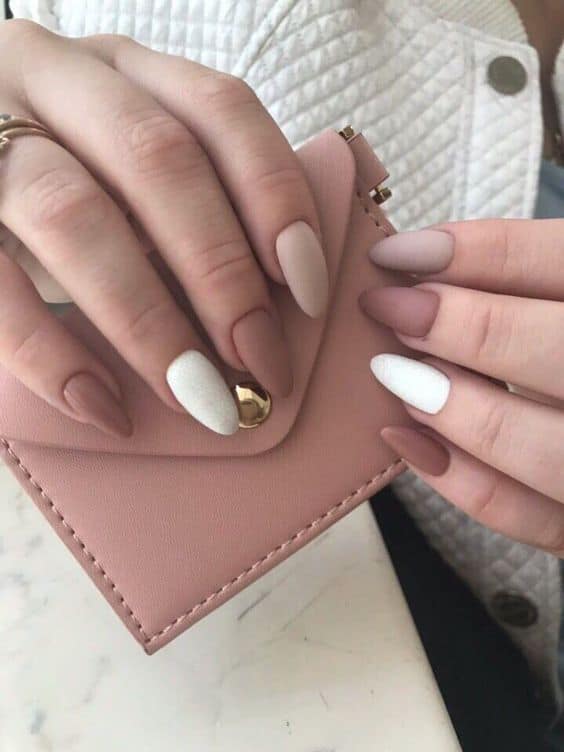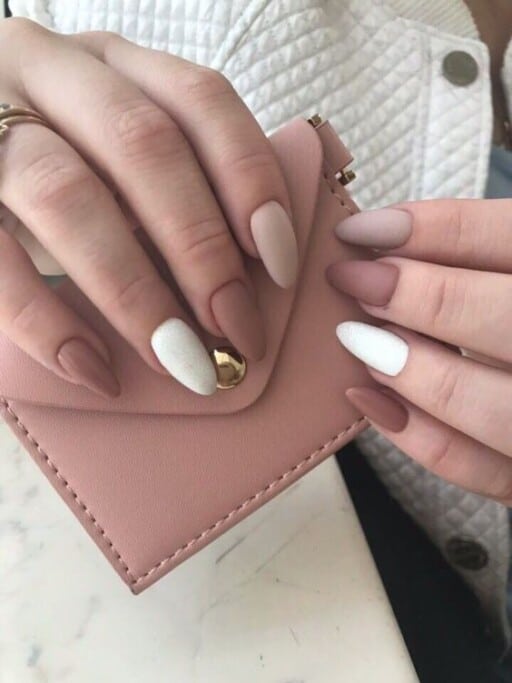 I just love seeing nude shades on a manicure. They're just so effortlessly chic!
These bright red nails will surely make your manicure stand out from a mile away! The longer cut on the nails gives it a more feminine touch as well!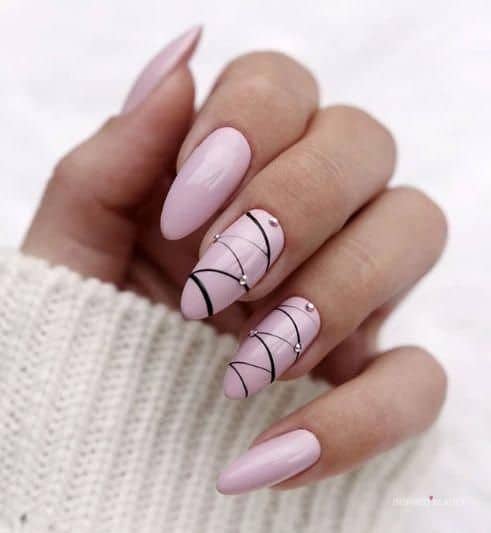 This particular nail art design reminds me of sexy corsets. The light pink base coat gives it a softer touch so it's not too intimidating.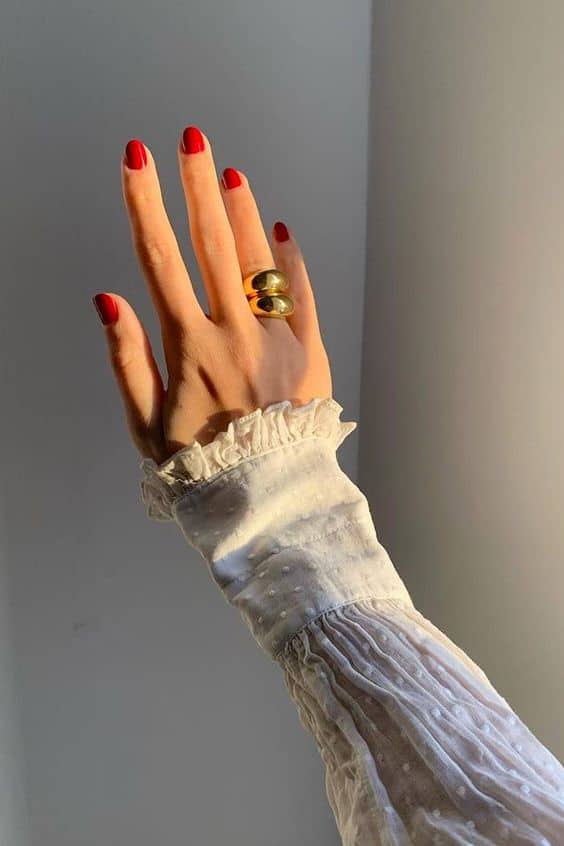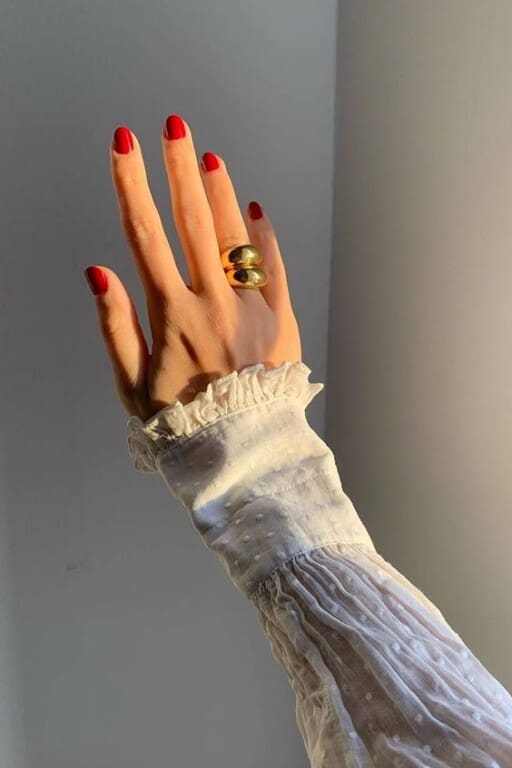 For a sultry and seductive vibe, go for a deep red polish like this blood-red shade.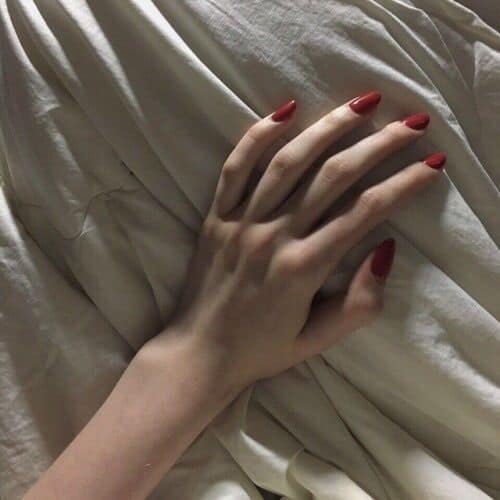 If you want a less bold red shade, this muted red might be perfect for you.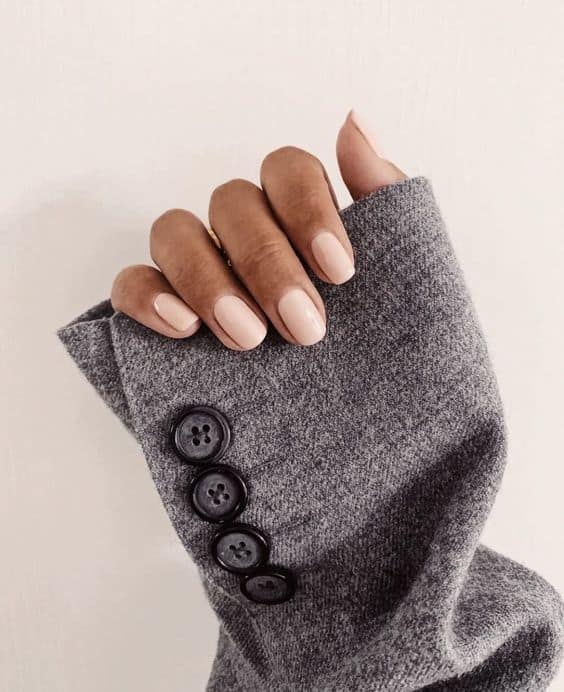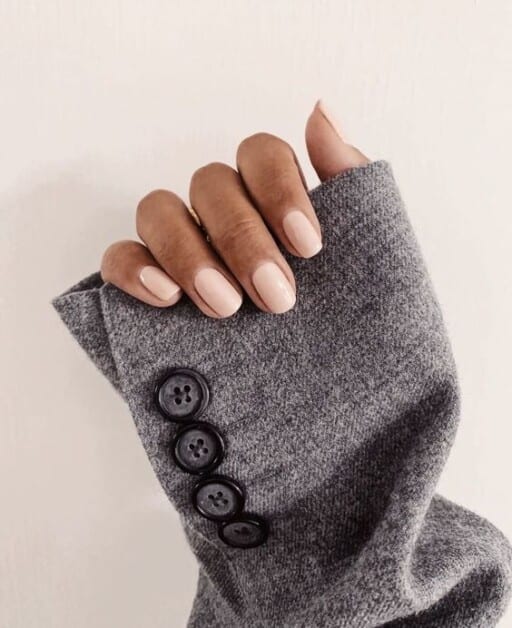 Subtle and natural, this kind of manicure is perfect for those who want something low-maintenance that they can wear every day throughout February.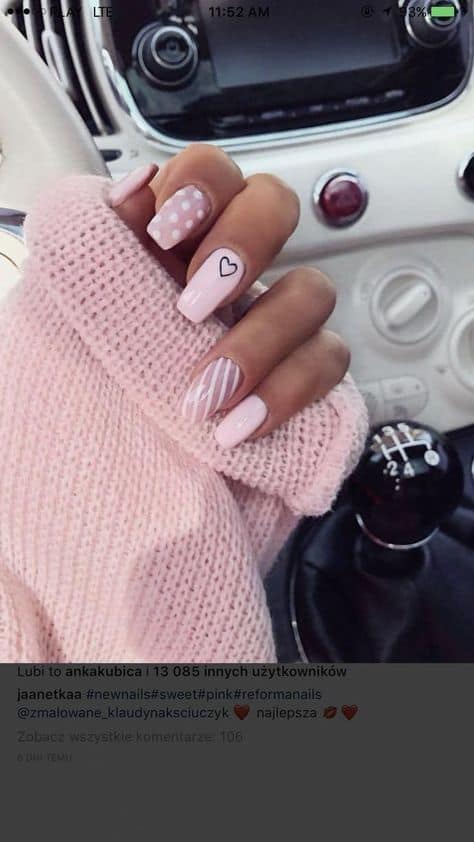 Enjoy the best of both worlds by pairing up polka dots and stripes for your next manicure!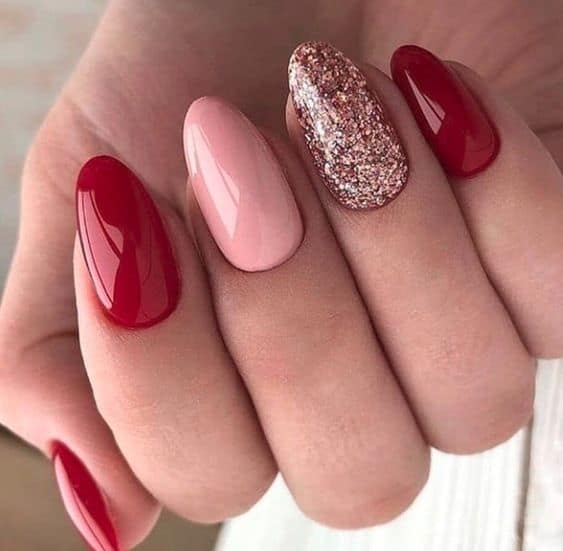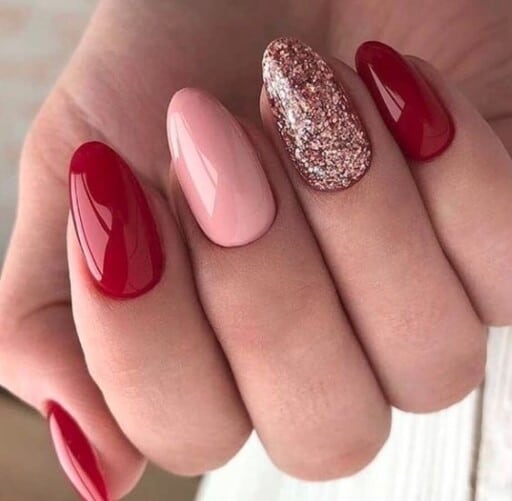 Pink and red go so well together and they're the perfect colors to use this Valentine's Day!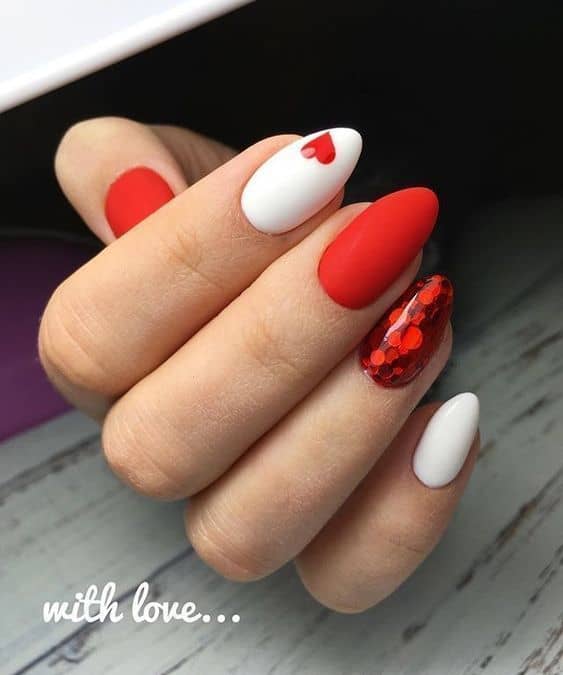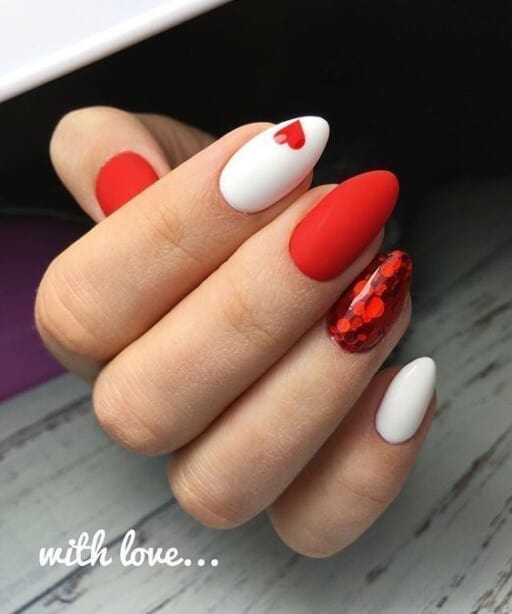 For a more mature and classy feel, opt for red and white this February.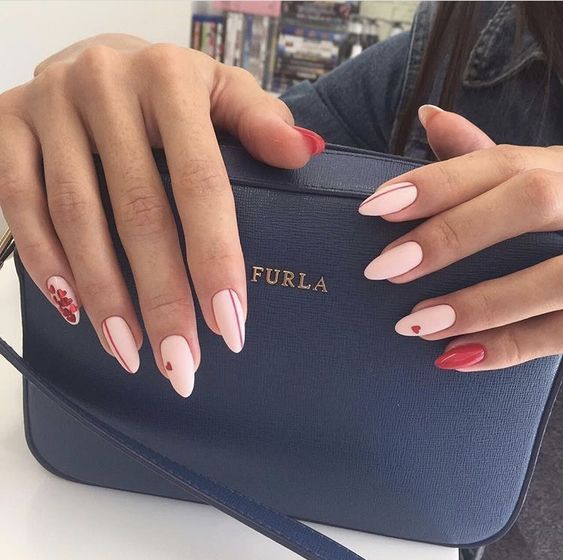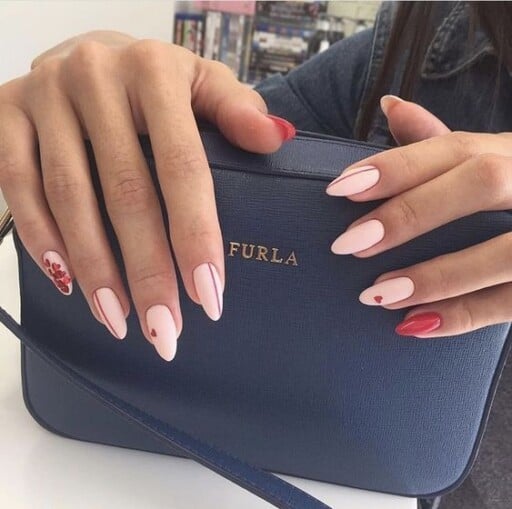 If you'd like a very feminine and soft romantic vibe this Valentine's Day, you might want to take a look at this dainty nail art design!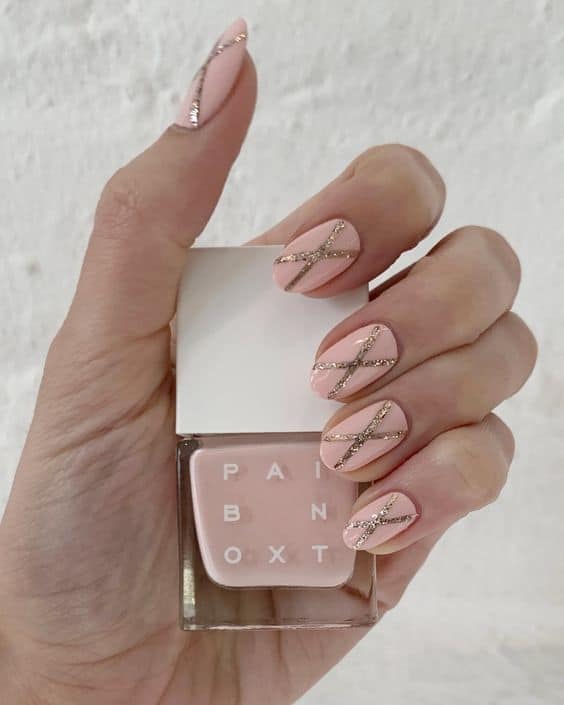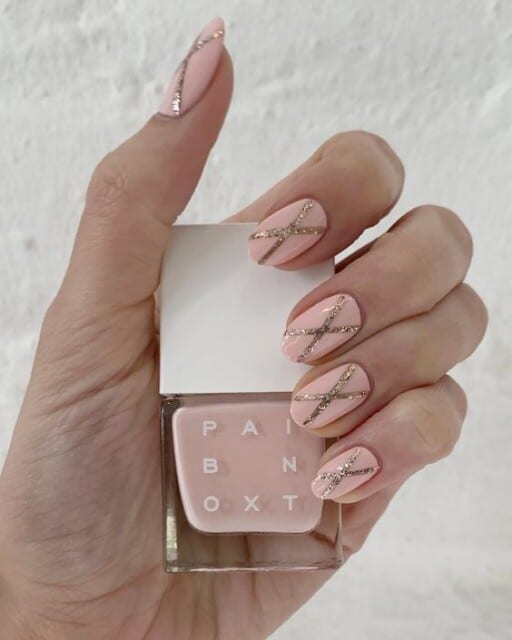 Add a dash of sparkle to your nails with abstract patterns for an interesting nail design.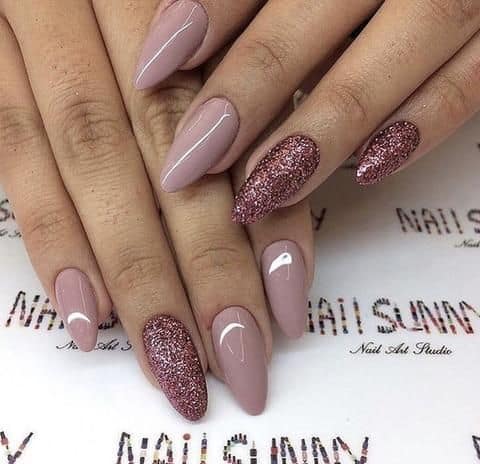 This muted mauve shade is absolutely gorgeous! I am totally in love with it and it's something you can create at the comfort of your home.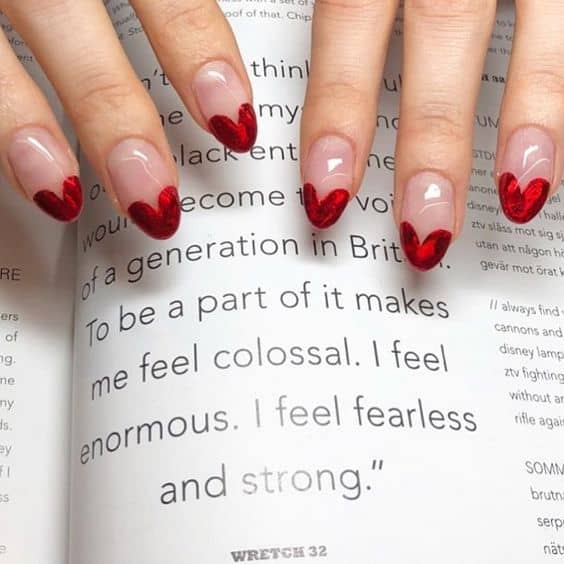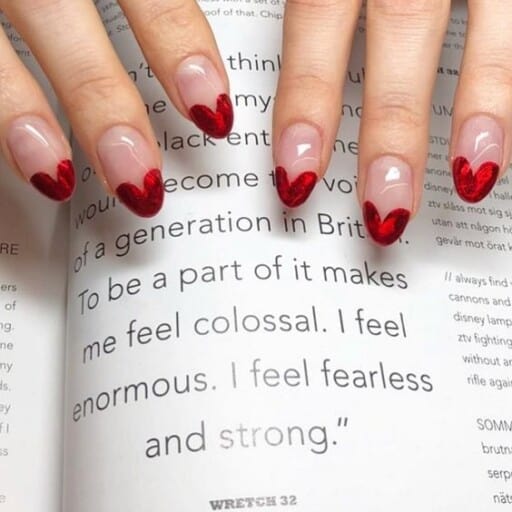 For a sheer manicure with some pop of color, you might love this fun and romantic twist to the classic French tips.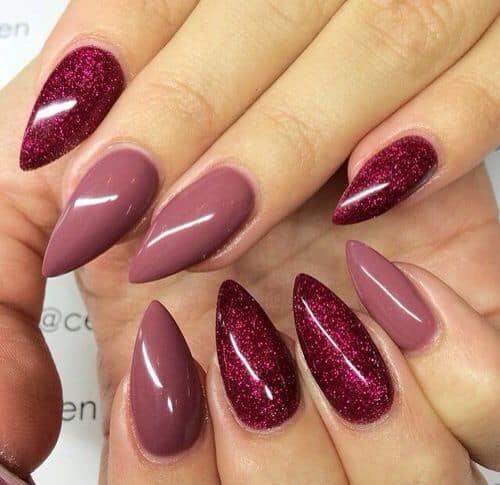 If you love mauve as much as I do, then you'll definitely love this manicure! The shimmery accent nails remind me of delicious raspberry jam.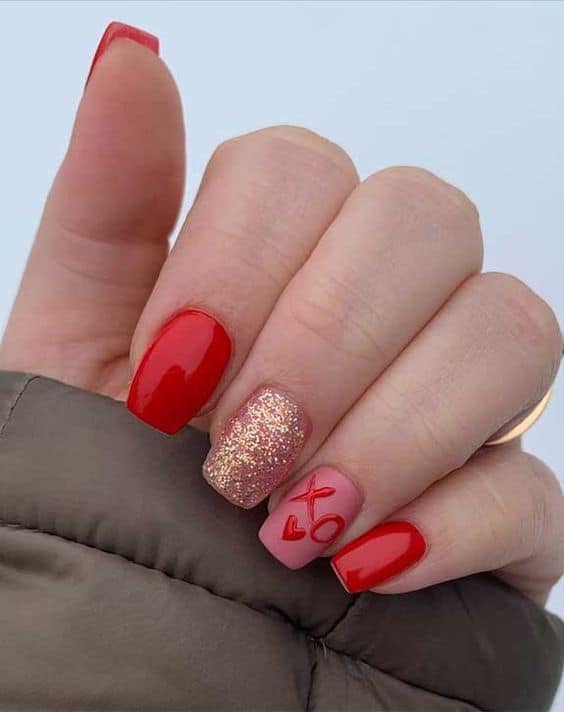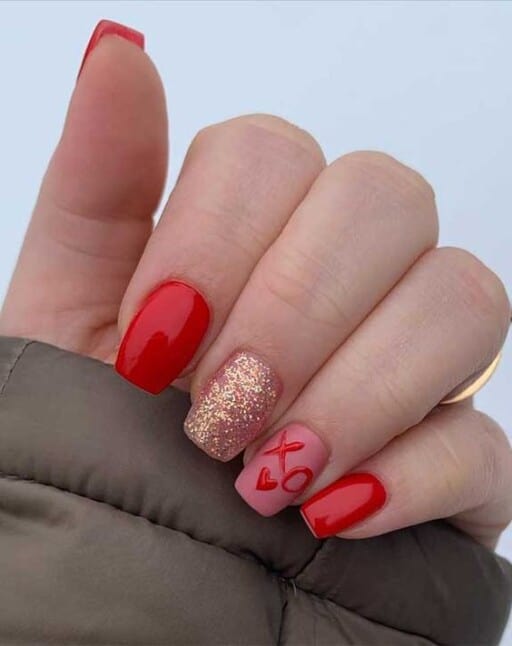 Get creative with your manicure this Valentine's Day by using different finishes for your polish choices.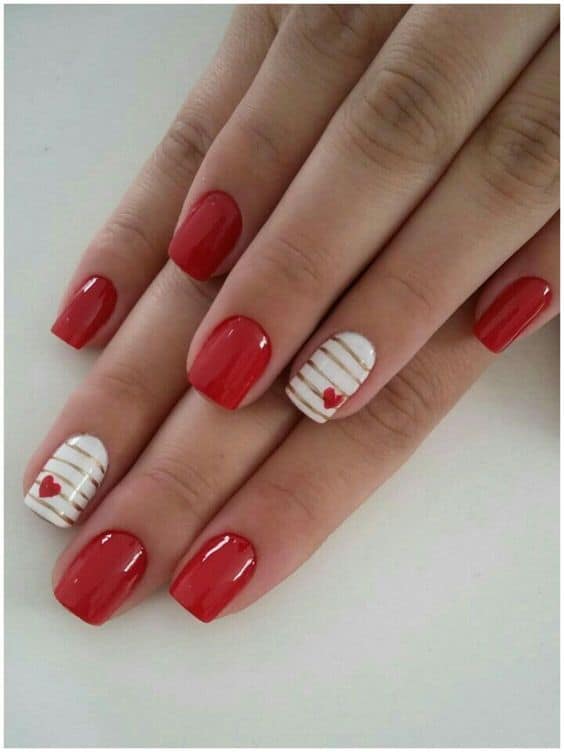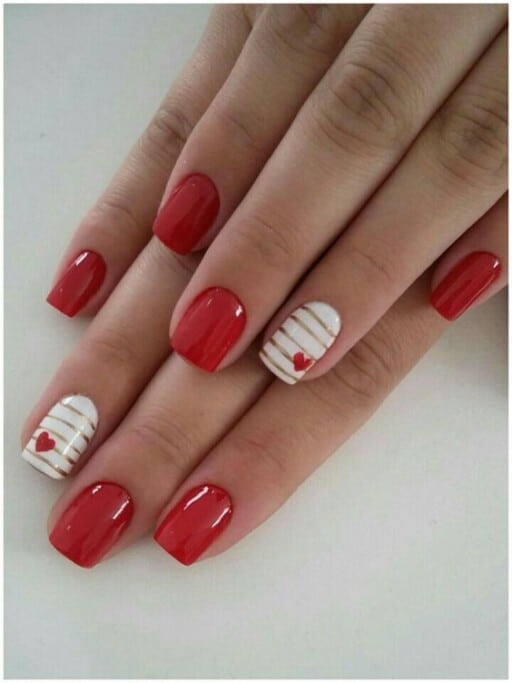 Looking for Valentine's Day nails with a red twist? If you're unsure what design to go for this love month, then try choosing a simple design like these striped hearts that won't be too fussy for you to create.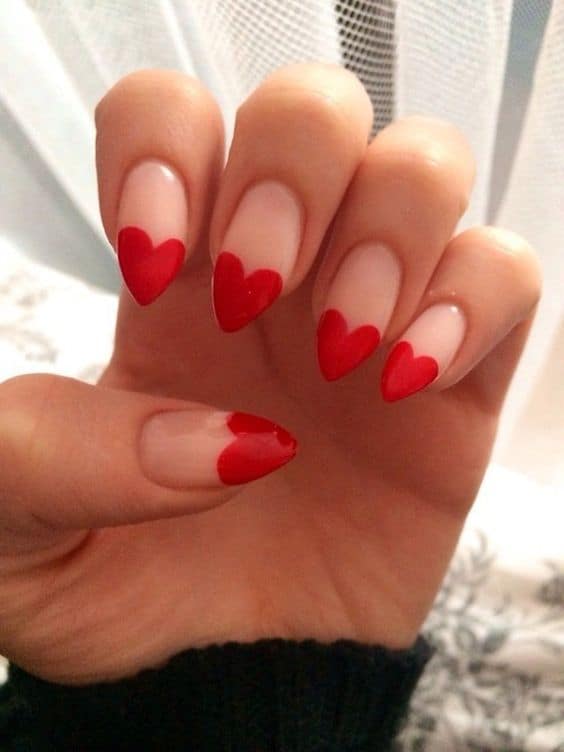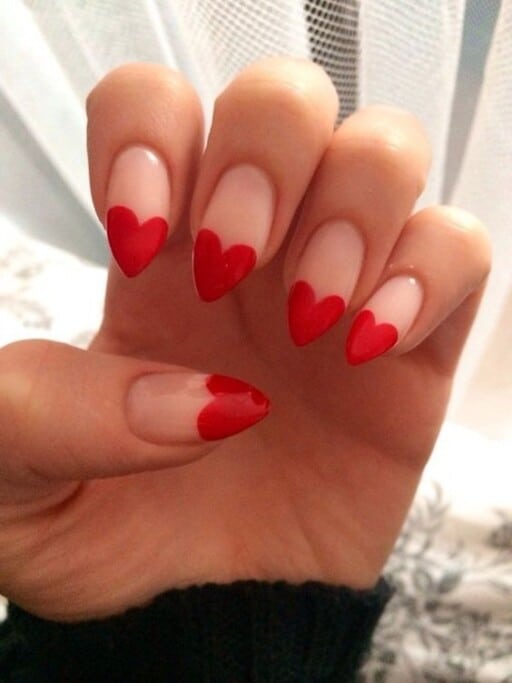 Feel the love this February by creating heart-shaped French tips for your nails!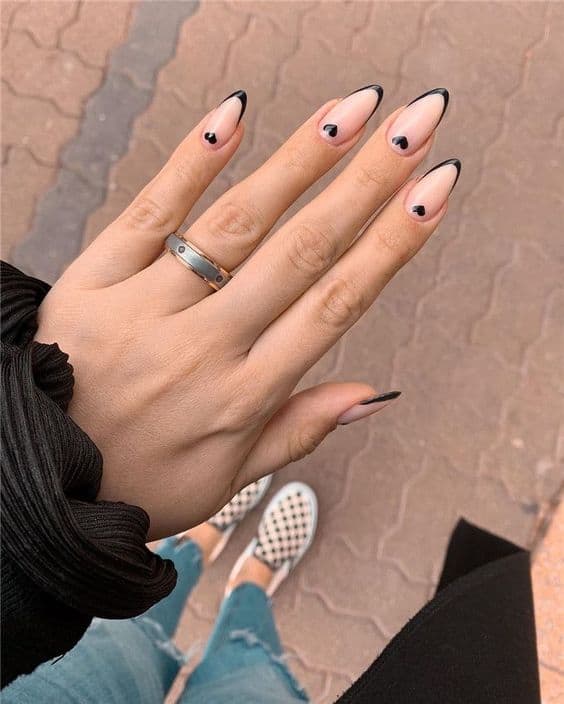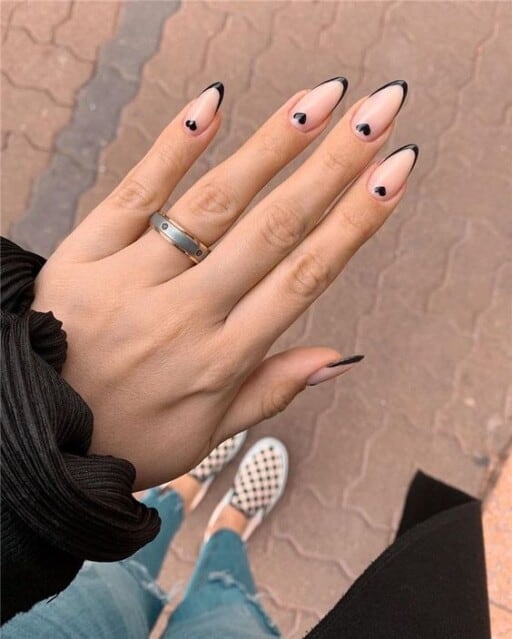 Add a touch of edginess to your manicure by using black instead of white for your classic French tips.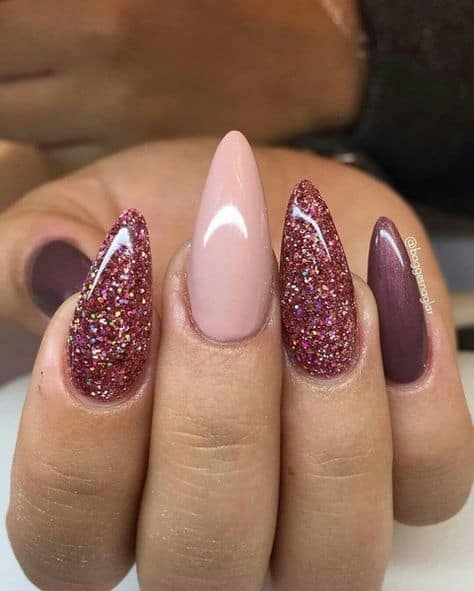 One way to take your manicure to the next level is by adding shimmery accent nails to get those gorgeous sparkles.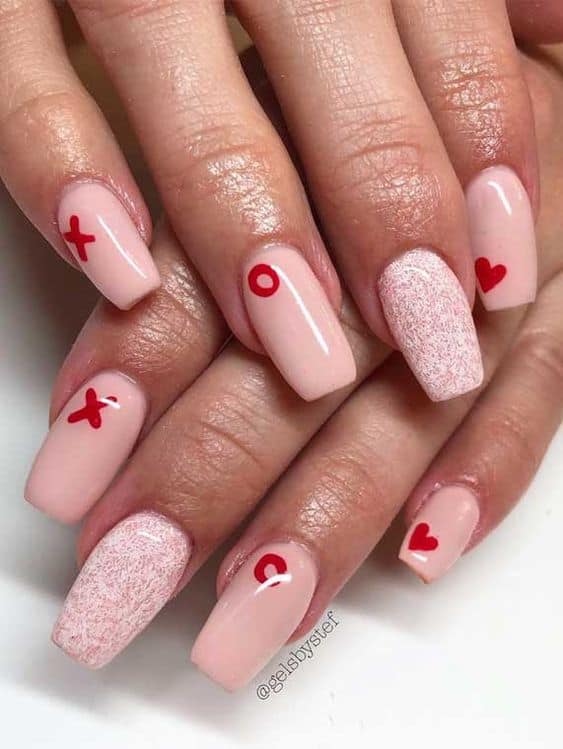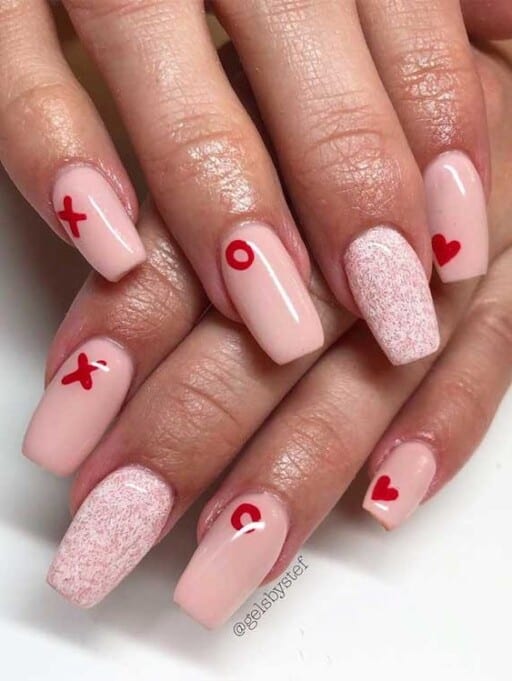 Looking for Valentine's Day nails that are subtle bit spritied? Show off your affections by adding an XOXO nail art to your manicure. This will give your nails such a fun and flirty vibe on Valentine's Day.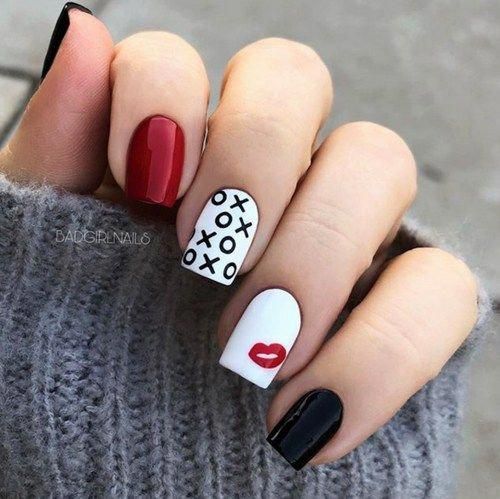 If you don't like feminine colors for your next manicure, try a monochrome design that'll give you a flirty and fun vibe this February.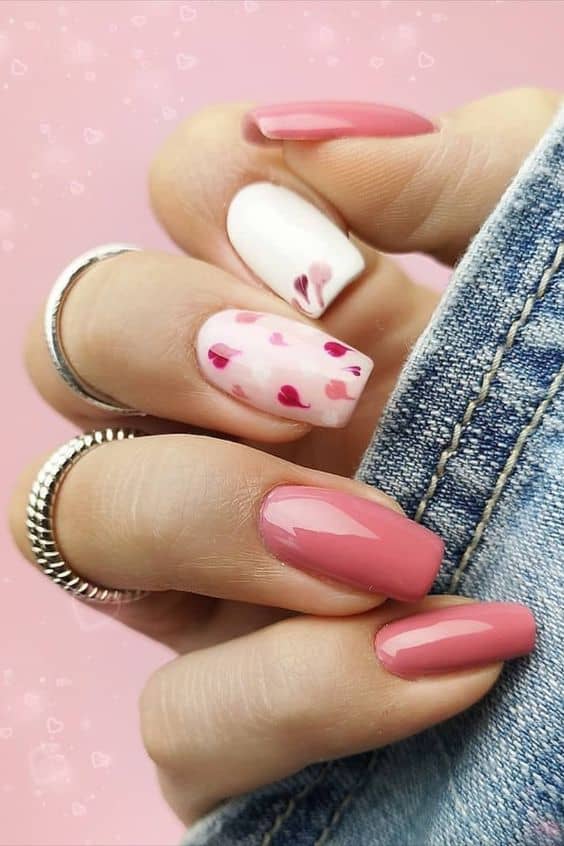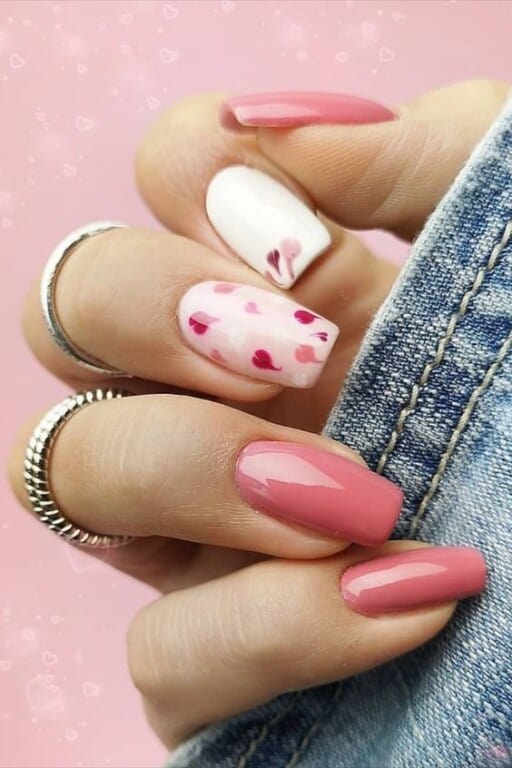 Looking for Valentine's Day nails that are a bit more unique? Aside from the usual pinks this February, try adding some accent nails with unique nail art like these dainty leaves.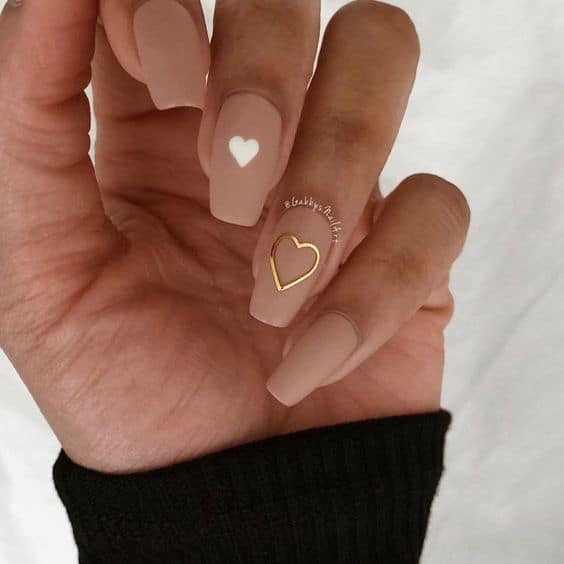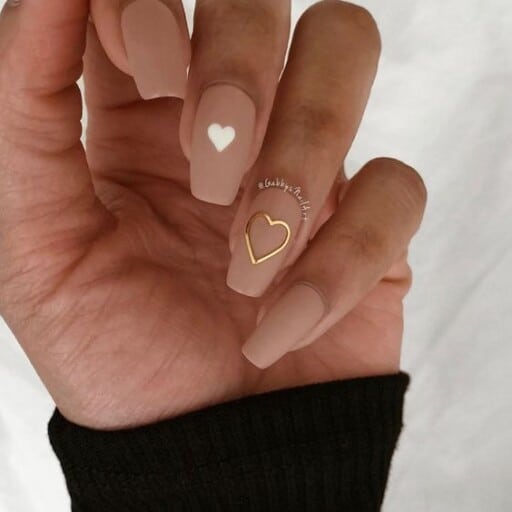 This is such a gorgeous nude shade for your nails that's only made even better with those delicate gold accents! If you love Valentine's nails but want to keep it nude then this look is for you.