Spring has come and what better way to celebrate the new season than by updating your phone with a beautiful sunflower wallpaper background? Check out our collection of the best sunflower backgrounds you can find online!
As someone who constantly changes up my phone wallpaper depending on my current mood, and season, or perhaps I'm wanting to try out a new aesthetic, wallpaper fatigue is a very real thing. That's why for this article, I'm sprucing things up with a new wallpaper recommendation.
When it comes to flowers, there are plenty of types you can choose from. That said, it can be pretty difficult or even overwhelming to just pick one. Honestly, even I get stressed trying to pick which flower to go for.
But if you're looking for something bright, vivid, and sunny, then you can't go wrong with a sunflower aesthetic!
Undeniably, sunflowers are some of the most beautiful flowers out there. They give any garden a splash of vivid yellow colors that are sure to make any place brighter and feel happier. And it's pretty much the same thing when you apply this particular flora to your phone as its wallpaper.
These flowers are perfectly suited for the spring and summer seasons. So if you're someone who rarely changes their wallpaper, then this article have you covered for the next two seasons!
Why Choose A Sunflower Wallpaper?
Sunflowers bring joy and tranquility to our minds. That is why you usually see a lot of people preferring to preserve those beautiful and tall sunflowers at their houses for decoration purposes.
Sunflowers come in all sizes and colors like red and yellow, and some even have larger petals. Apart from being among the best flowers to offer to loved ones on special occasions, they make for gorgeous wallpapers for your phone too. And because they grow towards the light, sunflowers tend to evoke feelings of optimism and joy.
In other cultures, the sunflower also symbolizes good luck, long-lasting happiness, hope, and the beginning of a new chapter in life. Whether you're trying to manifest happiness into your life or simply starting fresh, the sunflower might just be the perfect fit for your phone wallpaper.
How To Save These Sunflower Backgrounds On Your iPhone
Press and hold the photo that you want and click save to iPhone. This should work on Androids as well! Once you've saved the photo to your camera roll, you can go into settings and change your current background into your chosen sunflower wallpaper.
Note: You can use any of these sunflower backgrounds for either your home screen, lock screen, or even both. Your iPhone gives you the option to use a different wallpaper for each screen, which is a fun way to incorporate more photos.
I like to use a bolder wallpaper as my lock screen and I choose a more muted wallpaper for my home screen. For me, this makes it easier to see my apps over my home screen's wallpaper, but this is a personal preference and will depend on your phone's aesthetic.
If you really love a particular sunflower wallpaper but are having trouble using it on your home screen, try using an editing app (I love Tezza and Canva for this) to add a muted overlay over the photo. This should make it easier to use under your apps.
Sunflower Wallpaper Backgrounds
It's time to give your phone a whole new look with these gorgeous sunflower backgrounds. So I hope you enjoy scrolling through this article and find something perfect for your preferences!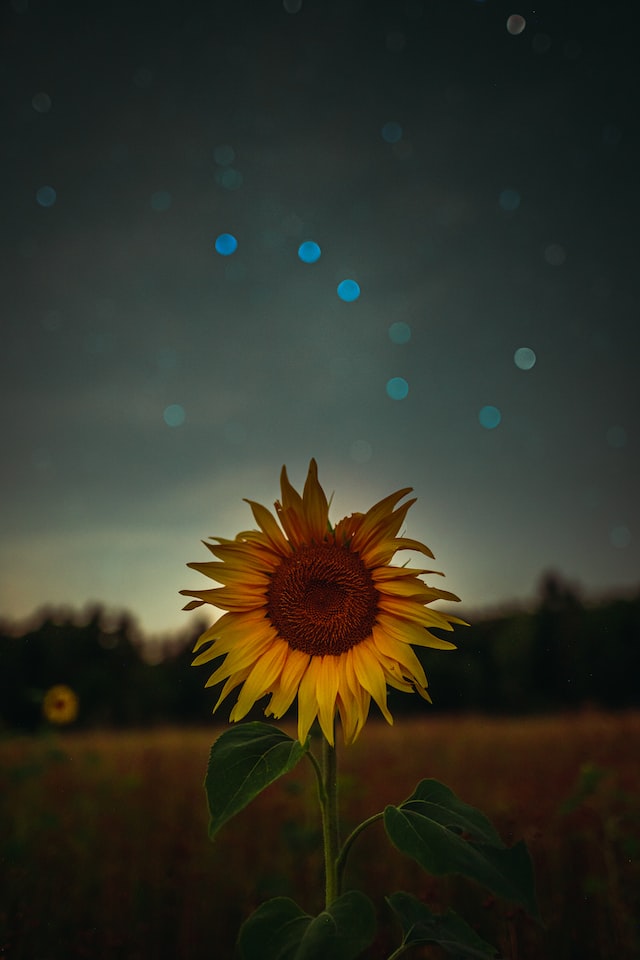 I love the shadows and the muted tones of this sunflower wallpaper. The bright yellow petals really make a beautiful contrast against the darkened background.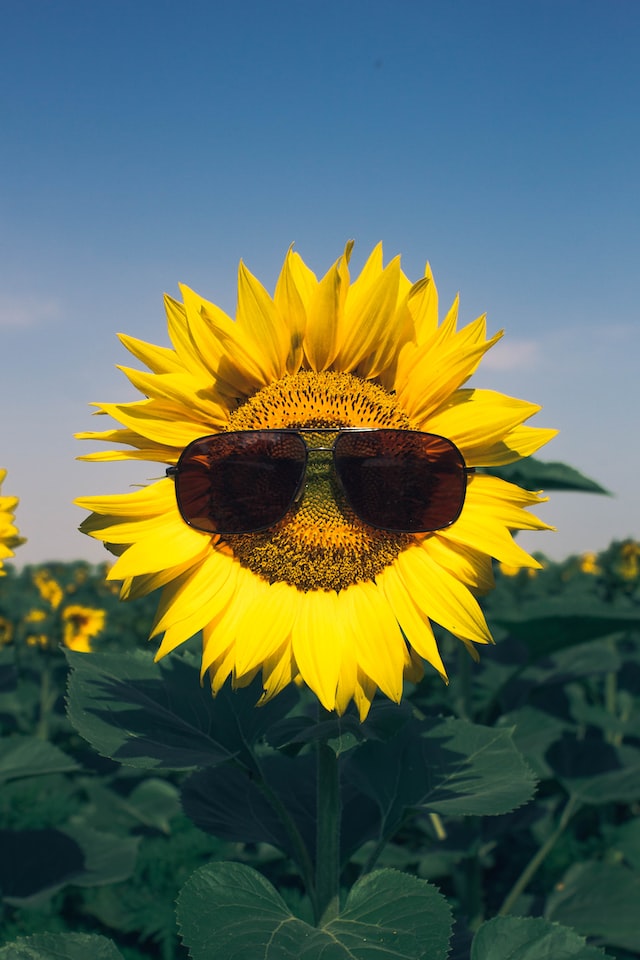 How cute is this sunflower with its sunglasses? It's definitely giving major cool vibes.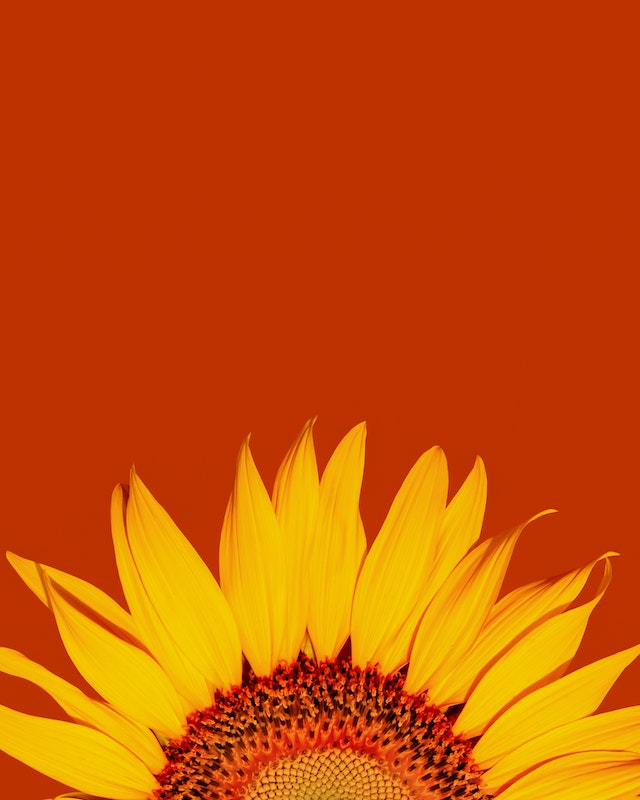 If you're looking for a bold wallpaper that's perfect as both a homescreen and lockscreen, this is for you. I love the combination of red and yellow.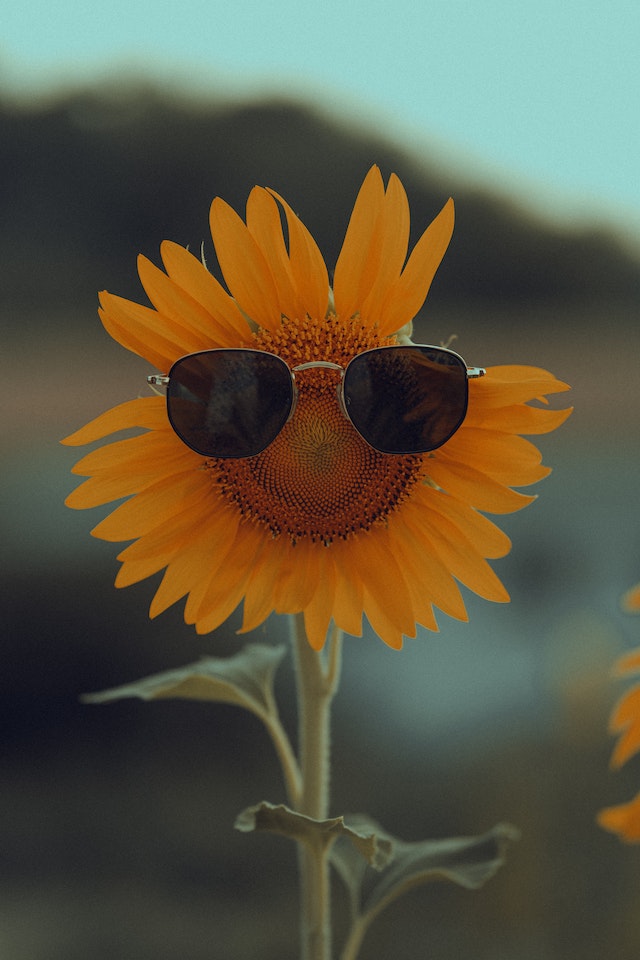 For some reason, I have the impression that this sunflower is smiling at me while wearing those snazzy sunglasses.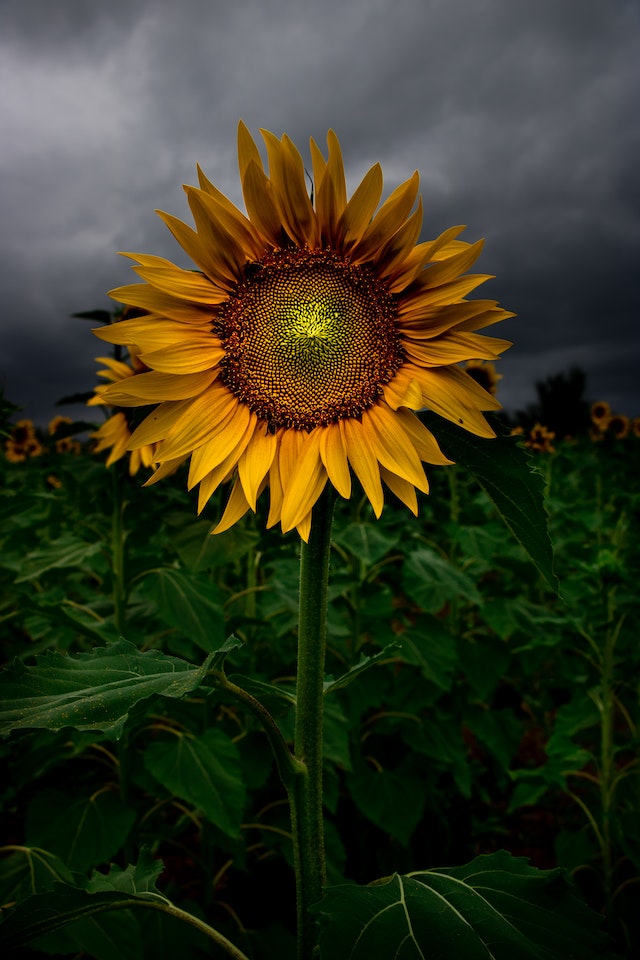 I love the amount of detail and clarity this sunflower wallpaper has! The gloomy atmosphere makes a gorgeous contrast against the vivid yellow sunflower.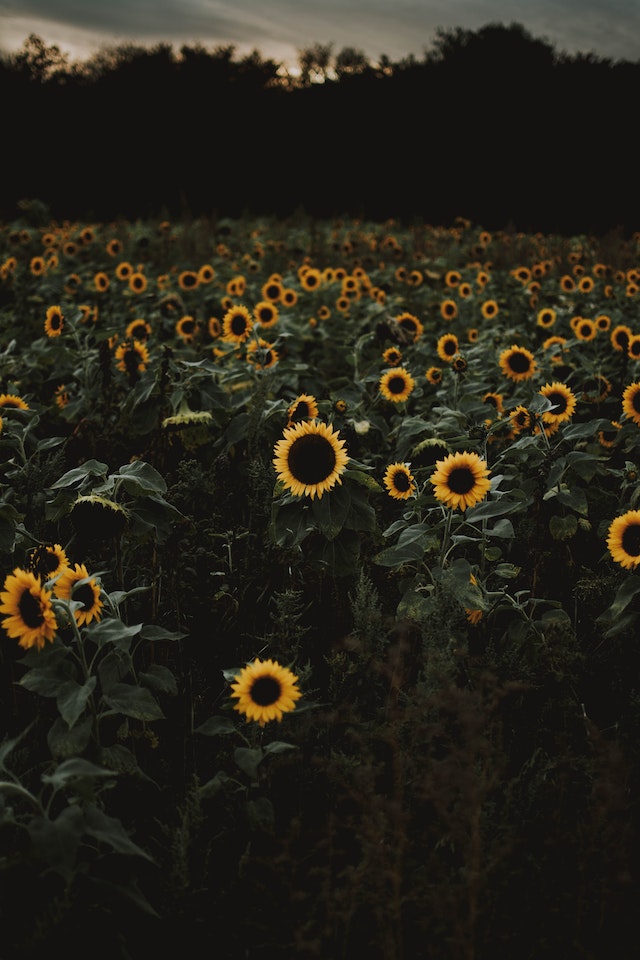 This field of sunflowers is one of the most beautiful things I've seen! I can see this being used as a lockscreen. This is one of my favorite moody sunflower backgrounds!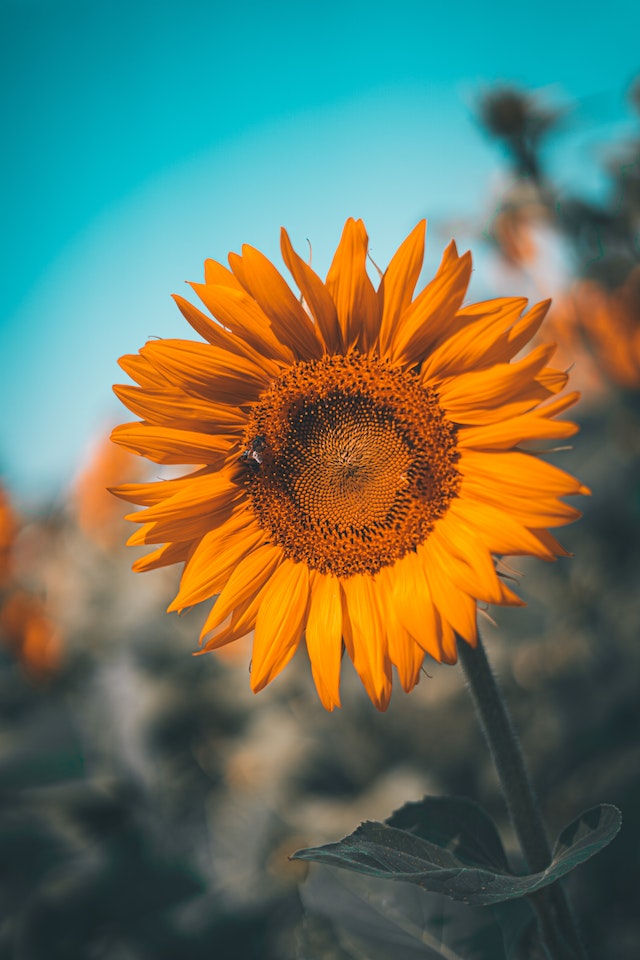 Keep it simple with your sunflower backgrounds by making them the focal point of your phone screen.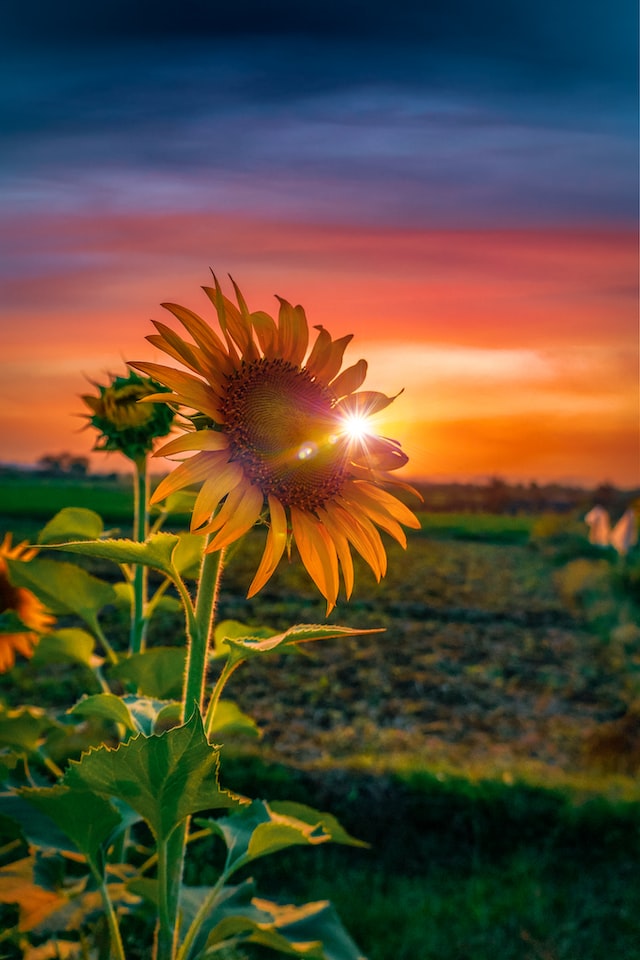 Apart from a beautiful sunflower, this picture also gives you a gorgeous scenery of a sunset.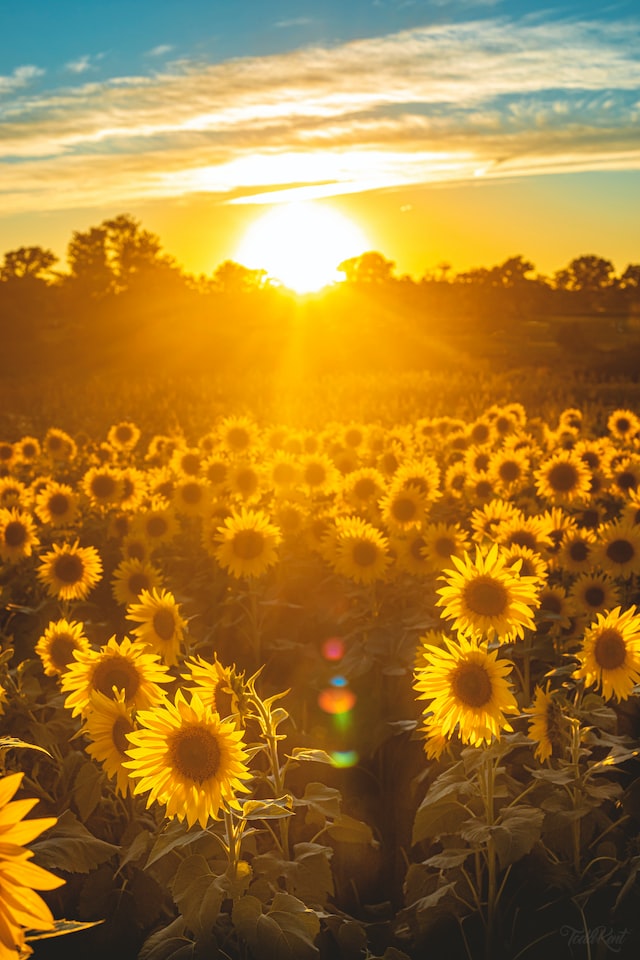 Can you imagine how magical a sunrise would look on a field of sunflowers? I bet it looks just as pretty as this image!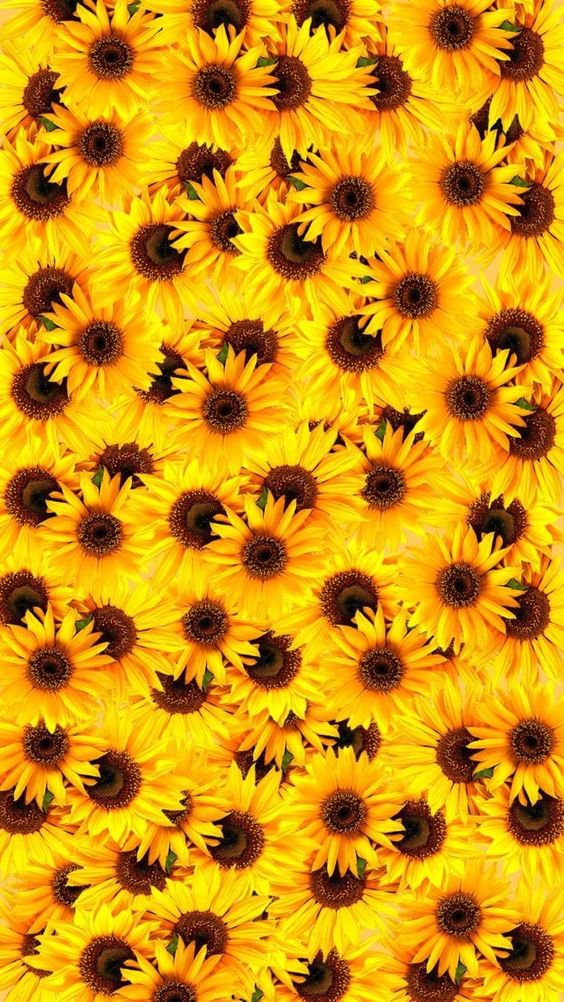 If you want to put as many sunflowers as you can on your phone screen, then this sunflower wallpaper is just for you. Though I would suggest putting a darker overlay on this photo so your apps would be easier to see.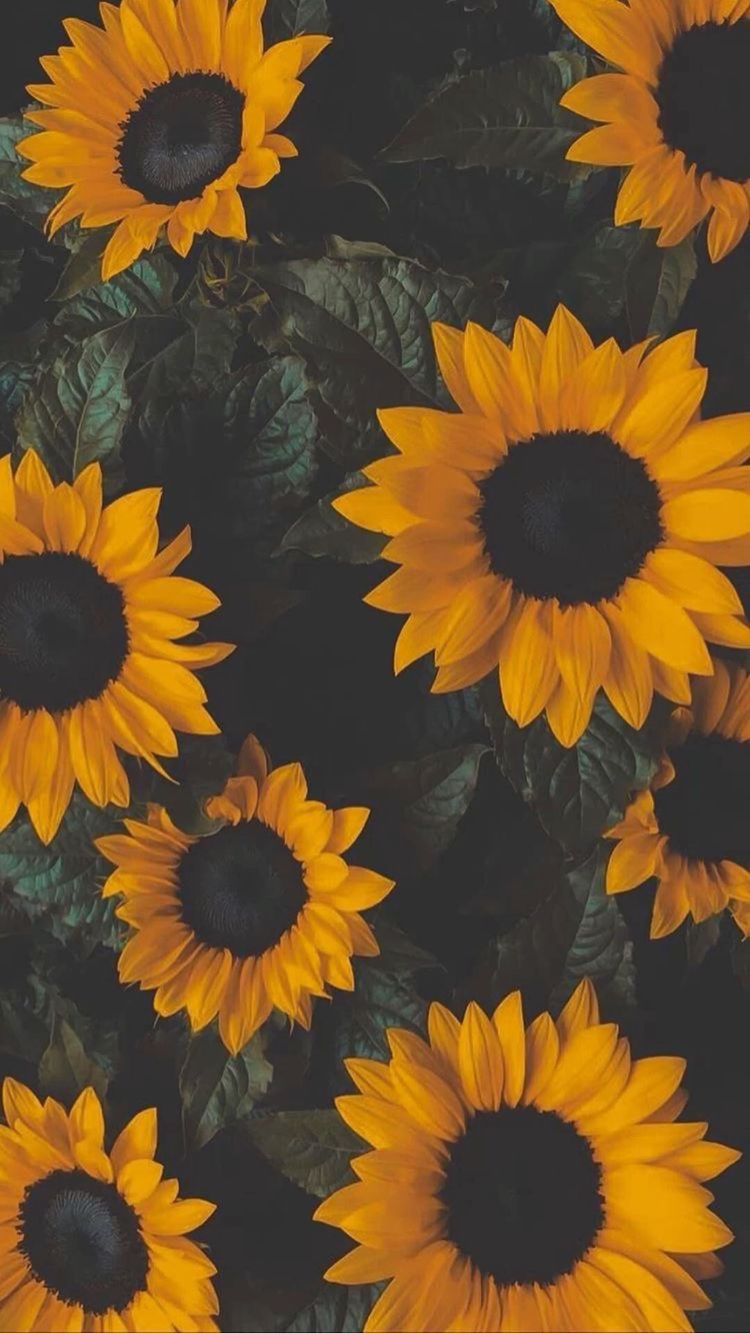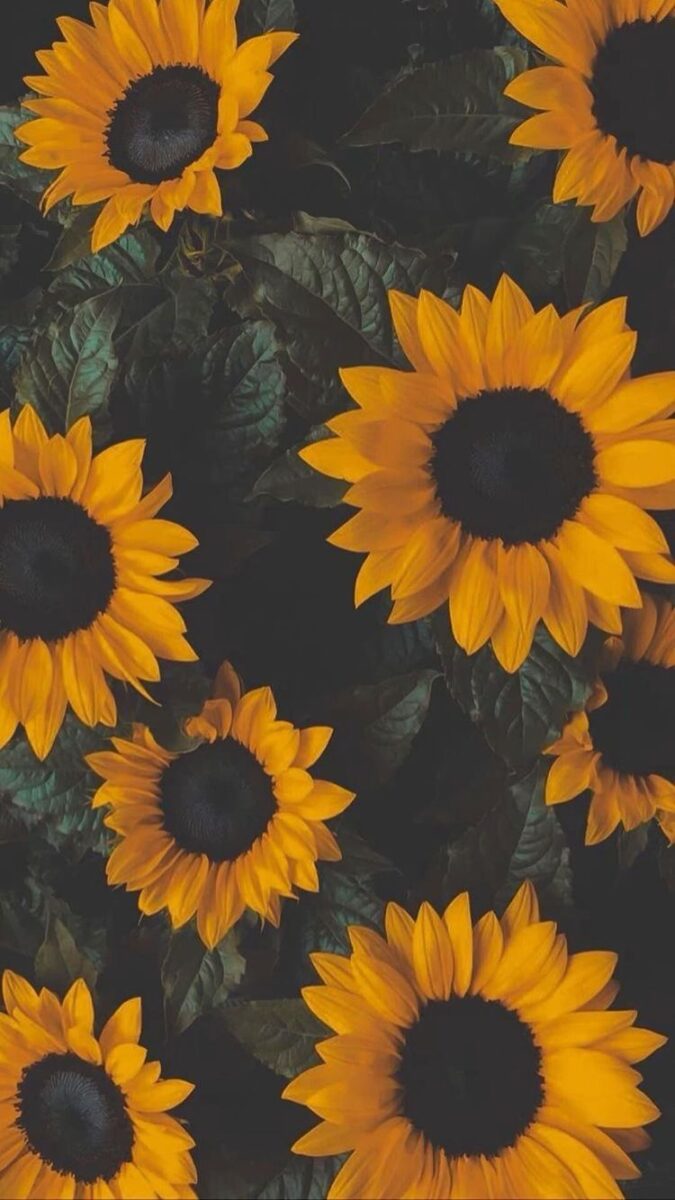 I love the vintage filter on this sunflower photo. It's utterly gorgeous and I love the deep shade of green around the leaves.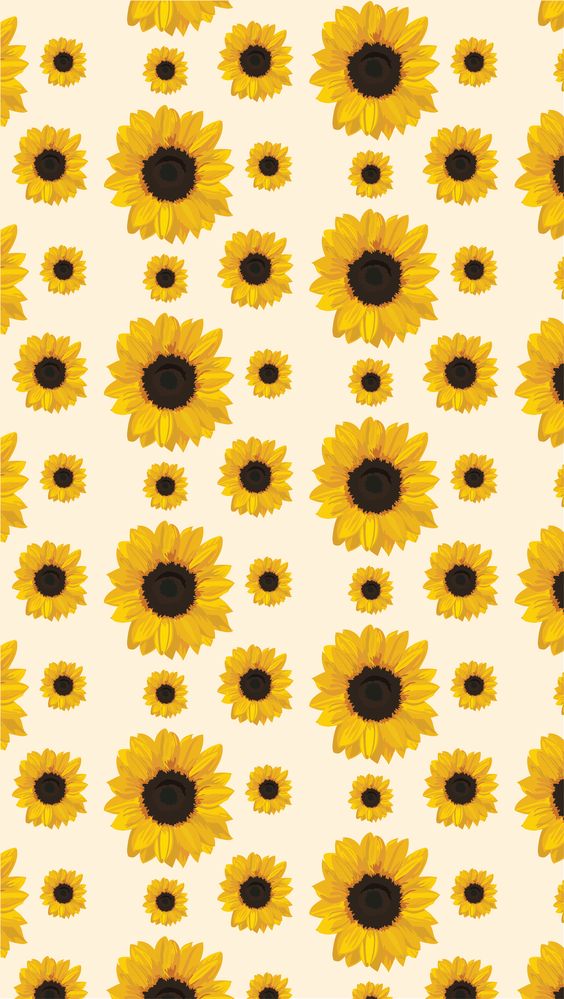 If you're looking for something a bit artsier than a realistic sunflower, then you might like this wallpaper instead. The collage of different sunflower sizes is so cute!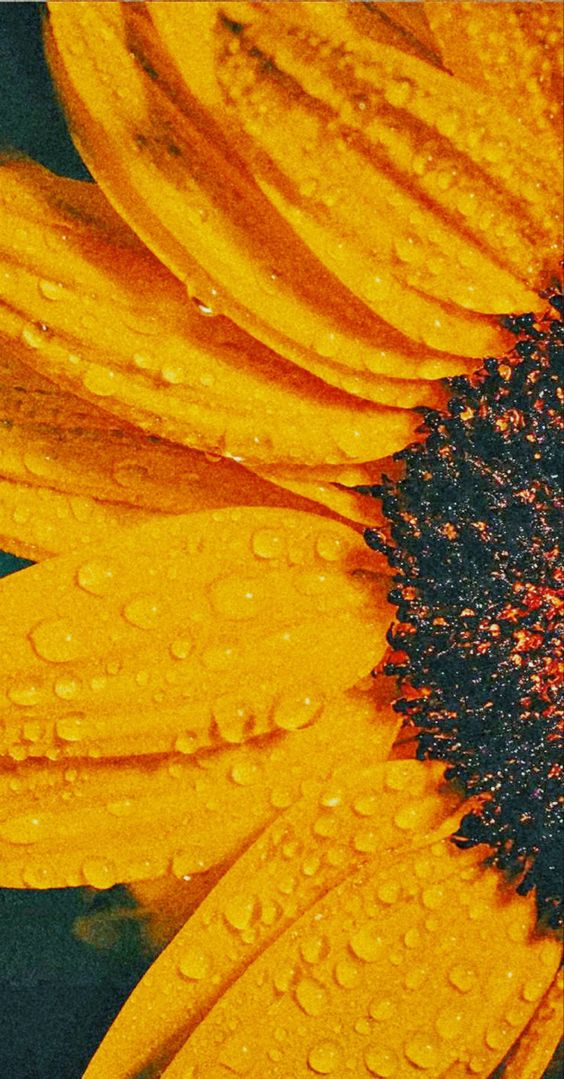 The zoomed-in effect on this sunflower background is so cool, from the bright yellow petals to the water droplets!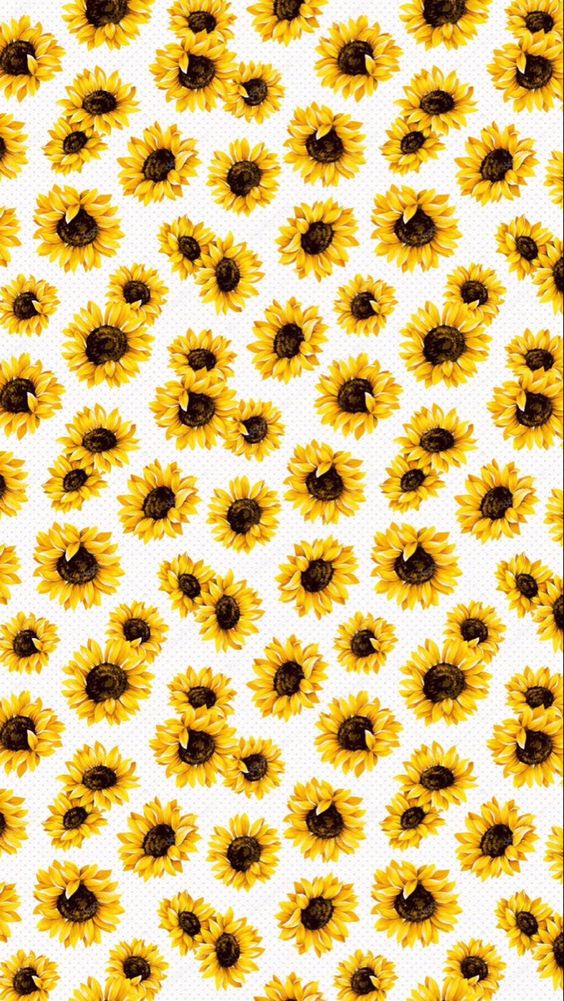 Here's another collage of sunflowers you can choose from. This one has smaller sunflowers and somewhat looks a bit vintage.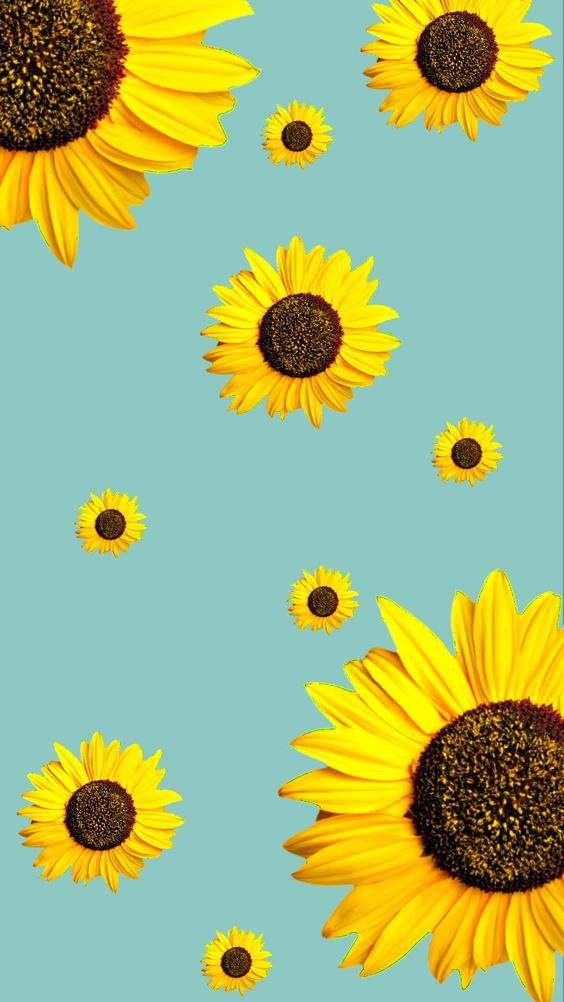 If you like a lot of negative space on your sunflower wallpaper, then you might like this one. I love the summery colors of teal and yellow here.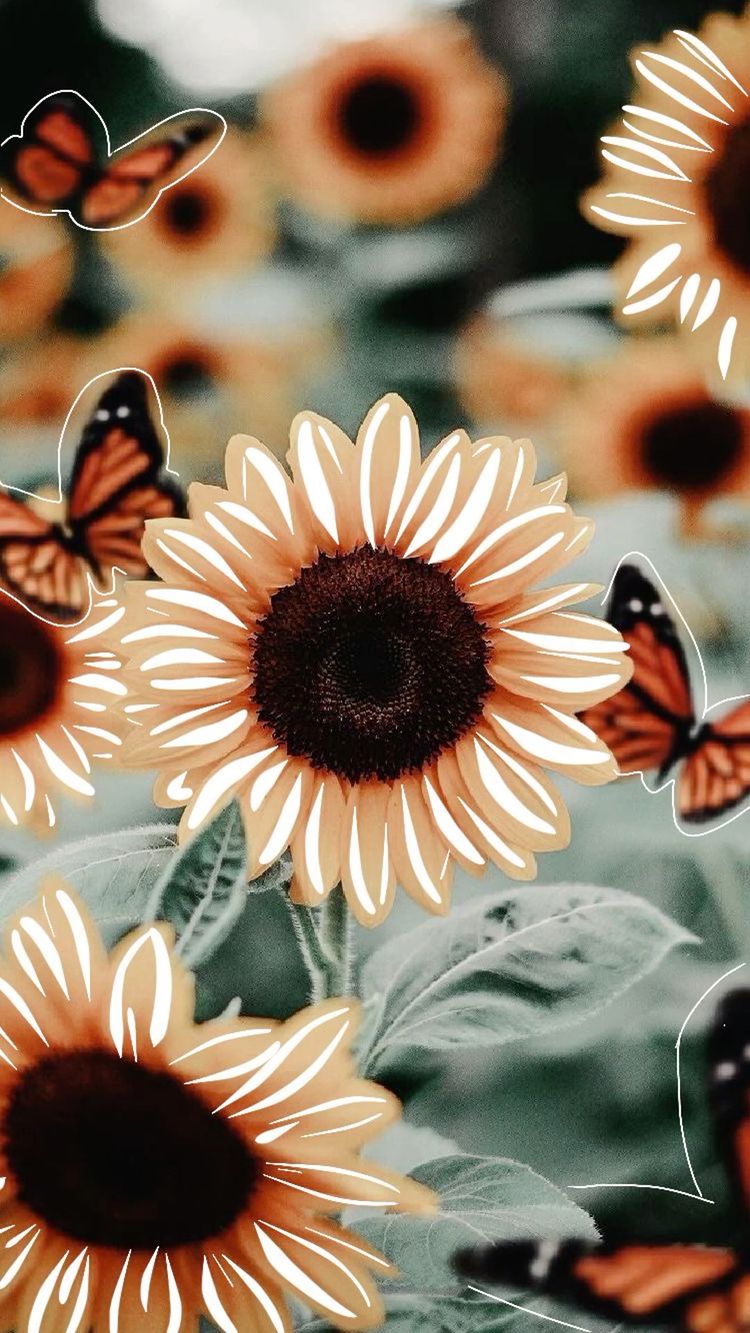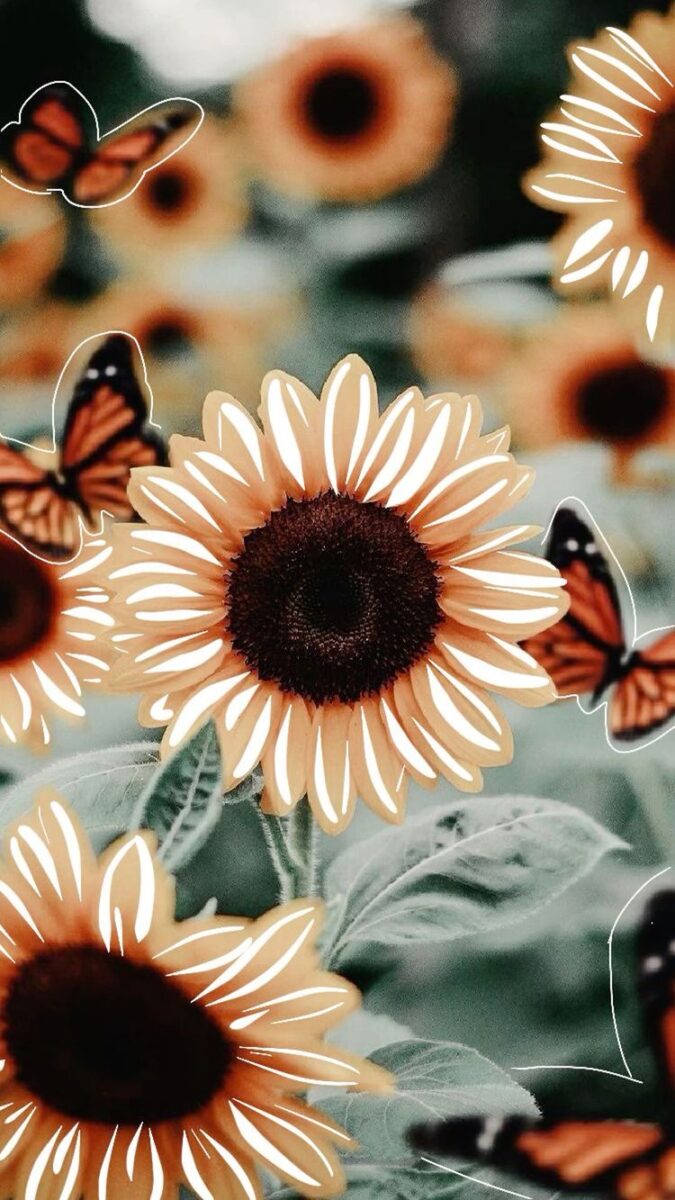 I love the white detailing on this sunflower wallpaper. The butterflies are such a nice touch too! This is one of my favorite drawing sunflower backgrounds.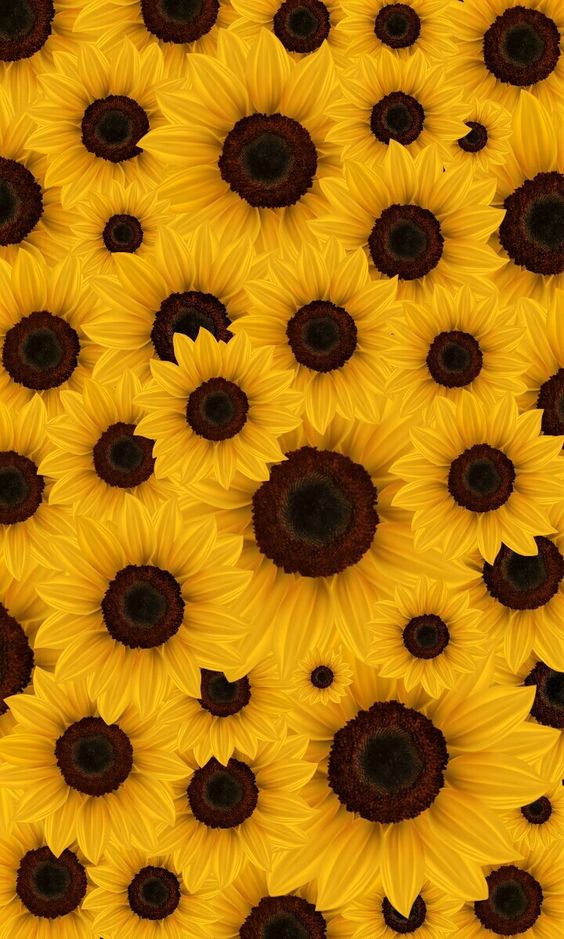 This abundance of sunflowers looks so pretty! You can opt to edit this to make it more muted so it doesn't hinder your apps on your homescreen.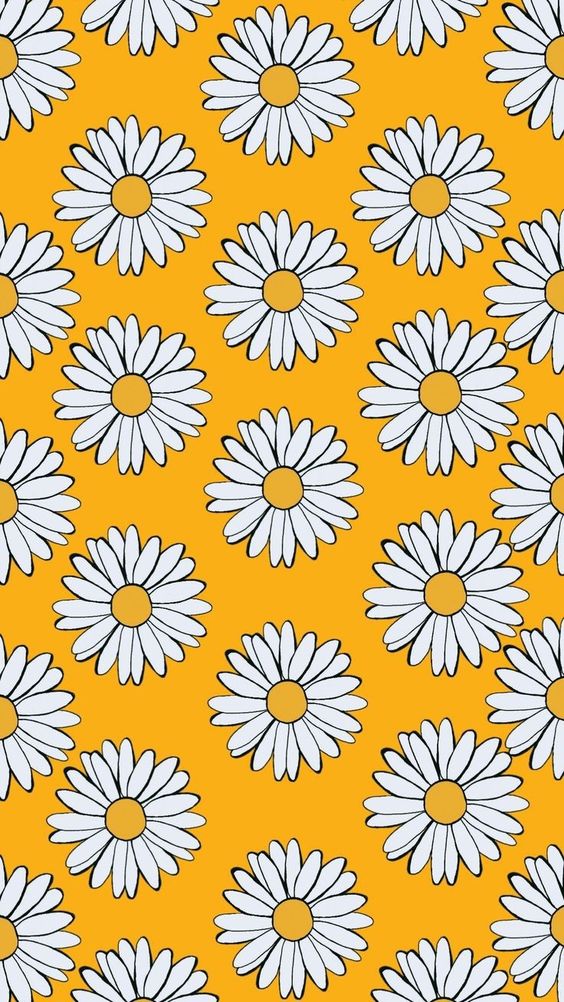 For a unique and quirky contrast of colors, I actually like the white on these petals while the background has the usual yellow.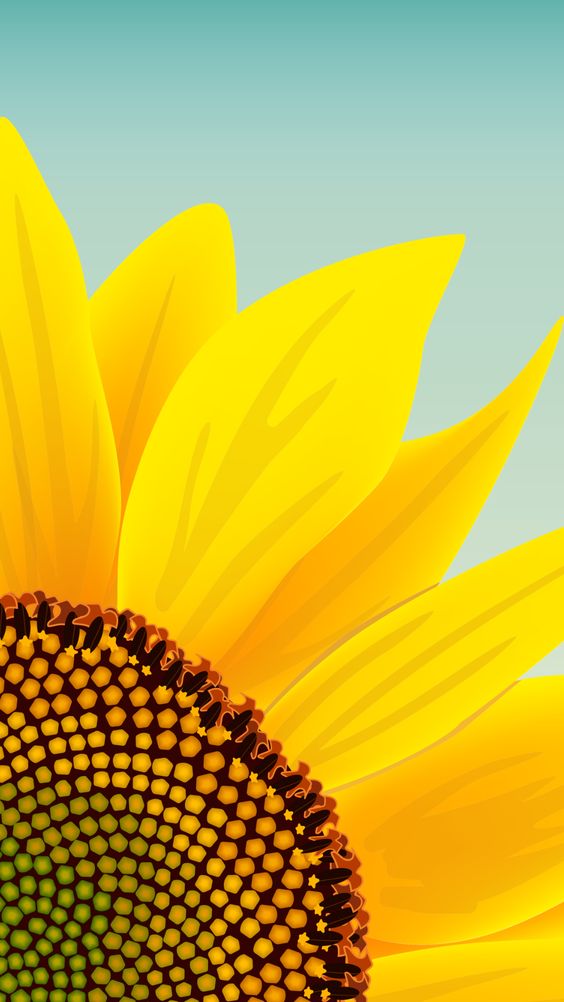 I'm so jealous of people who can create digital art like this one. If I could, I would make a bunch of wallpapers for myself too.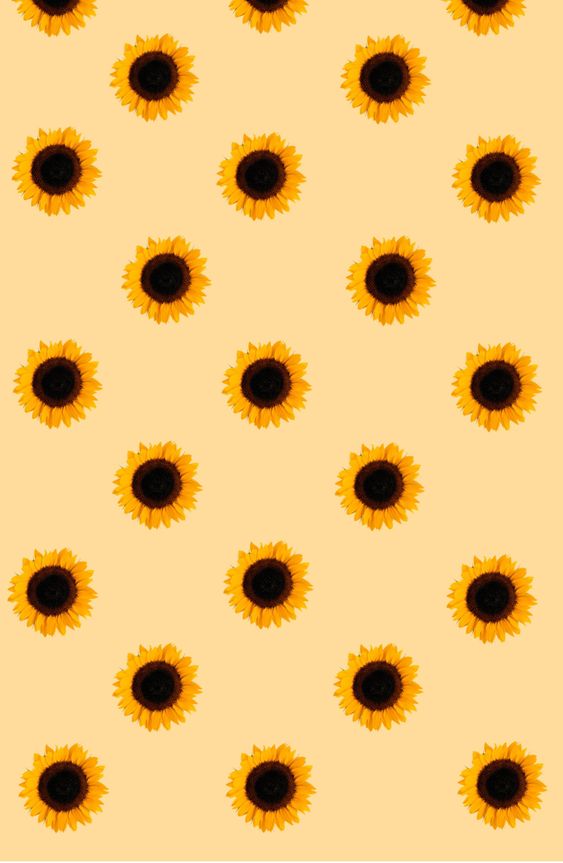 I love the symmetry on this sunflower collage. It's simple but very pretty!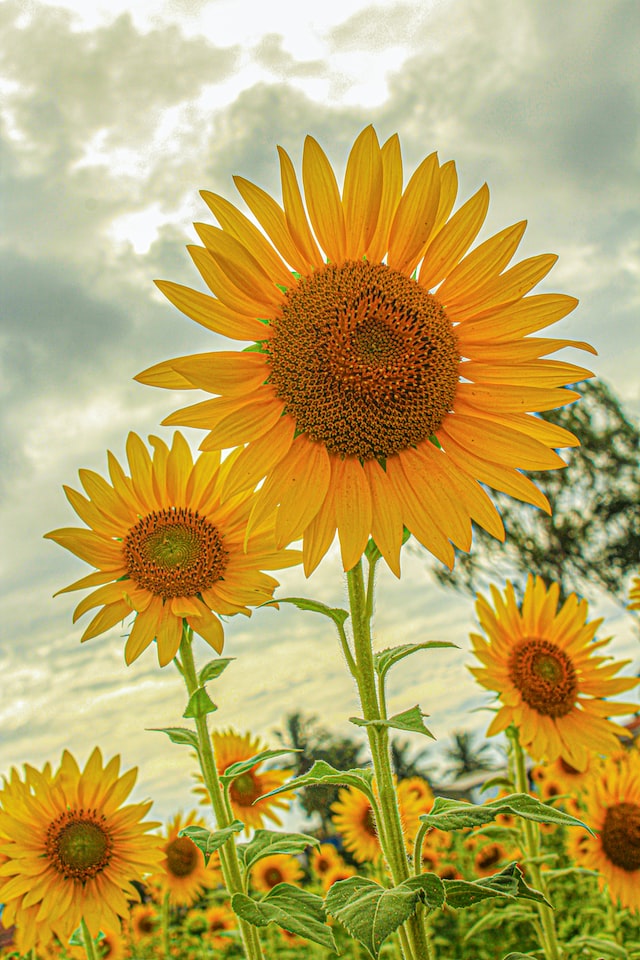 This is probably one of my favorite shots of a sunflower field. Not to mention, the filter used is utterly gorgeous and perfect for the summer!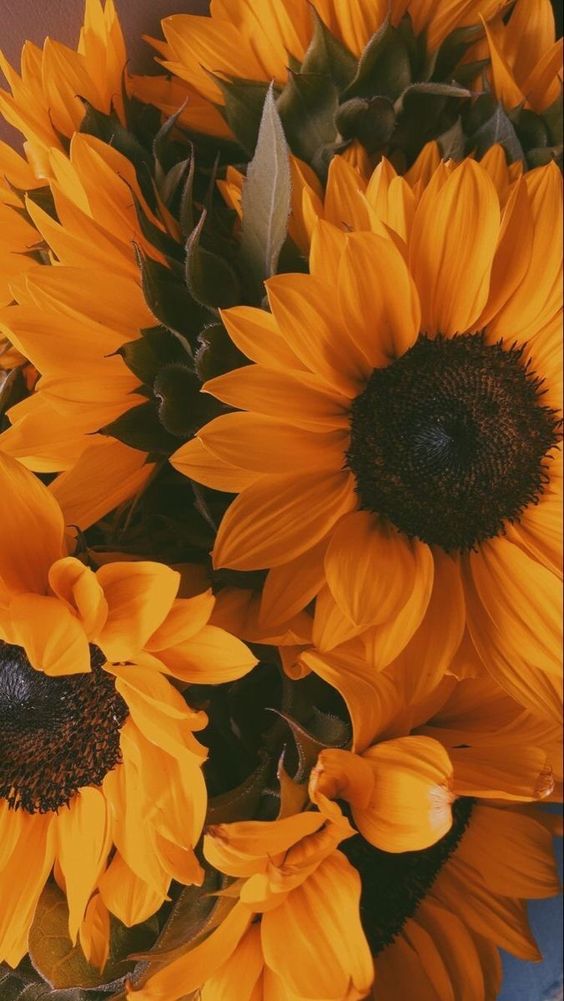 The view of sunflowers from above looks so gorgeous. I imagine this is easy to recreate too if you want to use your own sunflower photos for your wallpaper.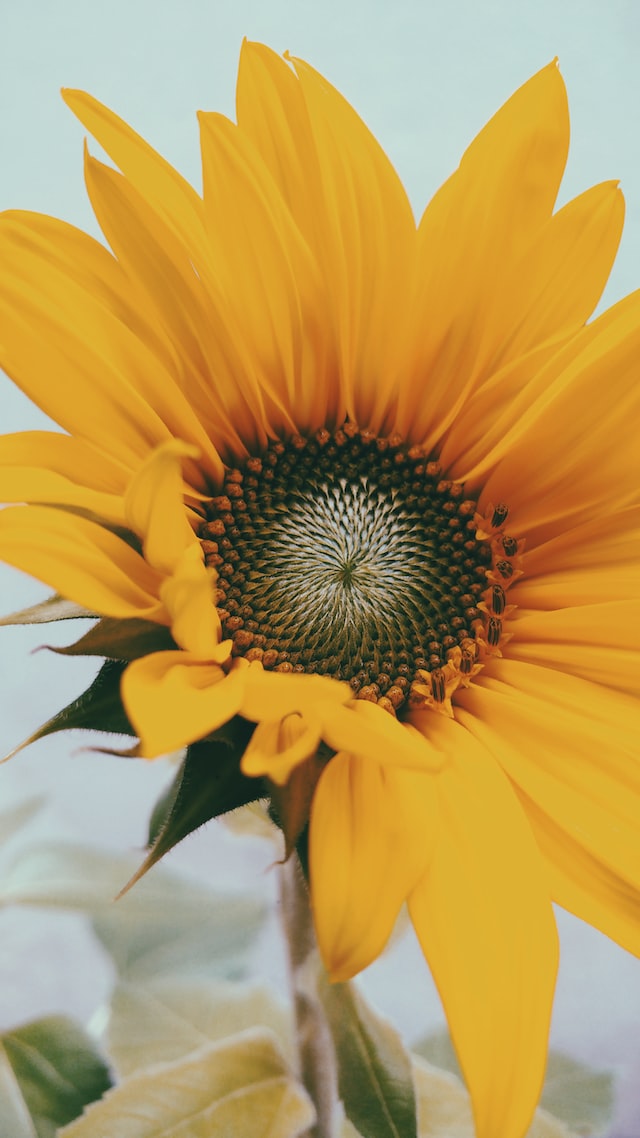 The amount of detail in this photo is amazing! It looks so HD and beautiful. Totally ideal for a lockscreen.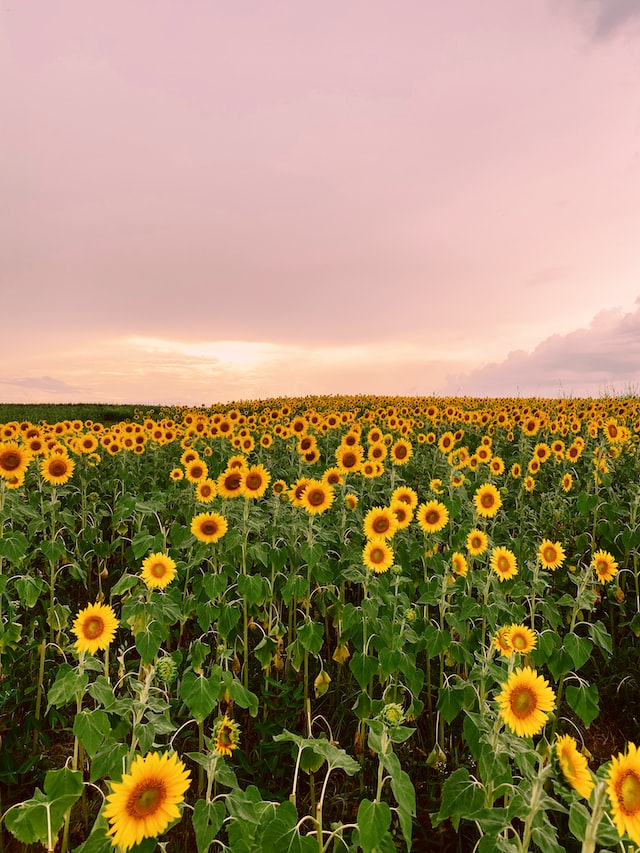 Aside from the gorgeous scenery of the sunflower field, I'm obsessed with that beautiful pink sky too!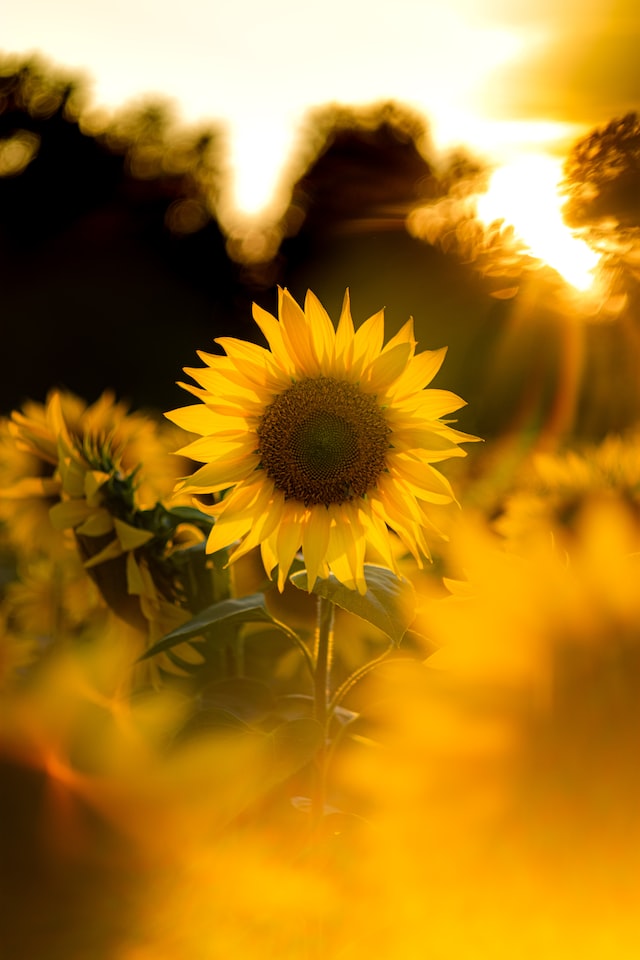 This sunflower wallpaper gives me hazy summer vibes under the afternoon sun.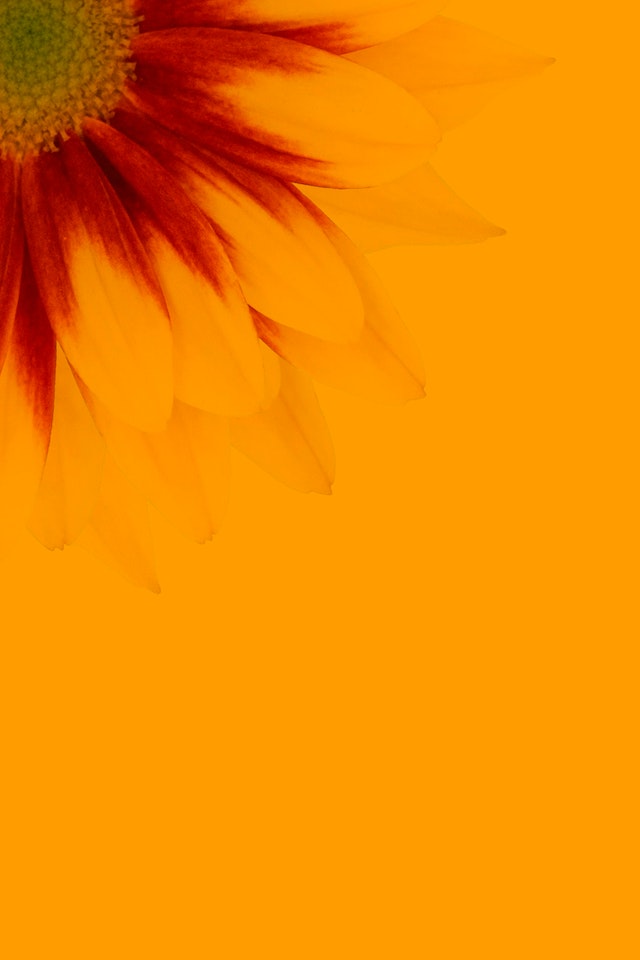 If you don't like your sunflower wallpaper to be too obvious, then you might want to consider this background instead. The base color almost blends with the petals of the sunflower itself. This is one of my favorite orange sunflower backgrounds!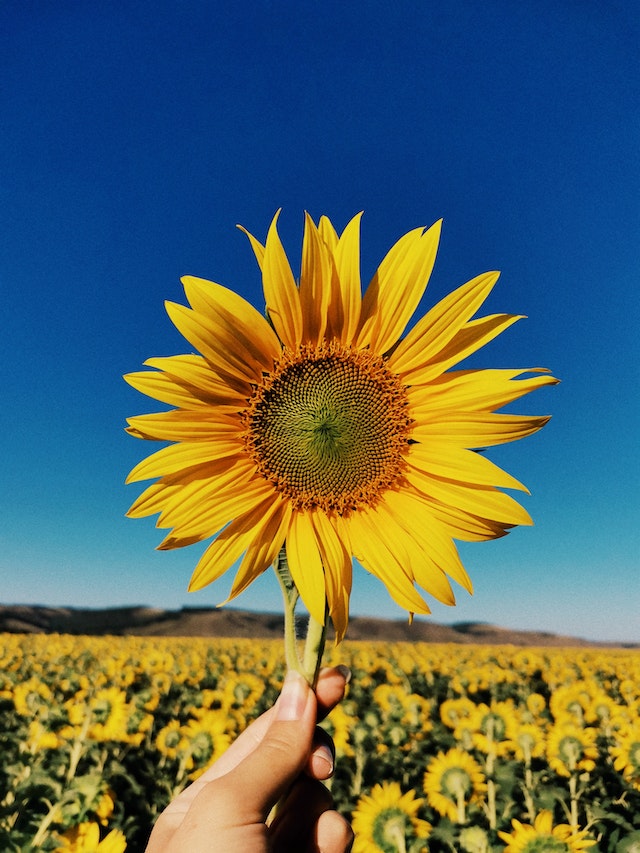 Sunflowers truly look their prettiest under sunny skies. Just look how bright this image is!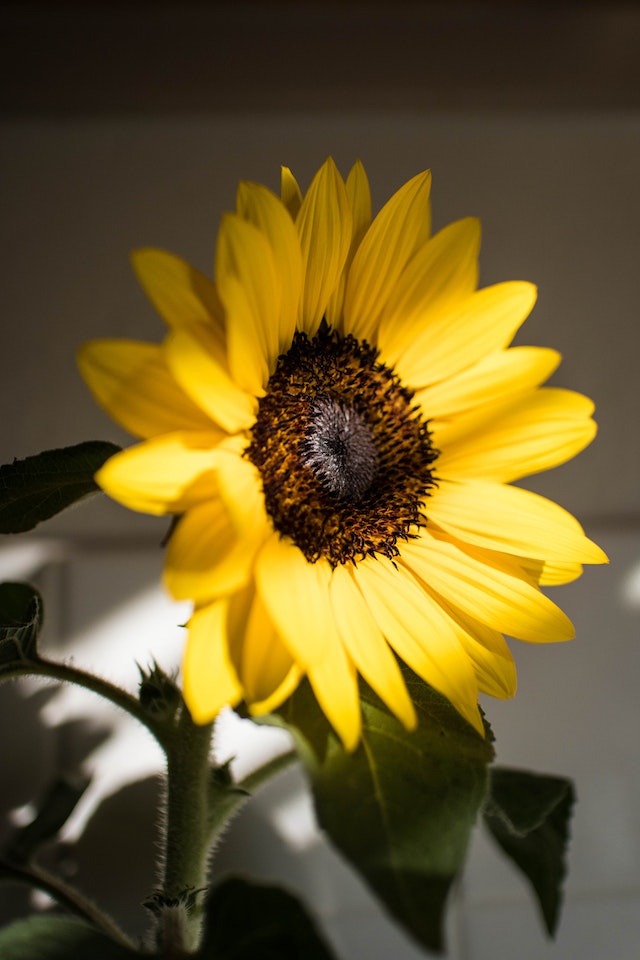 I love the shadows playing in this sunflower photo. It gives a sense of mystery and chic appeal as well.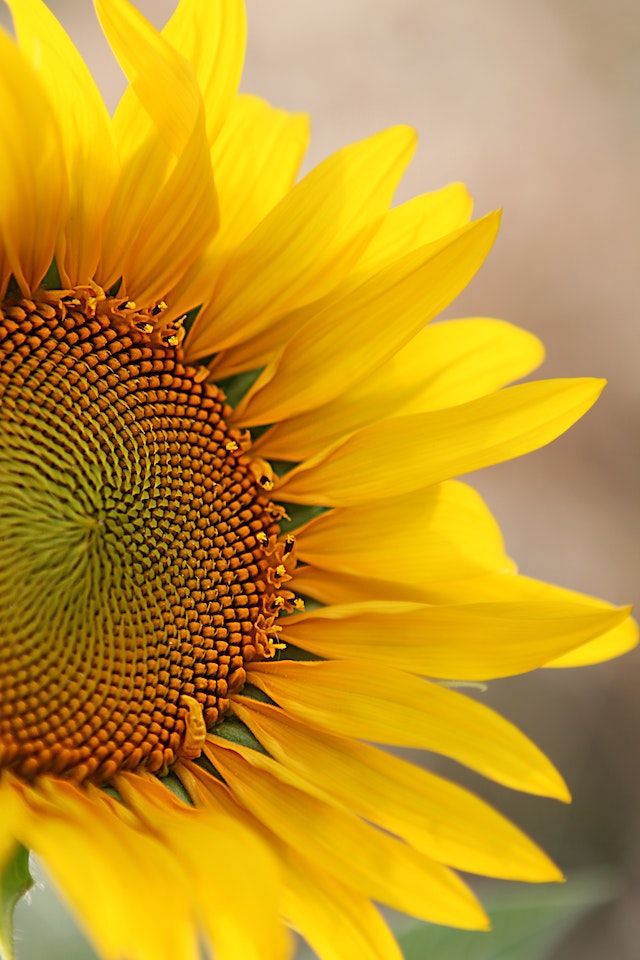 Here's another zoomed-in sunflower photo that you might like. This would look so good as a lockscreen wallpaper!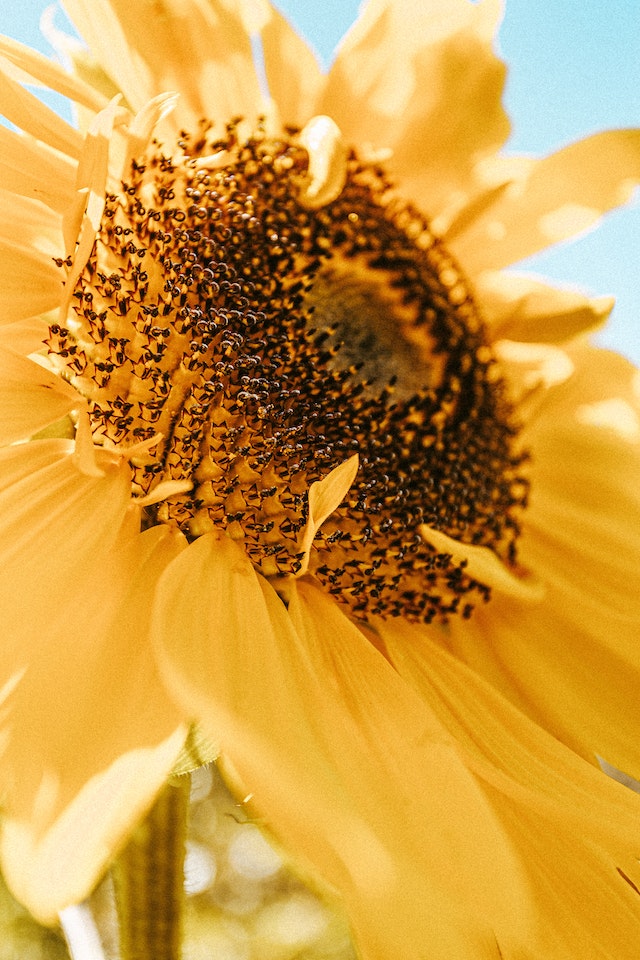 Can't get enough of these zoomed-in sunflowers? You'll definitely see more of it here like this one!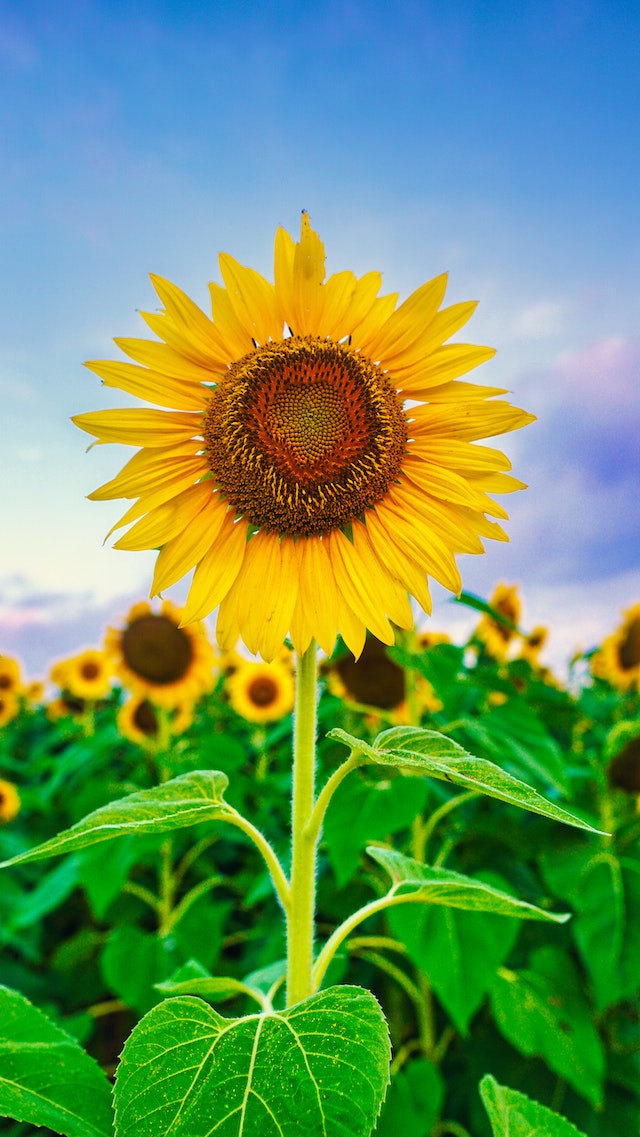 Standing tall and proud, this sunflower is so pretty to look at! The combination of green and blue on the background looks just as gorgeous as well.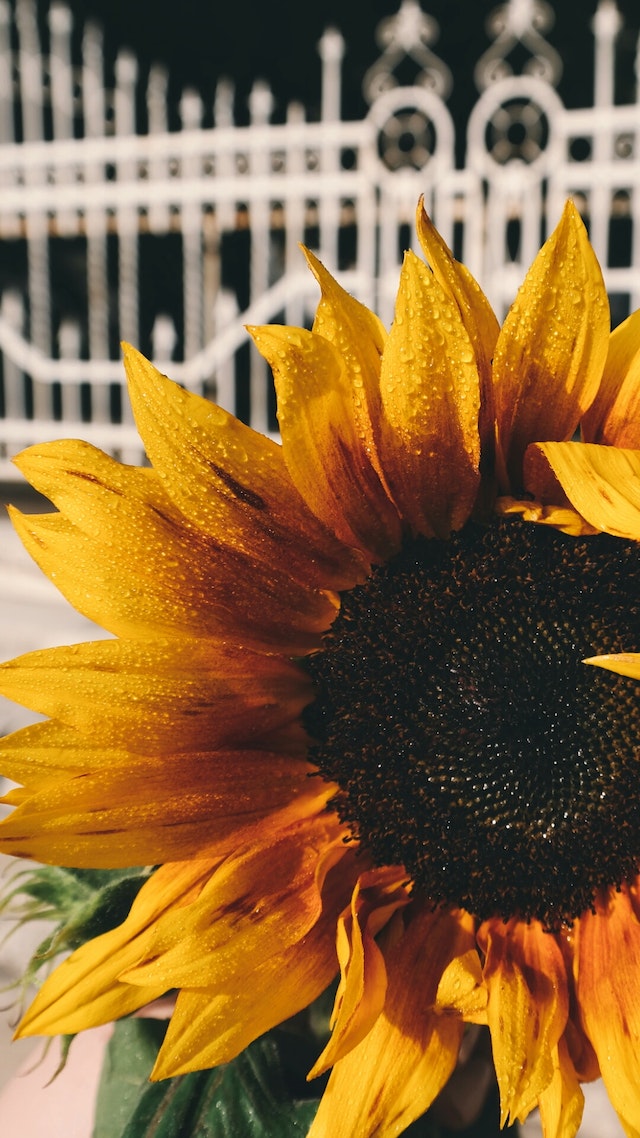 I just love it when you can see every detail of the flower in these kinds of photos. This is probably one of my favorites on this list.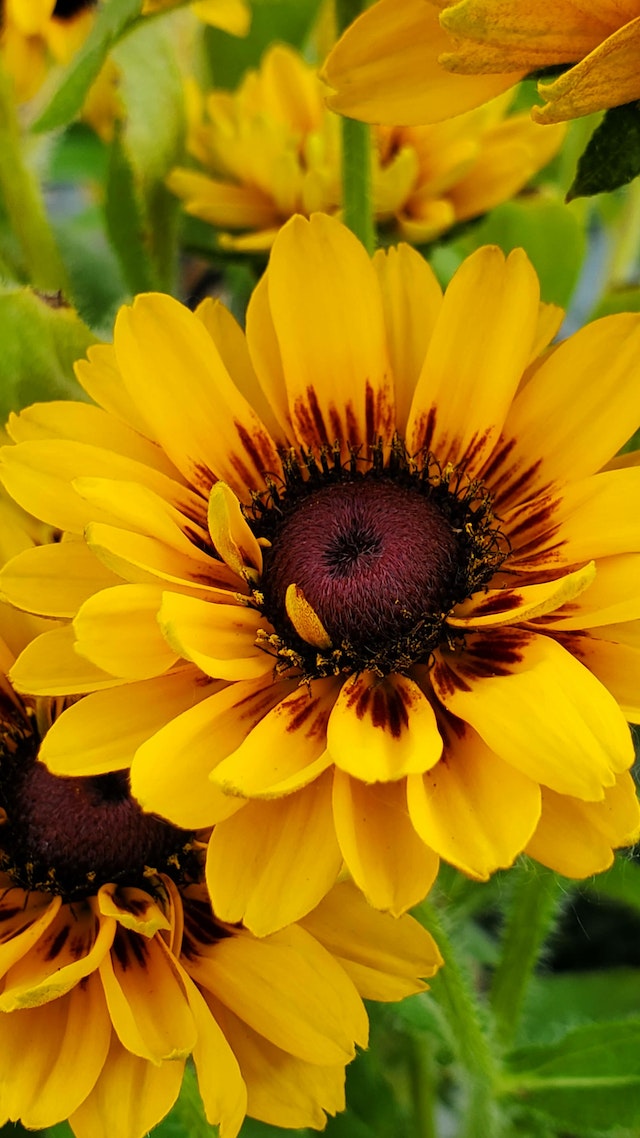 This picture really just evokes such optimism and joy with these beautiful sunflowers. Put it as your wallpaper and maybe it'll give you a pleasant mood every time you see this.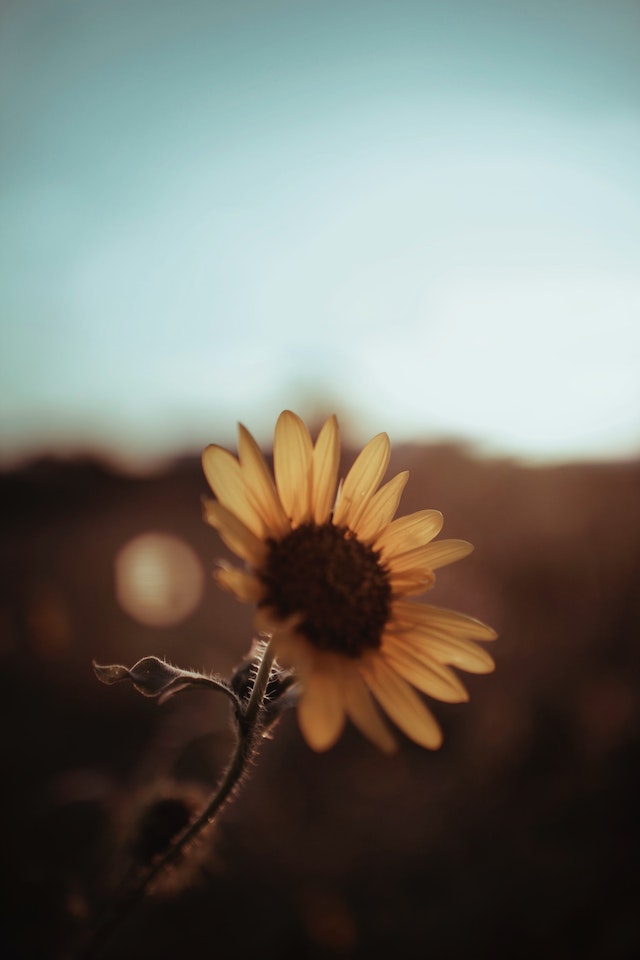 This sunflower kind of looks like it's been taken with a film camera and I have to say that I like this filter a lot!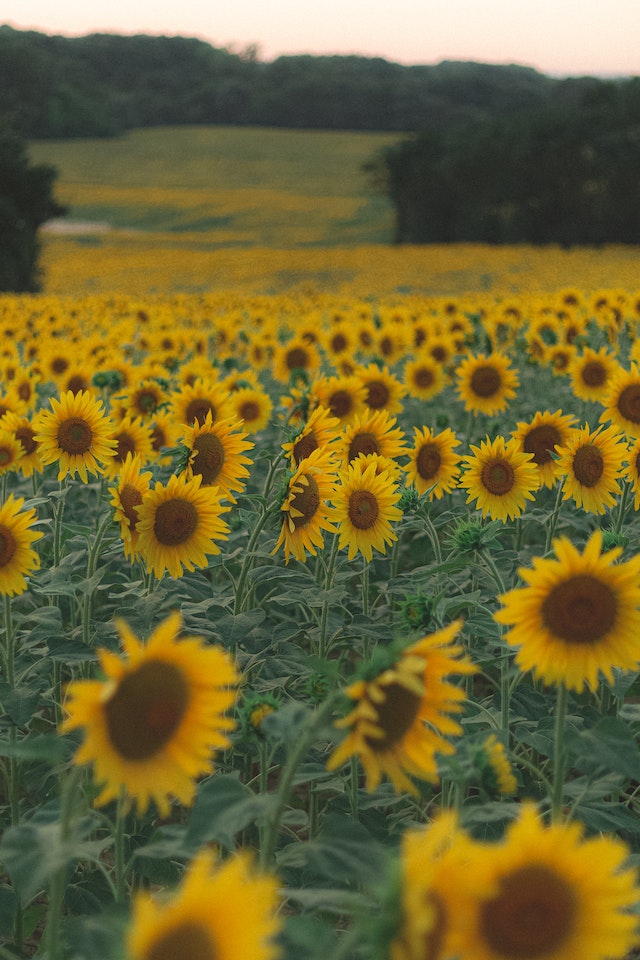 You already know I love anything vintage. It's such a pretty aesthetic in general and this photo of sunflowers gives off that vibe as well. Another favorite of mine from this list too!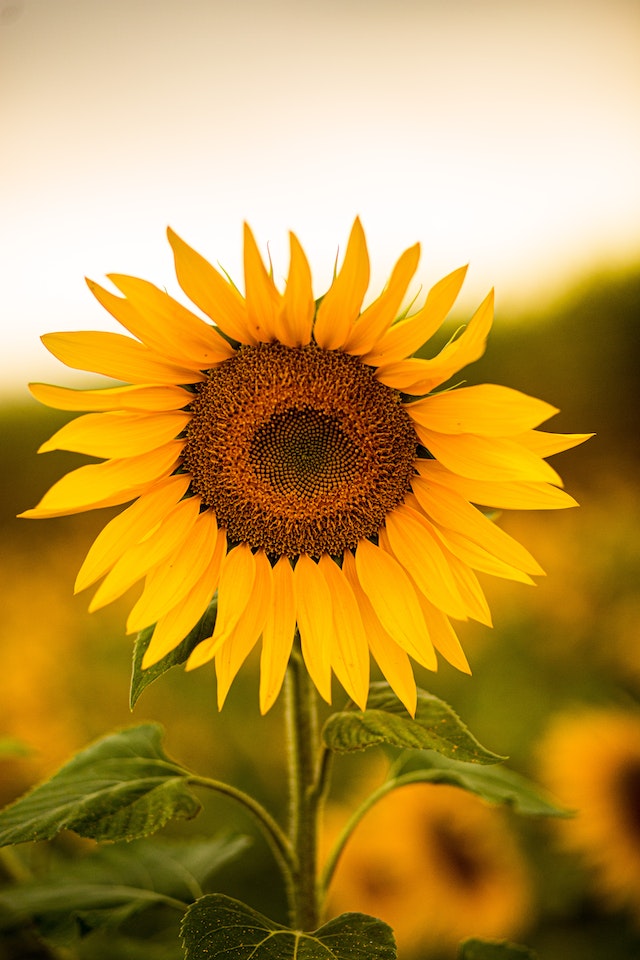 If you don't like the look of multiple sunflowers on your screen and prefer to focus on a single focal point, then you might love this one as your phone wallpaper.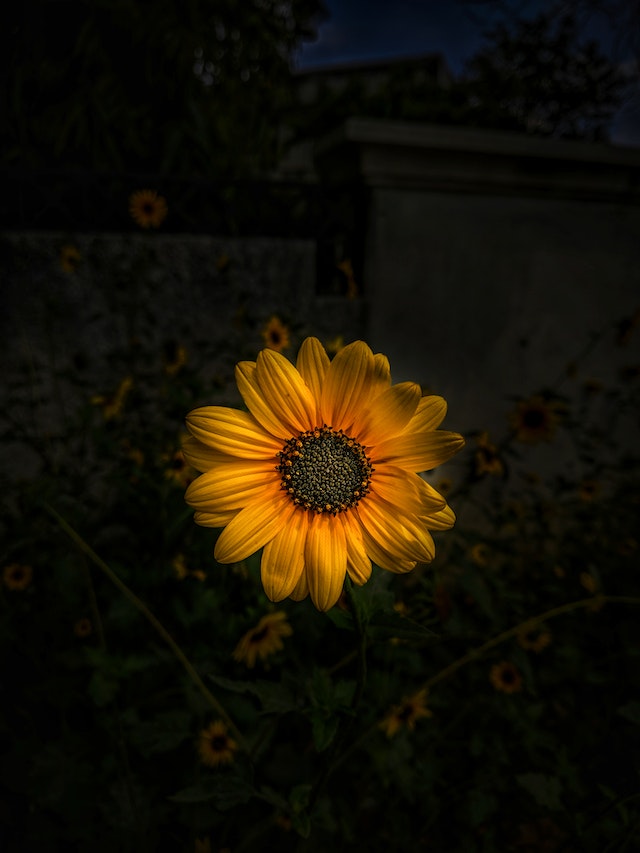 Here's another sunflower that won't feel too overwhelming for your phone's background. I love the contrast of the bright yellow petals against the dark and shadowy background.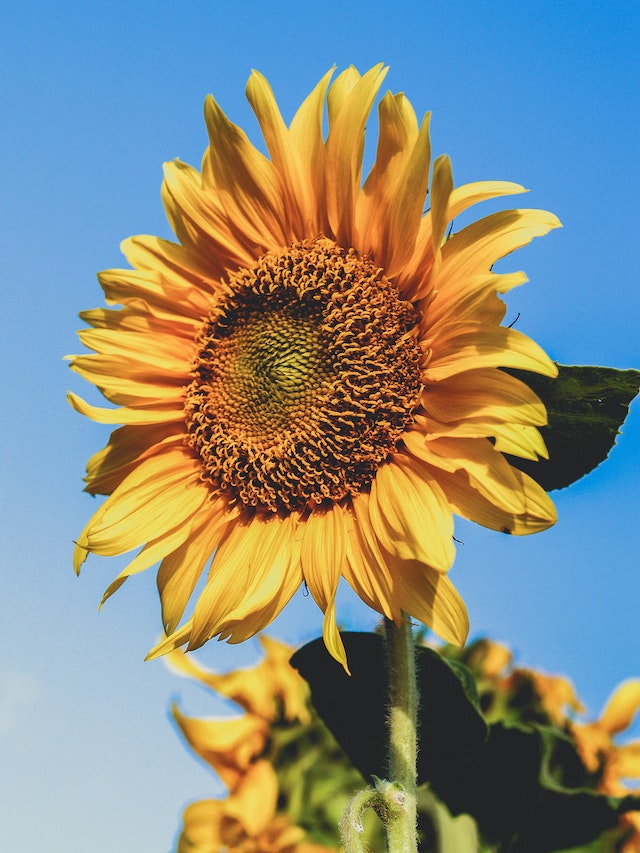 I love the single sunflower in this image. It's not too overwhelming and the clear skies behind the flower just make it look even better.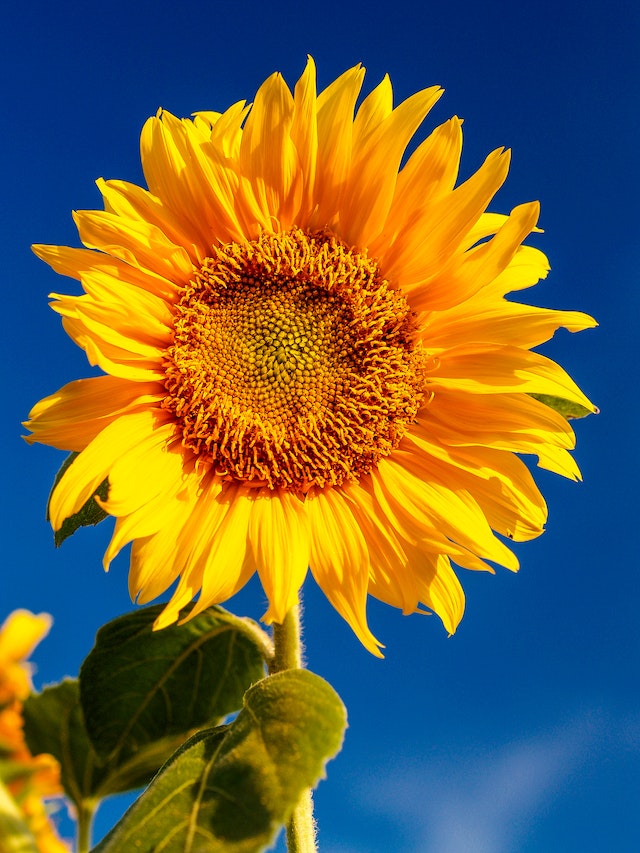 I love how this sunflower wallpaper doesn't look busy and you can easily appreciate every beautiful detail of this image.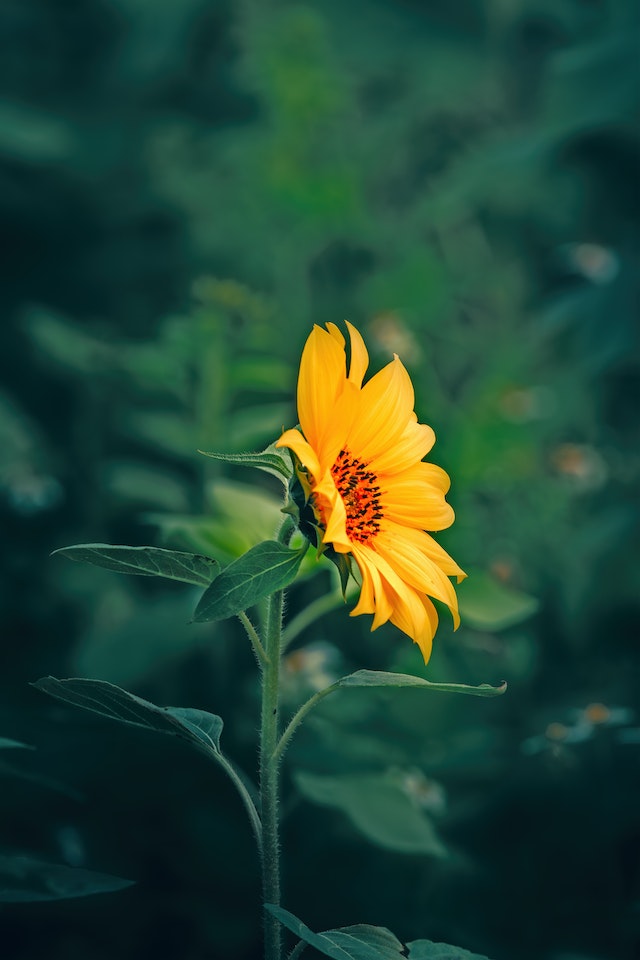 The colors on this sunflower wallpaper are utterly stunning. The deep green of the leaves creates such a nice contrast against the bold yellow sunflower.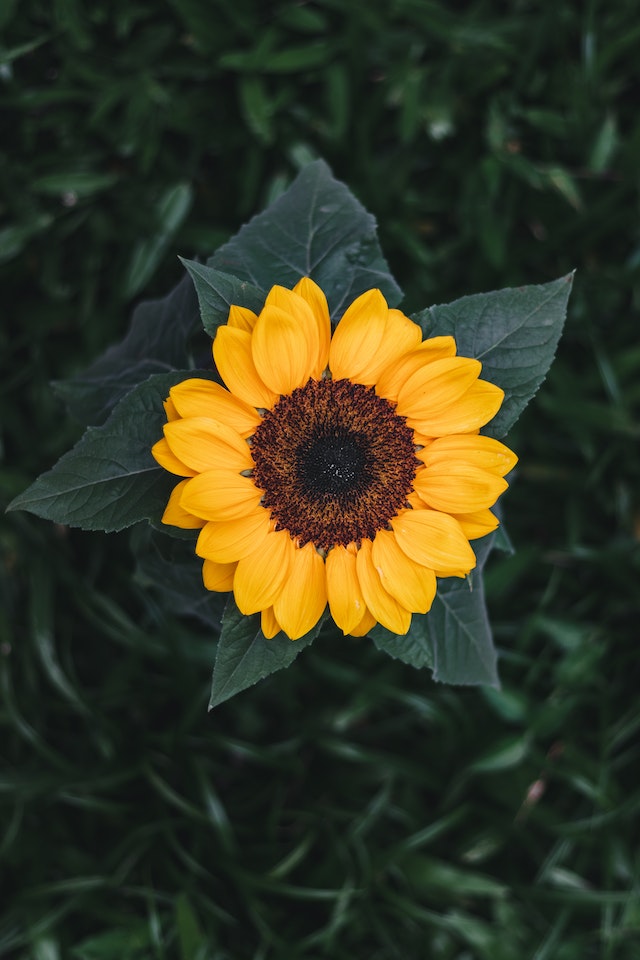 This one is a similar photo from the last, but this lets you view it from a higher point of view and allows you to see the flower in its full glory.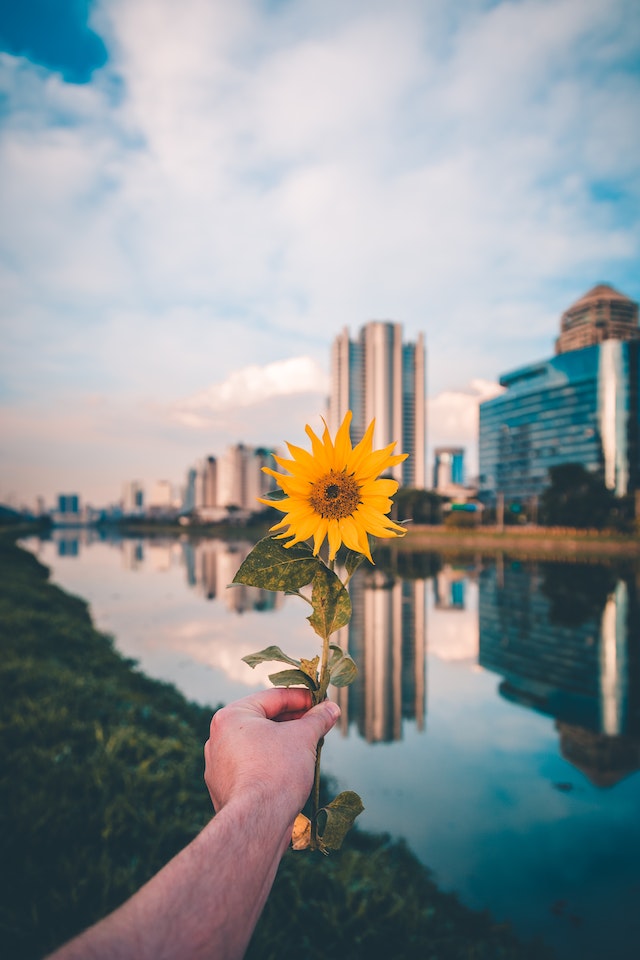 I've seen so many sunflower images in fields and amongst nature, so seeing this one with the city in the background is quite refreshing! If you're a city girl, you might appreciate this as your wallpaper!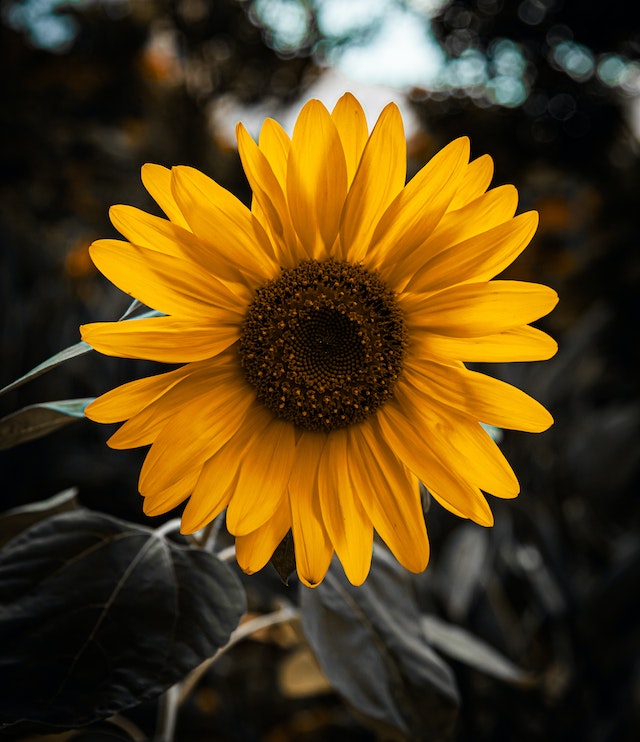 I love the darkened background and how it really makes the sunflower's colors pop and look even more vibrant.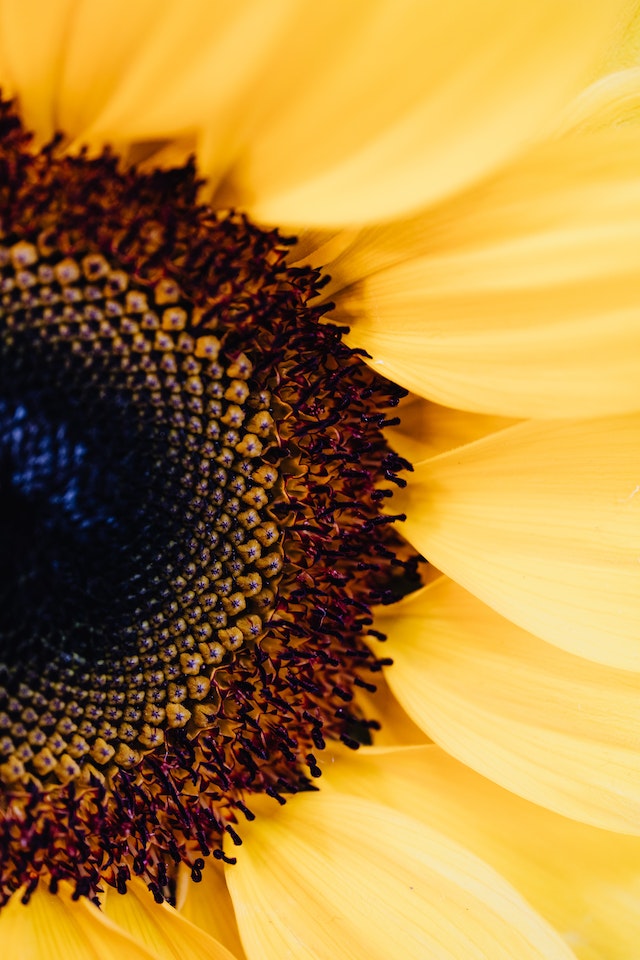 This would look so good as a lockscreen! The zoomed-in effect somewhat reminds me of those pre-downloaded wallpapers on phones.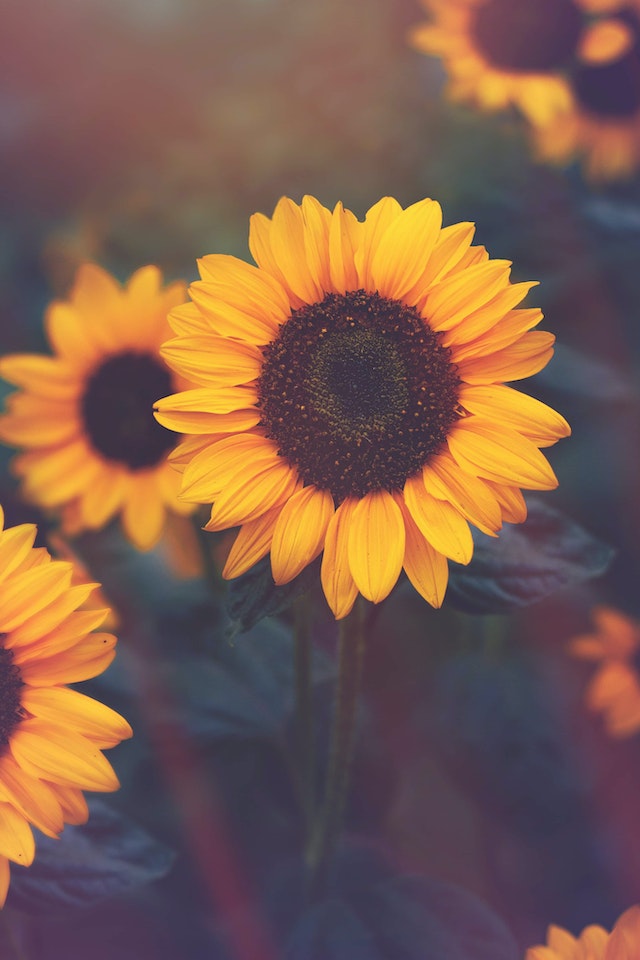 If you want a film effect on your sunflower backgrounds, then you should download this one as your next wallpaper! I love the subtle hints of different colors for the filter too.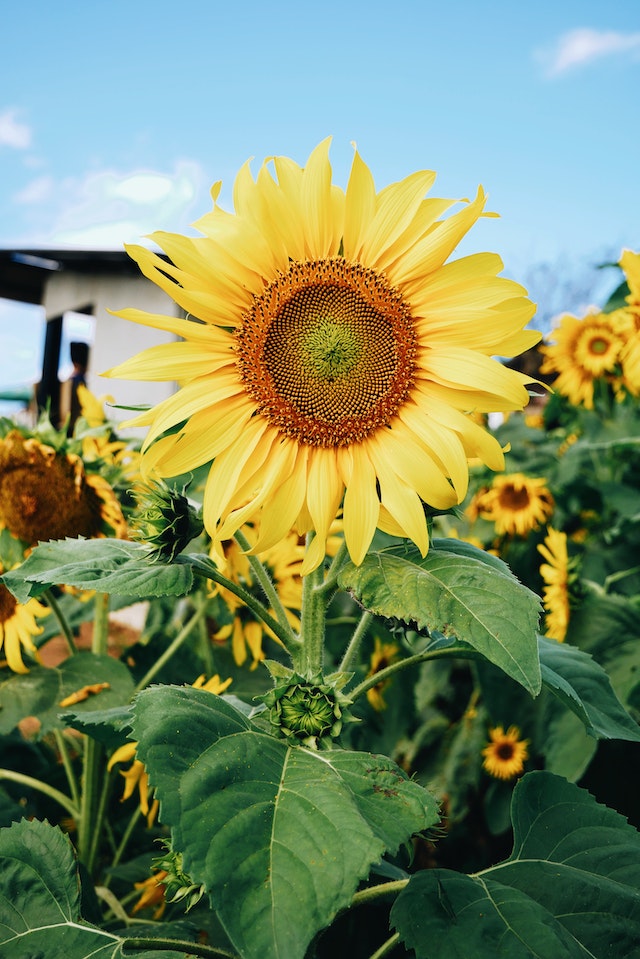 This particular sunflower wallpaper is so clear and easy on the eyes! Each time I check my phone, this will certainly put a smile on my face.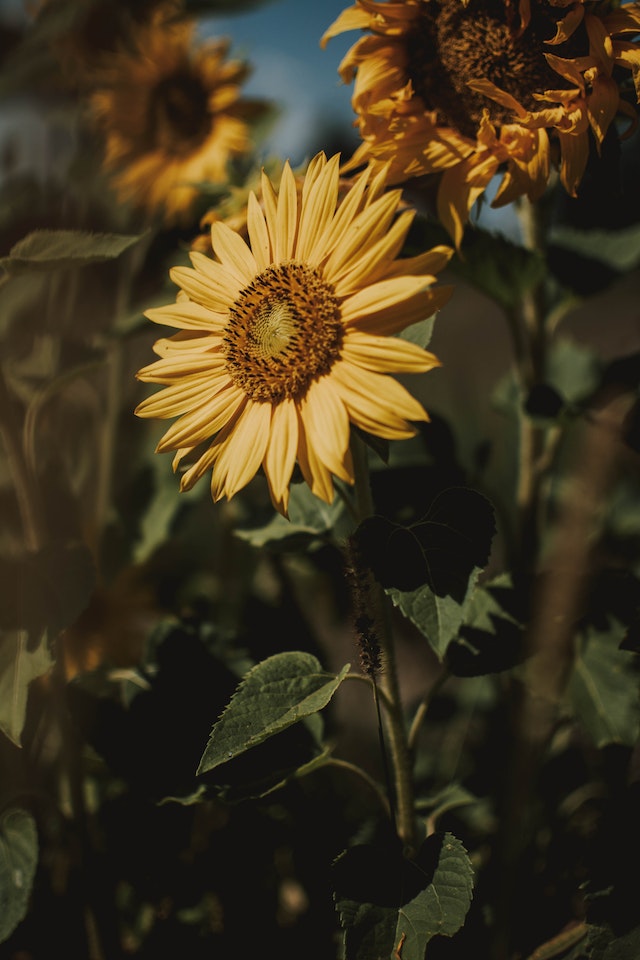 Here's another favorite of mine from these sunflower backgrounds. I am obsessed with the vintage filter!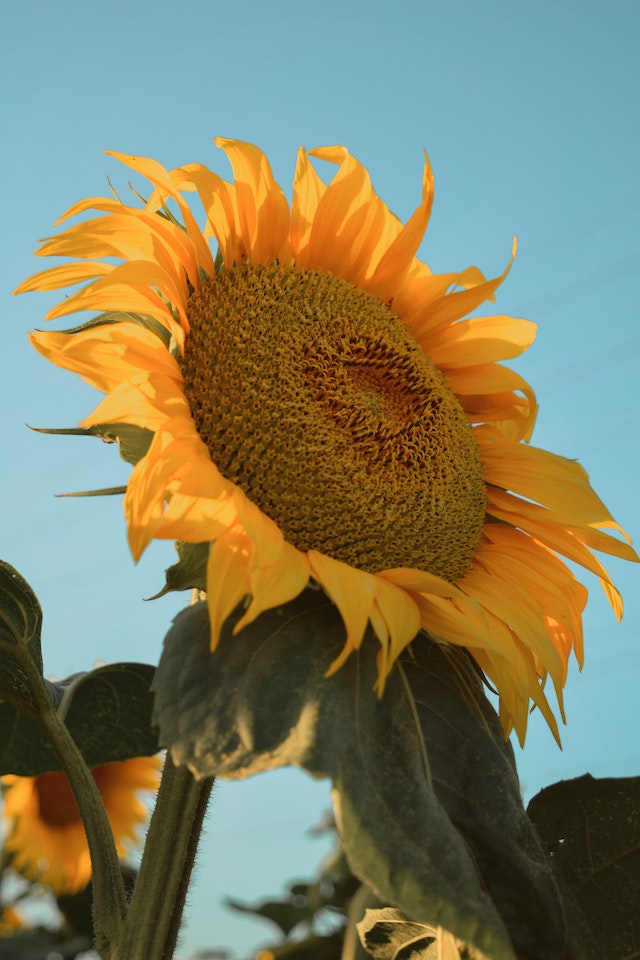 I kinda like how close-up this sunflower photo is! It's so pretty that I almost wish I could pluck this sunflower to keep.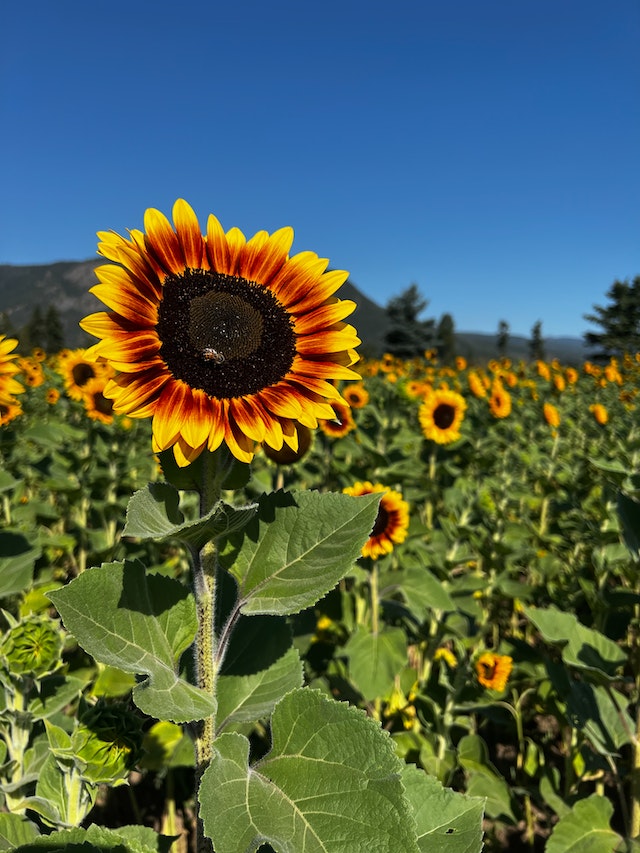 I am obsessed with the gradient red around the yellow petals of these sunflowers!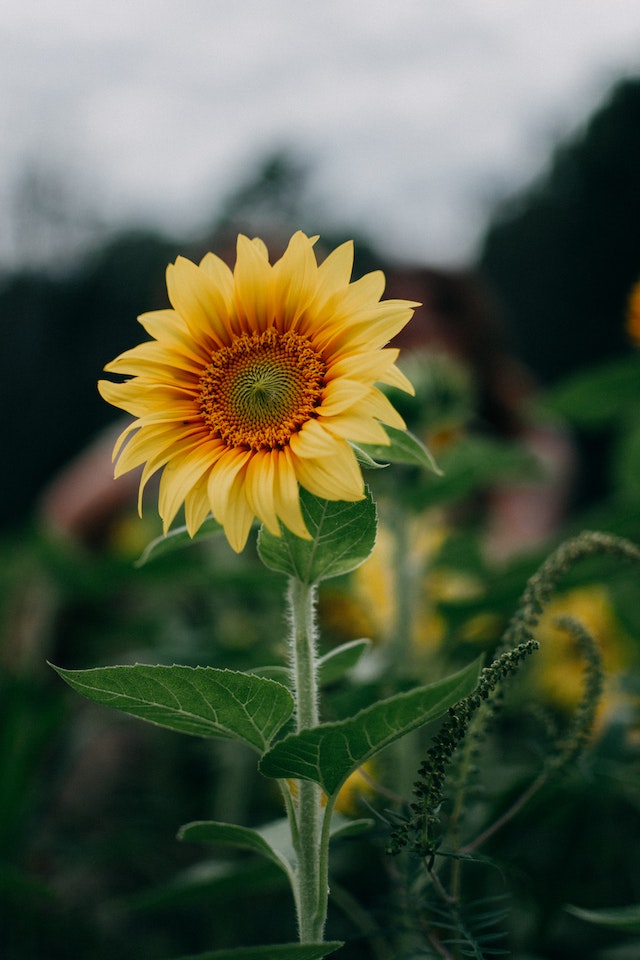 The blurry background really puts all the attention on the sunflower in this photo. Not to mention, the muted red center of the sunflower looks so cute as well!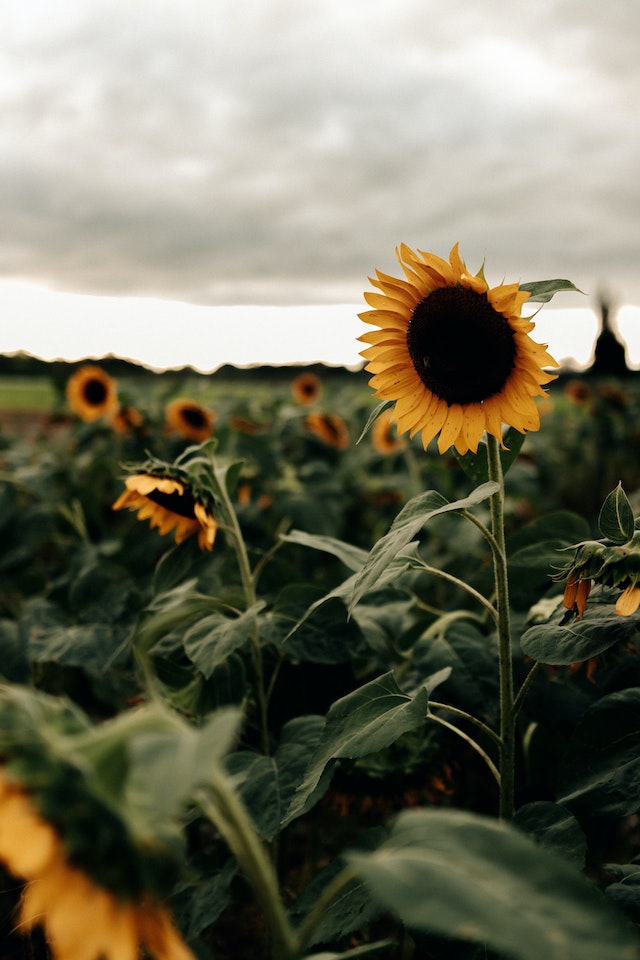 I know that sunflowers are meant to give you those summery vibes, but I can't help but adore this gloomy sunflower field!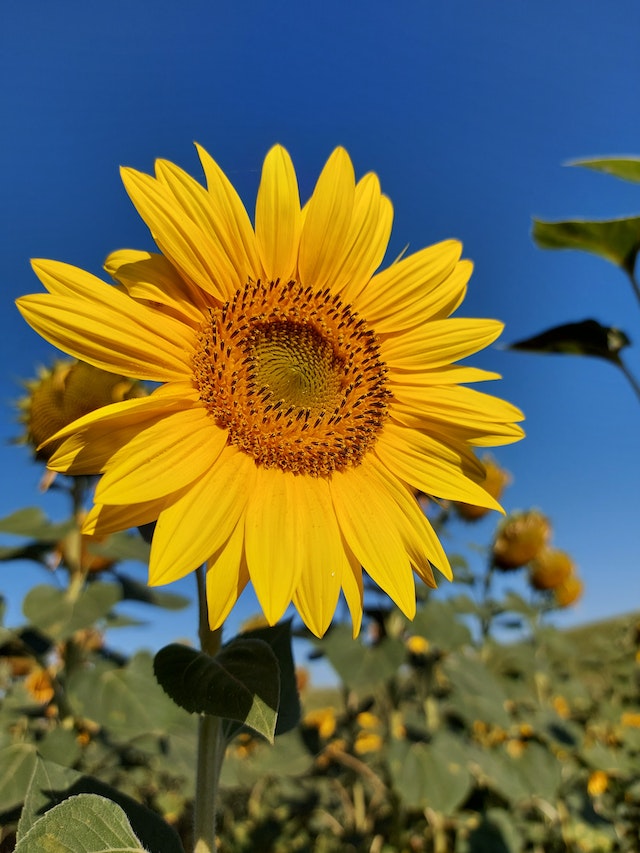 Doesn't this sunflower just give you feelings of joy and hope for a bright future? It certainly has that effect on me!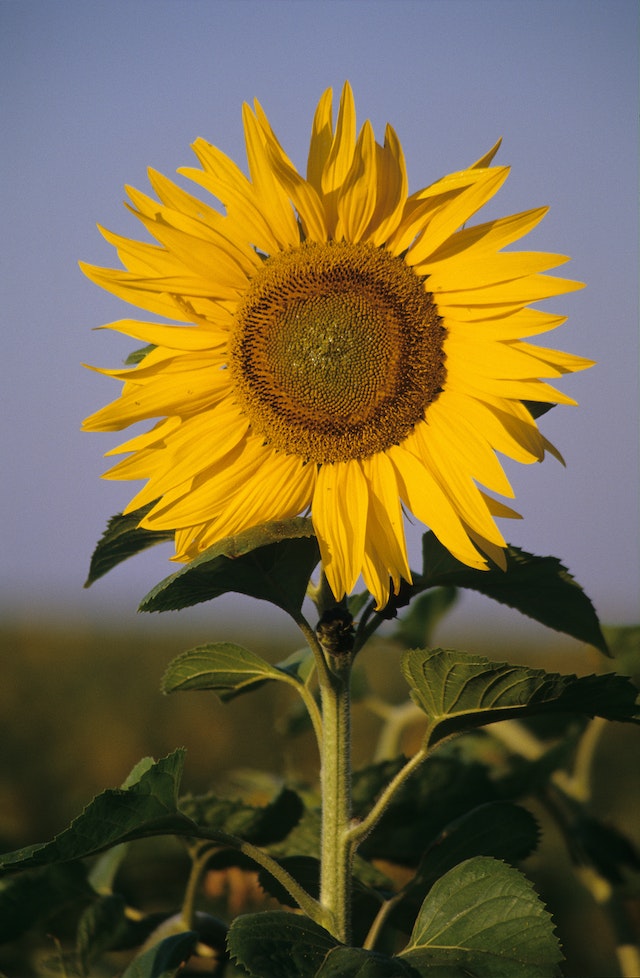 I love the hazy and late afternoon vibe of this sunflower background. It looks almost ethereal even.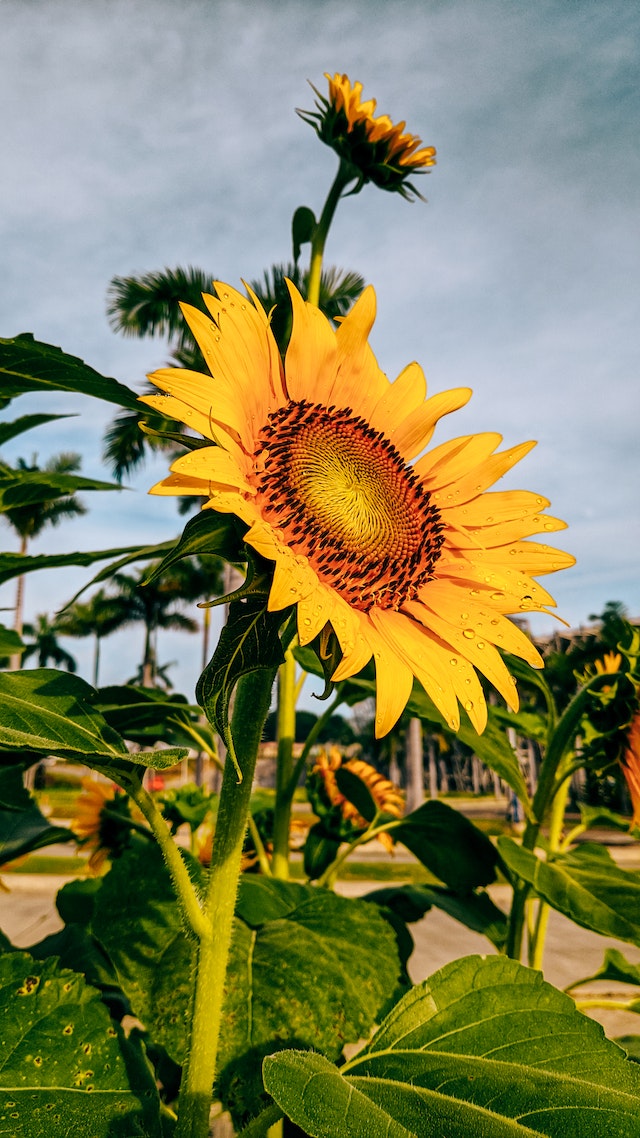 For some reason, this particular photo of a wet sunflower looks like it's sweating from being under the sun for so long.
If you prefer to keep things straightforward and simple, this front and close-up shot of a sunflower might be something you want to use as your phone's background.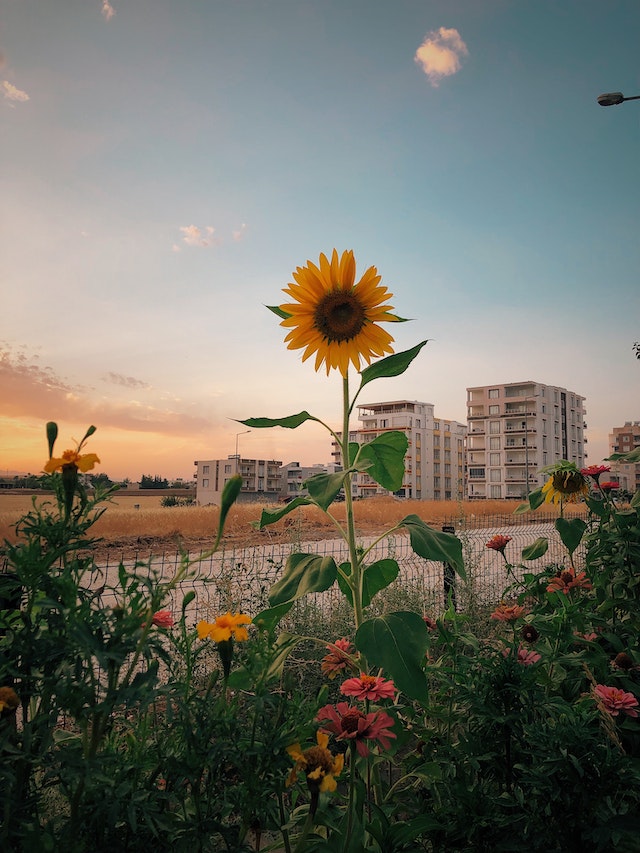 There's something so pretty about seeing flowers blooming within the city. It's almost giving me this sort of magical realism vibe.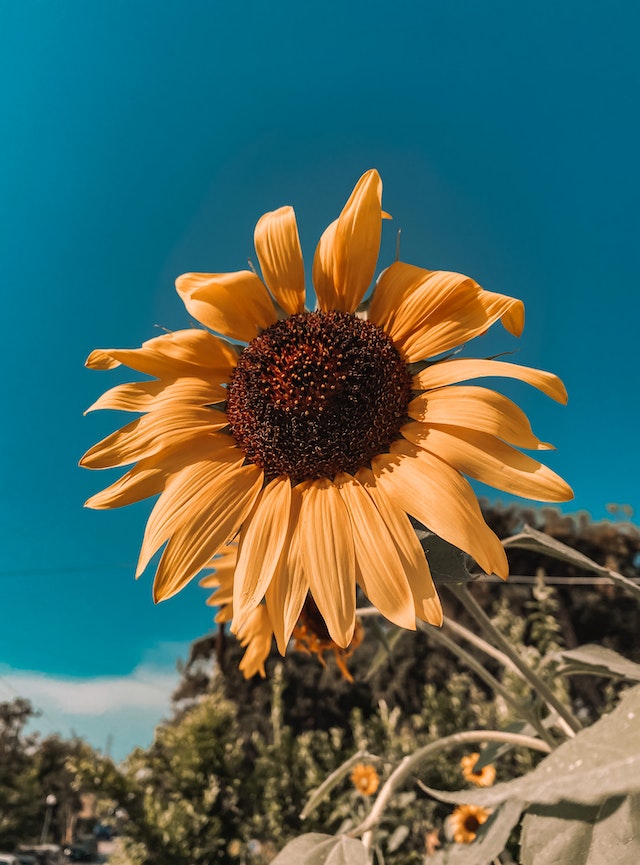 This photo really screams "summer". From the bright and sunny filter to the clear skies above this gorgeous sunflower.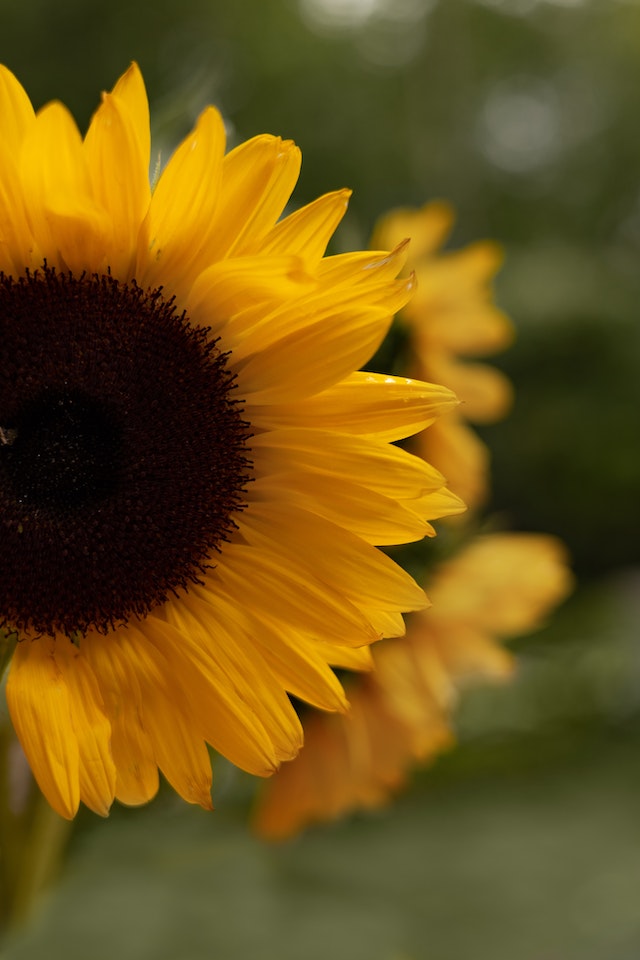 Here's another photo that really makes the sunflower the center of attention by blurring the background.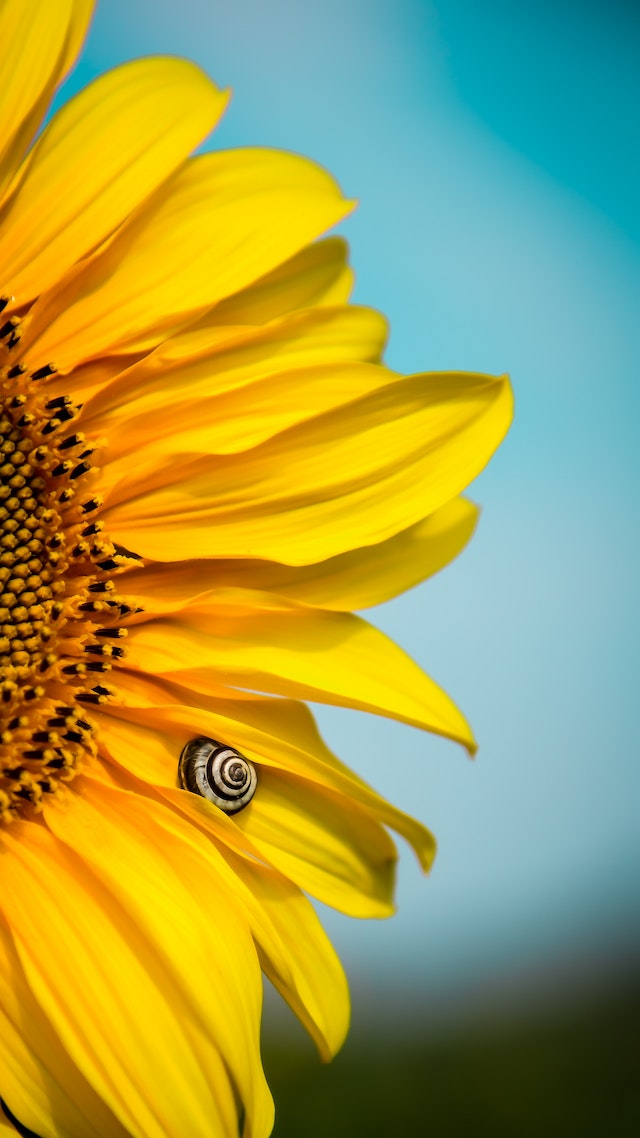 I know you've already seen so many zoomed-in and close-up shots of sunflowers here but I love how this one has a distinct detail that makes it different from the rest.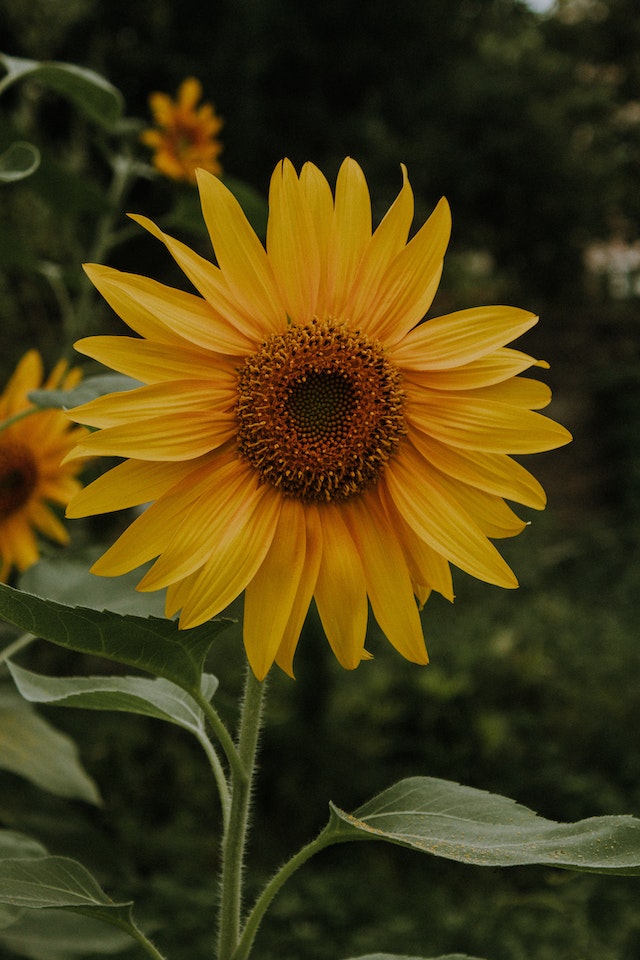 I love that this sunflower image has been muted down so it won't be too distracting as a homescreen when you're trying to find certain apps.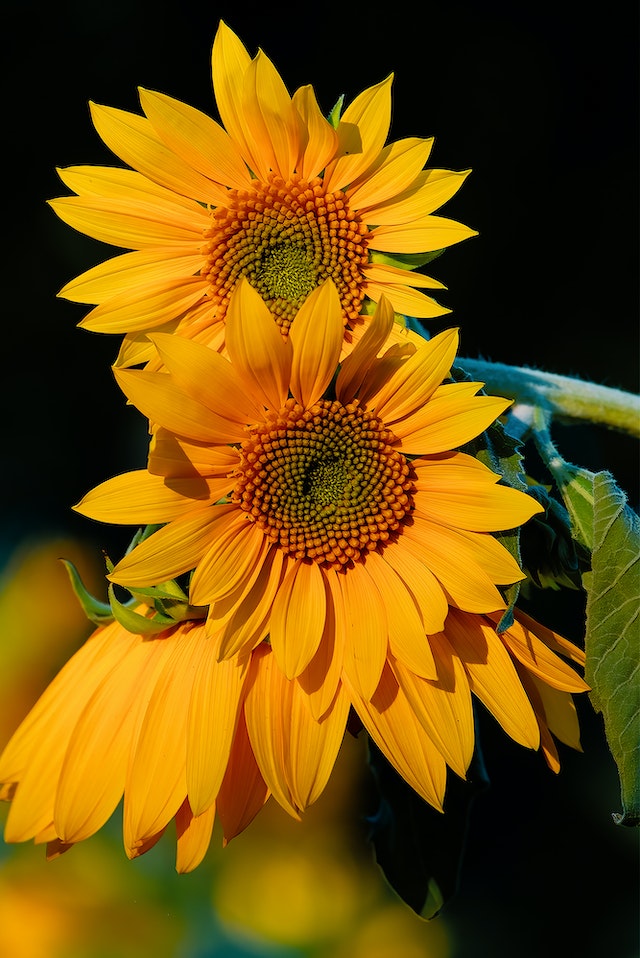 I love how this sunflower looks like the sunlight is hitting it directly and at all the right angles.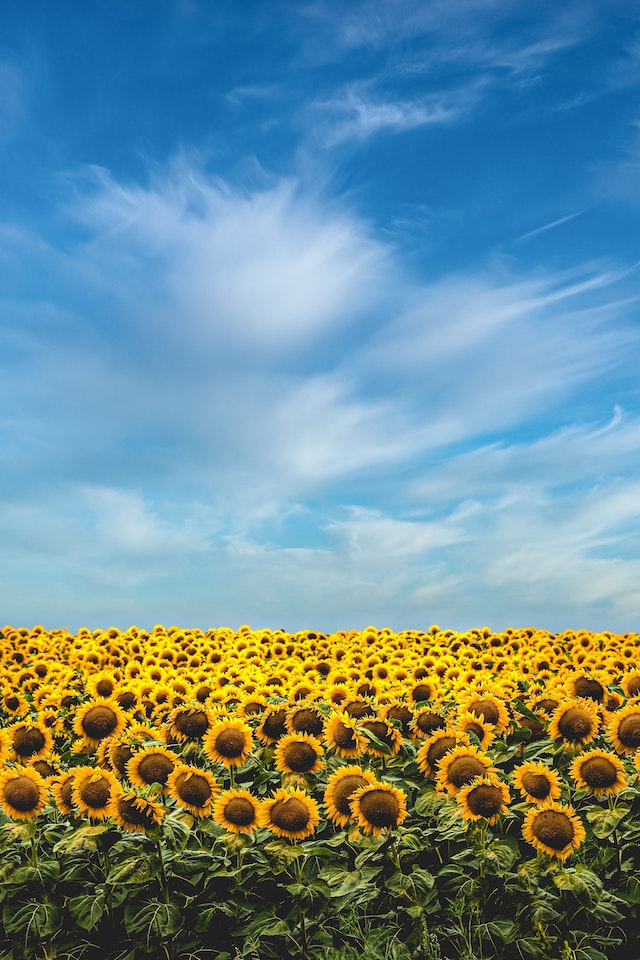 This sunflower wallpaper is pretty straightforward. You get the beautiful and abundant sunflower field as well as the bluest sky you'll ever see.