Get ready for your big day with these gorgeous graduation nails!
With graduation season upon us, it's important that we look our very best. And yes, that also includes our manicures. After all, this is an event and milestone in our lives that we have been working hard towards for many years. All those times we spent staying up late to study for an exam or a quiz are about to finally pay off!
With that in mind, one of the best accessories you could wear on this big day is a good set of graduation nails!
Graduation day can be a bittersweet moment for some. Graduates struggle to let go of the past while also holding out hope for the future. It doesn't matter whether they are leaving high school to signify their journey to adulthood or leaving college to start a new chapter in society.
That's why for these extra-special moments in our life, I suggest opting for personalized graduation nails as a wonderful way to bid farewell to your final day of college or high school life. But whether you're looking for a classy and timeless French tip, modern and chic abstract patterns, or something completely unique and quirky, this list will definitely have something for you.
And why not feel your best during graduation?
Graduation Nails
Prepare to wow your faculty and classmates with a stunning manicure as you accept your diploma on stage!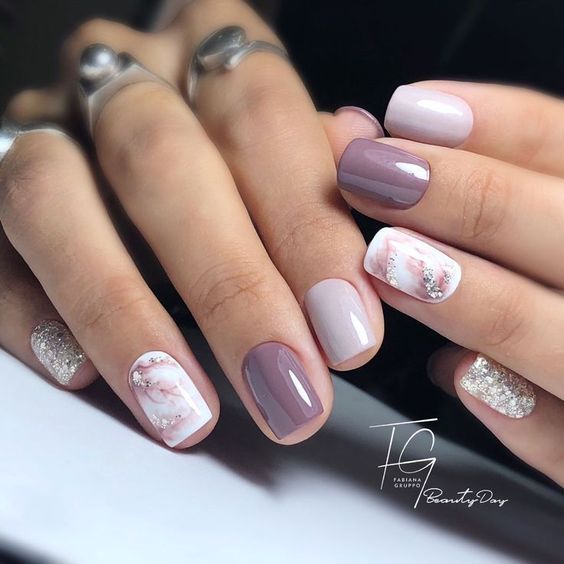 I know it can be tempting to go for a safe beige or nude color for your graduation nails but don't be afraid to use some color as well. This beautiful muted purple with marbled nail accents and silver foils looks so elegant and sophisticated.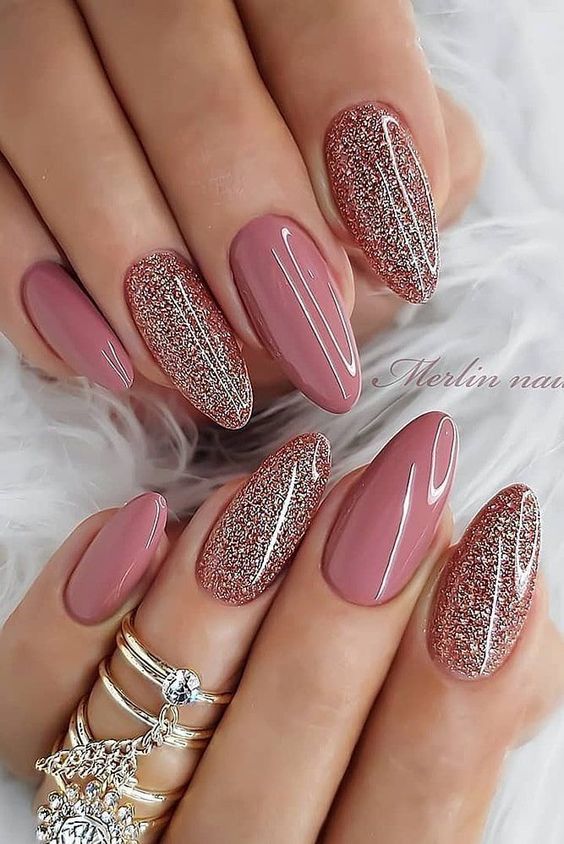 Aside from color, don't also be afraid to add lots of shimmer to your graduation nails so that you're extra sparkly on your special day. If you don't want it to be too overwhelming, you can stick to a few shimmery accent nails instead.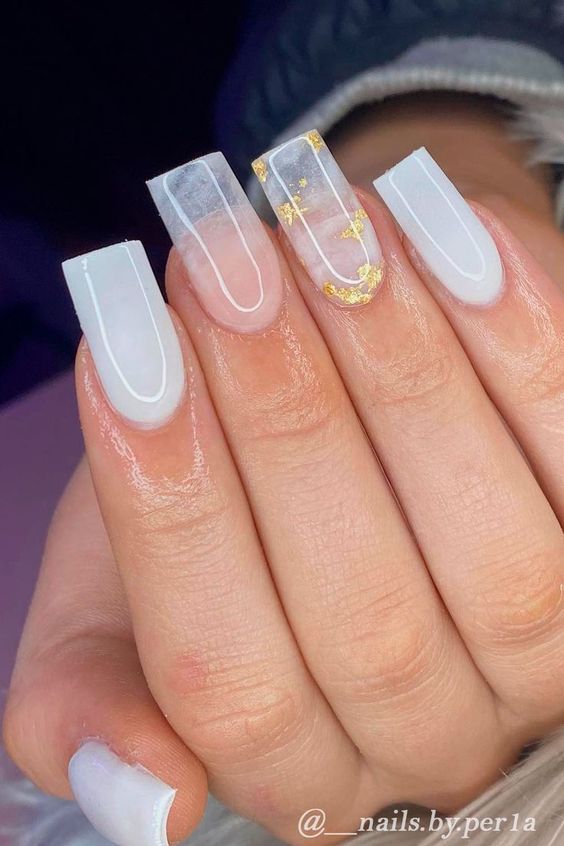 If you're set on white graduation nails for your big day, try out this one! The accent nails give off a sheer sheen along with some gold detailing to add a pop of color.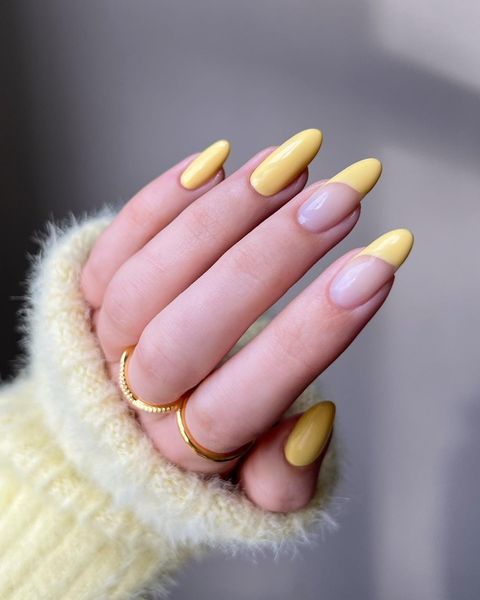 I am loving these yellow graduation nails! This particular shade is so bright yet so soft at the same time. Utterly perfect for both your graduation day and the spring season as well. Even better if your graduation dress is going to be yellow too!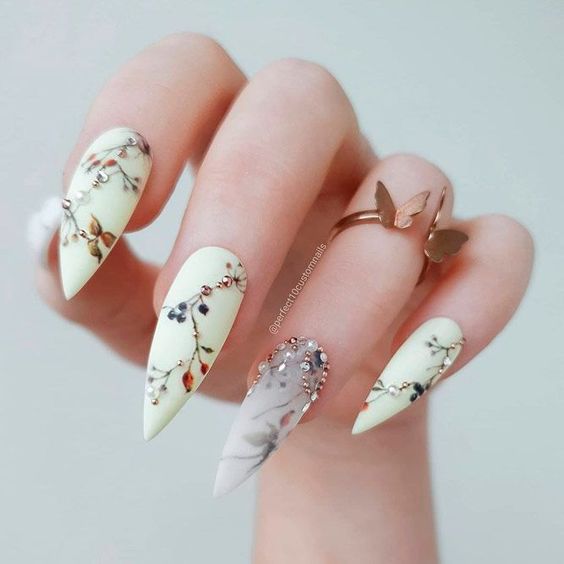 Winter may be a few seasons away but that shouldn't stop you from doing this delicate and intricate floral manicure. It might be different for you but this particular manicure gives me a wintry vibe that can also work for the springtime. The stiletto cut and dainty embellishments make the whole manicure look more feminine as well!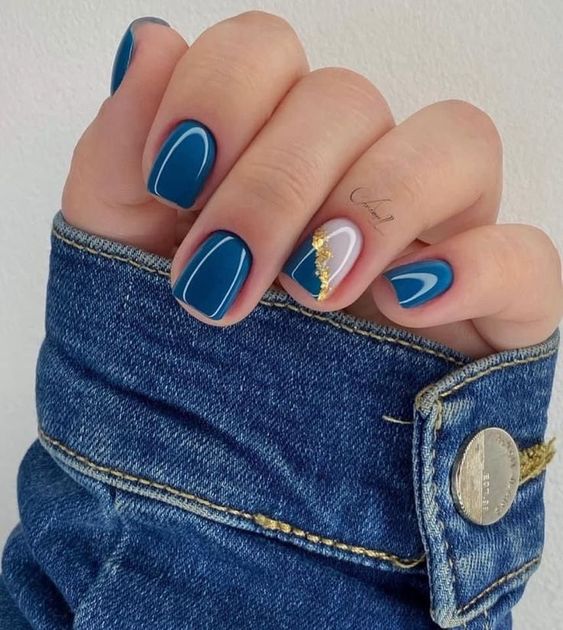 This particular shade of blue is so gorgeous! Pair it with gold foils and a white polish, and you'll be able to recreate this simple yet sophisticated look.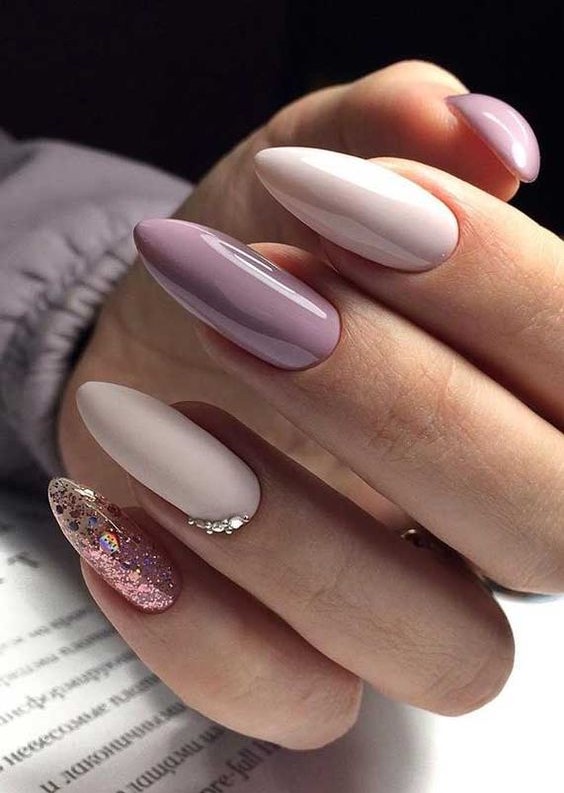 If you want to add some color to your graduation nails but don't want them to be too bright, try out these muted purple tones! Add a glittery accent nail for a bit of oomph.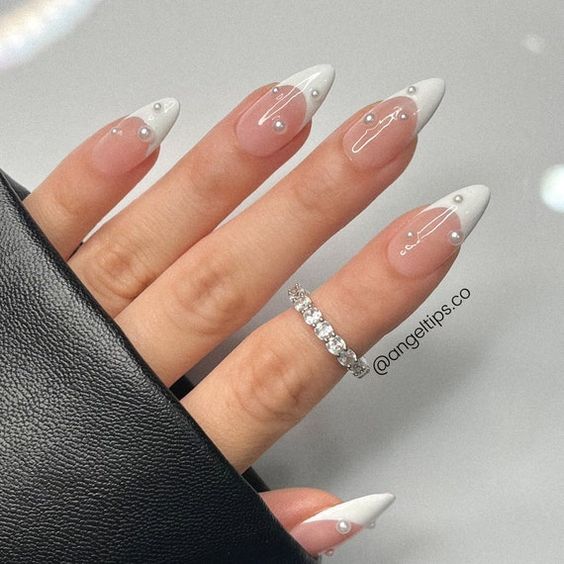 Elevate your traditional French manicure by adding some dainty pearl embellishments around your graduation nails. This is sure to take your manicure to a whole new level of sophistication!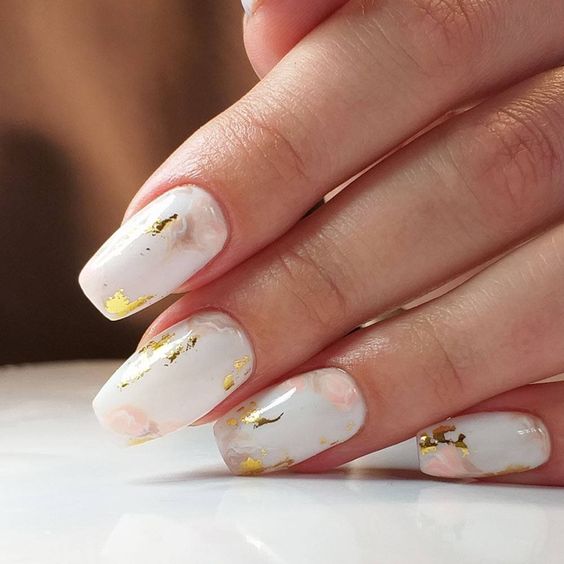 I love the subtle marbled effect on these graduation nails! They're quite understated yet not tacky at all. The gold foils give it more dimension too.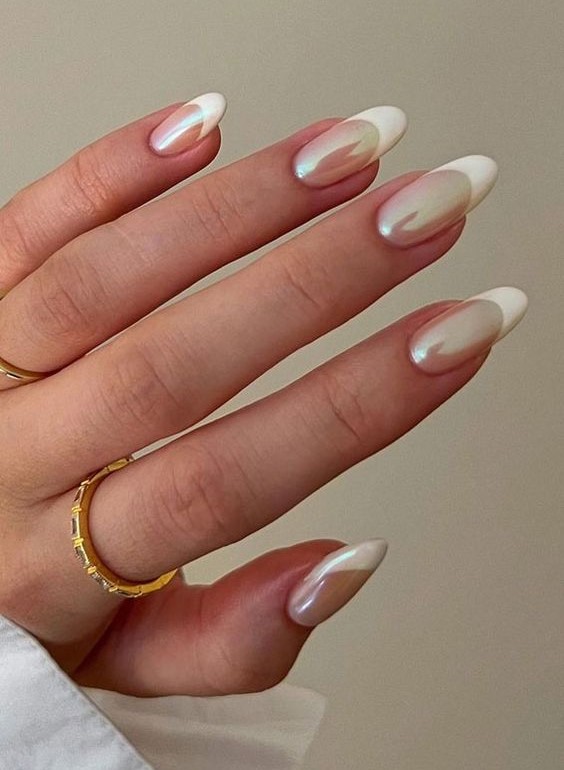 Here's another way to elevate your classic French tips. If you're not a fan of embellishments, you can top it off with a sheer iridescent top coat instead. This will give your graduation nails a stunning gleaming effect.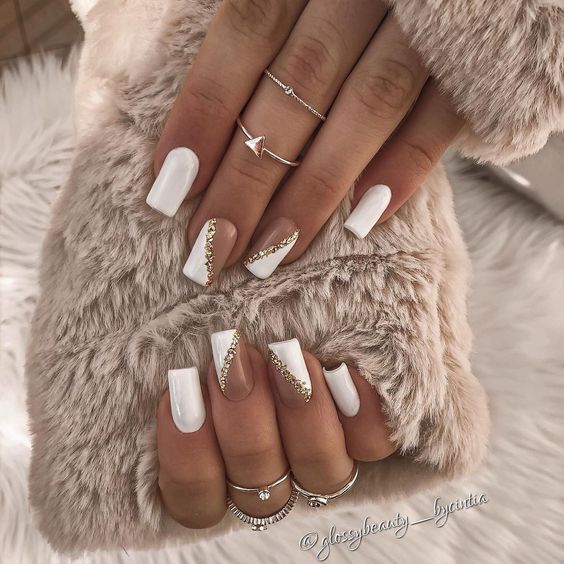 White is such a timeless color and I can see why so many people prefer this color during their special days. But to make your white manicure not too plain, give your accent nails a two-tone design along with some glittery borders.
Blue in itself is already a stunning color to me but those intricate floral details on the accent nails are honestly to die for. They'd be so perfect for your graduation afterparty.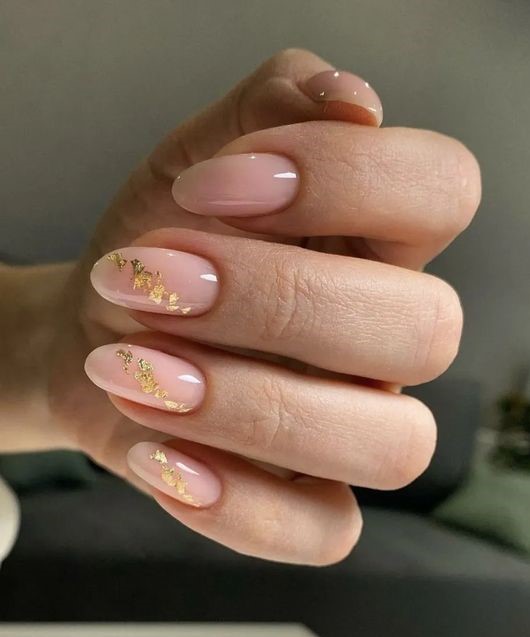 A nude and clean manicure really evokes a timeless and classic feel. But add a dash of sparkle to your graduation nails with some gold foils to elevate the overall look.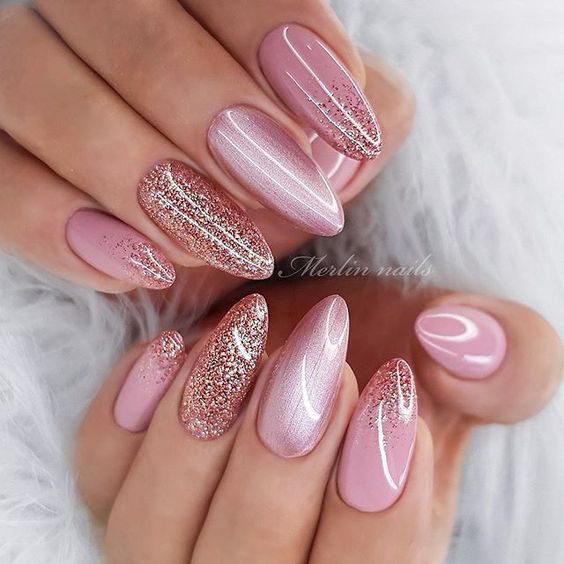 Chrome finishes and frosty designs such as this one usually suit the winter season more but for a special day like your Graduation, I think we can make an exception.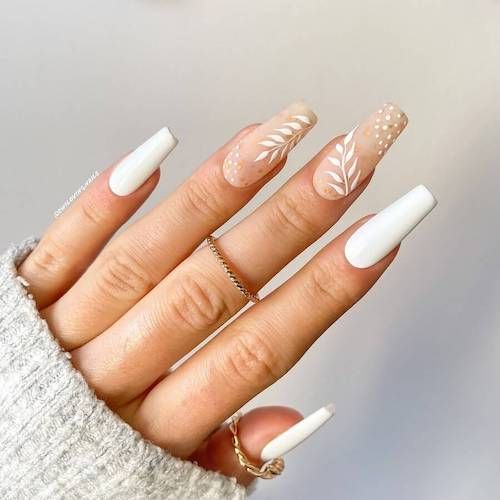 If you're tired of the usual glossy or satin finishes of nail polishes, why not opt for a soft matte finish? Leave your accent nails bare and paint on the negative space with some intricate leaf patterns.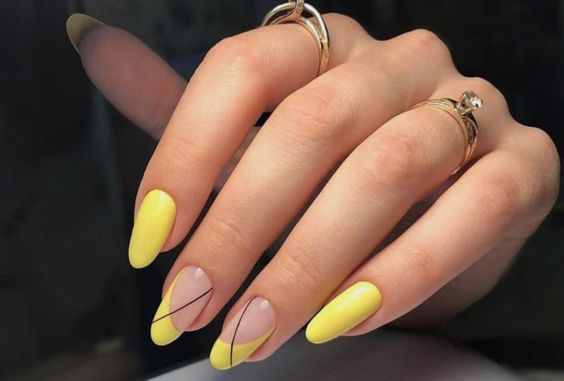 Graduation season is usually in the middle of the spring and summer seasons. That's why yellow is one of the ideal colors for these months. Add some dainty linework to make it look chic and you'll be all set for your graduation party!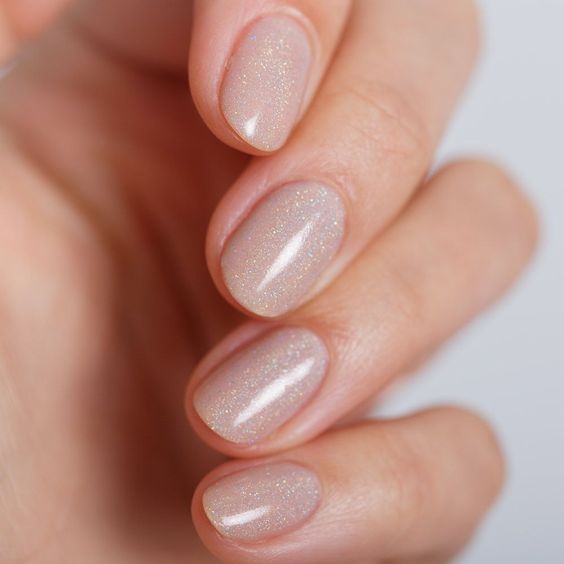 Subtle and understated, these shimmery nails are so ethereal to look at! They look both soft and mesmerizing at the same time.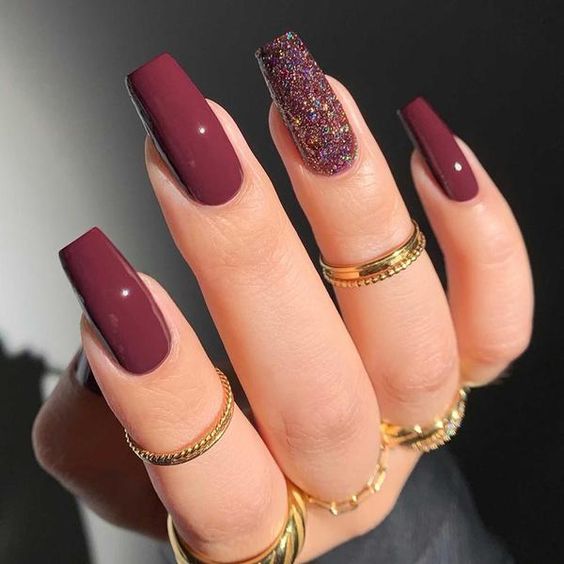 If you like deep and moody colors like me, then you'll certainly love this berry wine shade for your graduation nails.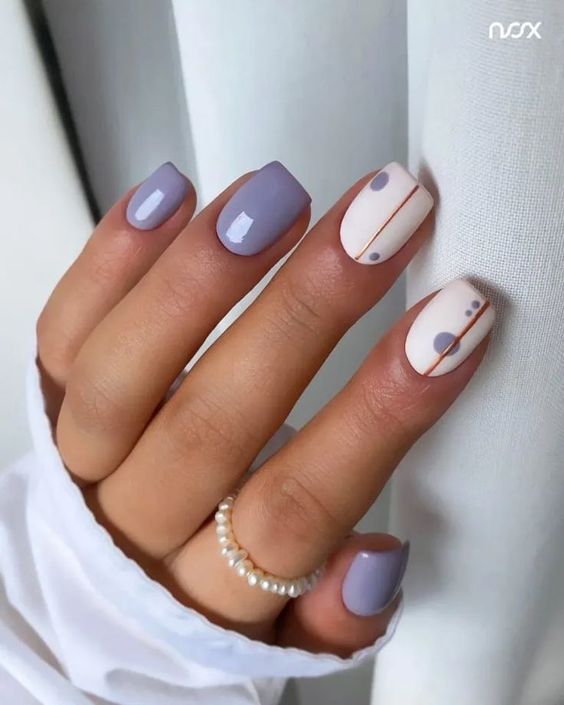 I am obsessed with anything purple and these soft lilac shades are absolutely gorgeous! Pair them with abstract nail art for your accent nails for a chic and modern look.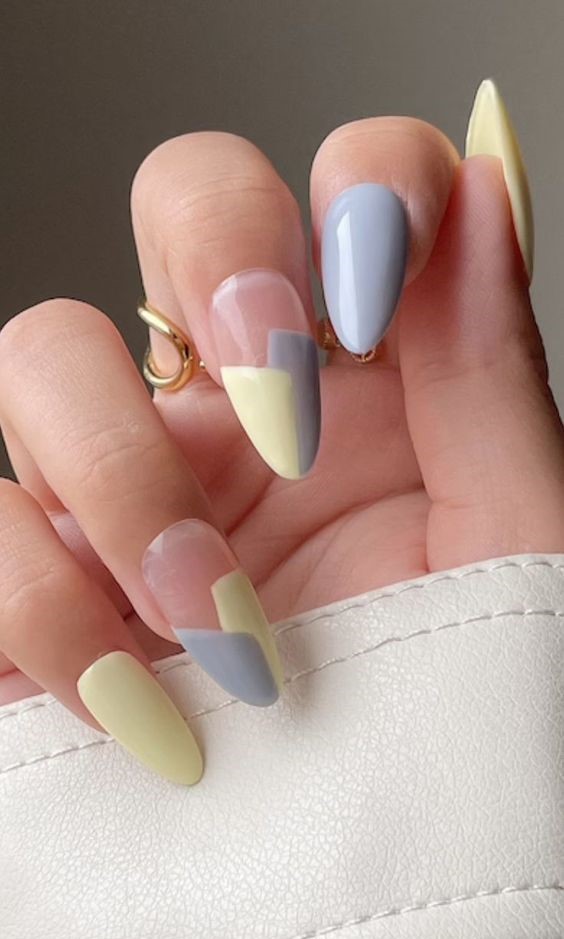 I'm honestly loving this combination of yellow and grey. What's even better is they both have cool undertones that make them fit together so well. Add some abstract, geometric patterns for a unique nail art design.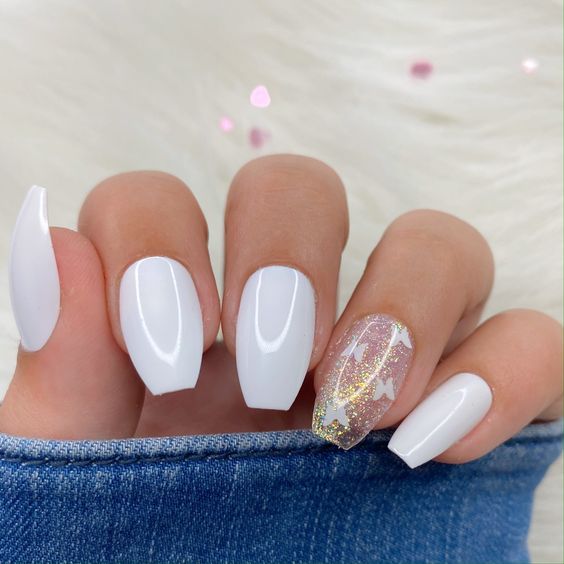 If you're no pro in doing nail art, a good option to have is getting press-on nails! Even the most rookie of us all can still get a stunning manicure.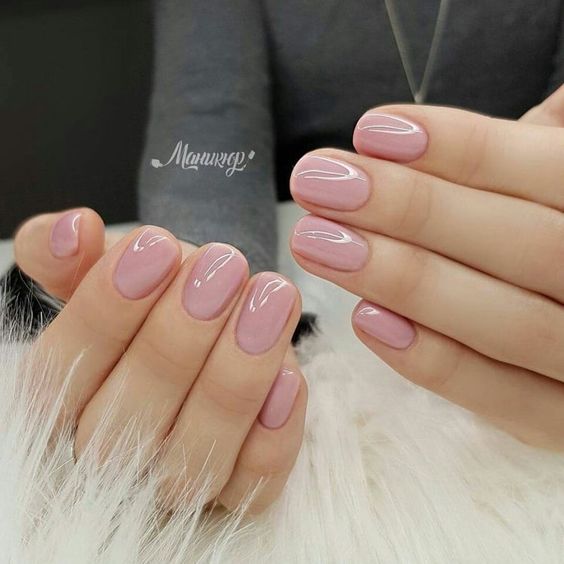 If you're not fond of fussy nail art designs and want to keep them simple, this soft shade of pink is the perfect manicure for you. They're natural and subtle and timeless.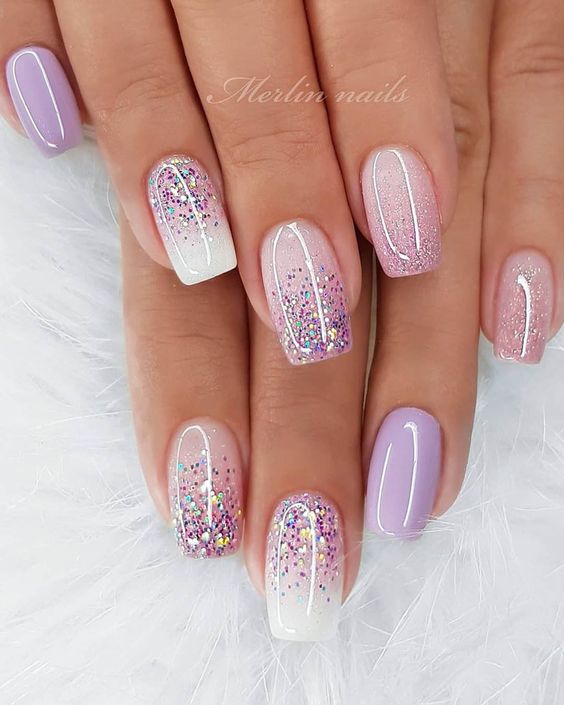 This manicure is sure to make you feel like you're ready to party right after your graduation ceremony! Those glittery details look like confetti and what better way to show you're up for a celebration than with this kind of nails?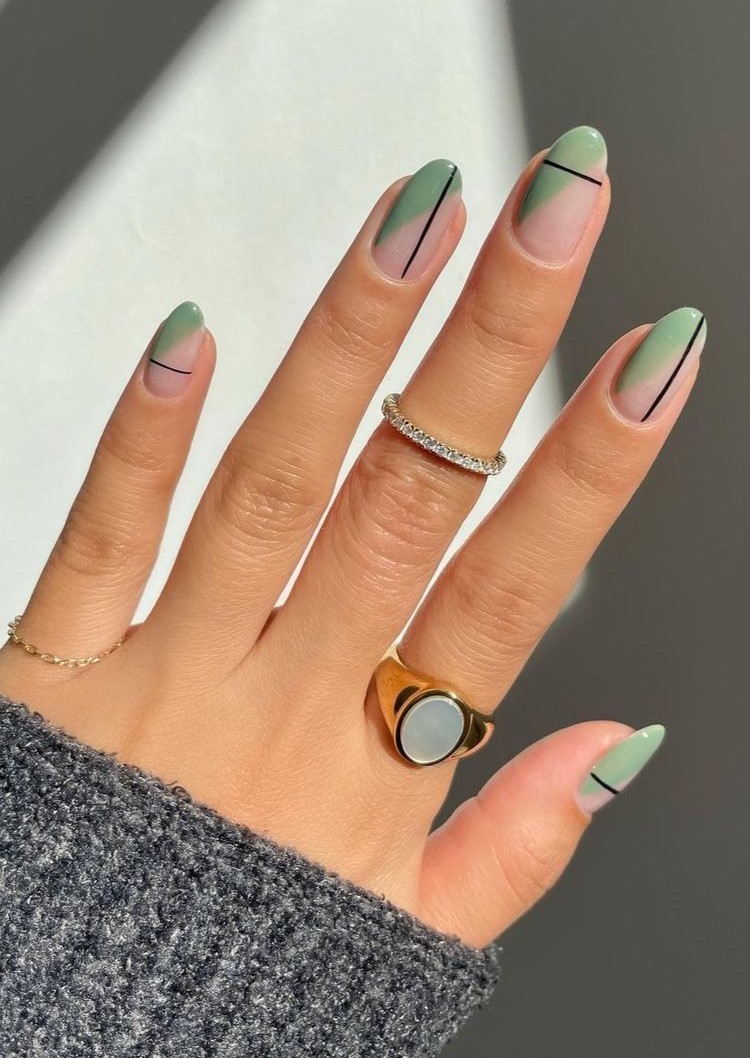 Modern and chic, this combination of muted pink and green shades along with some abstract linework patterns is so sophisticated.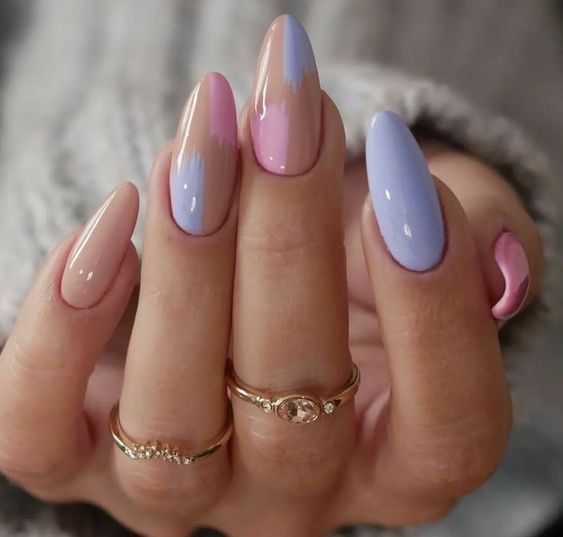 Can't seem to decide on what color to choose from? Why not pick multiple of your favorites and combine them like this manicure did?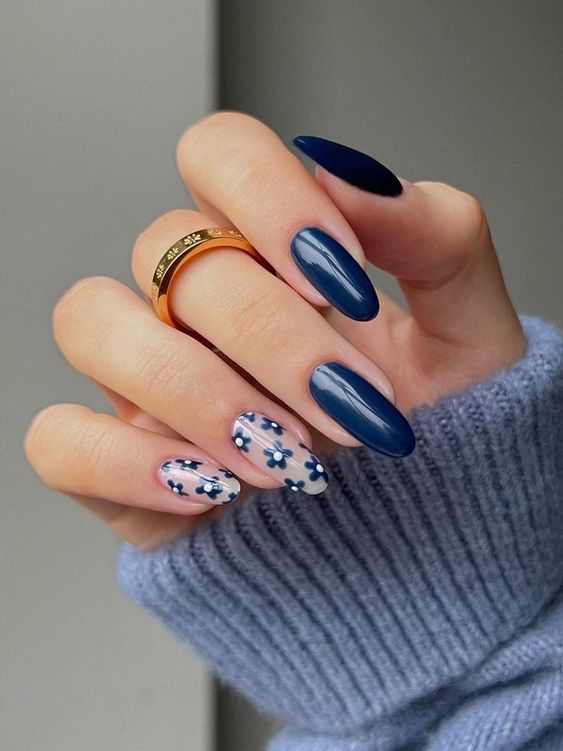 So chic and classy, I love these deep blue daisy nails! They look so moody yet so soft and feminine at the same time. It'll even be more perfect if you have a formal afterparty graduation.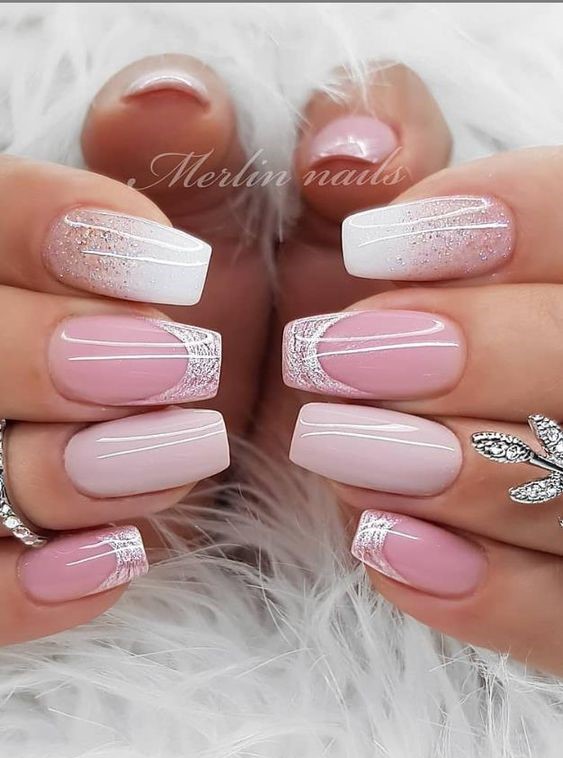 These pink frosty nails are stunning! They're perfect for anyone who's looking for something a bit more feminine, sophisticated, and romantic.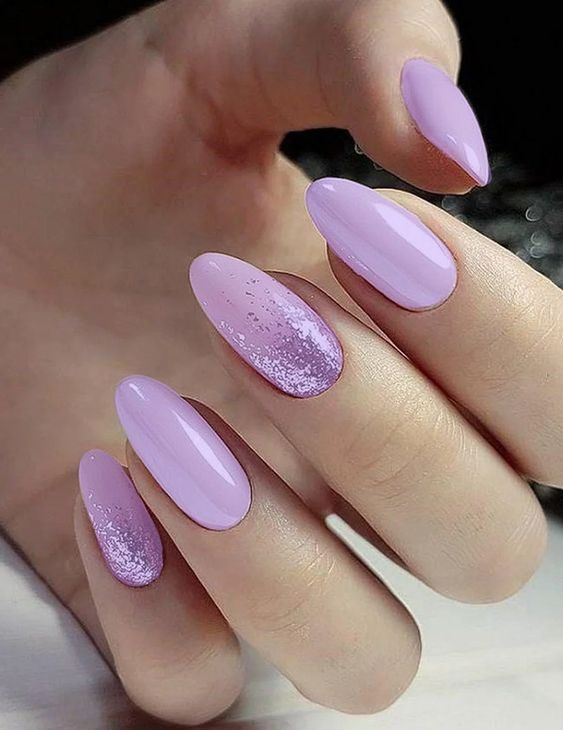 If you love the color purple as much as I do then you might adore this lavender manicure! Add a touch of glitter around the base of each accent nail to give your manicure a more interesting dimension and texture.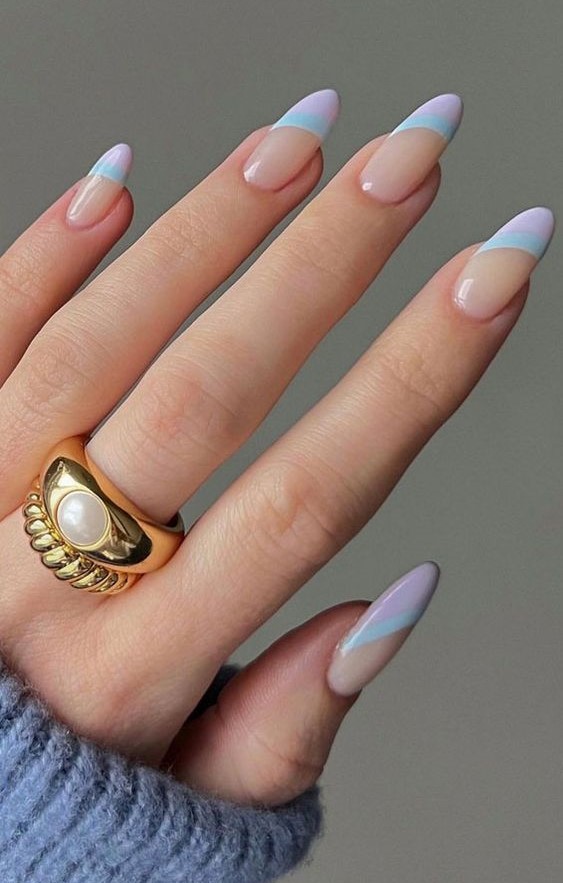 Instead of going for the usual white tips, customize your French manicure by using two different pastel colors to paint the tips of your nails. You can even go for asymmetrical or curved tips to make them look even more unique.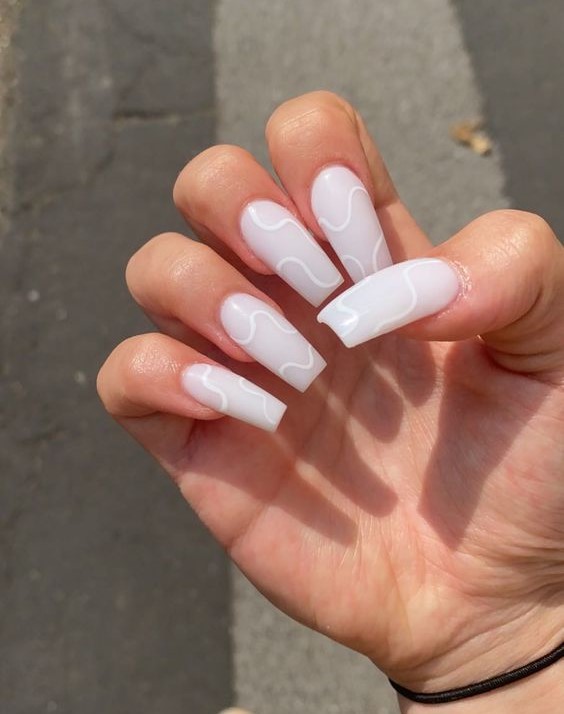 If you want a subtle nail art design that is not going to steal the attention from you, these squiggly linework and monochrome nails might just be for you.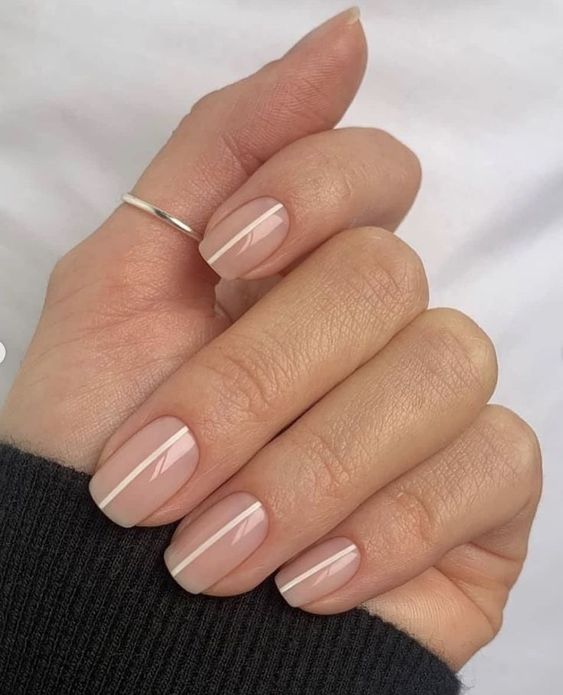 Minimalistic and stylish, give your nude and natural manicure more dimension by adding a white vertical line in the middle of each nail.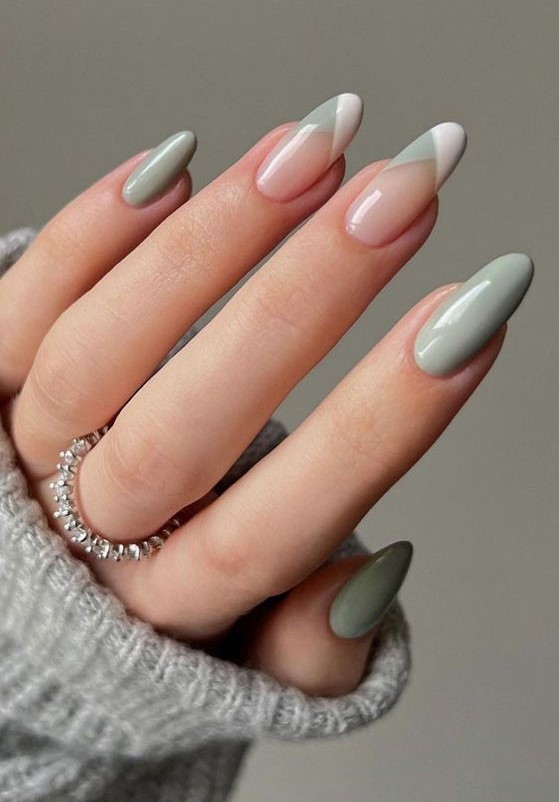 This combination of sage and ivory is utterly beautiful. It definitely gives me more of a wintry feel but it can easily suit the early spring season as well.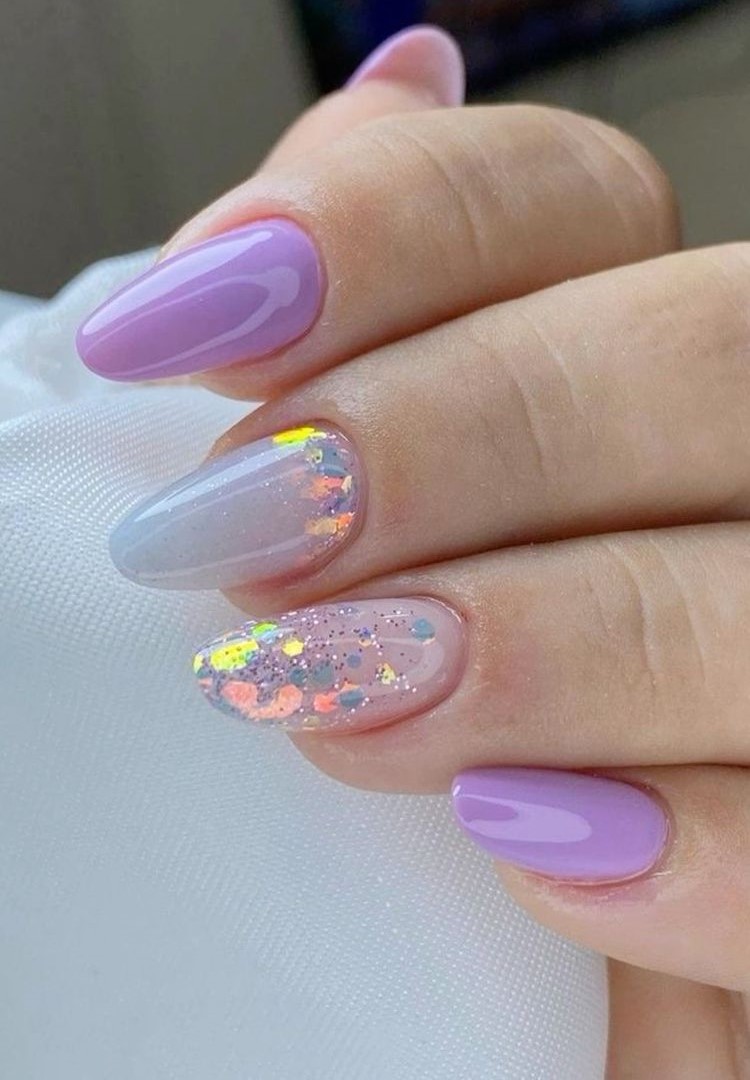 Make your nails feel like a whole party during graduation day to showcase your excitement by topping them off with lots of glittery pieces and sparkles.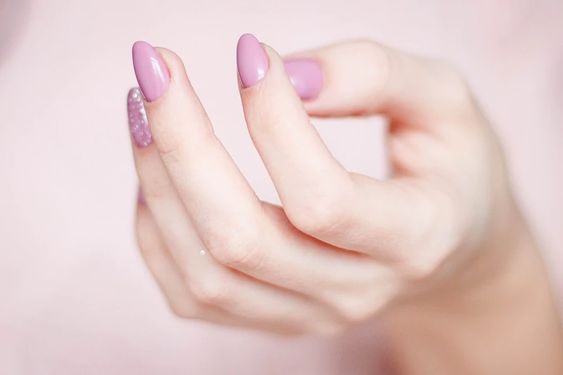 Simple and straightforward, you can never go wrong with doing a basic manicure with your favorite polish color. When in doubt, stick to the classics, right?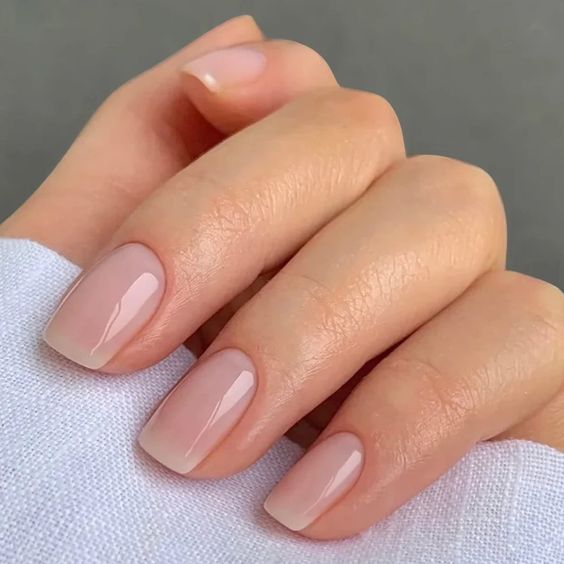 If you're not too fond of color on your nails and want to keep it natural as possible, you can either go for a clear top coat or one that has a very sheer milky sheen for an extra glow or shine.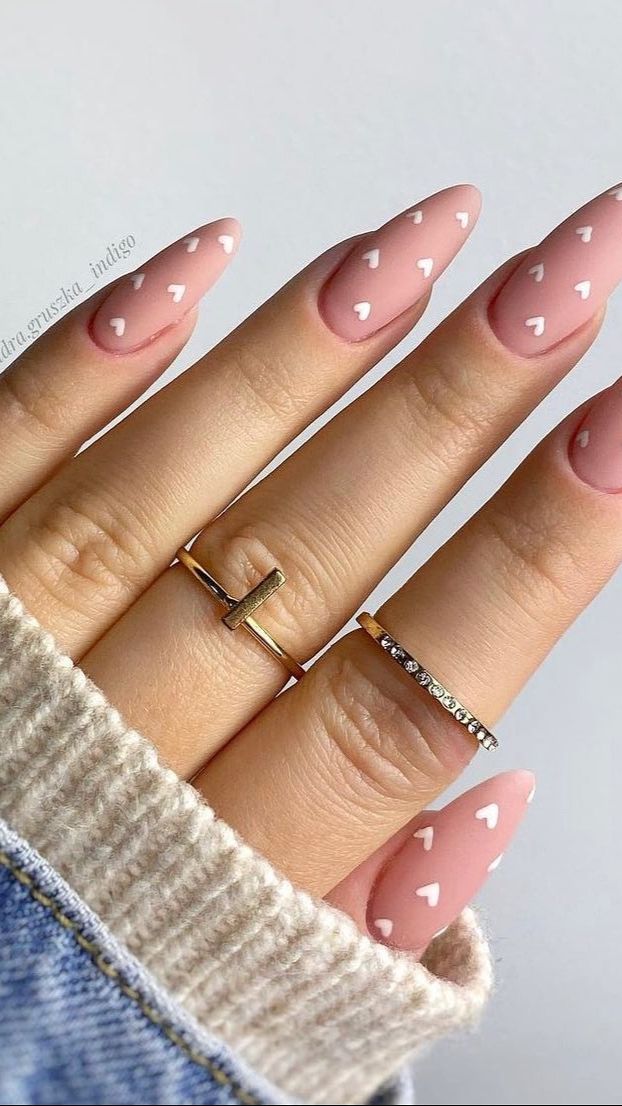 If you want to try out something a bit more romantic on the day of your graduation, you should definitely give this one a try. The tiny hearts are so dainty and cute!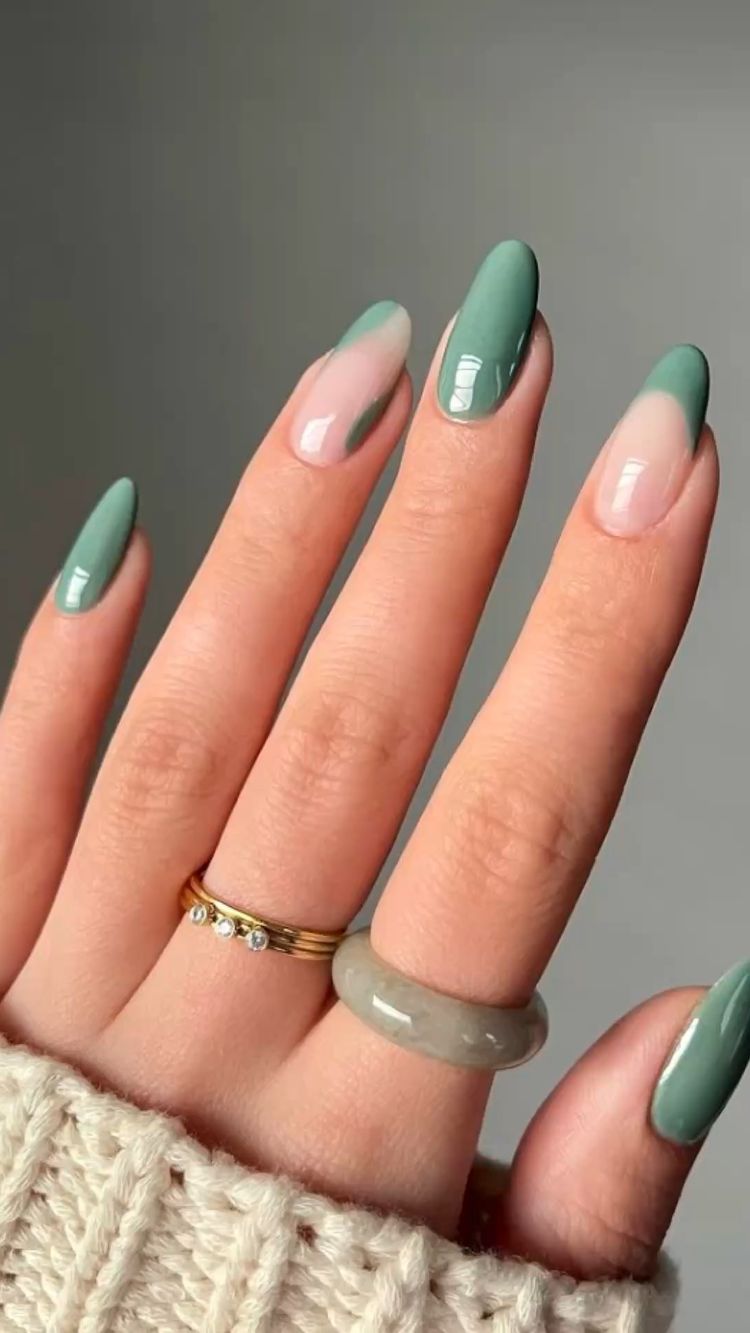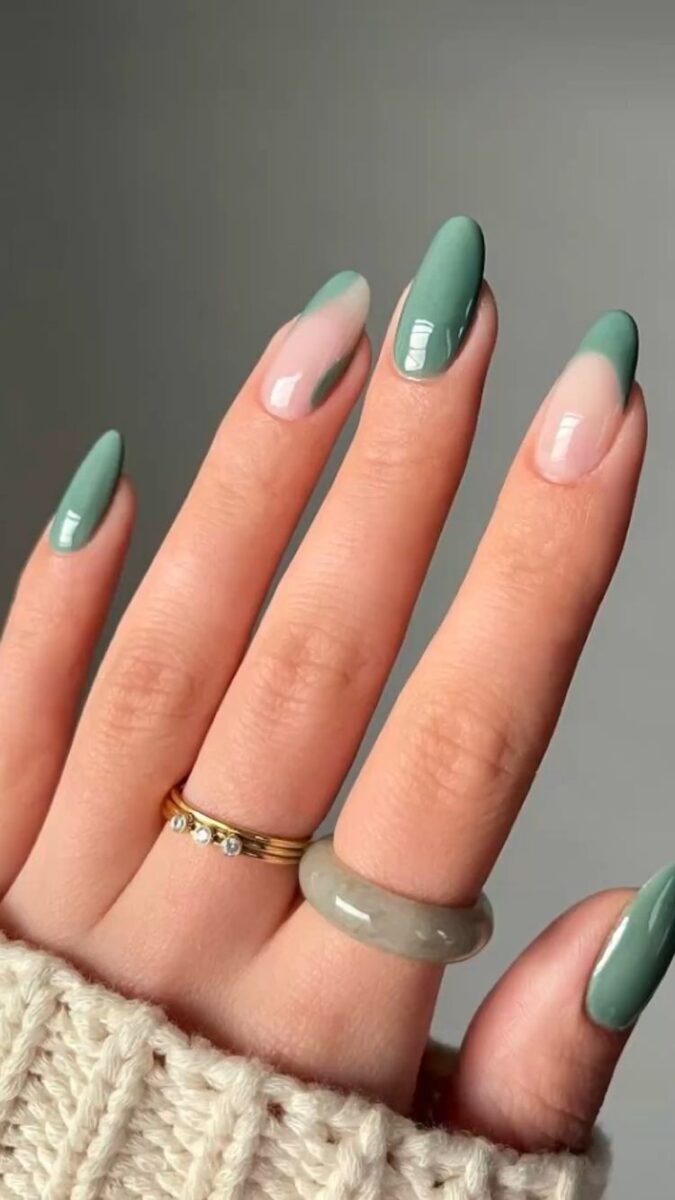 One way to honor your school and show off your pride when you're graduating is to wear the official school colors on your nails. You can do this kind of sophisticated design but opt for colors that symbolize your learning institution.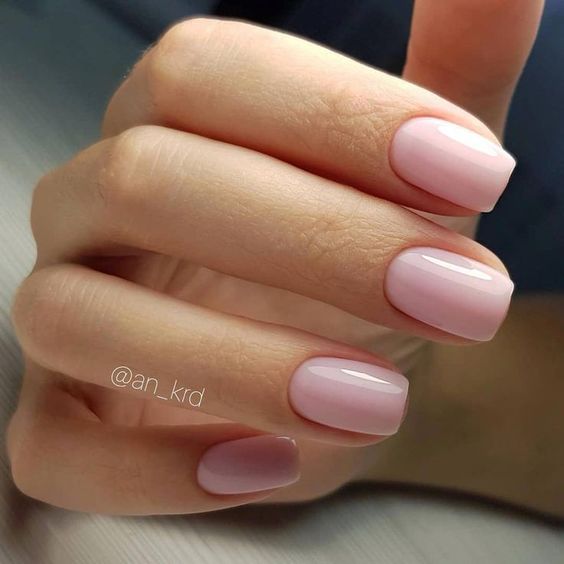 I know longer-cut nails are very trendy right now but if you want to keep things clean, sleek, and natural, a simple square cut might be perfect for you. These graduation nail designs are classic and simple for your big day!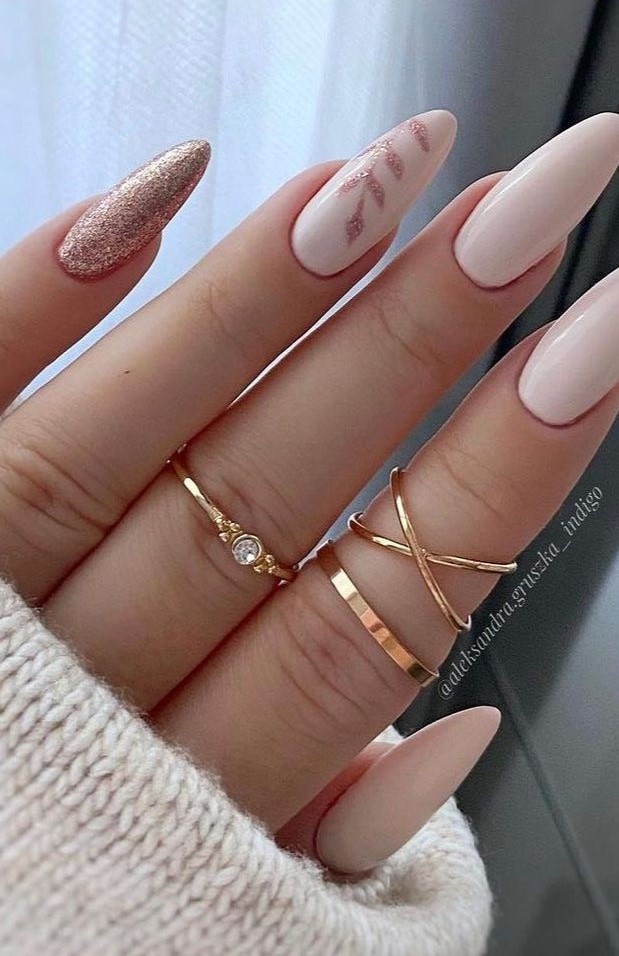 This shade of pink looks so subtle and natural. It also gives off an elegant and sophisticated feel that's just ideal for a graduation ceremony.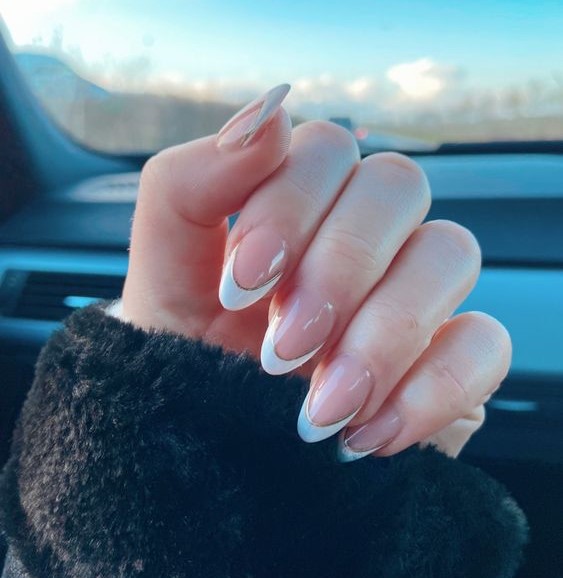 It's hard to go wrong with a classic French tip. If you can't decide on what nail design to go for, this timeless manicure won't let you down.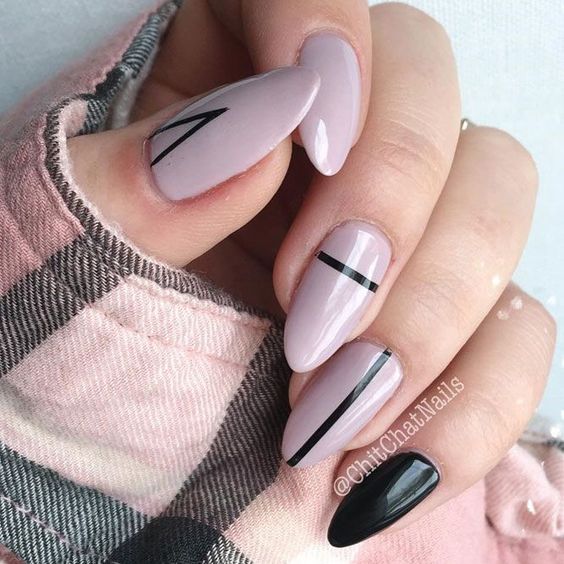 Dainty linework on the nails tends to give off such a chic vibe. But with a black and pink color scheme, it really mixes femininity and edginess so well.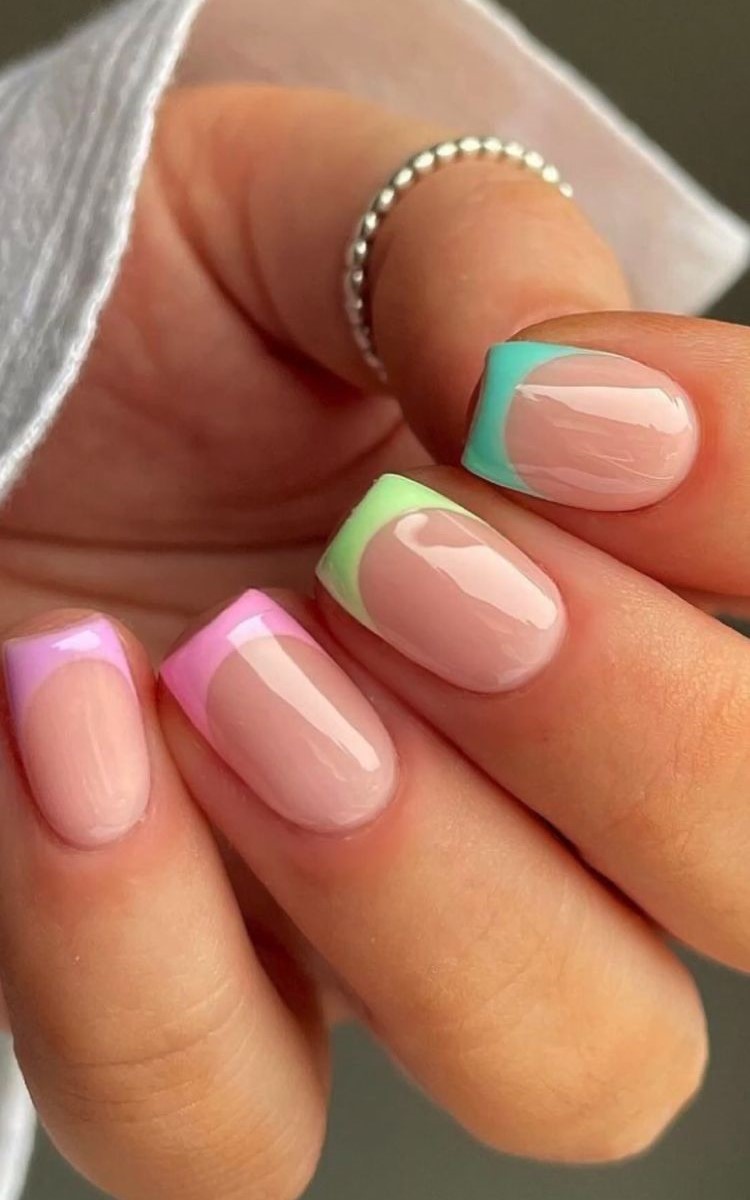 If you want pops of color for your graduation manicure but want to keep it minimalistic, painting your nail tips in different colors is always a good option.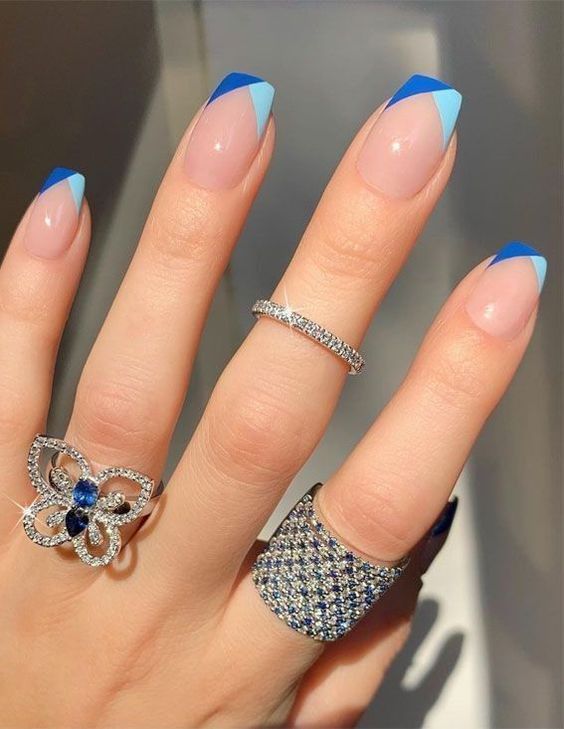 These V-tips are so modern and cool. Aside from doing two different shades of blue like in the picture, you can use colors that will match your school colors or graduation cap instead.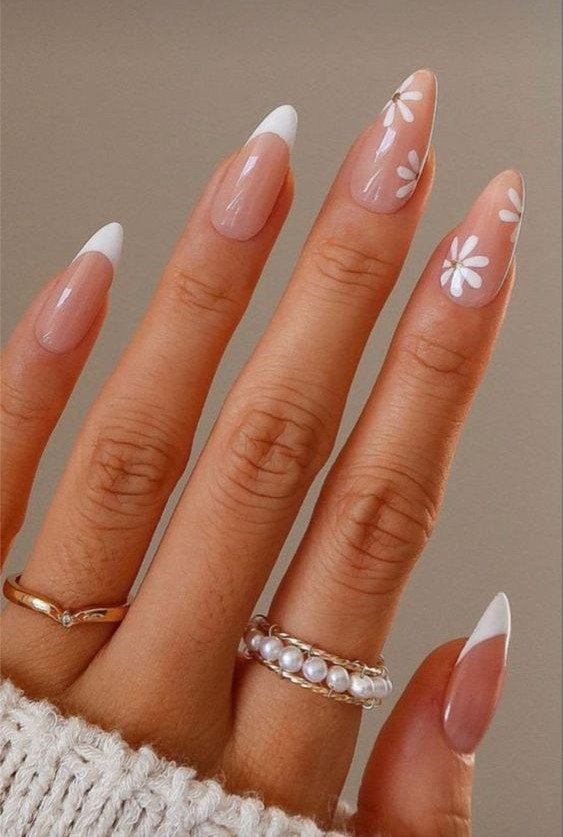 Both perfect for your springtime manicure and your graduation day, this white French manicure and floral accent nails are utterly gorgeous and elegant!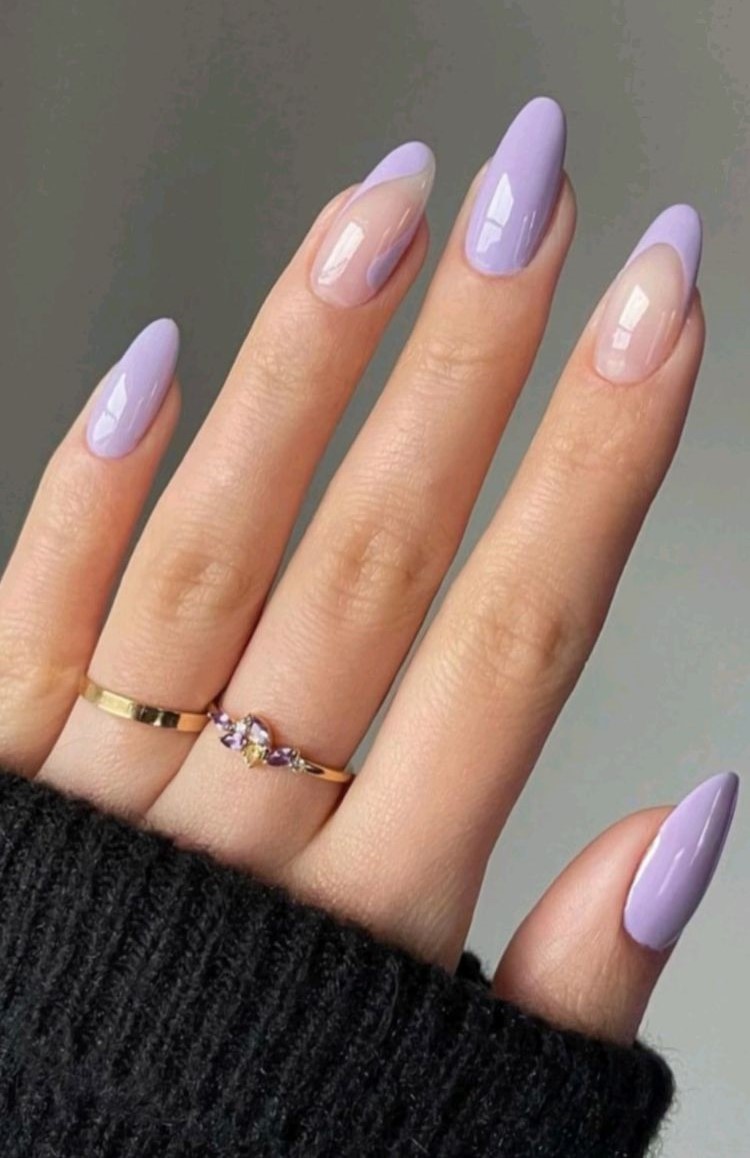 I am just so obsessed with this shade of purple! It's both suitable for spring and summer which makes it perfect for any occasion that comes in between these seasons like your graduation day!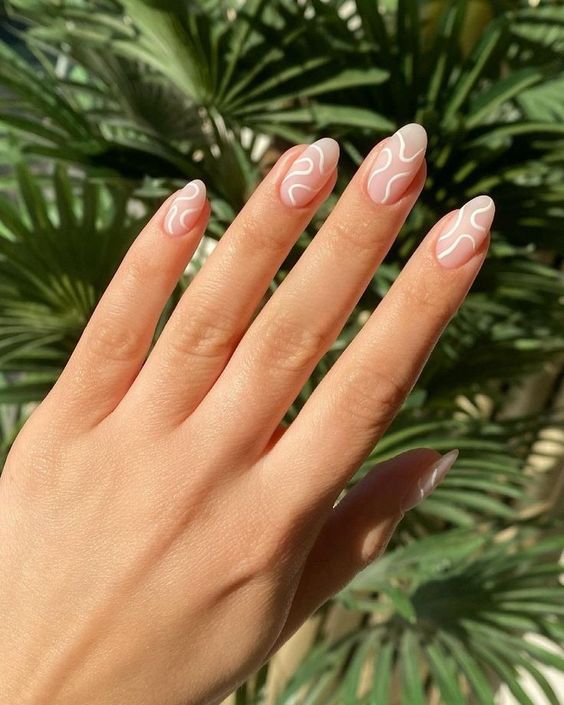 Keep your graduation nails minimalistic and a little bit quirky with this unique swirly linework. It's abstract yet chic at the same time.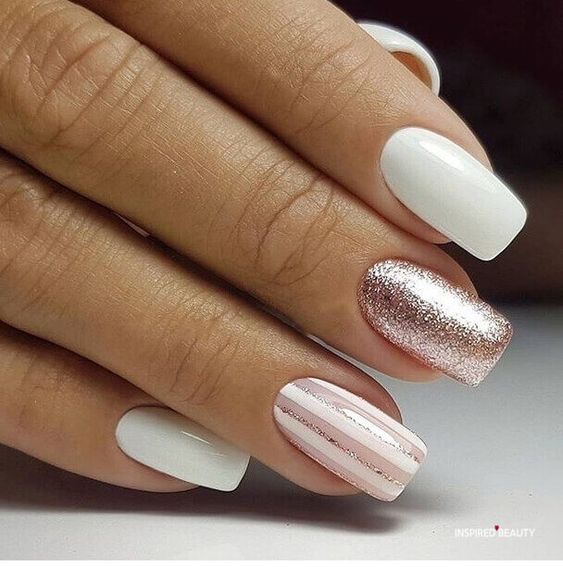 Add a touch of glam to your nails by adding sparkly accents to your manicure. To keep things sophisticated, I highly suggest opting for softer and muted colors as well.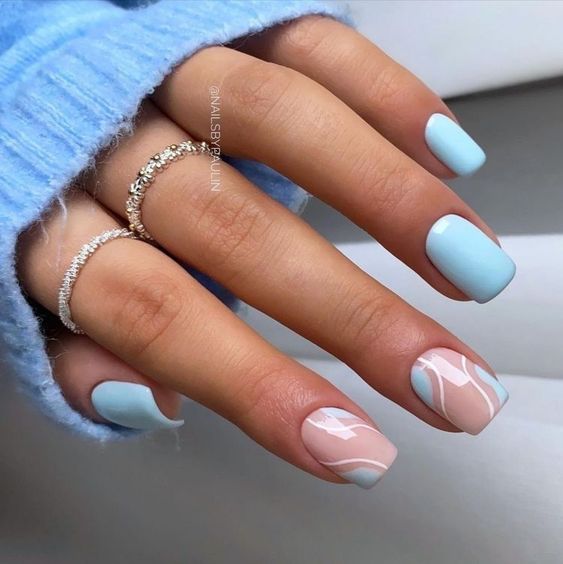 This light shade of blue is so pretty! The white, dainty linework is a good combination for it too, adding to its modern style and chicness. These graduation nail designs are the perfect abstract manicure!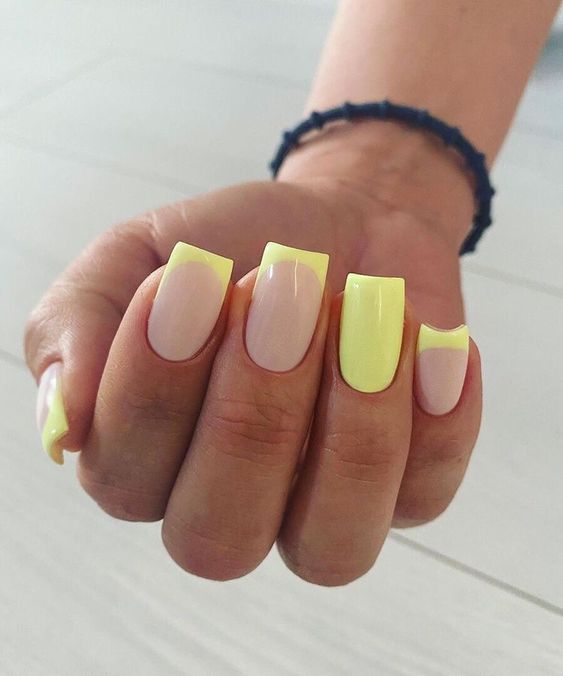 Neon colors aren't my first choice when it comes to graduation nails but this particular manicure is utterly gorgeous! The combination of neon and nude shades strikes a pretty contrast around the nails.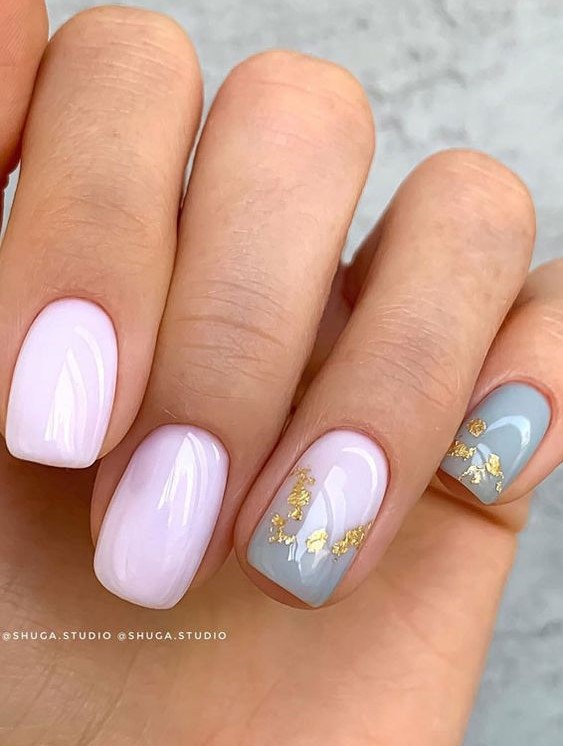 There's just really something about gold foils that give this overall manicure a more ethereal vibe. Doing a gradient effect is also a popular trend nowadays so that's something you can take inspiration from as well.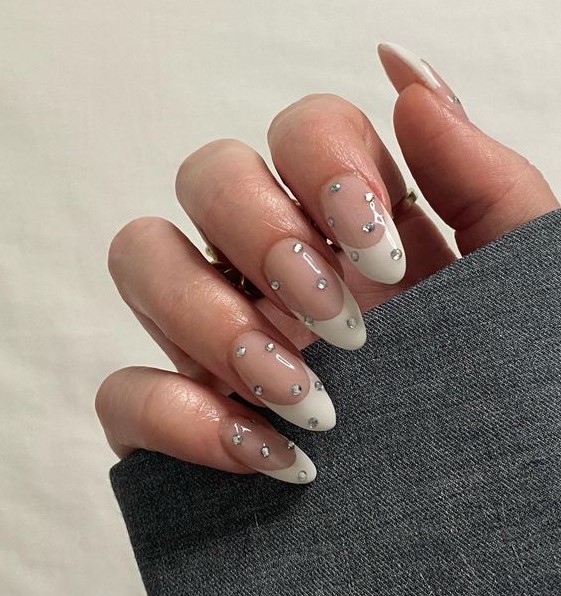 Add some bling to your classic French manicure by putting some dainty rhinestones all over them. Why settle for a basic manicure when you can elevate it even further?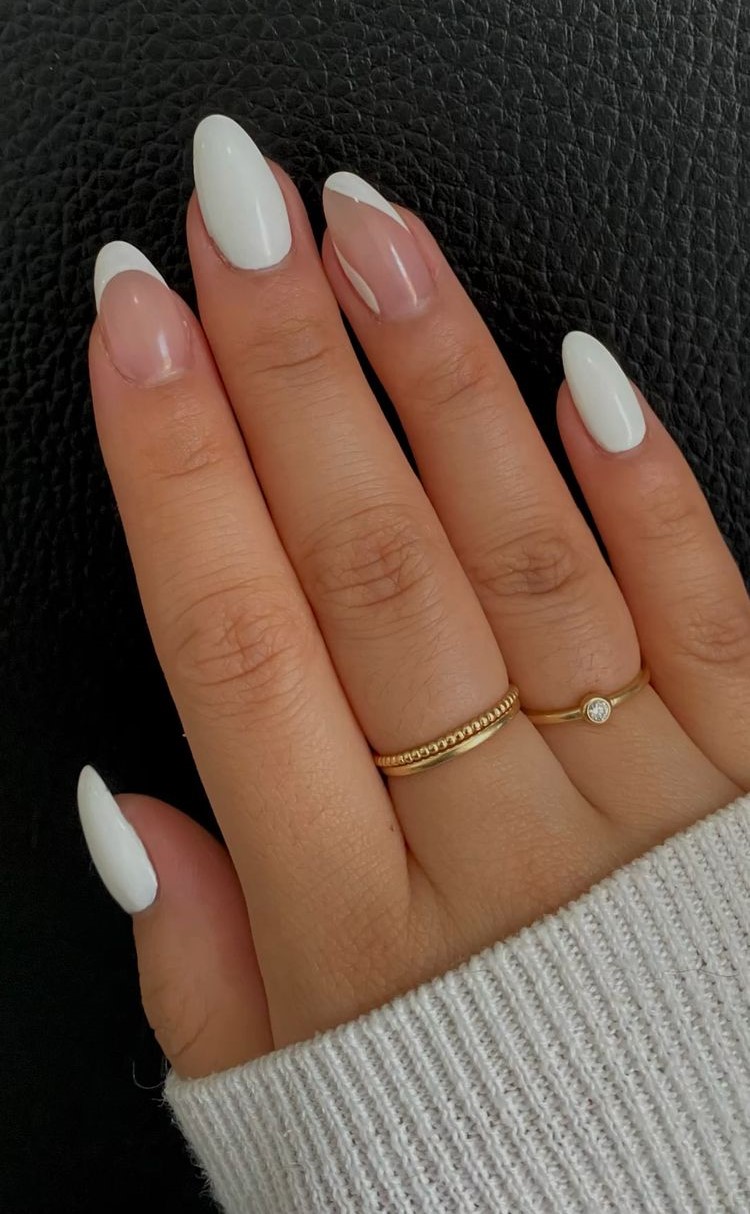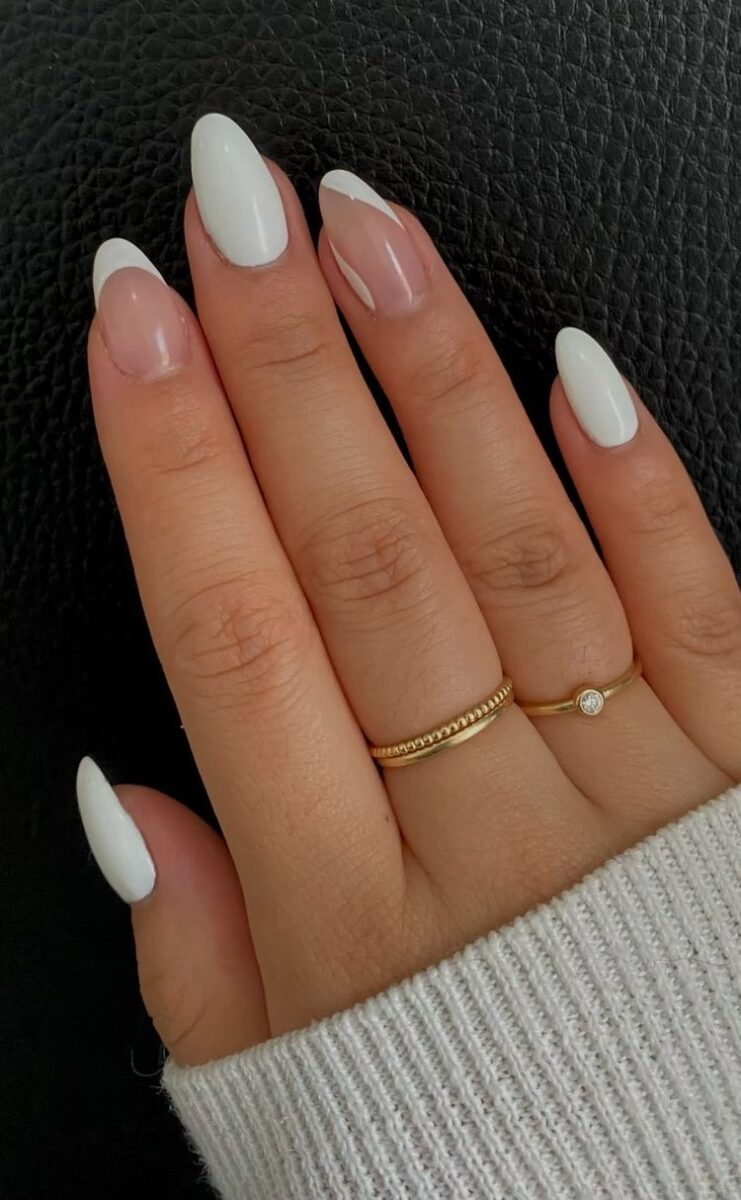 Just because you're using white for your graduation manicure, doesn't mean you have to keep it simple. Mix and match different nail designs to keep things fresh and modern.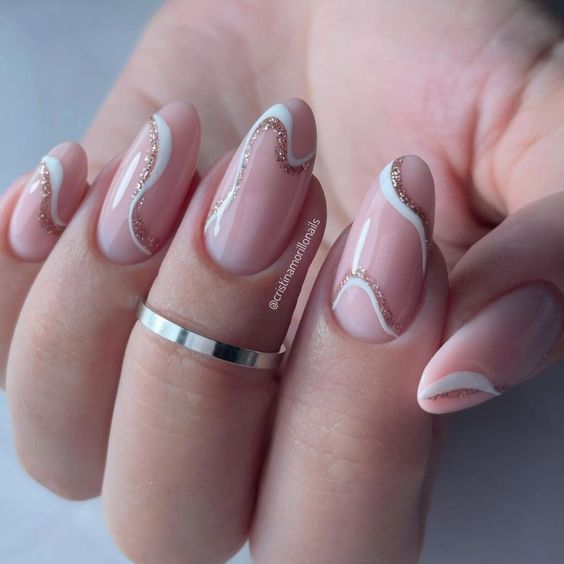 I love the sparkling detail of these abstract linework patterns. These swirls are so popular lately and I bet they would look just as good on your graduation day. They're effortlessly elegant and chic.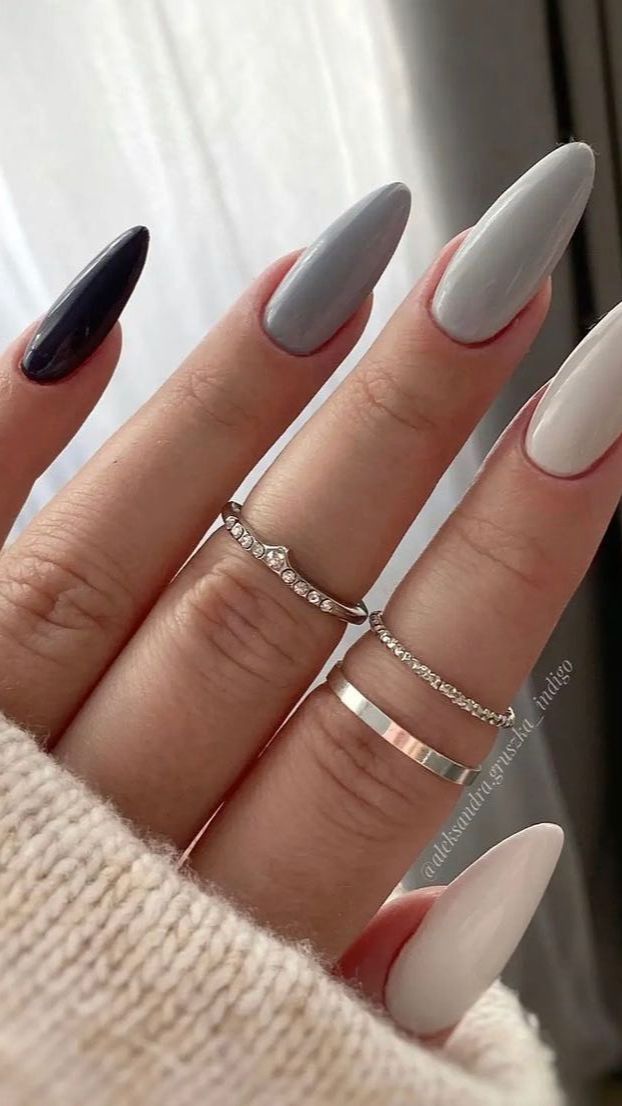 Spice up your basic manicure by doing different shades of neutral colors on your graduation nails. This will give off a gradient effect that's utterly gorgeous.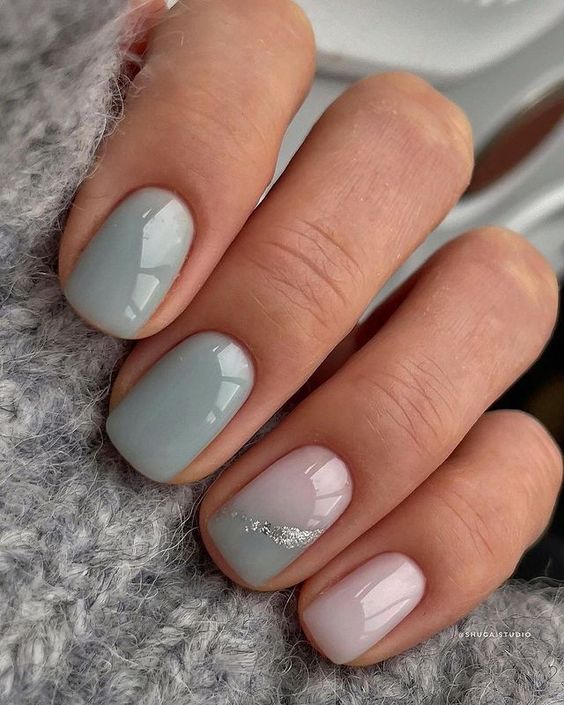 I love this particular color scheme. The soft minty green and the milky white give off cool wintry vibes that are perfect all year round. Add a bit of shine to the gradient accent nail and you're all set.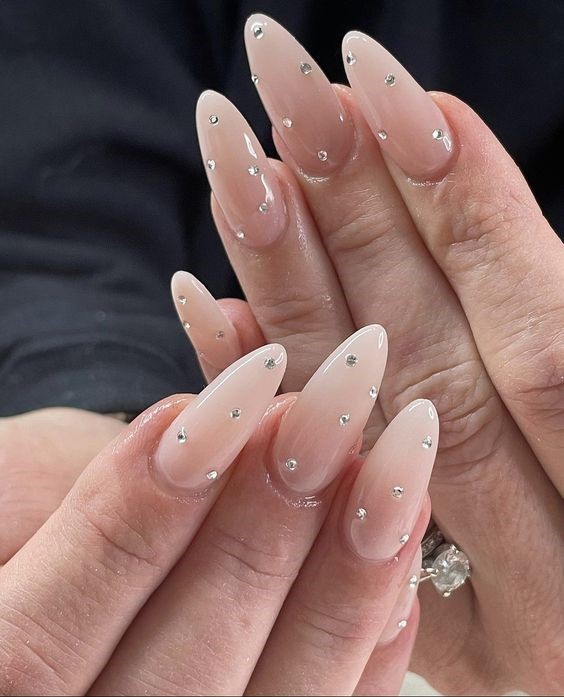 Jewelry won't be the only bling you'll be wearing for graduation day if you ever decide to use this particular manicure. These graduation nail designs will add that extra something to your look!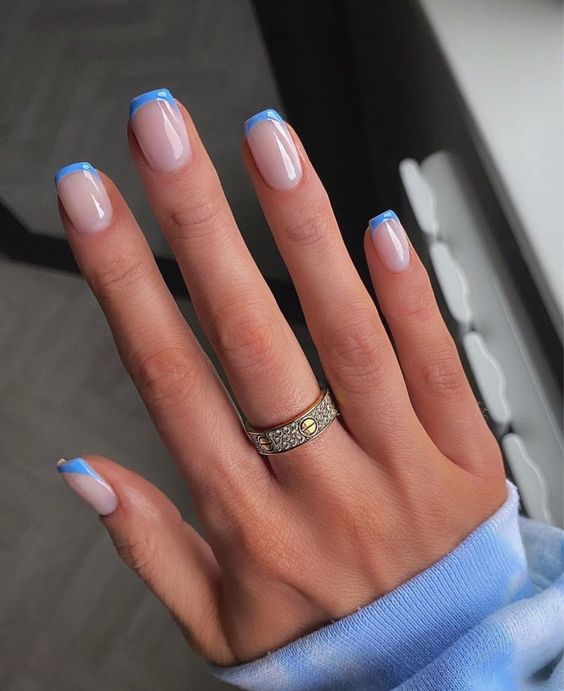 Longer cut shape nails might be more eye-catching but these nails are better for girls who want to keep things low-key and subtle.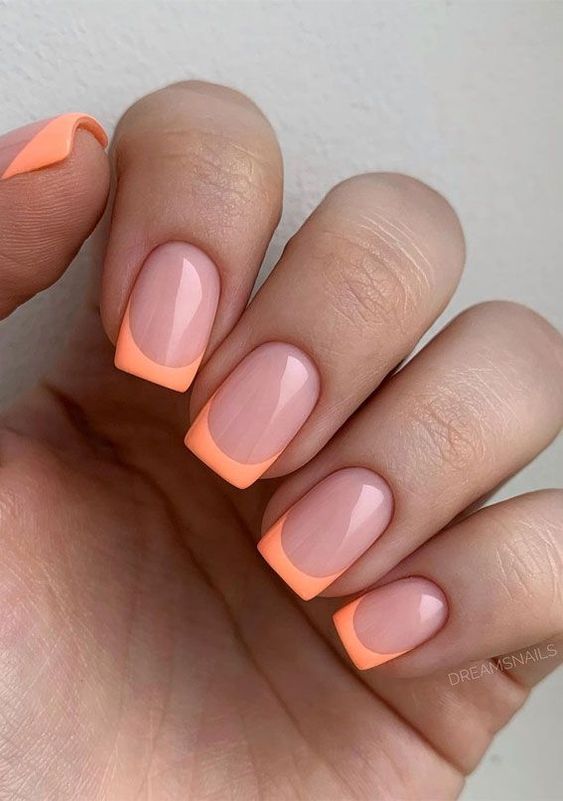 To create a stunning contrast against your chosen nude nail polish, why not opt for a bright orange for your nail tips?
Or perhaps, instead of using a solid color, keep things unique by using gold foils for your modern and updated version of a French manicure.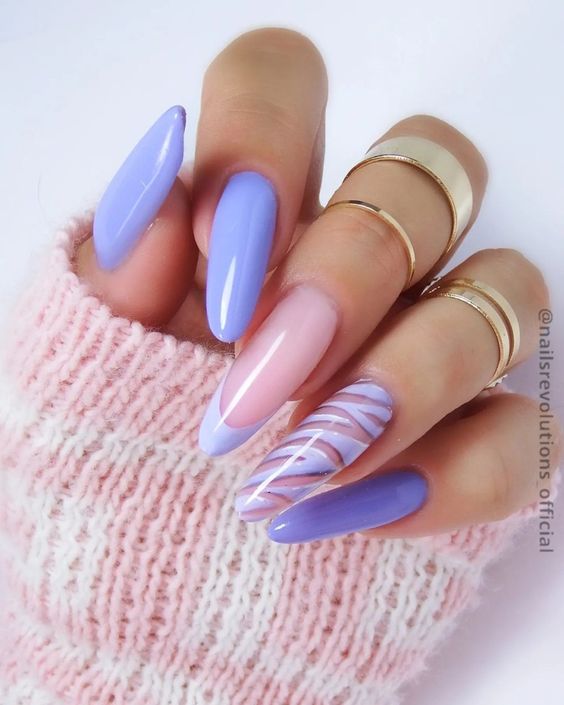 Purple is a great color, but you can also easily do this same nail design using other colors that you either prefer or want to match to your graduation dress.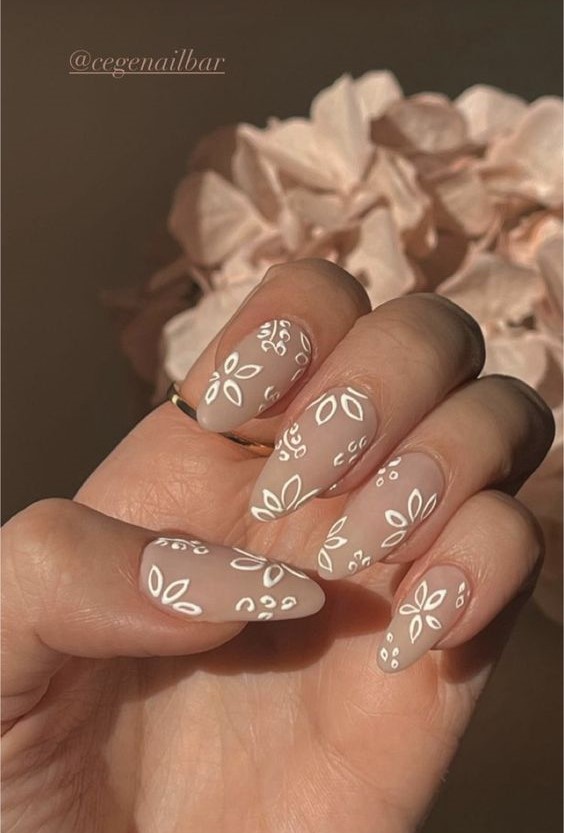 Not only is this soft matte finish on the manicure so gorgeous, but I love the embossed detailing of each floral pattern. These graduation nail designs are definitely trending right now!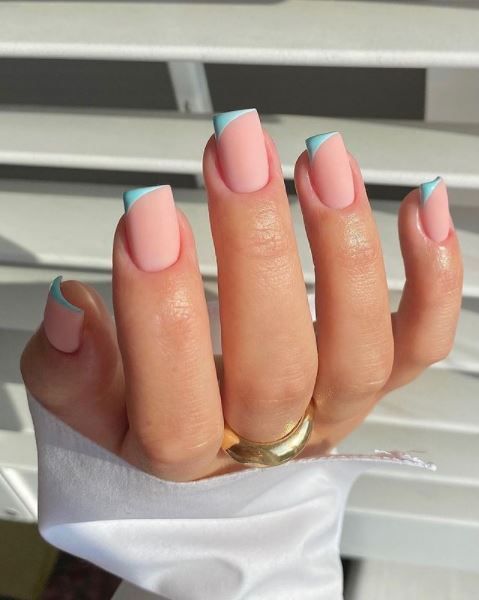 Minimal and chic, this modern take on the classic French tip will make sure that your nails as unique as possible during your graduation ceremony.