Nail art with floral designs is very popular right now. Flowers will suit any occasion, as they come in all kinds of colors and shapes. And sunflower nails are back in style now that summer is here!
These sunshine yellow flowers are the latest nail art trend, and they look amazing when used on nails. From plain sunflower manicures to ombre nails and sparkle nails with sunflower designs, there's something for everyone. You can customize your sunflower nails depending on the style that you're into.
Here are 48+ of the prettiest sunflower nail designs you can create. Give this fun summer nail trend a try and check out these sunflower nail designs!
Sunflower Nails: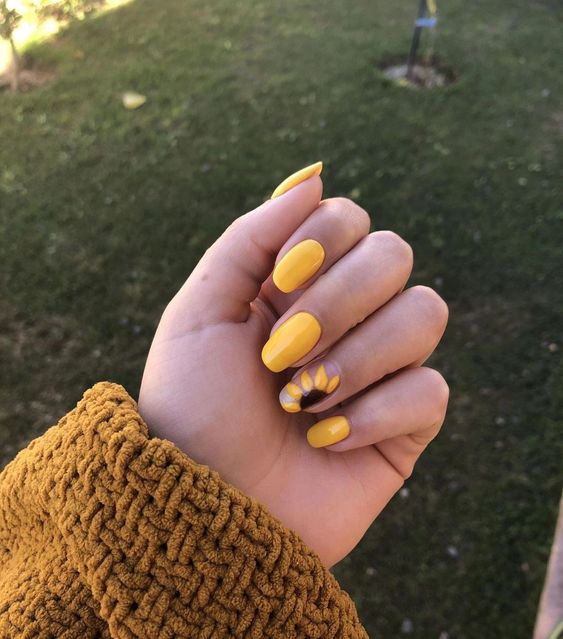 If you're a little unsure whether a full sunflower manicure would be a great look for your nails, you can always get a sunflower accent nail for now. This way, you don't have to get all your nails painted with sunflowers and you can see for yourself whether this is the right design for you.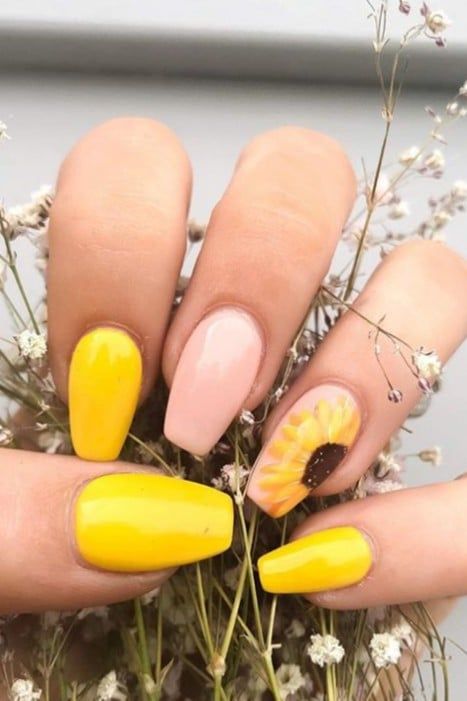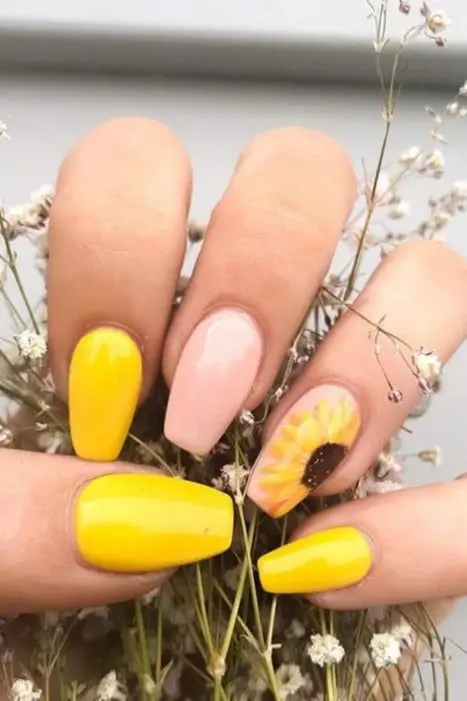 Match the color of the rest of your nails with your sunflower accent nail like this particular manicure. I just love how the petals and the other nails share the same color, creating a cohesive look.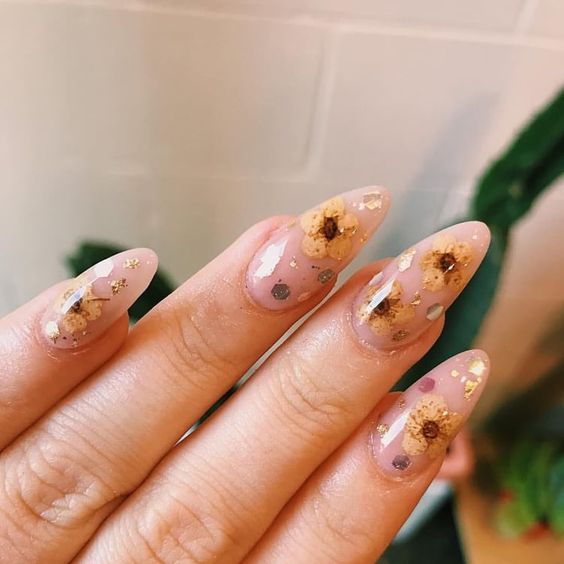 This has got to be one of my favorite sunflower nails on this list. I love the dainty aesthetic of how the sunflower nail art is made, reminding me of beautiful dried flowers in resin.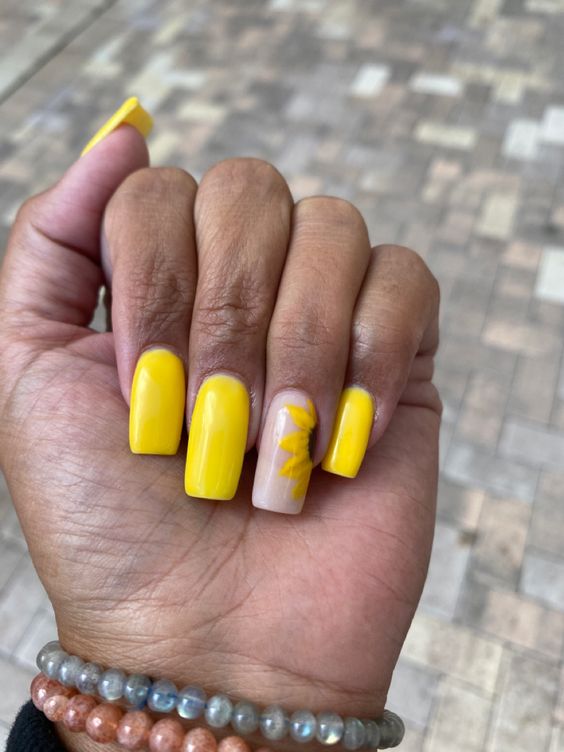 Here's another sunflower accent nail you might want to try out. It involves a longer nail shape with a square cut if shorter nails aren't your style. The longer cut gives it a more feminine touch.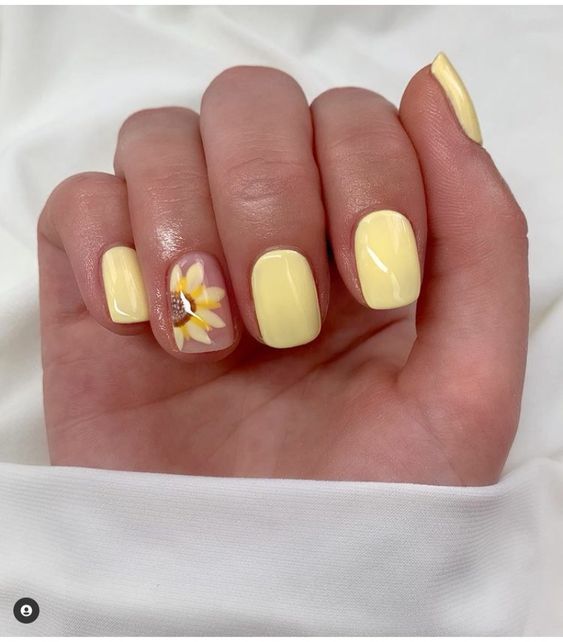 I love the pastel color scheme of this sunflower manicure! It's such a bright, soft yellow that's perfect for the spring and summer seasons! You might also like this if you want a shorter cut on your nails.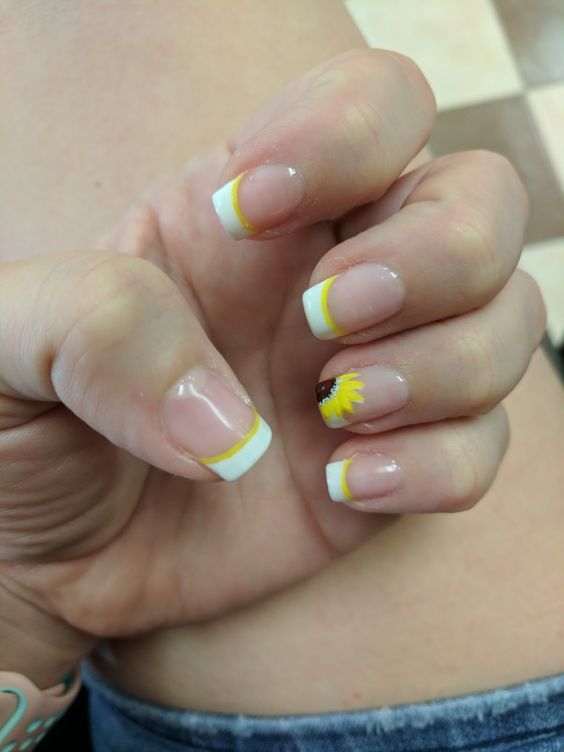 If you want to go on a classic route, why not for a sunflower French tip like this particular manicure? Aside from the usual white tips, you can also line your tips with a thin yellow line and paint your accent nail with a pretty sunflower.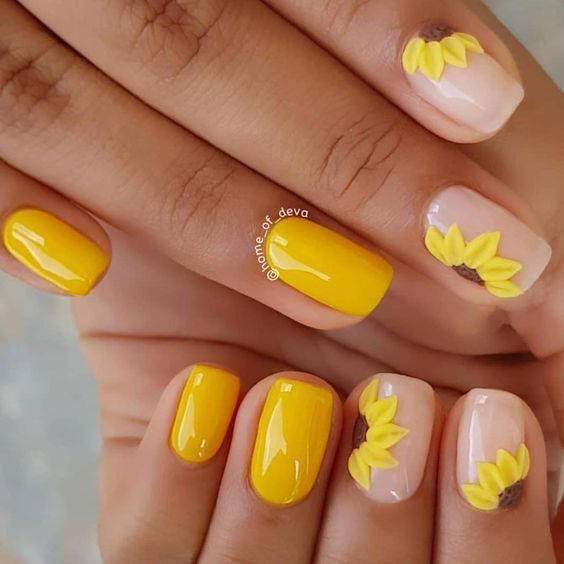 Instead of using just one accent nail for your sunflower nail art, why not do two for each hand? The more, the merrier! And you have more sunflowers to show off! You can use a clear base for your accent nails to really make those florals stand out!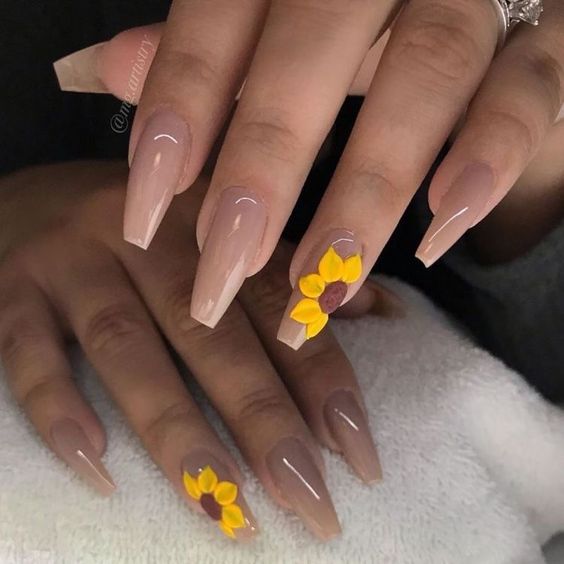 Speaking of making your sunflower nail art stand out if you want to create a gorgeous contrast and make those bright yellow tones pop on your nails, try using a nude or clear base coat! This way, all of the attention will be on those flowers.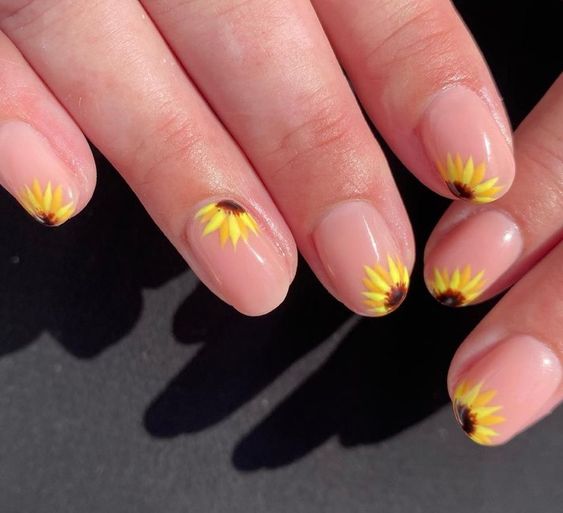 Here's another set of sunflower nails that will give you a gorgeous contrast on your manicure. For a dainty effect, you can opt to create smaller sunflowers for a rather minimalist look as well. The use of the clear base coat makes the yellow petals pop out so much.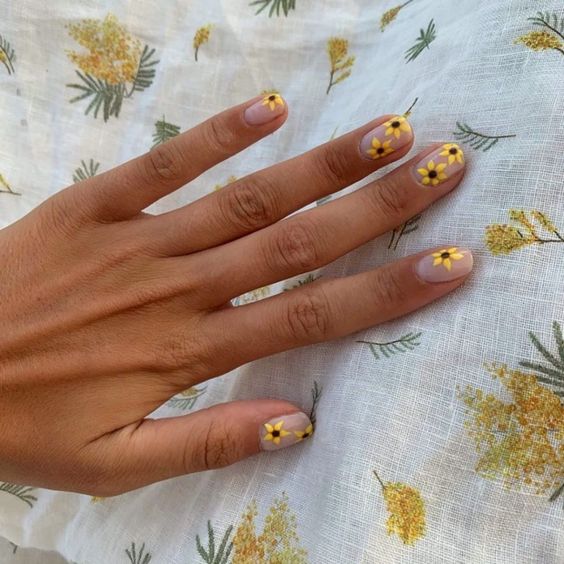 Sometimes, less is more and a clear or nude base coat will make the sunflowers on your nails stand out even more. it might take a lot of practice to get those sunflowers perfect but if you don't have the time, getting sunflower-themed press on nails might be less of a fuss for you.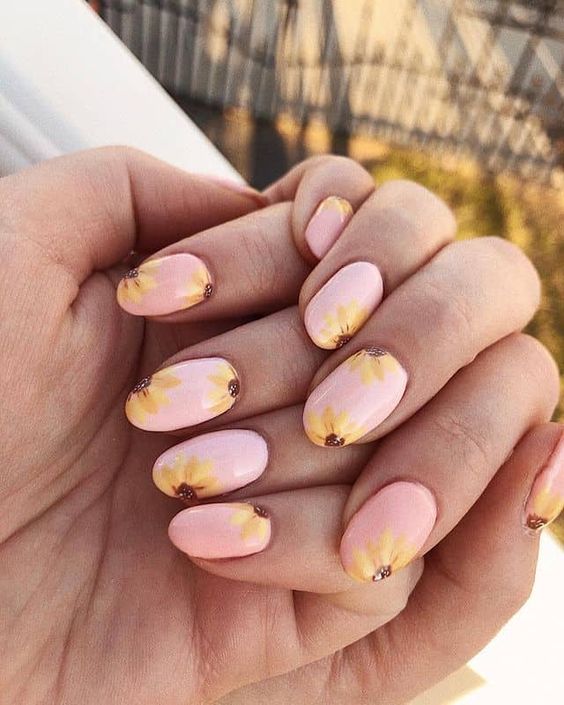 Who knew pink and yellow would go so well together? The pink gives off such a feminine vibe against the bright yellow petals of the sunflowers. These colors are so perfect for the spring too!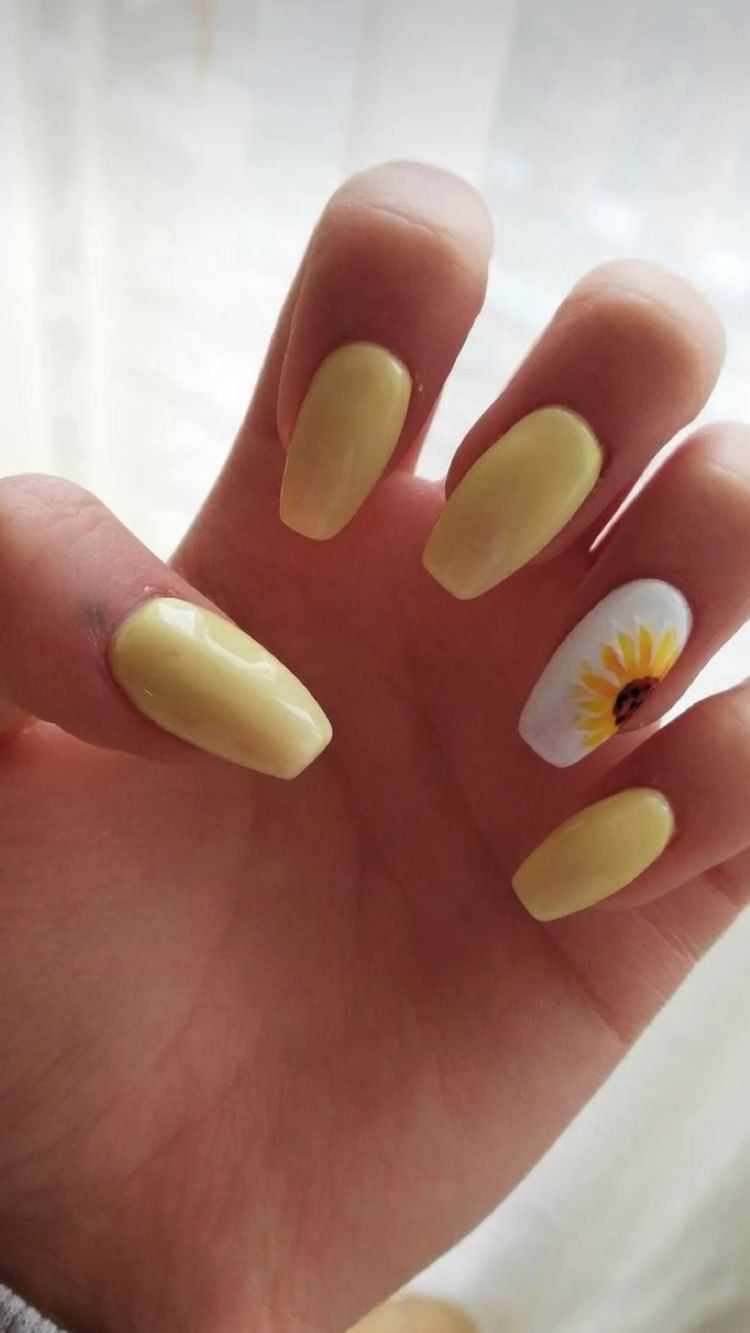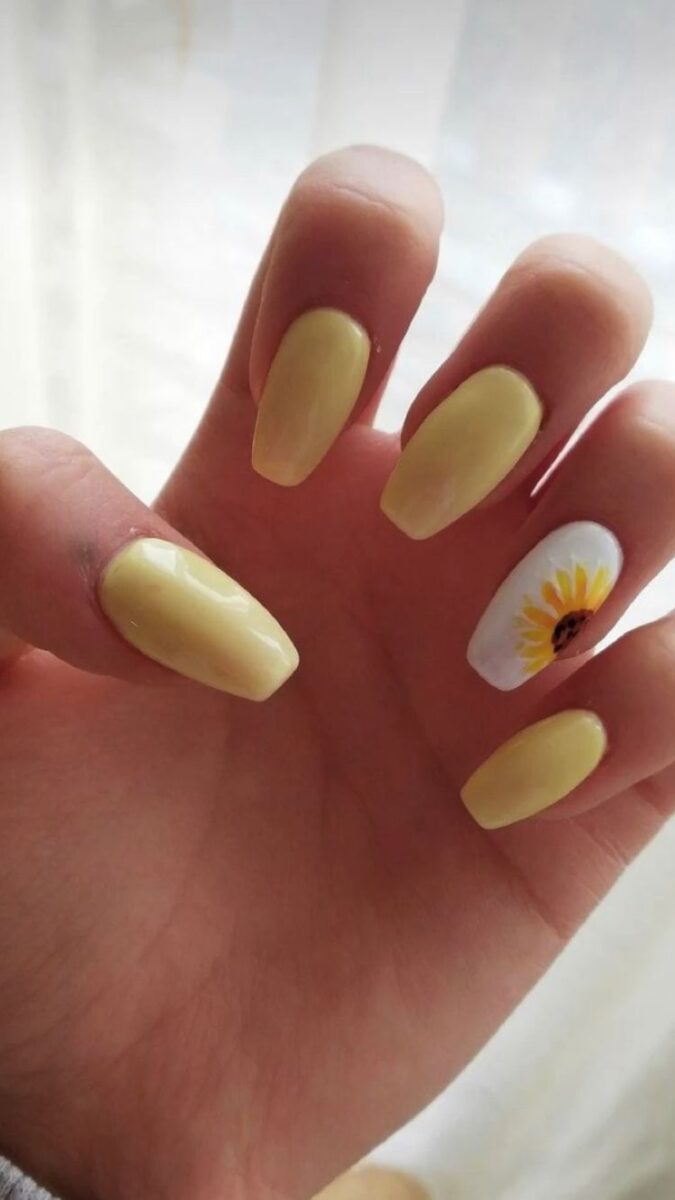 Make your accent nail stand out even more by using a different color base coat from the rest of your nails. The sunflower nail art will be in the spotlight as it should!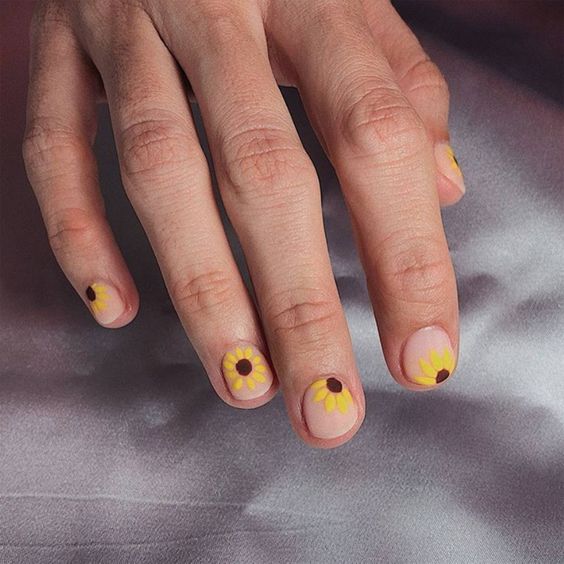 No need to worry if you have very short nails or are unable to keep long nails. As you can see with this particular manicure, you can still achieve gorgeous sunflower nail art for your nails.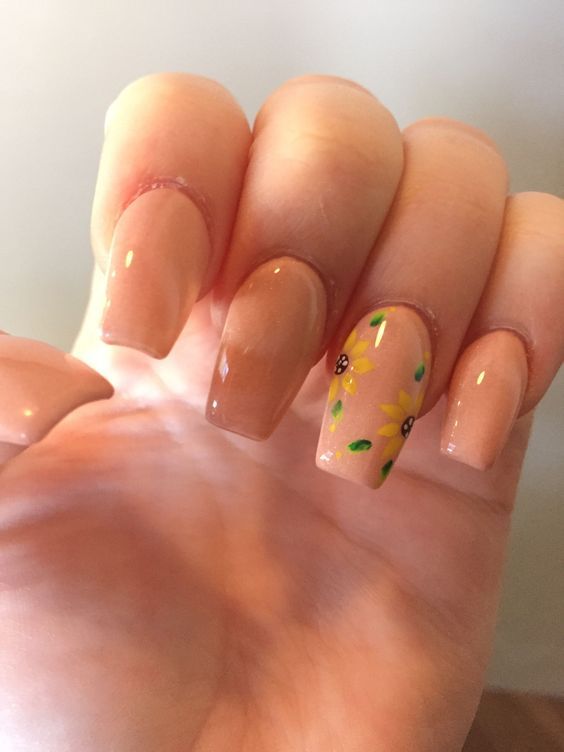 This sunflower manicure has such a gorgeous nude base coat that only makes the florals pop out even more against the muted background. I also love the addition of greenery for the sunflower leaves.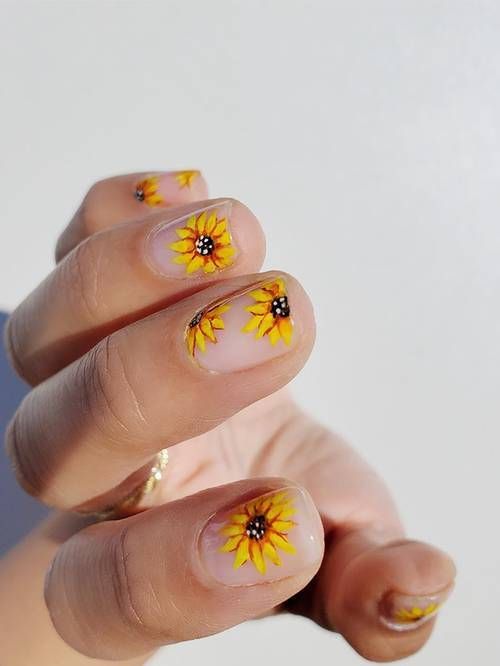 If you want something understated and not too tacky, this particular sunflower manicure might be for you. I love the details on the florals and even the pollen isn't left out!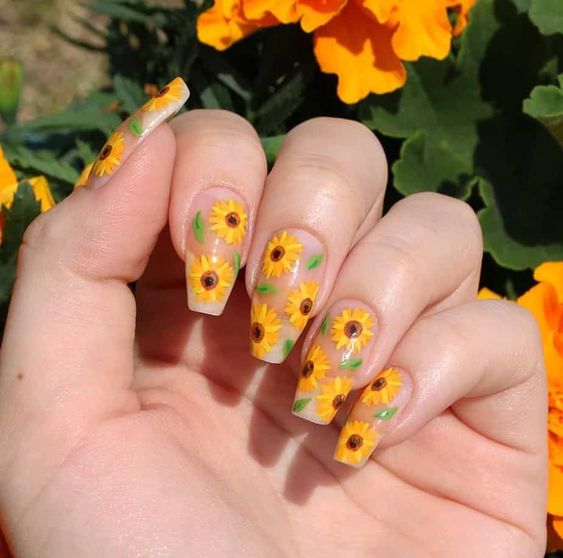 Handpainting your own sunflower manicure can be one of the most fulfilling things after practicing multiple times to get it perfect. But if you're not too confident in your nail art skills, there are always the options for press-on nails.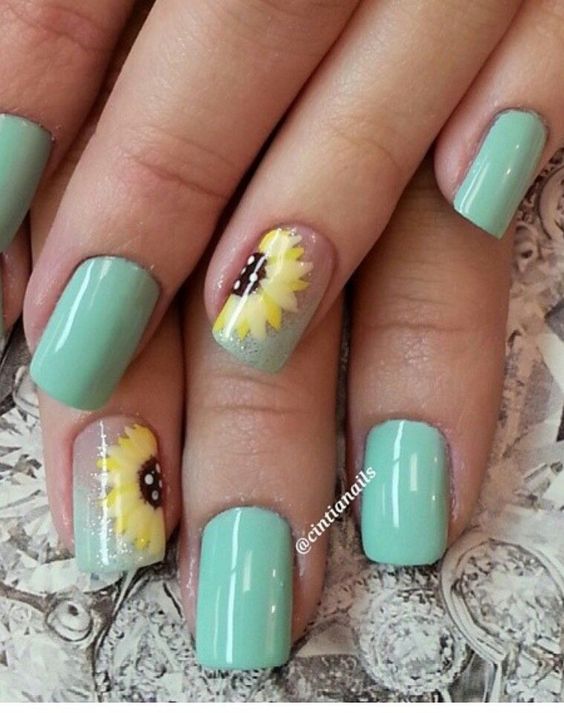 I love the teal green and sunflower combo in this manicure! Who knew they would go so perfectly well together? If you're looking for a unique color palette for your sunflower nails, then this is it!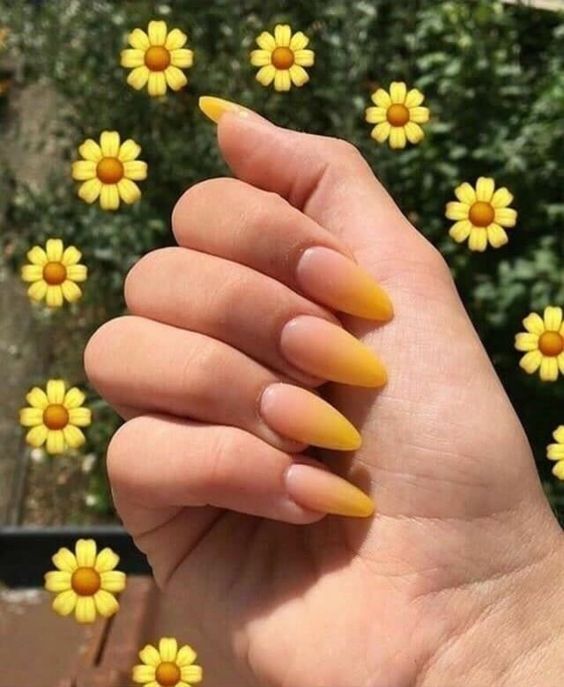 If you're unable to paint sunflowers on your nails, that's okay! Sometimes getting just the sunflower color scheme to match the theme is enough.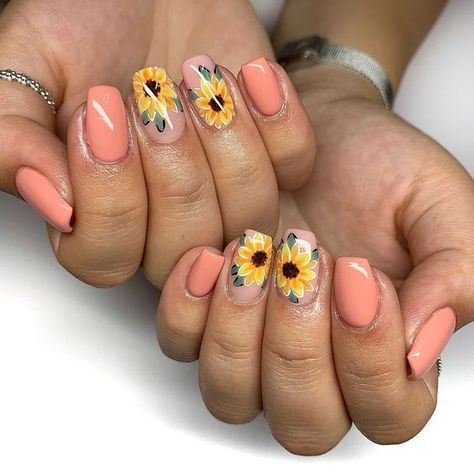 Here's another pretty pink and yellow color combination for your sunflower manicure. You can further accentuate the detailing on your florals by adding leaves and some whites to highlight it even more.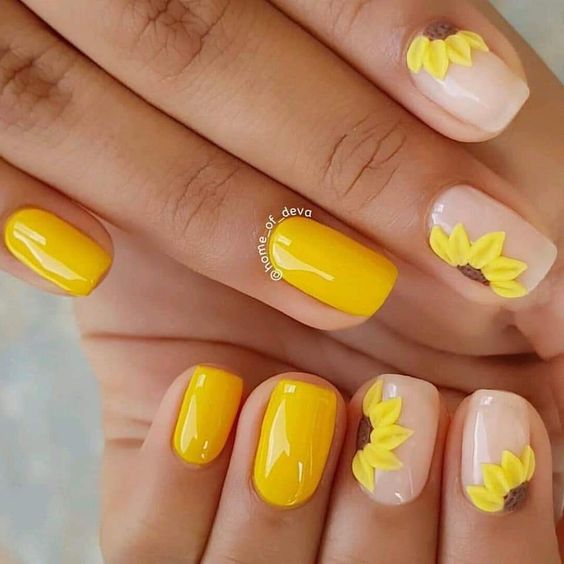 I love the embossed effect on these sunflower nails! Furthermore, look how stunning and vibrant those yellow nails are!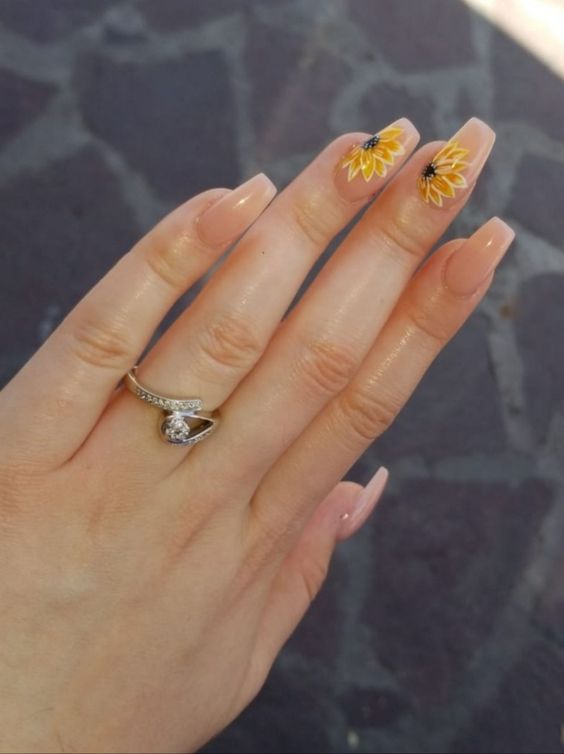 For a minimalistic and understated sunflower nail that won't be too overwhelming, this one is perfect for you!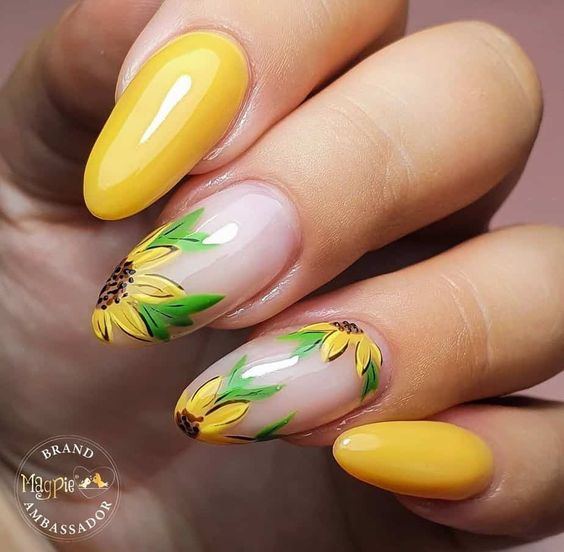 I love the art style of these particular sunflower nails. I love the details, the linework, and how the colors pop so brightly!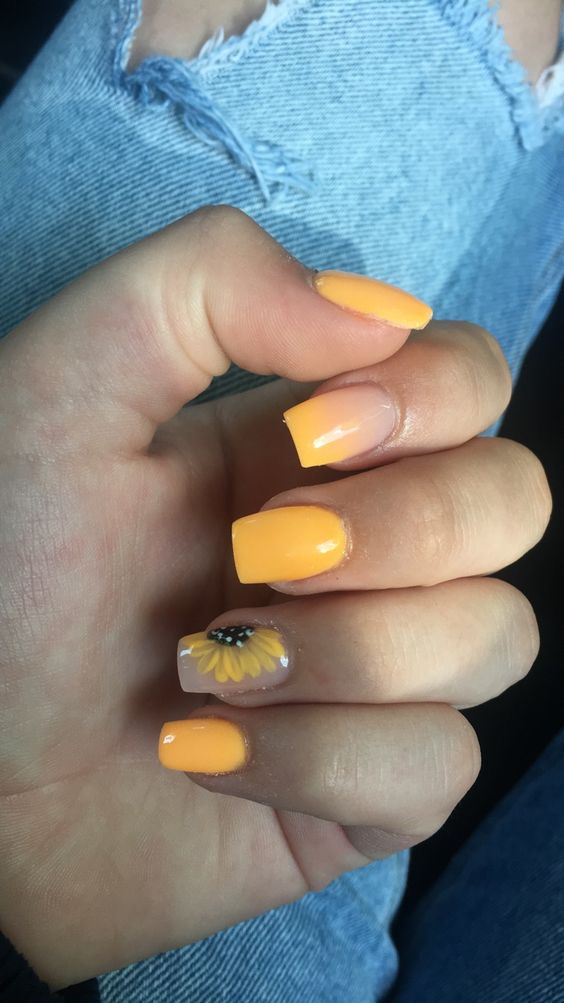 Aside from a gorgeous sunflower accent nail, you can also add a gradient accent nail to your manicure for an even more interesting finish.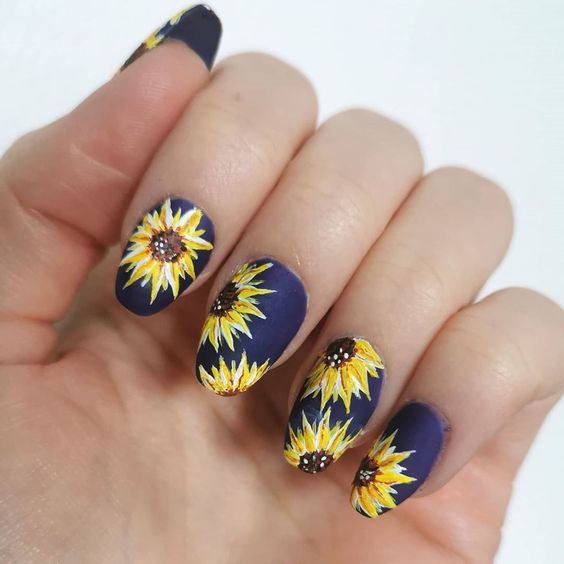 I am utterly in love with the color scheme of this sunflower manicure! I love the gorgeous shade of blue used for the base coat and how the yellow florals complement it so well.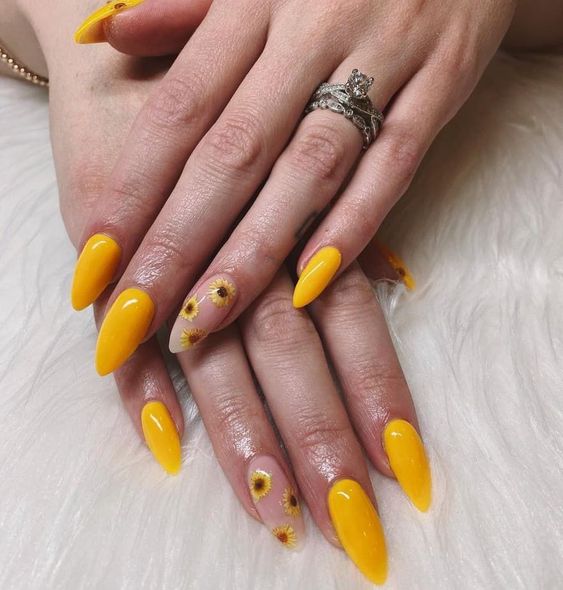 I love this shade of yellow! It's so bright, almost leaning toward neon yet it still perfectly pairs well with the dainty sunflowers around the accent nail.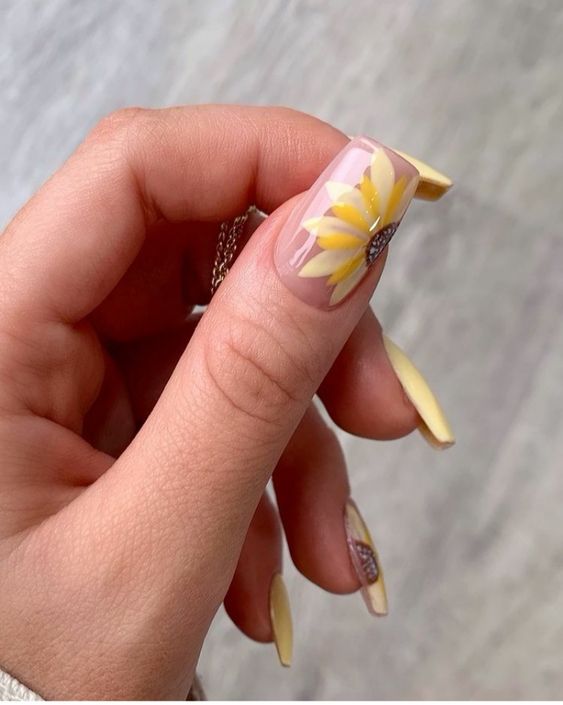 If you don't like a vibrant and eye-catching shade of yellow, maybe pastels will be more of your style. They have such a softness to them and you can also use the same shade of polish to create your sunflowers so they match.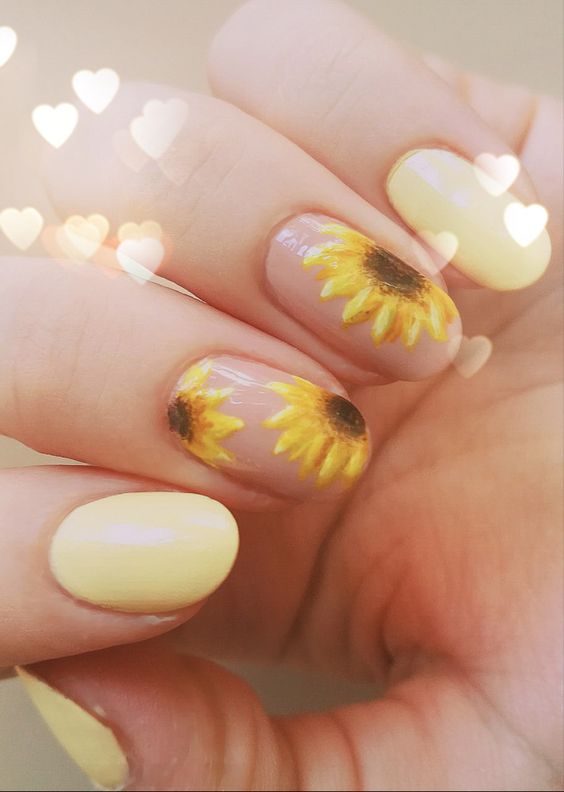 What's better than one sunflower accent nail? Two sunflower accent nails!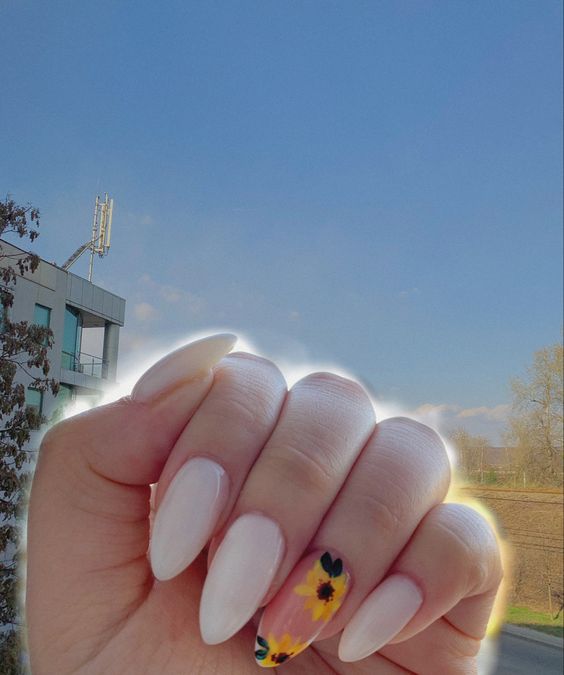 The white base color used on the majority of the nails pair so well with the sunflower accent nail! It looks so chic and stylish.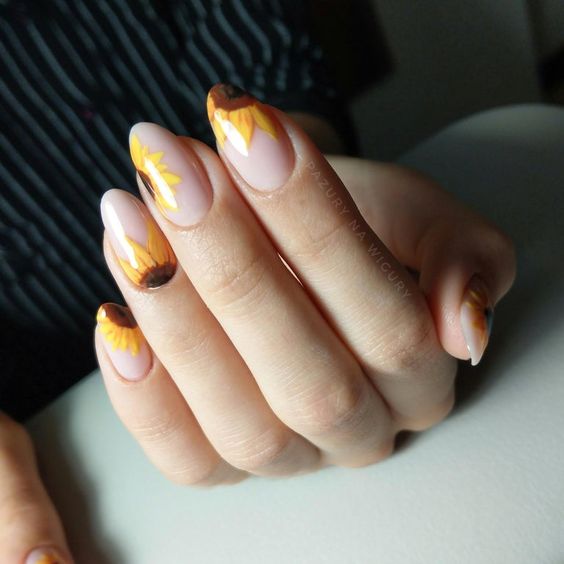 I am obsessed with how clean this sunflower nail art is! It has such a classy vibe that isn't too overwhelming to the eyes.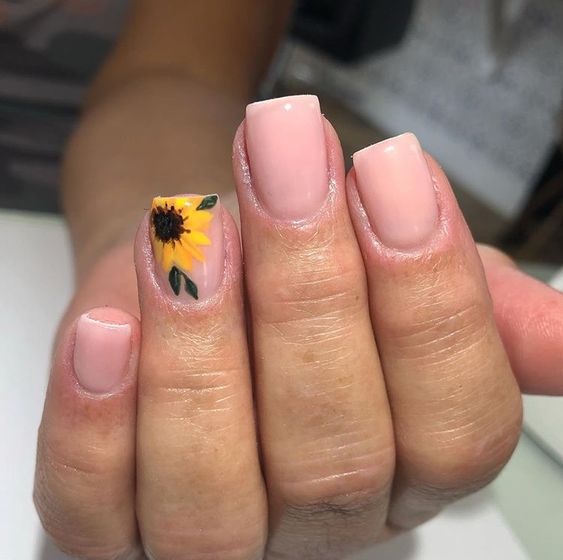 Here's another minimalistic sunflower manicure you might like! It uses a nude base coat accentuated with one sunflower nail.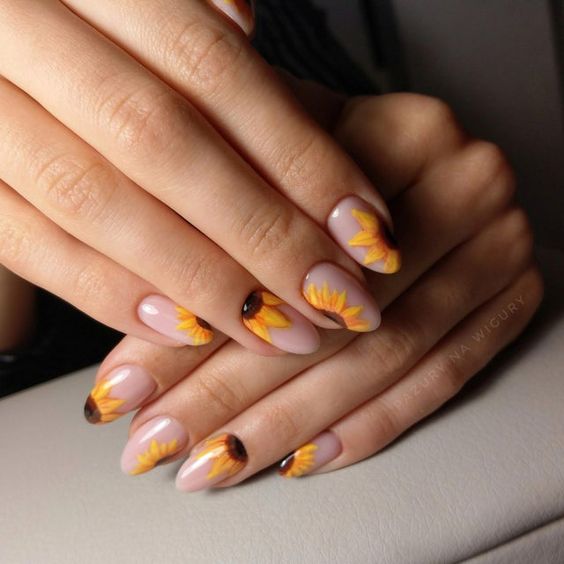 One of the fun things about getting sunflower nails is you can get to decide where to place them around your nails!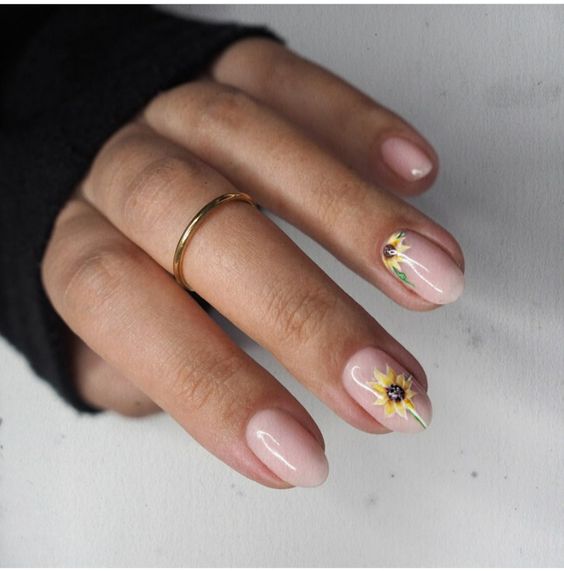 This dainty sunflower nail art is perfect for those looking for a minimalistic manicure that's not going to be too overwhelming on the nails.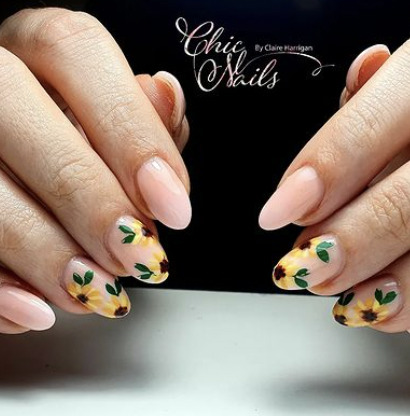 For a more natural finish, this might be the sunflower manicure you're looking for!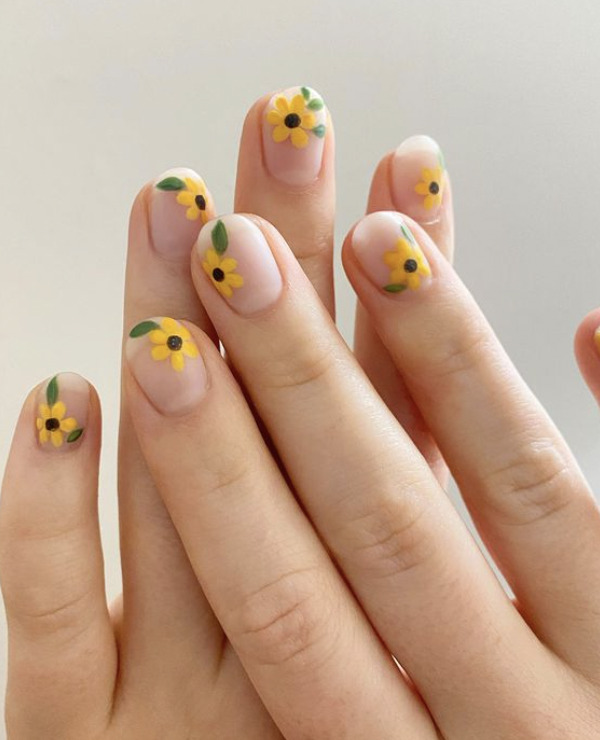 I love how cute and dainty this sunflower manicure looks! I also love how it has a matte finish and not the usual glossy top coat, making the overall appearance more natural.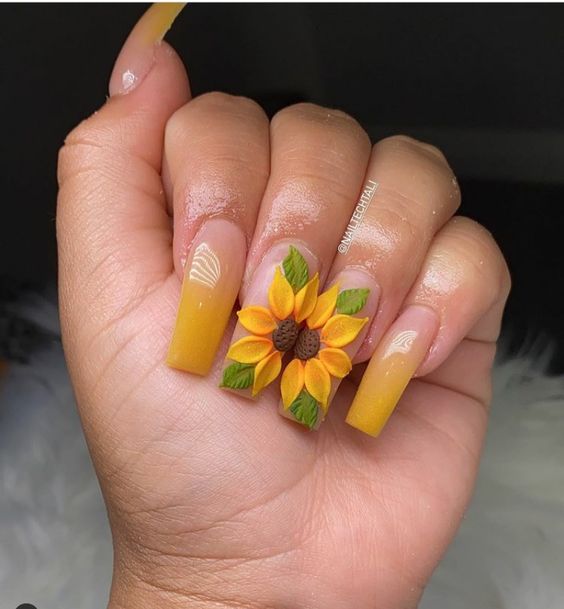 If you want to get a completely out-of-the-box sunflower nail design, why not try doing two accent nails with each nail having half of the sunflower? So when you put them together, you get this gorgeous result!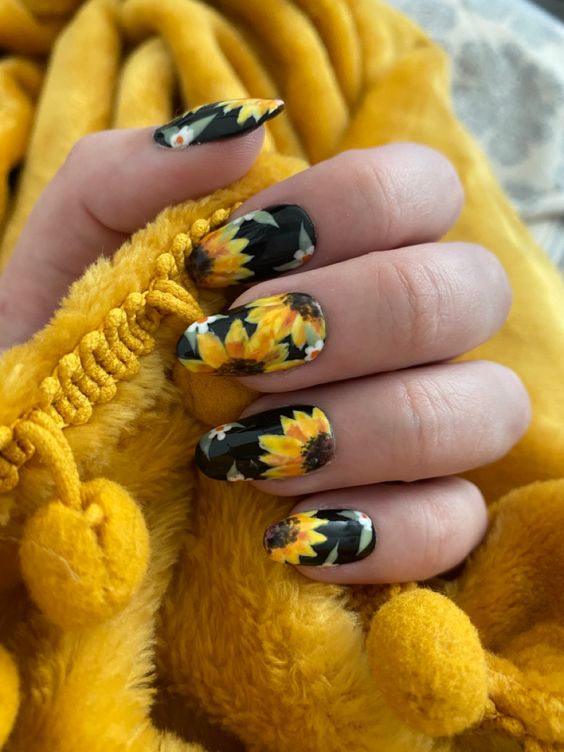 I love how the deep black base coat on this manicure makes the vibrant, yellow sunflowers make them stand out even more!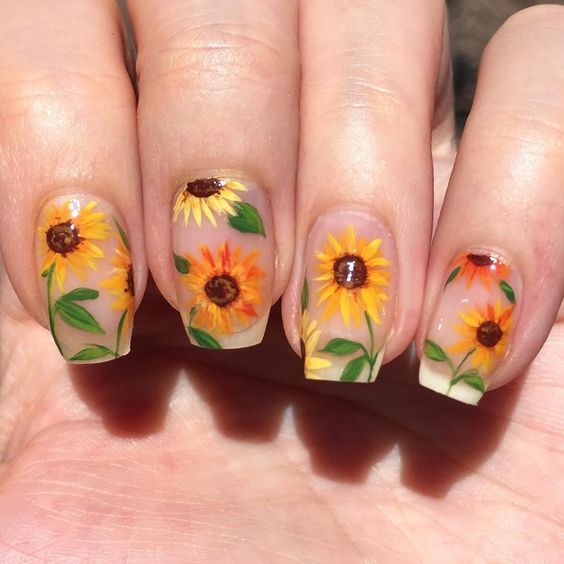 Look how gorgeous this handpainted sunflower nail art is! It looks so surreal and colorful and vibrant! I almost can't wait for the summer to be able to wear this design!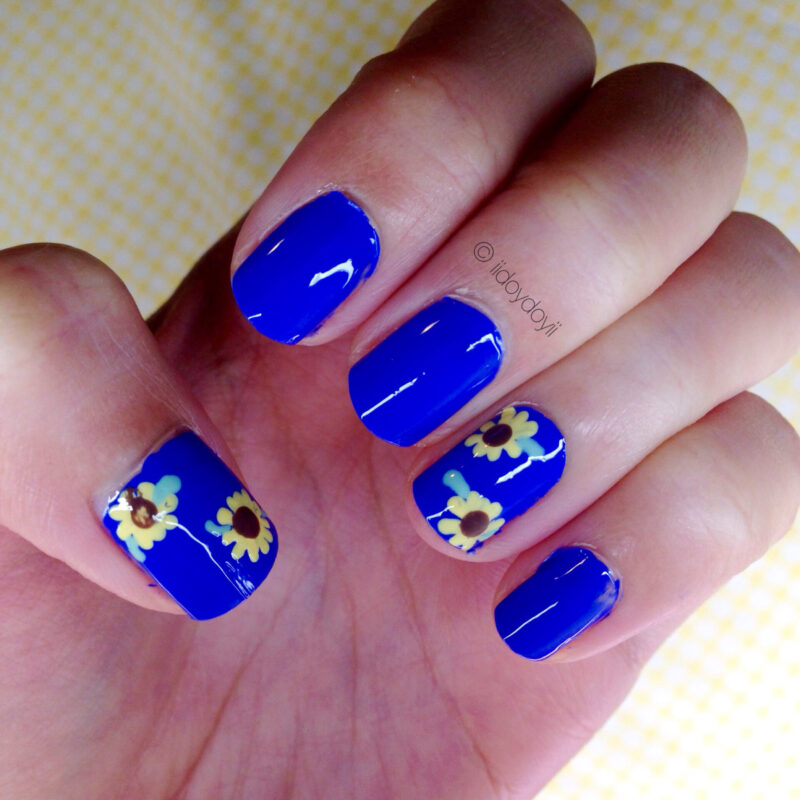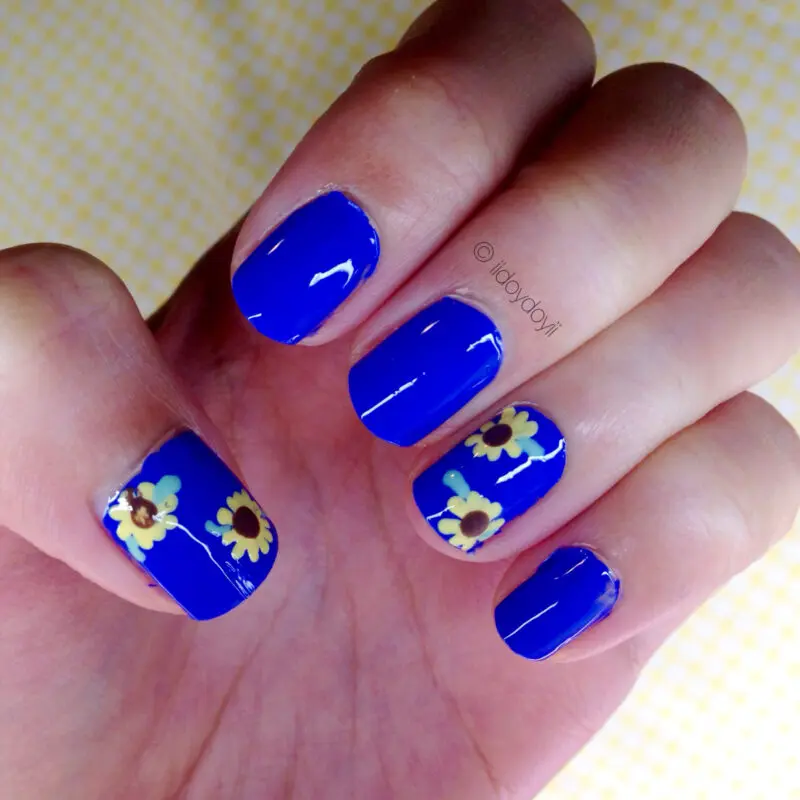 Yellow and blue look stunning together! I love how bright and rich this color scheme is!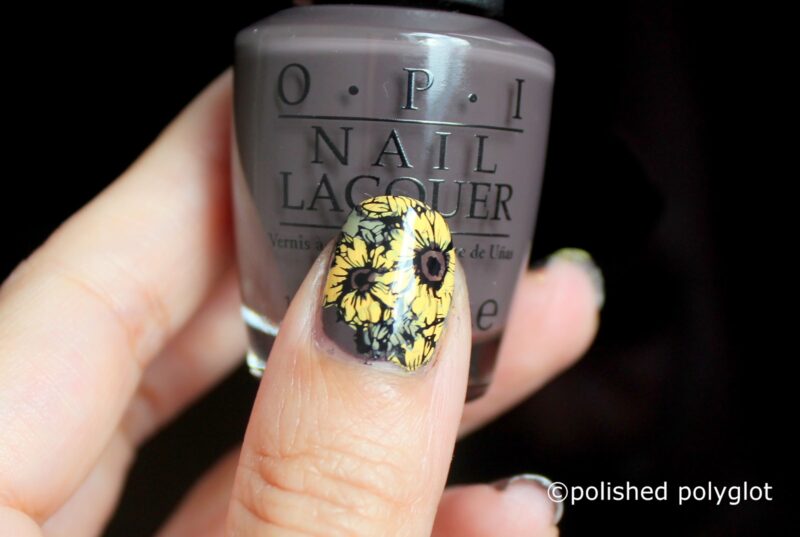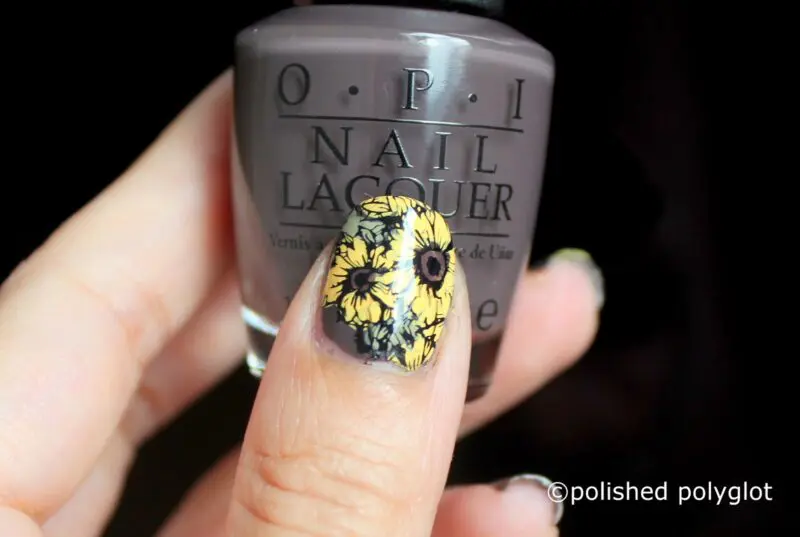 Here's another favorite sunflower nail design of mine! I love the grey base coat and the art style used to draw the sunflowers.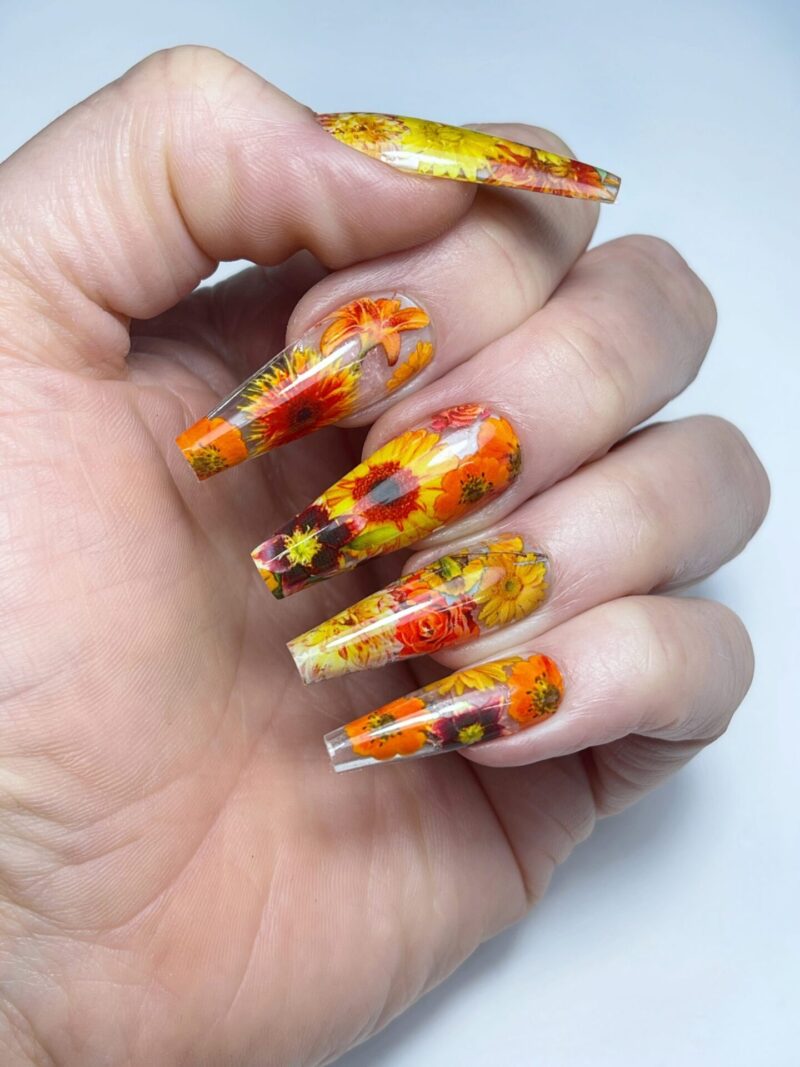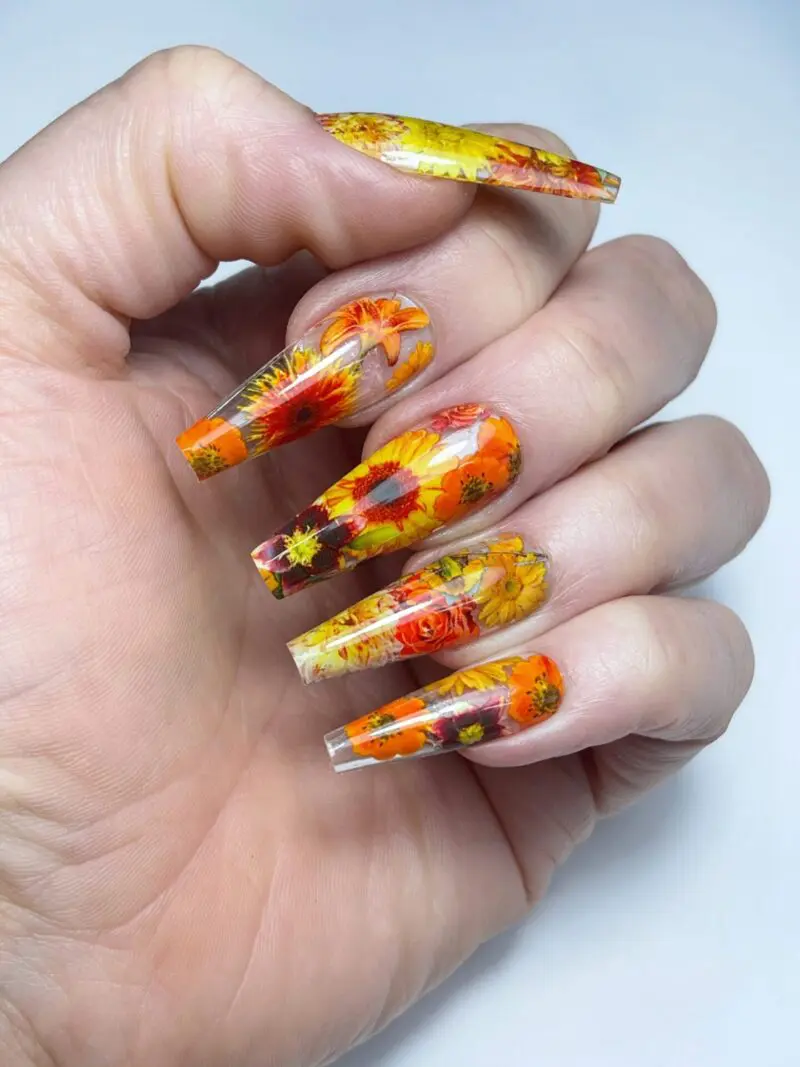 Here's a stunning sunflower nail art design made with foil. It has a rich color scheme that's vibrant and perfect for the fall season too!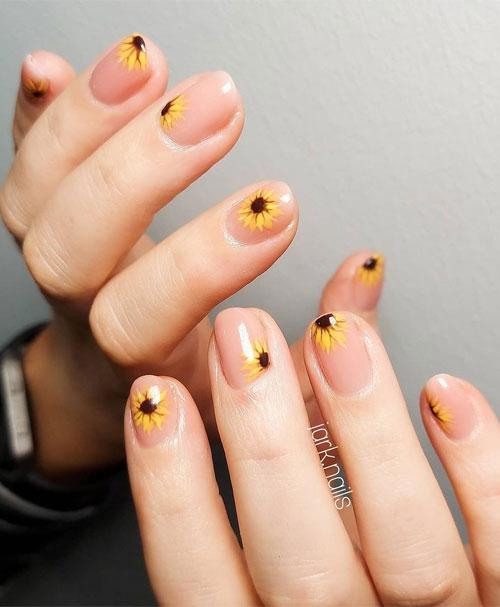 If you're looking for a minimalistic approach to the sunflower trend, here's a pretty nail inspiration you can show to your nail tech!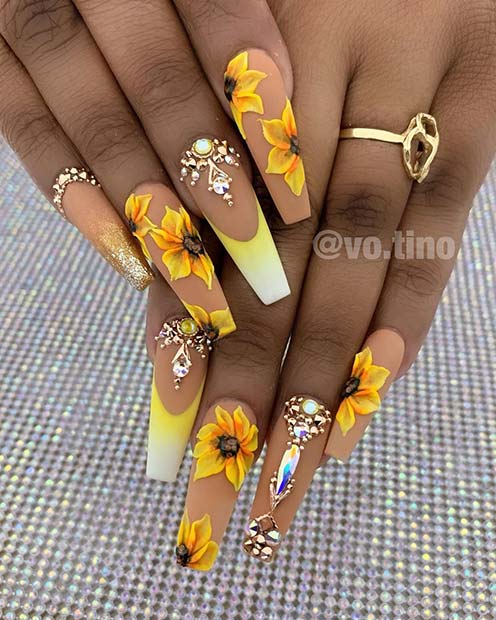 If you want to go over the top with the sunflower trend, here's some inspo you can try! It has beautiful rhinestones that are sure to add some sparkle to your nails.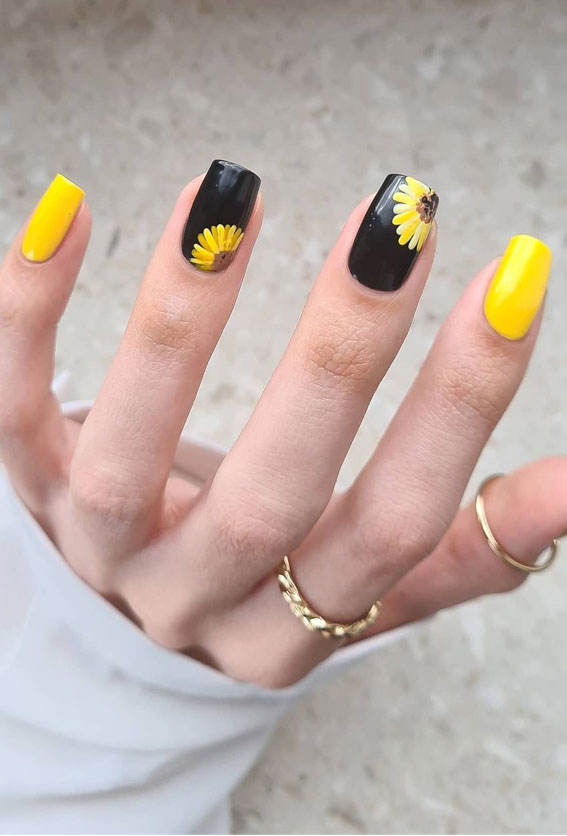 The black accent nails with sunflowers add such an edgy flare to this manicure!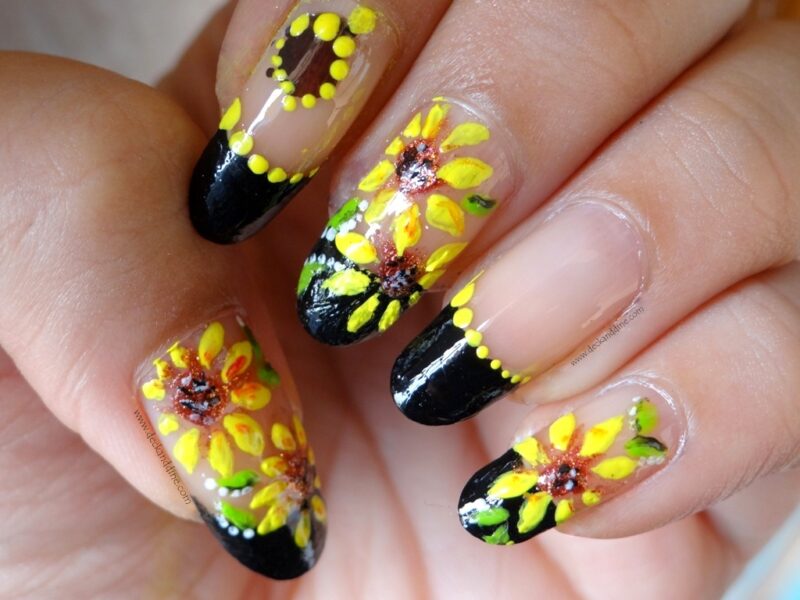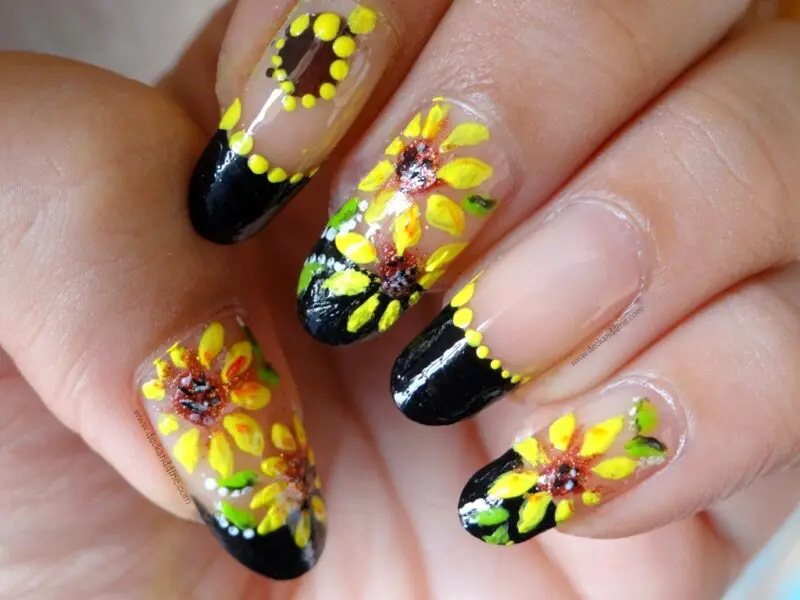 Instead of the usual white French tips, you can opt to use black polish for your tips instead before topping them off with sunflower nail art.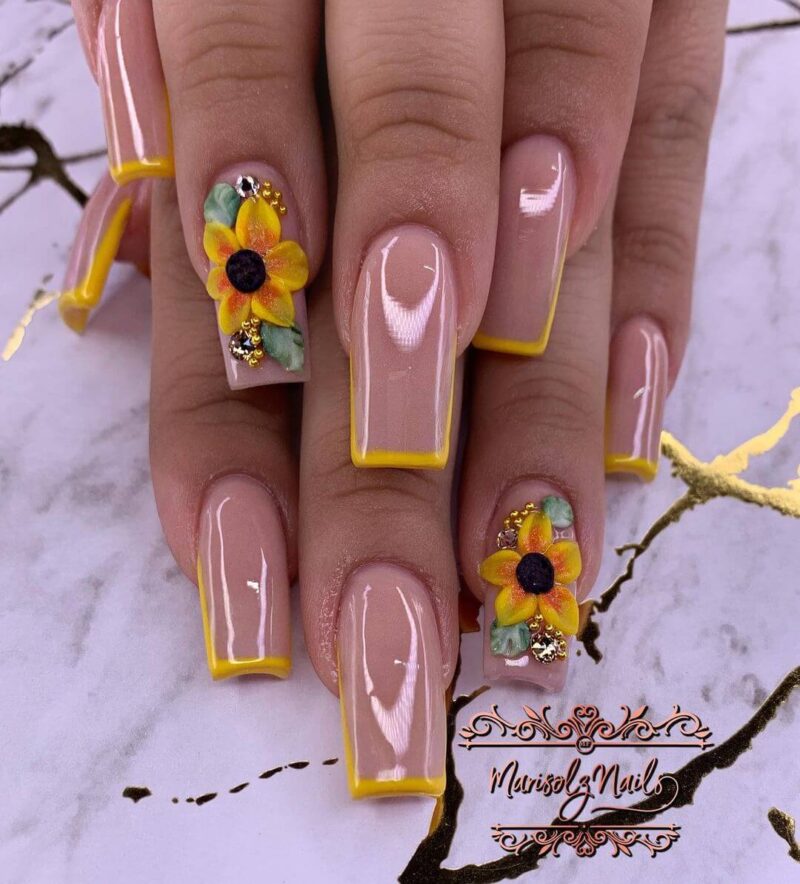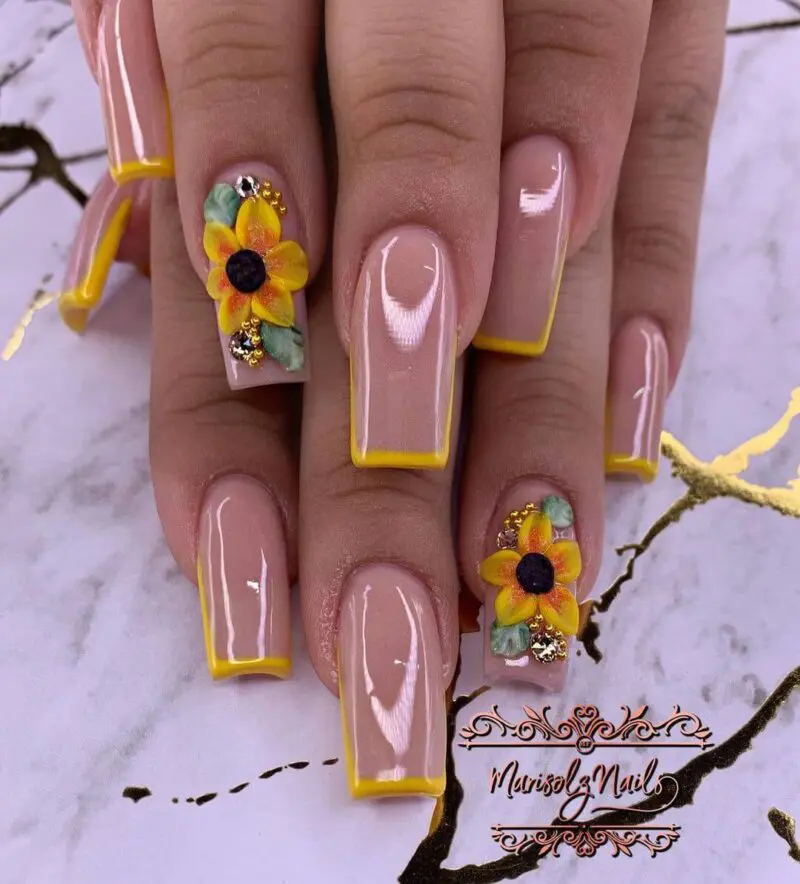 For a totally unique sunflower nail art, try asking for embossed sunflowers on your next manicure appointment!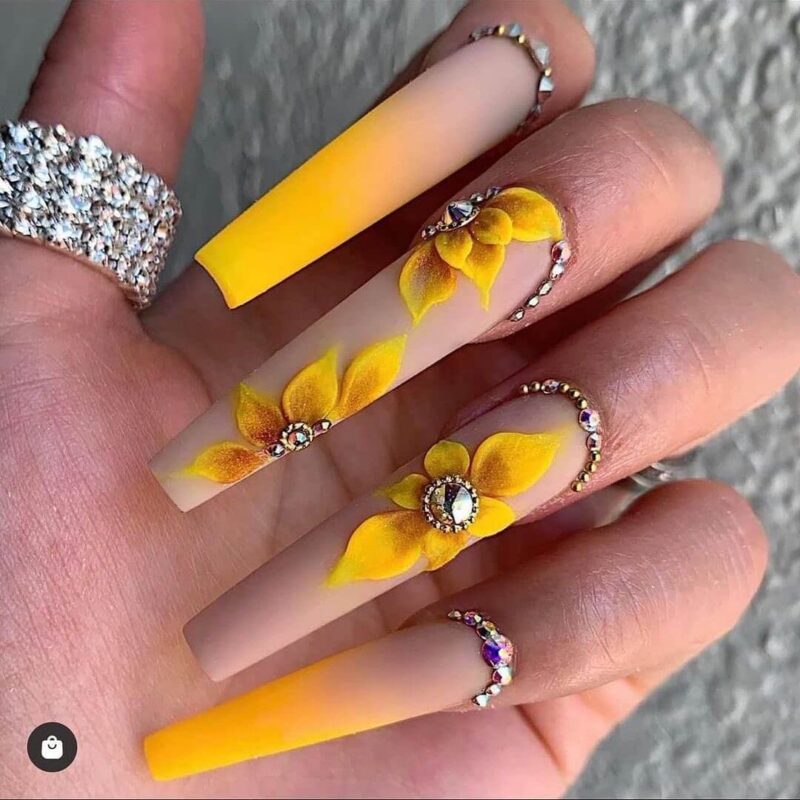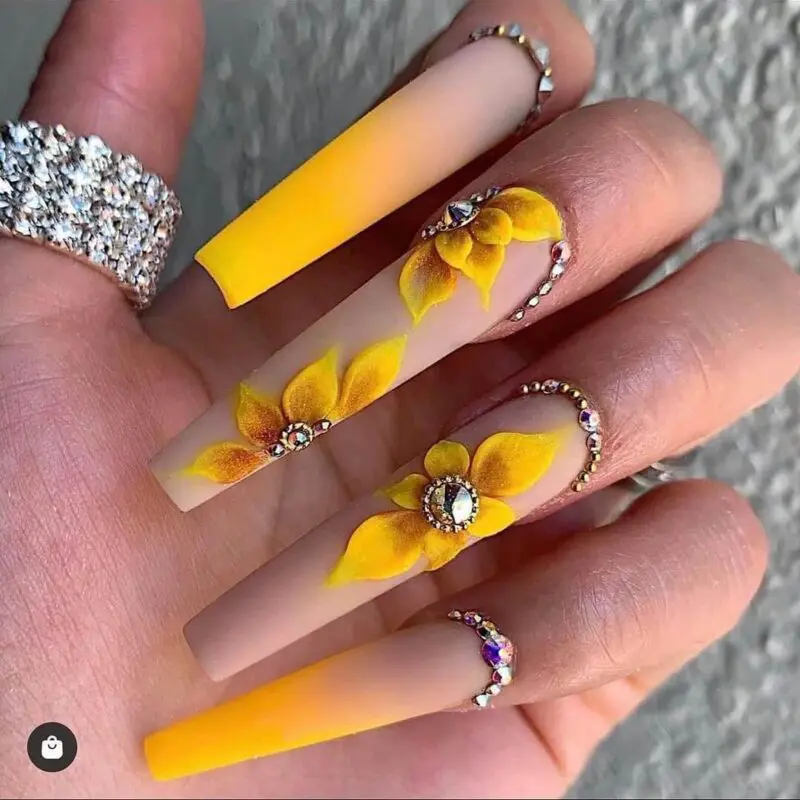 I love the coffin shape on these nails! The longer the nail, the more space you get to draw those beautiful sunflowers.