Is there anything that screams warm weather more than lemons? Not only do lemons give off a classy Mediterranean vibe, but they also make us think of lemonade, gelato, and all things happy. So it's not surprising that lemon nails are a rising trend this year!
Lemon nails come in lots of various designs. You can opt for a lemon ombre shade, have a lemon accent nail, or make your nail art look like full-on lemon trees. Whatever your style, if it incorporates lemons, it's on-trend!
Today, I'm showing off 30+ of my favorite lemon nail designs. Feel free to use these designs for your own inspiration or show these lemon nails to your technician at your next nail appointment.
Lemon Nails:
Here are my favorite lemon nail designs for this summer. Enjoy!
P.S. You can find some really gorgeous lemon nail press-on designs on Etsy if you like a quick and easy way to do your own nails at home. Check them out here!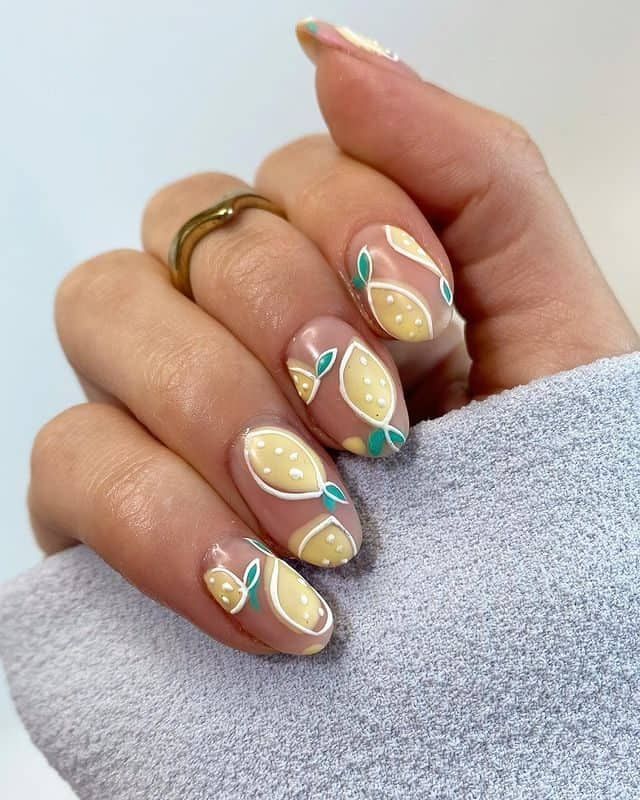 One way to make your lemon nail designs stand out is by putting them atop a transparent base coat. This will give all the spotlight and attention to your lemon nail art. Add some white outlines to accentuate each pattern!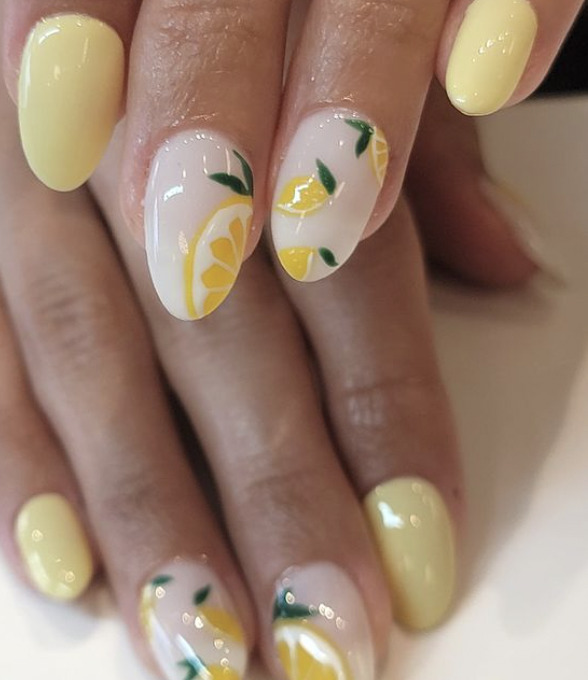 If you don't want to cover your whole nails with lemons, you can just keep two accent lemon nails while painting the rest a plain yellow color. I personally love this combination! The milky base coat the lemons are on is so pretty. It reminds me of a good lemonade drink on a warm summer day.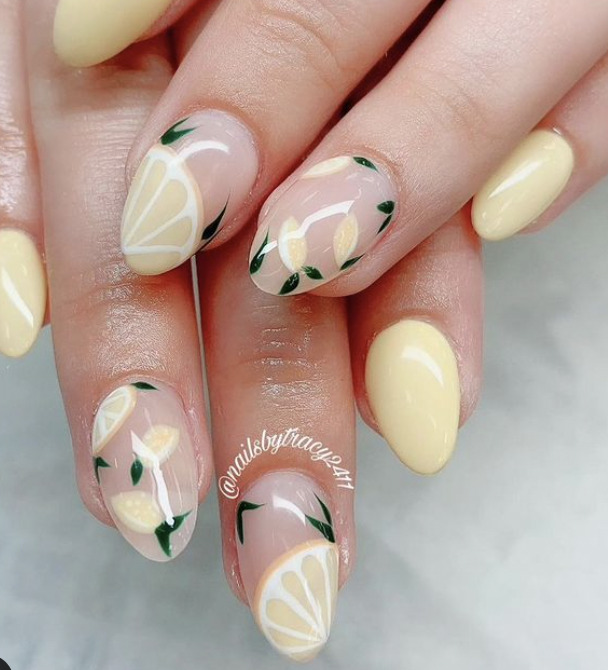 Here's another iteration of the previous lemon nail design. This one has a sheerer base coat for each accent nail and uses a lighter shade of yellow for the lemon nails as well as the base coat for the rest of the manicure.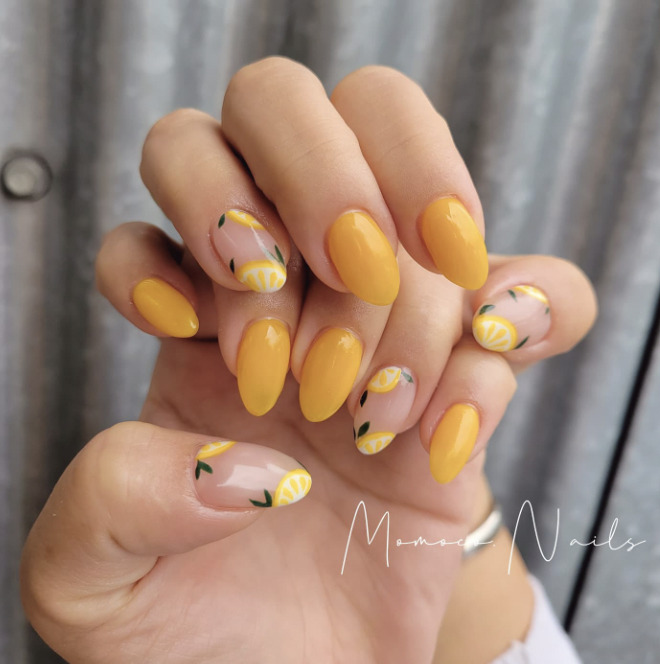 I am obsessed with this tone of yellow! It's so vibrant and bold and so perfect for the summer season. I also love how each lemon nail design is mixed with some negative space, giving it a dainty and soft vibe.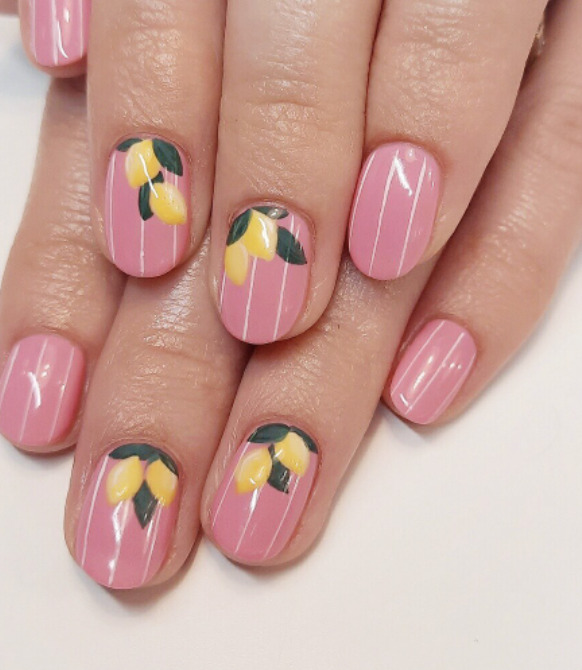 If you want more colors for your lemon nails, why not opt for a pretty pink base coat to match your lemon nail designs? Honestly, I love the pink and yellow color combination. It's such an ideal color scheme for both the spring and summertime seasons.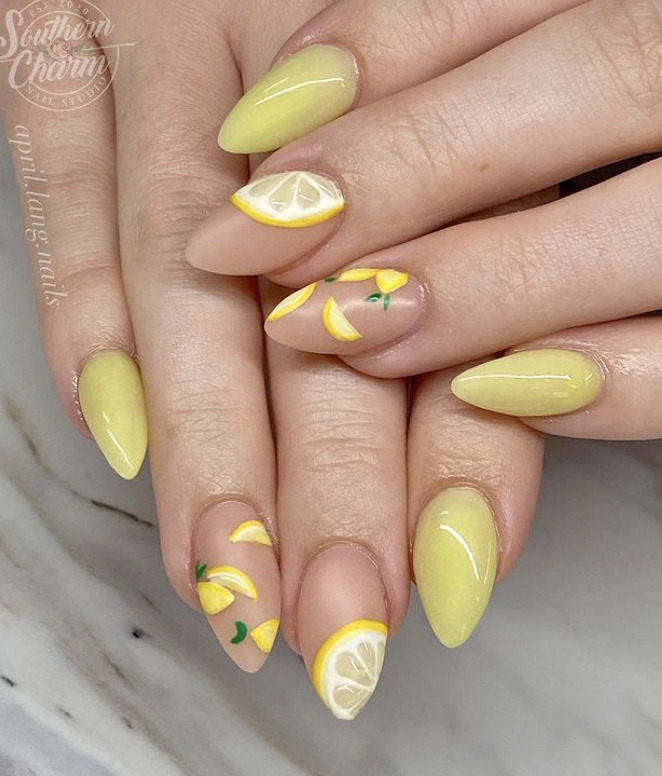 If you want to create unique and interesting dimensions for your nails, mix and match matte and glossy finishes for your lemon nail designs like this particular manicure! Go for a sharper almond nail cut to tie the whole look together.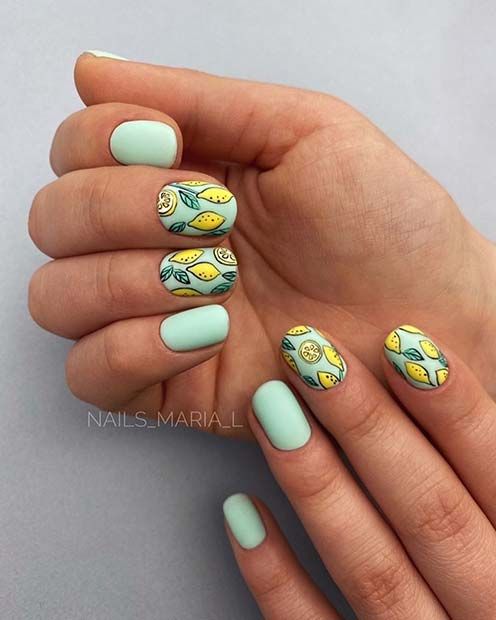 I love this bold graphic lemon nail design! It's so quirky and unique with its interesting color combinations. This may be a little harder to DIY compared to other lemon nails on this list, but this will be easy for any experienced nail artist! When in doubt, you can always get lemon nail stickers for a fuss-free application.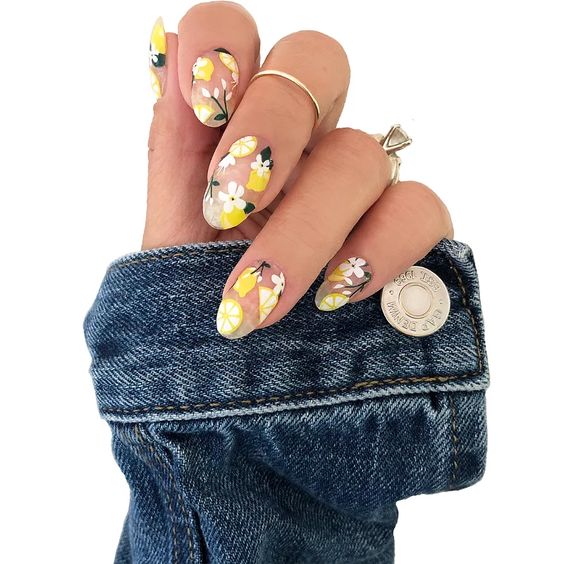 What's a better pattern to combine with lemons in the springtime? Florals, of course! Your nails are surely going to look as pretty as a freshly bloomed garden in the spring! Definitely an instant favorite of mine.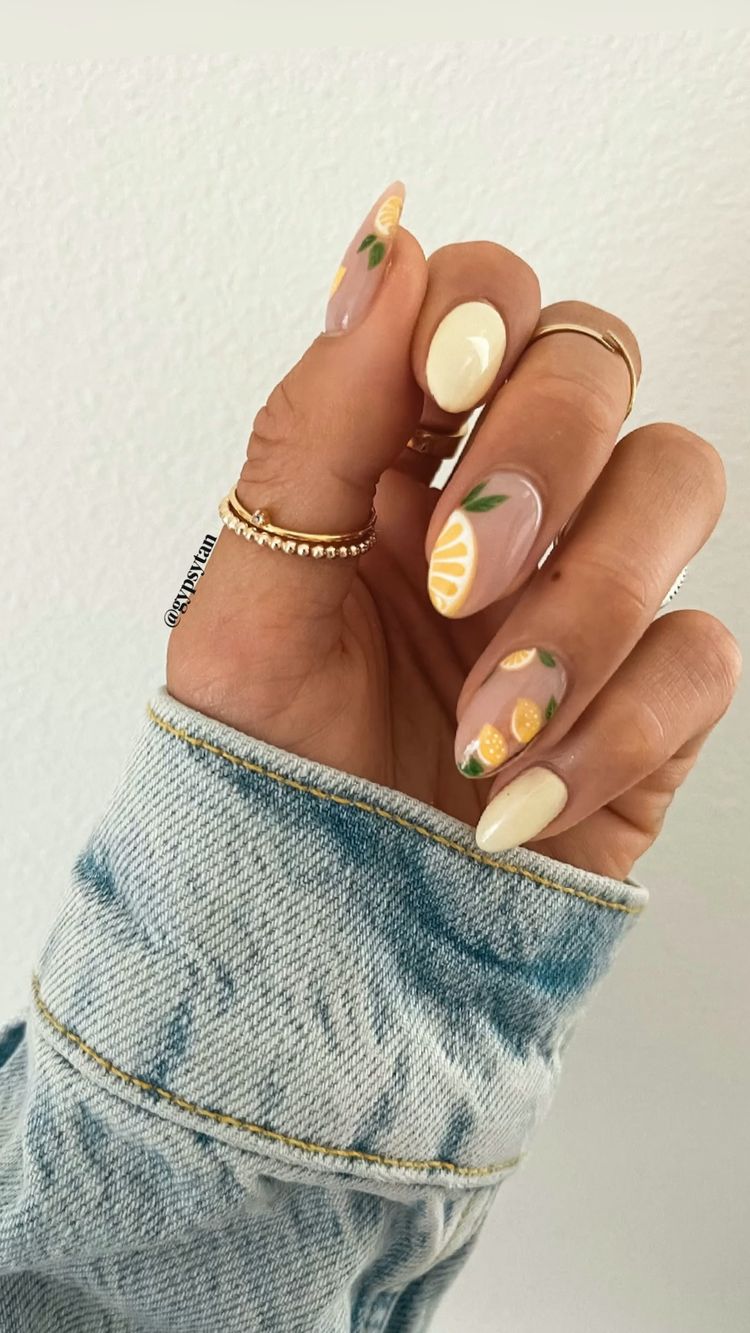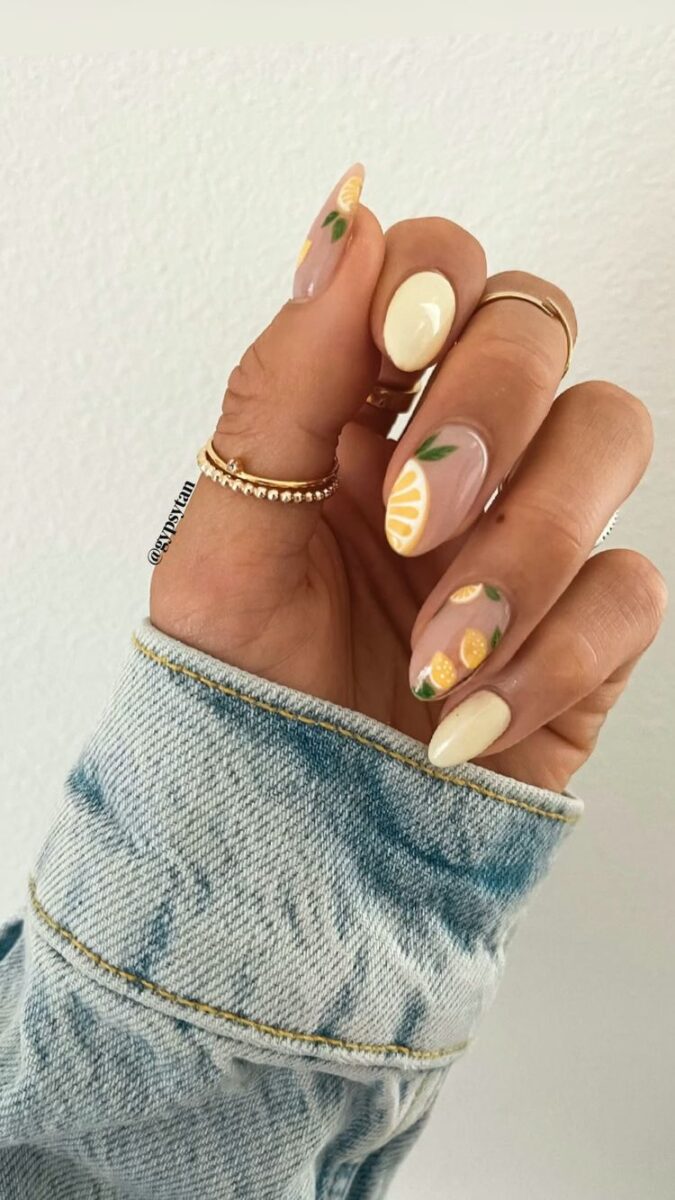 Play with different hues and tones of yellow with your lemon nails if you don't want a monochrome look for your manicure. This is one way to elevate a simple look and create some subtle dimensions around your fingernails. Add some leaves around your lemon nail art for a touch of green tones as well.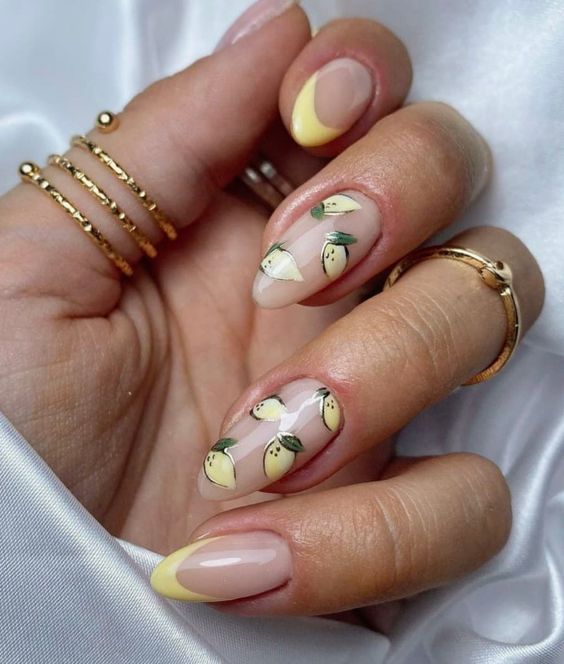 It's subtle but to those who look closely enough, those metallic outlines around the lemon patterns are utterly gorgeous! It really elevates this simple lemon-themed manicure. Plus, the french tips add a dash of classiness to the overall look.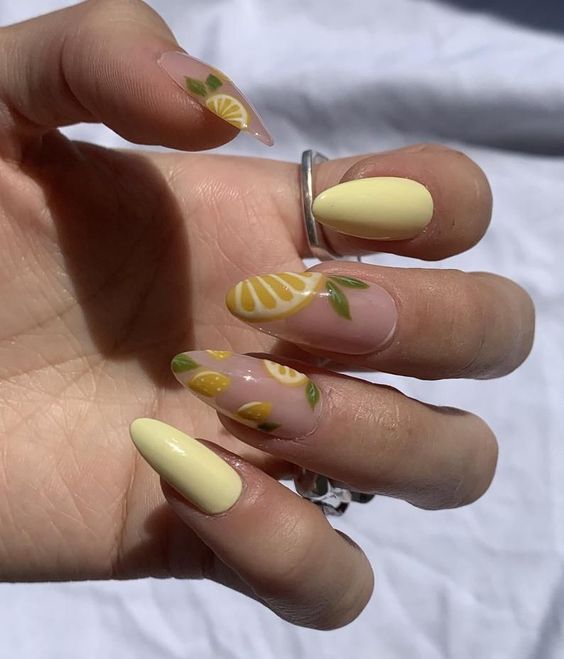 I love the matte finishes on these lemon nails! Usually, people go for two accent nails but why stop there? Go for three accent nails, each with different lemon patterns, for the ultimate springtime and summertime manicure!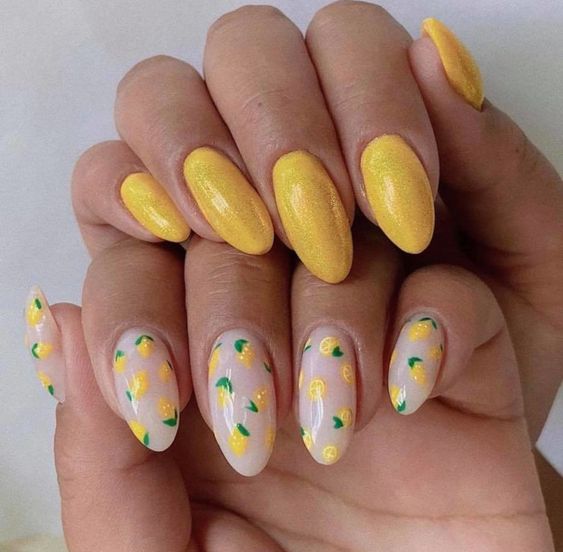 Don't like a matte finish? Then you might love these shimmery finishes instead! You can also do two completely different nail designs for each hand. One can have those dainty lemon patterns, while the other has a simple yet shimmery base coat that's going to give you lots of sparkles.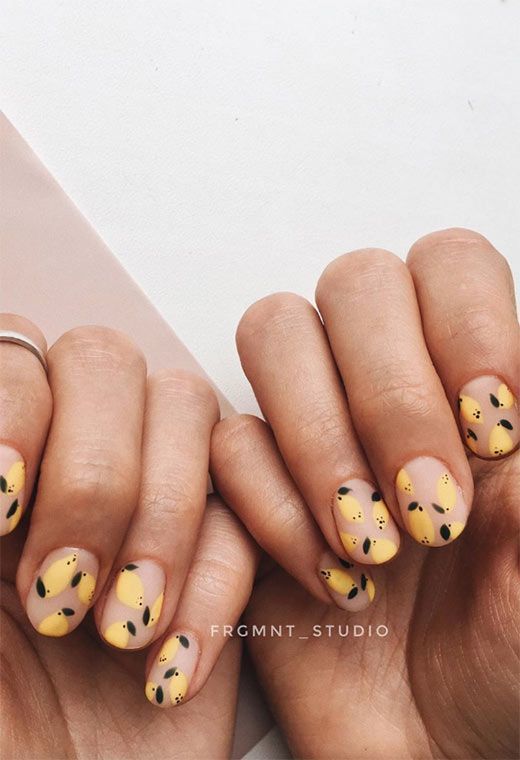 Here's another favorite of mine on this list! I just love the combination of yellow and black on this particular lemon nail art. It looks so classy and I love the stark contrast of the deep black and soft yellow. Not to mention, the matte finish really suits the whole manicure.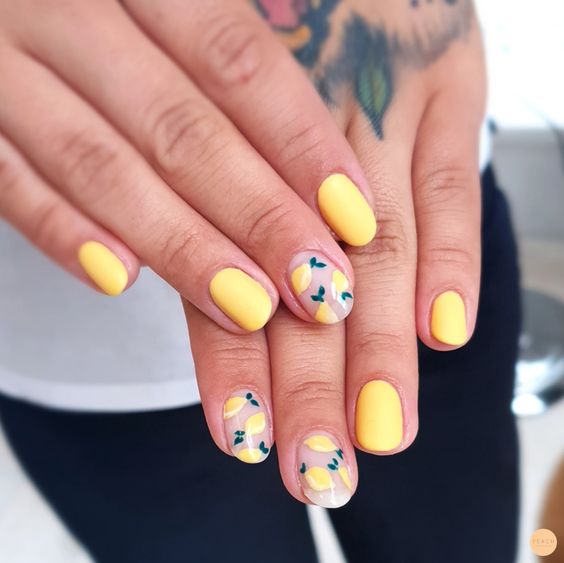 This shade of yellow is so bright and so ideal for a summertime manicure. You'll definitely be turning heads left and right with these nails. Keep your accent nails with a transparent base coat so those lemons stand out even more!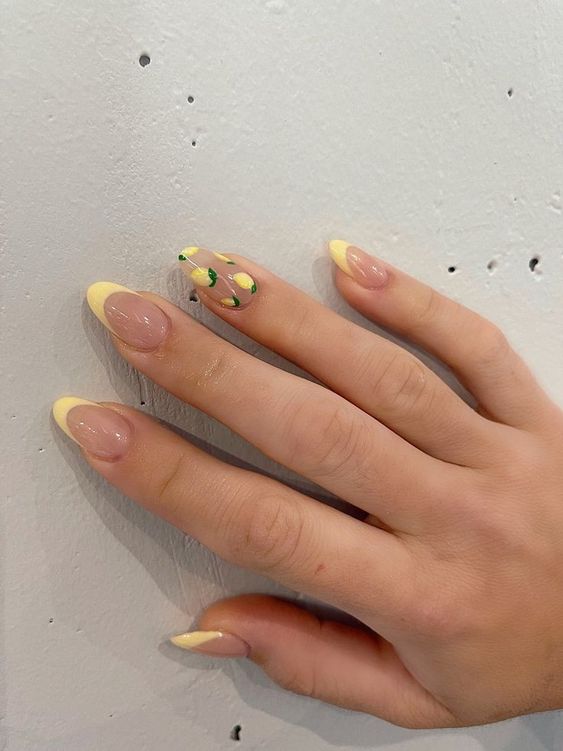 For a timeless and classy touch to your lemon nails, try doing yellow french manicures around your lemon accent nails. This will instantly make your spring and summer nails look chic and sophisticated.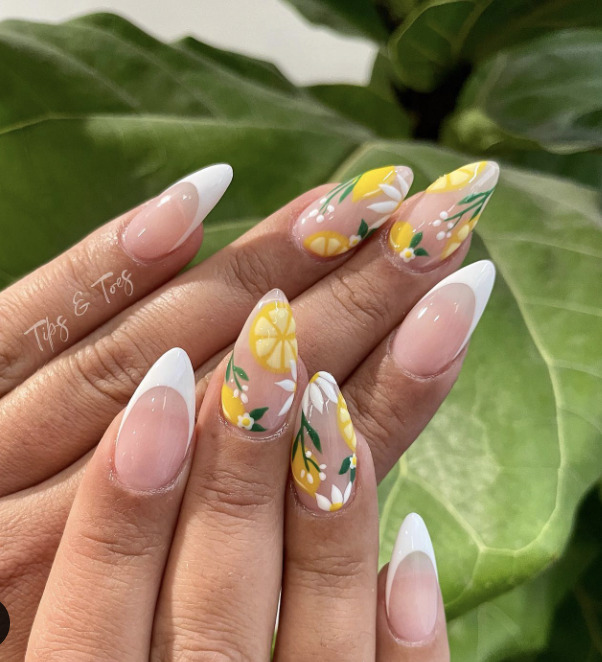 I love this white and yellow color combination! It'd be so perfect for a springtime manicure, especially with the floral details on the corners of the accent nails. The sharper almond cut gives it a more feminine touch too while the french tips give it a classy appeal.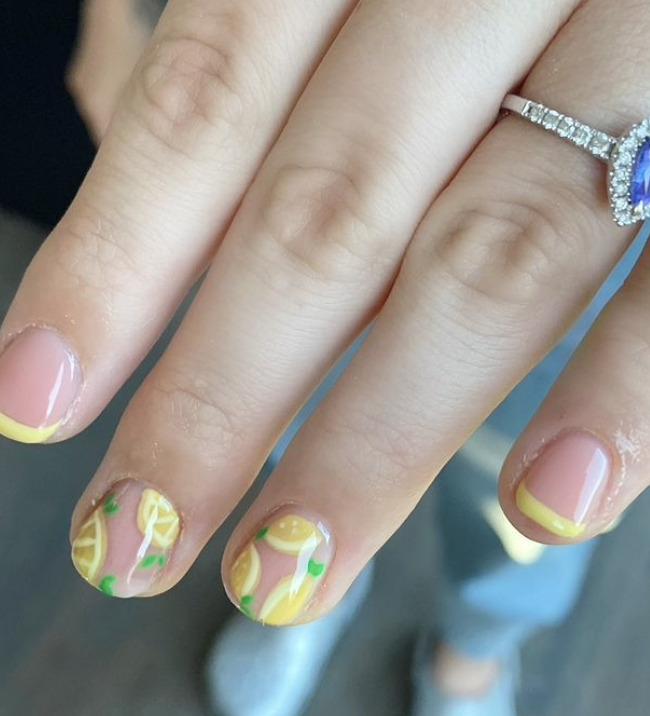 Who says short nails can't do french tips or even intricate nail art like lemon nail designs? I love how detailed the lemons are even when the space on the nails is so limited. As someone who likes to keep her nails short, this is definitely something I like to see and can't wait to try out as well.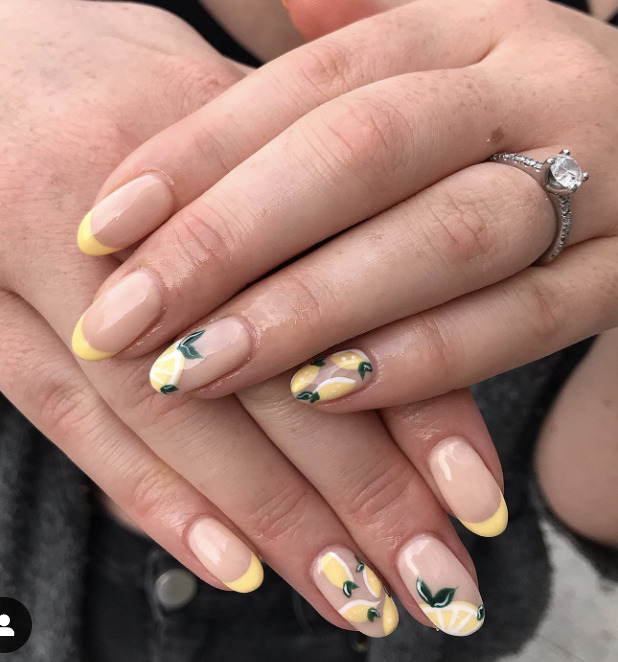 I love the nude base coat on this lemon-themed french manicure. Usually, people keep their base coats colorless or transparent for french nails but I love a nude polish and will paint it on my nails any opportunity I get. I also love how the lemons are intricately drawn and don't look tacky on the nails.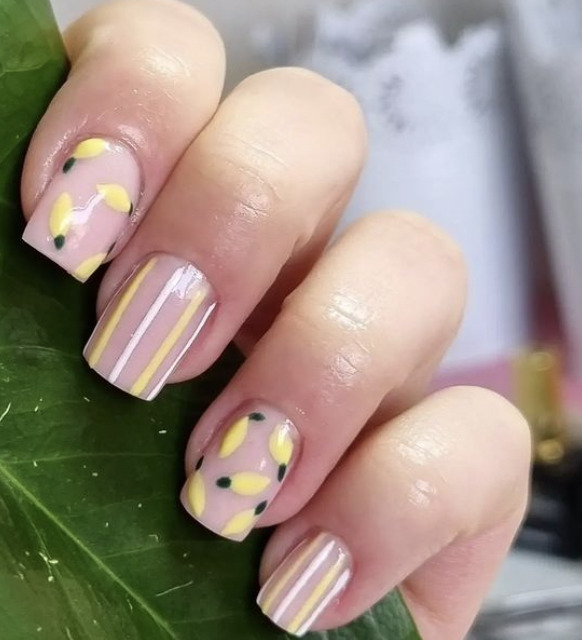 Another pattern you can mix and match with your lemon nail designs are these yellow and white stripes. Keeping to this color scheme will make your manicure look more cohesive and classy. A square-cut nail is also highly recommended so your linework can stay straight.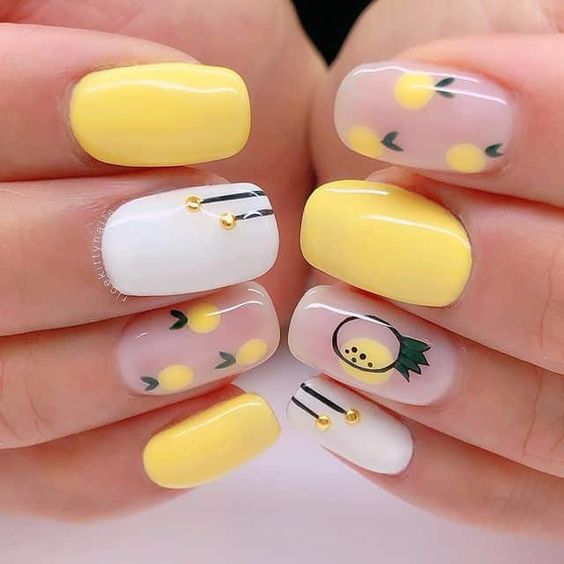 When it comes to doing lemon nails, you don't have to stick to just one pattern. You can also mix and match it with other fruits like pineapples or do abstract nail art like this one! This is sure to create interesting and unique nail designs for your manicure.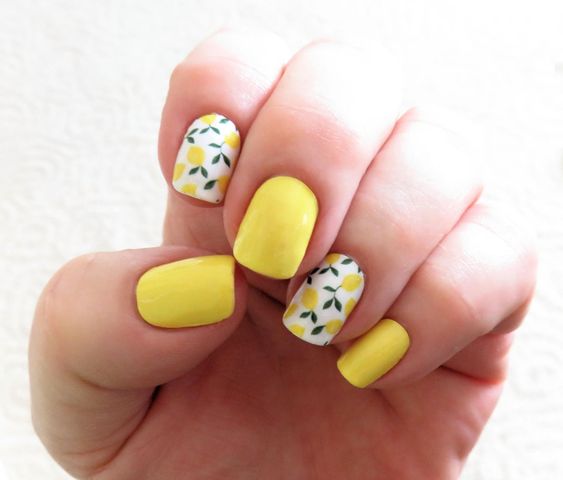 If you don't like negative space or keeping your base coat colorless, you can always opt for a white polish for your accent nails. The neutral color will still allow your lemon nail art to stand out! Also, white is such a versatile color that fits with yellow so well.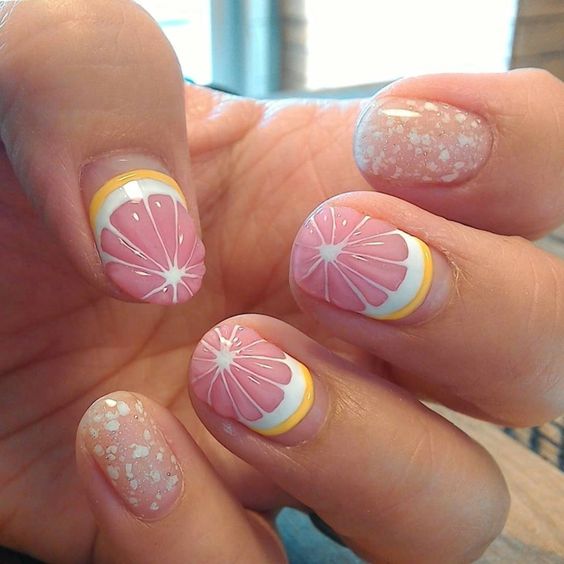 I am so obsessed with this kind of lemon nail design! I love how it has a 3D effect with that lemon nail art. It almost looks so natural too, like the nails look like actual lemons after you cut them open. This would be such a perfect summertime manicure and I can't wait to try this one out for myself.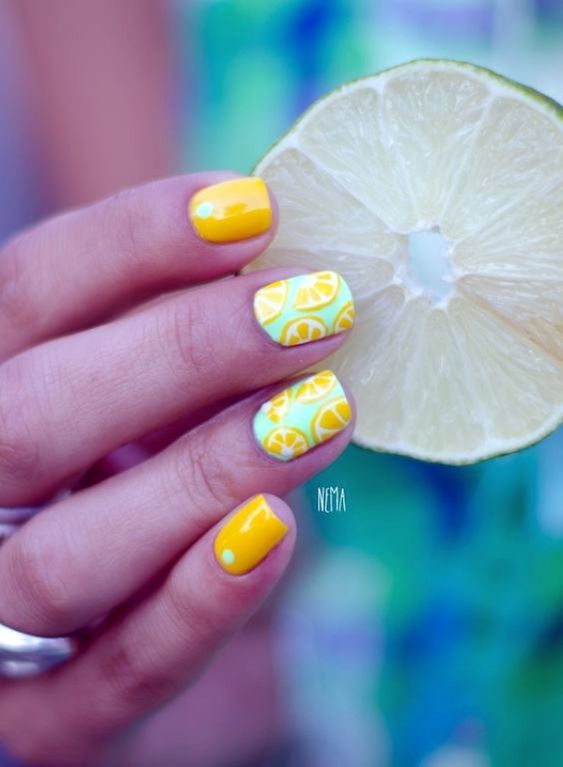 If you're looking for a summertime manicure, these bright and bold lemon nails are perfect for you! I really love the combination of a bright pastel turquoise and a vibrant yellow. I'm sure any pro nail artist can easily do this kind of design but if you're planning on doing DIY, you can also opt to get a nail sticker or press on nails for an effortless application.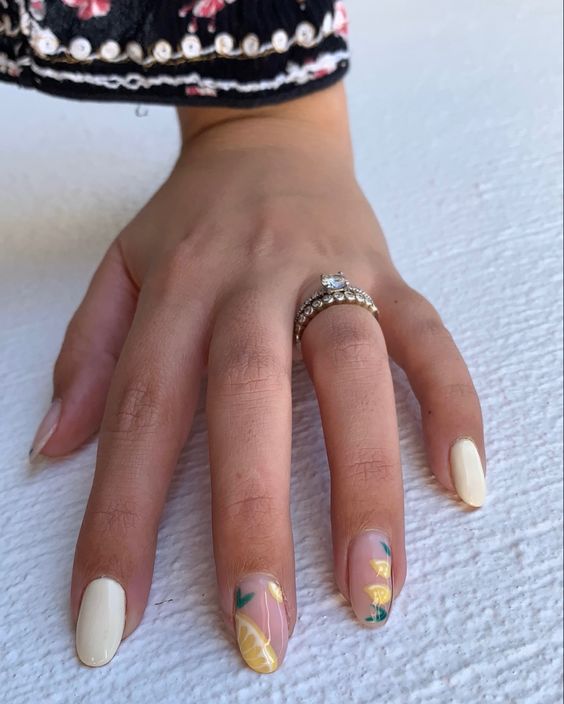 I always see yellow polish paired with these lemon nail designs but this one uses an off-white polish instead which is just as gorgeous, to be honest. You can use the same shade of white polish to paint the details around your lemon nail art for a cohesive look.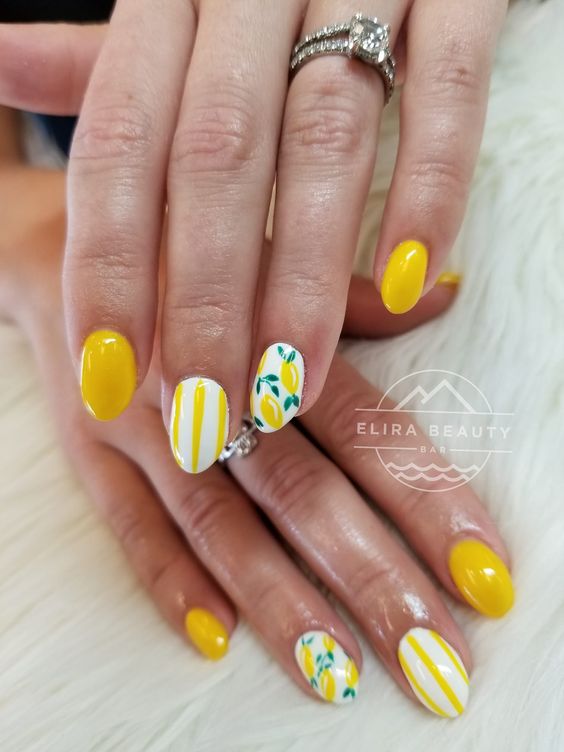 I'm loving these stripey nail art combined with lemon nail designs! The yellow and white just blend together so seamlessly.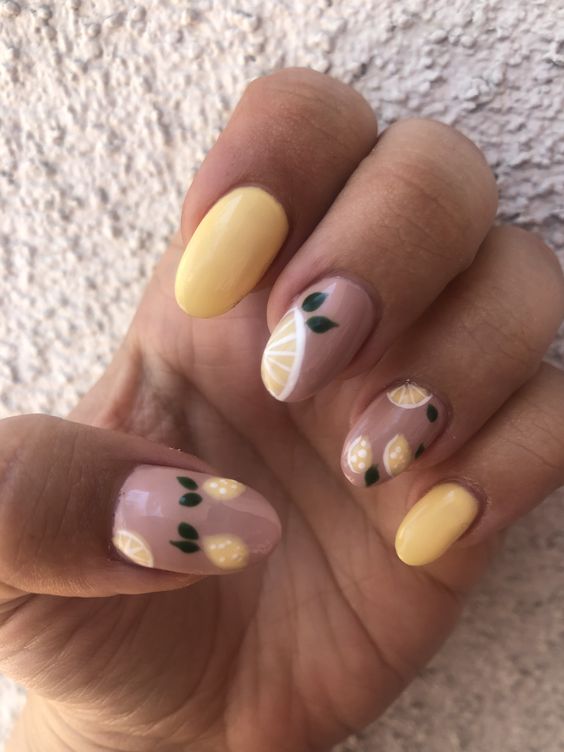 If you're not too fond of yellow and white, you can always go for yellow and nude to recreate these gorgeous lemon nails. It's definitely another favorite of mine on this list and I love that a deeper shade of green has been used to paint on the leaves.