The French country style is super popular right now and it really is beautiful. The idea behind French country comes from the vibes of the French estates where the wealthy spent the warmer months. Everything is rustic but somehow still elegant, which is the distinguishing line between French country and farmhouse.
As a huge French country fan, I could easily spend tons of money every month adding seasonal pieces (and even regular pieces to my home).
While this is great, if you're like me and are an average person who cannot afford to spend $100's of dollars decorating their home in French Country style than here's some awesome news for you: It doesn't have to cost that much!
Here are 25+ relatively affordable places to shop for French country decor (some more than others). You should be able to find something that's in your budget on this list, so you can achieve that look without breaking the bank!
Perigold is an online store that carries mainly French country style decor.
This shop has tons of awesome items for a very affordable price. They have decorative platters, candles, mirrors and many more home accents as well as actual furniture (couches, barstools, tables, etc).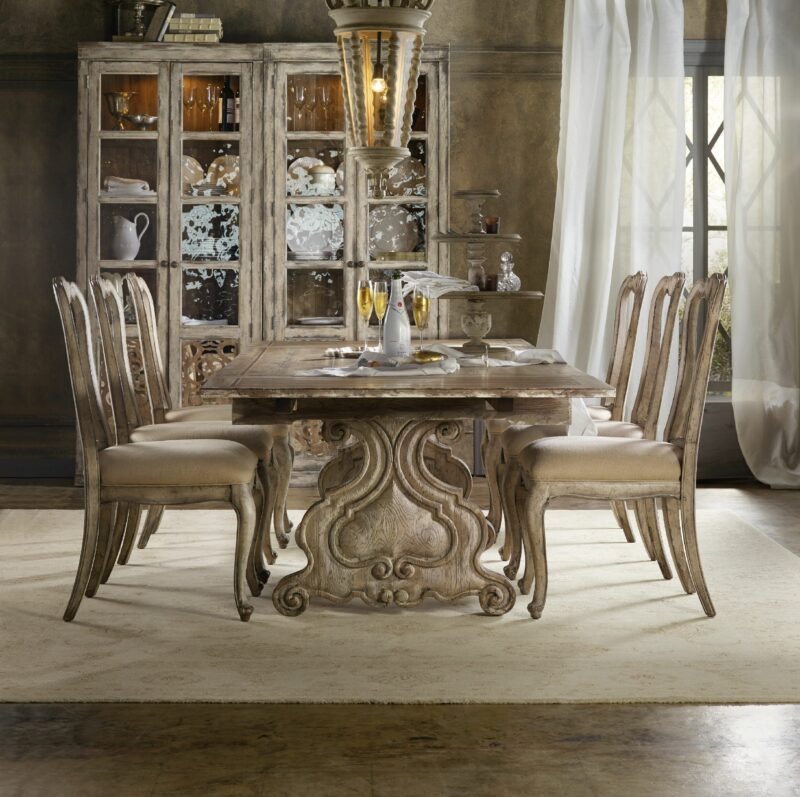 I think that Perigold is definitely one of the best places to shop if you're looking to all types of French country decor. They have so many different pieces of furniture that are high quality and definitely fall into the French country decor style only, which is hard to find!
Some pieces at Perigold will be a bit more expensive than other online stores like Target or Amazon, but they're not crazy.
I especially like the kitchen pieces (where French country decor can be hard to source) as well as the bedroom furniture.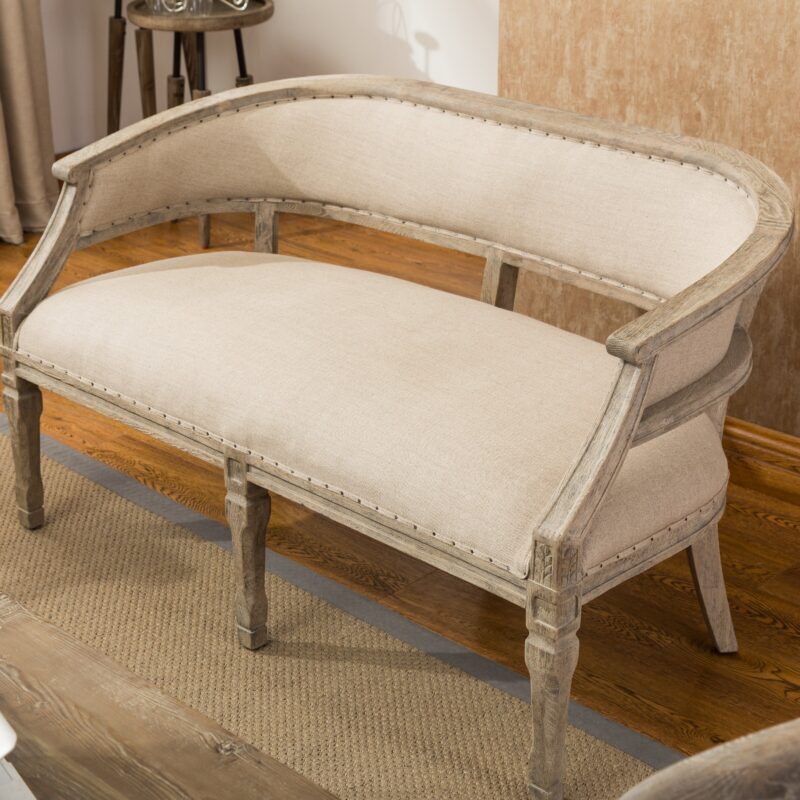 For accent decor, I recommend shopping for bedding/pillows, lighting, and rugs at Perigold.
Ballard is a really nice French country furniture store. They have a wide selection of different pieces, from accent tables to lighting to bed frames and everything in between!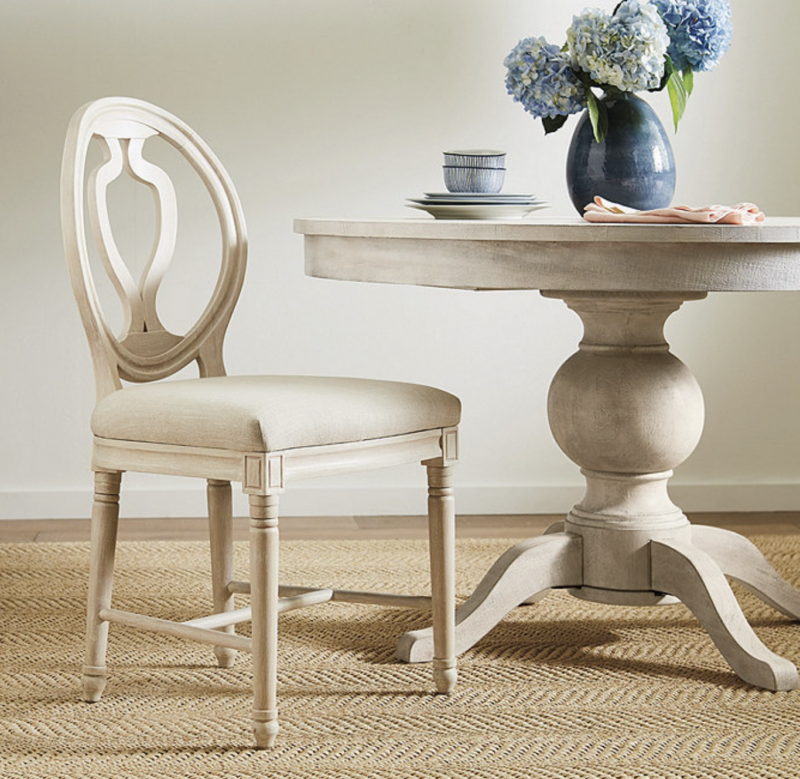 I love Ballard's lacquer pieces; these are mostly their chairs but there are some occasional lacquer cabinets that look absolutely stunning as well.
Their prices aren't too bad either, especially if you use one of their coupons.
This site has lots of options for French home decor with different price points so regardless of your budget, you should be able to find something here!
I really like the look of this shop because it feels very vintage without being too 'busy' or crowded. Many times when I'm looking at other sites the vintage pieces feel kitschy, but every single French country furniture piece on Ballard feels really classy and upscale.
If you want French country decor pieces that are more affordable, then you should definitely try Overstock. The shipping is usually free and is quite fast, and the pieces themselves are super affordable.
However, you will have to sort through to find what you're looking for because Overstock carries many different types of styles.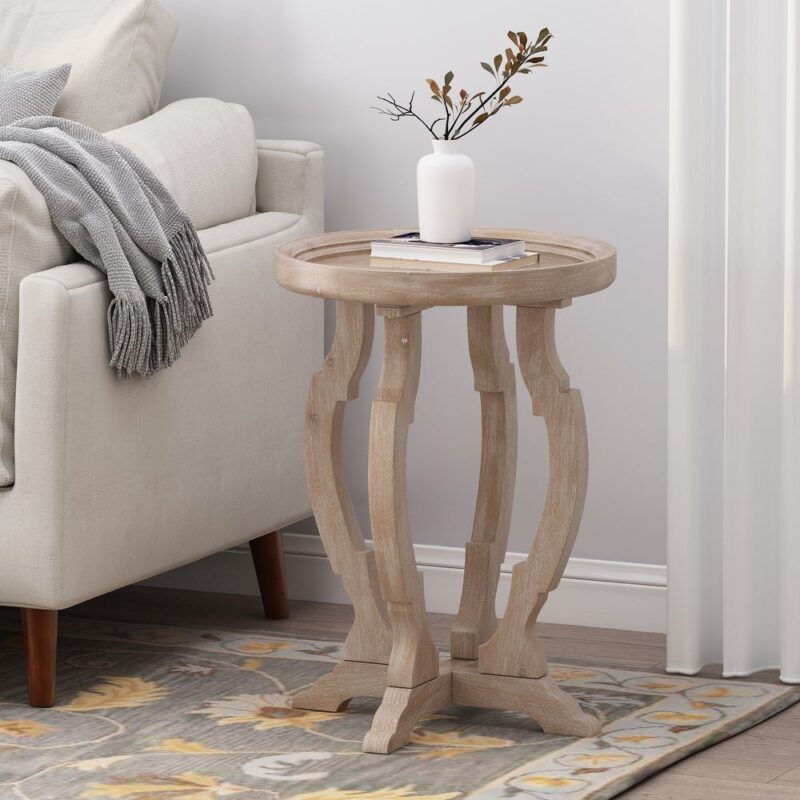 Try using search terms like "French country" or "French" to find the exact pieces you want.
I would recommend Overstock because they have so many different styles and options for really cheap prices!
Elsie Green is a really nice French country furniture store. I love their selection of accents and side tables (all for a good price), and I'm totally lusting over their incredible French country kitchen items that are simple yet so authentic and upscale.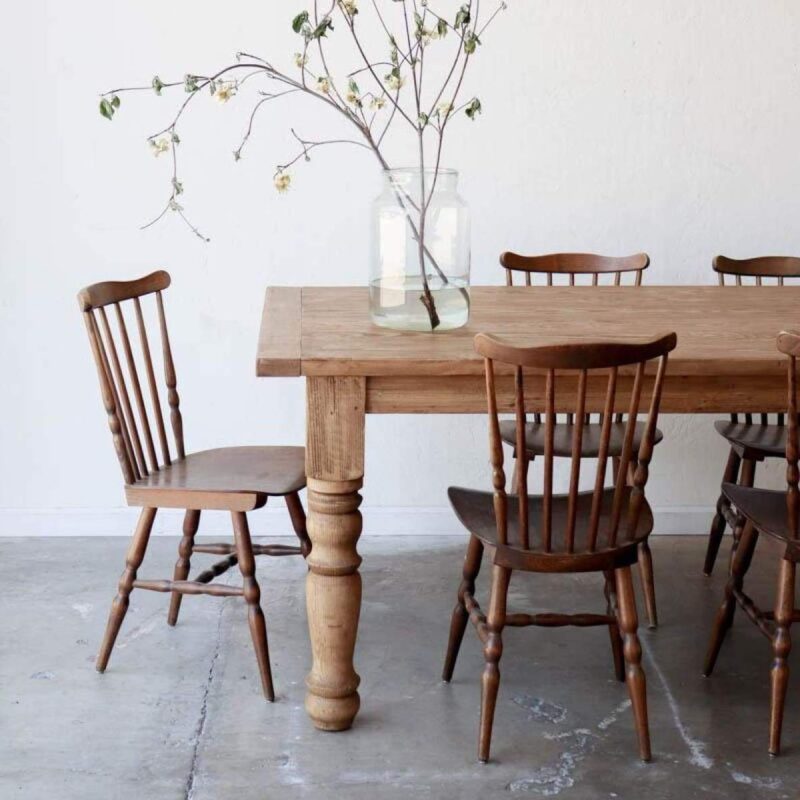 I have to say: Elsie Green is my absolute favorite place to shop for smaller decor pieces. The prices are pretty reasonable since the quality is amazing. For me, it's worth it to splurge on a copper pot or blue and white pedestal bowl since I know I'll have these pieces forever.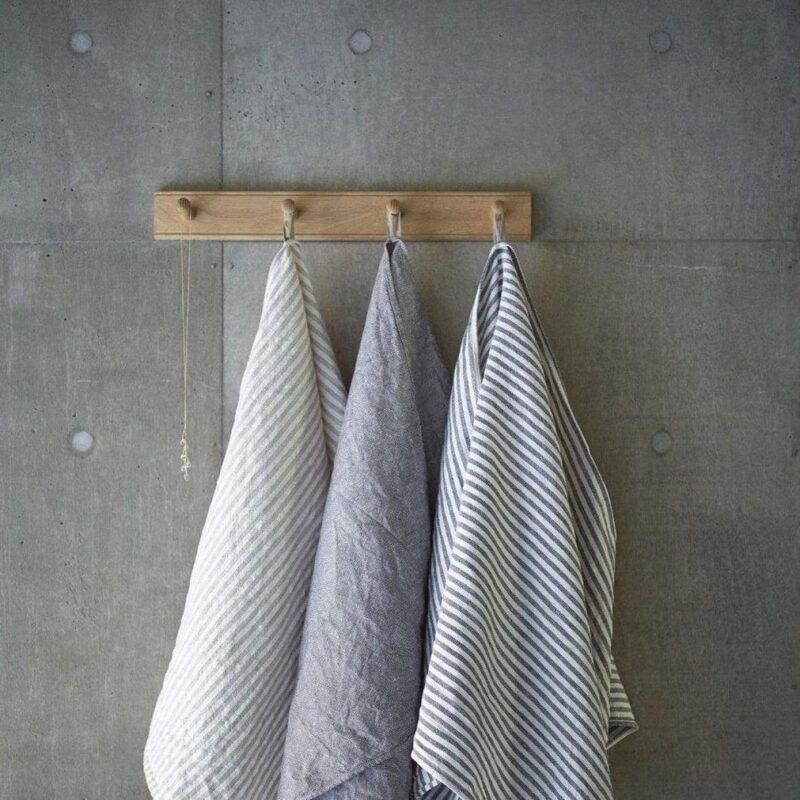 Everything has that distressed old-world look, with occasional white washed pieces thrown in to keep things cohesive. Their finishes are lovely and flawless, and the faux antique pieces that they have are some of my all-time favorites. You really can't get more high-end pieces anywhere else.
Target is probably one of the most affordable places to shop at, with really chic French country style furniture and lighting options for very reasonable prices. There are so many different pieces to choose from which makes it easy to find what you're looking for!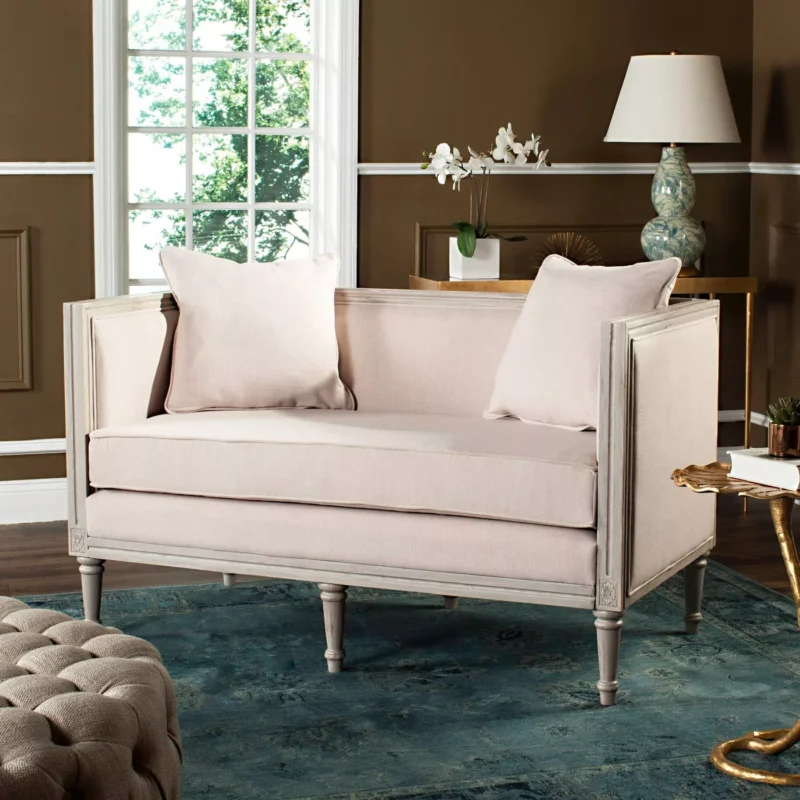 You can find everything here from full bedroom sets to rugs, bookcases and throw pillows. I would definitely recommend checking out their kitchen decor as well because there are some nice options there. They also have some good quality decorative mirrors that look more pricey than they are.
Again, you will have to sort through items at Target, but I've found that they tend to have a lot of farmhouse mixed with French country decor items.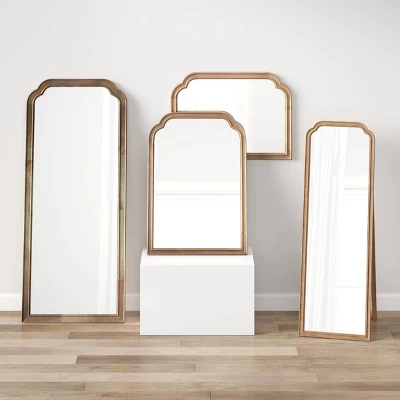 Also check out Target's dollar section for super cheap items that don't feel cheap (if that makes sense)!
I like to shop at Target for a lot of my basics or side furniture pieces (especially painted furniture), then I'll supplement with more expensive French style pieces from other stores.
I recommend directly searching "French country" on Target, or you can browse through for specific items that you need in the various sections.
If you're looking for classic French country pieces that are still modern and upscale, try Ashley Furniture. Many of the pieces use natural materials and have a rustic charm without feeling overdone.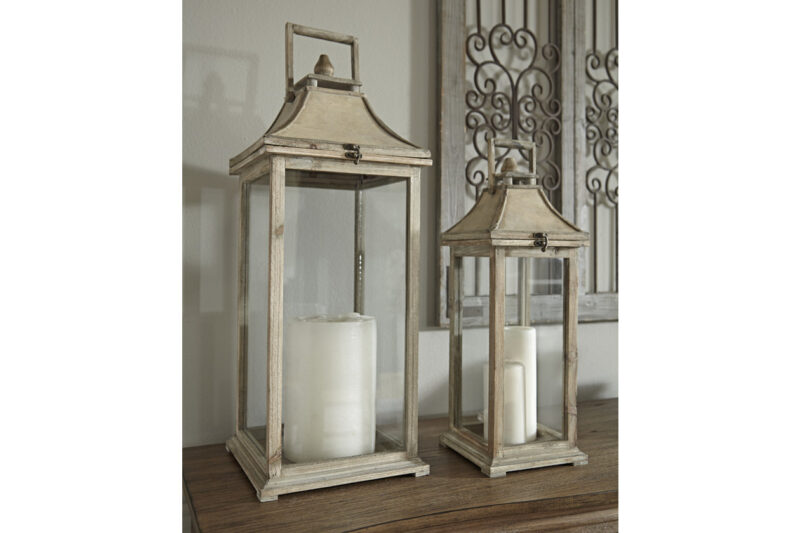 They have a lot of both indoor and outdoor pieces on their website so you can find whatever you may be looking for.
There are several price points to choose from depending on what your budget is, so you can work with just about any budget while shopping at Ashley Furniture for your space. These pieces definitely exemplify the casual elegance of country living!
Ashley Furniture is definitely my go-to for French country decor because they have just about everything (at reasonable prices) and you don't have to look hard to find the classic French country style on their site.
Etsy is an online marketplace that has tons of French country style home decor at super affordable prices. So many pieces on Etsy make me feel like I'm in the French countryside!
Etsy sells the same types of things that Perigold and Kathy Kuo Home do, but there's something extra special about buying from Etsy.
The quality of the goods is often better (and sometimes even homemade) compared to larger online shops. You can find super unique pieces.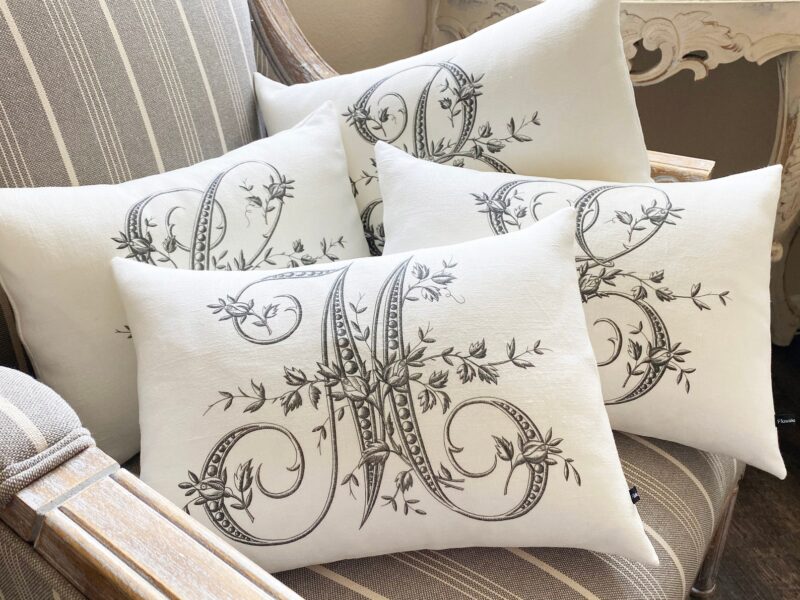 Typically, I'll search something like French country furniture or decor if I'm looking for pillows, candlesticks, and other accents.
I recommend browsing on Etsy when decorating French country homes, since new stuff pops up all the time. Often, the best pieces are only available once, since many of the sellers don't mass produce pieces.
This is another one of my favorite places to shop for affordable French country decor because Amazon carries just about everything under the sun – literally!
You can get anything from smaller accent pieces like candles or dishes to larger decorative pieces like rugs or side tables through Amazon.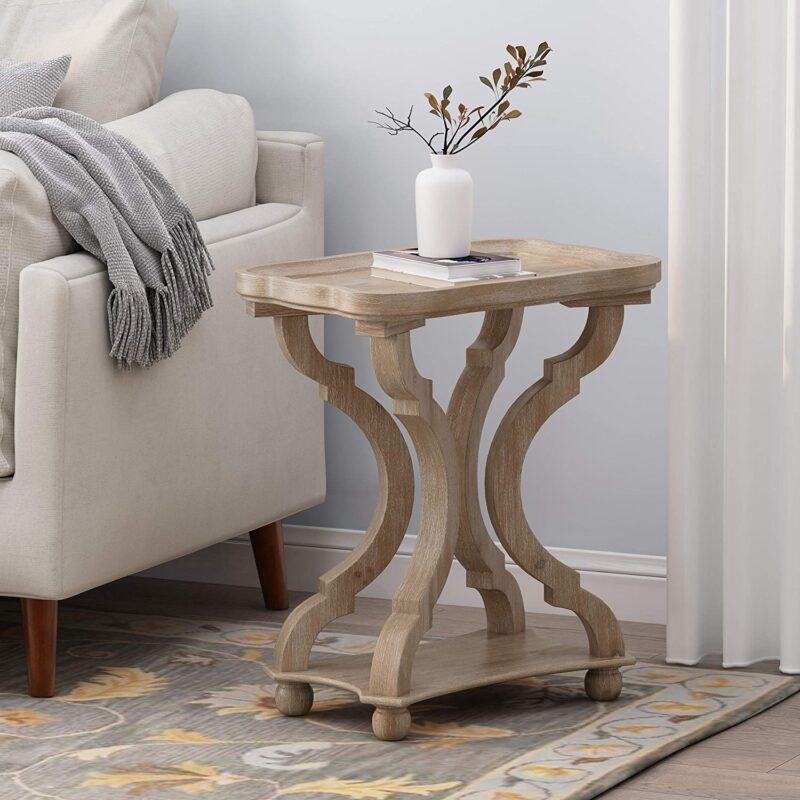 I think Amazon is especially great for French country style decor pieces instead of furniture. You can definitely take your French country interiors to a whole new level using Amazon!
I like Amazon for many reasons: you can compare prices with different sellers (which is great for finding the best deals) and they also carry a lot of French country style decor that is very unique and trendy. I've found some really cool decoration pieces here that no other store offers, which was exciting!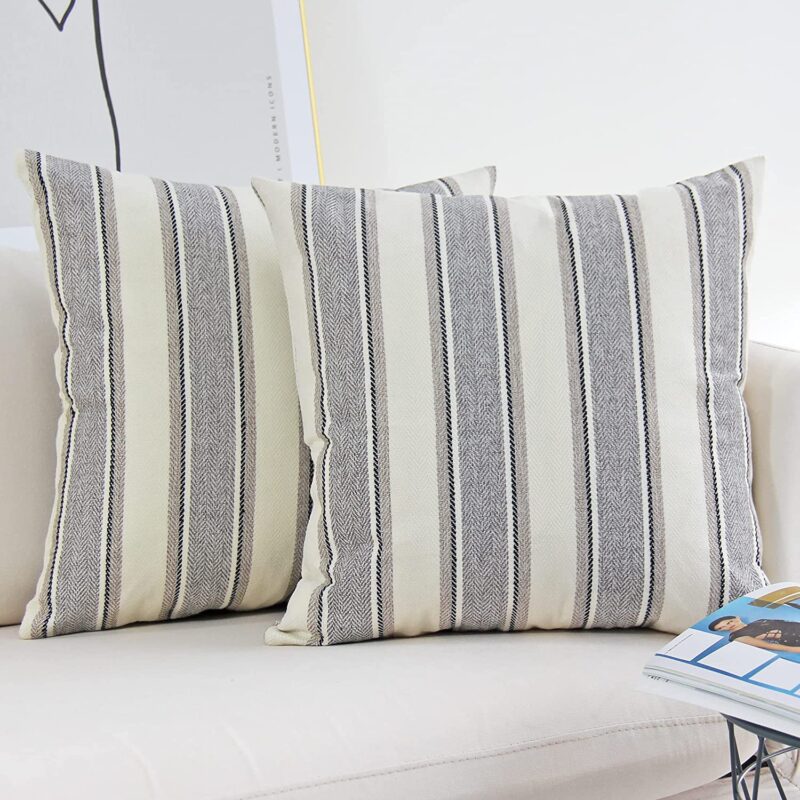 Amazon is super convenient and the selection and quality is good for French provincial furniture as well. Just make sure you read reviews from other shoppers so you know what you're getting.
If you have Prime shipping, then I highly recommend checking out Amazon for all your French country decor needs.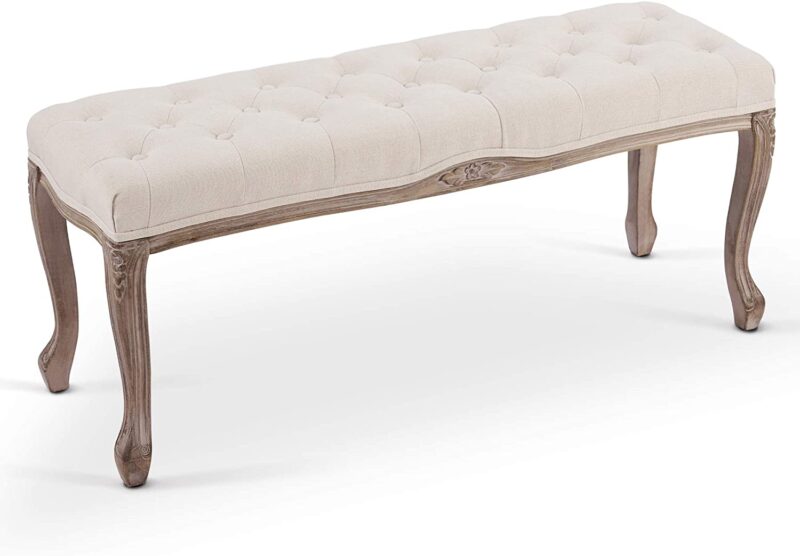 I recommend that you directly search "French country" under the home tab. There are so many beautiful options, from chandeliers to rustic French side tables and even smaller decor items.
Cottage Chic is one of my favorite places to shop for French country decor. It's a little pricier than some other stores, but you can find really good deals on certain items!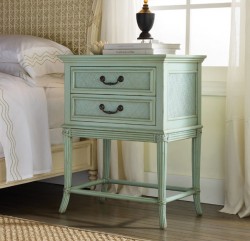 For example I got a beautiful coat rack for my entryway that was originally $20 more expensive in another store; it was the exact same piece too!
If you are willing to spend money, make sure you check out Cottage Chic because they have some really pretty stuff.
I especially love the French country bedroom pieces, though Cottage Chic also has some really gorgeous French country kitchen accents.
Wayfair is a great place to shop for French country decor because they have a lot of pieces at really great prices, plus the selection is huge.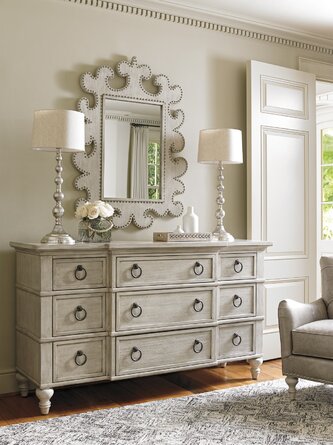 I just purchased a beautiful candleholder from Wayfair and I love it! Keep in mind some things here are more on the rustic side though, so make sure you look through everything before purchasing. Wayfair can be great if you want a French farmhouse look.
I especially love the French country bedroom decor on Wayfair. They have some amazing beds and headboards at low prices, plus the accents such as the vanities and bed-benches are darling!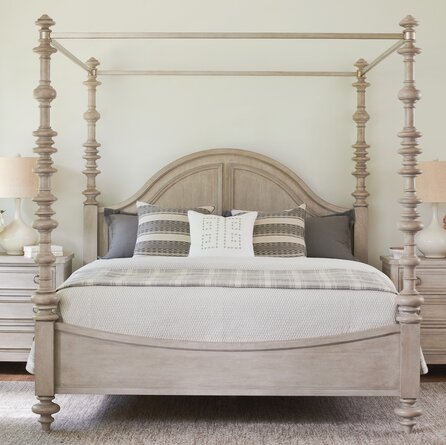 Wayfair is a great site to browse if you're looking for decor ideas. All of the photos are really nicely styled, plus you can literally search using the terms "French Country" or "French" and find the exact style you're looking for.
This site is filled with lovely home decor! Some of their items are expensive but there are a lot that aren't, especially if you're looking for supplementary decor pieces.
The prices here do fluctuate depending on if they're having a sale or not, so keep checking back to see what's going on! They also have some beautiful textiles along with the furniture which makes for a really cohesive look throughout a room.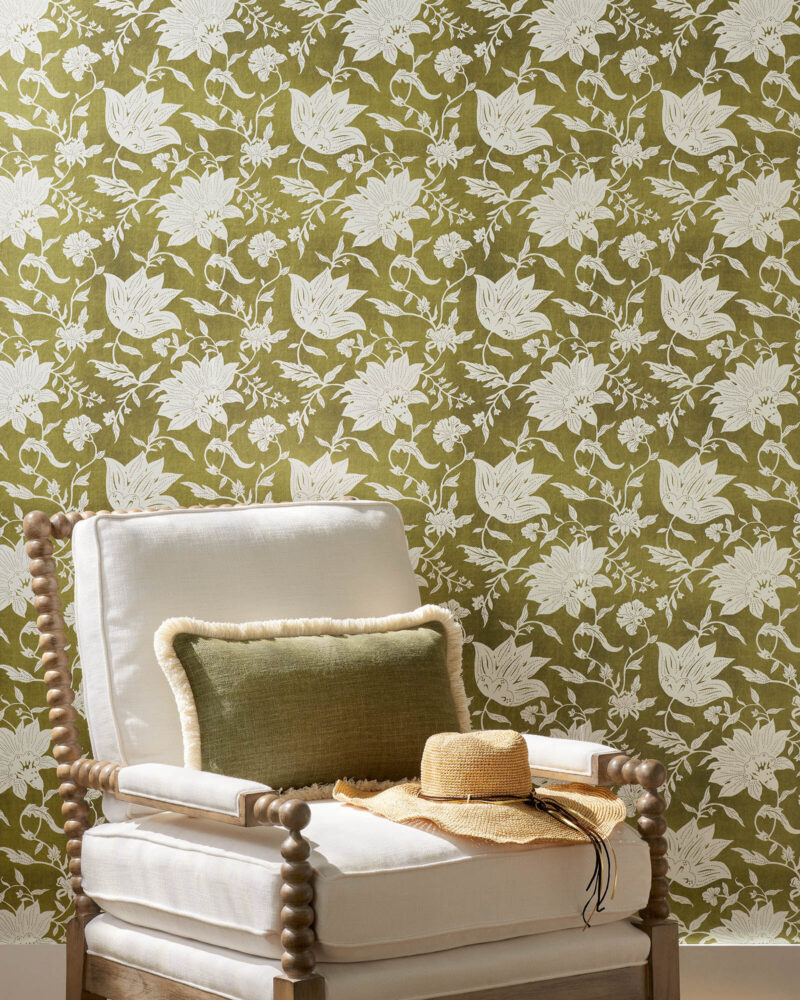 I love the style of this shop because it's very vintage-looking and has a lot of muted colors so it's easy to mix with other styles without clashing or being too over the top.
This site has a whole lot of different things for home decor; from furniture to rugs to lighting to accessories like mirrors and picture frames.
There is definitely a distinct French country style vibe on the Serena & Lily site, but you'll also see a lot of coastal pieces. Their stuff reminds me of a French summer estate on the water.
Pier 1 Imports is an adorable French country furniture store (among various types of styles) that has a lot of lovely pieces at really good prices! They often have great coupons on the site.
I love the aesthetic here because it's super cute and quaint without being too over the top with embellishments or frills.
I'm absolutely in love with their French chairs! You can get so many different pieces for affordable prices which is another plus of shopping at the Pier 1 Imports. It's definitely a budget-friendly option for French country furniture.
Their inventory changes frequently so keep checking back if there's something specific you're looking for because new items might be added! However there aren't any sales right now so if you see something you like, snatch it up!
I'm really in love with store's style; there is a little bit of everything here from shabby chic to rustic French country furniture. They also have some more modern pieces which I think would look perfect in a contemporary-style living room or bedroom.
I recommend searching "French country" or "French" to find more specific pieces in your style.
This is a company that specializes in modern French country-style furniture. They have some really gorgeous pieces, and their prices are also just as good!
If you're looking for something more rustic, along the lines of French farmhouse furniture, I'd check out Wayfair or Amazon. However, if you want something a little more upscale from French Country Furniture USA then I definitely recommend checking them out!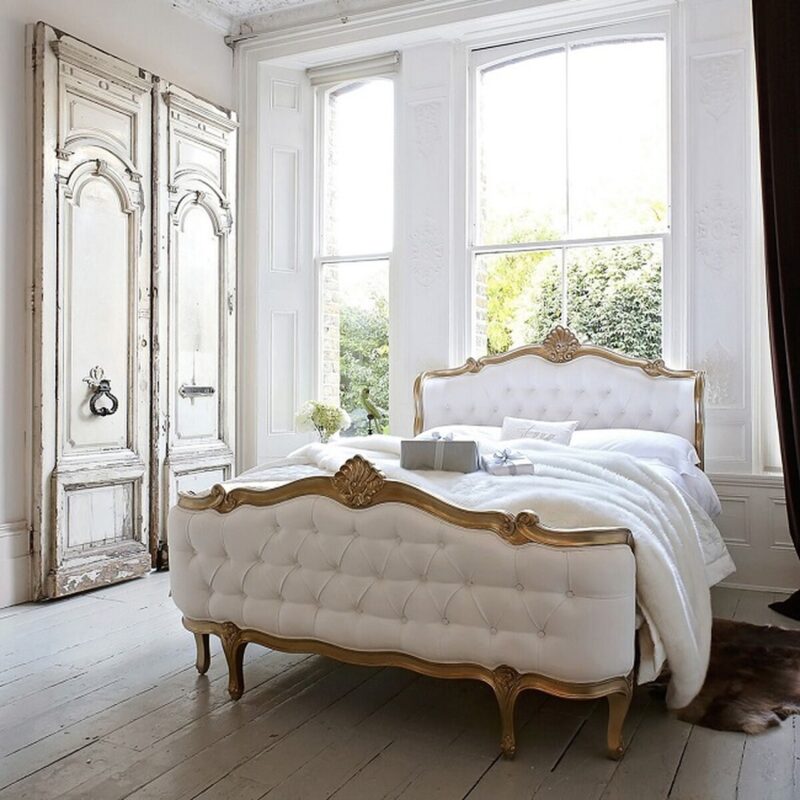 This site definitely has more ornate pieces so they're a bit more expensive (along the lines of French provincial furniture), but I love adding just one or too really decadent pieces to give any room that classic look that just screams Paris.
This is another major online retailer that has pretty much anything you could want for your home decor. It's a great go-to!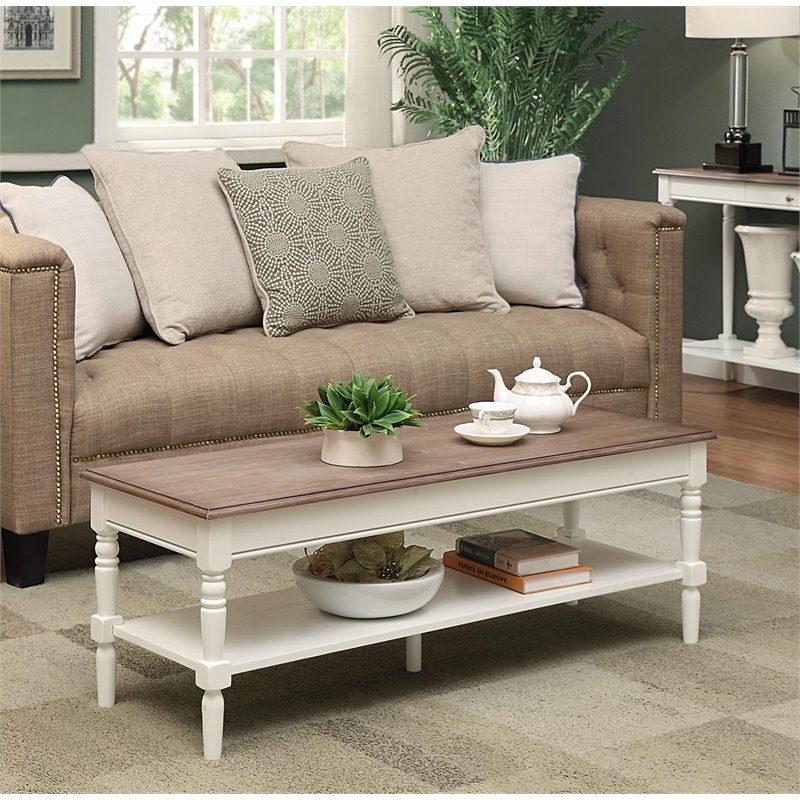 They have lots of different styles and everything is very affordable which is perfect if budget is a concern. They also offer free delivery on many purchases, depending on the current promotion. I always check that out and manage to get free delivery 90% of the time.
I really like the quality of their furniture because it's all well-made and sturdy but won't totally break your bank.
If you're looking for classic French country-style furniture then this shop is perfect. They have a lot of different pieces that would go well in any room but I love their bed frames and living room furniture especially!
I would search "French country" in the search bar – they have some really cute French pieces specifically.
Belle Escape is a great French country furniture store that has so many amazing pieces.
I love the French country decor pieces here, and they have a really lovely selection. Plus all of their work is handmade by artisans, so you know the quality will be good!
Many of these furniture pieces are a bit pricy but the quality is literally unbeatable. The muted colors and beautiful fabrics of the pieces are just incredible.
I really love the classic French country section, but Belle Escape also has other sections such as shabby chic furniture, farmhouse chic furniture, cottage, rustic, and coastal.
The consistency here is the quality; you can totally mix and match styles because the whitewashed finishes and muted palette colors all work really well together.
This shop has a little bit of everything, but it's mostly known for its beautiful French country decor pieces.
I especially love the accent furniture here, like vanities and bed-benches. They have some really gorgeous stuff so definitely check out this store if you want to add some French country accent furniture to your home!
However their prices are on the high end. With that being said, you can find amazing deals with Lavender Fields because most of their items aren't priced at full price and they frequently have sales and coupons!
What I love about Lavender Fields is that their pieces are all unique and different; you won't see the same exact pieces anywhere else! Also everything here is really high quality.
Most of their furniture has beautiful distressed white wood finishes, with the occasional dark-stained piece mixed in to really get that eclectic French farmhouse furniture vibe. The faux antique pieces appear lived in but will last you for years.
This site has a few different French country style items for home decor. They have picture frames, rugs and even furniture.
This shop really upscale and is all custom furniture. This means that the prices are hefty, but these are literally once in a lifetime pieces.
If you're looking for a more rustic look then this place might be perfect for you. This site has many different styles ranging from antique farmhouse, traditional barns and modern cabins.
Kathy Kuo Home is probably the most upscale place to shop for French country style decor. The vibe is definitely designer.
They have a lot of goods that are very much in line with traditional French country decor – rustic furniture, lighting fixtures, kitchen items, and more. However, every piece feels super upscale instead of kitchy.
I have purchased several different things from Kathy Kuo Home before and I will say that they are good quality but not super high quality. It depends on what you're looking for. For example I purchased a bar stool there for my dining room table and it's nice, but definitely not as nice as some other stools I've seen at Pier1 Imports or even online somewhere like Amazon or Etsy. So keep in mind you get what you pay for! On the other hand, their kitchen items like utensils and bowls are really awesome and they make great gifts.
I think Kathy Kuo Home is a good place to find stuff for your home office, kitchen and bedroom; I trend to shop here for larger decor pieces when I really want a high-quality, upscale piece.
If you're looking for affordable French country design pieces and faux antique accents, check out Dot & Bo.
They have a lot of great pieces that are well under $100 and are relatively decent quality! I would recommend checking out their home decor section and shopping around from there.
Everything that I've ordered from Dot & Bo has been high quality and very affordable – much more affordable than other stores like HomeGoods and Pier1 Imports!
This store can definitely enhance your French country decorating without breaking the bank.