There's something about rose nails that makes a look a hundred one percent more feminine! This nail shade particularly looks good on spring and summer days when you are likely to wear a dress, go to the beach, or (actually) smell the flowers outside.
Rose nails are also the best go-to for an all-girls night out, a shower, a brunch event, or a long vacation trip. Relaxed, feminine, and classy – that's what rose nails are all about!
What I love about the rose nails shade is the way it adds vibrance to your overall look. It is almost like adding blush to your nails! I especially prefer wearing rose-colored nails when wearing white or pastel clothing. It instantly adds a pop of color without changing the soft, feminine vibe of my outfit.
I also personally adore rose nails on tan or dark-colored skin because of the beautiful contrast. If wearing white nails is too bold, light rose is one of the best shades to consider.
Plain rose-colored manicure never grows old. But with detailed designs in style, you might want to consider one of these looks to elevate whatever style you're going for. Below, we added a few inspo photos along with a styling guide so you can do rose nails at home or show your nail technician exactly what you're looking for.
In this article, we'll discuss design ideas that you can incorporate into your nail art archive.
Trendy Rose Nail Designs:
Here are some of our favorite rose nail designs right now, with tons more inspo photos below.
1. Natural Light Rose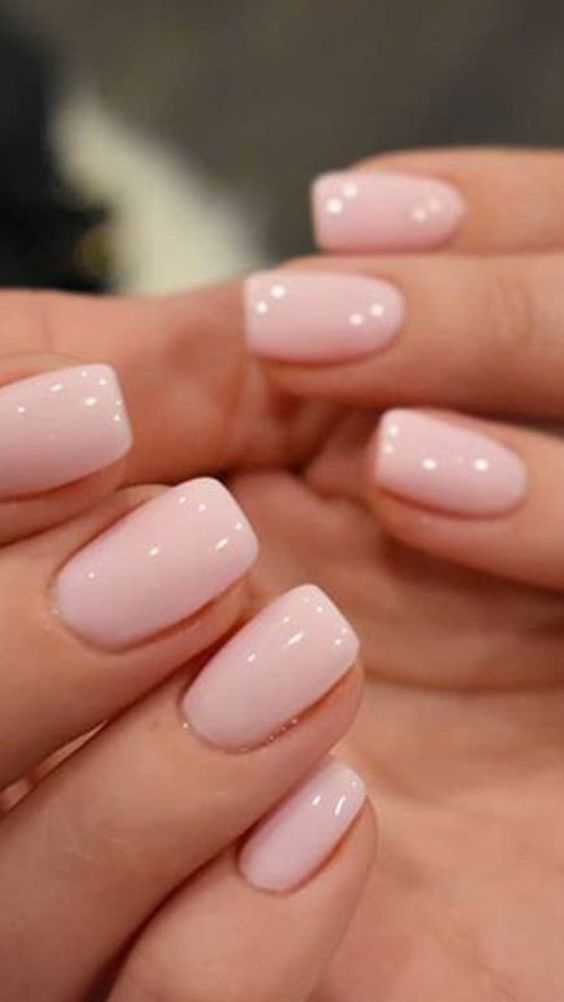 This is the most simple and versatile style of rose nails. It almost looks nude, but with a bit of a rosy blush. I like wearing this as an alternative to nude-colored nails because this is subtle and can go with any outfit but is still a real nail color.
2. Shiny Rose Gold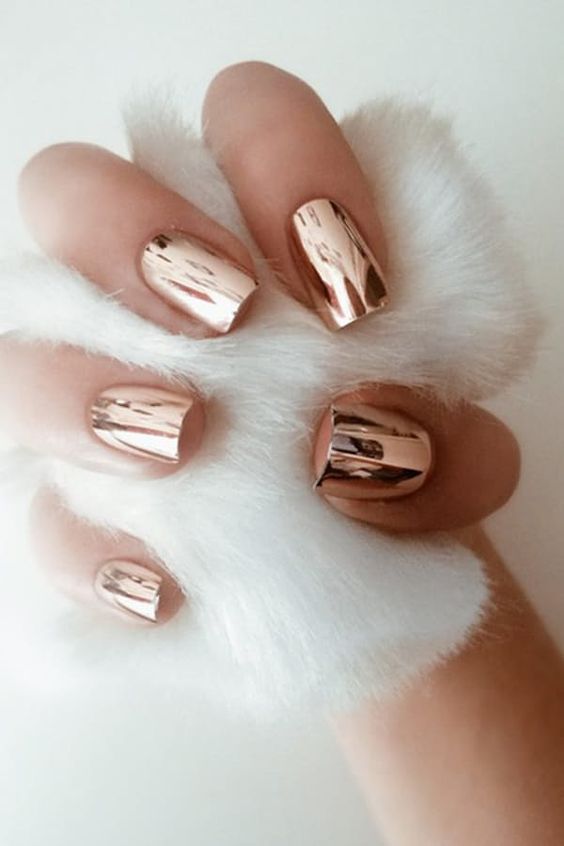 This chrome-like rose gold option is sure to stand out in evening events and night-outs. With the right nail polish, you can get the impression similar to wearing nail jewelry. Its eye-catching, bold and classy, which makes it also great for wearing in photoshoots.
Wear this with silky LBD for contrast or with any dark colors in the shade of blue and emerald.
3. Pink Champagne Sparkle
Think sparkling wine, Moscato, and Rosé. They all have something in common: sparkles! Pink rose color with a dash of glitters is a great alternative to bold, chrome nails. Plus, it's so much easier to source a base coat and apply it to your nails. Sparkly nail polish is a good option to consider especially if you're rushing for an occasion and wanting a quick, easy-to-do nail makeover.
Sparkly rose nails call for a rose or white-colored cocktail dress!
4. Color Block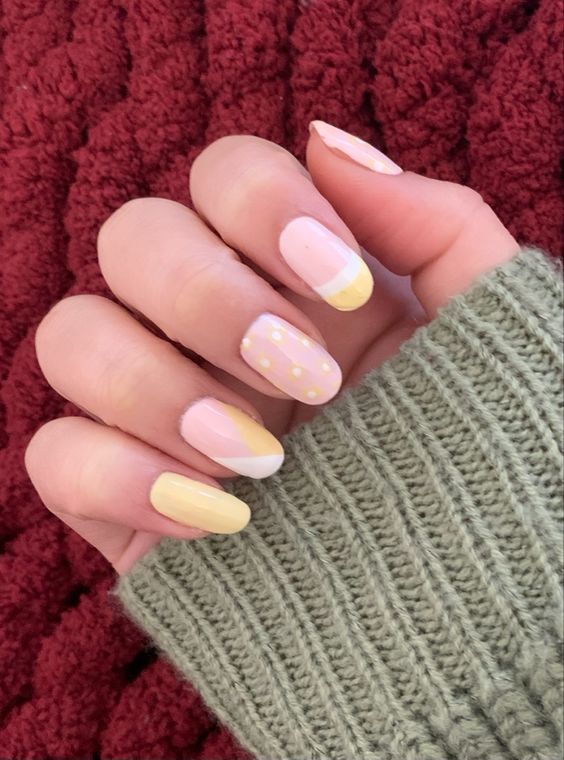 Because light rose has a very natural and light tone, you can easily use it as a base for color-block designs. You can do vertical half-splits, overlapping triangles, or a complete nail mash-up! Feel free to mix up the colors.
You can wear rose color block nails with a minimalist get-up consisting of one or two complimenting colors. This is a great everyday nail look!
5. Dipped Rose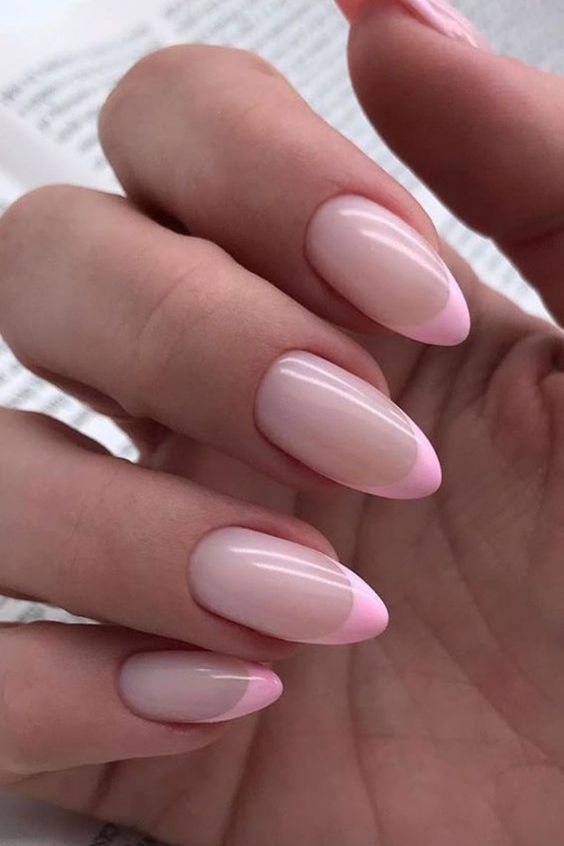 Dipped rose is like the elevated version of a classic french tip. Instead of equally level tips, it rather looks as if you "dipped" them in rose. You can use nude or light rose for the base and a more vibrant shade of rosy pink for the tips. Simple, mysterious, and chic is how I see dipped rose nails.
Pair these nails with a similar-toned outfit for a stylish look.
6. Rose Glitter Tips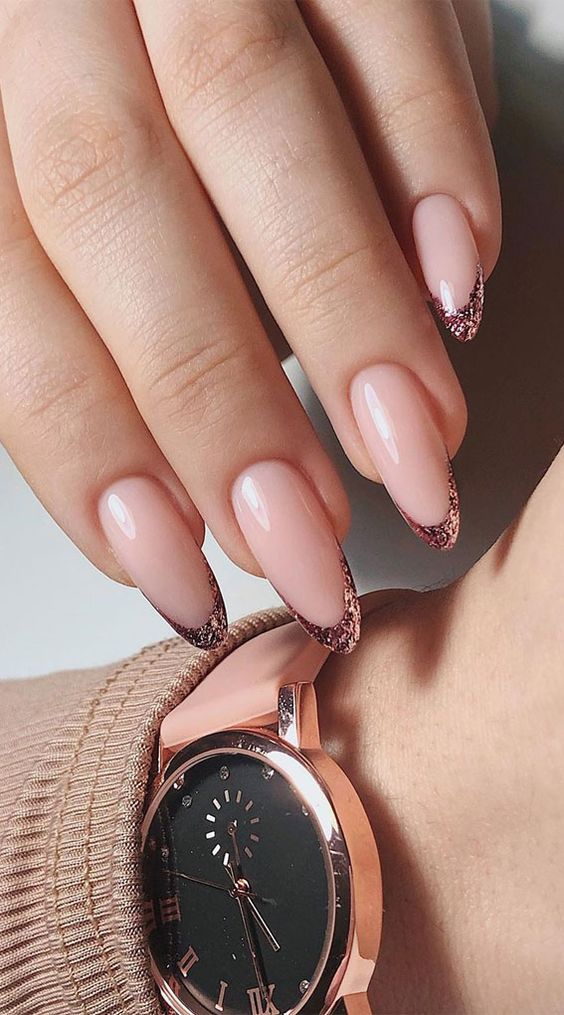 Another elevated version of the french tip, coming your way! A great way to spice up your nails without it looking too flashy is by using your rose glitter or chrome/rose gold nail polish for the tips of your nails. Classy but fun is our ultimate goal with these nails.
Rose glitter tips are great for business casual outfits and black-and-white ensembles.
7. Rose Quartz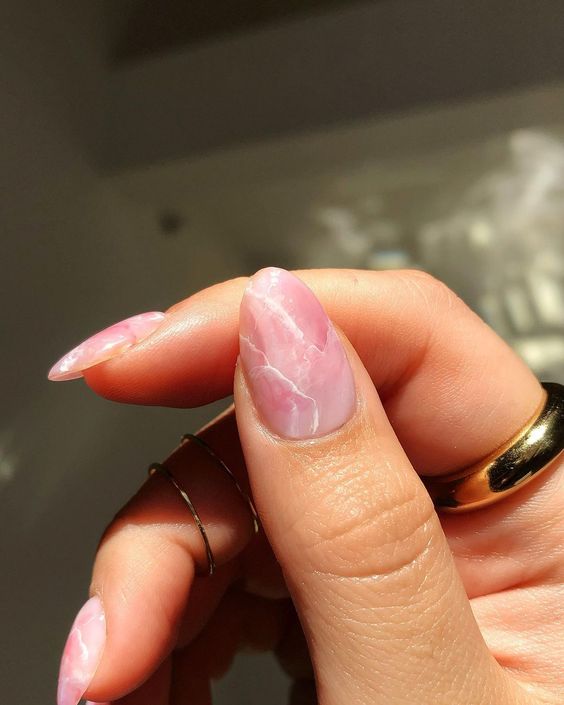 Rose Quartz is one of my favorite nail designs out there. The marble-like look just looks so delicate and unique that it almost seems like jewelry. However, it's probably not the easiest to recreate at home. Have a professional help you achieve this look or buy stick-on faux nails for easier application.
Rose Quartz nails look good with formal cocktail dresses and silky LBDs. You can also make it stand out by wearing a simpler palette, like black and white.
8. Shiny Rose Gold Cuticles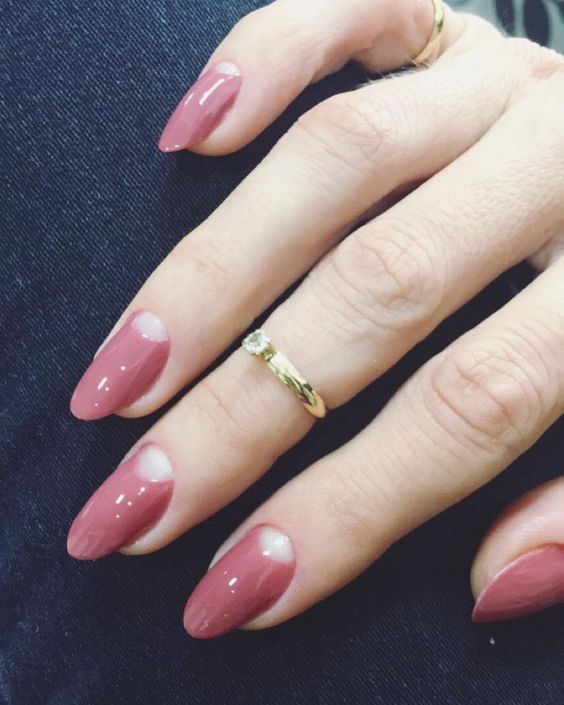 Think rose gold-colored sunsets or a half-moon accent. Shiny rose gold cuticles are simple but creative. It adds a similar aura to a classic french tip, only it is reversed.
A subtle rose gold cuticle design is great for everyday looks, especially if you lean into semi-formal ensembles on a daily basis.
If you're looking for a unique, bride-friendly design, you can consider this as an option. Just replace the rose gold with a rosy off-white tone.
9. Detailed Gold Accents On Rose Nails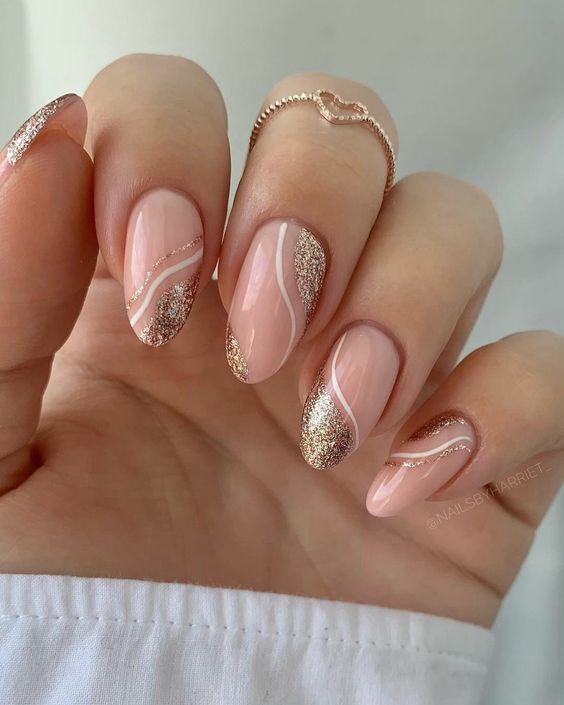 On to the delicate options, we have detailed gold accents on rose nails. Detailed accents include gold decals and nail stickers of butterflies, moon symbols, or, perhaps, actual roses. Why gold? Gold complements light rose with the evident warmth present in its tone.
These nails are great for fairycore style outfits and dresses!
10. French Tip With Light Rose Base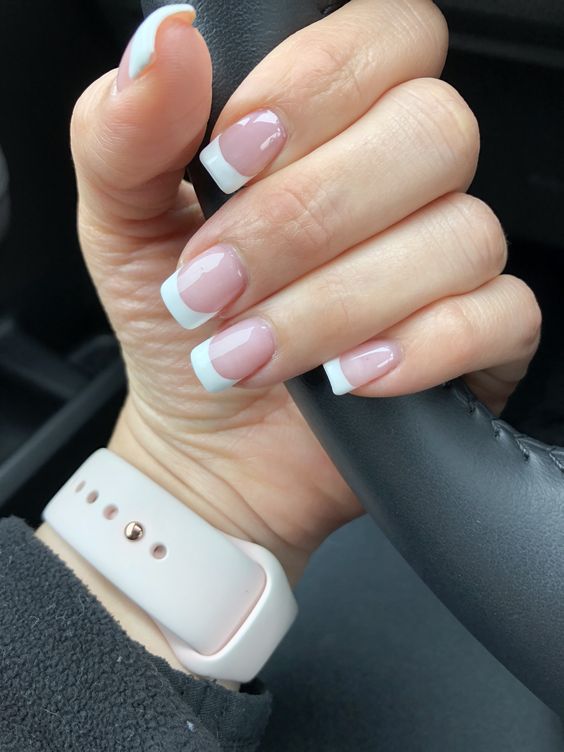 For a classic look, you can go with a simple French tip with a light rosy base. This makes any french-tip-style nails clean, sleek, and vibrant. This style isn't rocket science, but it sure deserves a spot on the list since it's the most popular!
Like a classic French tip, you can wear these nails with any outfit. This is also a great option for brides.
11. Rose Decals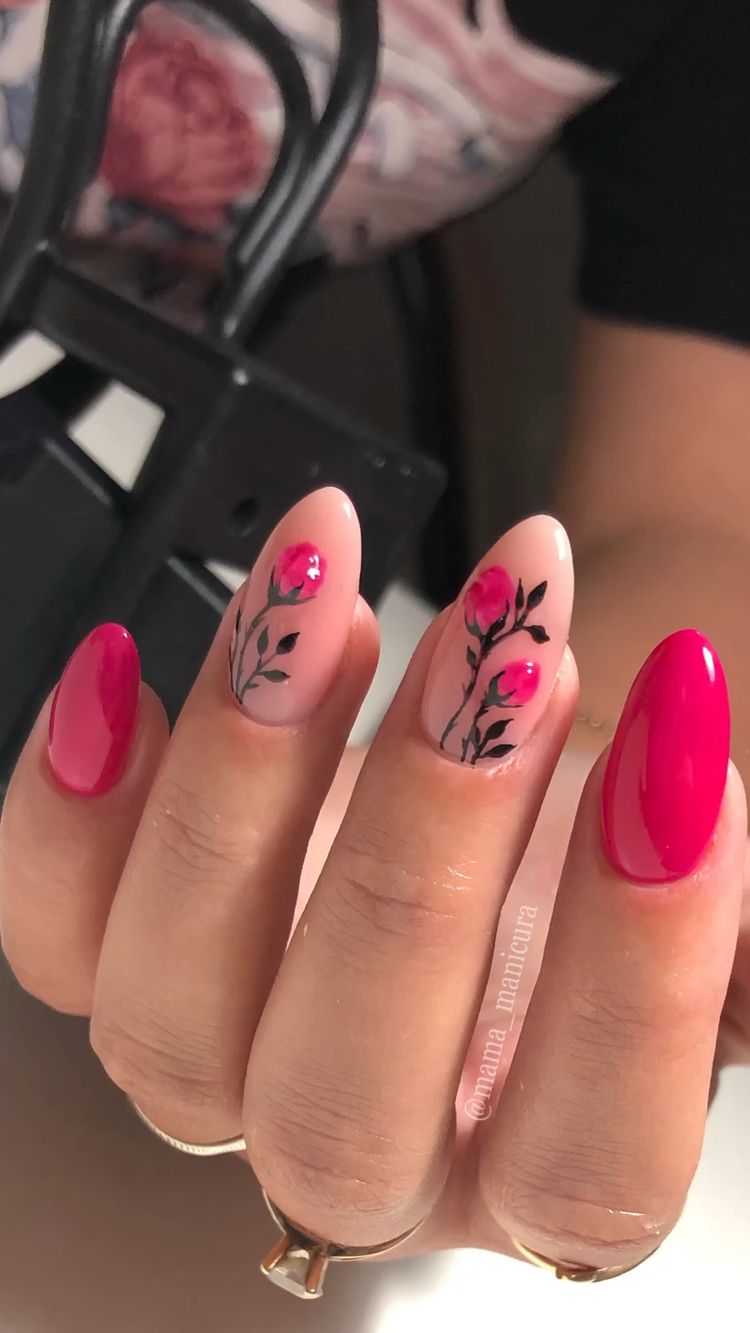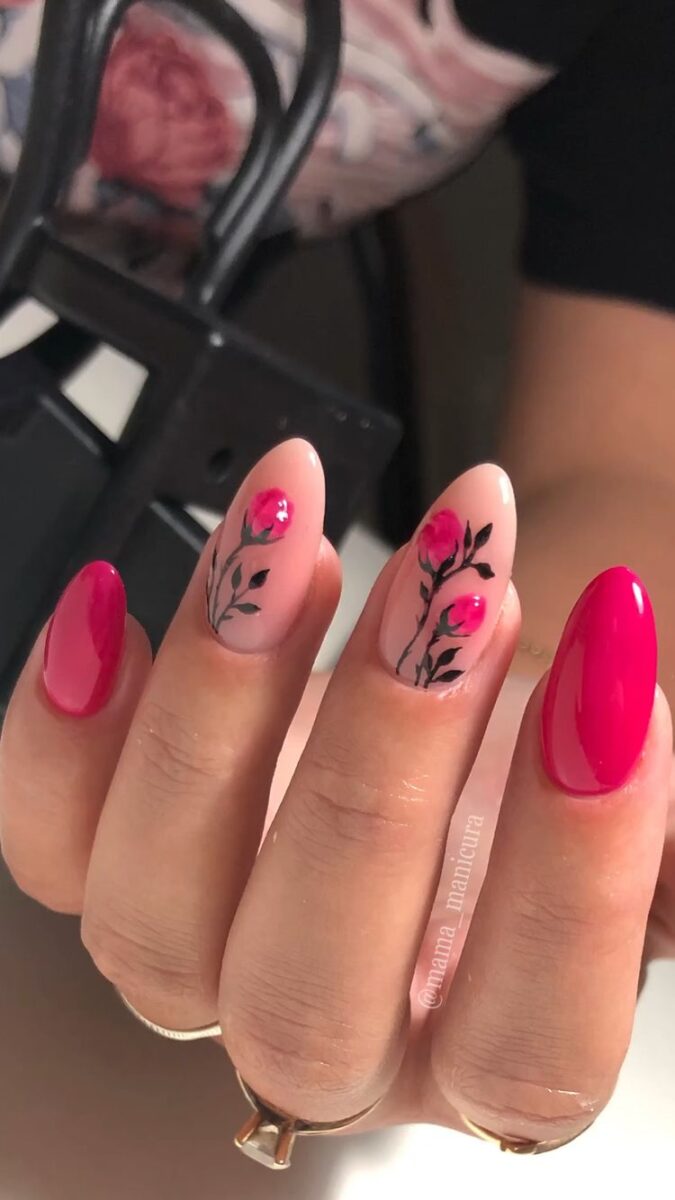 These sorts of rose nails are literal. Roses are elegant and timeless — much more if you wear them on your nails. The best way to get your hands on perfect roses is by getting a nail decal over a solid base. My favorite combinations are white (for the roses) and light rose (for the base), red over light rose, and red over a light rose.
How you wear this with an outfit depends on the colors you choose, but I am certain it looks great with any plain-colored clothing.
12. Red Rose + Black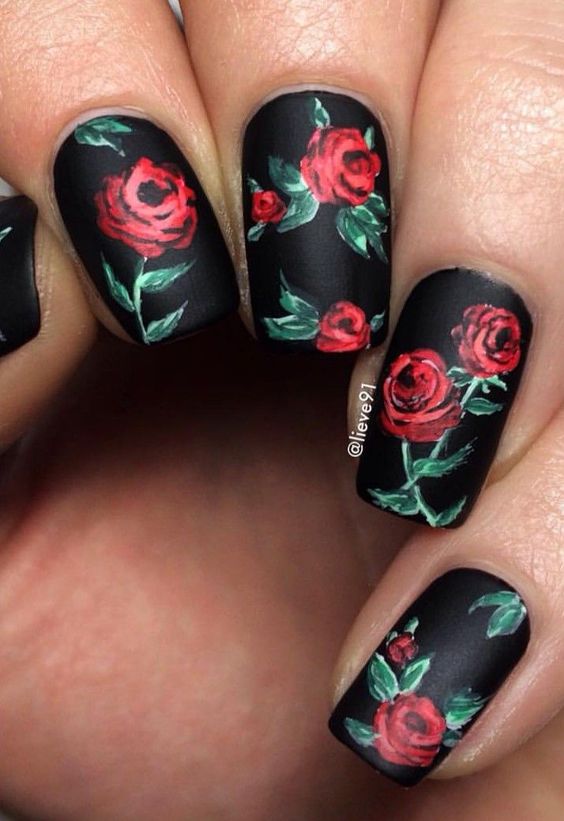 Want to rock a goth-like style? Adding your nails to the fit is a certain way to complete your look. To achieve this, go ahead and paint your nails with a black base, following a bright-red rose decal. To make it subtle, you can put a decal on one nail while leaving the rest in solid black.
These nails are great for copping a witchy or an all-black outfit!
13. Gold Dots Over Rose Nails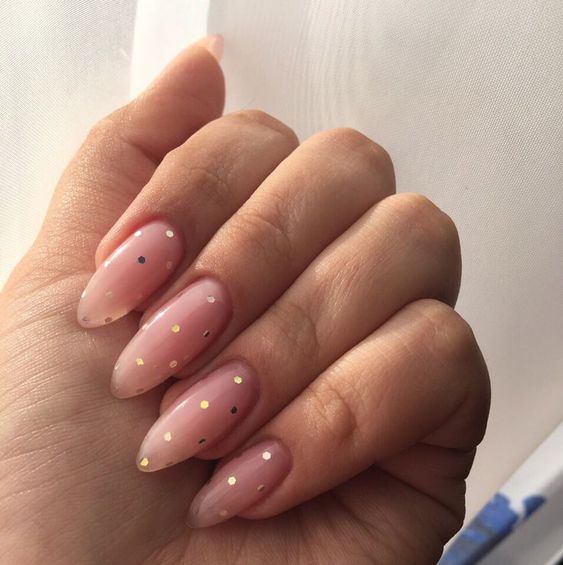 Looking for something that you can do by yourself at home? If you think you're past the novice phase, you can try painting your nails with a light rosy base and adding in a little shimmer with carefully placed dots.
For some reason, I like to wear this style on casual occasions like a birthday party. The dots make it look festive but not too overboard.
This style can elevate almost every casual fit.
More Rose Nails Ideas
For more ideas, check out these fabulous photos that we gathered just for you.
Still deciding? Feel free to bookmark or save this article for later!
These have got to be one of my favorite rose-inspired nails on this list. I love how the rose patterns are embedded into the nails, creating this gorgeous monochromatic aesthetic. The pink color scheme makes the overall look so romantic as well! It's so perfect for Valentine's Day or date nights with your special someone.
Here's another rosy nail set that'll surely take your breath away! I love the daintiness of the roses and the rhinestones, how every detail just perfectly falls into place. Not to mention, look how beautiful the contrast of colors is! Pink and black create such a classy vibe to your manicure.
For something a little bit more minimalistic, subtle, or understated, you will surely love these nails! The rosy theme isn't as in-your-face or literal as the previous patterns. This one is quite dainty and soft with minimal use of the gold foils on the accent nails. You can also opt to paint your nails with varying tones of plum and pink for a romantic, feminine look.
I love how over-the-top this nail art is! It's not as rosy as the other manicures but the colors definitely fit the theme! Additionally, I also love the marbled accent nails and how it's detailed with rhinestones, giving them so much sparkle. These are just utterly gorgeous!
If you want something unique and maybe that has a rather futuristic vibe, then these rosy chrome nails are definitely for you! It gives off a trendy y2k vibe that's quite popular these days and the color scheme is something that you won't see every day. So if you're looking to step out of the box, then you should definitely ask your nail tech to put these on your nails!
Want something that looks expensive and glamorous? Well, these shimmery, glazed nails might just be what you need! I love how the different textures complement each other so well. The shimmery and glittery accent nails add a luxurious vibe to the overall manicure, while the glazed nails give it a classier edge.
Now if you're wanting to get your nails looking high-end, then why not try putting luxury brands to your manicure? No, I don't mean using actual luxury brands (but you could if you want to!), but you can just get nail stickers that mimic the logo of brands like Chanel to put on your manicure. It would look so cute and classy!
I love the nail art on the accent nail on this particular manicure! Look how detailed the roses are, it's almost like looking at a picture. I also like how the rest of the nails have a more subtle pink color that's perfect for every day and going into the office, instead of brighter and more vibrant pink shades.
Now here's a rosy manicure that you will surely appreciate if you're looking for something feminine, soft, and romantic to wear on your next date. Look at those rosy accent nails against the ivory base coat and how the rest of the manicure has a jelly-like finish that gives nails a healthy glow.
I love the look of these nails so much. It's definitely another favorite of mine! Just admire how pretty this manicure is, from the neutral color scheme to the dainty details adorning each nail. This would be so perfect for the winter and fall seasons.
If you want a rosy manicure that doesn't take the word too literally, then you might love this particular set of nails. The abstract patterns drawn on each nail give it a unique yet classy vibe, while the rosy color scheme makes it a touch more feminine and natural-looking.
From afar, it just looks like you're wearing your bare nails, which gives anyone who gets a closer look a pleasant surprise!
Here's another set of nails that aren't typically what you imagine when you think of "rose-inspired nails". Instead, these nails use a rose gold color scheme to fit the theme. Nevertheless, these marbled nails are utterly gorgeous!
Incorporate stars into your rosy manicure to achieve these gorgeous and dainty nails. It has a festive feel that's perfect for the holiday season, especially on New Year's Eve. But this nail art is versatile enough to be worn every day and on any other occasion.
If you want to see another set of nails that gives off a festive vibe, this is for you. Just like the previous one, this is perfect for any holiday party but it's also versatile enough to be worn on any occasion. The rosy glow of the sheer base coat gives you a natural finish and allows the dainty polka dots to stand out even more!
Put a twist to the classic French manicure by using rosy-colored tips instead of the usual white. This will give your nails a more feminine and quirky look.
For a dainty, rosy manicure that takes minimalism to the next level, this particular set of nails might just be perfect for you. Instead of using actual roses, you get a romantic, blushy pink color that's lined with shimmers on the base of the nails.
But if straying from the classic French tip isn't your thing then maybe you should stick to the traditional style. You can never go wrong with such an iconic manicure and you can always throw in some shimmery accent nails to make the overall look more unique and personal to you.
Tired of seeing the usual white French manicure? Then add some shimmer and sparkle to give it a bit more life! Just as I've said previously, you can always personalize the classic French tips to something that speaks to your aesthetic more. So if sparkles and glam are your styles, then by all means! This manicure could be your new signature look!
If you're still unsure whether a rosy manicure is for you, why not incorporate it as minimal as possible like this set of nails right here? These nails are very gold but if you look closely enough, it has very subtle hints of rosy shades within those shimmers and glitter. This way, you can decide whether you want to fully commit to rose-inspired nails or not.
These dainty, starry nails on top of a subtle rosy base coat are so pretty! They're so perfect for girls who want something a little understated but still want to make sure that their manicure has some sparkle and shine.
For a more frosted look that's going to be perfect during the winter season, you might want to try out these sheer-coated nails. From afar, it looks pretty natural but up close, it has so much sparkle thanks to the silvery foils adorning each nail.
I love these rosy marbled nails. For some reason, they also remind me of lightning streaks amidst pinkish clouds. It's just so cool to look at somewhat ethereal too.
This white polka dot nail art is so cute and adorable! They'd be so perfect for younger girls who want to try their hand at nail art but don't know where to start just yet. These dots are easy to achieve, all you need is a metal dotter and you're all set! To add a rosy glow to your nails, opt for using a sheer, rosy base coat to get a more natural finish.
Quirky and cute, these rosy, abstract nails are another kind of manicure that's great for those who just began practicing their nail art skills. It's not too fussy and it's easy to achieve at home!
I love how unique this manicure is! It's also quite abstract and I am totally obsessed with the pink and red color combination used on these nails.
Here's another set of nails that I also like! Aside from the pink and red color combination, I also love the unique, geometric patterns on this particular manicure. It's unique and it's something easy enough that you can practice at home.
Here's a fun twist to the classic French Tips. The outlines on the upper part of the nails are thicker than the traditional French manicure. And instead of the white tips, this one uses a chrome pink polish that's sure to catch everyone's eyes.
I love the combination of edginess and softness in this particular manicure! I'm not a huge fan of really long nails but this one totally fits the aesthetic.
These gilded roses are utterly gorgeous! I can't imagine the effort put into creating such fine detail to achieve this nail art. But if you don't have the time to sit down and draw them yourself, you can always get a skilled nail tech to do it for you or you can opt to get nail stickers for a less fussy application!
I love the natural rosy look this manicure is going for! It mimics the natural colors of your nails. So basically, it's your nails but better!
For quintessential rose nails, you might want to try this out! The rose-themed accent nails are just gorgeous to look at! The details are utterly amazing and suit the rosy pink nails.
Animal prints never go out of style! And one of the trendiest prints right now is cow prints. I totally understand why these are so popular right now. They look so cute and chic! You can pair them up with a rosy base coat so it still suits the rose-themed nails.
Butterflies are another pattern that gets trendy every now and then. They're so cute and they give a pretty, feminine vibe to your overall manicure.
These rosy nails look so elegant and glamorous! The detail on the rose-themed accent nail is just so beautiful! And depending on your nail art skills, you can easily achieve this by drawing it on your own, or getting press-on nails for easy application.
I just love nail art that sits on top of a sheer base coat, almost making it look like the nail underneath is completely bare. There's something so pretty and ethereal when I look at these kinds of manicures.
For a classy rose manicure that isn't too over the top or overwhelming to look at, you should definitely check out these nails!
This is another favorite of mine on this list. I love the black silhouette of the thorny roses against a shimmery, iridescent base coat.
Create unique patterns using dainty linework for your rose-themed manicure. It doesn't have to be literal roses adorning your nails, but you can use a rosy-colored polish instead.
I love the soft, pastel pink used on this classic French manicure. It has a bit of a romantic vibe as well, making this perfect for a date night out.
If you want to see another creative spin on the French manicure, here's another one for you. This one uses some shimmers to highlight the divide between the white tips and the base coat.
There's something about pointy-shaped nails that make manicures instantly look good and classy. Not to mention, the nail art on this manicure is utterly gorgeous!
For something simple yet with a lot of shine, these rosy monochromatic, glazed nails are amazing! I would definitely get this on my next manicure appointment.
For a rose-themed manicure that'll look magical on your nails, try out this particular one! I love the ethereal vibe the rose accent nail and how it complements the rest of the nails.
Create a gorgeous contrast with your nails by doing a neutral rose nail art in between blush pink nails. This gives an instant classy vibe to any manicure. You can also top it off with some dainty accessories like rhinestones for a subtle sparkle.