If you're a Gilmore Girls fan, you know that the Rory Gilmore sweater is one of the most iconic clothing items ever to grace television. And today we're bringing you 10 different options for purchasing this sweater!
Rory Gilmore is the protagonist of Gilmore Girls, and she's a hard worker and a lover of books. She's intelligent and inquisitive, but she can also be a bit temperamental and stubborn. The show followed Rory from her teenage years in Stars Hollow through college and beyond.
As a teenager in the 2000s, her wardrobe was on point. And the sweater she wears in the series is very popular among girls and women even now!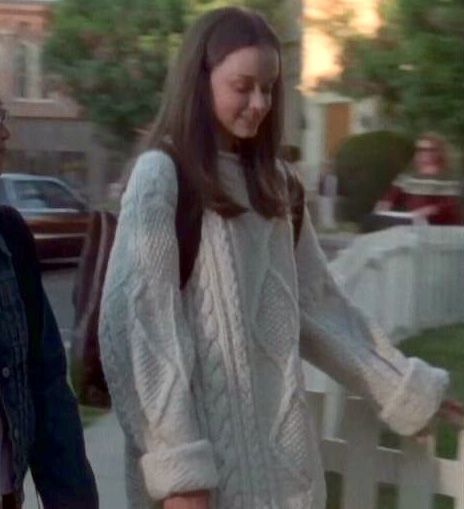 The sweater was a staple in Rory's wardrobe, and it's easy to see why. It's warm, comfortable, and looks great with any outfit. This particular style is a pullover sweater with a ribbed pattern on the sleeves and bottom hem. This style gives it a bit of texture without being too busy. The knit fabric is thick enough to keep you warm. It's also thin enough that it doesn't make you look like an overstuffed sausage casing.
Rory has worn the sweater throughout the series with jeans or skirts—and even with shorts! This style never fails to bring out her personality in each new scene. Because the color palette is so neutral, there are plenty of ways to wear this piece without clashing with other colors or patterns in her wardrobe. If you want to emulate the academic style that Rory wears then this sweater is definitely a basic piece to own.
This knitwear that Rory popularized was so famous that it inspired fans to create their own versions. And now you can buy your own version online too! But where should you look? Here are 10 places to consider shopping for your very own Rory Gilmore sweater.
Pro tip: To get the ultra-oversized Rory Gilmore sweater vibe, size up 1-2 levels for each sweater, depending on how oversized the sweater comes.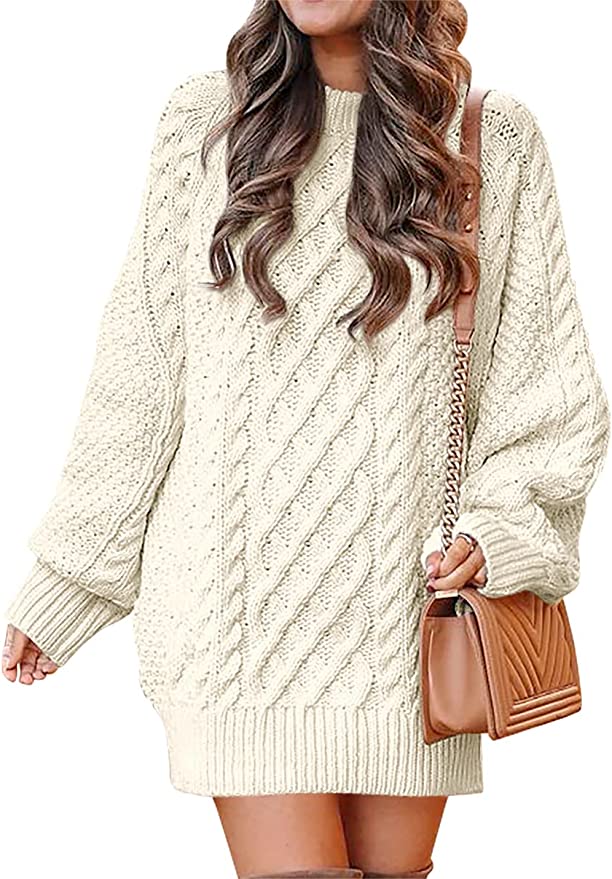 These sweater dresses from Amazon are the perfect way to take your wardrobe from drab to fab. It's a cute and simple cable knit dress that's great for layering. It has ribbed material at the cuffs and hemline for a classic sweater dress look, so you can wear it with boots or tights or even no shoes at all!
We recommend wearing this sweater with pants for the oversized look to match the Rory Gilmore sweater vibe.
The cable knit material is of the highest quality, and the color is exactly what you'd expect from a classic sweater dress. It's loose-fitting but not too baggy, giving it a flattering silhouette without being too tight. The colors are very feminine and flattering. This sweater dress will make you feel like Rory Gilmore herself.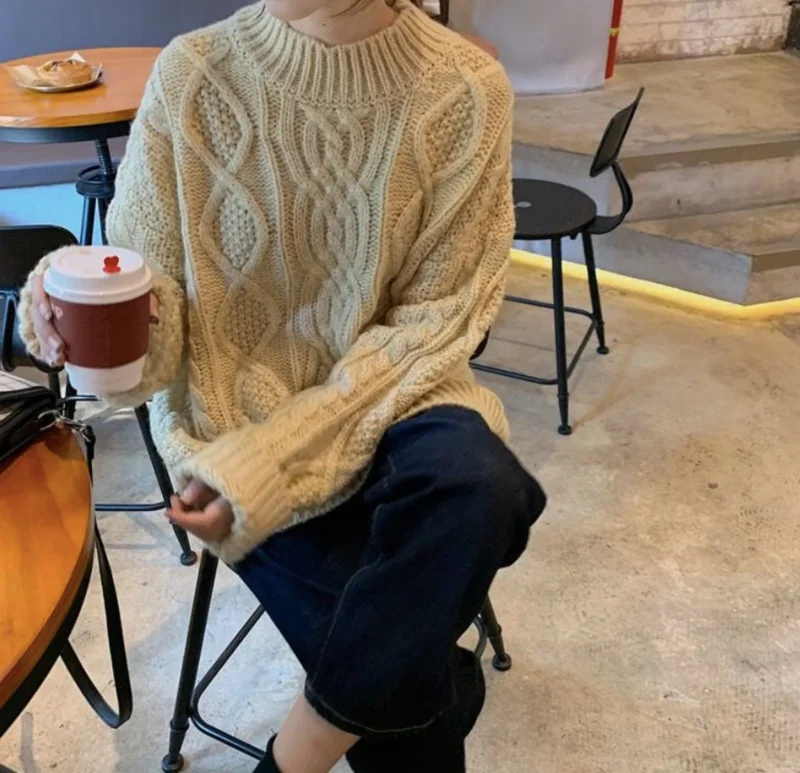 This is the sweater you want to wear when you don't want to get up from bed. This oversized cable knit sweater is the perfect pick for lazy days. It's made from 100% acrylic yarns and is available in three colors: black, grey, and brown.
It comes in sizes small through extra large, so anyone can enjoy its comfort level. The loose-fit design makes it ideal for layering over shirts or t-shirts during colder months of the year and wearing alone during warmer weather when temperatures rise above freezing levels outside.
The oversized cable knit design makes this pullover jumper look more like a dress than a sweater. You'll never have to worry about feeling cold when wearing this cozy oversized jumper because it'll keep you nice and warm no matter what. Available at Etsy, this cozy pullover will make you feel like wearing Rory's infamous sweater.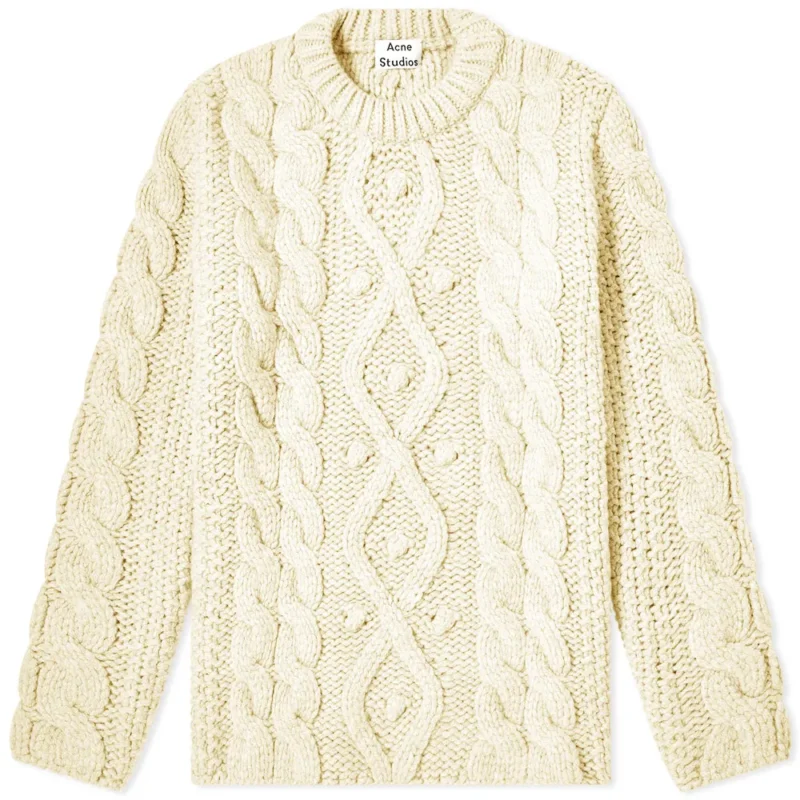 The cream cable knit sweater is a timeless classic. There's something eternally appealing about the way it looks, how it feels, and the way it makes you feel. It's as if you're wearing a little piece of history on your back, and you can't help but feel like a part of something bigger when you wear one.
This sweater from Acne Studios strikes a perfect balance between the traditional style of the cable knit sweater and its contemporary style with sinuous patterns and chunky ribbed crewneck. It's crafted from pure wool in Italy, so you know it will be warm enough for winter but light enough for spring or fall days. Plus, this sweater cable knit style will make you feel like a true Gilmore girl in the Rory Gilmore sweater.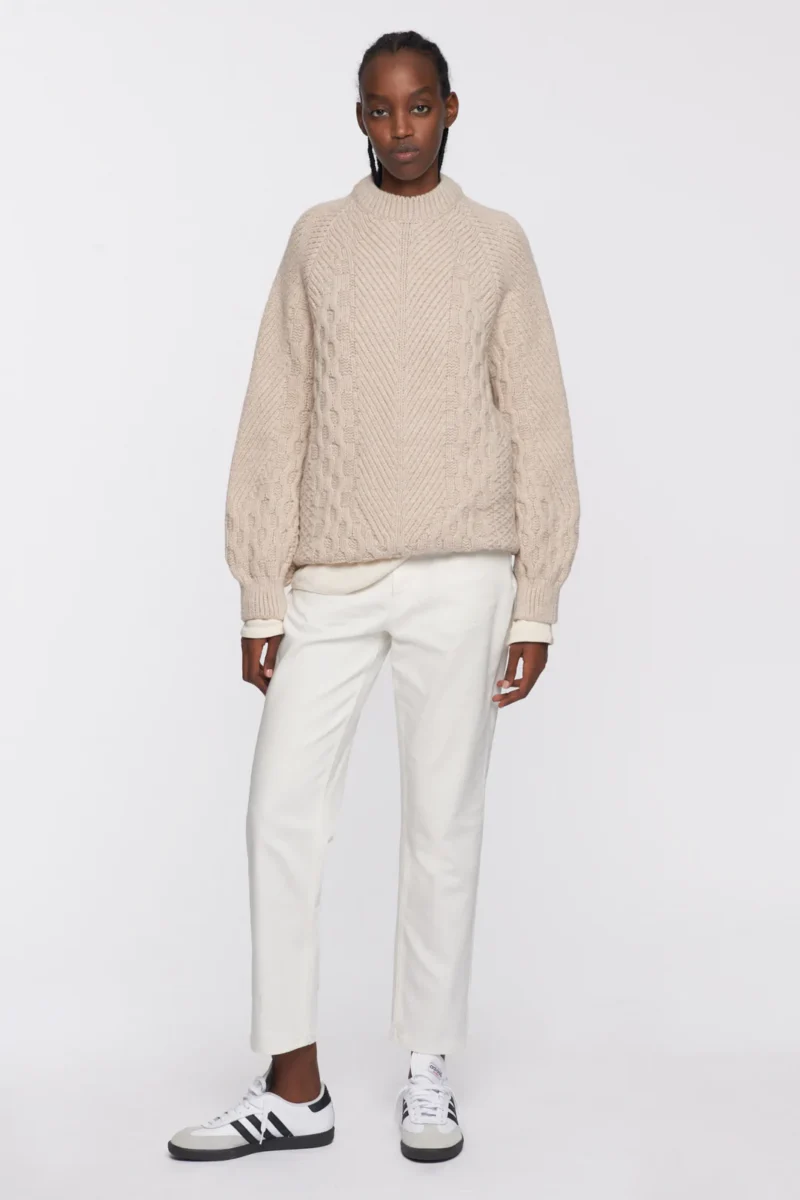 If you're looking for a Rory Gilmore sweater, this is it. This Irish fishing sweater has a loose fit, a high neckline, and somewhat flared sleeves. It is made with the finest 100% extra-fine lambswool. This fabric makes this sweater breathable, thermally efficient, and itch-free.
This cable sweater has also been knit in classic Aran stitch patterns, each of which has a special meaning. As a tribute to a hardworking bee, the honeycomb stitch denotes both hard labor and luck. On the other hand, the cable chain stitch symbolizes both security and abundance. This cable sweater from KOTN is a must-have for any Rory Gilmore fan.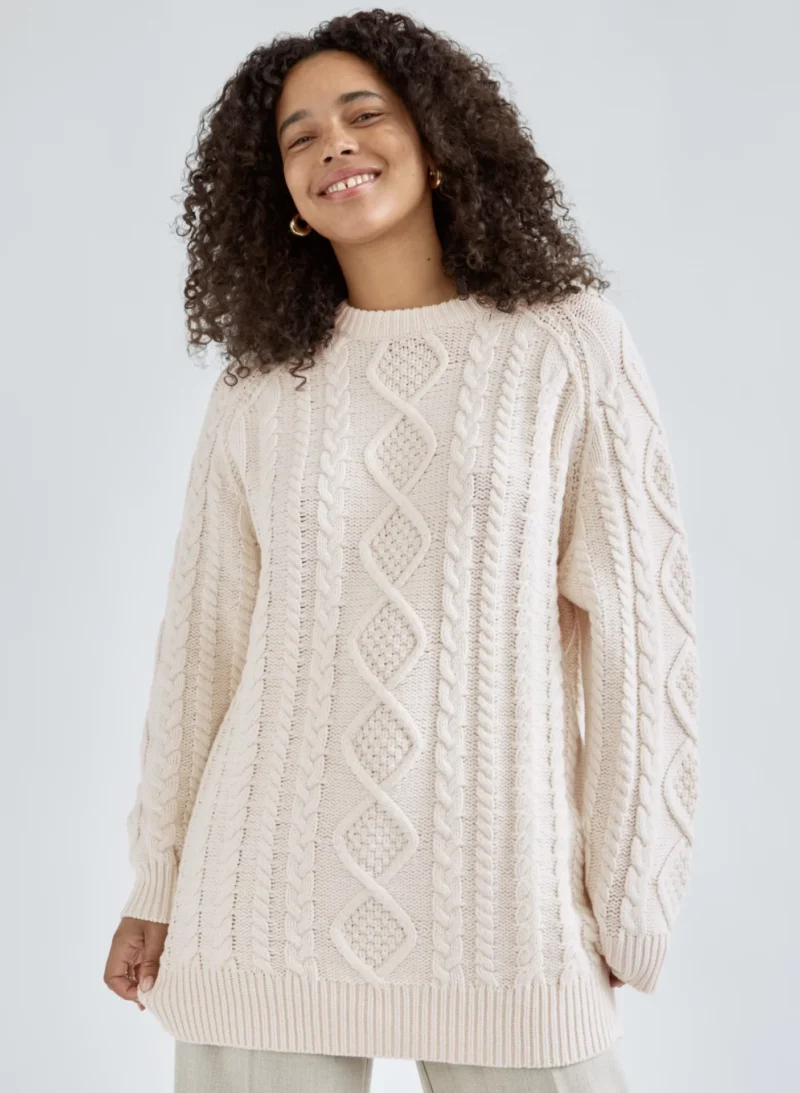 As any Gilmore Girls fan knows, Rory's iconic cable-knit turtleneck sweater is the epitome of preppy style. And while you may not be able to score the exact same sweater that Rory wore on the show, the Melissa Sweater from Aritzia is a great dupe! It's crewneck and has raglan sleeves, so it'll keep you warm without being too bulky.
It's cable-knit with a soft, cozy merino-wool blend, so it'll be warm but not scratchy. And the ribbed trim gives it a nice touch that makes it look like the real thing! So if you're looking for a Rory Gilmore-approved sweater to keep you warm this winter, the Melissa Sweater is a great option! It's stylish and comfortable, enabling you to channel your inner Rory Gilmore.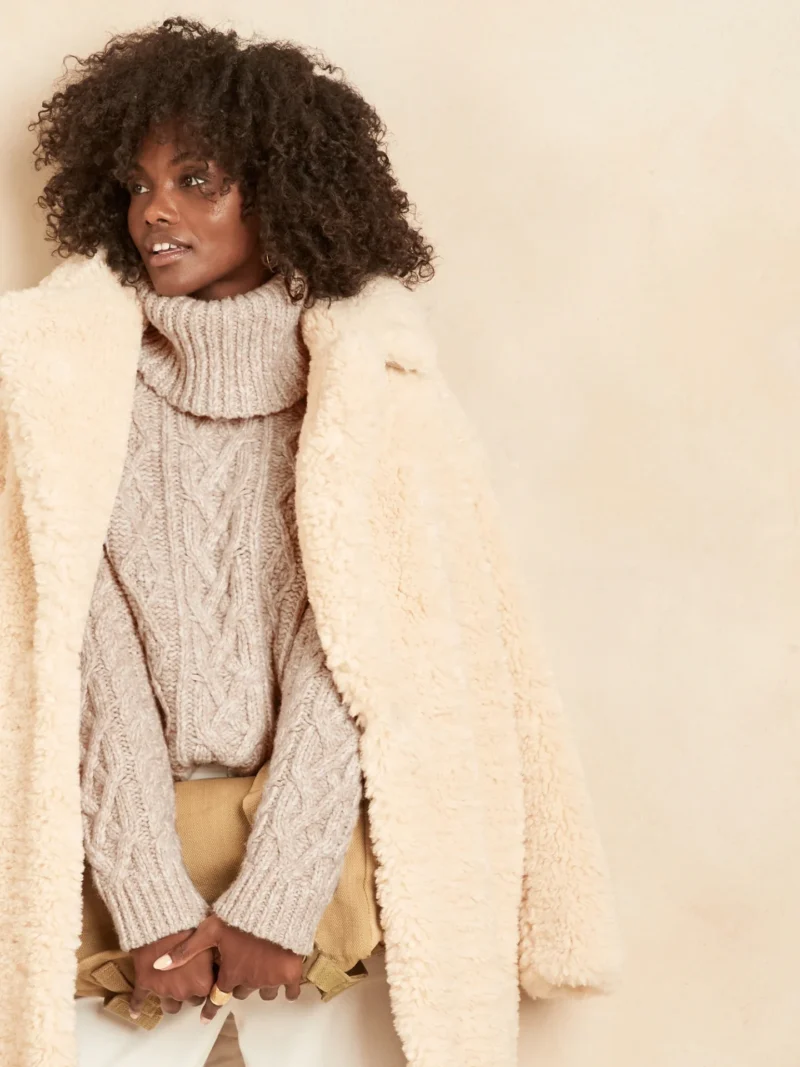 If you've ever watched Gilmore Girls, then you know Rory Gilmore is the ultimate cool girl. She's smart, fashionable, and knows how to keep it together, even when things get tough. Her go-to sweater is a staple for anyone who wants to look their best while staying comfortable all season long.
This sweater from the Banana Republic is made from recycled wool and nylon, so it's both stylish and environmentally friendly. It's also got a relaxed fit that lets you layer over it or wear it by itself. And with its straight hemline and comfy cotton feel, this sweater will help you look your best all season long! Plus, the cable knit design dupes the iconic Rory Gilmore sweater.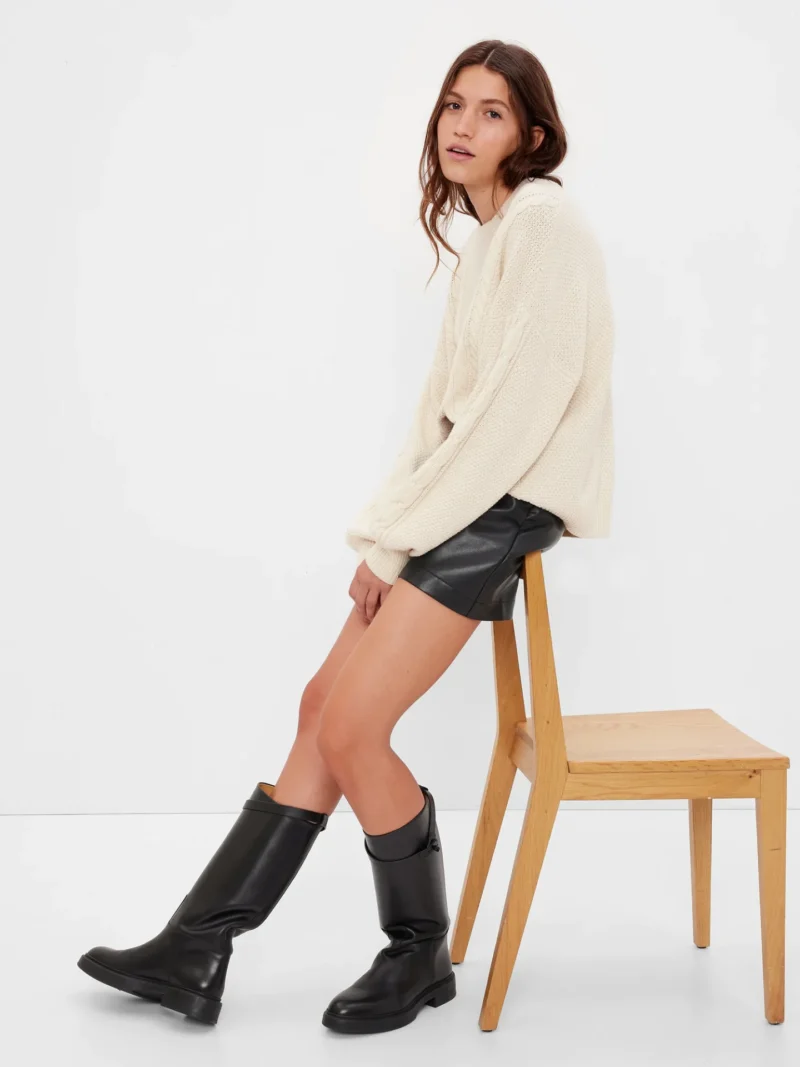 Have you ever wanted to dress like Rory Gilmore? Well, now you can with the Cable-Knit Sweater from Gap. This sweater is a dead ringer for the one Rory wore in the seasons of Gilmore Girls. The soft cable-knit fabric is cozy and warm, and the long balloon sleeves add a touch of whimsy.
Plus, the cable-knit detailing all over gives the sweater a touch of classic style. So if you're looking for a Rory Gilmore-approved sweater, this is the one for you. This cozy sweater will keep you warm all winter while still making you look cute!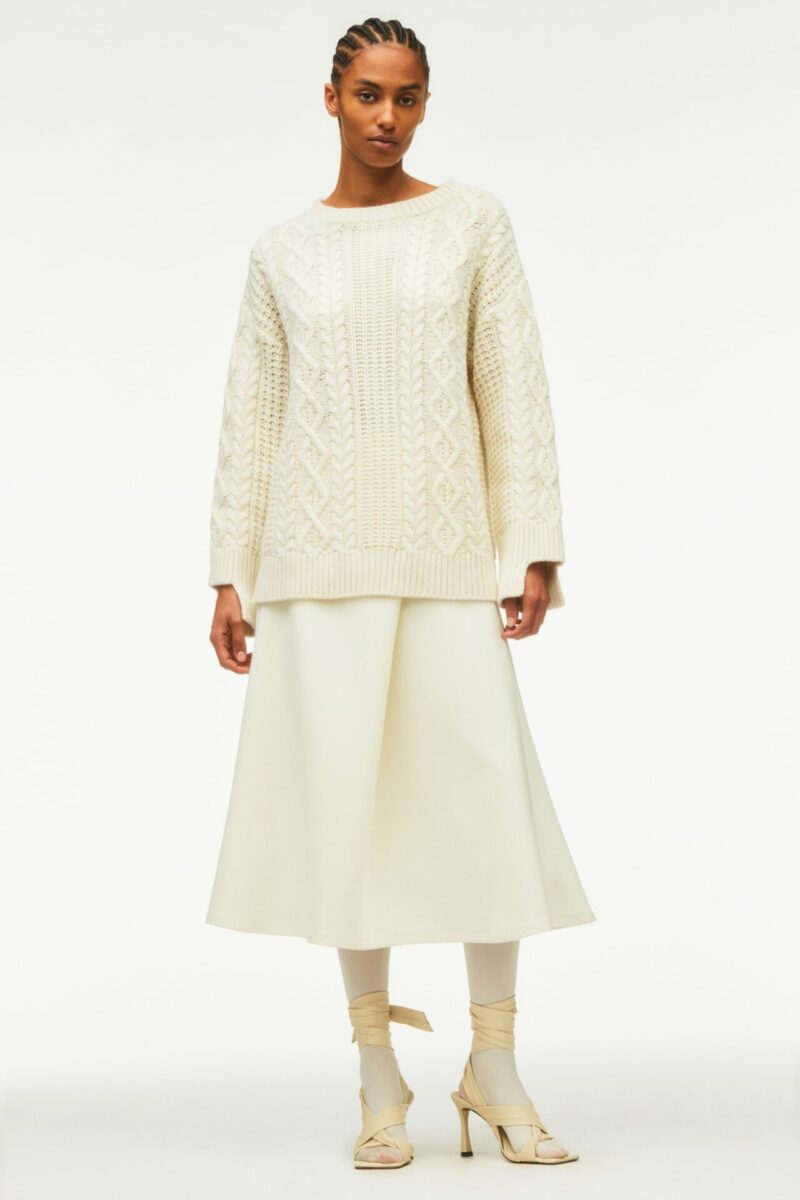 If you're a Gilmore Girls fan, you'll want to grab this limited-edition wool cable knit sweater from Zara. This sweater is made of 100% wool. It features a round neck, long sleeves, and asymmetric rib trim at the sleeves and hem.
The round neckline helps keep your neck warm during cold weather months while simultaneously making it easy for you to get dressed quickly in the morning. You won't have to worry about fumbling around with clasps or buttons while trying not to spill coffee all over yourself! The raised cable-knit detail gives it a unique look that is sure to turn heads. Get it now before it's gone!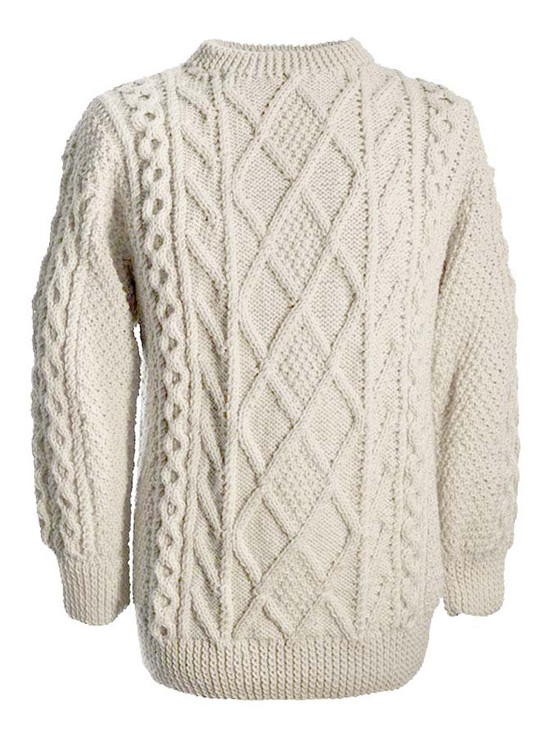 The Rory Gilmore sweater is a staple in the wardrobe of the titular character on the show Gilmore Girls. The iconic sweater has been much sought after by fans of the show. And recently, a dupe has been found!
The White Clan Sweater from Aran is a must-have for any girl trying to achieve that Rory Gilmore sweater look. The hand-knit sweater features a central panel of moss-filled diamonds and trellis, flanked by chevrons and single rows of honeycomb. And this design tells a story.
The trellis represents the stone-walled fields of the Aran Islands, while the honeycomb stitch symbolizes work. The diamonds, meanwhile, symbolize a wish for wealth. This beautiful hand-knitted Aran sweater is sure to please any Gilmore Girls fan at a fraction of the price of the original!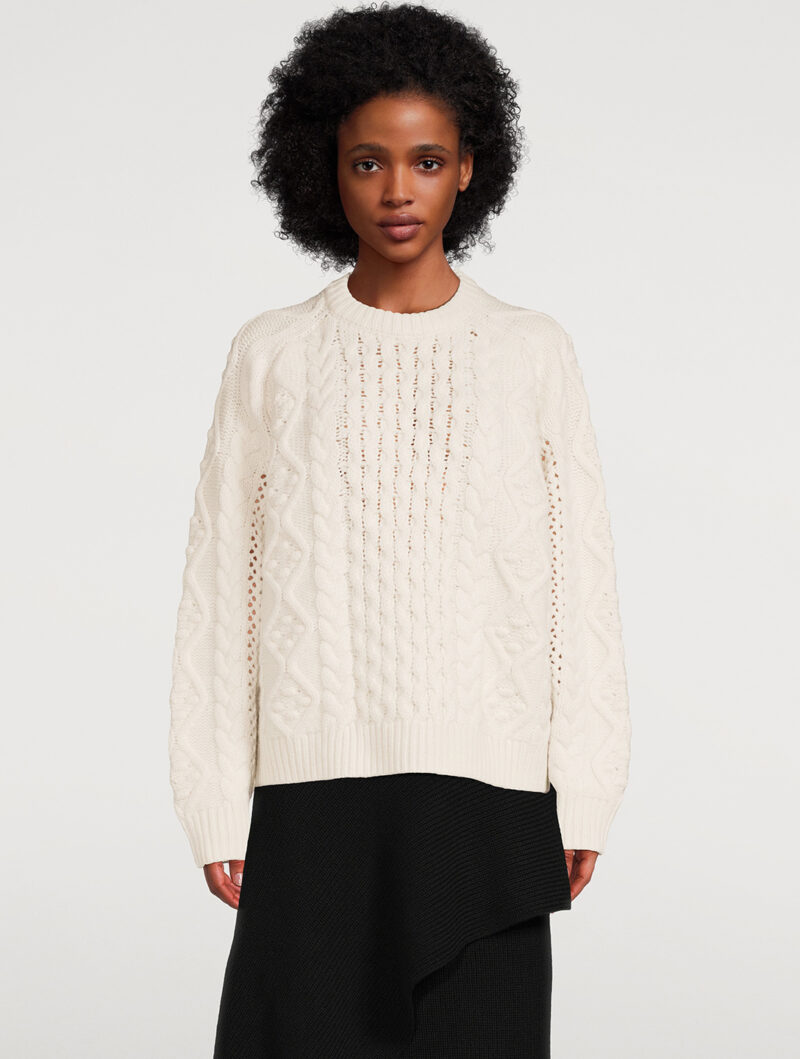 We've got a little something for all you Gilmore Girls fans out there. This Wool and Cashmere Cable-Knit Sweater from Loulou Studio is the perfect piece of knitwear to add to your wardrobe. Channel your inner Rory Gilmore with this sweater dupe.
The wool-cashmere blend keeps things cozy, while the cabled design adds just the right amount of texture. It's also shaped into an oversized silhouette for a relaxed look – just like Rory would wear it. So go ahead and add this must-have to your wardrobe today. You won't regret it!
Seriously: investing in a good Rory Gilmore sweater is totally worth it. How cute does Rory look in it here?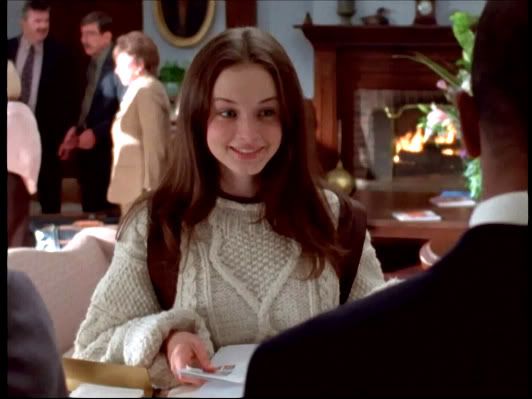 You can see that Rory even layers the sweater over another sweater for added warmth.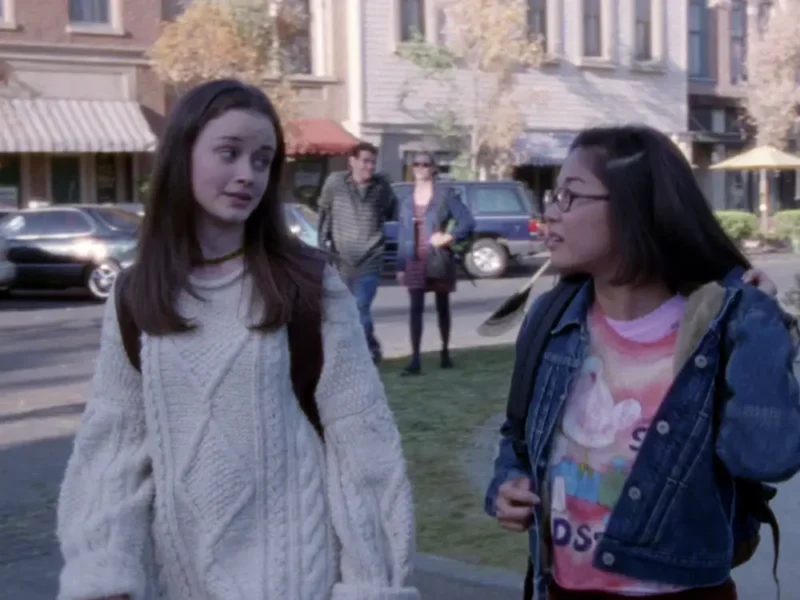 Why We Love Rory Gilmore
Rory Gilmore has won viewers' hearts ever since she first graced our screens in 2000. There are so many things to love about Rory Gilmore—here are just a few of them!
She's Smart as a Whip
Rory is one of the smartest characters on television, period. She routinely aces her classes at Chilton, then later at Yale, with very little effort. And she's not just smart academically—she's also incredibly street-smart. Time and time again, Rory outsmarts people twice her age, whether it's outwitting her mother's meddling ex-boyfriend or getting the better of her wealthy grandparents. And of course, her clothes reflect her intelligence!
She Has Great Taste in Books (and Everything Else)
Rory is a voracious reader with impeccable taste—in books and everything else. She knows exactly what she likes and isn't afraid to stick to her guns, even when everyone around her is telling her that she's wrong. Remember when she refused to watch Star Wars because she thought it would be "a colossal waste of time"? Or when she stood up to Emily and Richard Gilmore after they dismissed her beloved boyfriend, Dean? That takes guts.
She's An Inspiration
She always strives to be a better person—and usually succeeds.
Rory may be smart and confident, but she's also humble and always striving to better herself. She may make mistakes along the way (we all do), but she always becomes a better person. One of the things we love most about Rory is that she's always growing and changing—but she never forgets her roots.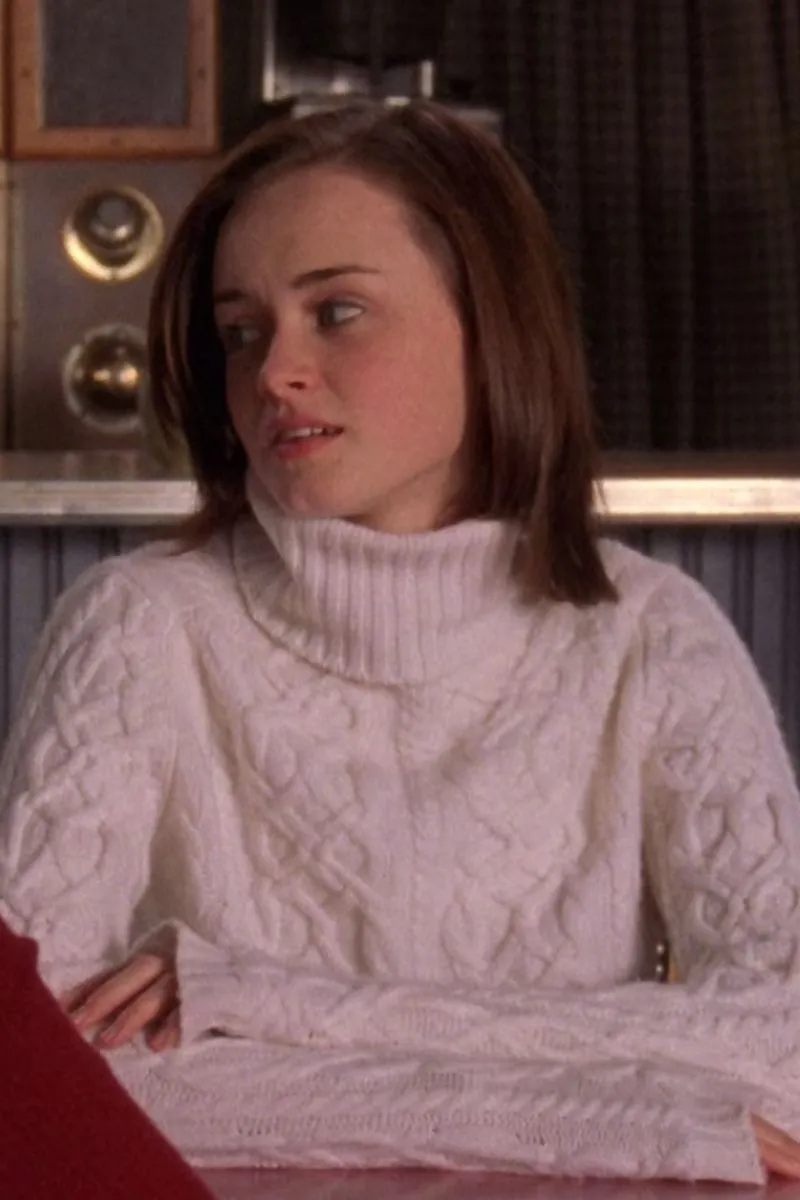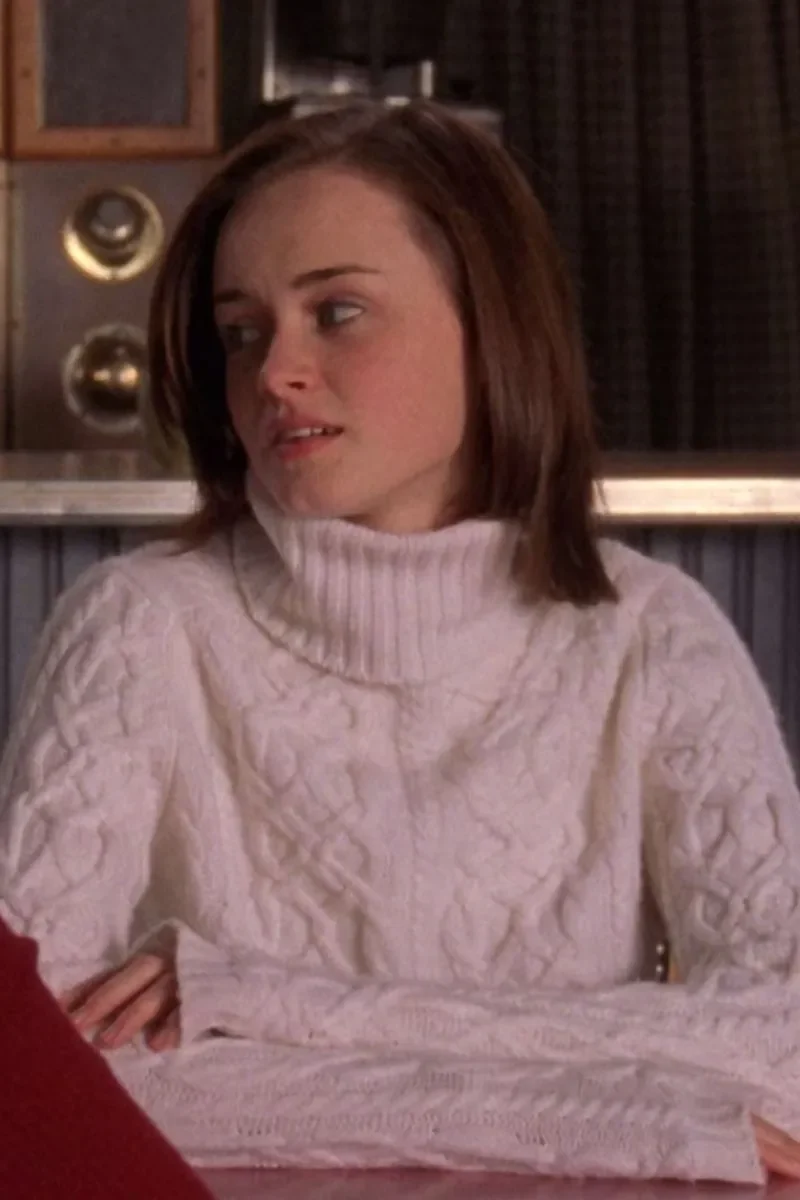 The (Not So) Secret History of Rory Gilmore's Iconic Cable-Knit Sweater
It's no secret that Gilmore Girls is one of the most beloved TV shows of all time. And as any true fan knows, a large part of that affection is due to the show's lead character, Rory Gilmore. Rory is the epitome of a well-rounded individual—she's smart, talented, and hardworking. She's also stylish, with a penchant for classic pieces with a modern twist. Case in point: her now-iconic cable-knit sweater.
Rory first wore the sweater in Season 1, Episode 7. Since then, the sweater has become synonymous with Rory (and, by extension, with the show itself). It's been imitated by fashion brands and worn by celebrities.
So what is it about this seemingly simple sweater that has made it so popular? Let's take a closer look.
The Comfortable Cable-Knit Sweater
One of the reasons the Rory Gilmore sweater is so popular is that it's just so darn comfortable. It's perfect for lounging around on a lazy Sunday or running errands on a chilly day. The oversized fit also makes it ideal for layering over shirts or under jackets. And let's not forget about the warm and cozy factor—the cable knit material is sure to keep you cozy all winter long.
The Timeless Style of the Cable-Knit Sweater
Another thing that makes the Rory Gilmore sweater so popular is its timeless style. The cable knit pattern is classic and chic, and the cream color goes with everything. The possibilities are endless, whether pairing it with jeans and sneakers or a skirt and heels. It's no wonder celebs like Blake Lively and Olivia Palermo has been spotted wearing similar sweaters time and time again.
Takeaway
There's no doubt that Rory Gilmore's iconic cable-knit sweater is one of the most popular pieces of clothing in recent memory. Whether you're a diehard Gilmore Girls fan or just love a good cozy sweater, there's no denying its appeal. So go ahead and cozy up in your own Rory Gilmore sweater this winter—you won't regret it!