Whether you're planning something casual or more intricate, these Christmas table settings and Christmas table decoration ideas will give you the inspiration you need to spruce up your home this holiday season!
A quick and easy way to get into the holiday mood and show your guests a little extra love is through your efforts with your Christmas table decorations.
Whether you go all out or keep it simple, there are countless ways to decorate a holiday table. So to help you out in choosing the best Christmas table setting ideas, this collection of Christmas table decorating ideas in a variety of styles will surely add a little magic and cheer to your end-of-year celebrations!
Christmas Table Settings For Inspiration
Whether you are hosting a festive brunch, tea, or family dinner, or simply want to dress up the table with a festive theme that can stay up throughout the holiday season, this list is made just for you!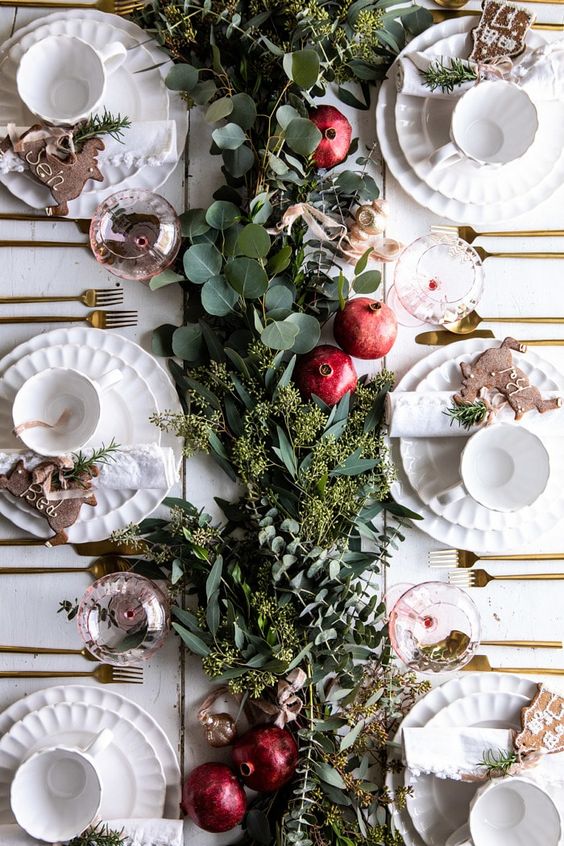 If you're going for an all-white table and plates, you can choose vibrant colors of reds, greens, and gold in the form of flatware, greenery, and fruits to perfectly complement the stark white materials you have!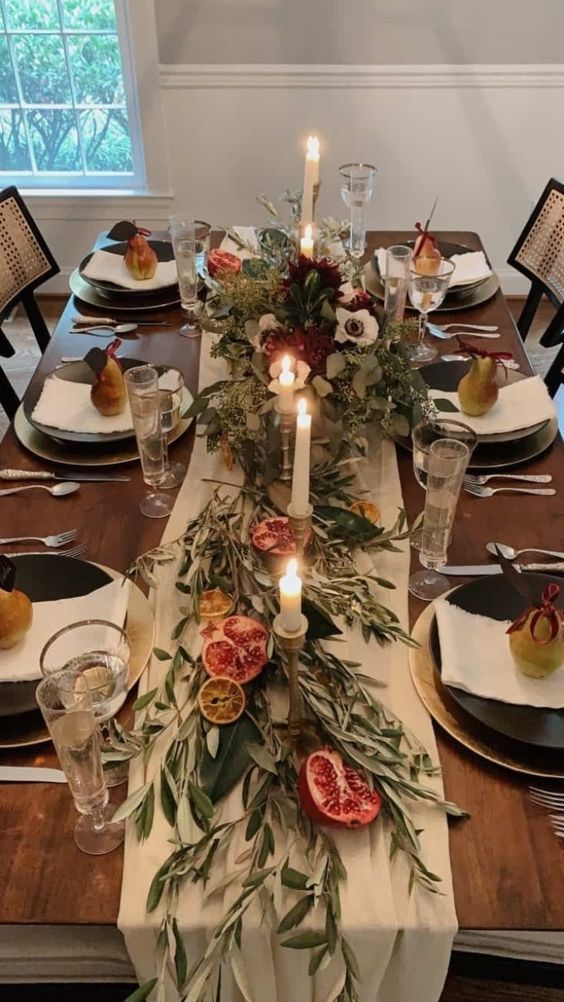 Bring the beautiful outdoors into your home by using natural elements like dried fruits and greenery for your Christmas table-setting ideas! This is one of our favorite Christmas table setting ideas for the natural vibe.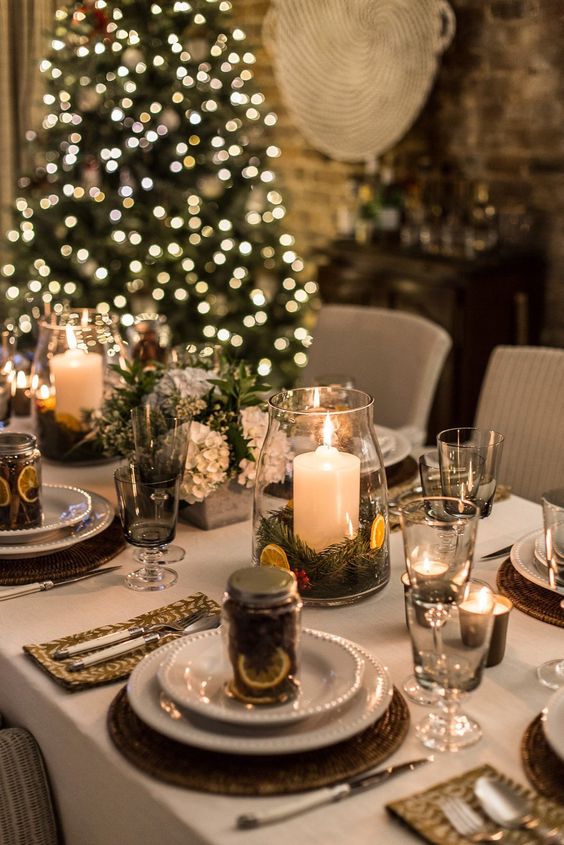 If you're unsure of what colors to use on your Christmas table settings, then picking a neutral color palette is the safest way to go. They're easy to decorate and pair with other colors.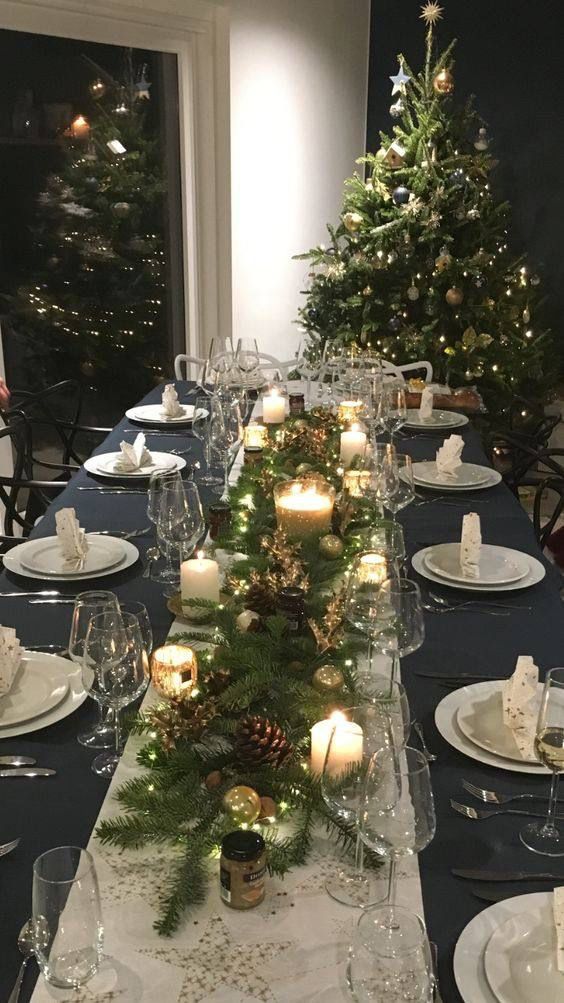 Incorporate classic Christmas elements into your Christmas table settings to put your guests in that cheery and festive mood! We love these Christmas table decoration ideas for a really magical dinner.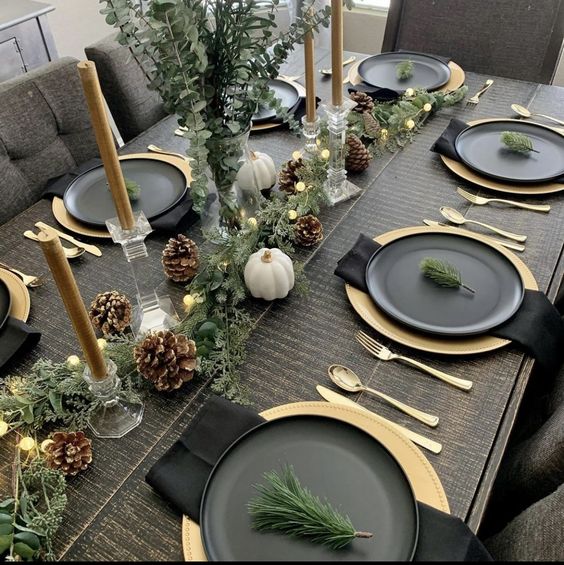 I am honestly in love with the dark color palette on this particular Christmas table setting! It looks so luxurious without using too many decors!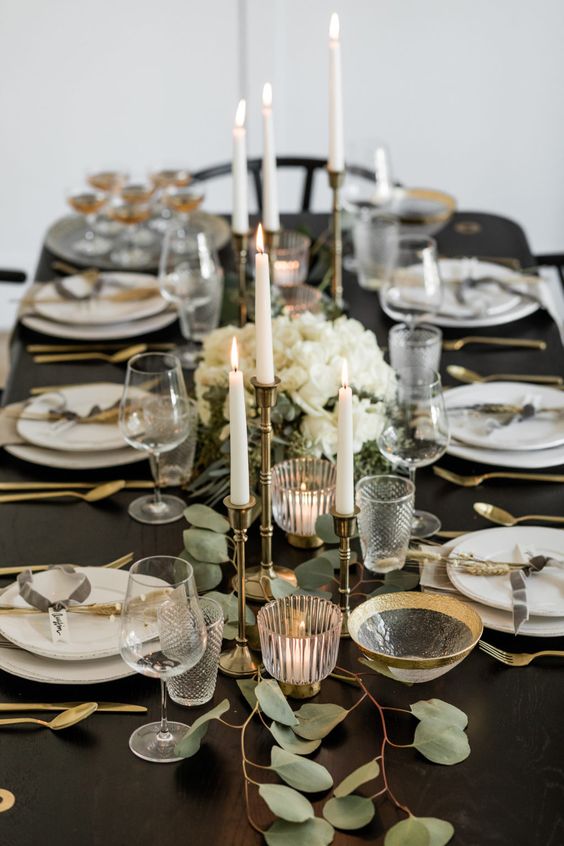 Adding white and gold accents to your dark wood table is an easy way to give it that classy look. You can also use different textures to elevate the decoration's aesthetic even further with flowers, greenery, and ribbons.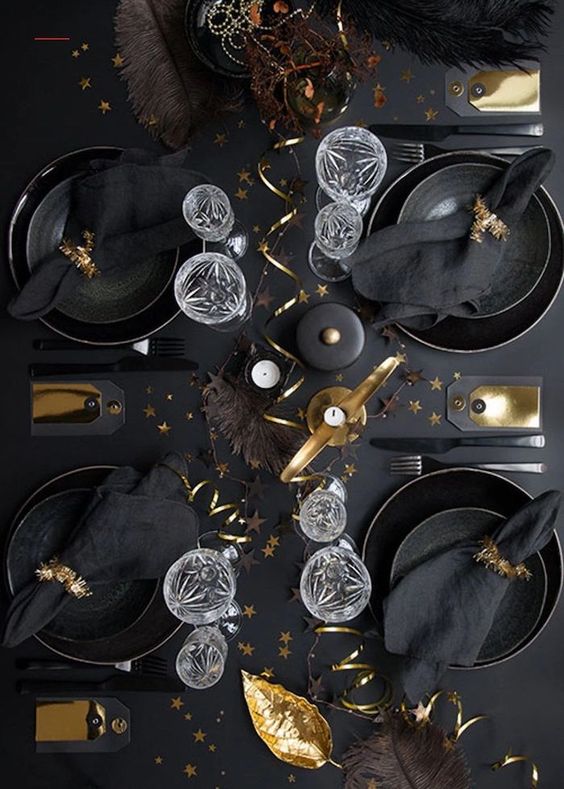 Black isn't usually the first color you think of when you plan your Christmas table decorations but that doesn't mean you have to avoid this color at all costs. I personally love the unique and luxe vibe they give off!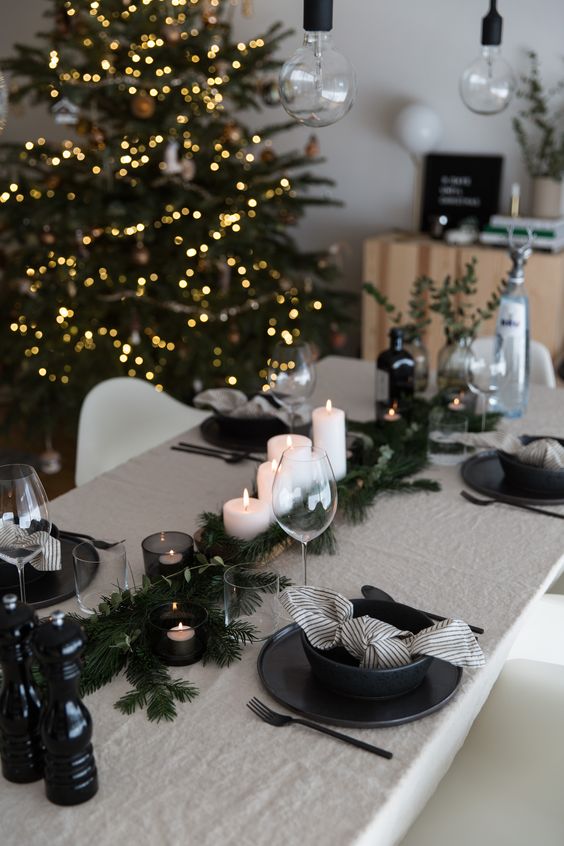 If you find using too many dark colors on your Christmas table settings too intimidating, you can use a white tablecloth and add some greenery to get that perfect contrast like this table setting! This is one of our favorite Christmas table setting ideas for a modern look.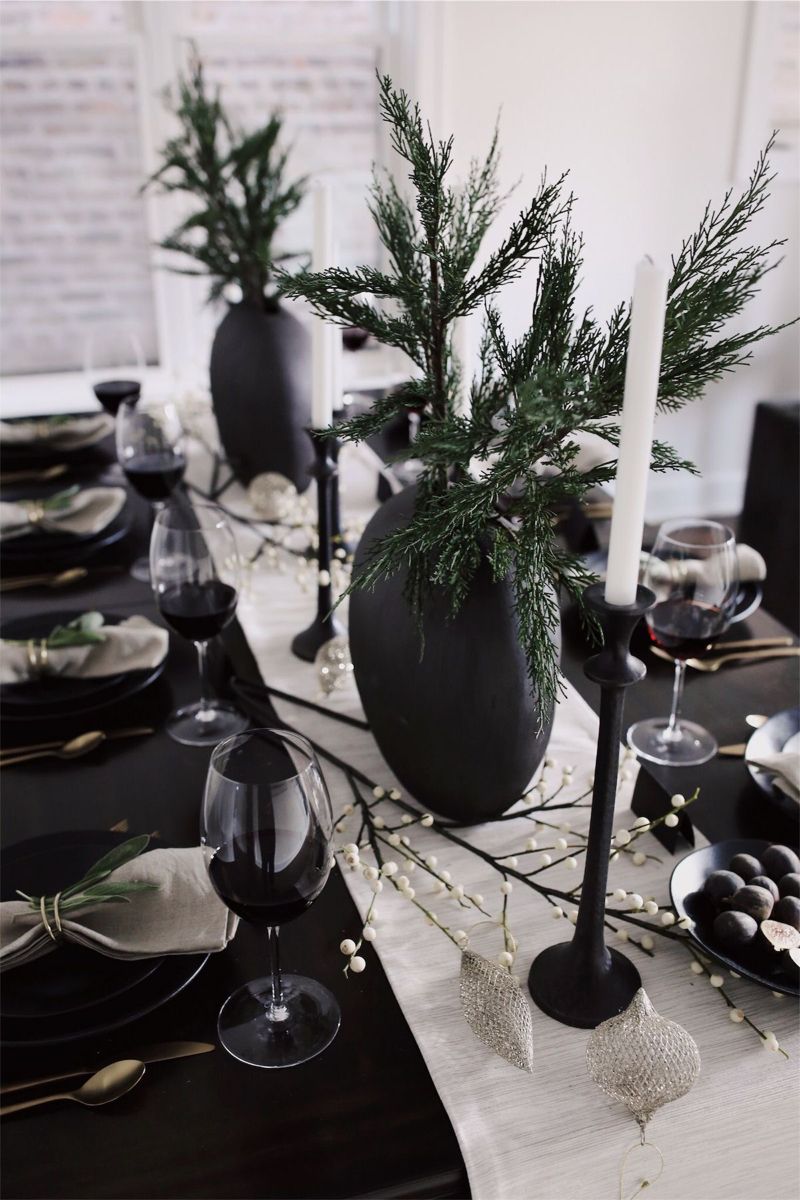 But if you're ready to embrace the dark side but still want to incorporate contrasting colors, you can use white for your decoration accents to make it pop!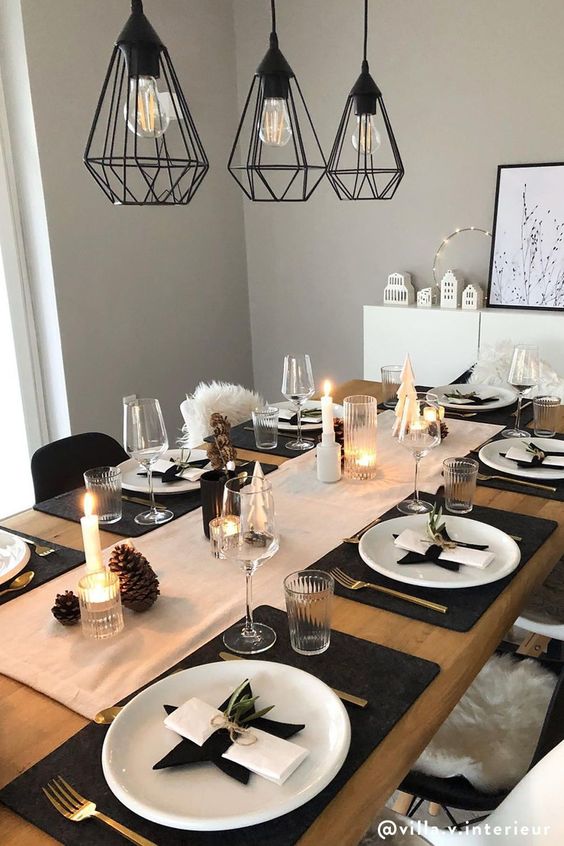 No time to make fussy Christmas table settings? This minimalistic and chic decoration could be perfect for you!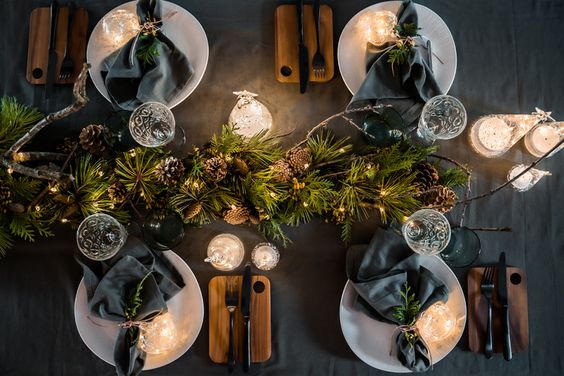 I am honestly in love with the rustic holiday vibes this Christmas table is giving off! I just love how the wooden accents are complimenting the gray tones so well.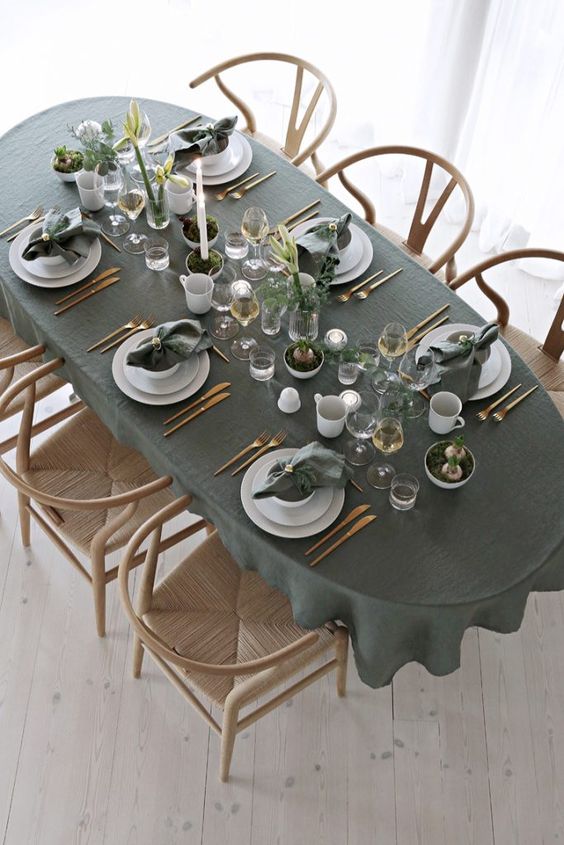 Another minimalistic design is this beautiful sage green Christmas table setting. Those gold accents just fit so perfectly well with the color palette of the decor!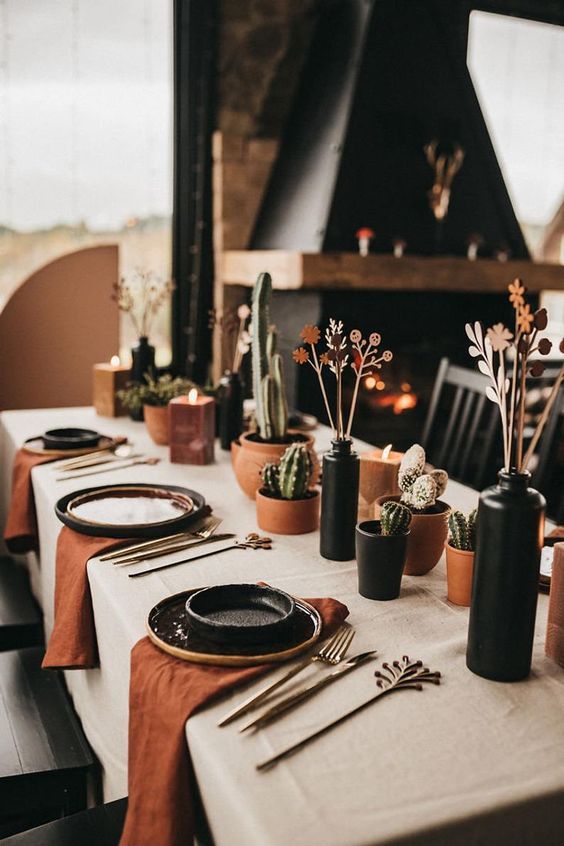 I am utterly obsessed with the color palette used on this Christmas table setting! The orange and other earth tones just give off that warm, inviting vibe that can also be reminiscent of fall. This is one of our favorite Christmas table setting ideas for the southwest!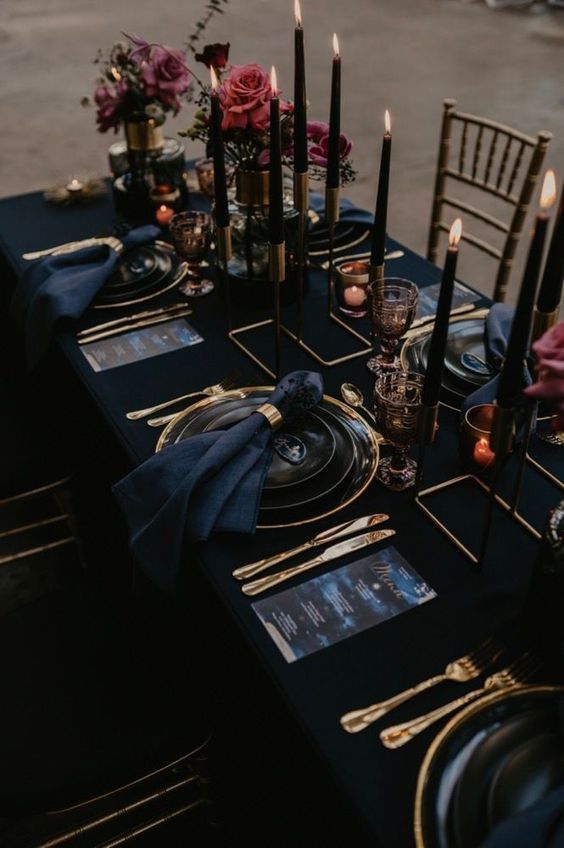 Want dark colors for your Christmas table setting this year but don't want to use black? Then why not consider a gorgeous midnight blue? You can also add vibrantly colored florals as your accents!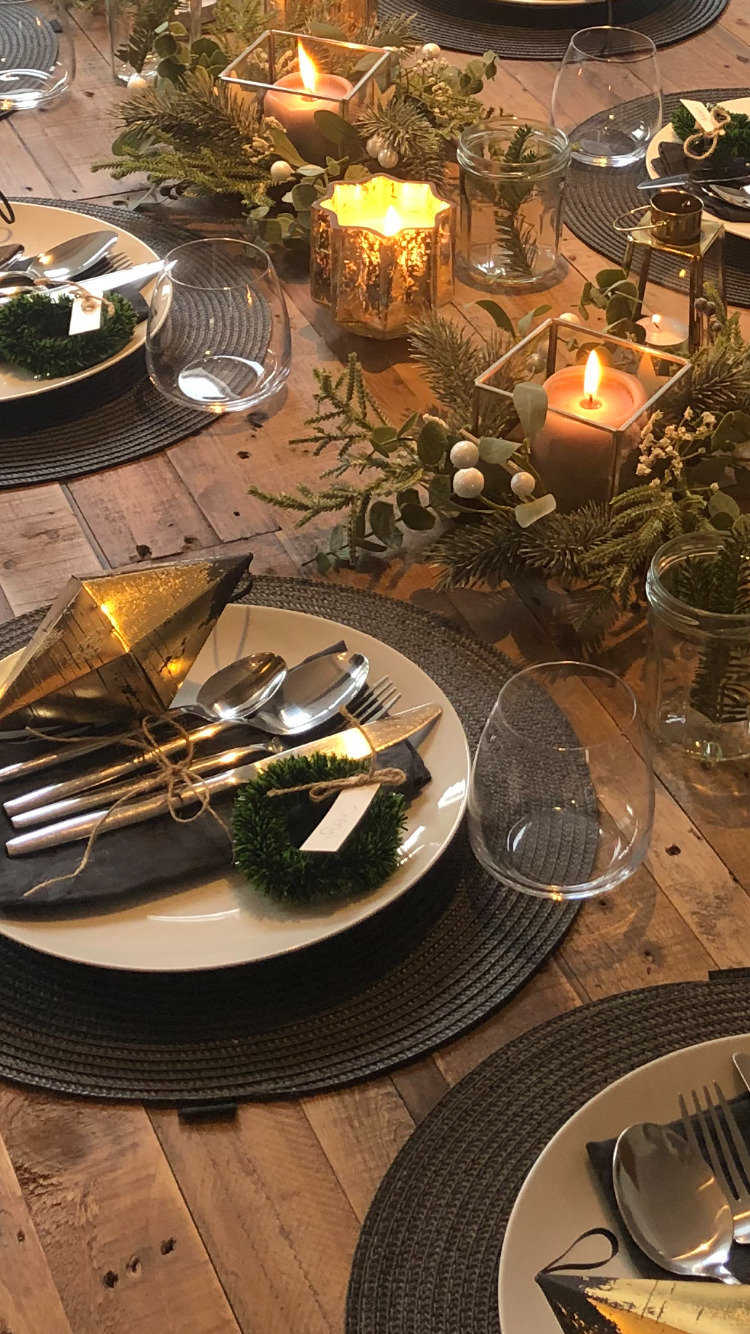 How stunning are these Christmas table settings? Utilizing natural elements like wood and greenery in your Christmas table settings will instantly give your decorations that rustic and cozy feel.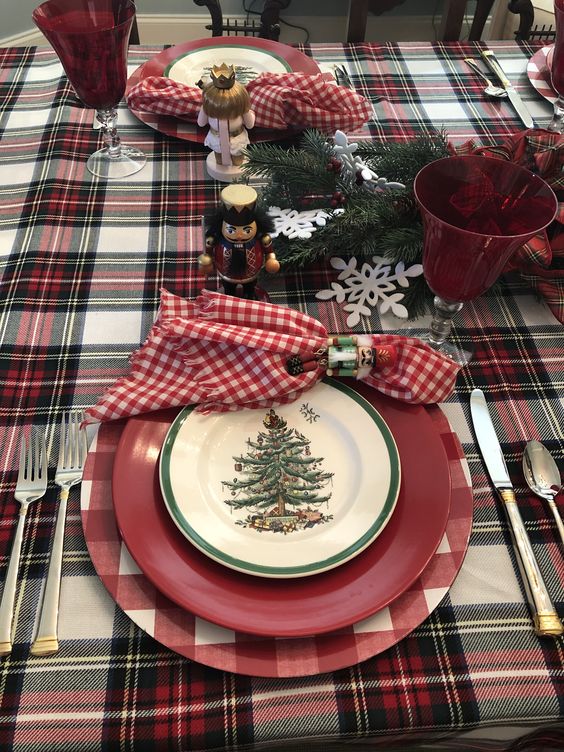 I absolutely adore this plaid Christmas table setting! It's so cute and fun, and you don't need to decorate too much because the plaid pattern is already doing most of the work for you.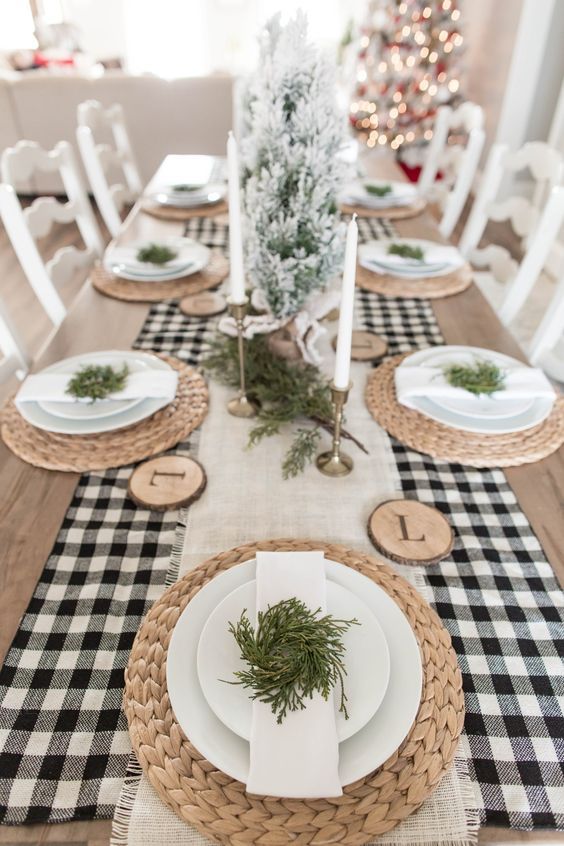 If you don't want to overwhelm your guests with too much plaid, maybe putting it in just the center of your table would do! You can also opt to use something with neutral colors like a black-and-white pattern. This is one of our favorite Christmas table setting ideas for the classic farmhouse vibe.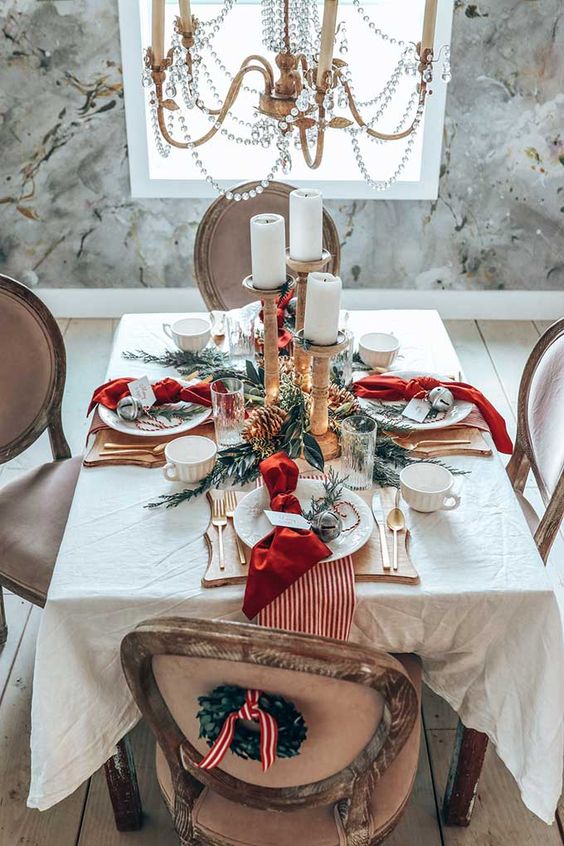 By using a white linen tablecloth, you can incorporate bold colors like red and gold to make your Christmas table settings a lot jollier!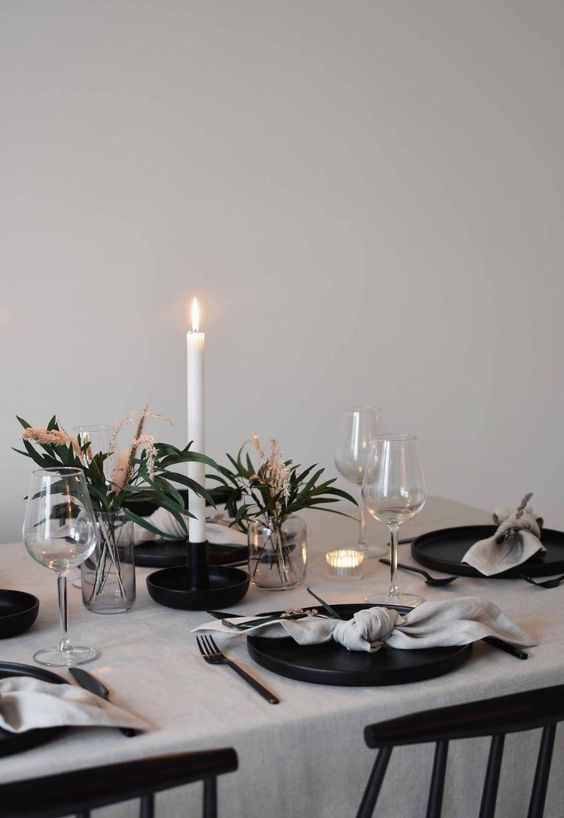 For those who get too busy around the holidays and have no time to prepare intricate Christmas table settings, this minimalist black and grey Christmas table setting could be perfect for you!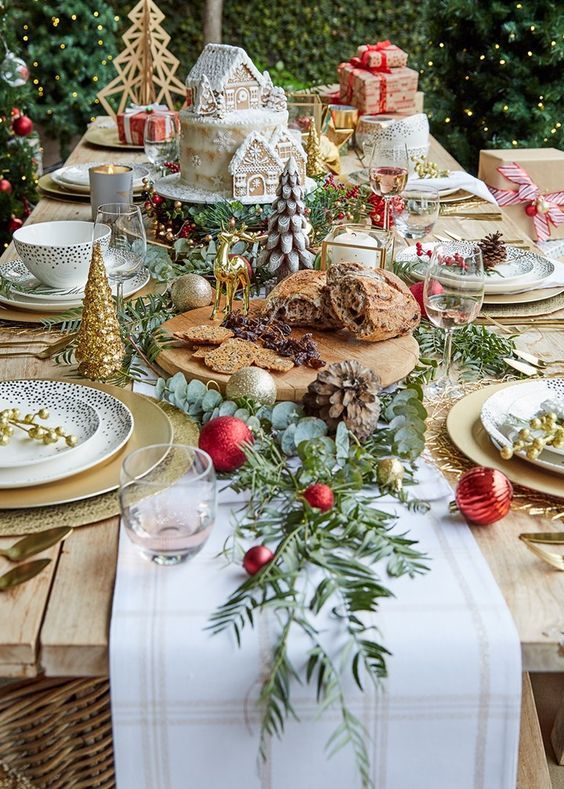 How fun are these Christmas table decorations? This particular Christmas table setting just ticks all the boxes when it comes to preparing festive decor this upcoming holiday season. Not only does this have greenery and ornaments, but even the food is also specially prepared for Christmas!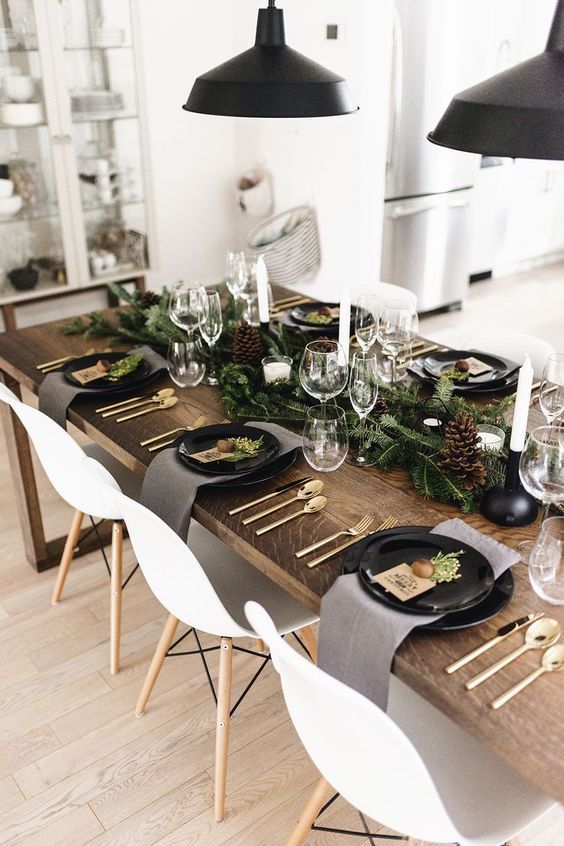 These modern black and gold Christmas table settings are just utterly gorgeous! The colors complement each other so much!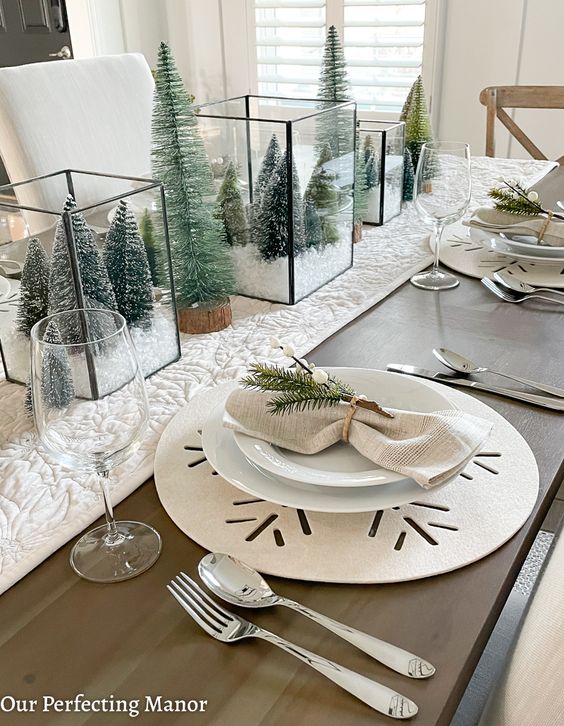 Here's another modern Christmas table setting that's perfect for that Christmas farmhouse vibe!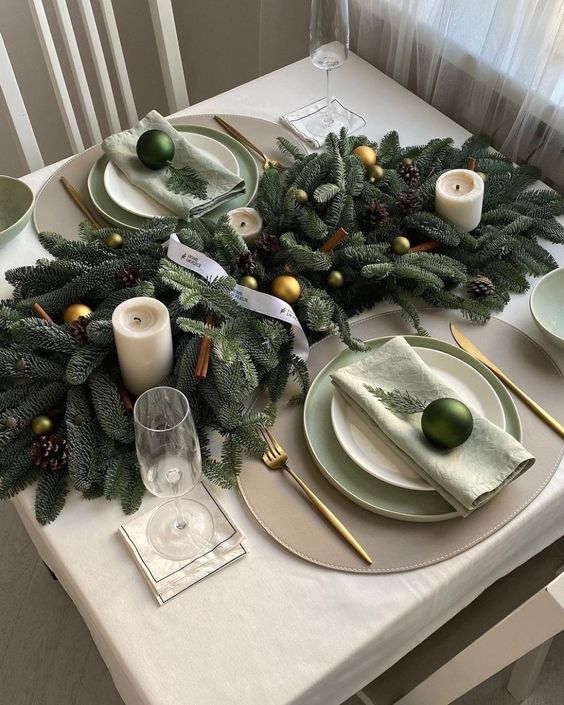 If you're not expecting many guests and just planning to have intimate dinners with your significant other then this beautiful Christmas table setting displayed with bountiful greenery might be something you'll want to take inspiration from!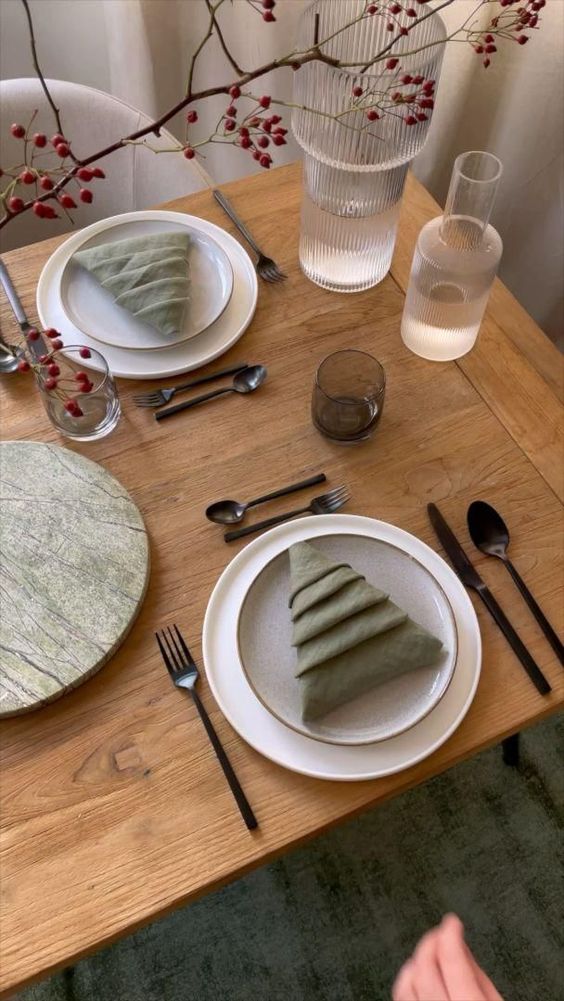 Nordic designs give off the perfect minimalist vibes that are so trendy right now and I'm not surprised that they look just as good when it comes to Christmas table settings!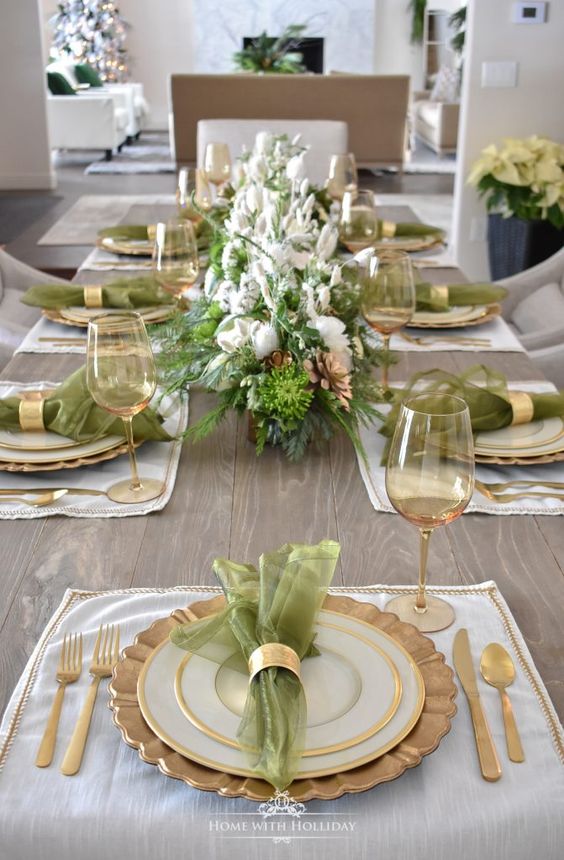 Green and gold Christmas table settings surely do give your holiday decorations an elegant feel to them! This is one of our favorite Christmas table setting ideas for a chic and elegant vibe.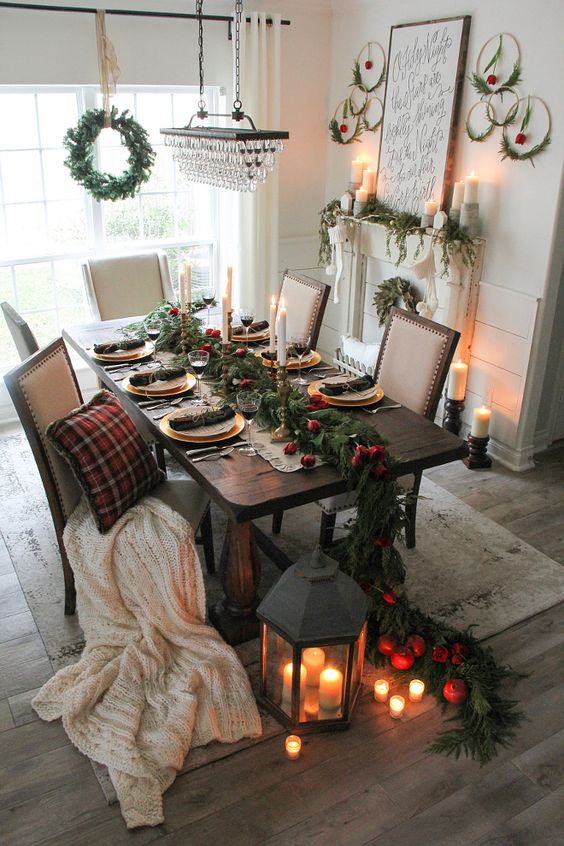 This whole Christmas table setup just gives the perfect cozy vibes. From the blankets to the candles, and overly long garlands!
You can also get creative with your placemats and incorporate them into your overall Christmas table settings for a more cohesive look!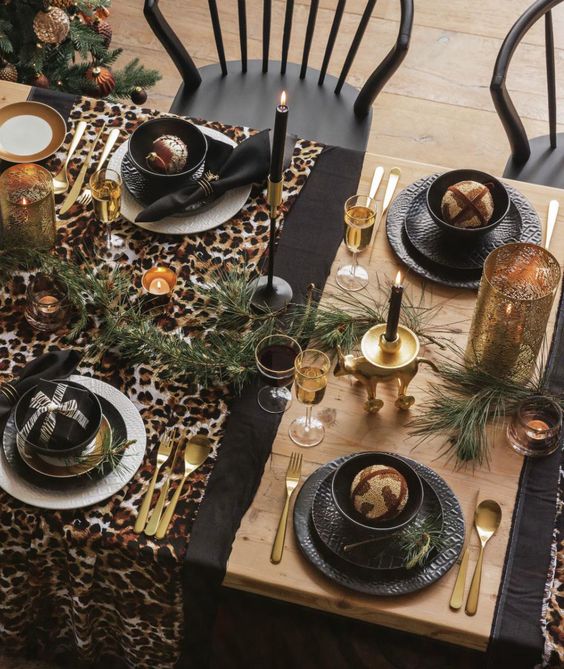 Try something completely out of the box this upcoming holiday season by incorporating animal prints into your Christmas table settings like this leopard tablecloth!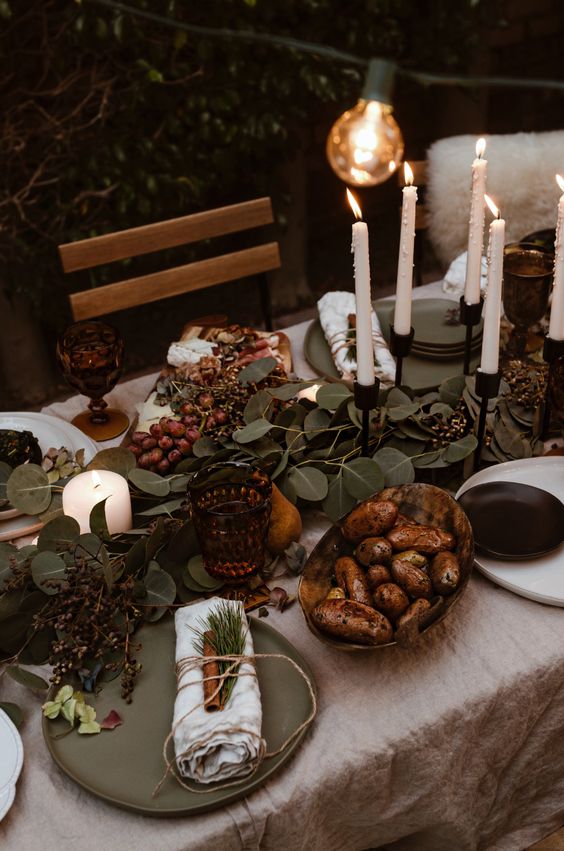 You can never go wrong with an abundance of greenery, root crops, and fruits when it comes to decorating your Christmas table settings. This kind of setup looks utterly gorgeous and fresh!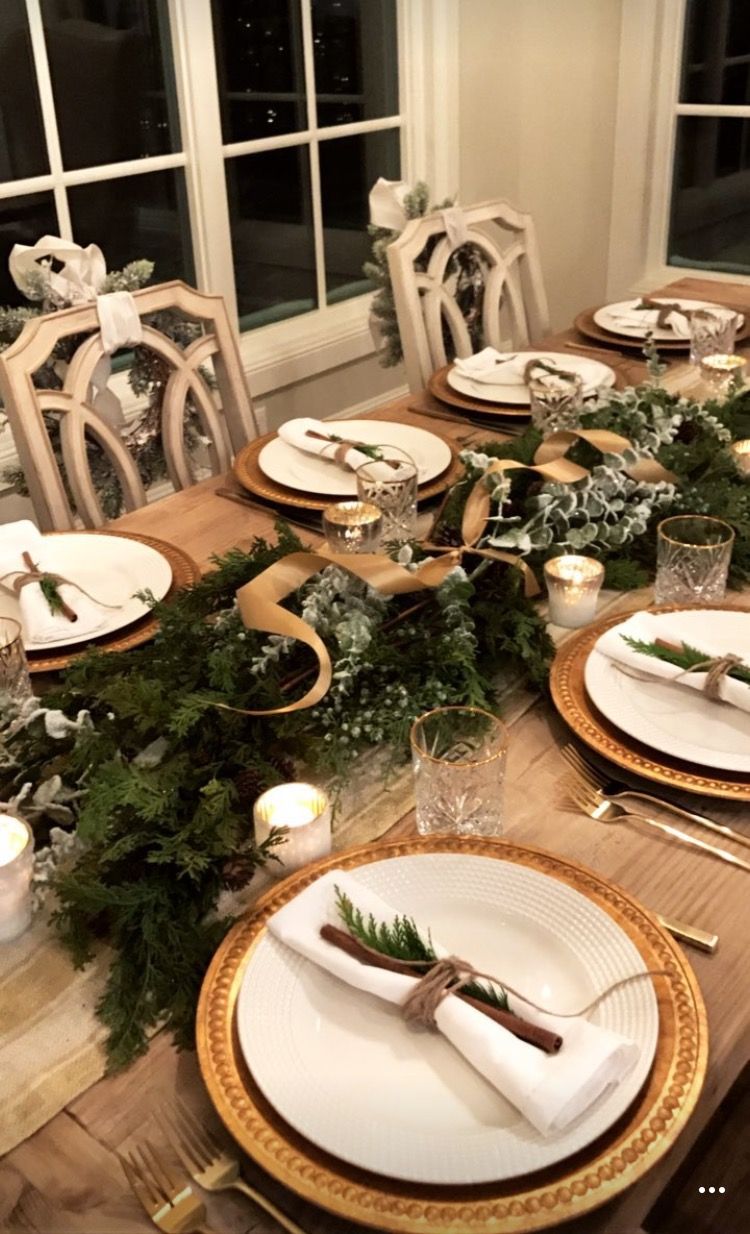 Go the extra mile with your Christmas table setup by also decorating the chairs your guests and loved ones will be using this holiday season!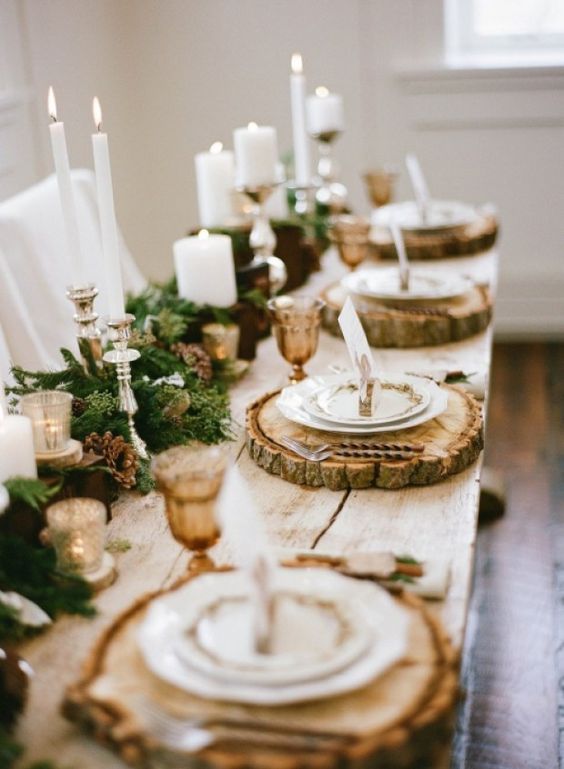 This kind of Christmas table setup just perfectly combines both elegance and those cozy, rustic vibes!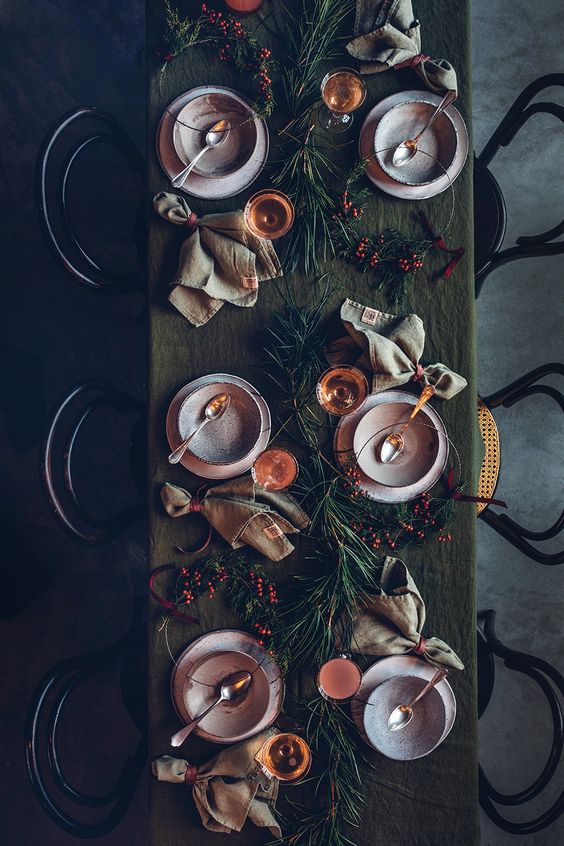 I am obsessed with this beautiful forest-green linen for the table! It compliments so well with the other greeneries and holly berries that really give this table setting that festive cheer!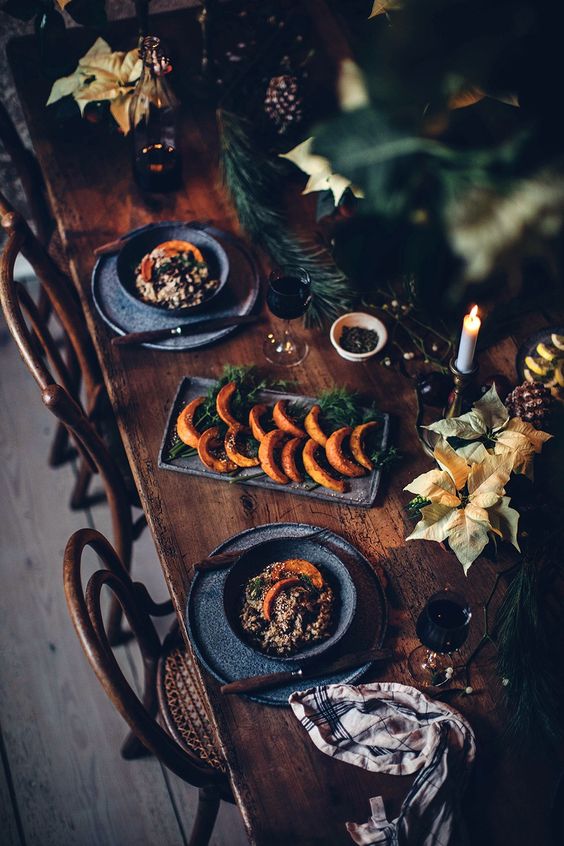 Complement your wooden table with a darker color palette for your dining wares like these navy blue plates!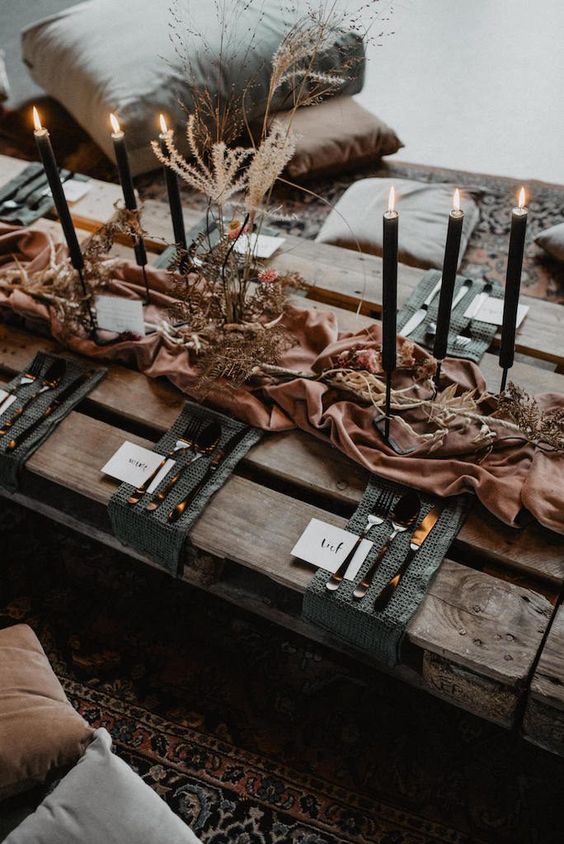 If you don't have any greeneries to decorate your Christmas table setting this year, try something unique with these dried leaves instead! You can also pair them with gorgeous coral linen and some chic, black candles!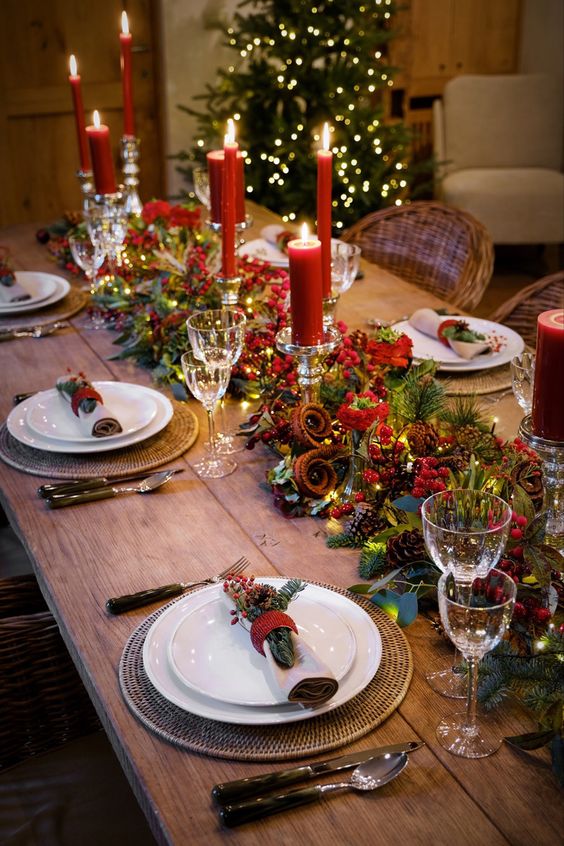 There's no perfect time to display your faux greeneries, pinecones, holly berries, and red candles around your Christmas table setting than this holiday season!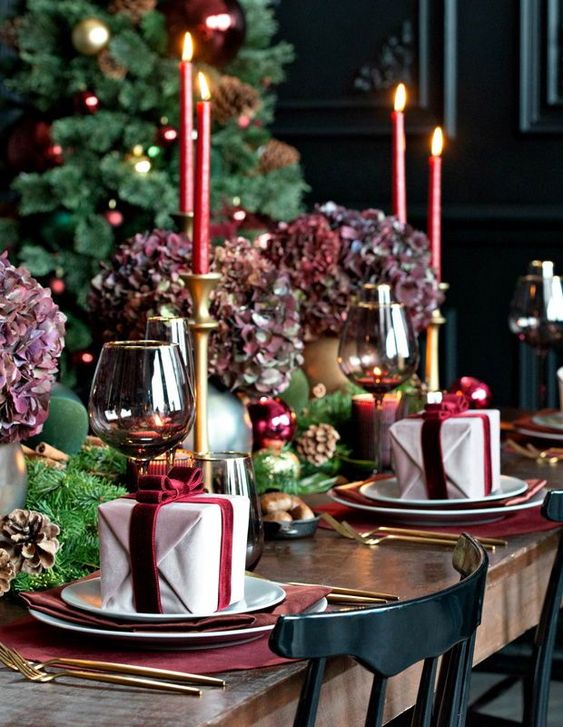 If you have the budget and time, you can simply add an abundance of varying textures and decorations this holiday season and go all out with setting up your Christmas tablescape. You can even leave a gift box for every guest to surprise them!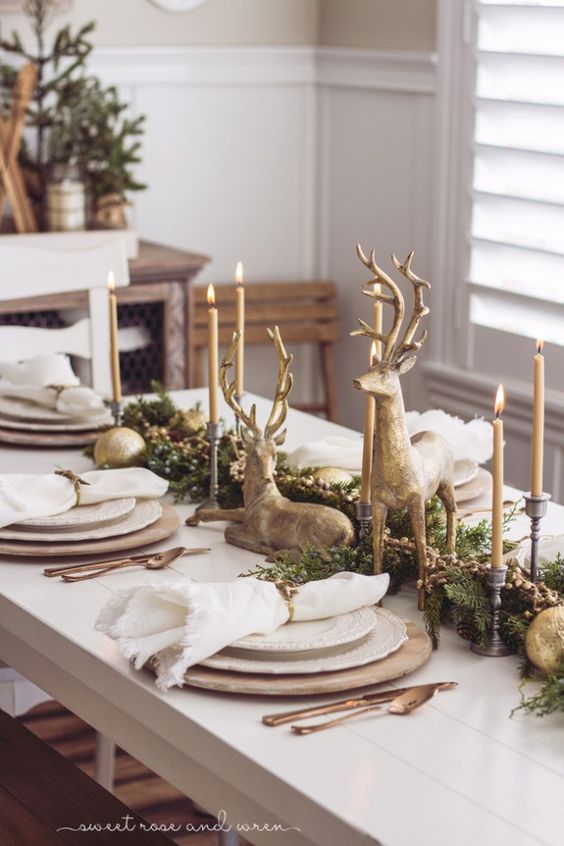 Make your Christmas tablescape feel a lot more festive by placing these stunning golden reindeer as your centerpiece!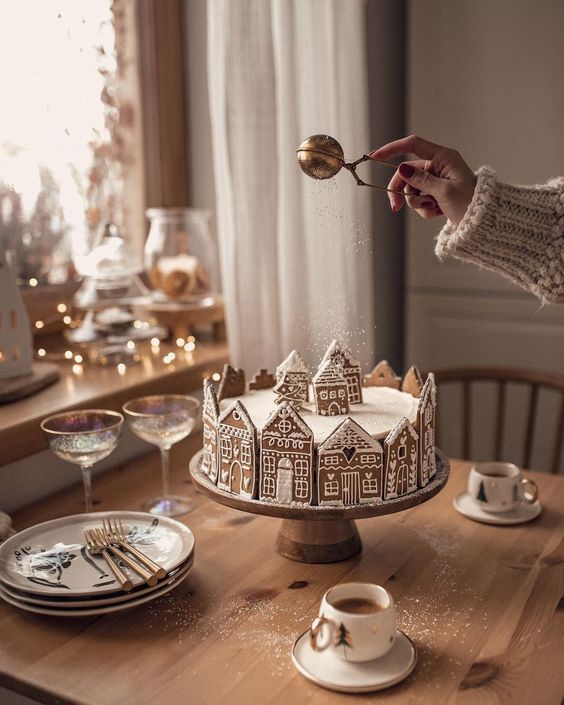 Make everyone anticipate dessert by making this mouth-watering cake the center of attention on your Christmas table setting!
These white, green, orange, and silver Christmas decorations certainly provide a warm, cozy atmosphere against the colder weather outside. This is one of my favorite Christmas table setting ideas to really incorporate the classic Yuletide vibes.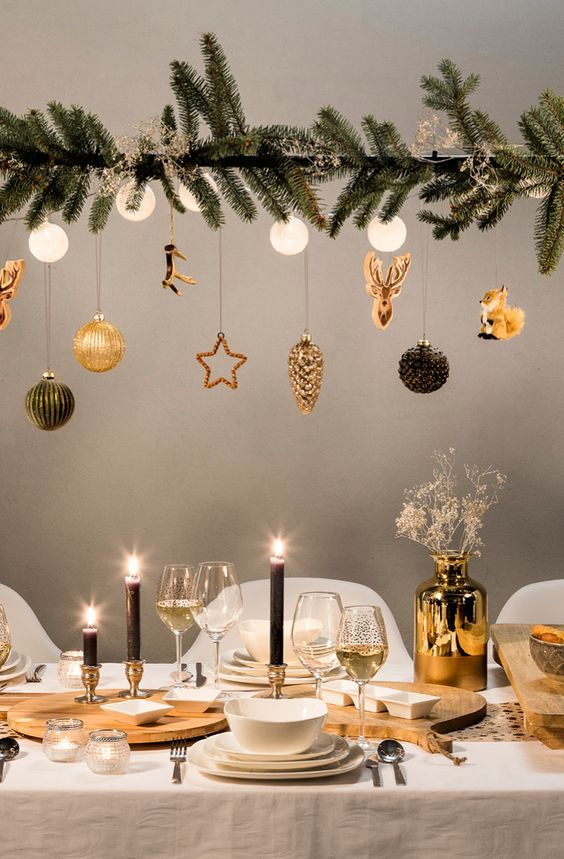 Sometimes your Christmas table settings don't always have to be placed right on the table itself, you can easily get creative with your decorations by putting ornaments above the table as well! This is one of our favorite Christmas table decoration ideas for both kids and adults. Feel free to personalize this with your own ornaments!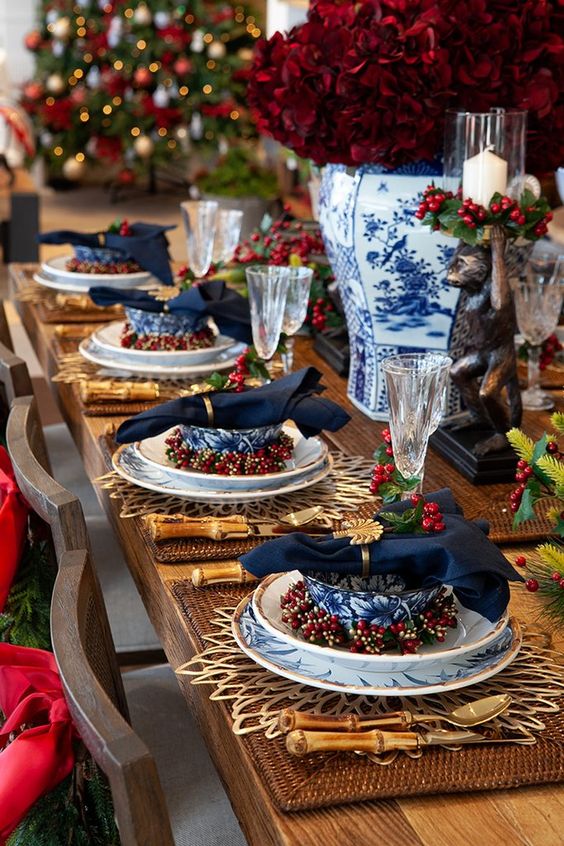 Show off your unique flatware and plates by making them the star of your Christmas table settings!