Looking for some nail art inspirations for the holidays? We've got you covered with these 45+ Red and Green Nails for Christmas!
One of the most exciting parts of the upcoming Yuletide season is planning the outfits we'll be wearing as we attend our annual Christmas parties, feasts, and any other holiday events.
While the clothes may take up the majority of our time, we can't possibly leave out having a good set of nails to make a statement.
After all, the ideal way to accessorize for any holiday party or family gathering is with a Yuletide-ready manicure. So this 2022, take a look at our well-curated Christmas nail art suggestions below.
Red And Green Nails For Christmas
Turn heads as you open your Christmas presents with these red and green nails for Christmas!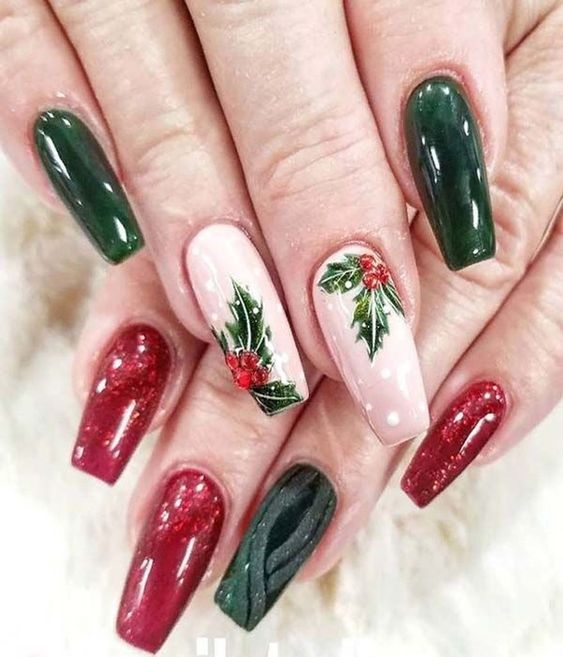 Get yourself into some holiday spirit with these nails!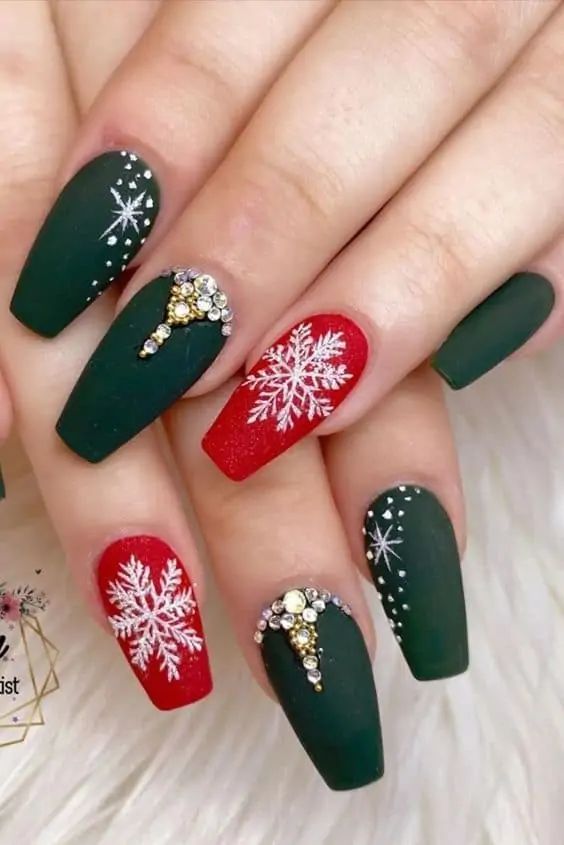 I just love the contrasting sparkle and matte design of these Christmas nails!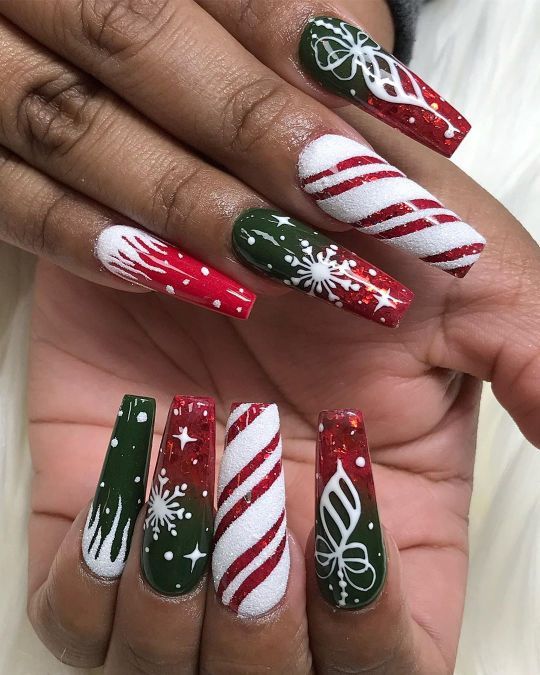 Look at how intricate these red and green nails are! Totally perfect for that upcoming Christmas party!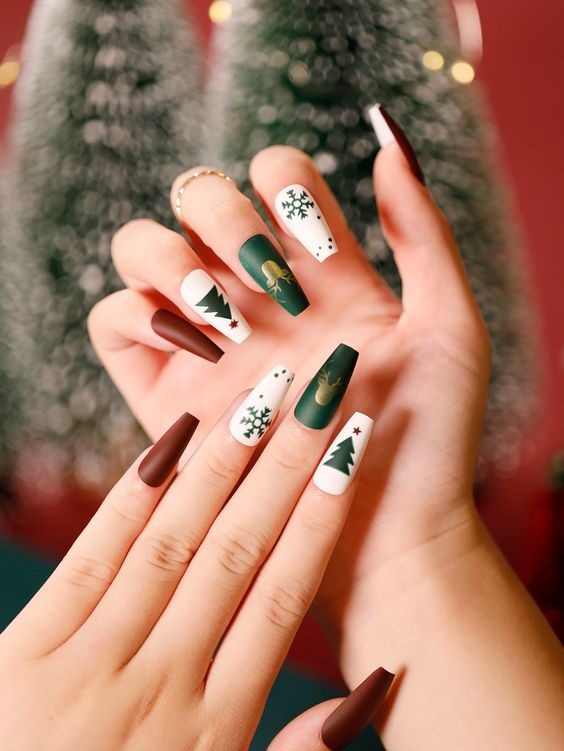 If you don't have the time to do your own Christmas nails or set up an appointment with your favorite manicurist, these pretty press-on nails will surely do the trick!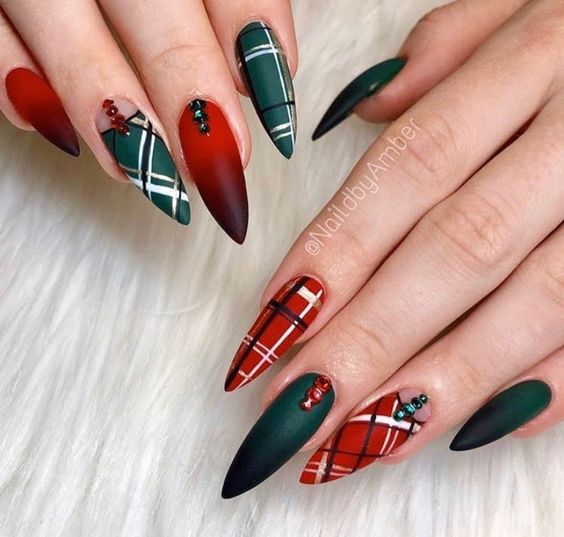 I love a good set of stiletto Christmas nail designs for any occasion. Maybe you'll love them with these Christmas-themed patterns too! These are definitely the coolest Christmas nail designs if you're looking to go all-out.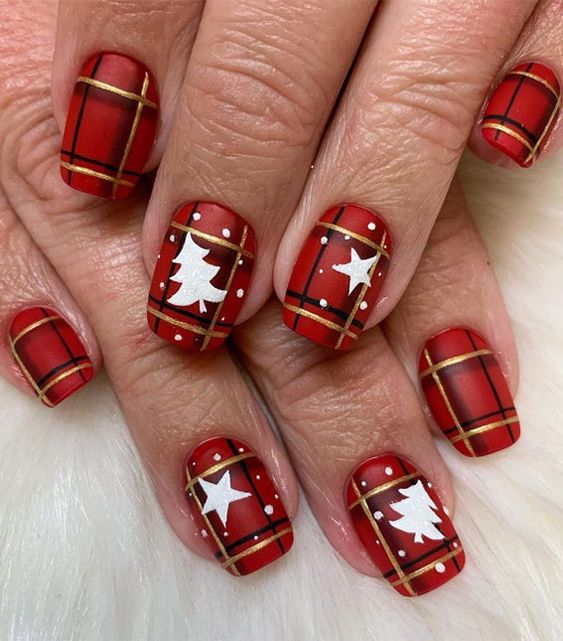 White on red is just a good color combo! Perhaps this is something you can try out for the holidays!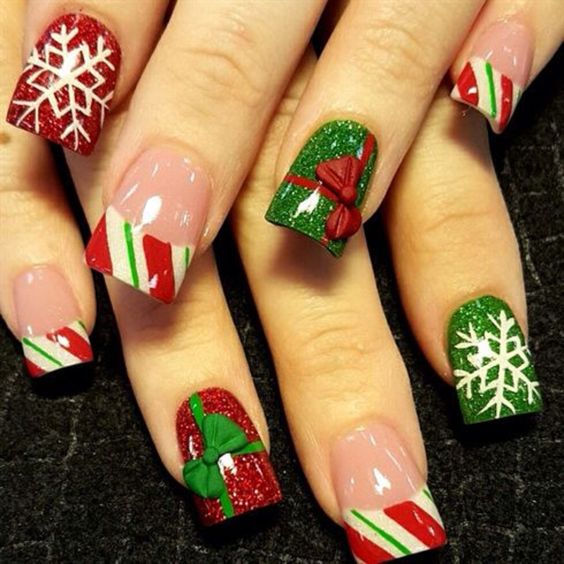 Not into long Christmas nail designs? That's completely fine! Maybe these medium-length Christmas nails will catch your eye!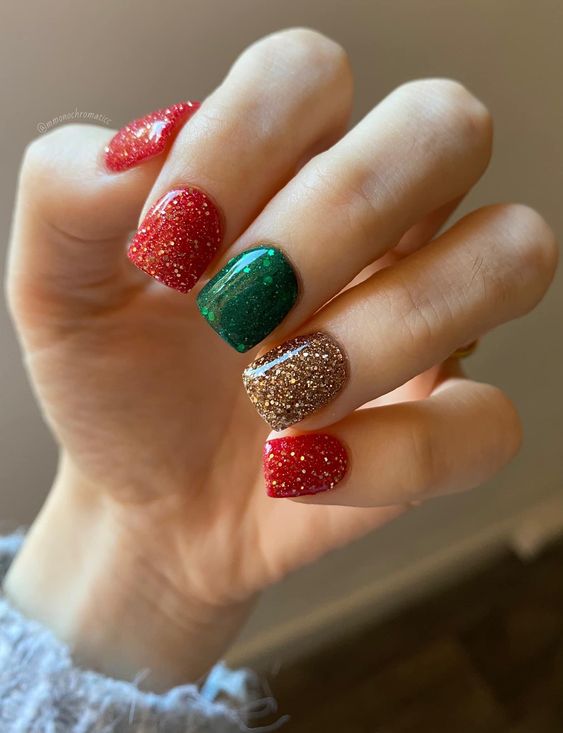 Simple yet stunning! I just love how the colors sparkle in this design!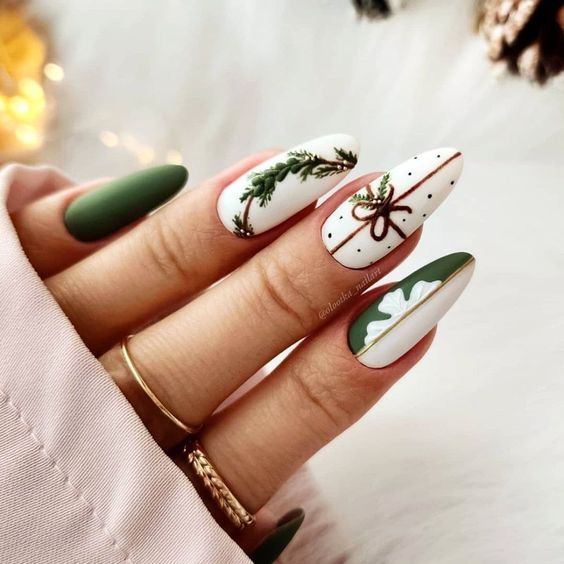 So classy and elegant! These Christmas nails are perfect for those who want something a bit understated.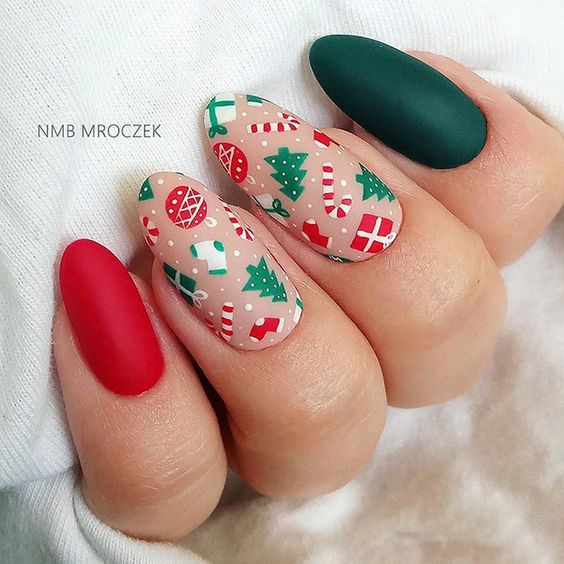 Want something more festive? The green and red details in these Christmas nails are just perfect!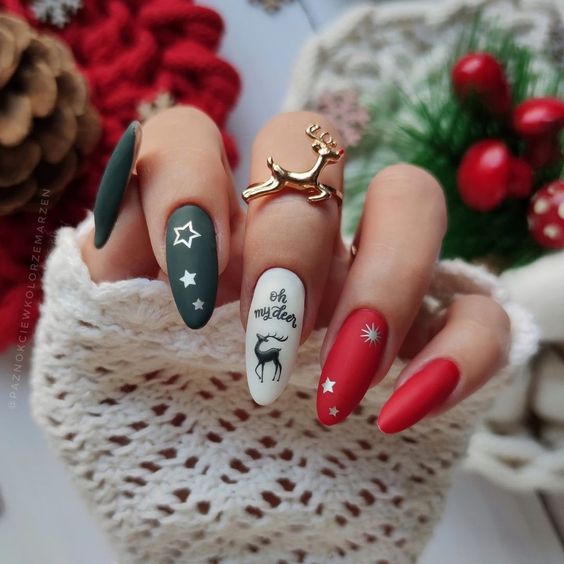 You can't have Christmas without reindeer!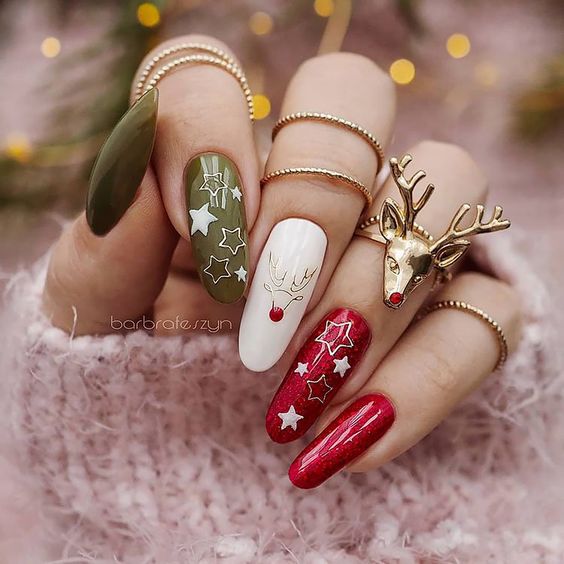 Here is another reindeer design for you and this one has the iconic Rudolph too!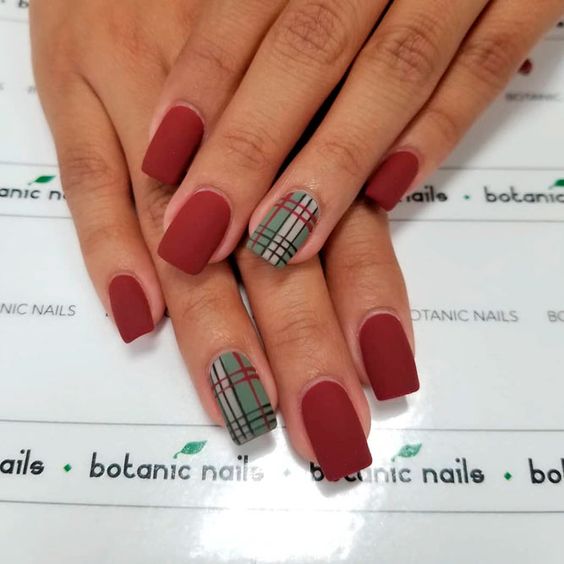 These Christmas nails just remind me of a warm, cozy sweater in the middle of winter.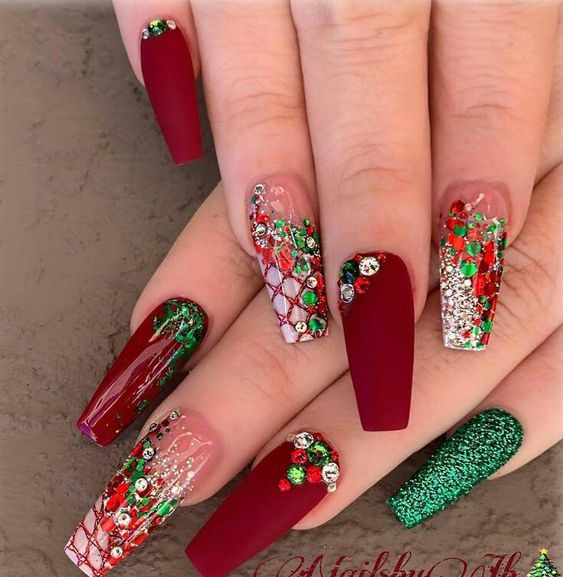 These flashy red and green nails might be up your speed if you're aiming to shine during your next Christmas event!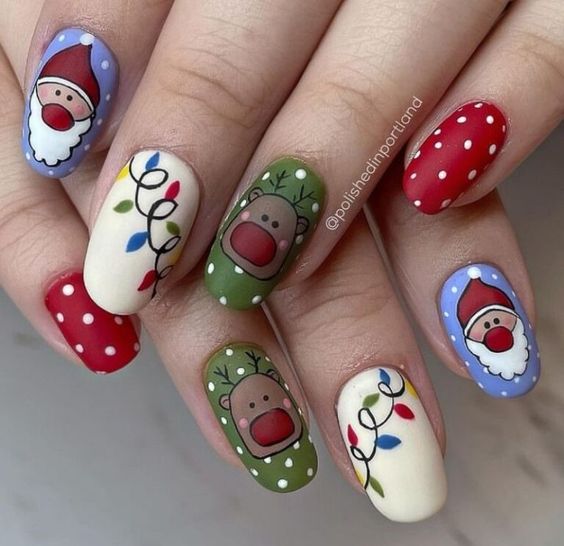 Check out this cute nail art if you really want your Christmas nail designs to be the epitome of the holiday season!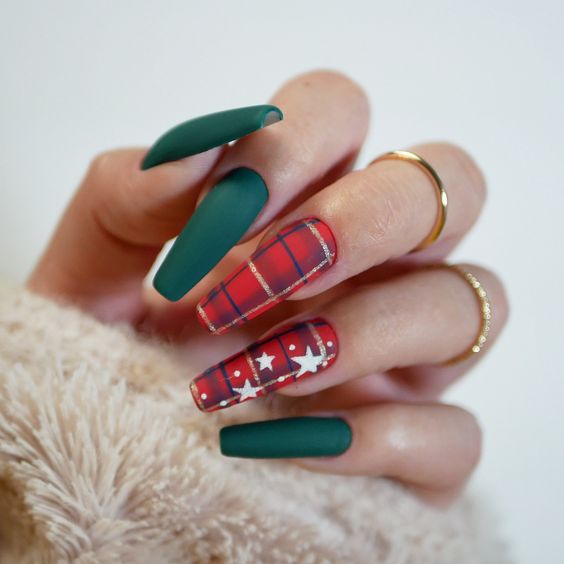 Have some fun mixing and matching Christmas patterns for your nails!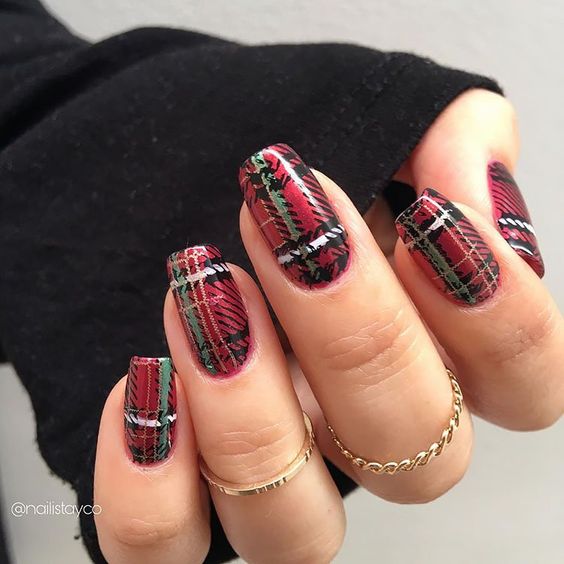 If you can't get enough of gingham patterns then you might want to try this one out!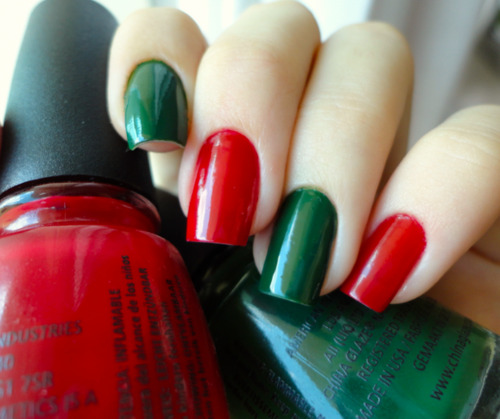 You can never go wrong with this classic shape and design for your Christmas nail designs!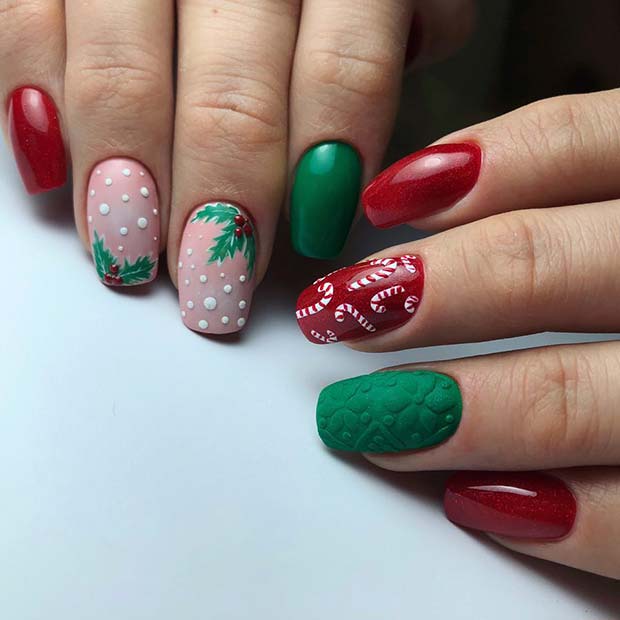 These embossed designs are just so cool and perfect for your next Christmas event!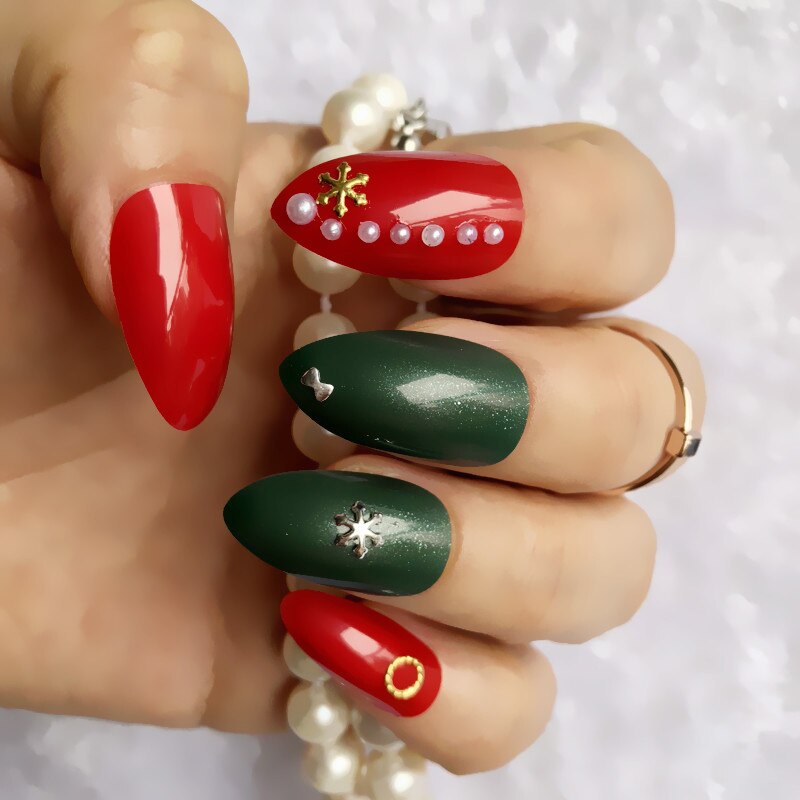 If you want something simple that won't take too much of your time, you might love these beginner-friendly faux nails!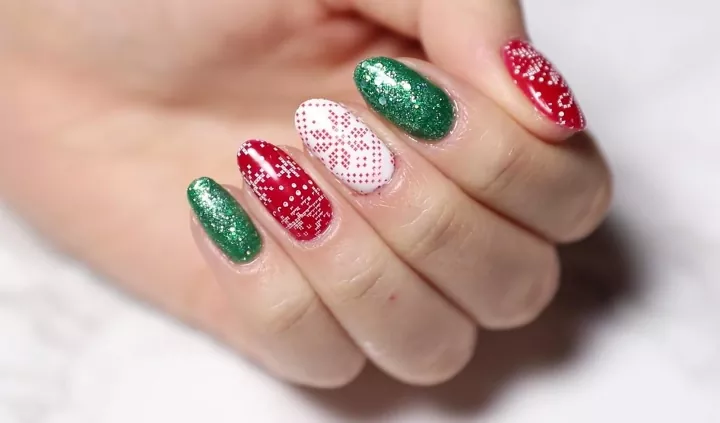 These intricate Christmas-themed patterns for your nails will surely put you in a festive mood!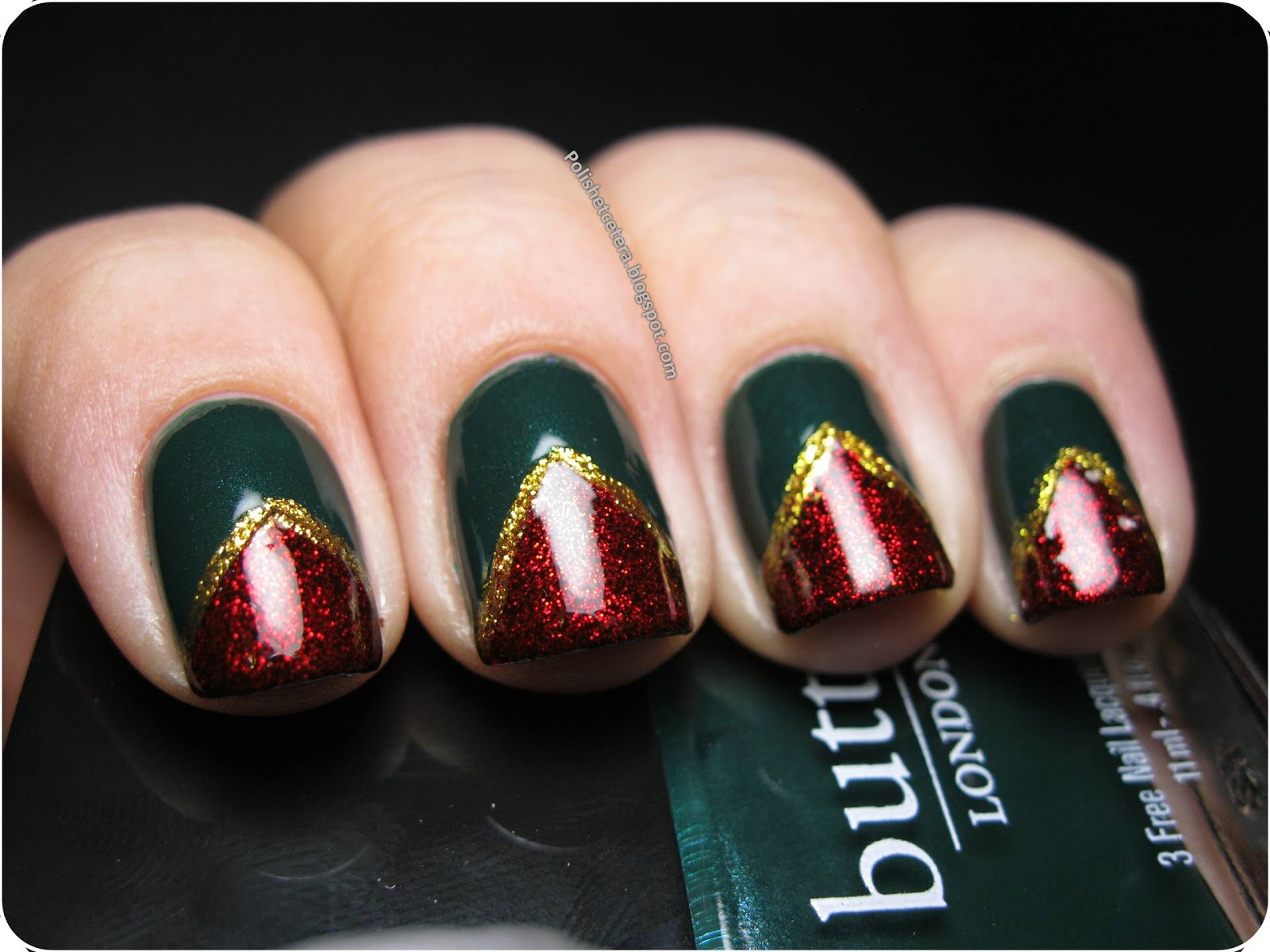 Anyone who loves sparkly nails will certainly want to try these nail designs!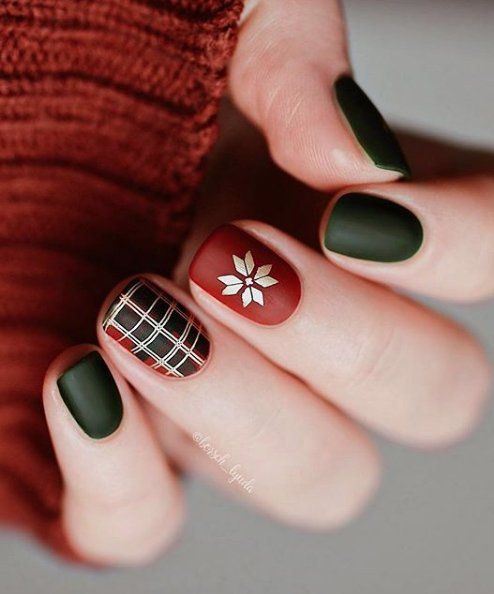 If you're one for matte designs, then this one could be the perfect combination of red and green nails for you!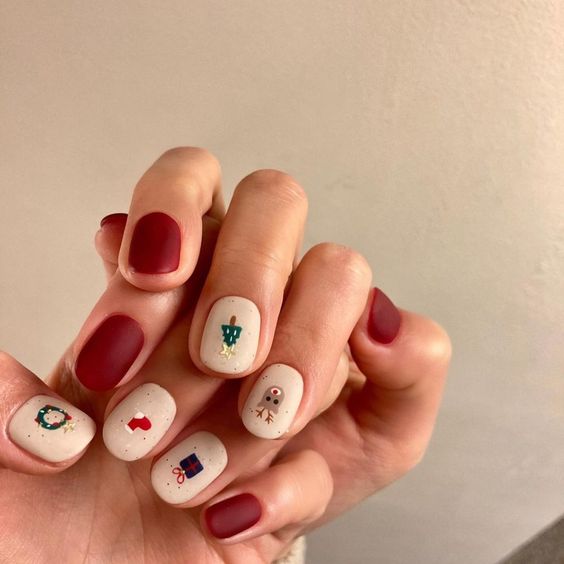 If you're trying to find something more minimalistic, then you might love the mix of red and greens and beige on your nails like this one!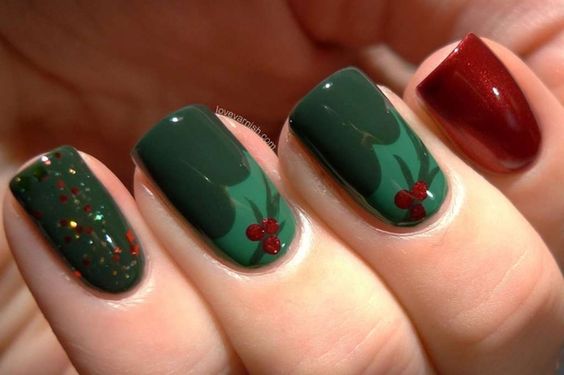 Find your holiday spirit by trying out this nail design!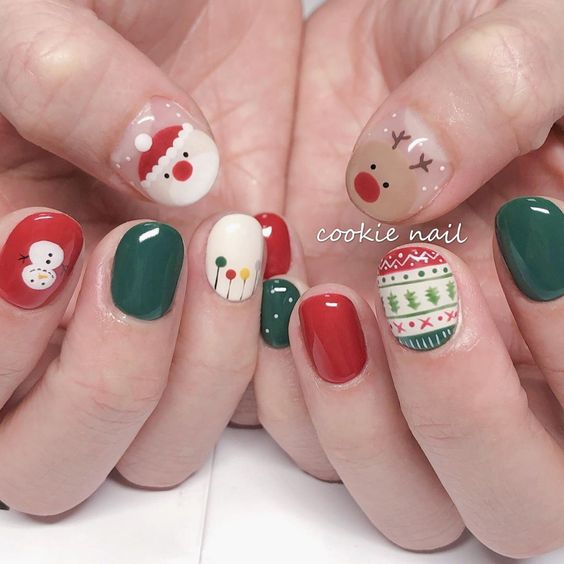 I just love how cute and jolly these Christmas patterns are!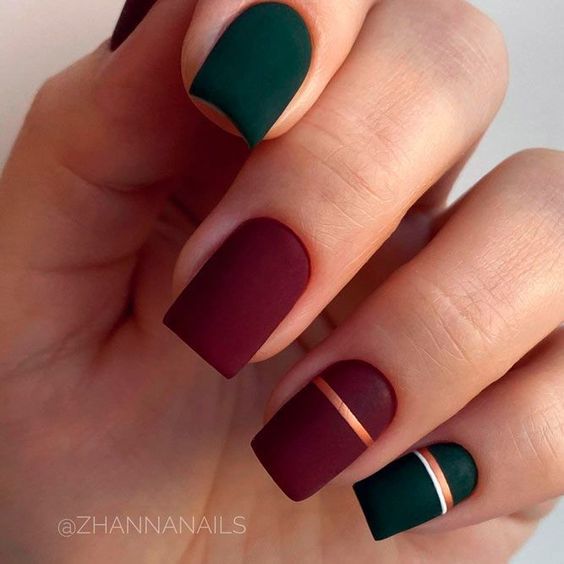 If you want nails that are classy and not so cheesy, you might love this understated red and green combo!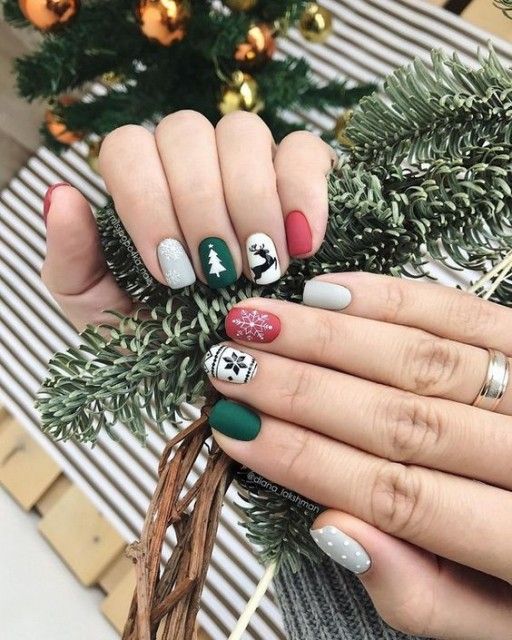 Mixing and matching different Christmas patterns for your nail art is such a fun way to keep things festive!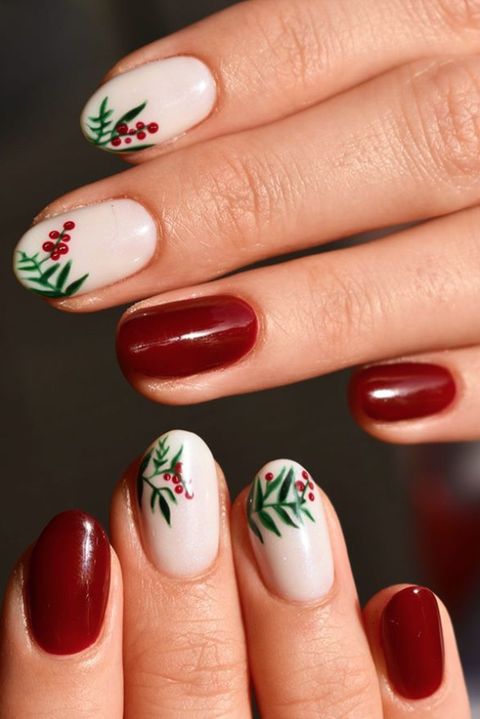 These holly-inspired nails are perfect for those looking for something pretty and delicate!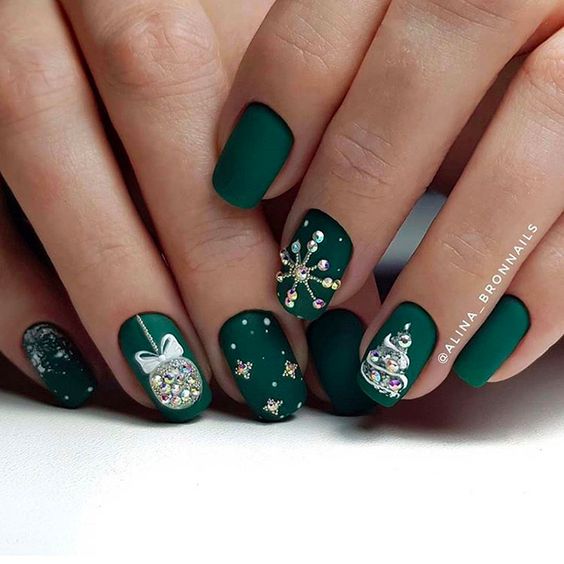 If you're not into wearing reds this holiday season then this set of sparkly green nails might work for you!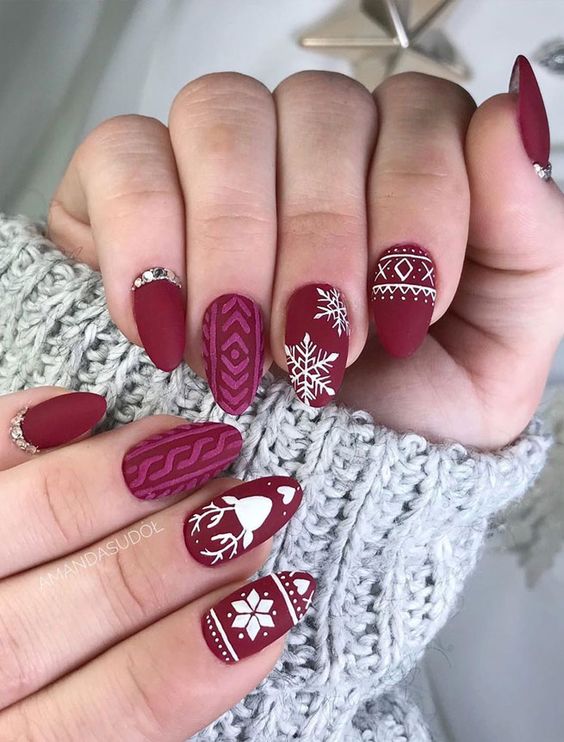 For the girls who don't want to wear green nails then this matte red design might just catch your eye!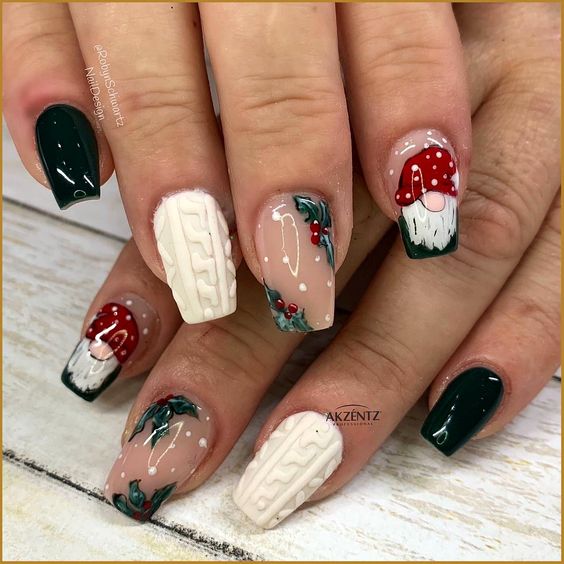 These snowy gnome-inspired nails are just what I need to put me into a festive mood!
Celebrate the upcoming holidays with a Christmas tree of your own right on the tips of your fingers!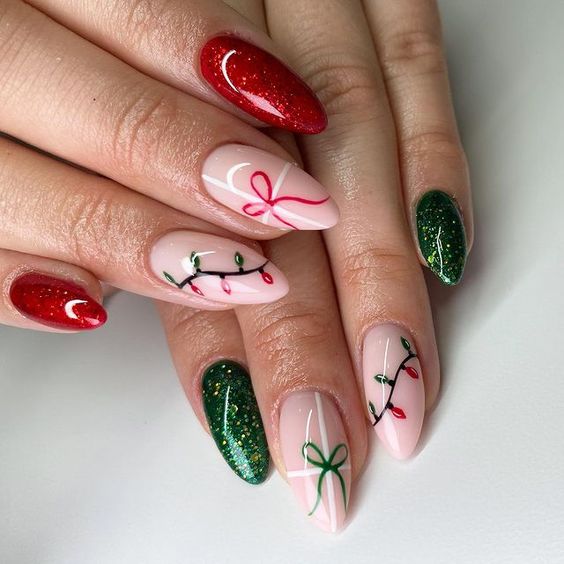 This dainty nail art is perfect for anyone looking for something sweet and simple with pops of red and green.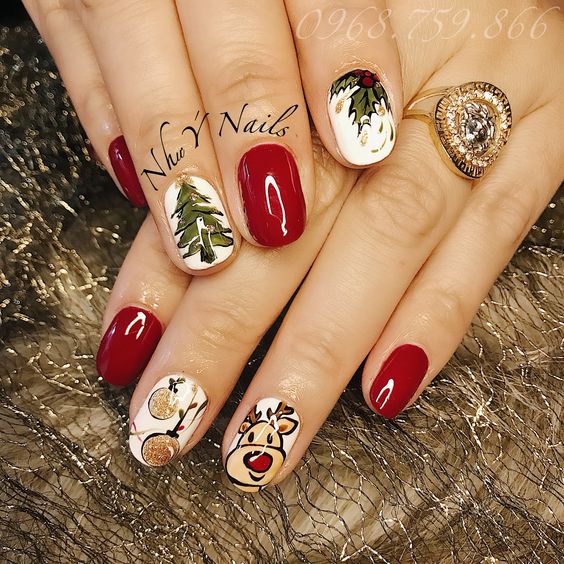 Your nails will surely look like a piece of art with this detailed Christmas-themed nail art!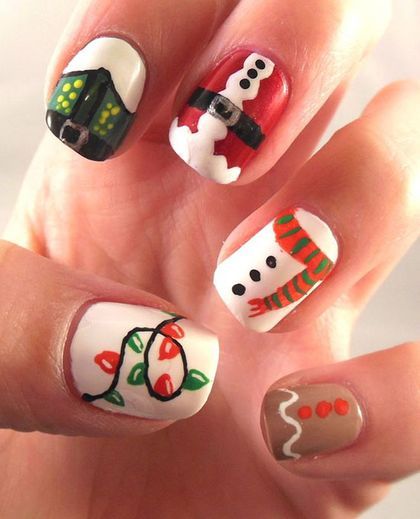 If you want to try your hand at doing your own nail art, you can try out creating these snowy-themed red and green nails for Christmas!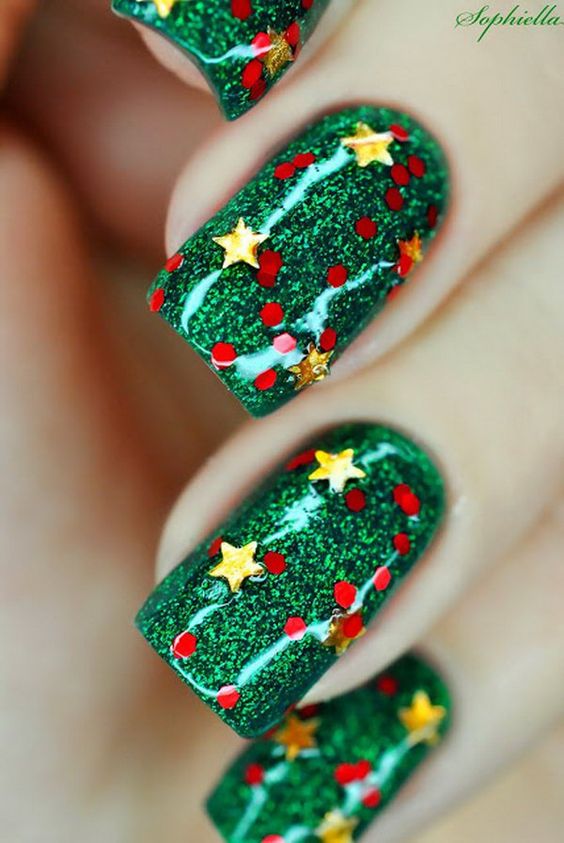 Dazzle everyone in your home or at your party with these glittery red and green nails!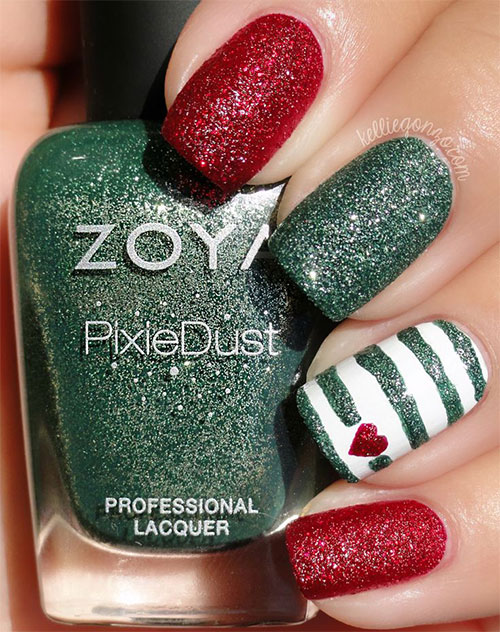 Christmas is definitely the season of giving…and glitter! If you can't get enough of all things shiny and sparkly, you might want to try out this nail art design!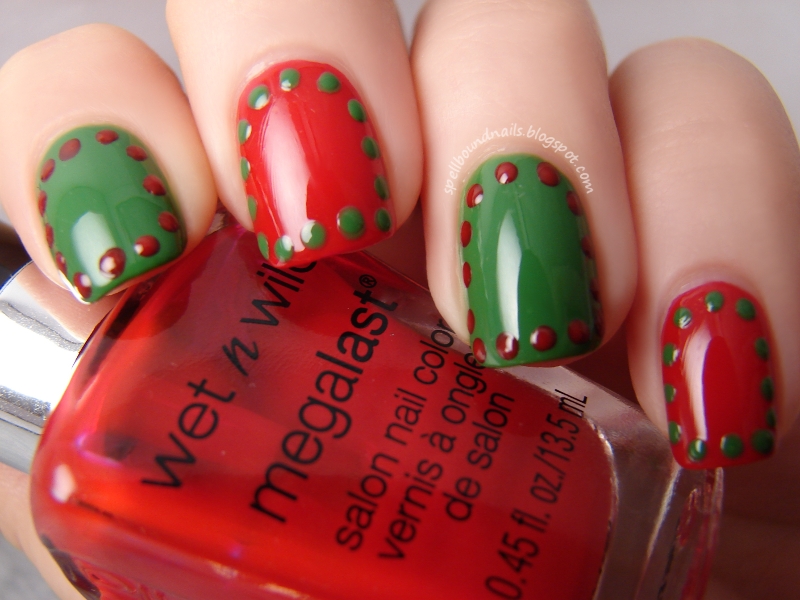 These simple red and green nails for Christmas will be perfect for you if you don't like flashy designs.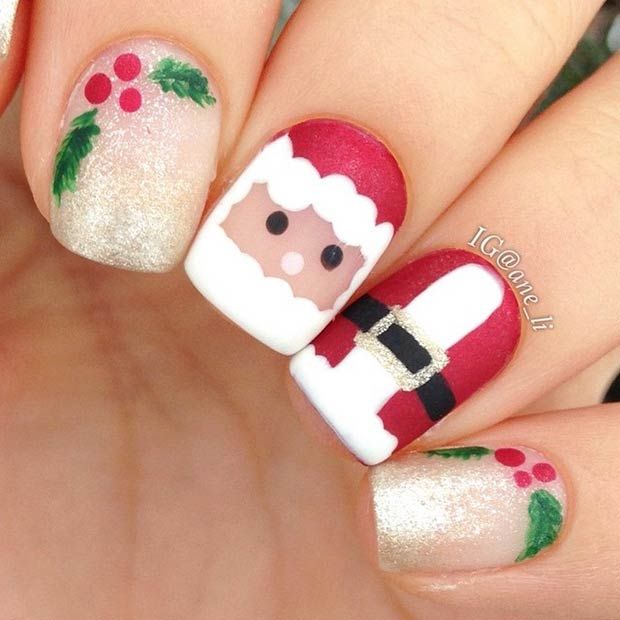 Christmas isn't Christmas without our beloved Santa Claus!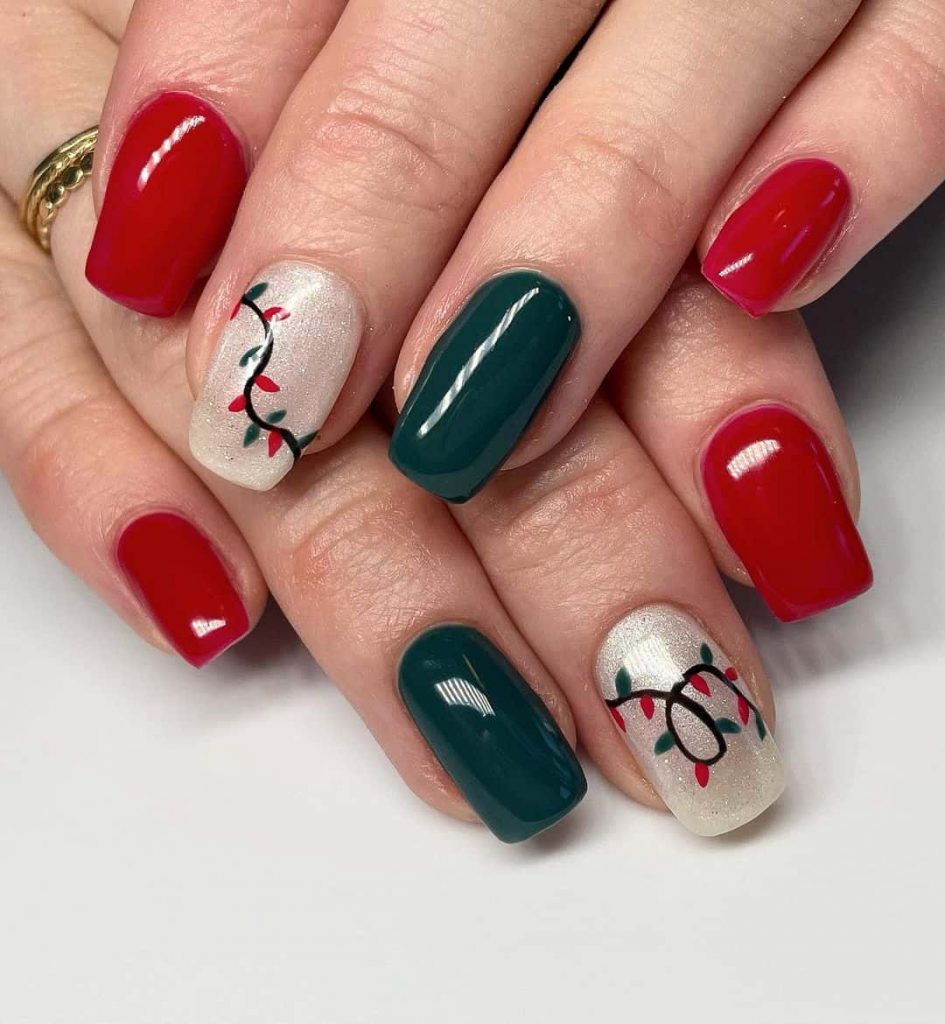 This simple yet cute nail art with Christmas lights will surely make your nails a lot merrier!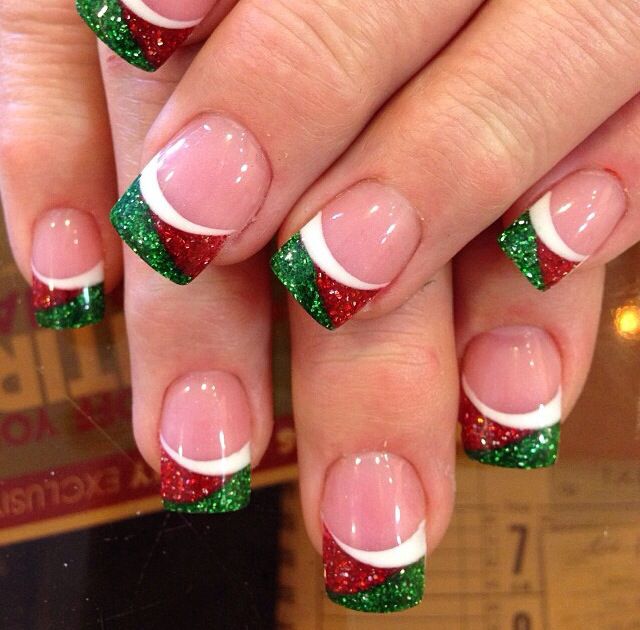 If you're looking for french tips with a twist this holiday season, try out this red and green design!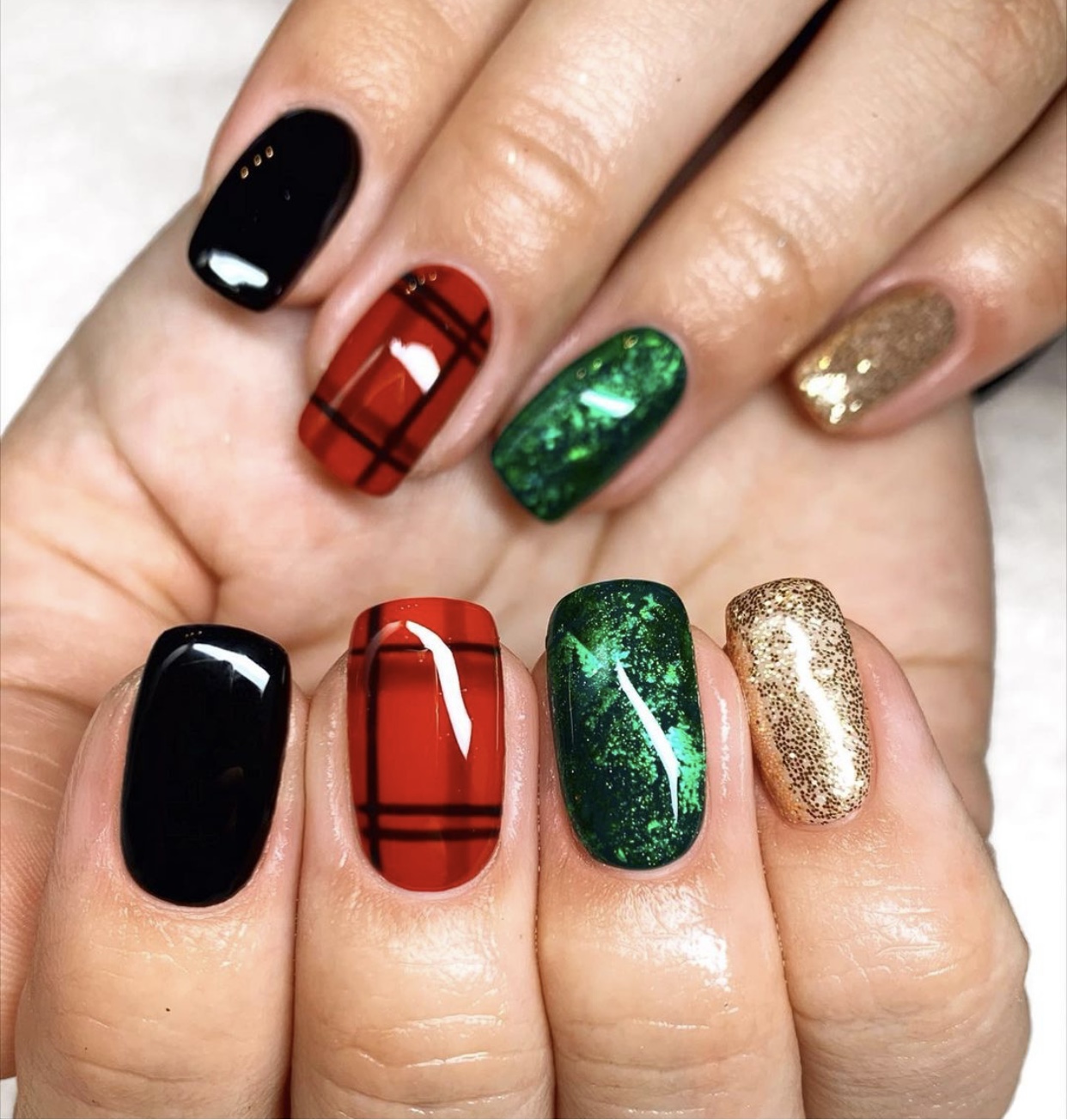 If you want to incorporate more colors into your nails other than the traditional red and green, putting some sparkly gold and a classic black would definitely upgrade your manicure!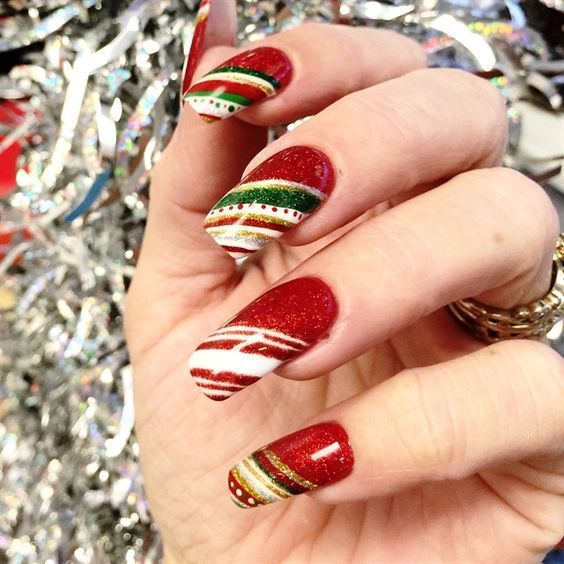 These red and green nails are just so classy with the added colors of white and gold! Perfect for those looking for elegance!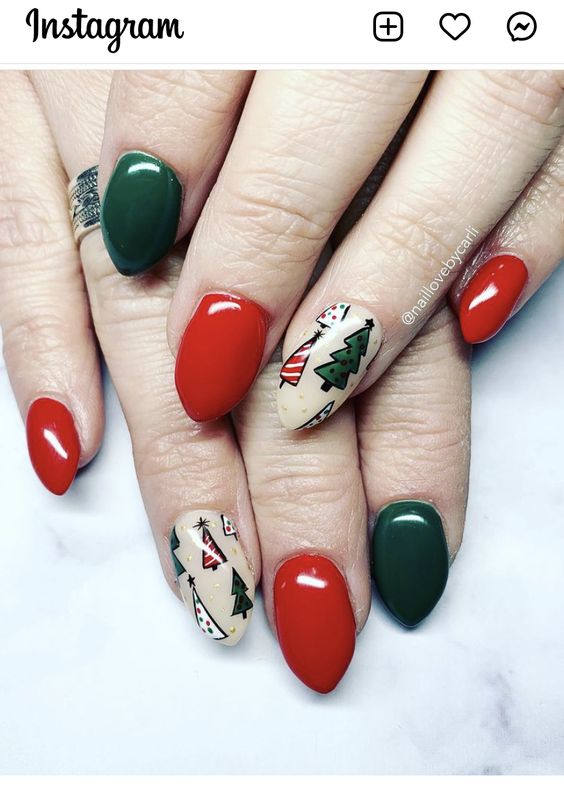 This red and green nail art with Christmas trees is so perfect for those who prefer to keep their nails short or medium-length!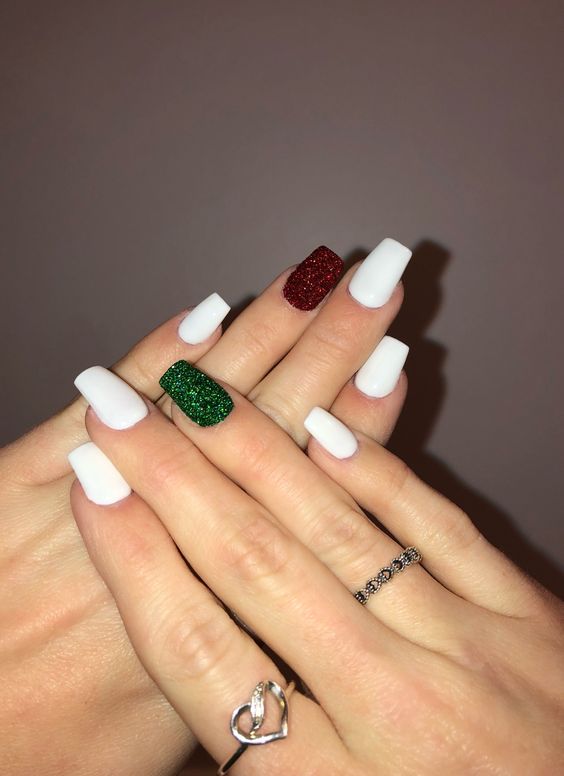 Try something different by painting your nails with full white nail polish and leaving out one nail on each hand for a red and green combo!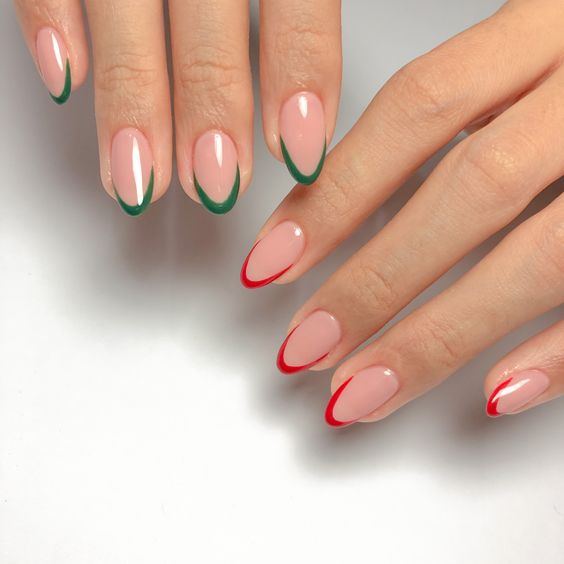 You can never go wrong with these classy Christmas-themed french tips!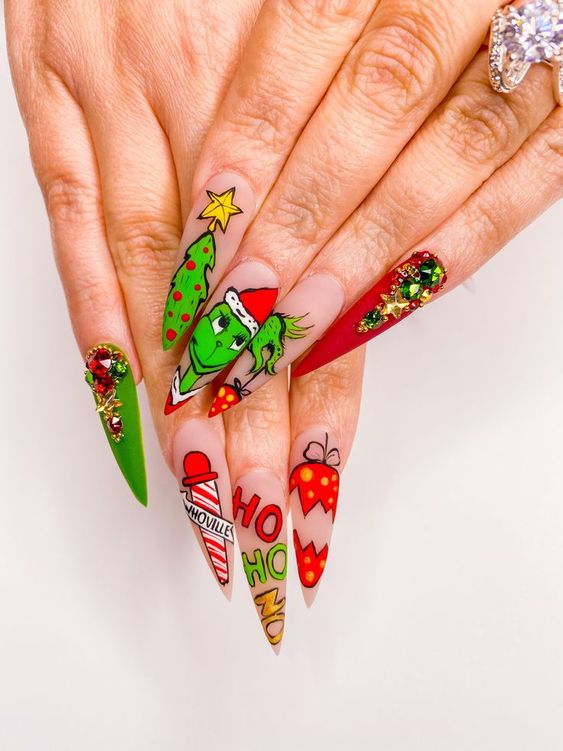 You'll definitely be stealing the show with these Grinch-themed nails for Christmas!