The holidays are almost here! I can't believe how quickly the season is flying by.
This Christmas season is a time to go all out, whether that means wearing that new sheet shirt you've been eyeing from Princess Polly, throwing on your cutest heels, or doing an extra special Christmas nail design.
While Christmas nails (and holiday nails in general) seem pretty straightforward, there are actually a ton of designs and variations. I find that Christmas/holiday nail trends change so much each year. When I come to update this post, I'm always shocked at how different this year's trends are.
There are a lot of different nail trends that are popular right now and most of these show up in holiday colors as well. You really can't go wrong with Christmas nails, but if you're like me and want to try something a bit new and trendy, then you should get some gorgeous ideas from this post.
Here are my favorite Christmas nail trends plus inspiration photos of each trend below!
Christmas/Holiday Nail Trends
This year, I'm seeing a lot of these specific trends.
Plaid Nail Designs: Plaid nails are huge right now, and not only for Christmas. However, if you're doing Christmas acrylic nails, then you may want to consider at least a plaid accent nail. You can do plaid nails in just about any color.
Snowflake Nails: During the winter of 22-23, snowflake nails will be huge. I really love the more subtle snowflake accents (think a soft snowflake on nude-white ombre nails). You can't go wrong with adding a snowflake if you want your nails to feel wintery.
Candy Cane Nails: Though candy cane nails were popular last year for Christmas nails, the trend is definitely back. I recommend that you do 1-2 accent nails in the candy cane design. I really like the pink/white/nude look, but I also enjoy a bold red/white candy cane Christmas nail look.
Sweater Nails: This winter, sweater nails are really popular, and it's easy to add a sweater nail accent to your Christmas acrylic nails. You can also buy press-on nails if you don't want to deal with the hassle of designing sweater nails.
The Almond Shape: This year, the almond nail shape is by far the most popular. Whether you get acrylic, dip with tips, or simply have naturally long nails (in which case I'm jealous), I recommend trying out a soft almond shape.
Intricate Christmas Nail Designs: Intricate designs are super trendy right now. From literally drawing ornaments and Christmas trees on nails to creating more abstract red and white holiday designs, you'll definitely see a lot of really intense drawings this year. Check out the inspiration photos below – I included lots of fun and intricate holiday designs for 2022!
Of course, simple red and maroon nails are always "in" too. I included a bunch of different plain red shades below for inspiration!
There are lots of different ways to do these trends (regular polish, gel, dip, acrylic, etc.) plus different methods for easily doing the designs that you'll see on these nails.
I'll go over these now, or you can skip ahead to the inspiration photos if you already know the method you're using to do your nails.
Trending Christmas Nail Designs
Here are my favorite Christmas nail colors and designs.
If you go to a salon, save the photo to your iPhone in order to show your nail technician (just hold it down with your finger then click save to camera roll).
Note: I tried my best to link the source of these photos, but some are from really obscure places/I couldn't find the original photographer. Please contact me to add more specific credit or for immediate photo removal.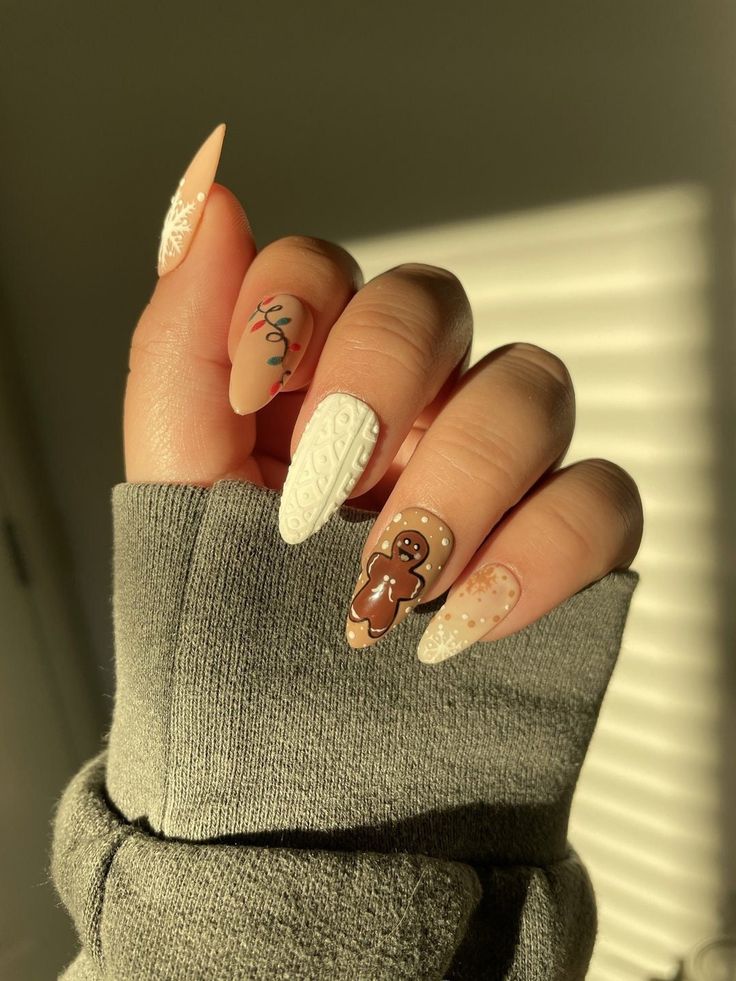 Craving some gingerbread cookies? Why not use them as your inspo on your next nail appointment? They would look so cute!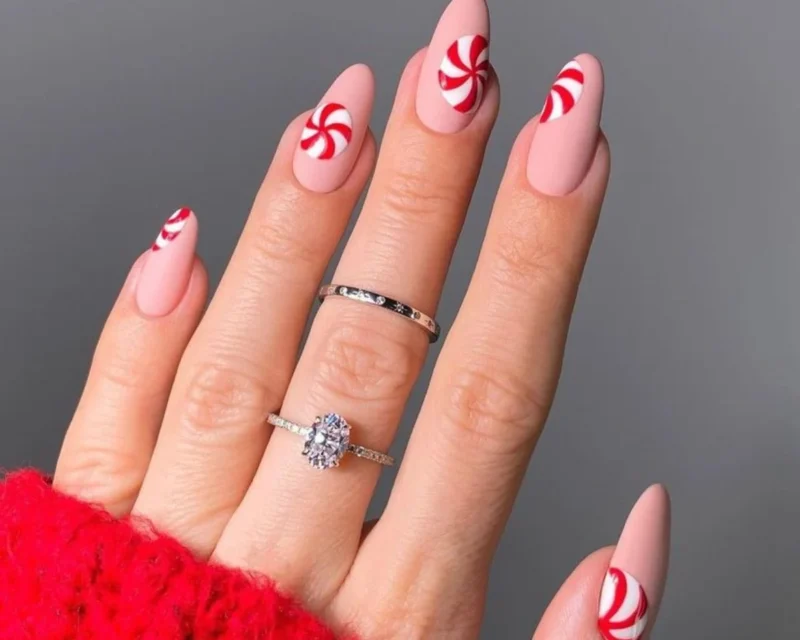 These candy cane-inspired nails are sure to make your nails look so sweet for the holidays!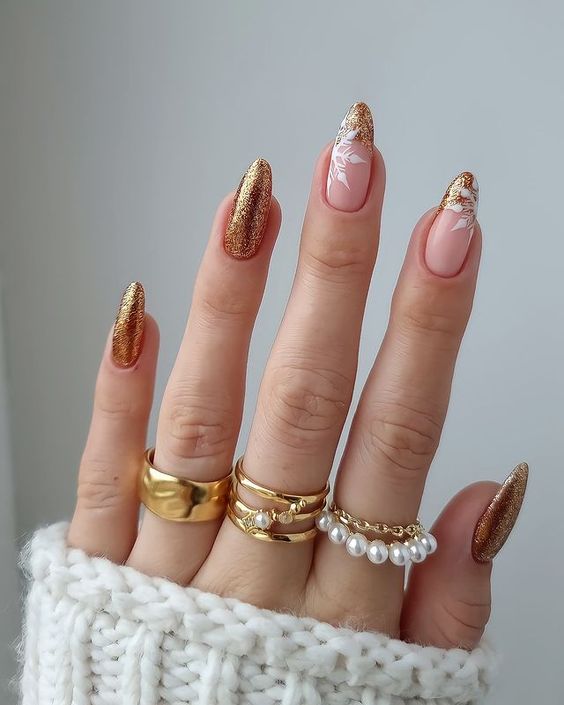 Your holiday nails won't be complete without some sparkle like these beautiful golden nails! Pair them with pink accents and snowflake nail art for an even more unique look!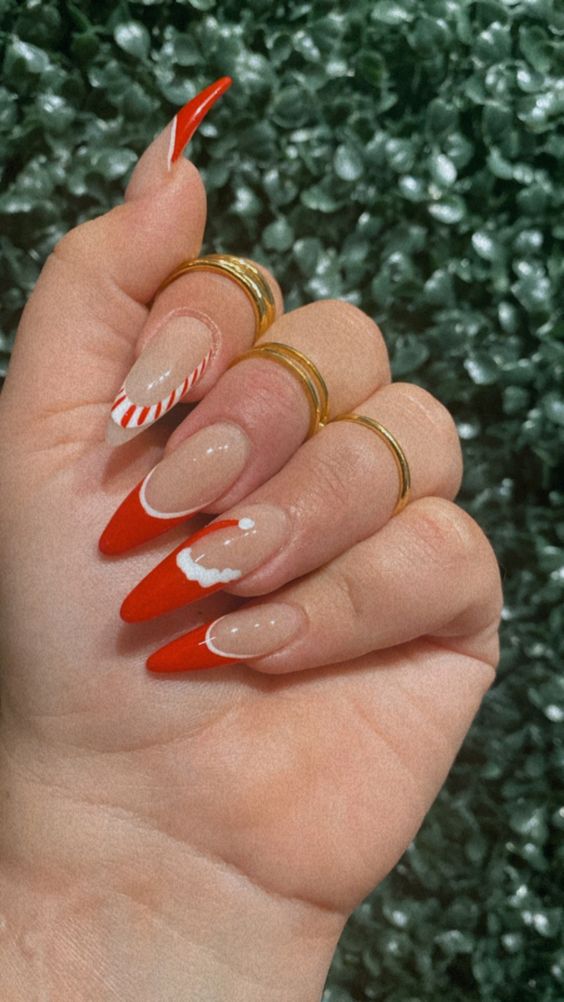 Red french tips are perfect for the upcoming holiday season and you can also easily make it more festive by giving it a subtle Christmas theme with candy canes and Santa Claus.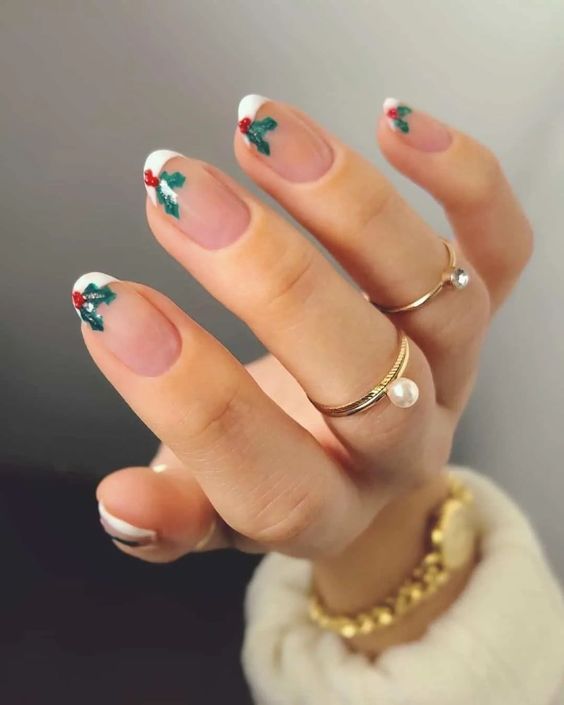 These holly berry-inspired nails are perfect for anyone who's looking for something more simple and minimalistic.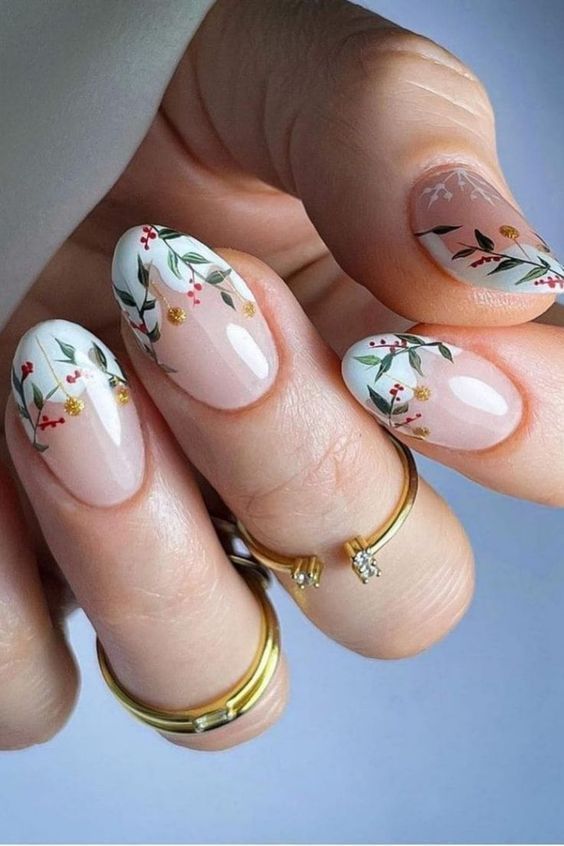 Delicate and dainty nail art are some of my favorites to do with my own manicure and these particular ones are just so perfect for the holiday season!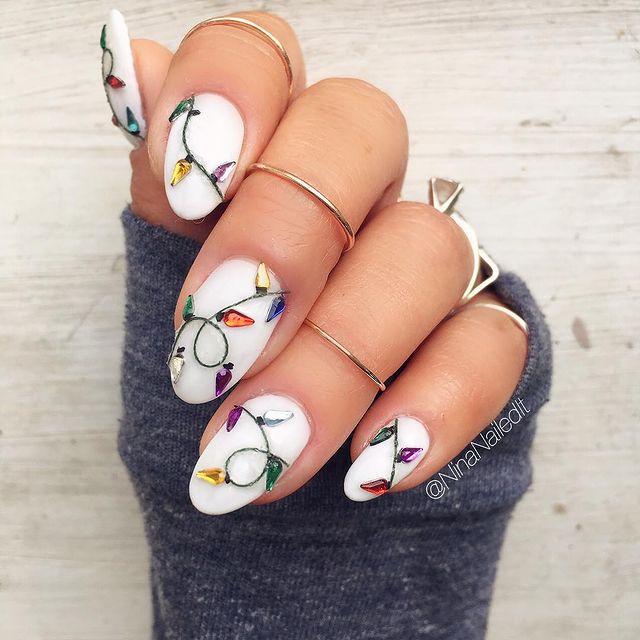 You'll definitely stand out from the crowd with these fun and quirky Christmas lights-themed nails!
Here is another set of bold red nails! These ones shimmer and have a few nails in a glittery silver color and in candy cane stripes for a nice contrast.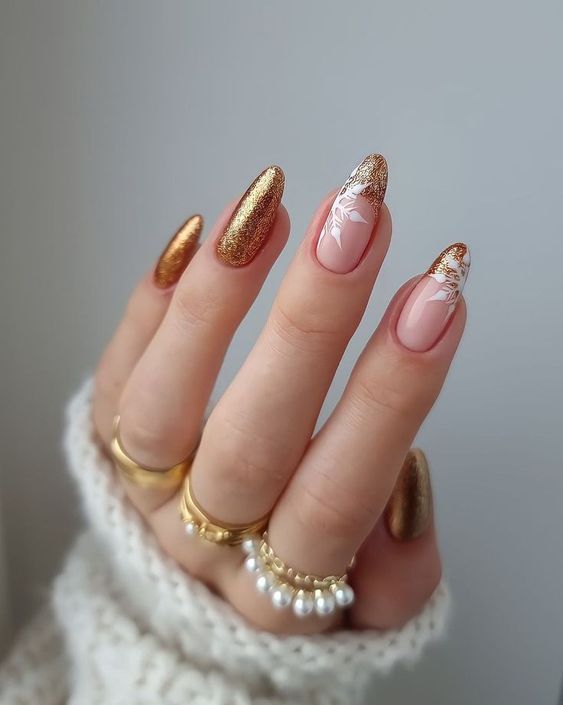 Here's another look at the golden shimmery nails you can wear for Christmas for a glamorous vibe.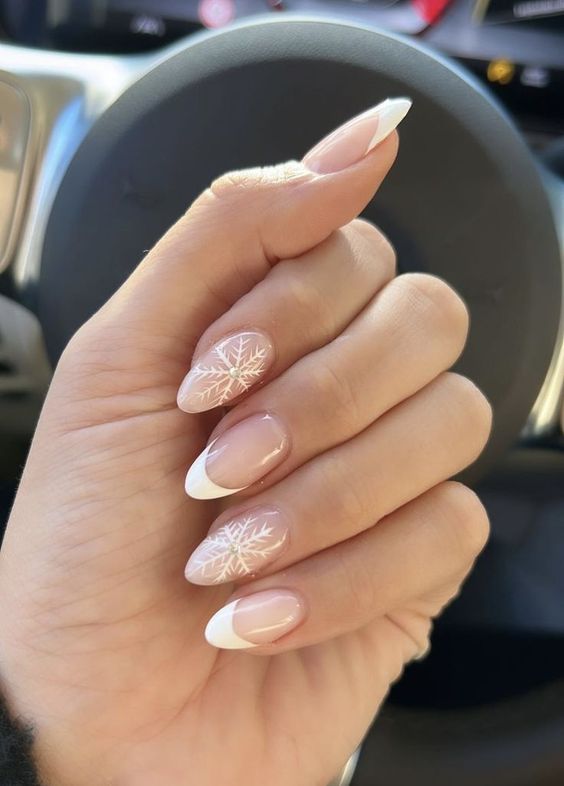 I just love a nice, classic french tip. It's so dainty and it's a style you can wear every day for any outfit or occasion. But for the holiday season, it's the best time to make things a bit more festive by pairing it with this gorgeous nail art of snowflakes.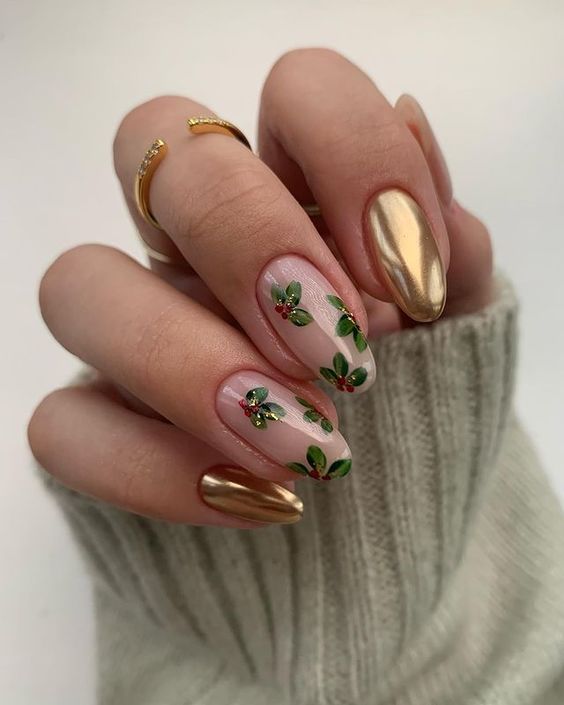 Another delicate yet unique design you can copy for the Christmas season is these pretty holly berries nail art!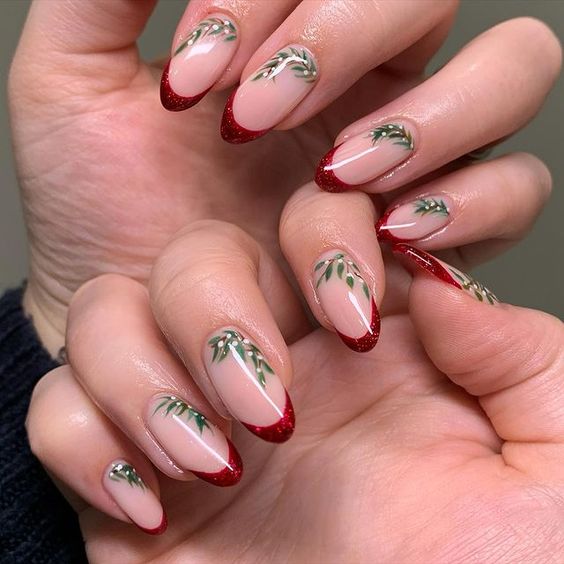 Create your own mistletoes with your next manicure and get all the kisses you deserve from your loved ones!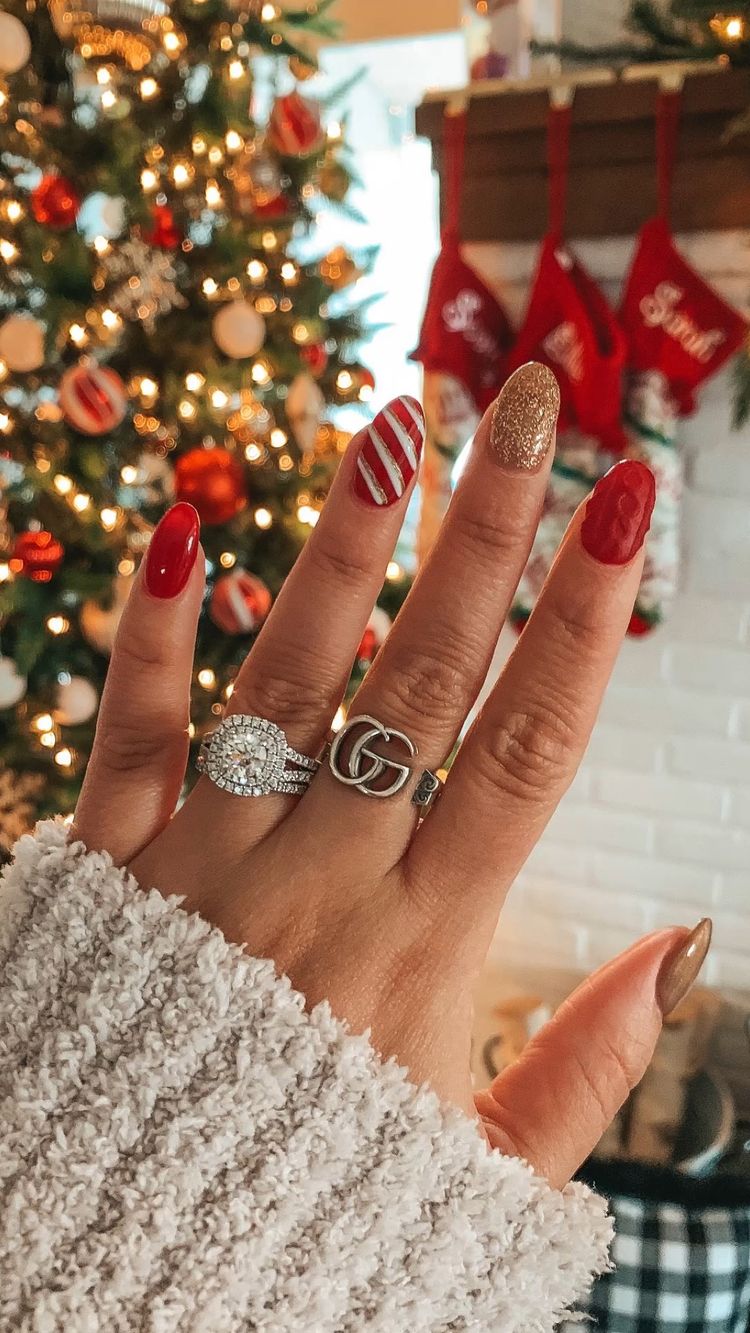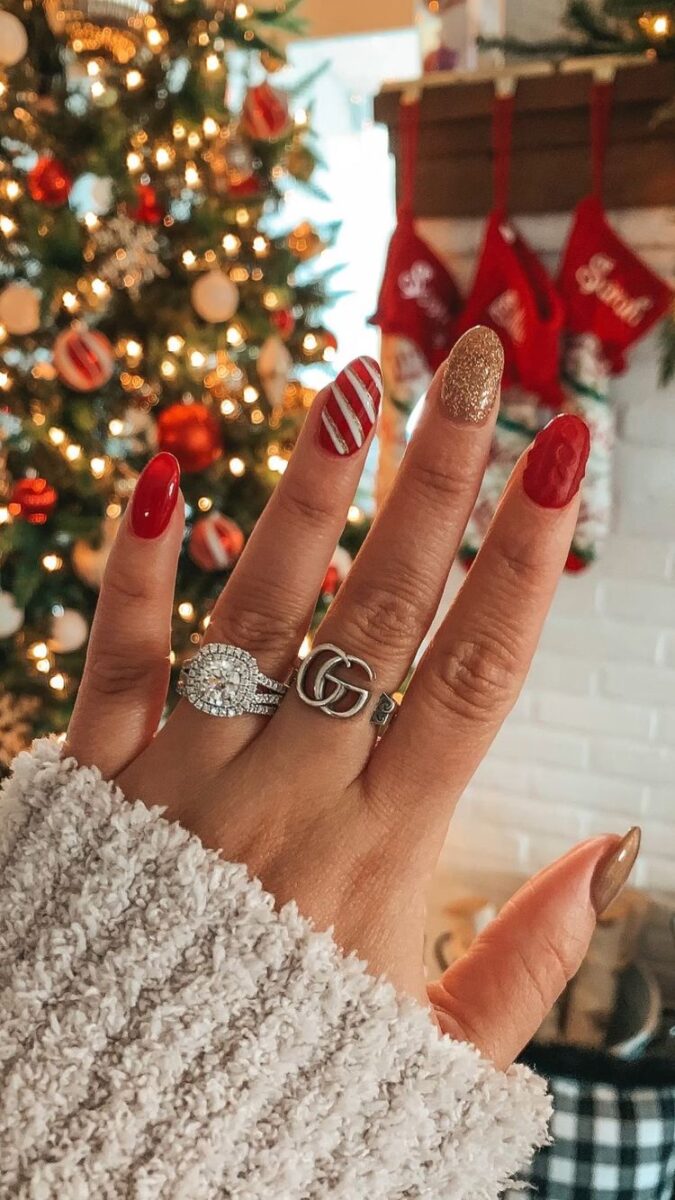 Red and gold are certainly some of the best colors you can wear on your nails during the Christmas season! They're just so festive and bold and utterly beautiful together.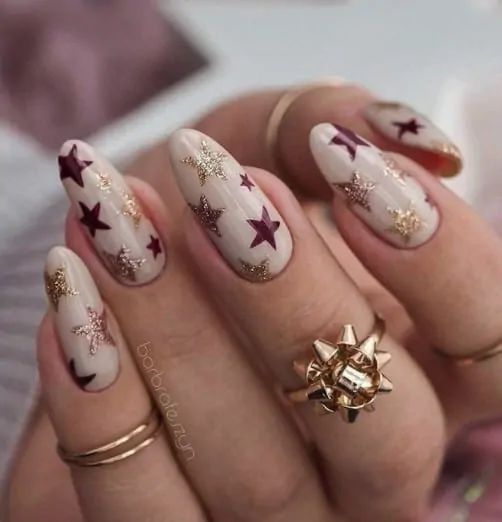 Make your nails the star of the show during your Christmas celebrations with this kind of sparkly and starry nail art!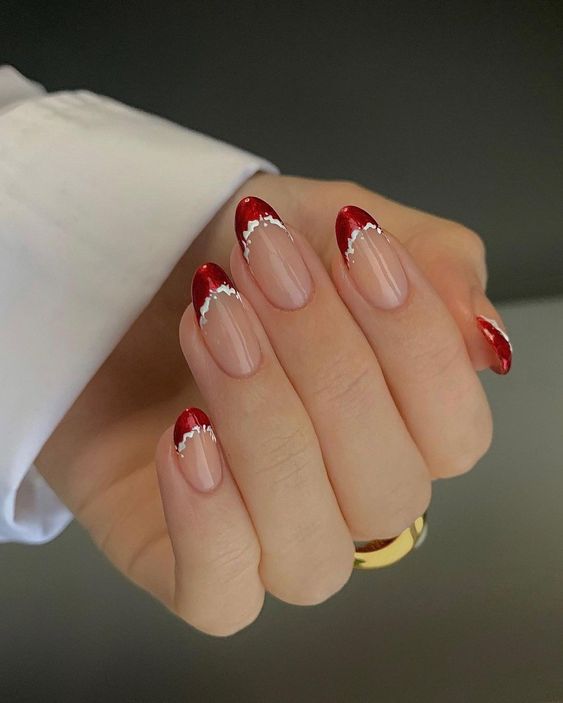 These red and white tips remind me of a certain Christmas character that we all love and know. If you're looking for a subtle Santa Claus nail art, then this one is for you.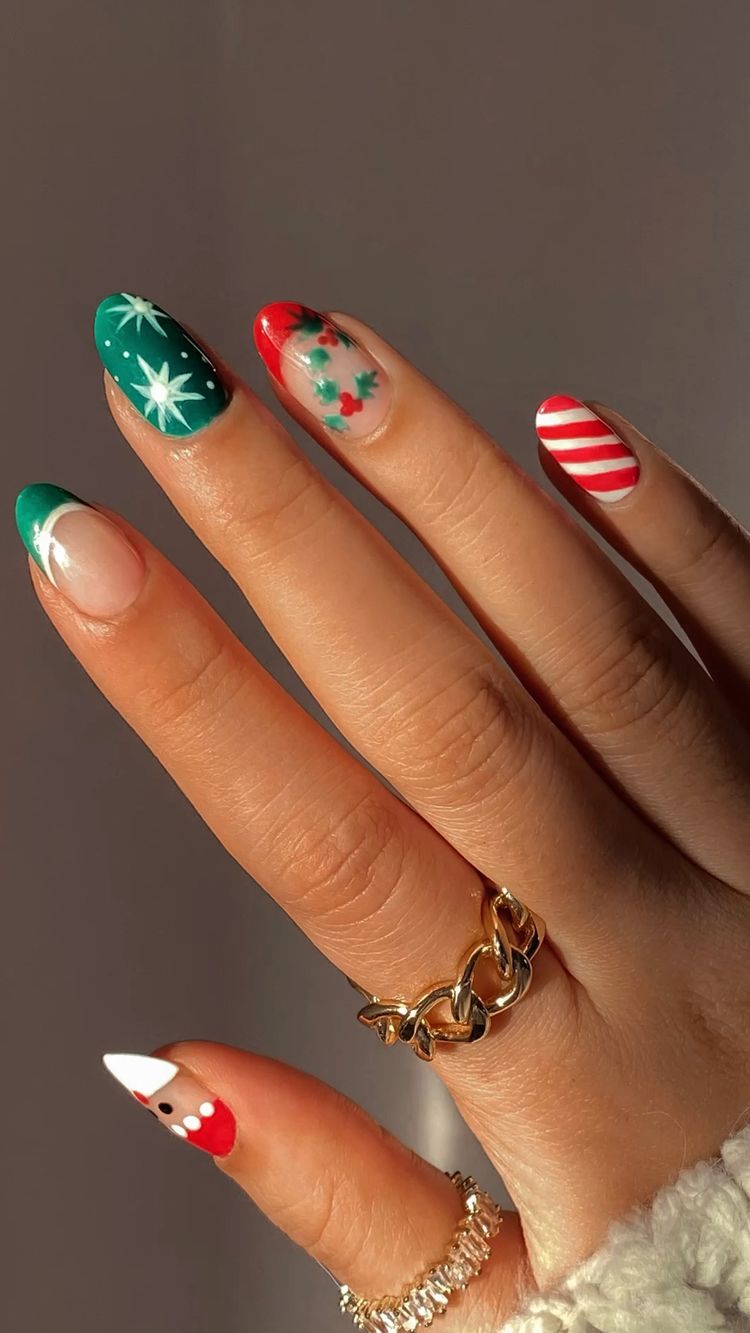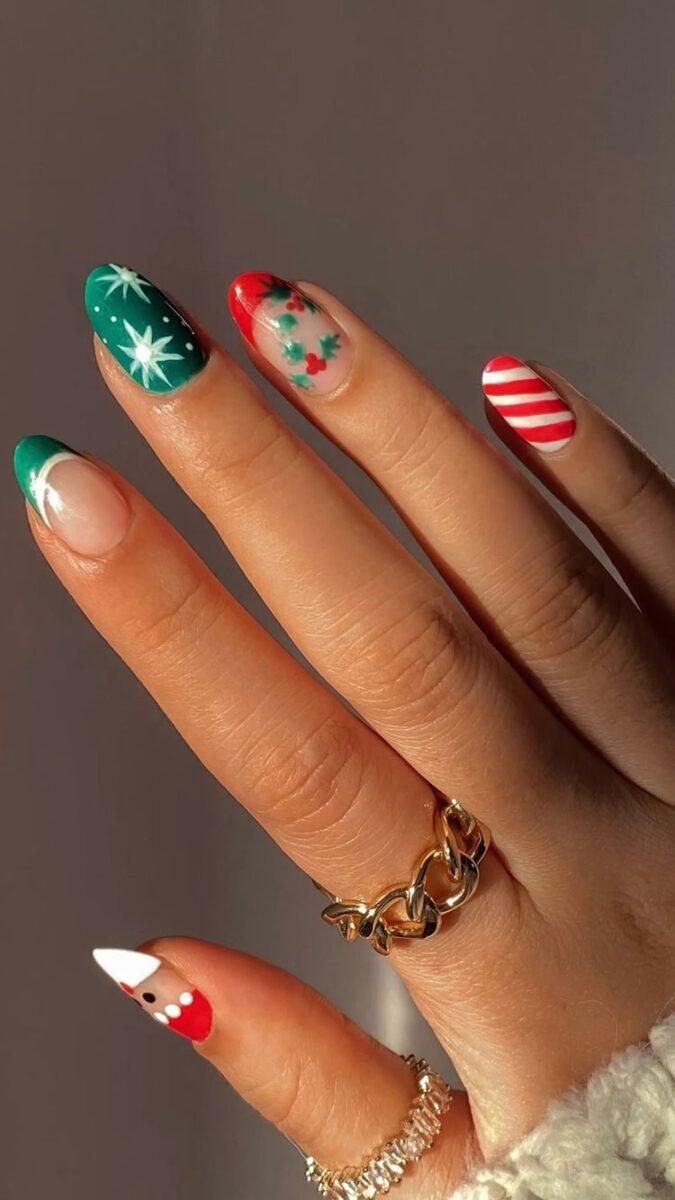 What could be more festive than these colors and designs for your nails? It has candy cane stripes, Santa Claus, berries, and more!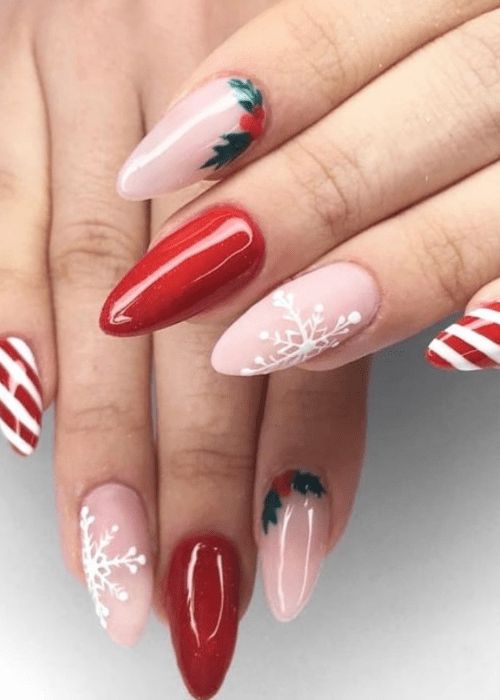 Just look how festive and merry and bright these nails are! A definite must-try for your next manicure appointment.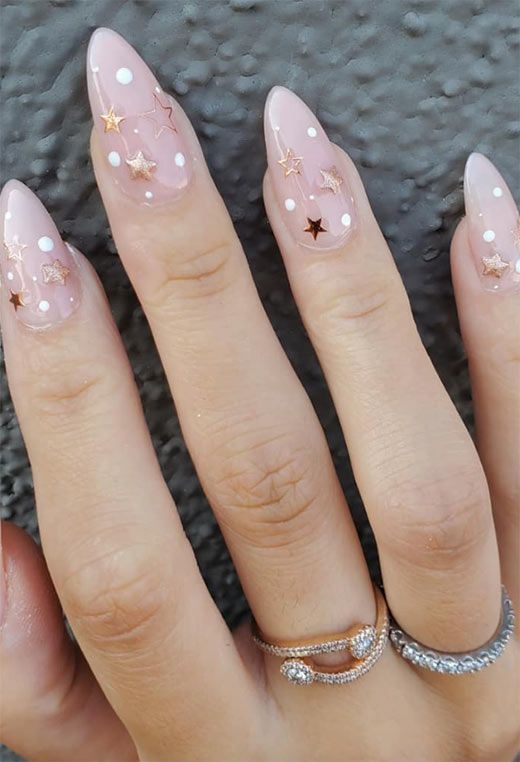 So minimalistic and pretty, these starry, golden nails are just so gorgeous.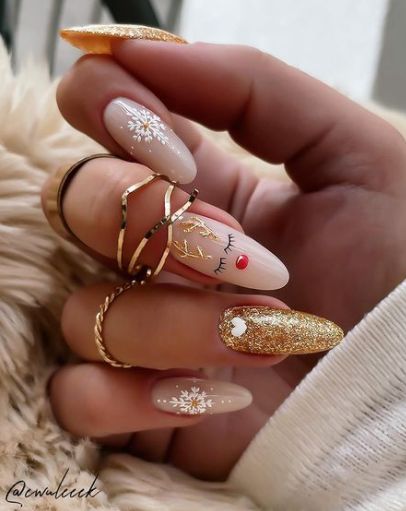 You can also opt to recreate this gorgeous mani with Rudolph The Rednosed Reindeer! Just look how stunning and adorable these are!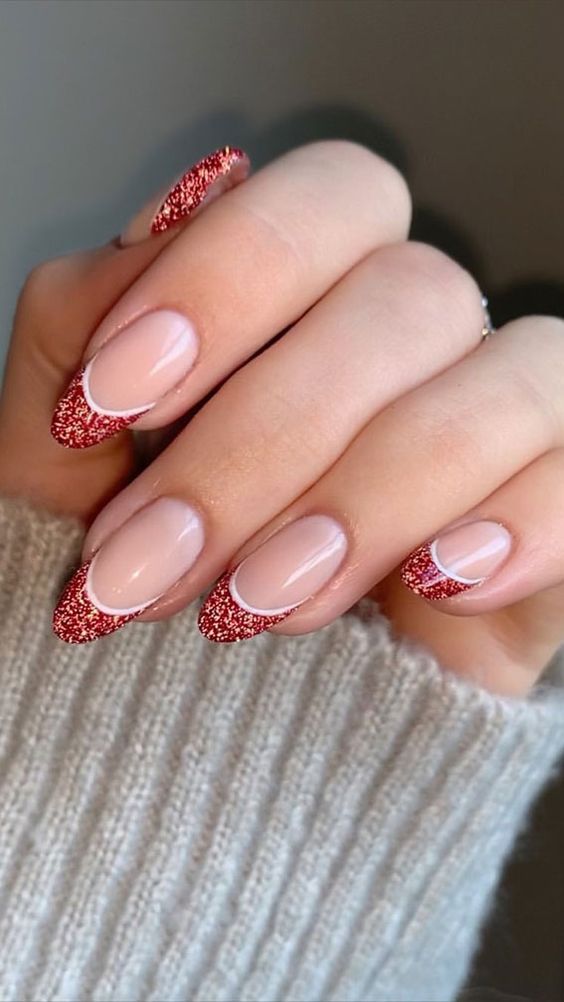 If you're looking for more variations of the classic french tip that will suit the festive season, then you should give these ones a try.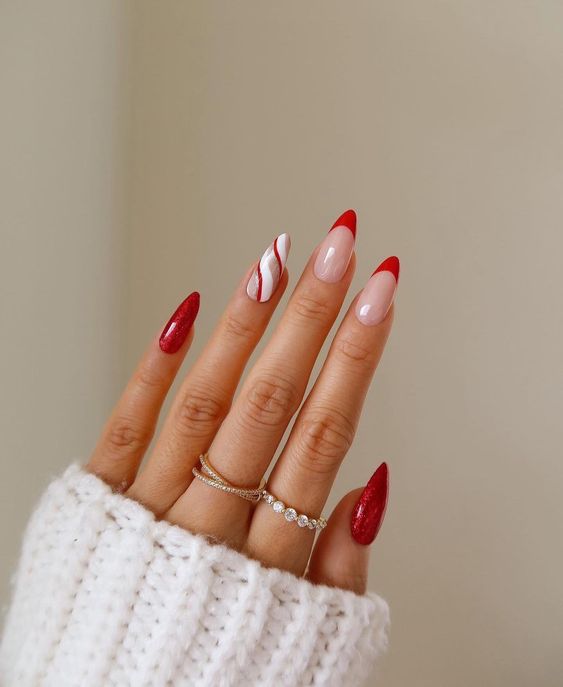 Give the classic red mani a festive twist with candy cane nail art!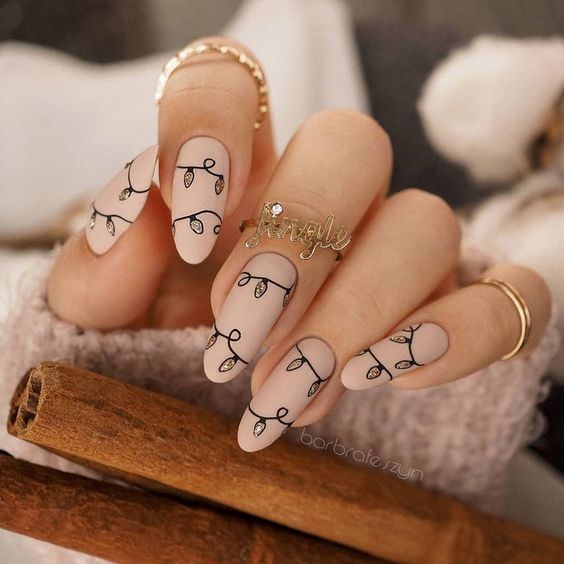 So artsy and quirky, these Christmas lights nail art will give your nails the sparkle it needs!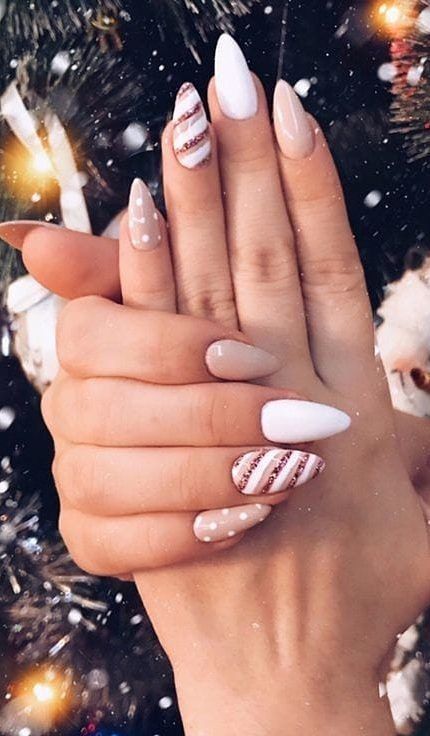 If you're looking for more subtle colors but still want to keep things festive, this neutral color scheme for your nails gives that perfect balance!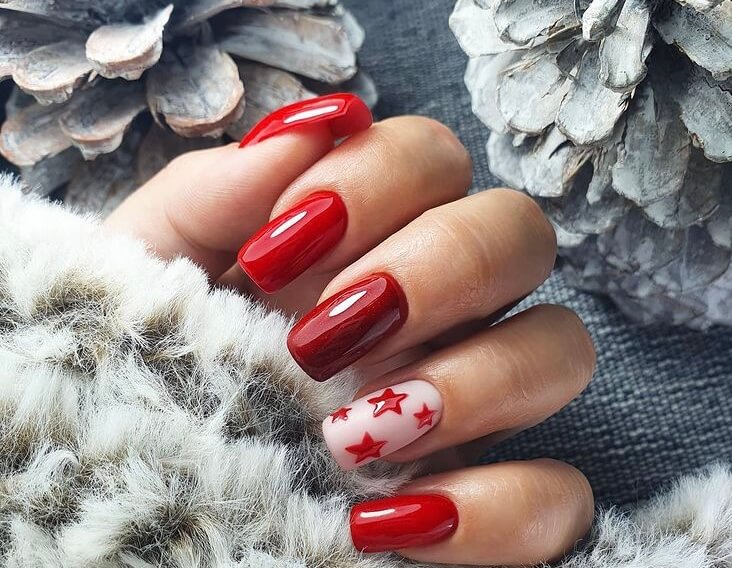 Red is undoubtedly the color of Christmas and this particular one might just make you the star of your next holiday party!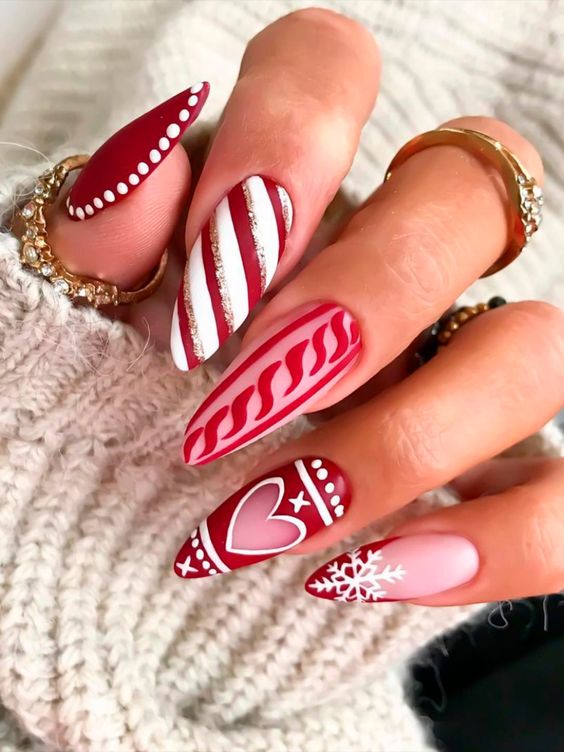 This is probably one of the prettiest holiday nail art I've seen! It's festive and each nail has a unique design that is sure to put you in a merry mood.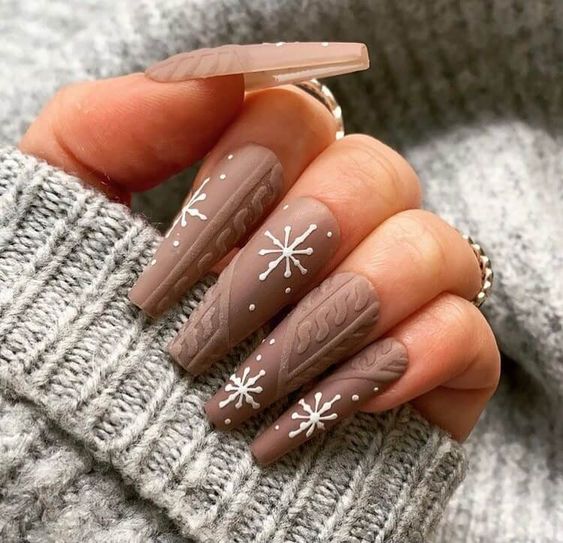 Straying from the bold red colors is this earthy, brown manicure that's so cozy and perfect to wear during the winter.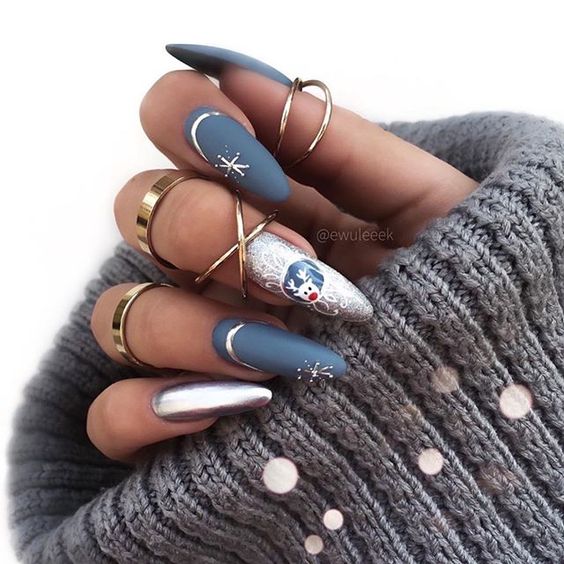 Keeping up with the colder season, why not opt for a cool blue for your next mani? You can mix it up with some silvery metallics to make an interesting finish?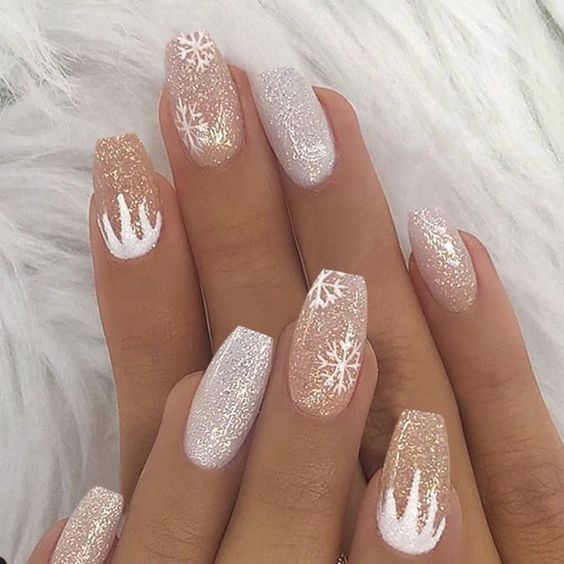 These nails are the epitome of a winter wonderland! So shimmery and so reminiscent of snow.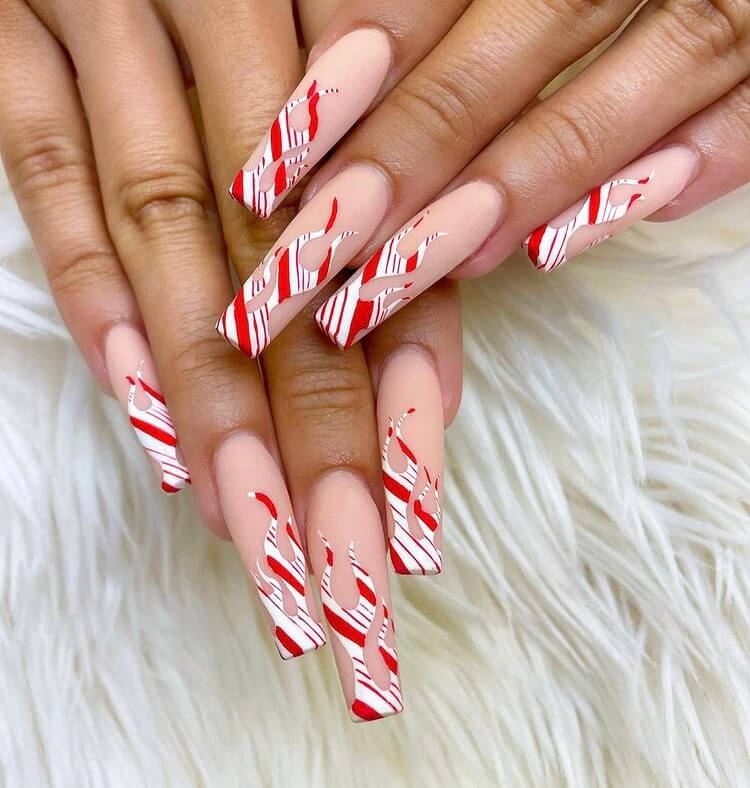 These fiery candy cane tips look so fun and quirky!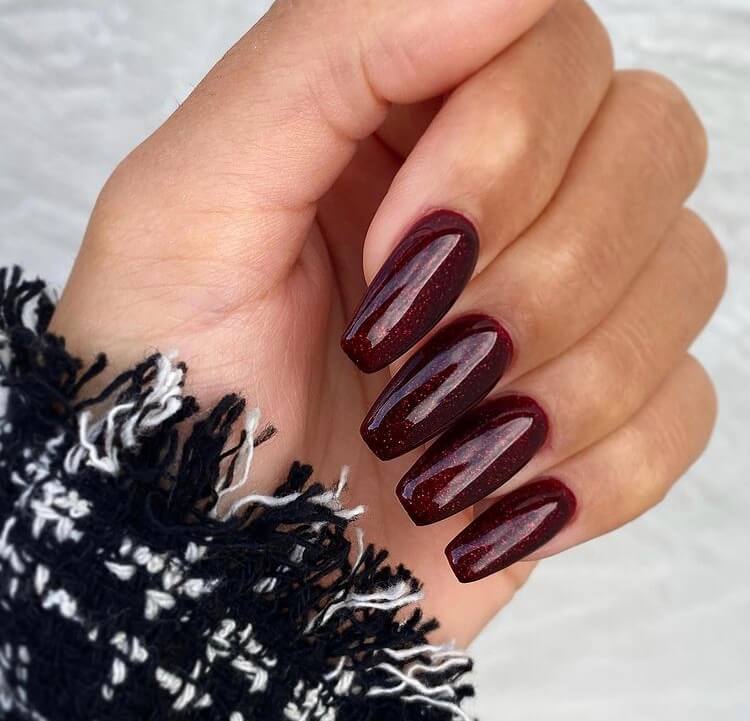 I love wearing deep, wine colors on my nails. So it's quite hard to pass up on this sparkly, burgundy mani for Christmas!
Feeling artsy and want to do something totally out-of-the-box with your nails? Then this might just be the nail art for you. I like how this gives a scenery of falling snow!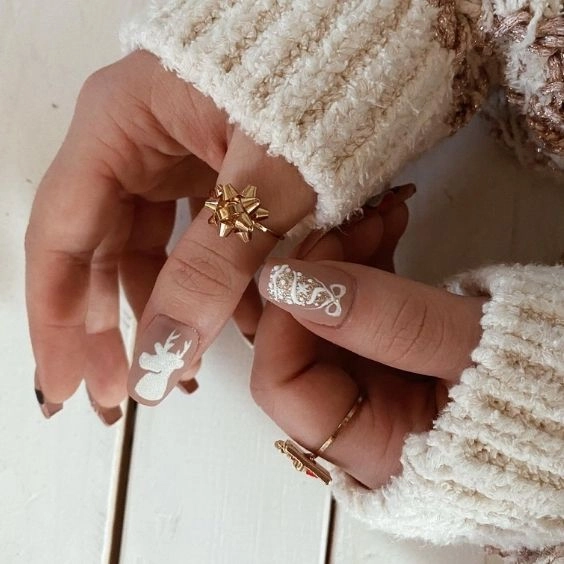 Get creative and create silhouettes of various Christmas elements with your nails like this particular nail art. It's so chic!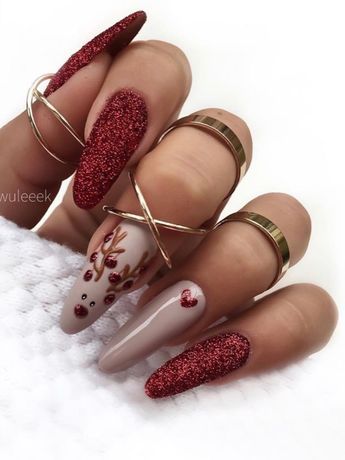 Some people might find putting Christmas characters for your mani a bit tacky but this one is just so gorgeous! I love the contrast between the nude and red colors.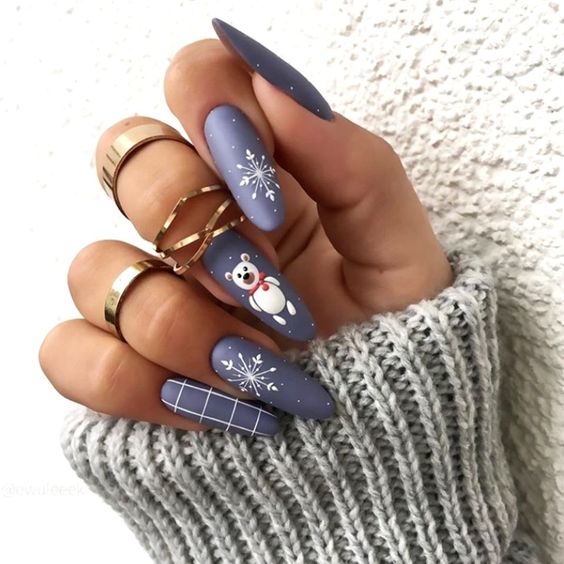 Look how cute these nail art designs are! So cozy and so festive at the same time!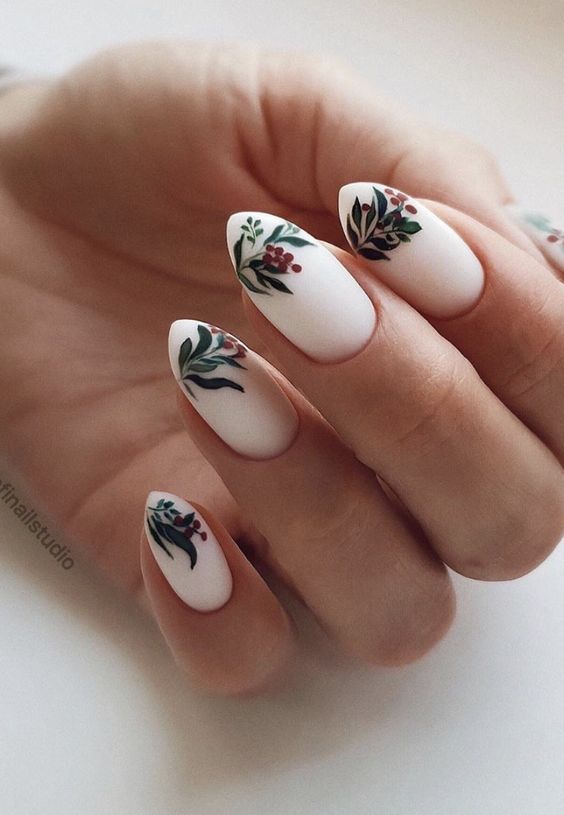 Apart from deep red colors, I also love a nice, clean, pure white nail. But since this is the holiday season, it's time to jazz it up with some pretty holly berries to make things more cheery!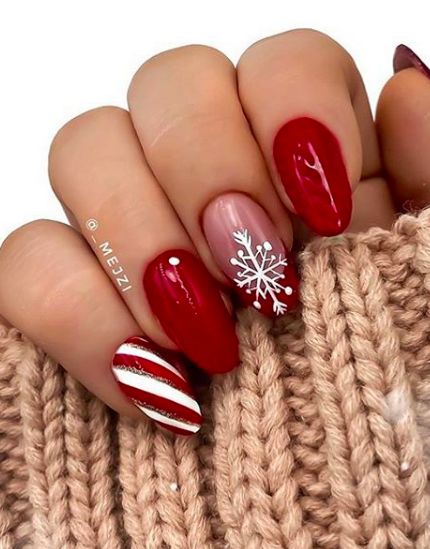 Red and white just look so gorgeous together. It gives the perfect contrast and color scheme that suits Christmas so perfectly.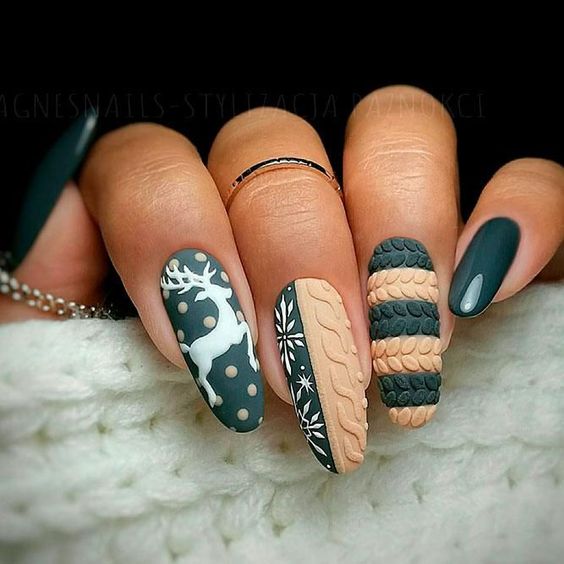 If you're not a fan of red that much, then you should definitely opt for a green mani. There are so many gorgeous green shades you can play and experiment with and this particular one has such a cozy yet refreshing vibe.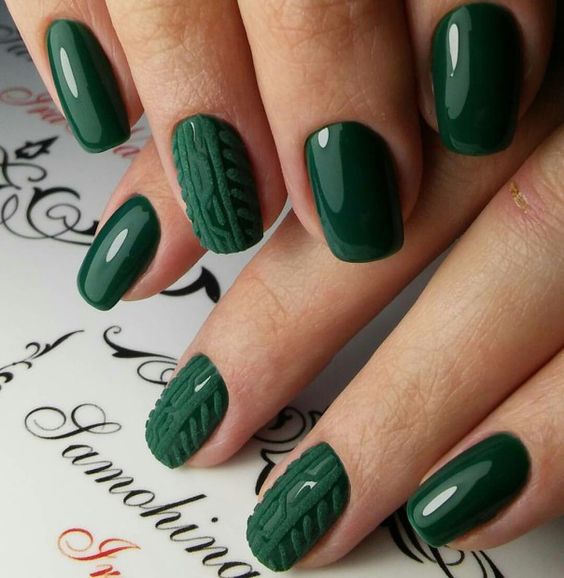 Just look how gorgeous these green nails are! I love the embossed patterns. They remind me of thick, cozy sweaters in the winter.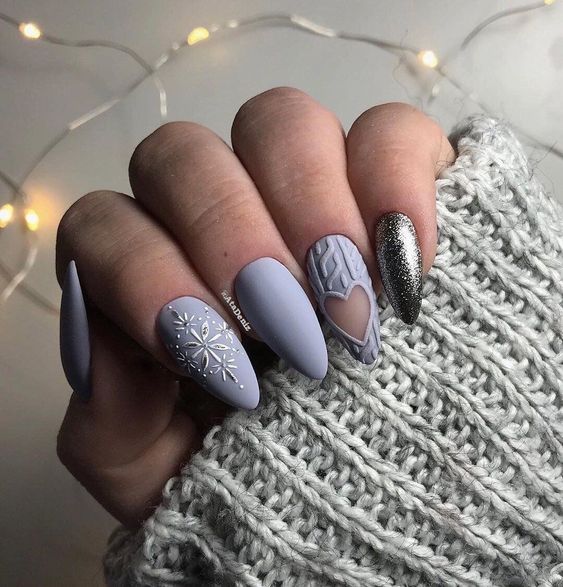 These lilac and metallic silver nails give a unique color scheme that's perfect for any winter holiday.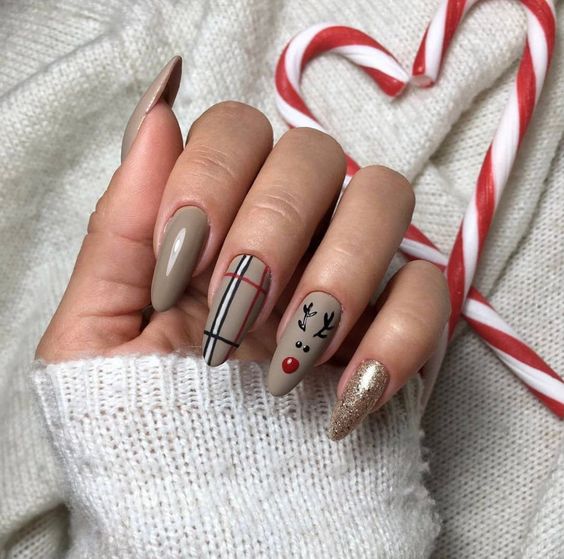 Neutral colors are the way to go if you're looking for something classy and will go with any outfit. And your manicure is one of the best accessories you can have in your whole outfit so it's highly recommended you choose nail colors that can easily complement any getup like this cute Christmas-themed nail art!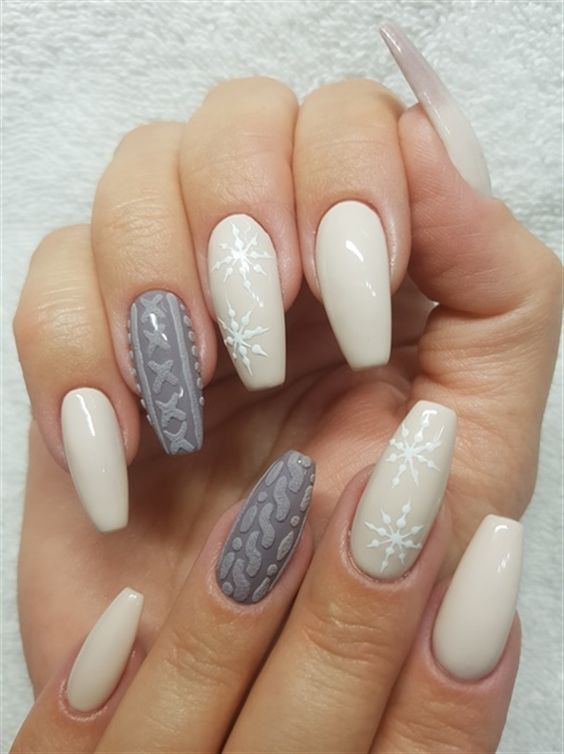 Simple yet sophisticated, these nails are definitely one of my top faves on this list. They look so chic and festive at the same time.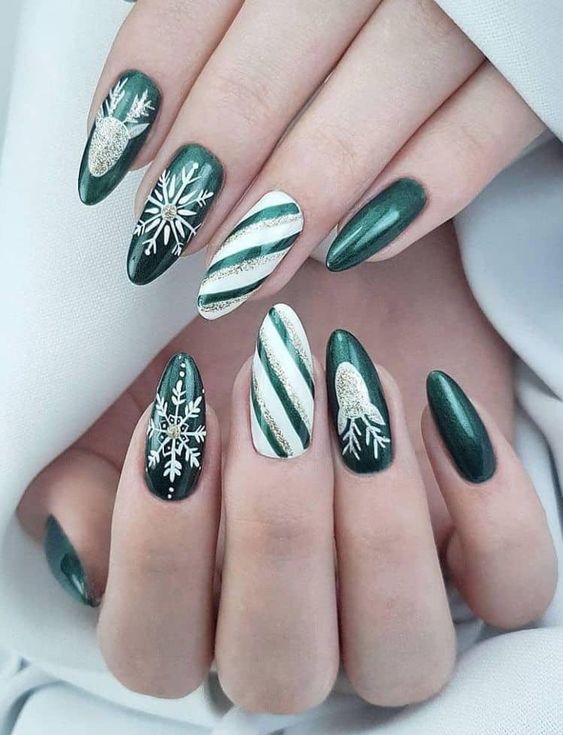 Who says candy cane stripes can only be red and white? You can definitely get the same festive effect by using green nail polish! The white accents would look just as good with it.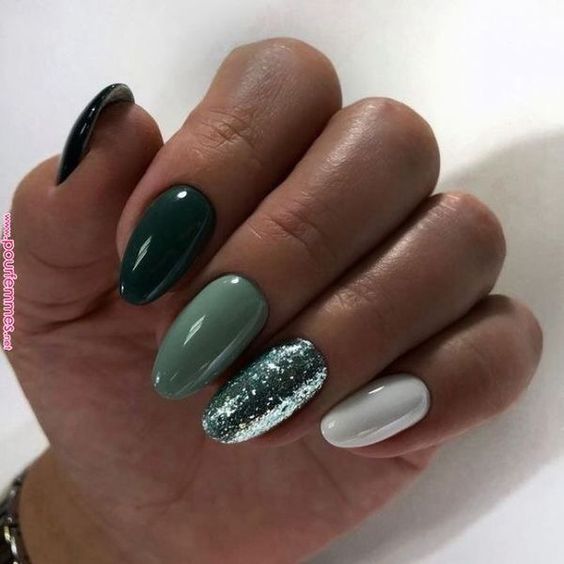 I am totally obsessed with these shades of green! They're not too overcomplicated to do so they're perfect for anyone who doesn't have much time to sit down and make intricate nail art designs.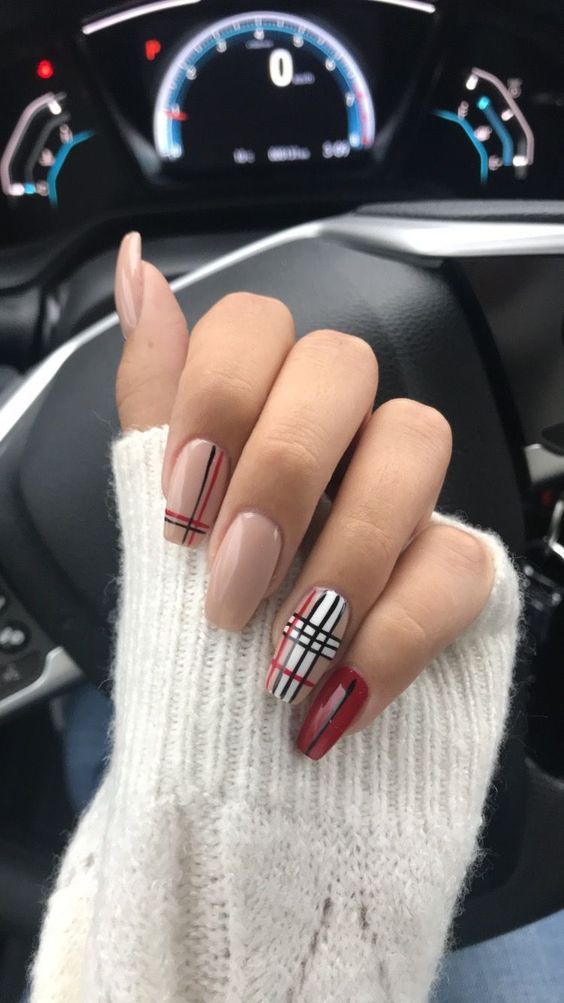 Plaid patterns don't only look good in clothes, they also look chic when worn on your nails!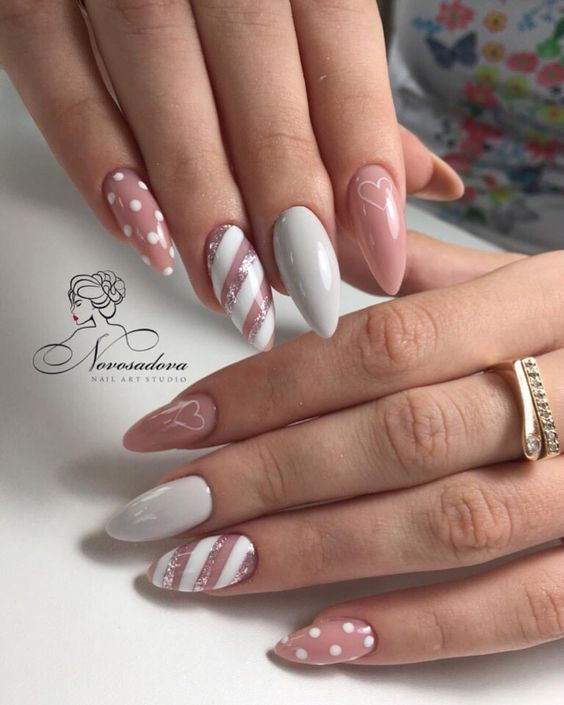 These pink patterns are perfect for a soft and feminine look this Christmas season!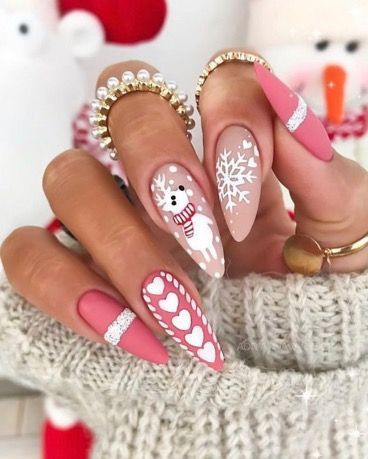 Get in touch with your girly side this Yuletide season by recreating this adorable pink Christmas-themed manicure!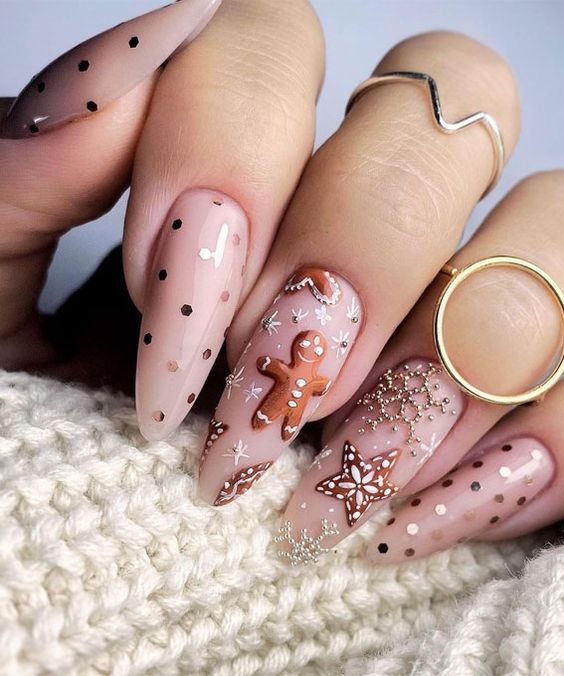 Just looking at these nails makes me crave some homemade spice cookies. But for now, let's settle for a chic manicure with a gingerbread theme.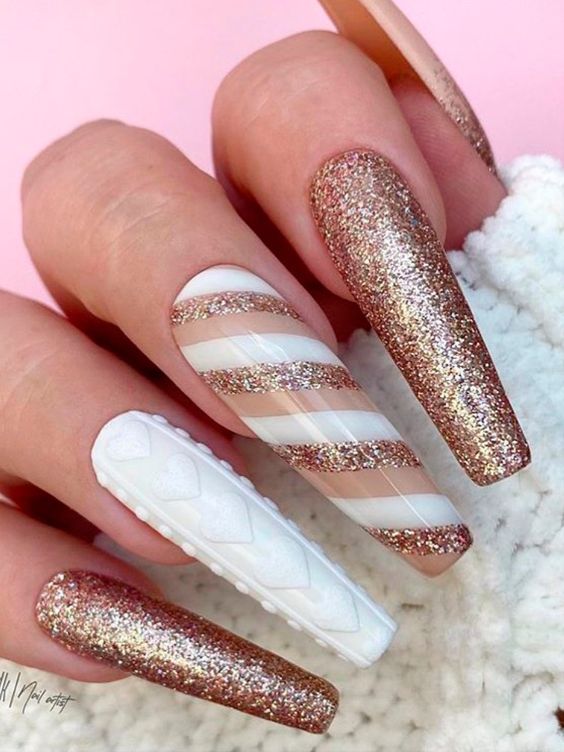 While nail art can be such a daunting task at times, it's definitely worth every effort! I mean, look how gorgeous these nails are?!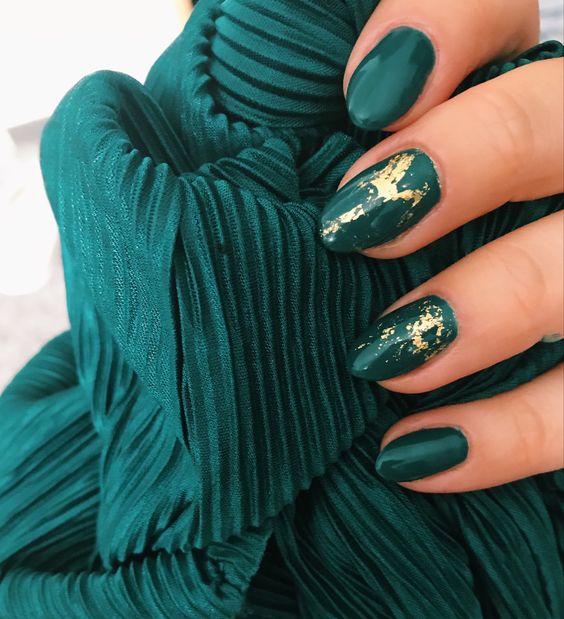 These green and gold nails are just utterly sophisticated and so perfect for any upcoming Christmas parties.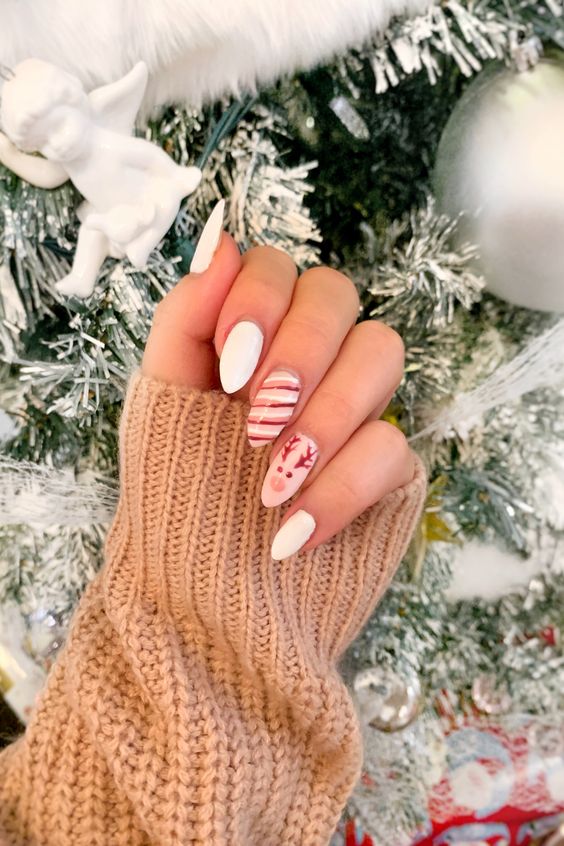 You don't have to be a pro to get these cute nails. With some practice and a little bit of effort, you'll get those holiday nails down to a T!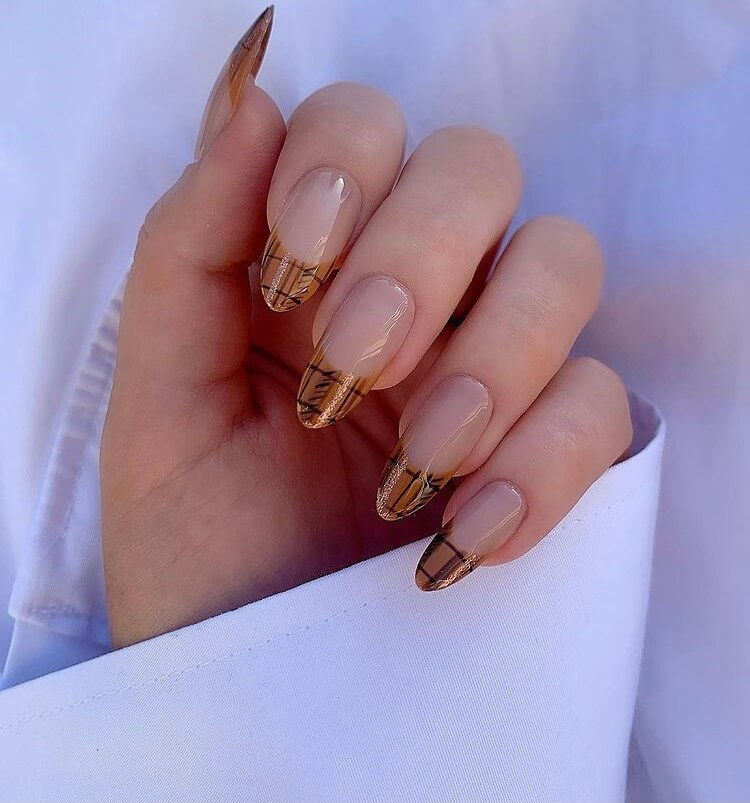 These brown plaid patterns will make your nails have a cozy feel that fits perfectly for Christmas.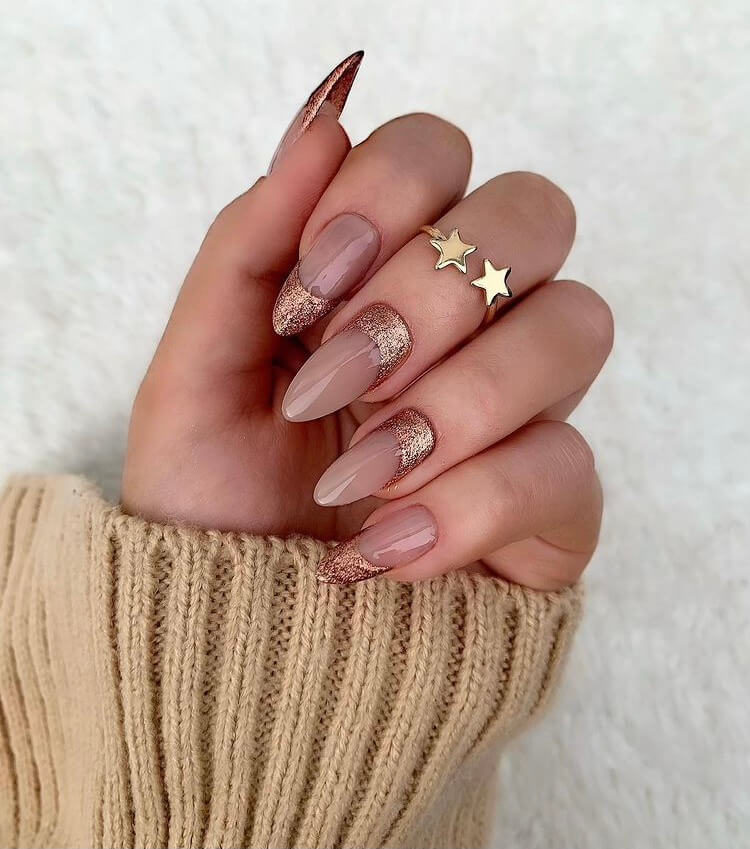 Dazzle your friends and family with this quirky set of french tips with shimmery gold that's sure to make you look sparkling.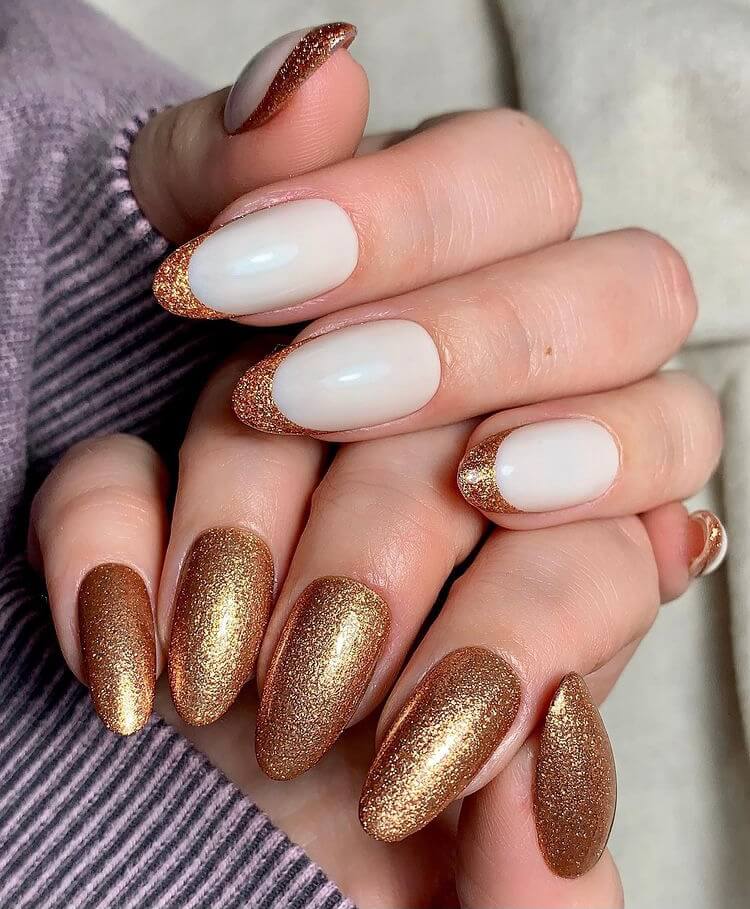 Another design you can do with your golden nails are these particular ones. They're pretty simple and easy to do!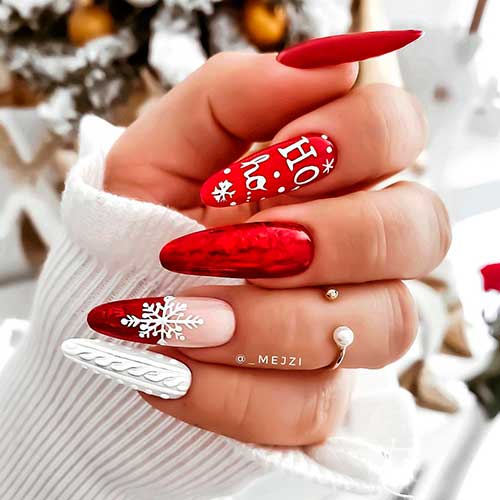 There are practically endless patterns, prints, and textures you can do with a red manicure and this is just one of them!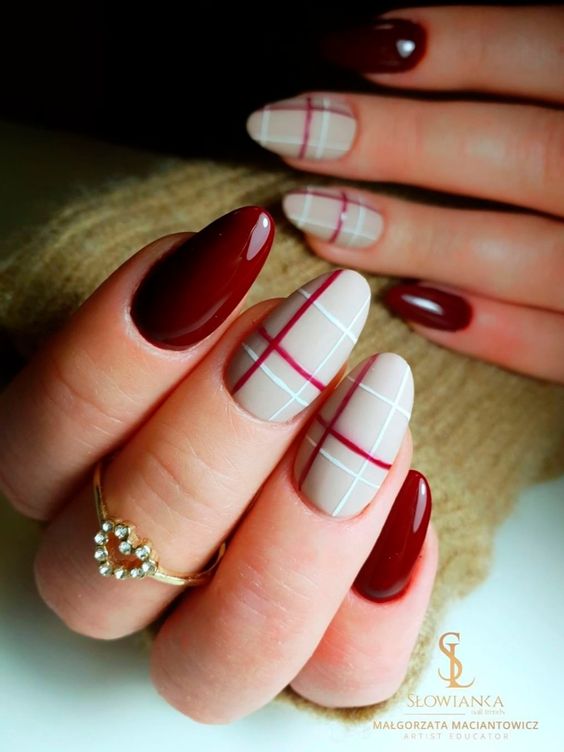 Plaid patterns are so much fun to do when it comes to nail art because you can get creative with the color combinations as much as you like. For example, just look at this chic combination of reds and neutrals.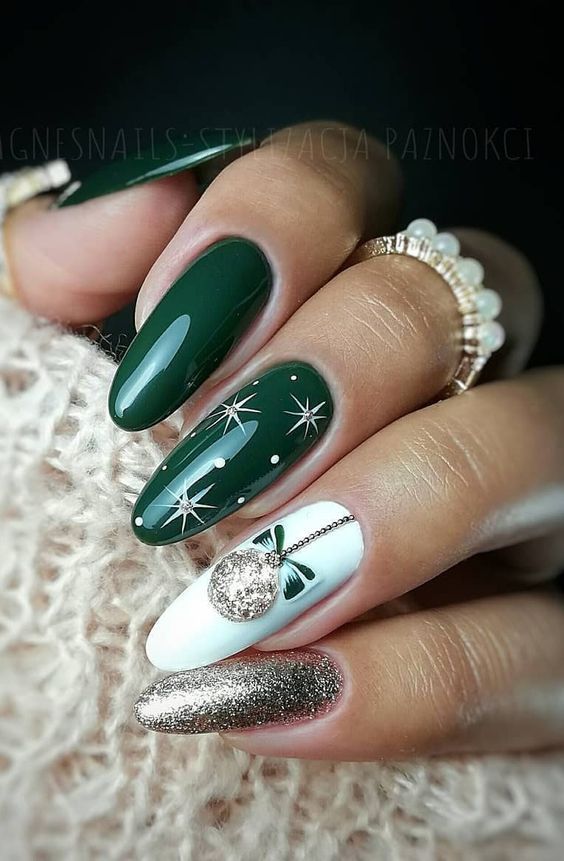 I love the Christmas ornament detailing on these nails! Not to mention, the emerald nail polish is just so gorgeous!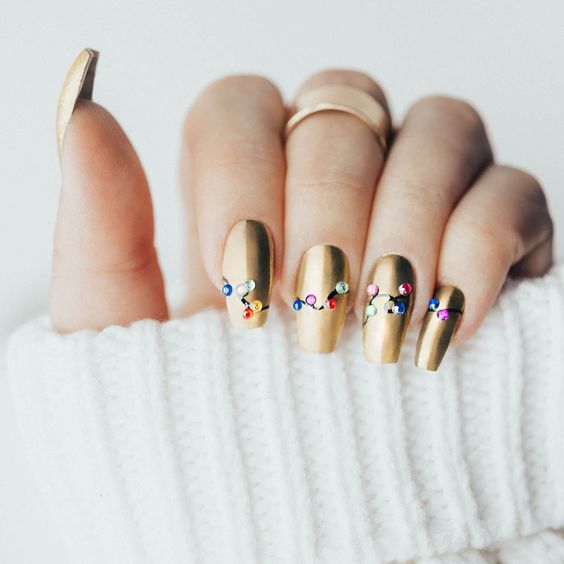 The Christmas lights on these nails are just the perfect details against the metallic gold polish!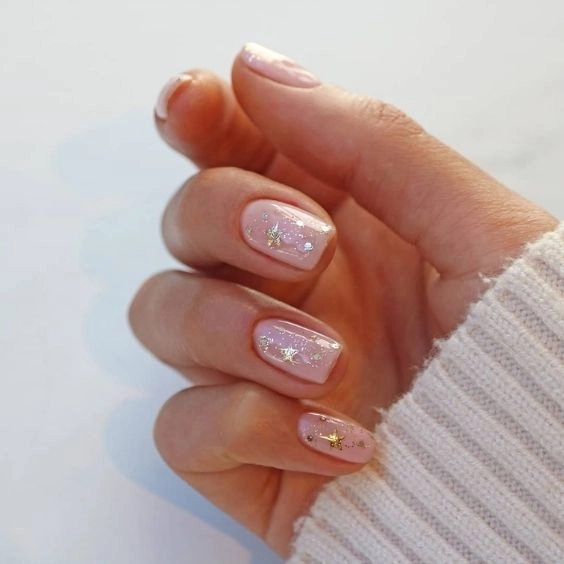 I am in love with the delicate details on these pink nails. So sparkly and festive!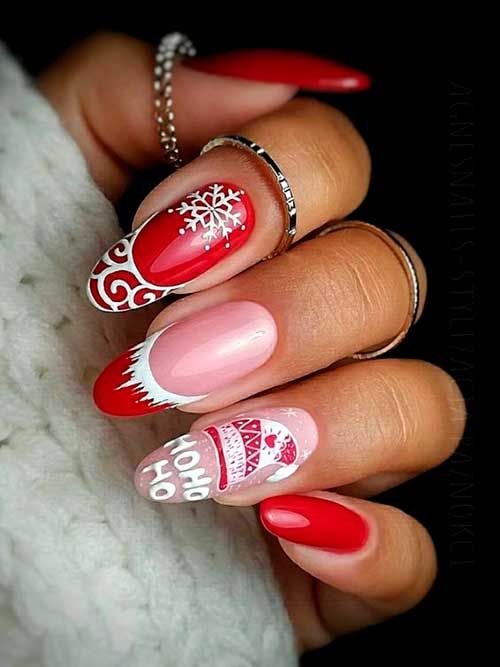 This kind of nail art will instantly put you in a festive mood!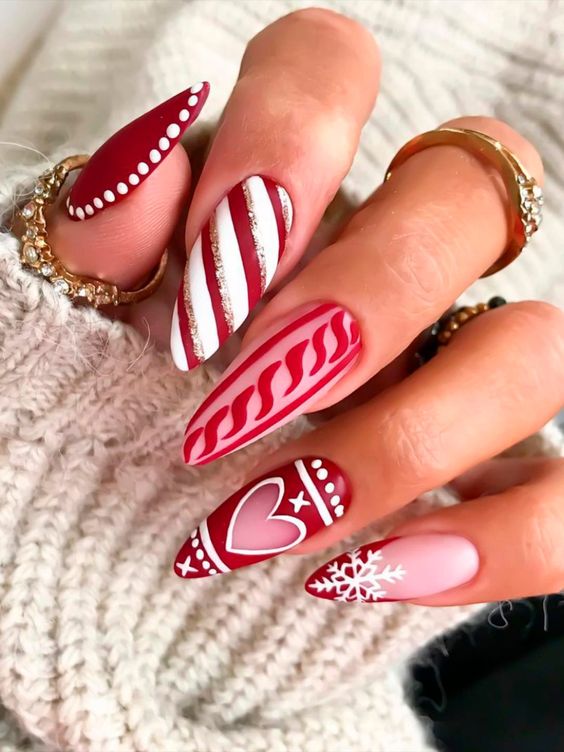 These gorgeous and quirky nail art designs are so perfectly suited for the holiday season!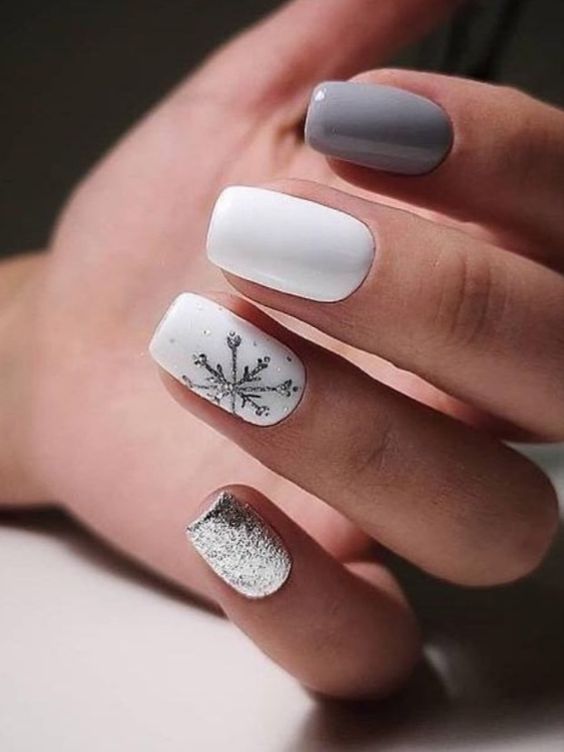 Add a bit of sparkle to your neutral-colored nails if you want to add some festive cheer to your manicure!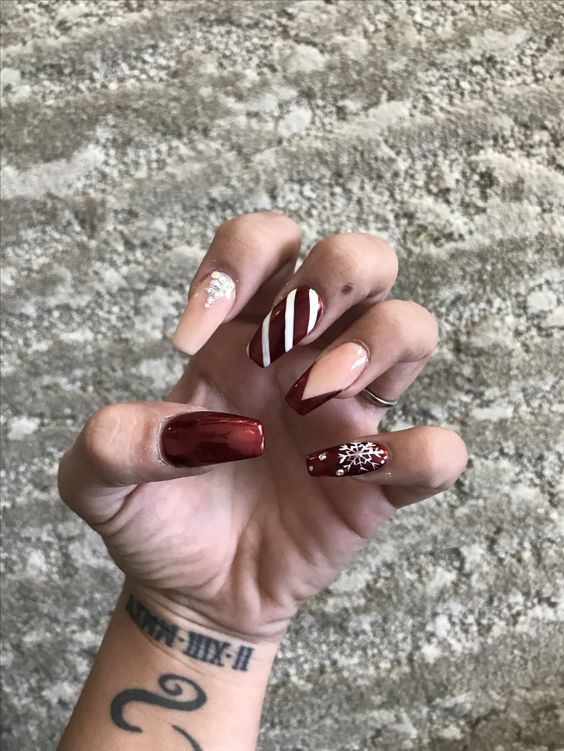 As I have said previously, I just love deep red colors and these are no exception!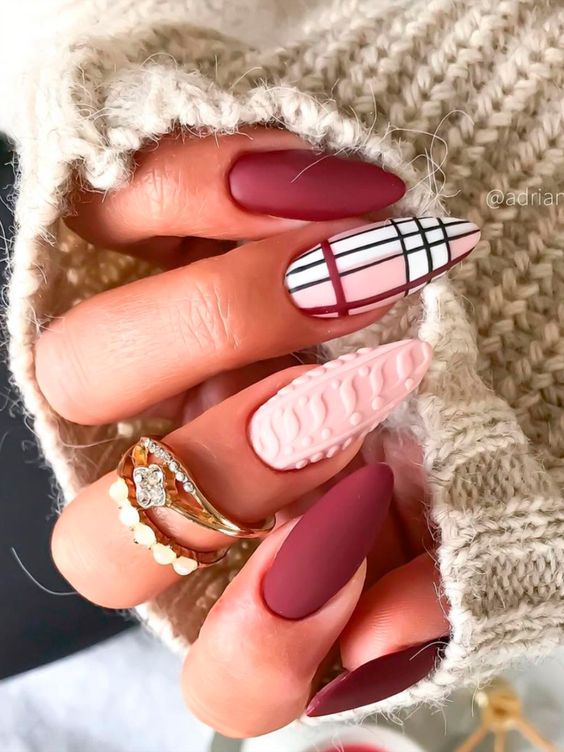 Totally obsessed with the plaid and knit patterns on these nails! They look so cozy and perfect for the winter season.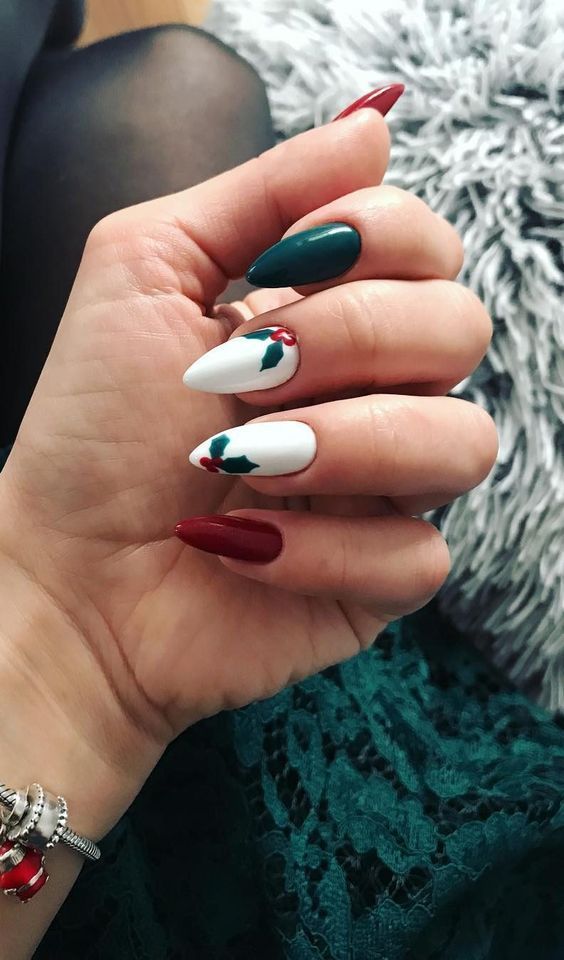 Going for a minimalistic route for your holiday nails? Then you should give these a try!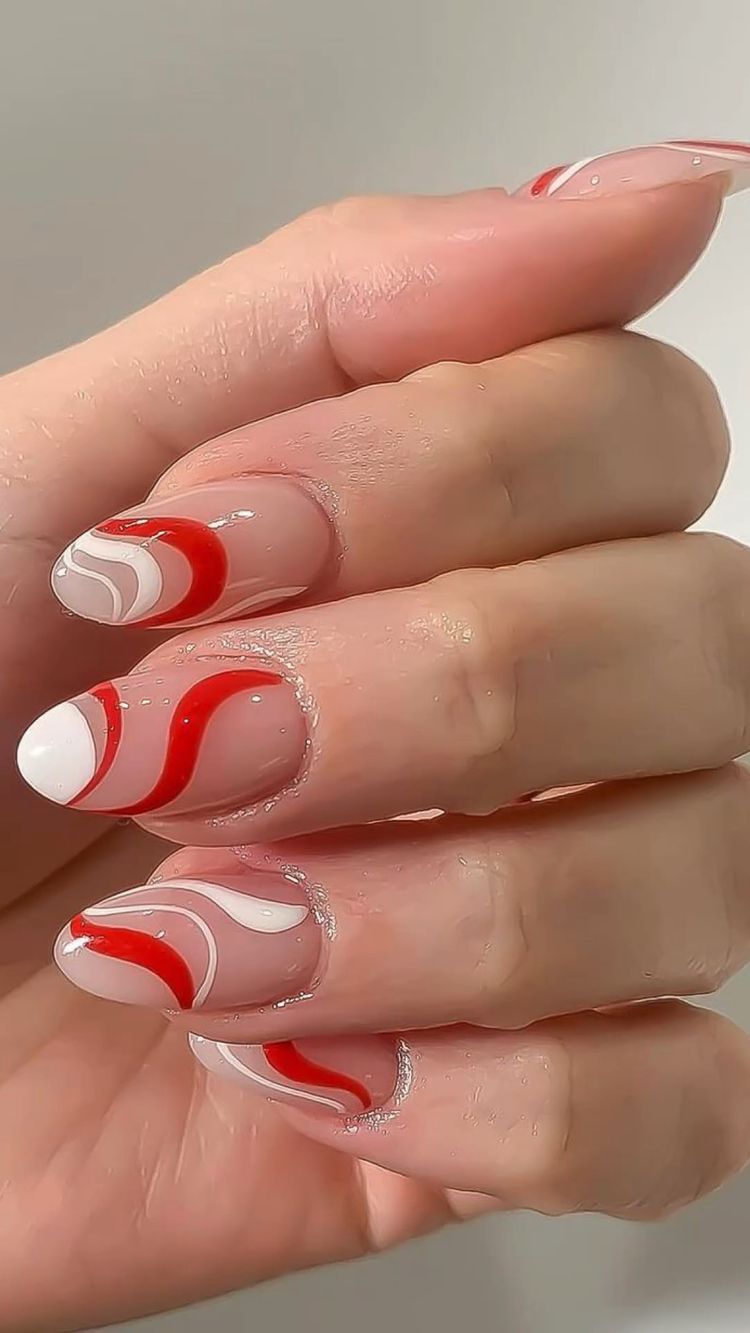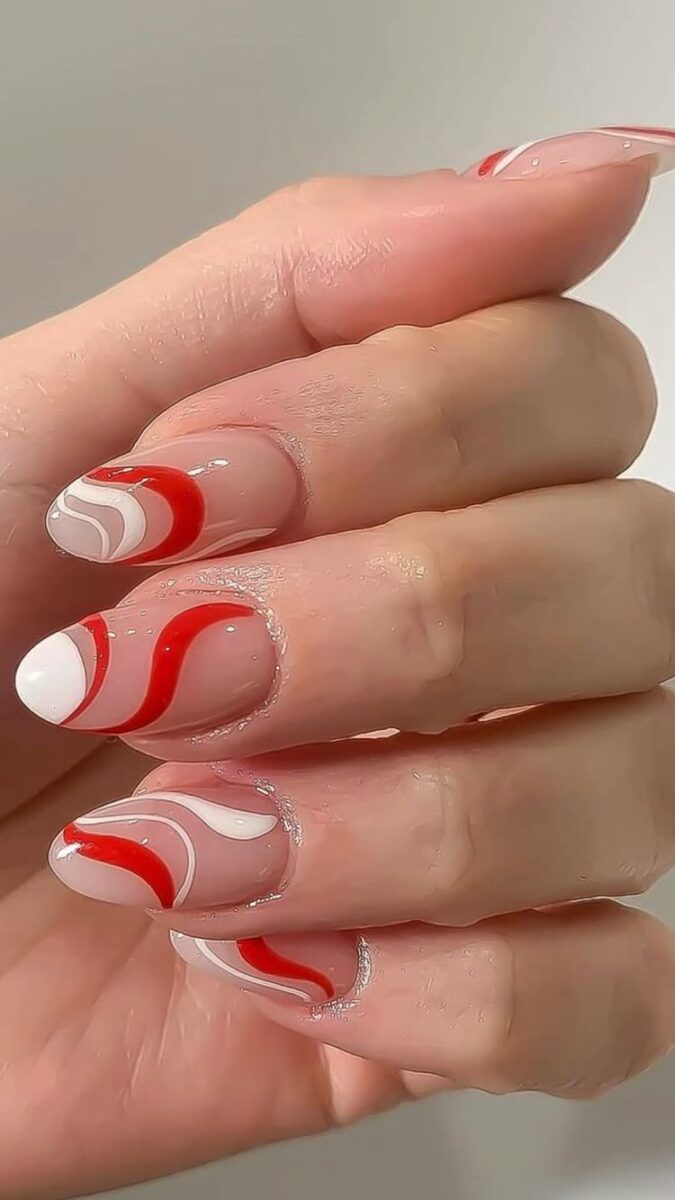 These abstract patterns are so effortlessly chic! And with the red and white colors, the whole look has become quite festive.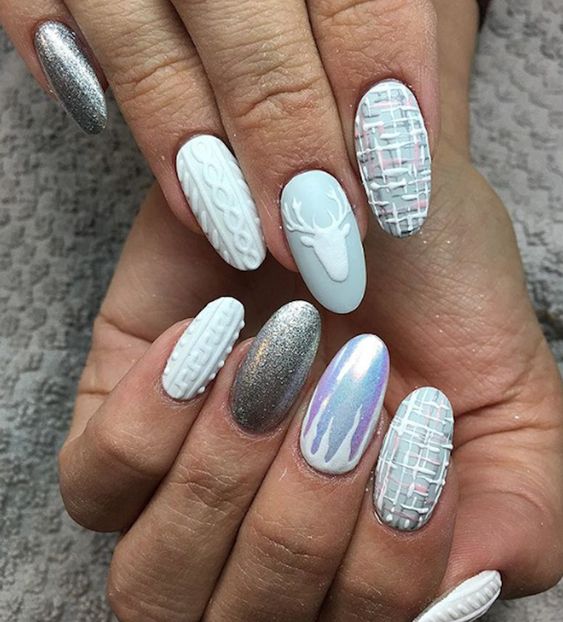 Peep that iridescent nail! It looks so ethereal and perfect for a winter wonderland theme!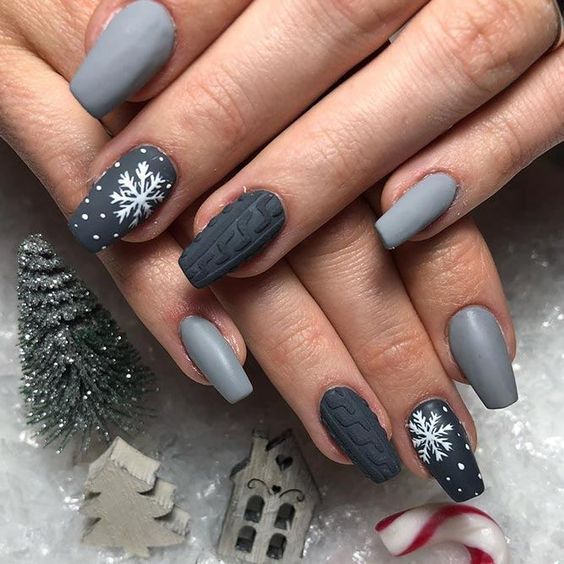 Without a doubt, I am obsessed with these nails! I love the varying shades of grey and the different patterns, textures, and prints used to make this cool-toned holiday manicure!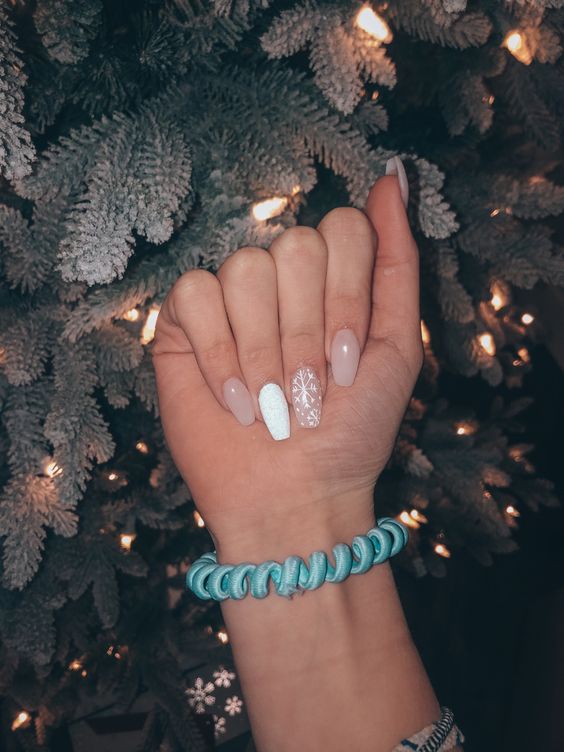 Very subtle and minimalistic, this is perfect for girls who don't want to do anything too eye-catching for their next manicure.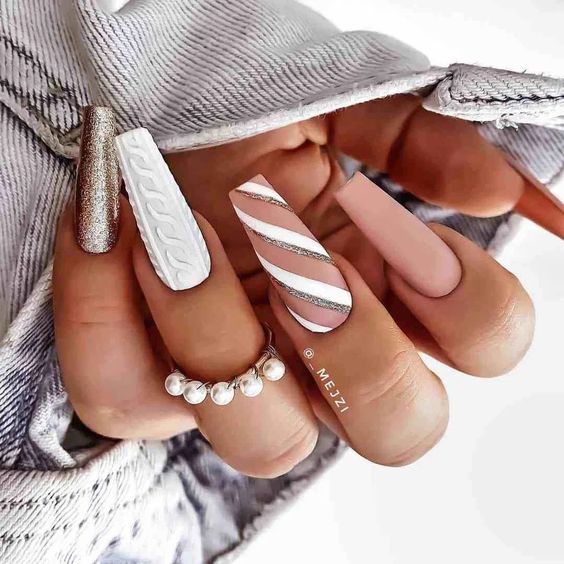 Long nails truly make any manicure instantly chic! Just look at this classy, holiday manicure!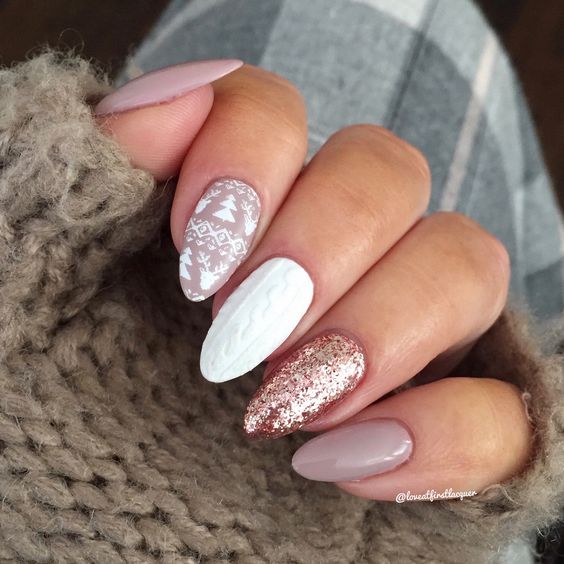 Don't be afraid to use different textures and patterns when it comes to your manicure. It will surely give your nails a more interesting finish for the holidays.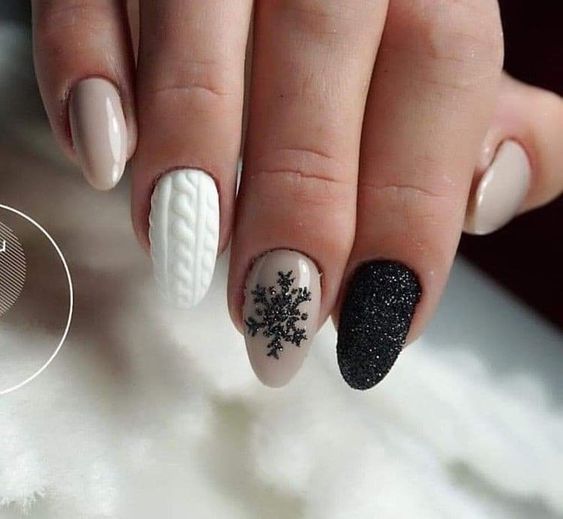 I've said it before and I'll say it again- I love a classic black-and-white theme. And manicures are no exception to that! These neutral colors just vibe so well together and give a sophisticated look.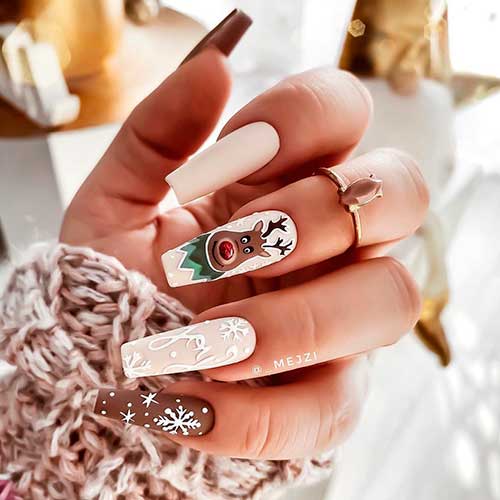 If you're not too confident with your nail art drawing skills yet, don't be afraid to get a bit of help by using peel-on stickers! They'll give you no fuss at all and you can have a nice set of nails effortlessly!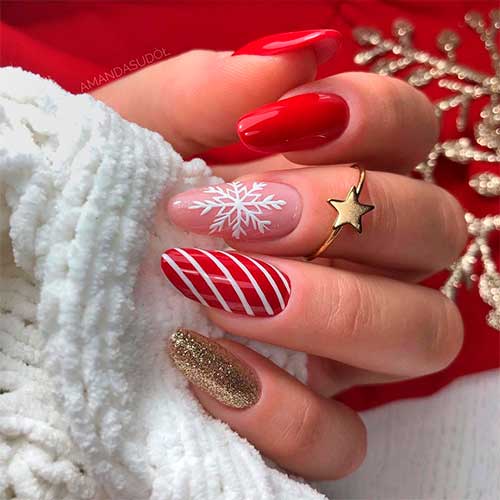 This particular nail art brings out the perfect balance of quirky and glam to your nails this Christmas season!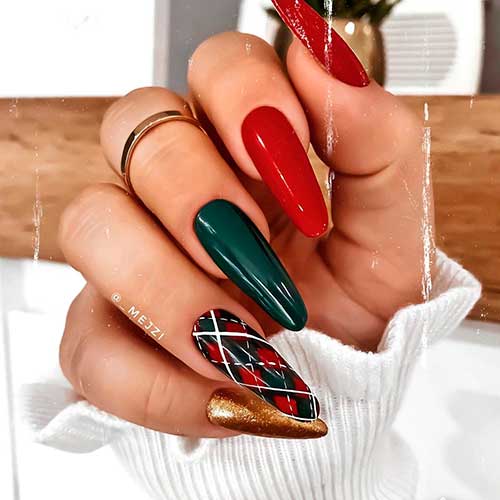 Another instant favorite, you can never go wrong with a color combination of red, green, and gold with your manicure this holiday season!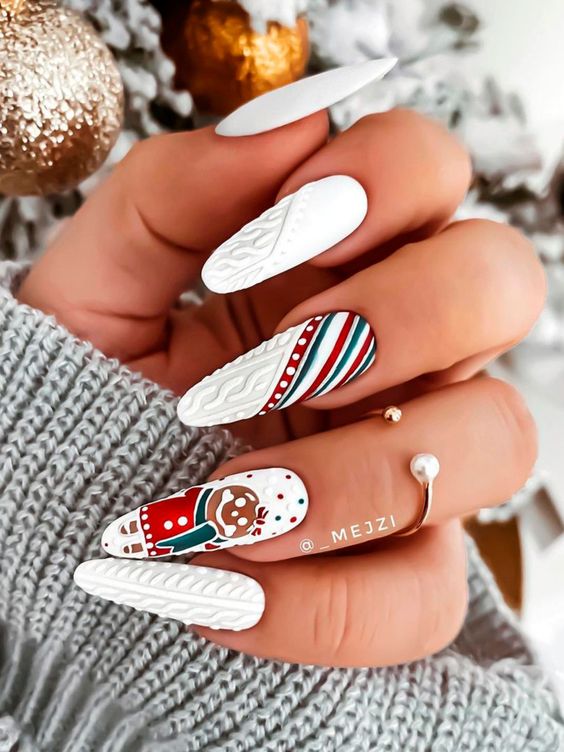 So cozy and bright, these white nails will make any color you pair with it pop!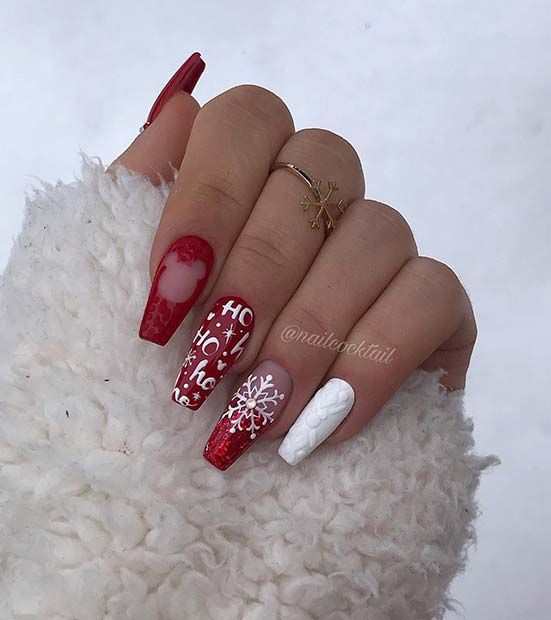 Get in touch with your holiday spirit in your next manicure session and get this gorgeous set of nails!
I love how this manicure gives you both a cool and warm vibe with blue and gold tones. So chic!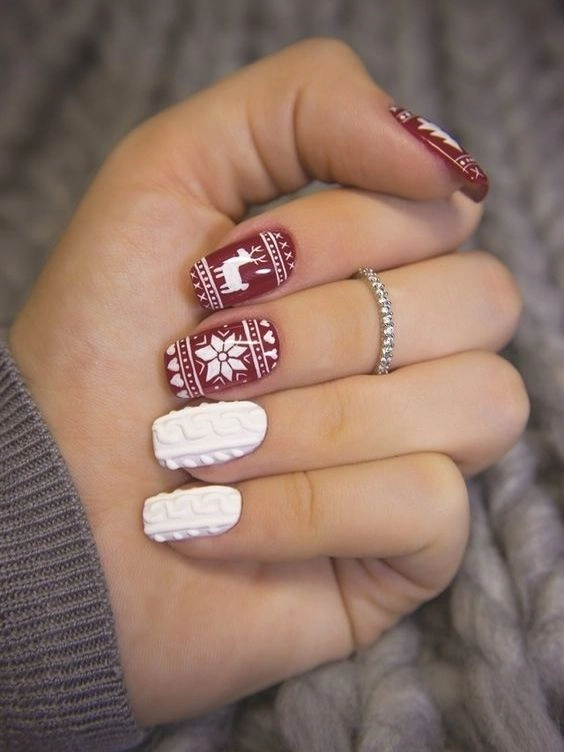 Play with different patterns and textures with your nail art while incorporating Christmas elements for a festive vibe!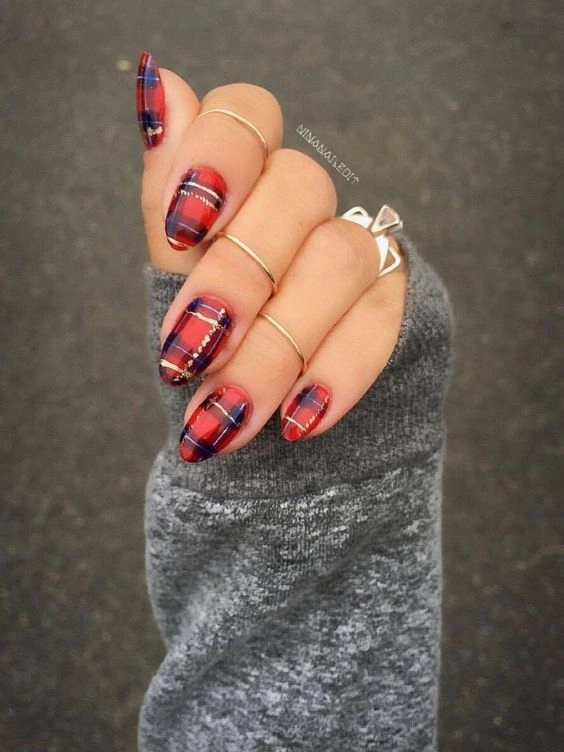 If you're just as obsessed with plaids as I am, then this manicure is a must-try!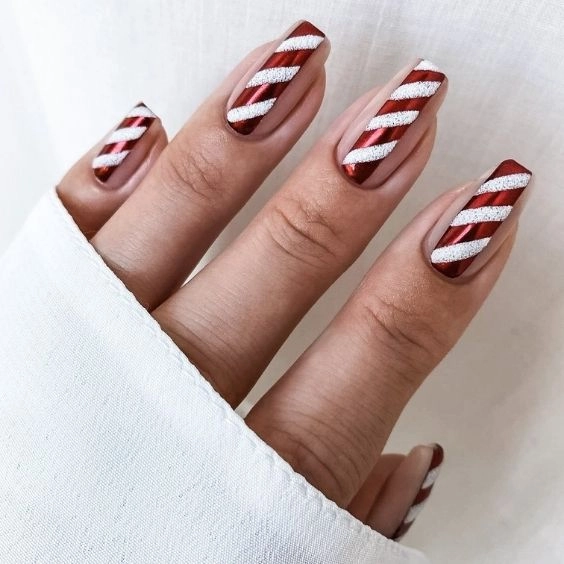 Make your nails sweet as a candy cane with these cute patterns!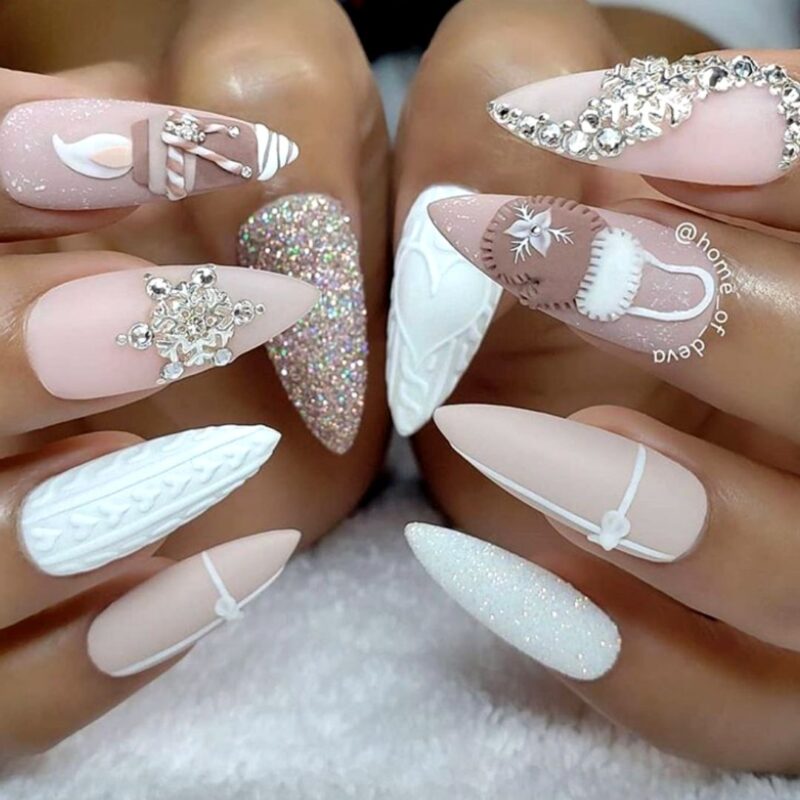 These frosted nails not only give off a winter wonderland vibe, but it makes your hands look like they're dripping in diamonds!
These dainty and soft patterns look so good! If you don't like bold and loud nail art, then you should definitely consider these ones.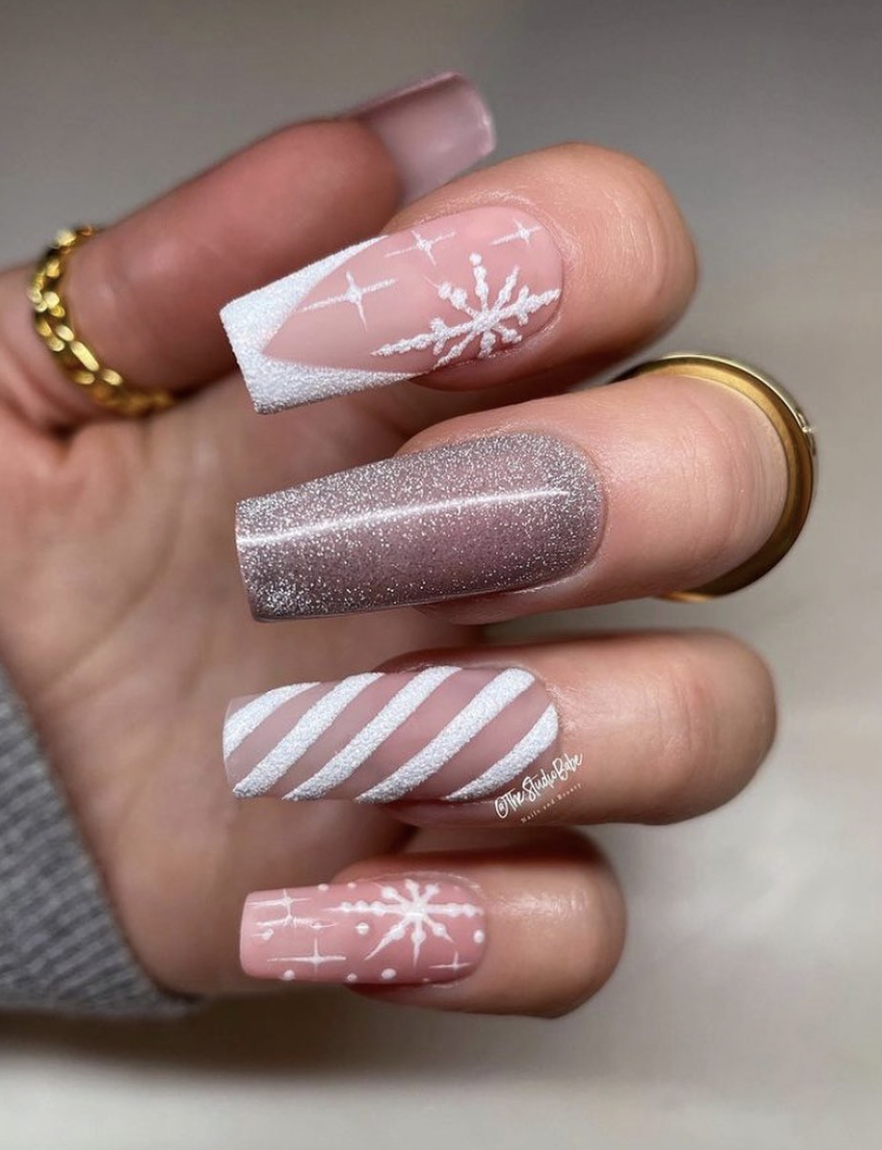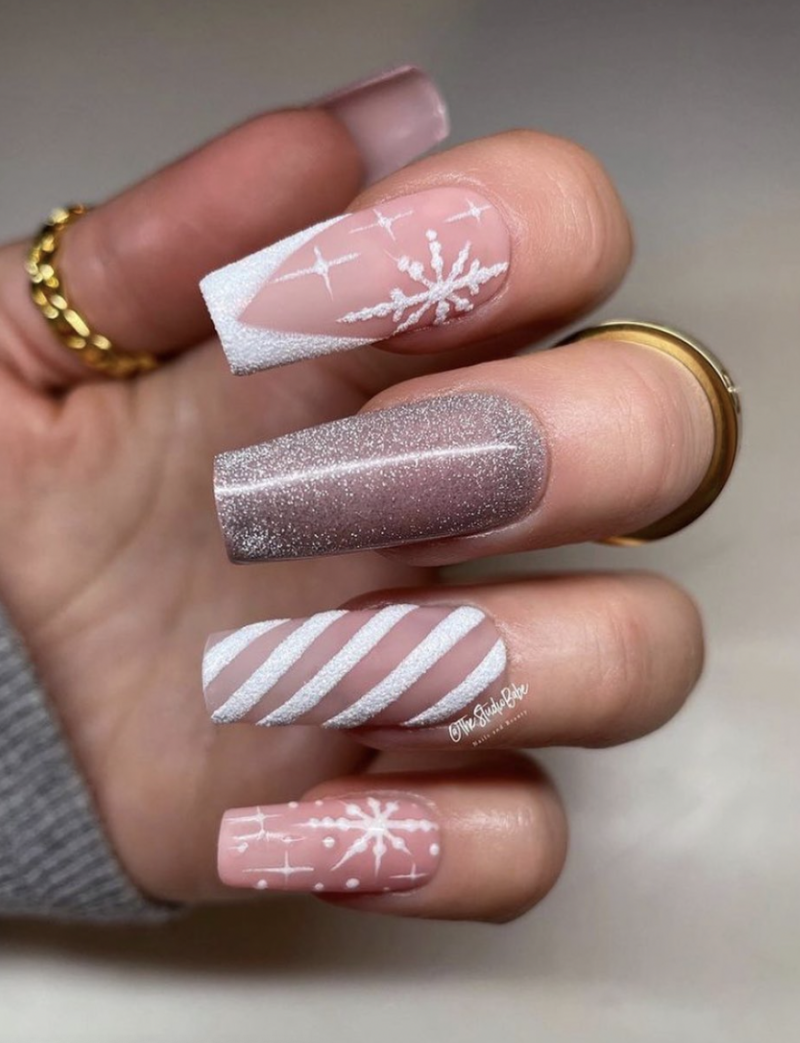 This gleaming and sparkling nail art makes your nails look like you just dipped them in the snow!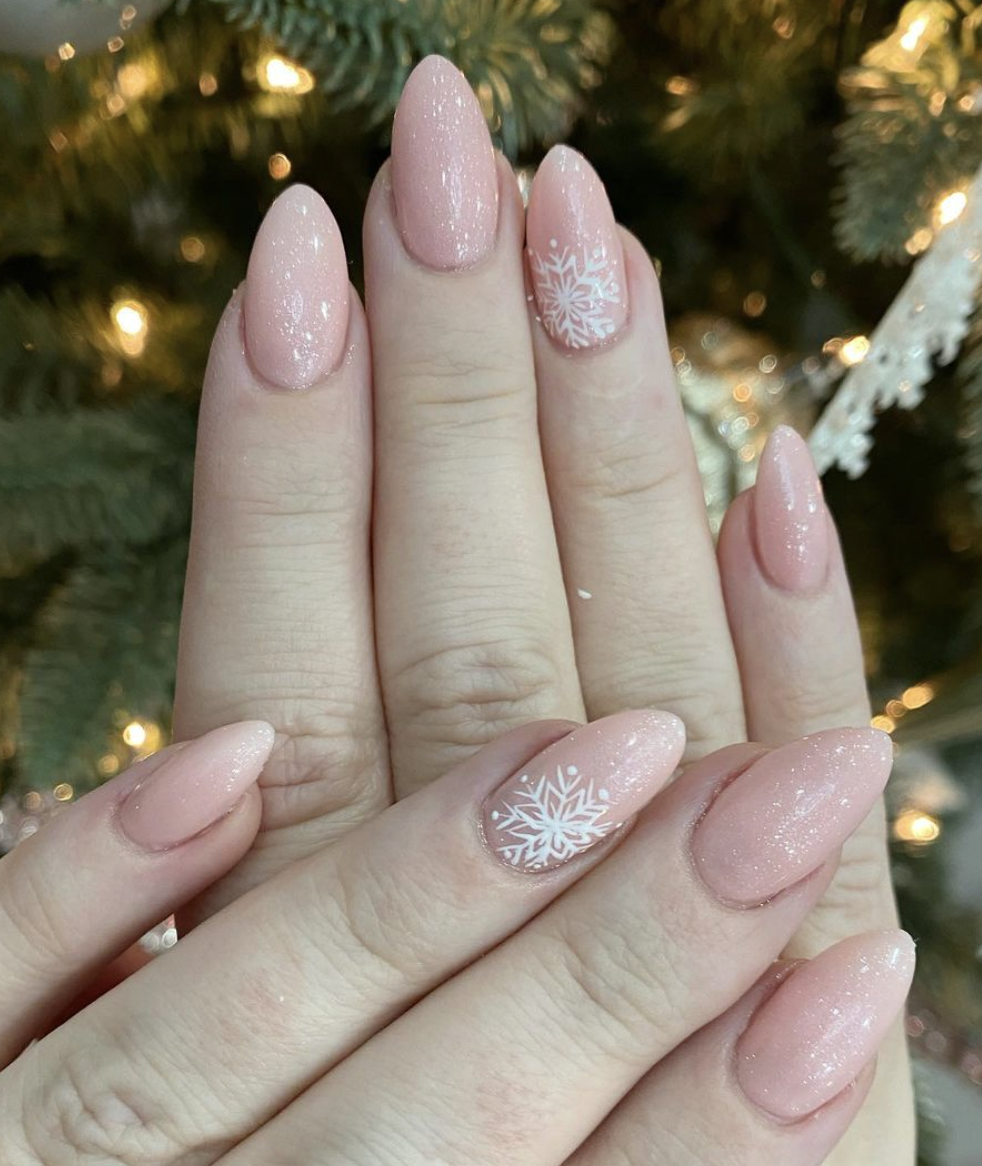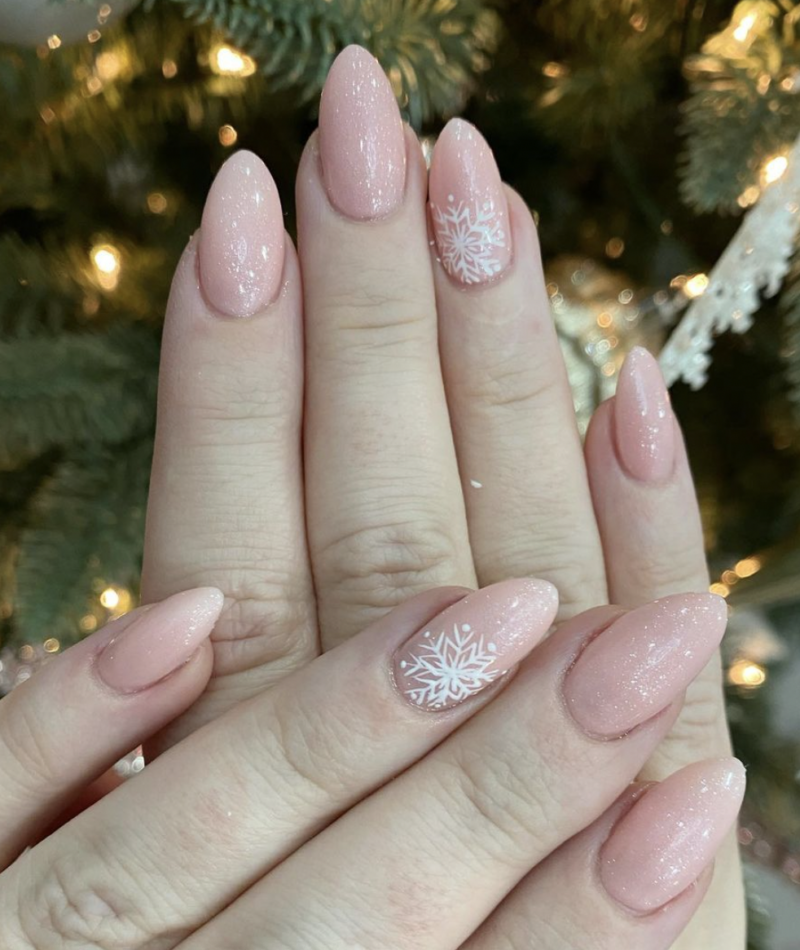 So subtle and feminine, this holiday nail art is perfect for anyone who loves a minimalistic manicure.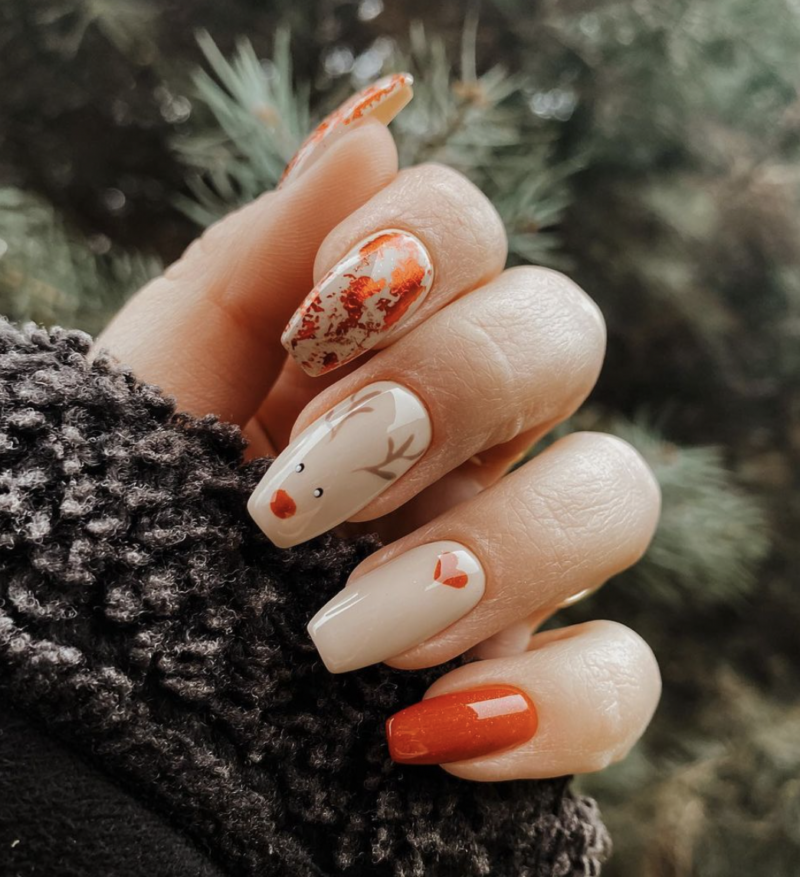 If you're still stuck in the fall season and love the colors associated to it, then this particular nail set might be perfect for you for the holiday season!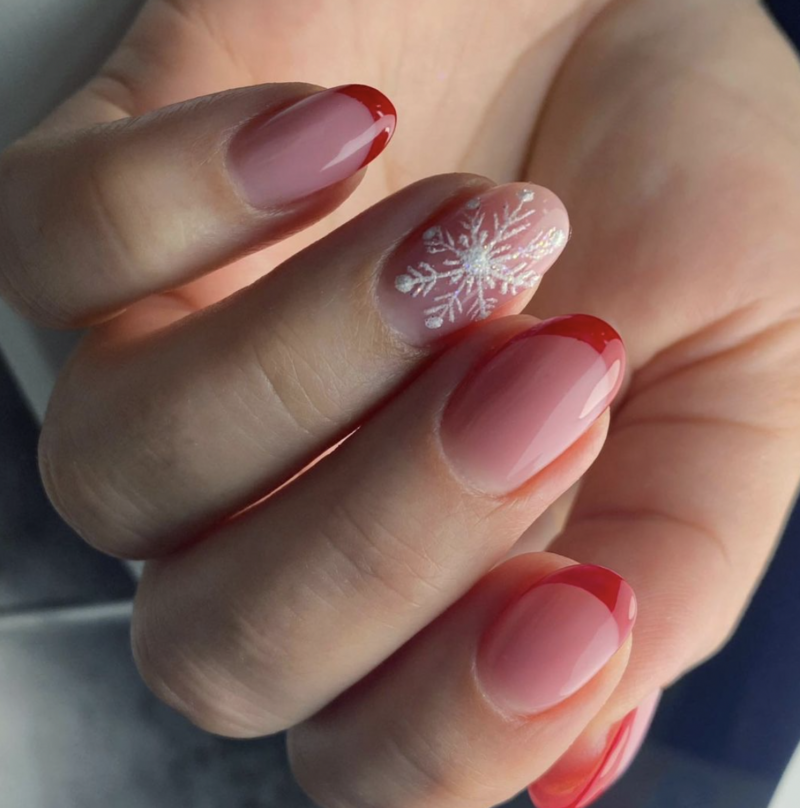 Your nails are sure to be filled with the holiday spirit with these cool and chic Christmas-themed french tips!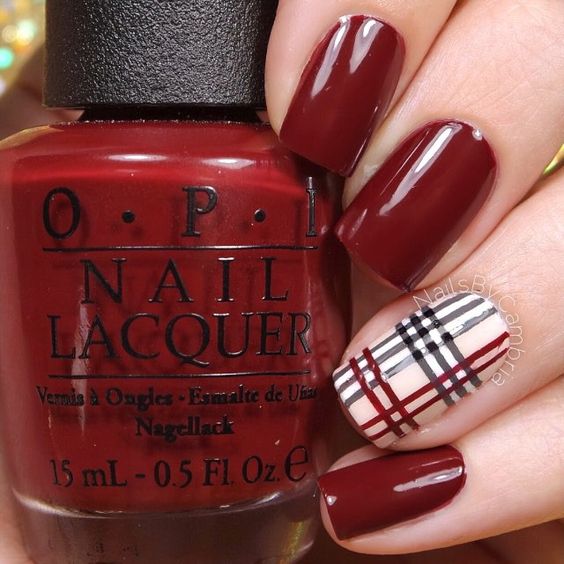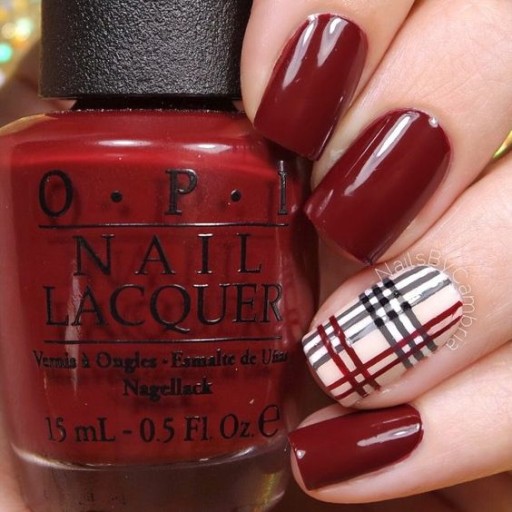 Another instant favorite of mine is these gorgeous deep red nails! Pair it with a plaid accent nail and you're good to go for the holiday season!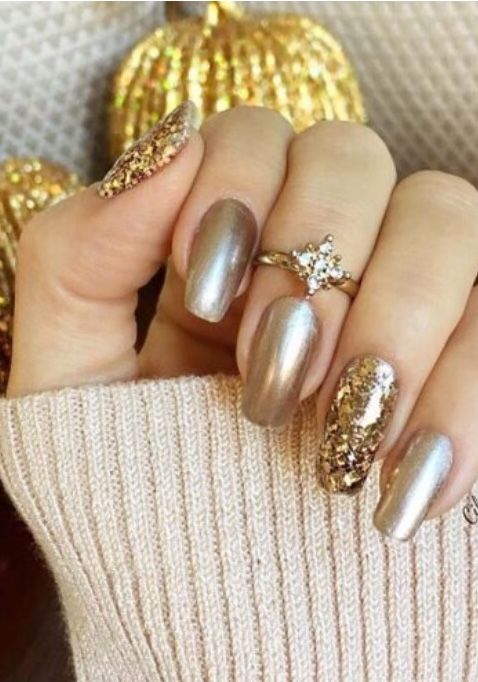 Not only will these nails make you look glam in gold, but they'll give off a lot of festive vibes this Christmas as well!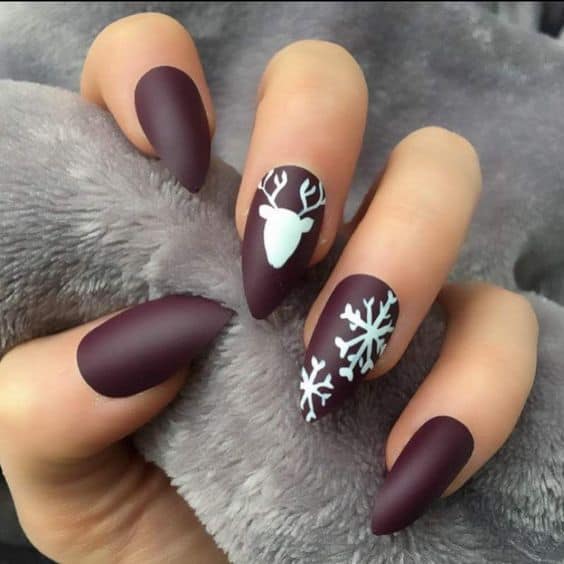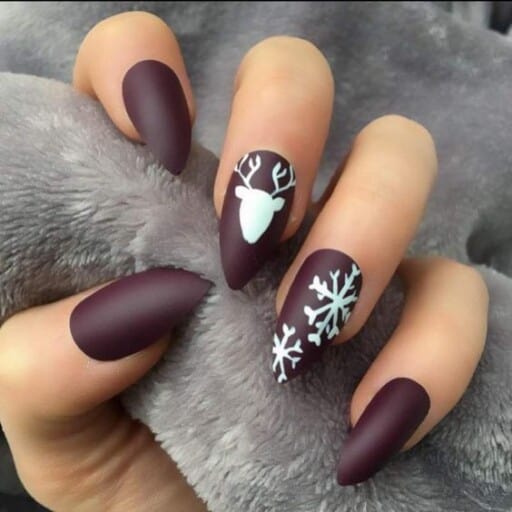 These deep plum nails are so perfect for the winter season! Incorporate Christmas elements into the mix and you'd be good for the holidays!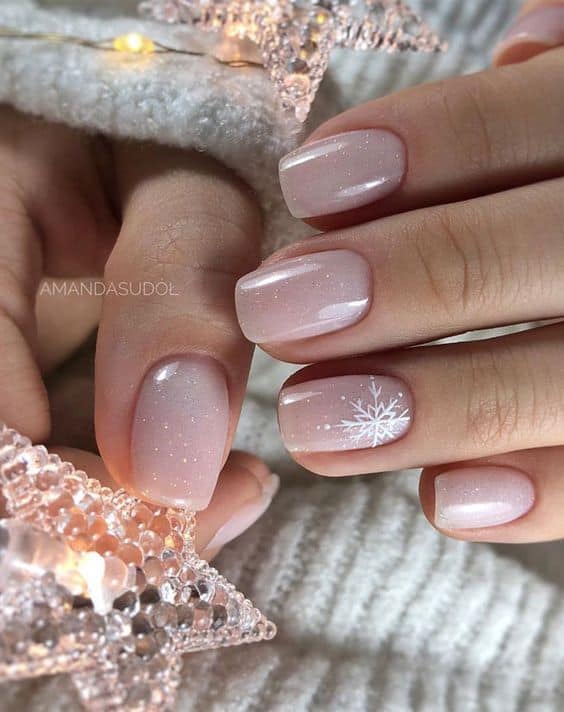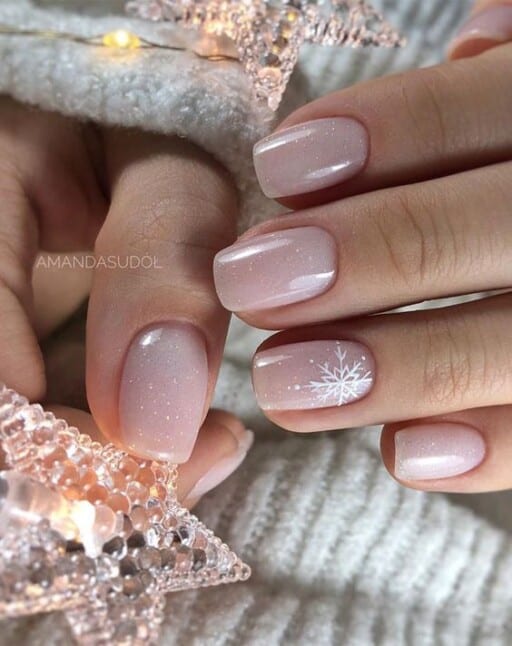 Get in touch with your soft and feminine side with these dainty snowflake-themed pink nude nails for the holidays!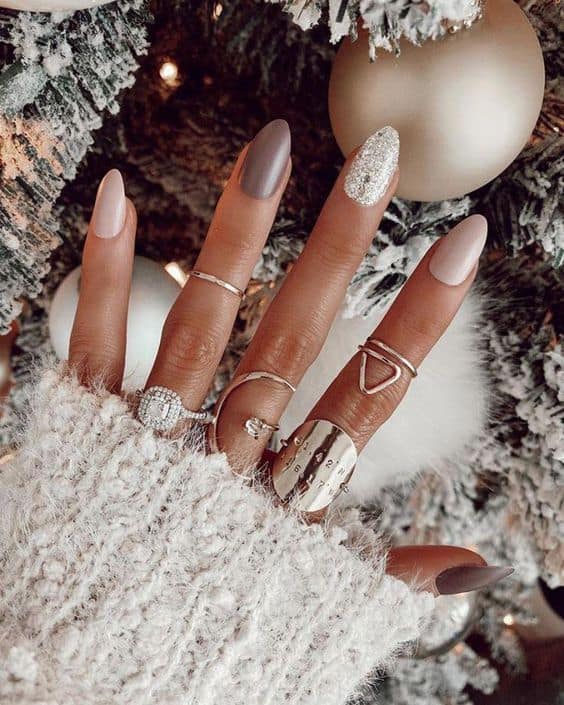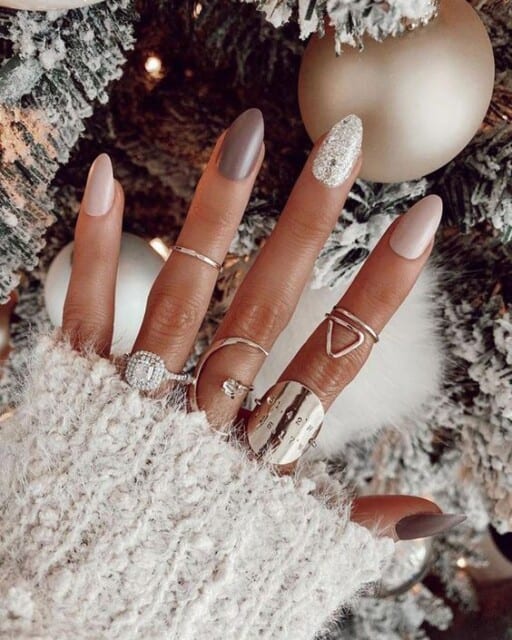 These nails remind me of a nice cup of coffee for some reason and with that in mind, coffee-themed nails for the holidays seem like a good idea too!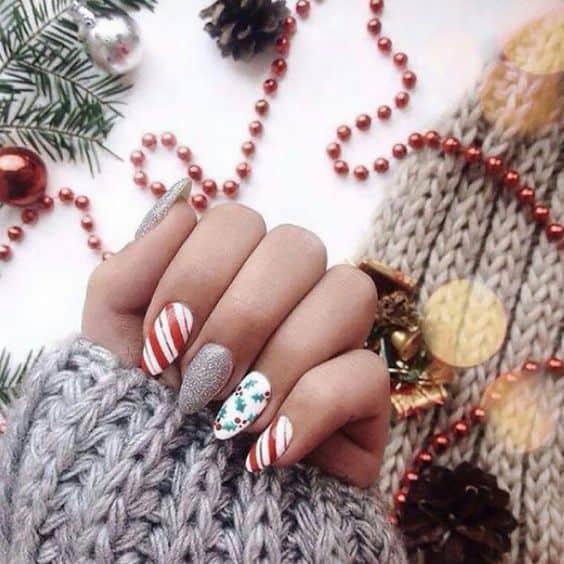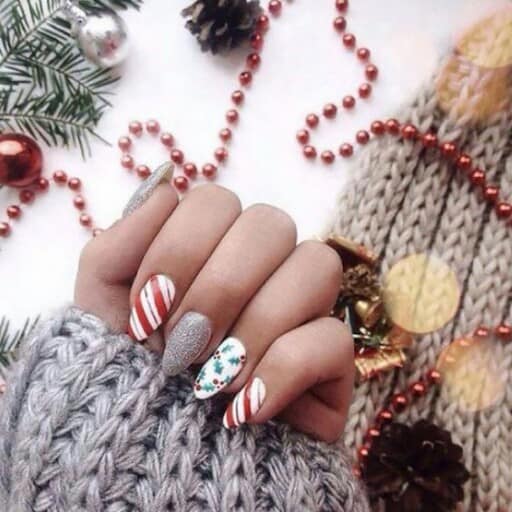 These nails remind me of candy canes and mistle toes, elements that you can't simply miss out on when doing nail art for Christmas!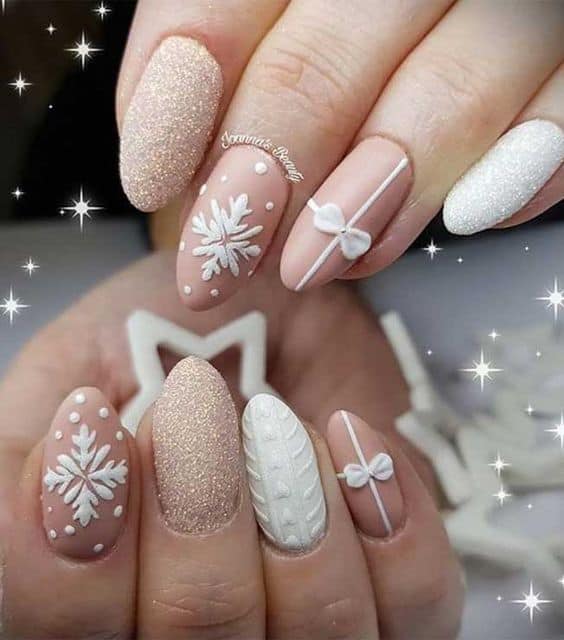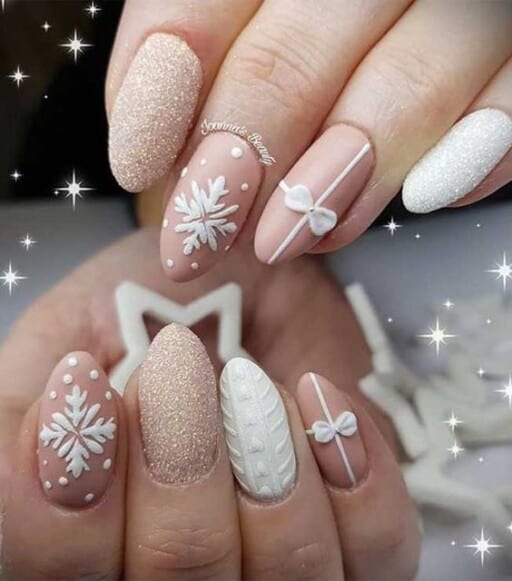 These sweater-inspired nails tend to get popular during the colder seasons and I can understand why! They give such a nice, cozy feel to your nails and you can match them with holiday elements for a more festive cheer.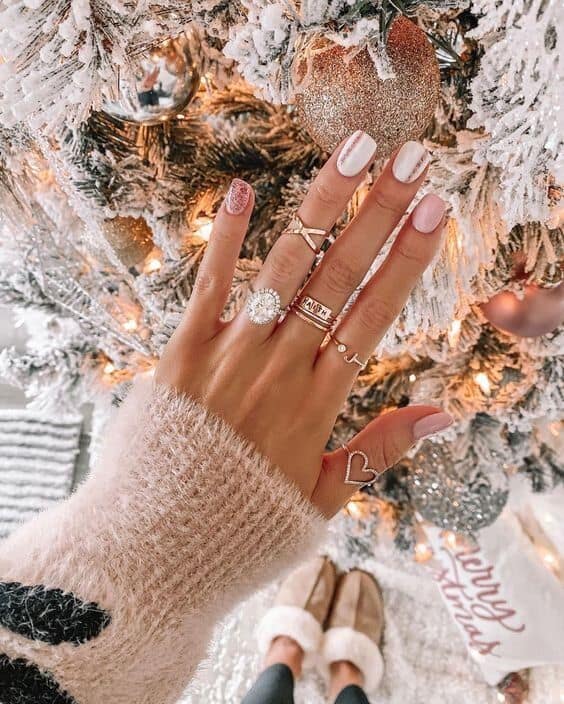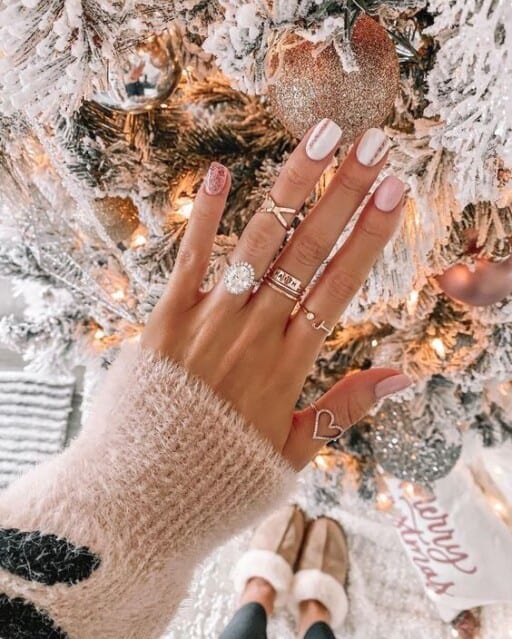 If you have lots of Christmas and holiday parties to attend this season, then some glamorous nails are needed if you're looking to dazzle everyone!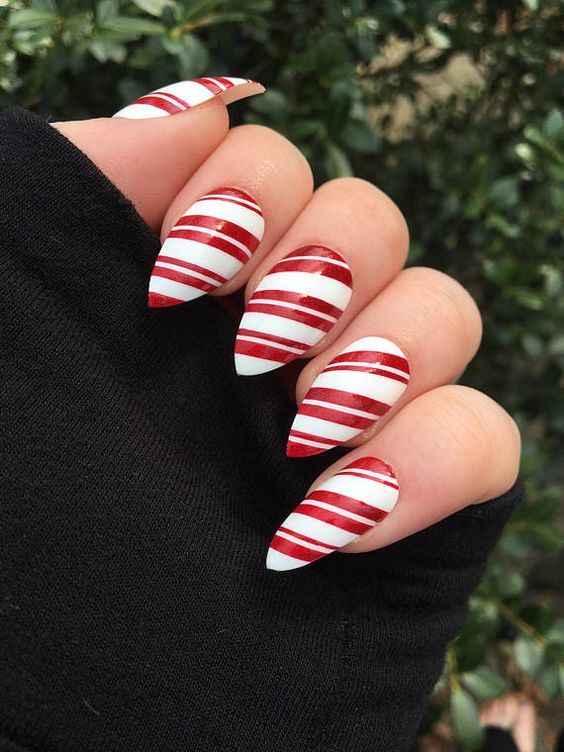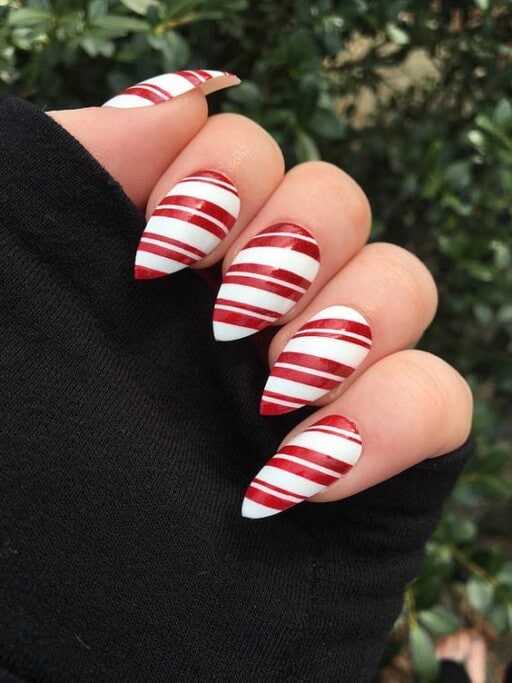 No need to overcomplicate things when it comes to the holidays, sometimes all you need is a Christmas staple for your next manicure like this candy cane nail art!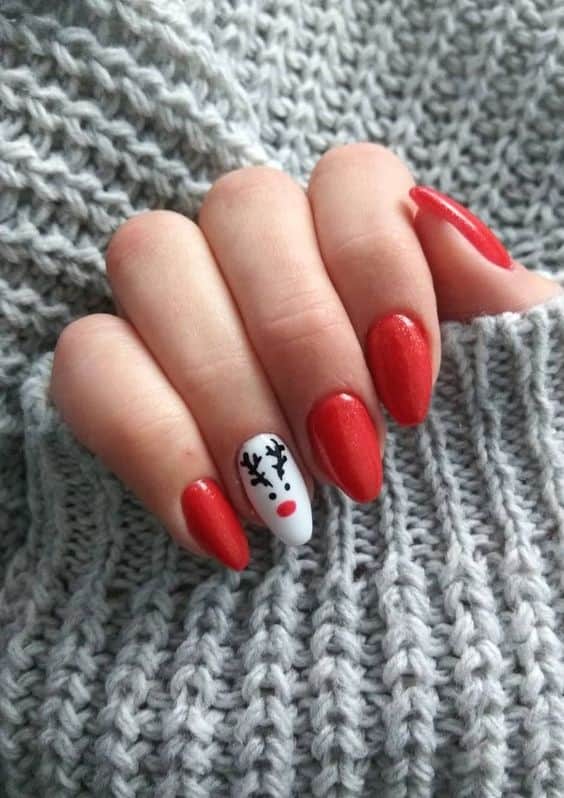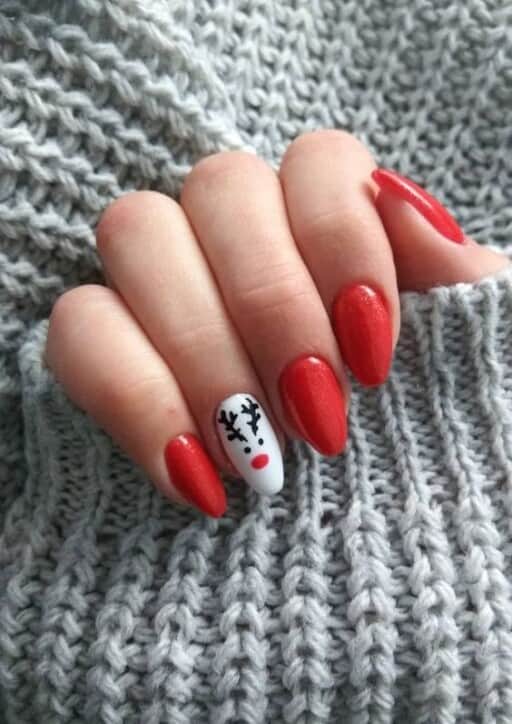 There's no denying that red is a classic Christmas color and you can give it a quirky twist by making a Rudolph accent nail!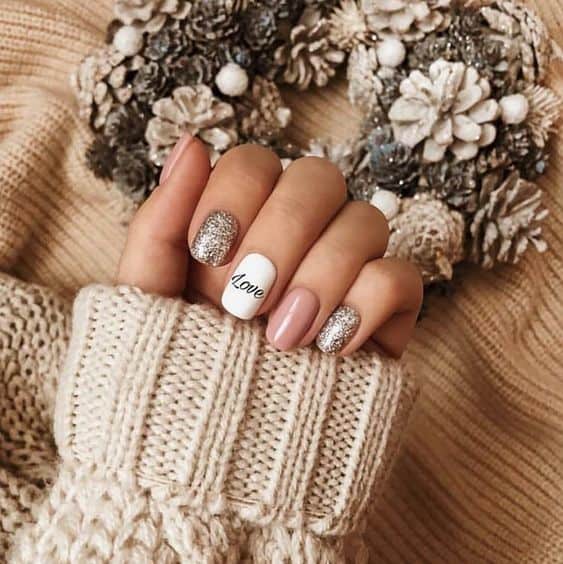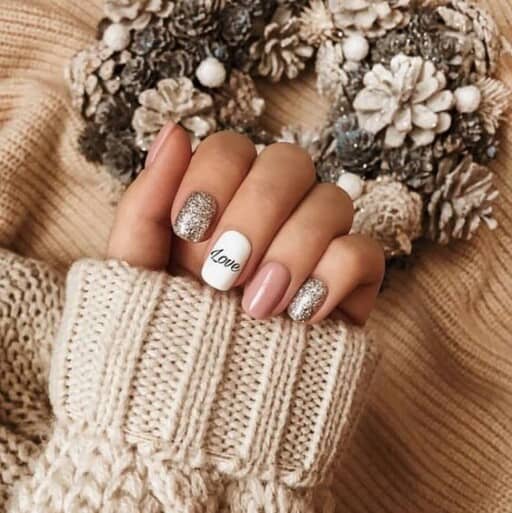 Christmas is definitely all about love! So why not incorporate it into your next manicure session?
Not sure how to do the nails that you've chosen? Read on for some tips and tricks!
How to Draw Plaid And/Or Lines
Plaid and striped nails are really popular this year, but luckily they aren't that difficult to execute.
Firstly, you'll need to make sure you have all of the necessary colors to create the design. Secondly, you'll need a good nail art brush (I use these).
You'll first do your base coat, then add one stripes using this brush to create each layer. Make sure to let the layer dry before adding another (or using a gel lamp – this way is a lot quicker) so that the colors don't blend.
You may need to use the brush to blend the plaid nails together since the stripes will be thicker. Plaid nails are a little tougher than striped but are still doable with just a little practice!
Finish with a top coat and enjoy your plaid or striped nails!
I recommend trying out your design on a plain nail then removing it before actually doing your nails all the way.
I also recommend doing gel if possible, because you dry each coat completely, so you can wipe off the topcoat without ruining the entire design.
How To Do Sweater Nails At Home:
You'll want to do your nails like regular in order to get the base color down. I typically do gel nails at home, but you can do regular polish or dip, too.
Once you have two coats of your color dried, apply a top coat and cure the nail.
Next, you're going to use a design brush to paint on the sweater nails design. You'll want to opt for a thicker brush in order to get the cable knit sweater nail look.
Don't worry about messing up – that's why you cured the nail with the top coat. If you don't like your design on the first try, wipe it off before it dries and starts again. It can be helpful to have an inspirational photo (like those below) on hand so that you can follow a pattern.
When you're finished, you're going to let the design dry for a few minutes, then use a clear-colored dip powder to set the nail. Dip is a bit thicker and stronger, so this is what will keep your sweater design strong and whole.
How To Do Abstract Nail Art:
If you're super talented, you can do abstract nail art at home. You'll need a variety of tools, so I recommend purchasing a set of nail brushes, plus whatever colors you want to use.
You'll definitely need to plan out your manicure before diving in. Abstract nails are truly art and you want your manicure to look cohesive.
There are also some great stick-on abstract nails available on Etsy. This is where I purchase all of my stick-on nails because they're high quality and tend to last for a while. Plus, they look super professional!
Otherwise, you'll want to check with your nail technician to be sure they can accomplish the design you're looking for. Every abstract nail design is unique and requires different techniques.