Plaid is the new neutral when it comes to fashion. Whether it's plated jeans or plated shorts you'll see them everywhere this year – on celebrities like Taylor Swift and Selena Gomez too!
Plaid pants are a great way to give your outfit some extra personality. The pattern has been around for years, and it's especially popular in the corporate world because of this versatility. However, plaid is making a huge comeback on the trendy fashion scene, too.
You can wear plaid at any time – even summertime! While plaid pants were traditionally a fall fashion piece, nowadays you can put together a plaid pants outfit for just about any season.
Plaid pants outfits are also really versatile. You can make them preppy, office-ready, grungy/90's inspired, dark academia, or just about anything in between.
They're even great for a going-out outfit. The options for what clothes go well with plaid pants are endless!
But how do you wear them? What should you pair your plated pants with? Here are some tips for plaid pants outfits and how to style them, or scroll on down past these tips to check out the top plaid pants outfit ideas for 2021.
Types Of Plaid Pants:
When you purchase your plaid pants, you'll definitely want to look at the fit. You can get flare plaid pants if you're a fan of the 70's, skinny plaid pants (which are better for going out outfits), balloon plaid pants, and everything in between.
I recommend that you try a few different styles from a few different stores. When plaid pants fit well, they're perfect, but if the fit is even a little off then these pants will really bug you.
Tops With Plaid Pants Outfits:
You can wear your sweater or cardigan with your plaid pants to make your outfit more feminine. Sweaters and cardigans are comfortable, warm, and come in different colors.
For a preppy plaid pants outfit, wear a shirt or blouse with a collar under your sweater.
You have the choice of either an oversize sweater or cardigan with plaid pants. I especially love a chunky button-up cardigan, though an oversized sweater definitely keeps you warmer.
If you really want to go bold with plaid, try getting a matching plaid shirt. Typically, these outfits come in a set.
You can also choose a statement top for your plaid pants outfit, such as a long sleeve crop top with an interesting design. You'll see plenty of examples down below in the photos. I especially love statement tops for plaid pants outfits when I'm going out!
Jackets With Plaid Pants Outfits:
Because I love wearing plaid pants during the winter, I'm often incorporating a jacket into my outfit.
Luckily, you can wear just about any jacket with your plaid pants outfit. Leather jackets are super cute as well as corduroy jackets, puffer jackets, long wool coats, and even jean jackets.
I especially like wearing a cute jacket with a crop top and boots. It's a really comfortable outfit that's still trendy.
Shoes With Plaid Pants Outfits:
When it comes to shoes, the sky is the limit with plaid pants outfits. You can wear flats, booties for fancier outfits, or combat boots for a more casual daytime/grunge look.
You can also choose white or black sneakers if you want the outfit to be functional. For example, I usually pair sneakers with my plaid pants when I'm going apple picking, but I'll wear heeled leather booties when we hit the bars.
Honestly, most shoes go with plaid pants outfits, so it's really easy to put something together. However, make sure you choose your shoes based on the activity that you're doing.
Where To Buy Plaid Pants:
Just about every store sells some variation of plaid pants, but they're aren't always great. I like my plaid pants to be super soft while still holding the right form.
These are my favorite stores for affordable but awesome plaid pants.
I low-key love the plaid pants at Hollister. They have all different patterns and fits, but they're all super soft. I'm definitely not a teen yet they still fit really well!
If you feel weird ordering from Hollister (I definitely did since this was my middle school store), I highly recommend that you give these plaid pants a try. I just ordered 3 pairs for $30 each and I'm obsessed with them!
I find that Lulus plaid pants are really great if you're looking for medium prices. They have tons of styles and colors to choose from and usually offer free shipping.
If you want budget-friendly plaid pants then Forever 21 will be your store. I find that these pants are a hit or miss, but they're usually pretty comfortable and are sometimes only $15-$20/
If you want more of a professional/office vibe or a dark academia look, check out the pants at Banana Republic. They're a little pricier but are really amazing quality and are always perfectly tailored.
Plaid Pants Outfit Inspiration:
Note: I tried my best to link the source of these photos, but some are from really obscure places/I couldn't find the original photographer. Please contact me to add more specific credit or for immediate photo removal.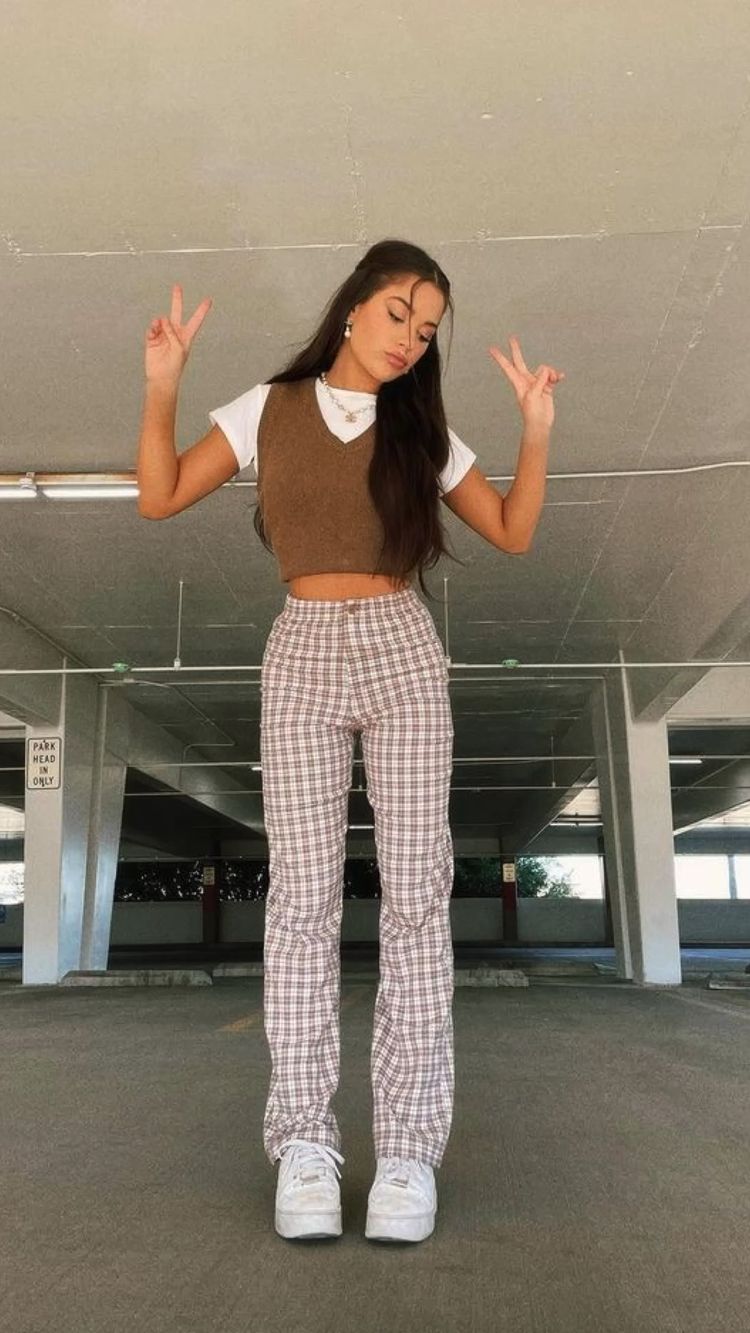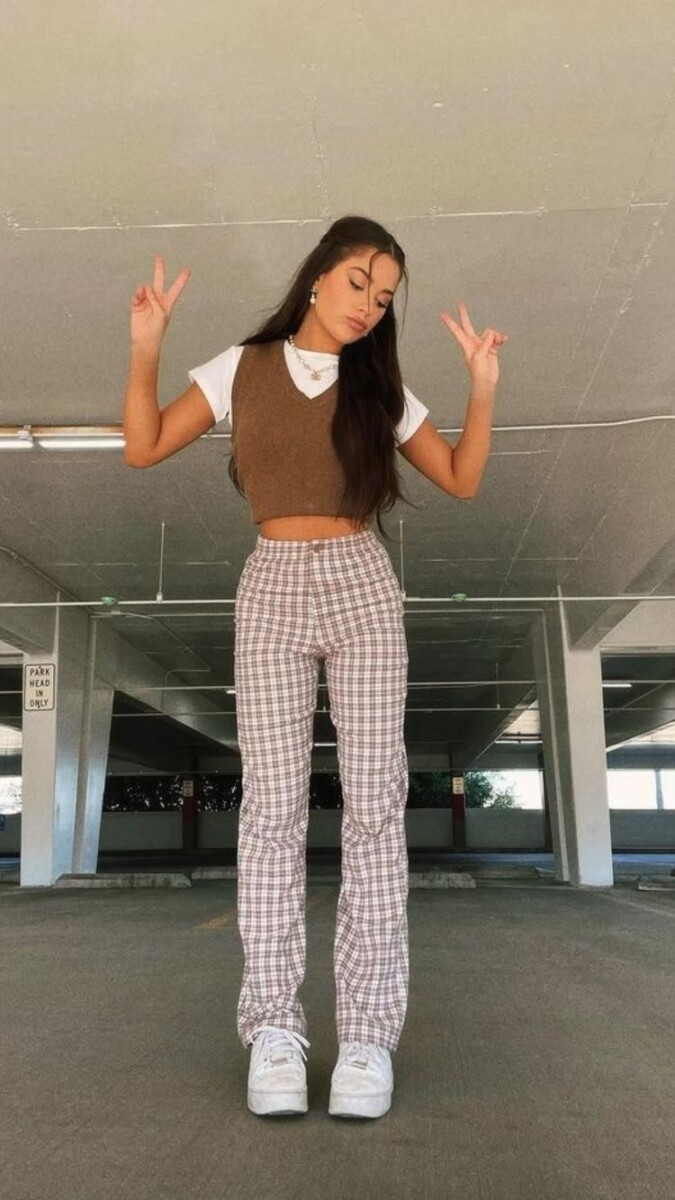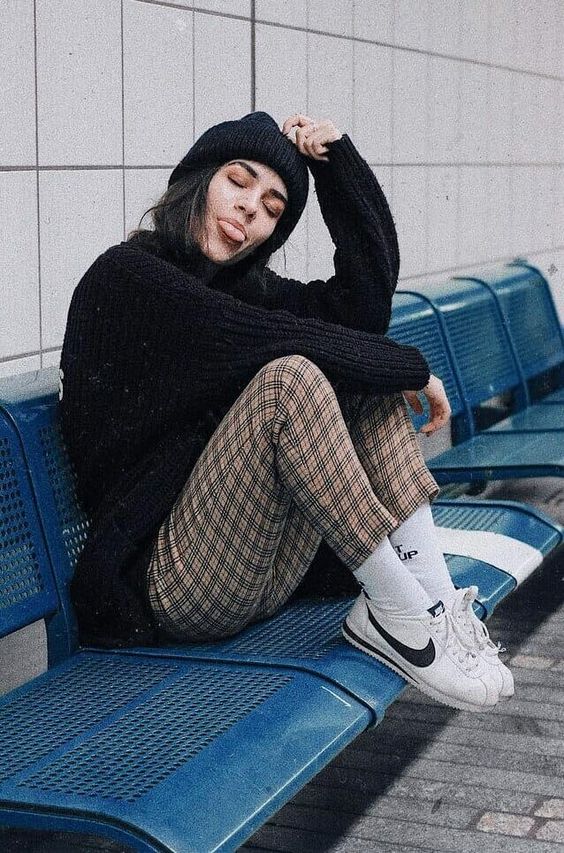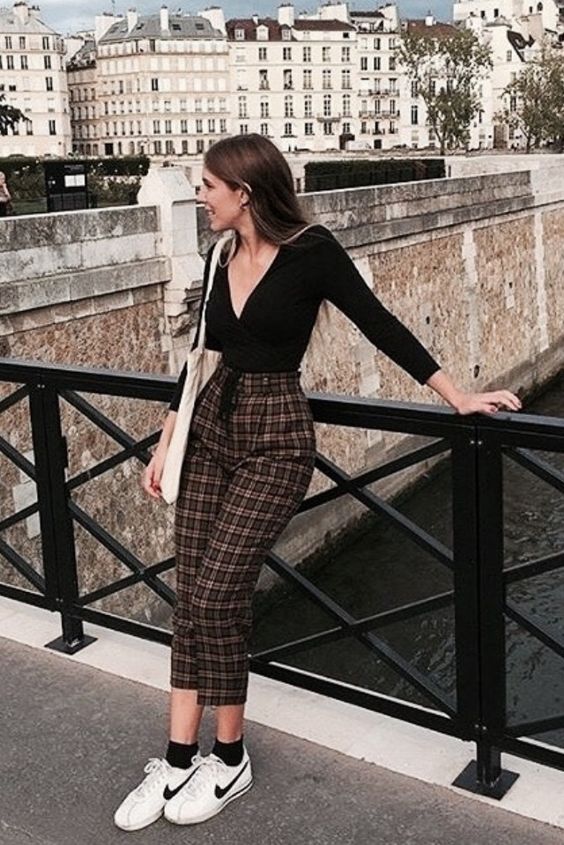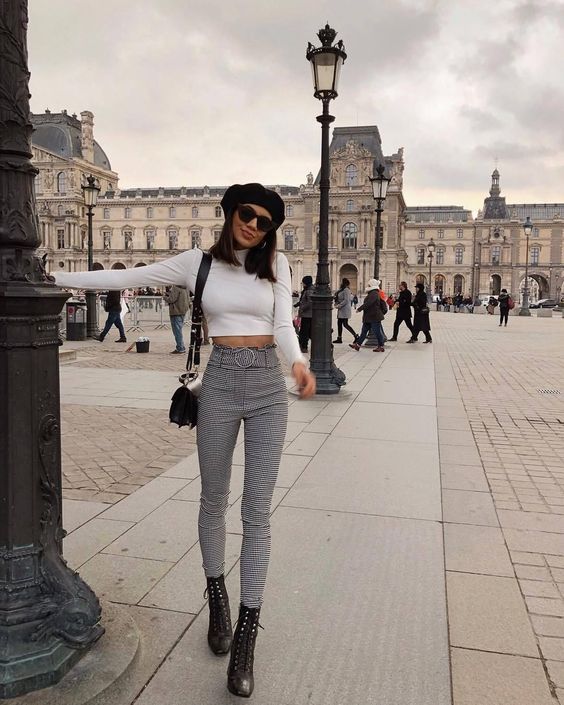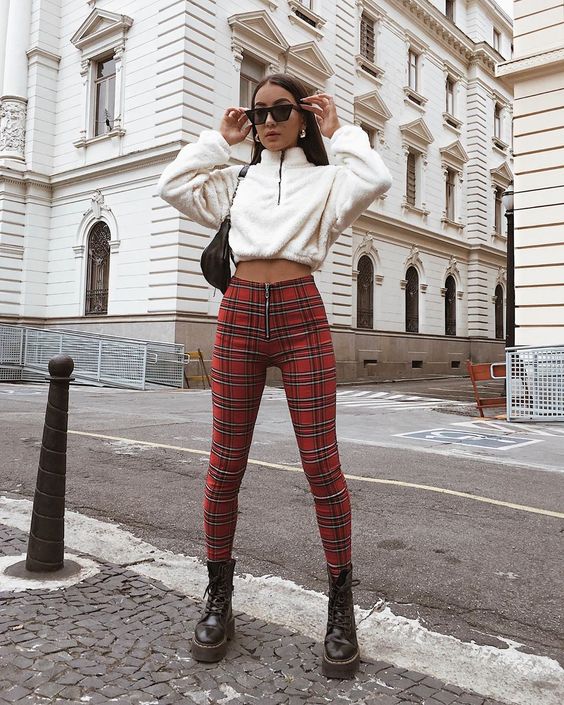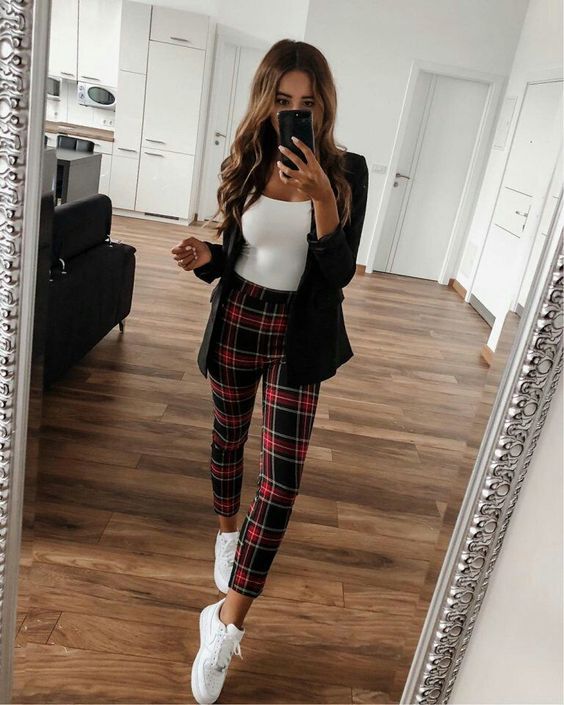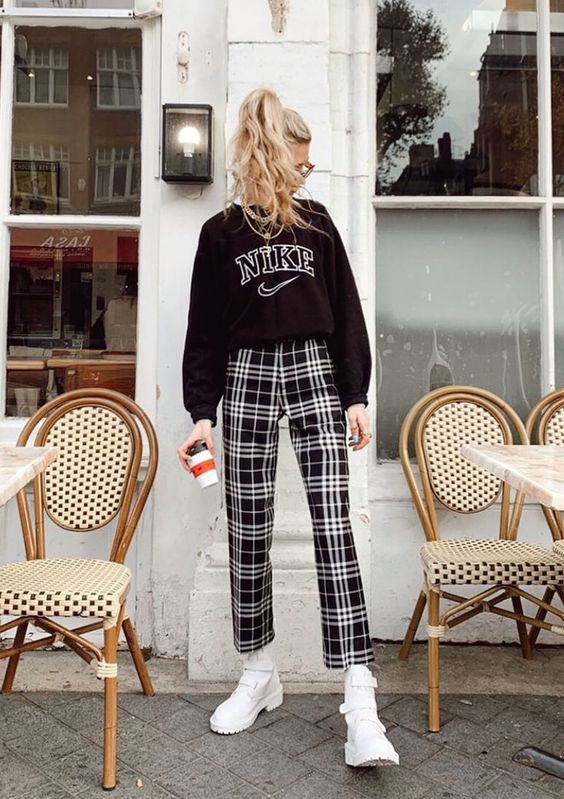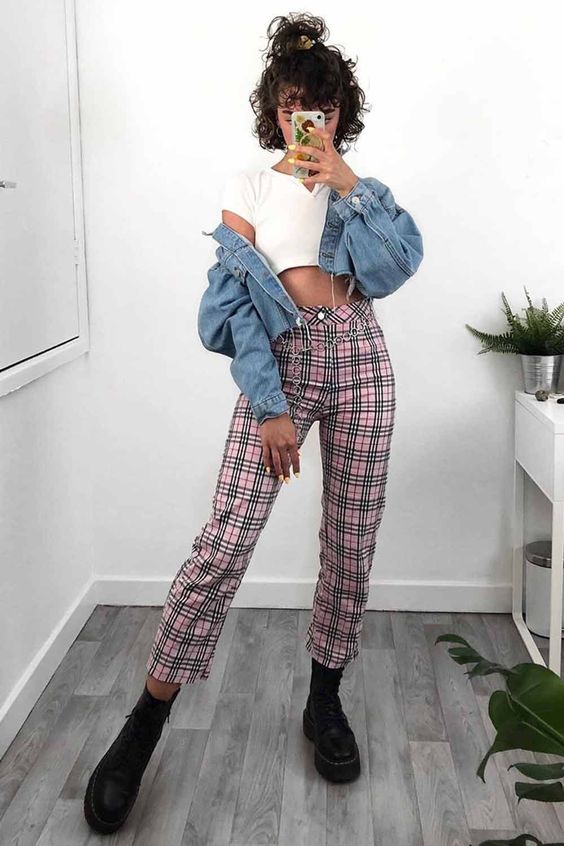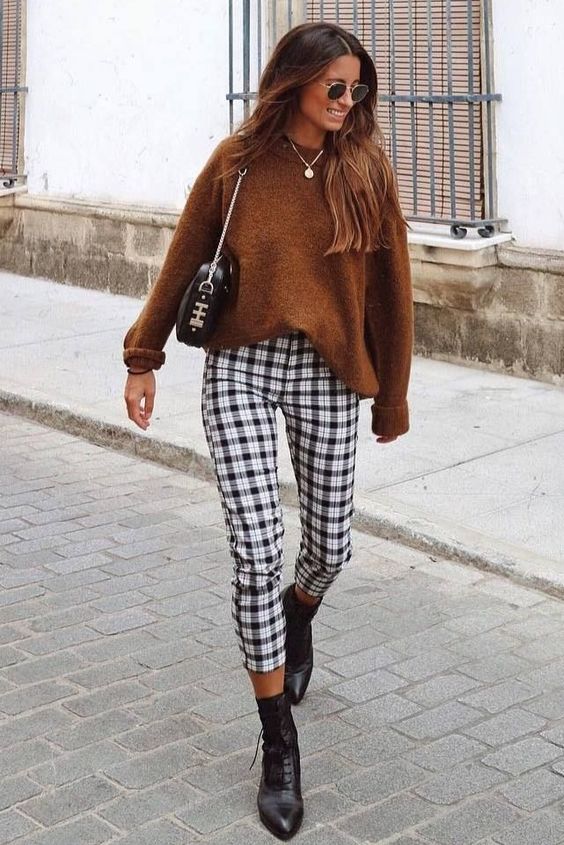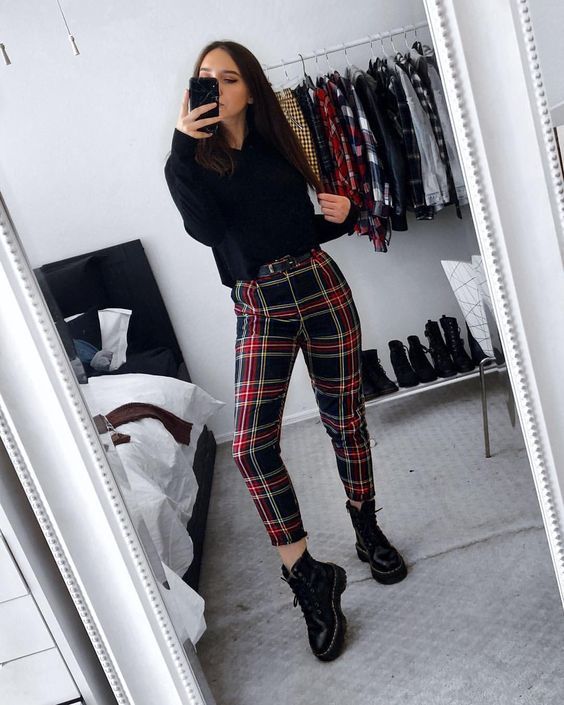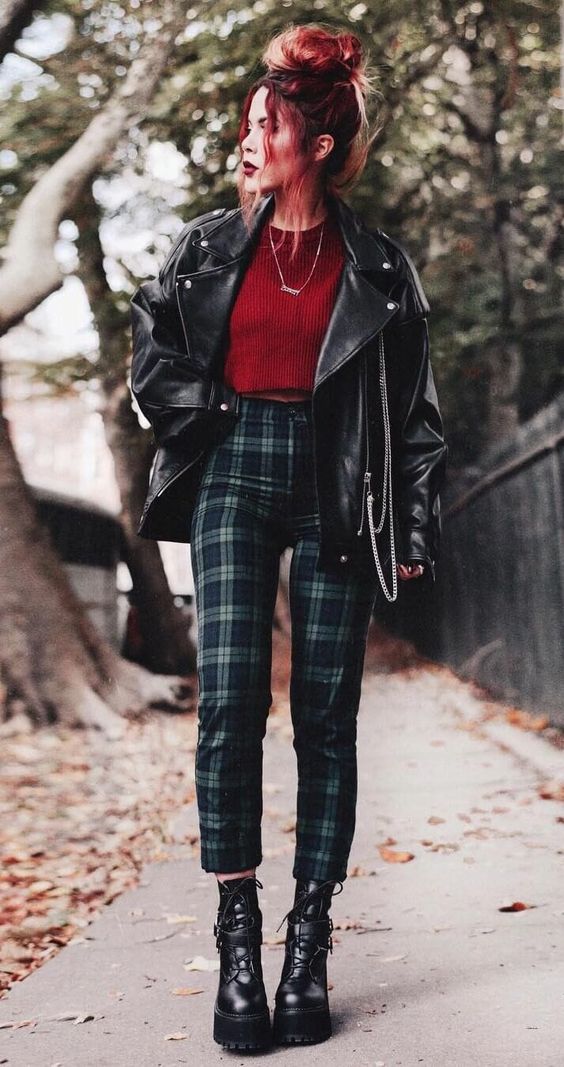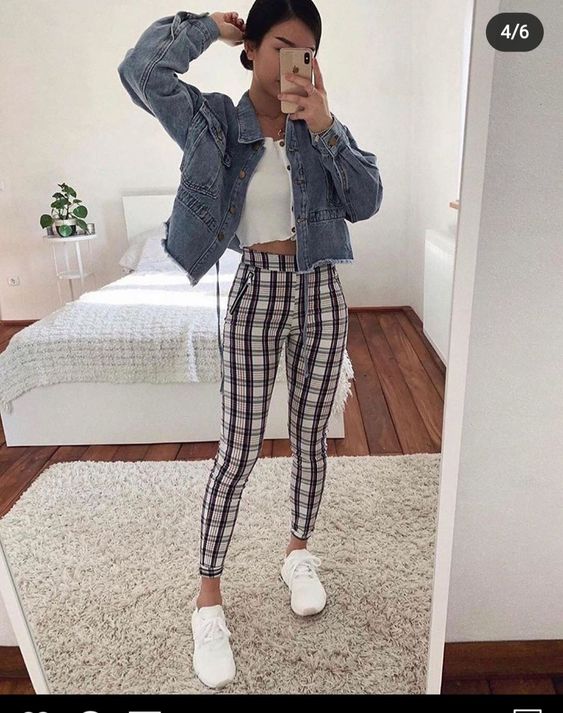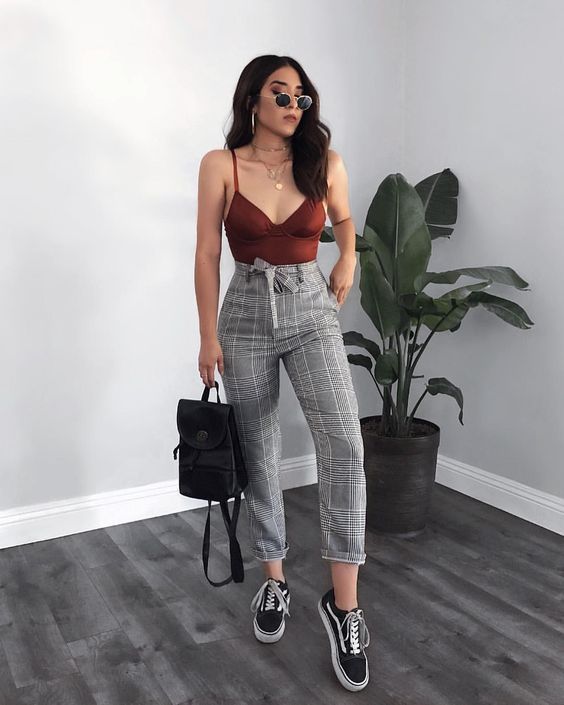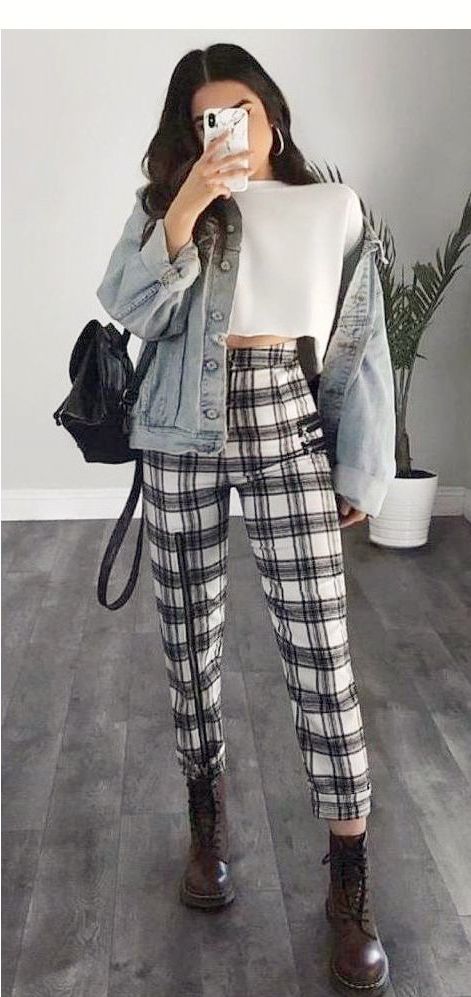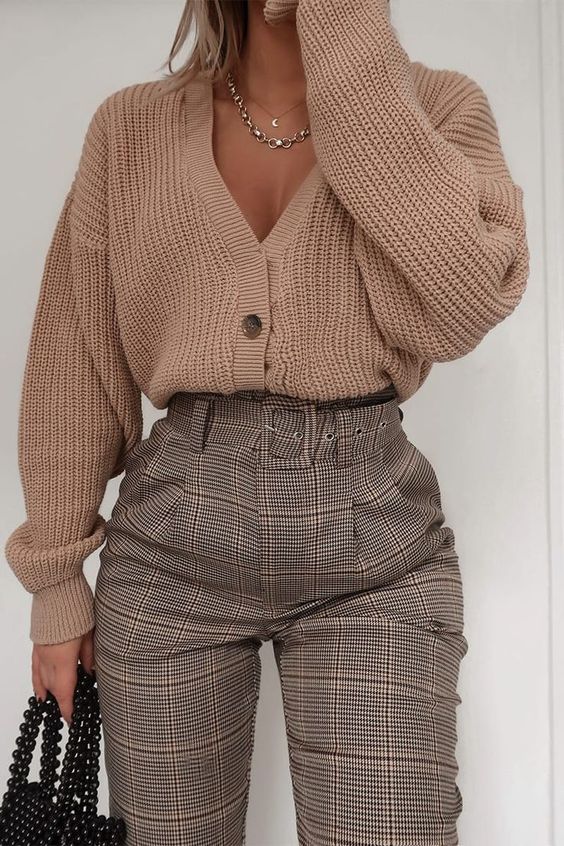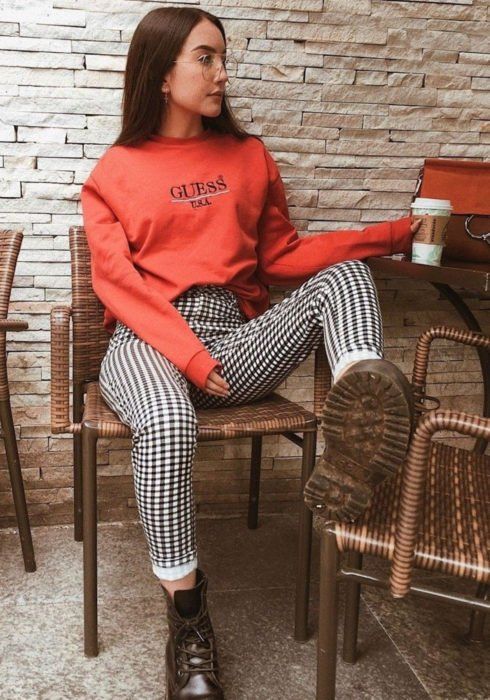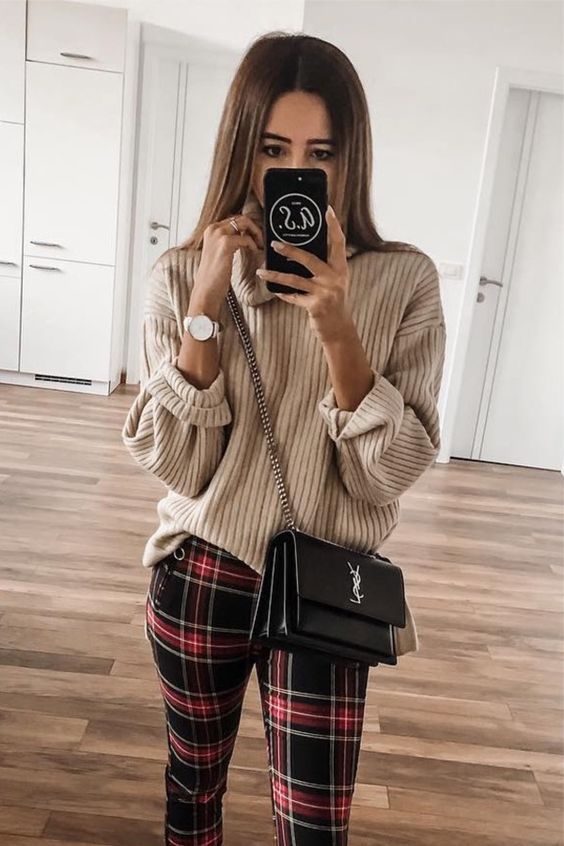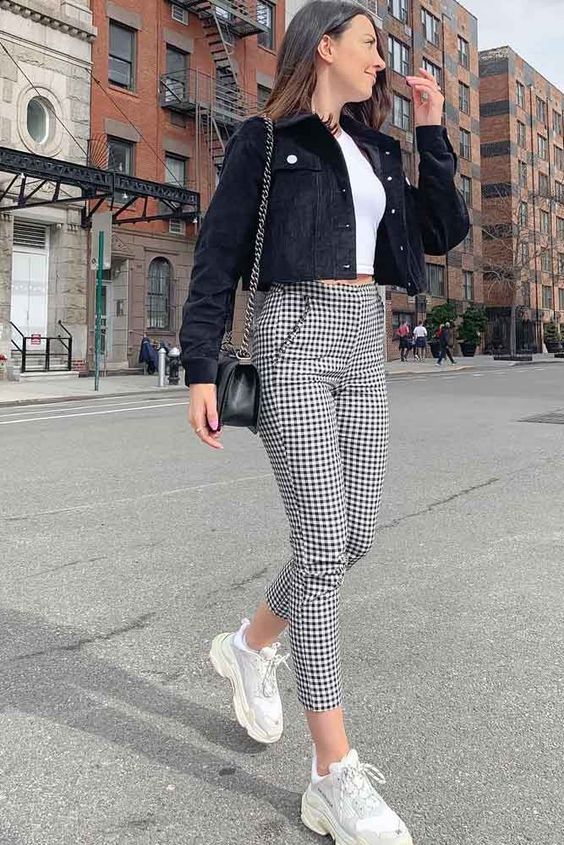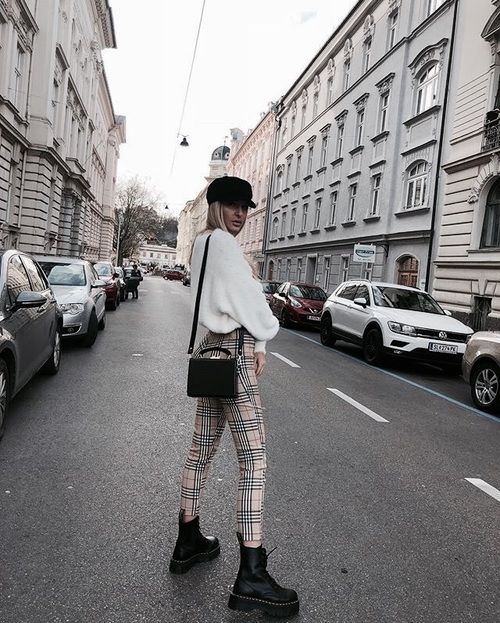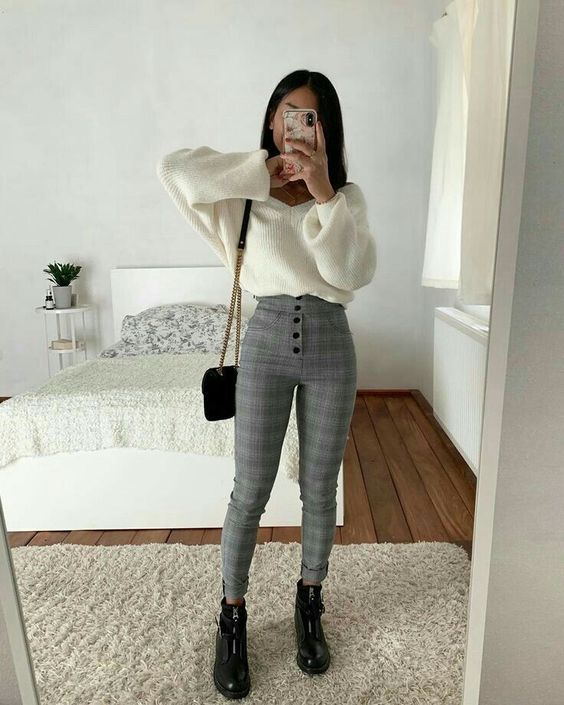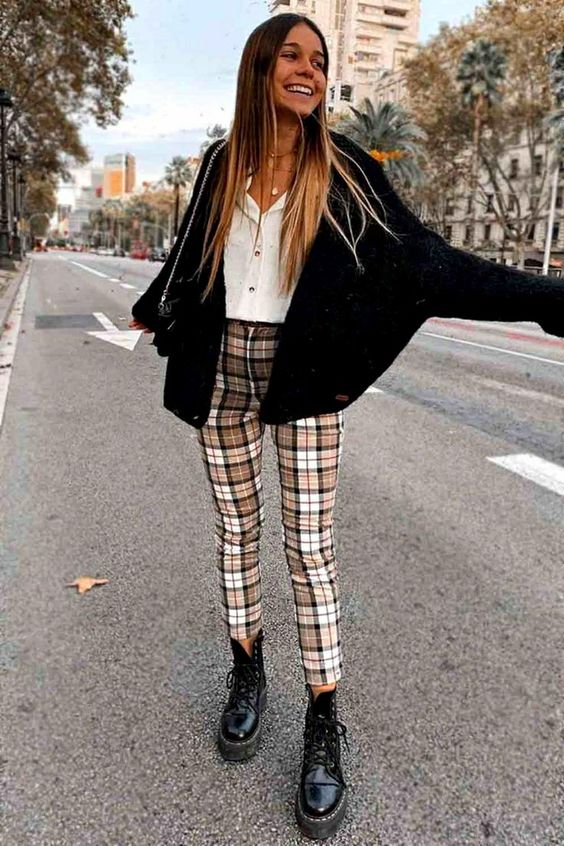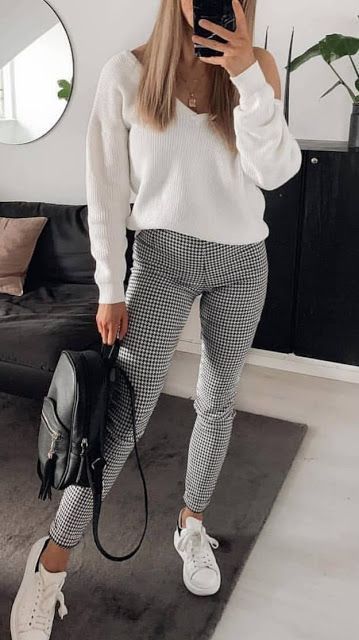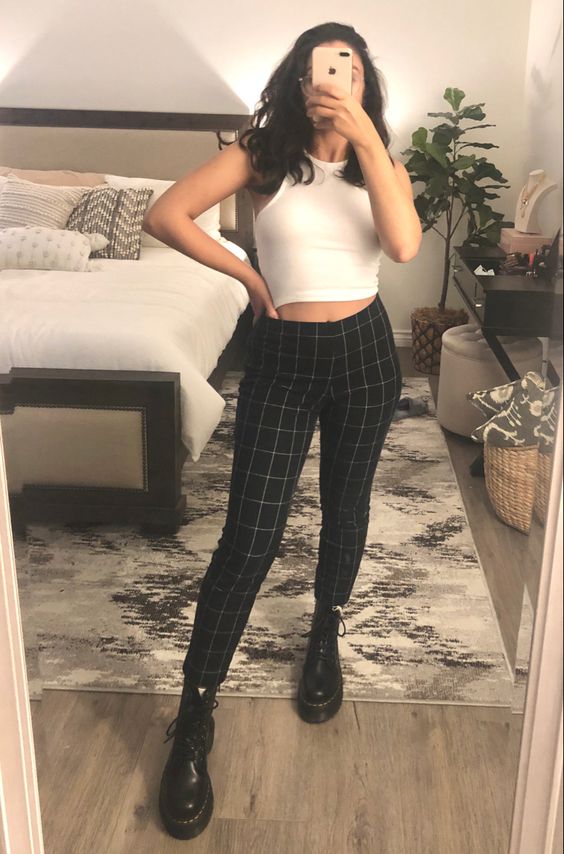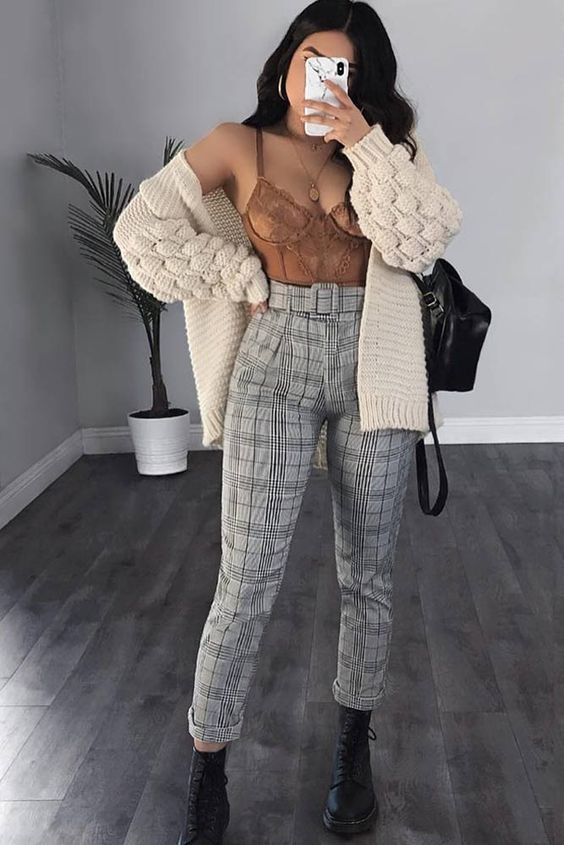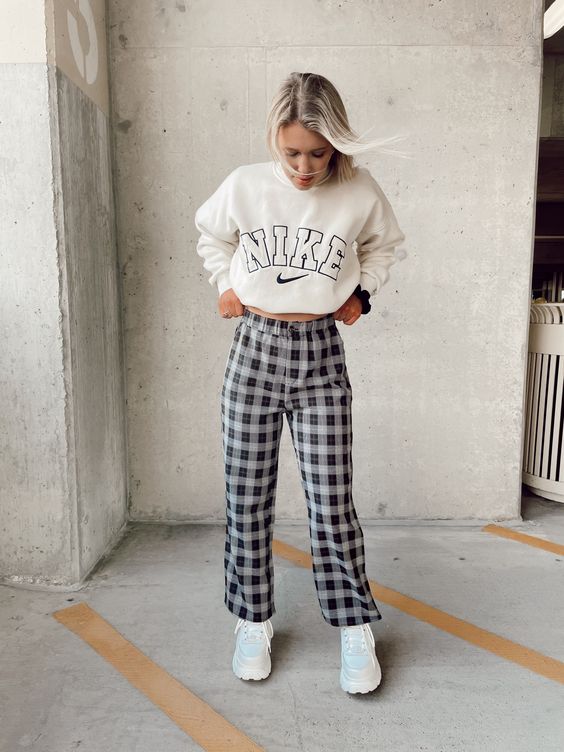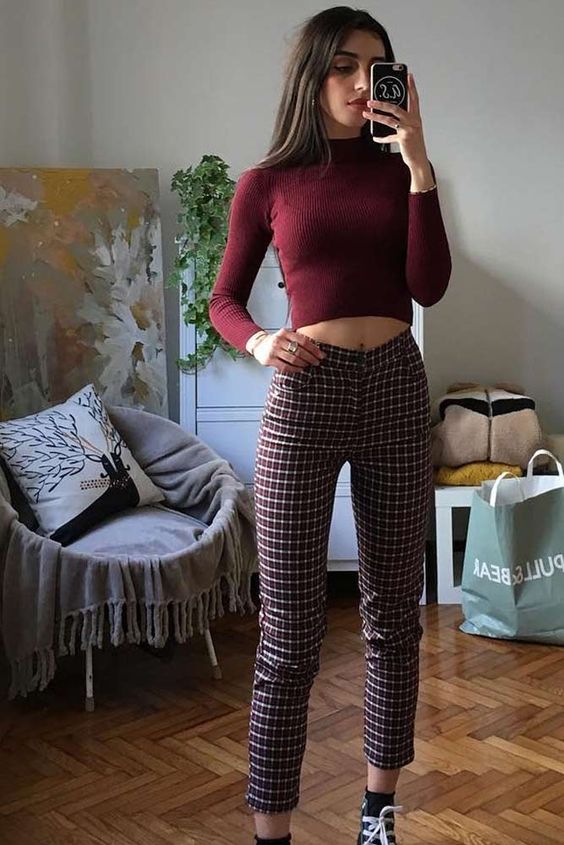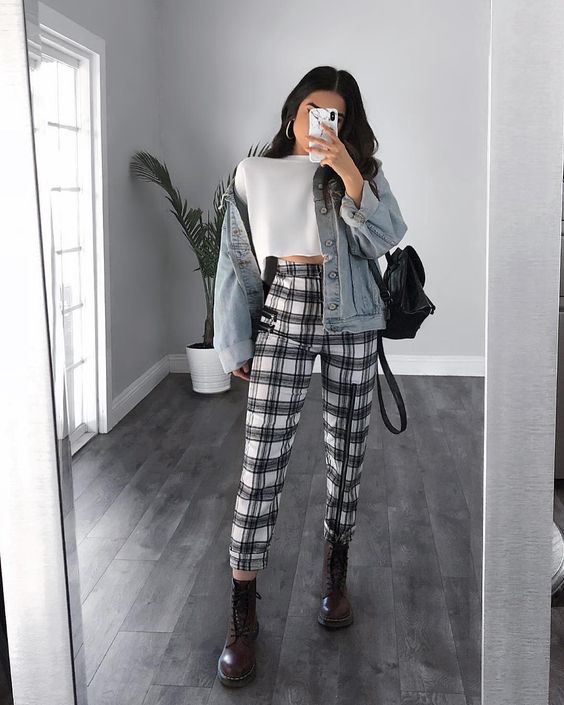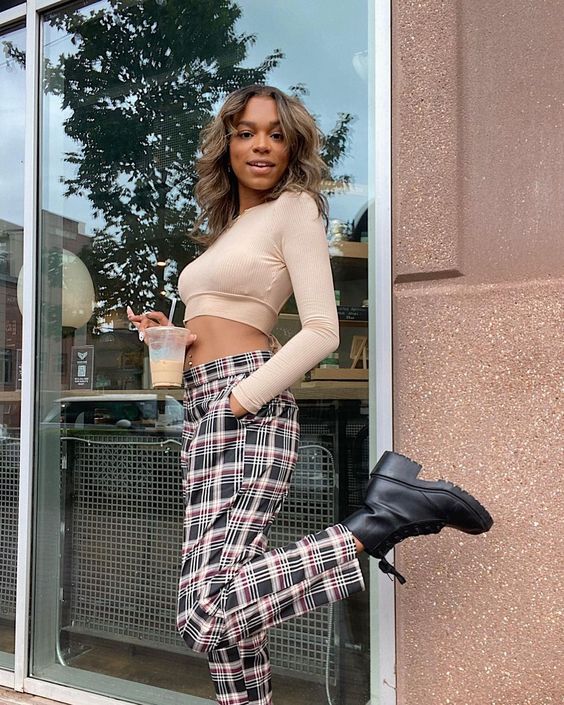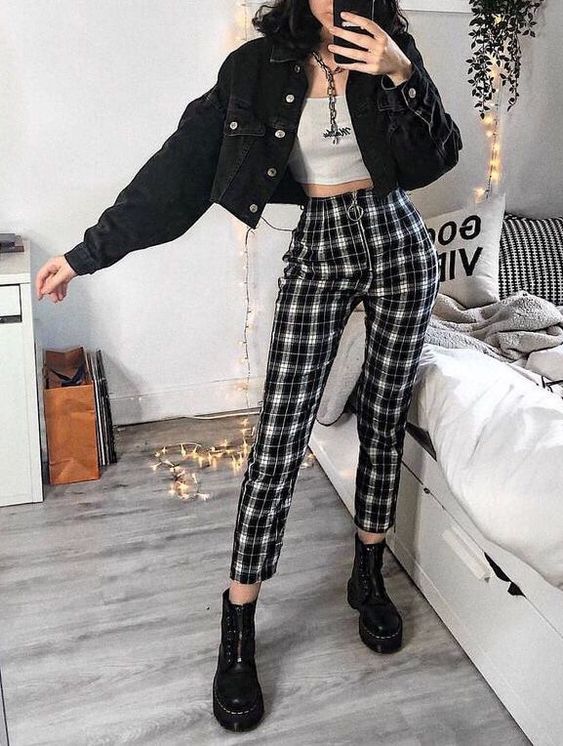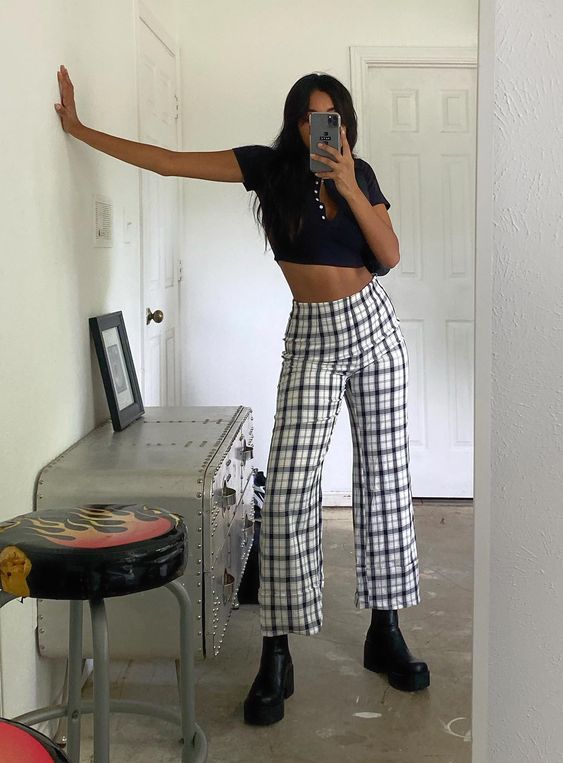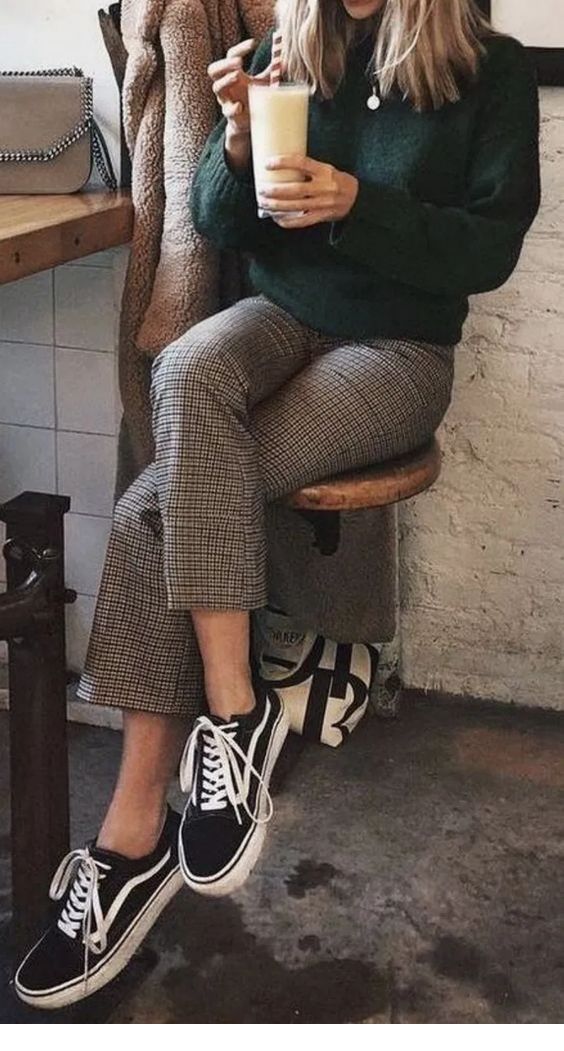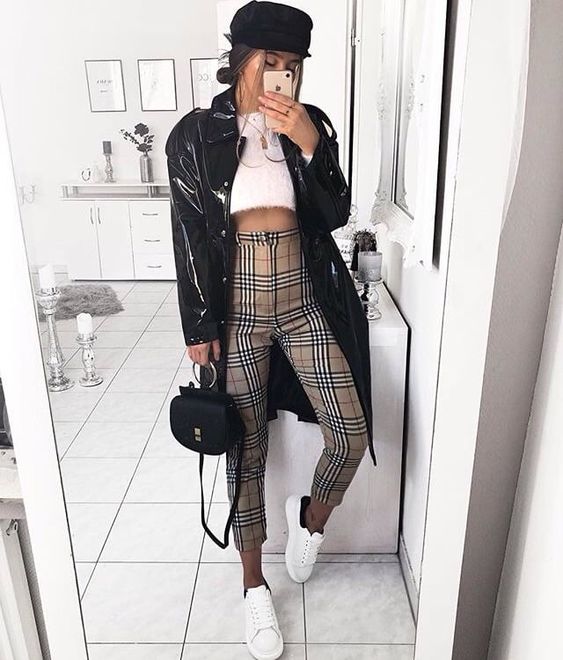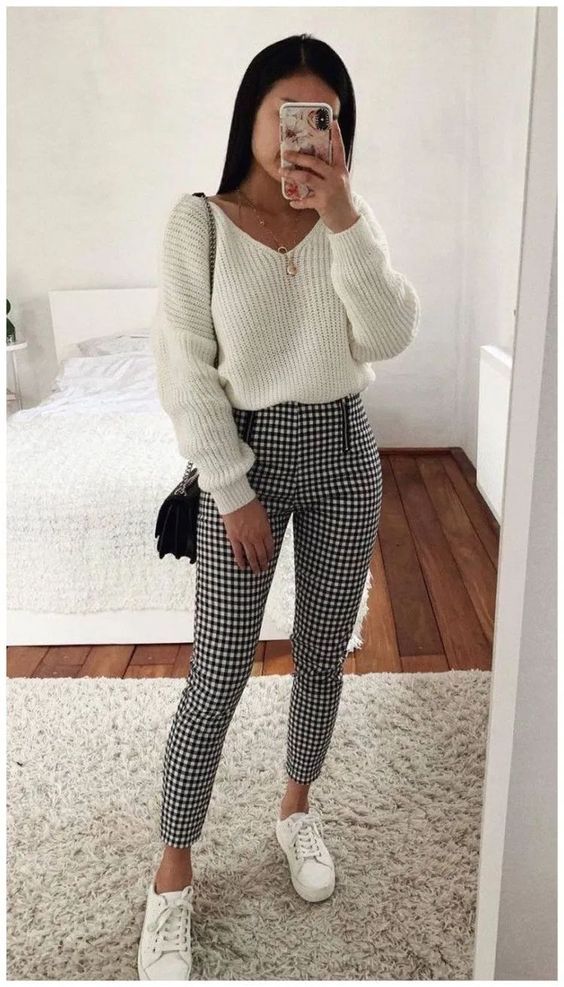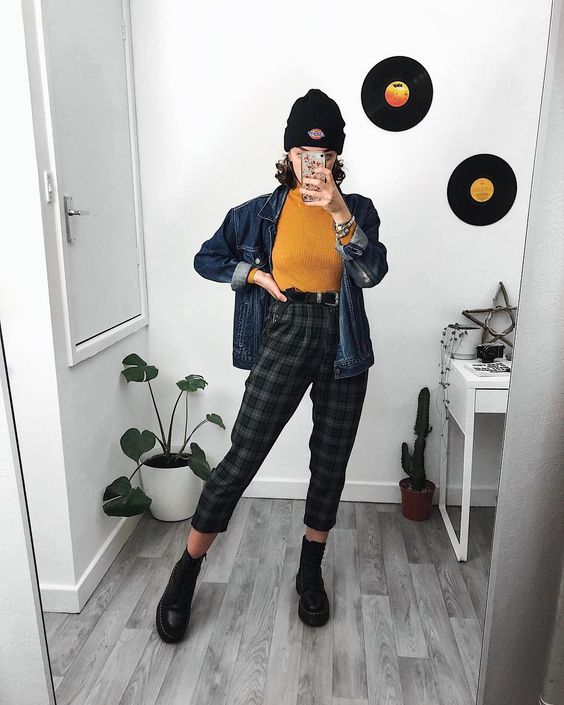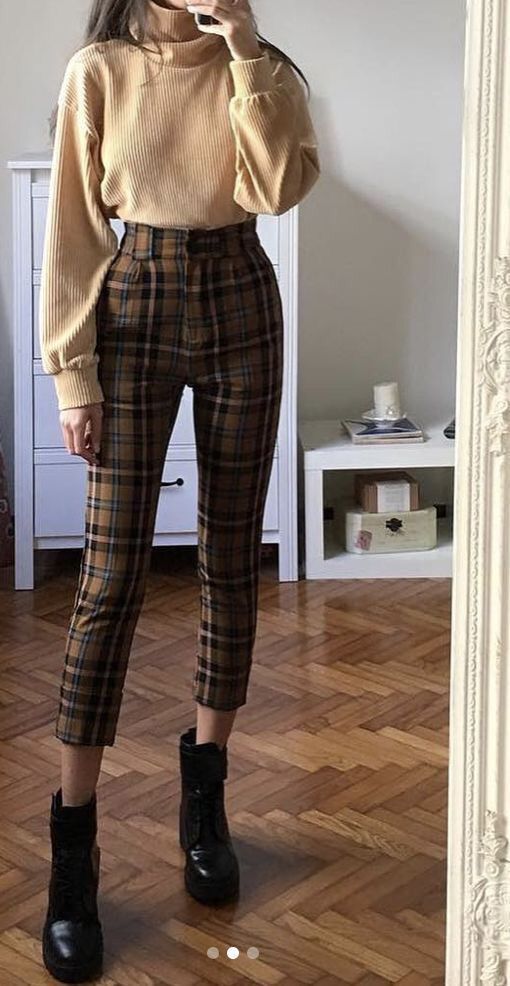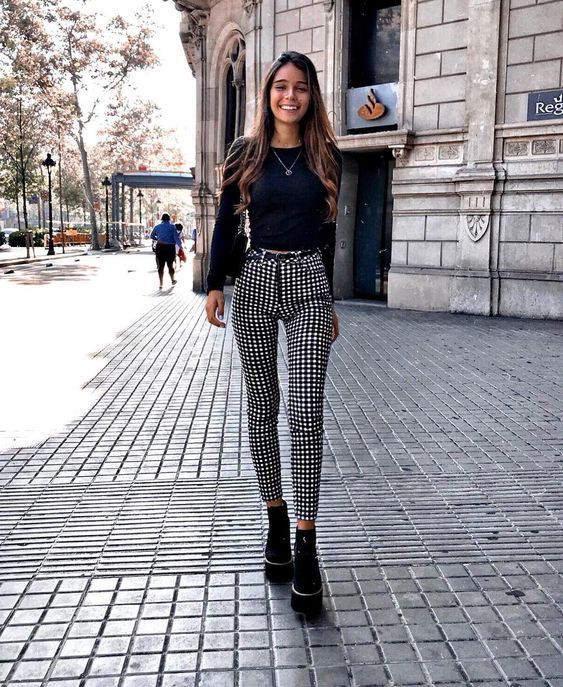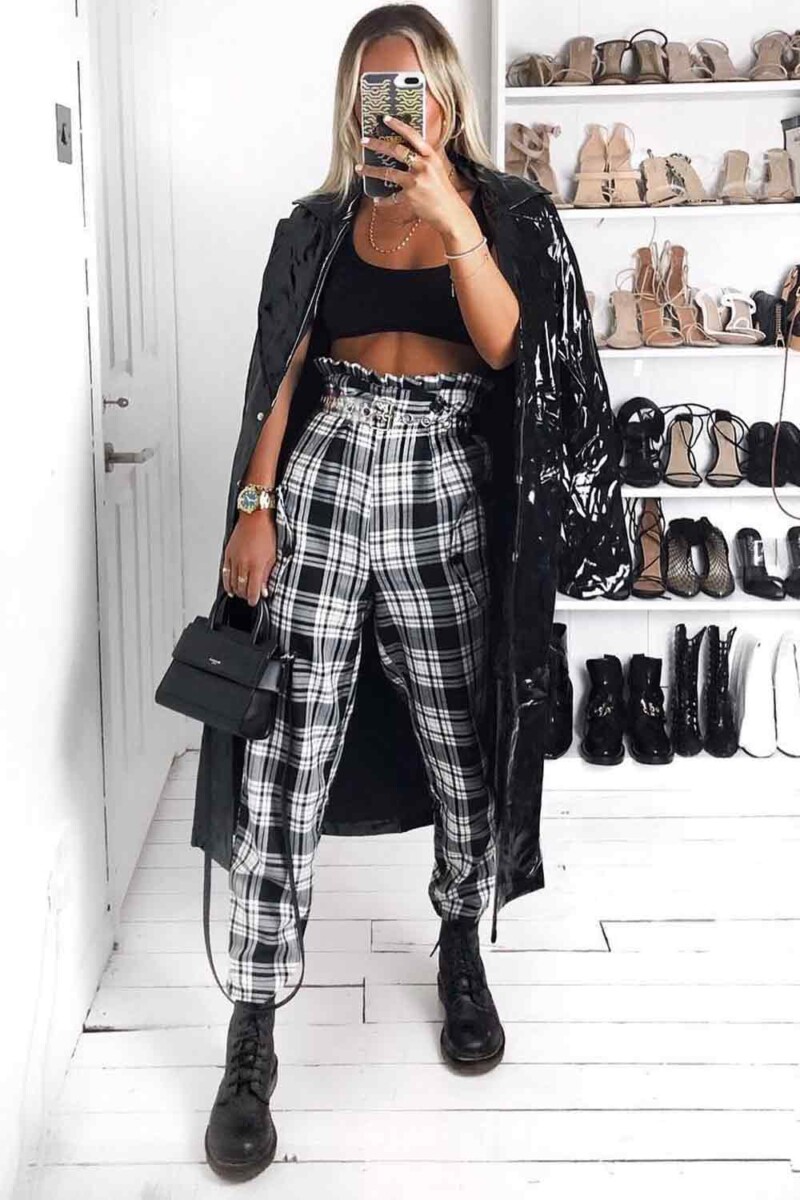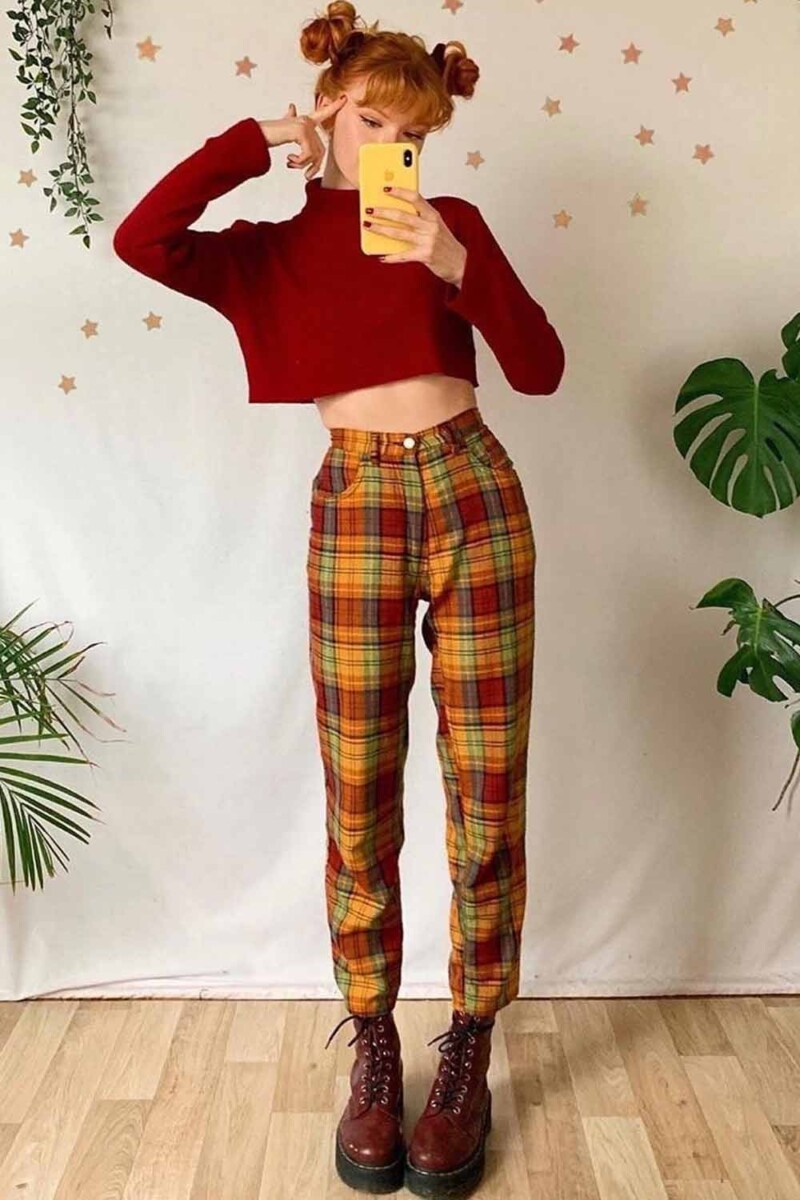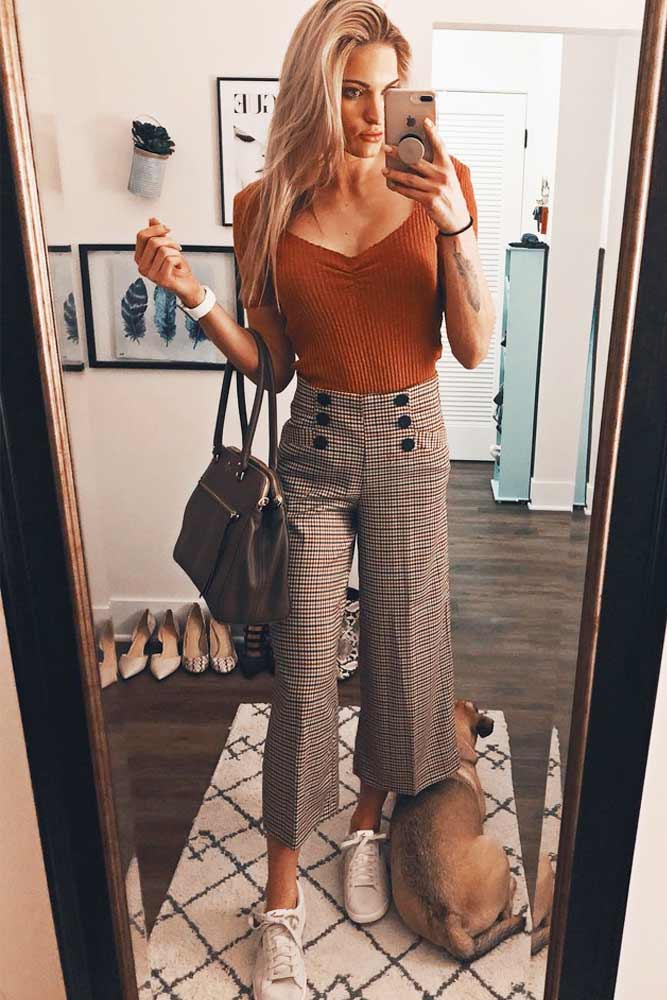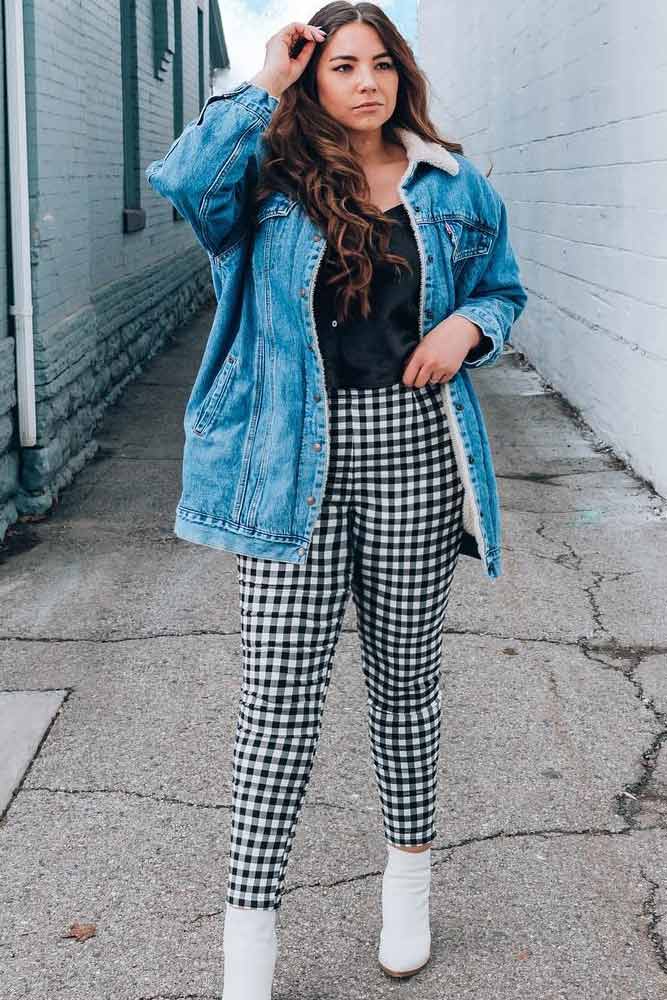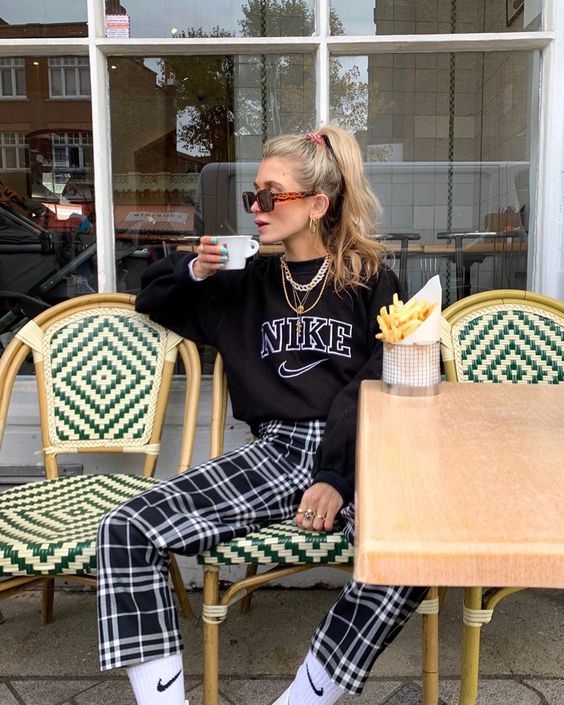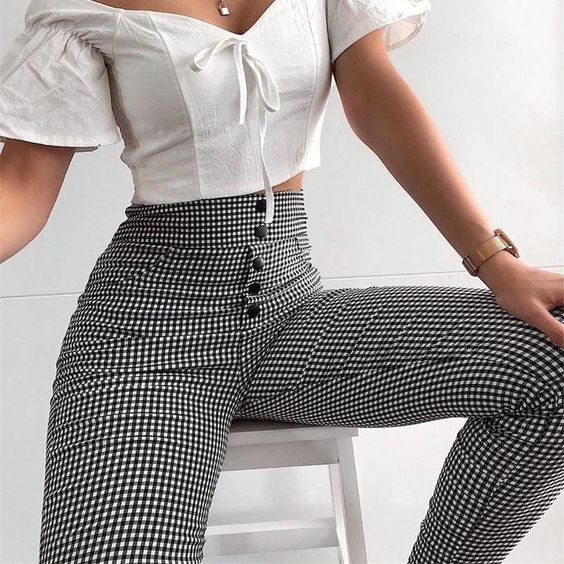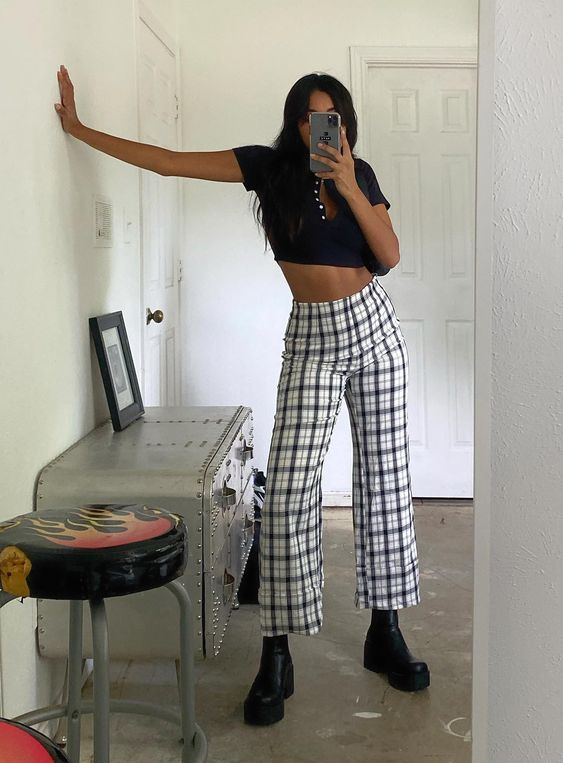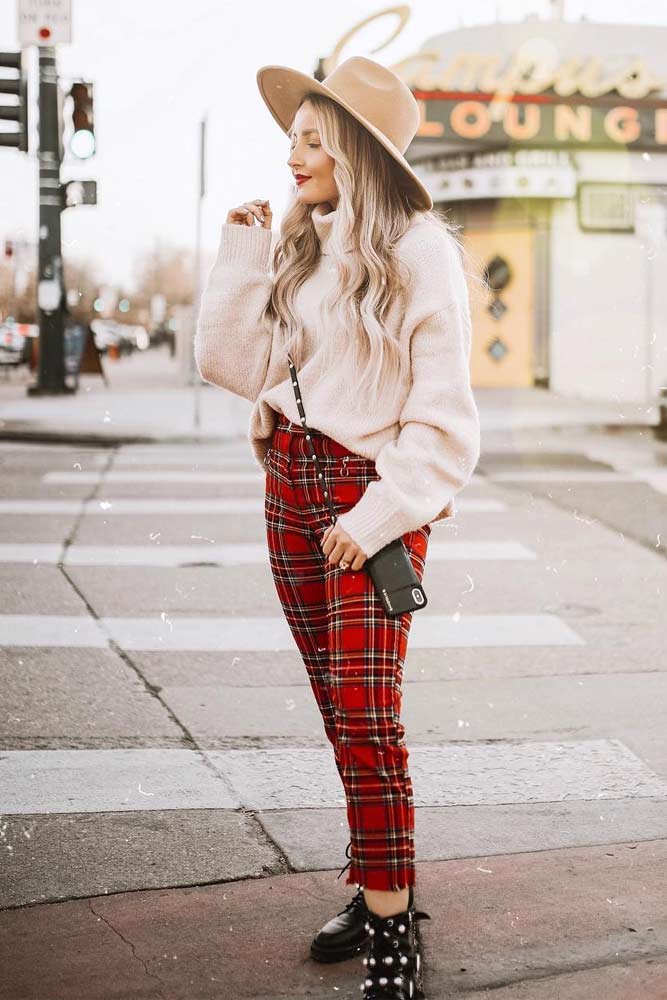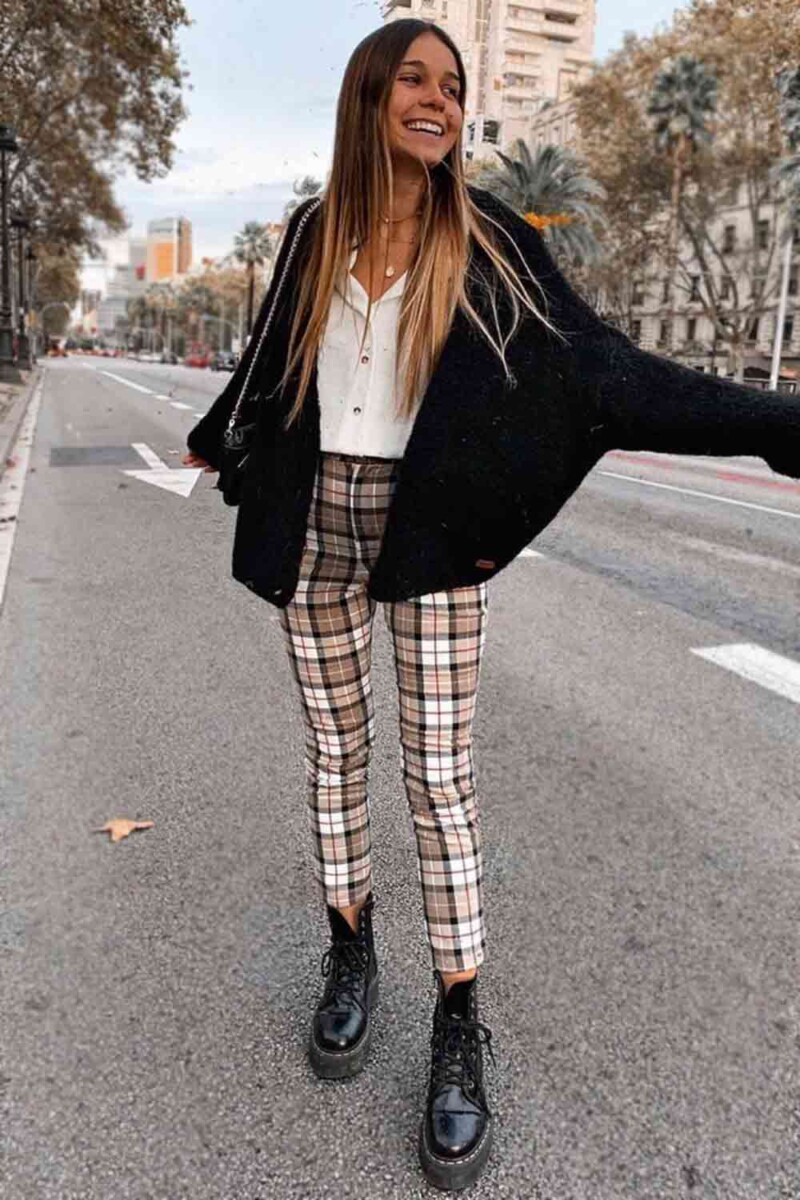 Plaid Pants Outfit Ideas:
These plaid pants outfits are perfect for the fall. They're all easy to put together and can be worn just about anywhere!
For an office plaid pants outfit, wear a button-up plaid shirt over your plaid pants with black heels and a blazer. This preppy plaid pants outfit is great because it's simple yet not boring.
A grunge plaid pants outfit really brings out your creativity! Pair some plaid leggings or jeggings under your plaid skirt with combat boots and rock 'n' roll choker necklace.
For a preppy plaid pants outfit, pair the plaid pants with a beret, turtleneck top (or crop top if you want to be daring), and plimsolls. Be sure to wear comfortable shoes (like plimsolls) because plaid pants outfits can be very casual but you still want to feel cute!
If you like dark, romantic colors paired with black accessories, then try wearing this dark gothic plaid pants outfit to school or the library. Because plaid is such a dark color, it's easy to pair with black and make an outfit look "dark" without looking like you're going to a funeral. I would definitely wear this plaid pants outfit to school!
I recommend pairing plaid leggings with a button-up shirt or crop top and some boots (or combat boots with heels) for a nighttime plaid pants outfit. You can also opt to wear a plaid skirt instead of plaid leggings if you want to be on the wild side.
The plaid pants outfits above are perfect for dressing down plaid pants. Because plaid is such a dark color, plaid will definitely go well with relaxed or casual clothes like denim jeans and t-shirts.
Other plaid pant outfit ideas include : plaid shirt and plaid pants, plaid skirt and plaid top, plaid tank top and plaid shorts or skirt. The possibilities are endless when it comes to plaid pants outfits.
I love wearing plaid during the wintertime when I get sick of wearing jeans or leggings every day. However, plaid pants outfits are really great during just about every season.
The plaid pants outfits above are perfect for going out or spending time with friends. You can wear these either during the day or at night as well as early morning!