Looking for trending pedicure ideas? To mix up your pedicure colors, check out these fun and intricate designs!
Nail art is clearly hugely popular right now. However, toe art designs and more intense pedicure ideas are taking off, too! Now's the time to try out something a little different on your toes.
Luckily, most of these pedicure ideas are pretty easy to do, whether you get your nails done at home or prefer to have your technician do your pedicure colors.
To accomplish these pedicure ideas at home, I recommend investing in some affordable nail art tools. Or even easier: try nail art stickers! Some of these pedicure designs actually do include stickers.
Below, you'll find 60+ pedicure ideas for spring, summer, fall, and winter. Browse through and see what pedicure ideas you want to try out!
Pedicure Ideas:
Here are our favorite pedicure ideas and pedicure colors. Enjoy!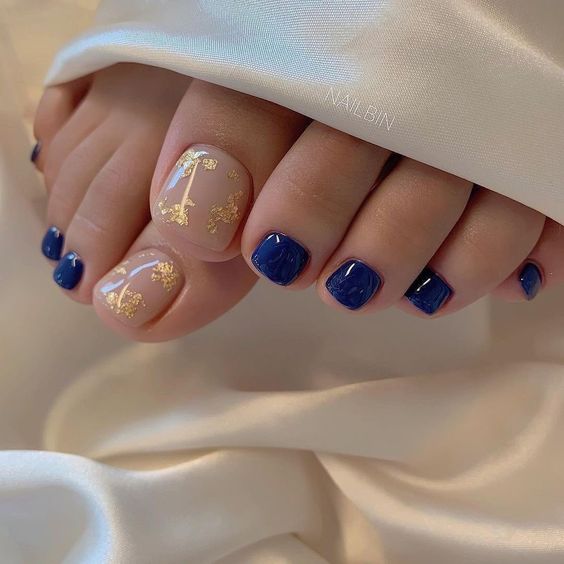 We love this elegant pedicure design. Plus, it's pretty easy to do and is one of the top pedicure ideas for spring or summer as well as the colder months!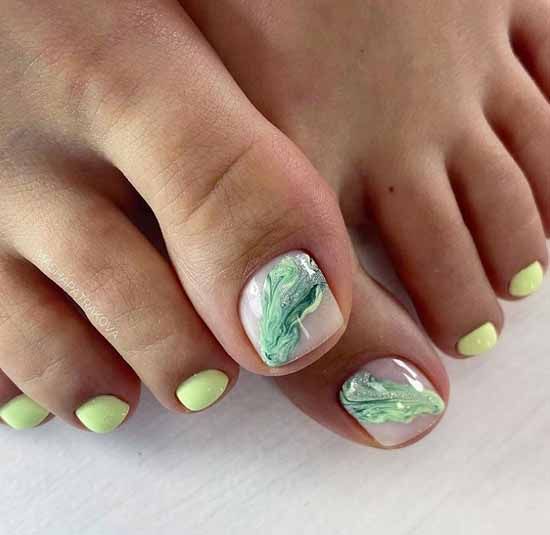 This is definitely one of our favorite pedicure ideas for summer. It's just so sleek and chill!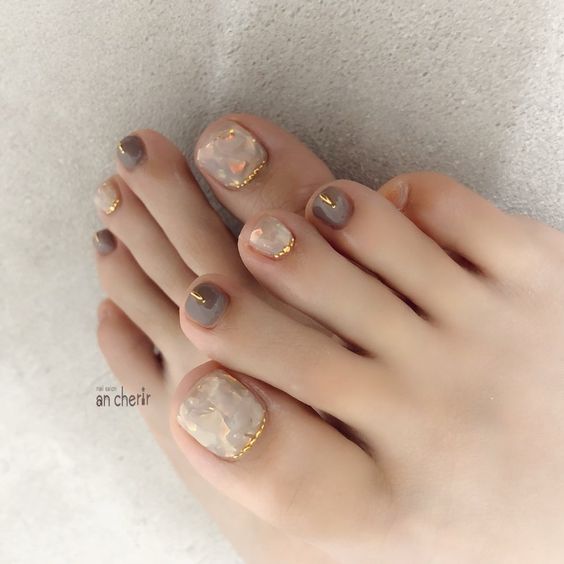 This is a simple yet classy marble pedicure idea that's just so pretty. I really love the natural color scheme!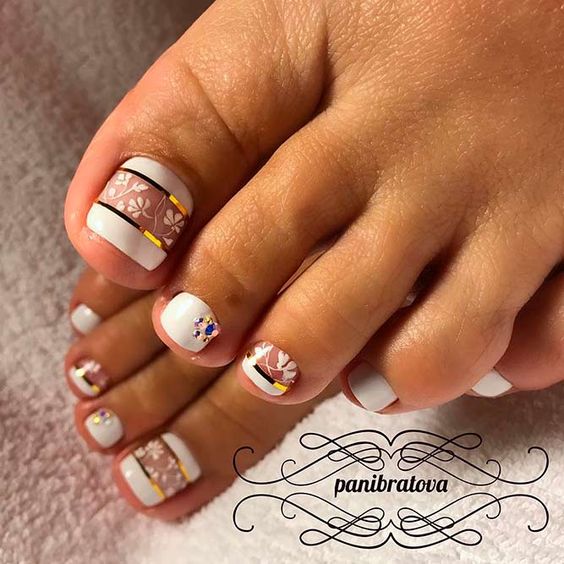 If you're looking for something a little more intricate then this has to be one of the prettiest pedicure ideas. But you'll probably want to head to a salon to get some professional pedicure art!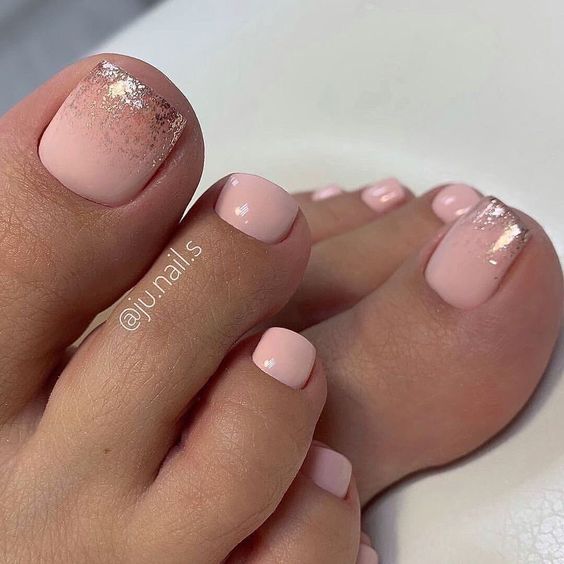 This is one of the simplest pedicure ideas yet it's still gorgeous. Swap out the base coat OR the sparkle colors to personalize the look.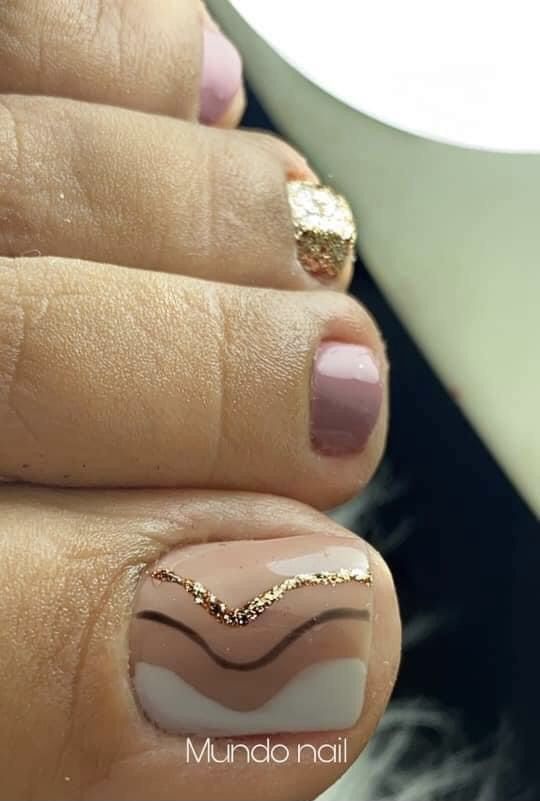 How cute are these pedicure colors? Plus, this design is really easy to do at home.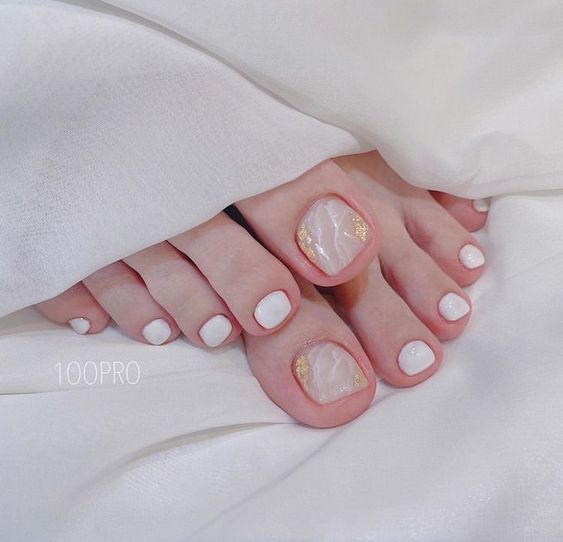 This is another marble look that's really classy and simple.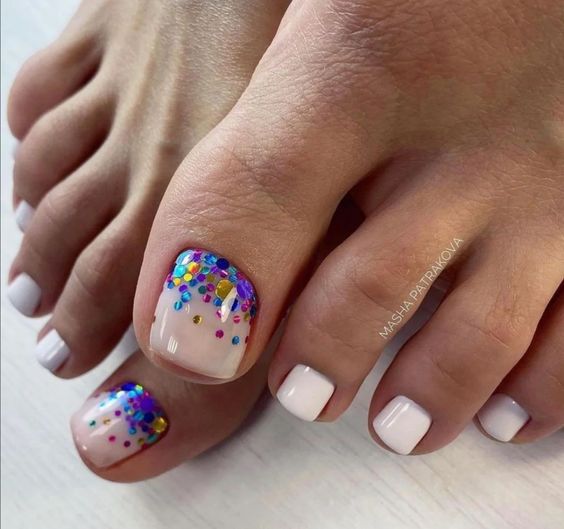 Looking for happy and upbeat pedicure ideas? This design is too cute! Simply pop on some nail sparkles before your top coat for an easy and happy look.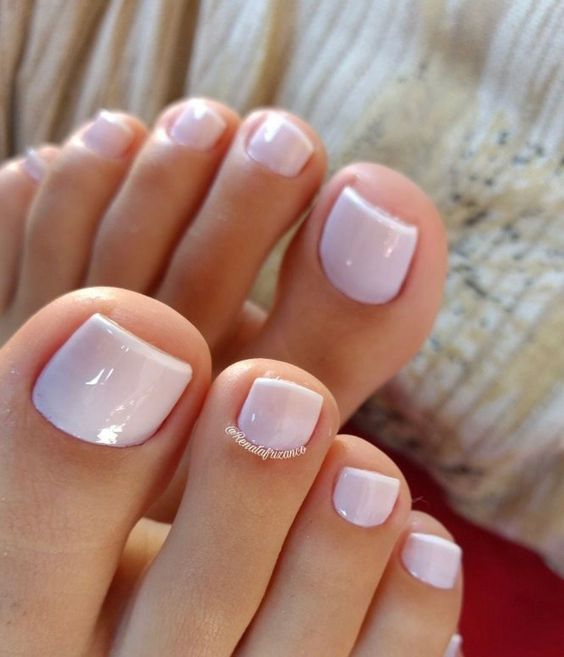 This is one of the more classic pedicure colors that's super sleek and works for any season.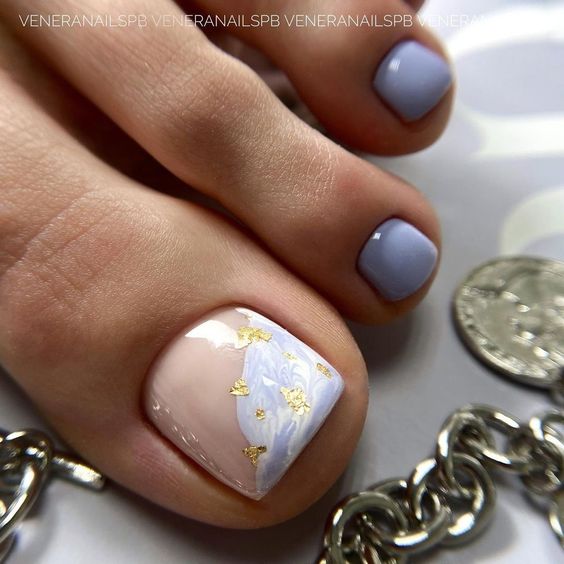 If you're looking for pedicure ideas for the winter then this is definitely your design.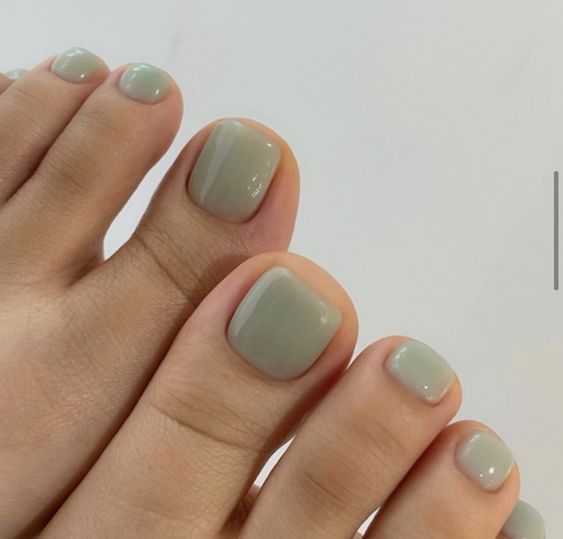 I just love this pedicure color so much that I had to include it!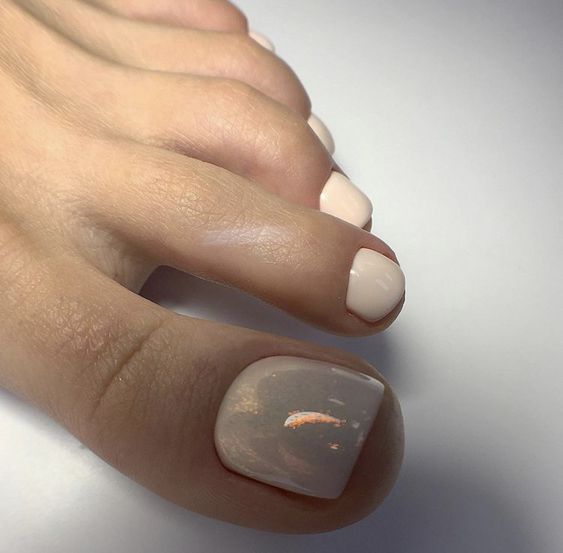 Do this pedicure design by simply adding some shimmer to the first toe. Easy peasy.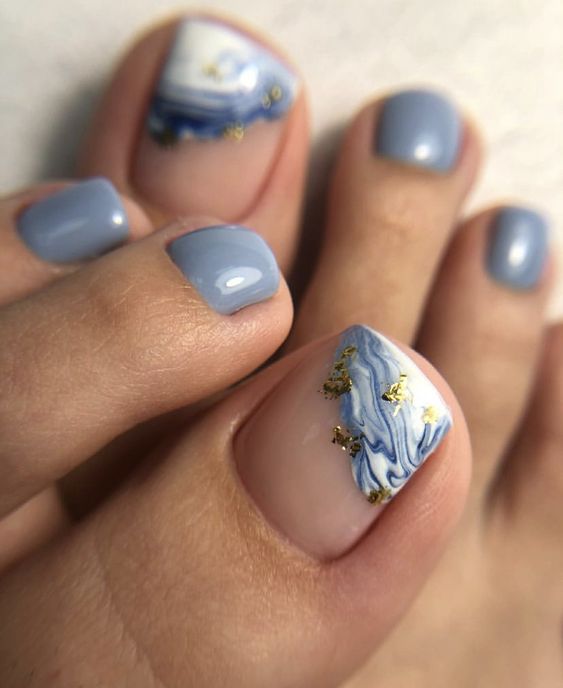 This is one of the top pedicure ideas for summer this year! I love how this pedicure reminds me of a gorgeous seashore.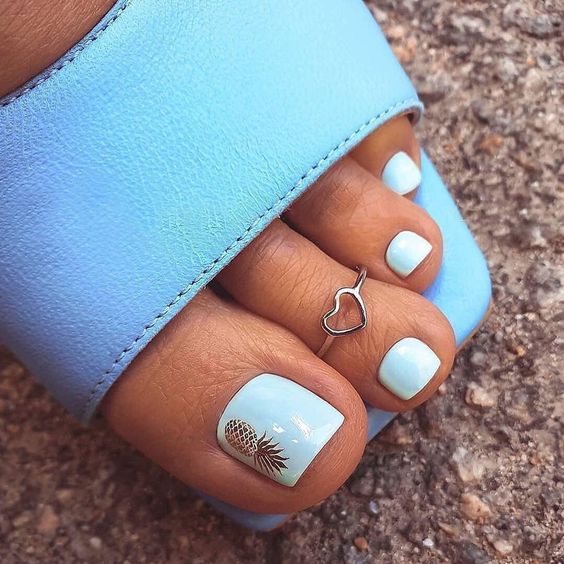 This is another one of the best pedicure ideas for summer. Plus, it's really easy to do with a simple nail sticker!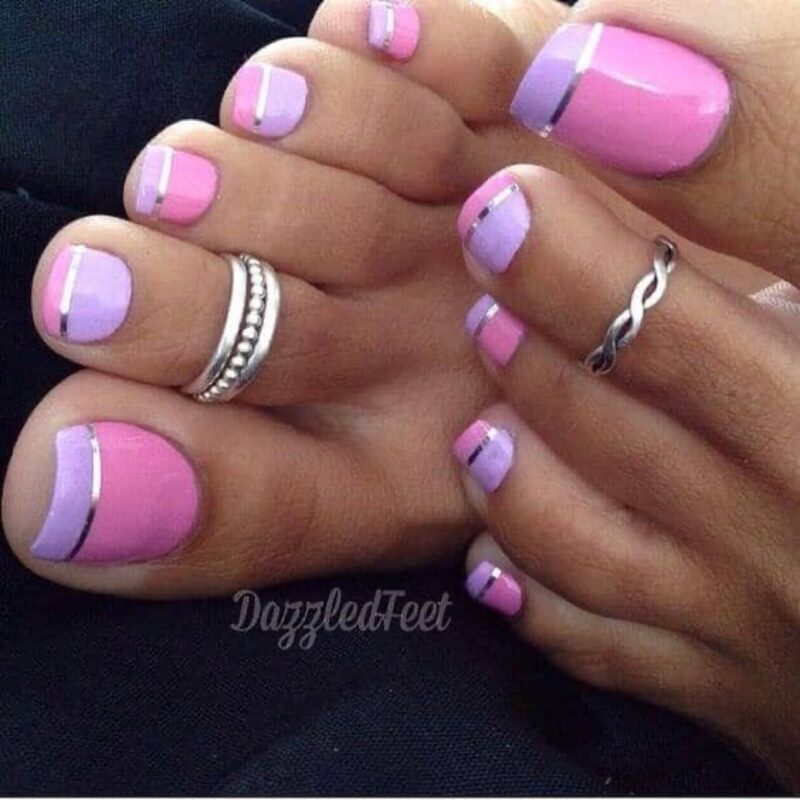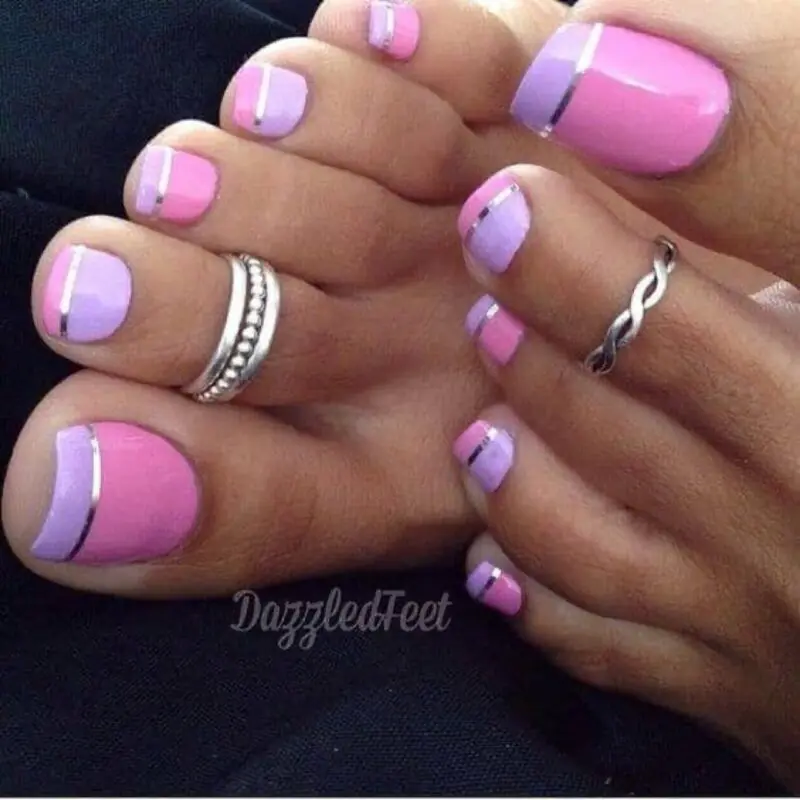 For a very girly and feminine pedicure, this mixture of bright purple and pink will surely give you what you're looking for! You can also add some silver linework to add a glam accent to your nails.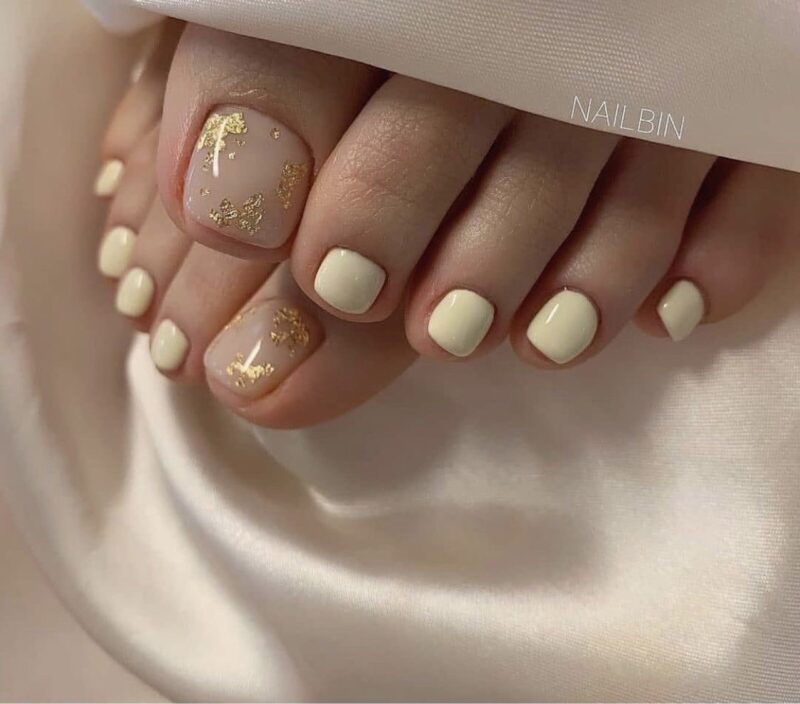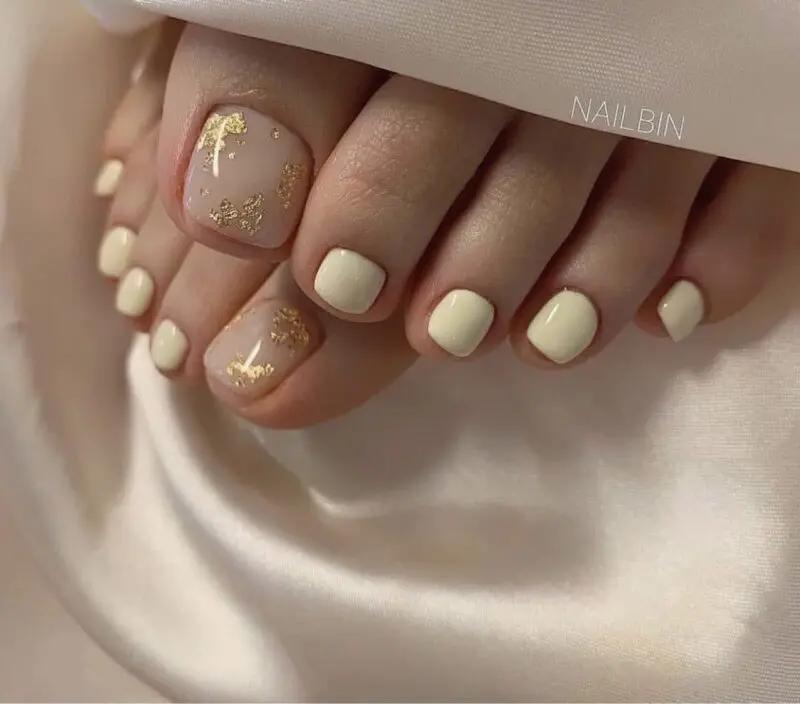 If you want something a little more on the subtle side, you can use a natural base coat for your accent nail and add a few gold flecks of foil onto them for a touch of sparkle.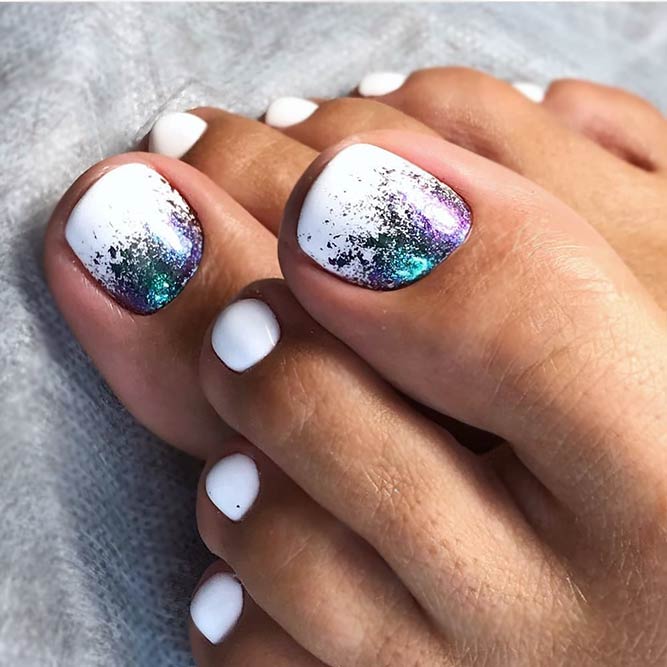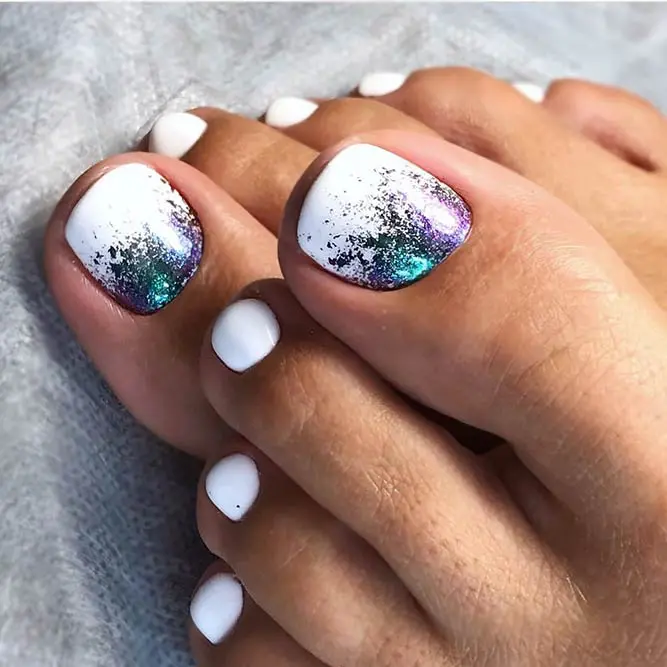 Elevate your regular all-white pedicure by adding a burst of glitter and shimmer onto your accent nail. This will give your nails a fun and summery vibe to it!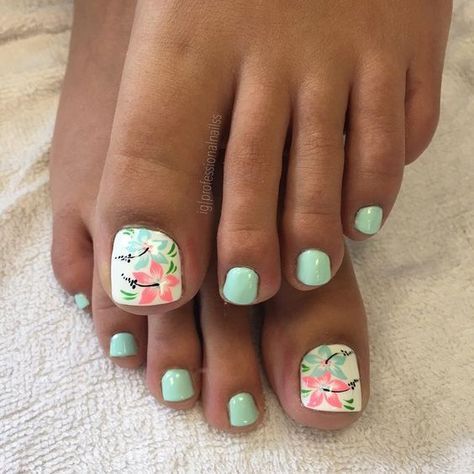 Florals are perfect for any season. So if you're looking for a pedicure that you can wear at any time of the year, you can never go wrong with going for some pretty florals on your toes!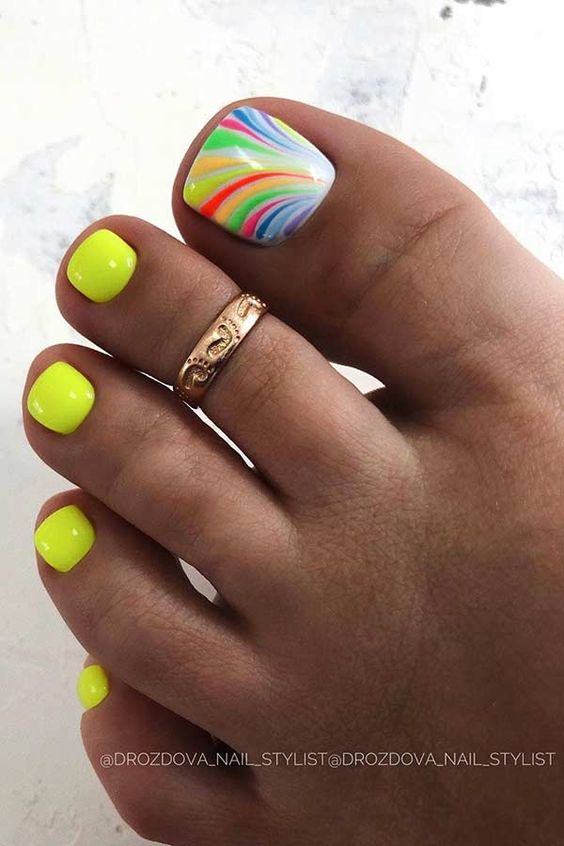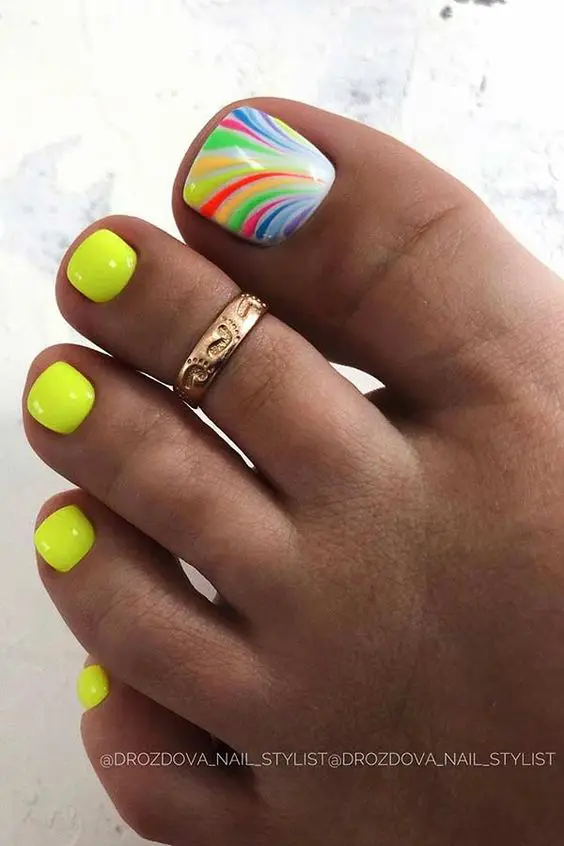 Neon colors are fun on their own due to their vibrant tones but you can always make them even look better by pairing them with a rainbow accent nail!
I just love marbled nail art. They give off such a luxe and glam vibe to your toes and if that's not enough, you can match it with a gorgeous sage green for a more interesting finish.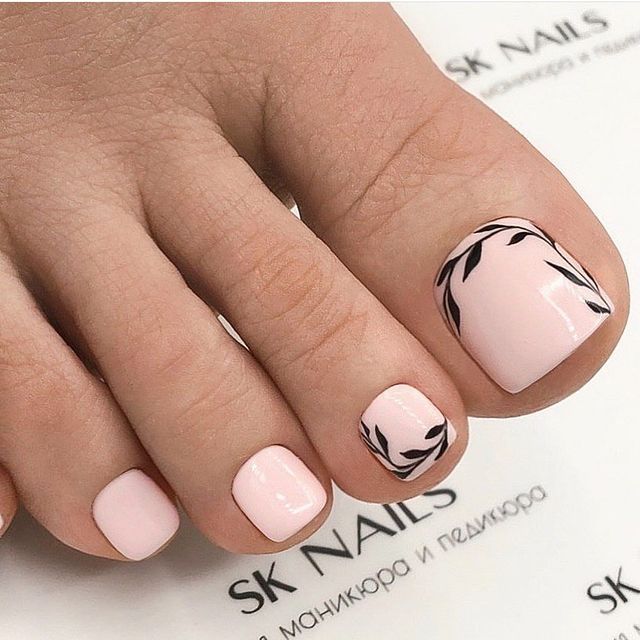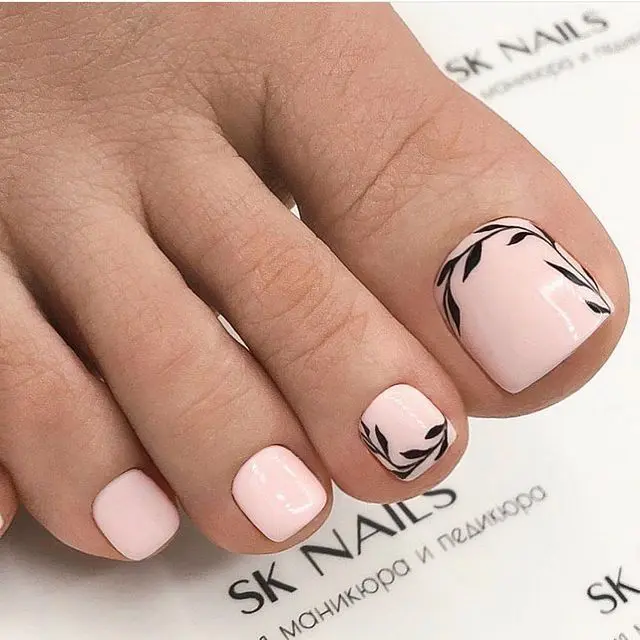 Add a touch of elegance to your regular pink polish by adding some leaves as accents to your overall pedicure. If nail art isn't your strongest suit, don't worry! You can always get nail stickers instead for a fuss-free pedicure.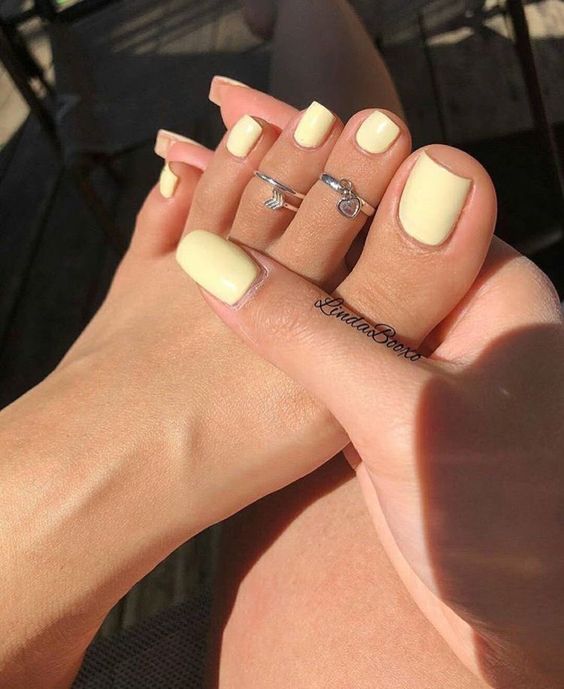 Make your manicure and pedicure match by using the same shade of nail polish for both nails. A bright yellow will give your nails a vibrant aesthetic that's perfect for the spring and summer seasons.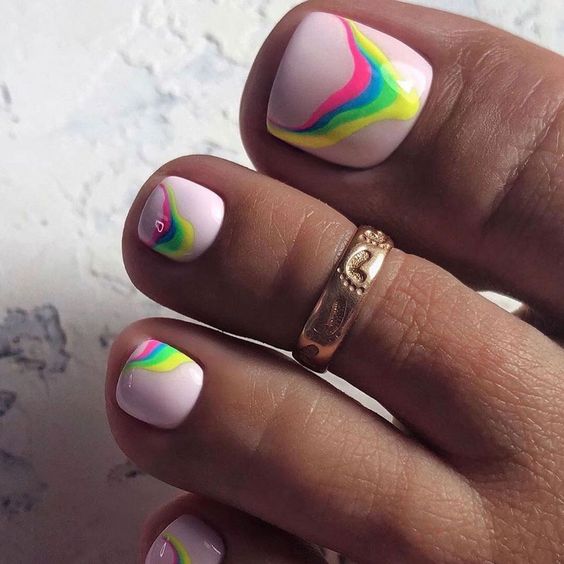 Have fun with a psychedelic theme for your next pedicure! Just look how groovy and fun those colors are! You can also opt to use colors you prefer but I suggest using ones that are bright and vibrant, or almost neon.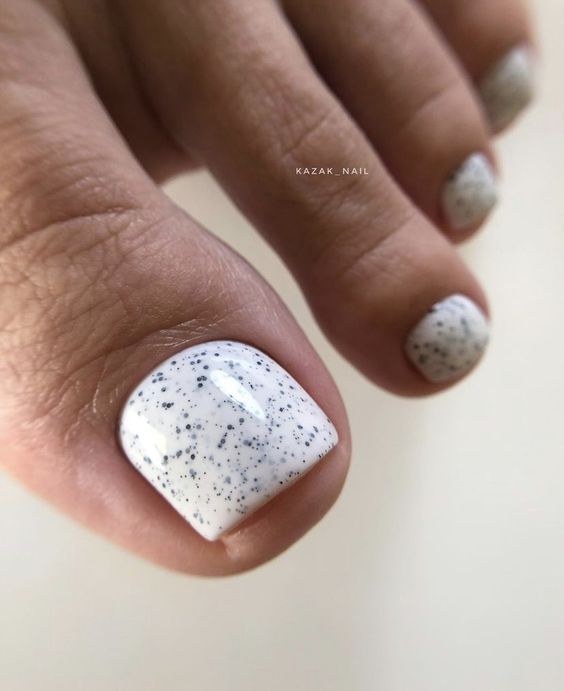 Is it just me or does this pedicure reminds me of cookies and cream ice cream? Aside from a well-loved ice cream flavor, this also reminds me of a gorgeous marbled surface. But whichever way you look at it, these nails are a must-try!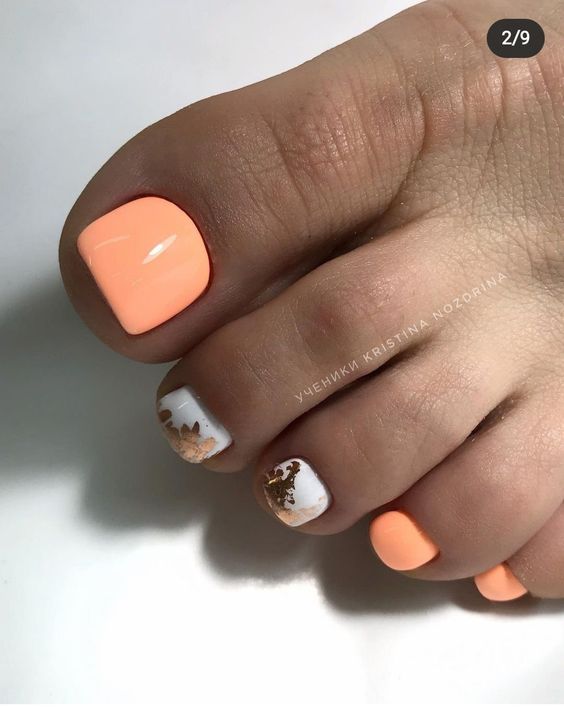 I never knew a neon orange polish could look this pretty! This color makes me so excited for the upcoming summer season. You can also opt to make accent nails using a white base coat with gold flecks around it for a more sophisticated touch.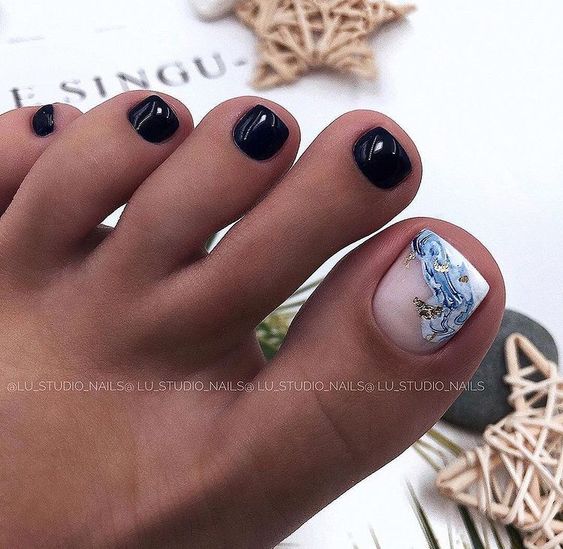 I love the contrast of the edgy black polish against the soft marble-theme accent nail. It really makes the accent nail stand out and look more unique!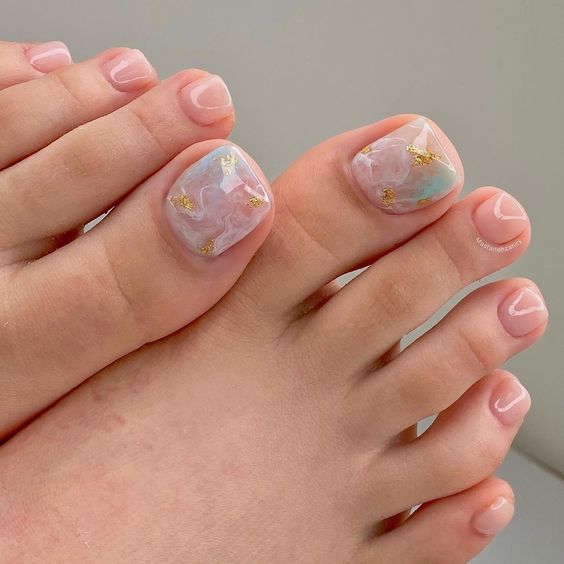 This particular nail art gives off such a dainty and feminine aesthetic to your toes. Apart from the gold-flecked, marble-like accent nail, I also love how the rest of the toes glisten and look so jelly-like.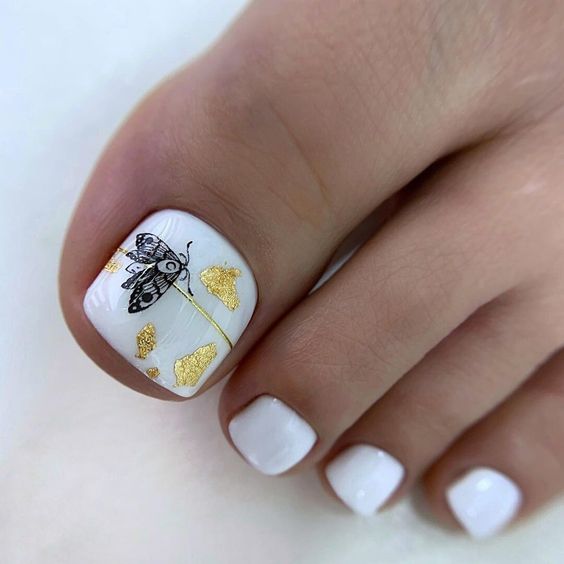 One way to elevate your all-white pedicure is by making a gorgeous accent nail like this one. Aside from the intricate butterfly nail art, you can also add some gold flecks and gold linework to really make it all come together.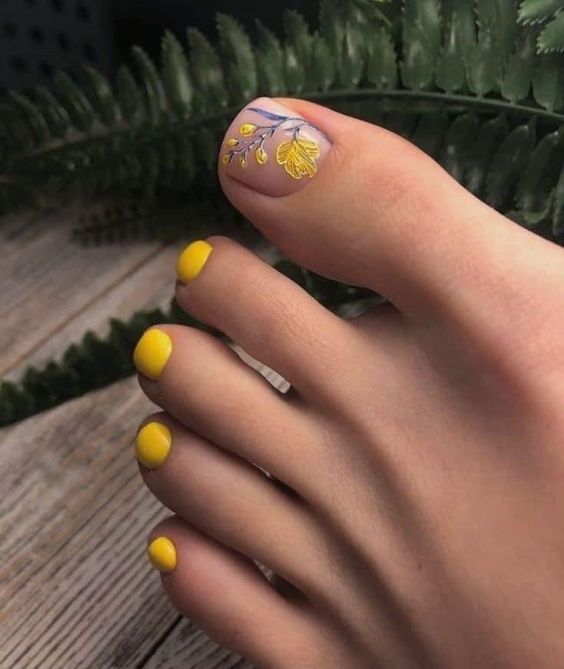 I am totally in love with the dainty floral nail accent on this particular pedicure. I also love how the overall color scheme matches the rest of the bright, yellow nails.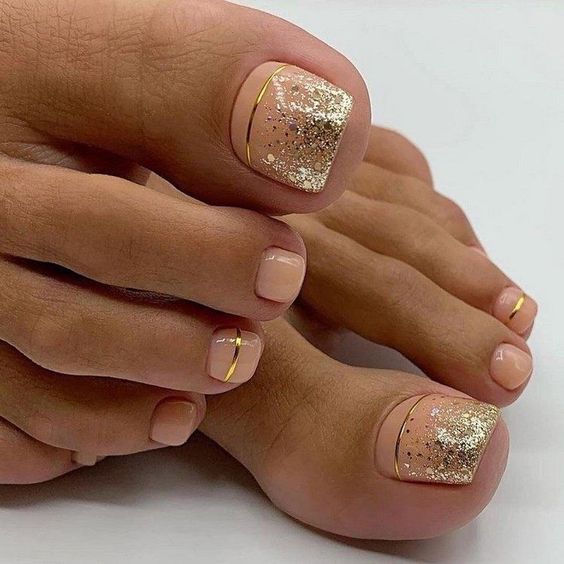 Instead of the usual French tip, try using some glitter for your tips for a more unique touch. This will give your toes a glamorous vibe that would look so good in open-toe heels.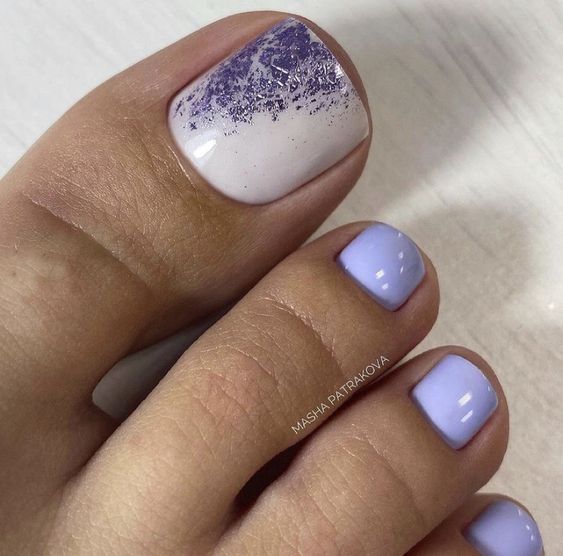 I am obsessed with all things purple and this pastel shade looks utterly stunning. You've seen multiple gold flecks here used as nail art, but you should consider these gorgeous purple flecks for your next pedicure!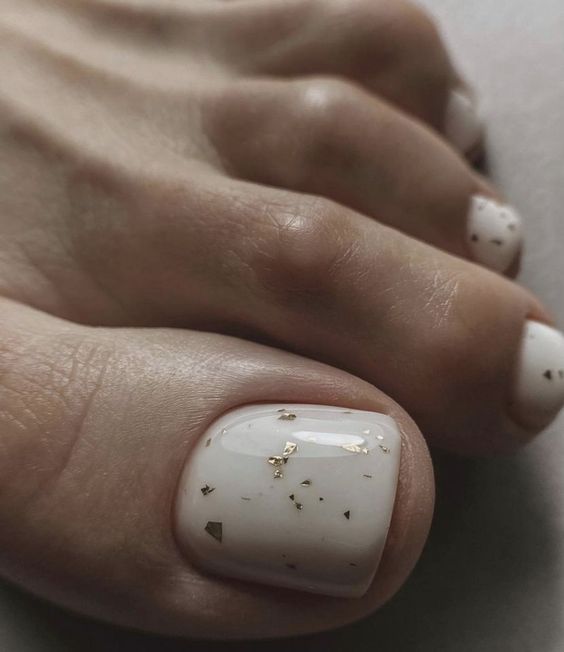 I love the delicateness of this particular nail art! The tiny gold flecks really give this natural base coat a hint of daintiness that will sparkle depending on how the light hits it.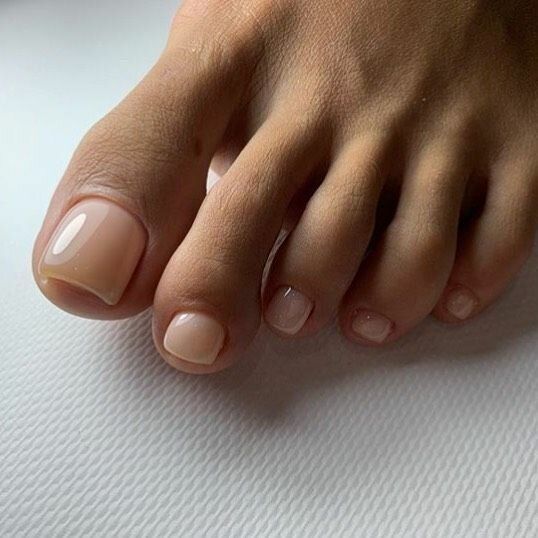 If you're looking for something natural, this subtle pedicure features a base coat that mimics your natural nail color. This will go with almost any outfit and any occasion. It's like your nails but better!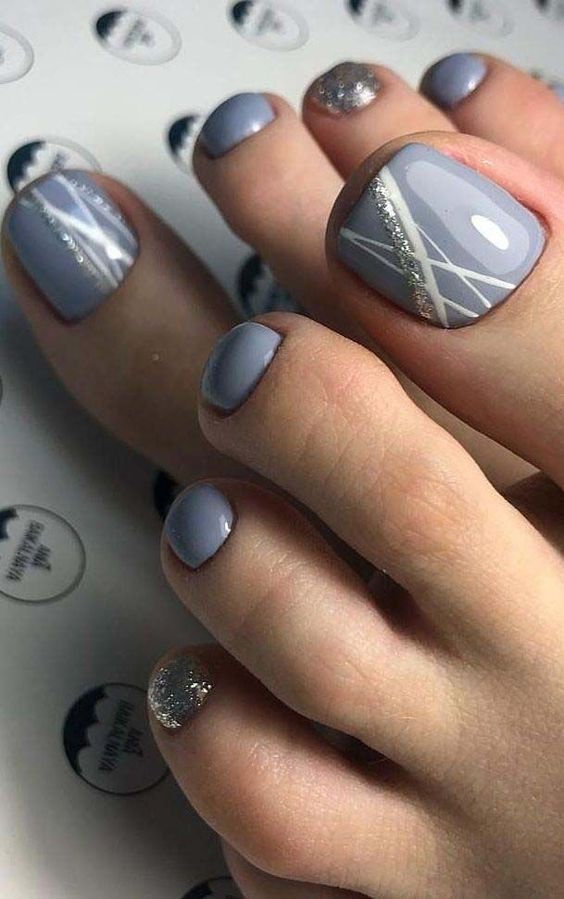 For more abstract nail art, then you should definitely consider getting this one! The cool blue base coat really comes together with the white and glittery silver accents.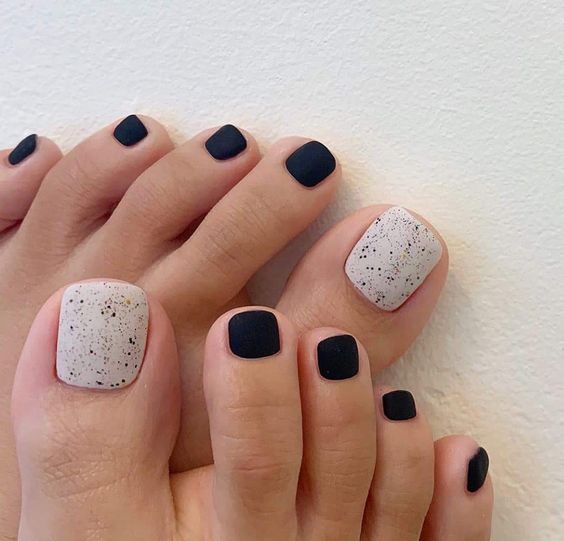 Who doesn't love a monochrome look? Even on your toes, a classic black and white pedicure never disappoints! For an even more interesting texture, try topping off your white nail with some glitter or sparkle.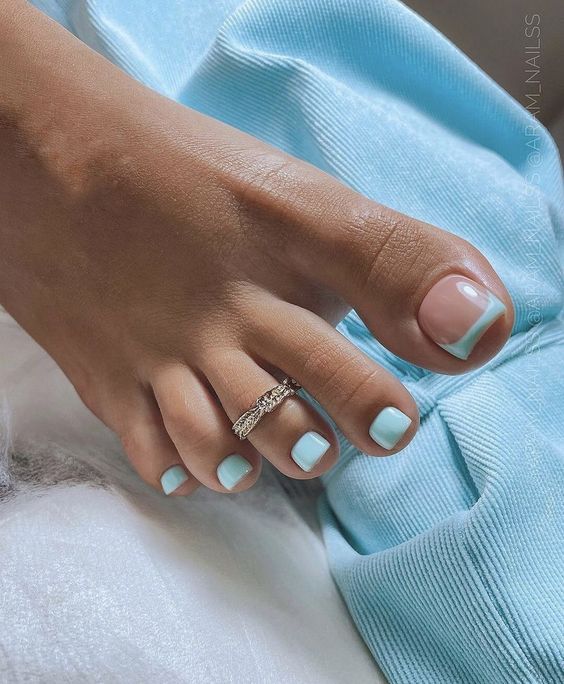 These aquamarine nails aren't just fun and unique, but they are also sure to put you in a summery mood! So if you're planning to go on a beach vacation soon, you should definitely try recreating this fun color!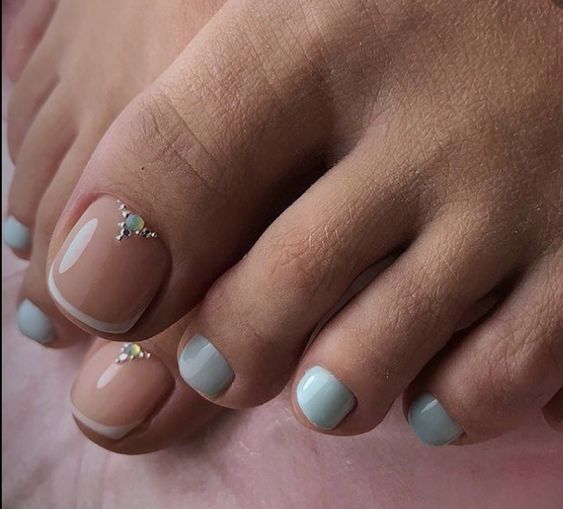 For a more muted aesthetic, these pale blue nails will do the trick! You can also leave your big toe with a natural base coat and accessorize it with some dainty rhinestones.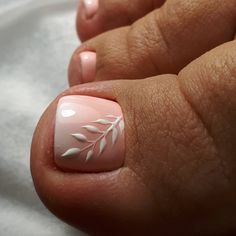 Colorful prints are all fun but for something out-of-the-box, try doing this embossed nail art of leaves! You can do a gradient base coat for a more unique color scheme as well.
Every shade of blue is beautiful but this vibrant tone of blue is just so perfect for the summer season. You can also do a blue version of the classic French tip for your accent nail!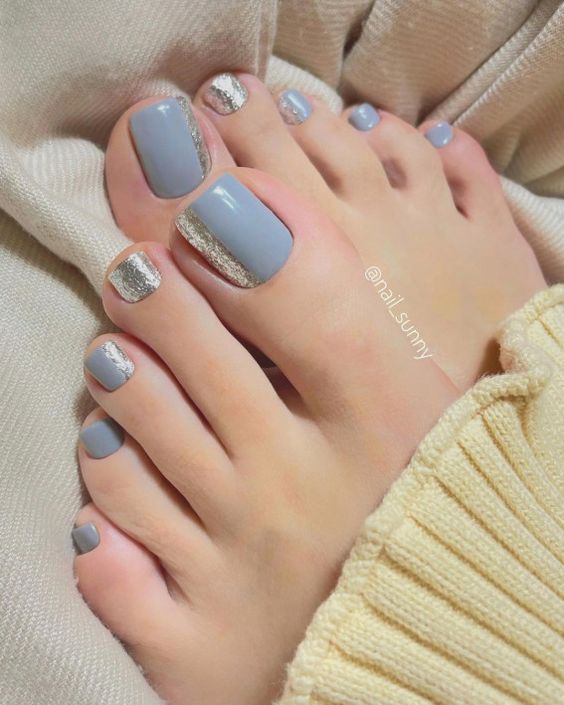 Make your nails shine and sparkle by combining a muted bluish-grey with a shimmery silver polish. The contrast it makes will be stunning!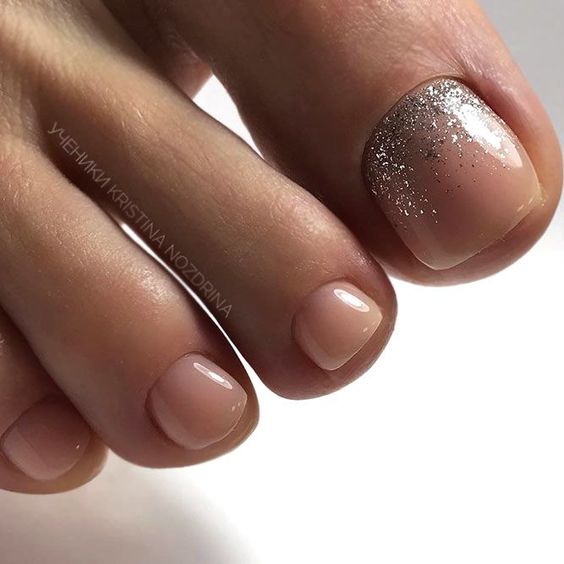 If you're only looking for a subtle sparkle, then I highly suggest leaving your base coat as natural as possible. Afterward, you can top it off with some shimmer for your accent nail. The effect will be subtle, understated, and totally cute!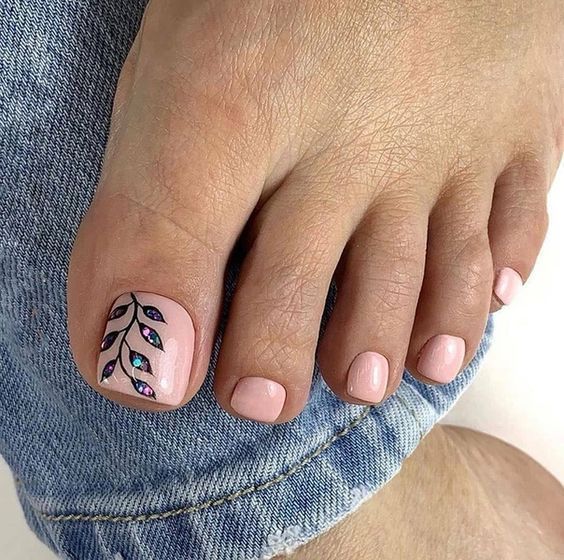 If you're looking for a subtle pedicure that will suit the holiday season, then you should definitely check this one out! The nail art for the leaves is filled with sparkles that are reminiscent of Christmas lights!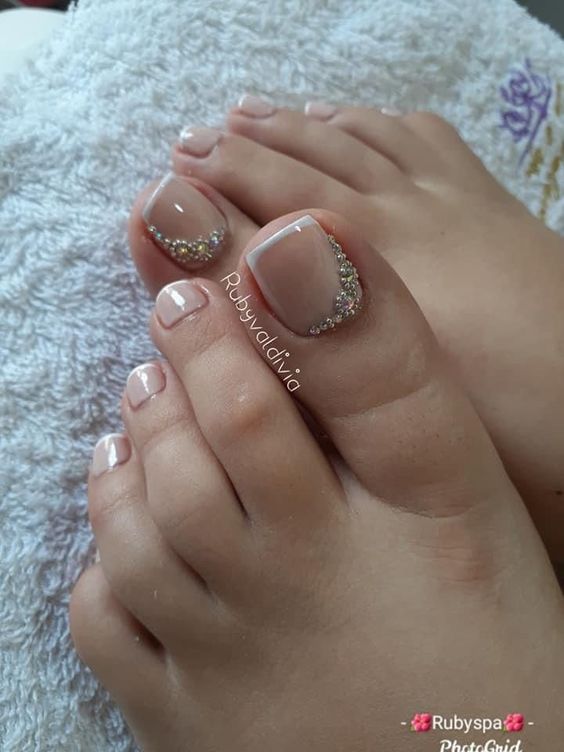 Just like you do your manicure, you shouldn't leave out your toes when it comes to accessories. Some pretty rhinestones will make your pedicure look stunning!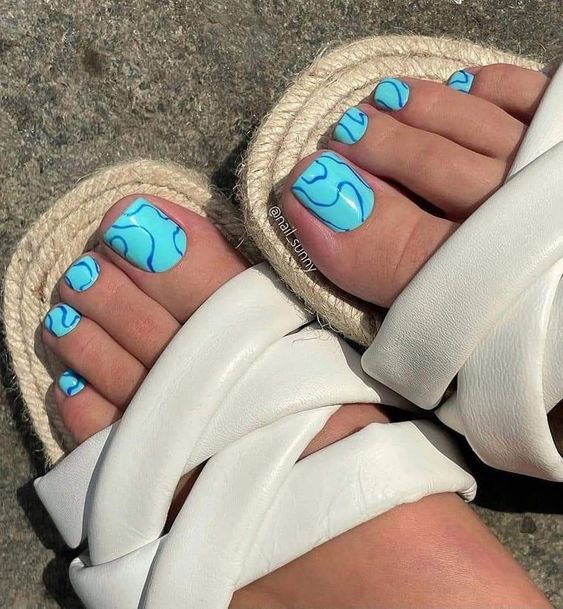 This vibrant blue pedicure is sure to remind you of beautiful swimming pools and seaside vacations once you paint it on your toes. It's quite easy to do as well and you don't need pro skills to recreate the squiggly lines reminiscent of gentle waves of water.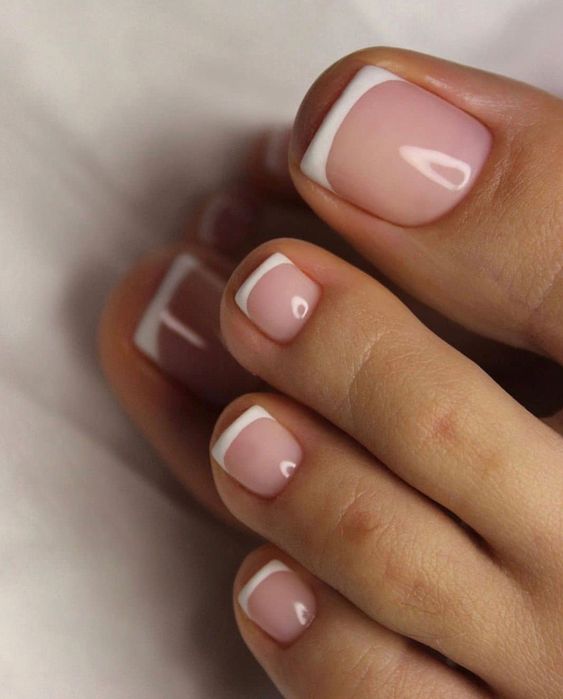 If you're looking for something natural and understated, you can never go wrong with the classic French tips. Usually done on your fingers, they look just as stunning on your toes.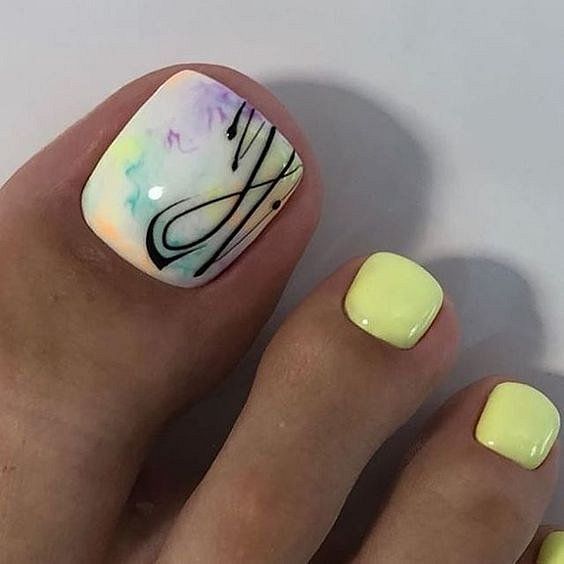 Here's a unique abstract accent nail you can pair with your neon polish. All you need is a steady hand to recreate the intricate linework above a gradient base coat of varying colors.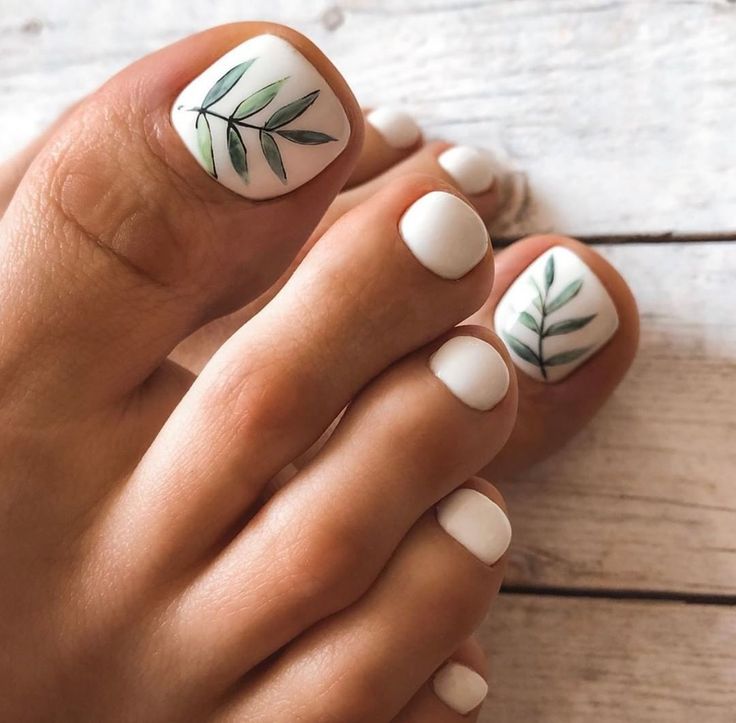 For a minimalist aesthetic that's going to be in tune with your love for nature, you're going to like the leaf accents on this pedicure! The white base coat gives the overall look such a clean, refreshing feel.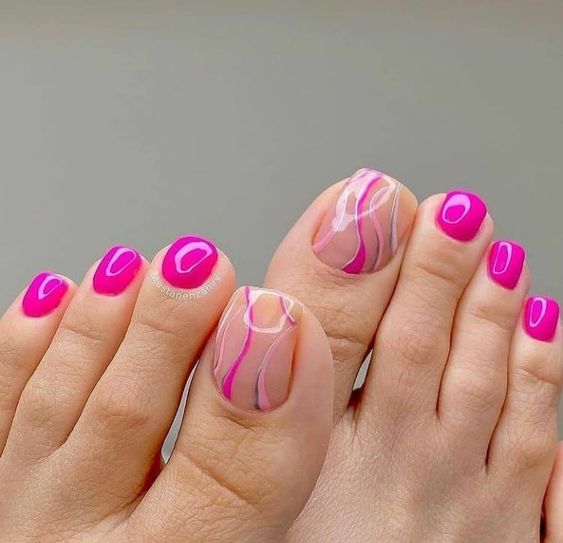 Pink will always be one of my favorite colors. And for every season, there will always be a shade of pink that's perfect for it. But for summer, bright, hot pink is the way to go! Just look how vibrant and neon this pedicure is!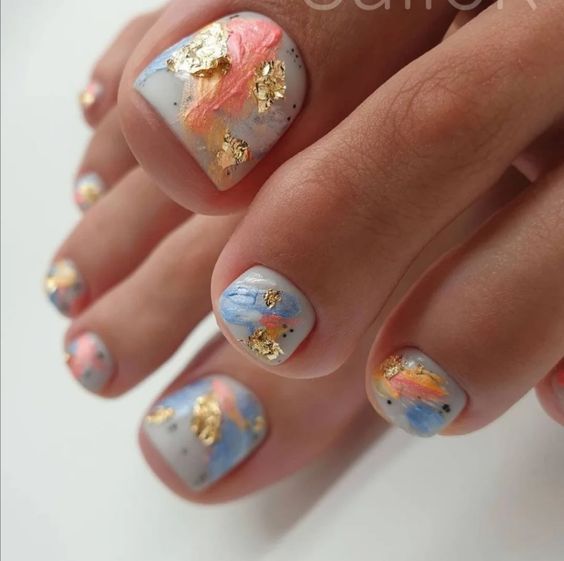 Can't decide on what color to get for your next pedicure? Why not mix different washes of color for a "watercolor" look that will make your toes look like a piece of art. You can also add tiny flecks of gold on top of your base for a touch of sparkle.
If you're looking to get that glossy and milky sheen on your toenails, then this is the pedicure to emulate! Spice it up with some rhinestones to make it even more elegant.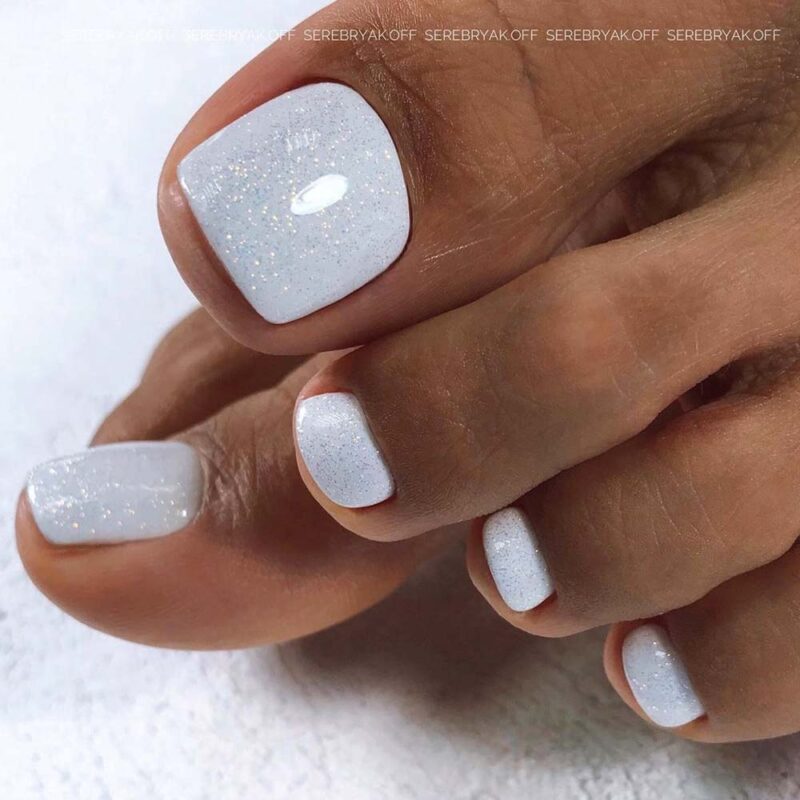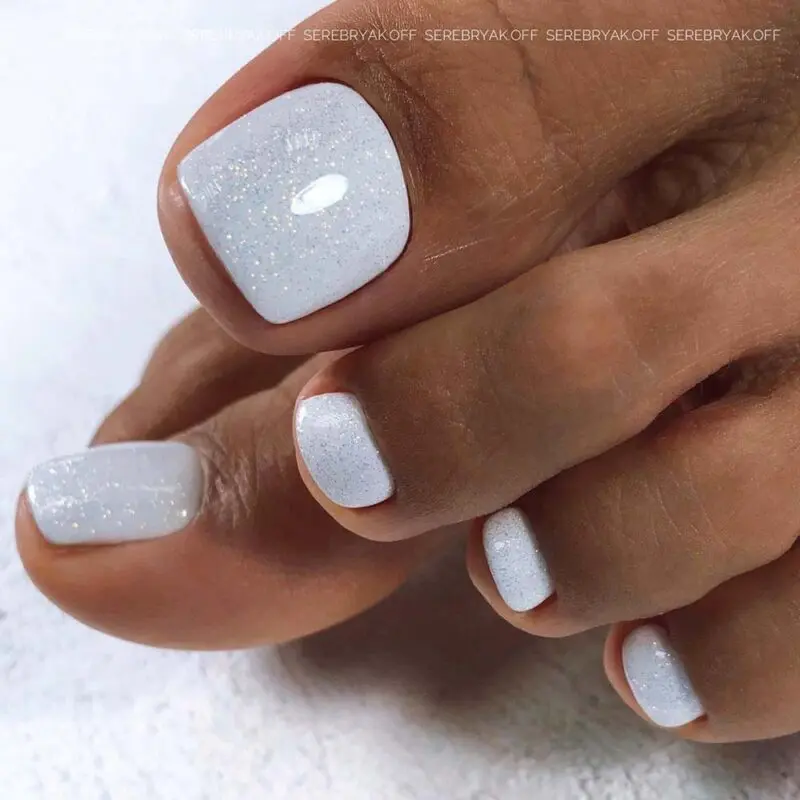 Here's another frosty pedicure that will give you those winter wonderland vibes for the holiday season! The shimmers on the polish make the whole look even more festive!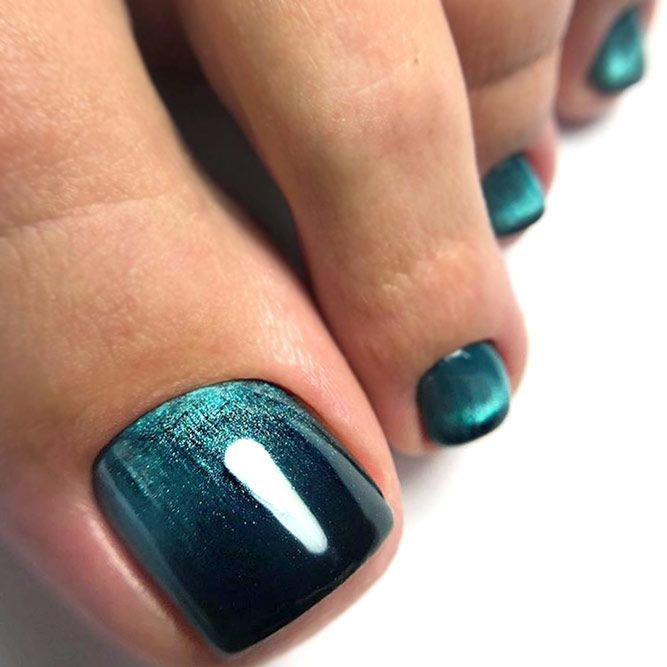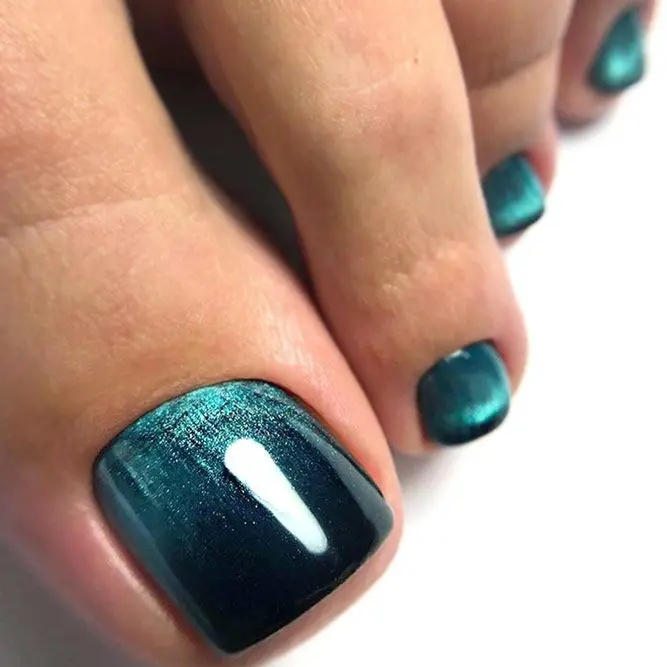 This particular pedicure will remind you of those gorgeous auroras you see in colder places of the world and these would look just as stunning painted on your toes.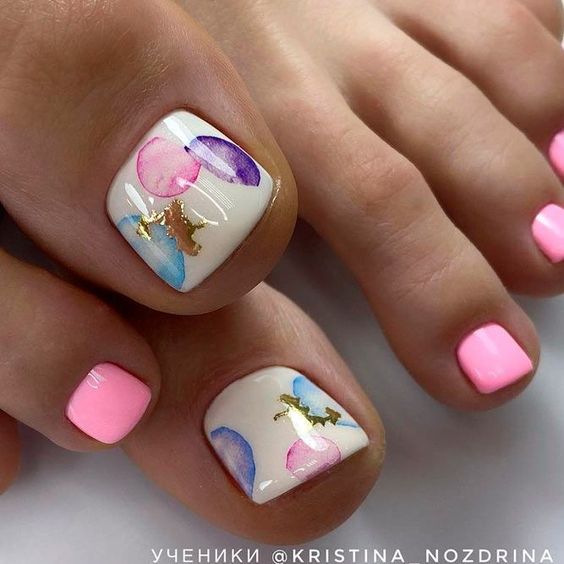 Mix and match your regular neon polish with a very modern and out-of-the-box accent nail! This will give your toes an even more interesting finish.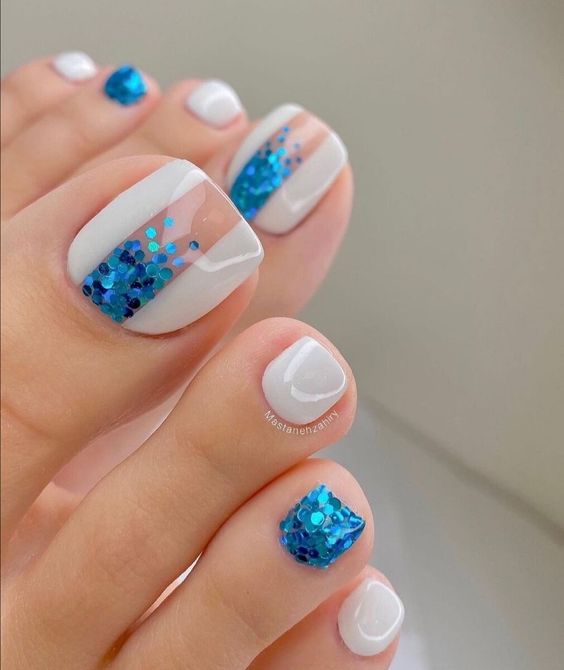 Here's another abstract pattern you might love! If you can't get enough of using blue hues for your toes and you're looking for more designs to recreate, then this one features sequins for more sparkle!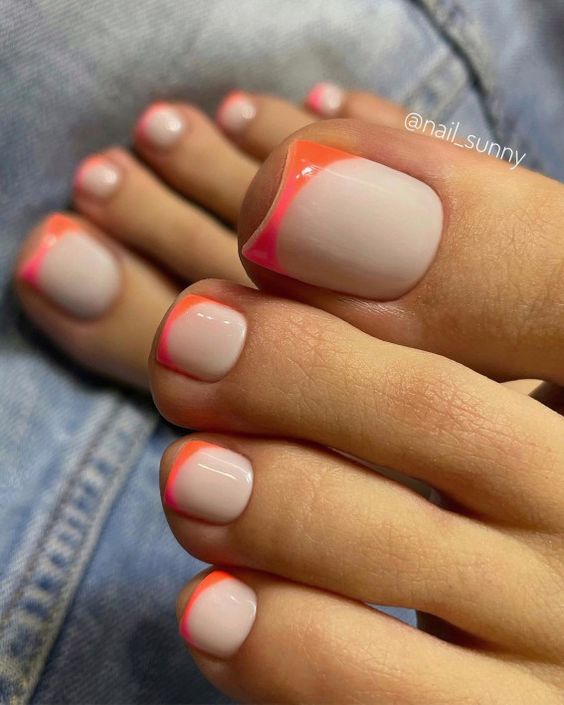 Tired of the usual French tips? Try using a different color for your tips on your next pedicure! A bright, neon orange tip would be so perfect for the summer!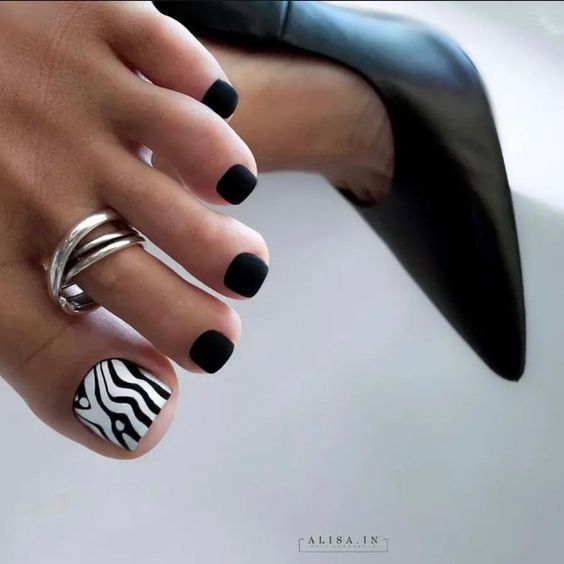 A full-black pedicure might be an edgy classic, but you can always play it up with a black-and-white stripe accent nail. This can either give you a modern vibe or a chic zebra print.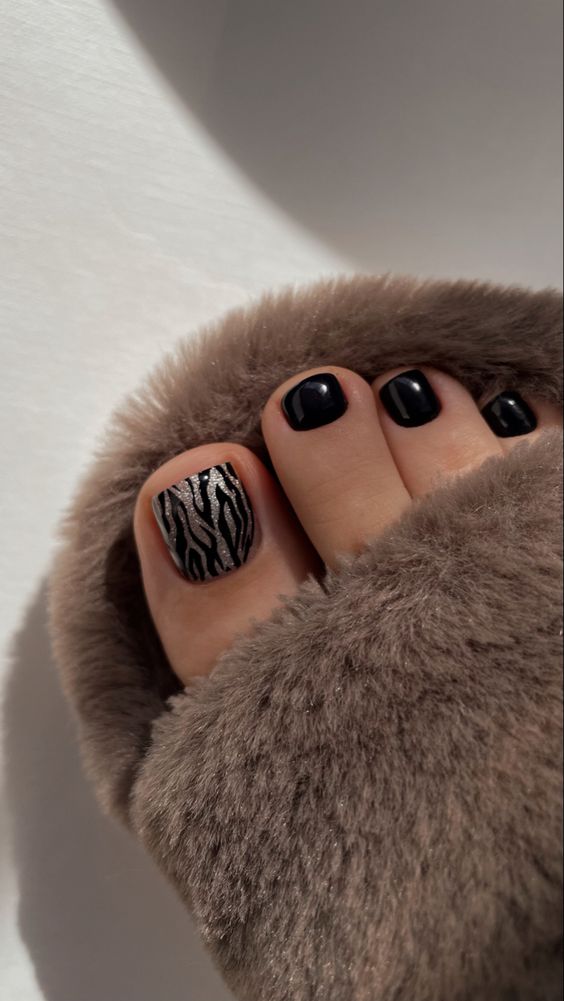 This one is similar to the previous pedicure, but this has a glossy finish and the accent nail features some shine.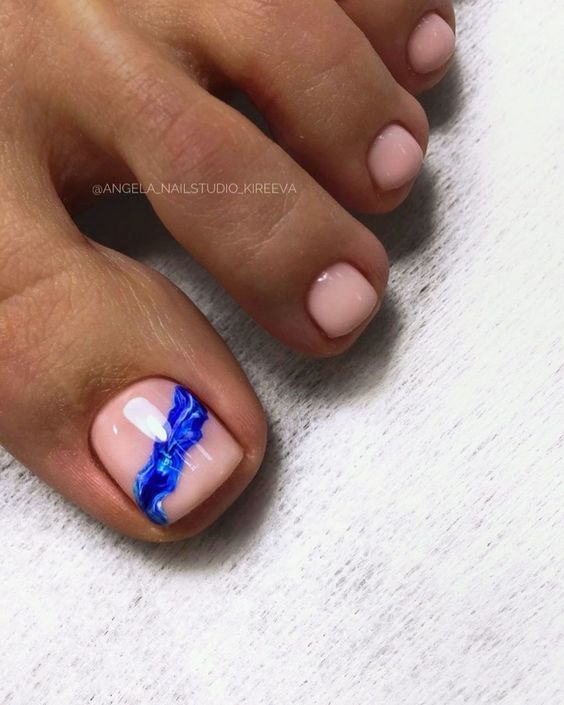 Pedicures that have a natural base coat will never go out of style, but to give it a unique touch, try adding some interesting lines of colors to your biggest toenail.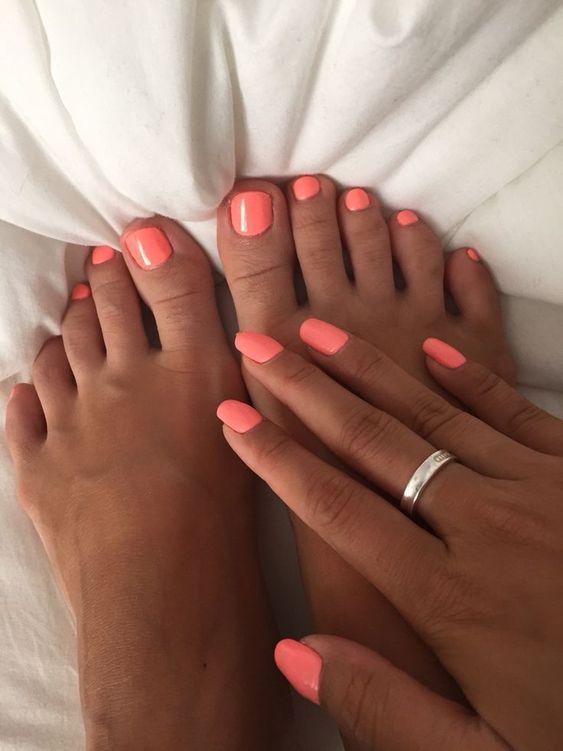 Matching your manicure and pedicure is a whole vibe! This way, you can save yourself from spending too much time thinking of what design you should go for on every nail.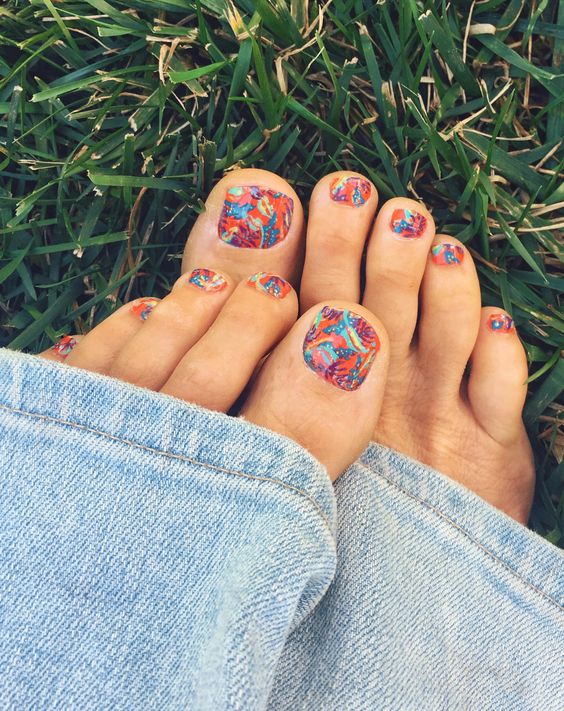 This psychedelic pedicure is going to give you some serious throwback to the stylish 70s!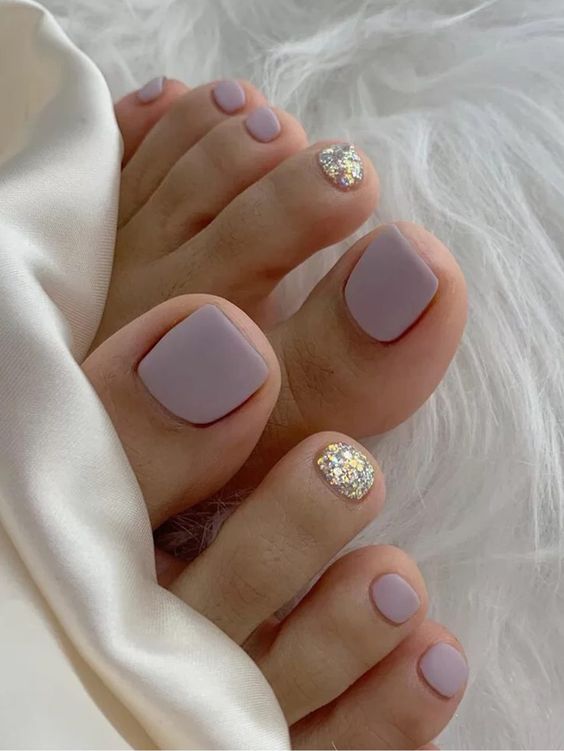 A gorgeous, pastel, matte purple pedicure can definitely stand on its own but why stop there? Add a glittery accent nail to get some sparkle on your toes.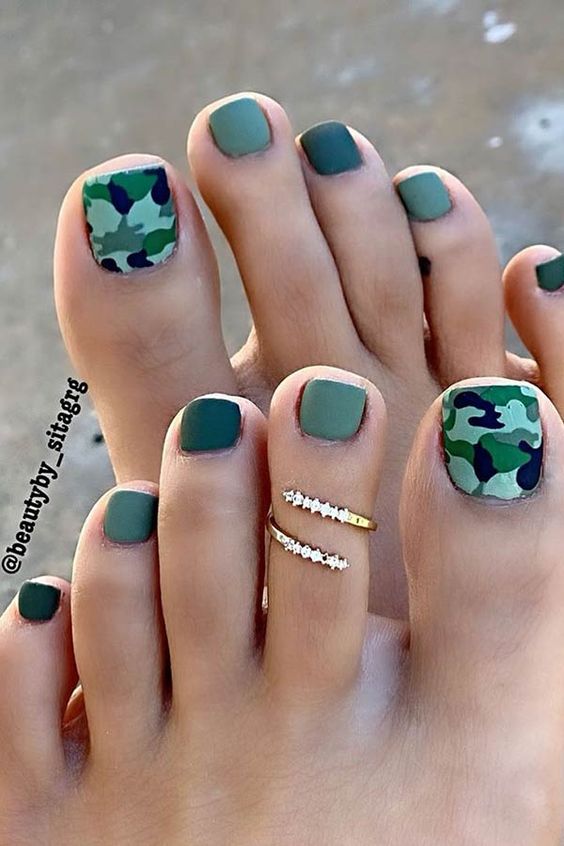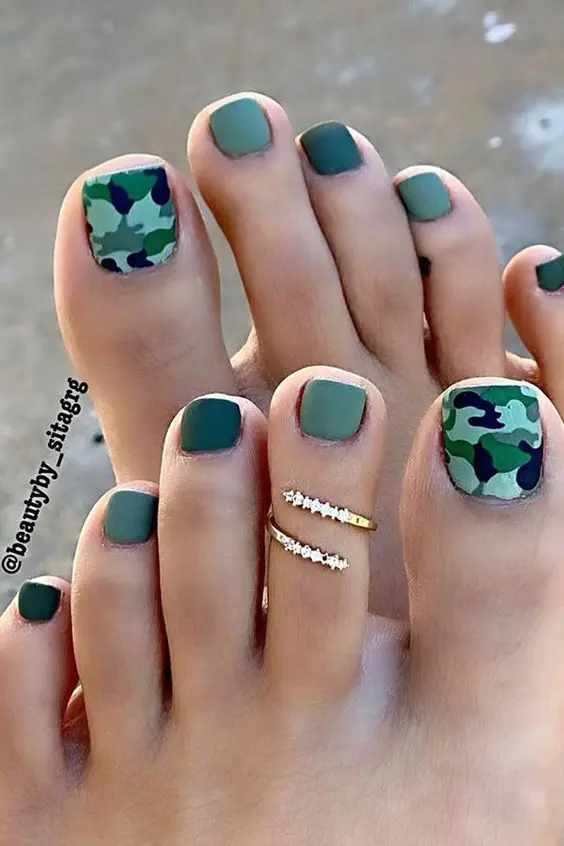 Were you able to find the perfect pedicure color in this post? We hope so! Check out the posts below if you're looking for more nail design inspiration.