Over the years, vests have become more and more popular – they're both practical and chic. Vests act as a layering piece that adds depth and texture to any look. But because vest outfits are always changing based on the trends, they can be a bit tricky to style!
When vests entered mainstream womenswear in 1970, wearing a vest started to become part of everyday style. Yet we still see vest trends change year by year, from sweater vests to workwear vests and more.
Although vests are still considered a sophisticated and stylish piece today, they are definitely challenging to style well. Without the right knowledge of how to style vest outfits, the vest can be a little intimidating. In this article, we'll go over how to style them along with tons of example outfits with vests so you feel like a vest styling pro!
How To Style Vests
There are a few different types of outfits with vests that are cute and trendy. Here are some of our favorite vest outfit combos!
1. Pair With A Dress
A vest can give any dress new life, whether it is a maxi, midi, or mini. Depending on the weather and style of the dress, you can play around with textile, size, and color. You can be creative with several layers or stick with one vest. Your choice!
2. Pair With A Maxi Skirt
If you like layering with off-the-box ideas, then grab a maxi skirt and a semi-large vest. You can also play with a polo shirt and a cropped vest for more depth. This is a kind of boho outfit with a vest that's really unique and comfy.
3. Wear It Over a Button Down
Have you ever worn a plain button-down and thought about what else you can add to your fit for that extra pop? A great way to spice up a button-down is by adding a colored vest. My favorite colors for this look are green, pink, and orange. If you're wearing it to a formal errand, you can opt for earthy colors instead. You can also apply this technique to ruffled and/or sheer blouses to give the outfit a vintage vibe.
4. Crop and Pair With HW Jeans
If you have an old vest at home that you want to spice up without the effort of altering it, you can simply do the "belt tuck-in trick". To do this, simply wear a slim belt on your waist and tuck the vest inwards for a cropped look – a trick made popular by TikTok. The belt will be hidden under the vest and will hold the excess material in place to make the vest look cropped. This is one of our favorite cute and casual outfits with vests for everyday wear.
5. Color Block
If you love color blocking, then a vest is a great addition to a two-piece ensemble — find bottoms that are in the similar color scheme of your vest for a monochrome outfit, or opt for the color on the opposite side of the color palette if you want to stand out.
6. Transform Into A Dress
If you ask me my favorite shop for vests, it would be the thrift store! Vests evolve slower than other pieces, so it is highly possible to find a vest in the thrift that is still relevant today. The only setback is finding the good ones in big sizes. If you find a perfect piece in a large size, the best thing you can do is transform it into a dress. Add a belt or put over a shirt-and-mini skirt ensemble. This is super trendy with knee-high boots right now.
Another great place to find oversized vest dresses is on Nasty Gal.
7. Layer, Layer, Layer!
If vests had a talent, it would be layering! Plus, they're easy to mix and match. If you're observant enough, you'll notice that most vest outfits begin with a simple monochrome outfit or a white shirt and jeans/skirt ensemble — which most of us already have in our wardrobes. Then, the vest is layered on top to add a new element and dimension.
Personally, I also think that vests promote slow fashion. You can wear them over and over with so many different pieces, so you won't have to buy tons of new pieces.
Our Must-Have Vests
Here are our favorite chic vests to shop for right now. These are some of the most versatile pieces to put together lots of different outfits with vests. Each of these styles is something you'll want to consider having handy in your wardrobe!
Everybody has a knit vest hanging around in their wardrobe somewhere — whether it was given as a gift or bought for practical purposes. When worn, knit vests usually look 'literary' or 'Academia,' which is why I love wearing mine with button-downs and trousers. My favorite colors for knit vests are neutral and earthy tones like cream, beige, brown, and black.
This is one of the must-have pieces when you're styling outfits for vests. It's definitely a classic vest to own!
Cop our favorite:
Related: 20+ Affordable Dark Academia Fashion Brands
An alternative to the typical and classic knit vest is the cropped vest. Rather than a layering piece, this can be worn alone or as a sleeveless top. Some like to experiment with this uniquely tight vest with oversized button-downs or shirts.
The cropped vest is a product of Y2K, a style adapted from the year 2000 trends. It's one of the most popular pieces for chic vest outfits right now!
Cop our favorite: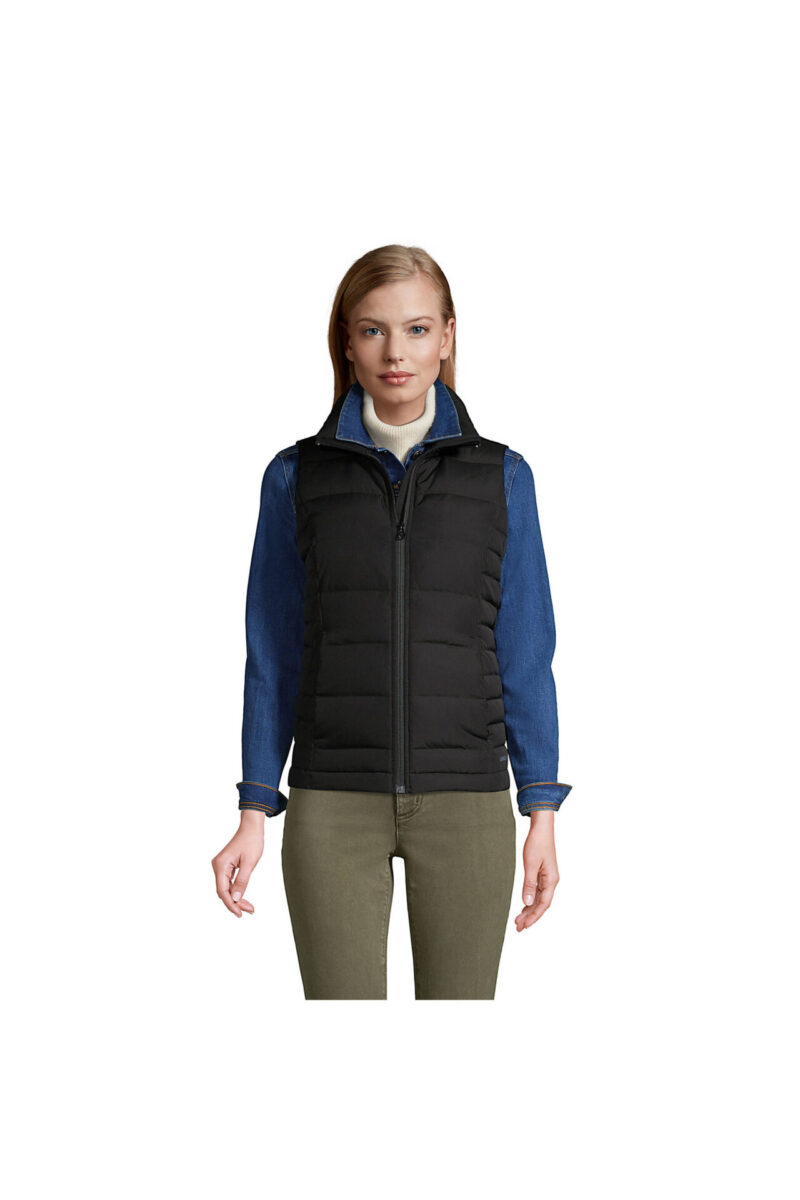 Although puffer vests are one of the most practical ones on the list, it doesn't mean you can't style them. In fact, puffer vests are hot right now in Hikercore and Gorpcore styles.
I would wear mine with a white turtleneck top and a long cargo skirt. For a simpler look, I would switch the bottoms with bleached jeans. Practical pieces like this definitely deserve a spot in your wardrobe!
If you choose a bulkier puffer vest, you can style it with winter outfits for a more edgy look. A slimmer puffer vest looks great with all black tight pieces (like leggings and a turtleneck + combat boots) for a really comfy look. Here in New England, we wear these outfits with vests all the time!
Cop our favorite: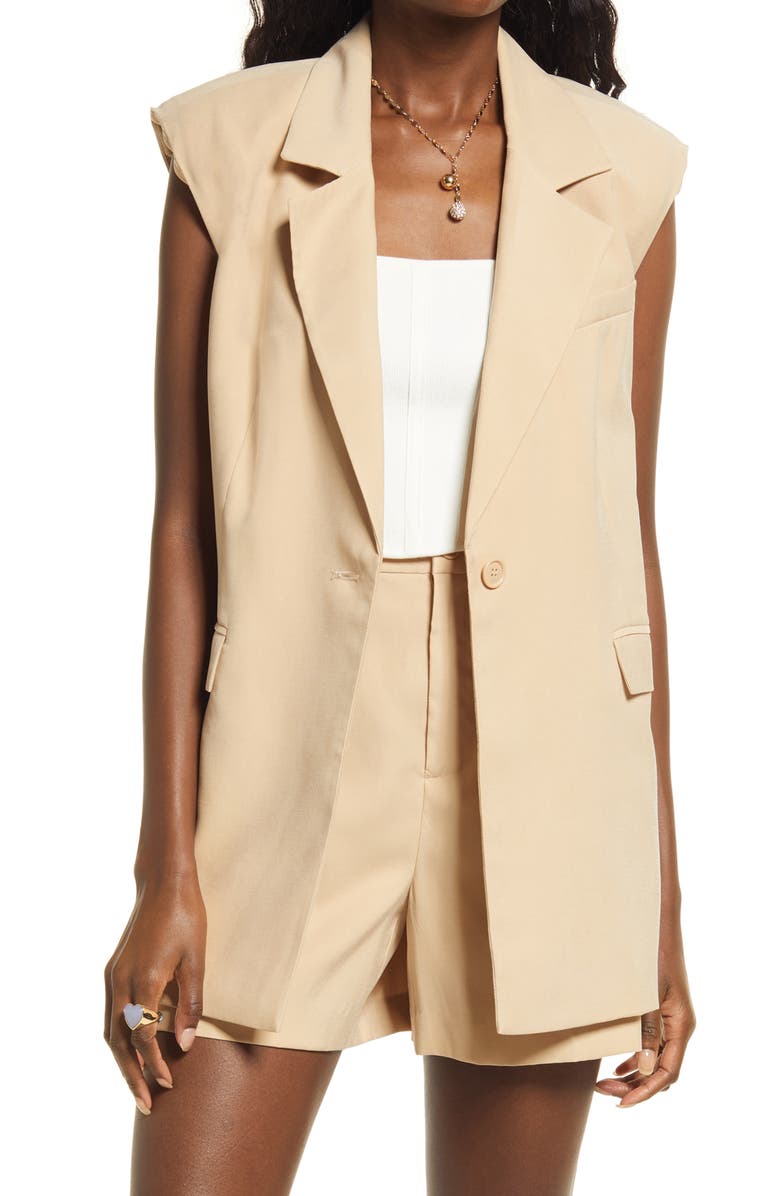 Still want to look sleek and elegant despite the warm summer weather? Get a tailored vest! A tailored vest is usually made with fabric similar to blazers/trousers and visually looks like a blazer without sleeves. I love wearing a tailored vest when I'm doing off-duty business, when I'm simply out to do errands, or during day tour travel trips. Overall, it makes a great fit for those who wish to look confident!
Cop our favorite: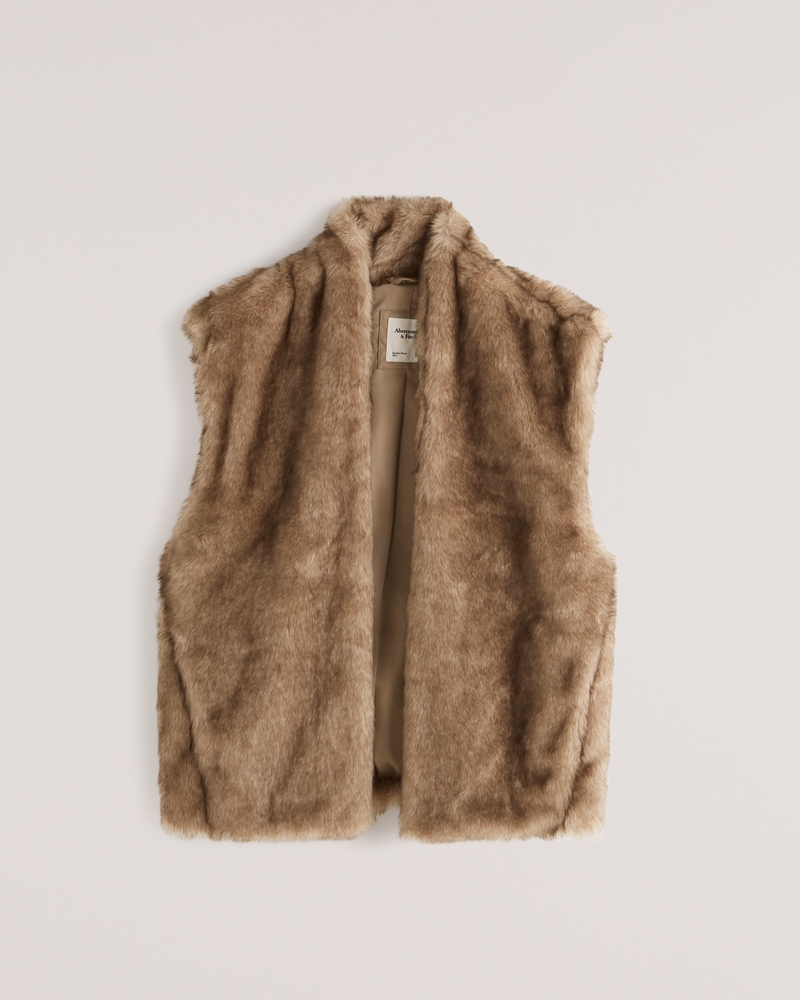 Faux fur vests are still the best ones to wear to night outs, especially when it's cold outside. Faux fur also gives an aura of sophistication which is why I love wearing them with dresses! For a Parisian look, choose a little black dress to pair.
Cop our favorite:
A fishing vest is a piece that you can incorporate into a Gorpcore wardrobe. A lot of hip-hop street styles have adapted similar vest types as well. I love wearing mine with an oversized black or white graphic tee and a black maxi skirt. In the summer, I wear it with a shirt and a pair of denim shorts. I usually maximize the pockets of a fishing vest so I don't have to bring a purse for my essentials.
If you're looking for super unique outfits with vests then you'll definitely want to invest in one of these pieces!
Cop our favorite: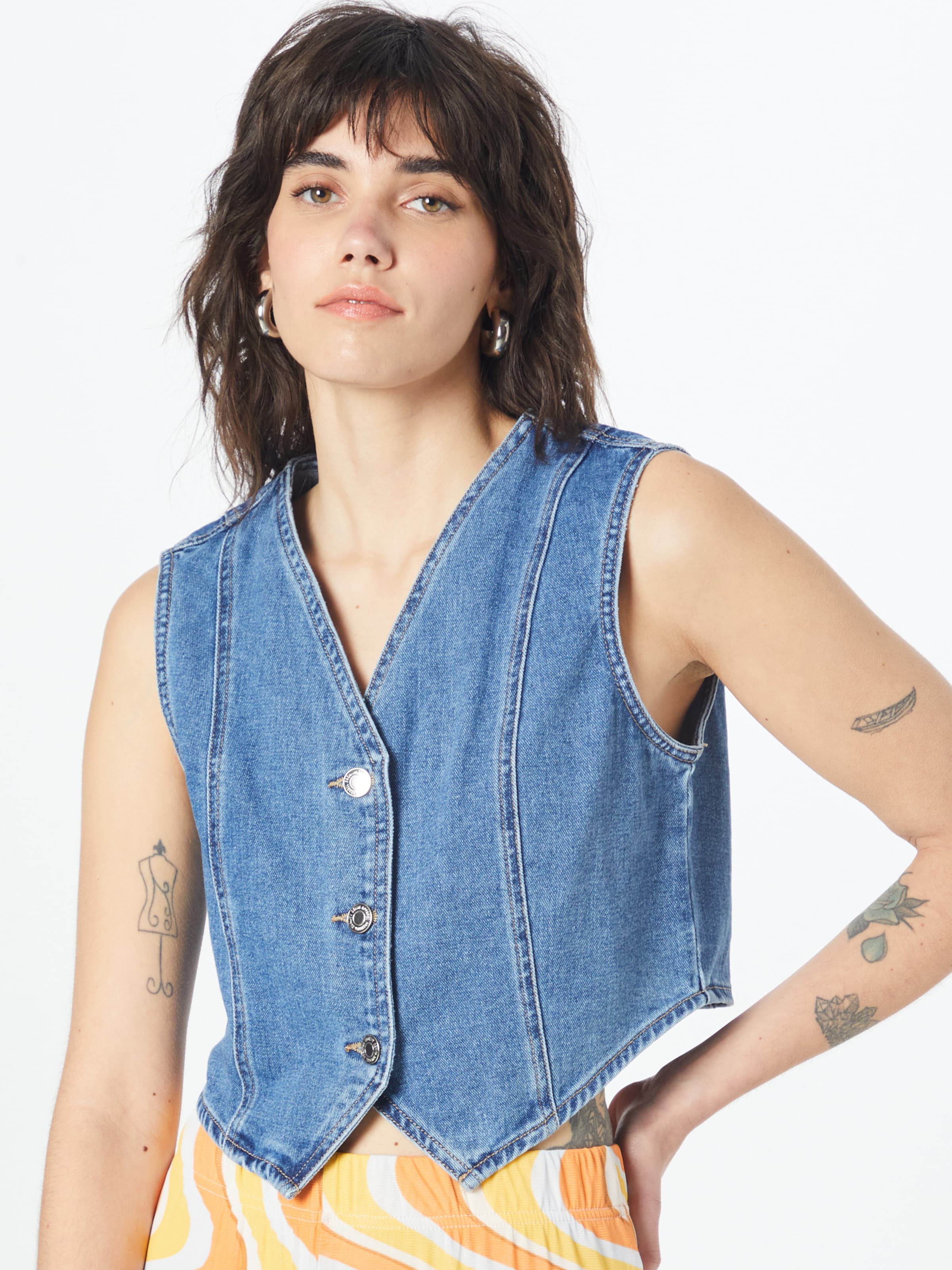 A denim vest is a great piece for wearing with matching denim coordinates. I love how carefree and relaxed this looks compared to a jacket or a Canadian tuxedo. If you're feeling experimental with your vest outfits, you can use this as a layering piece. It can also be worn alone if that's preferable for you.
Cop our favorite: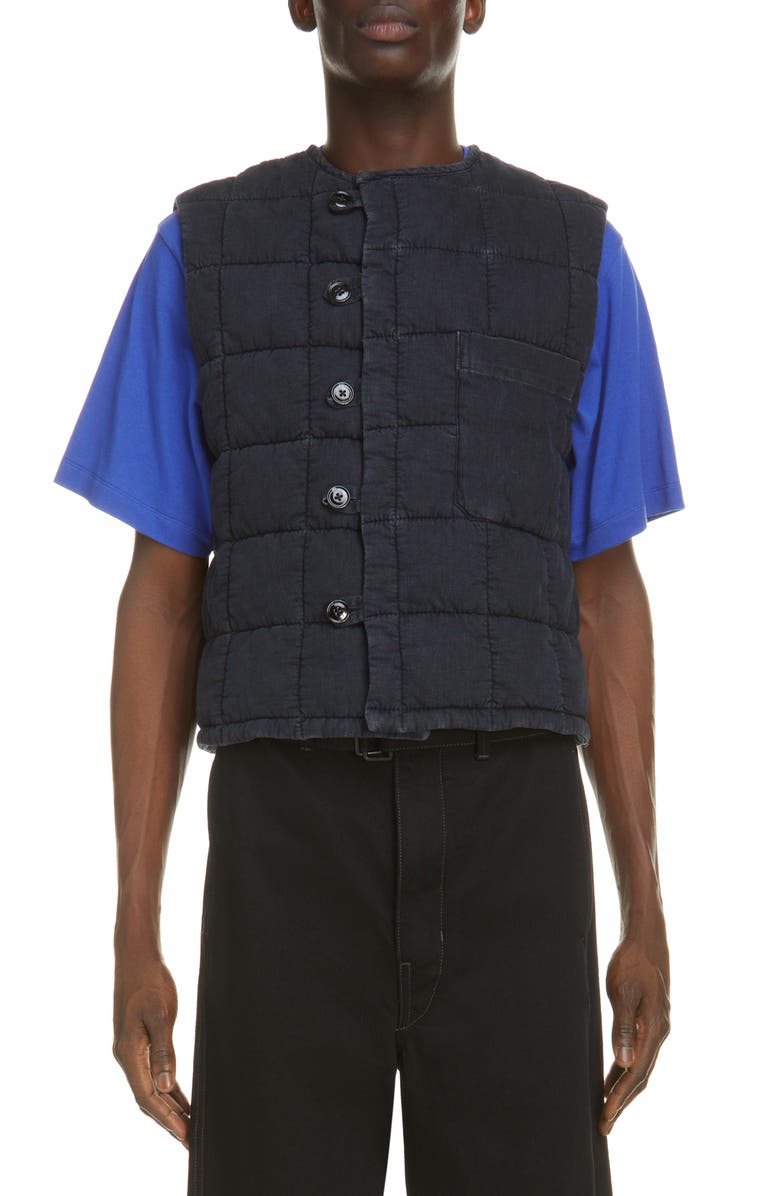 A quilted vest is another version of the down or puffer vest. As compared to the former, a quilted vest is more vintage-looking and feminine. It is also less bulky but equally convenient in windy and cold months. I usually find the best-quilted vests in thrift stores.
Cop our favorite
Crochet Mesh Vest
Mesh vests are great layering pieces during the warmer months. It adds color, texture, and depth to a basic fit. I figured that the best ones are usually handmade by small-batch craft shops. The nearest I could get to small-batch quality is this long mesh vest by Atelier Boutique (link below). But of course, you can always tap your local fabric artists for a similar design! This is a cool way to style sweater vest outfits with a twist.
Cop our favorite:
Long Vest
One good long vest can be paired with many semi-formal outfits, whether it's composed with a pair of trousers, a skirt, or a dress. A long vest is a tailored vest's counterpart — sleek, elegant, and sophisticated. As compared to short tailored vests, a long vest elongates the body, making it look slimmer and visually balanced.
Cop our favorite: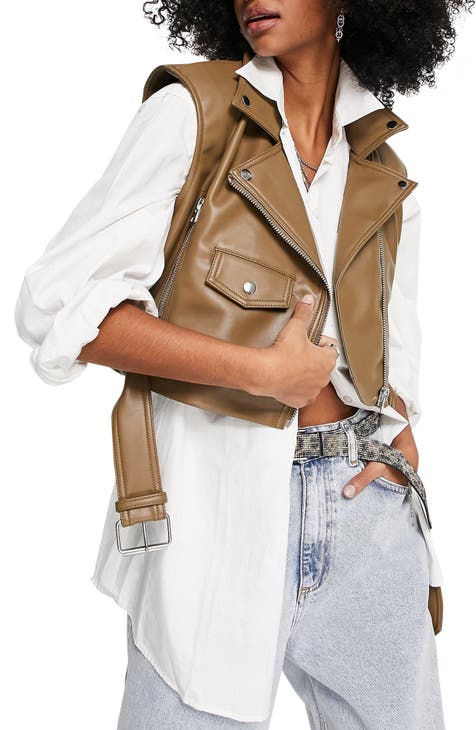 A leather vest is an edgy piece that can be added to punk rock, gothic, or biker chic's wardrobe. Like denim, leather vests can either be used as a layering piece or a top alone. In my case, I like wearing it with a white button-down!
Cop our favorite:
Outfits With Vests To Copy
When you're looking to put together vest outfits, you definitely need inspiration. Browse through these outfits with vests to see what styles you like!

This red vest definitely added a complimenting statement to her Nike Jordans! I love how she pulls off this tomboy style without having to wear oversized pieces. Brilliant!
While we'll link some super interesting vest outfits below, this one of the most classic sweater vest outfits that will literally never go out of style.
If there's anything that added spice to this dress, it's her checkered vest and her white knee-high boots. This black-and-white outfit resembles a modern clique-like vibe to it. I also appreciate how she lessened the contrast between her legs and her dress to put the focus on the color of her boots.
This is one of those sweater vest outfits that's warm and comfy but still city chic.
Without the matching vest, this outfit looks plain and ordinary. The fabric of this vest also looks stunning! It reminds me of practical workwear and Carhartt rompers. The purse also added a sophisticated flair to this ensemble.
This puffer vest pairs well with her 'dad' sneakers, her washed black denim, and her off-white turtle neck. The fit of her jeans also added to the semi-gorpcore look that this outfit gives. The belt with the classic buckle added a masculine element that balances all other pieces.
If you're feeling chic but want to be comfy then this is one of the best puffer vest outfits to copy!
You can never go wrong with a sweater vest and a turtle neck! This outfit looks like a comfy outfit for coffee in the Autumn or for browsing in the local library. The jeans make it look relaxed too! I would probably wear this with a canvas tote, though. This is one of our favorite dark academia sweater vest outfits, plus the vest is neutral so it can be styled many different ways.
This outfit is composed of very classic, elegant, and timeless elements. Though it is with a splash of color, the blue shade of her blouse is not that flashy nor extreme. This look, with the neutral-colored vest, evokes feelings of calmness, formality, and approachability. It's stylish too!
If you're looking for a distinguishable look, wear something that pops from head to toe! What I love about this outfit is how she thoughtfully matched the shade of her two-piece with her sneakers. The little details – the purple bracelet and the beaded phone strap also complements her whole outfit seamlessly.
Fur vests are not dead! Faux fur vests may look intimidating, but it's only about knowing what to pair with them. If you want to avoid looking overdressed, pair a faux fur vest only with neutral and basic colors like black (as shown above). You can also compliment the vest by wearing a similarly colored base.
Have nothing else to wear? Open up your boyfriend's closet! You might see something you can wear. I love how she pulled off an oversized sweater, vest, and pants from head to toe. Her white-colored shoes also balance the visual volume of her outfit.
How cute is this cropped strawberry vest? This outfit is a piece of evidence that a vest can transform the vibe of a plain dress or a basic outfit. See how she wears all-white without it. Her bag is a real cutie too!
Thrifted an oversized vest that you really wish to wear out? If you have no intention of transforming it into a crop top, might as well turn it into a dress! You can also cinch your waist with a belt for a slimmer version of this fit.
If you have a friend, a mom/dad, or a grandmom/granddad who has a knack for knitting, consider yourself lucky! A chunky, handmade-looking cropped vest like this elevates the look of any outfit – making it look a lot crafty and unique.
I will never get over pop-colored vests! I love how this pink vest contrasts with the white outfit she has underneath. The white boots also compliment the color of her vest. Overall, her outfit resembles the outfit of classic a Barbie doll!
This outfit is for walking the streets of Paris! While it's easier to wear all-black, a good contrast like the white button-down in this outfit is a nice thing to consider.
I love how sporty and preppy this outfit looks! The trousers also give this ensemble the oomph it needs. I would definitely wear this to uni or for study dates!
If Dark Academia is your style, then you'll love this outfit! A long-sleeved button-down, a sleek mini skirt, and a beige vest. Add it with a classic purse or a leather tote to put in your books.
Looking for classy sweater vest outfits? This combo should definitely be at the top of your inspo list.
This cream oversized vest contrasts the color of her bag and her bottoms. The leather fabric also makes this outfit a star. I live for the chain accent of her bag too!
If you see this, it's your sign to give those thrifted quilt vests another chance! An oversized button-down, a quilted vest, 'dad sneakers,' and socks are all you need to pull off this fit.
If layering is your thing, then vests are your best friends! I love how the mint color compliments the dress's shade of purple. The white graphic boots and the black purse also go with the rest of the outfit. You'll notice how seamless everything looks despite being mismatched!
This fuzzy vest over a grey sweater and a pair of jeans is giving Rue from Euphoria vibes! I love how unique, laid-back, and chill this outfit looks. Plus, the fuzzy vest looks super cozy! This is one of my. favorite vest outfits for the cold weather.
If you've reached this far, by now you'll know how much I'm into colors! I love how this yellow-dark green vest is paired with Barbie pink bottoms. By now you also must know that a quality white shirt can get you really far with vests!
The layers in this outfit is absolutely gorgeous! From the satin dress underneath, to the striped button-down, and the white vest – it all looks seamless. This outfit pulled off masculine and feminine appeal at the same time!
Plus, if you're looking for preppy sweater vest outfits, this should definitely be your inspo. The outfit has clear Gossip Girl vibes and is super preppy yet also chic.
Compared to knit and tailored versions, a denim vest is a lot more edgy. If you're looking for a leather alternative, find a good denim vest to invest in. You can wear it with printed bottoms as shown above or wear it with anything brightly colored for a vibrant pop!
Long belted vests are divine and make perfect outfits with vests for the spring. If a trench coat is too warm or too much coverage for the weather (assuming it's late spring or early fall), a long vest over a collared ensemble is a great outfit to flaunt when going out.
Unpredictability is an asset. If you want people to remember you, give them something memorable. I love how the formal ensemble underneath is paired with a vintage Aztec print vest. It's both elegant and cozy in one!
If you're looking for super chic outfits with vests that go well in the city, then this is your inspo. As compared to the similar outfits above, this matching suit goes well even without a shirt underneath! This shows that a vest can be an accent or the whole outfit itself. Love it!
This outfit is another example of the vest being the "outfit itself". I love how she paired this white tailored vest with a pair of jeans. Probably something I'd wear to a brunch with the girls or a travel day tour!
A cropped puffer jacket is cute, chic, and very feminine! This brown vest looks absolutely gorgeous with highwaisted denim jeans. This is one of those puffer vest outfits that's perfect for afternoon dates in the Fall!
If you're feeling creative, you can match a belted puffer jacket with a two-piece suit. I love how the colors blend well together. So sleek!
This type of sweater vest is taking over Pinterest right now! Looks great with her black-and-white ensemble. This is one of the preppiest sweater vest outfits and we love it!
This may not be your typical puffer vest, but I cant help but include this one on the list! Instead of the other way around, this vest is worn over a long trench coat. The length is shorter than usual, stopping on the chest area, but creates a very unique silhouette. So creative!
A vest over a hoodie? Why not! I love how this soft-looking fuzzy vest is paired with an equally cozy jacket and a beanie. I would say this outfit is the secret to being huggable and approachable!