Looking for the best designer card holders that are trending right now? We've got you covered!
A great way to make a statement is through your accessories. There's no better way to let people know who you are and what you're about than by carrying around a designer card holder.
Whether you're looking for something to hold your business cards, credit cards, or even cash and coins, there are many options. But we've got 16+ trending card holders just for you! Check out our list of the best designer card holder on the market today in this roundup.
Designer Card Holders
Designer Card Holders are a great way to keep your cards organized, clean, and stylish. They come in various shapes and sizes and can help you organize everything from credit cards to gift cards. Designer Card Holders are made from different materials, including leather and other synthetic materials. They come in a variety of sizes and shapes. You can choose between a wallet-style card holder or one shaped like a square or rectangle.
If you're looking for something that's more than just a plain black or brown leather purse, designer card Holders come in many different colors! You can find them in bold shades, and some even have patterns! They're easy to carry around wherever you go because they fit easily into any bag or purse. The best part is that they look great too!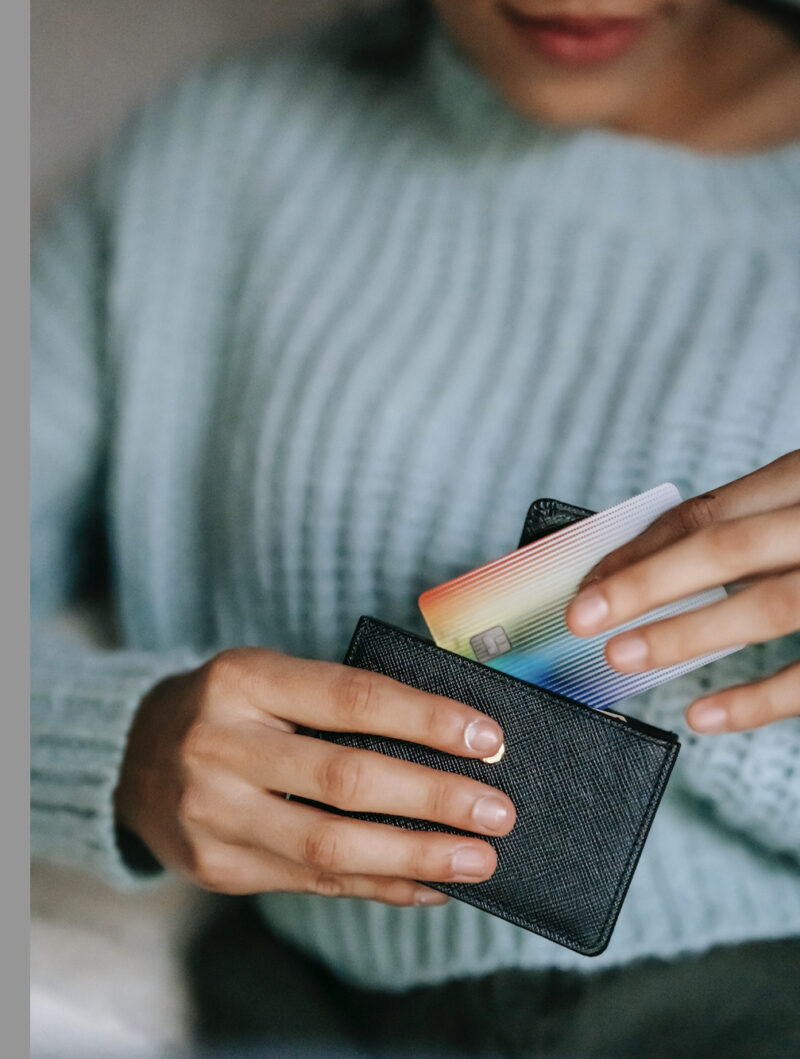 Benefits of Using a Designer Card Holder
If you're a modern-day woman, you probably have a lot of cards, from business cards to membership cards and more. So, how do you keep them all organized?
A designer card holder is the perfect solution for keeping your most essential cards close at hand so you can easily find them when needed. A designer card holder is also great for business owners or anyone who wants to show off their sense of style.
Here are some benefits of using a designer card holder:
1. It's stylish.
Designer card holders are not just for keeping your cards organized but also for making a statement about who you are and what's important to you. When you use a designer card holder, you're saying, "I'm stylish!" or "I care about how things look!" or "I love fashion!" And that's absolutely worth the extra cost, isn't it?
2. They protect your cards.
If you've ever lost an essential piece of card to an overstuffed wallet or purse, you know it takes a lot of time and money to replace it. A designer card holder keeps all your credit cards and IDs in one place, so they don't get lost or damaged.
3. They're lightweight.
A lot of the time, a bulky wallet can be uncomfortable to carry around in your pocket or purse all day long. Designer card holders are made from lightweight materials, so they won't weigh down your bag or make it hard to sit down with them in your back pocket.
4. They make it easy to find what you need.
Having separate pockets for all your cards can be super helpful if you use cash instead of a credit card or debit card. That's where designer card holders really shine! They have several different compartments that allow you to keep everything organized and easy to access so that when you need something specific, it'll be right there waiting for you!

Tips for Shopping for the Best Designer Card Holder
You've got a lot of options when it comes to choosing a card holder. Here are some tips for finding the best one for you!
1. Look at the material of the card holder. Is it made of leather, fabric, or another material? Is it sturdy enough to hold your cards and other items?
2. Consider how many cards the holder can hold at once. If you're like us, you probably have more than one card. You might even have several credit and debit cards that need to fit in with your driver's license! So make sure the card holder has enough room for everything you need it to hold.
3. See what kind of closure mechanism it has: Is it magnetic? Velcro? Buttoned? You'll want something that will protect your information from falling out if the wallet opens up accidentally, which happens more often than you'd think.
Best Designer Card Holders
Here are some of our favorite designer card holders right now!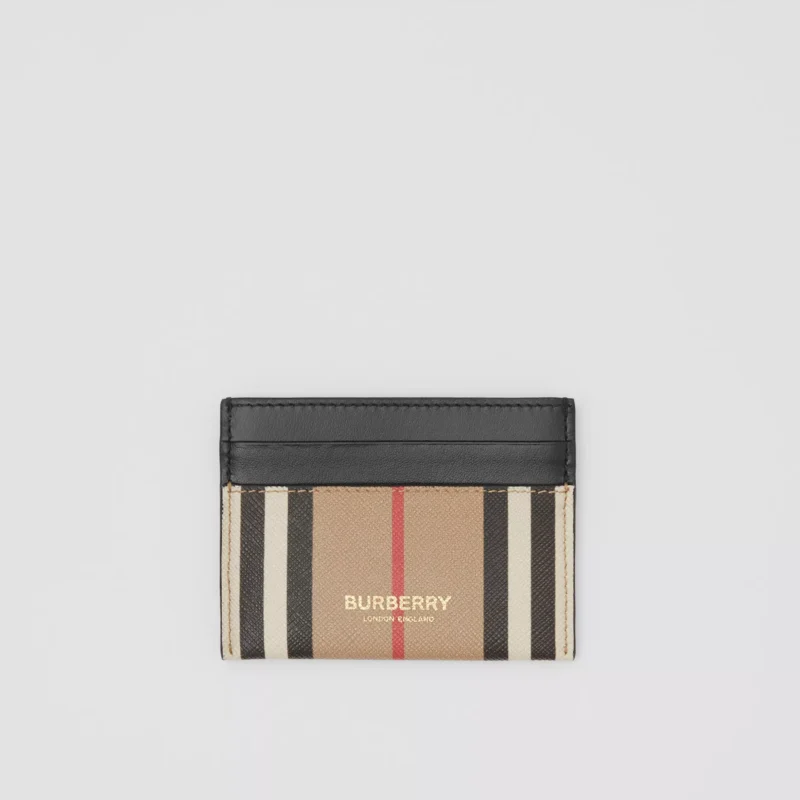 The Icon Stripe Card Case from Burberry is a classic. It's made of the highest quality materials and has the Burberry logo. So, if you like to show off your designer stuff, this is the card case for you. As a result of their reputation for using high-quality materials and craftsmanship, Burberry has produced some of the greatest, most recognizable luxury wallets and card holders.
The striped cloth, imprinted in gold with the Burberry logo, embodies the brand's history. This Icon stripe card case has four card slots and center slip compartments for functionality. It provides enough space to organize your essentials. For only $200, you can bring some fancy British culture into your life.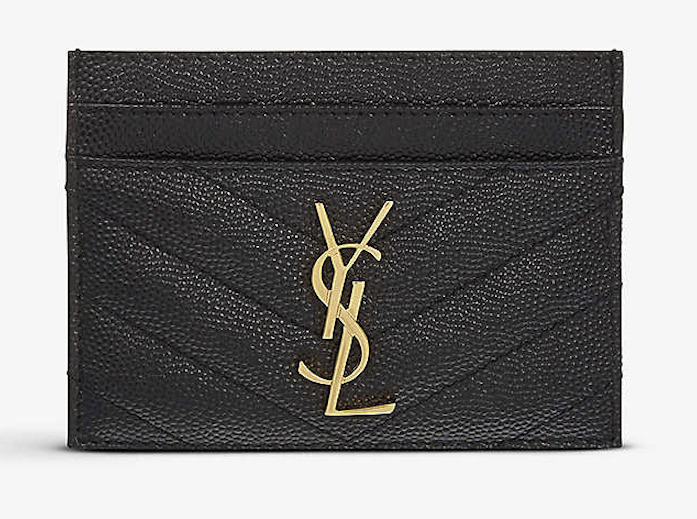 If you're looking for a gorgeous designer card case that is both compact and functional, look no further than the Saint Laurent Monogram Quilted Leather Card Case. This beautiful card case incorporates Saint Laurent handbags' straightforward yet stunning design. The Grain de Poudre Leather is quilted in a chevron pattern and has a tactile texture.
The card case is clearly marked as Saint Laurent because it has gold YSL hardware on the front. This card case is compact enough to fit into even the smallest handbags and has five card slots to accommodate many credit and debit cards.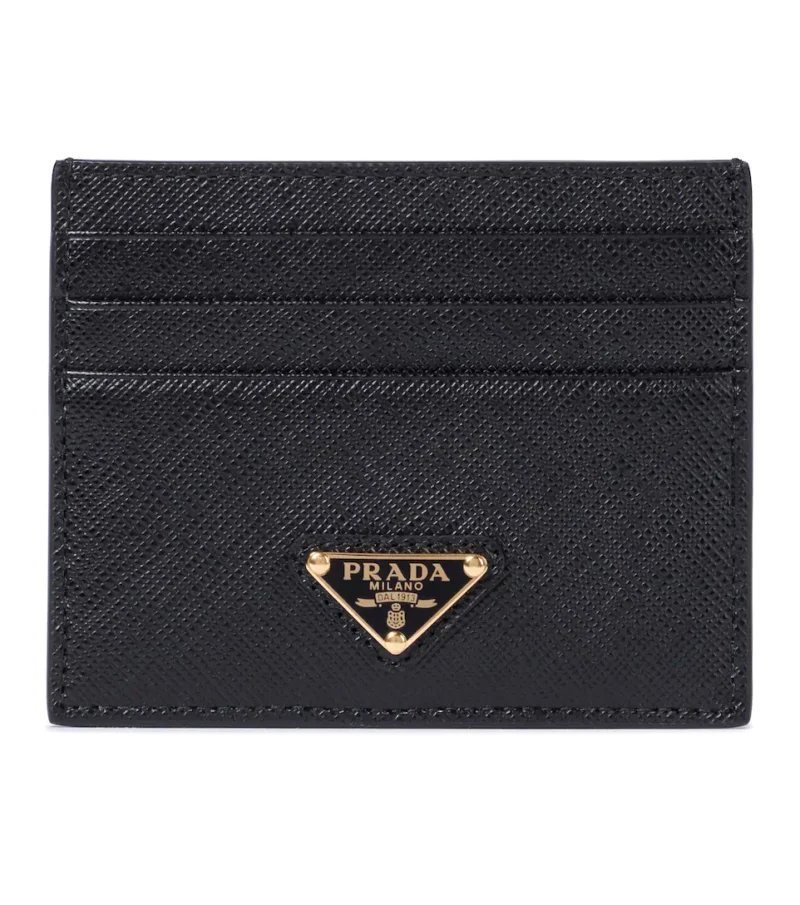 The Prada Saffiano Leather Card Case is a classic, elegant piece that will make you feel like a million bucks. This saffiano card case continues Prada's tradition of using opulent materials to create timeless, exquisite designs. While the front three pockets are slip pockets for easy access to your cards, the back pocket is zipped for security.
The Prada logo is an enameled metal triangle on the minimalist design, which is made of textured calf leather. This wallet will hold up to 6 credit or business cards and has room for cash or receipts in its back pocket.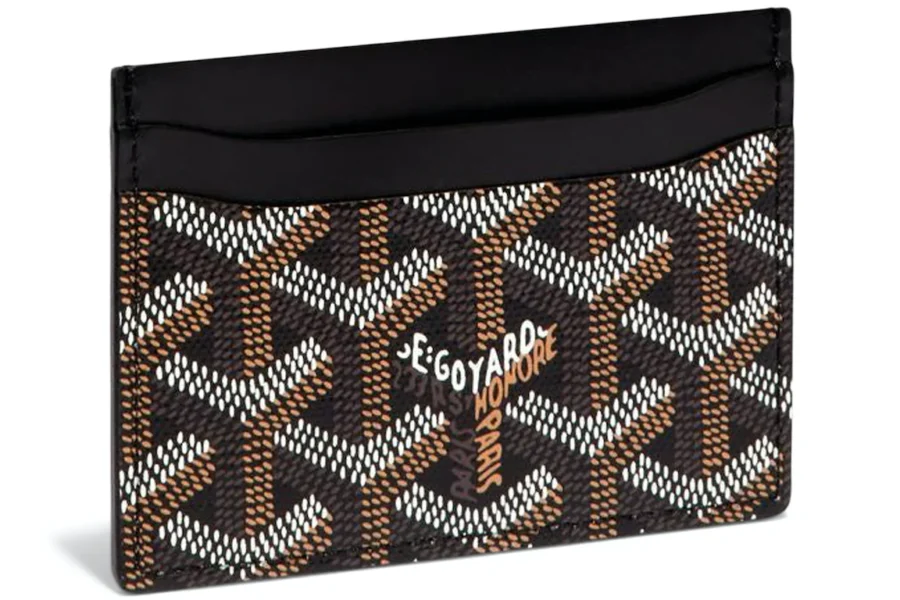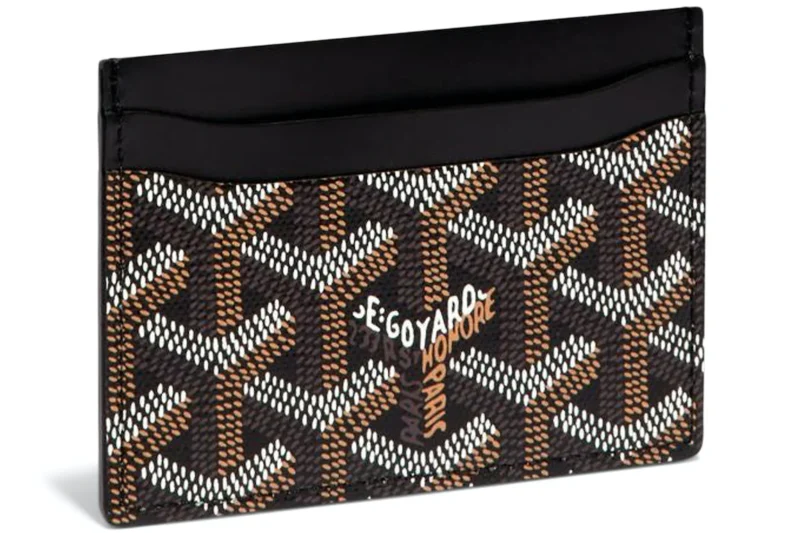 This is one of our favorite unique designer card holders! If you're looking for a card holder that's both stylish and functional, this is the one for you. This stunning card holder was produced by the venerable leather goods company Goyard. The incredibly silky orange leather is covered in the instantly recognizable Goyard design in black.
With a middle, larger compartments, and card slots on either side, the small wallet is surprisingly roomy, ensuring that you can always find the exact card you need and look stylish.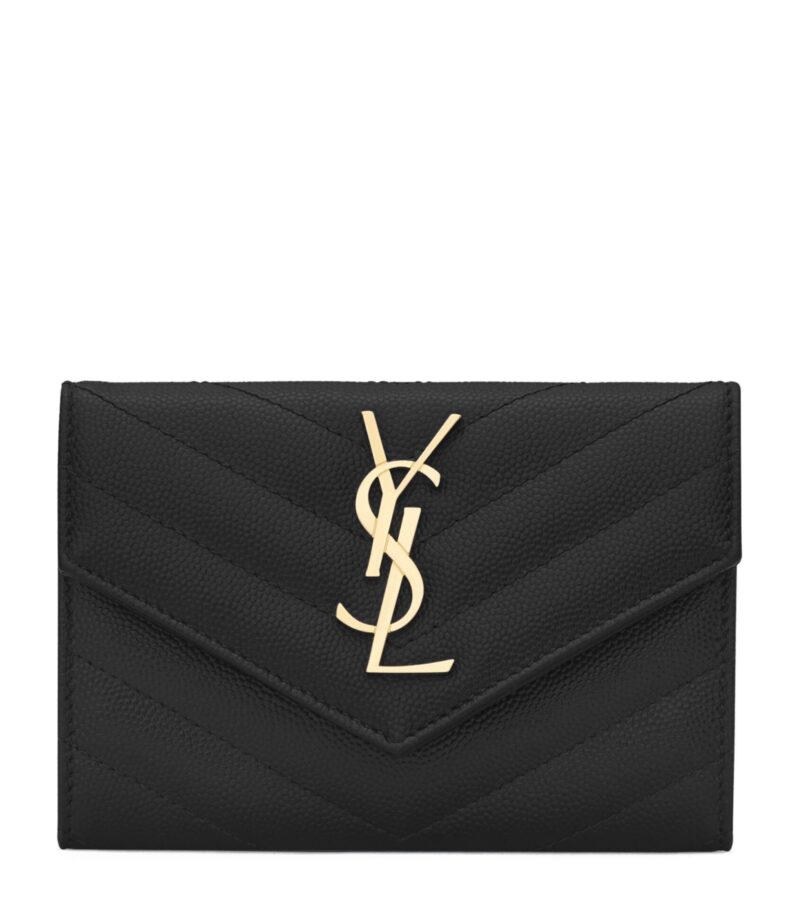 When it comes to a great designer card holder, there's no better choice than Saint Laurent. The brand's Monogram Envelope Card Case is a beautiful accessory that will last for years to come—and it's so stylish that you'll want to show it off every day!
The chic envelope features an exquisite quilting pattern in chevron from pebbled leather, giving this piece a striking finish that will make you stand out in the crowd. The gold YSL hardware is also prominently featured on the envelope's flap, which reveals a zip compartment with card slots. This beautiful luxury card holder also comes in a neutral nude shade, perfect for women who prefer lighter accessories.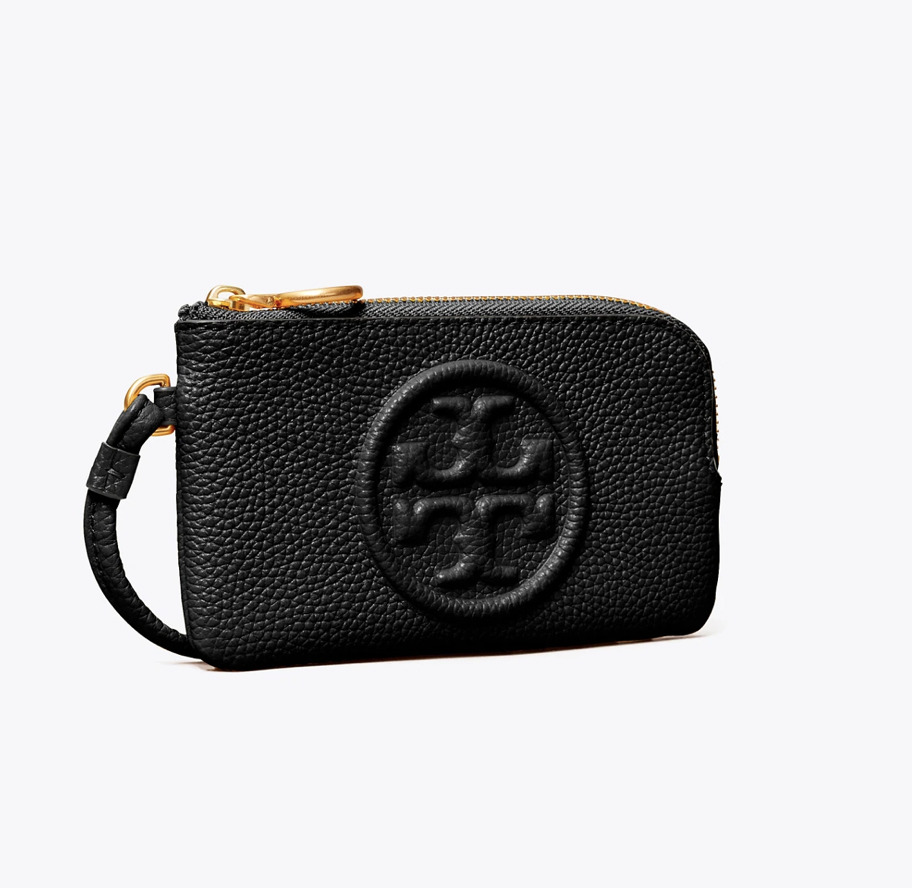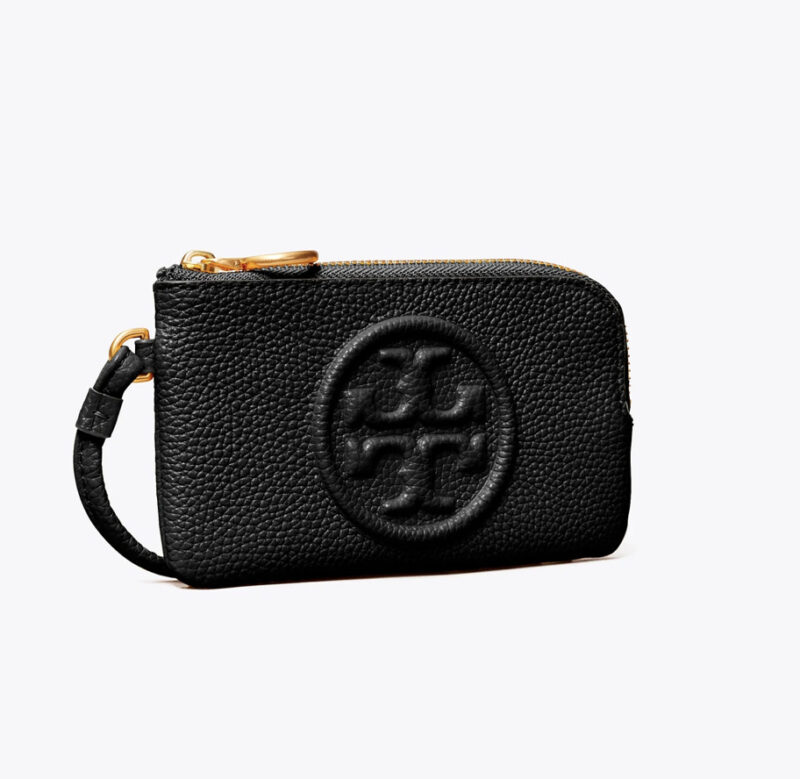 The Tory Burch Perry Bombé Leather Card Case is the perfect accessory for any handbag. It's ideal if you need a card case with a bit more space. The slide pocket is excellent for receipts, and the zip pocket creates a perfect coin compartment. There are five card slots and one additional slot for coins or keys.
The Tory Burch logo is raised in relief on the black texture leather, which is complemented by gold hardware. This card case is sleek and thin, making it an ideal addition to your handbag because it will not take up much space.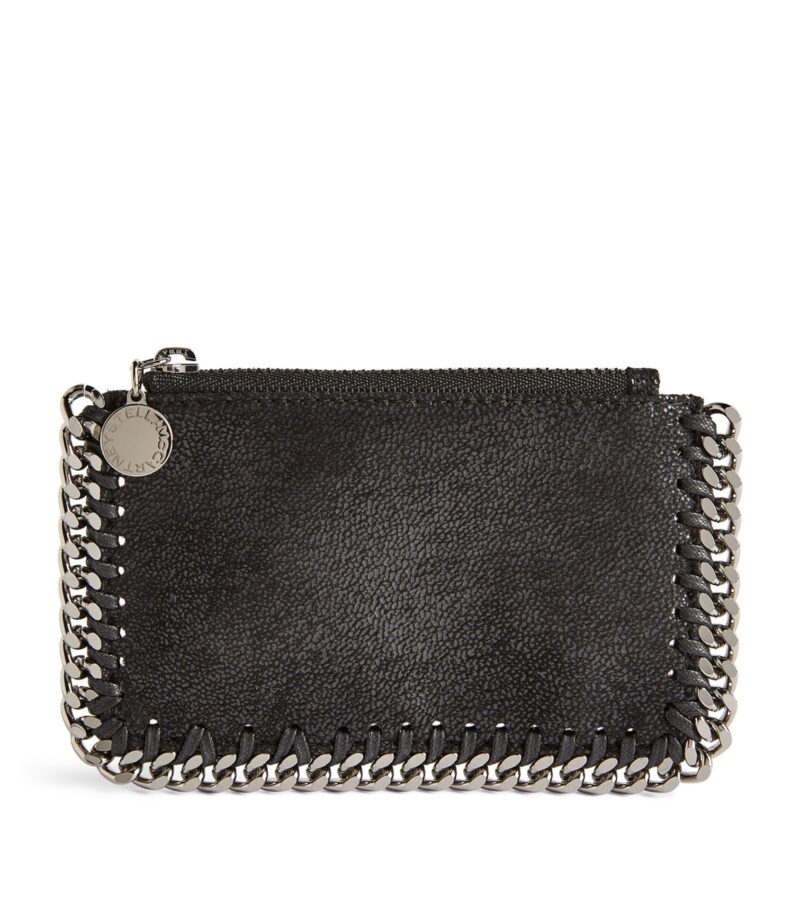 When it comes to designer wallets and card holders, it's hard to beat Stella McCartney. The brand has been turning out gorgeous handbags for decades, and now, their Falabella card holder. This card holder is a vegan and cruelty-free designer.
This card holder is made of vegetarian brushed leather and comes in four distinct plain colors. It has a curb chain wrapped around the outside. Because of the shiny metal surface, it is very simple to locate in your purse. Thanks to the main zip pocket and card slots, you can put everything in this upscale wallet. If you're looking for an affordable way to step up your fashion game without sacrificing style or ethics, look no further than this Stella McCartney piece!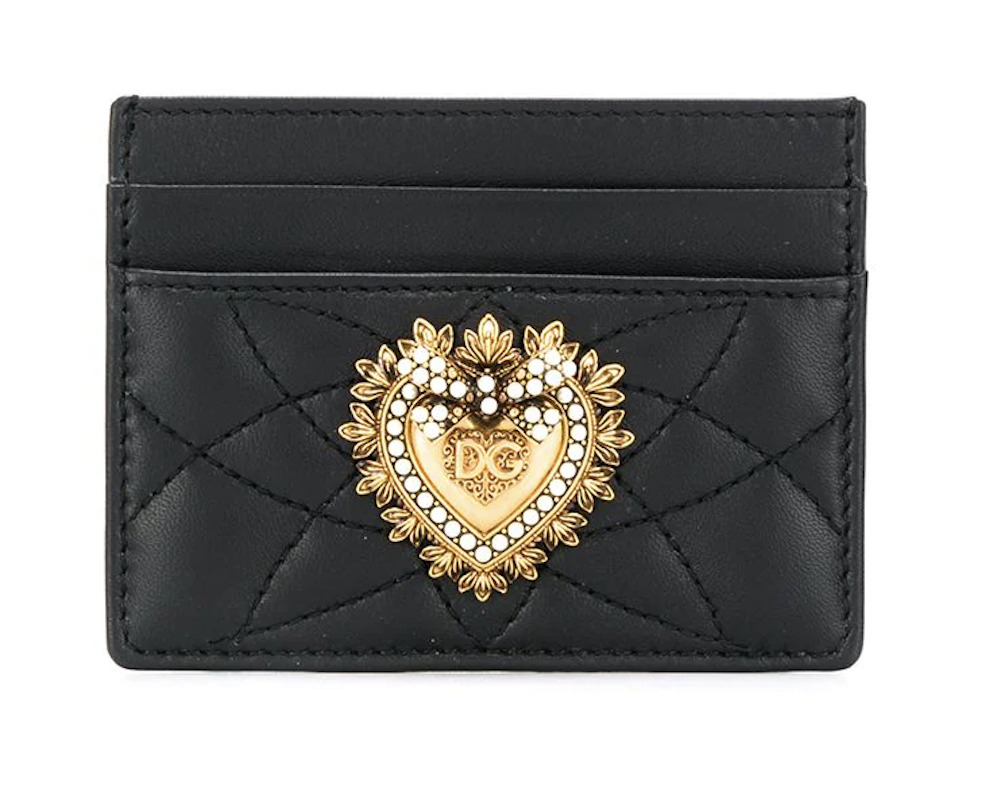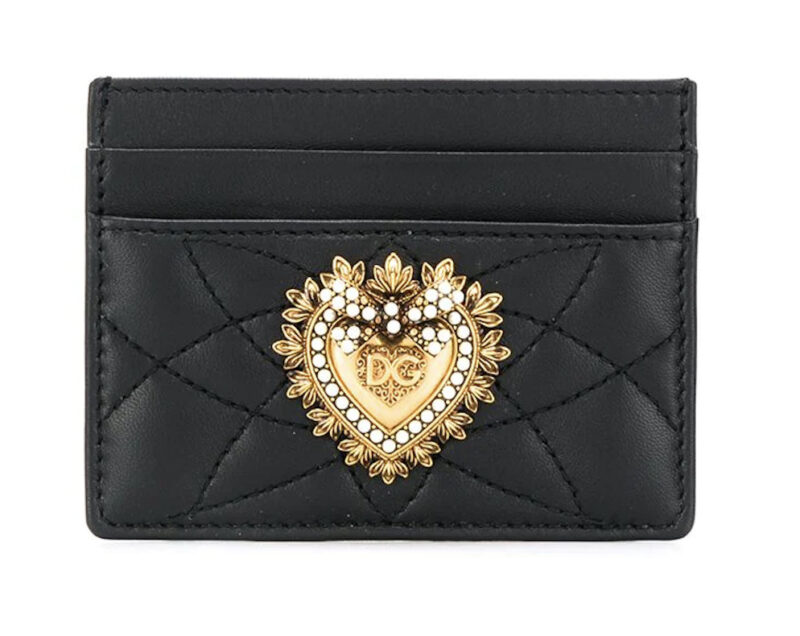 The Devotion Logo Quilted Zip Leather Card Holder is a great choice when looking for a card holder that shows off your love of Dolce & Gabbana. The gorgeous gold heart on the front of this beauty gives it a classic Dolce & Gabbana appearance. It's also constructed of glistening black leather with a detailed quilted pattern.
It has plenty of space to keep everything you need in the card holder. It features a zipper pocket, a front slip pocket, and five card slots on the back. You'll be able to fit all your cards and cash into this beauty without trouble!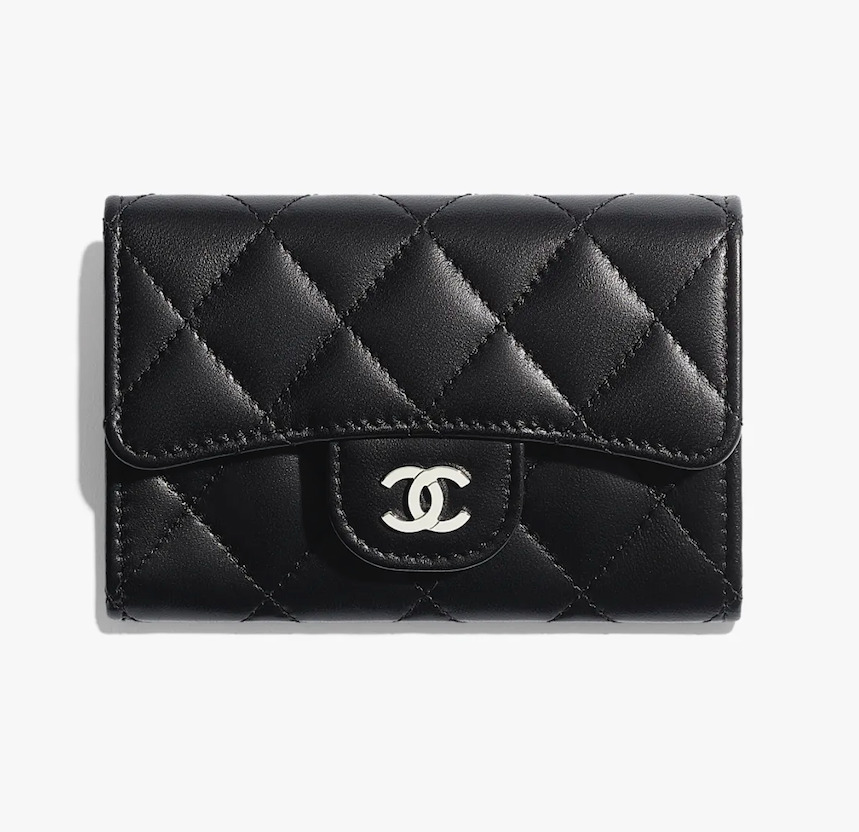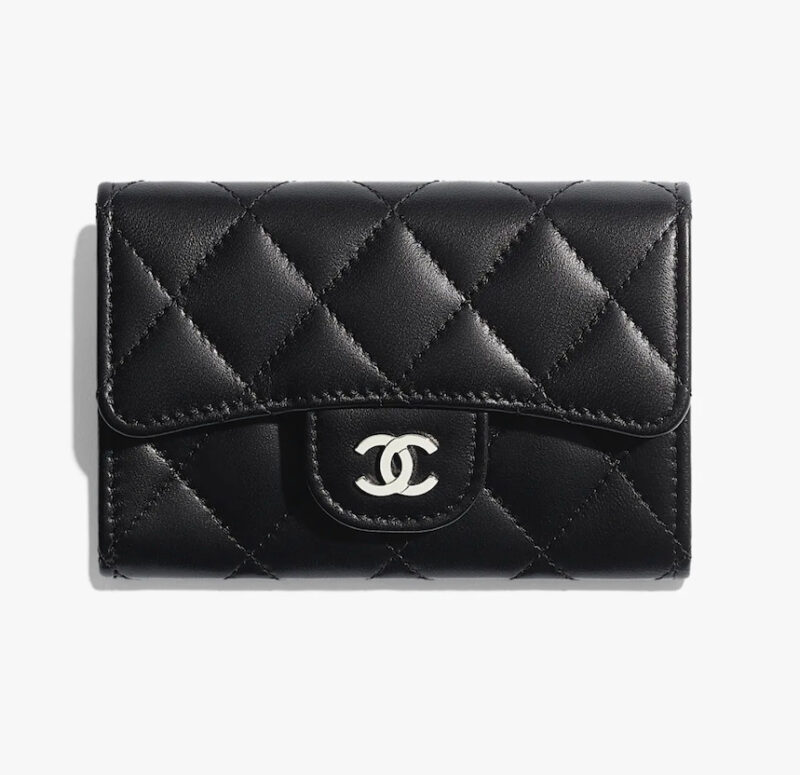 Chanel is one of the most iconic brands in the world. It's no surprise that their Quilted Flap Card Holder is one of the most sought-after designer card holders on the market. This timeless piece features the classic Chanel logo on a front flap with a snap clasp. The sumptuous feel is guaranteed by quilted caviar leather.
The back slip pocket is ideal for any quick business card needs. Although this stunning item is among the most excellent designer card holders available, it is unquestionably an investment. Compared to all other card cases in this article, it undoubtedly is in a league of its own at $550!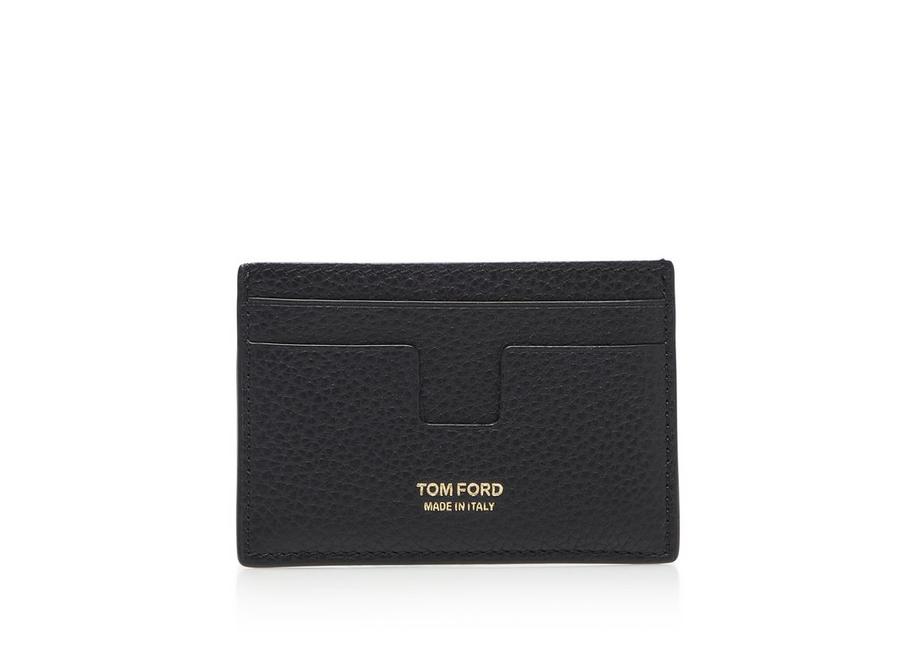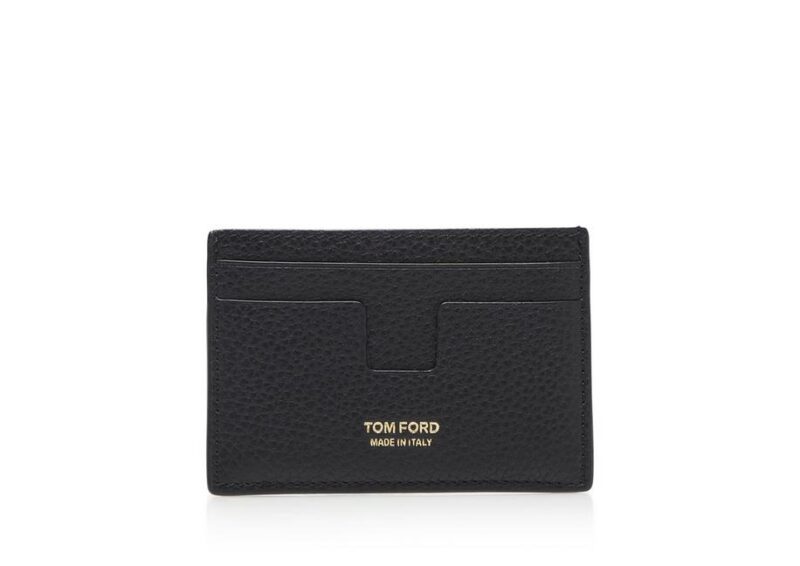 This Tom Ford Grain Leather Card Holder is the perfect way to organize your cards and money. It's made from top-notch leather and features a zipper, gold hardware accents, and three card slots on the front. It's perfect for tucking into your clutch bag when you're out on the town.
This card holder is available in hyacinth purple-grained calfskin leather. It's stylish enough to stand out while also being sophisticated enough to match any outfit!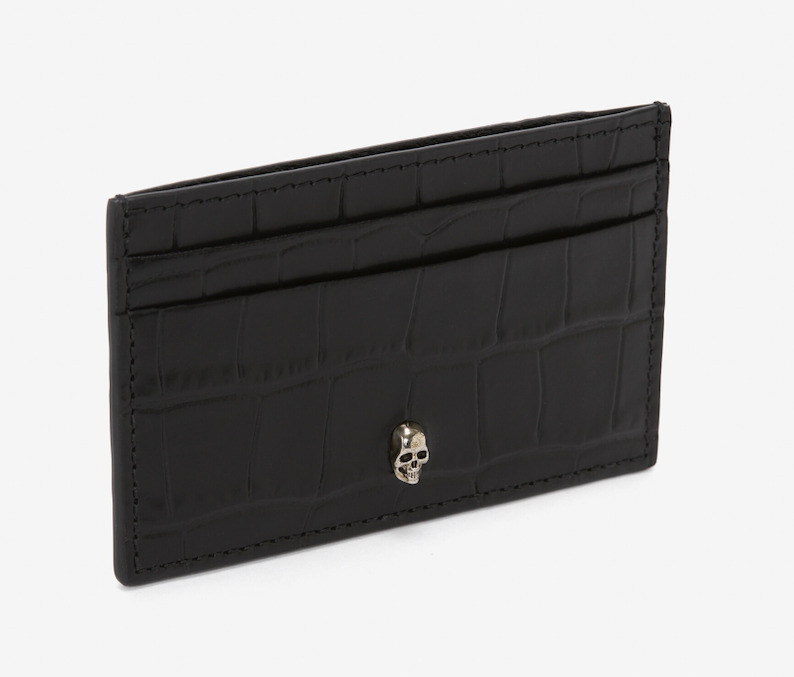 Look no further if you're looking for the best designer card holder. We've got you covered with the Alexander McQueen Croc-Effect card holder.
This designer card holder is distinctly Alexander McQueen thanks to its ivory-grey croc-effect leather and silver skull decoration on the front. The front slots and larger back compartments on this designer card holder guarantee you will always be organized.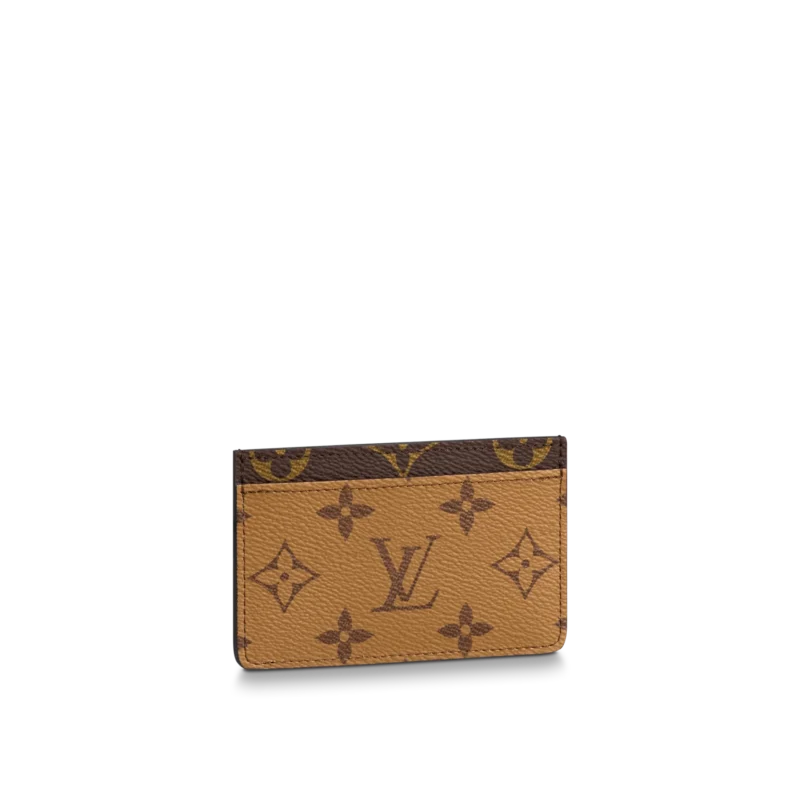 You'll be the most stylish person in the room when you whip out this card holder. When it comes to card holders, you don't have to settle for something that's not on-trend and doesn't match your style. In fact, if you carry a card holder, it should reflect your personality and make a statement.
And that's exactly what this Louis Vuitton Reverse Monogram Card Holder will do. It'll make an impression on everyone who sees it! This classic card holder is made of Louis Vuitton's renowned coated canvas, which has a reverse monogram print of the interlocking LV emblem and flowers. The interior is precisely the right size to accommodate all the necessary cards you need to have close at hand.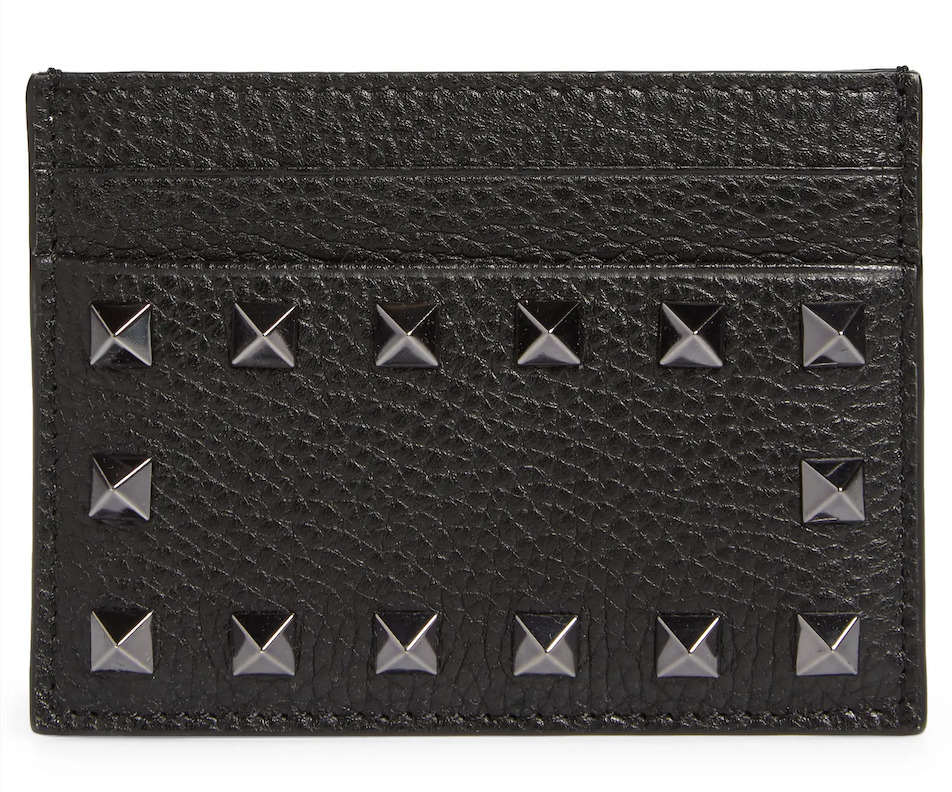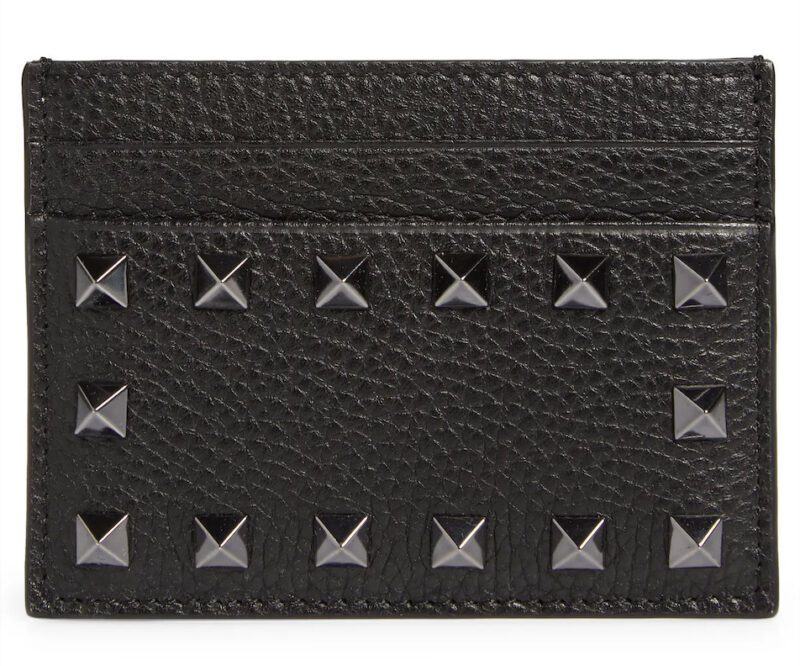 If you're looking for a designer card holder to add a touch of an edgy style to your handbag, then Valentino Garavani is the way to go. Their Rockstud Card Holder is undeniably embellished with pyramid-shaped rockstuds, as is the case with nearly all leather products made by Valentino.
And it's not just about the look. This card holder is durable, too. It has numerous card slots to keep you organized, so you can use this lovely piece for years to come. With this card holder, which costs $316, you can add a rock-chick touch to your handbag without breaking the bank!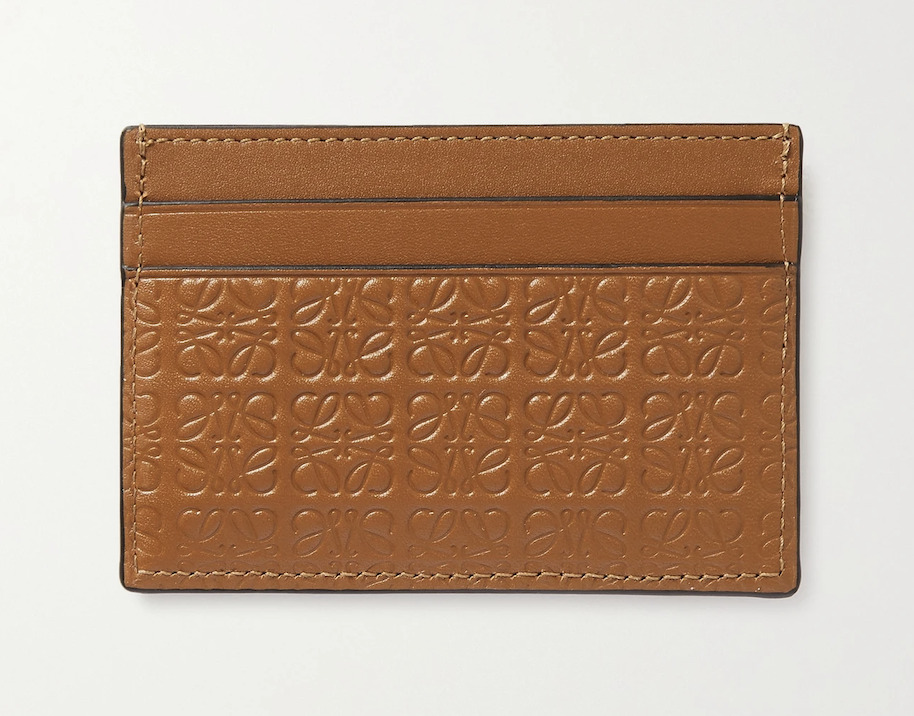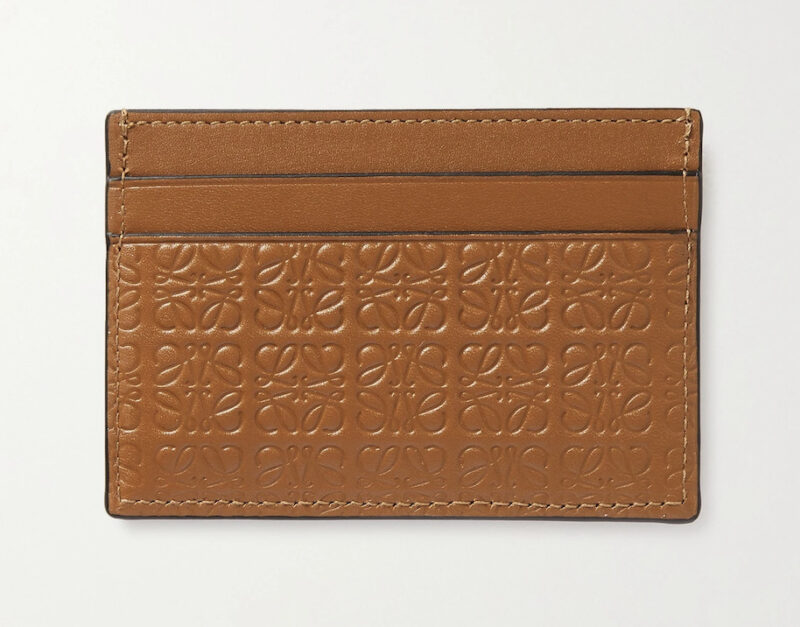 The Loewe Repeat Debossed Leather card holder is a stellar investment for anyone looking for a versatile, durable and convenient way to keep their cards organized. This card case features a larger core compartment and four front card slots for maximum functionality so you can keep everything organized.
Under Jonathan Anderson's direction, Loewe has continued to produce some of the most exquisite leather goods, such as this credit card holder. The distinctive Loewe anagram logo has been debossed onto the supple leather to give it an excellent, tactile feel. This card holder is a significant investment because of its long-lasting durability and convenience.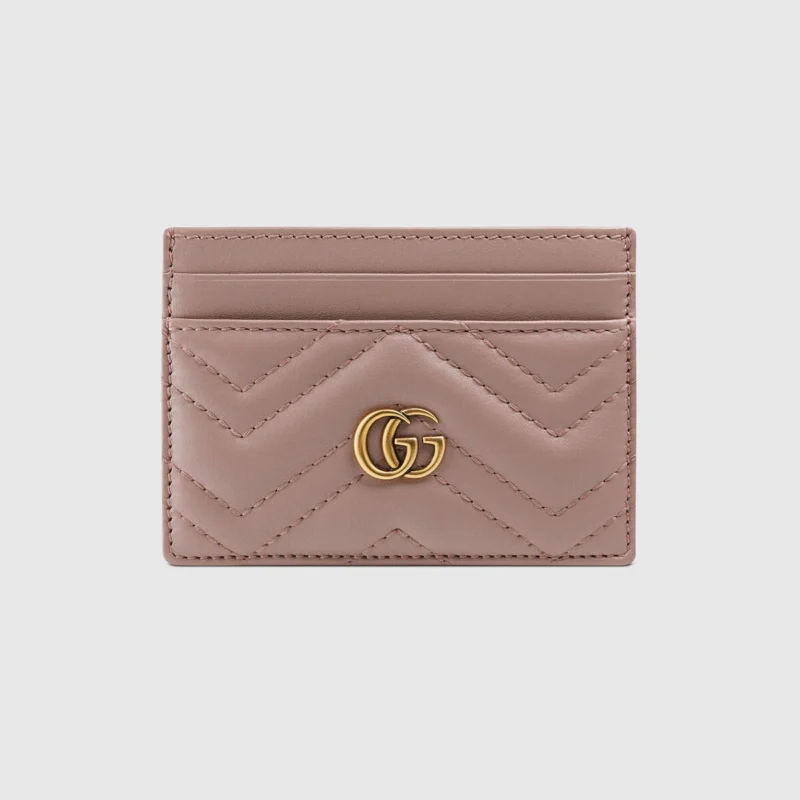 The Gucci GG Marmont Matelassé Card Case is the perfect card holder for you, regardless of your style or taste. One of Gucci's best-selling bags is the GG Marmont, and they've turned this gorgeous design into a card holder too! Butter-soft leather makes the card case, which is then quilted with a striking geometric pattern.
A few front card slots and a little larger area at the back of this card holder are for your most essential cards. You will surely find a variation of the GG Marmont card case you adore because Gucci offers it in 3 distinct hues!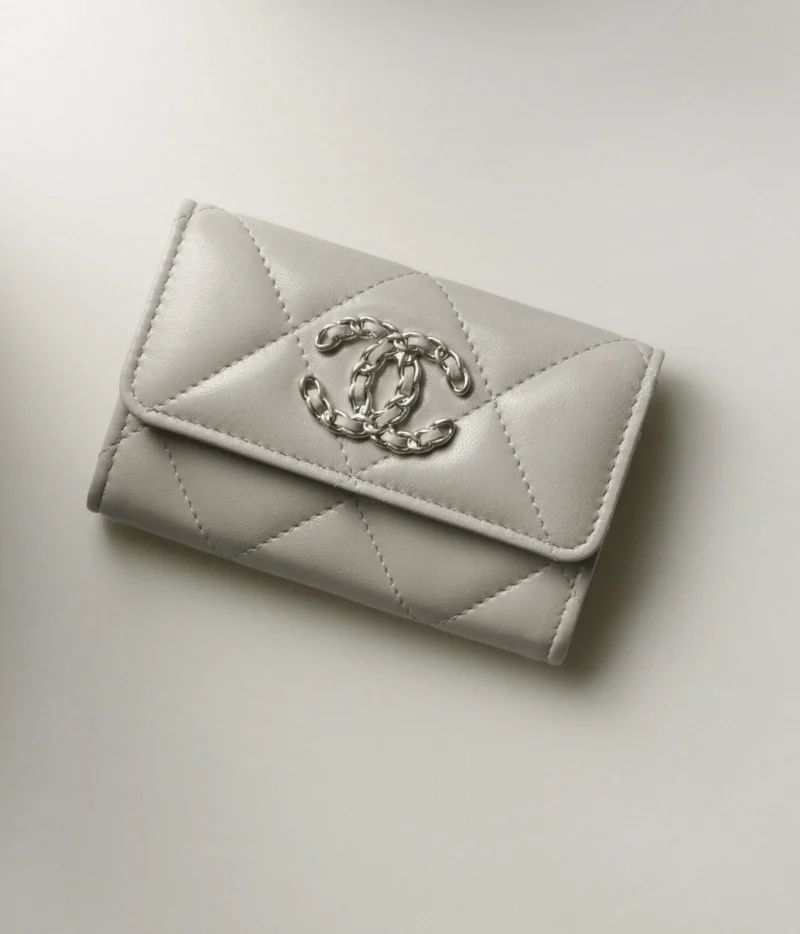 We know that a great card holder is essential to your everyday look. You need something small enough to fit in your pocket but large enough to hold all the essential cards you need. You also need something that will be a perfect addition to your wardrobe and make you feel like a million bucks. That's why we love Chanel 19 Lambskin Card Holder.
This little case is made of soft lambskin leather and contains 4a card slots, one of which is a large central pocket with the capacity for cash or spare change. And the best part? The Chanel hardware is glimmering gold. It's sure to make you feel like royalty every time you pull it out. If you want to add sparkle and sophistication to your day-to-day life, this designer card holder is exactly what you need!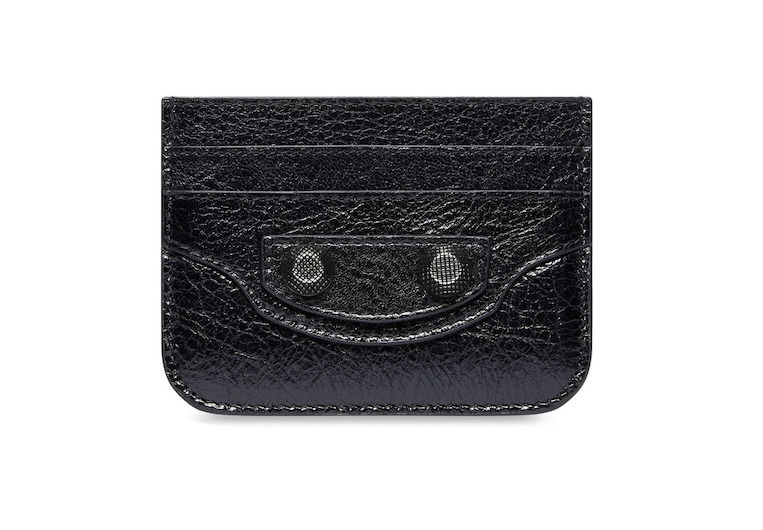 If you're looking for the perfect card holder, consider the Balenciaga Le Cagole Lambskin Card Holder. One of the most recognizable purses from the Balenciaga line is the Le Cagole, and today there is an entire Le Cagole collection that includes shoes and card holders.
Luxury lambskin leather is used to create this Balenciaga Le Cagole Card Holder, which has four card slots, zipper pockets, and textured studs. The eye-catching design of this card holder makes it a must-have for anyone who appreciates luxury fashion. Its low price of $275 makes it affordable enough for even those on a budget!