Wondering what to wear to a club? Today we'll go over every detail of your clubbing attire, including lots of club outfits for inspiration!
Partying at the club is always a big deal. But there's no denying that figuring out what to wear to a club is tricky. Although a lot of people will tell you to "just express yourself," it's pretty obvious that there's a specific (often unnamed) dress code that everyone follows.
A nightclub is a social nest where everyone is expected to look their best. No sloppy attires, sweats, and slippers allowed. However, there's also the unsaid dress code that you need to be aware of. In this article, we'll introduce you to with pieces, club outfits, and tips that can guide you in dressing sleek and sexy while following current trends.
Let's hop in!
More: What To Wear In Vegas: 40+ Las Vegas Outfits For Every Occasion
Night Club Dress Codes & Tips:
1. Go Upscale
When dressing for a night at the club, an upscaled fit is your best bet. Never wear anything that makes you look like you just got out of bed. Depending on the club's formality, super short skirts may not even be allowed, so it's best to check the dress code ahead of time.
A tip to look upscaled is picking clothes that fit you really well. If you plan on borrowing or buying at the thrift, adjusting the size to your own fit can make it look tailored, sleek, and classy. At the same time, you definitely don't want to be too "buttoned up" since club outfits are meant to be a little risky.
2. Dress To Turn Heads
Dressing with the intention of drawing heads in your direction doesn't mean you have to wear a completely over-the-top outfit. In fact, you should minimize flashy elements – minimal but bold is best.
To do this, first, find a dress or nightclub outfit that perfectly fits your body. Then, find a bit of a spark by adding in accessories or choosing a dress/top with gleaming silk fabric. Adding color that matches your skin tone can also help. When in doubt, you can always go black.
3. Show Your Curves
If there's a perfect time to flaunt your body, it's when you're heading to a nightclub. Silky LBDs, mini pencil skirts, and bum-complimenting leather pants are all great club outfit options.
A tip when wearing curve-complimenting clubbing outfits is to balance it out with the total skin exposure. So if you're wearing a tight dress, you can balance it out by lengthening your dress choice or wearing long sleeves.
What To Wear To A Club:
Here are some of our favorite pieces and club outfits.
LBD (Black Mini Dress)
A black mini dress or an LBD is a versatile piece that you MUST have in your wardrobe for club outfits. You can dress it down, dress it up, or wear it on its own. There are thousands of possibilities for this dress, especially when you're wondering what to wear to a club. You can never go wrong!
When wearing an LBD to the club, choose something that shows your curves. So, generally, you would want to avoid peplum dresses or oversized shirt-style dresses. You can dress it up by adding a neckpiece and a bit of ear jewelry. If it's cold, you can bring (or wear) a black leather jacket or blazer (we recommend against cardigans).
Club Outfits:
Silk Black Mini Dress + High Strappy Sandals + Leather Jacket
Black Mini Dress + Ankle Boots + Glitter Sequin Sling Purse
Long-Sleeved Black Mini Dress + Stilettos + Leather Sling Purse
Button-Down Shirt
Who says you can't wear a button-down shirt to the club? If you're traveling and you get spontaneously invited to a club, knowing how to dress up a button-down is very helpful.
For starters, you can simply unbutton the bottom part of the shirt and tie it as you would tie a shirt into a crop top. If you want to give it a new character, you can unbutton a few more on the upper part of the shirt and stretch it to your shoulders. Tie the bottom part as mentioned earlier. Now you have an off-shoulder top!
Another way you can play with a button-down shirt is by turning it into a cover-up for a tube top and a skirt ensemble. You can also use it as a dress (if it's oversized) and cinch it with a belt.
Club Outfits:
White Button-Down (Tied crop style) + Mini Skirt + Strappy Sandals
Black Button-Down (Off-shoulder style) + Bodycon Dress + Strappy Sandals
Black Button Down + HW Black Leather Pants + Ankle Boots
More: How To Master The Off-Duty Model Look
High-Waisted Pants
High-waisted jeans can be very versatile and flexible. A pair can save you tons of time and effort to mix and match because it looks good with just about any top.
There are a lot of types that you can choose from, but I suggest sticking with these three fabric types when dressing up for a nightclub: leather, denim, and stretchy cotton/cotton twill (trouser-like fabric). Keep in mind that some clubs won't allow denim, but most will allow leather (my personal favorite).
Leather high-waisted jeans can be paired with a black tube top or a glitter halter top. Since leather is already upscaled, you can either choose to wear a simple top (tube or plain top) or match the leather's dressy element.
Black denim can be paired with almost anything but you are freer to go a little extra for the top. Cotton-twill or trouser-like fabric can be worn with a cut-out top and strappy sandals. Because this fabric is a bit formal, you can go a little more dramatic with your top and your shoes. If you want a splash of color, you can go with colored high-waisted pants as a base to a color block outfit.
Club Outfits:
Black Leather + Glitter Top + Strappy Sandals
Black Washed Denim + Cami Top + Ankle Boots
Pink High-Waisted Trouser + White Cut-out top + Strappy Sandals
Strappy Cami Top
A silky strappy cami-top is one of my favorite go-to clubbing pieces. It's stylish, versatile, and sexy. Plus, it can be repeated as many times as you want without being noticed at all. A bit of mix-and-match can give it a thousand lives!
I love wearing my cami top with mini skorts or with a pencil skirt. But apart from that, there are a lot more ways to style a cami top. Just like an LBD, you should have a monochrome set of cami tops in your wardrobe. Why? Because you can wear them off the club or wear them as it is! Versatile and chic.
If you're wondering what to wear to a club and are choosing a pants outfit, I definitely recommend looking for a strappy cami.
Club Outfits:
Cami Top + High-waisted Leather Pants + Strappy Sandals
Silk Cami Top + Pencil Skirt + Stilettos
V-Neck Bodysuit
Whenever I'm wondering what to wear to a club on a specific night, I always look to my bodysuit. A V-neck bodysuit is both stylish and easy to style. Bodysuits are also usually body-hugging, which is a plus! A little chest exposure can balance your skin to fabric ratio, but you can always switch it up to a tube if that's more your preference.
A bodysuit can be paired with stilettos for a sleek look. If you want to cover up, a matching crop blazer can give it a little "oomph" and make your club outfit super unique. Plus, a bodysuit is motion-friendly, so trust that it will never come off on the dance floor no matter how hard you dance!
Club Outfits:
V-neck Bodysuit + Black Skorts + Strappy Sandals
Bodysuit Onesie + Black Belt Bag Purse + Stiletto Heels
Lace Bodysuit + Leather Pants + Strappy Heels
Tube Top
A tube top is super versatile. You can pair it with high-waisted pants, shorts, a skirt — anything and everything under the sun. You can also flaunt it with a blazer for a sleek club outfit.
My favorite look with a black tube top is composed of cycling shorts, a black belt purse, and a gold glitter blazer. Apart from that, I love wearing it with high-waisted pants and stiletto heels. So easy!
Club Outfits:
Tube top + Washed Denim Jeans + Open-toed Heels
Tube Top + Cycling Shorts + Black Belt Purse + White Sneakers
Tube Top + Black Pencil Skirt + Stiletto Heels
Mini Pencil Skirt
A mini pencil skirt is a helpful deciding piece that you can blend with any dressy top. It is curve-defining and sexy, which makes it a nice addition to your nightclub outfit capsule wardrobe. A knee-length type works well too – especially if your top already exposes a lot of skin. This balances the elements in your outfit.
I usually pair a black pencil skirt with a silky cami top or a tube top, but there are hundreds of options that you can pair with this piece. Another favorite is a mini beige leather pencil skirt, which I love pairing with white leather knee-high boots or tie-up sandals. Whenever I'm wondering what to wear to a club, the mini pencil skirt is always one of my go-to options!
Club Outfits:
Burgundy Tube Top + Beige Mini Pencil Skirt + Strappy Sandals
Black Silk Cami Top + Knee-length Pencil Skirt + Strappy Sandals
Black V-neck Body Suit + Black Pencil Skirt + Knee-high Boots
Skorts
The "skort" is a shorts-skirt hybrid inspired by the first culottes invented in the 1930s. Culottes were initially invented for practical purposes, particularly for women in dresses to be able to ride the bicycle. Wearing skorts at a club makes everything easy – from dancing to spontaneous after-party events. And you just don't have to worry about anything slipping, which is a huge plus in my book.
Skorts are usually made to look like a wrap mini skirt which makes it fairly easy to dress them up with any top. I like wearing mine with a fitted crop top or halter top. During the day, I also like to wear them with crop blazers.
Skorts are one of my favorite nightclub outfit pieces because they're so comfy and sleek!
Club Outfits:
Sequined Halter Top + Black Skorts + Ankle Boots
Crop Blazer + Tube Crop Top + Skorts + Strappy Sandals
V-neck Body Suit + Skorts + Ankle Boots/Strappy Stilettos
Bodycon Dress
A bodycon dress is the type of piece that you can throw on just as it is for nightclub outfits. Add a few accessories, like a necklace or hoop earrings and you're ready to go! A bodycon dress is just as beautiful as an LBD but only extra sexy!
The secret to flaunting a bodycon is by wearing inner tummy support that can emphasize your curves. But if you prefer wearing one without a corset, feel free to do so. I love wearing mine with one-strap stilettos and a sling purse. This is definitely one of my go-to club outfits.
Clubbing Outfits:
Rose Gold Silky Bodycon Dress + White Gold Earrings + Strappy Stilettos
Beige Bodycon Dress + Gold Hoop Earrings + Close-toed Heels
Black Lace Bodycon Dress + Sling Purse + Close-toed Heels
Stiletto Heels
Stilettos are generally a great piece to have in your wardrobe because you can use them for both formal and clubbing events. Because you only have occasional chances to flaunt stilettos, it's best to invest in a stylish and high-quality pair that will last you years.
If high-heeled stilettos do not make you comfortable, it's best to choose lower-heeled pumps. And if possible, bring pocketable flats for emergencies. Blisters are highly possible especially if you're in for a long night.
Nightclub outfits:
Bodycon Dress + Open-toed Stiletto Heels
Cami Top + Skorts + Close-toed Stiletto Heels
Bodysuit Onesie + Belt Purse + Close-toed Stiletto Heels
Knee-High Boots
Knee-high boots (either laced-up or not) are trendy, chic, and stylish right now. I love pairing them with mini skirts and dresses because they balance out the whole look. Plus, it adds depth and layer to a very minimal ensemble.
While black knee-high boots can give a versatile, classic look, a white pair can inspire an 80s retro-punk trendy fit. I love wearing my white pair with color block items because it can easily make it cool without much effort!
Clubbing Outfits:
White Halter Top + White Mini Skirt + White Leather Knee-high Boots
Bodysuit + Black Mini Skirt + Black Knee-high Boots
Mini Halter Bodycon Dress + Black Knee-high Boots
Close/Open Toed Flats
If there's anything stopping you from wearing heels, there's no reason why you shouldn't go to the party. Close or open-toed flats are as welcome to the party as stiletto heels are. So don't fret, you're still going to the party!
When picking out close-toed flats, I usually pick the pointy ones because they can easily replicate the look of fierce-looking stilettos for any nightclub outfits. Ballet flats are too dainty and conservative for a sexy fit, so you might want to cross that one off the list. For open-toed flats, choose the strappy types to add an extra "oomph" to your clubbing outfits.
Club Outfits:
Bodycon Dress + Pointed Closed-toed Flats + Sling Purse
Cami Top + Skorts + Strappy Flats
Where To Buy Clubbing Outfits:
Zara: Obviously, Zara has some generally awesome pieces for nightclub outfits. I especially love their bodysuits, jeans, purses, and shoes.
H&M: If you're looking for budget outfit pieces when you're wondering what to wear to a club, H&M is definitely your best option year-round.
Revolve: While Revolve's pieces are a bit more expensive, they're great club outfit options and are super trendy. I especially love their tops and leather pants.
Hello Molly: This site has some gorgeous pieces that are a bit more…girly? But still perfect for the classic club outfits. I especially love Hello Molly pieces in the summer. The LBDs are also great herel.
Other great options for what to wear to a club include Princess Polly, House Of CB, Oh Polly, Miss Lola, and Mehski. These all have great nightclub outfits, though you may need to mix and match (they're smaller boutiques so they don't all sell every piece you'll need).
More: 13 Top Designer Bags Under $500 Right Now
Nightclub Outfits For Inspiration: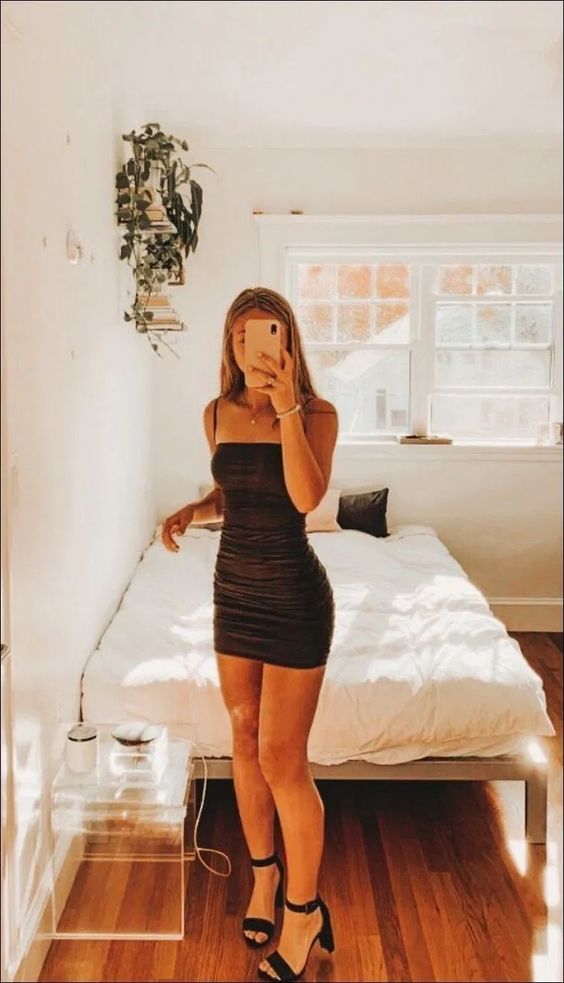 This is one of my favorite nightclub outfits as a go-to. It's classic and works well for just about any club.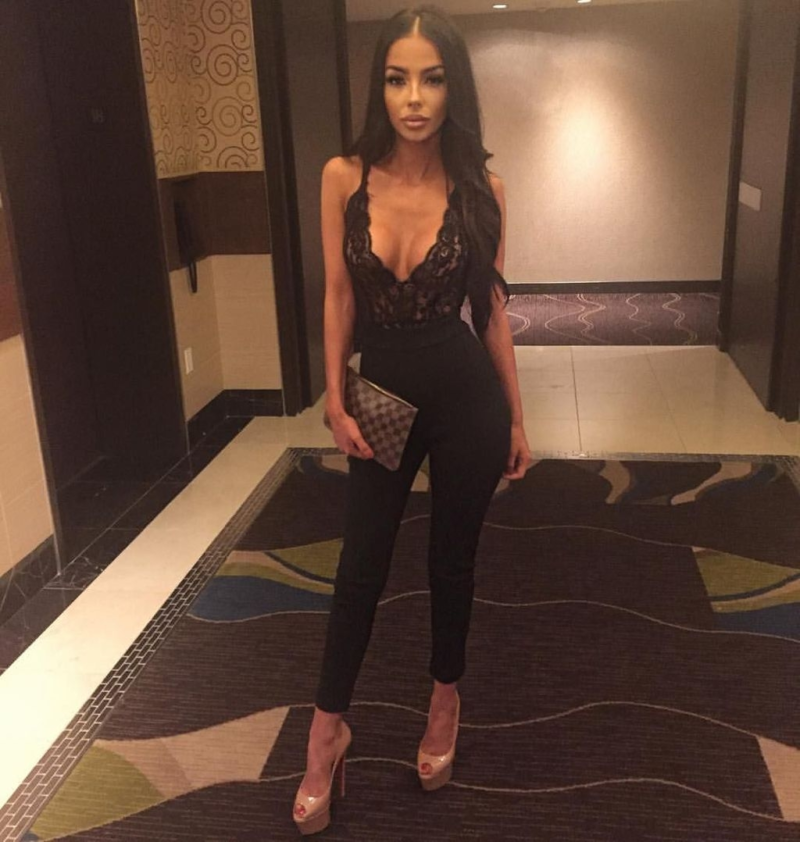 If you're wondering what to wear to a club with pants, this outfit is a great option! It's classy and sleek but still has a sexy side.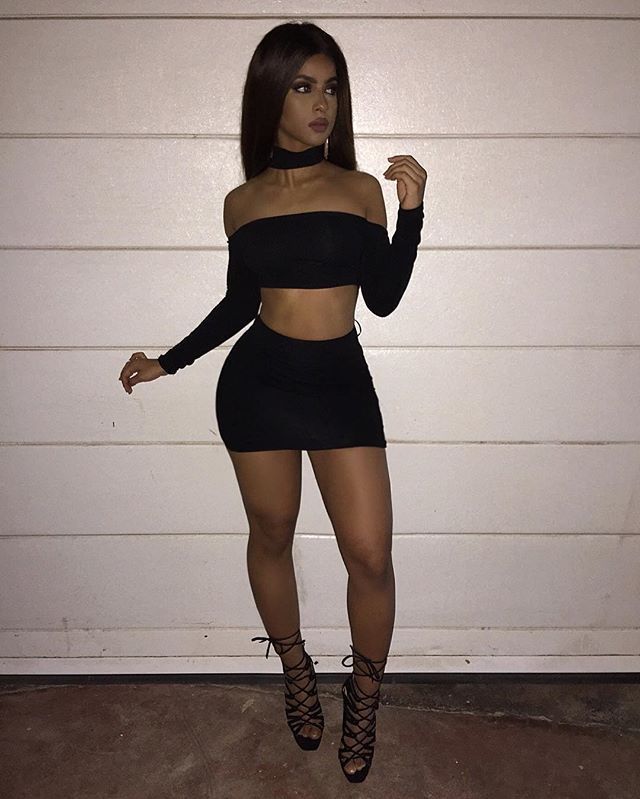 For younger gals who want to show off a bit, this is one of the best club outfit ideas. We especially love the shoes!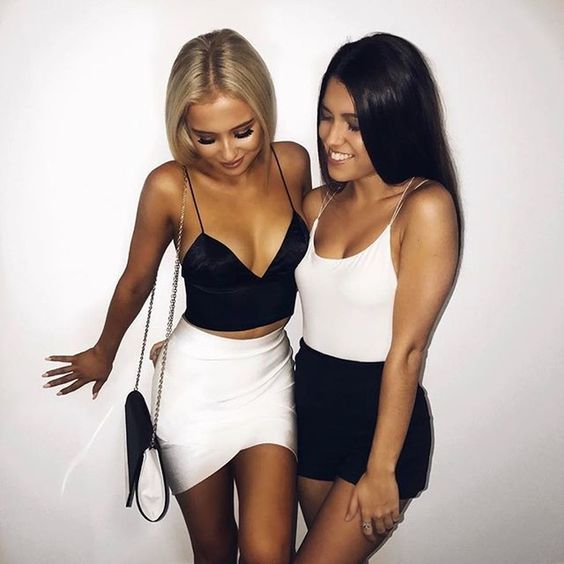 Here are some classic nightclub outfits that work for just about any venue.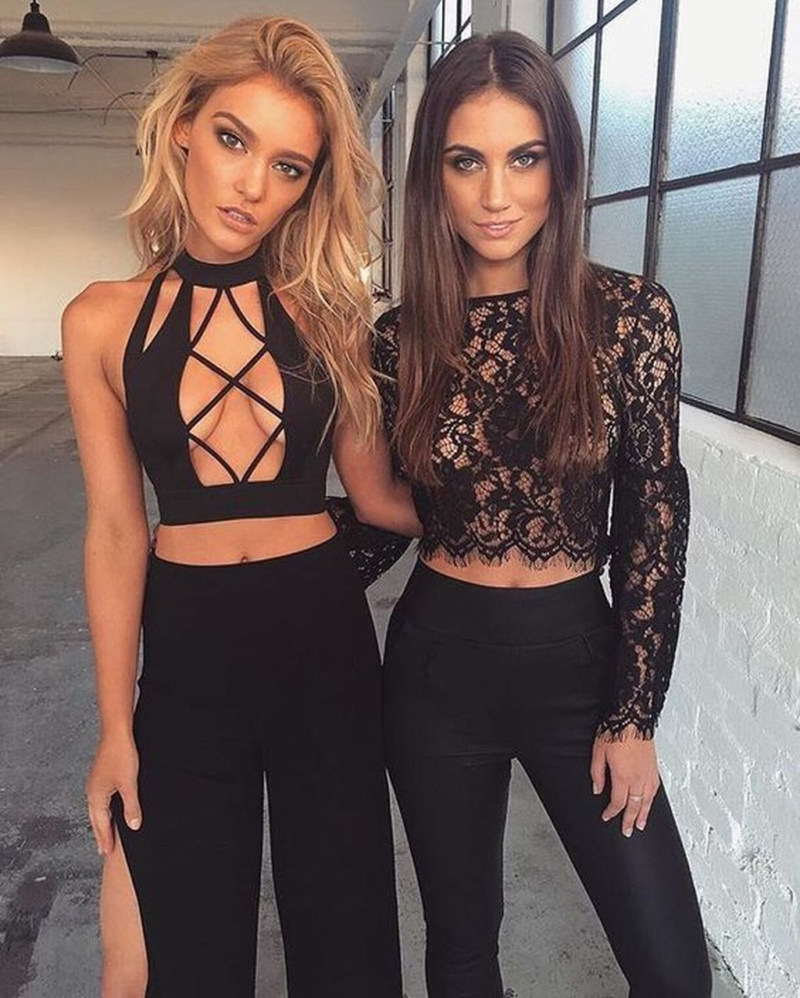 These are some of my favorite nightclub outfits because they're sleek and sexy.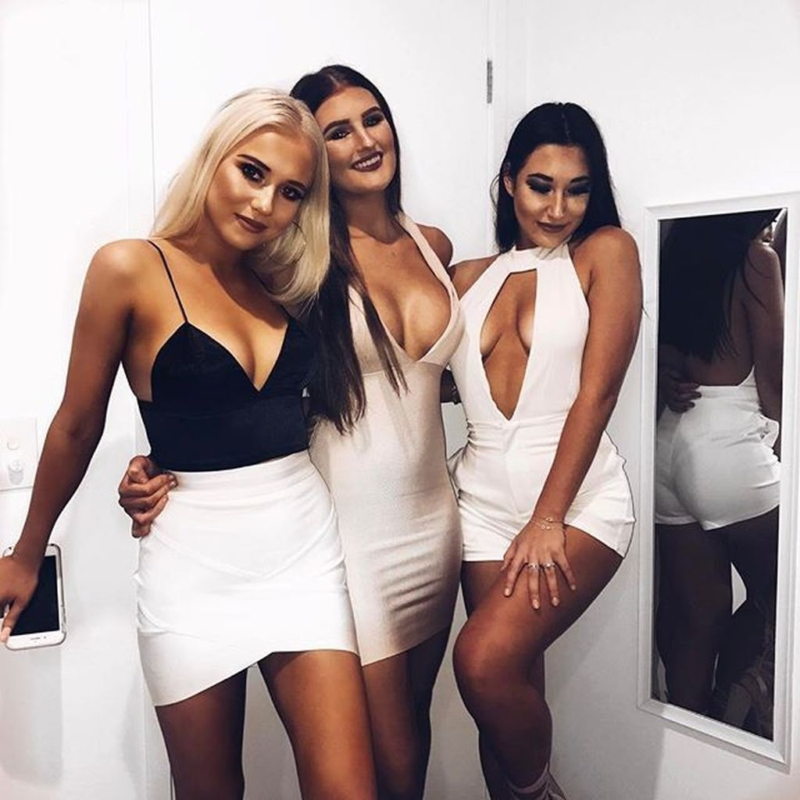 Again, some classic club outfits for women that work in just about any club.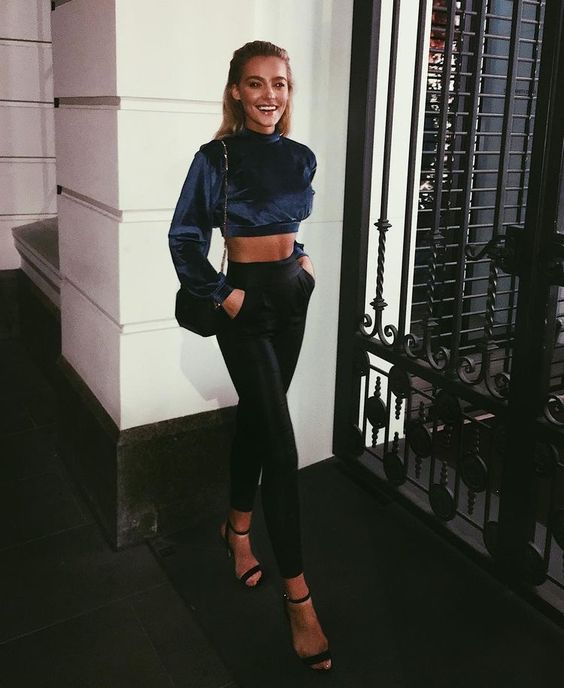 This is a great winter club outfit that's super trendy right now!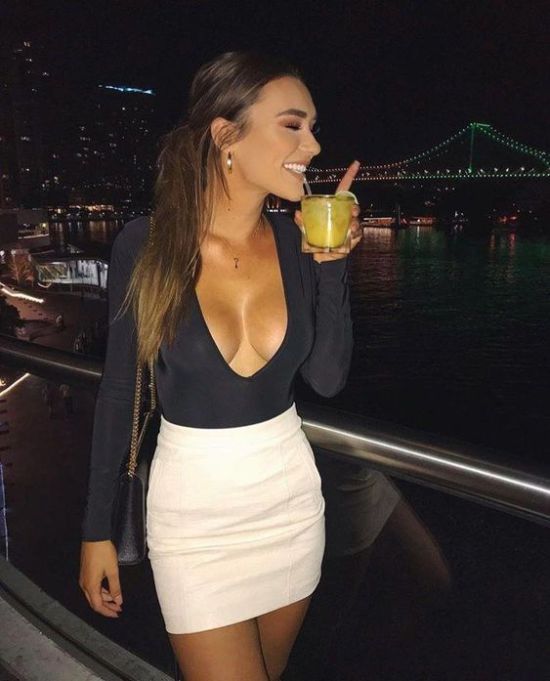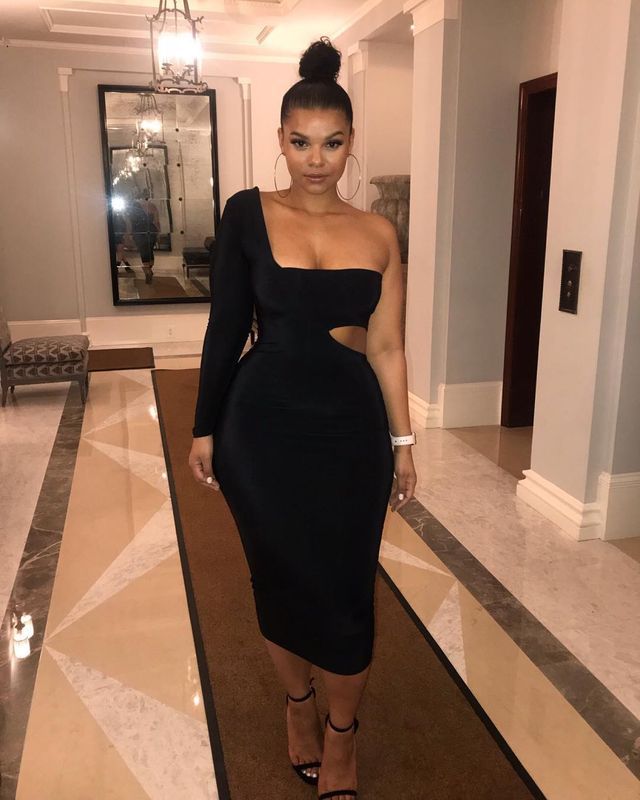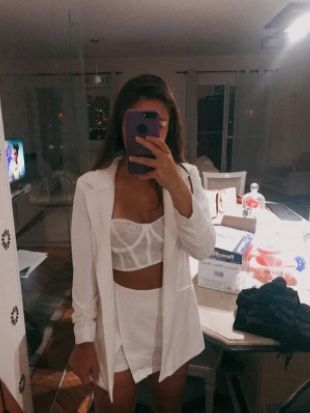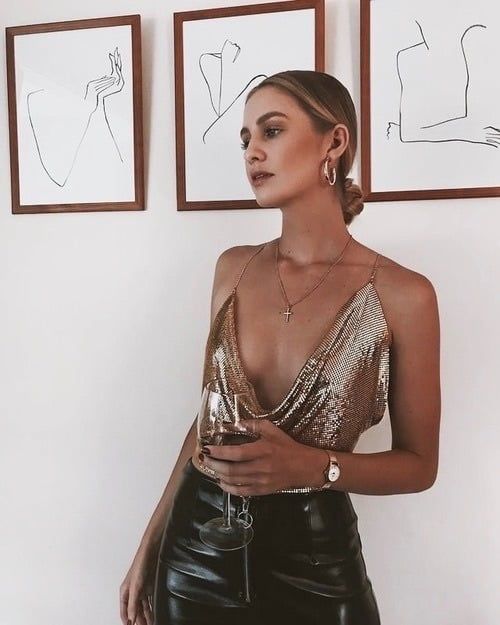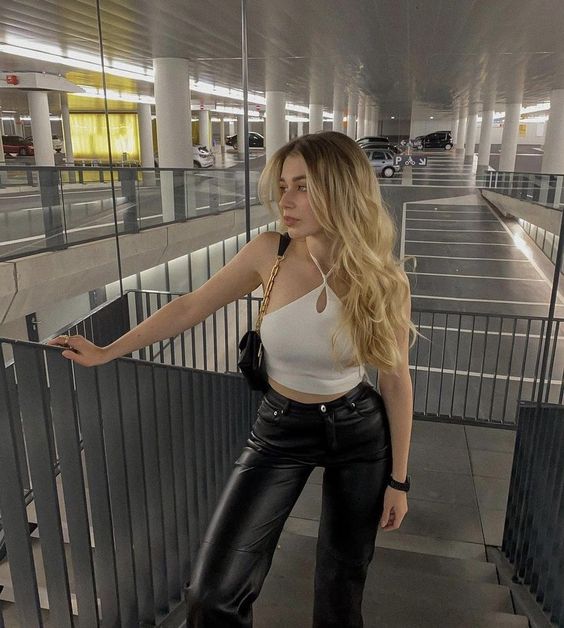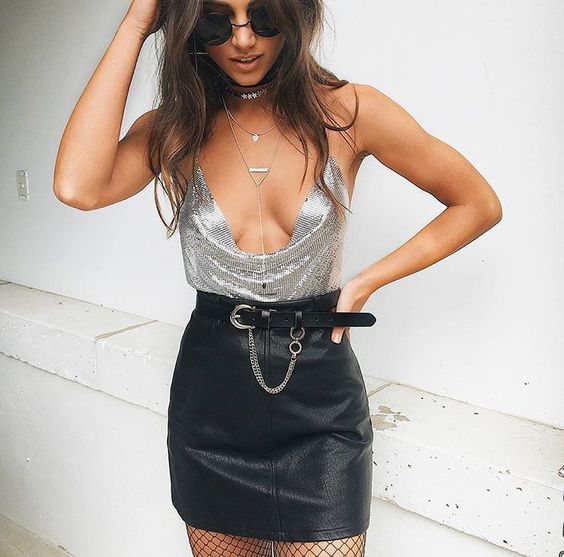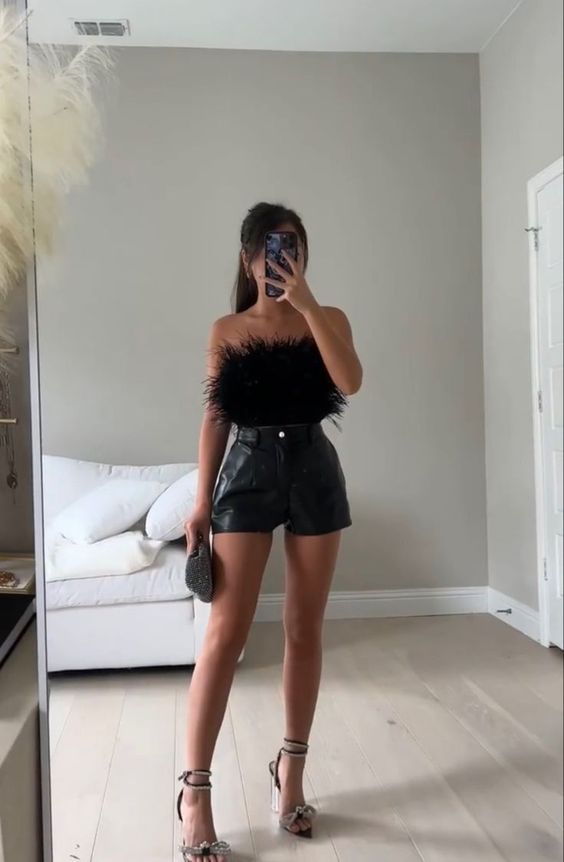 As far as clubbing outfits go, this is an aggressive choice but it's super fun. We recommend this look for an upscale club.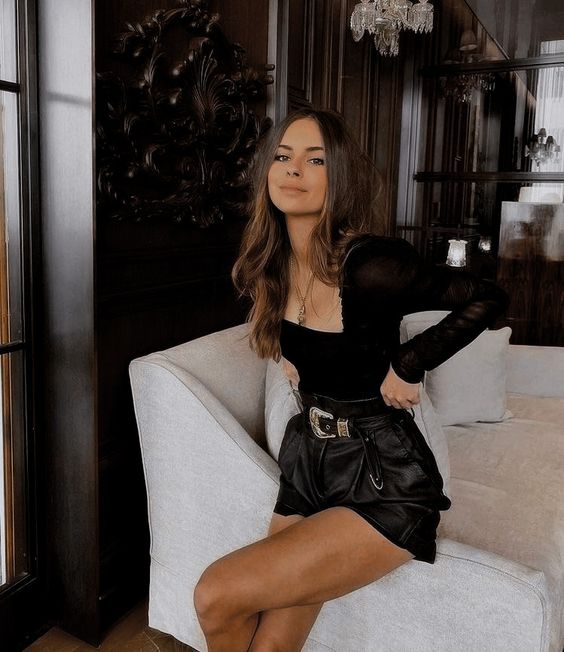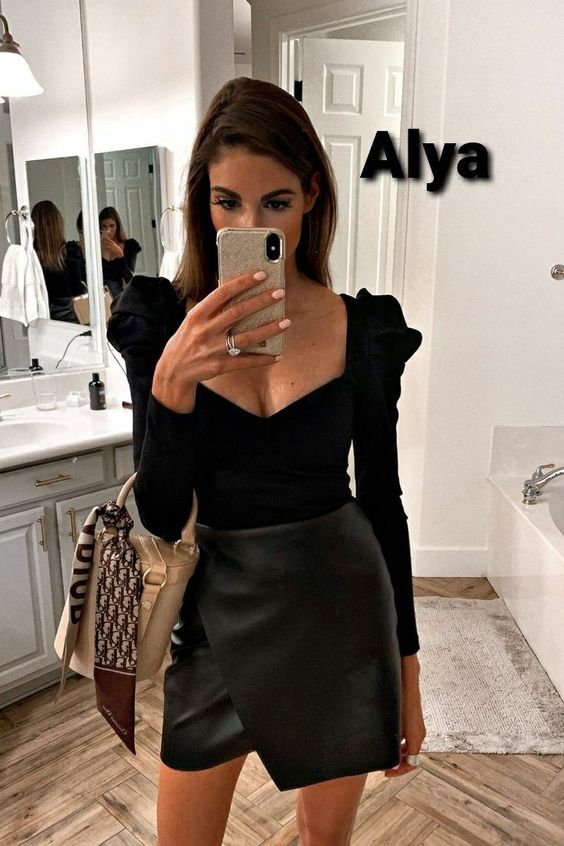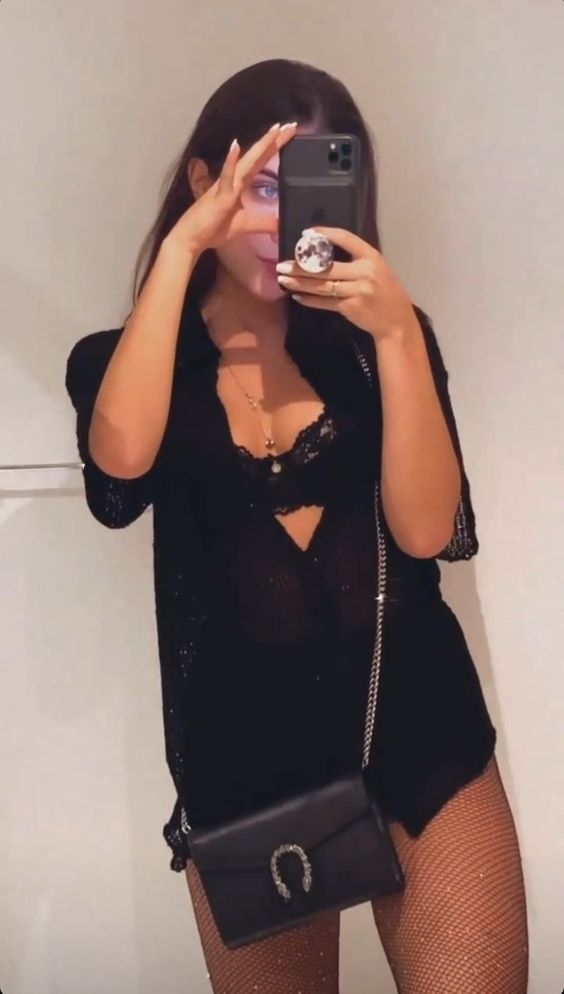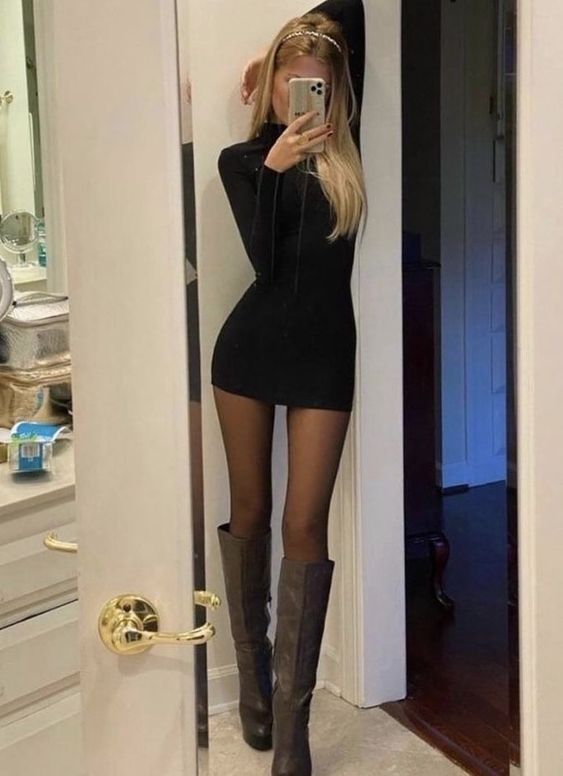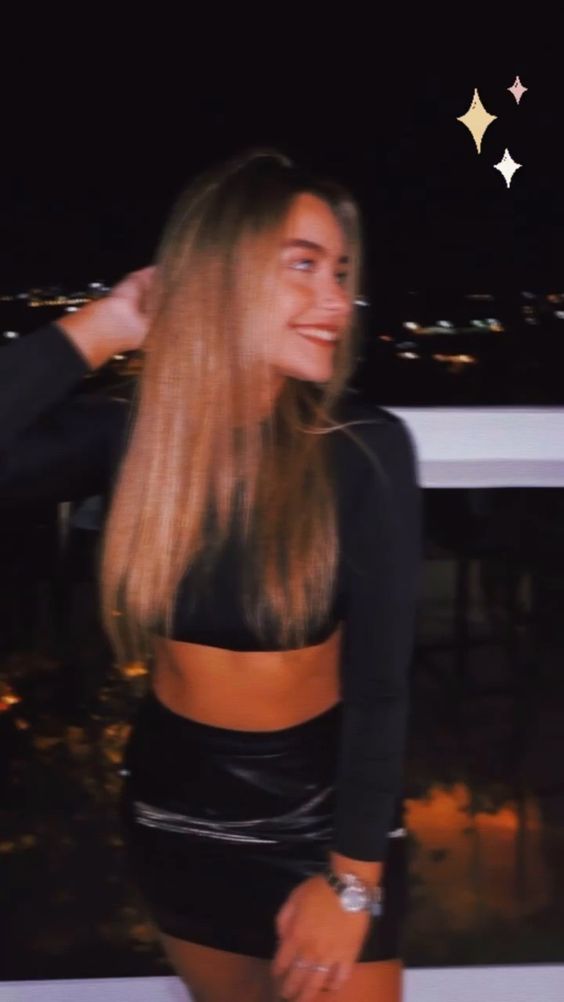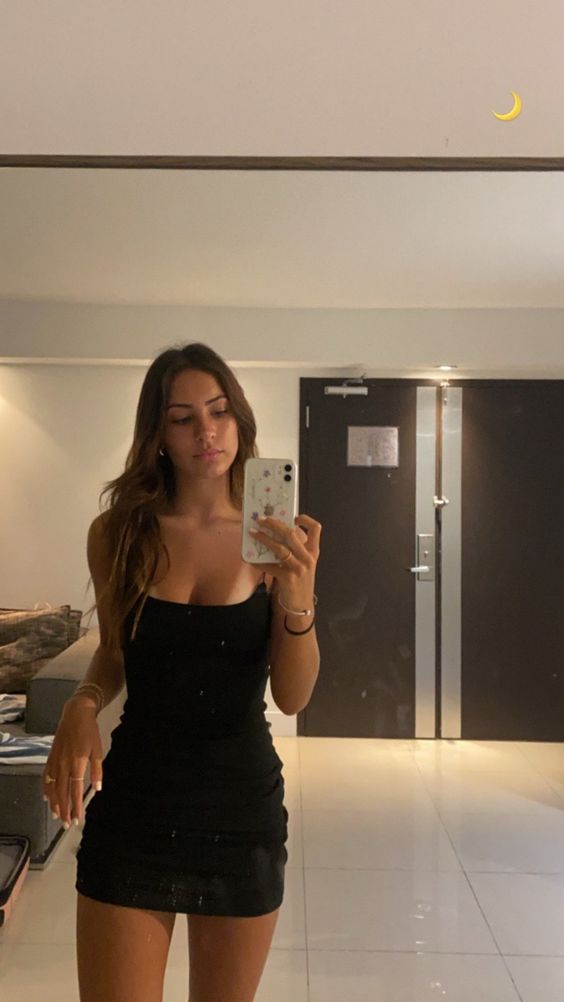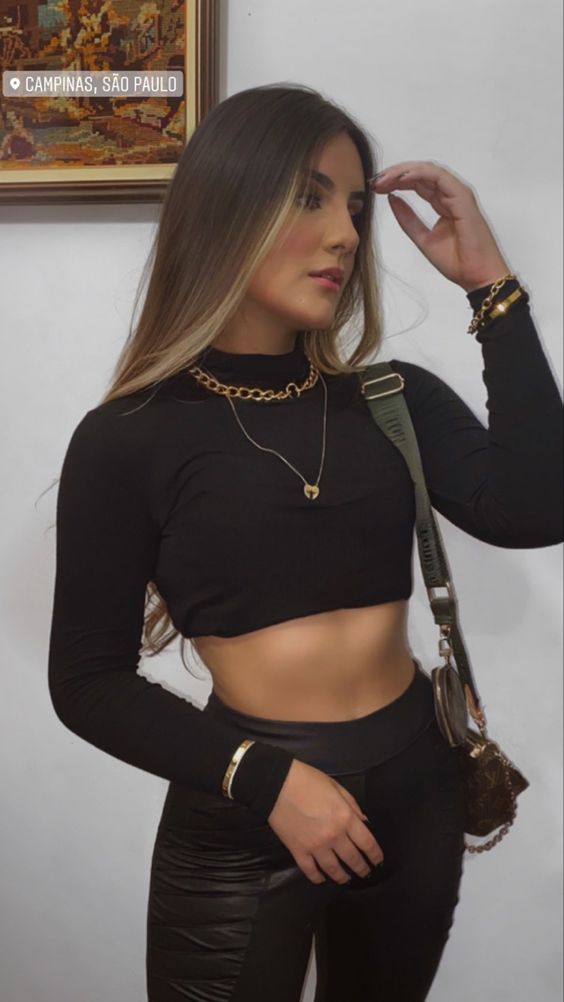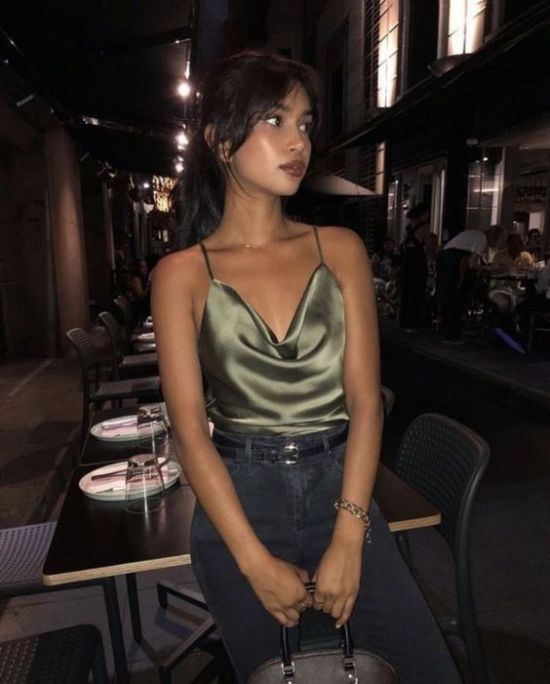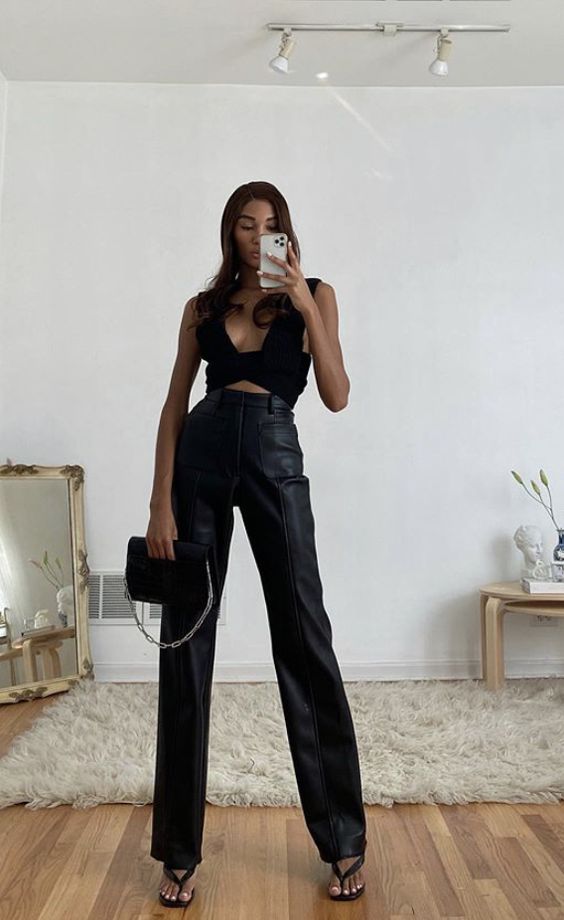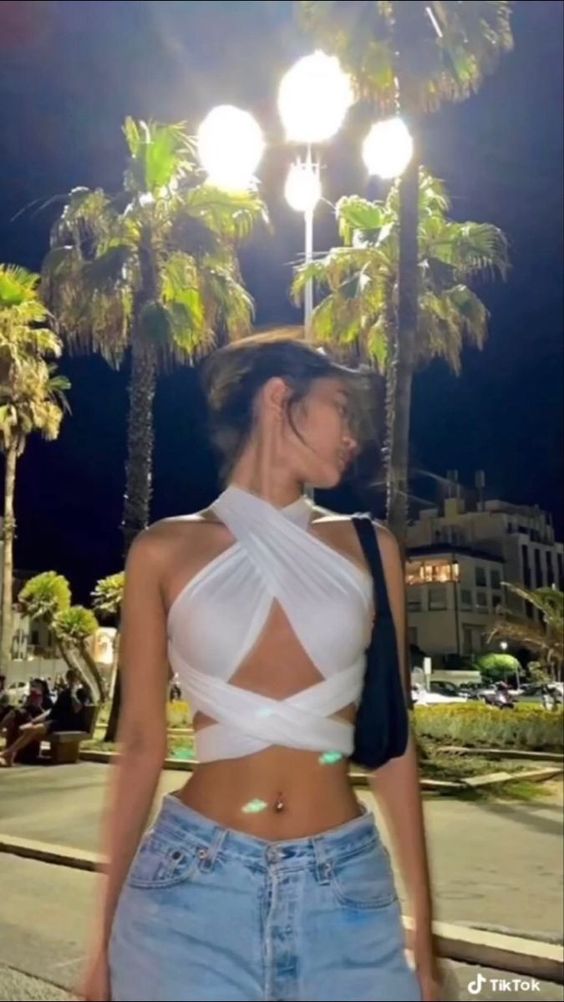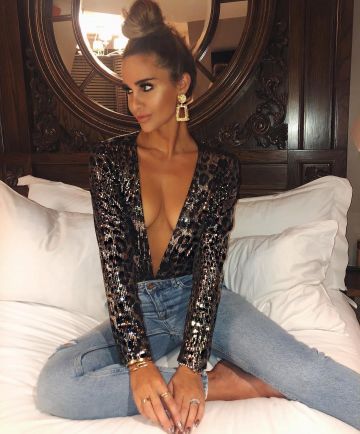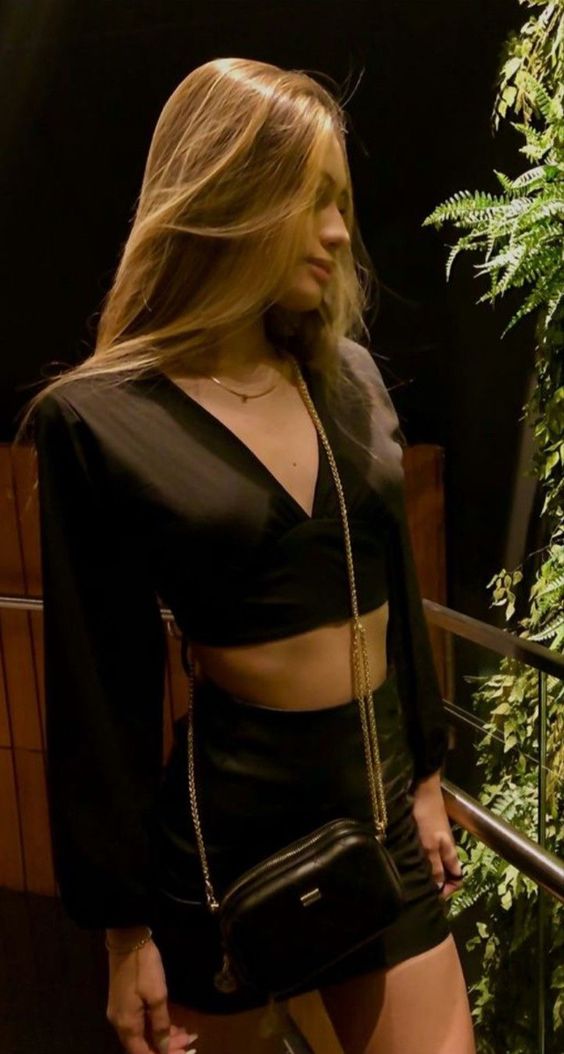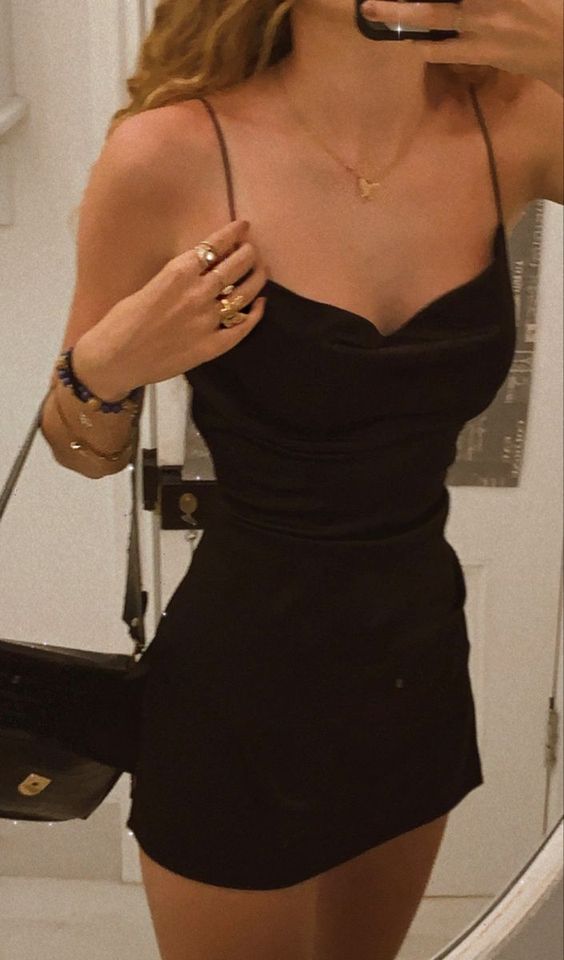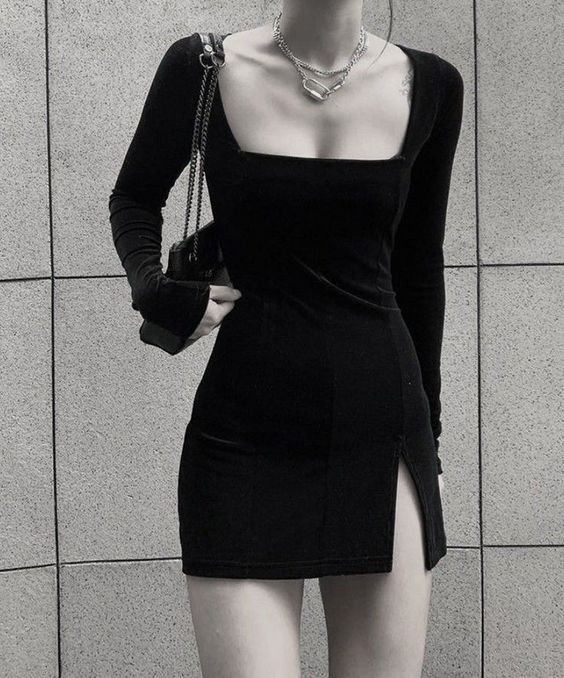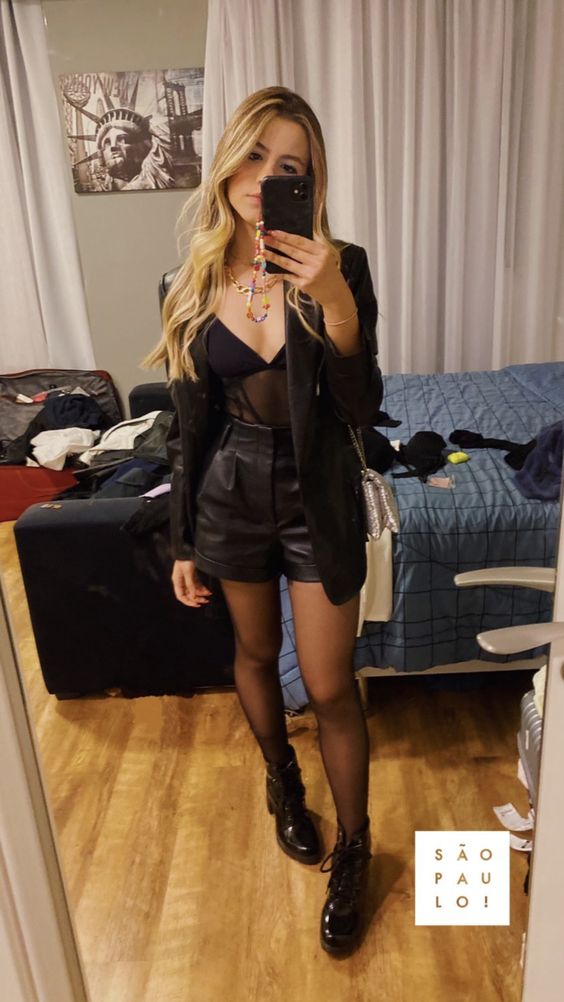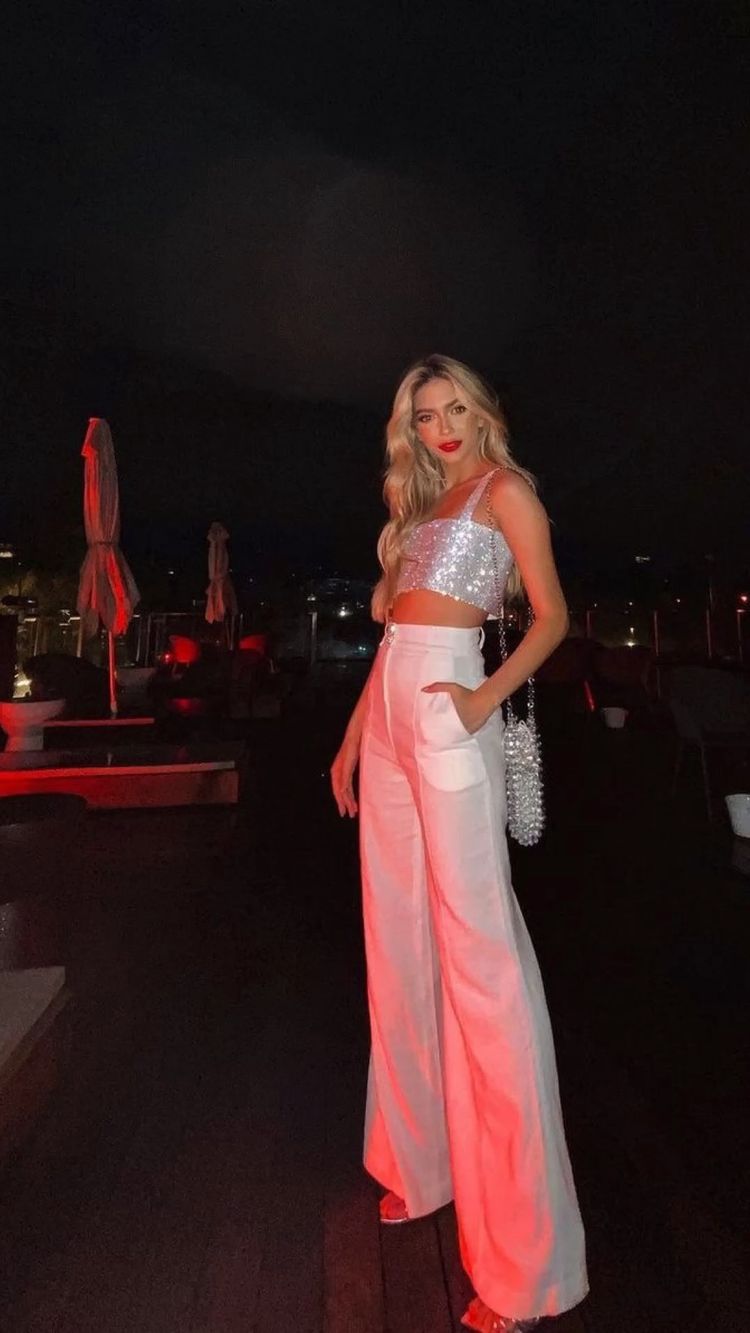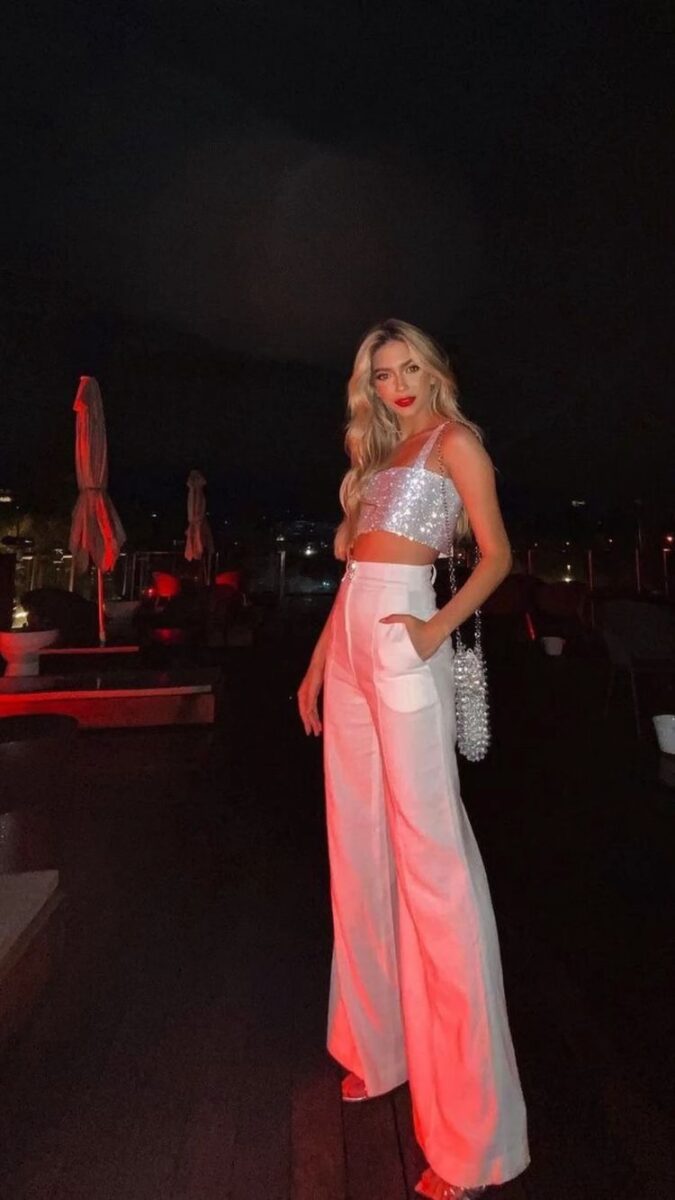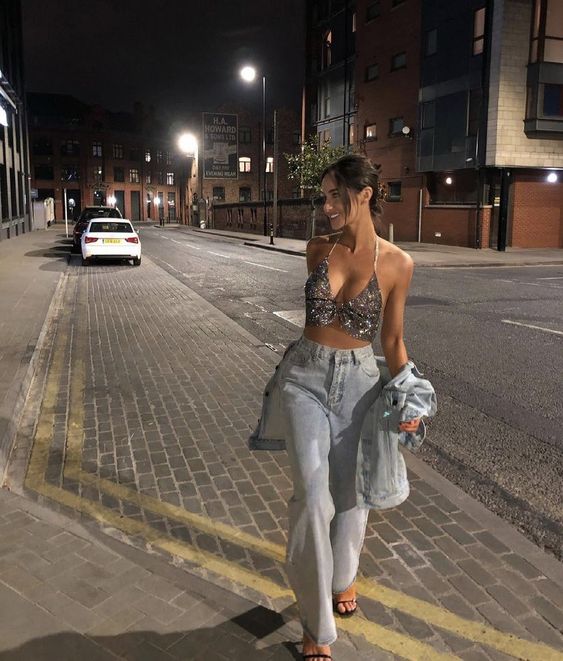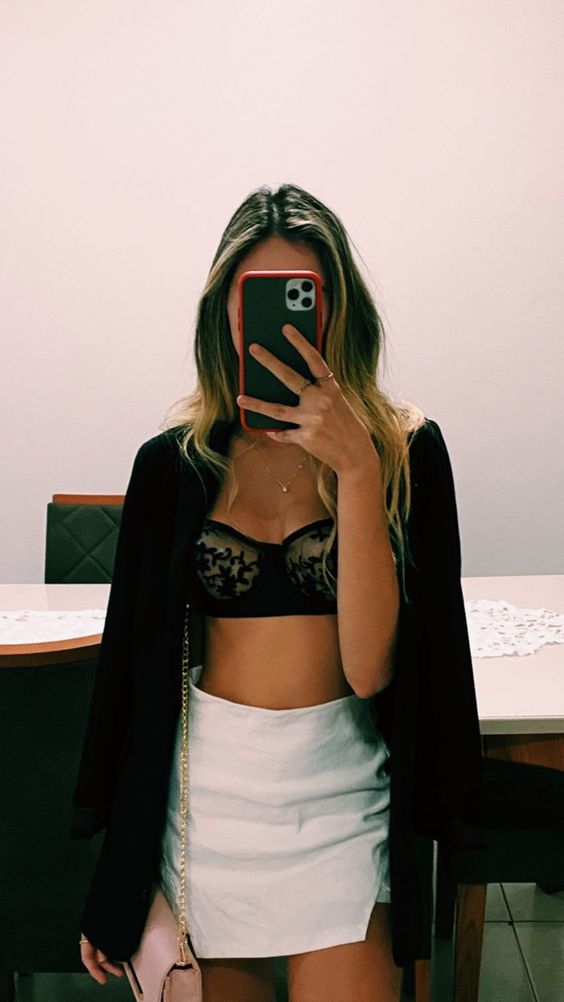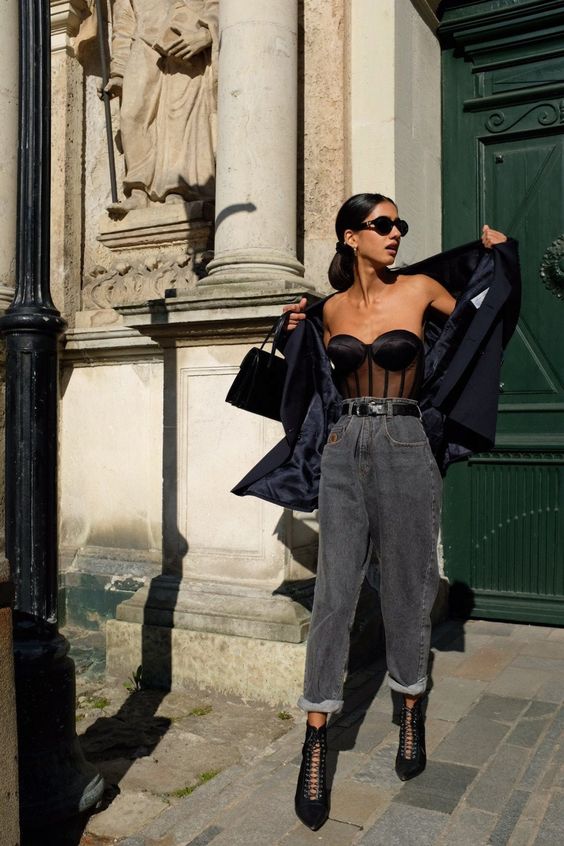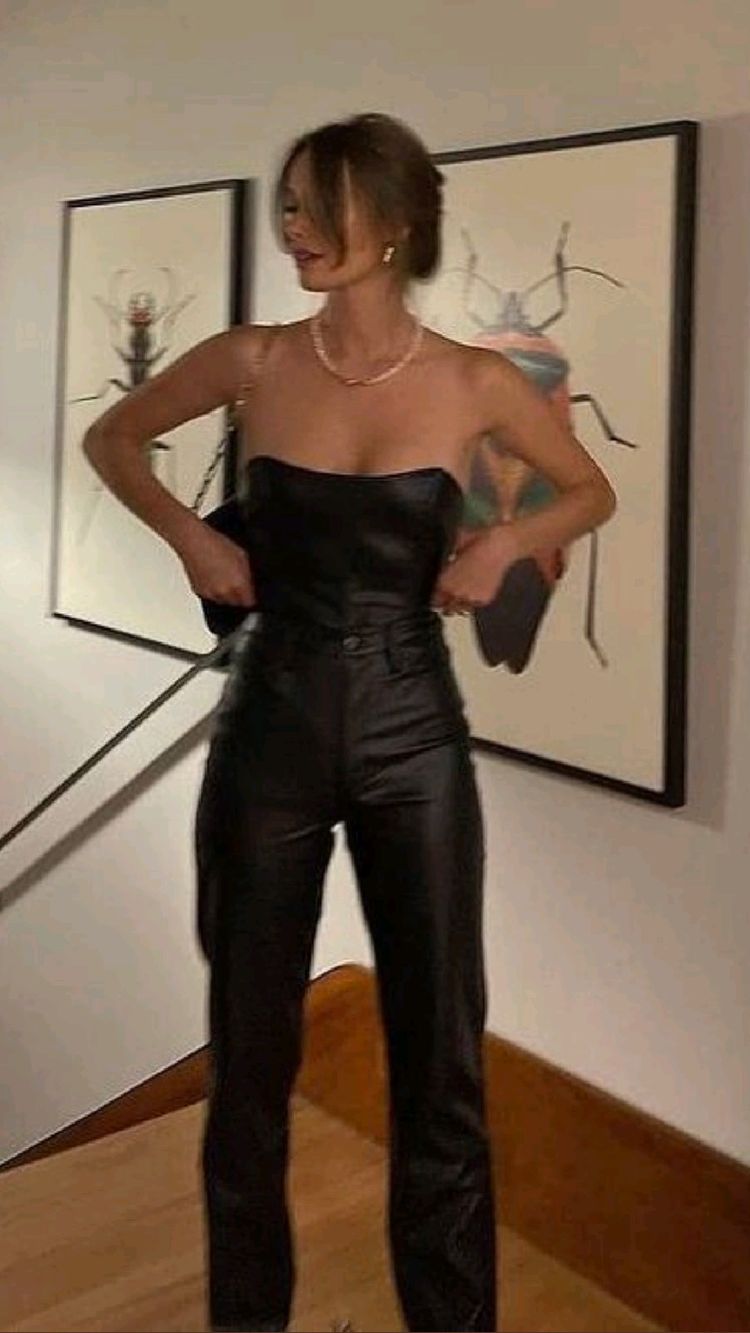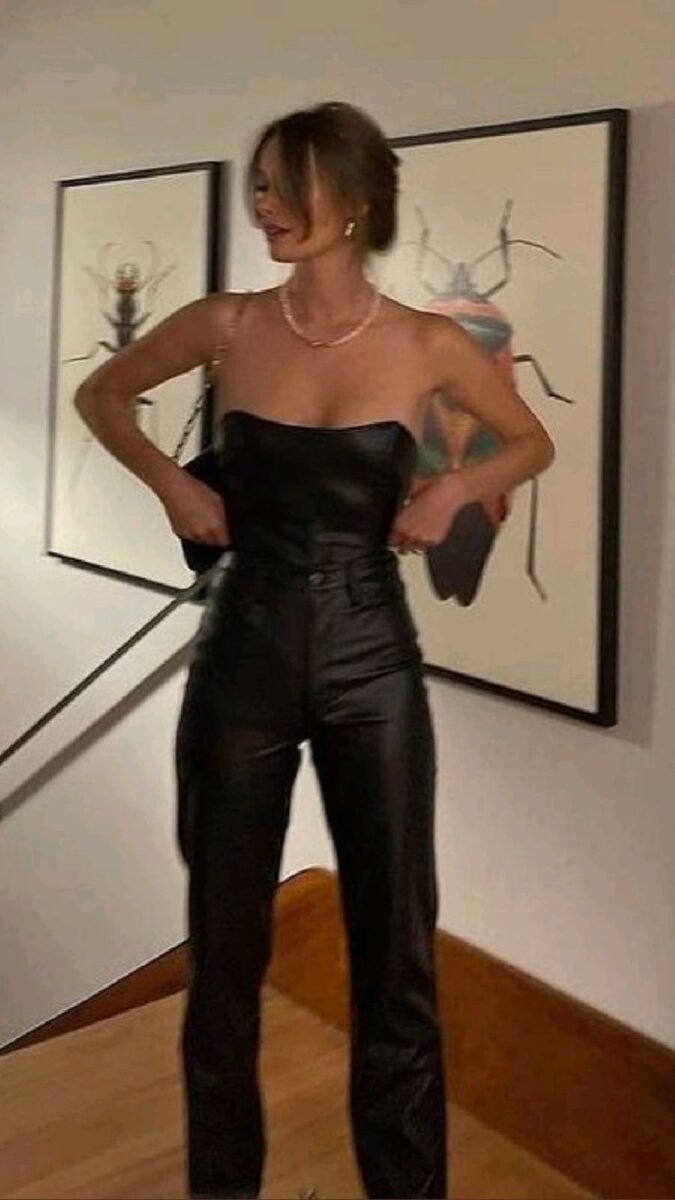 Hopefully, these ideas help you put together some gorgeous nightclub outfits! When you're wondering what to wear to a club, remember that the color black is always appropriate. Above all, your clubbing outfits should always be comfortable and easy to move in – don't forget to test out your heels ahead of time. Enjoy!
FAQs About Clubbing Outfits:
Have more questions about what to wear to a club? Here are the top questions and answers!
What's the appropriate dress code for a nightclub?
The appropriate dress code for a nightclub can vary depending on the establishment and its theme. It's always a good idea to check the nightclub's website or call ahead to get specific information about their dress code policy. Generally, nightclubs tend to have a stylish and trendy dress code, encouraging guests to showcase their personal fashion flair. While some may require more upscale attire like cocktail dresses and button-down shirts, others may be more lenient, allowing for a range of fashionable choices. It's important to avoid overly casual or beachwear-style nightclub outfits, such as gym clothes, flip-flops, and athletic sneakers.
Can I wear jeans to a nightclub?
Yes, jeans are sometimes acceptable attire for a nightclub, as long as you choose the right pair and style them appropriately. Opt for dark or black jeans, as they tend to look dressier and more sophisticated than lighter washes. Skinny or slim-cut jeans can create a sleek and stylish silhouette that pairs well with a variety of tops. To elevate your look, consider pairing your jeans with a chic blouse, a statement belt, and fashionable heels or ankle boots. This combination strikes a balance between comfort and style, making it a go-to option for many nightclub-goers. For more fancy club outfits, you'll want to steer clear of jeans entirely.
What type of footwear should I choose for a nightclub?
Your choice of footwear for a nightclub largely depends on your personal style and the overall vibe of the venue. High heels are a popular option, as they can add height, elongate your legs, and bring an element of glamour to your outfit. Stiletto heels or platform heels can create a bold and confident look, while heeled ankle boots offer a stylish edge. On the other hand, chic sneakers are becoming increasingly fashionable for nightclub attire, especially if you're aiming for a more comfortable and casual look. Opt for trendy sneakers with unique details or metallic accents to make a fashion statement.
Is it okay to wear a dress to a nightclub?
Absolutely, wearing a dress to a nightclub is a fantastic choice, as dresses offer a versatile canvas for creating eye-catching and stylish ensembles. Consider opting for a bodycon, mini, or slip dress, depending on your comfort level and the atmosphere of the nightclub. Bodycon dresses can highlight your curves and create a confident and alluring look, while mini dresses offer a playful and energetic vibe. To make your outfit stand out, accessorize with statement jewelry, a clutch, and stylish heels. This combination is sure to make you the center of attention on the dance floor.
Can I wear sneakers to a nightclub?
Yes, sneakers can indeed be worn to a nightclub, especially if you're looking to achieve a trendy and urban-inspired look. Sneakers have become a fashion staple and can be a comfortable and stylish choice for dancing the night away. Opt for clean and well-maintained sneakers that complement your outfit. Classic white sneakers or retro-style sneakers with metallic accents can add a touch of contemporary coolness to your nightclub ensemble. Pair them with skinny or straight-leg jeans and a fashionable top for a chic and effortless appearance.
What about accessories? How much is too much?
Accessories can play a pivotal role in enhancing your nightclub outfit, adding personality and flair to your overall look. However, striking a balance is essential to avoid overwhelming your ensemble. A general rule of thumb is to opt for one or two statement pieces that serve as focal points. For instance, a bold statement necklace can draw attention to your neckline, while a pair of eye-catching earrings can frame your face beautifully. Consider a clutch or a crossbody bag with metallic details to complete your outfit. Remember, the goal is to complement your attire and create a cohesive and polished appearance without overshadowing the entire ensemble.
Are there any colors I should avoid wearing to a nightclub?
While there's no hard-and-fast rule about color choices for a nightclub, it's worth considering the venue's lighting and atmosphere. Very light or pale colors might not stand out as well in the dim lighting of a nightclub, potentially causing your outfit to blend into the background. Similarly, overly dull or muted colors might not capture attention. Instead, opt for bold, vibrant, or rich hues that can command attention and create a captivating presence on the dance floor. Colors like deep red, electric blue, and metallic tones can help you make a stylish statement.
Can I wear a jumpsuit to a nightclub?
Yes, jumpsuits are an excellent choice for a nightclub outfit, as they offer a stylish and versatile alternative to dresses and separates. Choose a jumpsuit that complements your body shape and highlights your best features. Fitted or tailored jumpsuits can create a sleek and streamlined look, while wide-leg jumpsuits can add an element of drama and sophistication. Pair your jumpsuit with heels or stylish flats, and accessorize with a clutch and statement jewelry to complete your ensemble. Jumpsuits provide a fashionable and comfortable option for dancing and socializing throughout the night.
How should I style my hair and makeup for a nightclub outing?
When it comes to hair and makeup for a nightclub outing, think bold, glamorous, and long-lasting. Consider voluminous curls, sleek ponytails, or sultry waves to add a touch of elegance to your look. For makeup, opt for a statement smoky eye with metallic or shimmery shades to catch the nightclub's lighting. Amplify your lashes with mascara and add a bold lip color for added drama. Make sure your makeup products are long-lasting and designed to withstand dancing and energetic activities. Remember, the nightclub atmosphere allows you to experiment and have fun with your beauty routine, so don't hesitate to try new looks that make you feel confident and alluring.
What's the best way to stay comfortable while dancing at the nightclub?
Staying comfortable while dancing at the nightclub is crucial for enjoying your night to the fullest. To achieve comfort without compromising style, opt for breathable fabrics that allow you to move freely and dance with ease. Consider wearing dresses or separates that provide flexibility and comfort while maintaining a fashionable appearance. Footwear is equally important – choose shoes with cushioning, arch support, and a comfortable heel height that you can dance in for hours. Wedges, block heels, or platform heels can provide stability and comfort while adding height to your look. Prioritize comfort in your outfit choices to ensure a memorable and enjoyable nightclub experience.
Can I wear a blazer or jacket to a nightclub?
Yes, wearing a blazer or jacket to a nightclub can add a touch of sophistication and style to your outfit. Blazers and jackets are versatile pieces that can transform your look from casual to polished. Opt for a stylish leather jacket to create an edgy and confident appearance, or choose a sequined blazer to add a glamorous and eye-catching element. Bomber jackets with metallic details or embroidery can provide a trendy and youthful vibe. Layer your blazer or jacket over a chic top or blouse and pair it with jeans, pants, or a skirt to complete your nightclub-ready ensemble. Not only will a blazer or jacket keep you warm during your night out, but it will also elevate your overall look with a touch of elegance.
What should I do with my coat or jacket once I'm inside the nightclub?
Many nightclubs offer coat check services, allowing you to securely store your coat or jacket while you enjoy the nightlife. Before heading to the nightclub, it's a good idea to check if they provide a coat check and inquire about any associated fees. Utilizing the coat check service can help you avoid carrying bulky outerwear throughout the night, giving you the freedom to dance, socialize, and move comfortably without worrying about your belongings. Additionally, leaving your coat or jacket at the coat check can ensure that it remains safe and undamaged while you focus on having a great time inside the venue.
Can I wear shorts to a nightclub?
Yes, wearing shorts to a nightclub can be a stylish and trendy option, especially during warmer months or in venues with a more relaxed dress code. When choosing shorts for a nightclub outfit, opt for dressier or more tailored styles that elevate your appearance. High-waisted shorts with intricate details like sequins, lace, or embroidery can add a touch of sophistication to your look. Pair your shorts with a stylish top, statement accessories, and chic footwear to create a well-balanced and fashion-forward ensemble. Keep in mind the nightclub's atmosphere and the specific dress code to ensure that your shorts are appropriate for the occasion.
Is it okay to wear a crop top to a nightclub?
Yes, wearing a crop top to a nightclub can create a stylish and alluring look that's perfect for a night of dancing and socializing. Crop tops allow you to showcase a hint of skin while maintaining a fashionable and confident appearance. Pair a crop top with high-waisted bottoms, such as skirts or pants, to create a balanced silhouette that flatters your figure. Consider choosing a crop top with unique details like cutouts, embellishments, or trendy patterns to make a statement. Complete your outfit with accessories, heels, and a clutch to achieve a chic and fashionable nightclub ensemble.
How can I stay stylish while staying within the nightclub's dress code?
Staying stylish while adhering to the nightclub's dress code involves finding a balance between your personal fashion preferences and the venue's guidelines. To achieve this, focus on key elements that allow you to express your style while staying within the parameters of the dress code. Choose well-fitting clothing that complements your body shape and enhances your confidence. Incorporate stylish footwear, such as heels or fashionable sneakers, that align with the nightclub's atmosphere. Pay attention to accessories – opt for statement pieces that elevate your outfit without overwhelming it. By selecting pieces that reflect your individuality while respecting the dress code, you can confidently create a standout look that allows you to enjoy the nightclub experience to the fullest. Remember, the key is to express yourself while adhering to the venue's requirements, ensuring a fashionable and memorable night out.
In the world of nightlife, crafting captivating clubbing outfits is an art that allows you to express your style and embrace the exhilarating energy of the dance floor. Whether you opt for dazzling dresses, chic jumpsuits, or trendy jeans paired with statement sneakers, clubbing outfits become your passport to a world of music, movement, and unforgettable moments.
So, the next time you step into the neon-lit realm of a nightclub, remember that your choice of clubbing outfits can set the stage for an extraordinary evening. With clubbing outfits that reflect your personality and confidence, you're not just entering a venue – you're making a stylish statement that dances alongside the beat, and you're ready to own the night in the most fashionable way. Elevate your clubbing outfits, and let your inner fashionista shine as you dance through the night with the world as your runway. Go ahead, make heads turn, and let your clubbing outfits be your ultimate partner in creating memories that light up the darkness and fuel your spirit. Clubbing outfits – your key to unlocking a world of fashion and fun, where every step is a stylish dance and every heartbeat echoes with the rhythm of the night.