Be cool as a cucumber this summer season with these easy cucumber salad recipes that you can make in a jiffy!
As we head onto the summer season, nothing beats a refreshing bowl of cucumber salad. Truthfully, it can be difficult to resist the temptation of a classic cucumber salad when the weather starts getting warm. They're just so utterly refreshing!
These easy cucumber salad recipes serve as proof that you can stay cool on a hot day by combining crunchy, juicy cucumbers with any kind of sauce you like. Whether it be something spicy, creamy, or perhaps simply a mixture of vinegar and some crushed black pepper. Yum!
But regardless of whether you prefer a traditional cucumber and vinegar mixture or a sweeter concoction of cucumbers and tomatoes, watermelon, avocadoes, or anything else, there is something in this mix you will enjoy!
The best thing about cucumber salads is that they're one of the most versatile meals you can whip up in your kitchen.
Not only are there several iterations and options available, but you can also pair the traditional cucumber salad with other dishes like Asian cuisines, serve them as a scrumptious appetizer for your lunch or dinner parties, or enjoy them as a refreshing treat for yourself during the summer season!
Easy Cucumber Salad Recipes For Summer
Keep scrolling to check out these easy cucumber salad recipes this upcoming summer season! I'm sure you'll find one that appeals to your taste. So sit back and enjoy!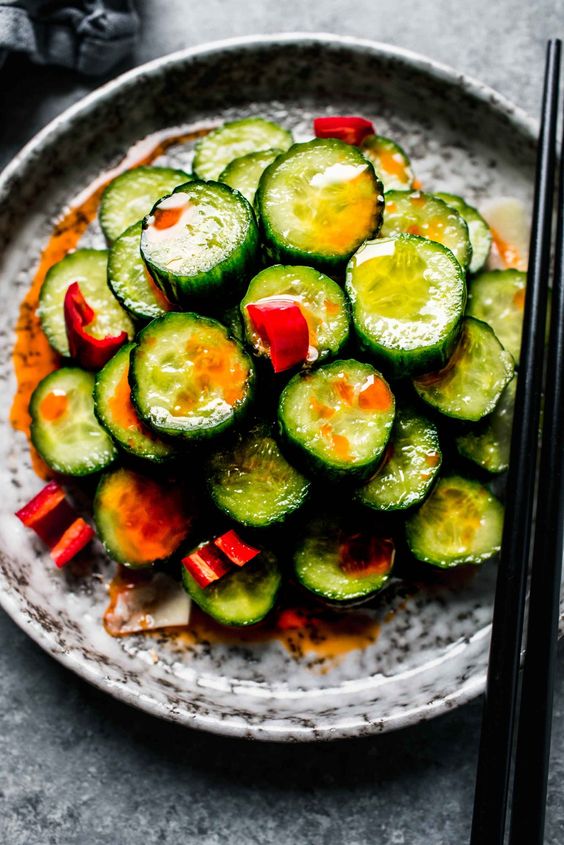 Din Tai Fung is one of the most popular Asian restaurants out there and their food is definitely worth the hype! Their cucumber salad is also full of flavor and the perfect refreshing appetizer. But if you don't live anywhere near a Din Tai Fung restaurant or simply don't want to order every time you get those cravings, here's a Copycat Din Tai Fung Cucumber Salad recipe you can copy that's perfect for a hot summer day!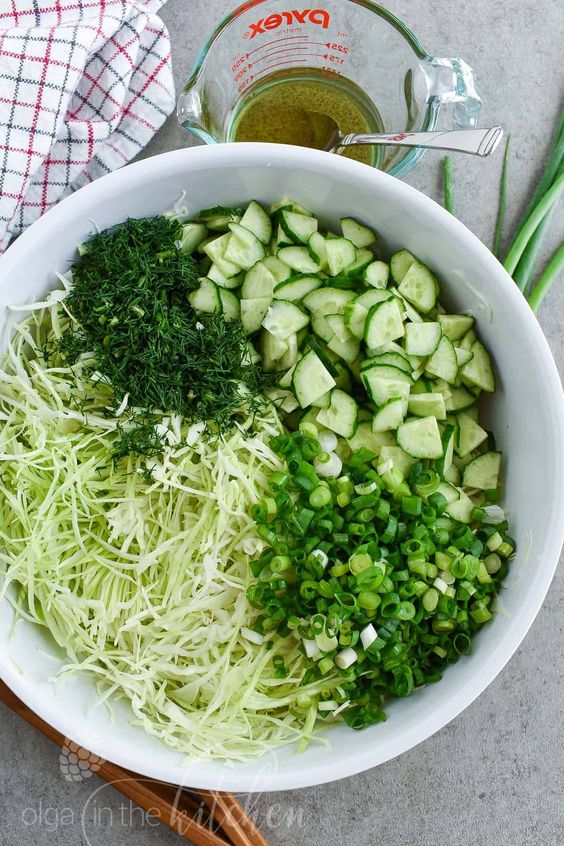 A generous amount of green cabbage, crisp cucumbers, and fresh herbs are used in this simple green cabbage and cucumber salad recipe. It makes the ideal side dish for barbecues, gatherings, and potlucks. Not to mention, it's quite inexpensive to prepare too! Mixed with vinegar and sunflower oil, it might just become your new favorite side dish.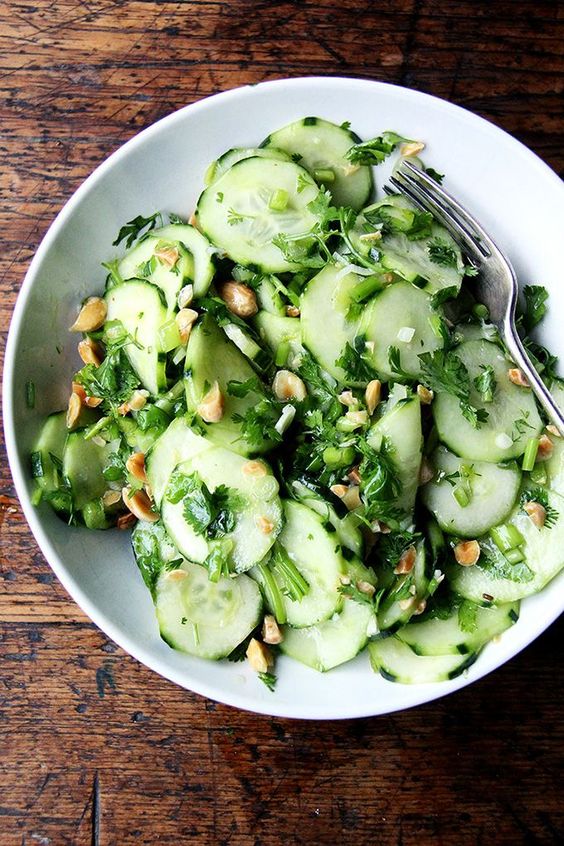 Check out this fresh, Vietnamese cucumber salad if you're looking to incorporate other greens like mint and cilantro. The addition of mint really amps the refreshing feel of this delicious and cooling treat!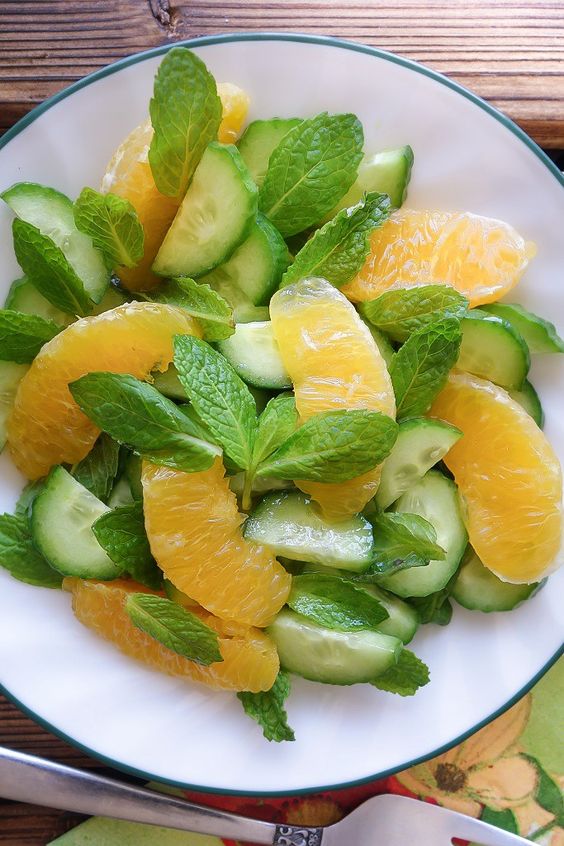 If you want to add citrus flavors and acidic dimensions to your traditional cucumber salad, this recipe might be worth checking out! Oranges are the perfect citrus fruit for this recipe but you can also opt for grapefruits if you prefer. The good thing about this recipe is that it suits the colder seasons too!
Just as the recipe says, this is truly an addictive cucumber salad! The best thing? It's a fool-proof recipe that anyone can easily prepare in under 10 minutes! Just mix together the ingredients then put them in the fridge to chill and eat later.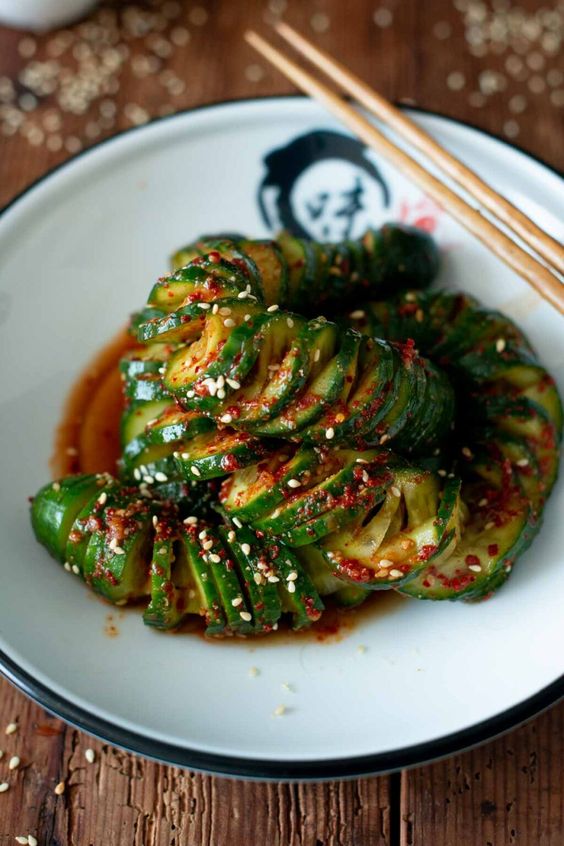 When it comes to cucumber salads and finding the perfect side dish, you can never go wrong with Korean cuisine. You only need a handful of ingredients to make this and without a doubt, this will be your favorite side dish in no time!
This Chinese smashed cucumber salad is a tasty side dish that's easy to make and packs a flavorful punch. You can eat this as a side dish, or on its own for snack time, or maybe as the main dish with rice!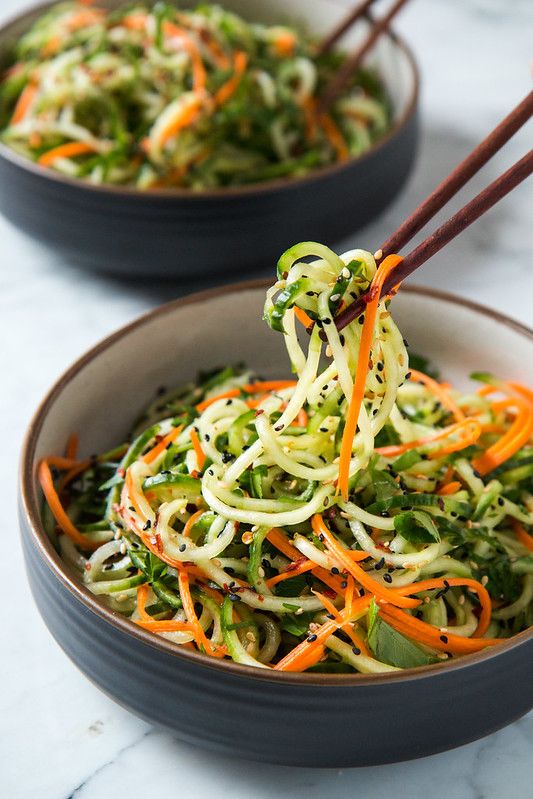 If you love preparing or cooking Asian dishes, then here's a side dish that's sure to complement your meals perfectly! This recipe gives you a spiralized, noodly, sweet, and tangy sesame vinaigrette cucumber salad that won't bore your taste buds! I can already tell this is going to be a dinner staple for many!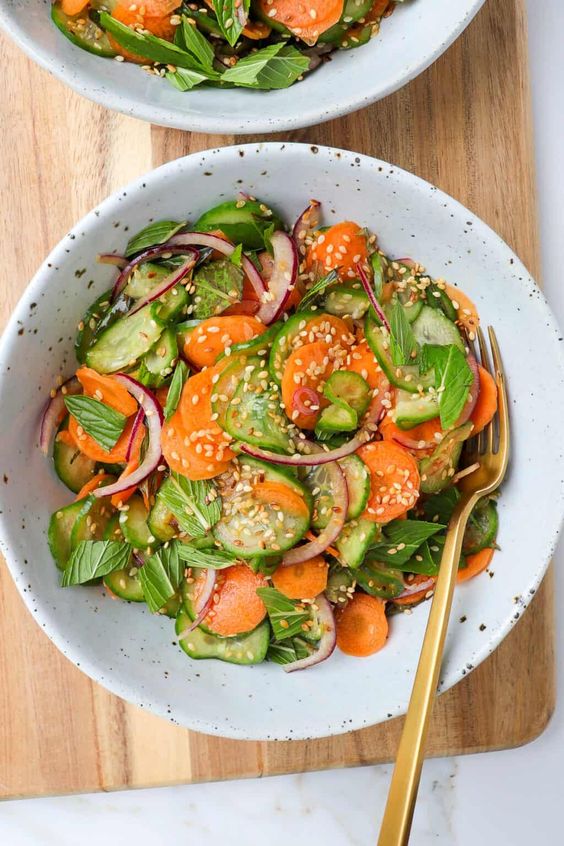 Mint and a delightful sesame dressing with Asian inspiration are used to make this crunchy and refreshing carrot and cucumber salad. Finished in just 10 minutes, this flavorful and simple vegan side dish is ready!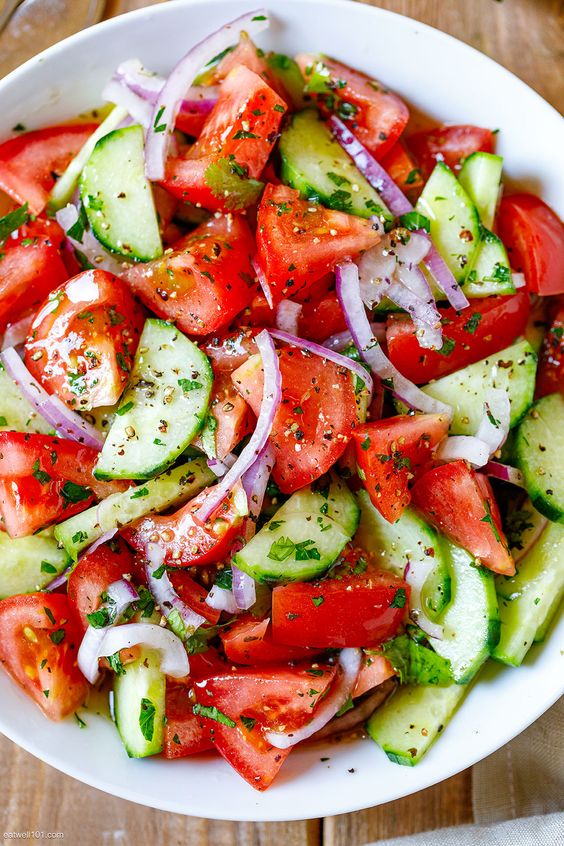 This tomato cucumber salad is ideal for a casual meal or for serving a large crowd at a potluck party. It is light, cooling, and incredibly refreshing. Not to mention, it is so easy to prepare so don't worry about getting too fussed with the recipe.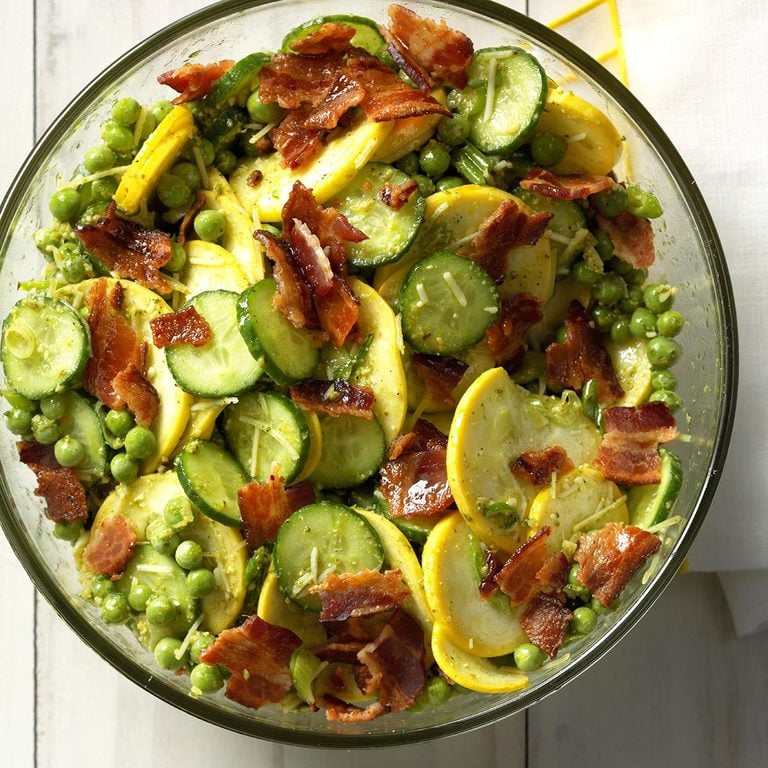 This recipe is for you if you have a garden or enjoy growing your own vegetables. To make this salad, this dish uses fresh vegetables that have just been plucked from the garden. The recipe says that if they select the cucumbers and squash early enough, their skins would be so soft that they won't even need to be removed! The salad is versatile too so feel free to swap ingredients as you like!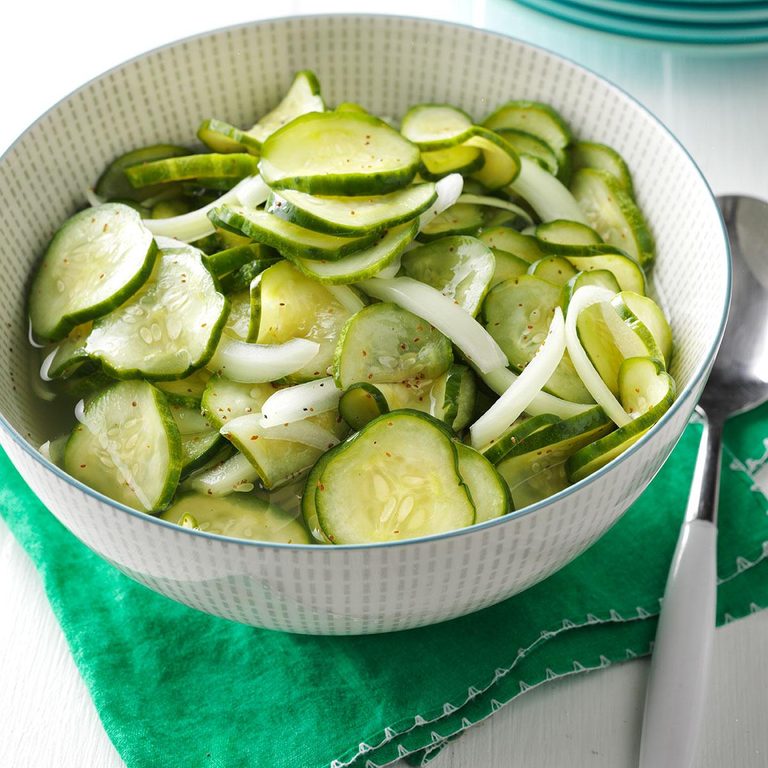 This cucumber salad recipe is the perfect combination of sweet and tangy! I honestly can't ask for more. If you want to get a deeper flavor on this salad, just keep in mind to refrigerate this longer!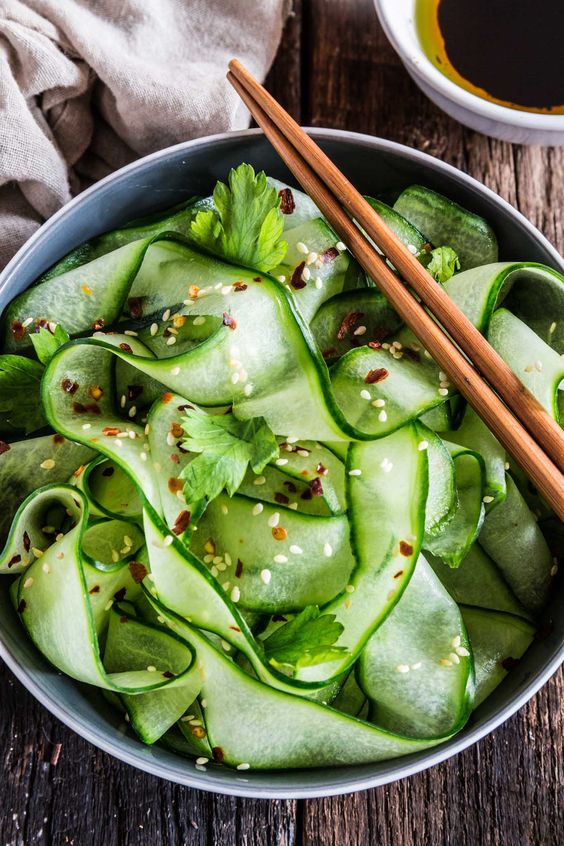 Perfect for picnics on a beach or a side dish to your summertime brunch and dinner parties, this Thai Cucumber Salad with Sesame Ginger Dressing recipe is absolutely amazing! Even better, this recipe can be done within 5 minutes so if you're pressed for time or need a last-minute dish, this cucumber salad won't disappoint!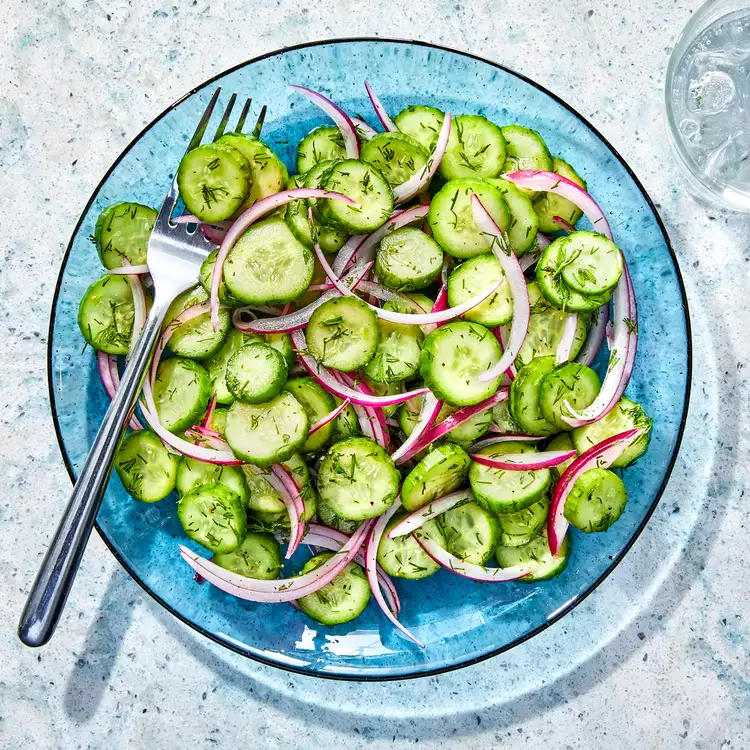 With a touch of fresh dill, this cucumber vinegar salad strikes the ideal balance between sweet and acidic flavors. Red onion provides great crispness too! After preparing the salad, eat it right away or save some for later snacking.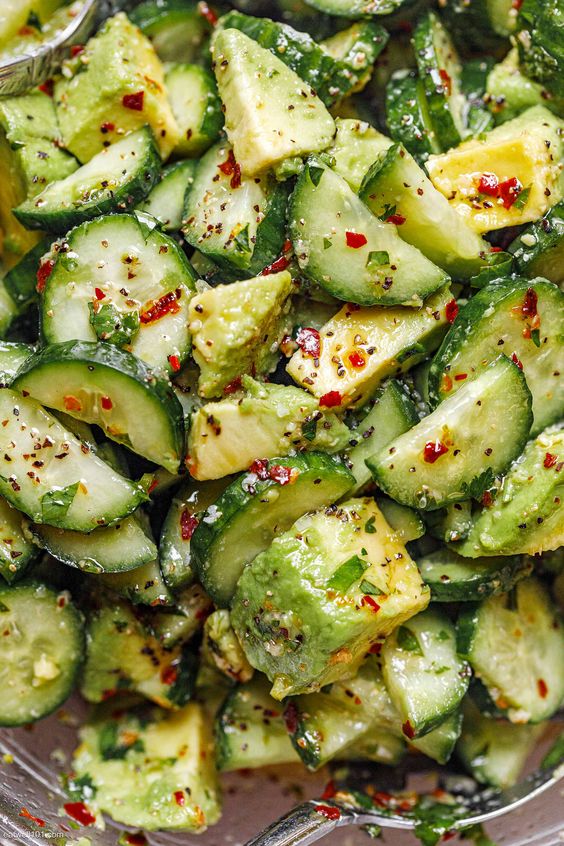 Combining two of my favorite things to eat in the world, this Cucumber Avocado Salad is a real crowd-pleaser! Whether you're making this for yourself or bringing this to a potluck, I highly suggest preparing an extra batch! Ideal for the health-conscious and vegans, this simple recipe for cucumber and avocado salad with the best lime dressing! If you're looking for a light dinner or a refreshing lunch, this avocado-cucumber salad makes a great choice.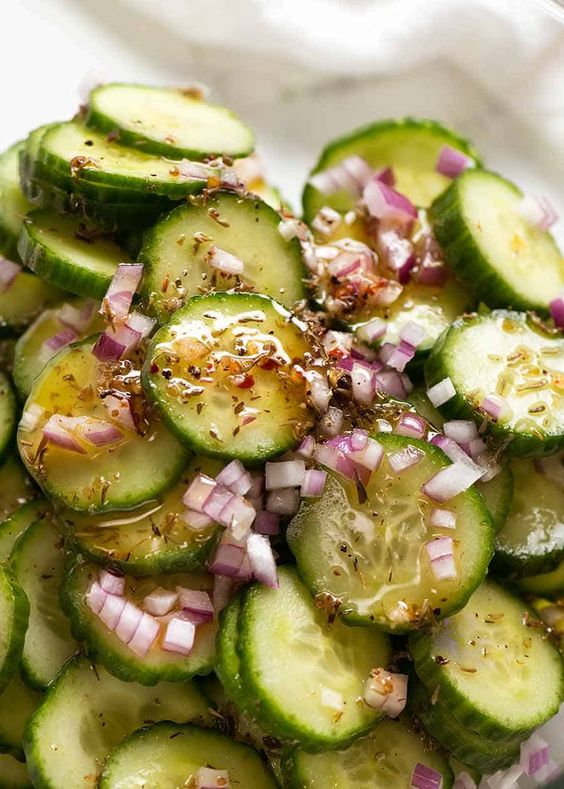 A flavorful herb and garlic vinaigrette gives this crisp cucumber salad a boost of flavor and makes it incredibly refreshing. Without a doubt, a deliciously flexible and easy-to-make side dish that goes with anything!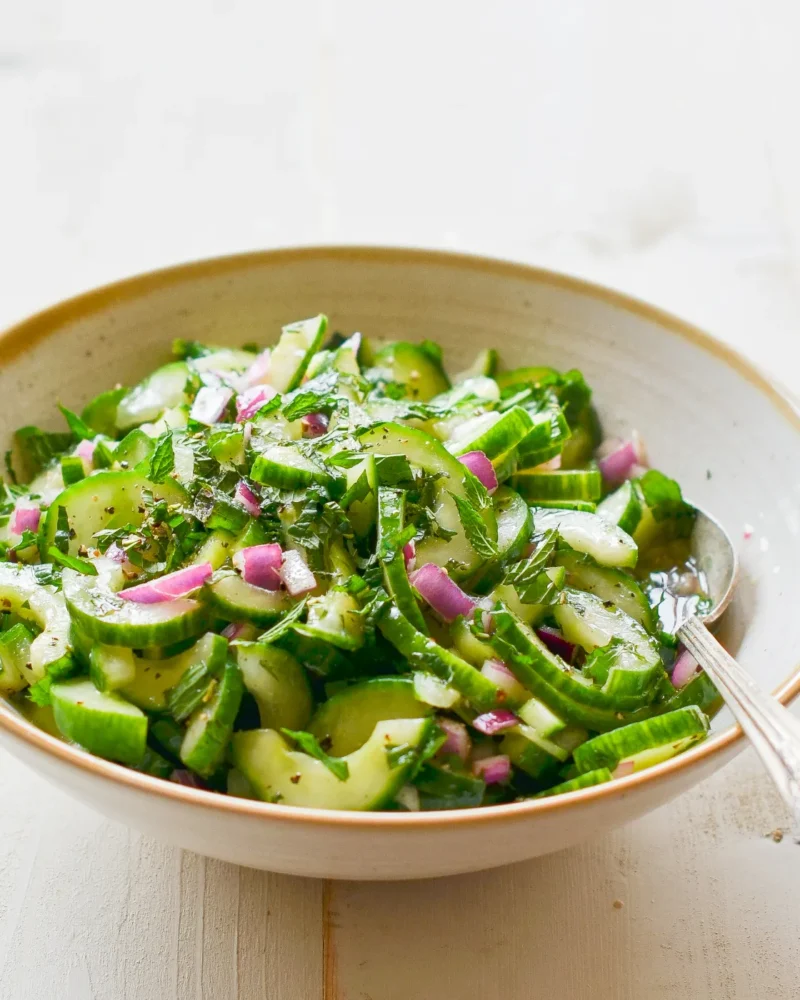 When grilling or going on a picnic this summer season, this sweet and sour cucumber salad is the ideal light side dish to accompany your meals!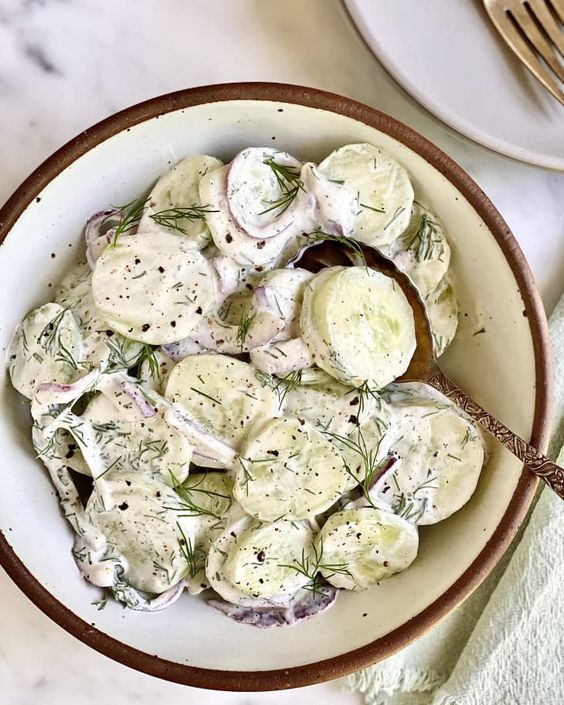 Crisp cucumber slices entwined with mellow, sweet red onion and sprigs of fresh dill, and covered in a tangy, creamy vinaigrette, create a delicious cucumber salad. It's a simple summer classic that goes well with nearly everything and is easy to put together. The cucumbers stay crispy for days, which is the best part.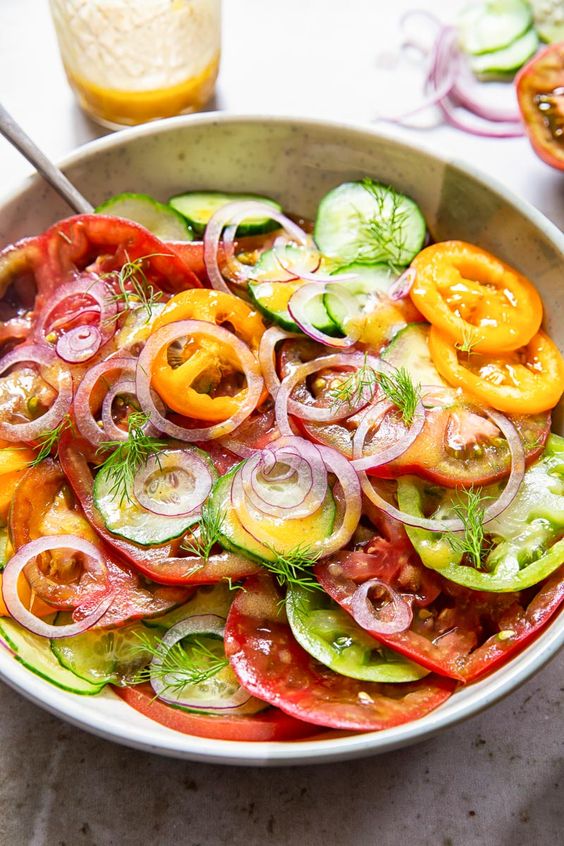 By combining simple, high-quality ingredients, you can make the most of your summer dishes by making this flavorful cucumber and tomato salad. All you need to do to make the ingredients stand out is to dress your garden vegetables with a simple vinaigrette.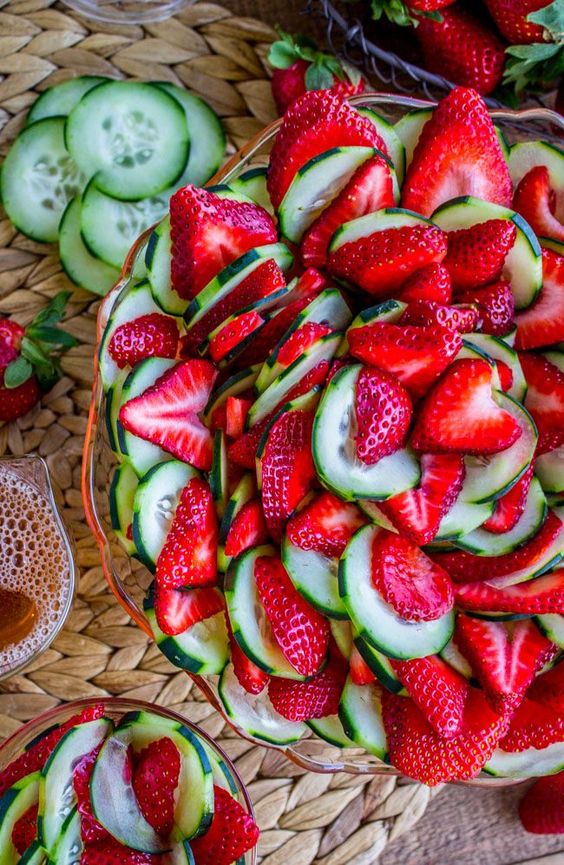 This strawberry and cucumber salad is utterly fantastic! The cucumbers and strawberries really stand out in this particular recipe and I love how the colors are all so vibrant and perfect for summer. Balsamic vinegar and honey are the only additional ingredients. Bring this stunning and healthy side dish to your potlucks or dinner parties for a sure crowd-pleaser!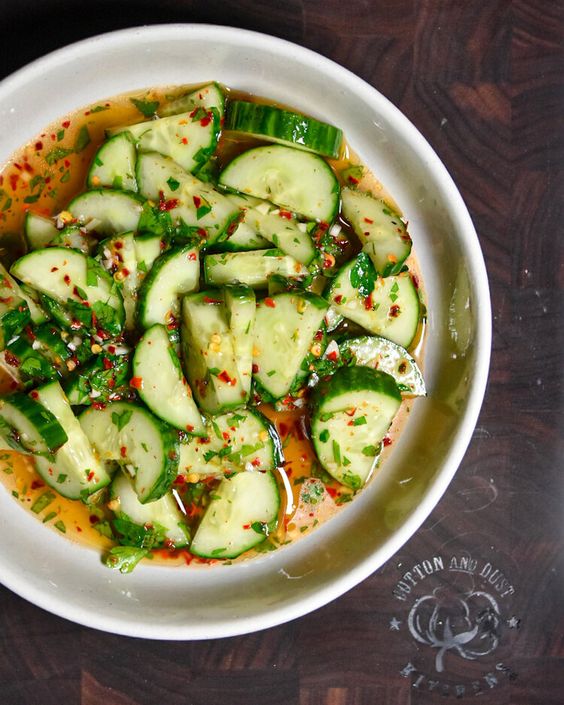 If you like to make things a little hotter this summer season, this Spicy Cucumber Salad is a must-try! It's spicy but also quite refreshing at the same time!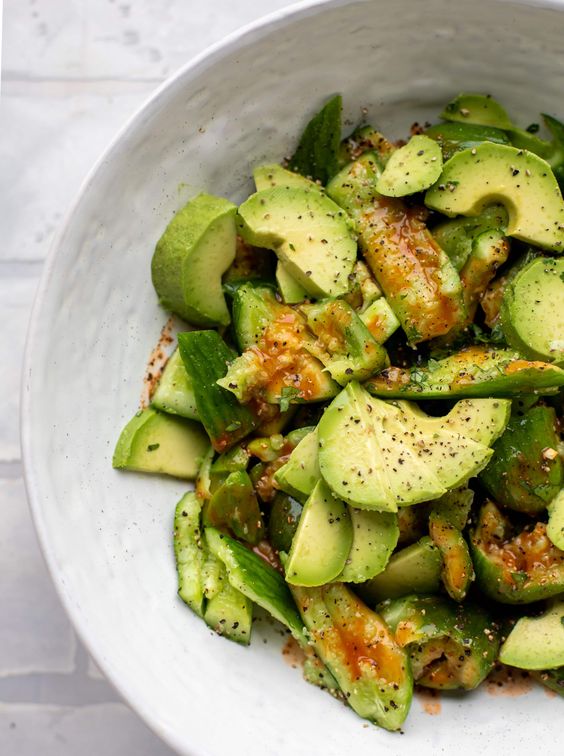 This Smashed Buffalo Cucumber Salad is refreshing with a touch of heat along with some cheese and avocado. I love the added protein from the buffalo and it's certainly one of my favorite easy cucumber salad recipes on this list.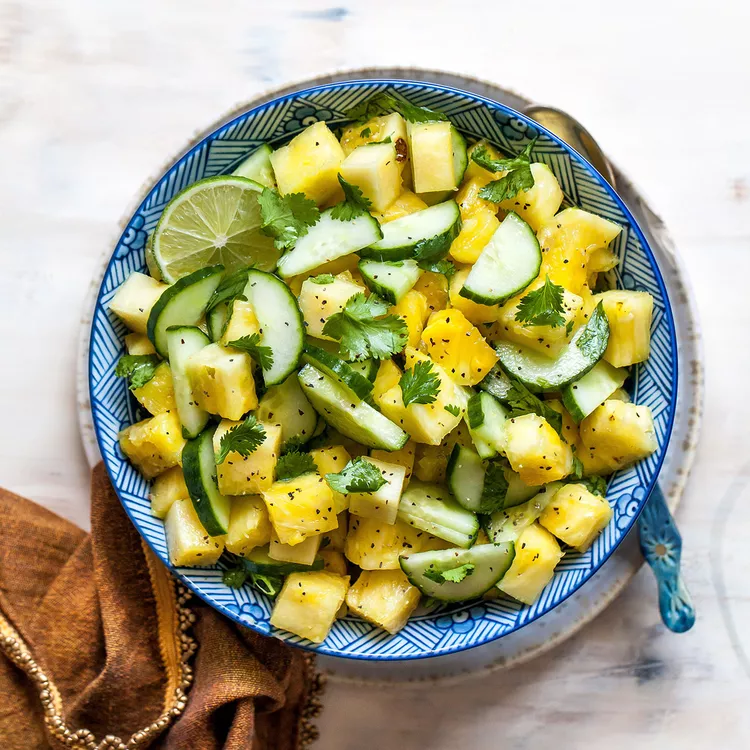 To balance the richness and cool the palette, serve this sweet, light salad with grilled meat or fish. If you enjoy a little spice, adding jalapenos will satisfy your spicy cravings with a kick.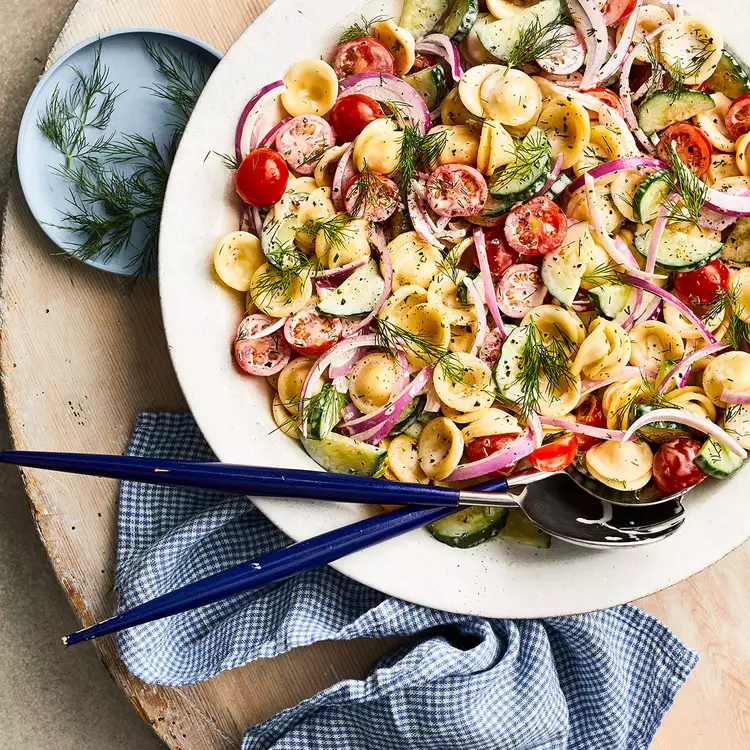 This Cucumber Pasta Salad is flavorful, tangy, and vibrant. If you prefer to use other types of pasta, you can do that as well. But the orecchiette pasta holds the dressing for taste in every bite. On a warm day during the summer season, this simple salad is ideal! The recipe also suggests substituting apple-cider vinegar for white distilled vinegar for a fruitier flavor.
Looking for spicy cucumber salad recipes? With just the proper amount of heat, this quick cucumber kimchi gives the ideal amount of fresh flavor to your meal. The recipe advises looking for crisp, firm cucumbers that are a vibrant green color.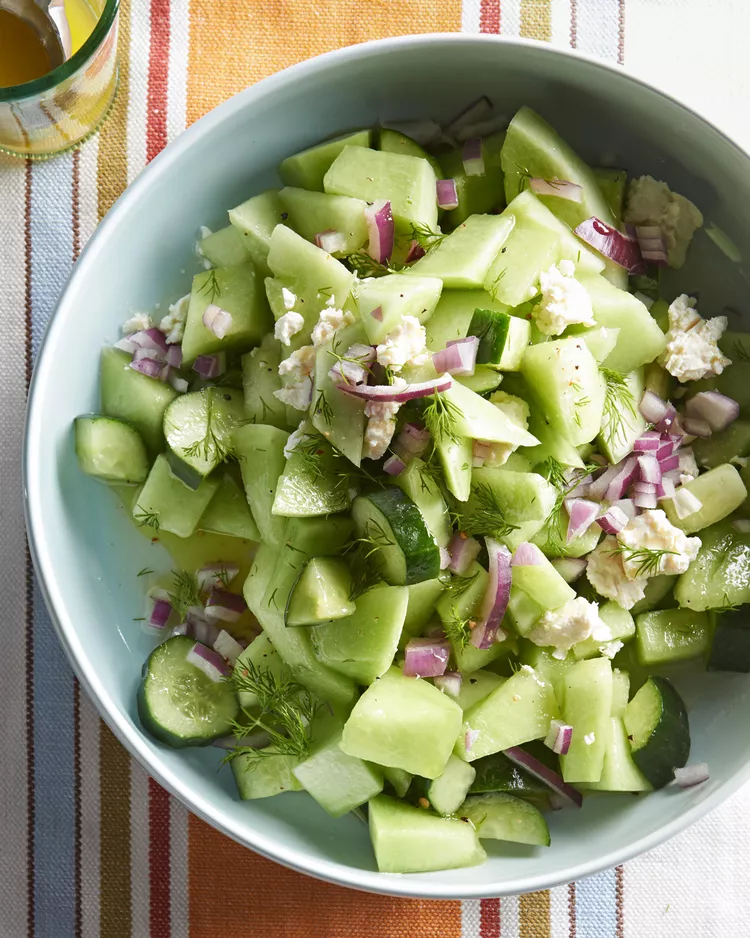 Looking for simple overnight easy cucumber salad recipes? With this refreshing salad, rinsing the sliced onion softens its raw, pungent flavor. Make sure to keep it in the fridge overnight or for 8 hours before serving. You can also opt to keep it simple or serve this over a bed of arugula or watercress.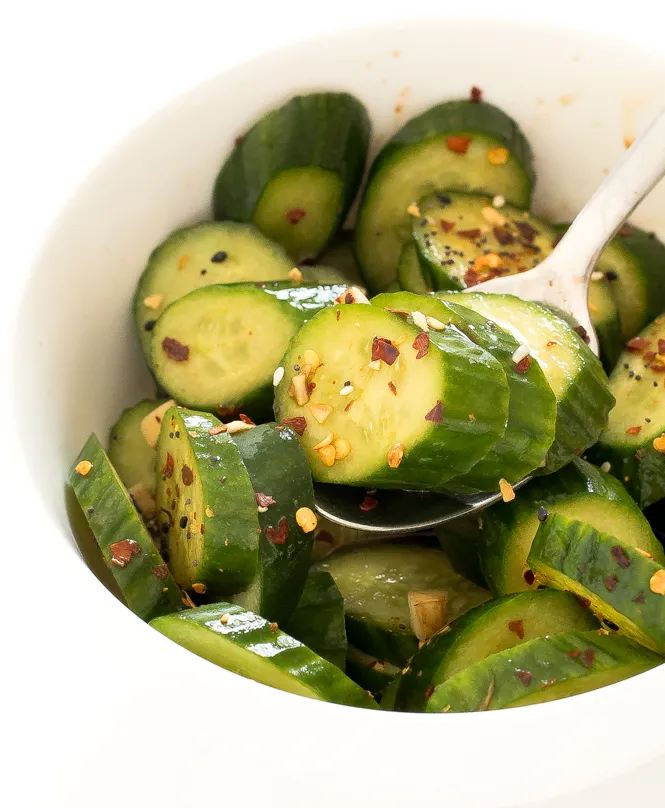 This easy-to-make recipe for Japanese cucumber salad is not only bursting with refreshing flavor, but it's just as nutritious as well! An Asian-inspired dressing made of soy sauce, rice vinegar, sesame oil, and sugar mixed with sliced cucumbers will be your new go-to sidedish or midday snack!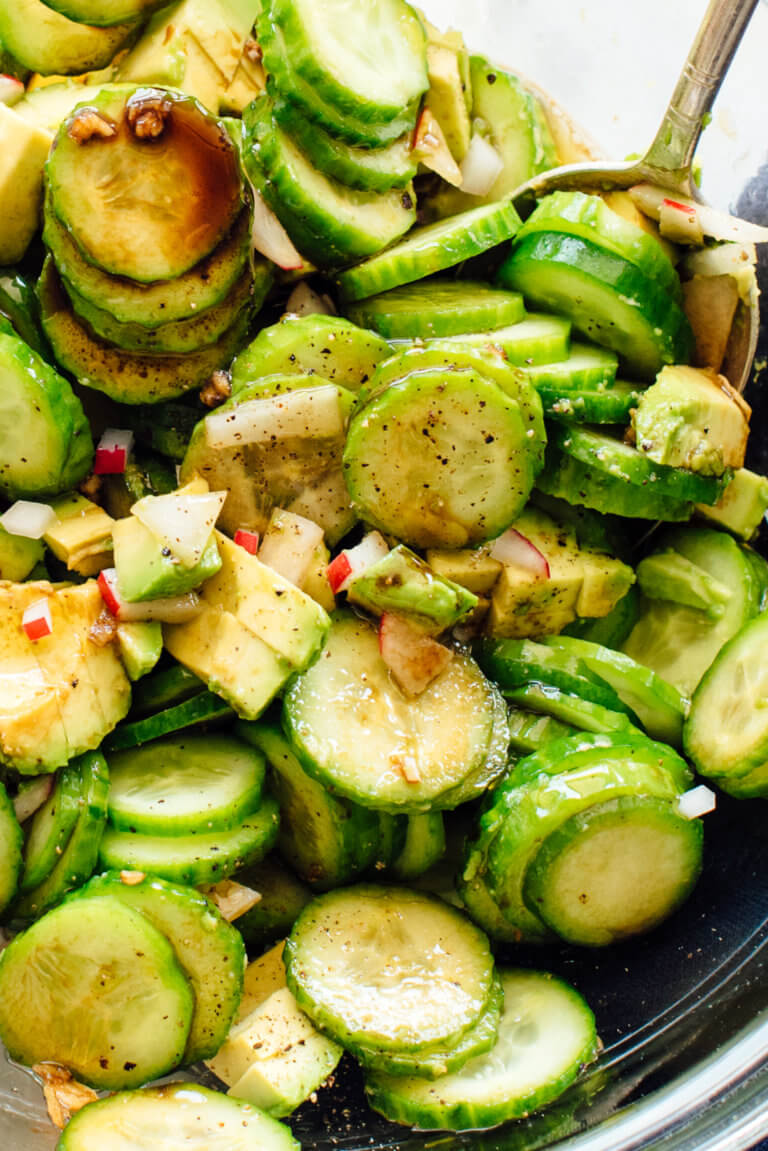 When in doubt, go with the classics, right? Crisp cucumber, creamy avocado, and a super basic balsamic dressing create a stellar cucumber salad that won't disappoint your taste buds!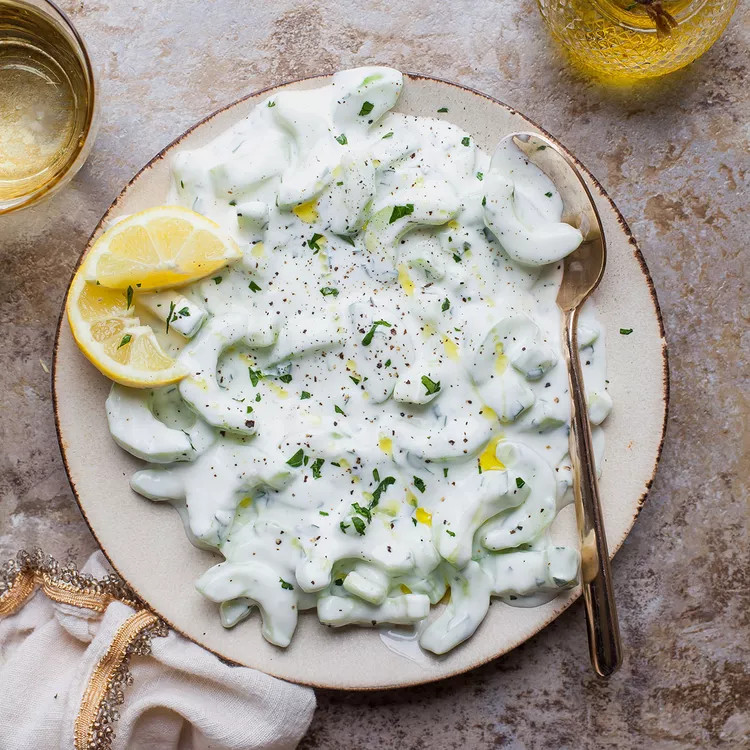 This cucumber-yogurt salad is a wonderful pita bread filling as well as a cool side dish to a meat or fish main entree. The mixture can be used as a dip if the cucumbers are grated instead of chopped.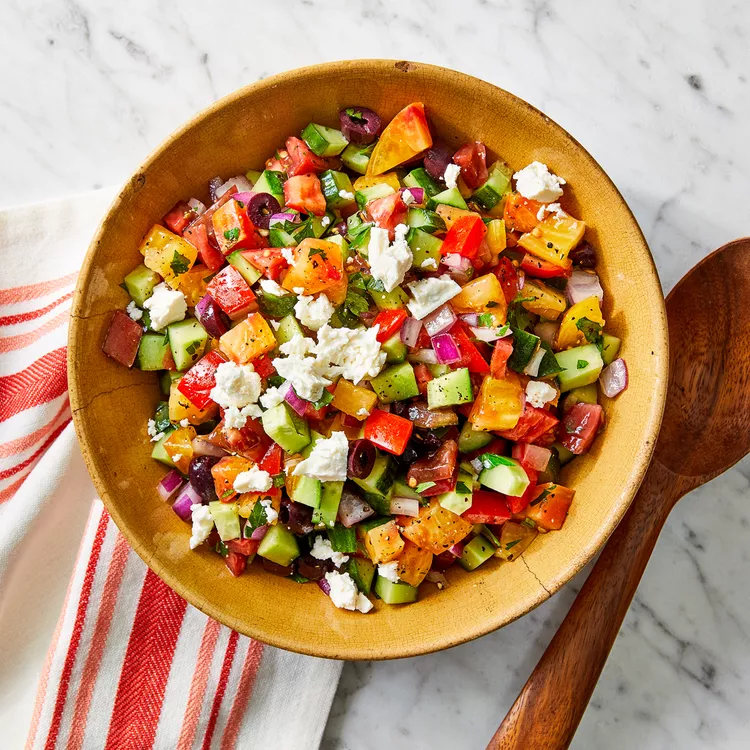 Looking for colorful but easy cucumber salad recipes? This easy salad dish includes Mediterranean-inspired ingredients like cucumber, Kalamata olives, and more. The recipe suggests using it as a refreshing side dish with grilled chicken or seafood.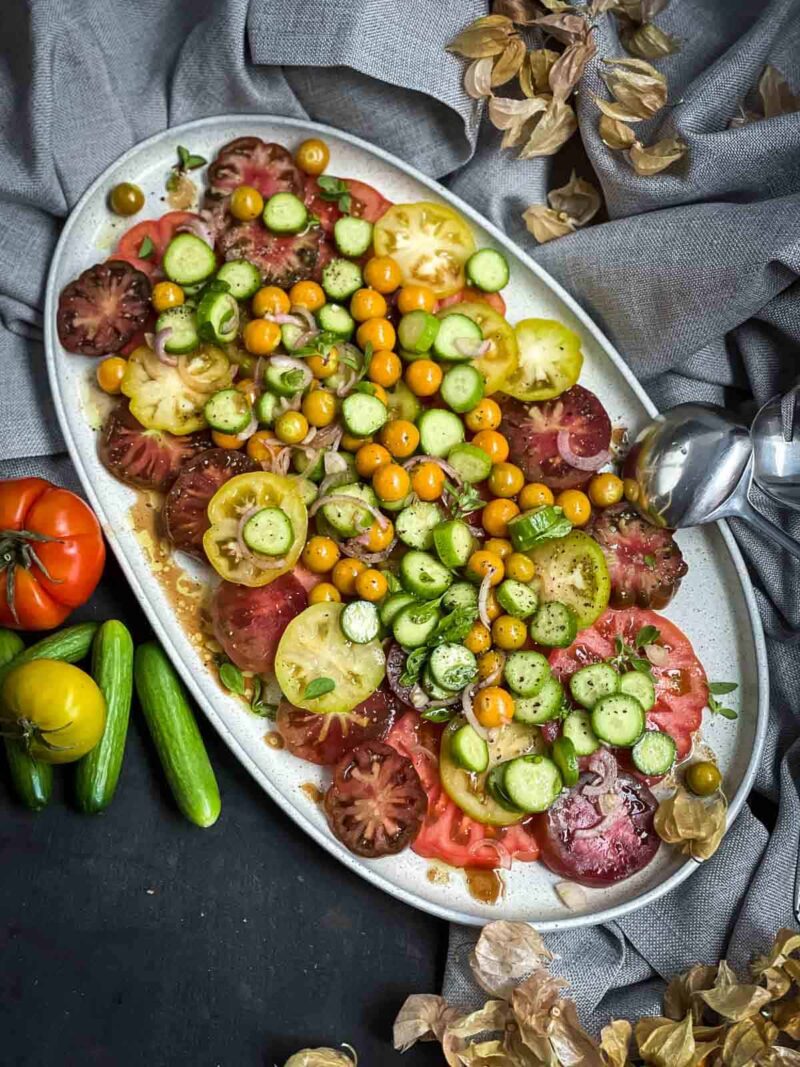 This no-cook summer salad is the ideal side dish for heartier meals since the sweetness and tartness serve to balance the flavors and textures. Serve it with some simple ingredients like baby cucumbers and tomatoes.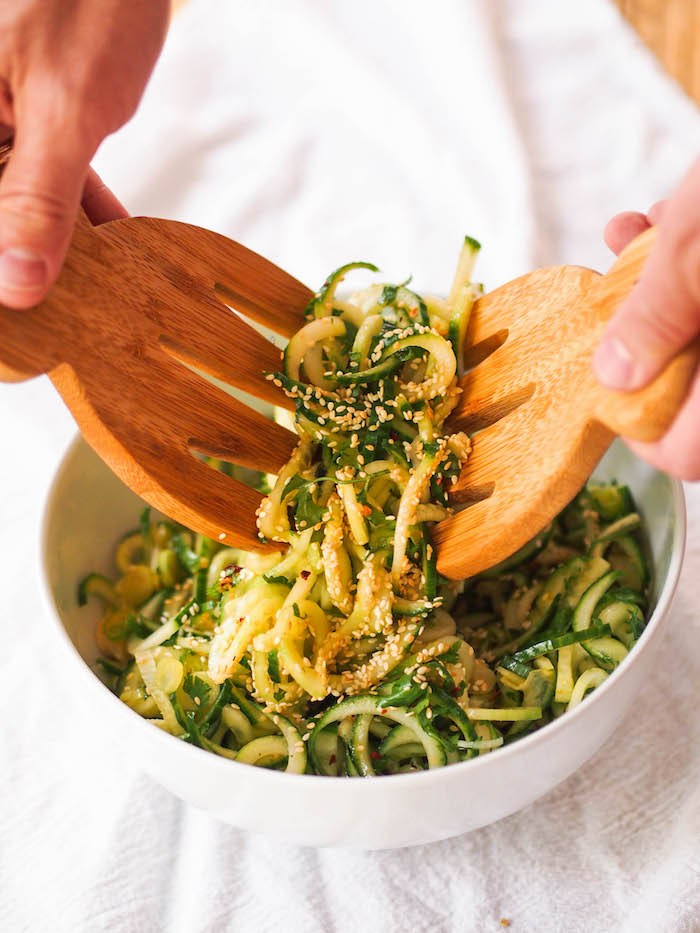 To some, cucumbers can be a pretty boring vegetable but this recipe makes sure to highlight the best parts of this particular summer veggie to give you this appetizing Asian Spiralized Cucumber Salad!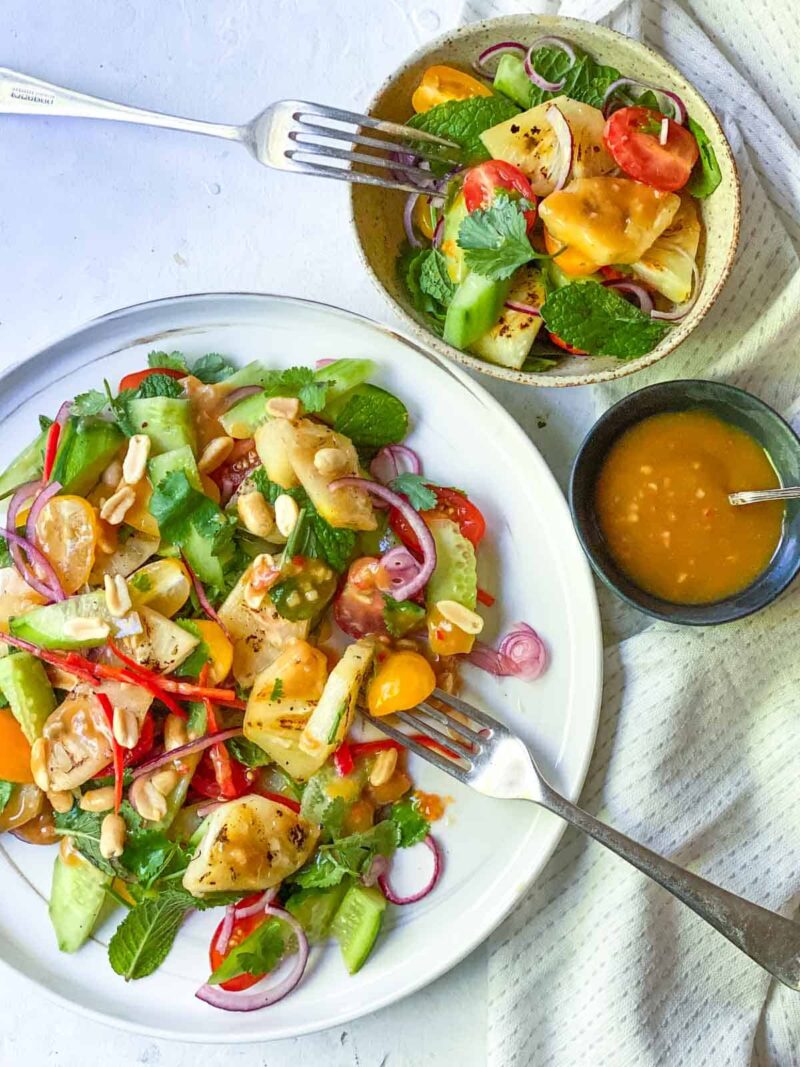 The addition of fresh crunchy cucumber, grilled sweet pineapple, and a spicy peanut sauce elevate this Asian salad to a new level of deliciousness. It is so simple to make and perfectly refreshing. An excellent side dish for summer events, potlucks, and barbecues!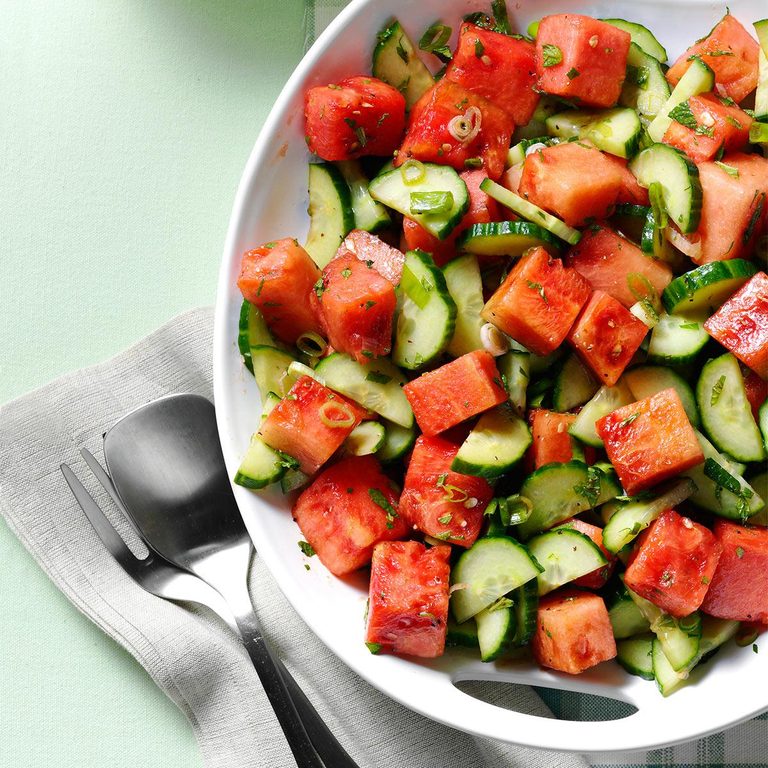 Without a doubt, this delightful watermelon-cucumber salad captures the wonderful flavors of summer and will be the highlight of any picnic or gathering. Make sure to prepare an extra batch as I can see this going out fast!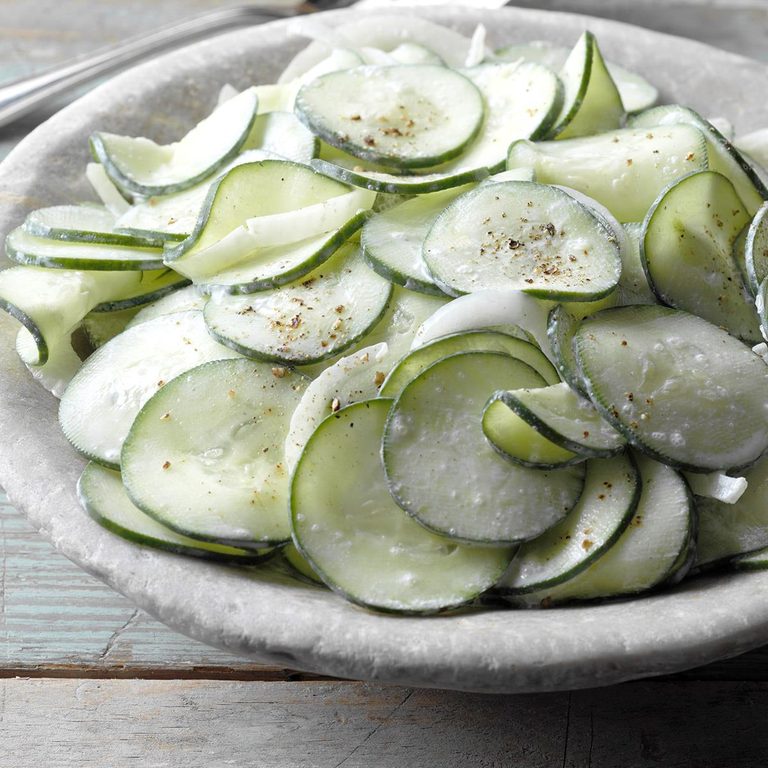 Looking for sour cream cucumber salad recipes? Creamy, cool, light, and utterly delicious, this Sour Cream Cucumber recipe is the perfect sidedish or midday snack on a warm summer day!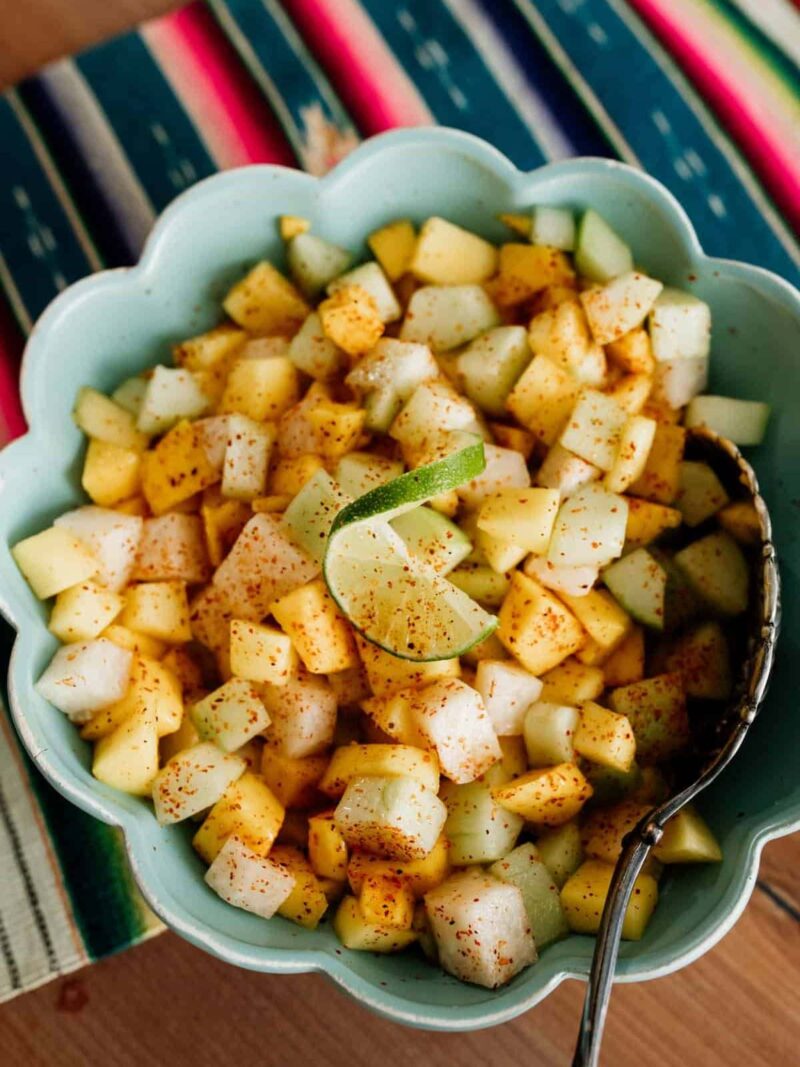 This wonderful Mango, Jicama, and Cucumber Salad is a delightful change of pace from your typical green salad. It is crunchy, spicy, salty, sour, and sweet. With this delicious side dish, you can enjoy the warm weather in style at cookouts, potlucks, and picnics.
Hopefully, these fun and easy cucumber salad recipes gave you lots of inspiration for summer dishes! Enjoy!