If you'd like to show your appreciation to the brave firefighters in your life, keep scrolling to find the best gifts for firefighters that anyone would enjoy!
Firefighters emerge from the heart of the flames, fueled by an unwavering dedication to protect and serve. These brave souls are the embodiment of valor, confronting the fiercest of elements to keep us safe. Their sacrifices often go unnoticed, but offering them gifts or tokens of appreciation can go a long way!
Whether battling roaring infernos, rescuing trapped souls from towering buildings, or responding to emergencies in the dead of night, firefighters embody the spirit of selflessness and courage. These everyday heroes are not just individuals in uniform. They're pillars of our communities! They deserve not just our gratitude but also thoughtful tokens of appreciation that ignite their spirits.
That's why we've meticulously curated a sizzling list of 35+ Gifts for Firefighters for today! Here you will find a scorching selection of gifts tailored just for them! These gifts go beyond the conventional, as we recognize that firefighters are an exceptional group of heroes. They're bound by a shared calling that demands unwavering dedication. I've scoured the internet to bring you gifts that are as unique as the heroes themselves. Ensuring that they'll cherish these tokens as much as we cherish their service!
What's On Our List Of Gifts For Firefighters?
This gift guide isn't just a random assortment of items. it's a testament to our admiration for firefighters. I've categorized the gifts for firefighters to suit various tastes, needs, and preferences. Whether you're shopping for a seasoned firefighter, a rookie just starting out, or a firefighter's family member looking to express gratitude, you'll find something here to ignite their joy:
Practical Gear. Explore a range of essential firefighting gear and tools that make their job safer and more efficient. With these gifts, make sure you know your firefighter well and have some technical knowledge, otherwise you might get them something they can't realistically use.
Personalized Keepsakes. Discover personalized items that carry sentimental value, from custom-made plaques to engraved jewelry.
Comfort and Relaxation. Firefighters work grueling shifts, so you can also opt for gifts that promote relaxation and self-care. If you're not sure which gifts for firefighters to get, relaxation gifts are always a good place to start – everyone loves comfort!
Inspiration and Motivation. Show your support with inspirational books, posters, and mementos that remind them of their incredible impact.
Fun and Unique. For a touch of lightheartedness, I've added fun and unique gifts that reflect the firefighter spirit.
Best Gifts For Firefighters
Firefighters put their lives on the line every day, facing unimaginable challenges. They deserve our support, and these gifts are a tangible way to express it! When you choose a gift from our list, you're not only bringing joy to a firefighter's life but also recognizing the sacrifices they make for our communities.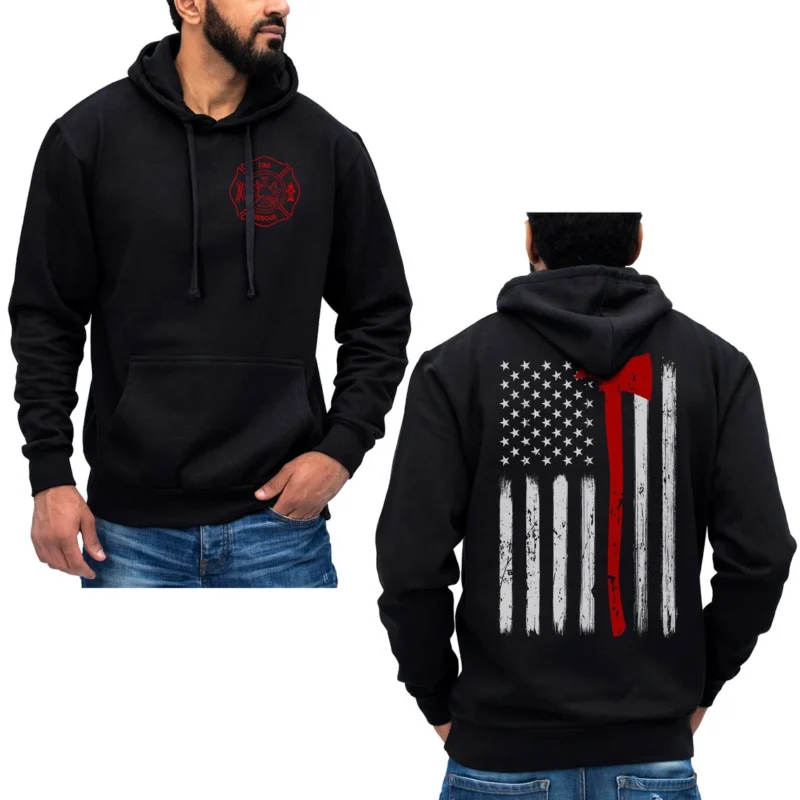 This striking hoodie, adorned with the Thin Red Line and an inspired flag design, symbolizes the unwavering dedication of firefighters. It's more than just a piece of clothing; it's a gift for firefighters that they can proudly wear in their daily lives, thanks to your thoughtful choice.
As firefighters stand as the final barrier against peril, this hoodie is a tribute to their courage and a meaningful firefighter gift for him. The design is simple yet impactful, showing your appreciation for their heroic efforts. The addition of the axe motif pays homage to the essential tools they use, embodying their commitment to safeguarding lives with precision and care. Plus, as the cooler seasons draw near, this hoodie offers the perfect way for them to stay warm, making it one of the most practical gifts for firefighters.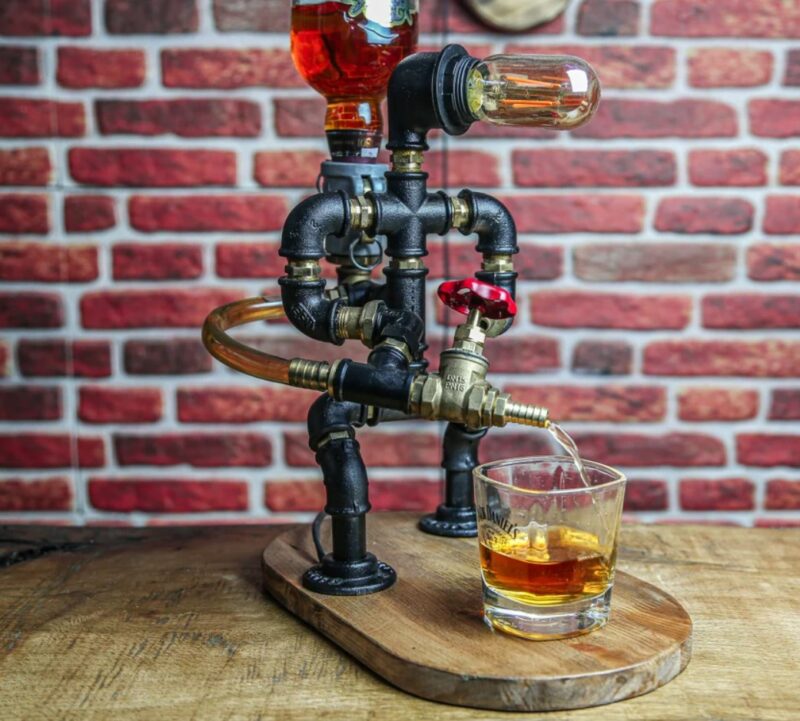 At the end of a taxing and intense day, what a firefighter may desire most is the chance to unwind with a hearty glass of their preferred beverage. Given the high-stress nature of firefighting, with its physically and emotionally demanding scenarios, a liquor dispenser emerges as an ideal gift for firefighters, offering a convenient means to relax post-shift.
The strong sense of camaraderie that exists within the firefighting community is a crucial part of their profession. Firefighters often develop deep connections with their peers, and sharing a drink can be a delightful way to bond and engage in lighthearted socialization. A finely made liquor dispenser, like this one, is not just a gift for firefighters; it's a centerpiece for social gatherings, promoting unity and strengthening ties among colleagues. This makes it an excellent choice among firefighter gifts for him, fostering community spirit and providing a relaxing respite from their demanding roles.
36. Fire Rescue Wooden Wall Art Décor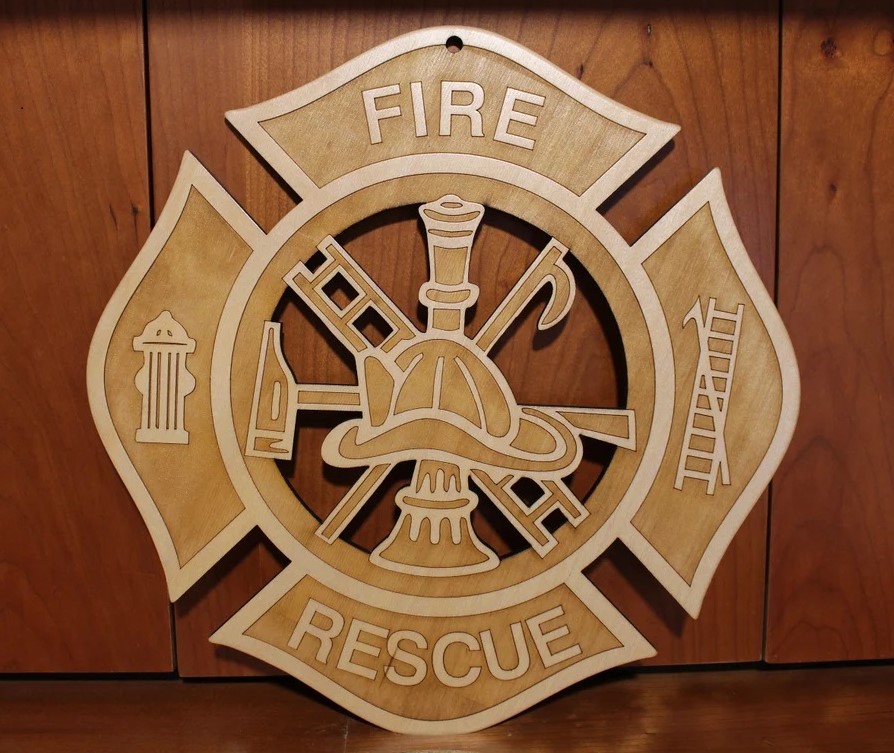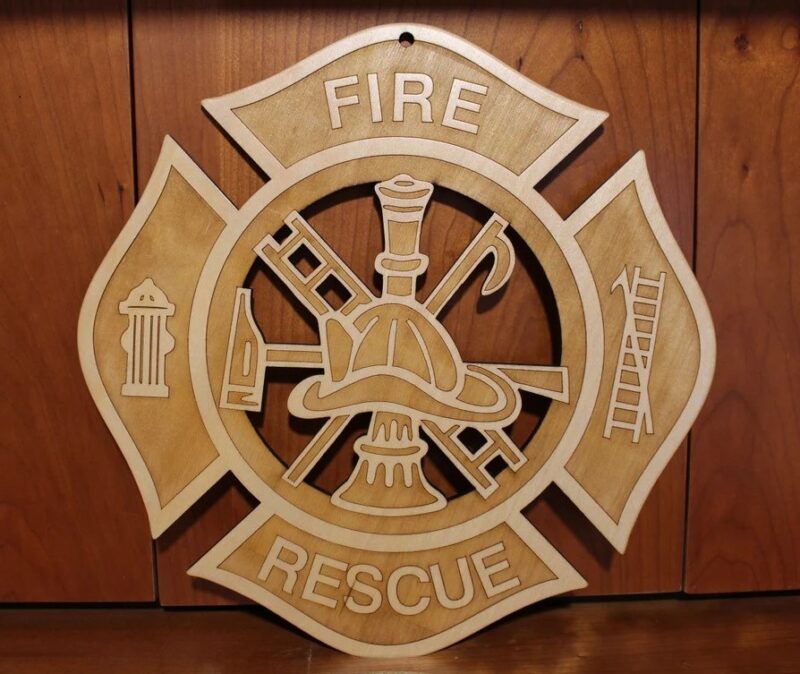 Firefighters often face formidable challenges, and this artwork acknowledges their bravery and dedication! Reminding them that their sacrifices do not go unnoticed. Plus, this would make such cute decor for their homes or their office! They'll have something to look at and be reminded that they are well appreciated.
Beyond its symbolism, the wooden wall art décor itself possesses an inherent charm. It adds a touch of rustic elegance to any living space. Whether it's displayed in a firefighter's home, office, or even the firehouse, it enhances the ambiance of the surroundings and creates a visually appealing focal point. Its timeless and classic design ensures that it complements various interior styles, making it a versatile choice for décor.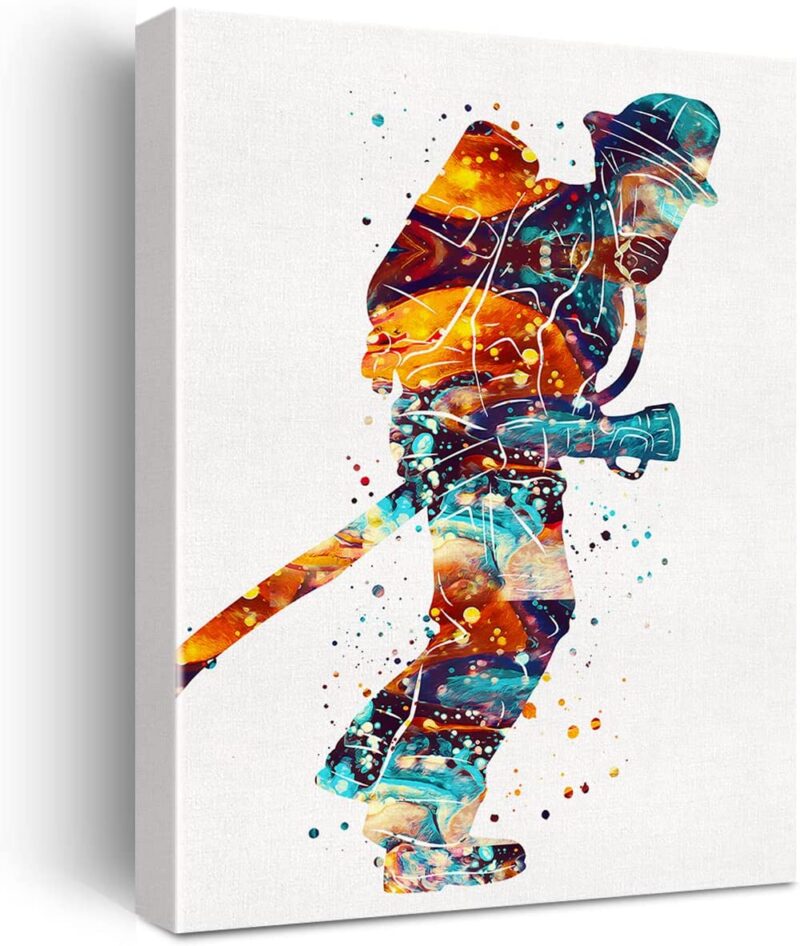 The Watercolor Firefighter Canvas Wall Art stands out as a beautifully meaningful and unique gift for firefighters. This piece, with its watercolor portrayal of a firefighter in the midst of duty, is a vibrant homage to their courage and unwavering commitment. It captures the very spirit of their profession, acting as a continuous reminder of the crucial role they play in protecting the community.
Beyond its aesthetic appeal, this Watercolor Firefighter Canvas Wall Art also acts as a beacon of inspiration and motivation for firefighters. It serves as a poignant reminder of their vital mission and the significant impact they have on the lives they safeguard. In times of hardship, this artwork can provide encouragement, urging them to persist in their noble service with enduring zeal and dedication. This artwork isn't just a gift for firefighters; it's a fusion of artistic expression and meaningful symbolism, making it an ideal choice among firefighter gifts for him. It's not only a decorative element but also a piece that expresses profound appreciation and respect.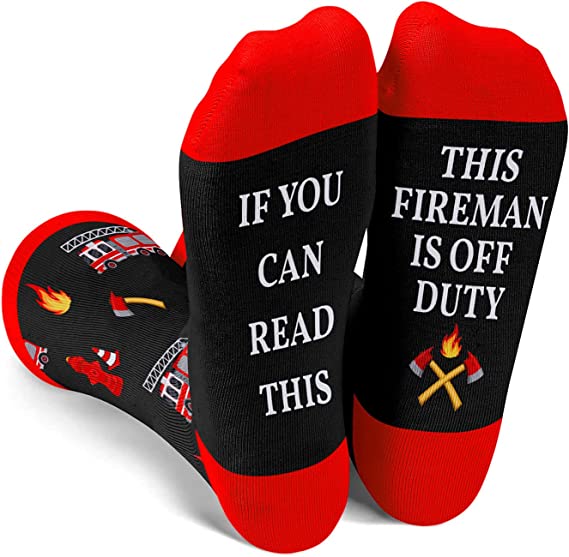 If you like the idea of novelty gifts then you'll surely want to consider this funny set of socks for the firefighter in your life!
Humor and light-heartedness play an essential role in a firefighter's life. The nature of their job often involves intense and challenging situations. A pair of socks with a playful message like "This Fireman Is Off-Duty" adds a touch of humor to their daily routine. It provides a moment of levity after demanding shifts. Plus, it reminds them to embrace downtime and relish the moments when they are not actively on duty.
Practicality is another key factor why this is a great gift for your favorite firefighter. Socks are a universal necessity, and firefighters often spend long hours on their feet. High-quality socks provide comfort and support, making them highly functional for a profession that requires constant readiness and rapid response. These socks not only serve as a fun accessory but also offer real comfort during their downtime!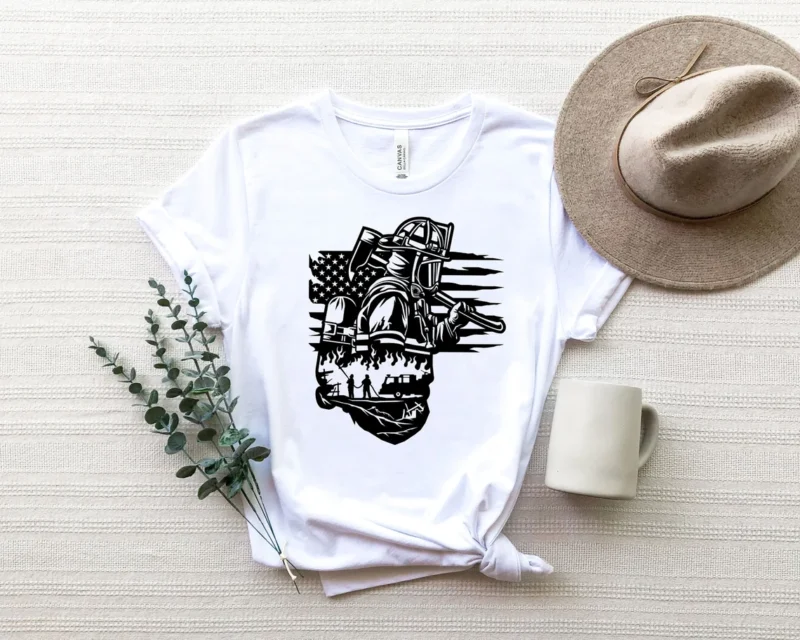 A simple gift that will never disappoint is a shirt for the firefighter in your life. Firefighters take immense pride in their profession and the vital role they play in protecting their communities. A firefighter shirt, adorned with the emblem or insignia of their fire department or a relevant firefighting design, can serve as a reminder of their commitment and dedication. It's a wearable badge of honor!
Personalization options add an extra layer of thoughtfulness as well. Customizing the shirt with the firefighter's name, badge number, or a heartfelt message makes it a unique and meaningful keepsake.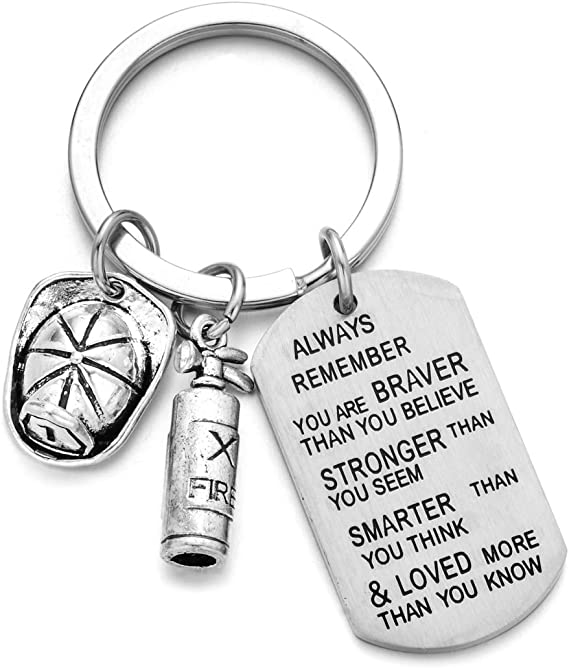 If you're looking for something handy that firefighters can carry everyday, a keychain is your best bet! Not only is this a novelty gift that you can personalize depending on your firefighter's personality, but engraved with a meaningful message or image, it can serve as a daily affirmation of their vital role in saving lives and property. It provides a boost of encouragement as they embark on their daily responsibilities, reminding them of the impact they have on their community.
The gift's compact size and portability are also noteworthy. A keychain is a small but meaningful accessory that can be carried with them wherever they go. Whether it's attached to their work keys, personal keys, or even a backpack or a gear bag. It's a constant reminder of their dedication and a subtle way to express appreciation for their service.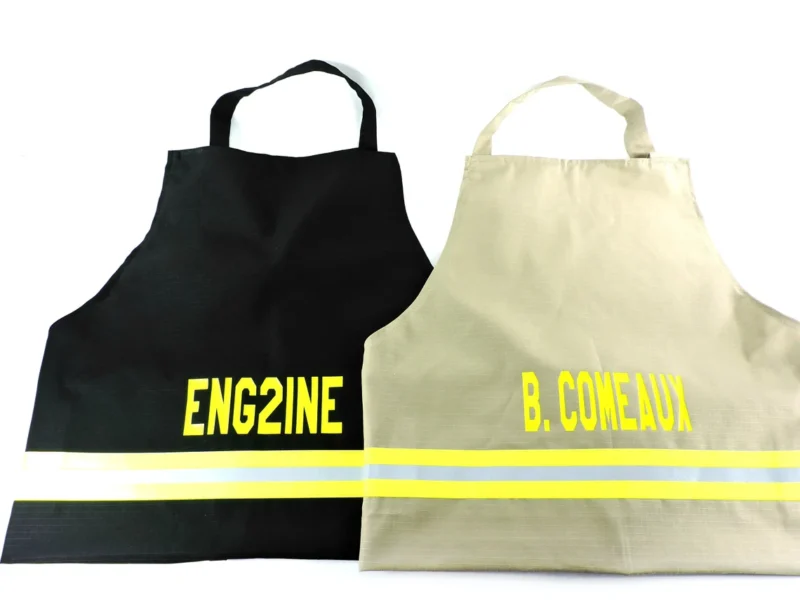 A Personalized Apron serves as a fantastic gift choice for firefighters, offering several meaningful reasons why it makes an excellent and thoughtful present. Moreover, personalization adds a heartfelt touch to the apron. Printing the firefighter's name on the apron makes it a unique and cherished item!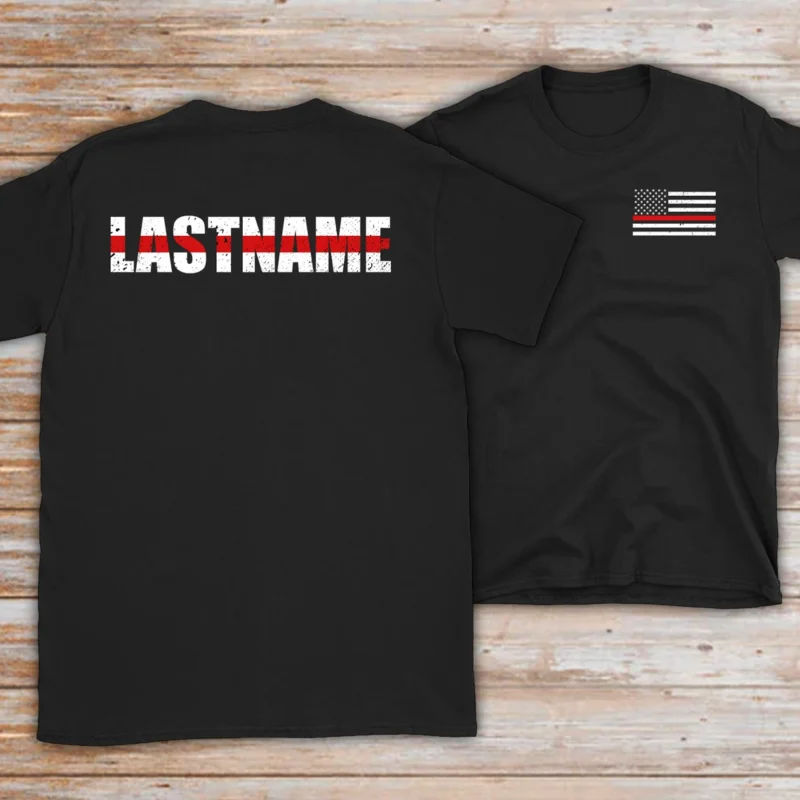 Did you know that the "Thin Red Line" is a symbol used by fire departments to show respect for firefighters injured and killed in the line of duty? It represents the courage and dedication of firefighters who stand as the barrier between danger and safety. A custom shirt featuring this emblem acknowledges their unwavering commitment and the sacrifices they make. It is a powerful visual tribute that shows appreciation for their crucial role in protecting lives and property.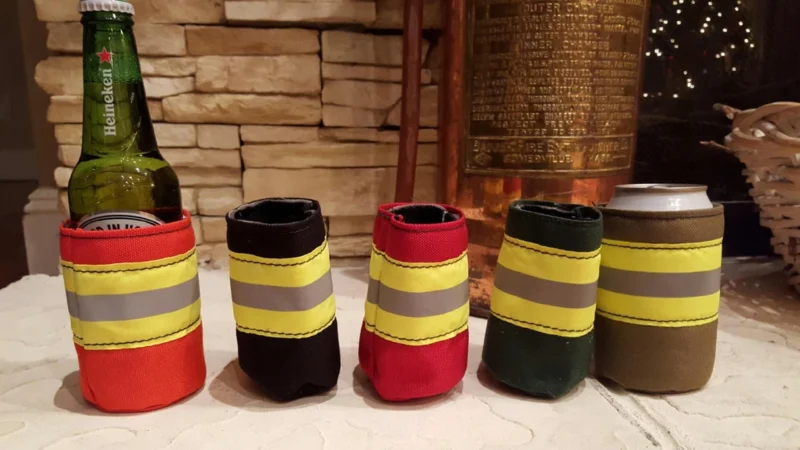 These adorable bottle coolers with their own firefighter uniform designs look so cute! I have yet to meet a firefighter who doesn't love to unwind with a cool drink so this will be such a great gift that they will surely appreciate! This cooler provides a practical solution for keeping beverages cool during these social occasions. Whether it's used at a barbecue, a picnic, or simply relaxing at home, it ensures that firefighters can enjoy a refreshing drink without worrying about it getting warm.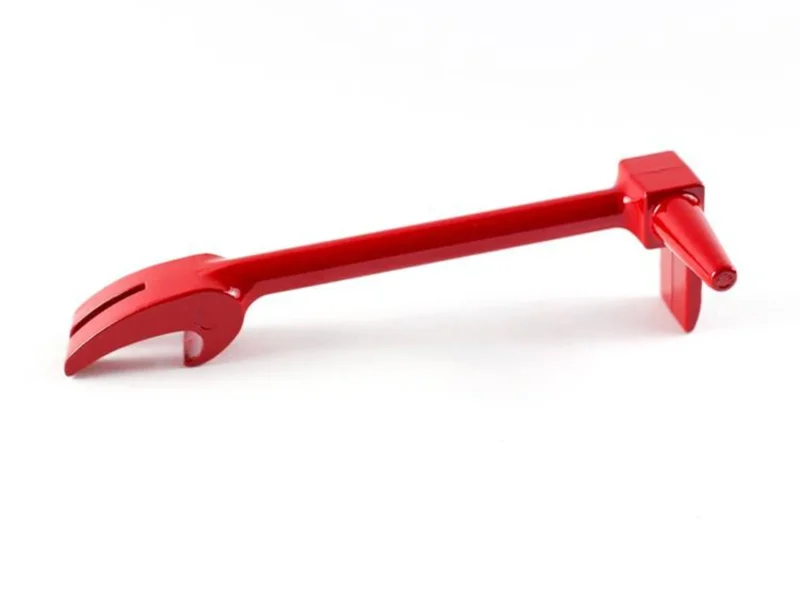 A practical gift with a novelty charm, this Red Halligan Bottle Opener would look perfect with other novelty gifts for the firefighter in your life. It pays tribute to one of the most iconic tools in a firefighter's arsenal, the Halligan bar. The Halligan bar is a versatile and indispensable tool used by firefighters for forcible entry, making it an emblematic symbol of their profession. The Red Halligan Bottle Opener not only resembles this essential tool but also carries its spirit of resilience and adaptability!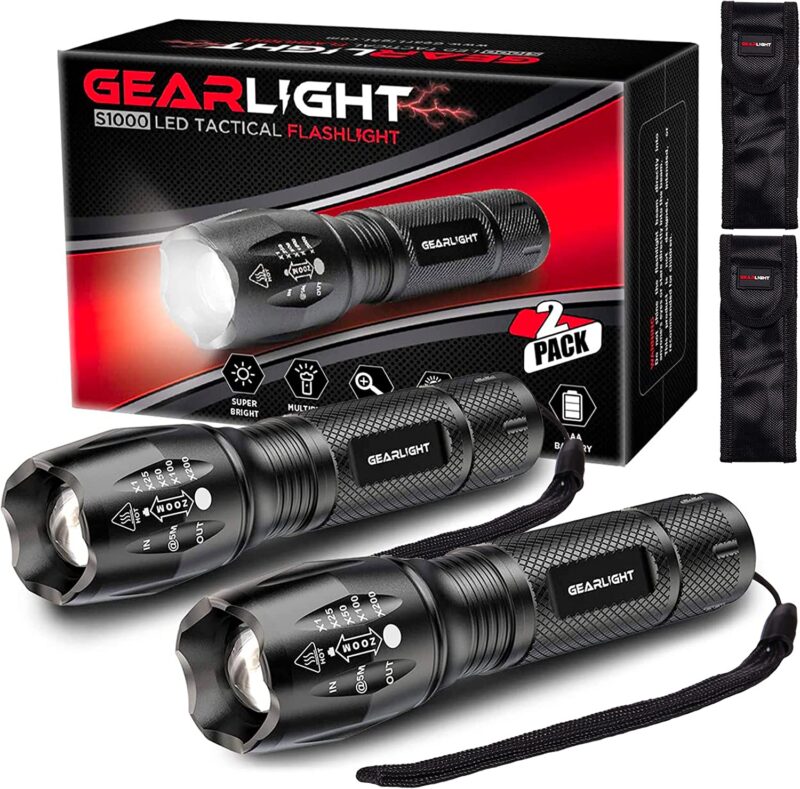 If you're looking for essential tools you can give to the firefighter in your life, these Zoomable Tactical Flashlights are a cool gift to consider! Firefighters often work in low-light or dark environments, making a reliable flashlight an indispensable tool. A zoomable tactical flashlight provides a powerful beam of light that can be adjusted for different lighting needs. It enables firefighters to illuminate their surroundings effectively during search and rescue operations, providing clarity in high-stress situations where every second counts!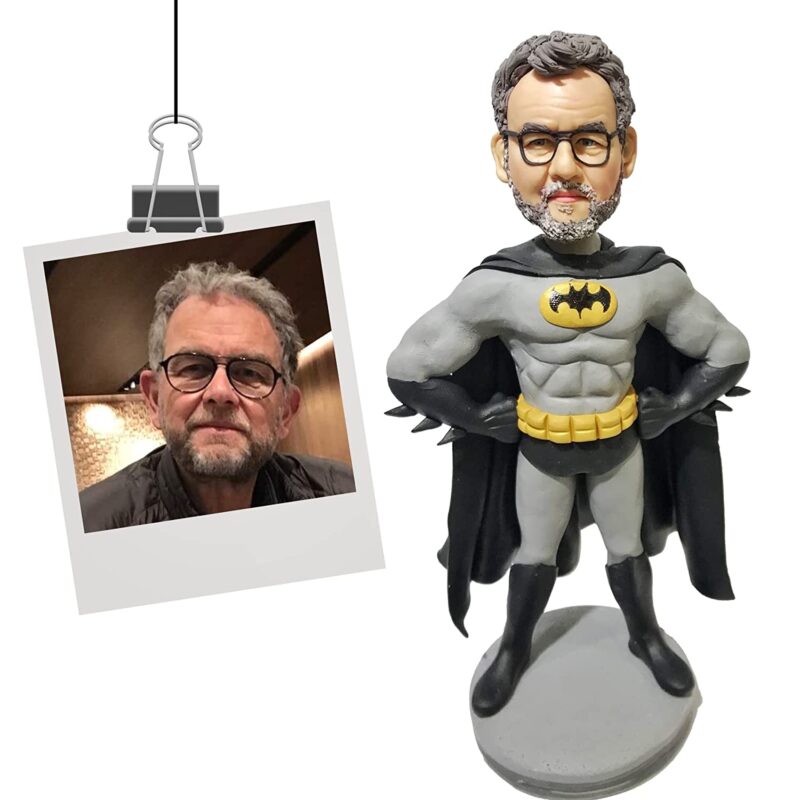 A playful and whimsical representation of the firefighter's identity, the bobbing head adds a touch of humor and lightheartedness to their lives! They can put it as a centrepiece for their mantles, a novelty decor for their bedrooms, or a display in their offices.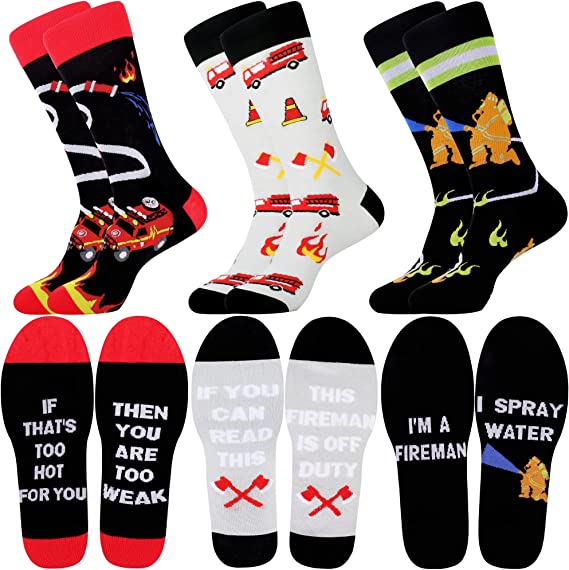 These socks provide a practical and often much-needed accessory for firefighters. While their profession is demanding and serious, they also appreciate moments of levity and comfort. Novelty socks offer a fun and playful way to keep their feet warm and comfortable during their downtime. Whether they're relaxing at home or spending time with family and friends. The quirky and colorful designs add a touch of personality to their attire. This makes the socks both practical and enjoyable to wear.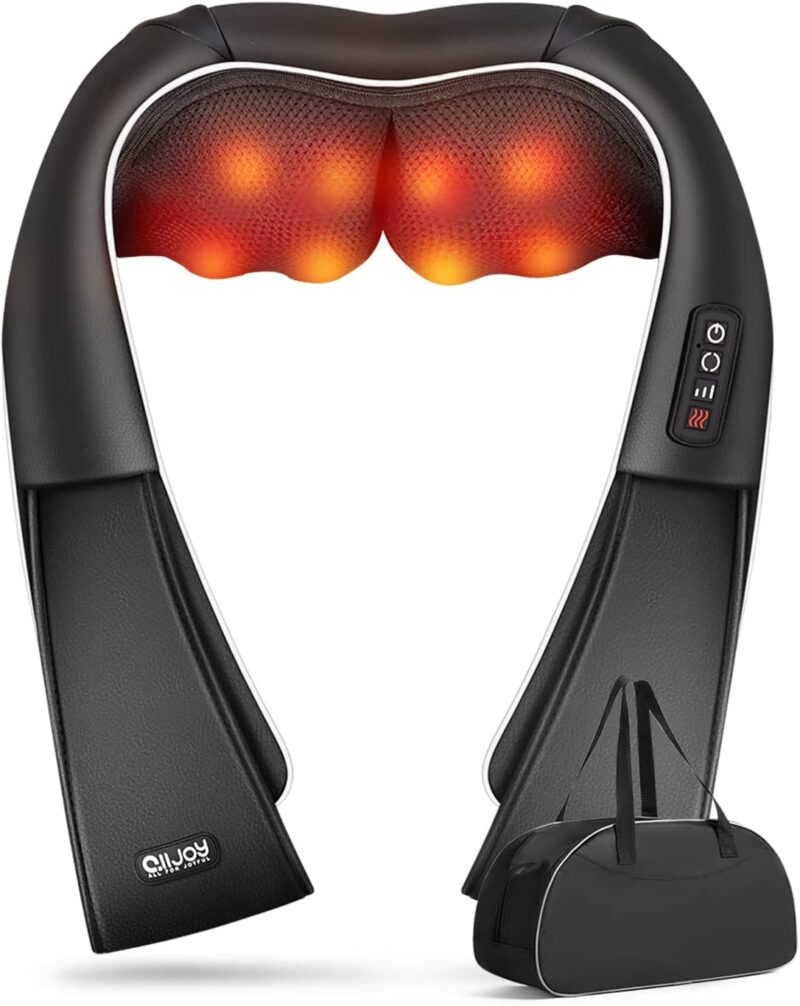 If there's one gift that all types of people would love to receive, it's the Shiatsu Back and Neck Massager! Firefighting can take a toll on the body, leading to muscle tension and fatigue. A Shiatsu massager provides relief by offering a deep and soothing massage experience. It targets specific areas of the back and neck, where firefighters frequently experience discomfort.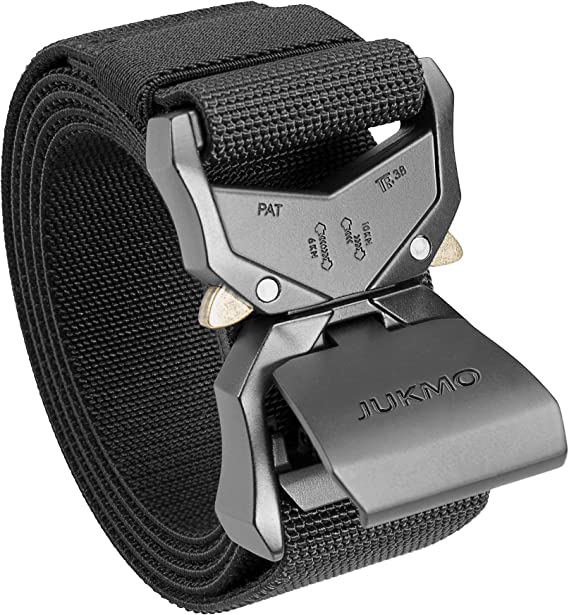 A Tactical Belt is an excellent gift for firefighters due to its practicality and versatility, both of which align with the demands of their profession. Firefighters often carry a significant amount of gear and equipment during their shifts. A tactical belt provides a secure and organized way to carry essential tools and accessories. This ensures that they have quick and easy access to the items they need in the field.
Moreover, this practicality enhances their efficiency and effectiveness during emergencies, where every second counts. The belt's multiple compartments and attachment points allow firefighters to customize their gear setup to suit their specific needs!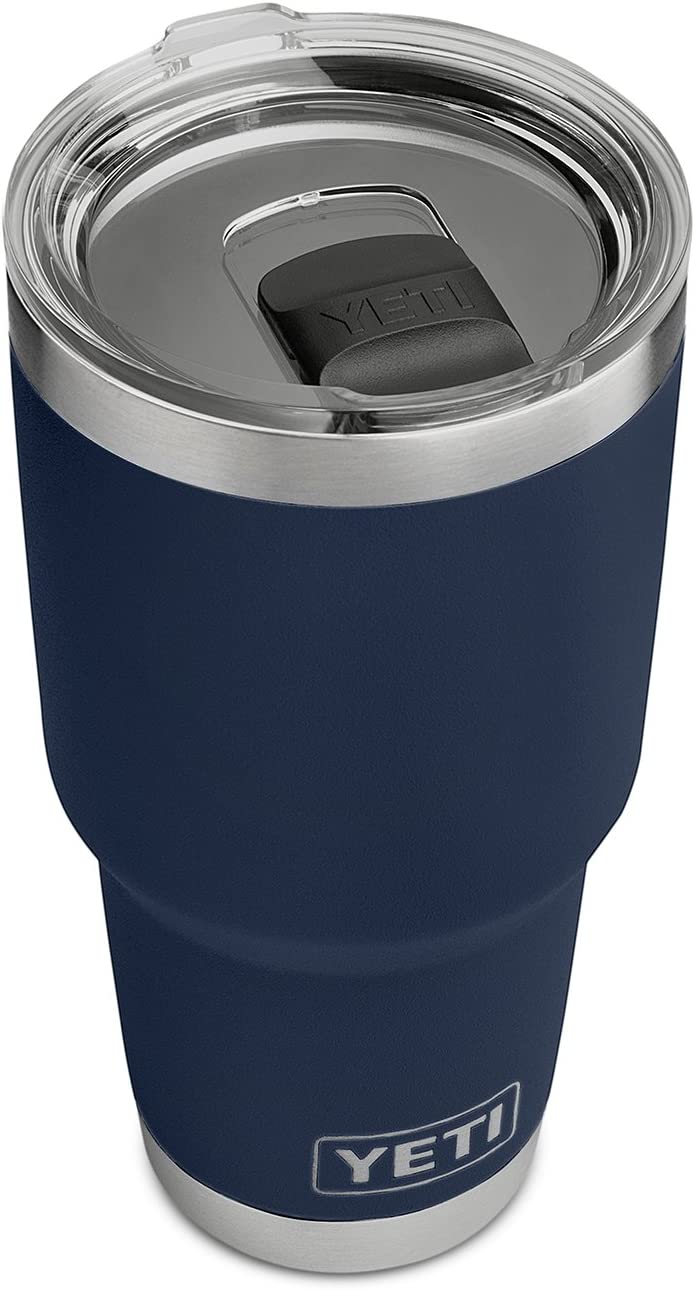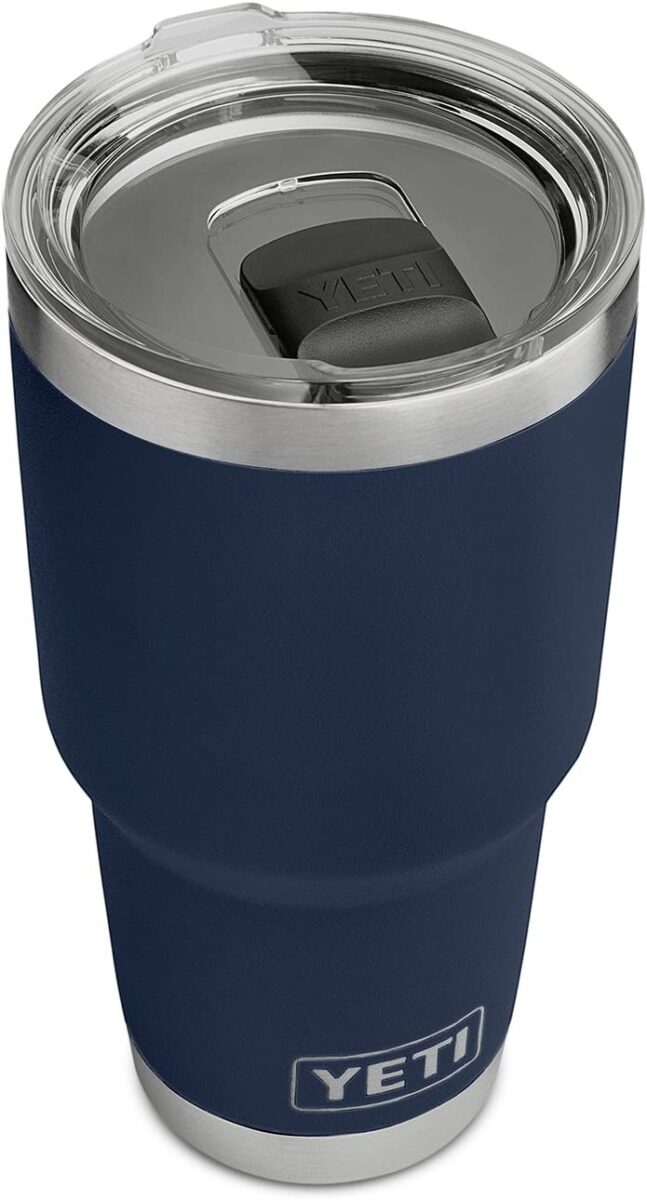 Looking at mugs and tumblers you can give to the firefighter in your life? Then I think YETI is a brand you should definitely look into! The YETI Rambler is built to withstand the toughest conditions. Making it a reliable companion for outdoor enthusiasts, travelers, and anyone who values a high-quality drinkware solution. Firefighters often work in demanding environments, and a YETI Rambler can handle the rigors of their profession. Overall, it's functional and dependable during their busy shifts!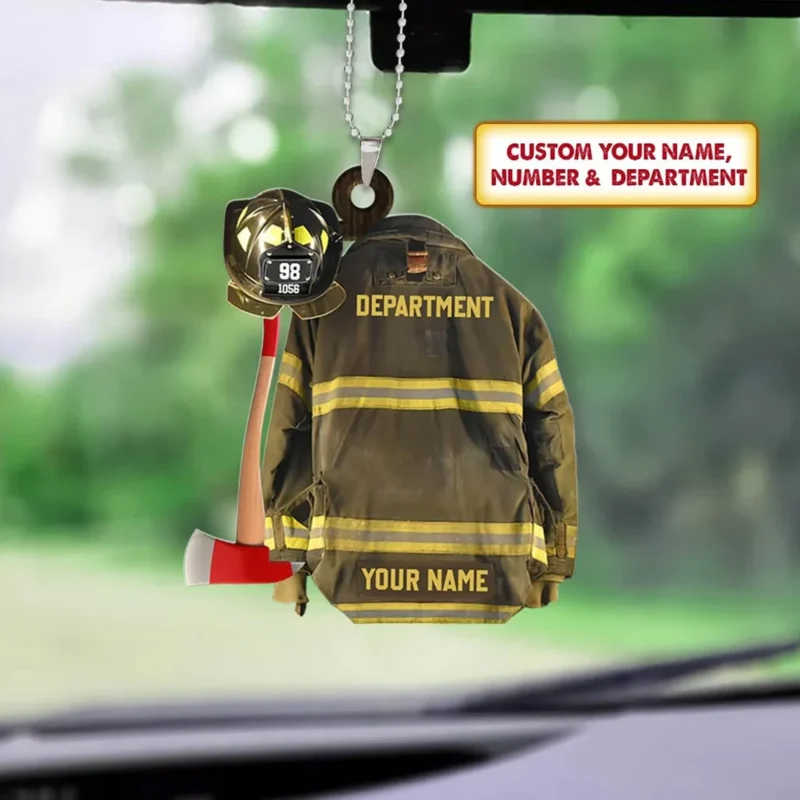 If you want to try something different from the usual keychains, this Custom Flat Acrylic Car Ornament might be the next best thing! Customized with a firefighter's name, uniform, or a meaningful message, it becomes a one-of-a-kind keepsake. This level of customization demonstrates thought and care in selecting the gift, making it a truly special and cherished item.
The ornament's lightweight and versatile design is also noteworthy. It can be easily hung on the rearview mirror, making it a subtle yet constant presence in the firefighter's vehicle. Its compact size makes sure it doesn't obstruct their view but rather adds a touch of personality to their car's interior.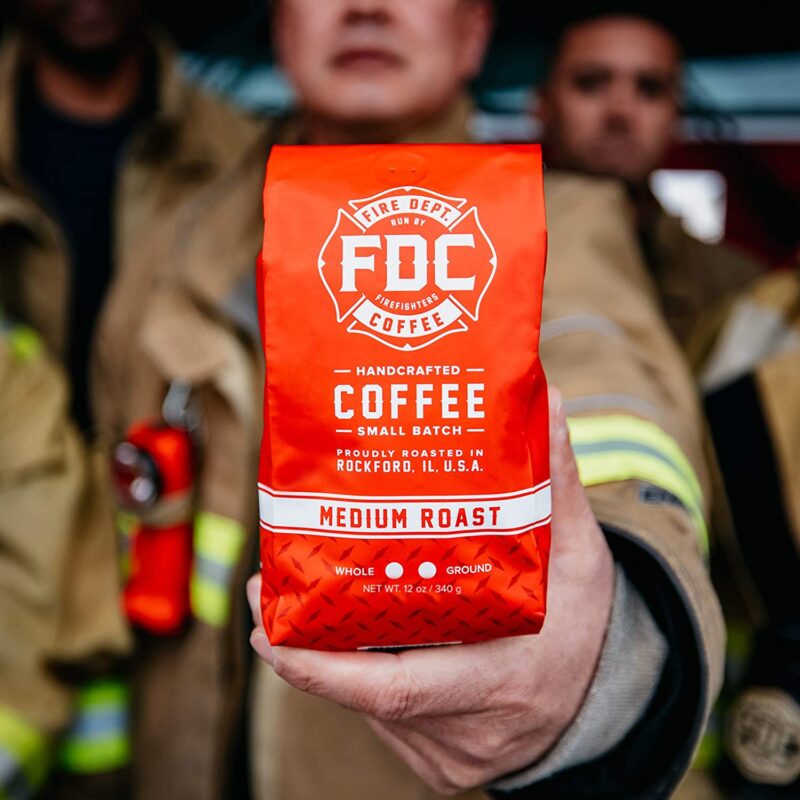 With their demanding schedules that require them to stay alert and focused during long shifts, Fire Department Coffee is a simple yet thoughtful gift to present to the firefighters in your life. They can also opt to share this gift with everyone in their station. Moreover, this coffee is specially crafted to help firefighters and other first responders stay awake and alert during their demanding duties, making it a practical and thoughtful gift that can genuinely improve their workday.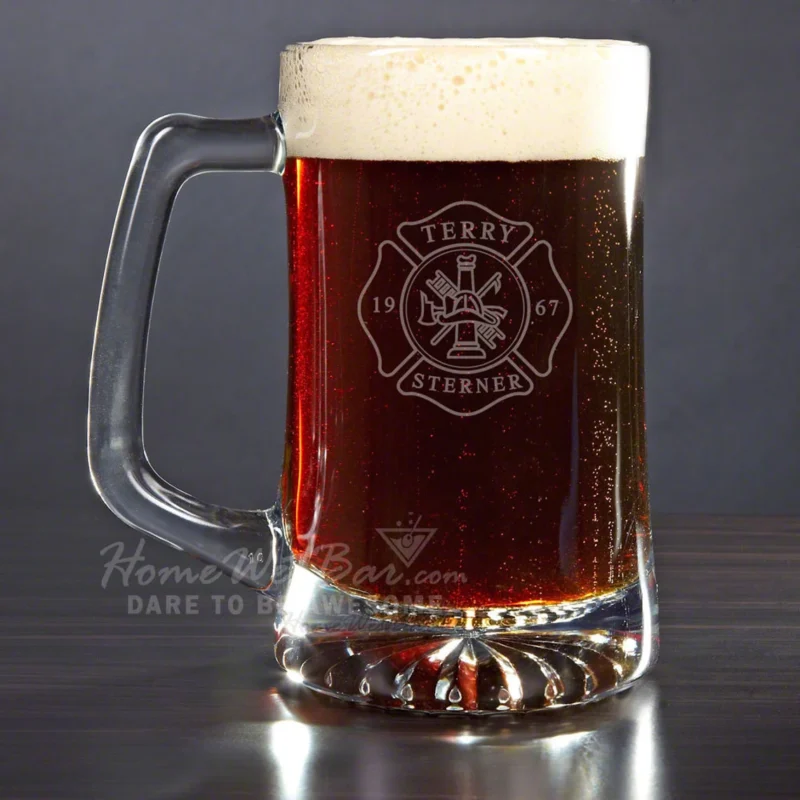 A Personalized Beer Mug is a fantastic gift choice! It offers a combination of uniqueness, sentimentality, and practicality. Personalization adds a heartfelt touch to the beer mug. Engraving the firefighter's name, a special message, or a meaningful date on the mug makes it a one-of-a-kind keepsake.
Furthermore, the mug's size and design can also provide an enjoyable drinking experience. The sturdy handle and generous capacity make it comfortable to hold, allowing firefighters to savor their beverages. Whether used during relaxed evenings at home or while socializing with friends and colleagues, the personalized beer mug adds an extra layer of enjoyment to their downtime.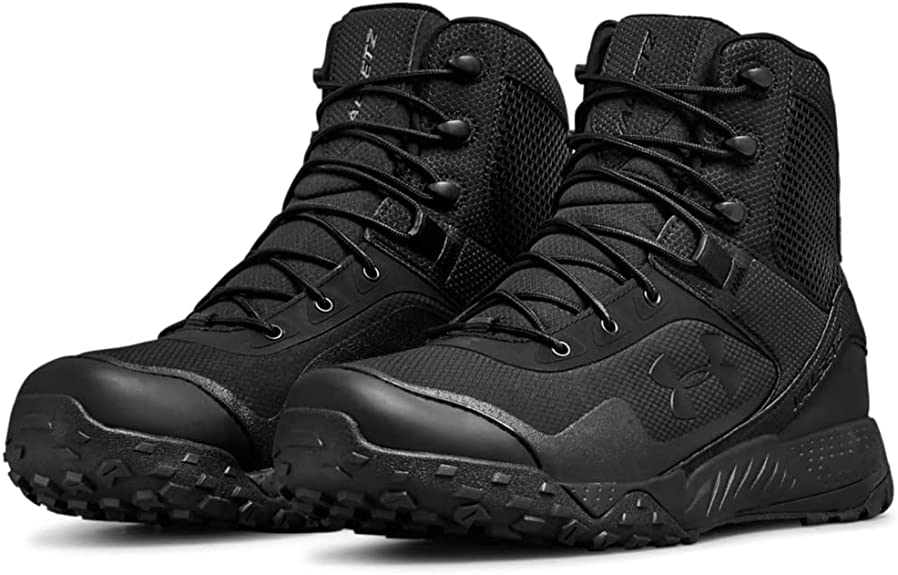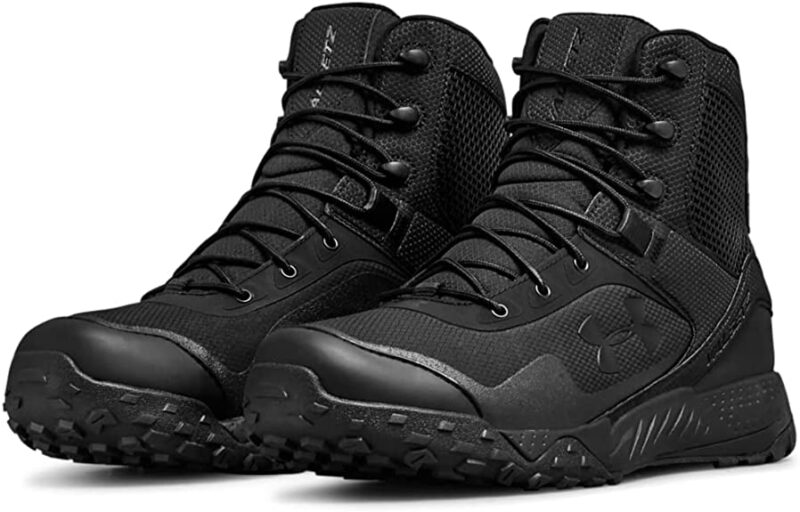 Renowned for its exceptional performance and reliability, the Under Armour Tactical Boot provides the necessary support and protection required for firefighters during their high-intensity duties. They are built to withstand harsh conditions, offering resistance to fire, water, and various elements. These boots not only protect the feet but also contribute to a firefighter's overall safety and effectiveness on the job.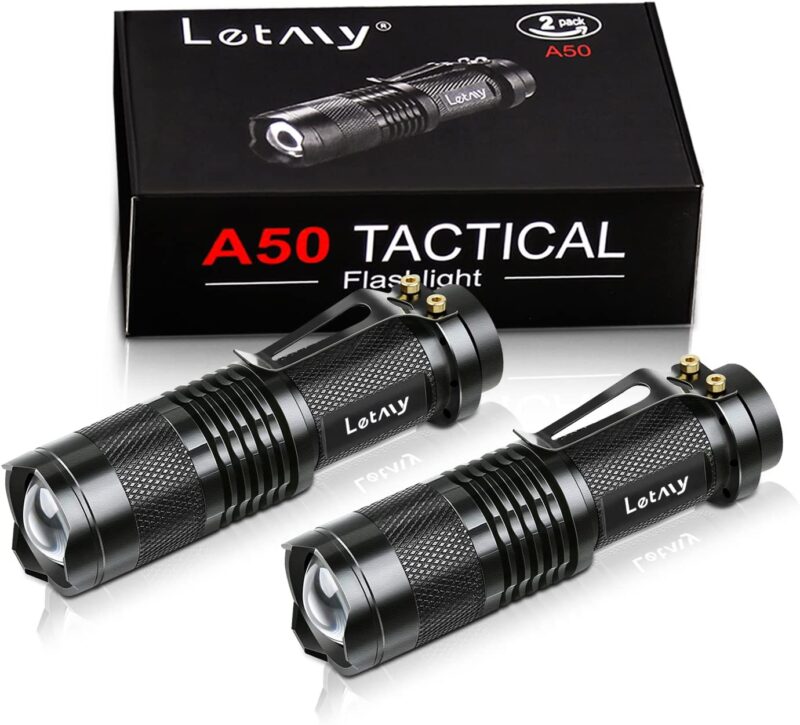 These compact flashlights are designed for ease of use and portability. Their small size and lightweight construction make them convenient to carry on a belt clip, ensuring that they are readily accessible whenever needed. Firefighters often face low-light or dark environments during their duties, and having a reliable source of light on hand is crucial for their safety and efficiency.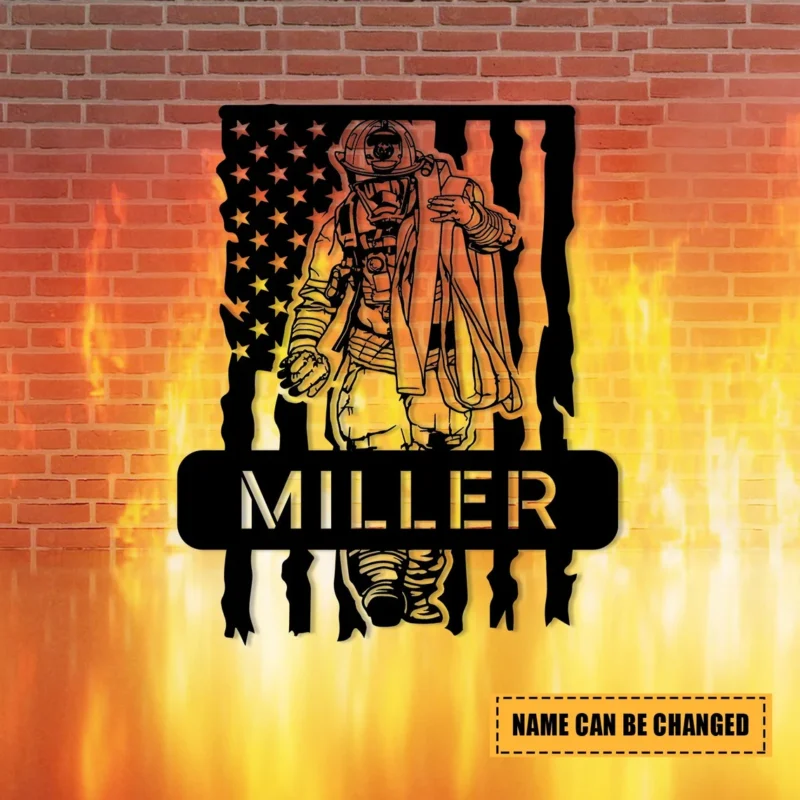 A Customized Name Fireman Metal Plaque is a meaningful and personalized gift choice that holds deep sentimental value and serves as a lasting tribute to the dedication and heroism of firefighters. Furthermore, the plaque can serve as a source of inspiration and motivation. Engraved with a meaningful message or image, it can serve as a daily reminder of the firefighter's vital role in saving lives and property.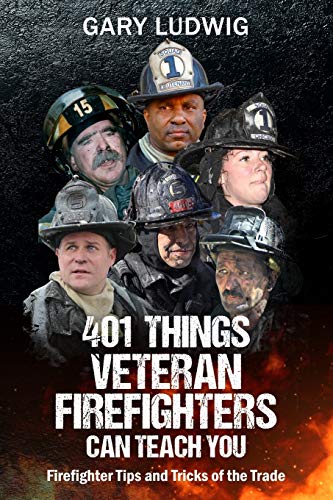 "401 Things Veteran Firefighters Can Teach You: Firefighter Tips and Tricks of the Trade Paperback" is an insightful resource for aspiring and experienced firefighters alike. It offers a treasure trove of practical knowledge, time-tested techniques, and invaluable tips that can only be gleaned from years of real-world experience. For newcomers to the field, it serves as a comprehensive guide. Providing a solid foundation of skills and understanding. For seasoned firefighters, it offers a wealth of nuanced insights and strategies to enhance their proficiency.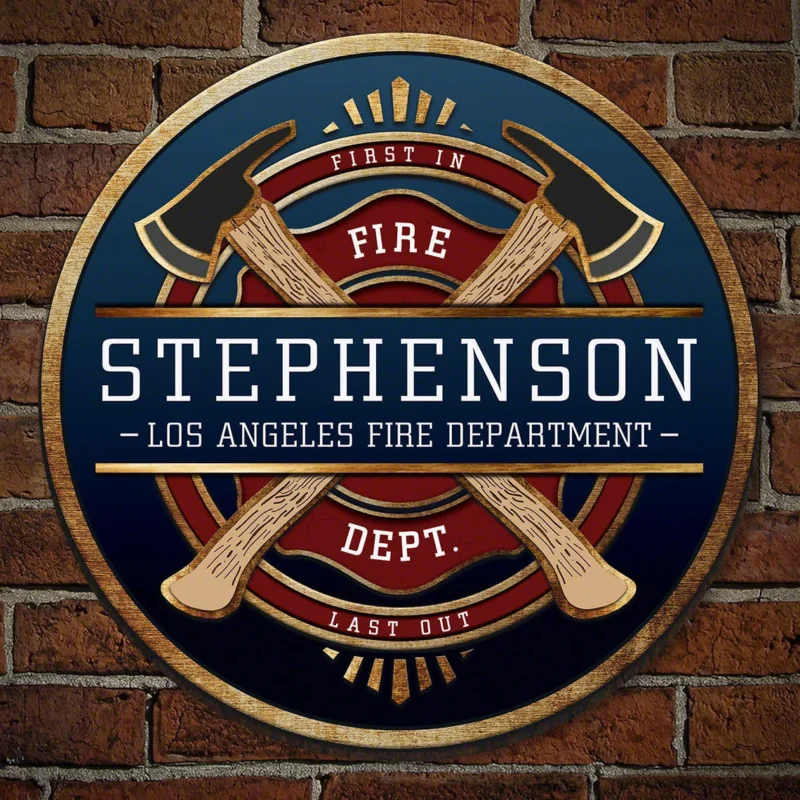 If you're looking for a heartfelt and meaningful gift choice, a Personalized Firefighter Brotherhood Sign embodies the spirit of camaraderie, unity, and dedication within the firefighting community. Displayed prominently, it becomes a visible reminder of the camaraderie and support that firefighters provide for one another!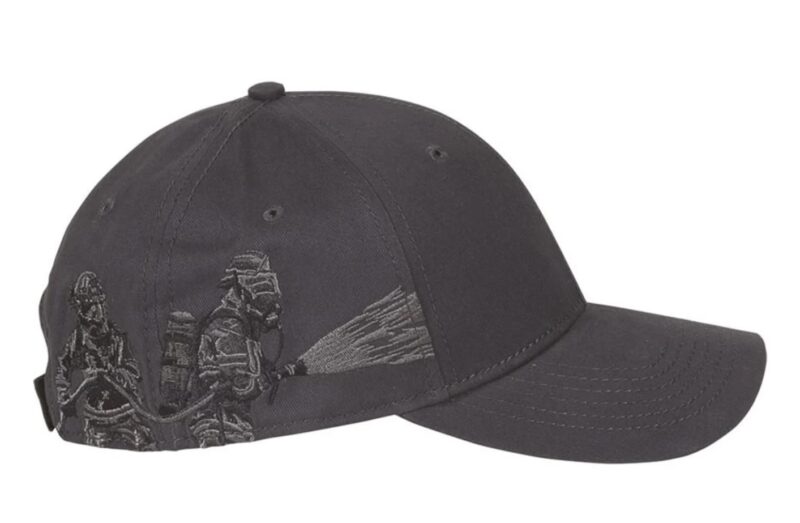 The cap's design captures the essence of a firefighter's dedication and courage. Often adorned with intricate and striking scenes that depict the challenges and triumphs of firefighting, it serves as a visual tribute to the brave men and women who put their lives on the line to protect their communities.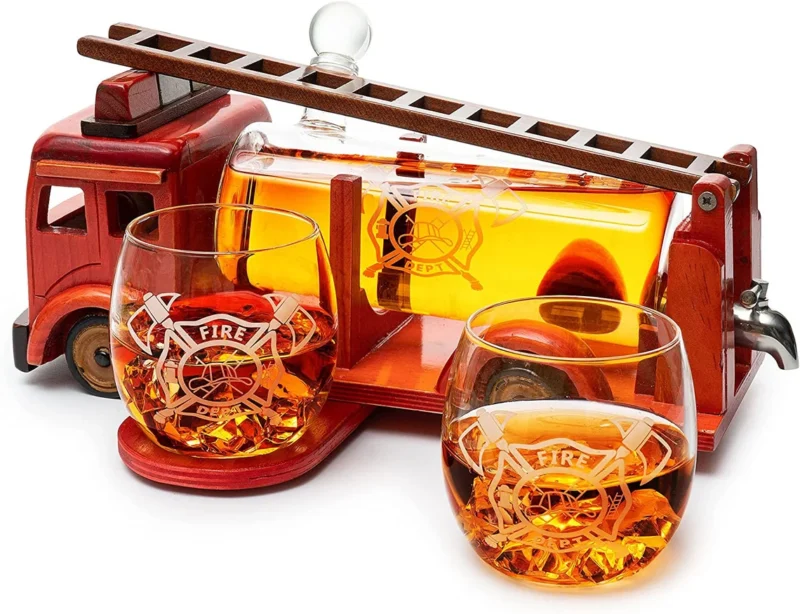 Probably one of the most unique novelty gifts you can give to the firefighter in your life is this Firetruck Whiskey Decanter! Shaped like a firetruck, it pays homage to our heroic firefighters. The unique design not only adds an element of aesthetics to any bar or liquor cabinet but it can also serve as a conversation starter for parties and get-togethers!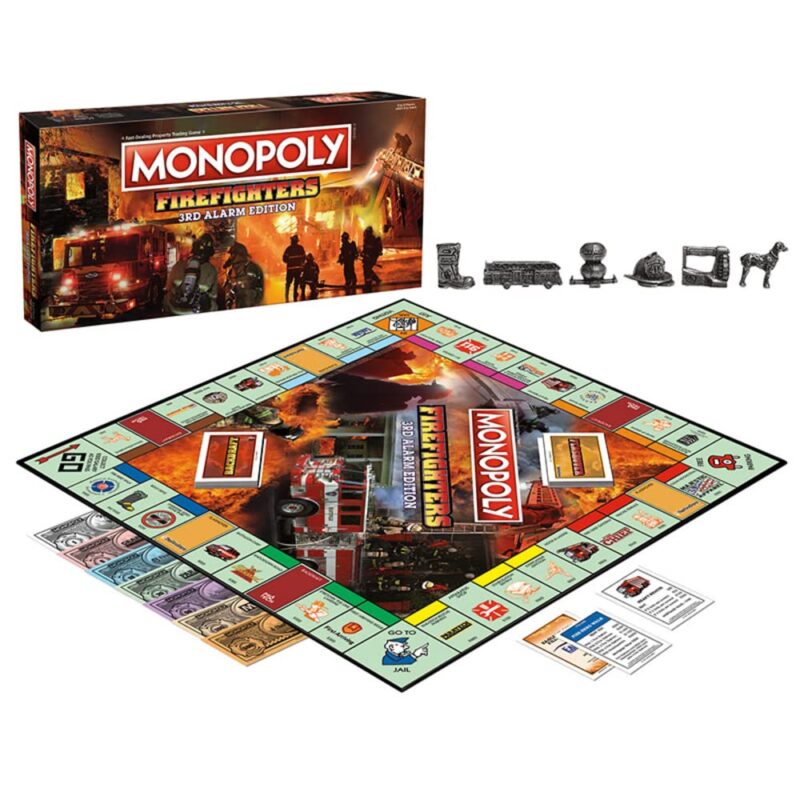 Who doesn't love Monopoly, am I right? It's such a family-friendly game that firefighters can play with their friends, family, or even fellow firefighters. But now, this classic game comes in this cute Firefighter edition!
This special edition of Monopoly offers a unique twist on the traditional game. It immerses players in the world of firefighting, allowing them to experience the challenges and excitement of the profession in a fun and interactive way. The game board, properties, and game pieces are all themed around firefighting, providing a fresh and captivating experience for players.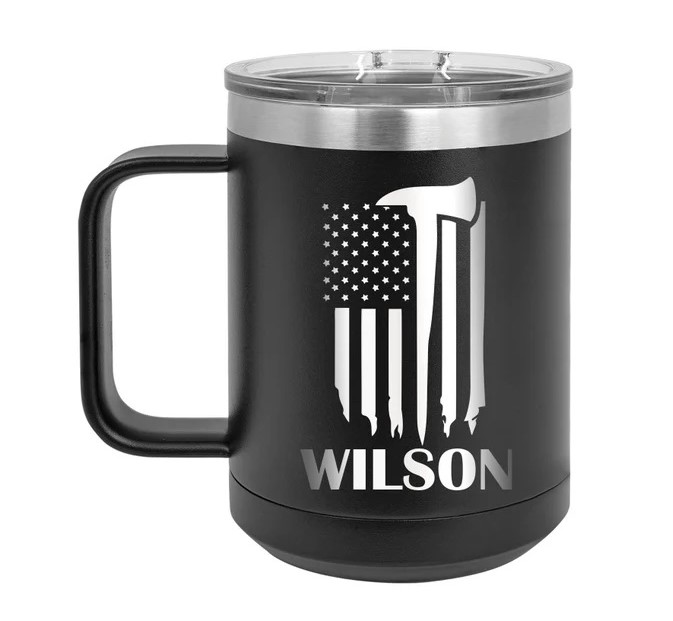 When it comes to classic gifts, you can never go wrong with a mug! It's a heartfelt, practical, and versatile gift. It reflects thoughtfulness and appreciation for the recipient's preferences while providing them with a unique and meaningful item that can be used and cherished daily.
Moreover, the insulated design of the coffee mug serves a practical purpose. It's designed to keep beverages at the desired temperature for an extended period. Whether it's a piping hot coffee or a refreshing iced beverage, the insulated mug ensures that the drink remains at the right temperature.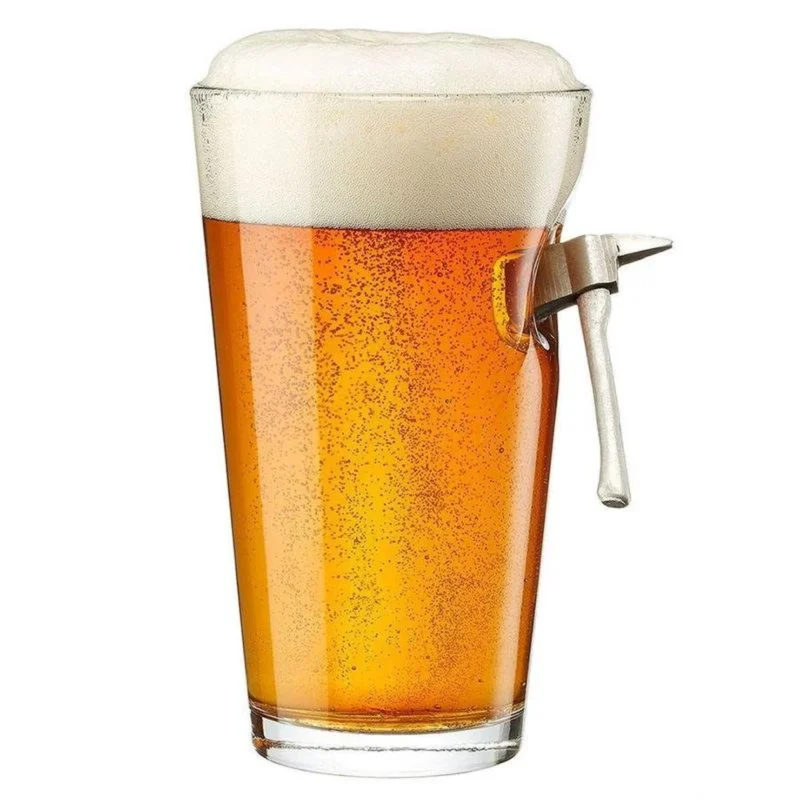 The BenShot Fire Axe Pint Glass is an extraordinary and memorable gift that marries craftsmanship, functionality, and a profound appreciation for the firefighting profession. Personally, I am obsessed with the pint glass' design. It's so cute and unique! The creative design adds a touch of artistry to anyone's glassware collection!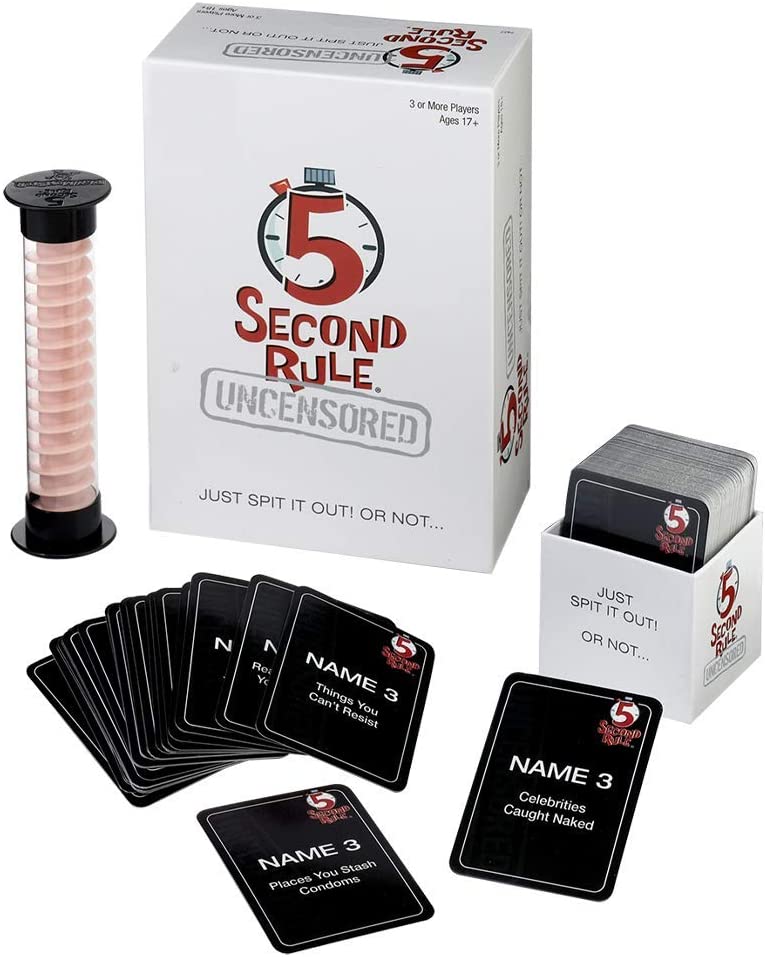 If you're looking for a fun drinking game to gift to your firefighters, this is it! The 5-Second Rule Uncensored Party Game is an uproarious and entertaining game. It promises laughter, quick thinking, and a memorable time for players of all ages.
This game puts a hilarious and unfiltered spin on the classic "5-Second Rule" concept. Players are challenged to come up with three answers to a simple question within five seconds. But in this uncensored version, there are no restrictions on what can be said! This uncensored twist adds an element of surprise, unpredictability, and often outrageous responses, leading to fits of laughter and plenty of memorable moments.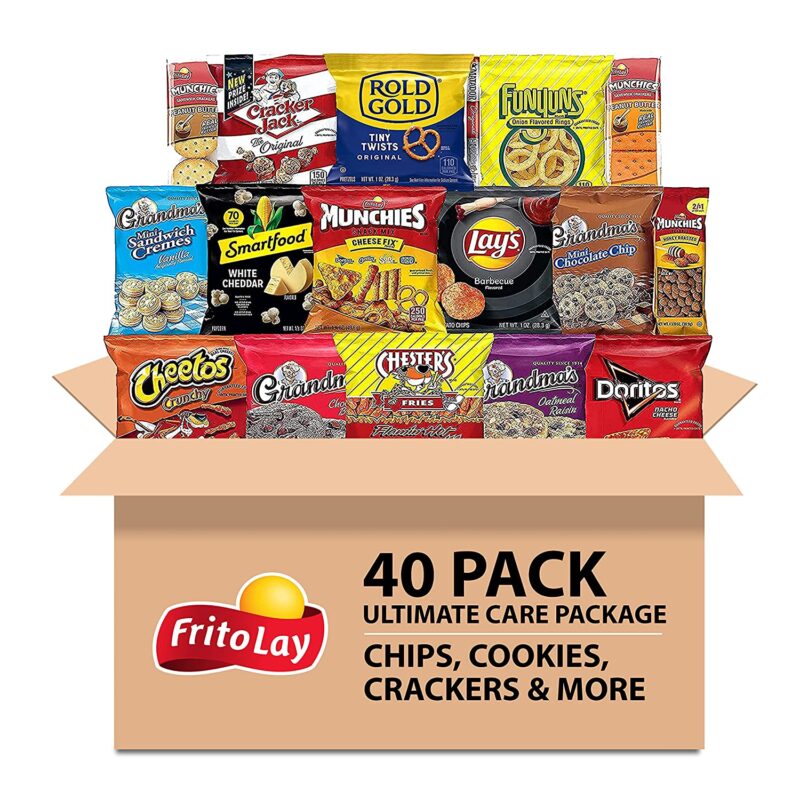 This Frito-Lay Ultimate Snack Care Package is such a thoughtful gift you can present to the firefighter in your life. As someone who feels peckish at the most random times of the day, this would be heaven-sent! From classic potato chips to savory pretzels and flavorful popcorn, they can get a diverse selection of treats that cater to different taste preferences. Additionally, It provides a hassle-free solution for satisfying those snack cravings whether at home, in the office, or on the go.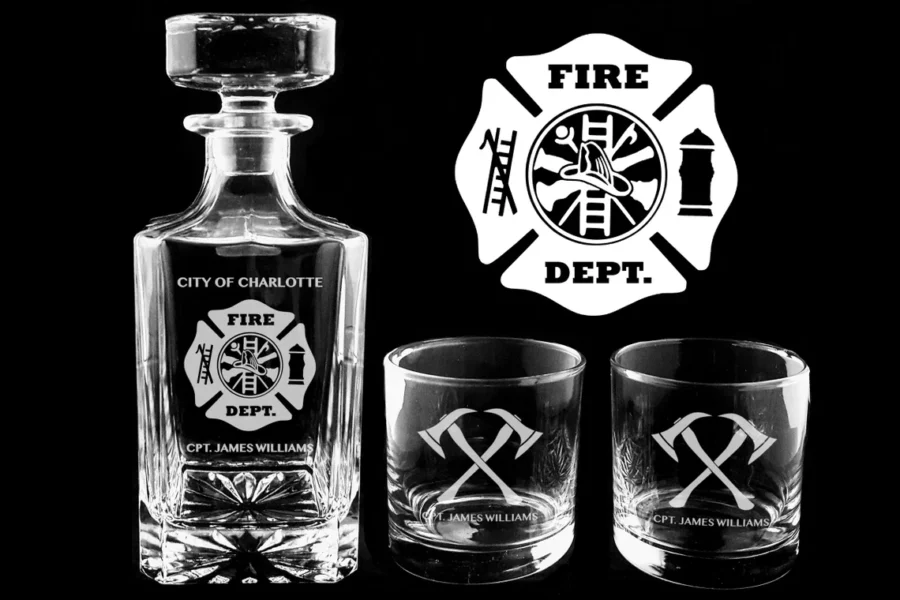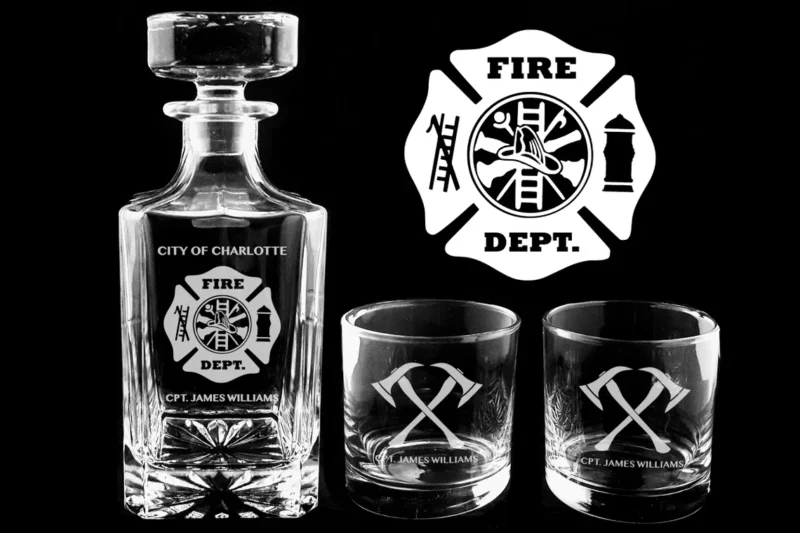 Take a look at this other decanter, a splendid choice when considering gifts for firefighters. Its design is not just about elegance; it also stands as a profound tribute to the valor and heroism inherent in the firefighting profession. This isn't just a gift for firefighters; it's a statement piece, adding a distinguished touch to their barware collection while honoring their courageous spirit.
The functionality of this decanter set is as impressive as its aesthetic. Meticulously crafted, it offers an elevated drinking experience, embodying both quality and precision. It's more than just a practical item; it's a gift that celebrates and respects the demanding nature of their work. This makes it an excellent option among firefighter gifts for him, blending sophistication with a deep acknowledgment of their bravery and dedication.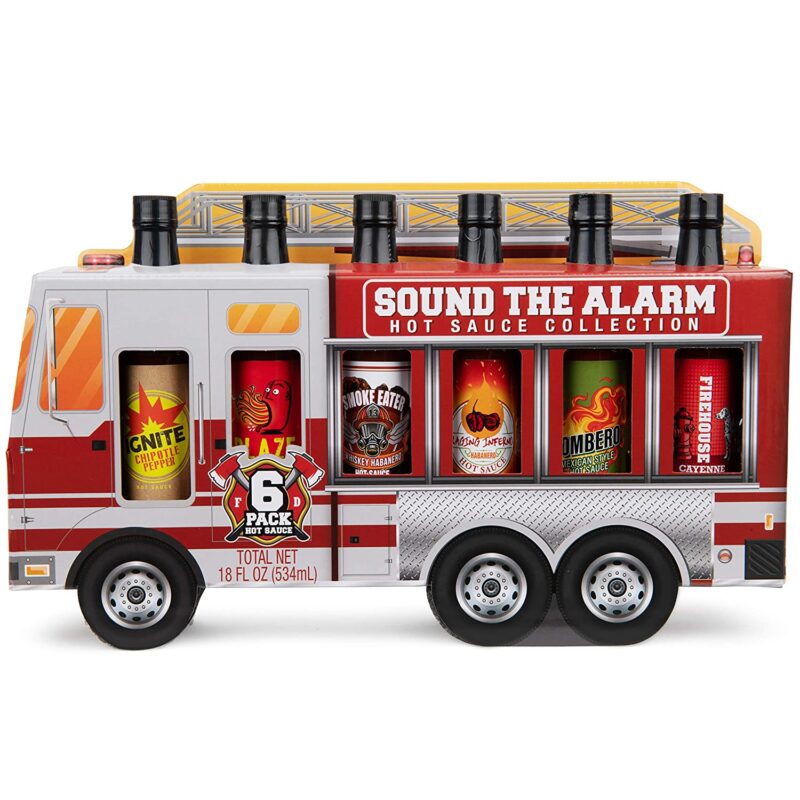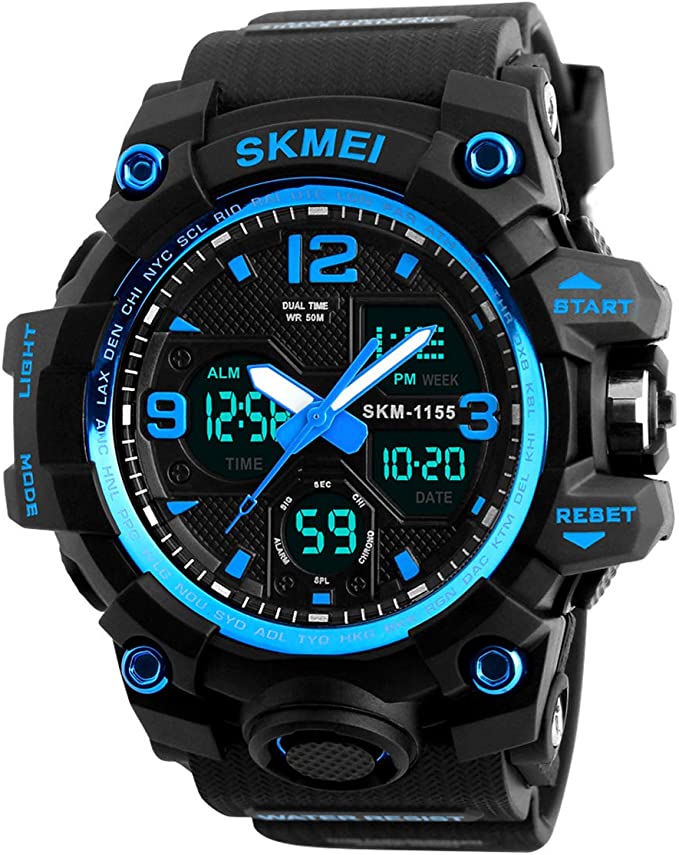 This Multifunction Casual Dual Display Wristwatch is a versatile, stylish, and functional accessory for any firefighter! Its multifunctional aspects extend beyond timekeeping. Moreover, many models offer additional features such as date displays, alarm functions, and stopwatch capabilities. These extra functions enhance the watch's utility, allowing wearers to use it as more than just a timekeeping device. It becomes a practical tool for managing schedules, timing activities, and staying organized.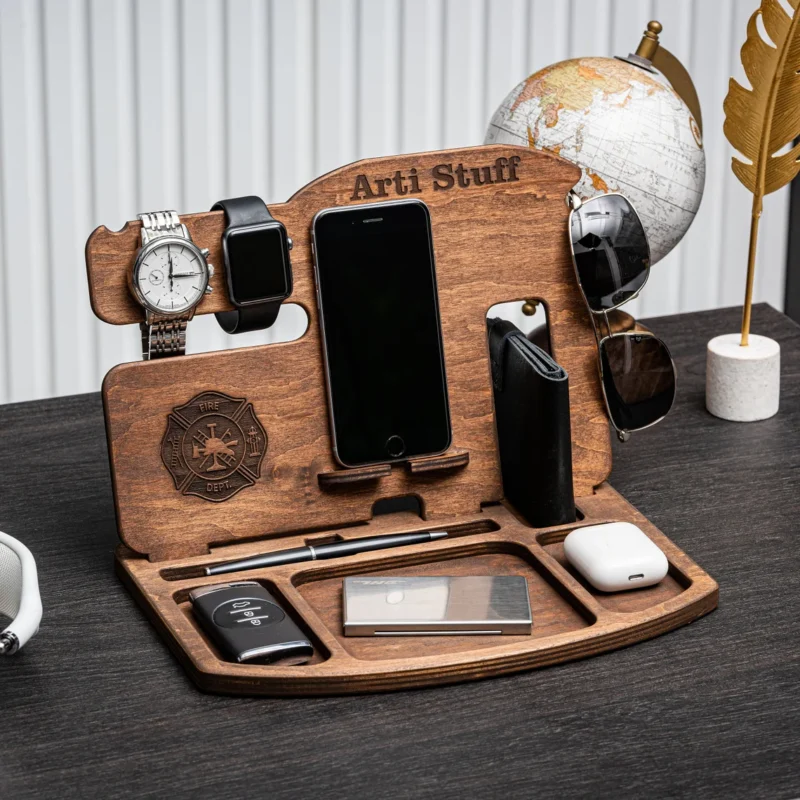 The Thin Red Line Wood Dock Station is a meaningful and practical gift a firefighter can receive. More importantly, the wooden dock station offers a dedicated space to organize and charge essential everyday items. This includes smartphones, watches, keys, and more. It promotes tidiness and efficiency by keeping these items neatly arranged and readily accessible. This functionality is particularly valuable for individuals who lead busy lives and need a convenient way to keep their essentials in one place.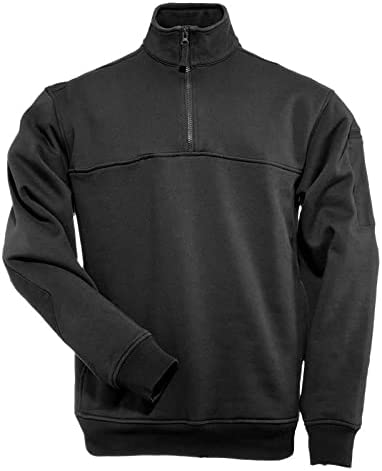 Designed with comfort in mind, this pullover features a blend of soft and durable materials that ensure a cozy fit. Whether worn during long shifts, outdoor activities, or everyday use, it provides the comfort needed for a wide range of situations. It also often includes a zippered front, making it easy to put on and take off quickly, especially in emergency situations.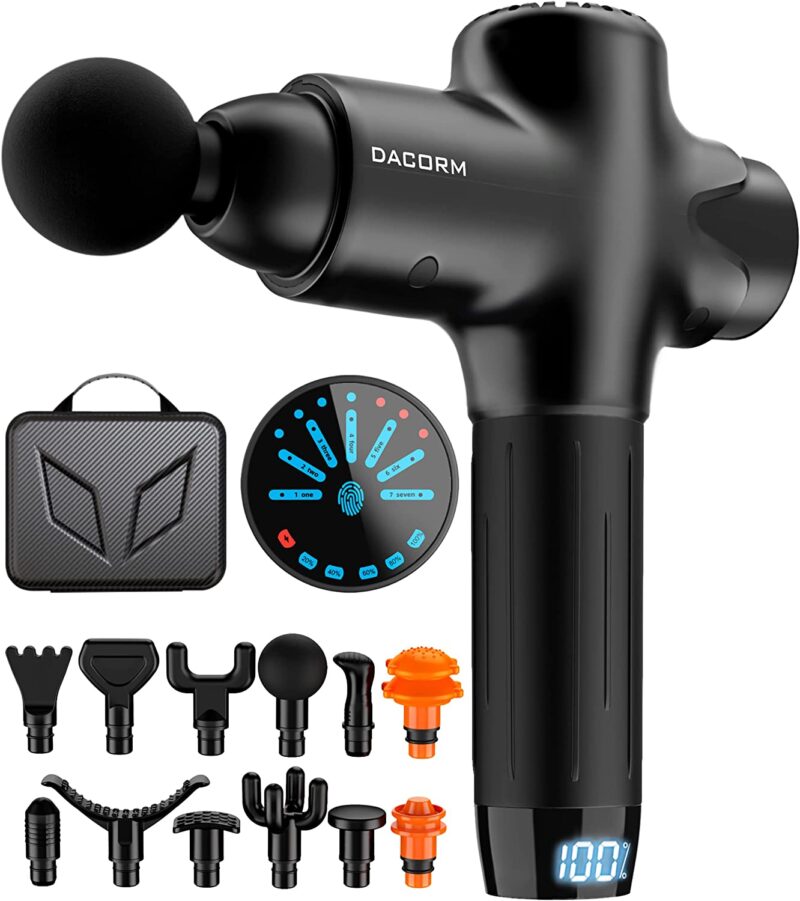 With their stressful occupations, a firefighter will surely appreciate getting this massage gun as a gift. Moreover, the massage gun is known for its versatility. It includes multiple attachment heads designed for various muscle groups and needs. Whether you're targeting large muscle areas like the back and thighs or focusing on specific trigger points, these attachments allow for a tailored massage experience.