Get into the holiday spirit with these gorgeous ideas for Christmas acrylic nails!
'Tis the season to deck the halls and adorn ourselves in the spirit of joy and celebration! As Christmas nears, it's time to embrace the festive vibes and add a touch of holiday magic to every aspect of our lives – including our Christmas nails! If you're ready to take your Christmas cheer to the next level, we've got just the thing for you.
When it comes to beauty and self-expression, nail art has become the ideal canvas for showcasing your style and matching the theme of different seasons. And what better way to display the magic of the season than by painting on Christmas acrylic nails that are as dazzling as the twinkling lights on a beautifully decorated tree?
So what are you waiting for? Come transform your Christmas nails into festive masterpieces that will undoubtedly spread the holiday spirit wherever you go. From classic red and green combinations to whimsical winter wonderlands and everything in between. We've curated a collection of over 60 unique and stunning Christmas acrylic nail ideas that will inspire even the pickiest nail art lovers.
You'll find here the latest trends and timeless classics that include the iconic symbols of Christmas. Think Santa Claus, the Grinch, snowflakes, candy canes, and more!
Christmas Acrylic Nails
Whether you're a DIY nail artist looking for inspiration or planning a visit to your favorite nail salon, you'll find something here for you. Get ready to sleigh (get it?) the nail game this holiday season!
These Christmas acrylic nails are as festive as the Christmas season! I love the sparkly red color scheme and how it really makes those golden accents shimmer!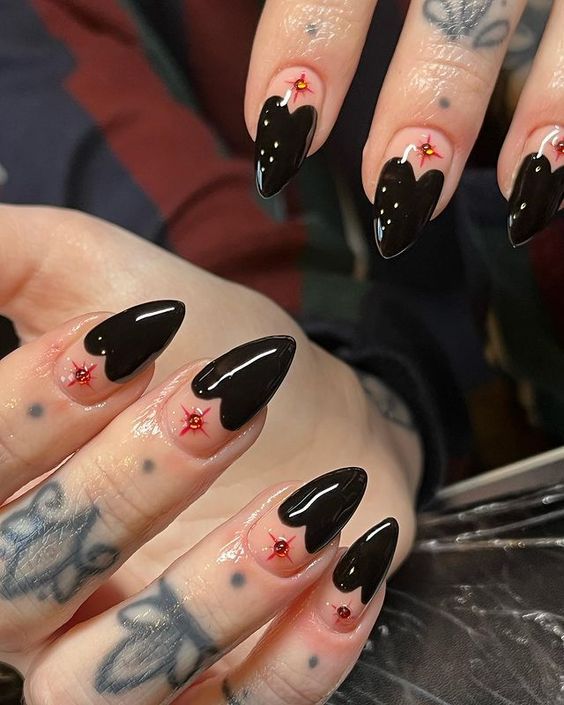 Is it just me or do these Christmas nails remind me of chocolate dipped desserts? Either way, this could easily fit your Christmas-themed acrylic nail ideas!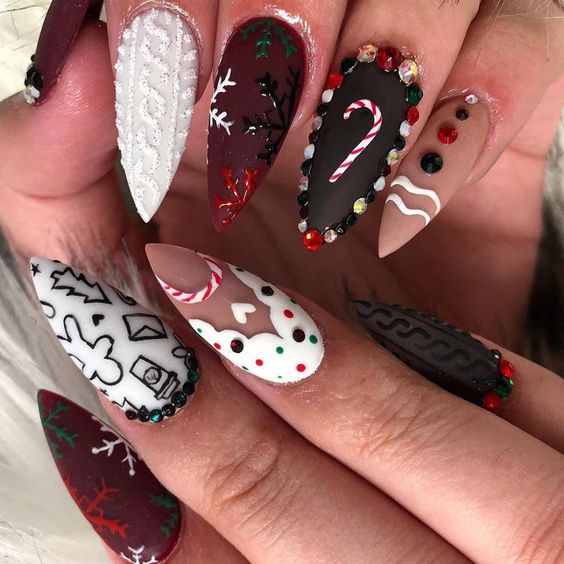 I'm loving the graphic Christmas details on these Christmas nails! If you want to add a lot of variety to your Christmas nails and can't settle on just one design, this is for you!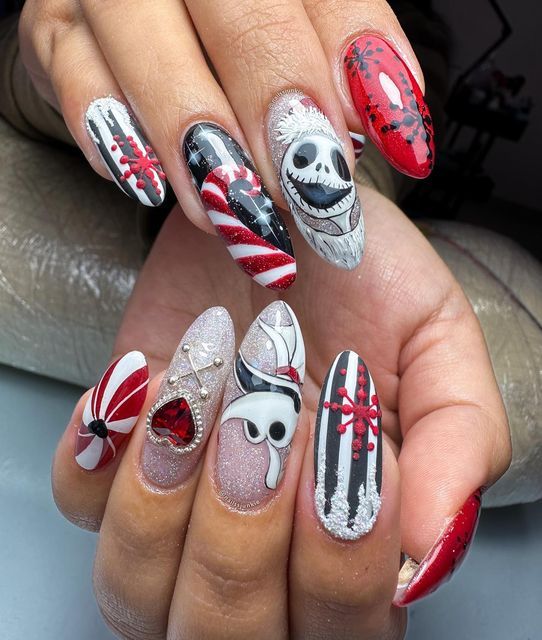 As someone who watches Nightmare Before Christmas every year right between Halloween and Christmas season, these Christmas nails are utterly adorable!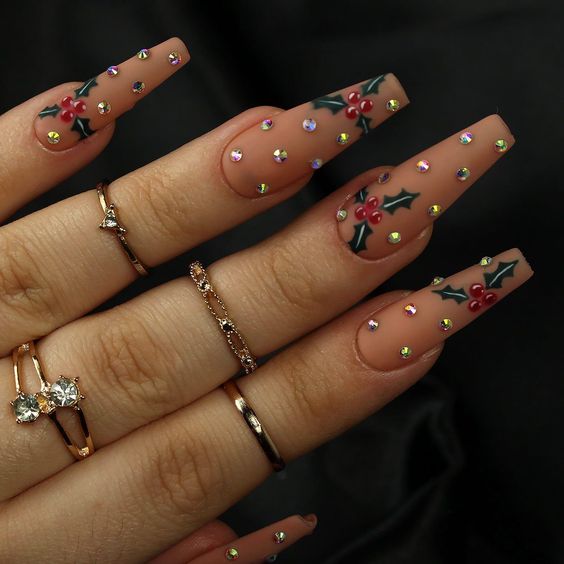 One of the best accessories you can put around your hands is your Christmas nails and the nail art you choose for them! These rhinestone embellishments are stunning!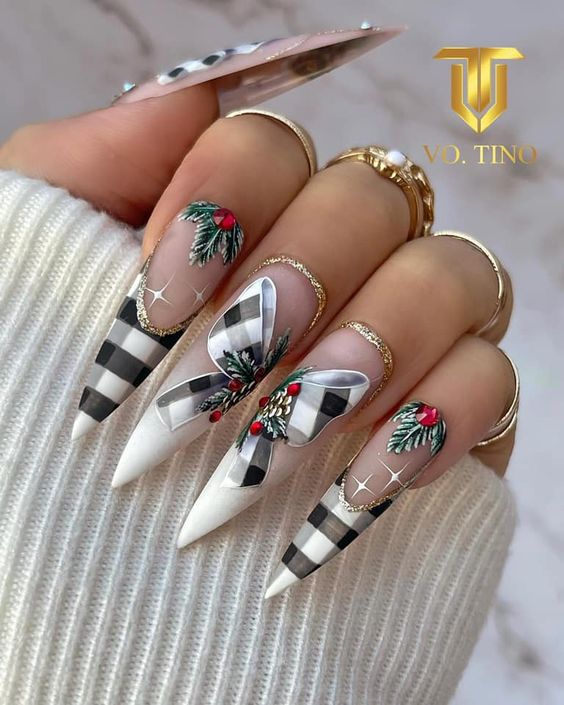 I love these plaid designs for Christmas nails! Not only do they look cozy, but these bow designs remind me of Christmas decorations around the house!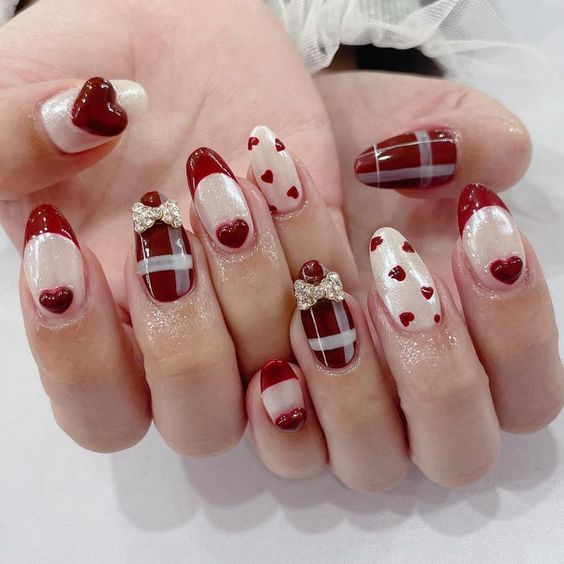 I love a good red manicure so these Christmas nail acrylics are perfect for my taste! The sparkly, champagne-white combination really makes an elegant contrast against the deep red hues.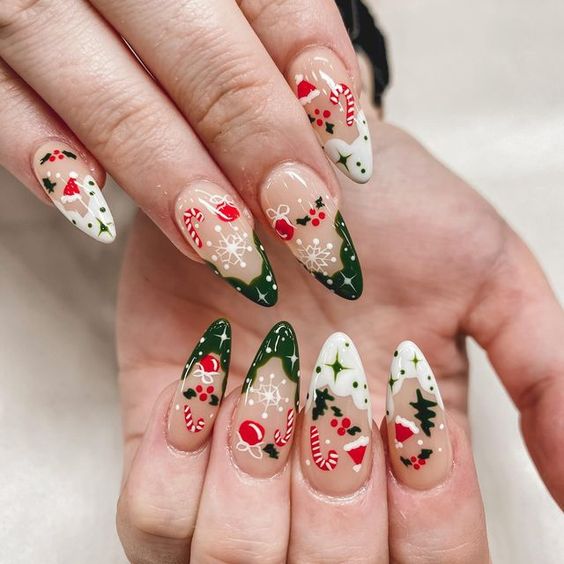 Make your next manicure as decorative as a Christmas tree like these nails! Aren't they just the cutest?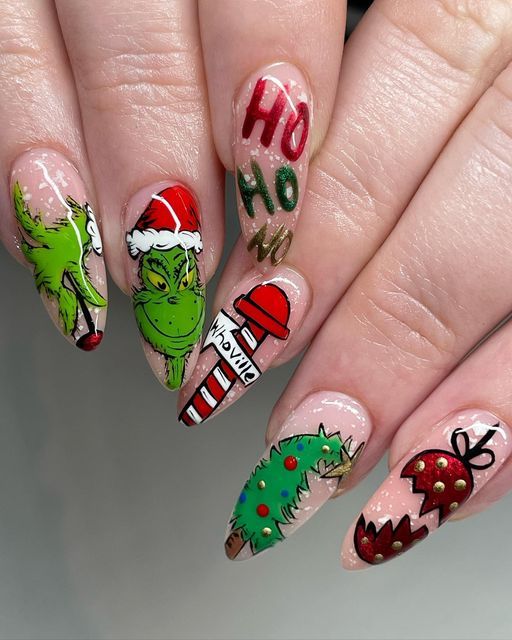 I grew up watching The Grinch as a kid and these nails give me serious nostalgia!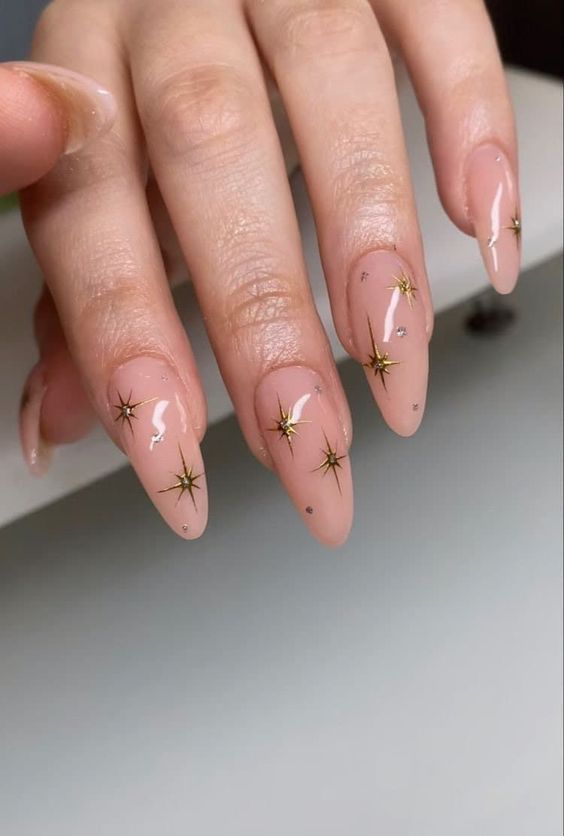 For something a bit more on the minimalistic side, these nails are utterly gorgeous with that nude base polish and sparkly accents.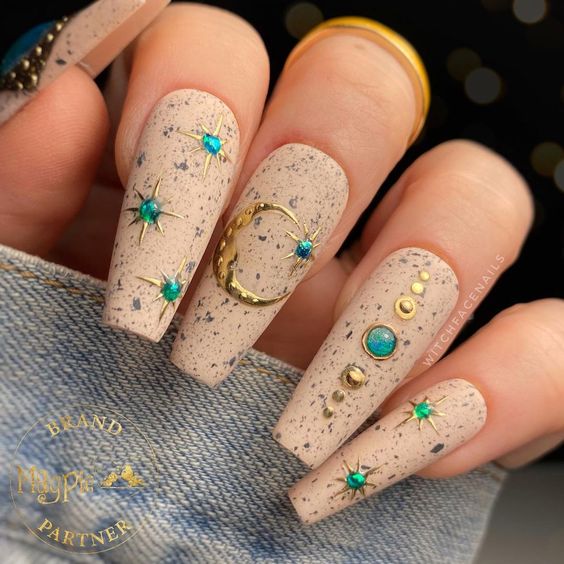 If you want to incorporate a bit of a witchy or celestial-themed vibe to your Christmas acrylic nails, you might want to try this one out!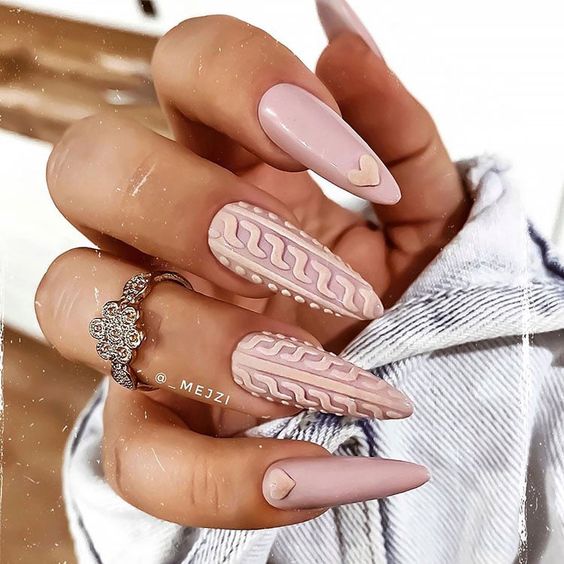 Nothing gets cozier during the holiday season than these sweater pattern nail designs!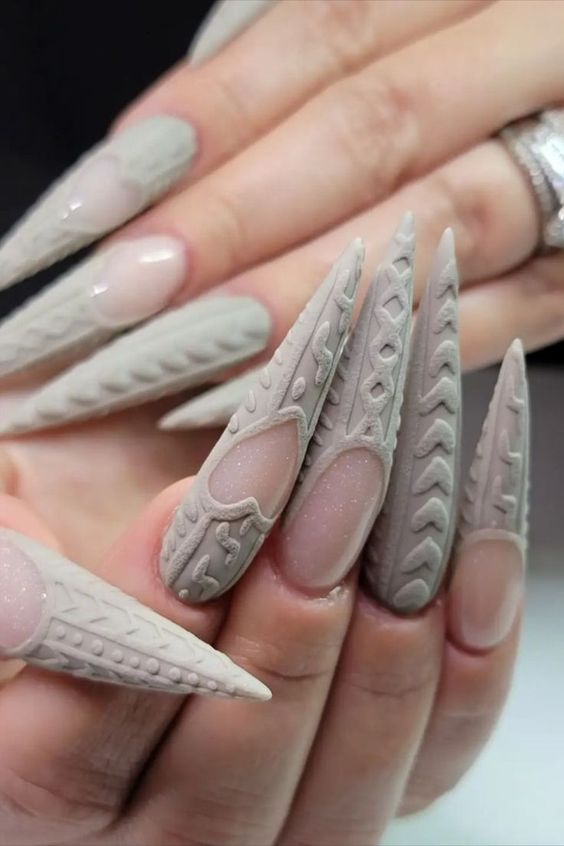 Here's another sweater pattern nail design you might want to try out! This one has the perfect wintry beige color that reminds me of cozy knit sweaters.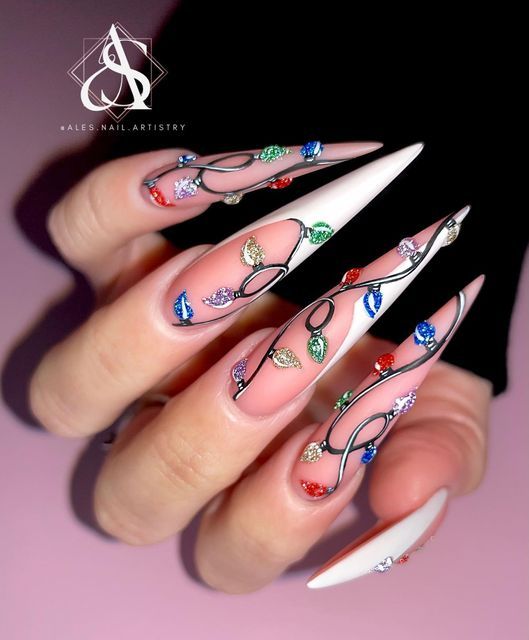 Who says you only put Christmas lights around the house? You can easily make your nails light up with these gorgeous designs!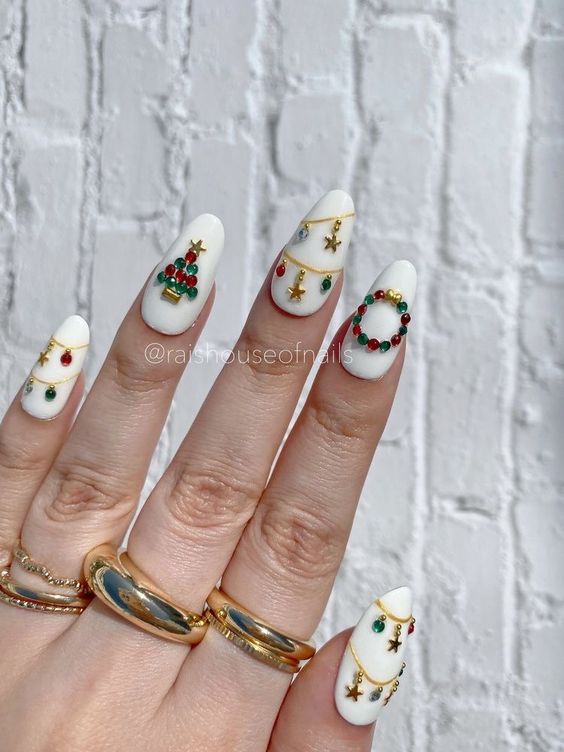 White and gold is such a classy color combination and looking at this Christmas manicure? I can totally see why!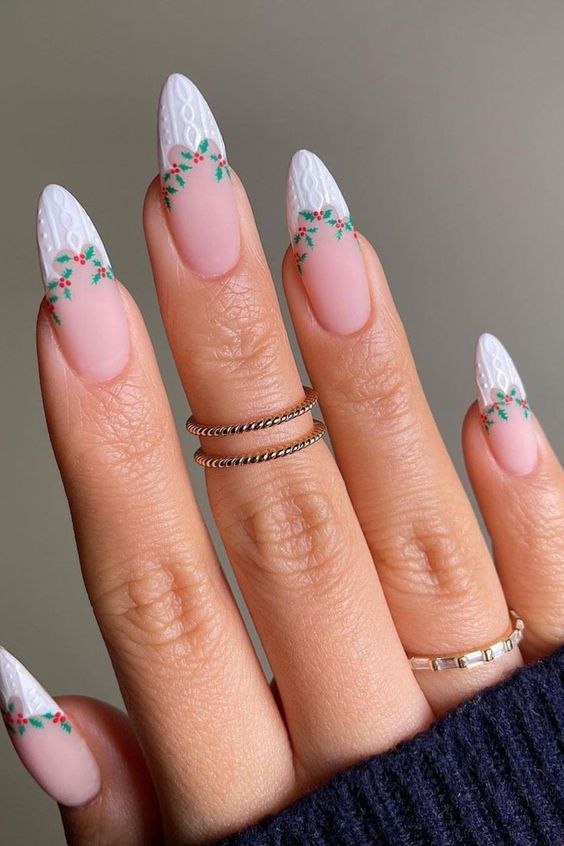 Forego the usual French mani and instead, opt for this more festive iteration of the classic nail design!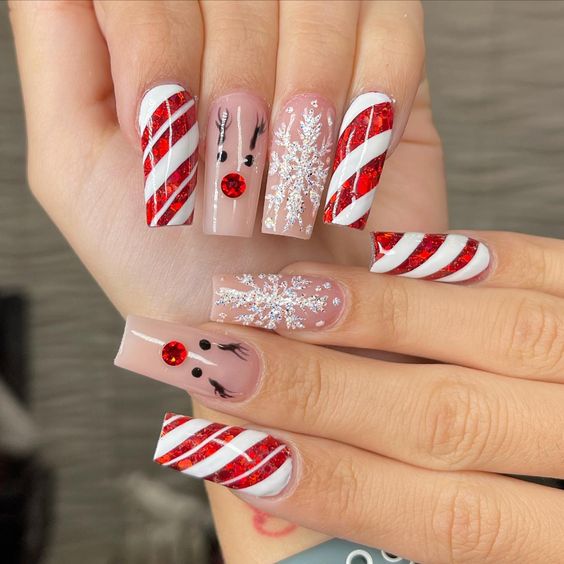 Candy canes aren't just for snacking and desserts. You can also incorporate those iconic red and white stripes into your nails!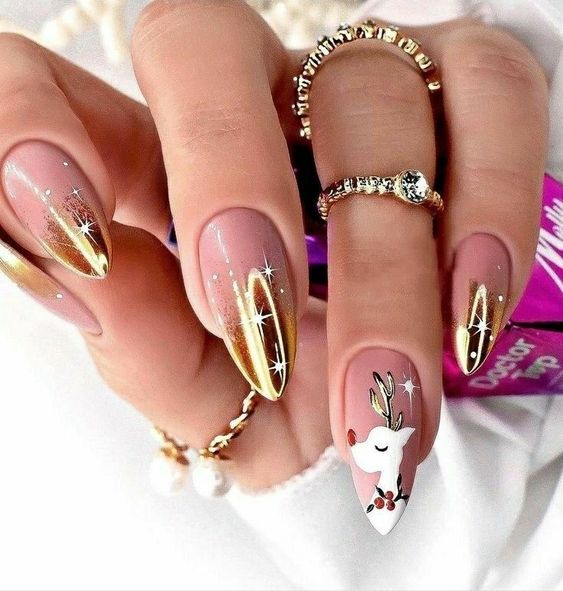 Apart from the gorgeous gilded accents on these nails, Rudolf the red-nosed reindeer accent nail is quite cute too!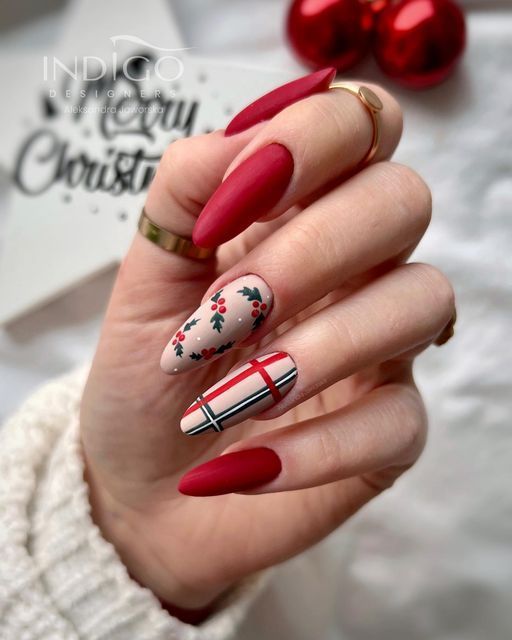 Eye-catching and festive, these nails are a sure way to get into the holiday spirit! From plaids to bright reds and mistletoes, these designs have it all!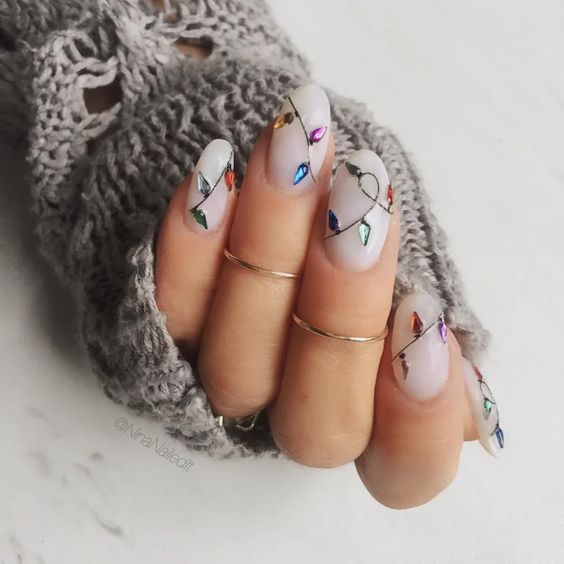 I love the Christmas light designs on these nails! If you're opting for a jelly nail, consider adding these cute embellishments for your next mani!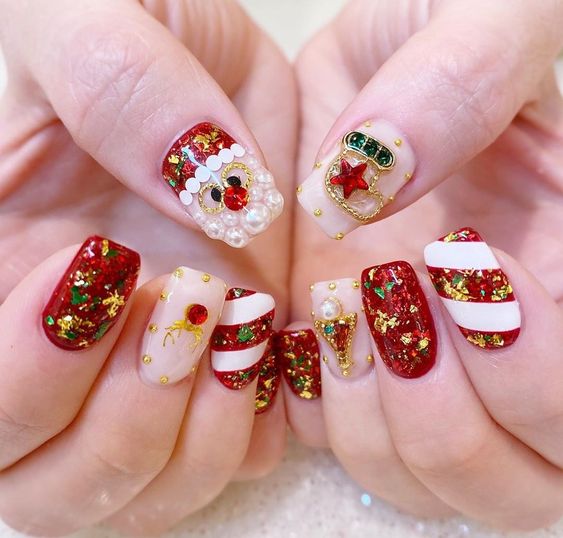 Just looking at these Christmas acrylic nails, I can already hear every Santa Claus-themed Christmas jingle in my head!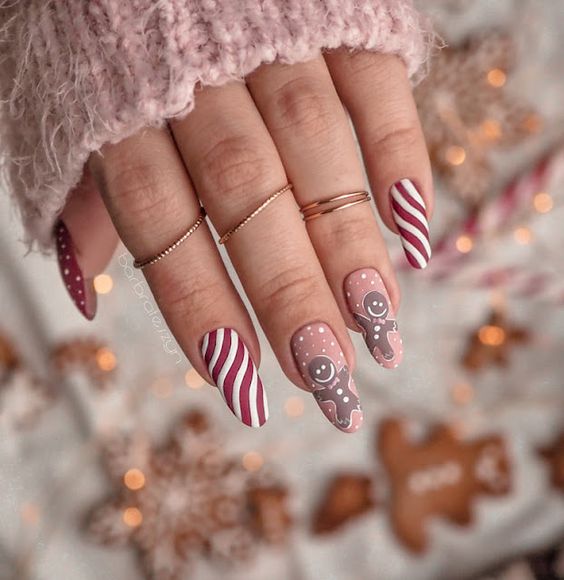 If you have a sweet tooth or you're simply craving some gingerbread cookies, these gingerbread man nails might be the perfect mani to suit your mood!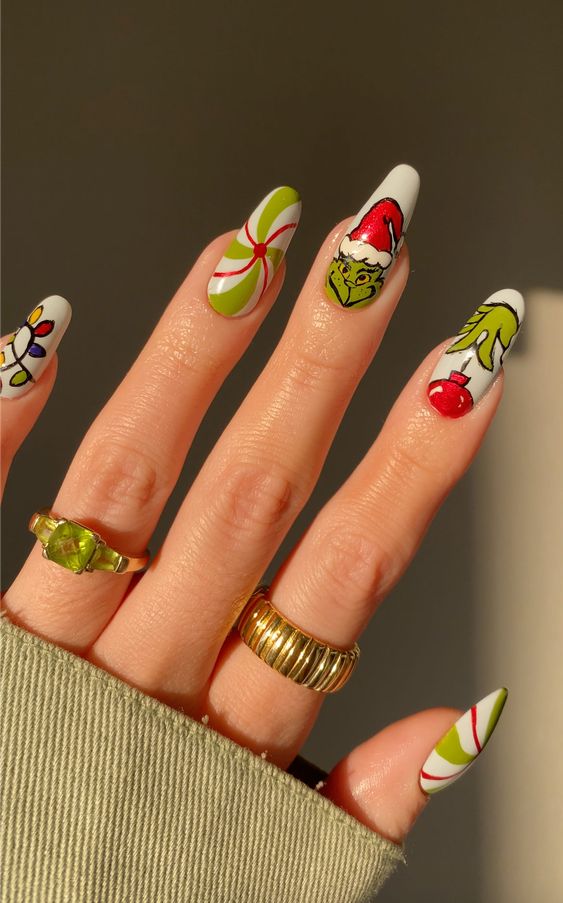 Here's another Grinch-themed Christmas acrylic nails you might want to try out for your next nail appointment. The colors pop out so much with the white base polish!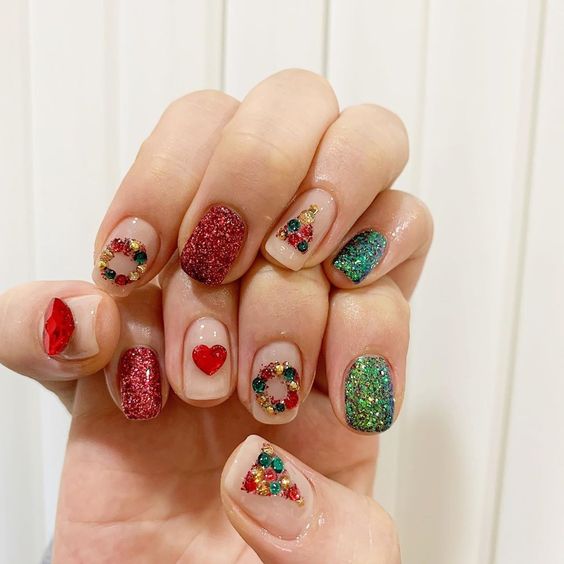 Sometimes, less is more. And honestly, using negative space or a nude base polish on the nails really makes the festive designs stand out even more!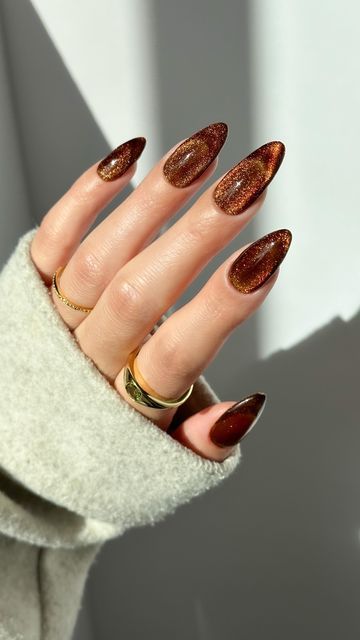 You know I love earthy tones so I couldn't help but include this stunning, glittery Christmas acrylic nail idea into the list. Probably one of my instant favorites the moment I saw it!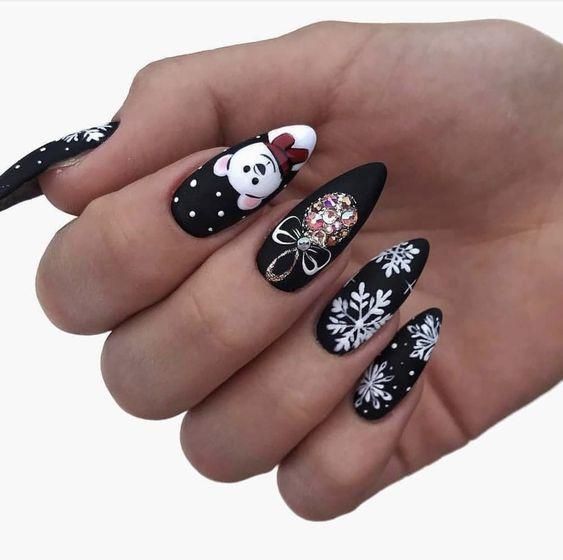 If you want to use darker colors for your holiday acrylics, you might want to try out this one! Using a black base polish, you can opt for lighter colors when painting the nail art itself for a gorgeous contrast!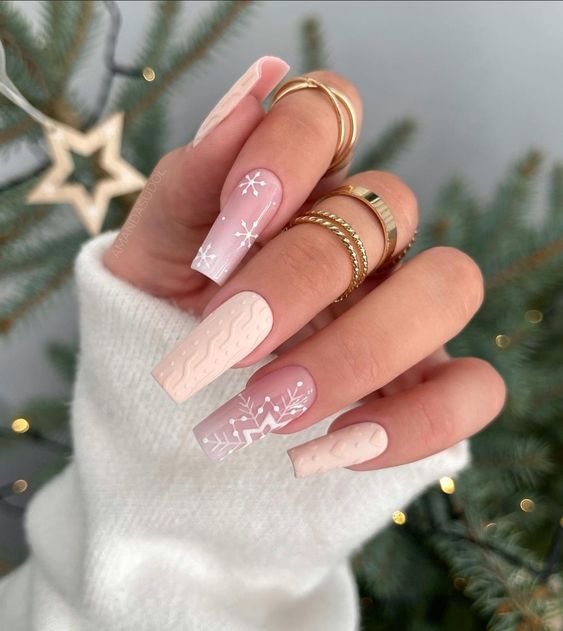 These nails are so quintessential Christmas! The cozy sweater patterns and intricate snowflake accents are just so pretty together!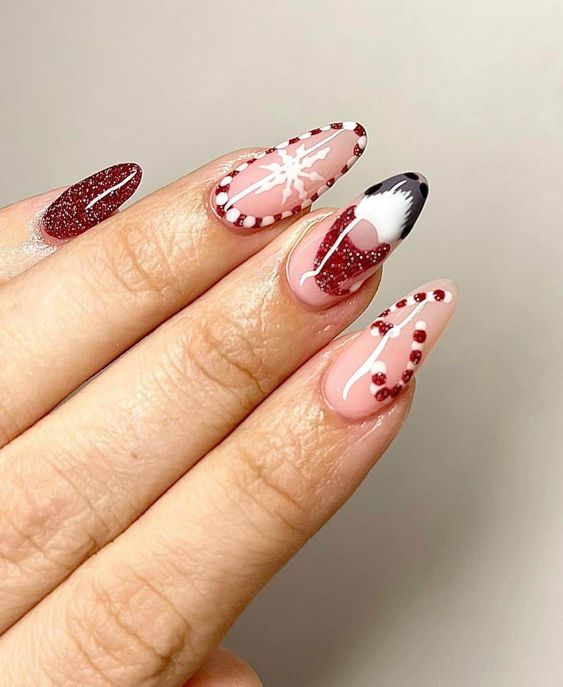 You can never go wrong with doing subtle Christmas designs if you don't want anything too eye-catching. These peppermint and Santa Claus nail art is so cute!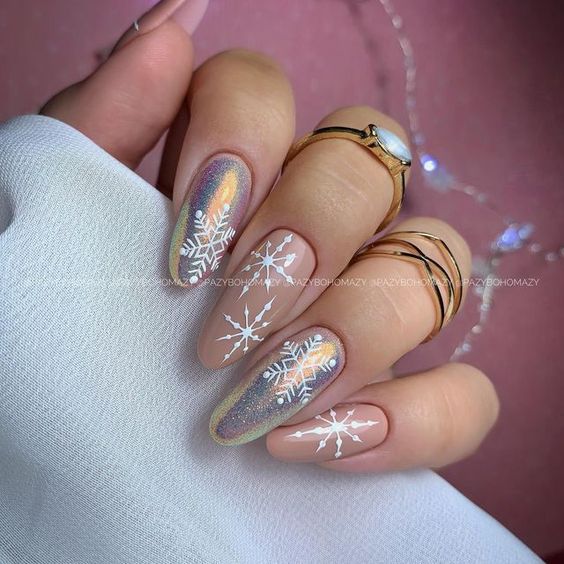 If you like the look of shimmery, shiny nails, then these are for you! Add some snowflake details and it's perfect!
These nails are as wintry and as frosty as the holiday season! Your nails are sure to be as shiny as the star on top your Christmas tree when you give this a try!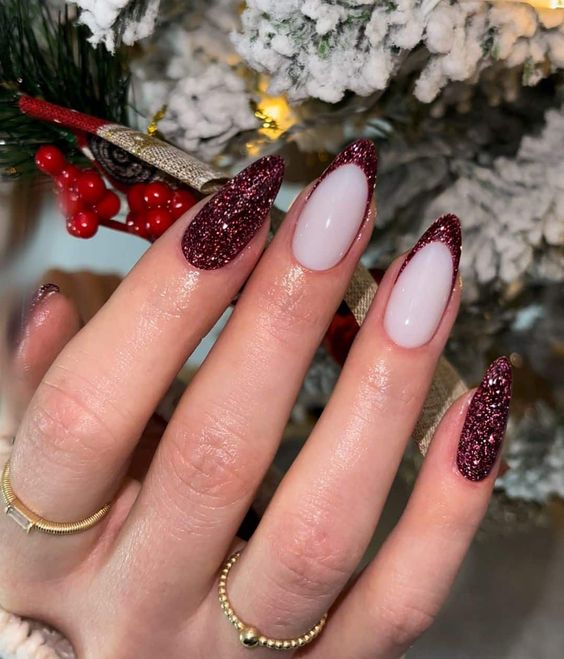 Can't get enough of these glittery Christmas nail acrylics? Well here's one that is a bit simpler but oozes classy charm!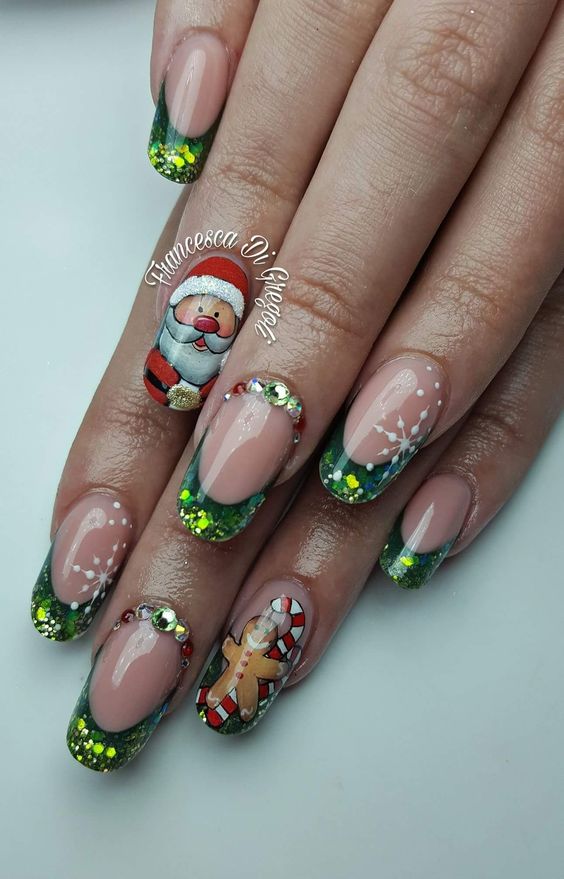 I just love how these nails are as festive as they can be! From Santa Claus to that adorable gingerbread man and the rhinestoned nails, this is the perfect Christmas manicure!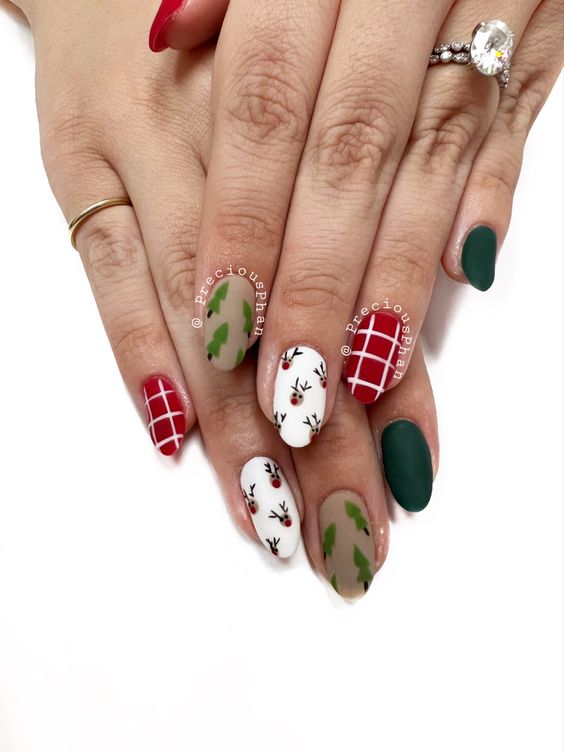 If you can't decide on what to wear for your Christmas acrylics, putting different festive patterns on your nails is a great way to include every design you like!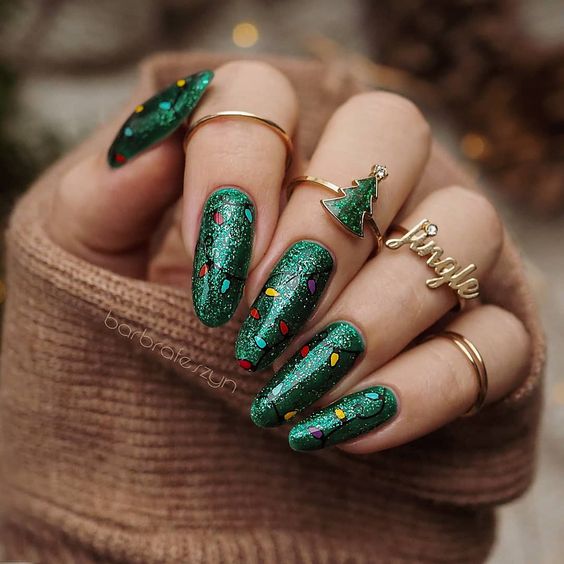 These green Christmas lights-themed nails are sure to get heads turning! The glittery finish makes this even look more festive!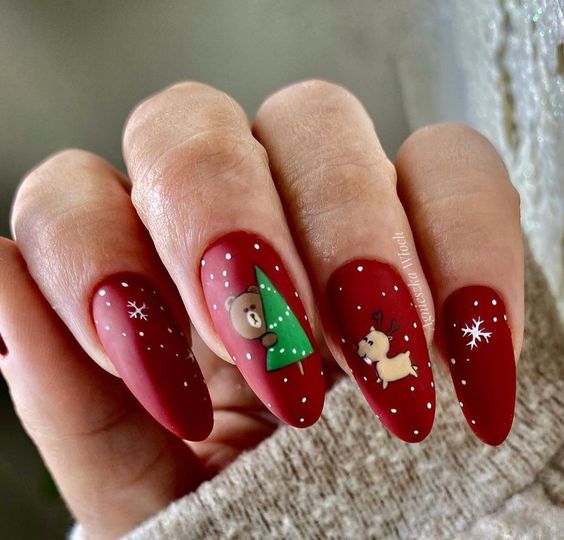 These red Christmas acrylic nails are utterly adorable! I love the subtle dots of snowflakes and the cute characters for each accent nail!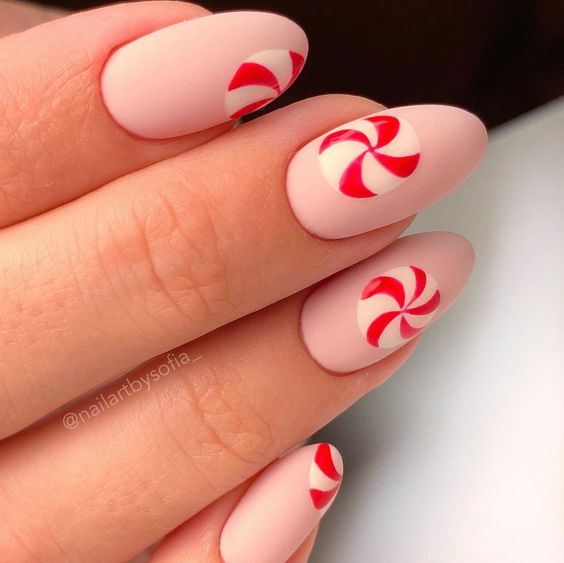 If you want something minimalistic but isn't too simple, these peppermint candies would make cute nail art for your Christmas-themed acrylics!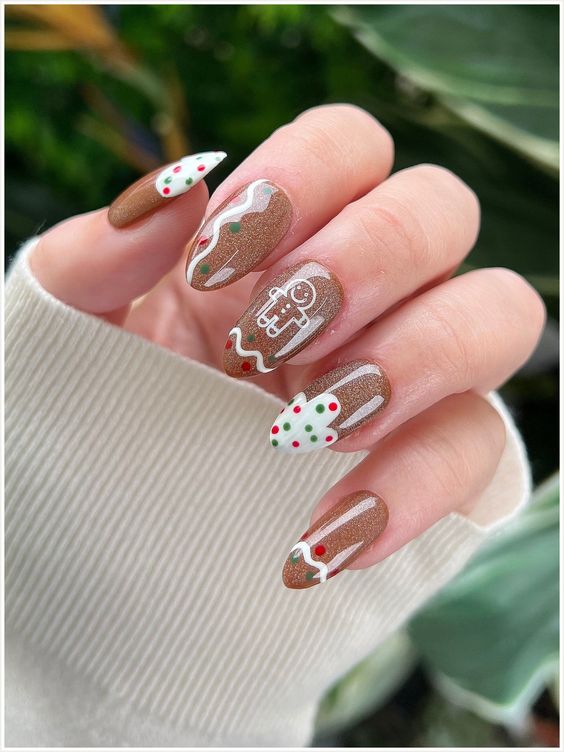 Have a sweet tooth or craving for all the holiday cookies you'll be eating this Christmas season? These nails are perfect for you!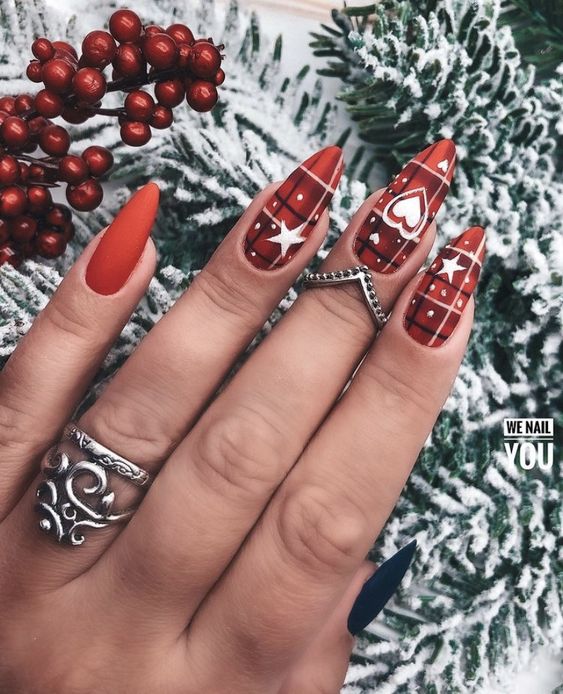 Who says you can only wear plaid for your clothes? Now you can wear them on your nails too!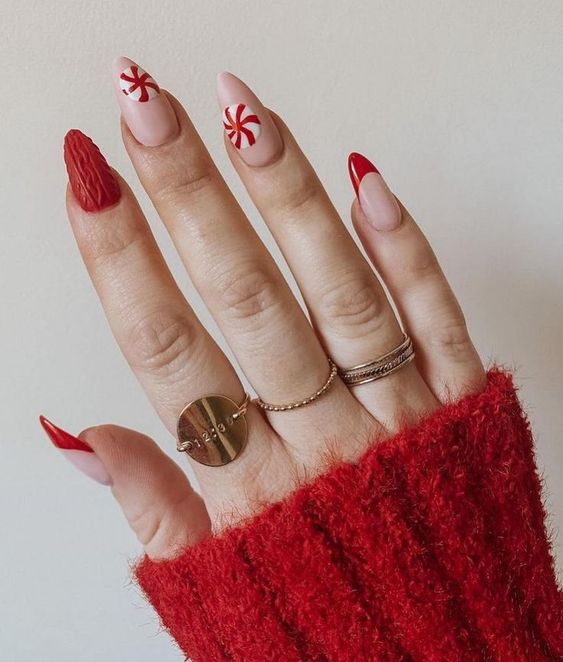 Spice up your usual French manicure with a holiday twist by adding some peppermint candy accents!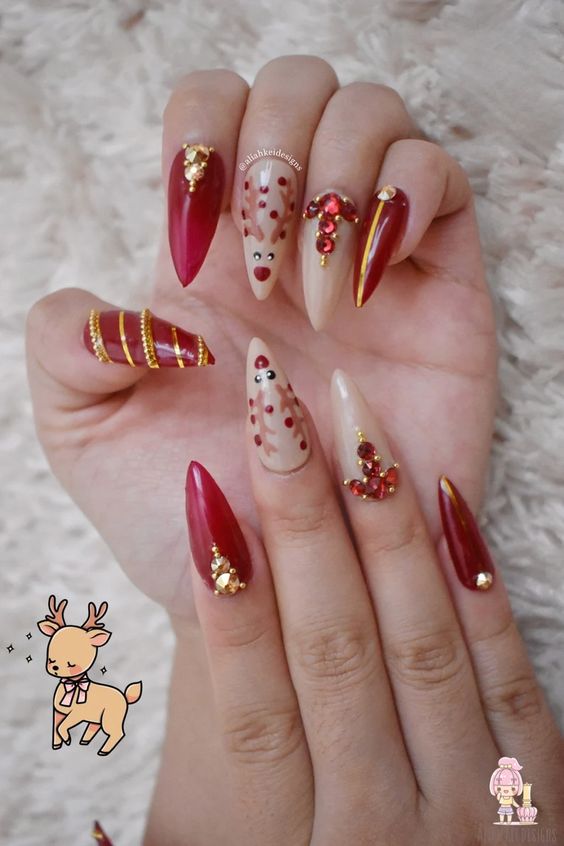 Add a bit of glam to your Rudolf the Red-nosed Reindeer acrylics with rhinestones like these nails!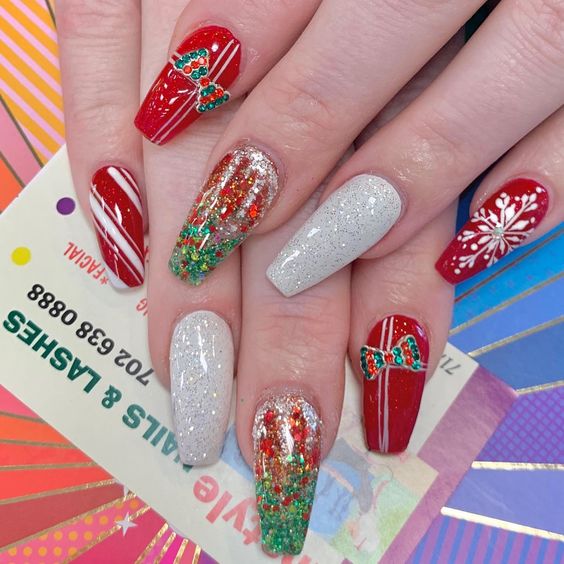 You can never go wrong with glittering hues of red, green, gold, and silver for your Christmas acrylic nails this holiday season.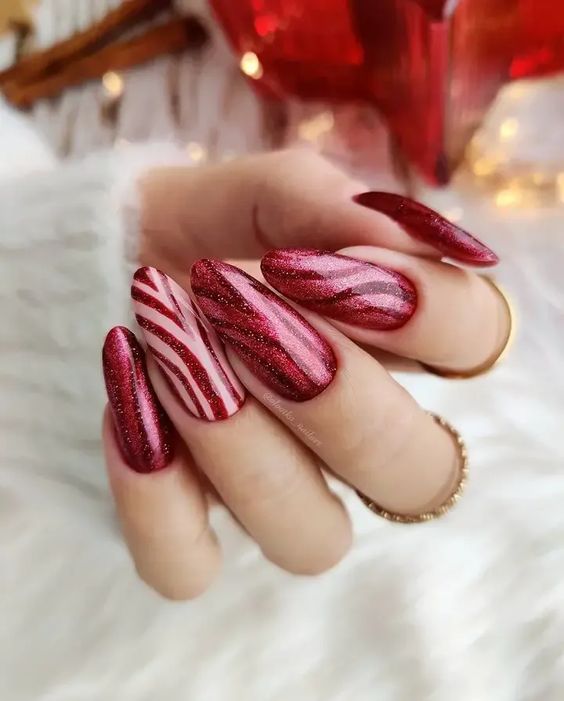 If you want more peppermint candy-themed nails, here's more for you to choose from!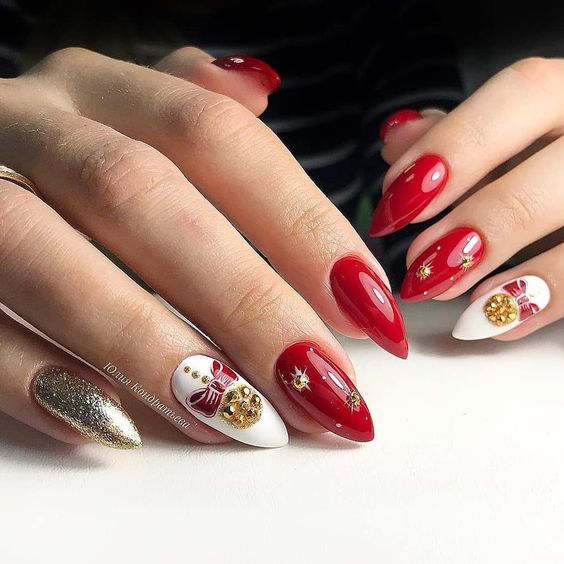 Rhinestones really elevate the look of any manicure into something a bit more glam and sophisticated. Whether you're doing Christmas balls or sparkles, these are perfect for you!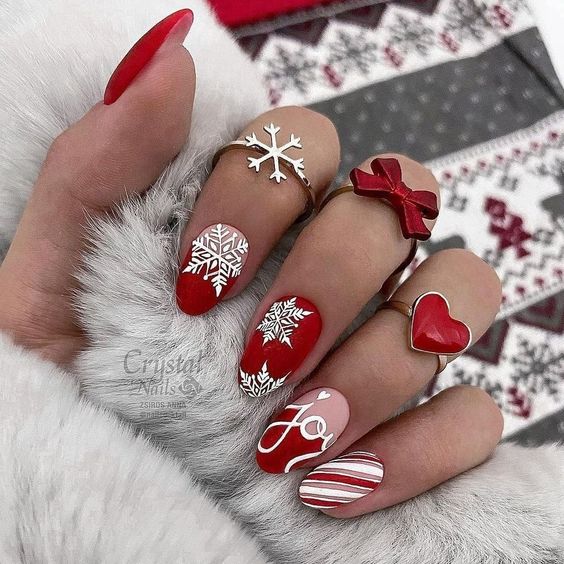 I am loving these intricate snowflake details on each nail! They could make good practice for your nail art skills too!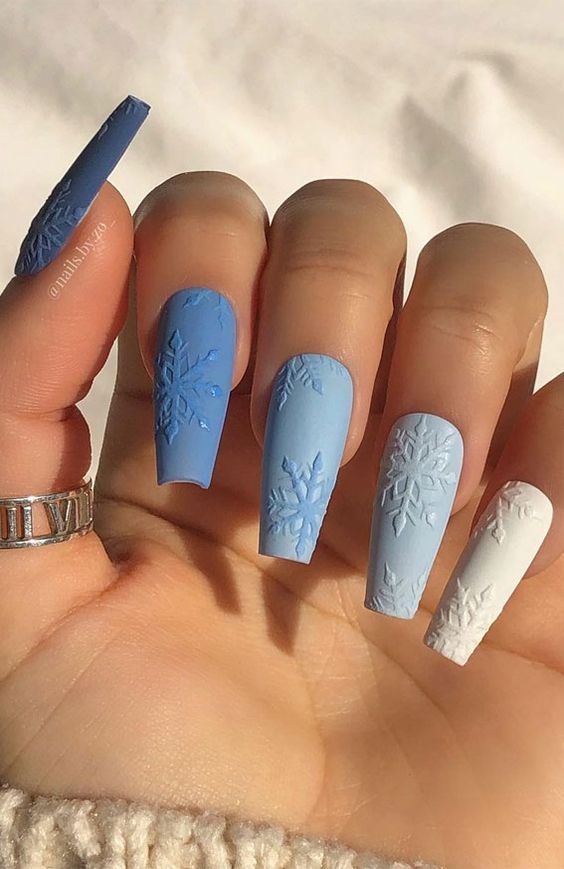 If you're looking for something matte and frosty, these acrylics are the perfect design for you! Definitely my favorite snowflake nails on this list.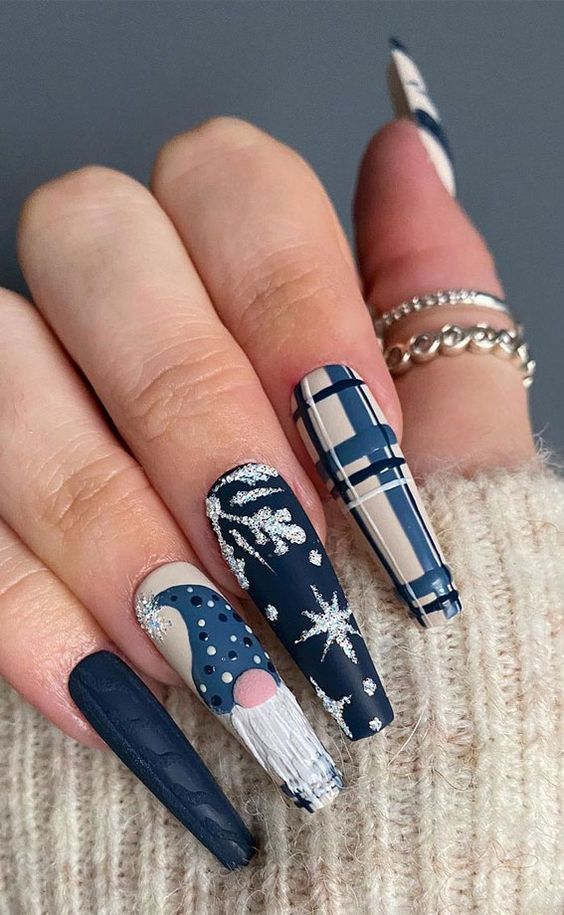 Do something a little bit different this year and incorporate Christmas gnomes into your nails!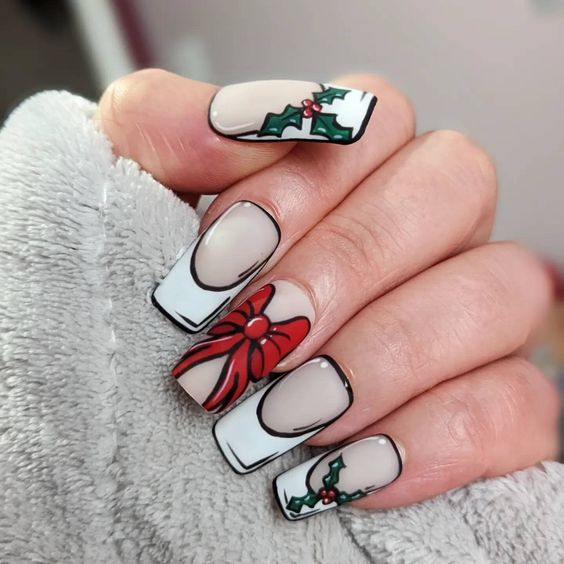 If you've been a fan of pop art, it's time to use them on your acrylics this Christmas season for a really unique nail art!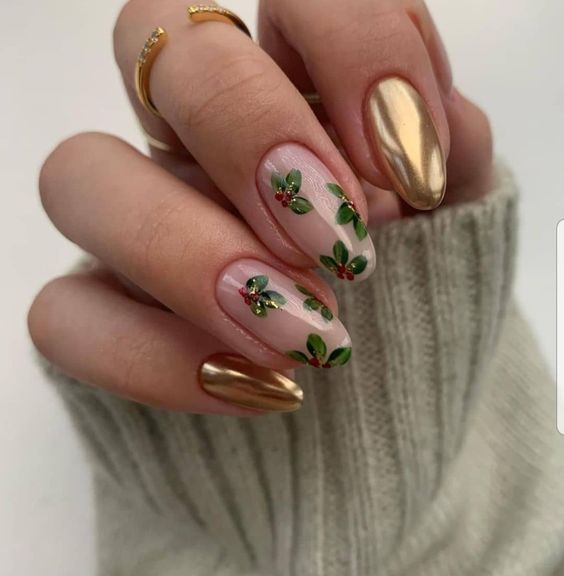 These hollyberry-themed nails are stunning! Add some golden nail accents and you're good to go!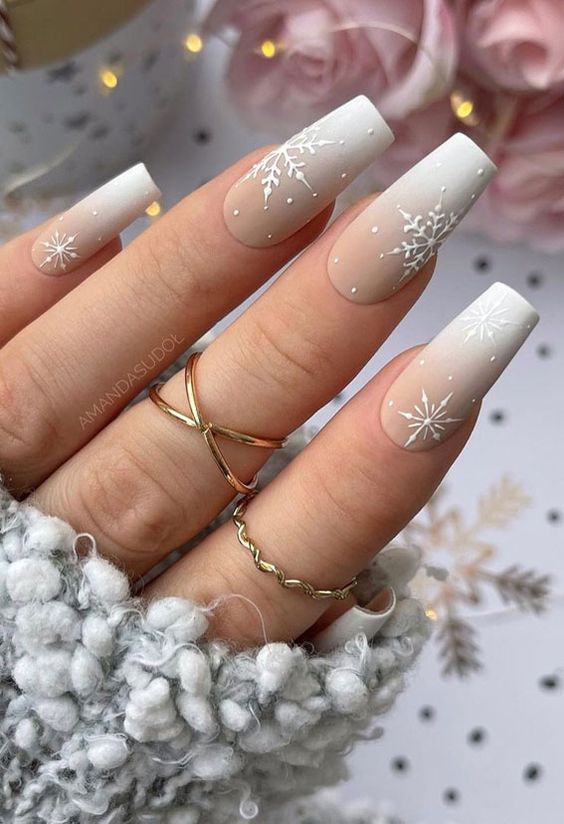 Match your nails with the winter season as holidays come closer! Intricate snowflakes add a dash of sophistication to any manicure!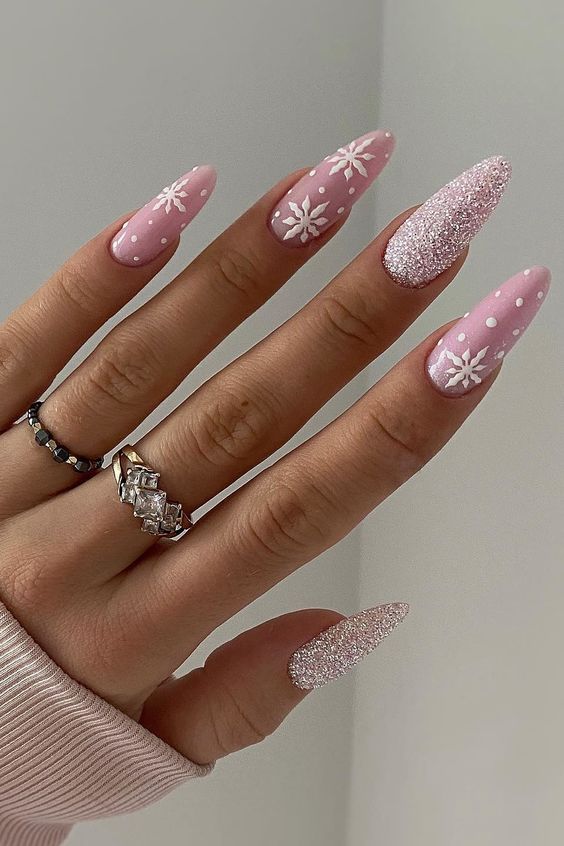 Who knew pink could look so festive during the Christmas season? The soft, pastel color is both so feminine and classy.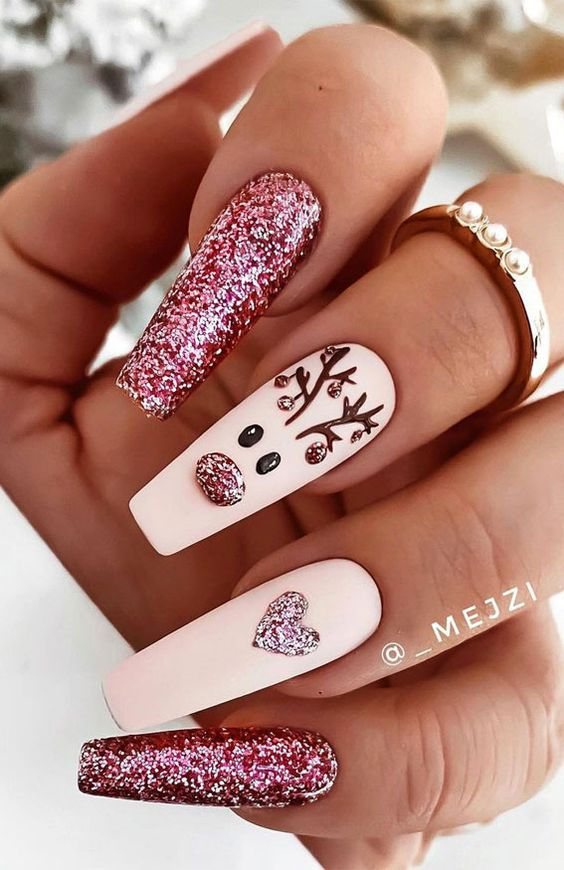 Rudolf the Red-Nosed Reindeer has gotten a glam makeover with these nails!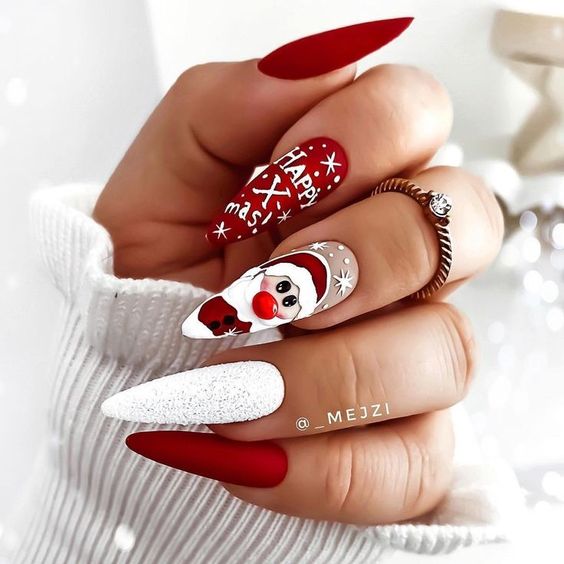 What better way to celebrate the holidays with these Santa Claus-themed acrylic nails?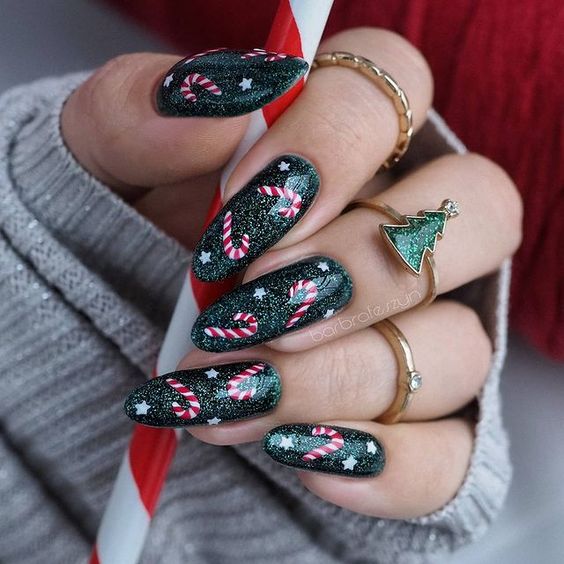 If you can't recreate these peppermint candies by hand, you can always opt for nail stickers!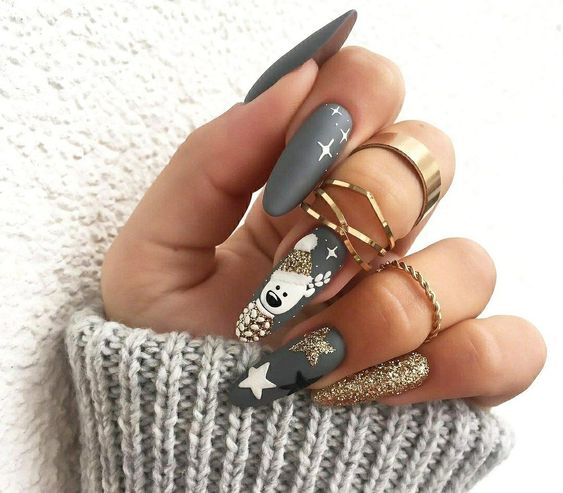 Grey can look dull and boring but with some glitter and cute, festive Christmas designs, you might just get these gorgeous nails!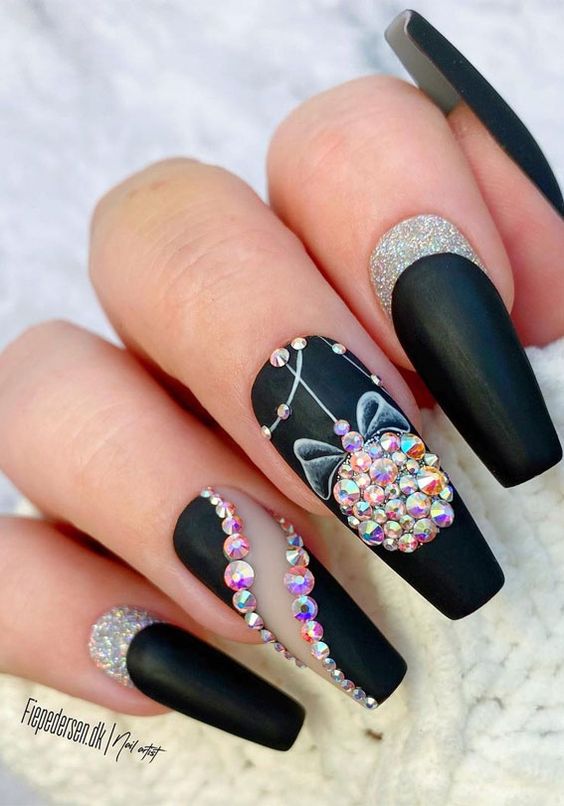 For an edgy yet still very festive look, going for a black base polish might just do the trick! Add rhinestones to still get that holiday vibe!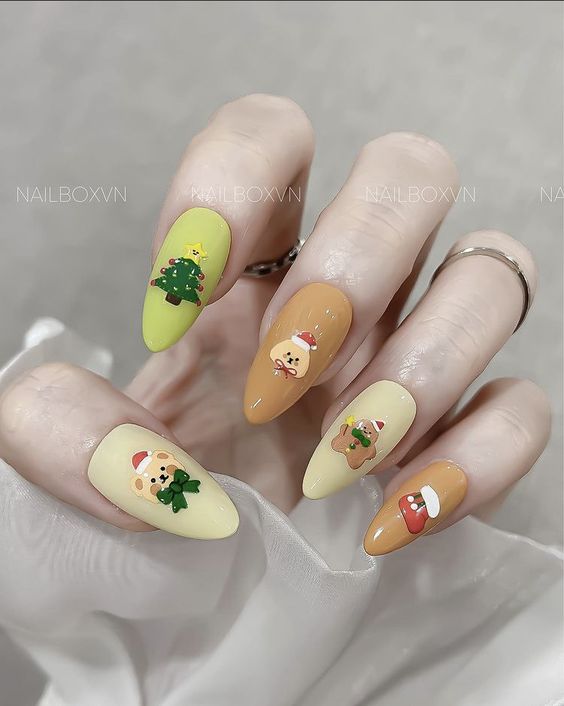 For something a bit unique this Christmas season, why not try out this bright, yellow color scheme for your acrylics?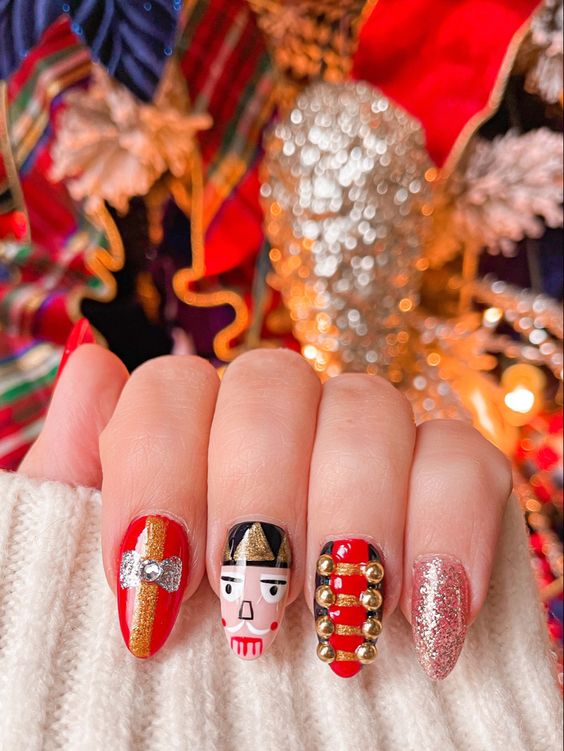 As someone who adored the story of The Nutcracker, this is the perfect way to get me in the holiday spirit!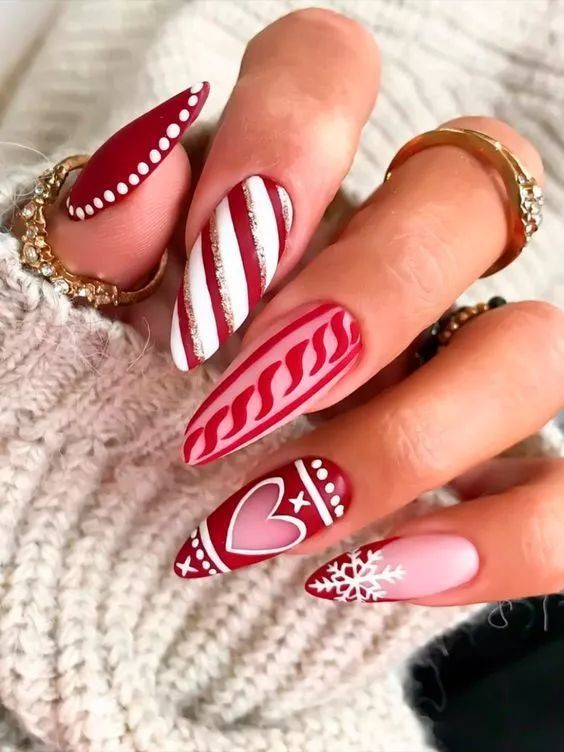 This is probably one of the best Christmas-themed nail art that would make great practice for your skills. The varying patterns will help certainly help hone your craft!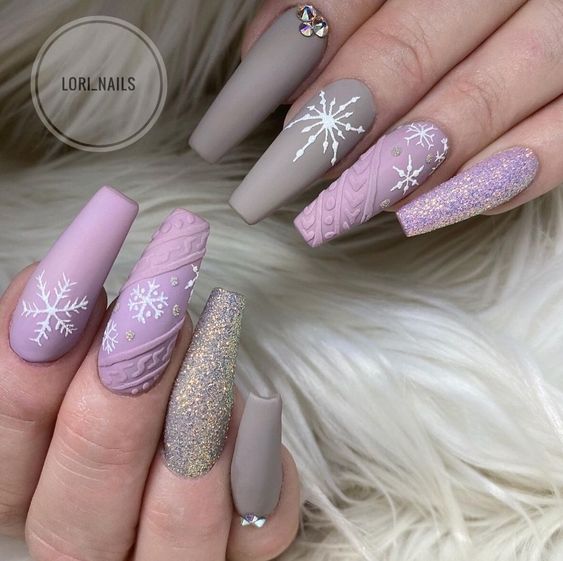 Purple's my favorite color so there's no surprise here why I added these stunning acrylics to the list!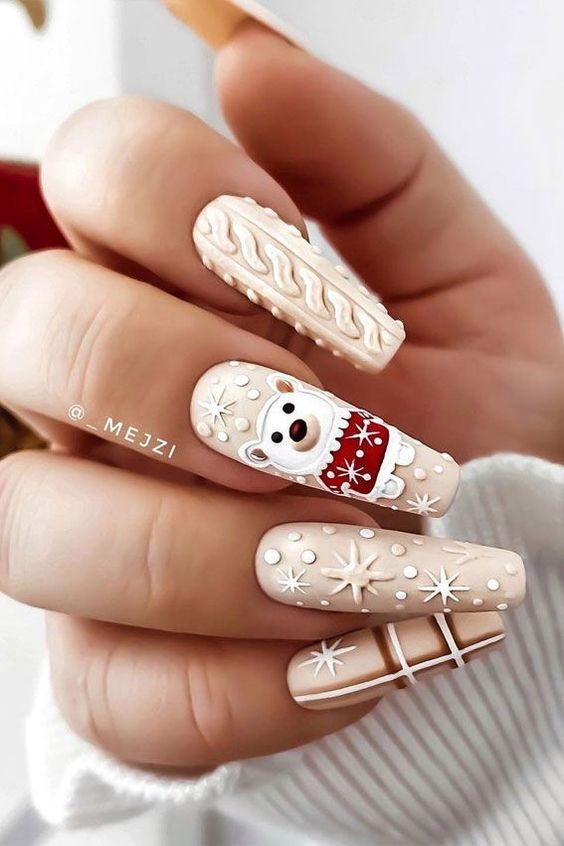 Neutrals will always be popular with a lot of women out there and I can totally understand why. But these acrylics really did well in making neutrals feel festive!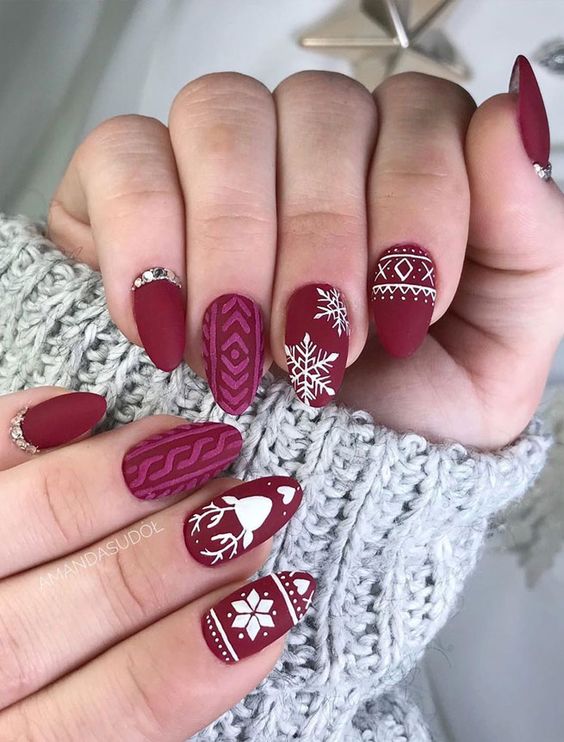 Cozy, vivid, and festive, what more can you for with these gorgeous nails?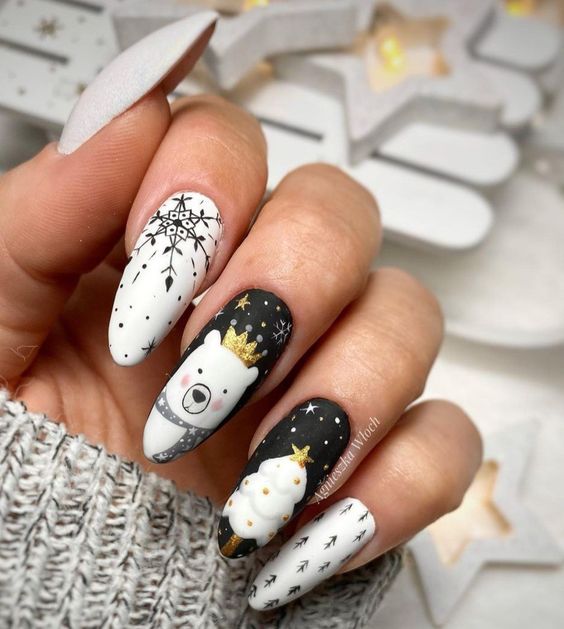 Black really makes the perfect canvas for starry-themed Christmas acrylics.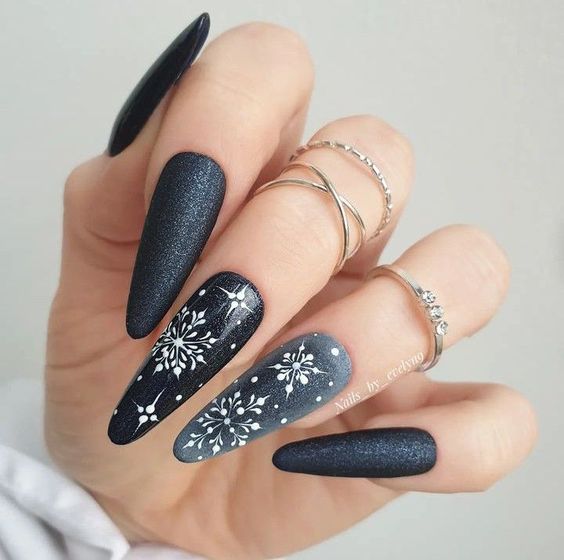 This is the epitome of frosty and wintry nails that you can do for your next Christmas manicure.