Ready your sweet tooth for the best German Christmas cookies to make this Yuletide season!
The holiday season can never be complete without some delicious homemade cookies! But for this year, if you're looking to celebrate an Old World holiday, then why not opt to bake some of the best German Christmas cookies?
From Springerle, Pfeffernüsse, Lebkuchen, and more, there are so many different varieties of German Christmas cookies that you should be able to find something to satisfy your sweet tooth!
Whether you prefer something more chocolatey, spicy, crunchy, or chewy, you'll find one that will fulfill your cravings and will be a sure hit with the fam. Not to mention, these German Christmas cookies will fill your house with the enticing aromas of chocolate, cinnamon, ginger, and anise! Yum!
Best German Christmas Cookies
These sweet treats are best served with some delicious, steaming Glühwein (mulled wine) or Kinderpunsch (non-alcoholic fruit punch)!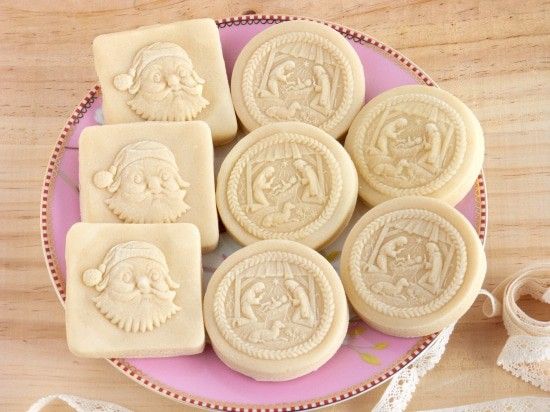 These anise-flavored, white German Christmas cookies stand out for their delicate imprints created by pressing a mold into the rolled dough and letting it dry before baking. The molds range from simple shapes and designs and folklore themes to extremely detailed representations of locales, animals, and other intricate elements. Finding out what prints you want your cookies to have is certainly part of the fun!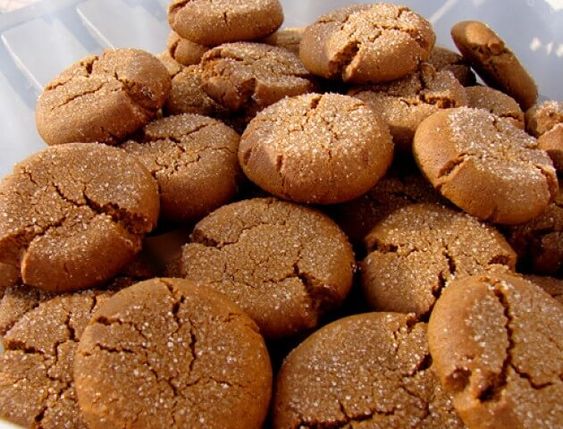 If you're looking for the perfect holiday cookie that's filled with delicious Christmas spices then the Gewurzplatzchen are the perfect treats for you! It has a crunchy sugar crust with a surprisingly soft inside!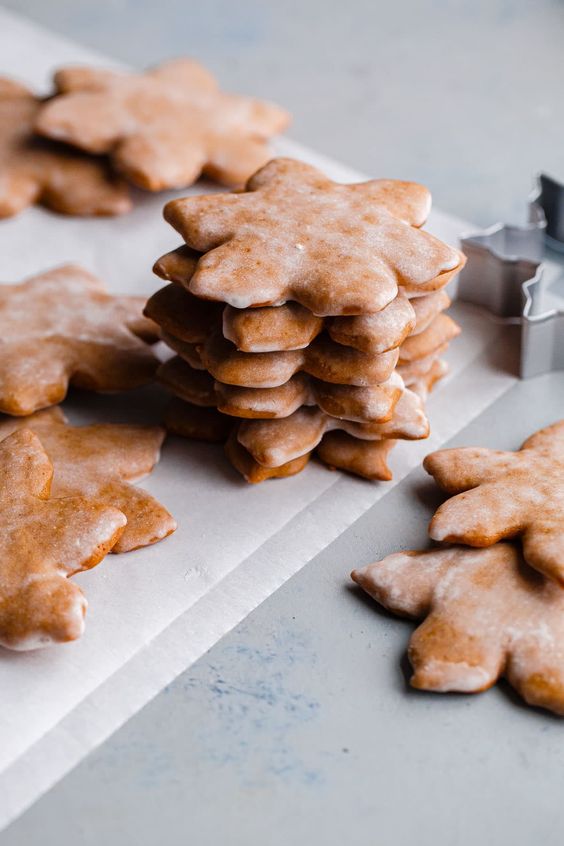 The Lebkuchen is a typical Christmas dessert in Germany. These soft, chewy, delicately glazed, spiced cut-out cookies are the ideal treats for the Christmas season!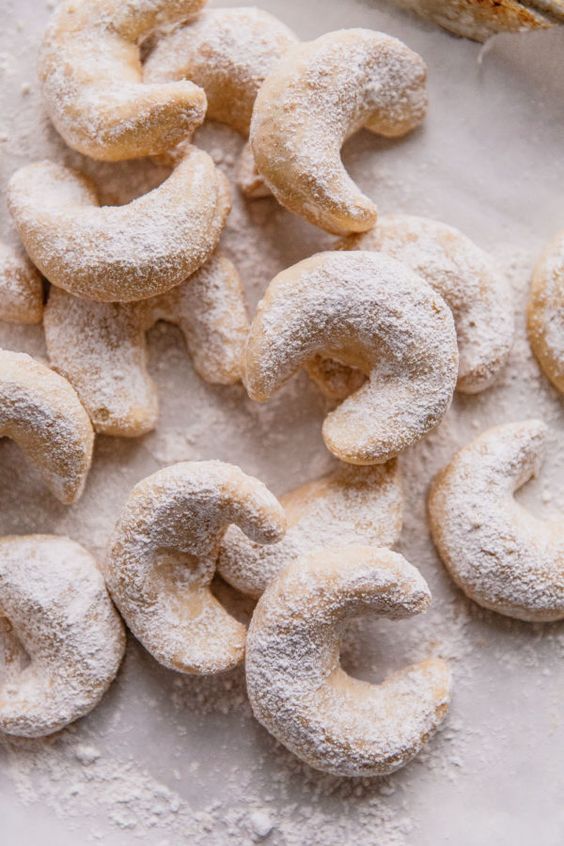 The delicate vanillekipferl are crescent-shaped cookies with a vanilla flavor and are sprinkled with confectioners' sugar. Although these cookies are available all year long and are relatively easy to make, they're popularly seen as a staple Christmas treat. This is one of the most classic German Christmas cookie recipes that you won't want to miss.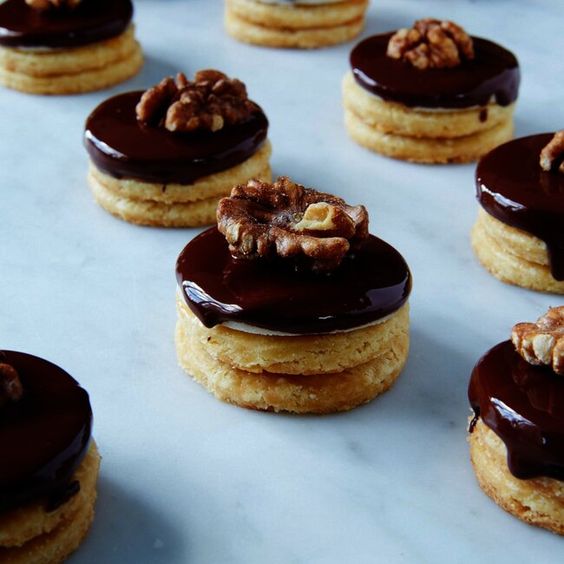 Dipped in buttery almond-apricot with bittersweet chocolate, these classic German Christmas cookies are so worth the effort and time spent on making them! They're just utterly delicious.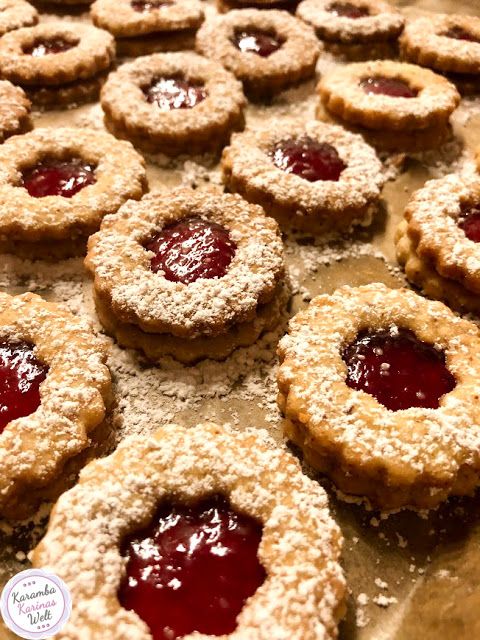 The Spitzbuben is, no doubt, a favorite of mine during the Christmas season. I just totally love the delicious combination of a buttery short pastry sandwich and yummy redcurrant jelly! This is also one of the best German Christmas cookie recipes to make for breakfast.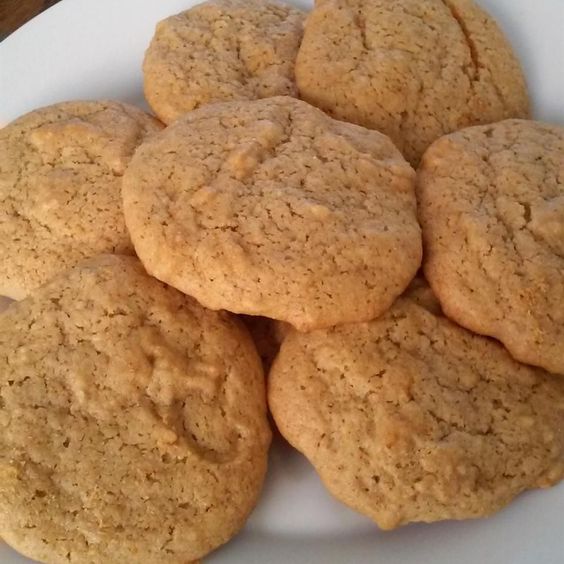 You can never go wrong with a classic! These traditional German cookies have a soft texture, a strong honey flavor, and a complimentary trace of ginger. They have the perfect balance of soft, chewy, light, and moist, and they taste just like honey gingerbread cookies. Not to mention, they're quite simple to make!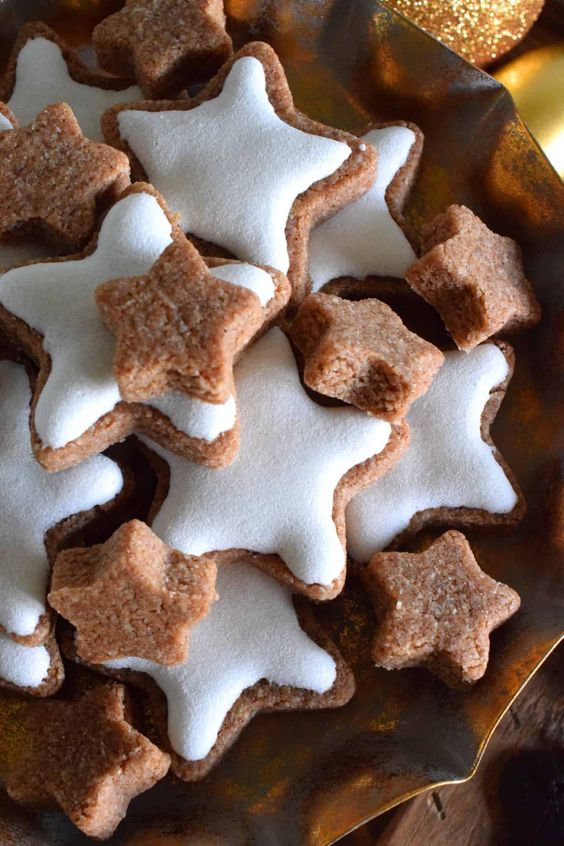 These Cinnamon Star cookies are quite a popular treat during the Christmas season. You'll find so many variations of this dessert everywhere online and you can even put your own twist and creativity into baking them!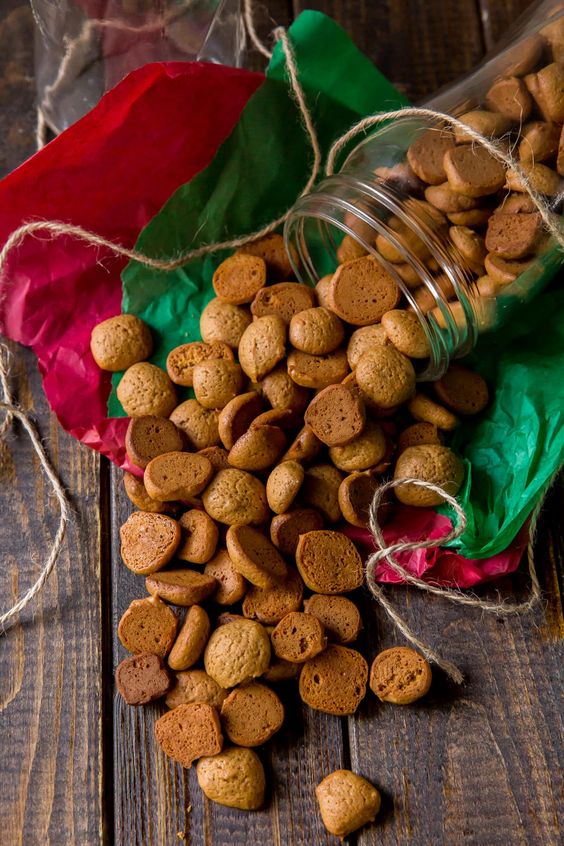 Another Christmas dessert classic is the Pfeffernüsse! These are bite-sized, crunchy, spicy, slightly sweet, and very tasty cookies that are perfect for the holiday season. You can have them as a tasty snack for your guests or give them as gifts to your friends and loved ones.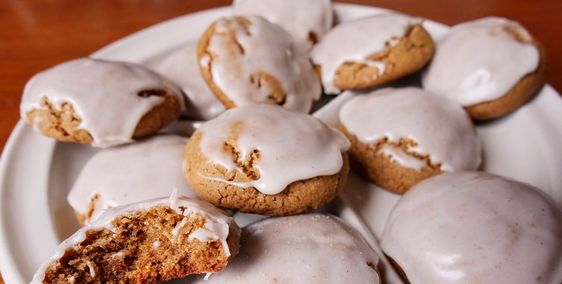 A variation of the Pfeffernüsse that you can do if you want to be a bit more creative than the traditional recipe is by glazing them!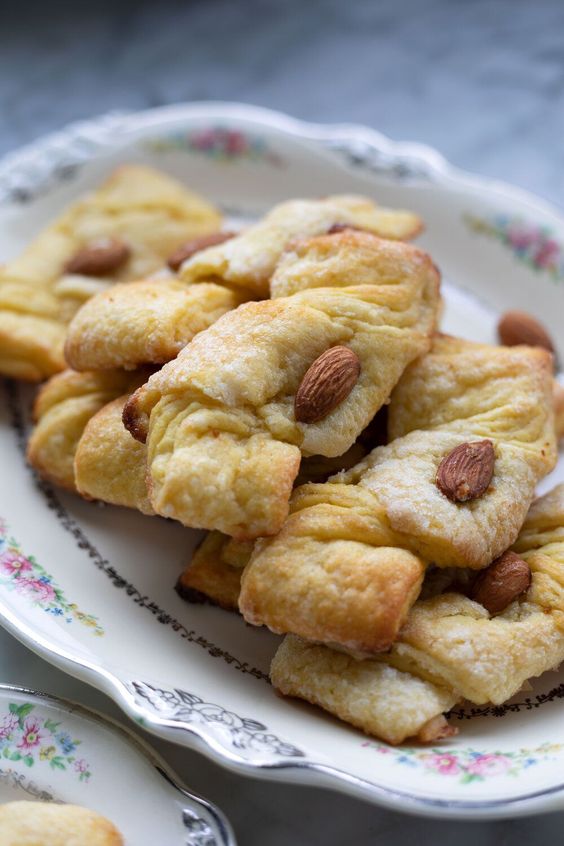 The sour cream twists are another classic Christmas German treat that will surely be an instant hit with your family and guests! It has a rich and tender texture that's perfect for any celebration this Christmas season.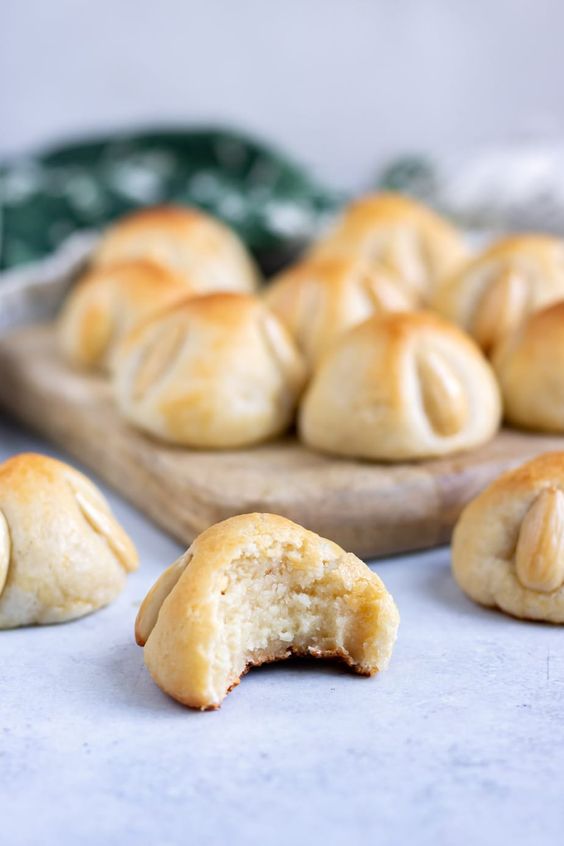 One of the most well-known German Christmas cookies is the Bethmännchen marzipan cookie. Not only are these delicious, but they're quite quick and easy to make! These cookies have a firm, crisp exterior, a chewy interior, and crunchy almonds throughout.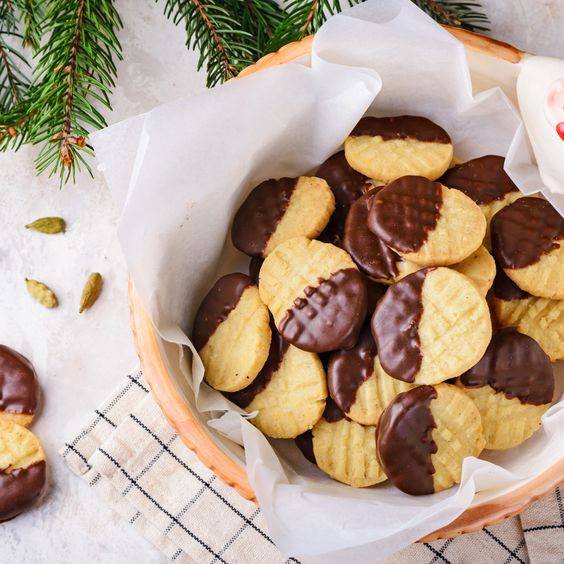 Cardamom cookies have been a staple in German Christmas celebrations since the dawn of time. They taste a little salty and have a strong floral scent. After baking, the cookies are covered in chocolate couverture.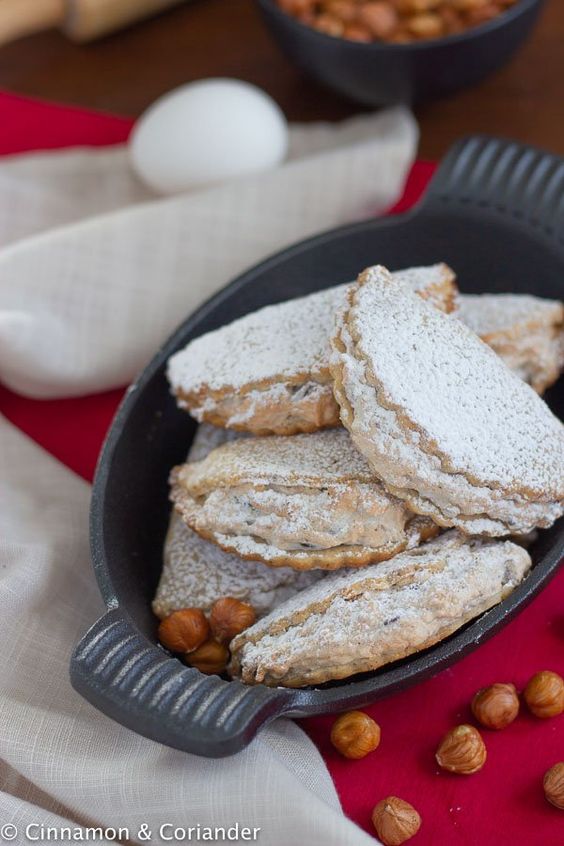 A classic German Christmas cookie served throughout the holiday season, these exquisite German Hazelnut Cookies are sure to be an instant favorite with your guests and family.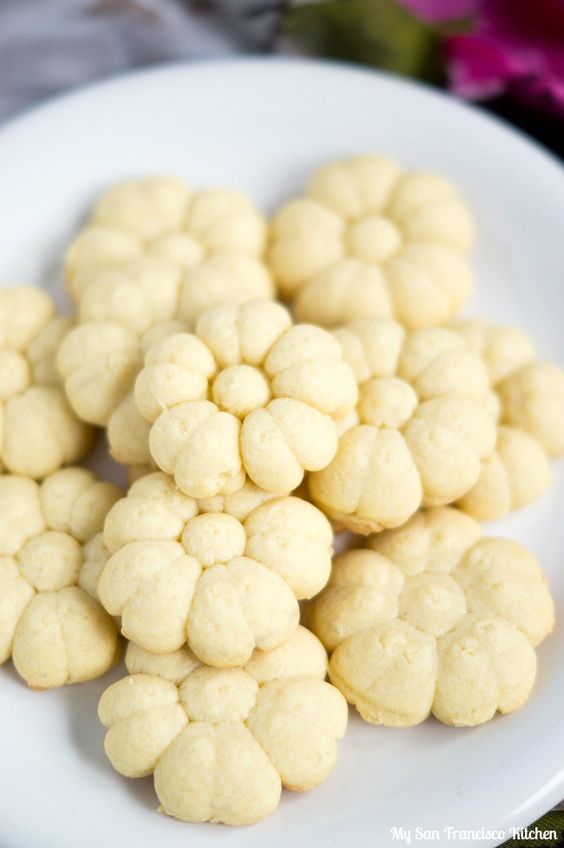 Even though you can indulge yourself with these delicious spritz cookies all year round, they're still a classic during the Christmas holidays! What's even better is that you can make your own variations depending on your taste using a basic vanilla recipe.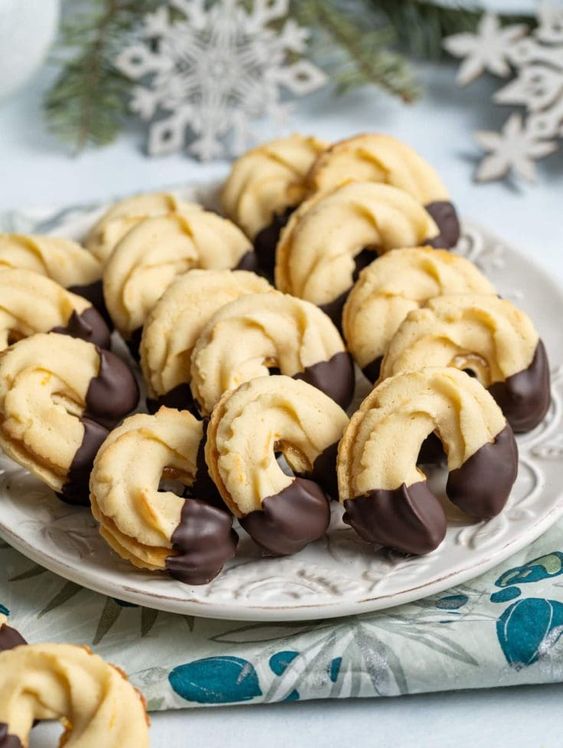 Originally from Austria, this buttery cookie dipped in yummy chocolate has been a staple in Germany and all throughout the world during the holiday season.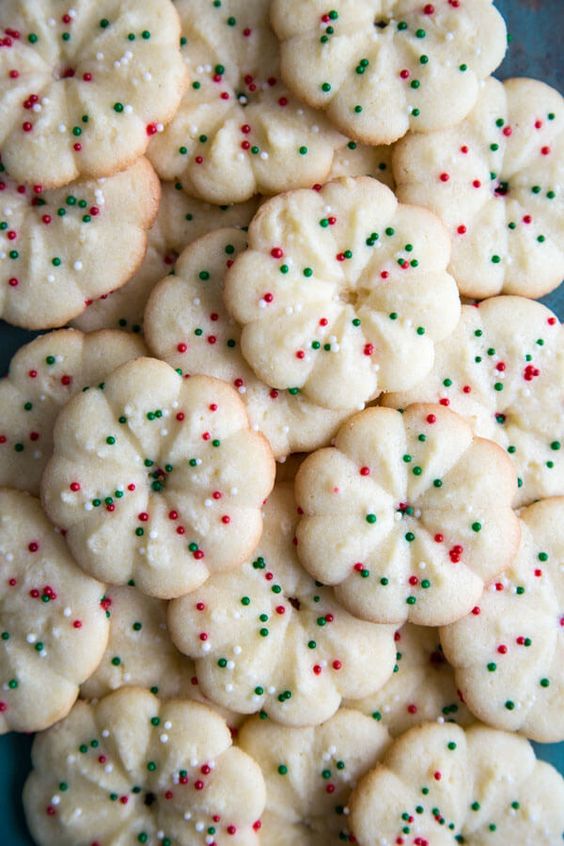 Look how cute these almond spritz cookies are with their Christmas-themed sprinkles! They would absolutely make a good gift to your colleagues, friends, and neighbors during the festive season!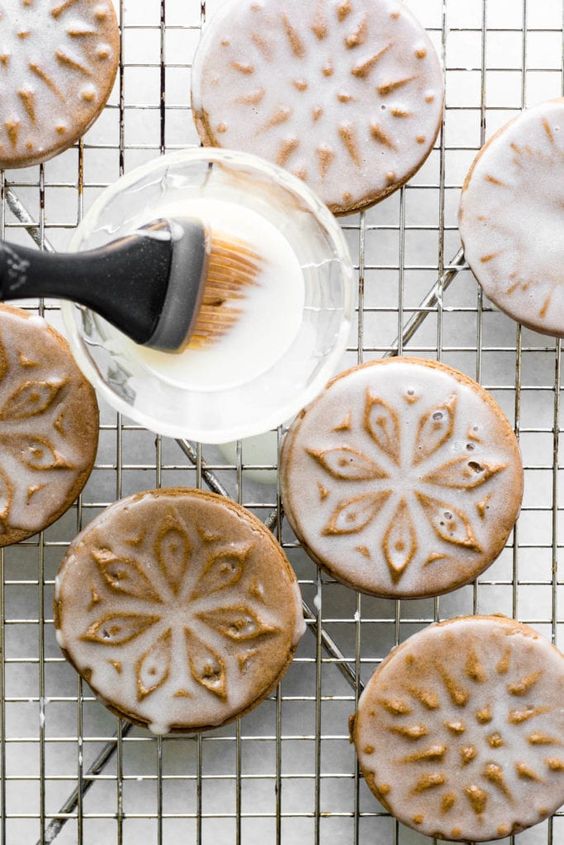 These soft-glazed gingerbread cookies are absolutely stunning! And all you need are some cookie stamps to recreate these beautiful and intricate patterns.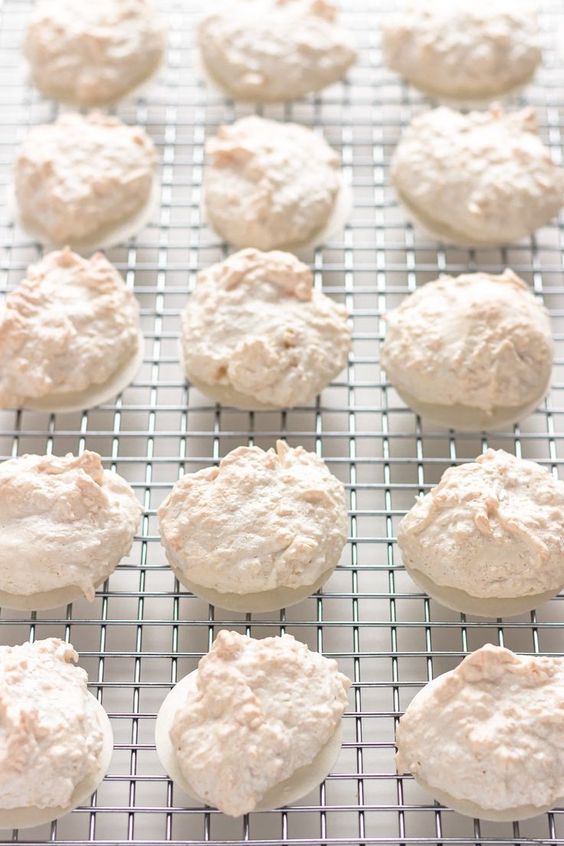 Soft and chewy on the inside with a slightly crispy outside that's light and airy, these coconut macaroons are absolutely delicious!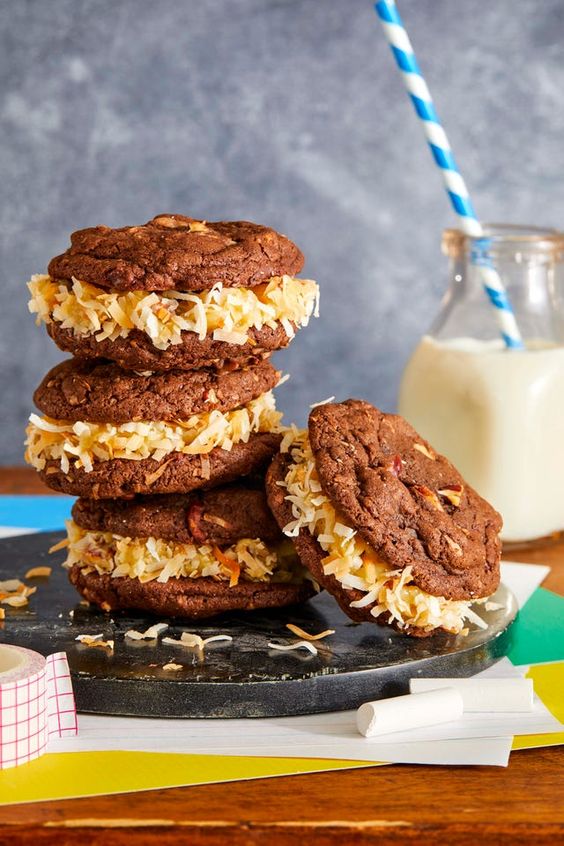 These chocolate sandwich cookies just look so scrumptious and perfect for the winter season! I can already tell that you will need to bake an extra batch as it'll disappear fast during your holiday parties.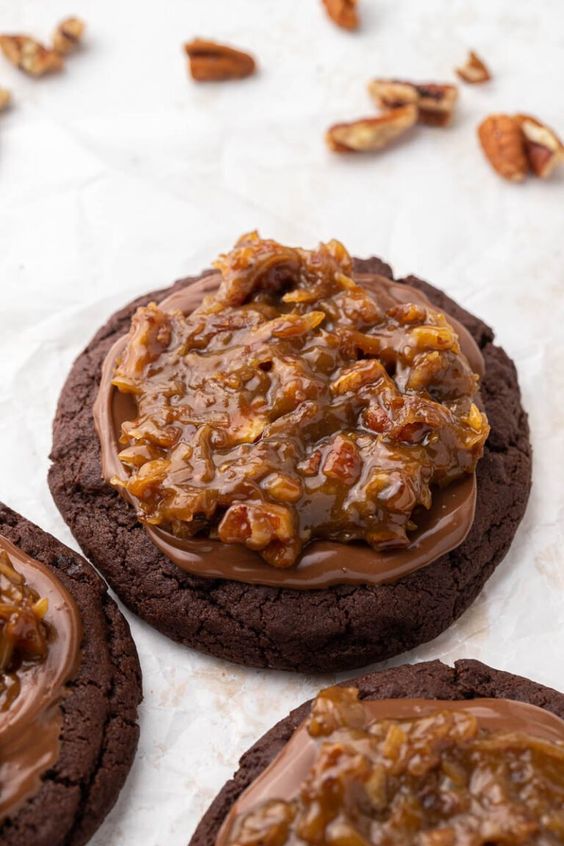 These chocolate cake cookies would pair so well with a delicious, steaming cup of hot chocolate or coffee on a cold, winter day!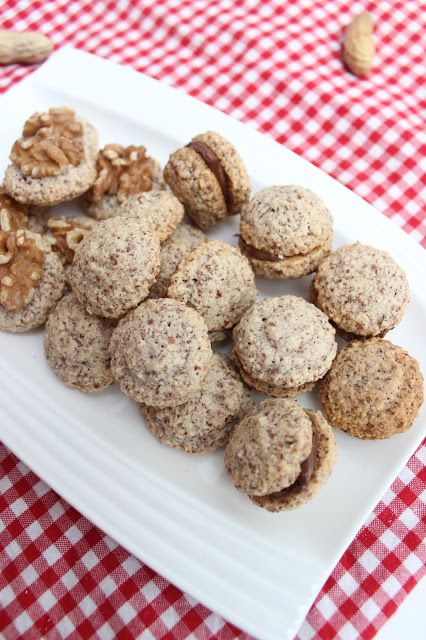 Instead of the usual coconut, you'll be using walnuts for this delicious macaroon treat for some nutty goodness this Christmas season!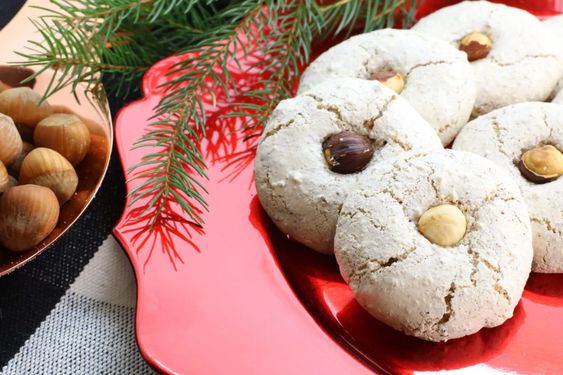 These toasted hazelnut meringue cookies are quick and easy to make if you're looking for something to bake last minute. You can easily add them to your dessert platter or put them in a holiday treats bag to give to your guests and family.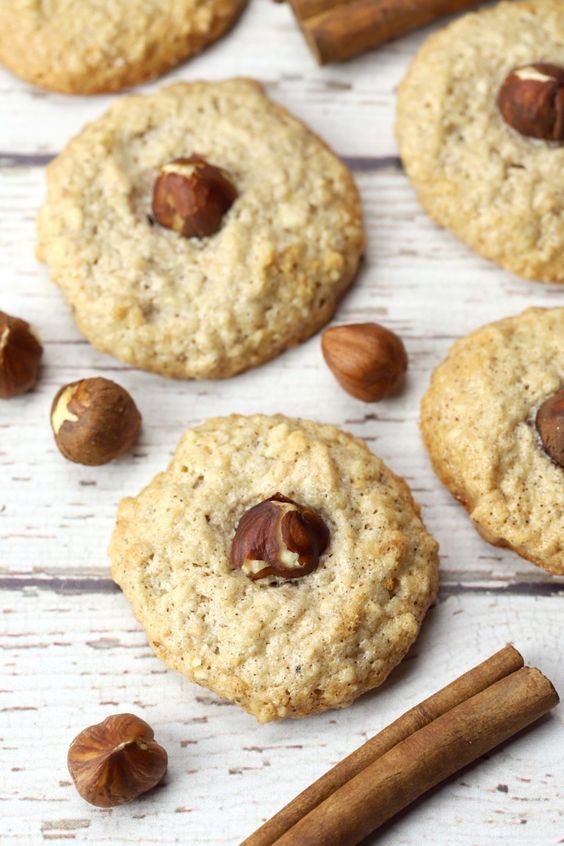 These traditional German cookies are undoubtedly scrumptious. They're filled with hazelnuts and the texture is just so light and airy once you bite into them. Just utterly perfect for the winter season!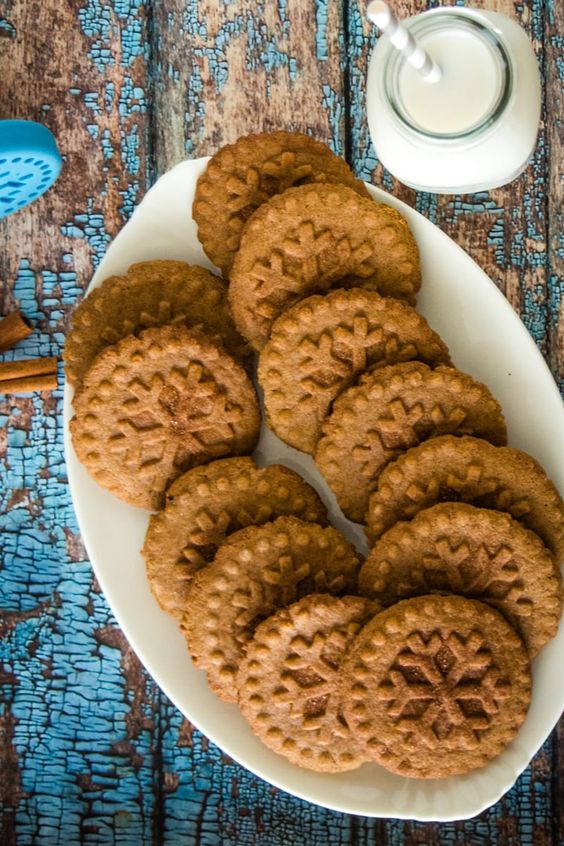 Spekulatius cookies are like your traditional German gingerbread cookies but with more spice. They're thin and crispy but also very soft and chewy.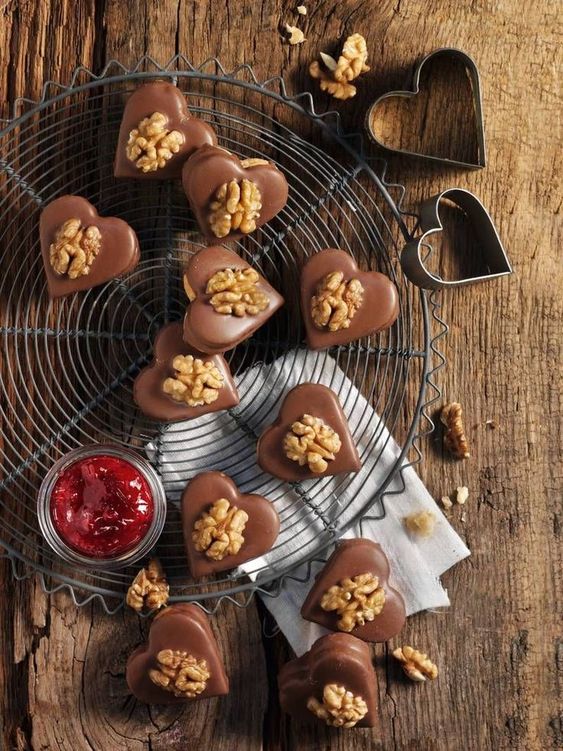 These butter cookies are coated in chocolate with a raspberry jam filling that makes an absolutely delicious treat!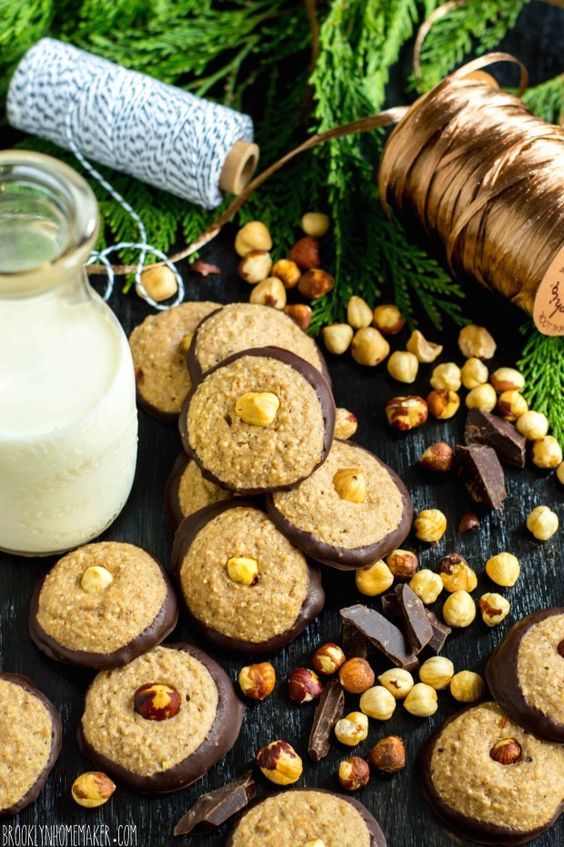 These nusstaler bavarian cookies are undeniably yummy! Definitely an instant favorite this Christmas season.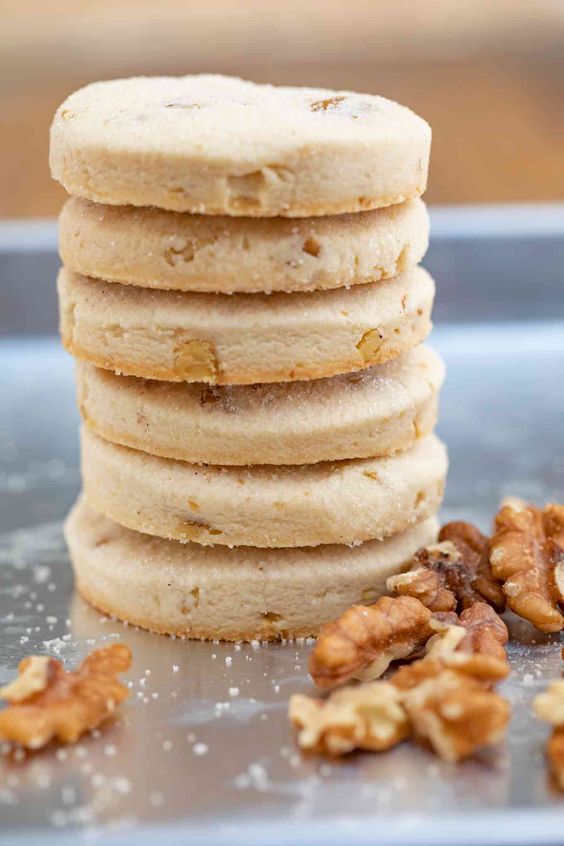 Quick and easy to make, these walnut shortbread cookies are the perfect Christmas cookies to be shared around the family this holiday season!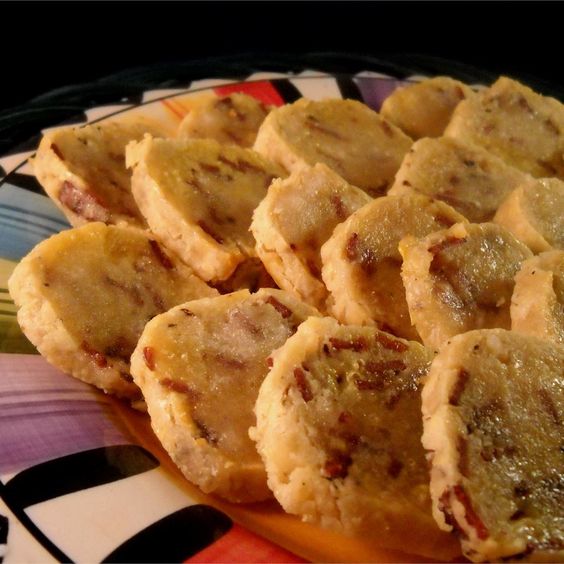 If you're looking for the perfect Christmas cookie that's both sweet and savory, these bacon cookies might just be right up your alley! Because who doesn't love bacon, right?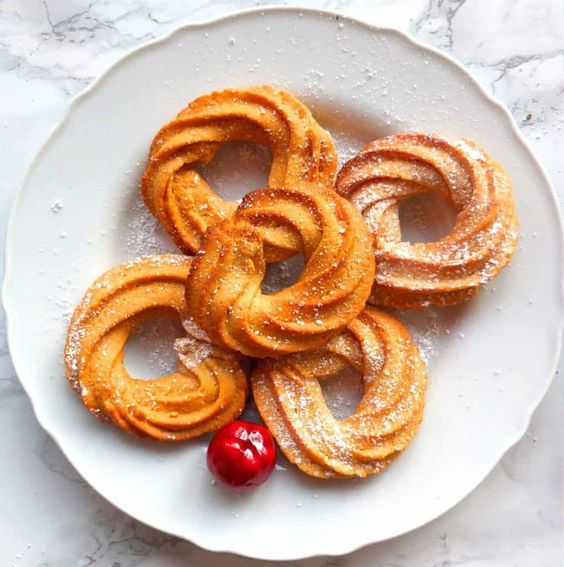 Crunchy and packed with flavor, these German almond marzipan cookies are definitely something you shouldn't miss out on this holiday season!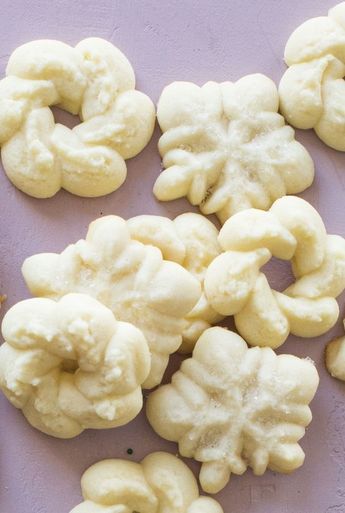 Fuss-free and easy to make, it's hard to go wrong with these Lemon Spritz cookies. If you need to whip something up quickly and last minute, then these delicious treats are your best option. Instead of the usual vanilla flavor, you can put some lemon zest into these cookies for a brighter flavor!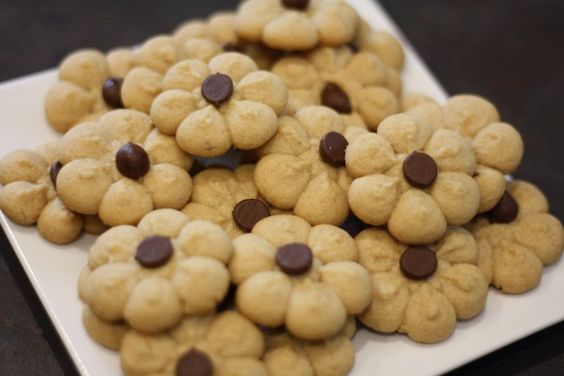 Put your own creative twist on the classic spritz cookies by adding some yummy peanut butter to the standard recipe! This will surely be a hit among your guests and loved ones!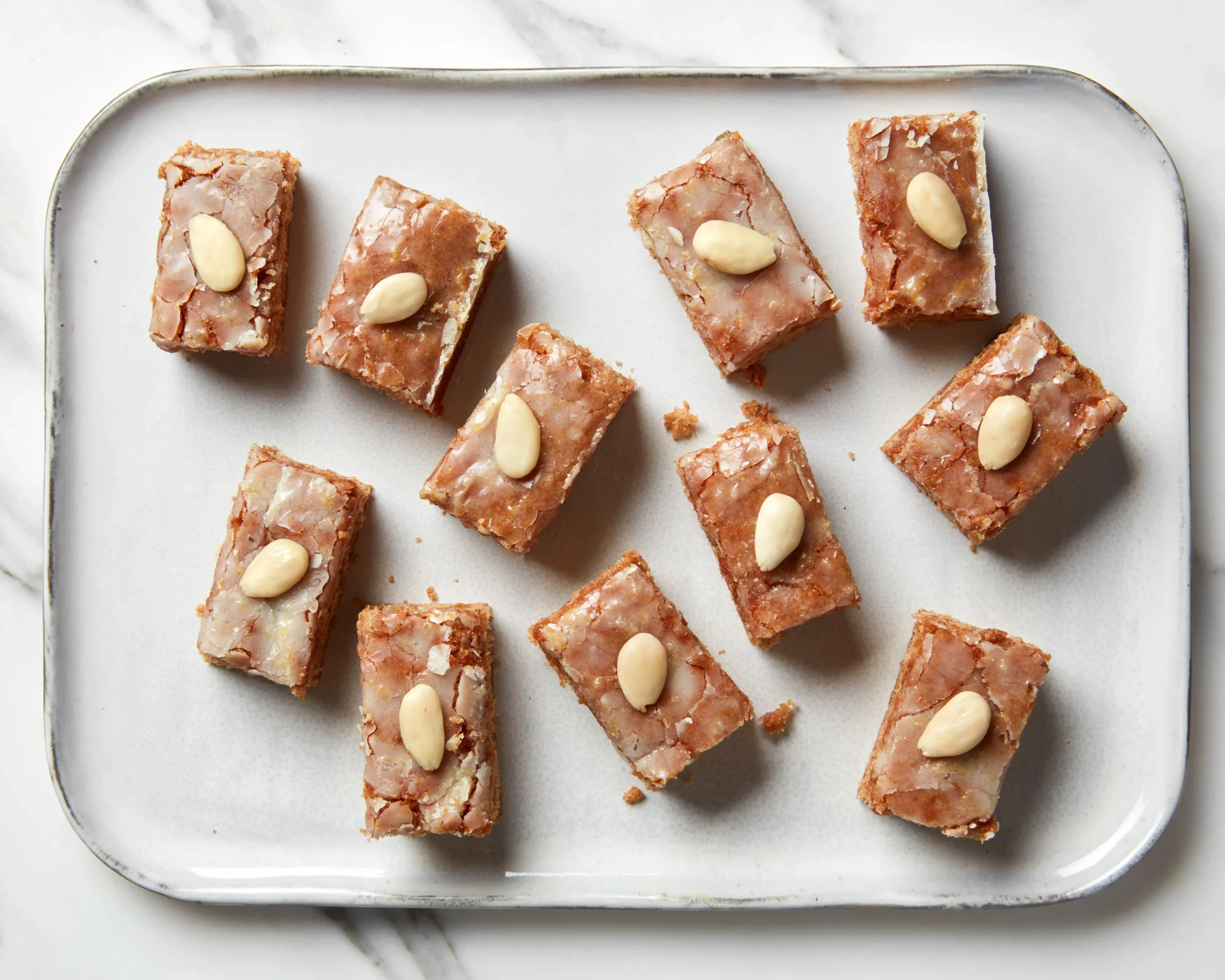 These German honey bars (or Lebkuchen) can be made into a variety of versions. But this particular recipe calls for aging up the dough for up to two months and it's definitely worth the wait!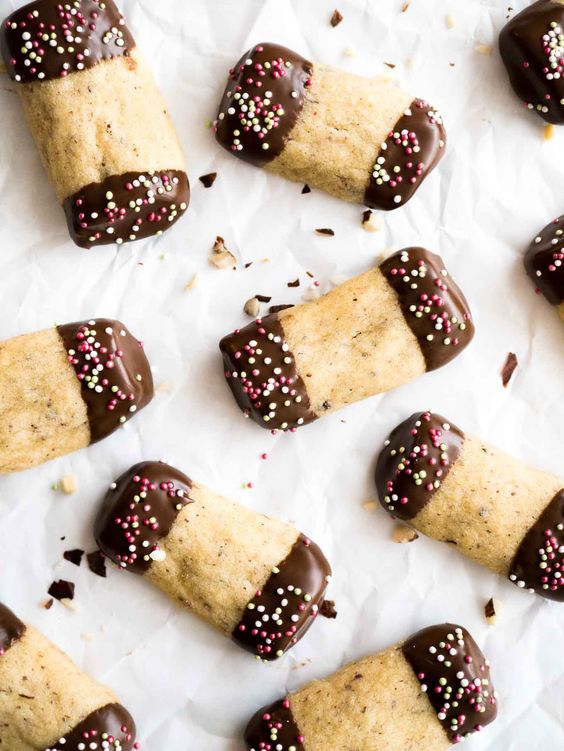 Dipped in dark chocolate with sprinkles that fit in with the festive season, these maple hazelnut cookies will make the perfect addition to any cookie tray you'll be serving during the holidays.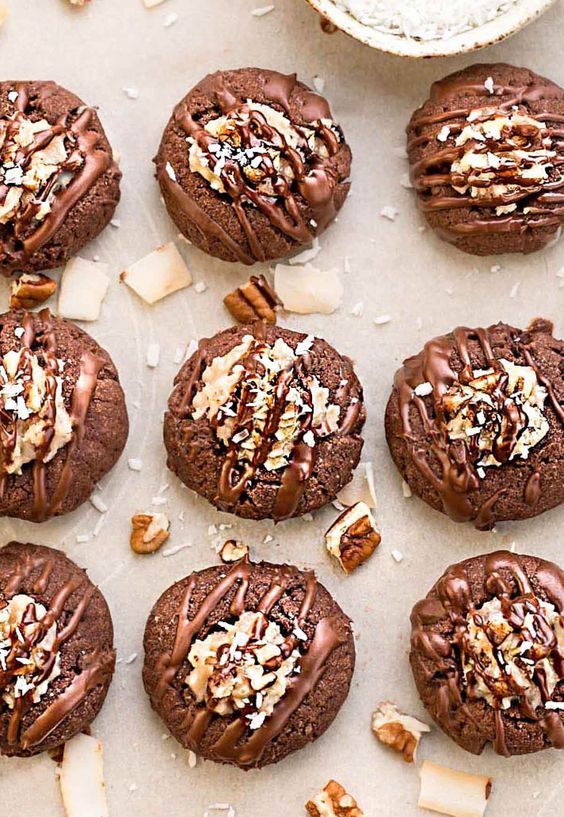 A decadent, chocolate-covered shortbread with coconut-pecan frosting, how can anyone possibly resist this mouthwatering cookie this Christmas season?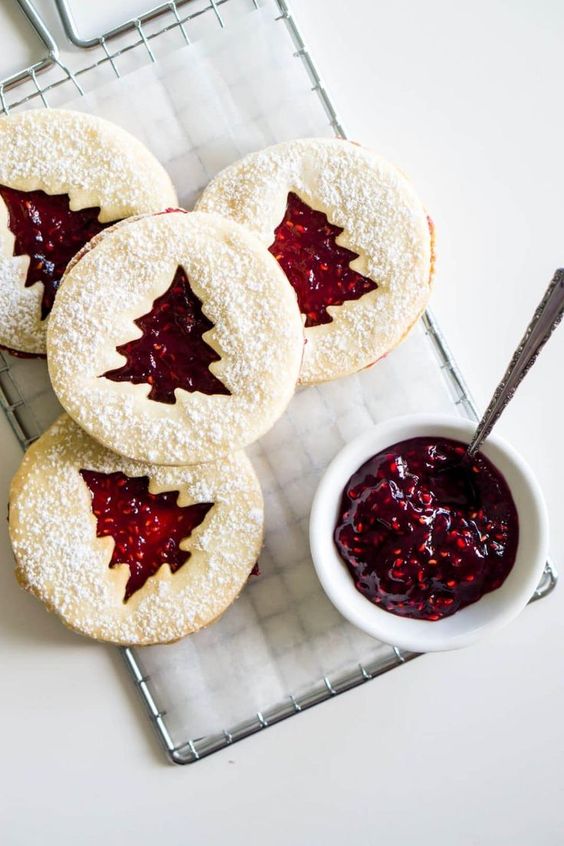 Originally from Austria, Linzer cookies have become popular in Germany as well and are now considered a staple Christmas treat! While you can use a variety of fillings, this particular recipe uses raspberry jam.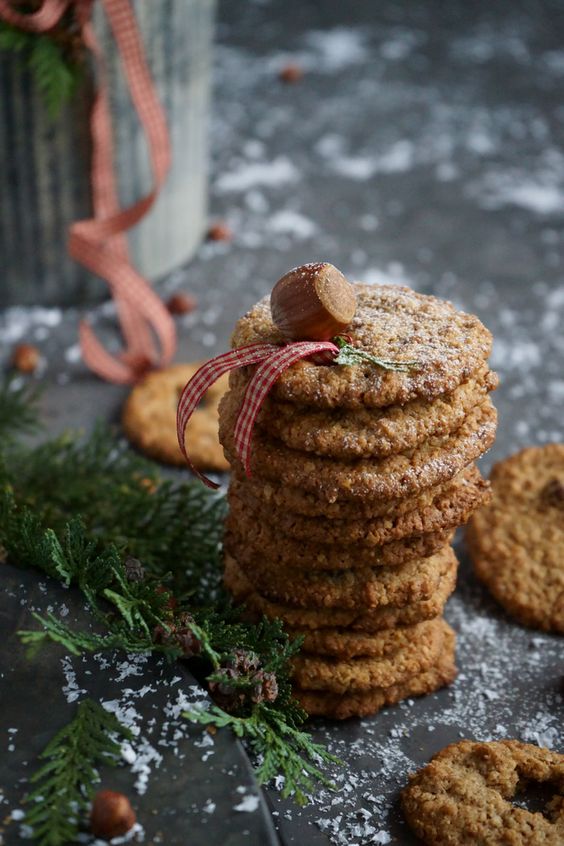 If you're looking to make some German Christmas cookies that can be perfectly paired with a cup of coffee, then these hazelnut oatmeal cookies will certainly give you that perfect crunch with every bite.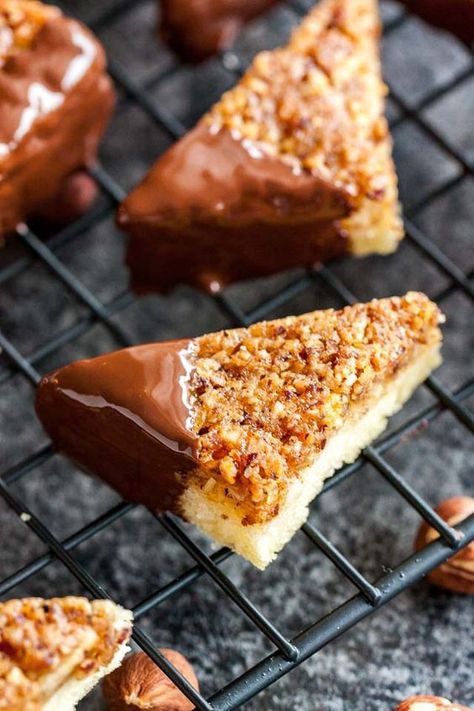 Nut Corners are triangle-shaped, multilayer cookie bars that have been covered in chocolate around the corners (hence the name). These cookies are my absolute favorite because of their buttery shortbread base and crispy caramelized nut topping!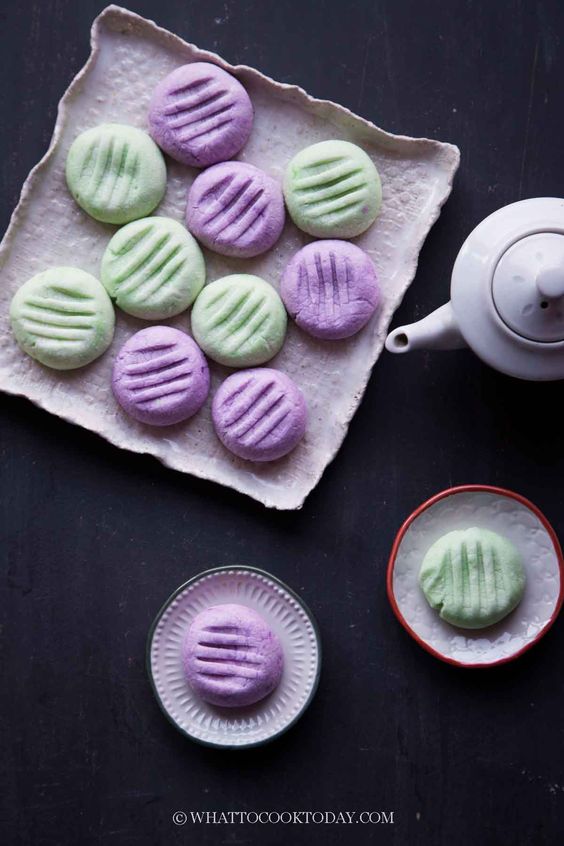 These eggless German potato cookies are amazingly soft and crumbly and will melt right in your mouth. If you ever decide to make these for Christmas, make sure to make an extra batch as these will be hard to stay away from!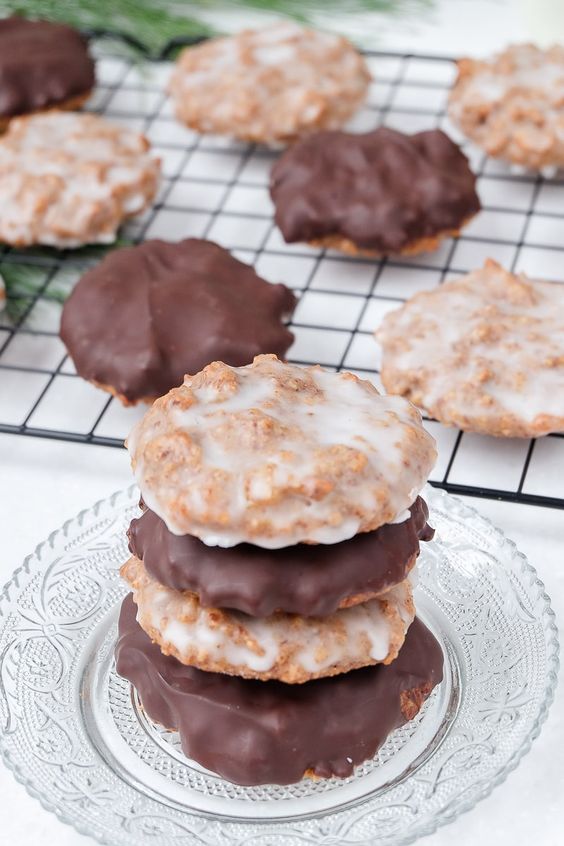 This is another variation of the classic gingerbread cookies called "Elisenlebkuchen". They share a lot of similarities with other gingerbread cookies but this one comes with a rich, nutty texture and zesty, sugary notes that you'll taste in every bite!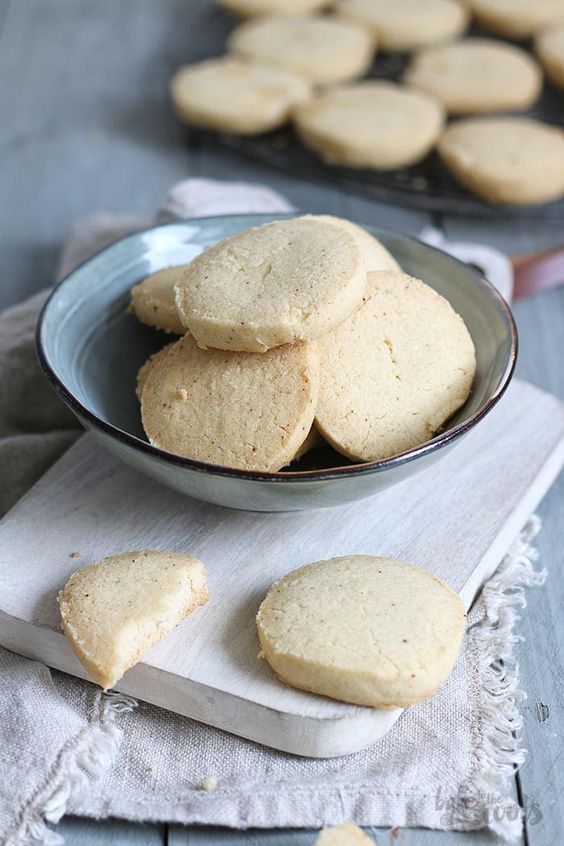 Heidesand cookies are classic German Christmas treats for a reason. They're sweet, they melt in your mouth, and they pair well with a nice cup of hot cocoa or coffee. Not to mention, they're pretty easy to make! This is one of the most classic German Christmas cookie recipes that you'll definitely want to know if you're into traditional baking.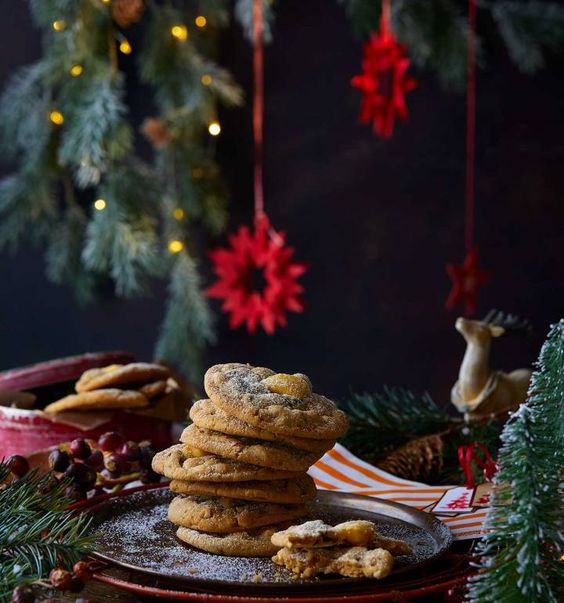 Looking for German Christmas cookie recipes that taste like Christmas? Stollen cookies are an absolute must-try this Christmas season if you haven't had one yet. Made with sugar icing, marzipan, dried sour cherries, and mixed fruit, it perfectly balances the sweet and the sour.
Hopefully, these German Christmas cookie recipes gave you a great starting point for making traditional but delicious recipes! Happy holidays!