Favorite Hotel Resorts Worldwide
There are many sources of reviews for hotel resorts worldwide Readers Choice Awards surveys taking up the last three decades have provided information on the top resorts around the world and why they made the list.
Private Game Resort Hotels
Private game resort hotels throughout Africa offer a unique opportunity to vacation not only in the middle of nature but surrounded by animals. For example, the Phinda private Game Reserve in South Africa has multiple lodges with expansive views of the natural landscape, designed with step down balconies that offer seating areas facing the game reserve and private plunge pools. The open deck serves as the perfect place to enjoy a meal with the percussive sounds like the red Tonga squirrels or chattering monkeys in the background. This particular resort is a great way to see large game from a distance.
On the ground floor there are similar Resorts like the Tintswalo Safari Lodge in South Africa with clawfoot tubs, thatched terraces, Persian rugs, and wonderful spa services.
Zambia's BushCamp Resorts give you a chance to hangout near local watering holes known to attract hippos and elephants.
Giraffe Manor in Kenya is a stunning 1930's manor house where a herd of endangered giraffes roam freely, stricking their heads in through the windows for meal time, and helping you wake up with a friendly tongue swip.
Beach Front Hotels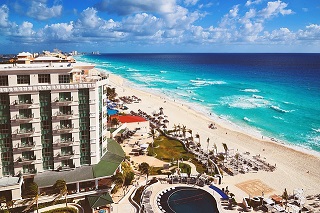 For those who want to head to the coast, any coast, Florida offers a range of stunning and favored hotel resorts. Hilton has the Baker's Kay Resort located in Key Largo. This hotel was once the center of a pineapple plantation but now serves as a 13 Tropical Acres Resort with winding nature trails that will lead visitors directly to the beach. Each of the rooms feature views of the Florida Bay. On-site dining options give you the same views but provide a Caribbean Creole cuisine, poolside tacos, and more. Arrangements can be made for Beachside Tiki huts, scuba diving, fishing charters, and sea plane rides.
Florida isn't the only place for stunning beachfront hotels. In Mauritius you can go to The Oberoi. The pristine, remote beaches are all that will draw your eye at this vacation destination. It takes full advantage of the stunning marine life at Turtle Bay with over 20 acres of gardens, stop truth pavilions, private views and private heated swimming pools. The bars and restaurants are Alfresco designs and can be taken in while watching the sunset across the bay.
Other beachfront hotels include The Nai Harn in Phuket. Anyone who has ever wanted to visit Thailand will feel as though they disappeared into Greece when they step into this particular hotel resort. It is located on one of the most popular beaches in Phuket. It has stunning white exteriors just like Greek hotels with luxurious rooms that offer a panoramic view of the bay. Daily yoga classes, a six-room spa, swimming pools, snorkeling, and a variety of on-site restaurants make this location top of the list.
Other options for beach front vacations include Capella Lodge in Australia. This hotel has luxurious lodges right on the beach with mountain views. In fact it is on a world heritage site Island. There is no cell phone reception, no traffic lights, and a cap of only four hundred tourists at a time on the island making it perfectly private.
Trancoso, Brazil offers the Uxua Casa Hotel and Spa Resort were you can enjoy a pool built with healing crystals, comfortable canopy beds, and private walking paths through the mangrove forests directly to the beach.
Unique Resorts
If you are interested in more unique famous hotel resorts around the world, Bisate Lodge in Rwanda is located in Volcanoes National Park. Each of the rooms are designed like a giant bird's nest and they are built into the amphitheatre of what was a volcanic cone. Similarly unique is the Ngorongoro Crater Lodge located in Tanzania. The rooms are completed with banana leaves, and you are living temporarily inside the world's biggest concentration of wildlife and the largest concentration of lions in all of Africa.
Casino Resorts
You can also opt for an adult vacation at a casino resort where you not only enjoy access to traditional hotel resort amenities like spas, outdoor activities, restaurants and on site entertainment, but casino games and tournaments throughout your stay. If you and your loved ones prefer worldwide travel, you can head to Toronto resort casinos. These casino resorts offer modern luxuries with a range of dining opportunities to fit every palate. From buffets to sushi all the way to top-level restaurants with a view, the bars and restaurants here will make the trip well worth it.