Not in the mood for carving this Halloween season? These easy pumpkin painting ideas will be perfect for you!
The vibrant hues of summer are slowly fading into the warm and cozy shades of autumn and I could not be more excited! Leaves flutter in the crisp breeze, the aroma of freshly baked pies fills the air, and pumpkins take center stage this fall season. But why settle for the same old Jack-O'-Lanterns when you can transform these humble gourds into stunning pieces of art!
This fall, it's time to unleash your creativity and elevate your pumpkin game with a delightful array of pumpkin painting ideas that will leave your neighbors and friends in awe.
Autumn is a time of transition, and what better way to celebrate this change than by giving life to your pumpkins in ways that go beyond the traditional carving? Painting pumpkins not only allows for intricate and detailed designs, but also offers endless possibilities for personal expression.
Whether you're a seasoned artist or just looking for a fun family activity, this collection of ideas is your ultimate guide to exploring the art of pumpkin painting!
Easy Pumpkin Painting Ideas
Whether you're decorating your porch, hosting a fall-themed gathering, or simply seeking a new creative outlet, these pumpkin painting ideas will spark your imagination and ignite your passion for the season.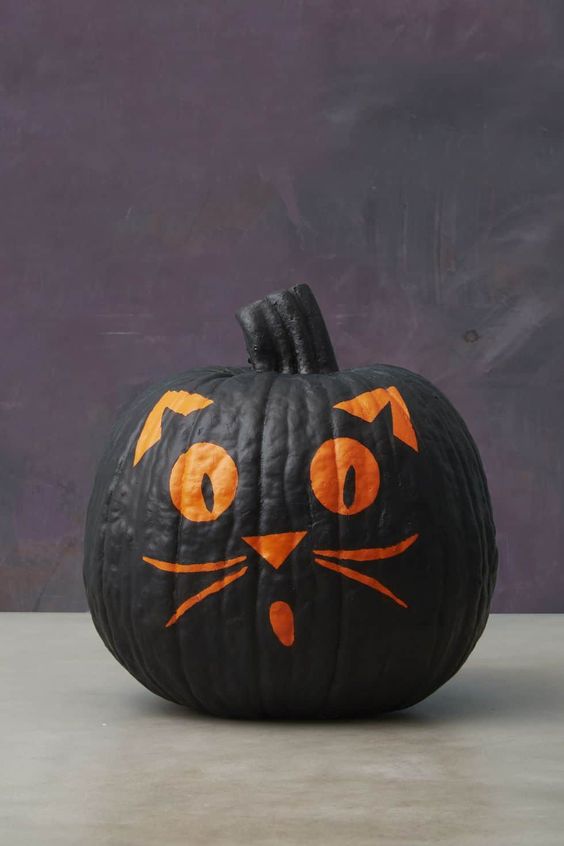 Starting off our easy pumpkin painting ideas list is this black cat painting! Because who doesn't love cats, right? Pair that black paint with some bright orange accents to paint the cat's face.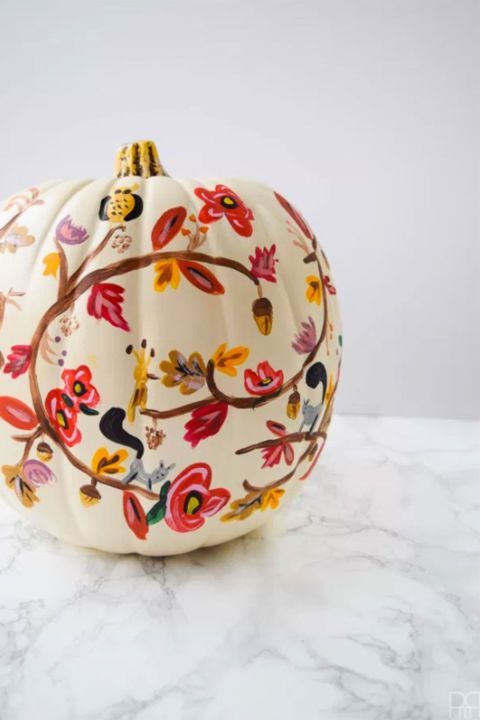 If you're looking for some cottagecore vibes to add to your Halloween decorations, this pumpkin painting might be something you'd like! I love the design of the vintage florals here!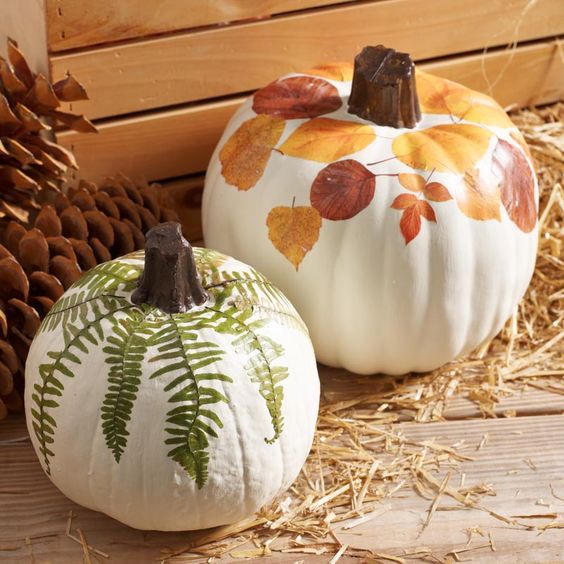 Here's another vintage and cottagecore design you might want to take inspiration from for your pumpkin painting ideas this year. I can totally see these being great decorations for your Thanksgiving dinner.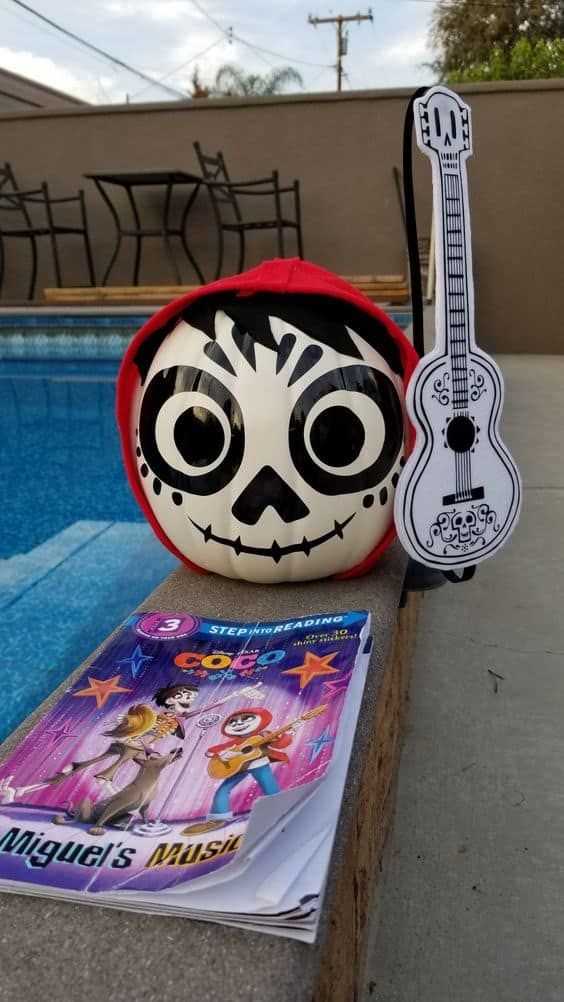 Take inspiration from a beloved Disney classic like Coco and use it to paint your pumpkins this year!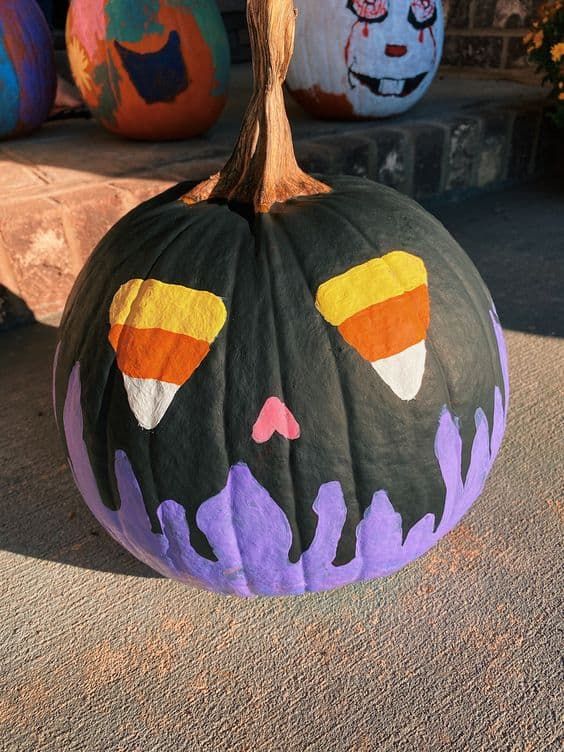 If you'd like to use an original character and want to create your own unique spin on your pumpkin paintings, this is a cool concept to try out! I'm loving the combination of vivid and vibrant hues!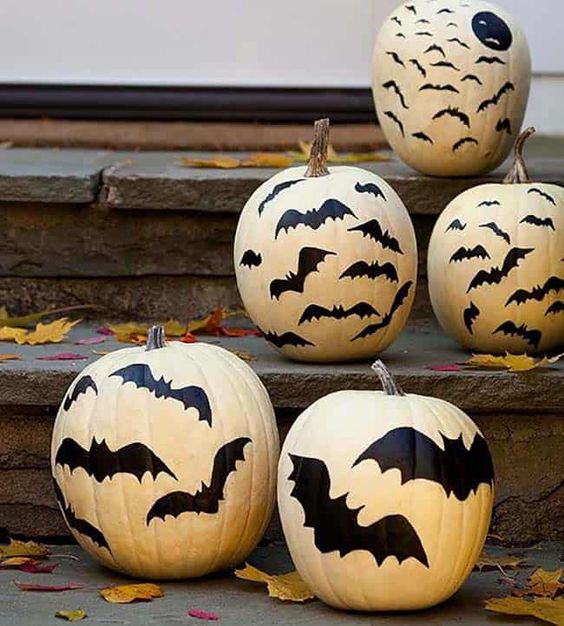 Thinking of using just blacks and whites for your pumpkin paintings this year? Then you'll certainly love this idea! Just put white paint all over your pumpkins and draw on multiple bats to achieve this look!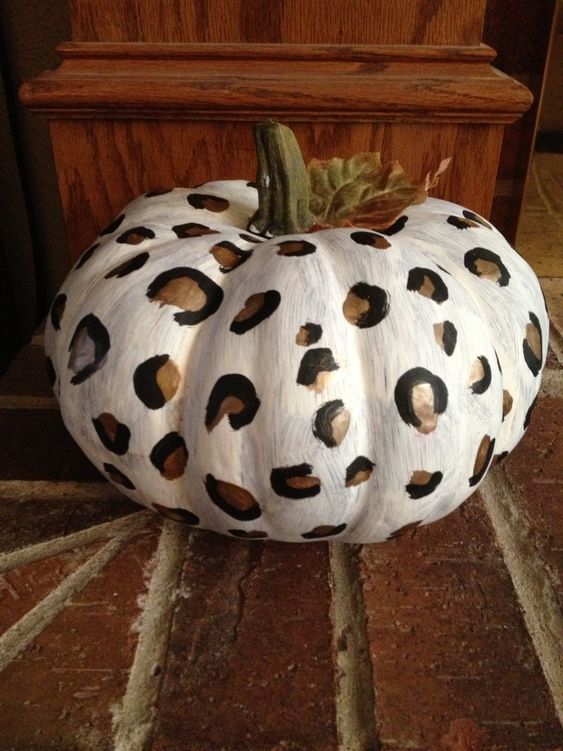 For a pattern that never goes out of style, this leopard print for your pumpkin painting won't let you down! It looks so classy and chic!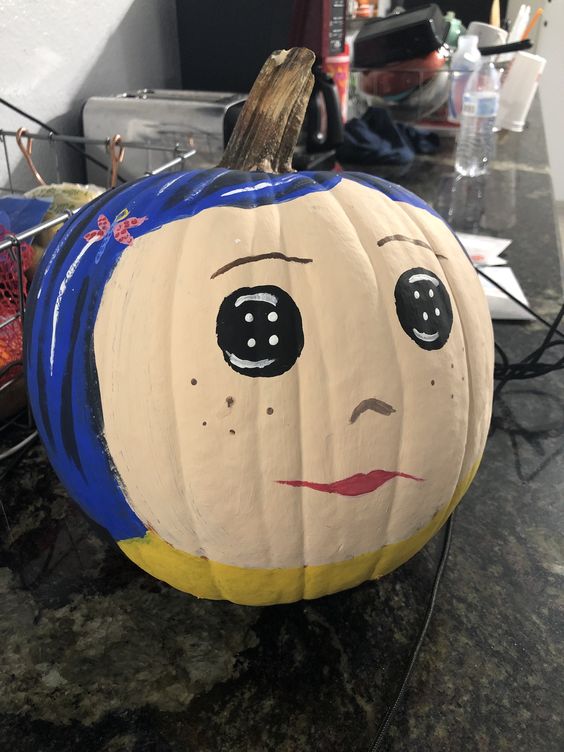 As a huge Coraline fan, this is a pumpkin painting I'm dying to try out this year! You can even add some large buttons to go on the eyes instead of painting them in.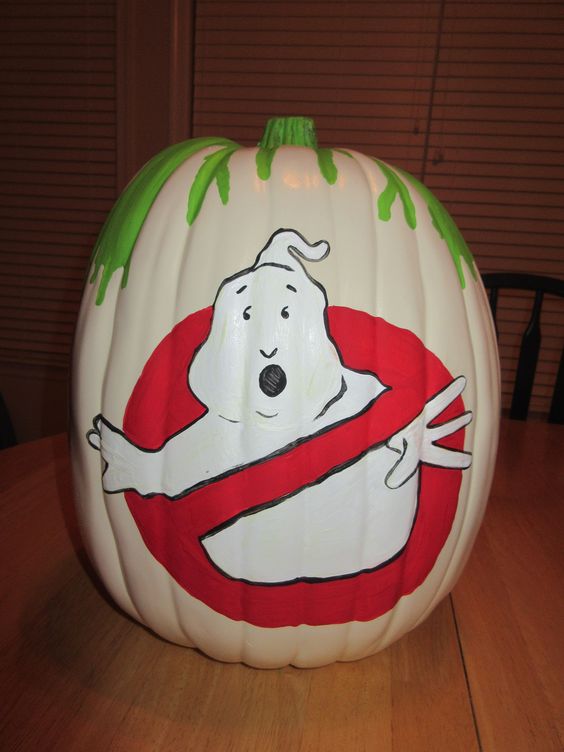 Who wouldn't love to see a classic horror film like Ghostbusters as a pumpkin painting idea, right? You can even make a collection of horror film-inspired pumpkin paintings collection this Halloween season!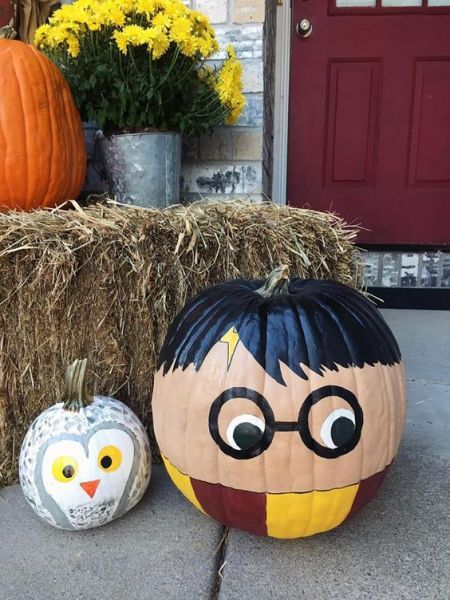 I've always seen the Harry Potter franchise as the perfect media to consume during the fall season. If you agree, why not decorate your house with these Harry Potter-themed pumpkin paintings?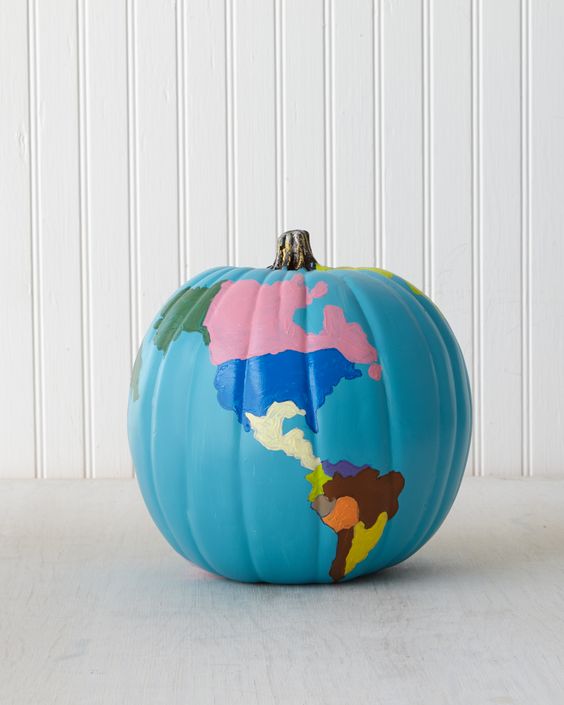 if you're someone big on geography, why not use some of your pumpkins to recreate a globe? This would look so cool and would be a great decoration all around the year!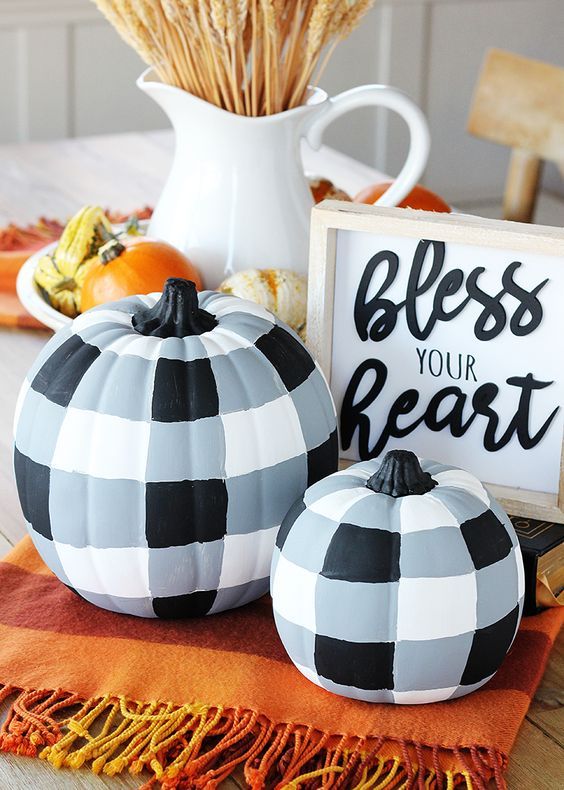 These checkered pumpkins are such a great way to infuse both the fall and winter festivities! These patterns can easily be a part of your Christmas decorations as well!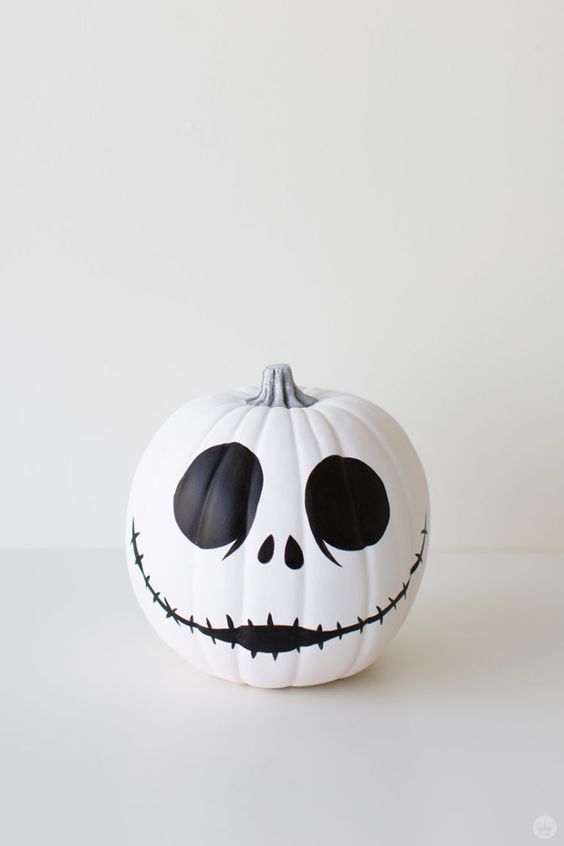 Halloween is truly the Nightmare before Christmas, so why not opt to do a Jack Skellington type of pumpkin painting for you to decorate your house with?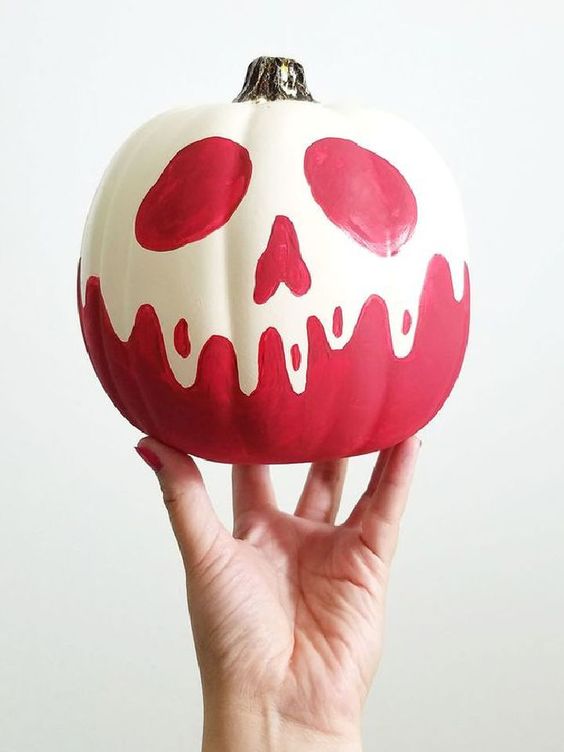 This poisoned apple-themed pumpkin painting is one of my favorites on this list. I just love how both spooky and colorful this pumpkin painting is! Not to mention, it's a great reference to Snow White!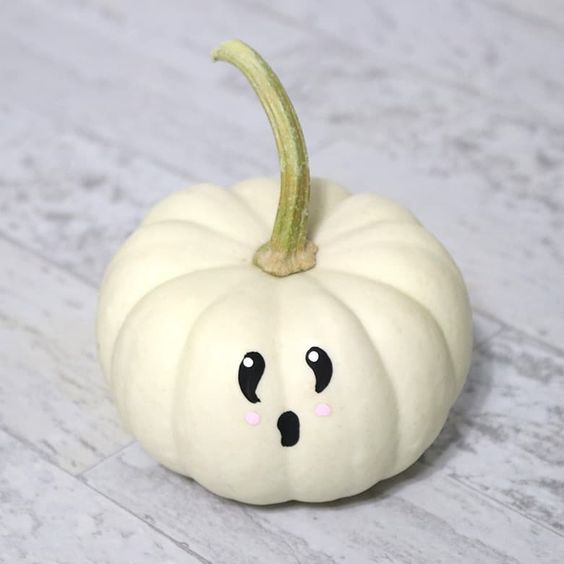 For those who don't want to do horror-themed Halloween decorations this year, why not opt for a mixture of spooky and cute? This cute, little pumpkin with a ghost face is just utterly adorable!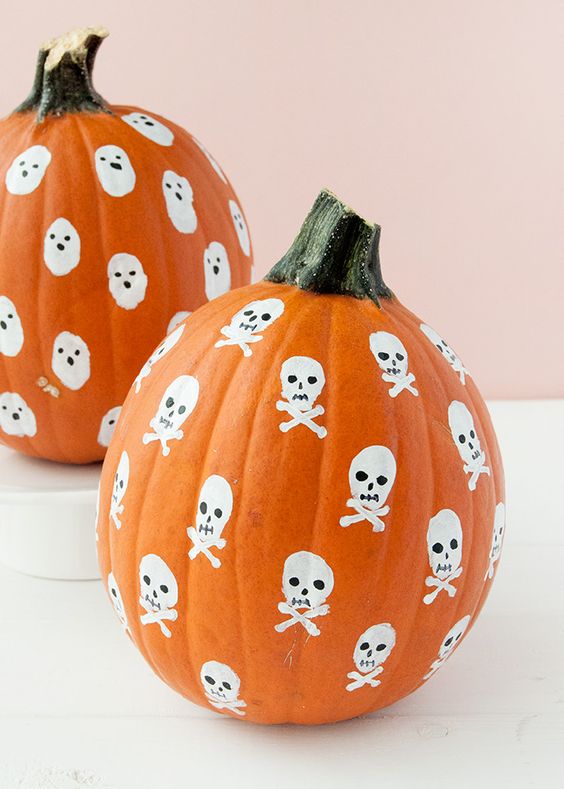 If you're looking for repeating patterns to paint your pumpkins with, you certainly can't go wrong with little skulls and ghosts for your Halloween decor.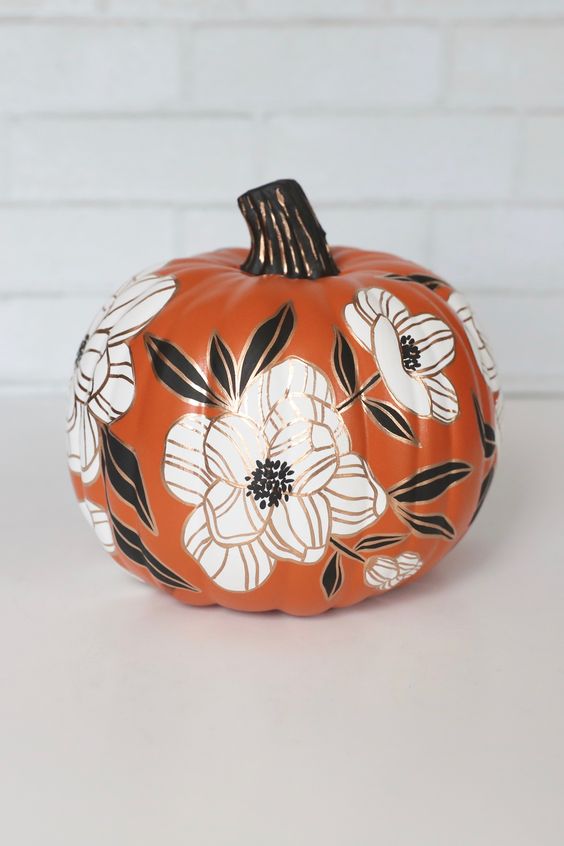 This floral pumpkin painting might be a little more intricate for the average pumpkin painter but if you're up for a challenge, you might have fun doing this!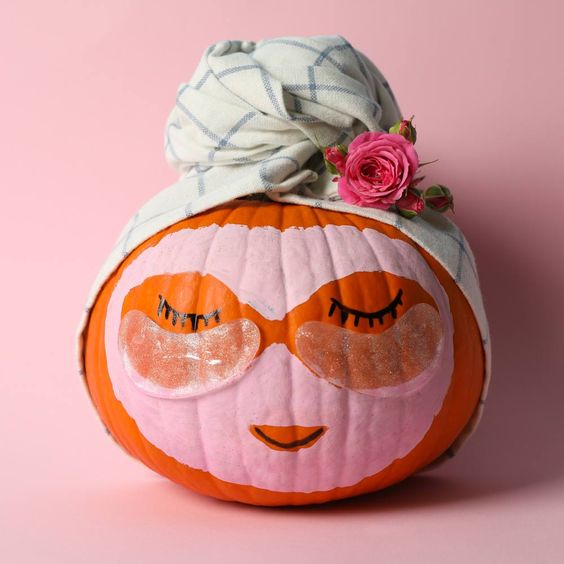 Thinking of some pampering time and want to express it through your pumpkin painting as well? Well, this one is such a fun way to do it! If you're going to be inviting your girlfriends for some self-care time this Halloween season, then this pumpkin would be a cute decoration!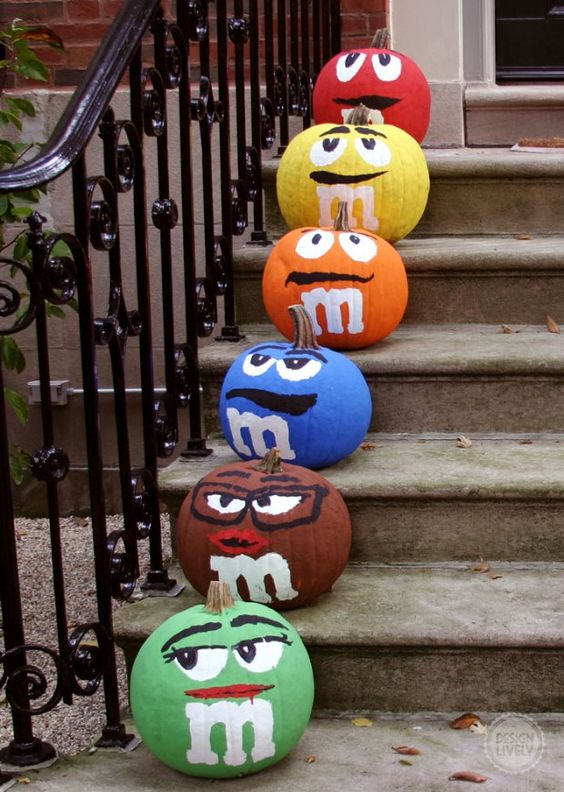 These M&M-themed pumpkin paintings are an easy way to do a cohesive concept for your pumpkins this Halloween season!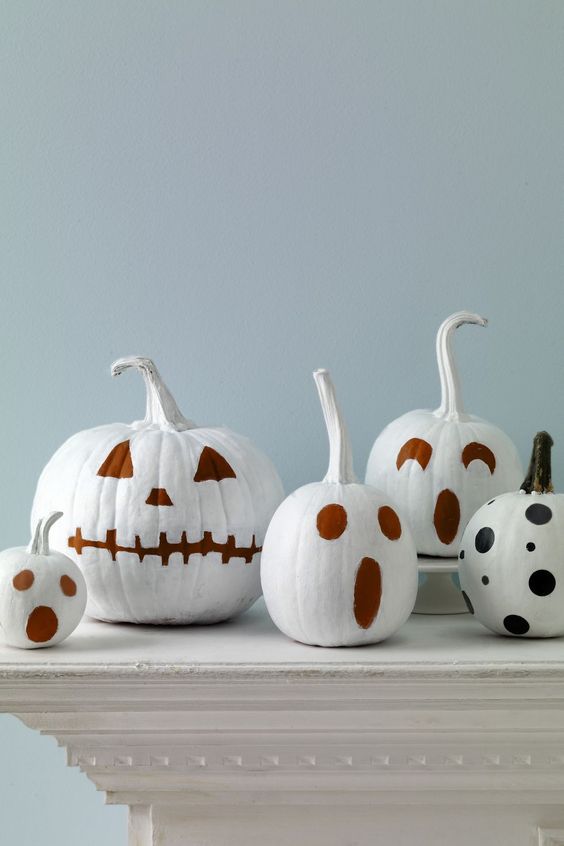 The look of these white pumpkins is so classy and chic! If you're not a fan of vibrant colors, this might be something you would like. Not to mention, you can also paint them with different spooky facial expressions.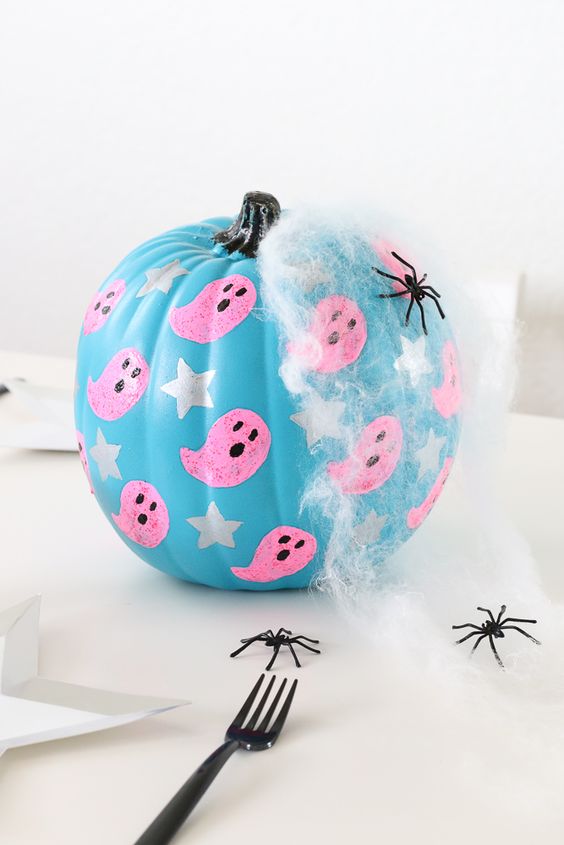 This brightly colored design is such a cute way to paint your pumpkins with! If you're not in the mood for doing dark, gloomy colors this fall season, then you might want to take inspiration from this one!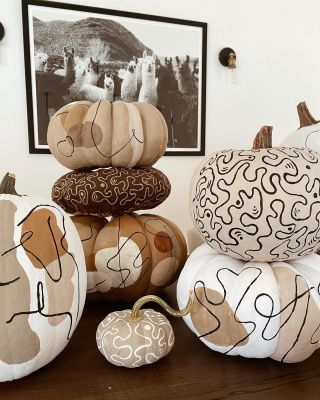 For chic, moody, abstract pumpkin painting that you can decorate your house with all year long, this is the perfect pumpkin painting design! I love the neutral color palette and how sophisticated it looks!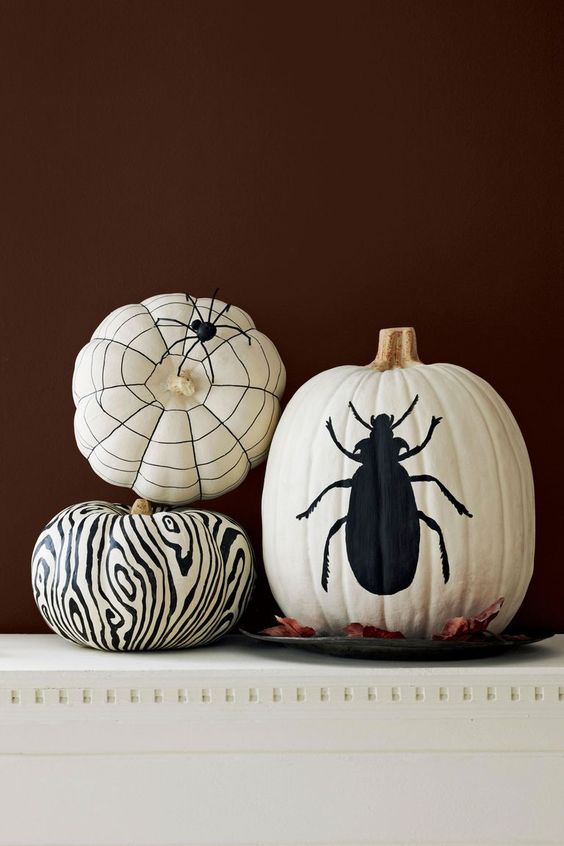 When it comes to pumpkin paintings, one of my favorite themes is creepy crawlies! I feel like they're such an easy way to spook up any place!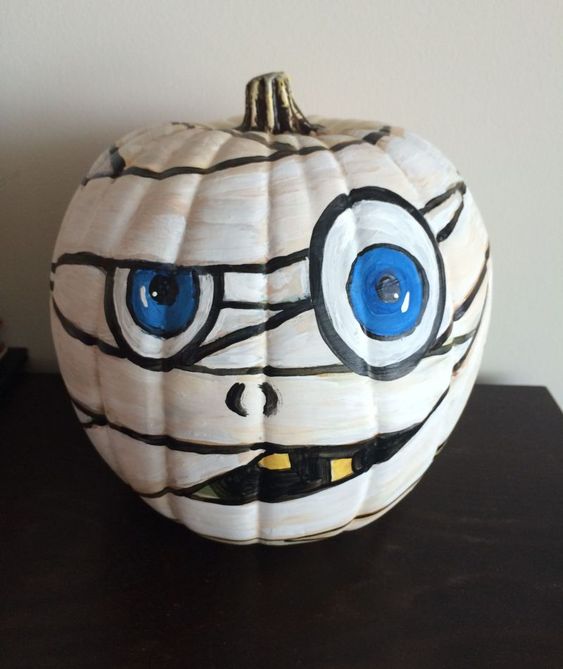 This mummy-themed pumpkin painting is another really fun design to do with your pumpkin. Plus, the mummy is a classy monster that anyone will easily recognize!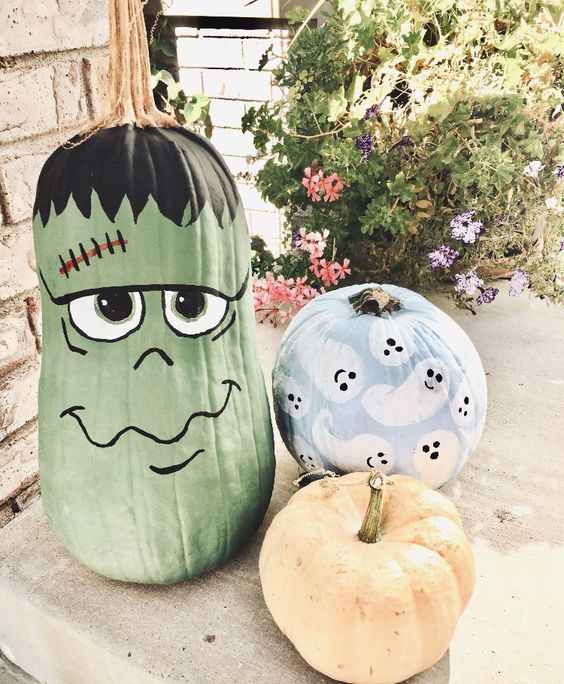 Can't get enough of classic monsters to design your pumpkins with? Then you might love these Frankenstein and ghost patterns!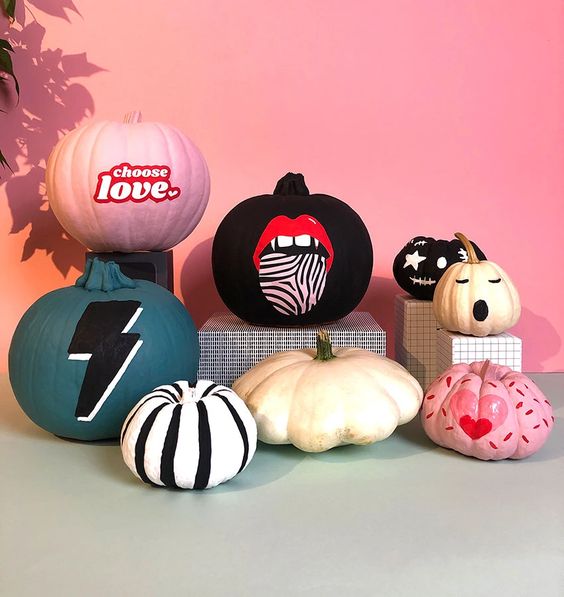 But if you're looking for a pumpkin painting idea with a lot of variety and quirkiness, you might want to take some inspiration from this particular bunch!
Talk about pumpkinception! These pumpkins have been painted on with cute, little pumpkins as a design and I think they're utterly adorable!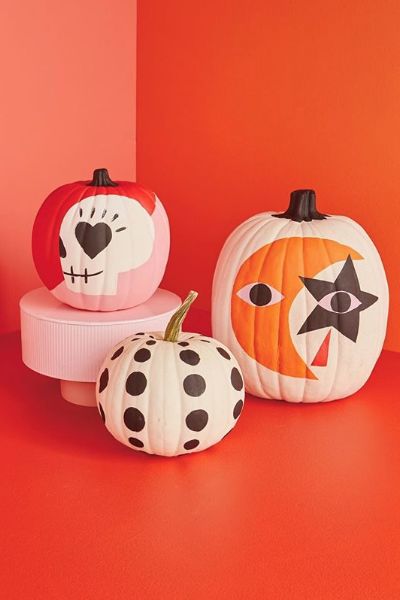 Here's another abstract pumpkin painting you might want to try out this fall season. You can also incorporate a little bit of spookiness to match the season's vibe.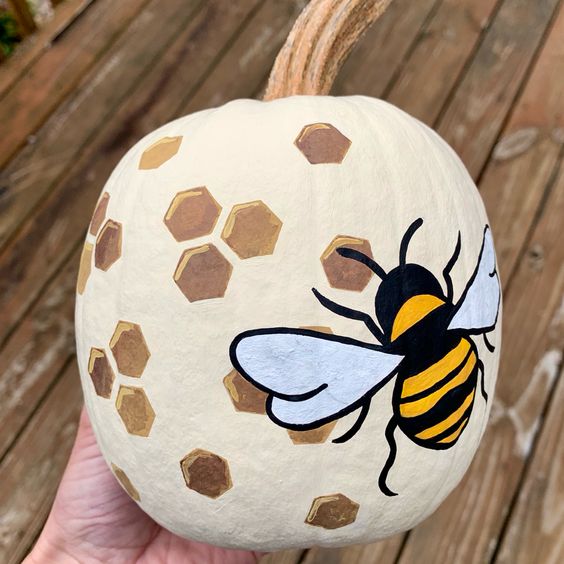 This honeycomb and bee pumpkin painting is so cute! It's not too intricate and you can definitely do this even if you're a newbie painter!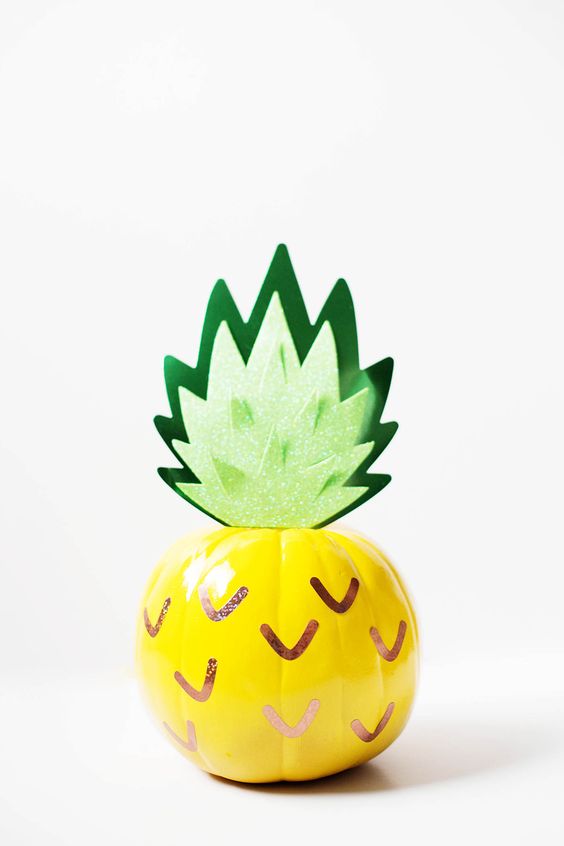 Add a summery, tropical twist to your pumpkin paintings by recreating this pineapple-themed painting! You can also add more tropical fruits to your collection if you'd like!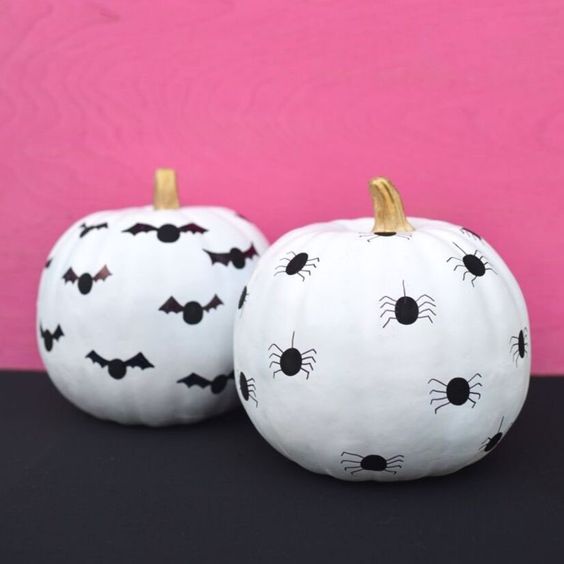 Looking for monochrome pumpkin painting ideas? Then you might like this concept! Spiders and bats are such a classic element for Halloween and make great decor for this season!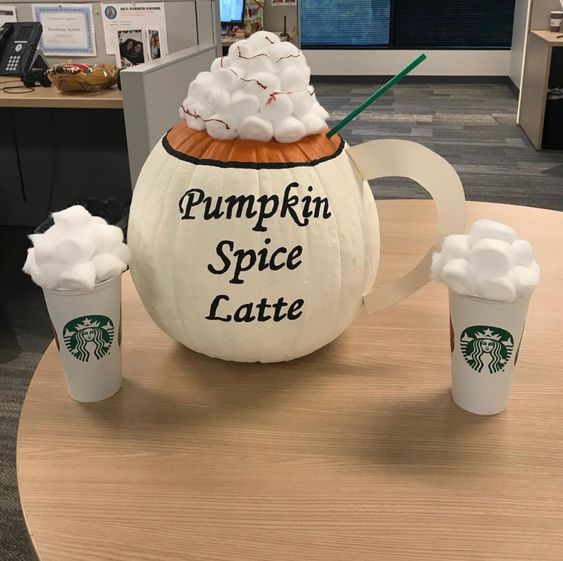 Fall is definitely the season for pumpkin spice latters and if you want to give tribute to your favorite brew this year, do it with your pumpkin paintings!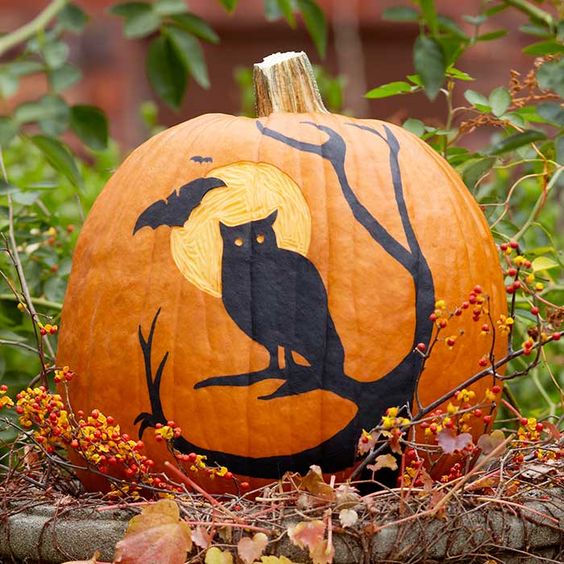 Here's another one of my favorite pumpkin paintings on this list! It's so spooky but it's not too scary either!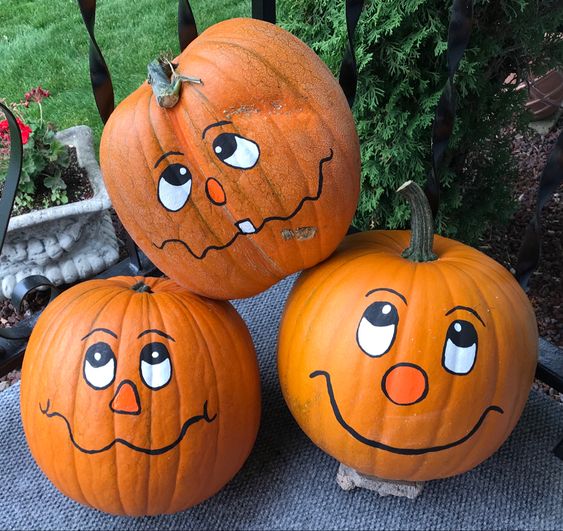 Add some life into your pumpkins by painting whimsical faces on them! You can even make different characters by doing a different face for each pumpkin!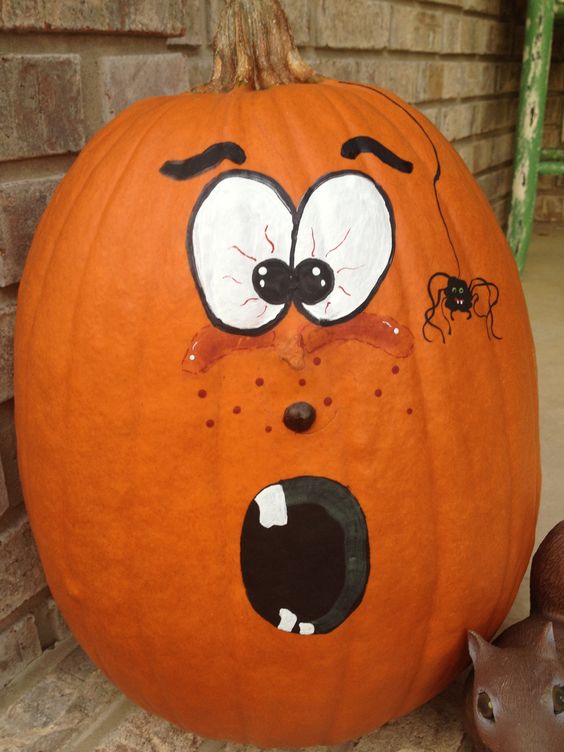 This pumpkin painting idea is such a fun one to do! Give them a spooked or scared expression then add a spider or any creepy bugs for your pumpkin to be scared of!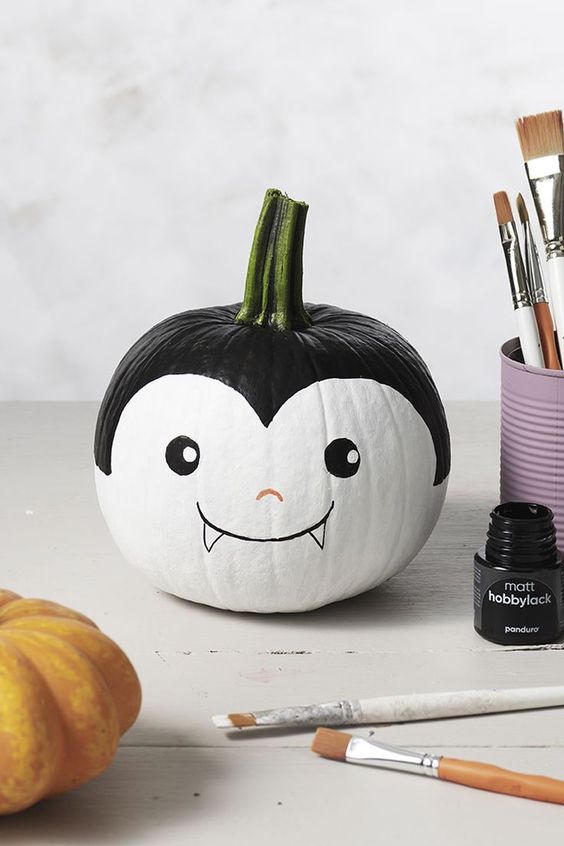 Another classic monster is Dracula and one of my personal favorites too. This one is such an easy painting to do as well! It's cute and spooky at the same time.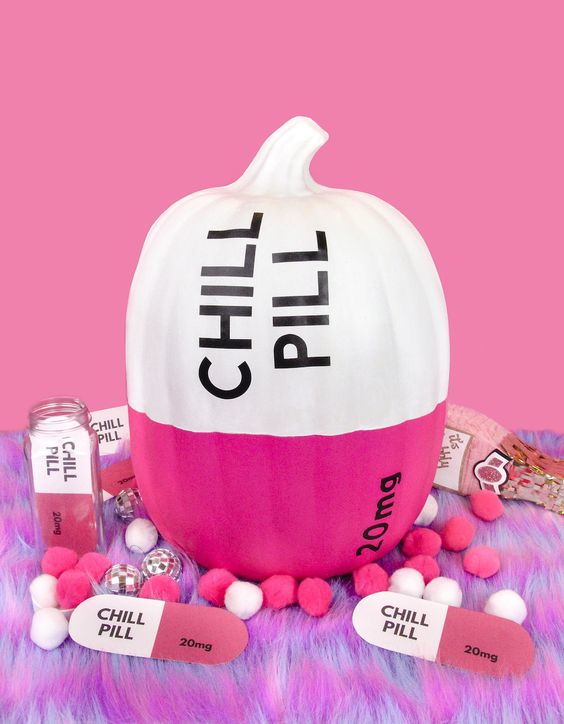 Looking to chill out this Halloween season? Then why not make a huge chill pill out of your pumpkins this year? It's such a quirky idea that is sure to get a lot of laughs from your guests.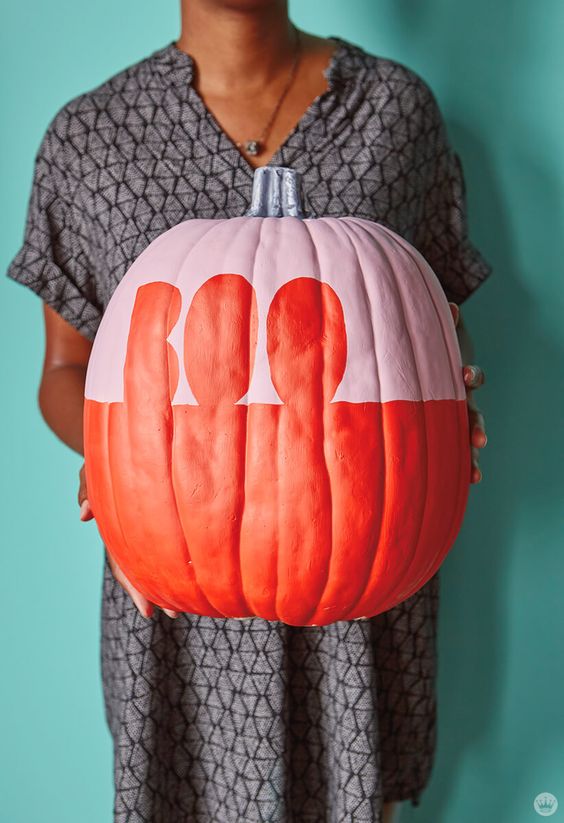 This giant pumpkin is such a mood! Not to mention, I love the combination of pinks and reds in the design. If you want a vivid pumpkin painting collection, you'll love this one!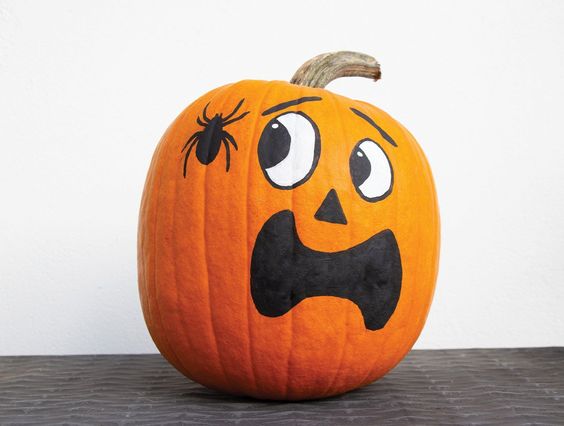 Here's another scaredy cat pumpkin you might want to try out for your pumpkin paintings. The scared expression is so cute!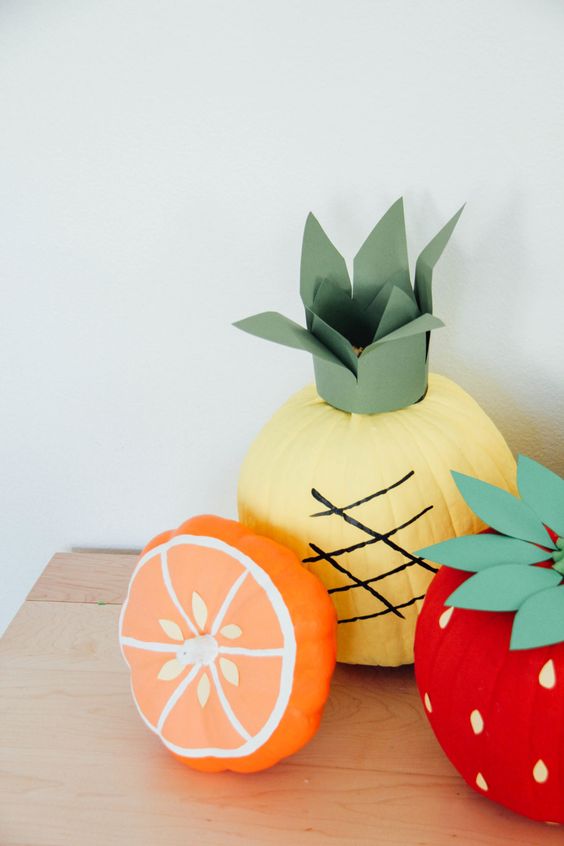 Missing the summer already and want to add a splash of tropical fruits to your pumpkin decorations? You might want to try out this pumpkin painting design!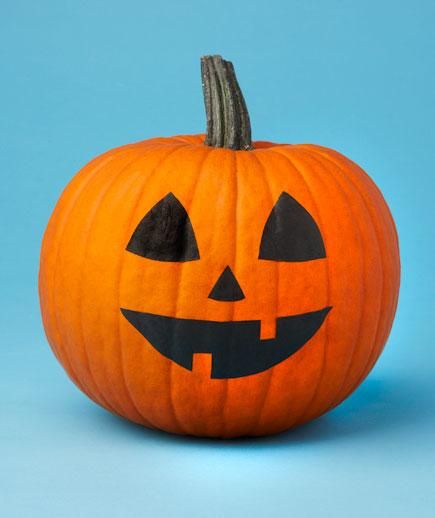 A classic jack-o-lantern without needing to carve up its face? Count me in! If you're someone who doesn't like to get too fussy with carving tools, this might be an ideal design for you!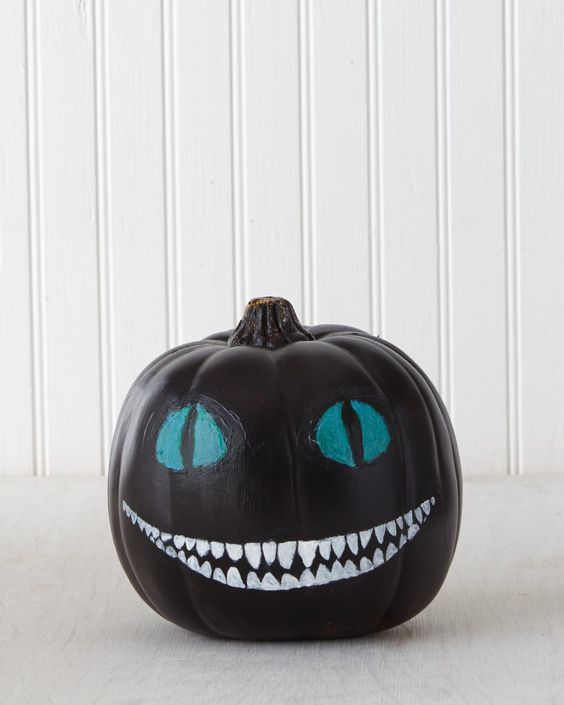 Spook up the place with a Cheshire cat pumpkin painting this Halloween. Plus points if you get one of those glow-in-the-dark paintings to make this already creepy pumpkin, even creepier!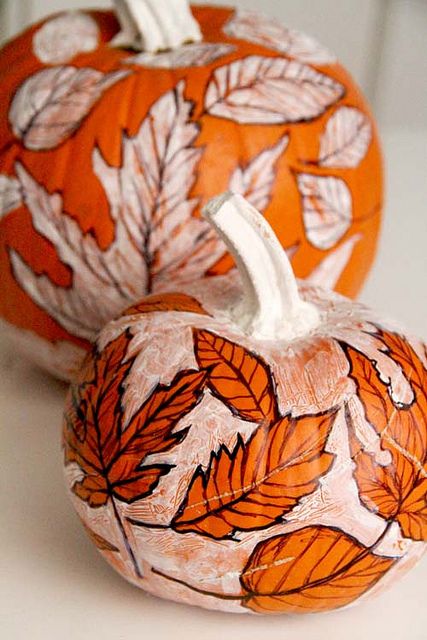 The intricacy of these paintings is so gorgeous! If you're looking for a more fall-themed pumpkin painting instead of a Halloween one, then you might want to try this out!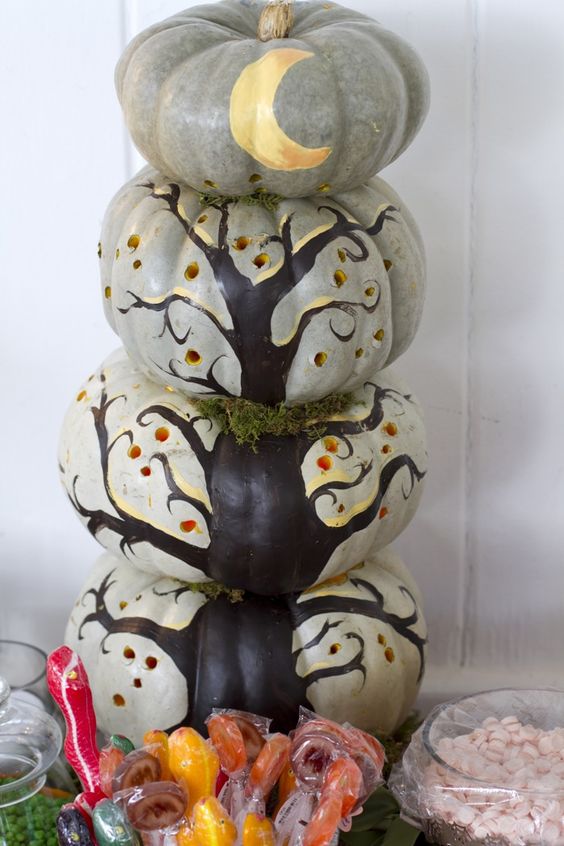 Don't know what to do with your extra pumpkins? No worries! You can stack them up and recreate something like this!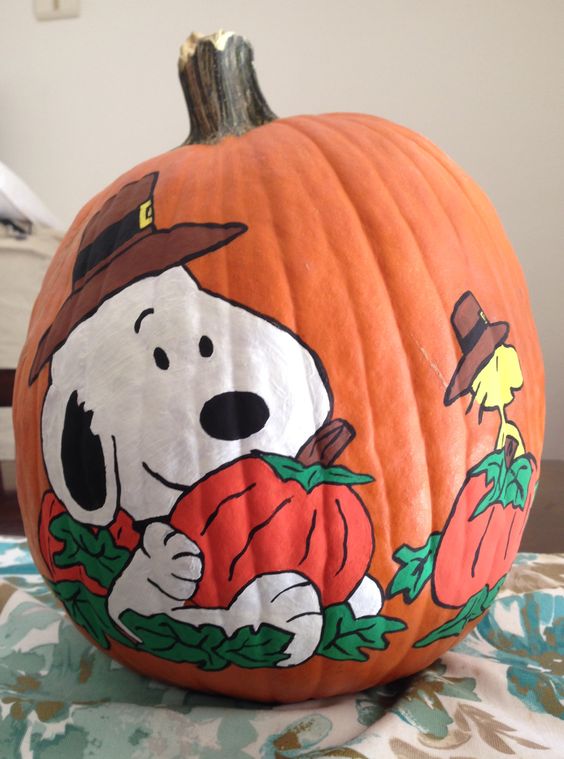 For the snoopy lovers out there, you might want to check this really adorable snoopy-themed pumpkin painting for the fall season!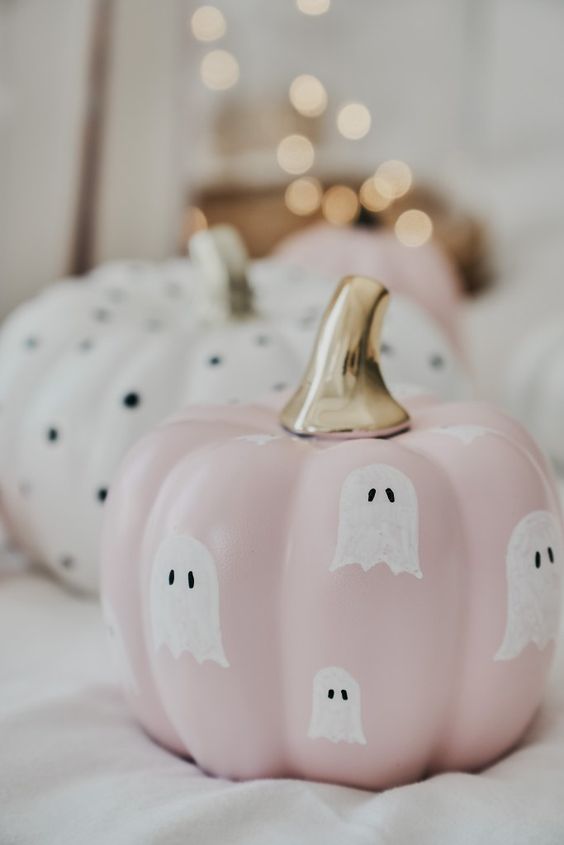 For those who want to incorporate soft, pastel colors onto their spooky decorations this Halloween, you'll definitely love the look of these pumpkin paintings!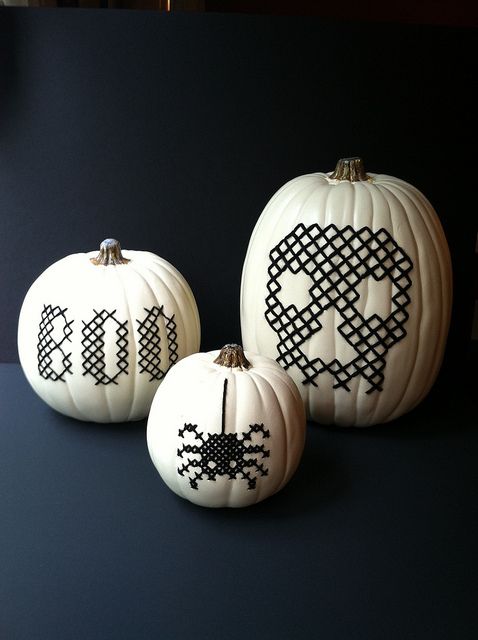 The way this pumpkin painting was created is so cool! I love the minimalistic approach and it's perfect for those with a monochrome interior!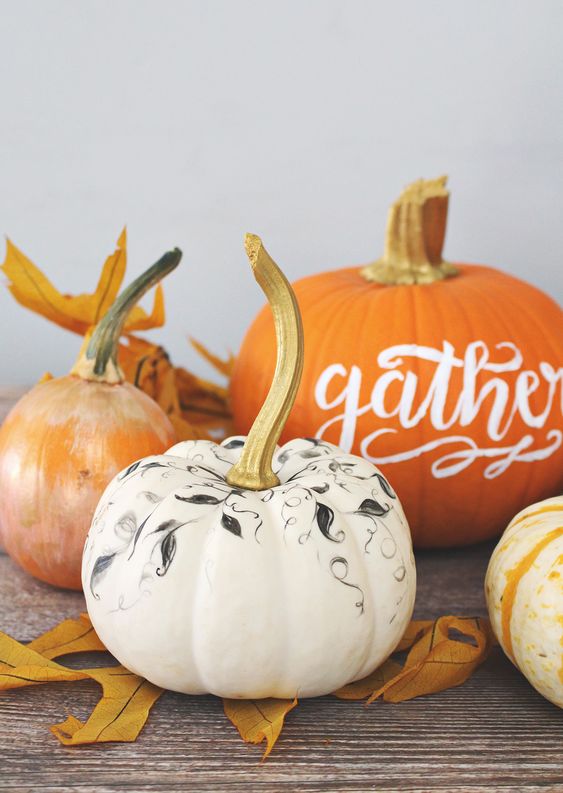 I can totally see these pumpkins as decorations for Thanksgiving festivities this year! The dainty designs and cursive texts go so well with each other!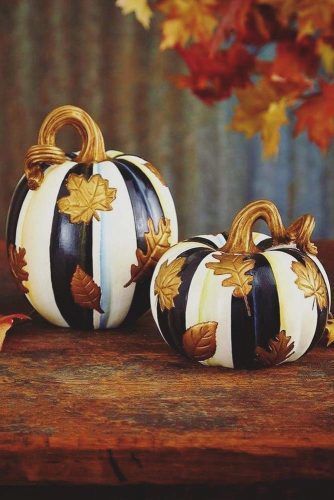 Add some gilded accents to your pumpkin paintings by adding some golden leaves around your patterns. This would really make your decorations stand out!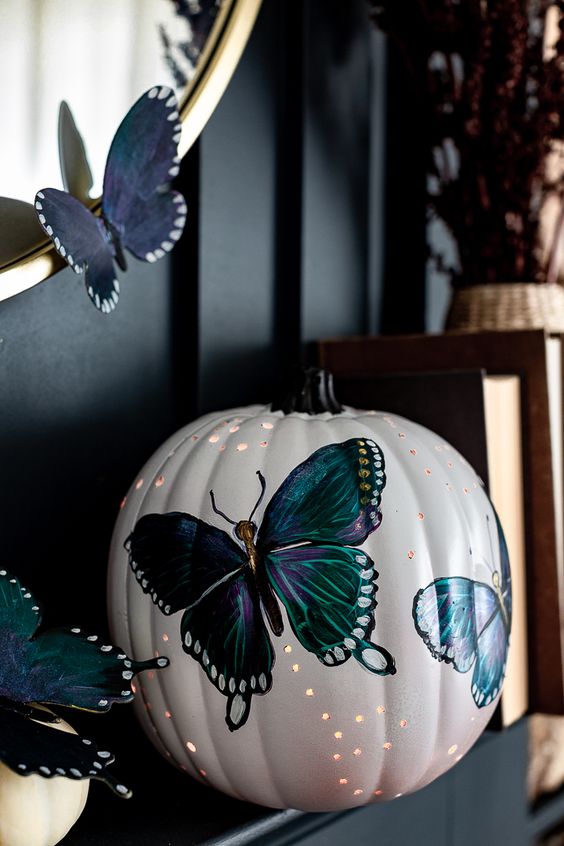 Whether you want to add some nature themes into your pumpkin paintings or you simply love butterflies, this is perfect for you!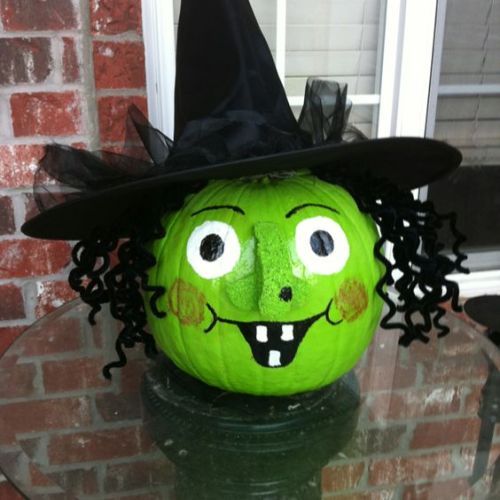 This witchy pumpkin painting is a great reference to the iconic Elphaba from Wicked. If you're a fan of the musical or you simply looking to make a witchy collection of pumpkins, I suggest trying this one!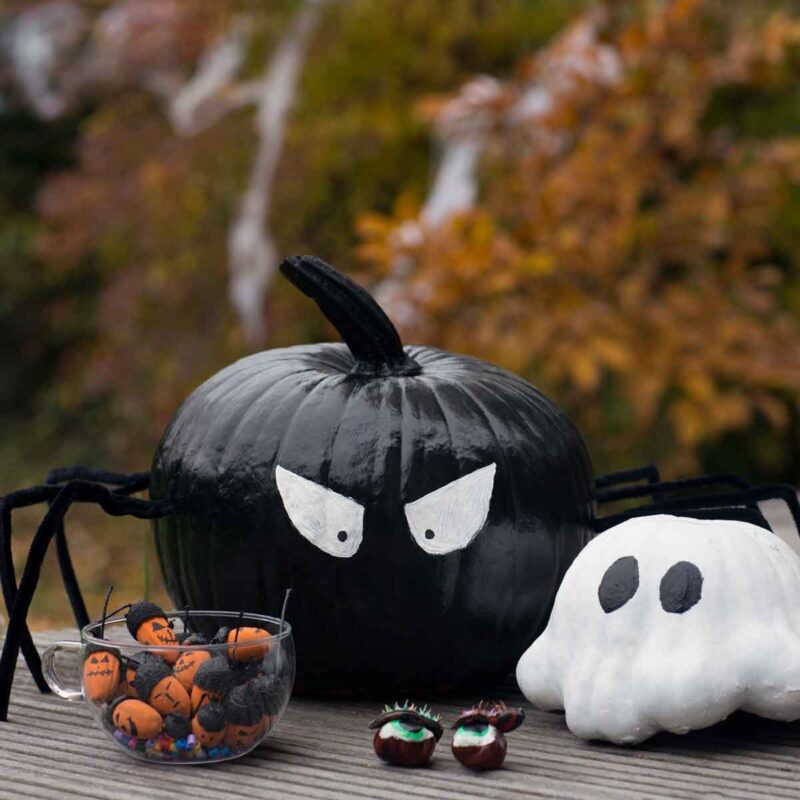 Another favorite of mine on this list is this spider pumpkin painting idea! You can even add other elements to make it look spookier!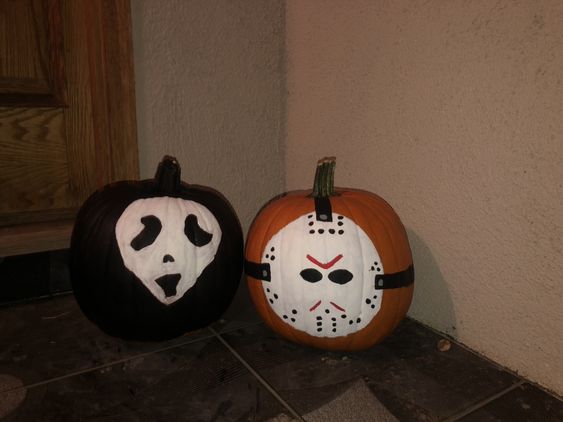 Fan of slasher films? Why not recreate these iconic slasher villains through your pumpkin paintings this Halloween season?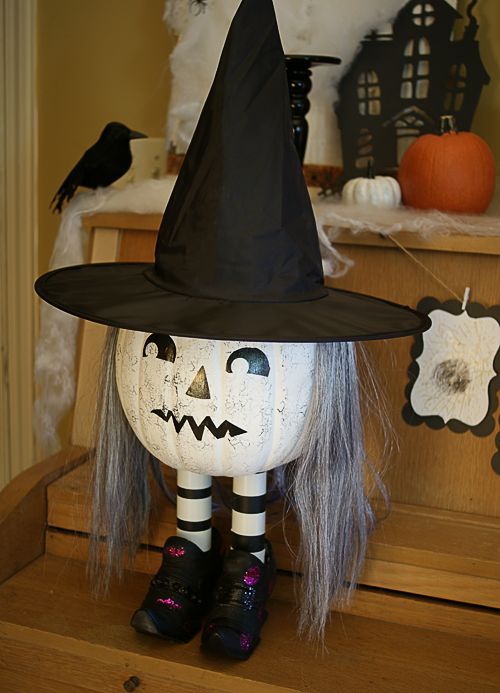 I am loving this witchy pumpkin design the most! It's so cute and it reminds me of those adorable dolls I used to have as a kid.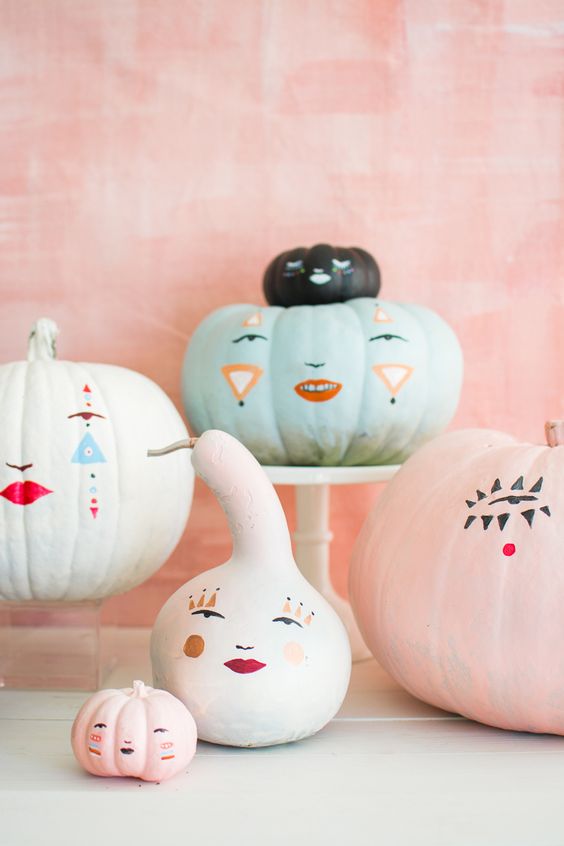 These abstract, minimalistic faces would make such a cool pumpkin painting this year. Not to mention, you can use them throughout the year for your interior decorations.
Here's another abstract pumpkin decoration you might like if you're looking for minimalistic designs to try out.
FAQs About These Easy Pumpkin Painting Ideas:
What are some easy pumpkin painting ideas for adults?
Adults can enjoy a wide range of easy pumpkin painting ideas, from minimalist designs like simple stripes and dots to more intricate patterns inspired by art movements or even pop culture characters.
Are painted pumpkin ideas just for kids?
Absolutely not! Pumpkin painting is a versatile activity enjoyed by people of all ages. Whether you're looking for easy pumpkin painting ideas for adults or something simpler for kids, there's something for everyone.
Do I need special paint for pumpkin painting?
Not necessarily. Acrylic paints work well on pumpkins and are easily available. Just make sure to clean the pumpkin's surface before you start painting.
Can I use my painted pumpkin ideas for outdoor decorations?
Yes, but make sure to seal your artwork with a clear sealer to protect it from the elements. This is especially important for intricate or easy pumpkin painting ideas for adults, where you've spent more time and effort.
How long do painted pumpkins last?
Depending on the condition of the pumpkin and the environment, a painted pumpkin can last anywhere from a few days to a couple of weeks. Make sure to keep it away from excessive heat and moisture.
What are some themes I can use for easy pumpkin painting ideas?
Seasonal themes like autumn leaves, Halloween motifs, or even abstract designs are all popular choices. The best part is you can make them as intricate or as simple as you'd like, making it accessible for kids and adults alike.
Can I mix carving and painting in my painted pumpkin ideas?
Of course! Combining carving and painting can create unique and exciting designs. Just remember, once you've carved a pumpkin, it won't last as long as a painted-only pumpkin.
What are some quick and easy pumpkin painting ideas for adults?
If you're looking for something quick, consider painting the whole pumpkin in a solid color and adding simple accents like polka dots, stripes, or even your initials.
Any tips for making my painted pumpkin ideas last longer?
To prolong the life of your painted pumpkin, keep it in a cool, dry place. You can also prep the pumpkin by wiping it down with a bleach-water solution to kill any lingering mold or bacteria.
Where can I find inspiration for easy pumpkin painting ideas for adults?
There are tons of resources online, from Pinterest boards to YouTube tutorials, where you can find a range of painted pumpkin ideas suitable for all skill levels.
Can I use stencils for my painted pumpkin ideas?
Absolutely, stencils are a great way to get a polished look, especially if you're tackling more complex designs. They can simplify the painting process, making it more accessible even if you're looking for easy pumpkin painting ideas for adults.
What about using other materials like glitter or fabric?
Yes, feel free to get creative! You can add glitter, fabric, or even small embellishments like rhinestones to make your painted pumpkin ideas pop. Just make sure to use a strong adhesive so your decorations stay in place.
How can I create a textured effect on my pumpkin?
You can use items like sponges, crumpled paper, or even your fingers to dab paint onto the pumpkin, creating a textured look. This is a fun technique to experiment with, whether you're going for easy pumpkin painting ideas for adults or something a bit more complicated.
What are some unique themes for painted pumpkin ideas?
Aside from traditional autumn or Halloween themes, you could go for pop culture references, floral patterns, or geometric designs. You're only limited by your imagination!
Is it safe to eat a painted pumpkin?
It's generally not advisable to eat a pumpkin that has been painted. While the paint may be non-toxic, it's still better to keep painted pumpkins as decorations only.
What kind of brushes should I use?
For finer details, especially in easy pumpkin painting ideas for adults where precision may be more important, you'd want to use smaller, finer brushes. For broader strokes or backgrounds, larger brushes or even foam brushes will do the trick.
Can I paint the stem of the pumpkin?
Sure, the stem is often overlooked but can be part of your overall design. Some people paint it a contrasting color or even wrap it in fabric or ribbon for added flair.
Can painted pumpkins be composted?
If you've used non-toxic, water-based paints, your painted pumpkin should be safe to compost. However, if you've used additional materials like glitter or rhinestones, you'll need to remove those before composting.
What can I do with my painted pumpkins after the season is over?
If you've used a real pumpkin and it's still in good condition, consider composting it. If you're attached to your design, especially with more elaborate or easy pumpkin painting ideas for adults, you can take a high-quality photo to preserve the memory before composting.
Can I use spray paint for my painted pumpkin ideas?
Yes, but make sure to do this in a well-ventilated area and follow all safety instructions on the can. Spray paint can provide a smooth finish and even works well for ombre effects.
These easy painted pumpkin ideas are a fantastic way to get creative and add a touch of personality to your fall decor. With so many easy pumpkin painting ideas for adults available, there's no excuse not to try your hand at this fun and festive activity. From spooky designs to cute and whimsical patterns, the possibilities are endless when it comes to painted pumpkin ideas.
Whether you're an experienced artist or just looking for a fun way to pass the time, painting pumpkins is a great way to get in the spirit of the season. So why not grab some paint, a few pumpkins, and let your imagination run wild with these easy pumpkin painting ideas for adults. With a little creativity and some artistic flair, you'll have a beautiful collection of painted pumpkins to display in no time!