If you're excited for the upcoming Easter holiday as I am, check out my list of the best Easter basket ideas for 2023!
This year, craft your own Easter basket where you can stash candy, decorated eggs, toys, and other delights as you prepare other exciting Easter activities like egg hunts and crafts that your friends and family will enjoy.
You'll discover some quick and creative techniques to elevate your Easter basket ideas. Not to mention, you can also save money doing these crafts from supplies you already have at home.
With all that being said, you might ask: what exactly goes in an Easter basket?
If you're a bit lost about what you can put in your Easter basket, don't worry! There are countless ideas and I'm here to help. Whether you're looking for Easter basket ideas for adults, kids, teens, or for home decor, you'll find lots of inspo here.
There are plenty of imaginative and colorful options here both available for purchase and DIY at home. And of course, you can customize these Easter baskets to suit your preferred taste.
So whether you're looking for conventional Easter baskets or unique DIY Easter basket ideas, keep on scrolling to find all the inspiration you need!
Easter Basket Ideas For 2023
These Easter basket ideas are fashioned from a variety of materials, including recycled boxes, rope, felt, and more. But regardless of what they're made of, I made sure that these crafts are enjoyable and reasonably easy to make, and they'll make Easter even more special than it already is.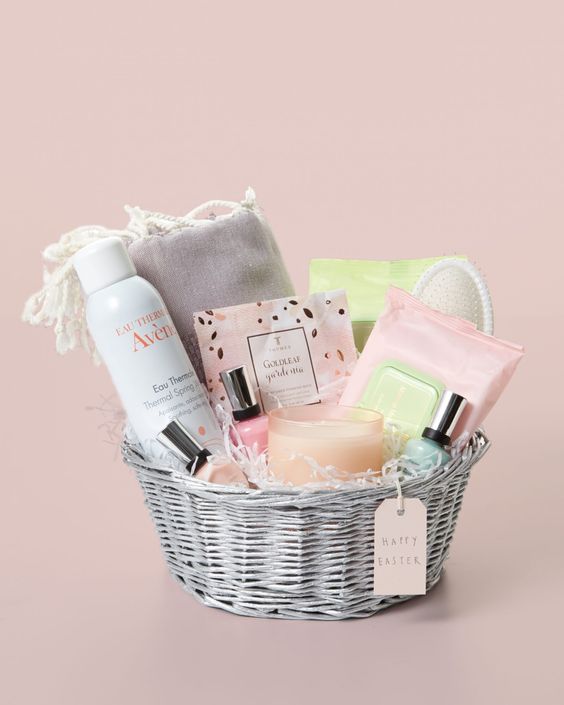 Easter is also a great occasion to spend with your friends aside from your family. If you're in dire need of some relaxation and pampering, why not make your Easter party turn into a spa weekend at home? Filled with self-care products and skincare goodies, this spa-themed Easter basket idea is sure to delight your guests! This is one of my favorite Easter basket ideas to gift other adults because everyone loves a day of pampering.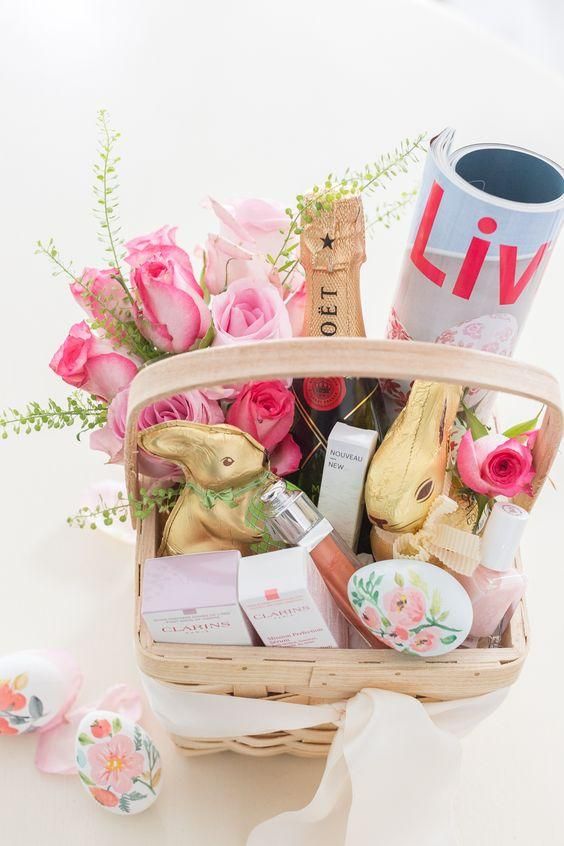 Get in touch with the beauty of spring by adding some floral decorations and detailings for your Easter basket ideas. You can opt to use faux or real flowers and even paint them on your Easter eggs.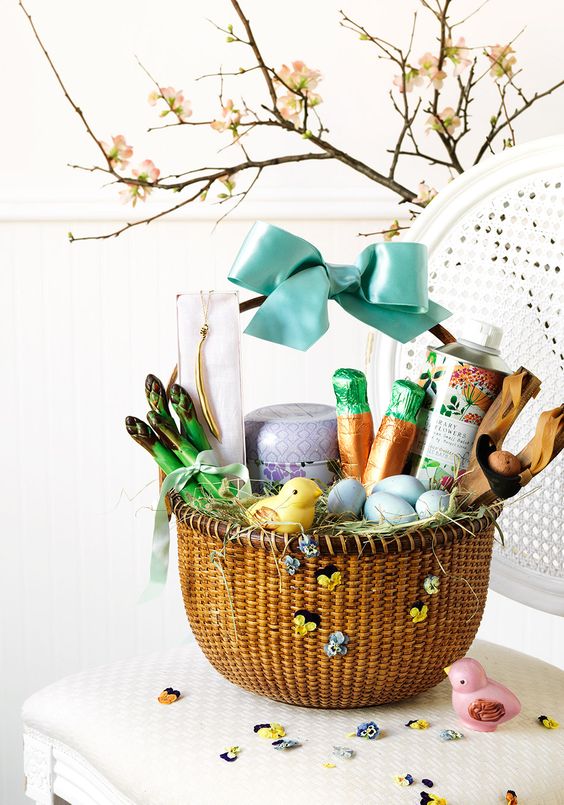 I love the rustic appeal of this particular Easter basket! And is it just me or does the turquoise bow on the handle kind of remind me of the iconic Tiffany's color? Either way, this Easter basket really blends the charm of rustic aesthetics and sophistication so perfectly.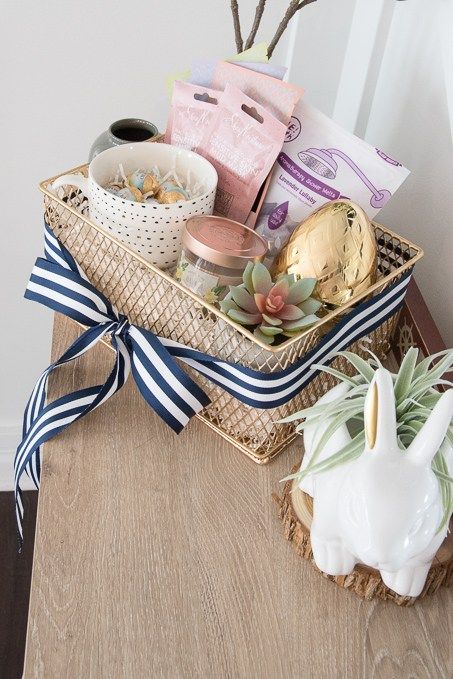 Looking for small and simple Easter basket ideas? If you're a bit pressed for time or don't have the luxury of sitting down to create your own woven baskets from scratch, you can always repurpose any boxes or organizers you have around the house. Fill it up with Easter goodies and treats then wrap it with a bow for that classic finishing touch.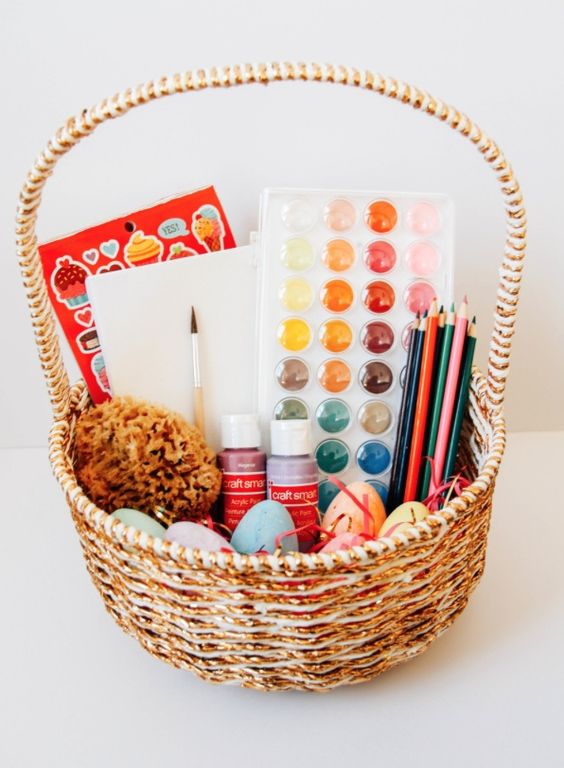 Do your family and loved ones love to get artsy and crafty? Then this Easter basket filled with arts and crafts and paints will surely delight them!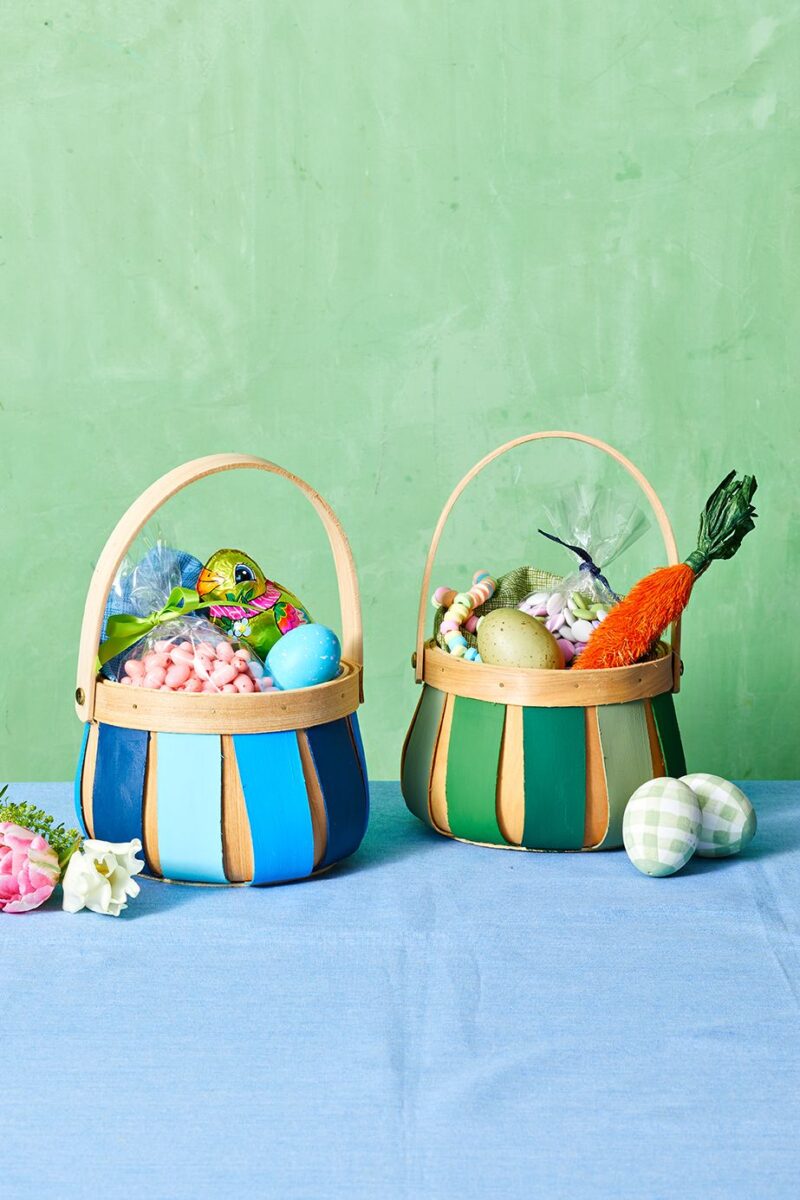 Acrylic paint and a wooden basket are all that is needed for this handicraft. Just paint the wood strips of the basket in a variety of colors with acrylic paint to recreate this wonderful Easter basket. You can opt to use various tones of a single color to create a stunning ombré effect.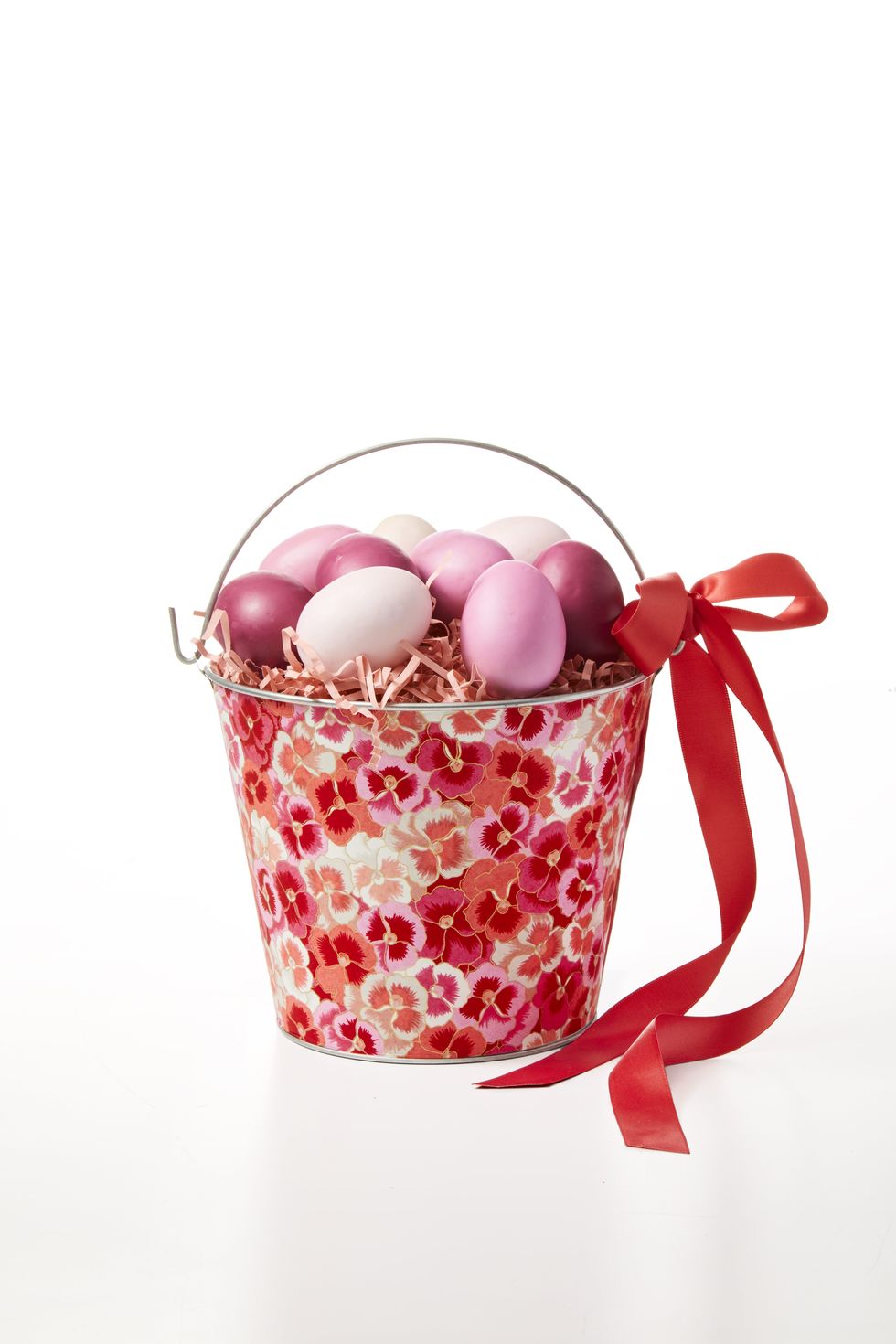 If you have no boxes or baskets around your house, a bucket will certainly do! You can easily decorate it with a wrapping of your choice and a bow tie before filling it with Easter goodies and treats.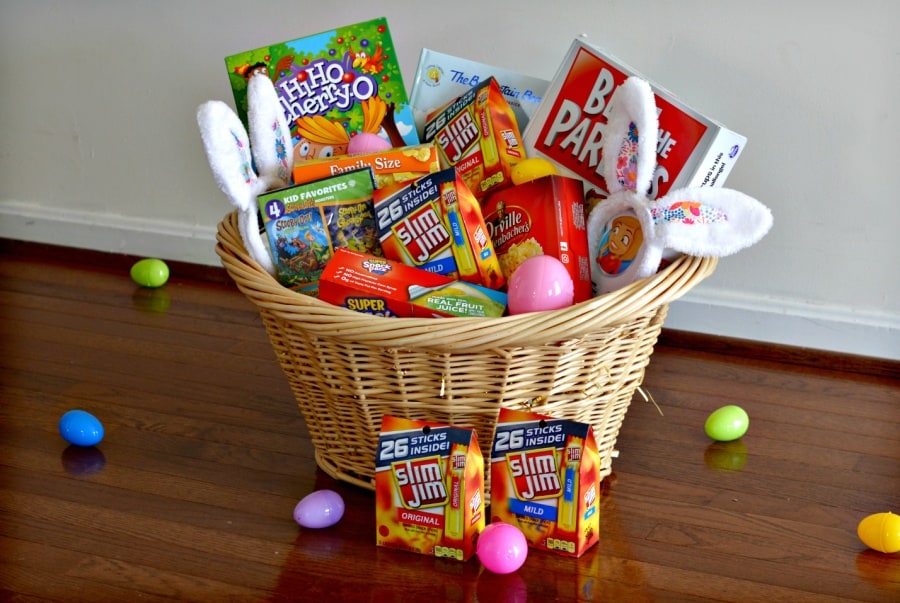 Satisfy your family's sweet tooth by filling up your Easter basket with all sorts of candies! The more, the merrier! I assure you, with these baskets, your loved ones will be munching on them all day long!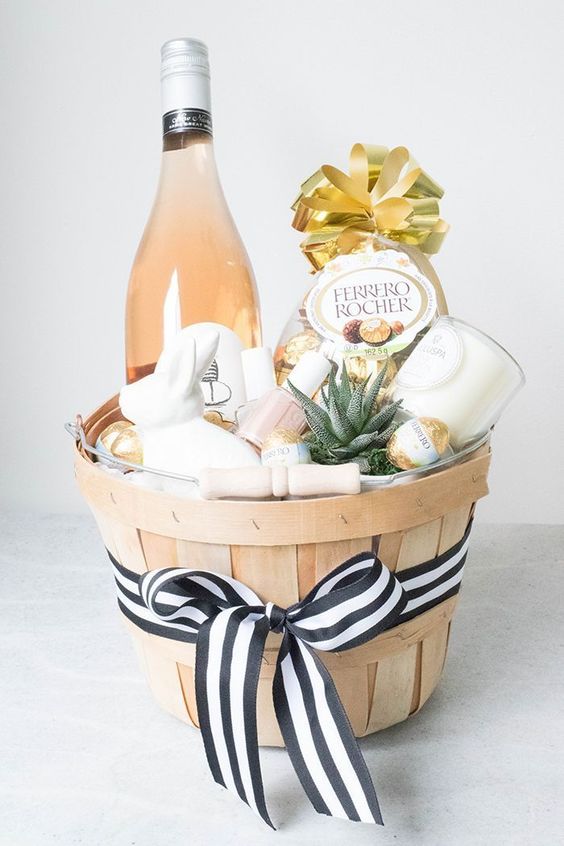 Looking for high-end Easter basket ideas to gift to adults? For a more sophisticated and elegant touch that's sure to delight your girlfriends, fill up your Easter baskets with a bottle of Rosé and some Ferrero Rocher chocolates along with other goodies like scented candles and more.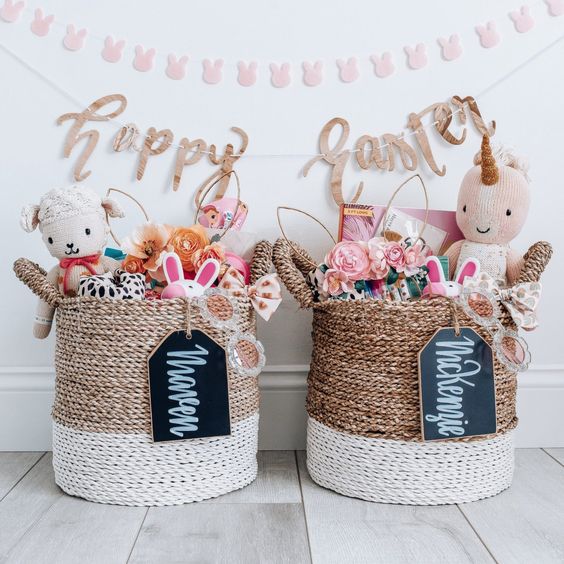 If you'll be having kids around Easter, these woven baskets filled with stuffed toys and other treats will be perfect for them! Customize them by putting their names on each basket so they feel extra special!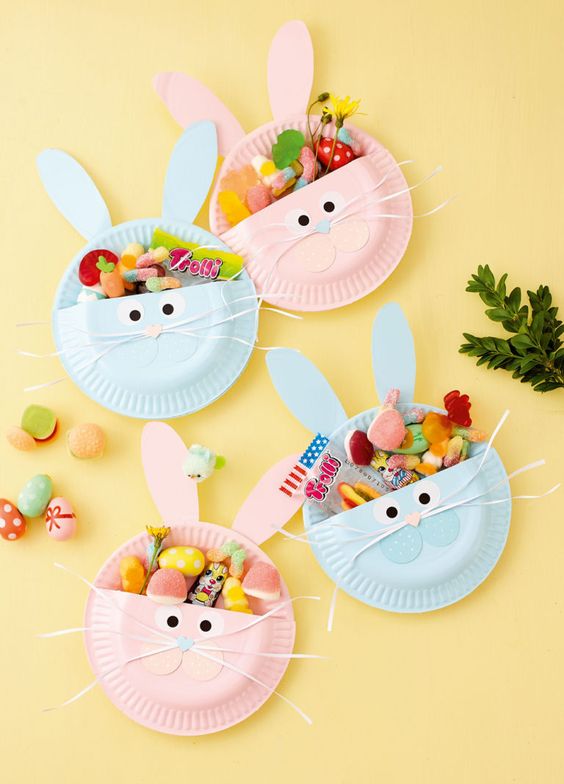 No boxes or baskets lying around to use? No problem! You can DIY and repurpose plastic or paper plates to recreate these bunny-shaped containers for all your Easter treats.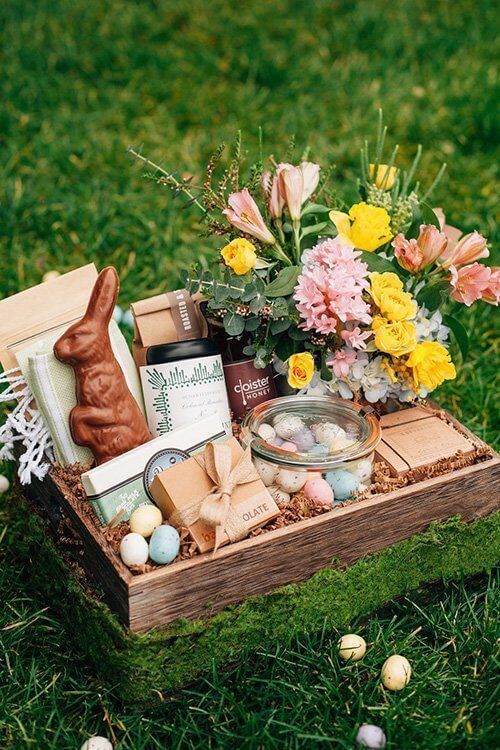 For a cottagecore-themed Easter basket, you should definitely take inspiration from this particular Easter basket idea! I love the variety of sweets and treats in this box, but you can definitely personalize it to your own preference.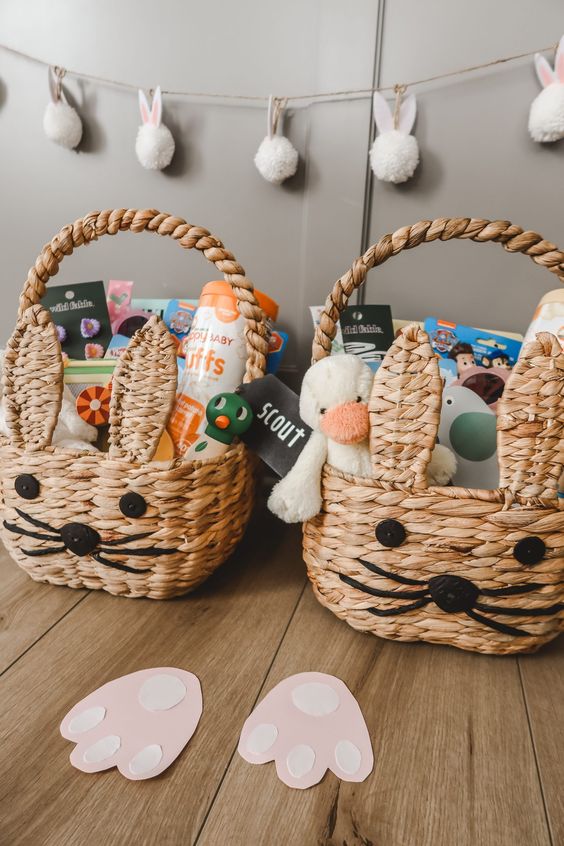 This has got to be one of my favorite Easter basket ideas on this list. The bunny-shaped woven baskets are utterly adorable! You can either fill it up with kid-friendly treats or make another batch for your adult friends so everyone can have fun!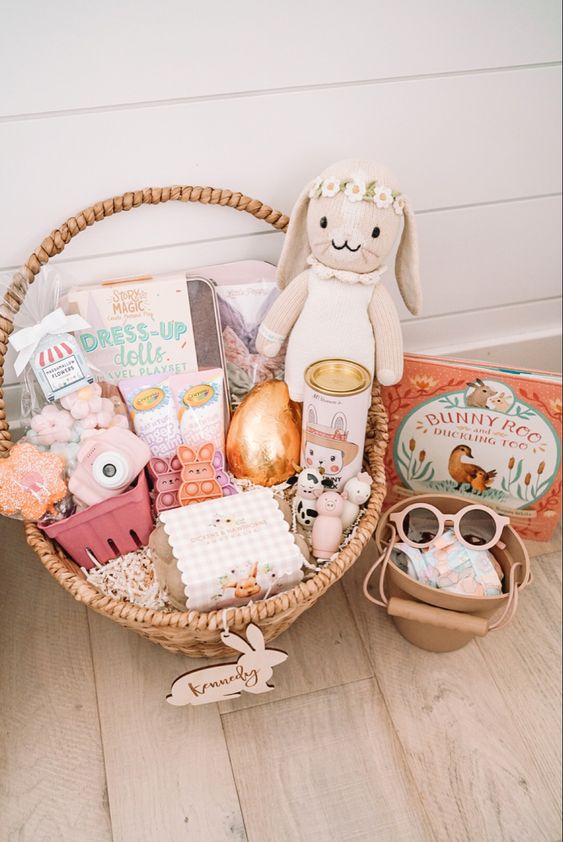 If you have a daughter or will be having little girls as guests at your Easter party, these baskets will be perfect for them! it's filled with various goodies they're sure to enjoy. Plus, you can also pick treats that have similar color schemes to recreate this pink vibe!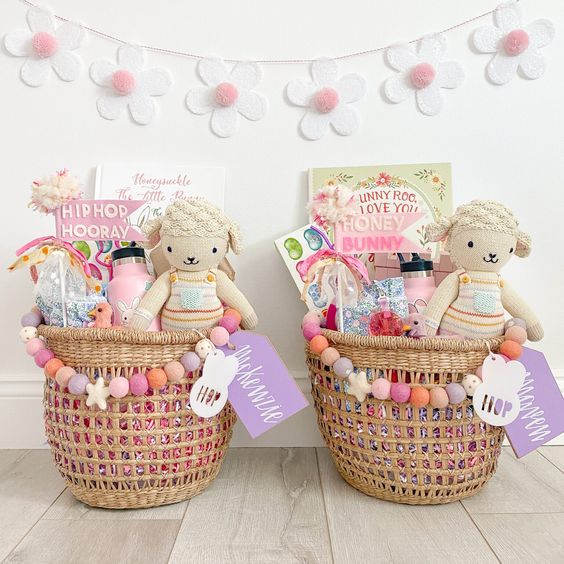 Here's another kid-friendly Easter basket theme that the little ones are sure to love! Brimming with sweets and toys and plushies, they will surely feel like Christmas came around early this year.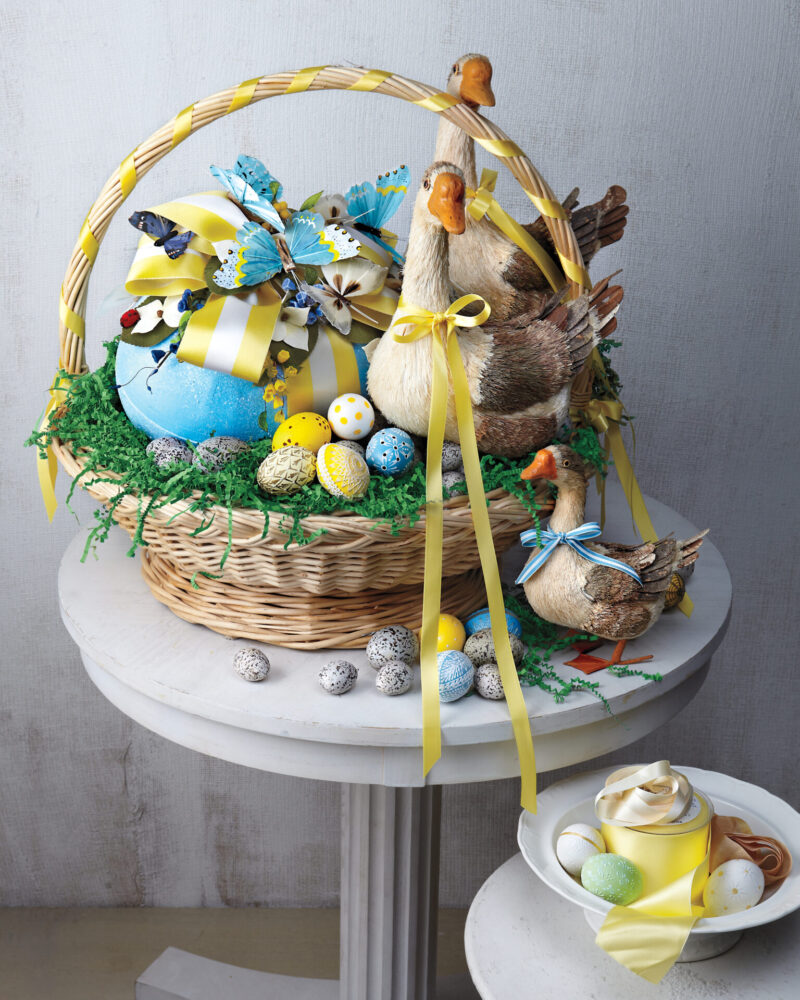 This particular Easter basket reminds me of a farmhouse-themed aesthetic. Something about it feels so homey and cozy. I particularly like the geese decorations and how it's stuffed with interesting treats and goodies.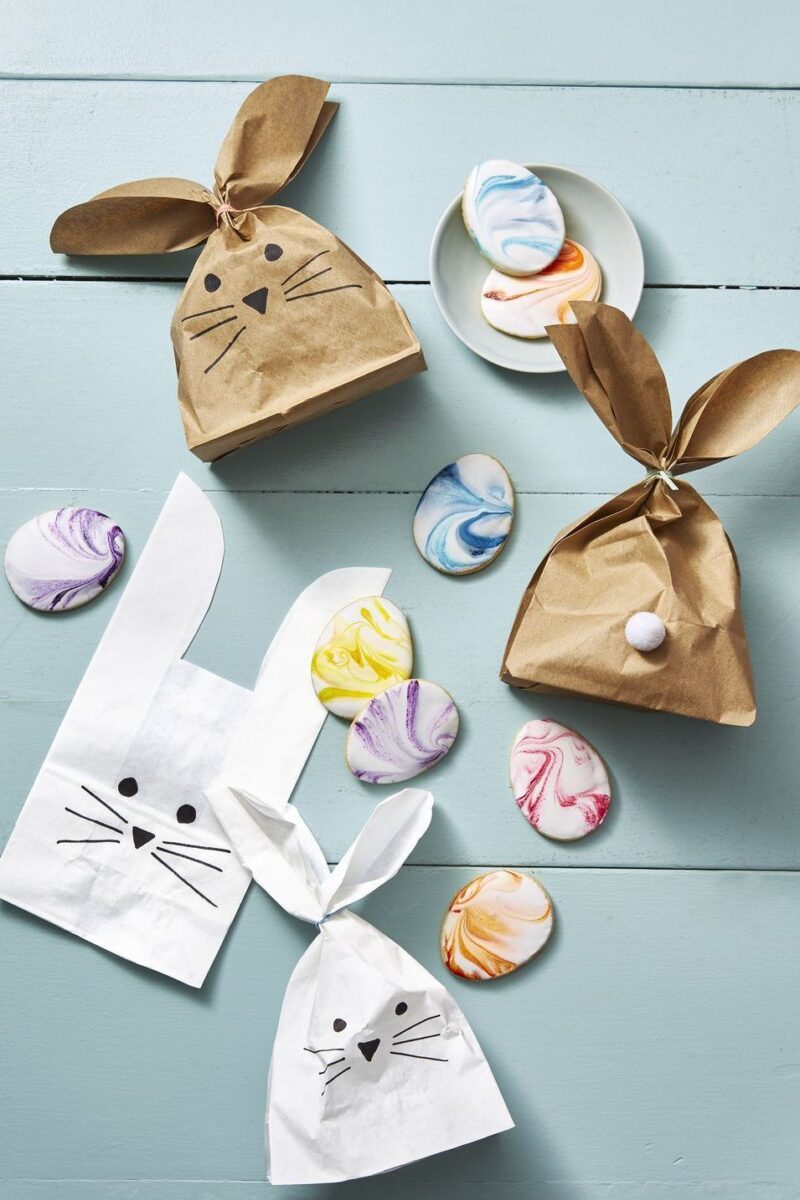 Don't you just love these modernized variations of easter baskets? Instead of using traditional boxes or baskets, you can try out these adorable bunny pouches. Draw them with bunny faces then fill them up with various goodies and you're all set!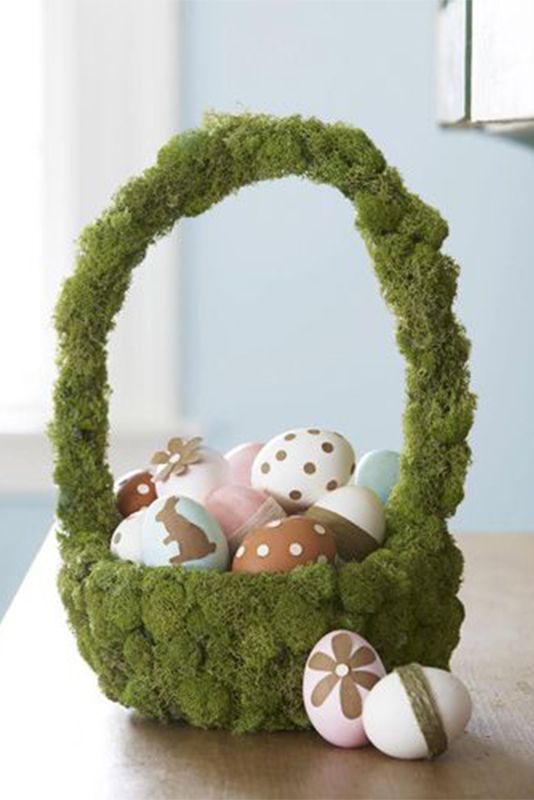 I just love this moss-themed Easter basket! It's so perfect for girls who are trying to convey that cottagecore aesthetic during this Easter season.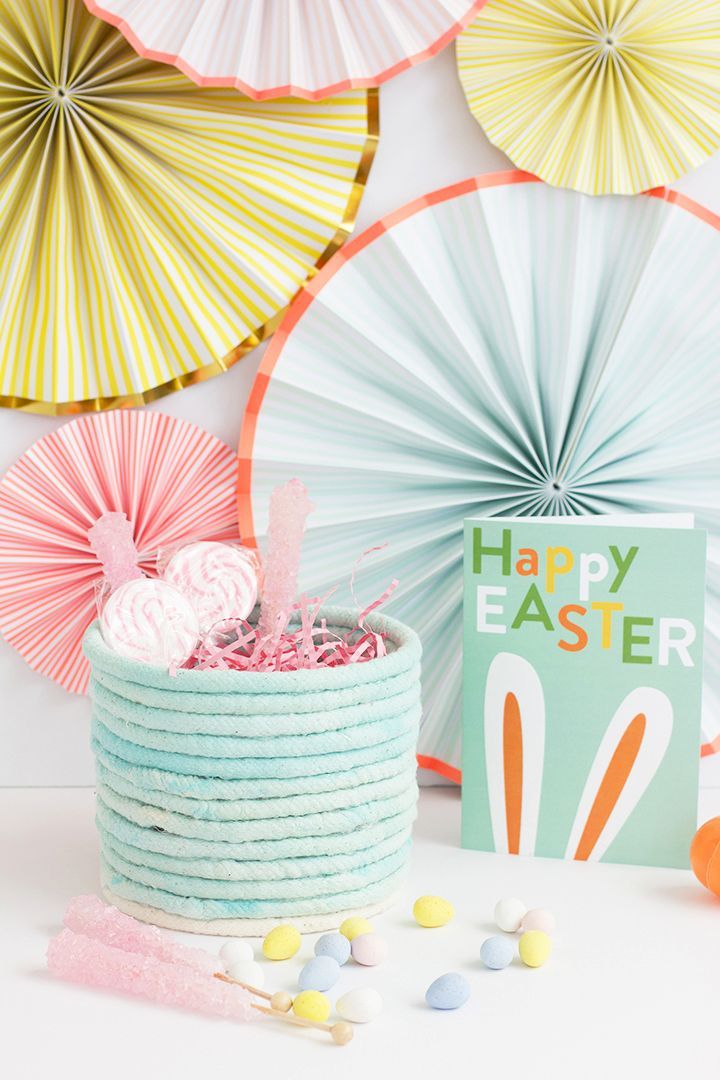 Don't be intimidated by the look of this Easter basket! You'll be happy to know that you don't need any sewing skills to achieve this gorgeous design. Instead, choose a spring-appropriate rope color and wind it repeatedly until you get the size of basket you desire.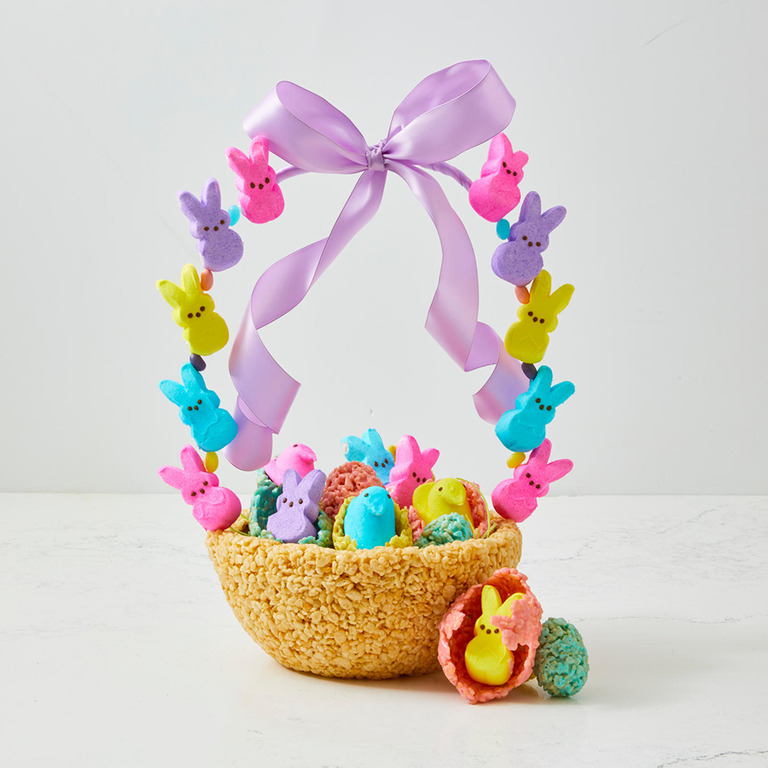 The best thing about this particular Easter basket idea is that it's edible. The base is made of Rice Krispies while marshmallo2 bunnies decorate the handles.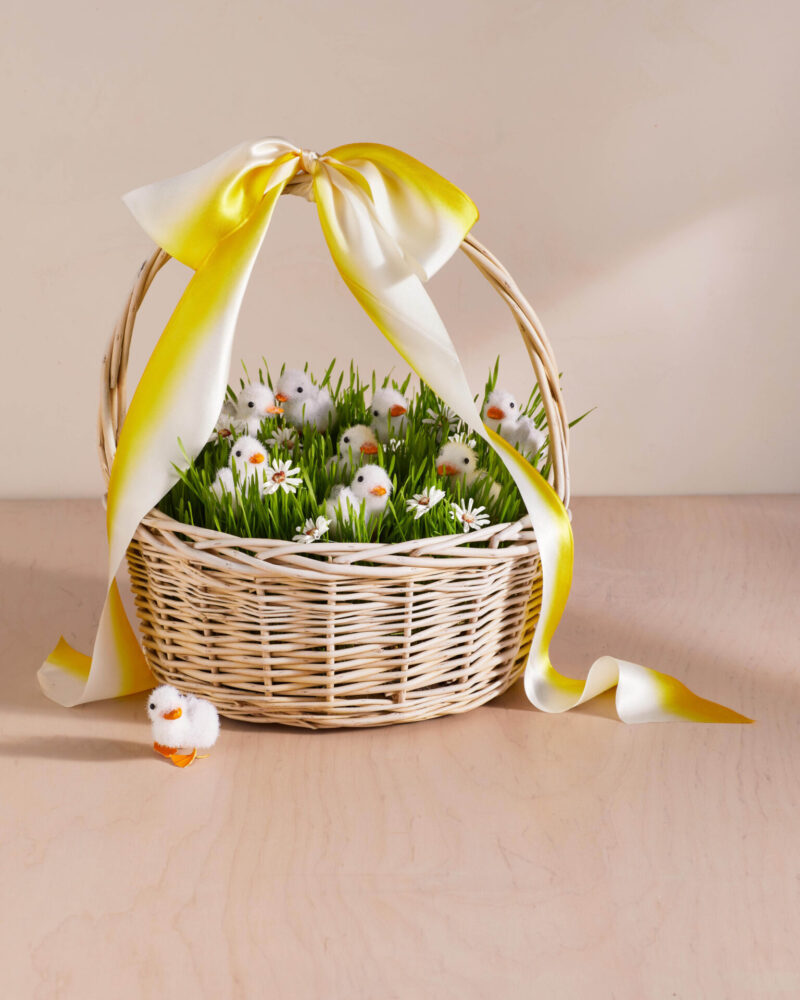 Wheatgrass grows as quickly as a rabbit in this naturally grown garden-in-a-basket in just 10 days. As a result, this particular Easter basket is so much better and unquestionably more environmentally friendly.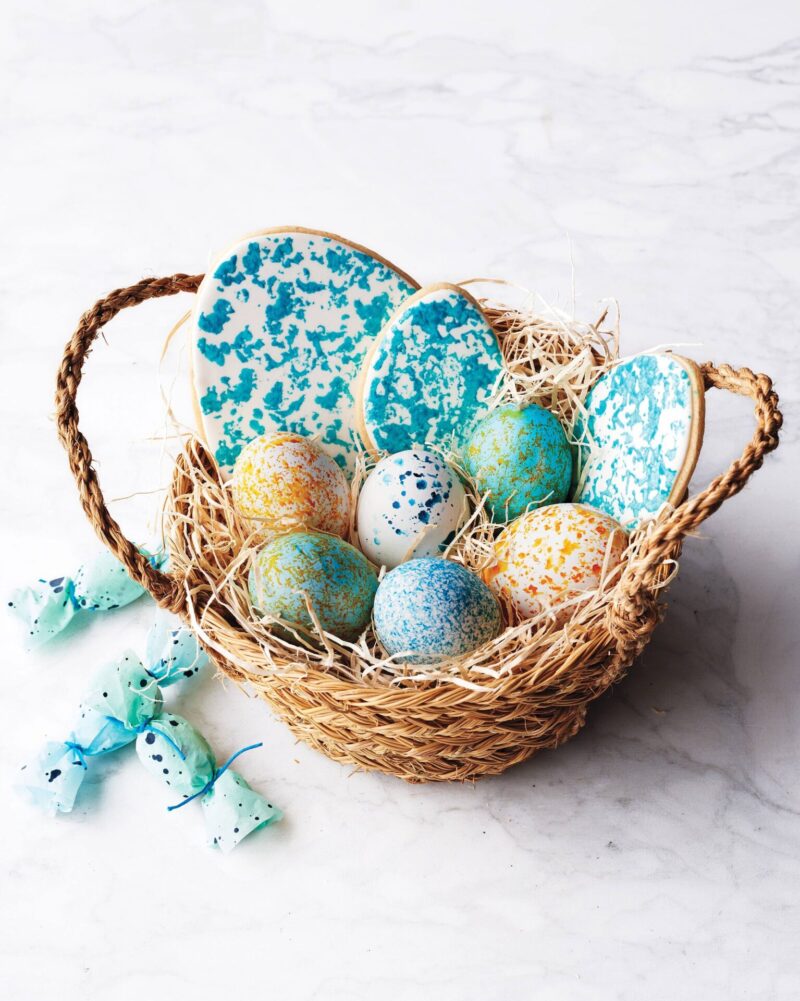 Classic yet breathtaking, I love how cohesive this Easter basket is! Filled up to the brim with painted eggs and treats, your family will be delighted to have these!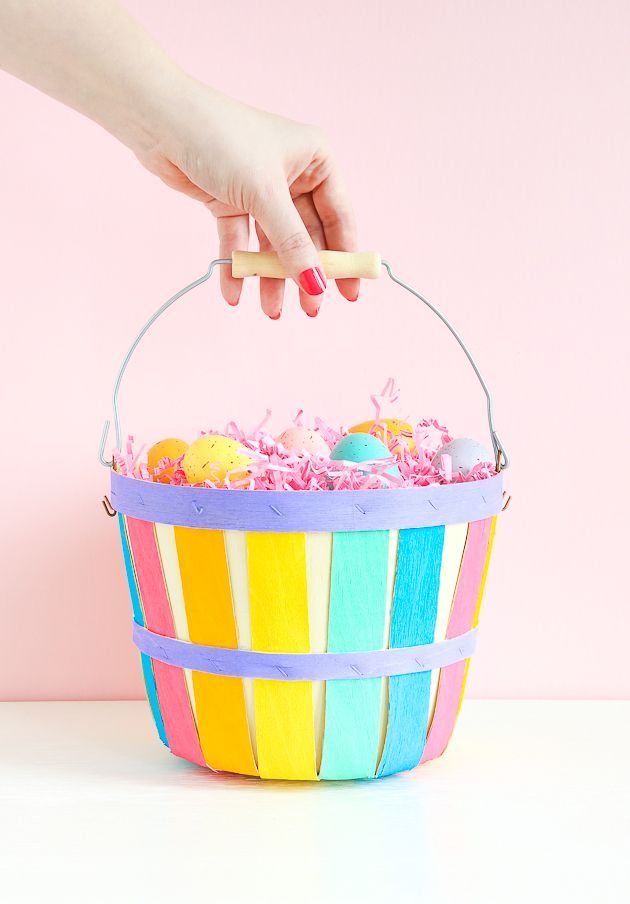 This rainbow-themed Easter egg is just utterly ideal for the spring season. Bursting with bright colors, it's such a perfect way to welcome the new season after a dreary winter.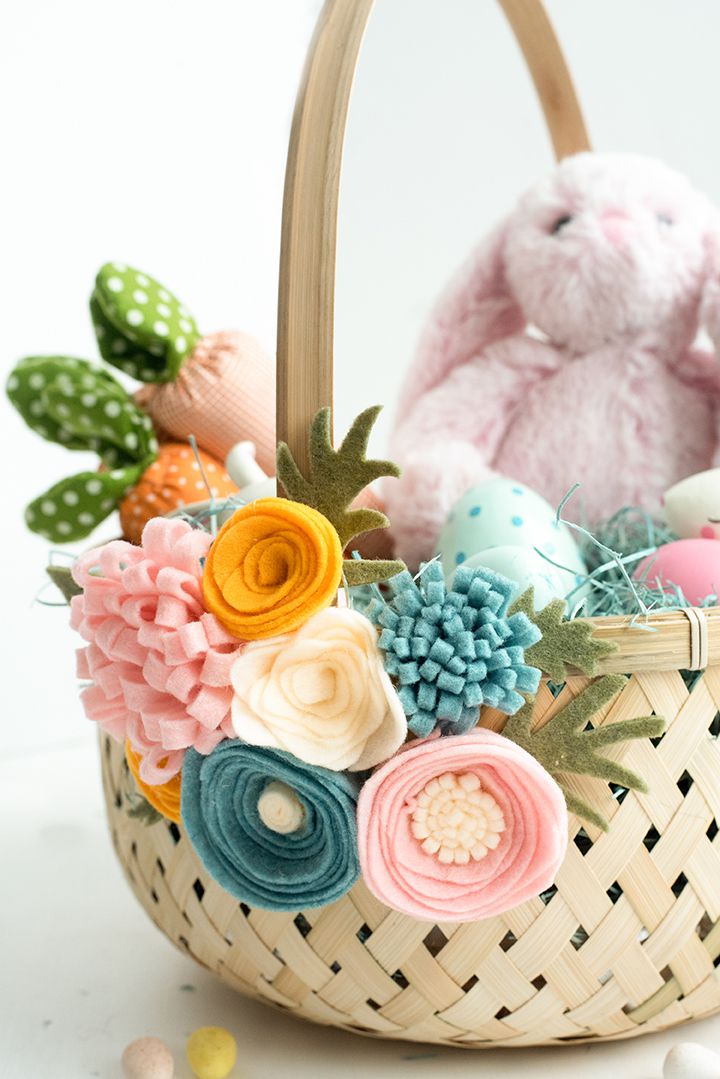 Simple and delicate, your baskets don't have to be overly intricate with various designs. You can keep it straightforward by adding some soft floral details around your Easter baskets.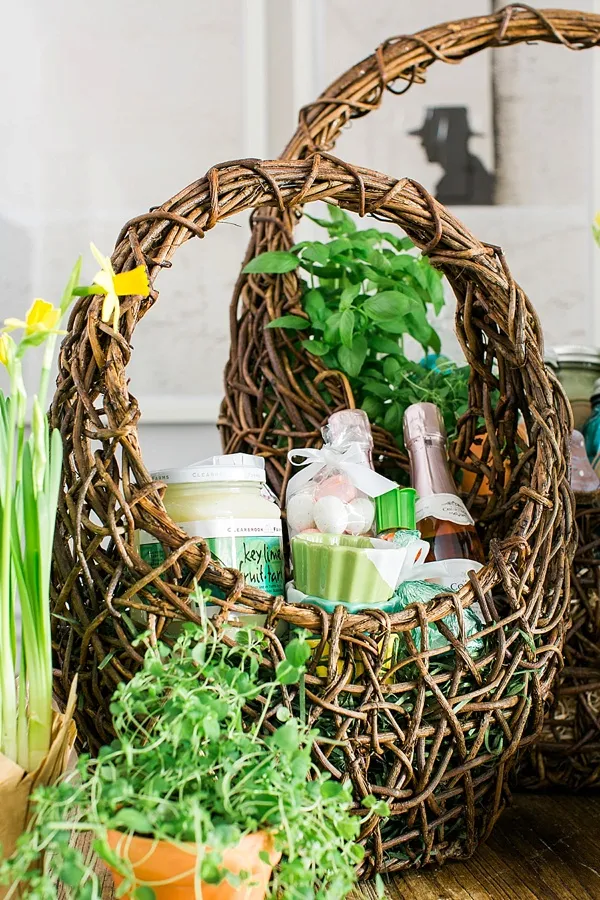 I am obsessed with the rustic theme of this Easter basket. You can fill it up with sweets and different kinds of candies, or you can put your favorite bottles of champagne, fruits, and other goodies that your friends will enjoy.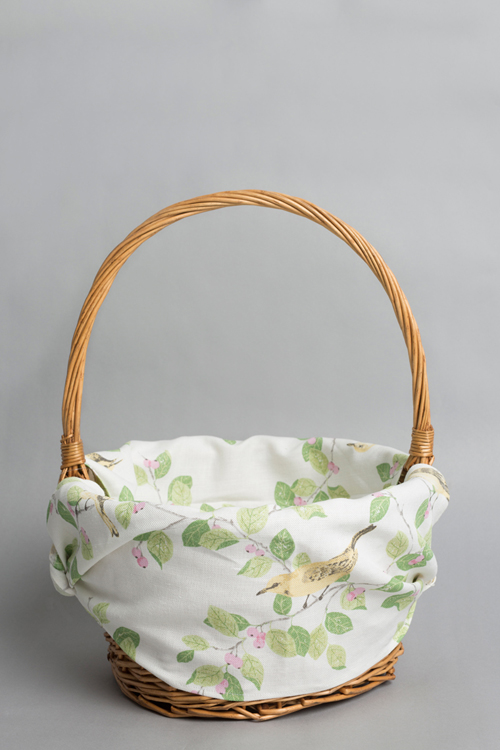 On the list, this is arguably the simplest Easter basket concept. All you require is a basket and an aesthetically pleasing piece of cloth. Fold the fabric's edges over the outside walls of the basket and neatly tuck them inside.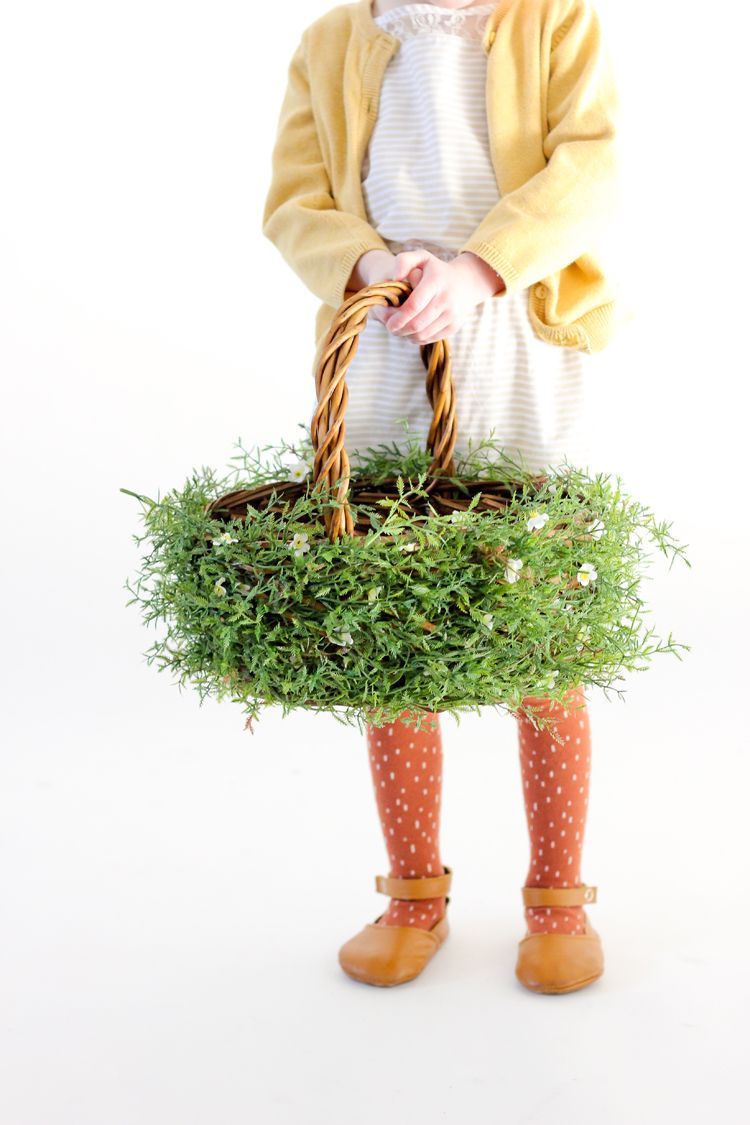 Here's another one of my favorites on this list. I just love how abundant the greeneries are in this particular Easter basket. It's so perfect for the spring season.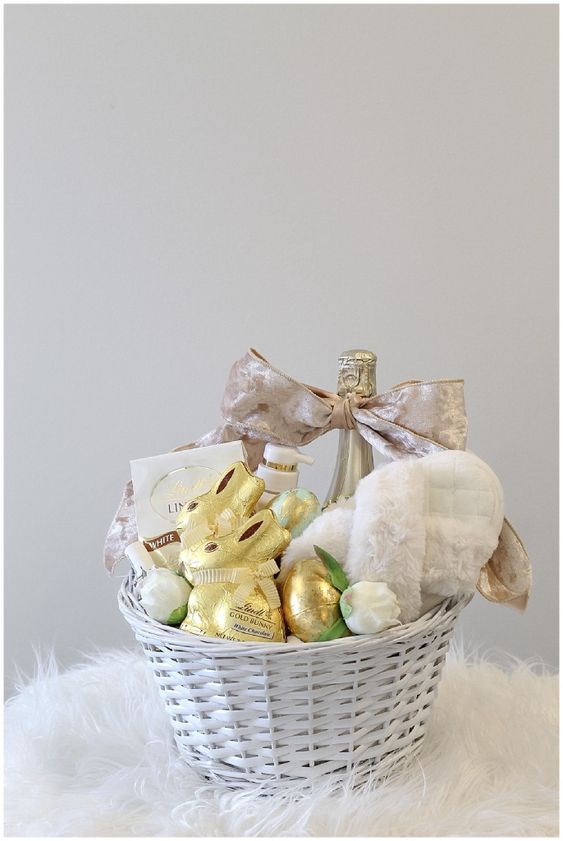 For a neutral color scheme, you might want to take some ideas from this Easter basket. The all-white monochrome look with hints of gold lends a sophisticated touch.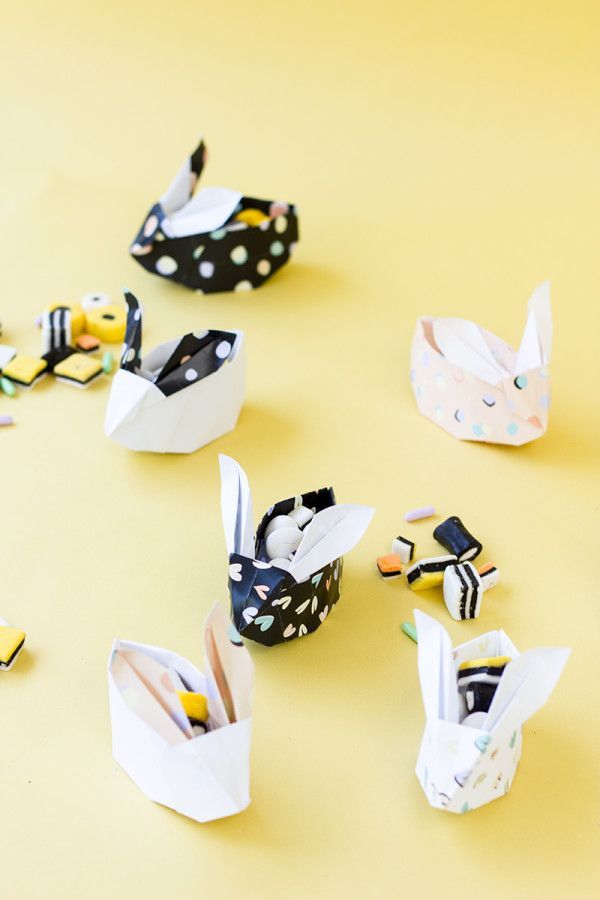 This has got to be one of the most creative ways to do your Easter basket this spring. With a bit of practice, you'll end up creating a bunch of these for all your friends and family.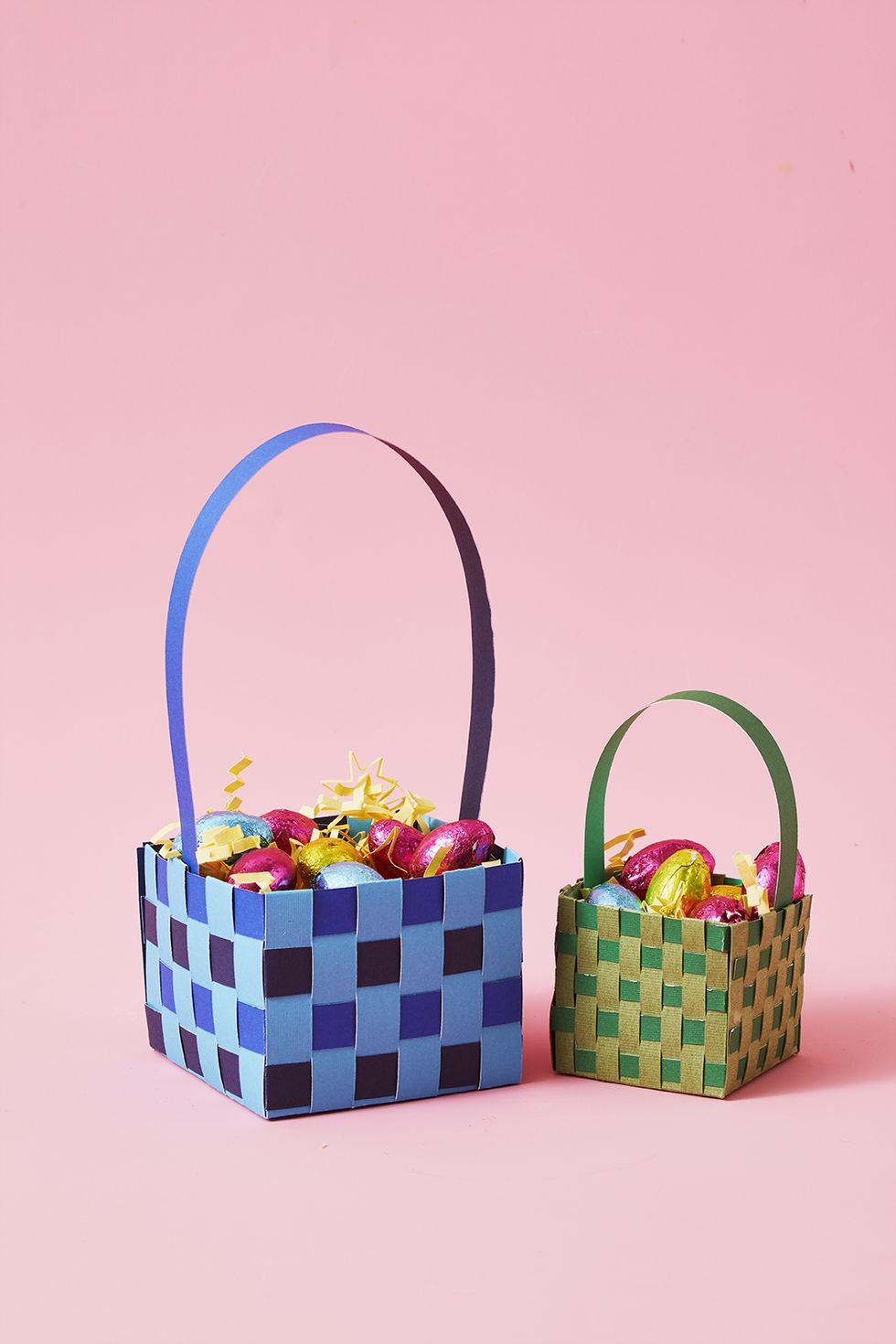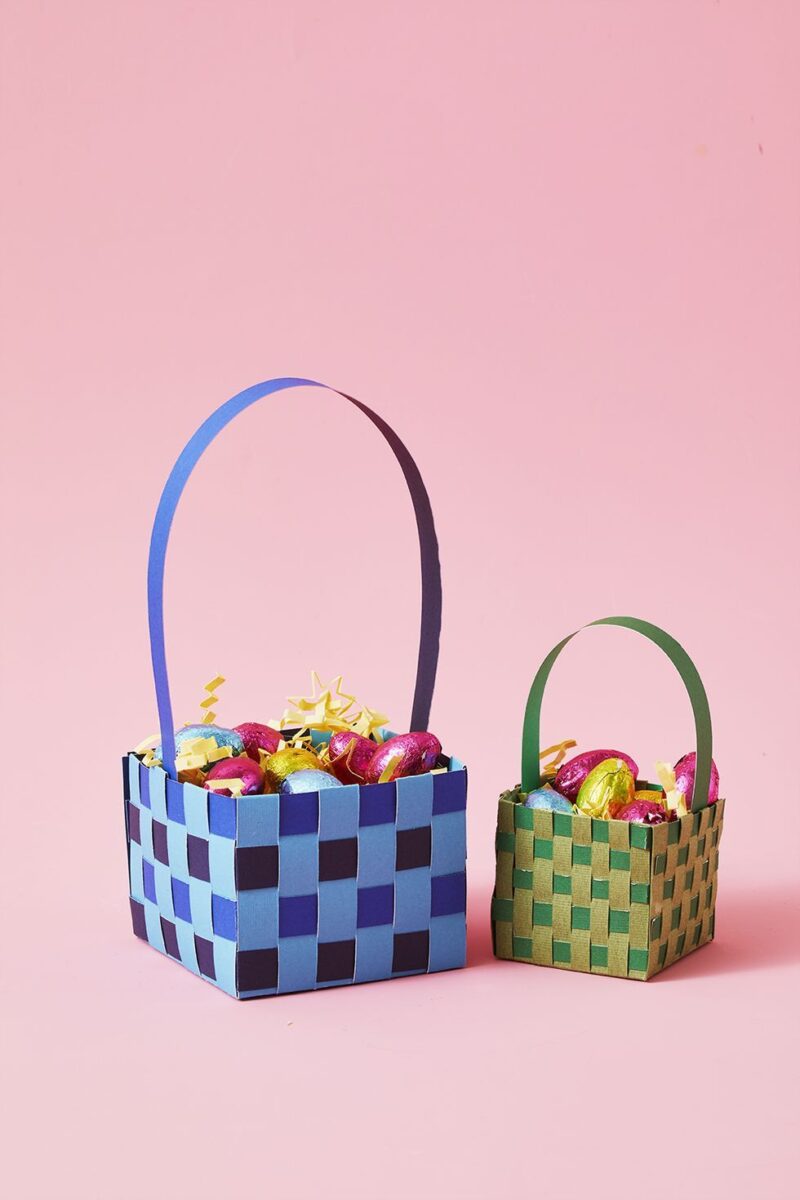 Short on Easter baskets this year? Here's how to create the ideal do-it-yourself paper Easter basket that can hold a variety of Easter treats.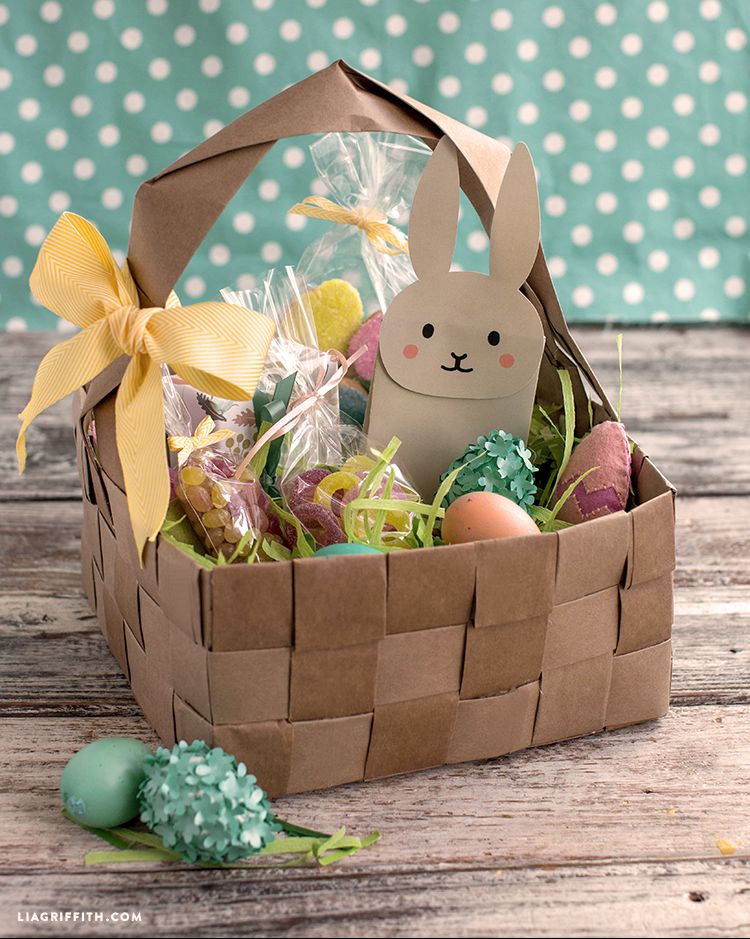 Don't throw away your grocery bags. Instead, repurpose them and create these gorgeous recycled Easter baskets.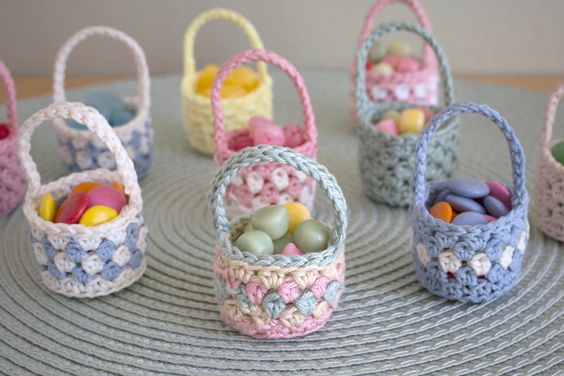 No time to DIY your own Easter baskets? That's alright! You can just buy these cute, little crochet Easter baskets on Etsy.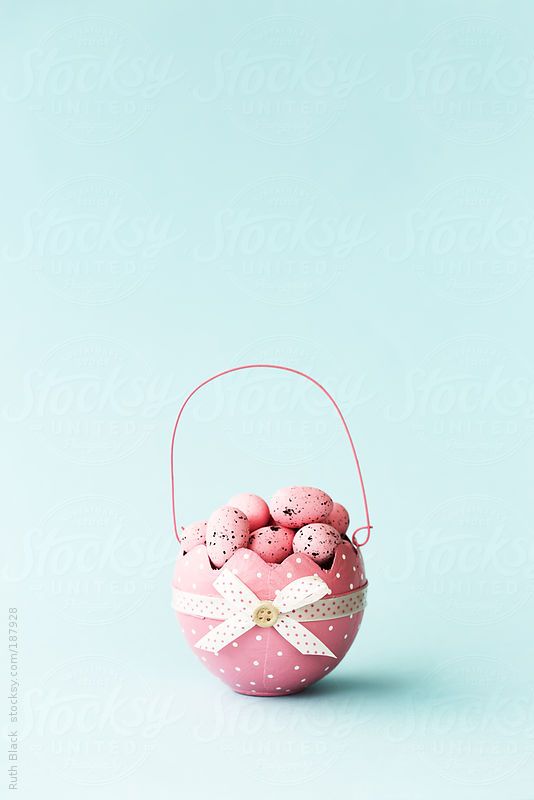 Here's another cute Easter basket that you can easily purchase from Stocksy. If you don't have a lot of time on your hands to create something from scratch, this will be ideal for you.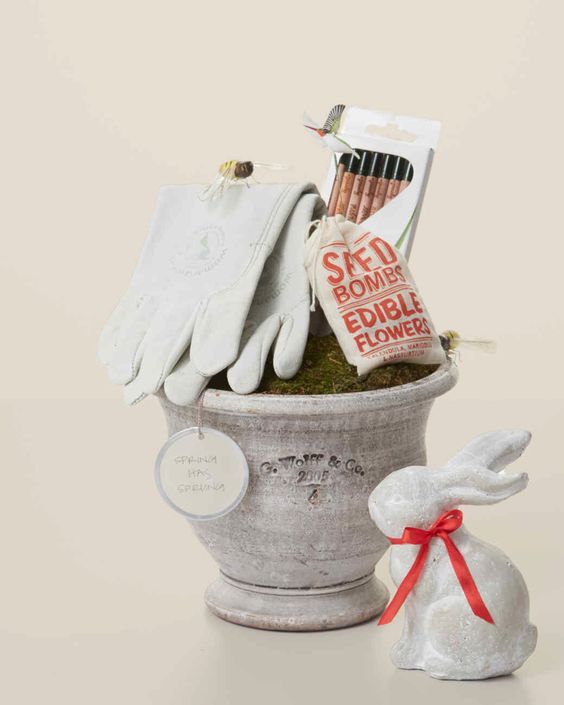 I love the stony aesthetic this particular Easter basket idea gives off. It's definitely unique and it has such an elegant and sophisticated touch to it. Not to mention, you can display these around your garden all year round.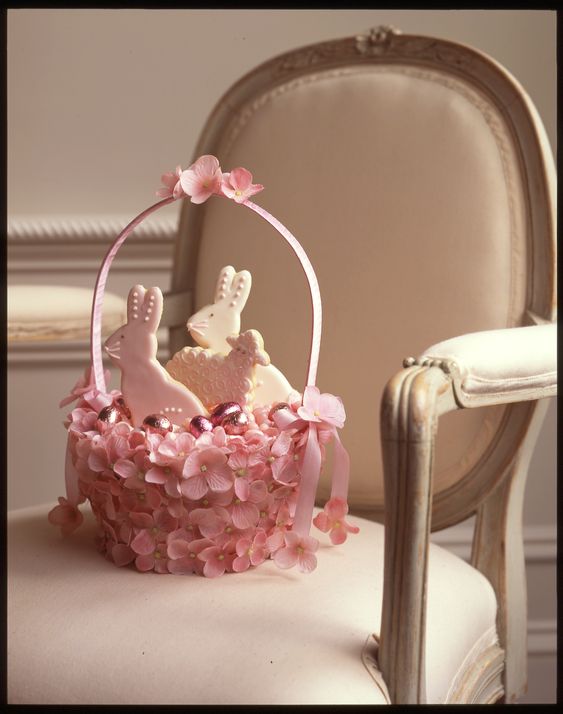 Overflowing in pink florals, you won't find another Easter basket as pretty as this one! This would be so perfect if you and your gal pals love anything pink!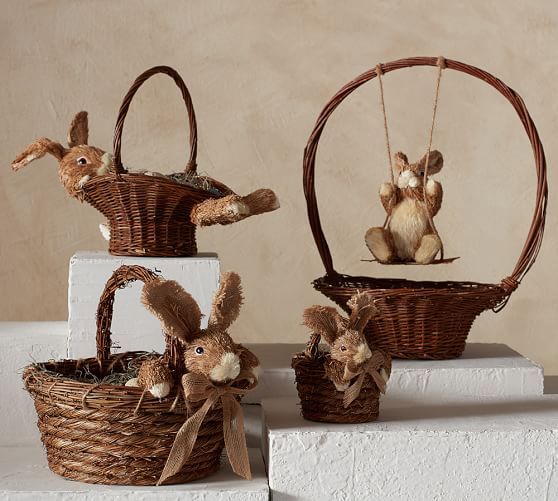 Just look how adorable those bunnies are in those Easter baskets! If you have any plushies lying around, you can emulate the same vibe by gluing them around your own Easter baskets.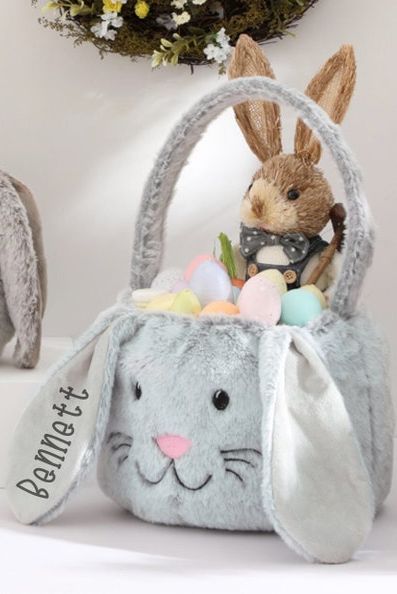 No time to sit and craft your own Easter basket? No problem! You can buy these adorable and personalized Easter bunny baskets from this Etsy store for a fuss-free Easter party!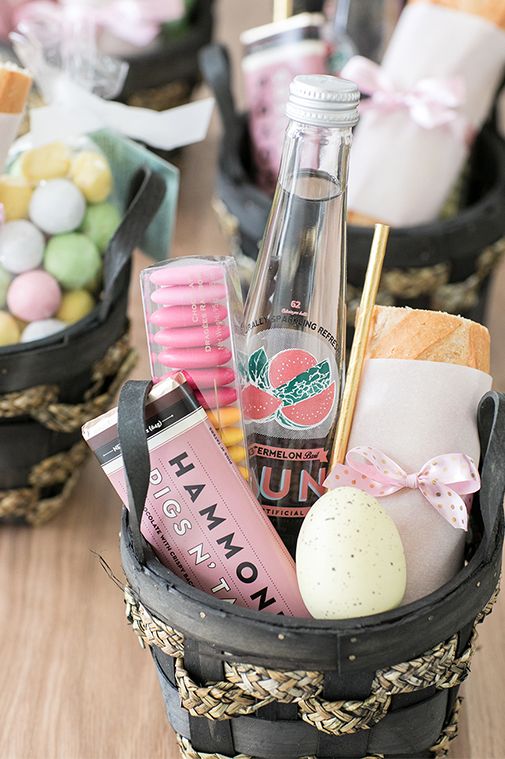 Stylish and a little bit edgy, these black woven Easter baskets will give your Easter holiday a more chic look to it.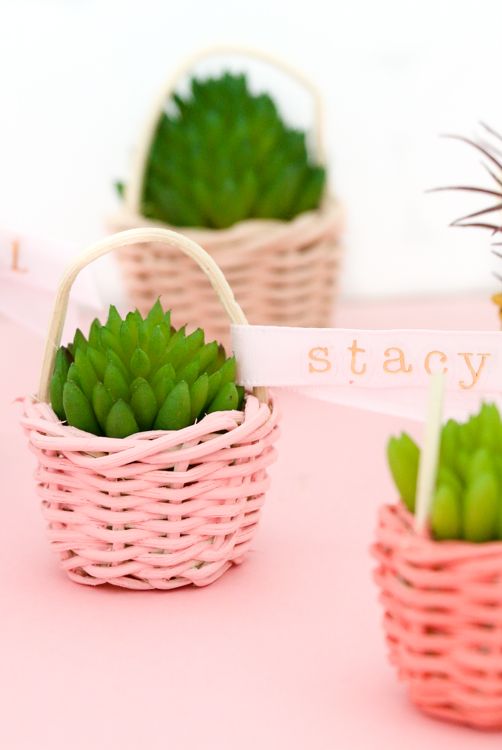 These miniature Easter baskets are utterly adorable! Not to mention, instead of using the usual treats, these ones are filled with little succulents that you can gift to your loved ones.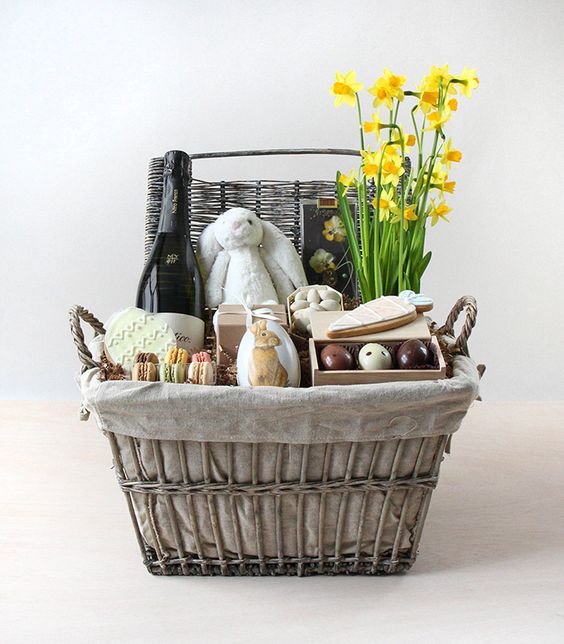 For a sophisticated and grown-up Easter basket, fill up your baskets with a bottle of wine and the ideal treats that go along with this liquor.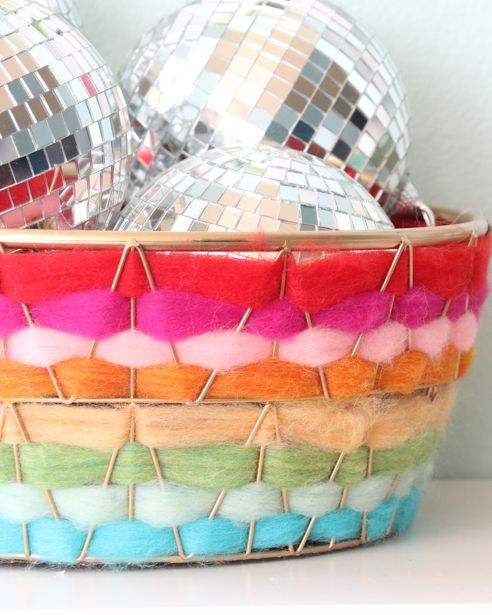 I love how colorful this woven basket is! What's even better is that you only need 2 things to recreate this fun and quirky Easter basket!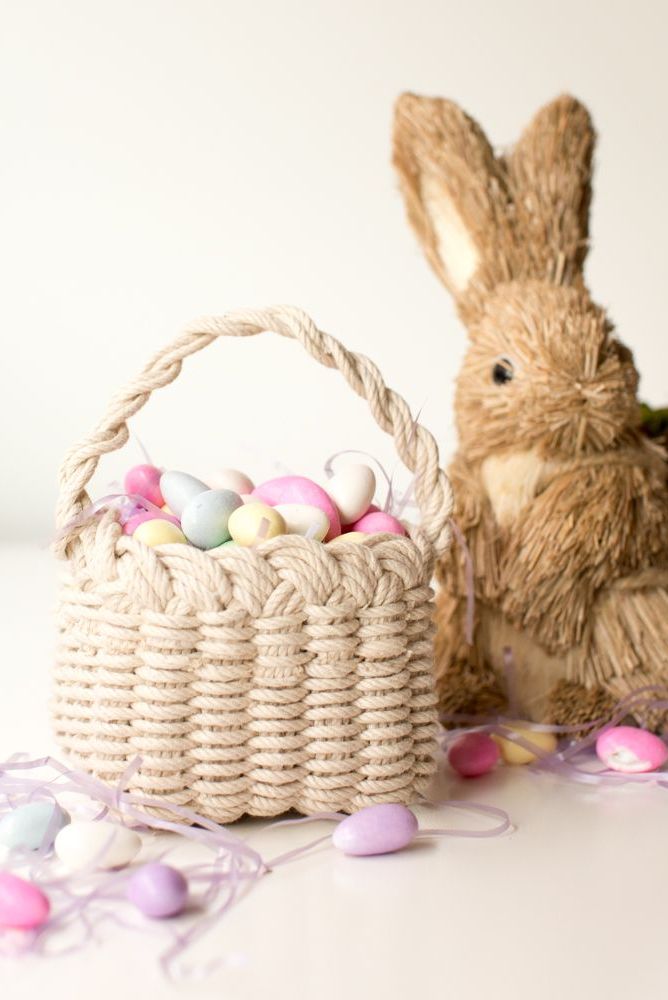 This handwoven design will look great in your home all year long and not just for the Easter holiday.
You'd be happy to know that this particular Easter basket can be done in under 15 minutes! So if you're looking for last-minute Easter baskets to try, this one is for you.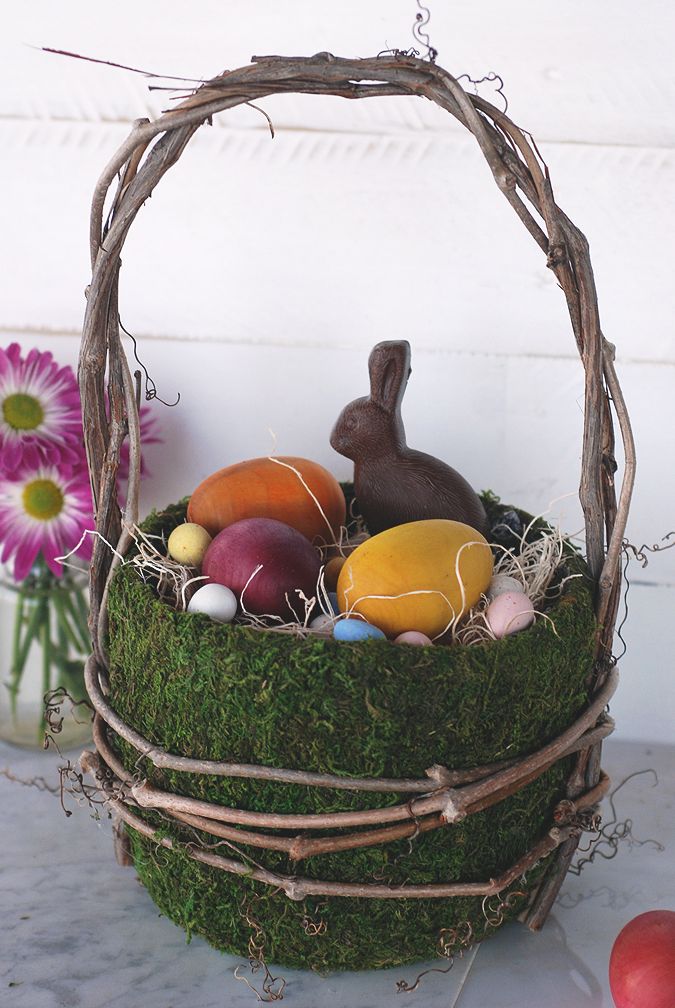 For a woodland-themed Easter basket, you certainly cannot miss out on this one!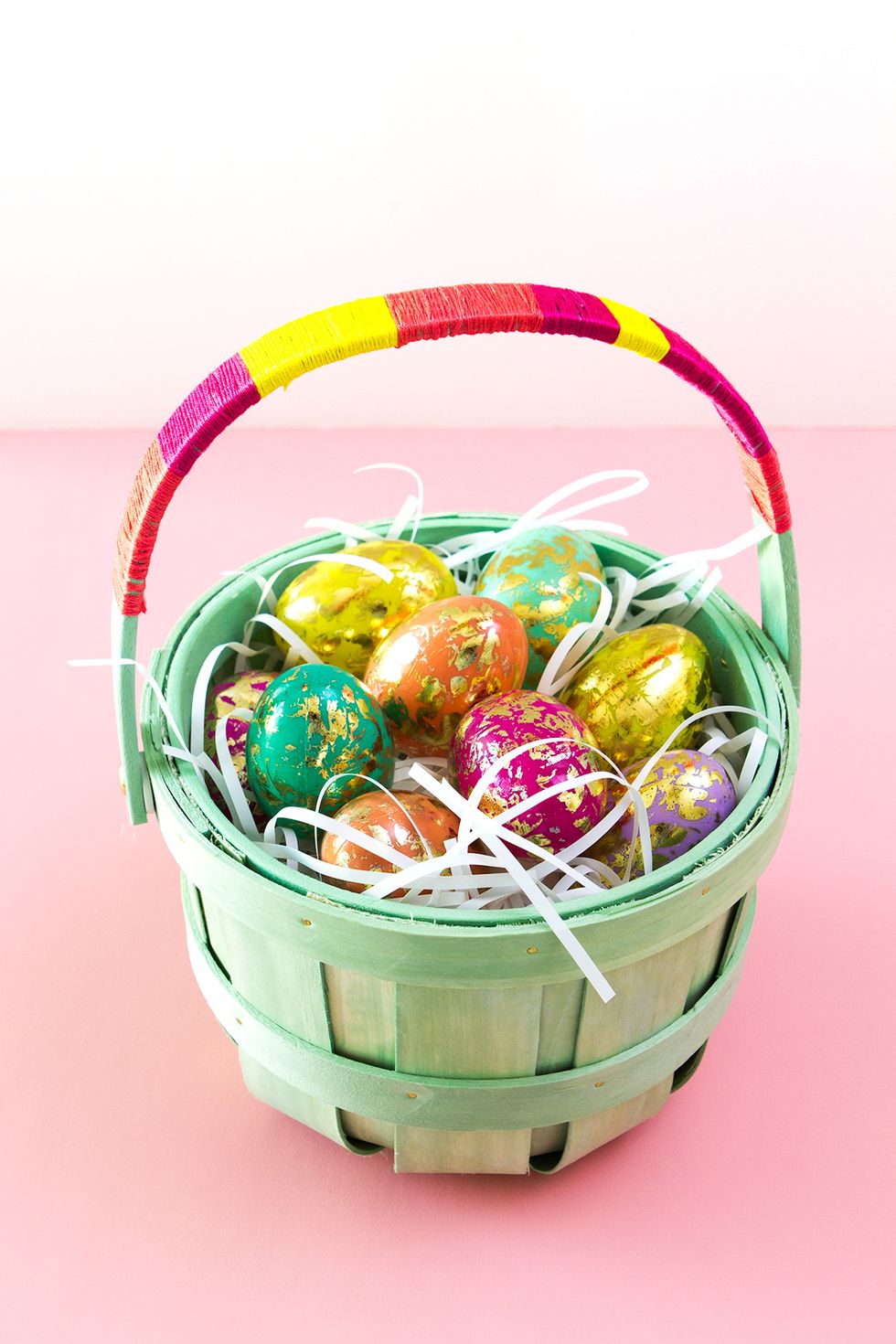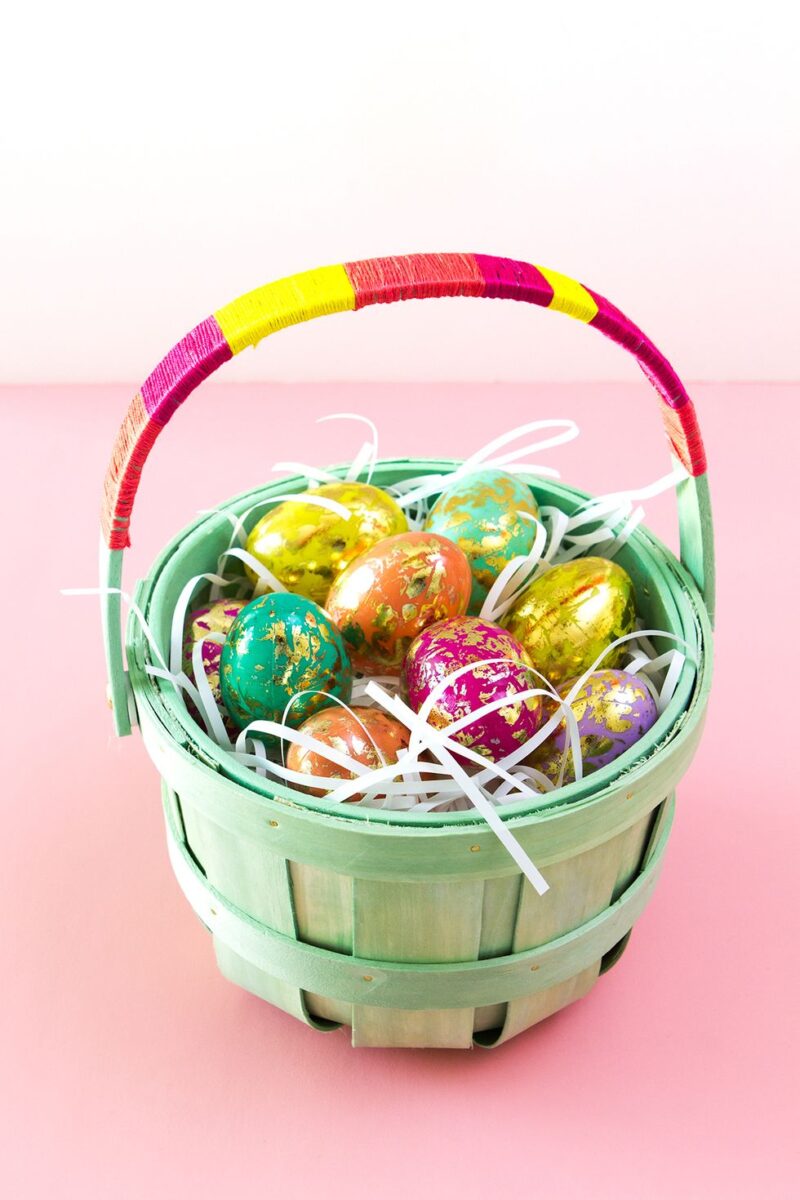 I love the color-blocking detail on this Easter basket! The tutorial for this one is so simple that you can easily make a few baskets of your own to give to your loved ones. This is one of my favorite simple Easter basket ideas that can be used for candy or even just for decor!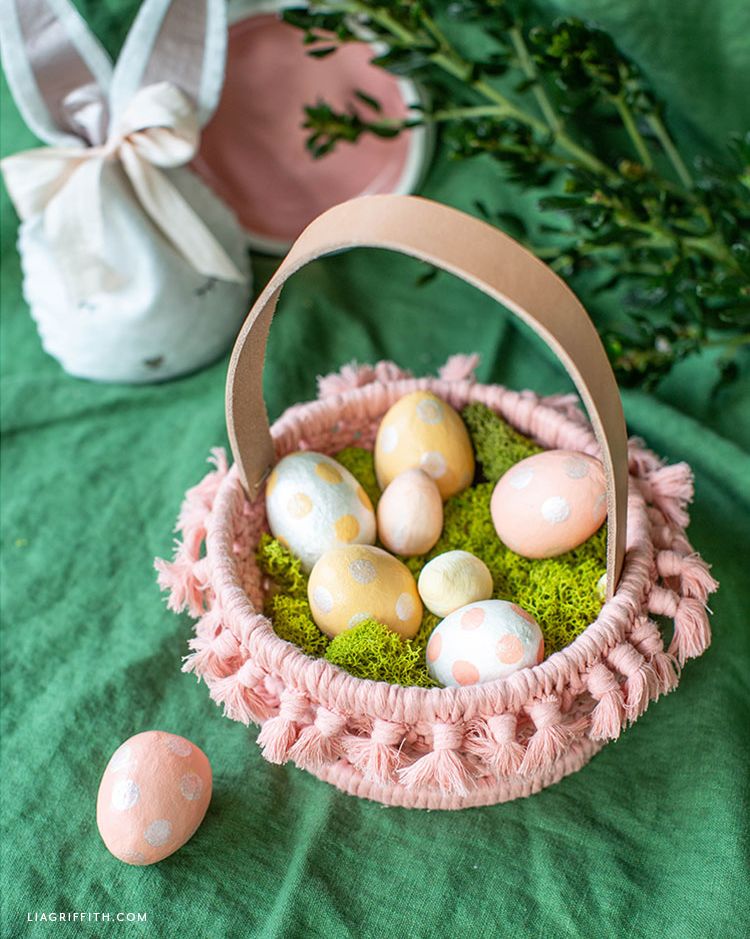 Even though it might take you a bit longer to finish, this lovely macramé Easter basket is just too adorable to pass up.