Have you ever wondered: does linen shrink? We're here to answer that question and tell you how to fix a shrunken garment!
Hey there, linen lovers and curious minds! If you've ever found yourself wondering whether that fabulous linen shirt you adore will turn into a crop top after a spin in the laundry, you're in the right place.
We're diving headfirst into the world of linen shrinkage, unraveling myths, sharing tips, and equipping you with all the knowledge you need to keep your linen looking fabulous. So, grab your favorite beverage, get cozy, and let's unravel the mystery of linen shrinkage together.
In this post, we'll explore how, why, and when linen can shrink, and what to do if your linen garment has already shrunk.
The Lowdown on Linen: A Brief Introduction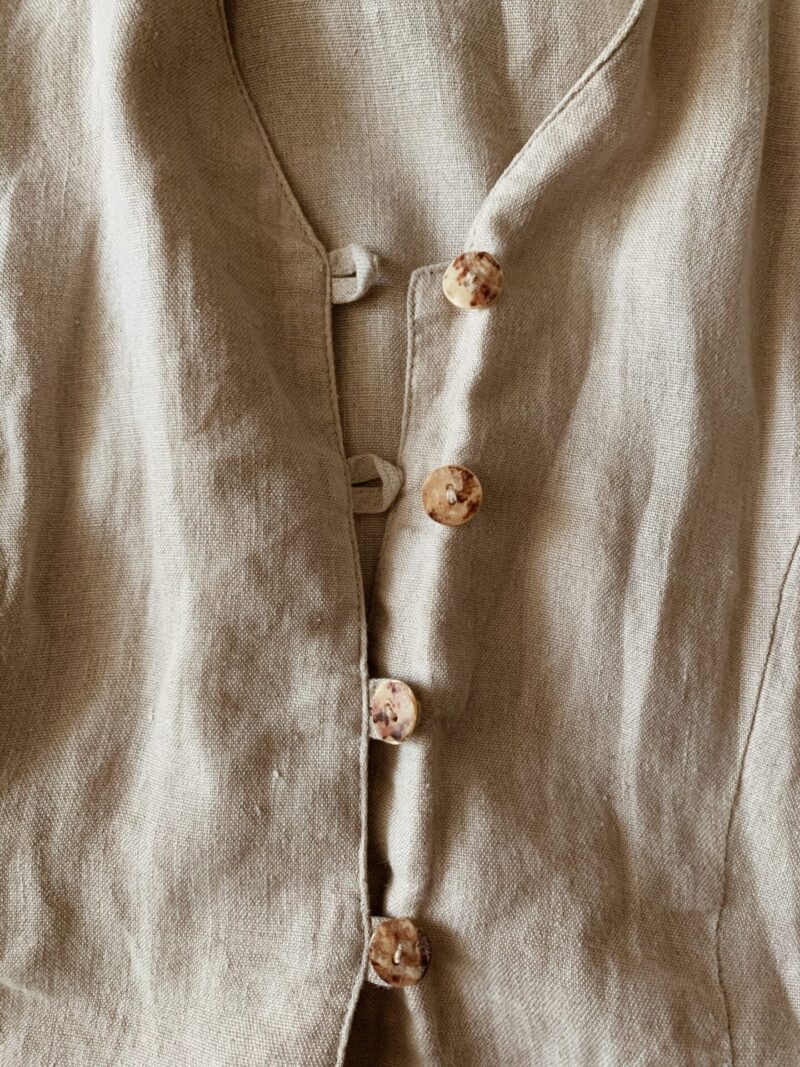 Before we tackle the big question, let's start with the basics. Linen is a natural fiber derived from the flax plant, and it's known for its breathable, lightweight, and effortlessly chic qualities. From breezy summer dresses to classic button-down shirts, linen has a special place in our hearts and wardrobes.
Linen, derived from the flax plant, has been cultivated and woven by civilizations for thousands of years. Ancient Egyptians considered linen to be a symbol of purity and used it to craft clothing for both the living and the departed. The intricate process of extracting fibers from flax stems and weaving them into textiles has been passed down through generations.
The natural fibers boast breathability, moisture-wicking properties, and a distinct texture that exudes casual elegance. Its ability to keep you cool on scorching summer days while maintaining an effortlessly chic aesthetic has solidified its status as a must-have fabric for those who value comfort and style.
So, Does Linen Shrink? The Inside Scoop
Yes, linen has a tendency to shrink a bit after its first wash. On average, pure linen can shrink by about 4%. But fear not! To keep your clothes and fabrics looking their best, many companies offer pre-washed linen. This first wash helps minimize future shrinking, so you won't have to worry much about size changes when you wash it again.
No need to worry! Even though linen can shrink, you can easily take care of it with the right info and care tricks. Just like any fabric, if you know what makes it shrink and use the right care methods, you can keep your favorite linen items looking great and staying in good shape.
Here are some of the things you need to know about linen in order to prevent shrinking.
Quality and Pre-Shrinking: Think of linen quality as your shrinkage superhero. High-quality linen garments often undergo a pre-shrinking process during manufacturing. This means they've been treated to minimize potential shrinkage when you wash them at home. So, keep an eye out for well-crafted linens with this pre-shrinking magic to reduce your shrinkage worries.
Weave and Density: Imagine linen as a collection of tiny threads woven together. The way these threads are woven and how densely they're packed can affect shrinkage. Linen with looser weaves may experience more significant shrinkage compared to those with tightly woven fabrics. It's like the difference between a loosely knit scarf and a tightly knit sweater – one might shrink more than the other.
Water and Heat Sensitivity: Linen fibers are a bit like sensitive souls when it comes to water and heat. Exposing your linen to hot water and high drying temperatures can lead to more shrinkage. It's like sending your linen on a spa day and having them come back a bit smaller. To avoid this, opt for colder water when washing and skip the high heat of the dryer. This helps keep your linen's dimensions happy and stable.
Initial Sizing and Garment Construction: Picture this: a smart designer crafts a linen garment with a bit of extra room, anticipating potential shrinkage. It's like wearing jeans that are a tad loose, knowing they might shrink after a wash. Some linens are intentionally designed with this wiggle room, so always check the care labels and any sizing notes to understand what to expect. Plus, proper construction techniques can also play a role in how much a garment might shrink, so keep an eye out for quality craftsmanship.
How To Prevent Shrinking:
Worried that your new linen clothing will shrink? Here are the best ways to prevent shrinkage when it comes to linen.
1. Embrace the Cold:
Wash your linen in cold water. Hot water can be a shrinkage trigger, while cold water helps keep your linen happy and relaxed.
2. Gentle Hands or Gentle Machines:
If you're using a washing machine, choose the gentle cycle. It's like giving your linen a spa day – no rough treatment allowed!
3. Skip the Dryer Drama:
Step away from the dryer! Instead, opt for air drying. Hang your linen on a line or lay it flat. This gives your linen space to breathe and helps it maintain its size.
4. Mind the Heat:
If you need to iron your linen, use the lowest heat setting. High heat can make your linen fibers tense up – and that's not what we want!
5. Size Matters:
When buying linen, pay attention to sizing. If you're unsure, go for a slightly larger size to allow for potential shrinkage. Remember that most linen pieces will shrink a little bit eventually, so sizing up is always better.
6. Keep It Loose:
Don't overcrowd your washing machine or dryer with too many linen items at once. Let them move freely and prevent unnecessary stress on the fibers.
7. DIY Softness:
Use a gentle fabric softener or make your own by adding a bit of hair conditioner to the rinse water. It's like giving your linen a little hug!
8. Careful Storage:
When not wearing your linen, store it in a cool, dry place away from direct sunlight. This helps keep the fibers relaxed and ready for action.
9. Read the Label:
Always check the care label on your linen garments. They're like treasure maps that guide you to the right care methods. Remember that not all linen is made the same.
Remember, it's all about giving your linen a little TLC. Treat it gently, keep the heat at bay, and embrace the cool and calm side of care. By following these easy-peasy tips, you'll be well on your way to preventing shrinking and ensuring your linen pieces stay as fabulous as ever!
Does Linen Shrink In Cold Water?
Yes, linen can still shrink a little bit even when you wash it in cold water. It's not completely safe from shrinking, but using cold water helps lessen the amount of shrinkage compared to using hot water.
When you wash linen in cold water, it might shrink by around 1-2% on average. It's not a lot, but there can still be a slight change in size. That's why we recommend sizing up when you initially buy a linen piece.
If you're wondering does linen shrink in cold water, then you'll be happy to know that you don't really need to change anything. Linen must be washed, and cold water is your best bet. 1-2% isn't much!
Does Linen Shrink In Hot Water?
Yes, linen can shrink quite a bit when you wash it in hot water. The heat makes the fabric tighten up, causing it to become smaller. It's like when a sweater gets too tight after being in the dryer. So, it's better to avoid using hot water with linen if you want to keep its size the same.
Does Linen Shrink In The Dryer?
Yes, putting linen in the dryer can make it shrink. The high heat and tumbling motion can cause the fabric to become smaller. It's similar to how your clothes might get smaller if you dry them on high heat. To keep your linen from shrinking, it's best to let it air dry instead of using the dryer.
When you wash linen in hot water and then put it in the dryer, it can shrink quite a bit – around 5-7% or even more. This means if you started with a linen garment that's 100 centimeters long, it could end up being around 5 to 7 centimeters shorter after going through this hot water and dryer process. So, it's important to be cautious with hot water and the dryer if you want to keep your linen's original size.
Does Linen Stretch?
Yes, linen can stretch a little bit over time, especially when it's worn or used. This happens because the fibers in the fabric loosen up with movement and wear. However, compared to some other fabrics, linen doesn't stretch as much. It's more likely to return to its original shape after you wash and air dry it. So, while linen can stretch a bit, it's not as stretchy as some other materials like elastic.
This means you'll want to especially careful that your linen doesn't shrink, because it's not likely to stretch back to its original size.
Myths Busted: Separating Fact from Fiction
Let's address a few common myths surrounding linen shrinkage and set the record straight:
Myth: All Linen Shrinks Significantly: While some linen fabrics may experience noticeable shrinkage, not all linen is created equal. High-quality, pre-shrunk linen is designed to minimize shrinkage concerns.
Myth: Dryers Are Off-Limits: While high heat can lead to shrinkage, using a dryer on low heat or the air-dry setting may be suitable for certain linen pieces. However, air drying remains the safer option for most cases.
Myth: Shrinking is Irreversible: If you find your beloved linen has shrunk, don't despair. With a little patience and care, you may be able to restore it to its original size through gentle stretching and steaming.
How To Fix Shrunken Linen:
Oh no, your beloved linen piece has gone through a little too much shrinking in the wash? Don't fret – there's hope! While you can't exactly perform a magic spell to reverse the shrinkage, you can try a few tricks to help restore your linen to its former glory. Here's a step-by-step guide on how to fix shrunken linen:
What You'll Need:
Shrunken linen garment
Large basin or sink
Baby shampoo or gentle hair conditioner
Towels
Heavy books or weights (optional)
Iron and ironing board
Steps to Fix Shrunken Linen:
1. Gentle Bath Time:
Fill a large basin or sink with lukewarm water.
Add a small amount of baby shampoo or gentle hair conditioner to the water. Mix it well to create a mild solution.
2. Soak and Relax:
Submerge your shrunken linen garment in the solution, making sure it's fully saturated. Gently massage the fabric to help the solution penetrate the fibers.
Allow the garment to soak for about 30 minutes. This step helps relax the fibers and reduce stiffness.
3. Stretching Magic:
Gently remove the garment from the water and carefully stretch it back to its original size. Don't pull too forcefully; just encourage the fibers to loosen up.
4. Press and Blot:
Lay the garment flat on a clean, dry towel.
Roll up the towel with the garment inside and press down to blot out excess water. This helps prevent further stretching while removing moisture.
5. Reshape and Dry:
Lay the garment on a clean, dry towel and gently reshape it to its original dimensions. Pay special attention to sleeves, hemlines, and other areas that may have shrunken unevenly.
If you have heavy books or weights, you can place them strategically on the garment to help maintain its shape as it dries.
6. Air Dry with Care:
Allow the garment to air dry naturally. Avoid exposing it to direct sunlight or high heat, as this can cause further damage or additional shrinkage.
7. Steam to Finish:
Once the garment is nearly dry, you can use a steam iron on the lowest setting to help relax any remaining wrinkles and further stretch the fibers.
8. Wear with Confidence:
Your shrunken linen should now be on its way to regaining its original size and shape. Put it on and enjoy the feeling of a successful rescue operation!
Important Tips:
Always use gentle, mild solutions like baby shampoo or hair conditioner. Harsh detergents can damage the fabric further.
Avoid excessive pulling or stretching, as this can lead to fabric distortion.
If in doubt, you might want to consult a professional tailor or cleaner who specializes in working with delicate fabrics like linen.
Remember, every fabric reacts differently, so the success of these steps may vary depending on the severity of the shrinkage and the specific characteristics of your linen garment. With a little patience and care, you might just be able to turn your shrunken mishap into a triumphant comeback for your favorite linen piece!
FAQs About Linen & Shrinkage:
Why does linen shrink in the first place?
Linen fibers have a natural tendency to contract when exposed to water and heat. This is due to the way the fibers are structured and how they interact with moisture and temperature.
Is all linen prone to the same amount of shrinkage?
Not necessarily. The amount of shrinkage can vary based on factors like the quality of the linen, its weave, and how it's cared for. High-quality linens and those that have been pre-shrunk during manufacturing might experience less shrinkage.
Can I prevent linen from shrinking altogether?
While you can't completely prevent linen from shrinking, you can minimize it. Using cold water for washing and avoiding high heat in the dryer are effective ways to reduce shrinkage.
What happens if I accidentally shrink my linen garment?
If your linen garment has shrunk, you can try gently stretching it while damp and then air drying it. However, keep in mind that there are limits to how much you can restore its original size.
Can I wear shrunken linen comfortably?
Depending on the extent of shrinkage, shrunken linen might still be wearable, but it could feel tighter and less comfortable. It's best to focus on prevention and proper care to maintain the original fit.
Are there specific linens that are less likely to shrink?
Linen blends (mixtures of linen with other fibers) might have different shrinkage tendencies. Some blends, like linen-cotton, could experience less shrinkage compared to pure linen.
Is it safe to iron linen to help with shrinkage?
Ironing can relax the fibers and reduce wrinkles, but it might not significantly reverse shrinkage. Use a gentle steam setting on the iron to help reshape the garment without applying excessive heat.
Does linen shrink uniformly or unevenly?
Linen can shrink both uniformly and unevenly, depending on factors like fabric construction and how it's cared for. Following proper care practices can help minimize uneven shrinkage.
Can I prevent linen from stretching out too much with wear?
While linen can stretch a bit with wear, it typically bounces back after washing and air drying. Avoid excessive pulling or stretching while wearing, and store your linen properly when not in use to help maintain its shape.
Are there specific linen care products I should use to prevent shrinkage?
Using mild detergents and avoiding harsh chemicals can help preserve your linen's integrity. You can also consider using a fabric softener or hair conditioner in the rinse water to relax the fibers.
Is linen shrinkage reversible?
Partially. While you can't completely reverse shrinkage, you might be able to relax the fibers and restore some of the original size through careful stretching and steaming. However, there are limits to how much you can undo the shrinkage.
Are there specific types of clothing more prone to linen shrinkage?
Generally, items like fitted garments and those with intricate stitching might be more prone to noticeable shrinkage. Loose and flowy linen pieces might be less affected.
Can I wear shrunken linen garments layered with other clothing?
Layering could help disguise minor shrinkage, but it's best to focus on preventing shrinkage in the first place. Layering won't completely hide significant changes in size.
Can I resize a shrunken linen garment through tailoring?
Tailoring might be able to help adjust the fit of a shrunken linen garment to some extent, depending on the garment's construction and the extent of shrinkage.
Are there any home remedies to relax shrunken linen?
Besides stretching and steaming, some people have had success with soaking the shrunken garment in a mixture of water and hair conditioner, then gently reshaping and air drying it.
Should I avoid linen altogether if I'm concerned about shrinkage?
While linen can shrink, it offers unique benefits like breathability and comfort. By following proper care practices, you can enjoy the benefits of linen without worrying too much about shrinkage.
Can linen shrink more during the first wash than subsequent washes?
Yes, the first wash can lead to more noticeable shrinkage. Subsequent washes might still cause some minor shrinkage, but it's likely to be less pronounced.
Can I mix linen with other fabrics to prevent shrinkage?
Linen blends, such as linen-cotton or linen-viscose, can offer reduced shrinkage compared to pure linen. These blends combine the qualities of linen with the stability of other fibers.
Are there any tips for storing linen to prevent shrinkage?
Store your linen garments in a cool, dry place away from direct sunlight and heat sources. Proper storage helps maintain the fabric's relaxed state and prevents unnecessary shrinkage.
Can I use a fabric softener to prevent shrinkage?
While fabric softeners can relax fibers, it's important to use them in moderation. Overusing fabric softeners might lead to excessive wear on the fabric over time.
Does linen shrink differently based on its color?
Generally, the color of linen itself doesn't significantly impact shrinkage. However, some dyes or treatments used in colored linens might affect how the fabric reacts to water and heat, potentially influencing shrinkage.
Can I prevent shrinkage by hand-washing linen?
Hand-washing in cold water is a gentler option that can help minimize shrinkage. Just make sure to avoid wringing or twisting the fabric, as excessive manipulation can contribute to shrinking.
Can linen blends also experience shrinkage?
Yes, linen blends can still experience some shrinkage, although it might be less pronounced compared to pure linen. The other fibers in the blend can influence how much the fabric contracts.
Does linen shrink consistently across all types of garments?
Linen can shrink in various ways depending on the garment's cut, construction, and initial sizing. For example, a loose-fitting linen shirt might experience different shrinkage compared to a fitted linen dress.
Can I stretch my shrunken linen while it's wet to regain its size?
Stretching shrunken linen while it's damp can help relax the fibers slightly, but it's essential to be gentle to avoid distorting the fabric's shape.
Does linen shrinkage affect its overall quality?
Shrinkage itself doesn't necessarily indicate poor quality. However, high-quality linen that has undergone proper pre-shrinking during manufacturing might experience less noticeable shrinkage over time.
Can linen blend garments offer better resistance to shrinkage?
Linen blends can indeed provide enhanced resistance to shrinkage, especially when blended with fibers like cotton or synthetic materials known for their stability.
Can I use a fabric conditioner to prevent linen from shrinking?
Using a mild fabric conditioner sparingly in the rinse water can help relax linen fibers. However, it's important not to rely solely on this method and to incorporate other preventive care practices as well.
Does linen shrinkage affect its vibrant colors or prints?
While shrinkage itself might not significantly impact colors or prints, aggressive washing methods due to shrinkage concerns could potentially affect the vibrancy of colors over time.
Can I stretch my shrunken linen using steam?
Yes, steaming shrunken linen while gently pulling and shaping it can help relax the fibers. Just be sure to use a low steam setting and avoid direct contact with the fabric.