Are you a Barbie fan looking for the perfect Halloween Barbie costumes? Look no further! Whether you're reliving your childhood dreams or simply want to showcase your love for all things Barbie, I've got you covered with these 12+ fantastic DIY Barbie Halloween costume ideas!
The Barbie movie has already been showing up in theaters for a good few weeks now, and I honestly don't see Barbie fever dying down anytime soon. Matter of fact, I am 100% sure that we will be seeing so many Barbies for this year's Halloween season. Which really excites me a lot!
As someone who has fallen in love with this franchise again, I cannot wait to show off my own Barbie costume idea once October is here.
So for those who are also planning to DIY their own Barbie costumes, you've certainly come to the right spot! Barbie has been a timeless symbol of style and grace for little girls everywhere since her debut in 1959. With her ever-evolving looks and charming personality, she continues to inspire generations of fans worldwide. And we've seen her influence with how popular the Barbie movie has gotten.
Now, with Halloween just a short ways away, it's your turn to channel your inner Barbie. Create a show-stopping costume that will turn heads and make you feel like the life-size embodiment of this iconic doll!
I've gathered over 12 fantastic Barbie costume ideas that you can easily create at home with a little creativity and some crafty skills and tools. Regardless, if you prefer the classic blonde-haired Barbie or love one of her many diverse editions, I've got something for every fan out there!
How To Embody The Perfect Barbie Halloween Costumes
Embodying Barbie on Halloween is all about channeling her iconic style, confidence, and elegance. At the same time, you'll also be adding your own personal touch to your Halloween costume, because every one of us is a Barbie in our own right.
With that said, here are some tips to help you become the life-size version of the beloved doll on this spooky occasion: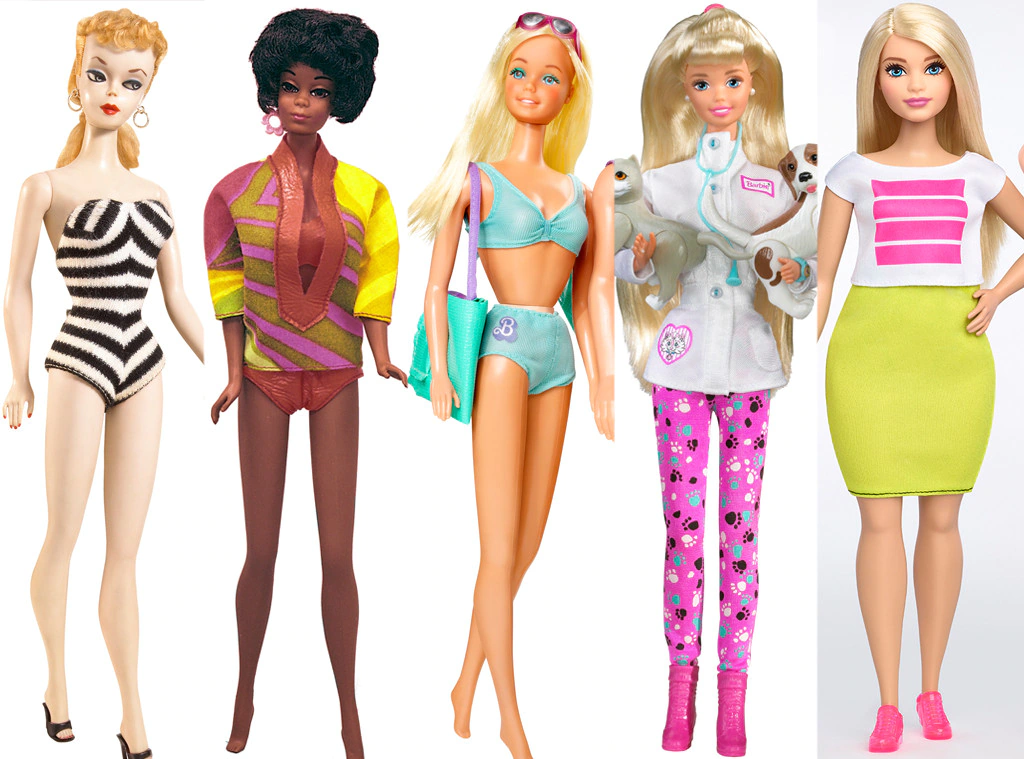 1. Choose the Right Barbie Look
Barbie has had countless looks over the years, from classic to modern, and even fantasy-themed editions. Decide on the Barbie version you want to portray, whether it's the original blonde-haired Barbie, a specific Barbie doll from your childhood, or a more recent edition. Research images of the chosen Barbie to get inspiration for your costume.
2. Wear the Iconic Barbie Outfit
Once you've chosen the Barbie look you want to embody, find or create the perfect outfit. Look for a dress or ensemble that matches the signature style of your chosen Barbie. Whether it's a pink ball gown, a stylish jumpsuit, or a princess-inspired dress, the key is to capture the essence of Barbie's fashion.
3. Glamorous Hair and Makeup
Barbie is known for her flawless makeup and perfectly coiffed hair. Embrace her signature look with a touch of pink eyeshadow, long lashes, and glossy lips. Style your hair in the iconic Barbie ponytail or any other recognizable Barbie hairstyle. If necessary, consider wearing a wig to achieve the desired look.
4. Accessorize like Barbie
Accessories are crucial to completing your Barbie Halloween costume ideas. Opt for oversized sunglasses, statement jewelry, and a chic handbag to add that extra touch of glamour. Don't forget to wear high heels too, as we all know of Barbie's iconic arched feet!
5. Confidence and Positivity
Barbie is not just about her looks; she's also known for her positive attitude and confidence. Embrace these traits and carry yourself with grace and poise. Smile, strike poses, and have fun with your Barbie persona.
6. Strike Barbie Poses
Part of the Barbie charm is her ability to strike picture-perfect poses. Practice a few classic Barbie poses, such as the hand-on-hip pose or the waving pose, to add authenticity to your portrayal.
7. Spread Empowerment
While embodying Barbie's image, remember that she has evolved over the years to represent empowerment and diversity. Embrace the message of inclusivity and empowerment that Barbie now represents and inspire others with your portrayal.
8. Have Fun and Be Yourself
Lastly, Halloween is all about having fun and embracing your creativity. Embodying Barbie is a chance to embrace the playful and imaginative side of the doll, so enjoy the process and be yourself as you bring the perfect Barbie to life!
Barbie Halloween Costume Ideas
It's time to take out those crafting tools, raid your closet for fabulous accessories, and get ready to bring your favorite Barbie incarnation to life. Whether you're heading to a costume party, trick-or-treating, or just celebrating Halloween in style, these DIY Barbie costumes will make you feel like a true Barbie in Barbieland!
15. The Very First Barbie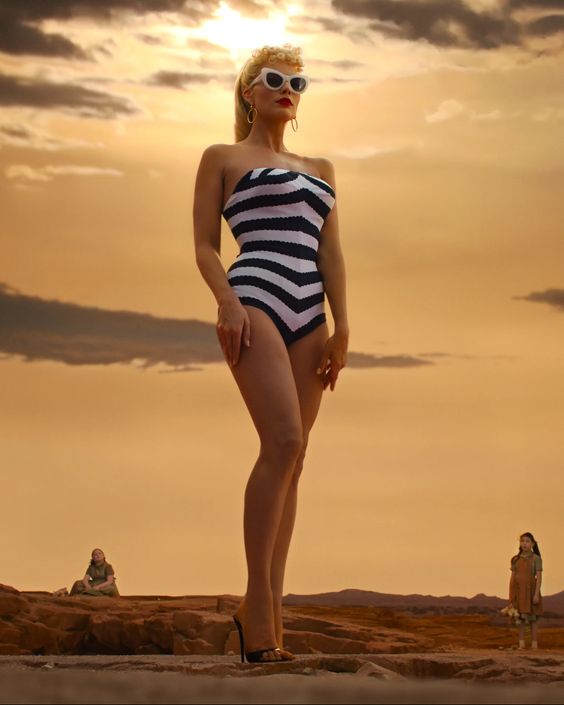 Travel back in time to the retro charm of the black and white bathing suit era with this iconic Barbie costume. Inspired by one of Barbie's earliest looks, this vintage ensemble captures the essence of the classic doll and radiates a timeless allure.
With a touch of creativity and a few basic materials, you can transform into the vintage beauty of Barbie's black and white bathing suit! You're sure to make a striking statement at any Halloween gathering.
Materials You'll Need:
Black and White Striped One-Piece Swimsuit: Look for a black and white striped one-piece swimsuit with a classic '50s design. The swimsuit should have a flattering silhouette, high leg cuts, and a modest neckline, reminiscent of Barbie's original style.
White Sun Hat: Find a wide-brimmed white sun hat to add a touch of sophistication to your costume. Look for one with a black ribbon or band for an extra vintage flair.
Black Cat-Eye Sunglasses: Capture the essence of retro chic with a pair of black cat-eye sunglasses. They'll instantly transport you back to the '50s and complement the overall look.
Red Lipstick: Barbie's signature bold red lips are a must. Choose a classic red lipstick shade to match the timeless glamour of the doll.
Black Flip Flops: Opt for comfortable black flip-flops or sandals to complete the costume. Barbie always knows how to balance style and practicality!
Barbie-Inspired Blonde Wig: If your hair isn't naturally blonde, consider wearing a Barbie-inspired wig with a sleek, shoulder-length style. Or you can always go with your natural hair color if that's what you prefer!
14. Barbie From Toy Story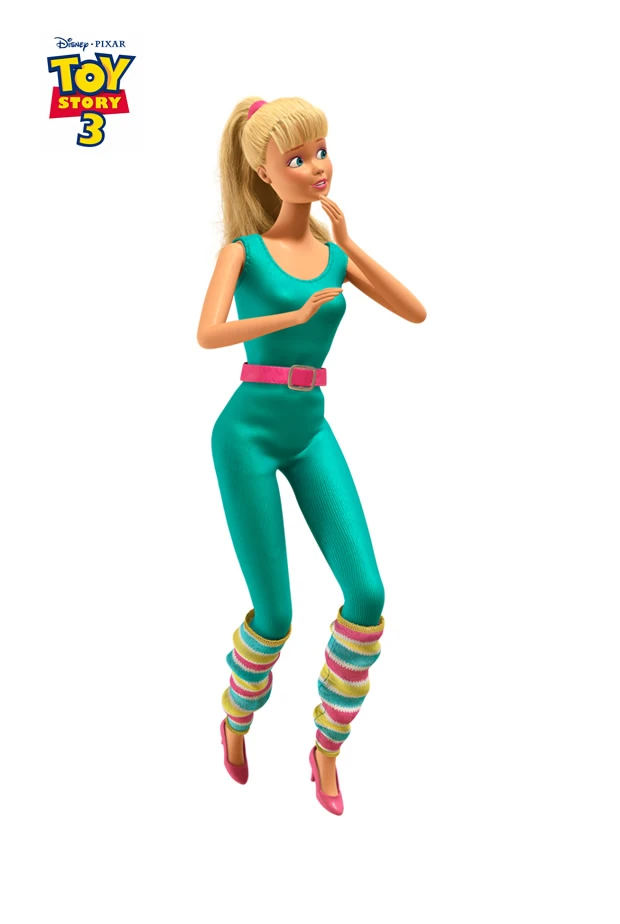 Barbie from Toy Story doesn't get enough attention, in my opinion. But she was just as iconic in this film as everyone else! In every scene that she was in, she totally stole the show. Not to mention, her costume in the movie is lots of fun to recreate as well! Inspired by spandex workout gear, this Halloween costume is totally perfect for those who want to show off some retro vibes to their outfit! So get ready to hit the toy box runway and become the talk of the Halloween party with this delightful and nostalgic ensemble.
Materials You'll Need:
Spandex Workout Gear: Look for matching bright blue spandex leggings and a tank top for Barbie. This will be the base of your costume, representing the iconic workout attire of this stylish doll.
Pink Pumps: Even though you're technically wearing workout attire, Barbie can't be without her high heels to support her perfectly arched feet. But if you want to wear something more comfortable, a pair of pink or white sneakers will complement your spandex outfit just as well.
Makeup and Styling: Emulate Barbie's animated appearance with bright and expressive makeup. Accentuate your eyes with long lashes, apply a touch of pink blush, and don't forget her signature bright pink lipstick.
Toy Props (Optional): Carry small toy props that represent the Toy Story characters, like a miniature Woody or Buzz Lightyear toy.
13. Perfect Day Barbie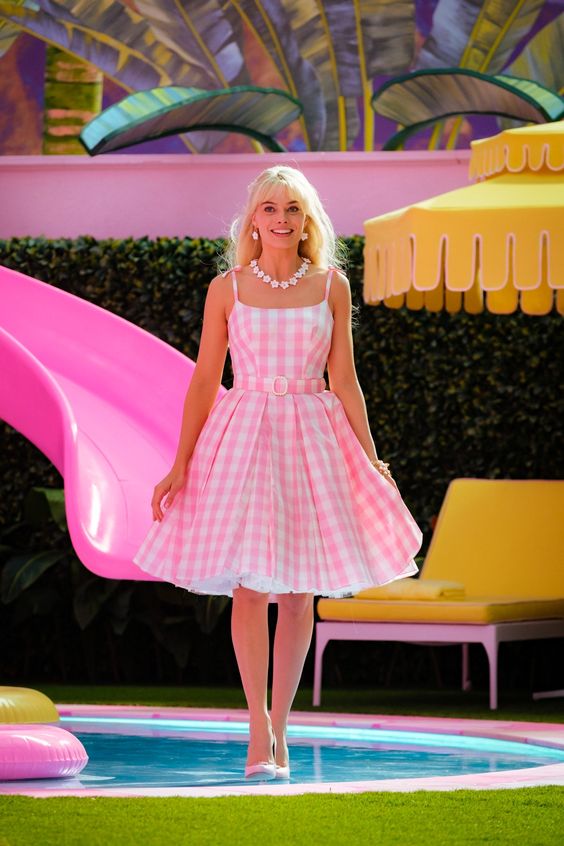 Because in Barbieland, Barbie always has the perfect day. Nothing ever goes wrong in Barbieland and she's to be happy and content forever and ever. But apart from that, Barbie also has the perfect outfits as well to complement her everyday life. And this pink gingham sundress is one of the first outfits we see in the movie as she starts out her day (as well as one of my favorites). Halloween or not, this sundress would be so perfect for any other occasion too! Personally, I would love to wear this to a daytime event or maybe whenever I'm going out for some fancy brunch with friends.
Materials You'll Need:
Pink Gingham Dress: Find a knee-length pink gingham dress with a flattering fit and a timeless A-line silhouette, just like Barbie's in the movie.
White Pumps: Barbie loves her stylish footwear, so opt for white heels to complete the look.
Jewelry: Just like in the movie, adorn yourself with shimmering and shiny floral accessories, such as a delicate necklace and matching earrings, to add a touch of sophistication.
Makeup:

Eyes: Emphasize your eyes with long lashes and soft, natural eyeshadow in pink or neutral tones.
Cheeks: Add a hint of rosy blush for a youthful and fresh look.
Lips: Opt for soft pink lipstick to achieve Barbie's lovely pout.
12. President Barbie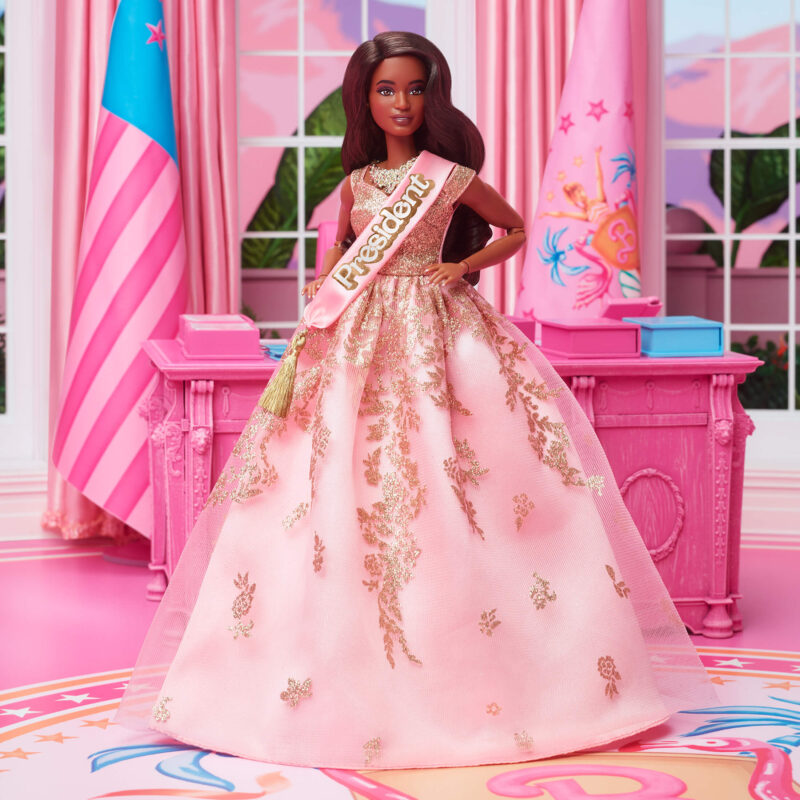 If you're looking for feminine power DIY Barbie Halloween costumes, then you might want to consider this one. President Barbie is the epitome of female empowerment for me. and definitely another favorite of mine from the long list of Barbies in the movie. There's nothing I love more than seeing a woman in power, you know? And the fact that she's both powerful, brilliant, while still in touch with her femininity is just so inspiring!
With that said, I just simply can't not include this iconic gown on this list. Just imagine wearing this gorgeous ballgown while you go on trick-or-treating or partying with your friends on Halloween night. It'll surely be a night to remember!
Materials You'll Need:
Pink Ballgown Fabric: Look for high-quality pink fabric with a luxurious sheen, reminiscent of Barbie's gilded ballgown. Choose a fabric that drapes gracefully and flares out at the bottom, creating a classic ballgown silhouette. If you're not much of a seamstress, that's okay! You can always opt for a readily made ballgown you can buy from a dress shop or online to make things easier for you.
Satin Ribbon: Use a satin ribbon in a complementary shade to create a beautiful sash adorned with the title, "PRESIDENT".
Necklace and Earrings: Embrace President Barbie's timeless elegance with some glittering accessories, symbolizing her poise and grace.
Tiara (Optional): As a finishing touch, don't forget to put on a tiara or a crown to exude presidential panache!
11. Disco Barbie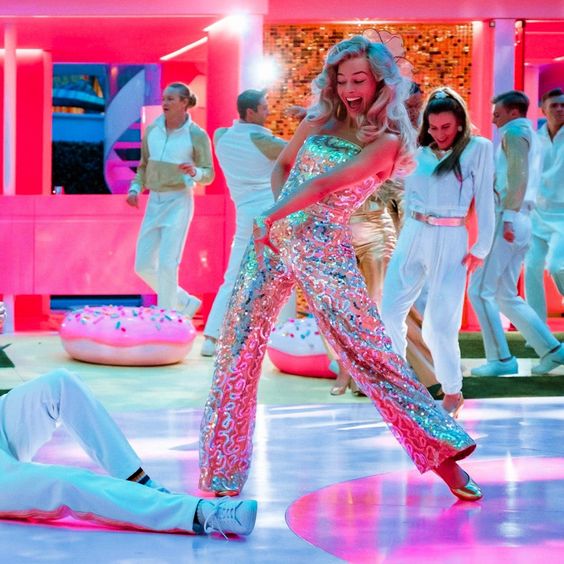 The disco party scene from the Barbie movie is probably my favorite scene of the whole film. I could replay the Barbies dancing over and over, it's just so much fun to watch! In this particular scene, Margot Robbie's Barbie could also be seen wearing this sparkling silver jumpsuit with her hair styled in big, luscious curls. If you're planning to dance the night away (pun intended) this Halloween season, then this show-stopping outfit might be the perfect Barbie costume for you.
Materials You'll Need:
Silver Sparkling Fabric: Look for a shimmering silver fabric with sequins or metallic threads, ensuring it catches the light and glimmers just like Barbie's jumpsuit. If you're not too confident with your sewing skills, then you can always get a similarly designed, store-bought jumpsuit!
Jumpsuit Pattern or Base: If you're planning to DIY your jumpsuit, I recommend using a jumpsuit pattern or an existing jumpsuit that fits you well as the base for your costume. Alternatively, you can create a jumpsuit from scratch using the silver fabric.
Silver High Heels: Find a pair of silver high heels or platform shoes to match the jumpsuit and add height to your Disco Barbie presence.
Statement Earrings: Embrace Barbie's penchant for fabulous accessories with statement earrings that complement the jumpsuit. In the movie, she wore oversized heart-shaped dangling earrings.
Glittery Makeup: Accentuate your eyes with bold and glittery eyeshadow, and add a touch of sparkle to your cheeks and lips for a diva-worthy makeup look!
10. Rollerblade Barbie (or Hot Skatin' Barbie)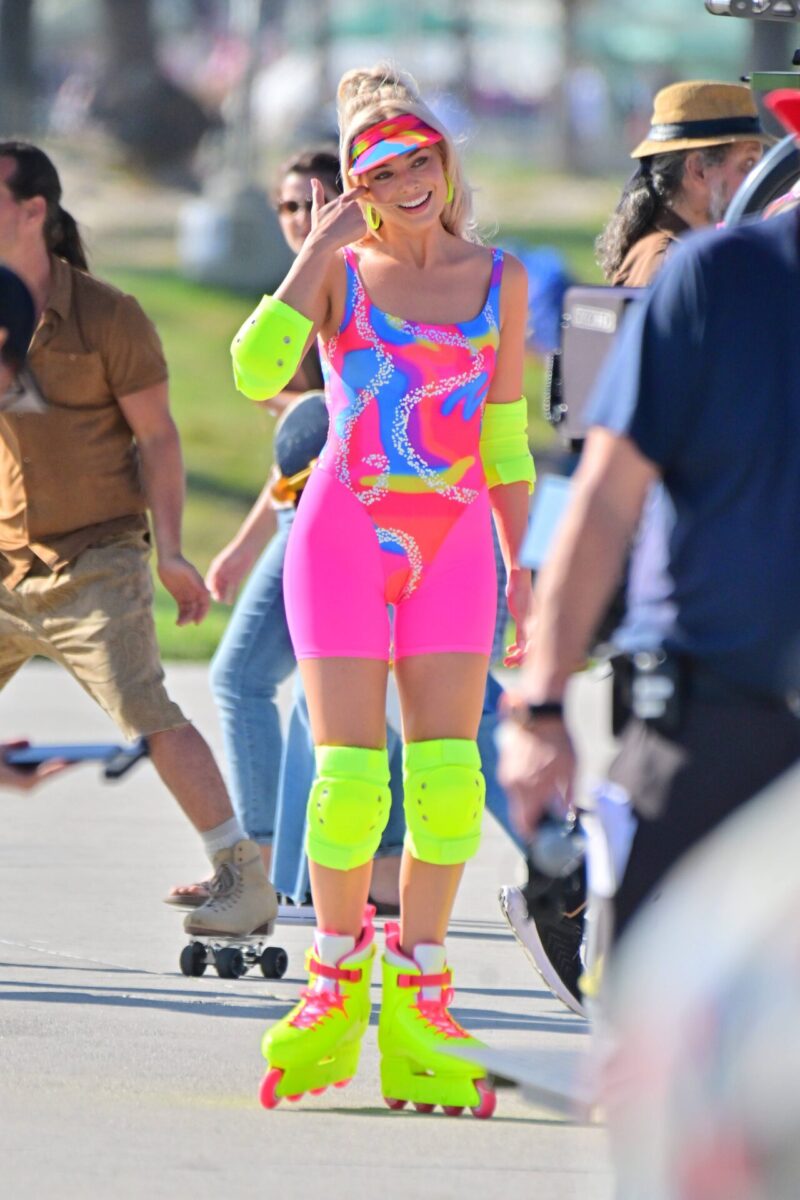 Looking for DIY Barbie halloween costumes that are iconic from the 2023 movie? Get ready to zip and glide right into your Halloween party while wearing your own version of the iconic rollerblade costume from the Barbie movie. I can still remember the first time the first set of photos they dropped before the film and the teasers were premiered and I couldn't be more excited! After watching Barbie in this colorful and playful ensemble, it has not left my mind at all. And what better occasion to wear such a fun outfit other than spooky season, right?
Materials You'll Need:
Colorful Athletic Bodysuit: Look for a vibrant and form-fitting athletic bodysuit similar to the ones from the Barbie movie, such as pink, neon green, and blue. Don't forget to choose a fabric that allows for comfortable movement as well.
Safety Gear: Prioritize safety by wearing rollerblade-appropriate gear, including knee pads, elbow pads, and wrist guards. Opt for vibrant colorful gear that complements the bodysuit.
Pink Helmet: Match Barbie's style with a pink helmet, ensuring you skate with safety and flair. Or you can sport a sun visor like the one she wore in the movie.
Rollerblades: Find a pair of rollerblades that match the color scheme of the costume. You can decorate them with stickers or glitter for extra pizzazz or paint them with bright colors to match your costume.
9. Weird Barbie
I'm pretty sure most of us who collected Barbies when we were kids had that one weird-looking Barbie. And I find it so adorable that the Barbie film has made these weird Barbies feel represented. They deserve just as much love as they're the ones who got played with the most! With that in mind, being a weird Barbie for Halloween would be so cute for all the quirky femmes out there. If you're wanting to look wacky and whimsical as a Barbie doll, this is your time to shine!
Materials You'll Need:
Colorful Wig: Find a vibrant and unconventional wig in a bold color like blue, green, or purple. Embrace the playfulness of Weird Barbie's unique hairstyle. You can also opt for a similar wig from the movie: a messy, pixie blonde wig with colorful highlights.
Oversized Pink Dress: Look for a quirky and mismatched pink dress that includes a combination of bright colors, patterns, and textures. Layering different pieces adds to the eccentric charm.
Funky Shoes: Opt for shoes that match the unconventional theme, whether it's brightly colored sneakers, patterned boots, or glittery heels. Or you can even choose to go with missing shoes or no shoes at all!
Bright Makeup: Creative and bold makeup with work well for Weird Barbie"s look. Experiment with colorful eyeshadow, vibrant lipstick, or even face paint to decorate doodles across your face.
8. Midge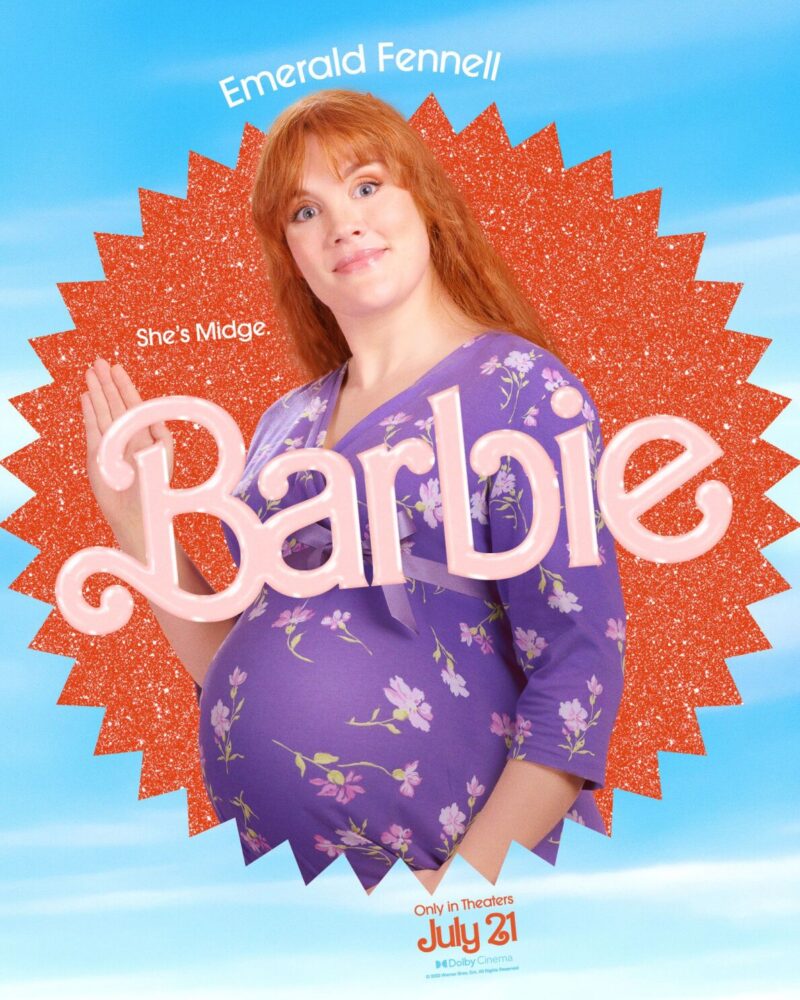 As controversial as Pregnant Midge was, I'm pretty sure there are some of you who'd get a laugh out of dressing up as her for your Barbie-themed costumes this Halloween season. So if you're planning to stray from the usual Barbies, Midge is a character you can get some character inspiration from!
Materials You'll Need:
Retro Dress: Look for a sweet and modest retro dress with floral patterns. If you want to recreate her look from the movie, pick a dress with purple fabric to capture Midge's timeless style.
Shoes: We never really get to see Midge's shoes from the movie, so feel free to choose one that is most comfortable for you!
Red Hairstyle: Midge is known for her gorgeous red hair. If that's something you want to emulate, you can get a wig from your local store and style it as you please.
7. Mermaid Barbie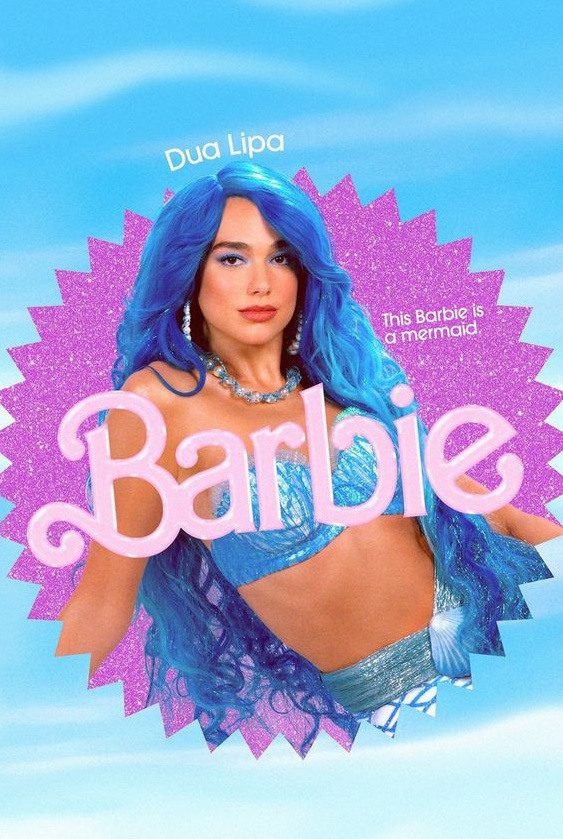 Another iconic Barbie from the movie is Dua Lipa's Mermaid Barbie. Is it just me or does she actually remind me of Nori from Barbie: Mermaidia? Either way, as someone who loves mermaid themes, Barbie as a mermaid is the perfect summery costume for Halloween! You can opt for the signature blue colorway from the movie, or pick your own favorite color to use for your mermaid colors!
Materials You'll Need:
Mermaid Tail Skirt: Find a shimmery and iridescent mermaid tail skirt. Wearing an actual mermaid tail isn't the most practical, so opt for a skirt that resembles a mermaid tail instead. Make sure it fits comfortably and allows for easy movement.
Glittery Bustier or Crop Top: If you want to go on the little mermaid route, you can use seashells for your bustier. But for something with more support, you can use an actual bustier in the same color palette as your mermaid skirt.
Seashell or Pearl Accessories: Look for seashell-shaped jewelry, such as earrings or a statement necklace, to enhance the underwater fantasy. You can also pick out dainty pearls for an added touch of sophistication.
Flowing Wig: Find a flowing and wavy wig in a color that complements the mermaid tail, reflecting the ethereal beauty of the sea.
6. Beach Ken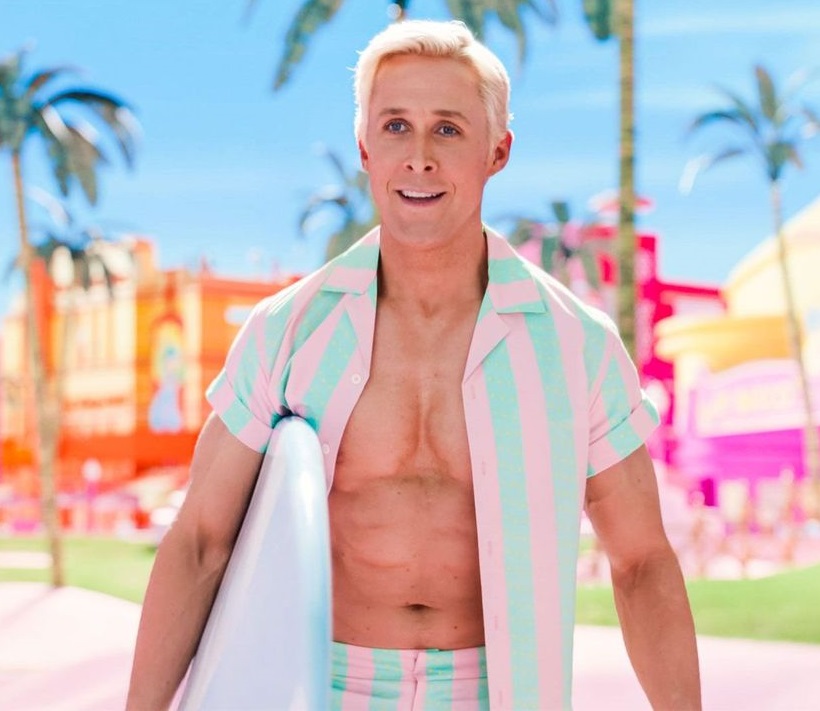 If you're going to your next Halloween party with your partner, then what better way to show off your outfits than with Barbie and Ken matching costumes? Iconic and timeless, Beach Ken is definitely the best outfit to recreate. With fun, bright, summery colors, you can't go wrong with this cute and whimsical vibe! This is definitely one of the trending Barbie Halloween costume ideas for guys this year.
Materials You'll Need:
Colorful Hawaiian Shirt: Look for a vibrant and breezy Hawaiian shirt, reflecting Ken's relaxed beach style. Choose a design with the same pink and green pastels in stripey patterns, same as the one in the movie to really get that whimsy touch.
Beach Shorts: Get matching shorts for your shirt to really emulate Ken's aesthetic.
Flip Flops or Sandals: Embrace the laid-back Ken vibe with flip-flops or sandals that are perfect for strolling along the beach.
Surfboard (Optional): We all know that Ken's job is actually beach. He's not a lifeguard or a surfer. Just beach. But he still carries his surfboard to try and impress Barbie so why not ask your man to carry one as well?
5. Allan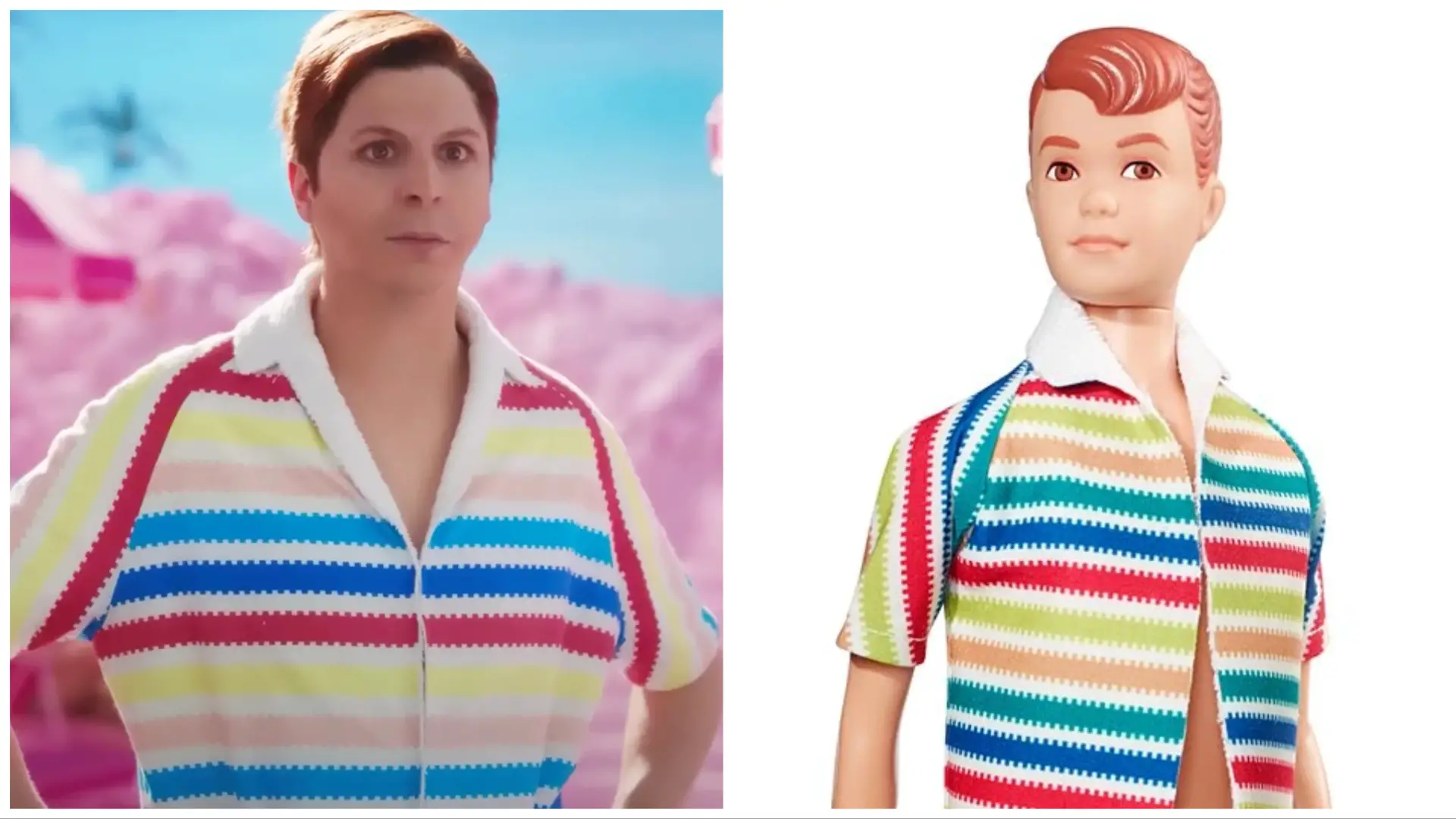 Looking for DIY Barbie halloween costumes that are different? We obviously can't have a list without Ken's best friend, Allan. Donning his signature striped shirt, this is a pretty easy costume you can recreate. If you're planning to go as Midge, you can have your significant other dress up as Allan instead. Did you know that all of Ken's clothes fit him as well? It's such a shame that he got ultimately discontinued by Mattel. But here's to hoping they relaunch him again!
Materials You'll Need:
Striped Button-Up Shirt: Look for a classic striped button-up shirt with the same colors as Allan's outfit. Or you can simply make one for yourself if you have the skills and a sewing machine.
Deep Blue Shorts: Finding blue shorts should be easy enough to pair with Allan's shirt to put together a very casual ensemble.
Sandals or Sneakers: While Allan wears sandals in the film, feel free to use sneakers if it's more comfortable for you!
4. Physicist Barbie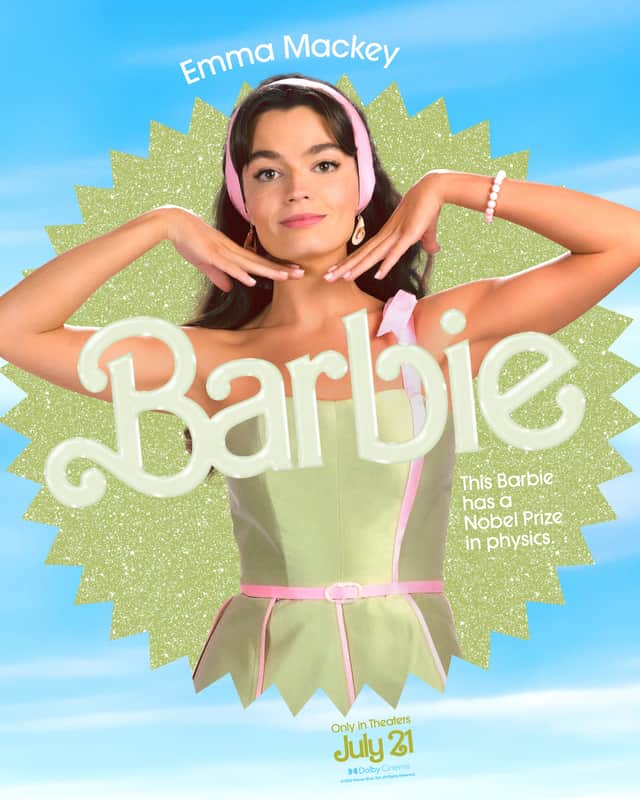 Inspired by the iconic doll's esteemed recognition for groundbreaking achievements, Nobel Prize Winner Barbie is another one of my favorites from the movie. Such a representation can really spark inspiration and motivation for little girls everywhere to aim high. This is one of my favorite Barbie Halloween costume ideas for a super unique costume!
Materials You'll Need:
Green A-Line Dress: Look for an elegant and sophisticated green dress or gown that's similar to Emma Mackey's signature costume from the movie. Pick one with a light green tone and pink accents.
Stylish Accessories: Add stylish and refined accessories like pearl jewelry to add more sophistication to your Halloween costume!
3. Fight The Patriarchy Barbies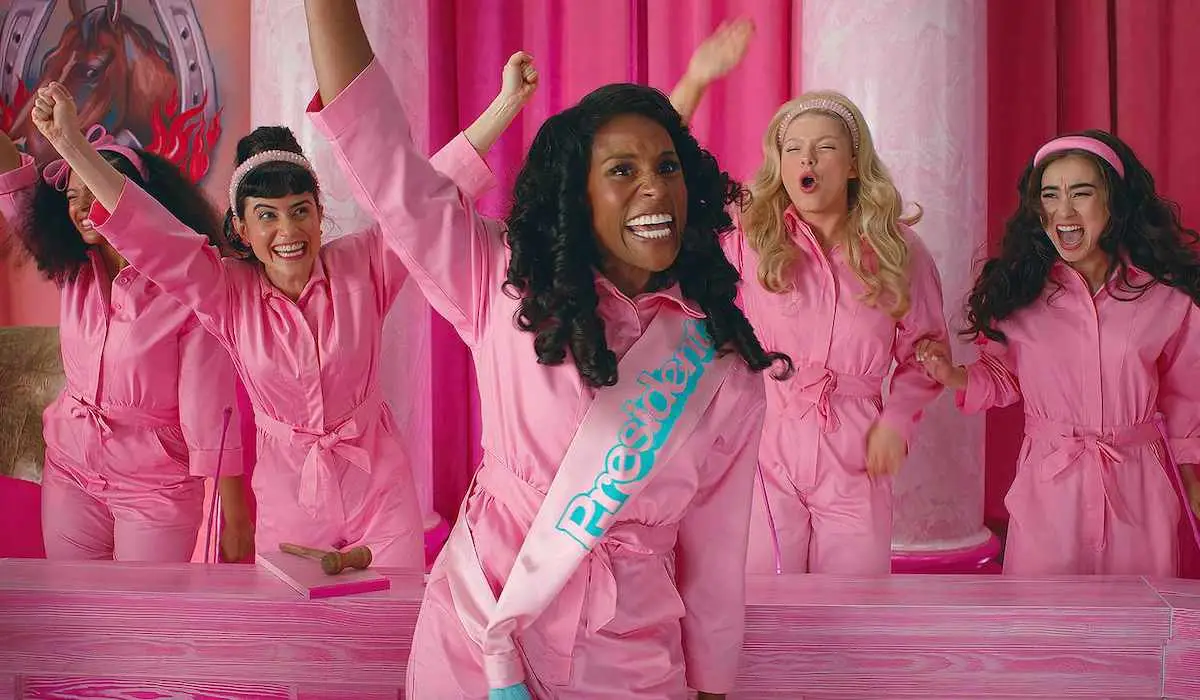 Looking for DIY Barbie halloween costumes that have a lot of feminine power? The best part of the film is truly this particular scene of the Barbies winning back their constitution as well as Barbieland from the Kens. Of course, these iconic pink jumpsuits can't certainly be left out of this list. If you're looking to have matching outfits with your friend groups, then these matching outfits would be so much fun to wear!
Pink Jumpsuit: Look for a stylish and well-fitted pink jumpsuit that captures the Barbies' playful and chic styles. Moreover, you and your friends can also add your own personal touches to your pink jumpsuits.
Stylish Heels: Opt for stylish heels that match the jumpsuit and enhance your overall look. Because Barbies need heels to match their arched feet.
Chic Accessories: Don't forget to add Barbie's love for accessories with chic earrings, a necklace, or bracelets that complement the jumpsuit.
2. 1960 Barbie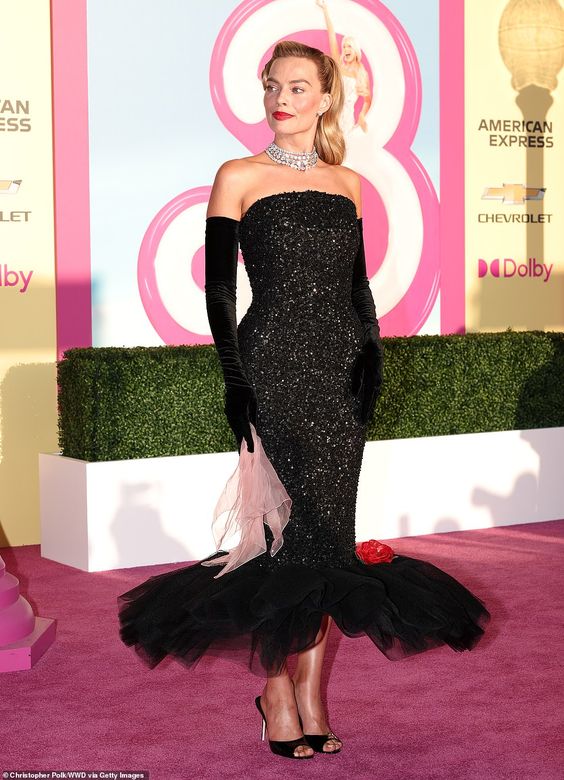 Another huge throwback to the vintage Barbie outfits, Margot Robbie definitely slayed this stunning 1960s Barbie-inspired red carpet gown. Out of all her red carpet events and promotion appearances for the Barbie film, this is my top favorite. It's just so chic, elegant, and timeless! If your Halloween party is a bit more on the formal side or you simply want to look as glam as possible, this is the costume to go for!
Materials You'll Need:
Black, Sparkling Gown: Opt for a stunning black gown with sparkling embellishments, such as sequins or rhinestones, that reflect the glitz and glamour of the 1960s.
Elbow-Length Gloves: Add a touch of old Hollywood sophistication with elbow-length gloves in a complementary color to your gown.
Sparkling Jewelry: Choose elegant sparkling jewelry, such as a statement necklace, chandelier earrings, or a cocktail ring, to complete the vintage glamour.
Sleek Hairstyle: The very first Barbies had their hair tied in a ponytail. So style your hair in a sleek updo in glamorous waves, reminiscent of these stunning dolls.
Classic Heels: Choose classic black stilettos to tie your whole look together!
1. Cowgirl Barbie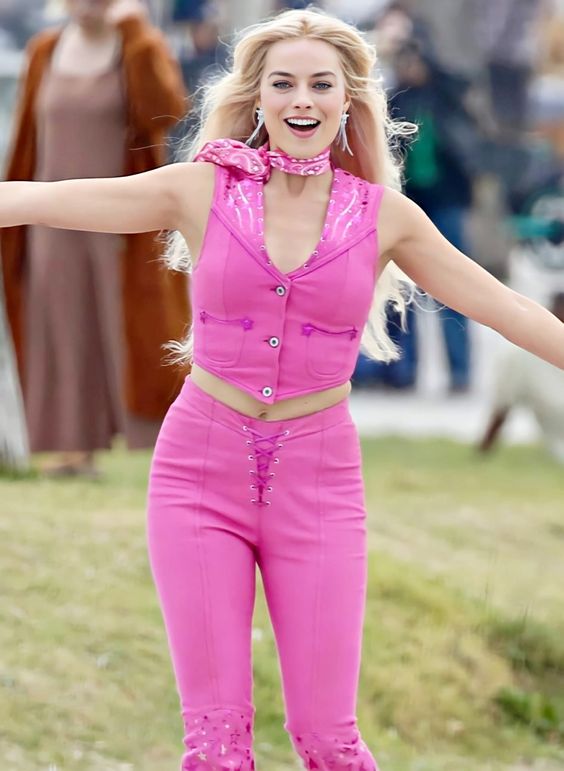 Probably a fan favorite among all her iconic outfits in the movie is this cowgirl-themed Barbie costume! I can already see this year's Halloween being full of cowgirl Barbies and I'm excited to see all of it!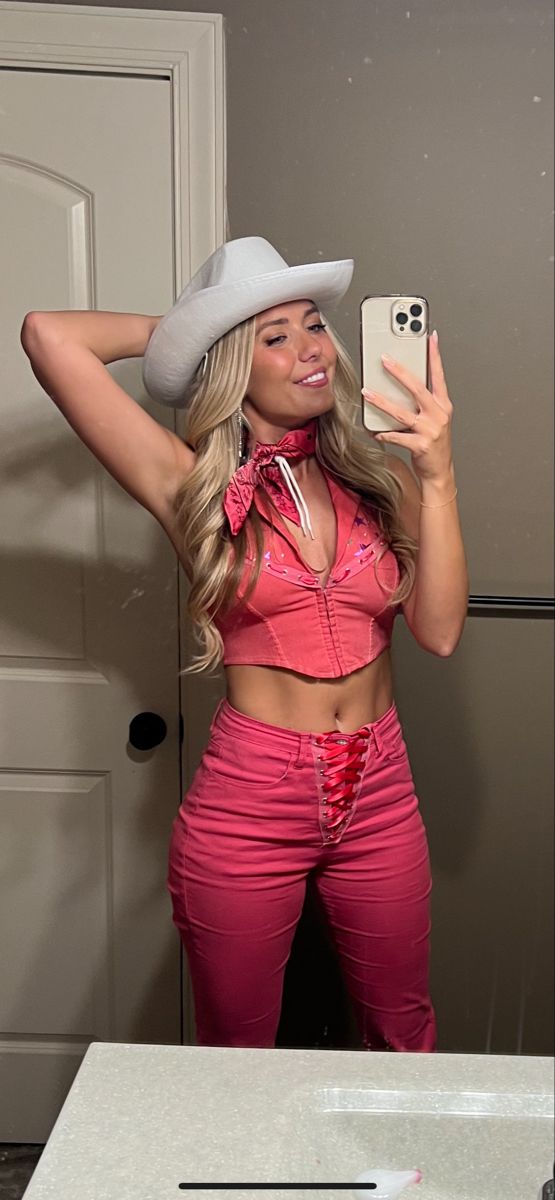 Materials You'll Need:
Cowgirl Hat: Find a classic cowgirl hat in white to complement the pink costume.
Denim Vest: Look for a denim vest in that signature pink color that Barbie similarly wore in the film.
Bell Bottom Flared Jeans: When it comes to your pants, pick jeans that have bell bottoms. You can also adorn them with sequins or little stars for a touch of sparkle to your outfit.
Cowgirl Boots: Find a pair of cowgirl boots in a neutral color that matches the outfit and is comfortable for walking and dancing the whole night.
Raid Your Closet: Barbie Halloween Costume Ideas From Your Wardrobe
When it comes to creating a Barbie-inspired Halloween costume, your closet might hold more treasure than you think. Let's dive into some specific pieces you can use to put together a fantastic Barbie look without emptying your wallet:
Flouncy Skirts: Look for skirts in vibrant colors like hot pink, neon green, or electric blue. A tutu-style skirt can instantly channel Barbie's playful vibe. This is a must for most Barbie Halloween costume ideas.
Bright-Colored Tops: Tops in bold and eye-catching hues are a must. Think fuchsia, aqua, or even metallic silver. Opt for crop tops or off-the-shoulder styles to capture Barbie's fashionable essence.
Sparkly Accessories: Looking to enhance any of these Barbie Halloween costume ideas? Statement jewelry pieces, such as chunky necklaces, oversized earrings, and stacks of bangles, can add the perfect touch of glamour to your ensemble.
Oversized Sunglasses: Channel Barbie's iconic style with a pair of large, glamorous sunglasses that scream "fabulous."
Colorful Pumps or Heels: Barbie is known for her fabulous footwear. Grab your brightest pumps, heels, or even glitzy sneakers to complete the look.
Shiny Headbands: A sparkly headband or hair accessory can add a touch of Barbie magic to your costume.
Statement Bags: If you have a colorful or embellished clutch, it can serve as the perfect accessory to complete your Barbie-inspired look.
Bright Leggings or Tights: Go for leggings or tights in bold colors or patterns to add a playful twist to your outfit.
Hair Extensions or Wigs: If your hair isn't naturally long and blonde, consider using hair extensions or a wig to capture Barbie's iconic hairstyle.
Gloves: Long, elegant gloves can instantly elevate your outfit and give it a touch of sophistication.
DIY Accessories: Get crafty and create your own Barbie-inspired accessories, such as a beaded necklace or a glittery belt.
Confidence: Most importantly, don't forget to wear your confidence with pride. Barbie is all about owning her style, so strut your stuff and embrace the Barbie spirit!
With these closet gems and a dash of creativity, you'll be well on your way to crafting a fabulous Barbie Halloween costume that will turn heads and capture the essence of this iconic fashion doll.
Hopefully, these DIY Barbie Halloween costume ideas gave you lots of inspo to DIY your own costume!