If you're looking for a great dessert menu for your Easter table, check out my curated list of delicious & classic Easter desserts here! These Easter dessert recipes range from simple to complex and are just too delicious!
Many households observe Easter Sunday as a day of extraordinary religious significance, remembering the birth, death, and resurrection of Jesus Christ. And while not everyone observes Easter in the same way, everyone who does can agree that it is one of the happiest times of the year, simply because it's spring!
It's a time to enjoy family time and the promise of a beautiful spring after a long, gloomy winter. And of course, who could forget that one of the greatest things about Easter is the food! Truly, nothing goes better with Easter ham than some sweets to fill your belly after a hearty feast.
There is no shortage of sweets when it comes to Easter celebrations, from chocolate bunnies to adorable handmade cupcakes to Easter baskets overflowing with goodies, you're definitely spoilt for choice. But one this is for sure, a homemade Easter dessert easily beats a store-bought one.
The Best Easter Desserts
To get you started, I have compiled a list of mouthwatering Easter dessert recipes for you to try out this holiday! Regardless of your skill level and your preference for desserts, you're sure to find one here that will make a great addition to your Easter table.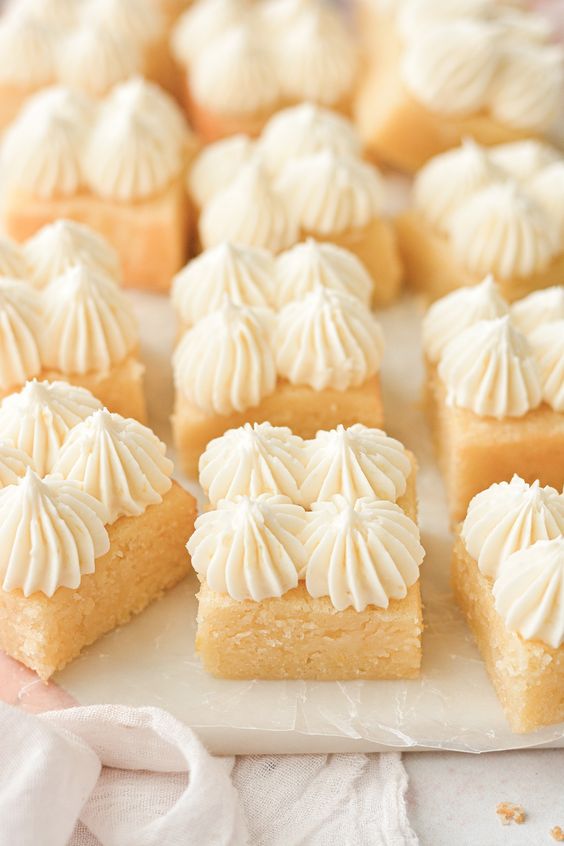 These simple and delectable high-altitude lemons are frosted with fluffy lemon buttercream. They are utterly soft, moist, and chewy. Additionally, these cookie bars have a distinct lemon flavor thanks to the generous amount of fresh lemon zest and juice. Top them off with some beautiful piping for an elegant appearance.

Looking for classic Easter desserts? Because of its rich texture, spicy flavor, and silky cream cheese icing, the recipe claims this is the BEST carrot cake ever. What's more, you can opt to recreate this carrot cake as a wide two-layer cake or a tall three-layer cake. Then decorate as you wish.

If you love cookies, then you'll surely love this Easter dessert recipe! Soft and chewy, extra thick, and just loaded with sweet chocolate, these chocolate chip cookies are just the perfect dessert for your Easter table. This is one of my favorite easy Easter desserts for a last minute recipe.

Don't let the thought of baking intimidate you. But if you truly want to avoid baking as much as possible but still want to achieve a decadent cheesecake for your Easter dessert menu, you should definitely check this recipe out!
This wildly indulgent dessert combines cheesecake with Easter eggs. Chocolate Easter eggs are filled to the brim with a no-bake cheesecake filling and covered in a crumbly Lotus Biscoff biscuit mixture.

According to this recipe, you'll need to freeze the cheesecake bars if you want them to be smooth and neat, and easy to slice. Because there isn't any other quick method to make sure they're firm, the recipe recommends making them the night before and garnishing them immediately before serving.

This lemon poppy seed cake has every you could ever want in a springtime dessert. Fresh lemon stimulates the senses, and a generous amount of lemon zest naturally produces a delicate golden color. The addition of poppy seeds provides the layers of cake with a lovely speckled appearance as well as the distinctively nutty flavor that you can only get from poppy seeds.
This is one of my favorite upscale Easter dessert recipes that are just so delicious and light!

Looking for easy Easter desserts that all ages will love? If you want Easter cookies that are sure to be an instant hit in your household, this might just be the recipe for you. A combination of chocolate chip cookies, Reese's peanut buttercups, chow mein noodles, and Cadbury mini speckled eggs, you get this decadent Easter Bird's Nest Cookies!

Preparing a feast for a big family or friend group this Easter? Then you might want to consider adding this recipe to your dessert menu this year. These M&M'S cookie bars are rich with chocolate chips and vibrant Easter M&M'S and are great for serving a large group of people! This is definitely one of the more fun Easter dessert recipes that kids will love.

Do you love dirt cake? Then this recipe for Easter Dirt Cups is something you should try. Individual servings of the scrumptious layers of pudding and cookies, who could possibly resist? Not to mention, this dessert is colorful and festive and perfect for springtime.

I'm totally smitten with custard tarts. The yogurt-based custard in this recipe is sweetened with honey and fresh strawberries, and it is served in a flaky, golden pie crust that is simply stunning. After that, pour some homemade lemon curd on top.

Everyone will adore these Rice Krispie Mini Egg Nests. They are so easy to make and even more enjoyable with every bite! A no-bake dessert with pastel-colored sprinkles inspired by spring and chocolate small eggs tops off the recipe.

Make these pineapple upside-down cupcakes for your Easter family get-together or maybe even as a tasty lunchtime treat. It's a simple recipe that can be modified to make the dish entirely from scratch.

With these simple Easter bird cupcakes, your celebrations are guaranteed to be both delicious and colorful. Topped with decadent vanilla buttercream, even the pickiest eaters will enjoy these adorable cupcakes!

If you want your dessert to look just as good as it tastes, then this recipe will surely do it for you! I mean, just look how good these egg cakes look! They're beautiful, teal, floral, and just the ideal dessert for a variety of springtime events including Easter.

This tiered Easter egg cake is the ideal show-stopper for your Easter celebration. It is made of a vibrant vanilla cake covered with whipped buttercream and embellished with toasted coconut and little Cadbury eggs. Yum! This is one of my favorite easy Easter desserts that doesn't take long to make but is just so festive!

If you're not too confident you are in your baking abilities, making meringues could seem difficult. However, they just require a few ingredients and are really simple to prepare. Waiting for them to bake and cool is probably the most challenging part. But these Easter Meringue Nests are totally worth every second of waiting!

These mini carrot cakes are one of the most stunning Easter dessert recipes I have ever seen. Dairy-free and free of refined sugar, these carrot cakes are delightfully moist and tender. This recipe also includes a large number of carrots and chopped pistachios for added crunch, then flavored with cinnamon and ginger.
If you have been looking for a healthier alternative to traditional carrot cake, you can use this recipe.

Here's another dessert that carrot cake lovers will surely adore! All the wonderful qualities of a carrot cake are contained in a simple batch of cream cheese-frosted blondies. Without a doubt, these Carrot Cake Blondies are definitely a worthy addition to your Easter table.

This Easter, delight your friends and family by making this rich and creamy Peeps Milkshake! They're so easy to recreate too and you can opt to do a dairy-free version if you like. If you're having a family with kids over for Easter, they will surely go nuts with every sip!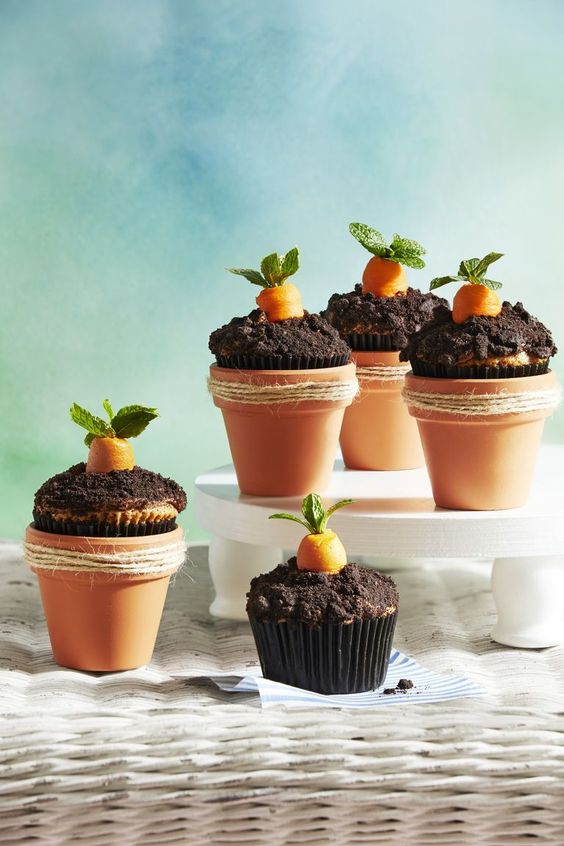 This is probably one of the most creative Easter dessert recipes on this list. In little 2 1/2-inch terra-cotta pots, create a crop of carrots with dollops of orange frosting and fresh mint sprigs on top.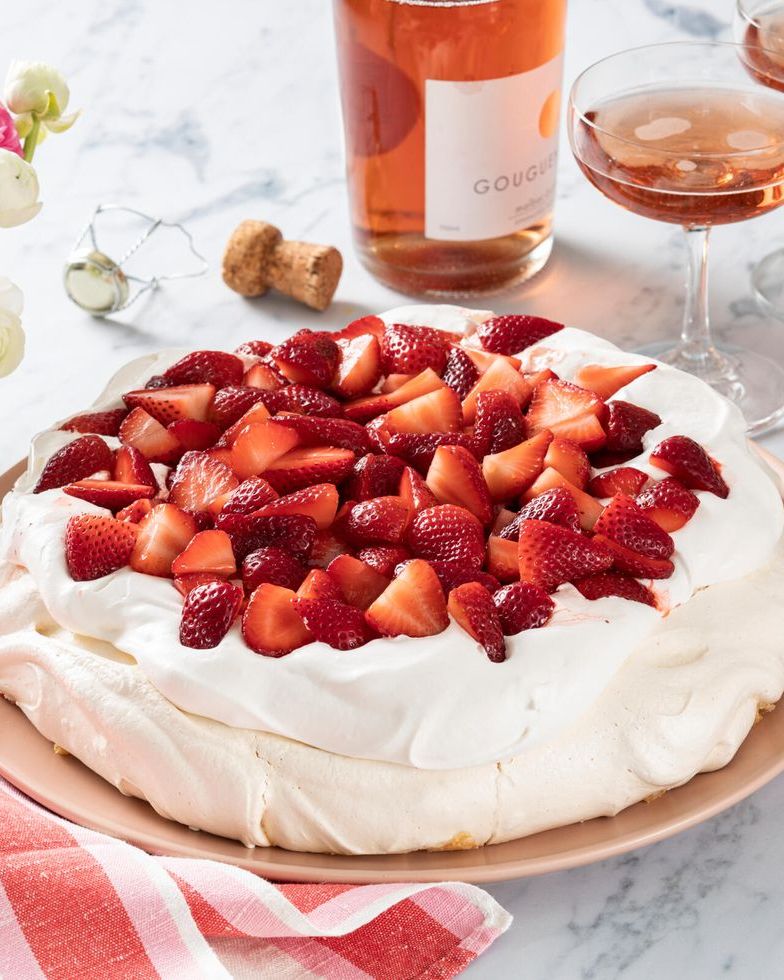 This towering dessert is a show-stopping centerpiece for Easter. It's also made with surprisingly basic ingredients like egg whites and sugar. With its exquisitely light whipped cream, and a scattering of sweet, luscious strawberries, this Strawberry Pavlova grabs attention.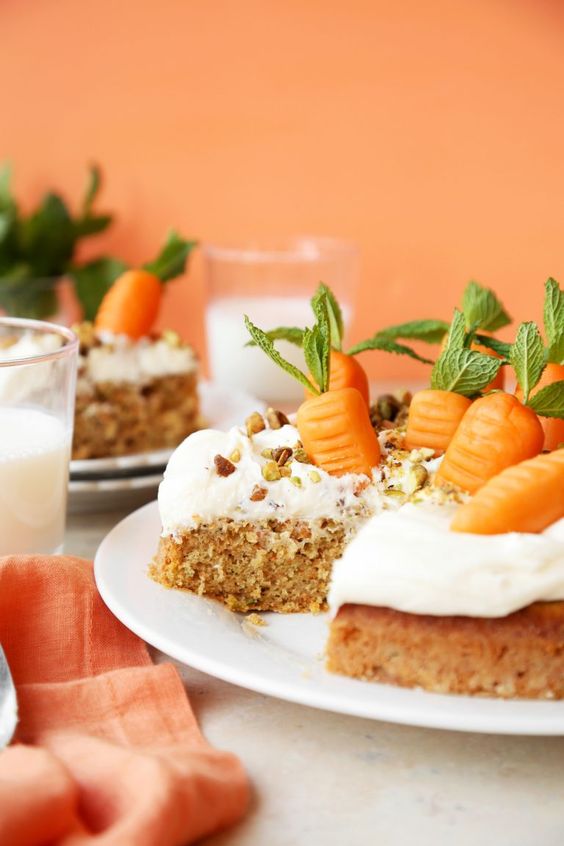 I love this cake because it only has one layer and doesn't require the use of piping bags or elaborate decoration tools. You don't even require a mixer. This can be made entirely by hand. If you want an easy cake to bake this Easter, this is for you.

These robin's egg blue oreo macarons are dusted with some yummy oreo crumbs. It's a quick and easy technique to get the speckled look without making too much of a mess in the kitchen. What's more, it's also a lot of fun smashing up the oreo cookies.

These carrot cake bars are utterly moist and tasty! They include a cinnamon sprinkling and a cheesecake swirl that will undoubtedly impress everyone at your Easter party.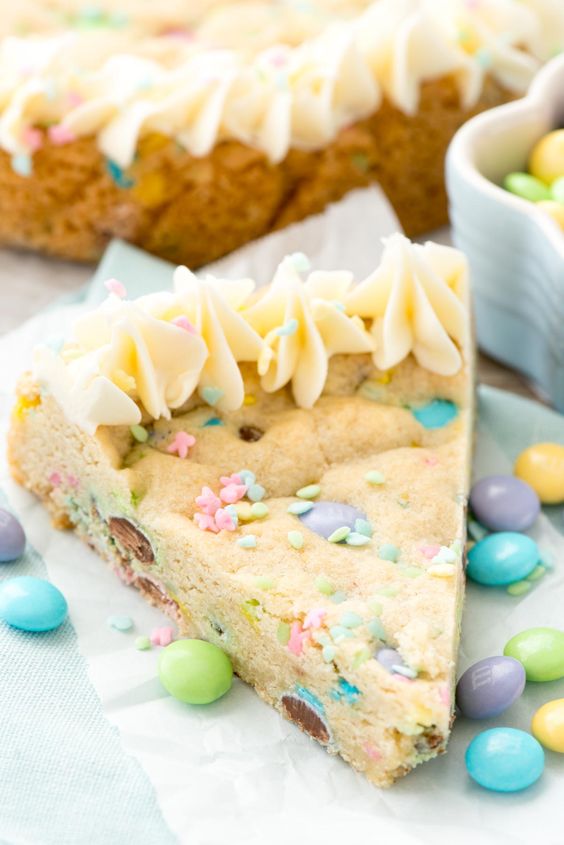 This simple sugar cookie recipe is baked in a cake pan with spring M&Ms and sprinkles. Make a simple icing and you've got the perfect spring cookie cake!

So cute and adorable, this Easter Bunny Parfait looks almost too good to eat! Made with strawberries, marshmallows, whipped cream, and angel food cake, this is the ideal Easter dessert to serve to family and friends.
Easter Bunny Cinnamon Rolls

These Bunny Cinnamon Rolls are adorable! Not only is the process of making this pastry fun, but making cinnamon rolls into a bunny face with ears and then adorning them with festive sprinkles and candies makes for an extra memorable Easter treat.

If you're a fan of marshmallow eggs and speckled eggs, then this is the perfect Easter cake that will give you the best of both worlds! Layer the cake with the frosting and sprinkle with the chopped marshmallow eggs in between.
Finish by sprinkling the green icing all over the cake. Splatter the remaining vanilla extract and cocoa powder over the cake with a clean pastry brush. Finally, use Easter eggs to decorate.

These carrot cakes are just not adorable, but they taste just as good too! Not to mention, these delightful cupcakes are the ideal way to cap off Easter dinner!

Looking for classic Easter desserts for a breakfast or brunch? You know me, I love anything blueberry-flavored. So I couldn't resist not including this delightful Mini Lemon-Blueberry Bundt Cake recipe. With this recipe, you can opt to make four minis or one full-size cake!

If your idea of fun is doing arts and crafts, then you'll surely love this edible variant of the activity. A sandwich of buttercream and sweet, tangy cookies, this is the perfect Easter dessert.

These delicate cakes are flavorful thanks to Meyer lemon juice. You can also try them with your other favorite citrus fruits, such as pink lemons, clementines, Cara Cara oranges, etc.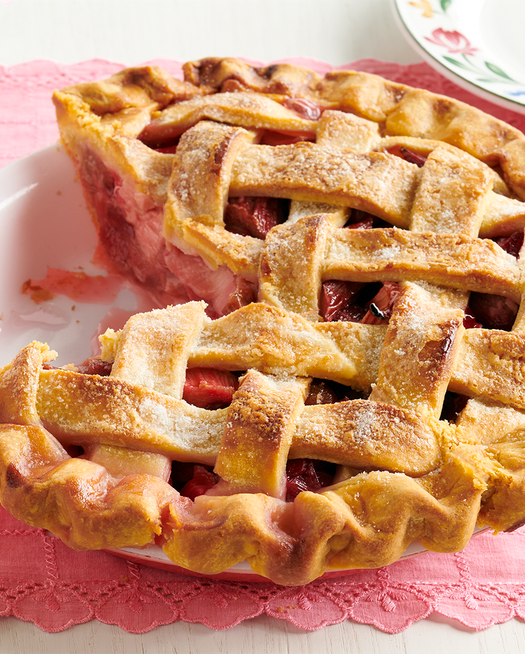 This recipe has the advantage that you can prepare the pie dough in advance and store it in the freezer. Just allow it to defrost before rolling it out when you're ready.

A flaky, crisp pie crust filled with a rich, creamy coconut custard and topped with mountains of freshly made whipped cream. What else could you possibly ask for? This is definitely one of the most "springtime" classic Easter desserts that you should consider making for a light dish.

Flaky, handmade pie crust filled with decadent lemon curd and topped with toasted meringue, lemon meringue pie might be the most traditional dish there still is but it's a classic for a reason.

With its fresh strawberry topping and light, fluffy, and beautifully creamy texture, strawberry cheesecake is without a doubt one of the best Easter dessert recipes you can make at home.

With this Easter dessert recipe, you can make a torte with a sponge cake drenched in a somewhat sour lemon syrup, a beautiful lemon buttercream, and a crunchy French meringue center.

Here's a wonderful twist on the traditional Easter cake for more unique (but still well-loved) Easter dessert recipes. This particular dessert has decadent cream cheese icing rolled up with spicy carrot cake to create a treat that will impress your family and guests.

Sugar cookies are one of the easiest Easter dessert recipes you can serve on Easter. All you need is some cookie cutters that will suit the Easter theme then decorate as you like. This is one of the most fun Easter dessert recipes that works whether you're hosting a brunch or a dinner!

Looking for fun and easy Easter desserts that kids will love? This adorable dessert has marshmallow ears and feet and a cream cheese cookie for a nose. If you have kids or will be having kids over for Easter, they will surely adore this cute and delectable treat!

This dessert of bananas and pineapple will add some tropical flavors to your party. To give them a touch of springtime flair, adorn them with blueberry and pineapple flowers. This is one of the best easy Easter desserts that's perfect for breakfast!

Looking for classic Easter desserts that incorporate a bit of chocolate? La Mona de Pascua is a chocolate-frosted yellow cake with DOVE® Chocolate Eggs perched over a bed of white chocolate shavings. This dessert recipe is ideal for your Easter celebration.
Hopefully, these Easter dessert recipes gave you lots of ideas for what you can bake this year! Enjoy!