Planning to build your own Gingerbread houses this holiday season? Well, you're in the right place! Keep scrolling and check out our collection of creative gingerbread house ideas for Christmas!
Welcome to the most wonderful time of the year, when the air is filled with the sweet aroma of freshly baked gingerbread!
Christmas is just around the corner, and it's that magical season when we get to go on a delightful journey of crafting, decorating, and, most importantly, indulging in scrumptious gingerbread creations. If you're looking to take your holiday festivities to the next level, you're in for a treat!
To help you out, I've gathered an impressive collection of over 80 Creative Gingerbread House Ideas to spark inspiration and add a dash of enchantment to your Christmas celebrations!
With the holiday season upon us, these gingerbread house ideas are your secret to unlocking a treasure trove of cute, fun, and awe-inspiring ideas for crafting the perfect gingerbread house!
Doesn't matter if you're a seasoned gingerbread architect or just starting your journey into this delightful world of edible art, this list has something for everyone. These easy gingerbread house ideas will make your creative process a breeze! This way, you can focus on the fun and joy of building your dream gingerbread house this Christmas season!
Gingerbread House Ideas
Grab your apron, dust off your rolling pin, and prepare to look at the countless gingerbread house ideas that await you! Whether you're looking to create a stunning centerpiece for your holiday table or a fun family project, this collection of creative gingerbread house ideas is here to guide you every step of the way!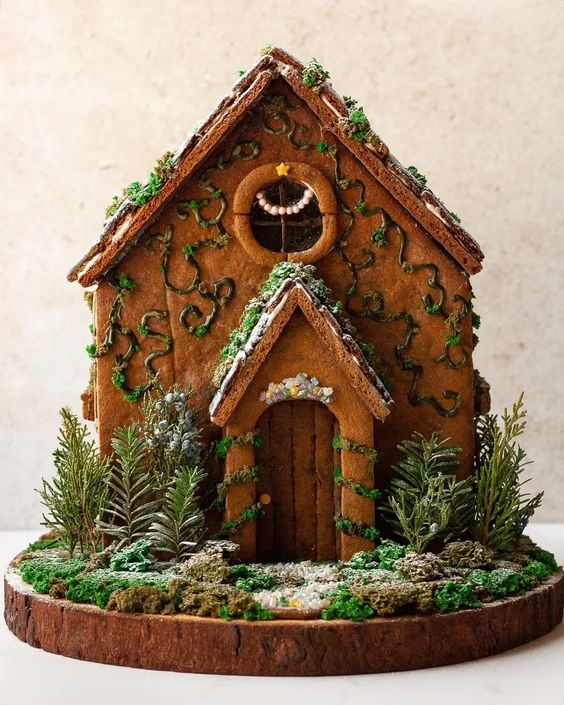 Add a dash of whimsy to your gingerbread house by recreating this cottagecore-themed gingerbread house idea! I love the amount of detail with the foliage to make this look magical!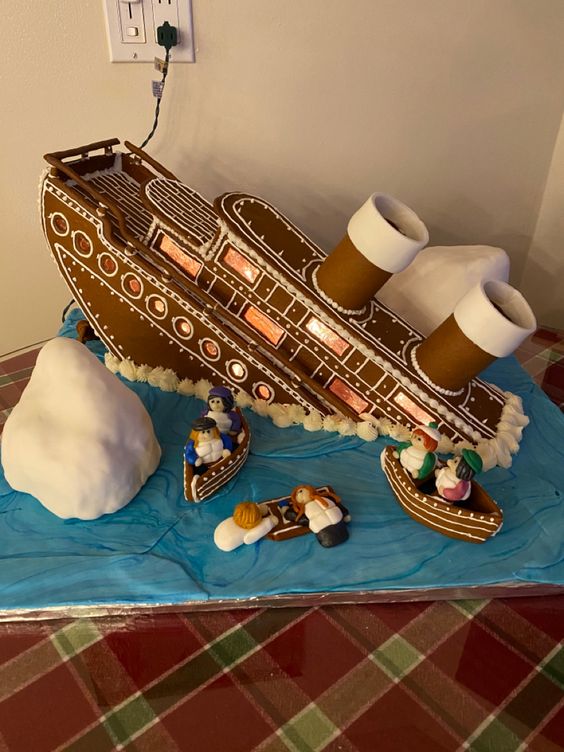 If you're a movie buff and want your gingerbread house to mimick iconic scenes, this Titanic gingerbread house might be something you want to try out!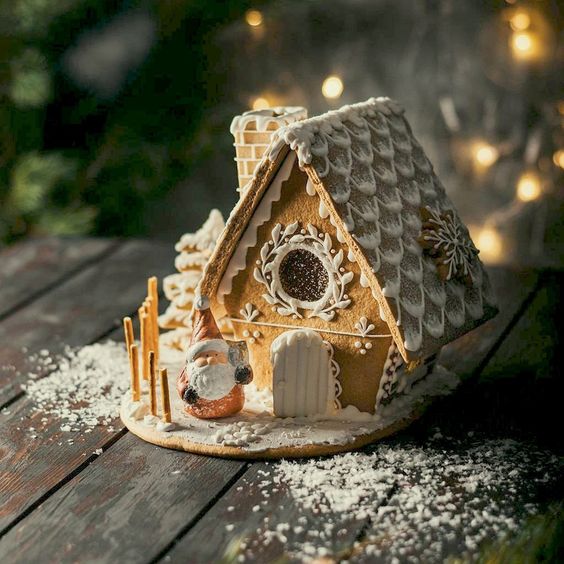 One sure way to add more ethereal detail to your gingerbread house is making use of powdered sugar!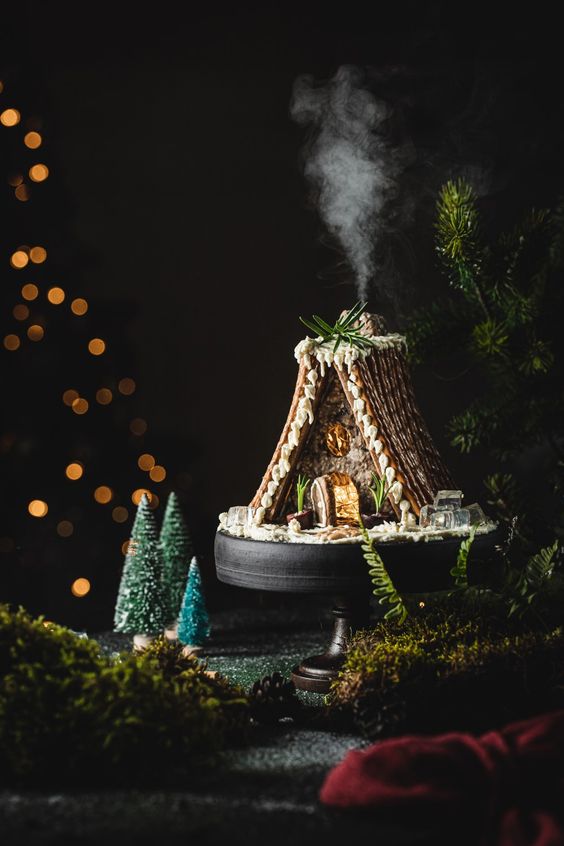 This gorgeous cabin in the woods made of gingerbread is so cute and cozy!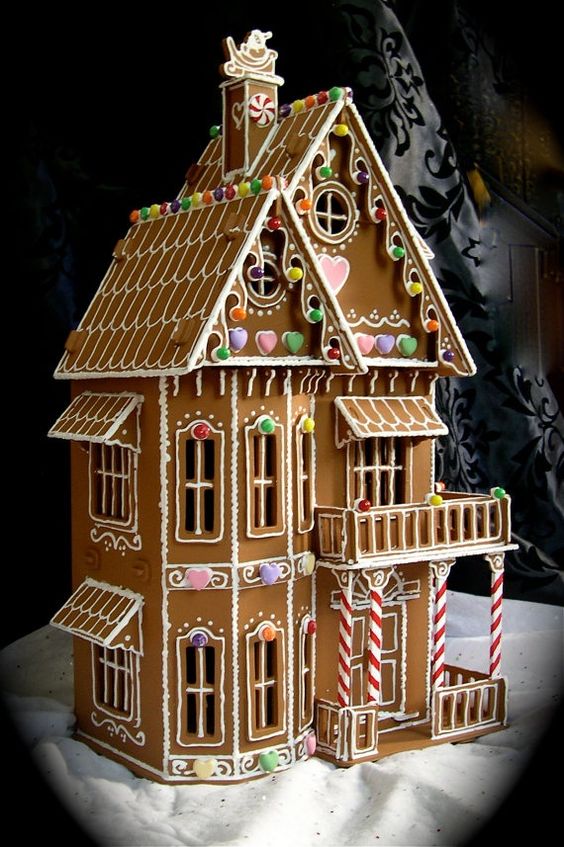 This Victorian-themed gingerbread house is so stunning! Personally, I would make this with deeper colors to get that vintage, gothic effect.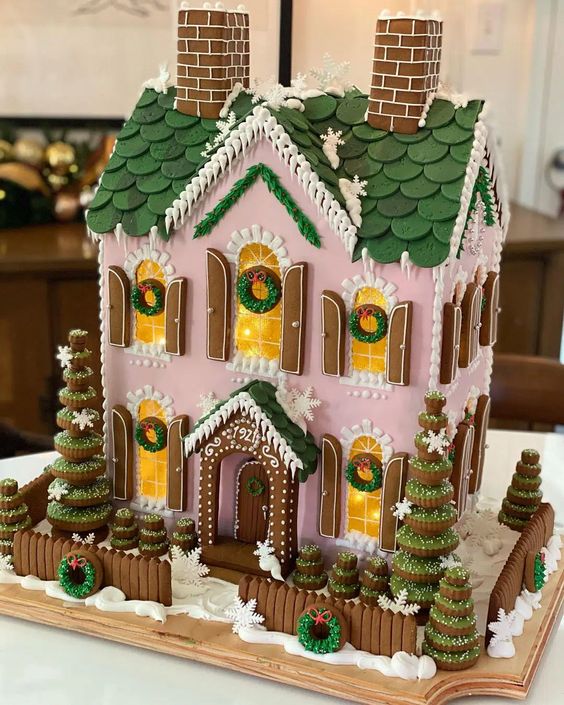 If you want bright, pastel colors for your gingerbread house, take a page out of this one! The green and pink looks so good together!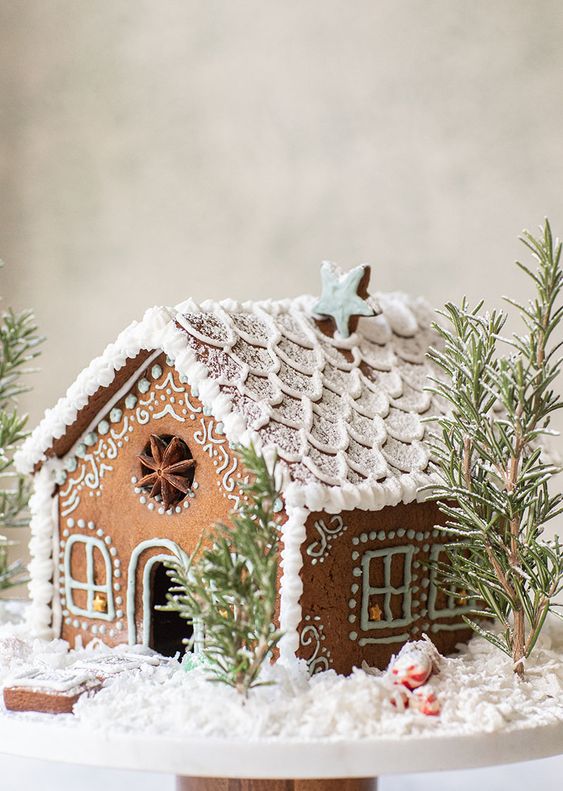 Keep your gingerbread house simple by adding minimal icing patterns around the structure and mimic frosty snowflakes with powdered sugar.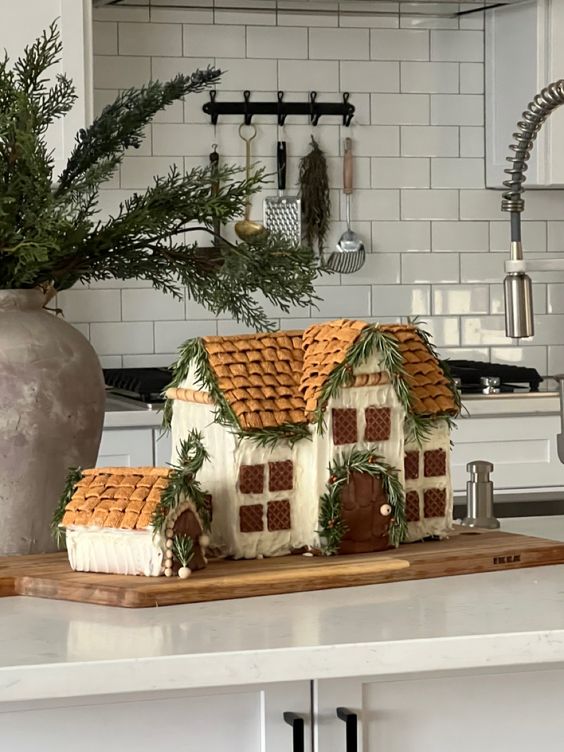 If you have a lot of icing on hand and want to make use of it, this could be the perfect gingerbread house idea for you! I love the neutral combination of white and brown here!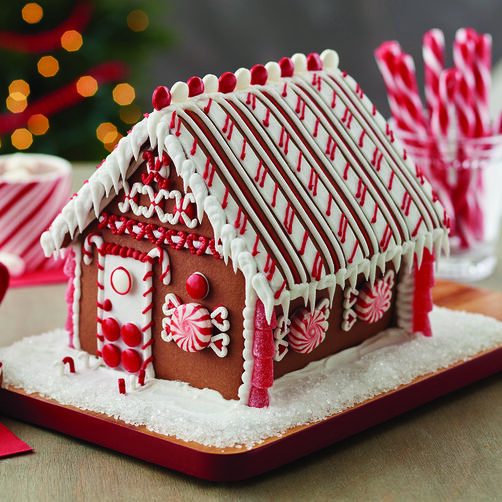 I'm loving the candy cane-theme on this adorable gingerbread house! The red and white just really makes this gingerbread house a lot more lively and festive!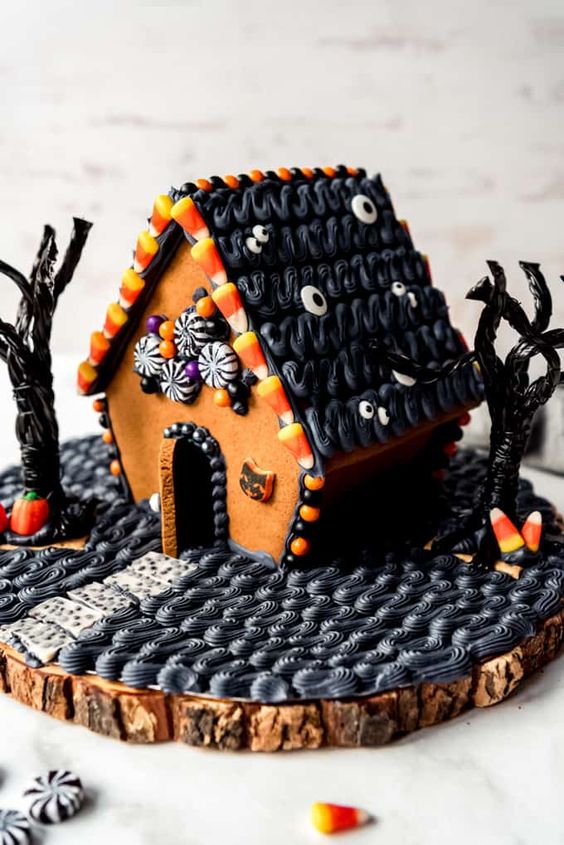 Still not over Halloween? Or maybe it's your favorite holiday? Don't worry! You can still add some spooky details to your gingerbread house!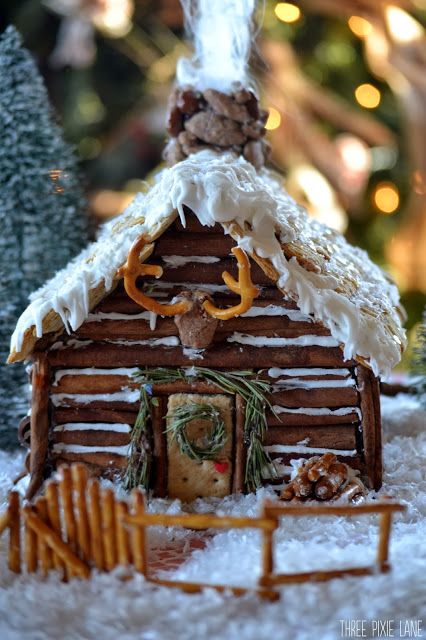 I love the cozy, rustic feel of this gingerbread house. This is perfect for those who don't want to do anything too fussy for the Christmas season!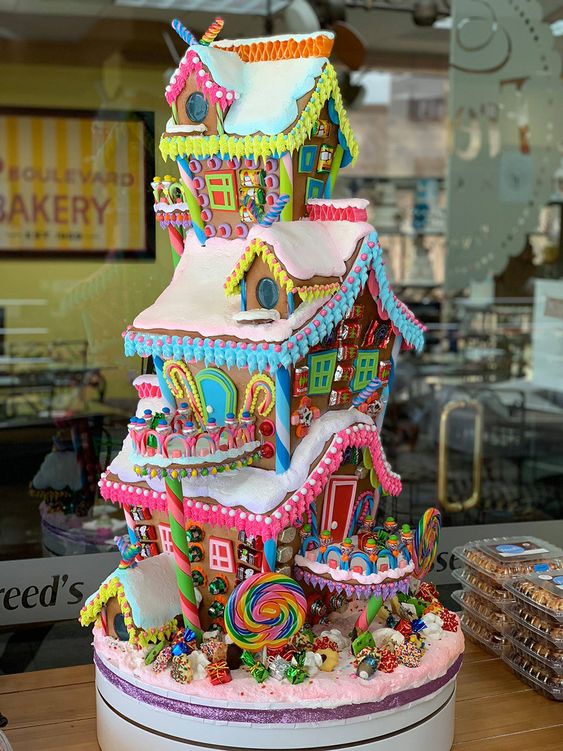 Go big or go home this year with your gingerbread house! If you have all the time and want to make your Christmas decor as festive as it can be, this is a good inspo for you!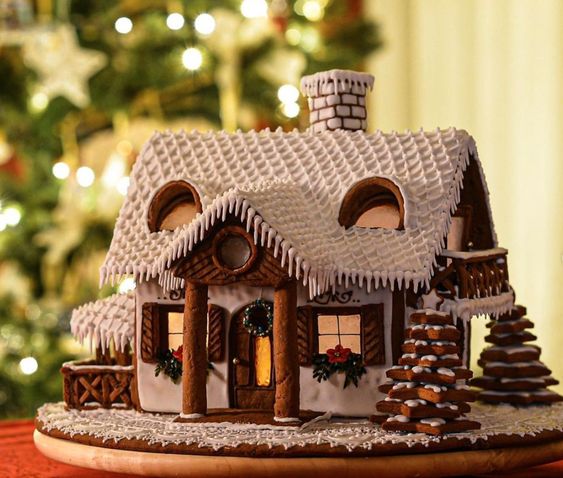 I bet this gingerbread house looks good as it is delicious. Honestly, I can't wait for holiday season to be here soon so I can finally munch on these gingerbread cookies!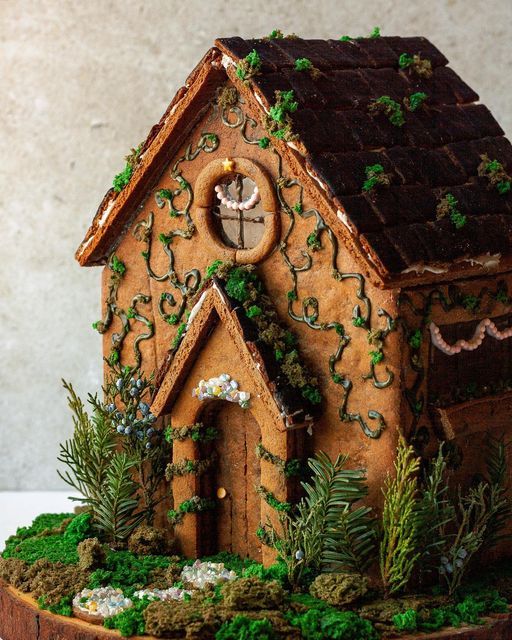 This mossy fairy-themed gingerbread house is certainly one of my favorites on this list. The intricacy and attention to detail that went into creating this is utterly awe-inspiring!
If you're looking for something a bit colorful and delicate, and on the more feminine side, this might be something you want to try out!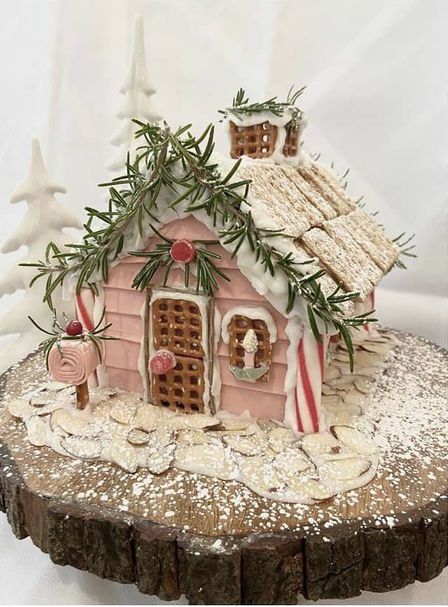 With Barbiecore being so popular this year, why not infuse your gingerbread house with some pink, feminine elements? This would make your Christmas decor a lot more interesting!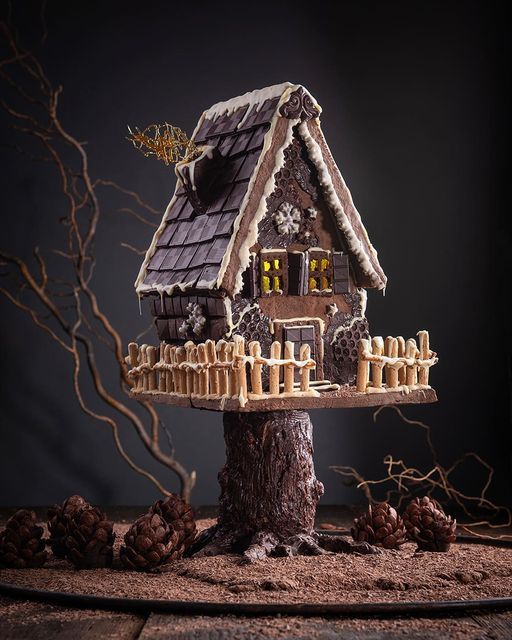 This particular gingerbread house has been described as the "Chocolate Witch House" by the original creator and I couldn't agree more! If you want to add some chocolatey goodness to your gingerbread house, this is the perfect way to go about it!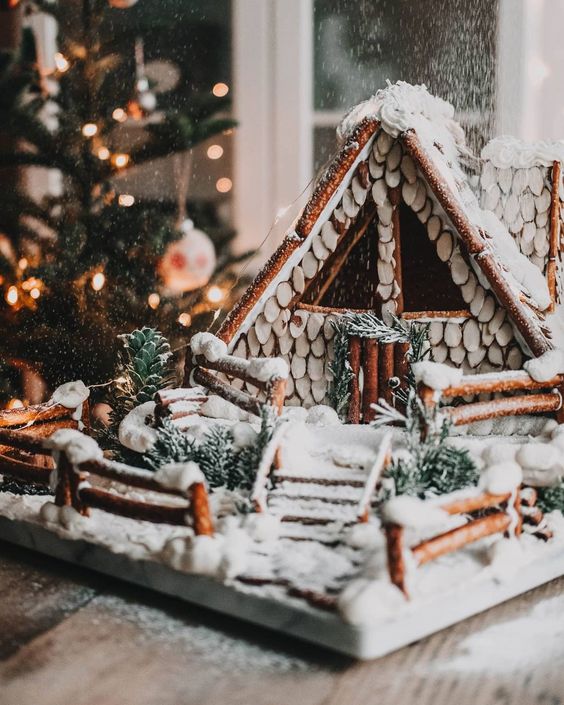 One can never really get enough powdered sugar when making winter-themed gingerbread houses! Just be careful not to make too much of a mess!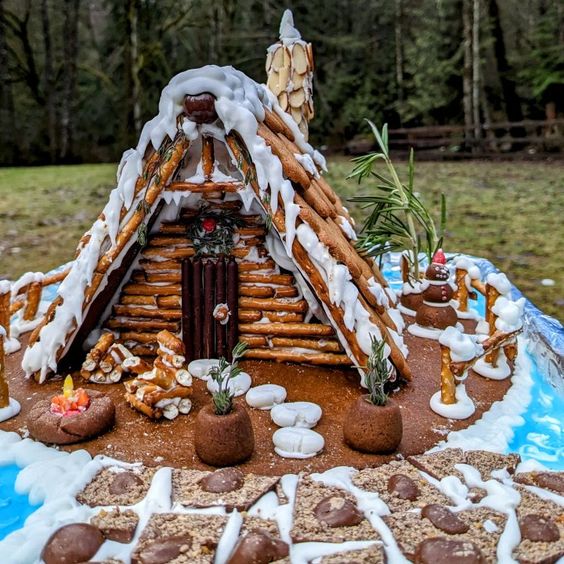 I love how this gingerbread cabin looks so cute in the outdoors! Such a perfect setting for the perfect Christmas decor!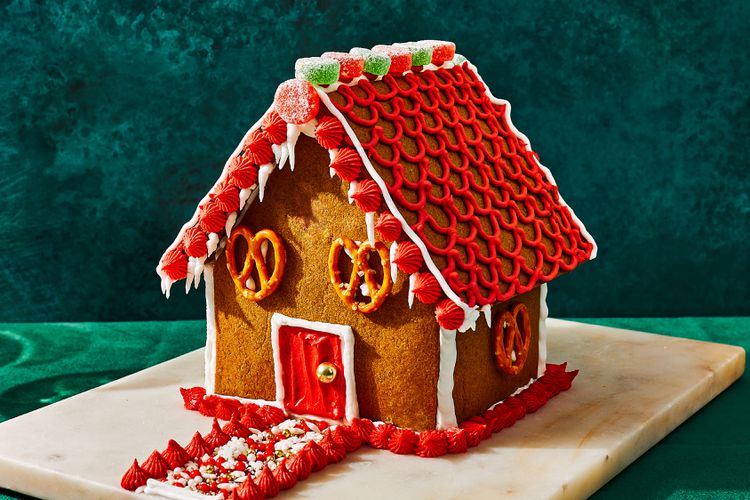 Add stunning pops of color to your gingerbread house with some red icing! Your piping skills will definitely be put to the test here but the results will be all so worth it!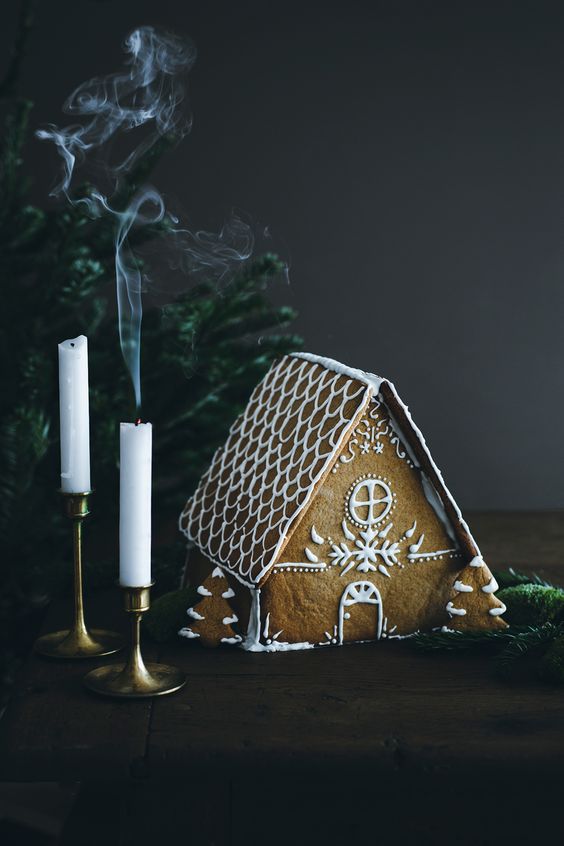 If sophistication is what you're looking for, this gingerbread house might be something you want to take inspo from!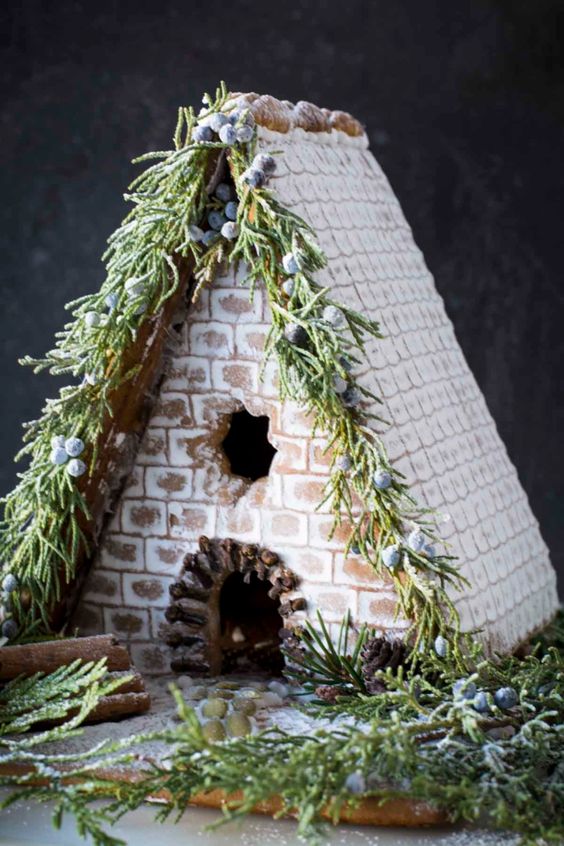 If you and your family share a sweet tooth, one great way to sweeten up your gingerbread decor is by glazing it with sugar just like this beautiful gingerbread cabin!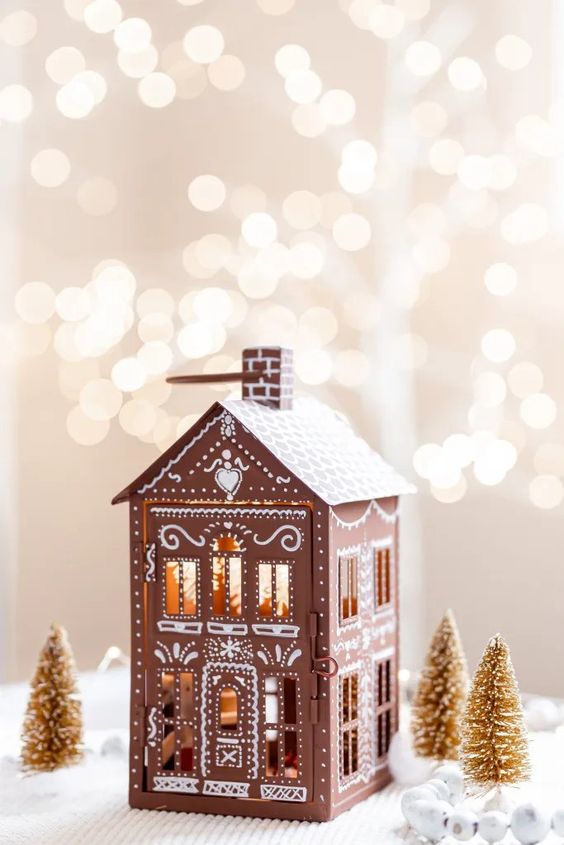 Aside from gingerbread houses, you can also do gingerbread buildings of different varieties to add diversity into your Christmas decor!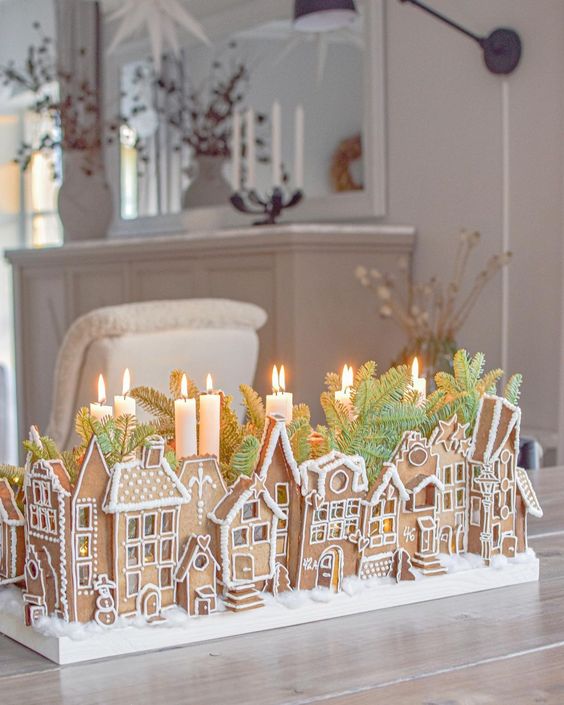 A gingerbread house is great and all but do you know what could make it better? A village of gingerbread houses!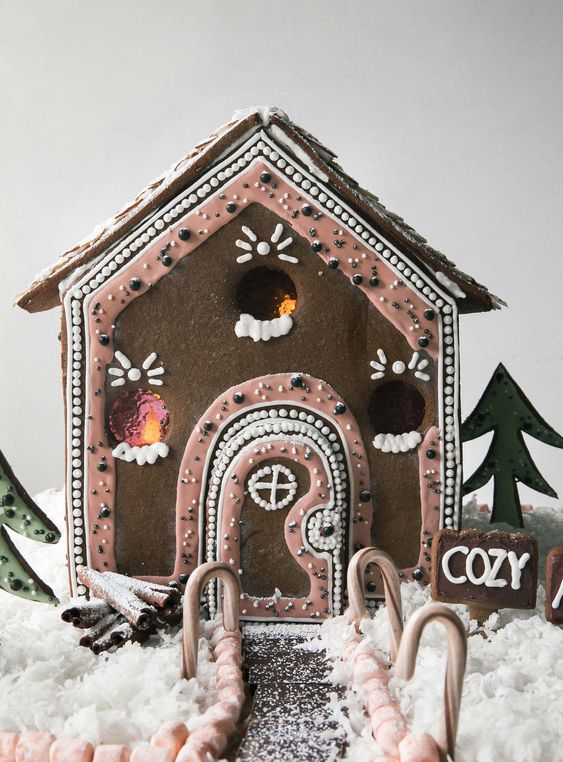 Another favorite of mine on this list is this pink and brown gingerbread house! I just love the combination of colors and how it gives off this sophisticated feel in the middle of a winter-themed setup.
Sometimes simple is better, especially if you're not yet too comfortable making any intricate or complicated designs for your gingerbread house.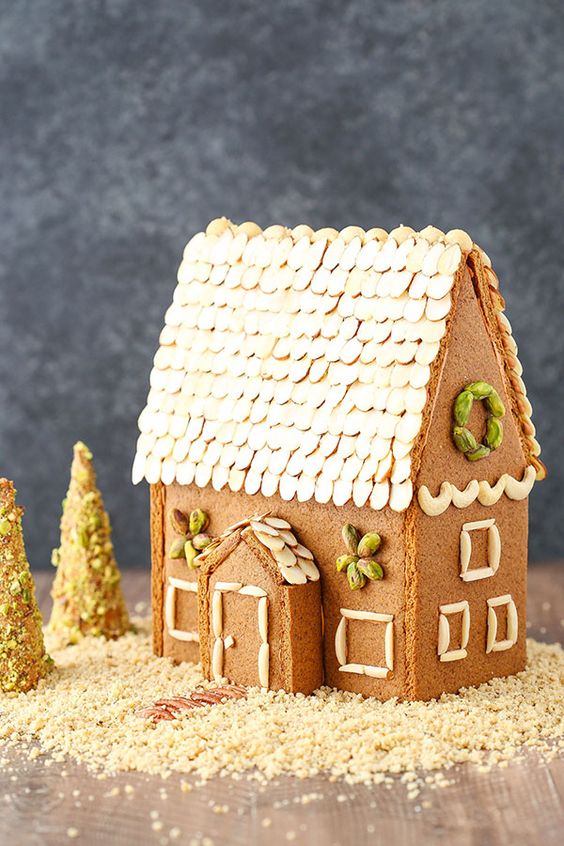 If you find yourself having a hard time with piping, this simple gingerbread house might be more up your alley! This will give you lots of practice to work on your design skills over time!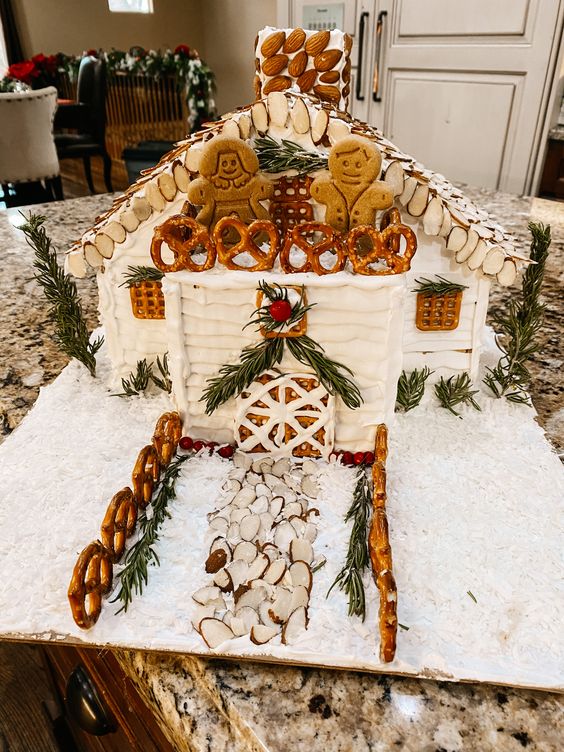 Aside from your usual gingerbread cookies, you can also use other cookie assortments or even pretzels to add more variety to your edible Christmas decor!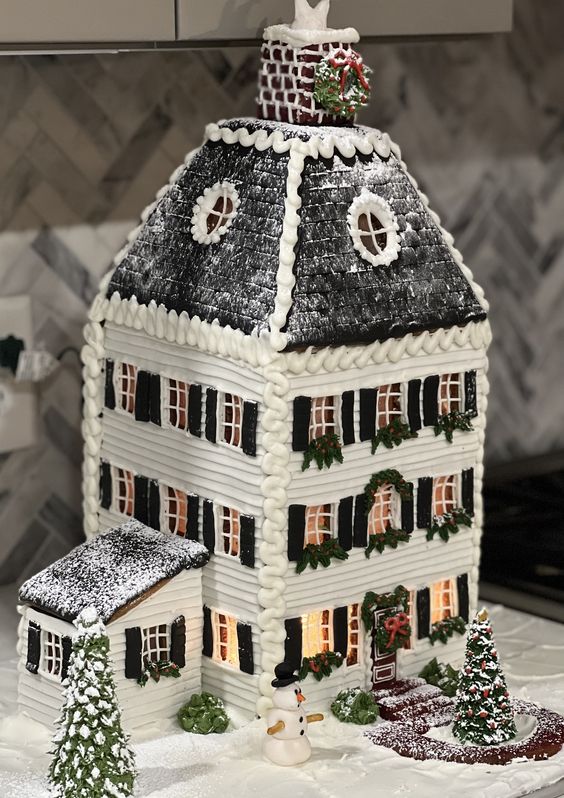 I bet you've seen plenty of the usual colors of gingerbread houses that incorporate brown, earthy tones but this one has a more monochrome color scheme that you might want to try out next!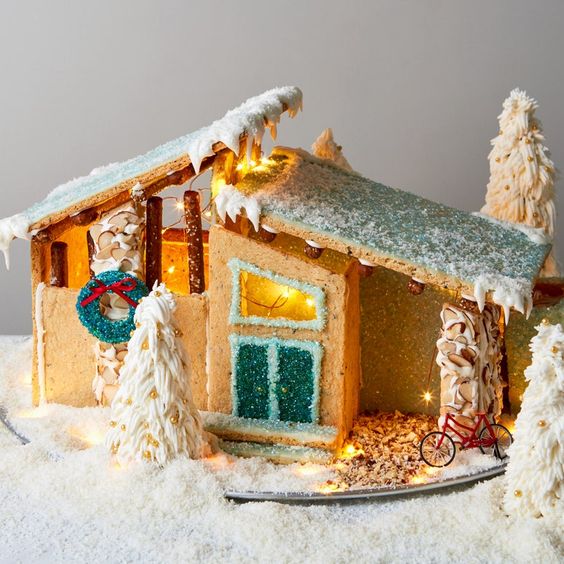 This deconstructed gingerbread house is perfect for those who are looking for something unique and a little bit different this Christmas season. The use of minty blue colors makes this ideal for the winter season too!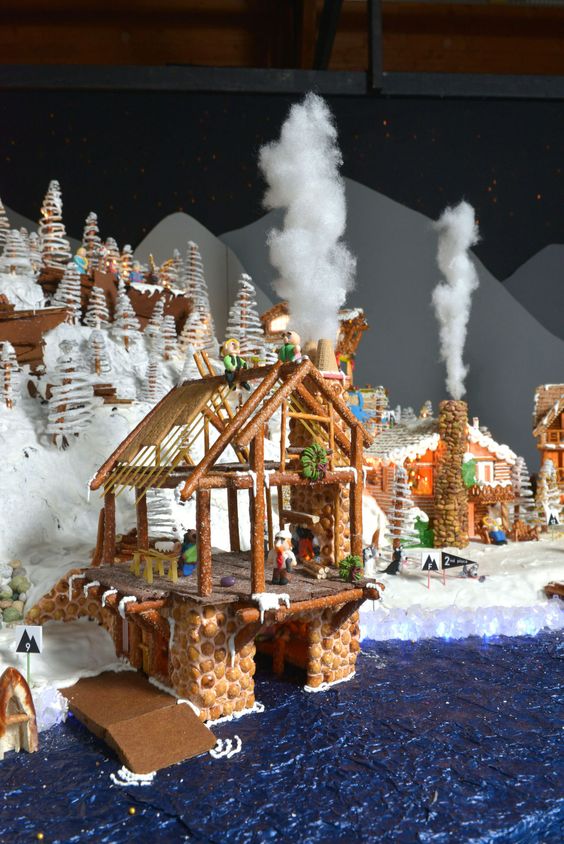 Instead of doing a singular gingerbread house, why not opt for making a whole lakeside village for your gingerbread Christmas decor?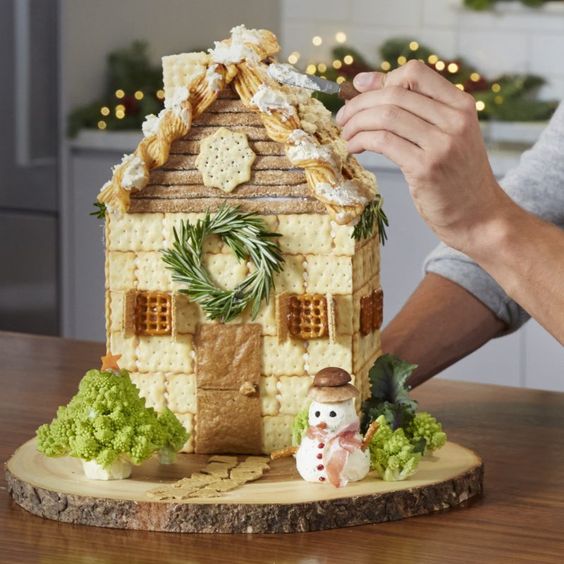 Add a cheesy twist to your gingerbread house with this stunning creation! You can also opt to use crackers to give your gingerbread house a lighter touch.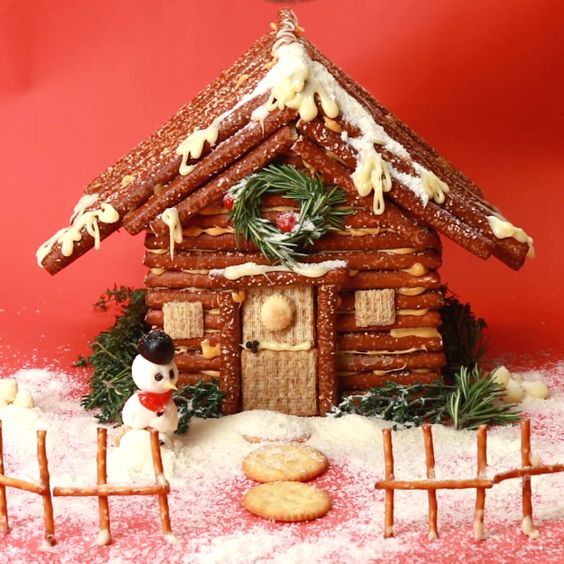 Tired of using gingerbread cookies and want to do something different? You can opt to use pretzels to create your gingerbread house instead! You can also add some crackers and other kinds of biscuits to give your gingerbread house more dimension!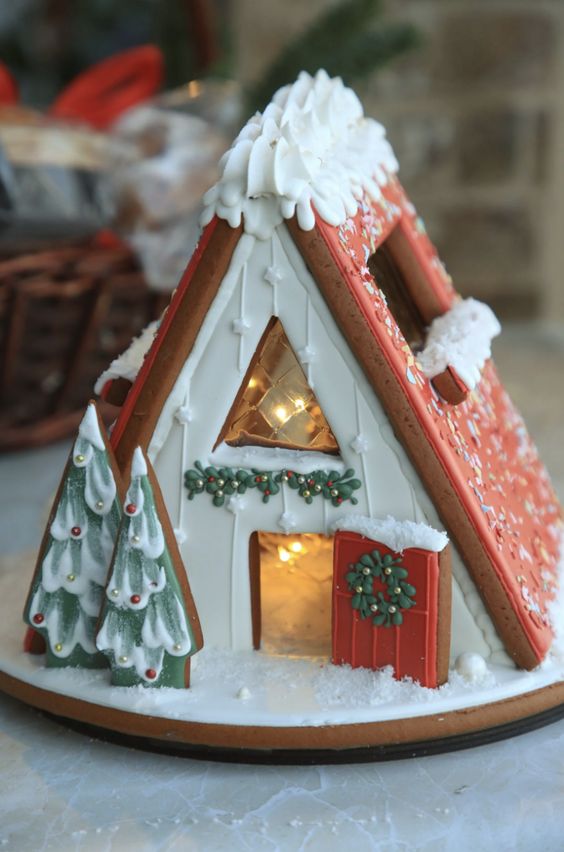 This colorful gingerbread house is perfect for those who are a bit tight on space for their Christmas decorations. This can be placed easily on any mantle or as a centerpiece!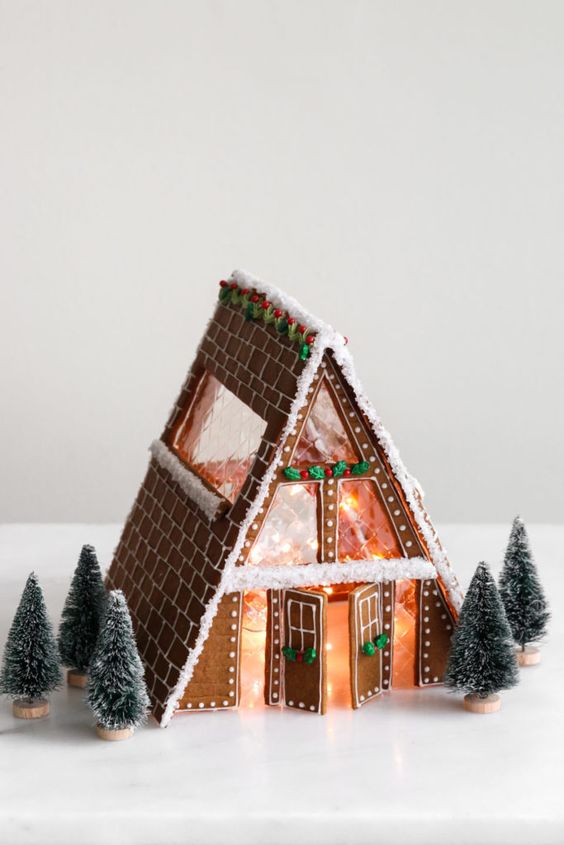 I'm really digging these cabin-like gingerbread houses! I figure they're a lot easier to recreate too since the triangular shape would be less fussy to set up than having to structure a house.
Another one of my favorites is this apartment-themed gingerbread house! If you live in a condo or an apartment, why not recreate the likeness of your building for your Christmas decor?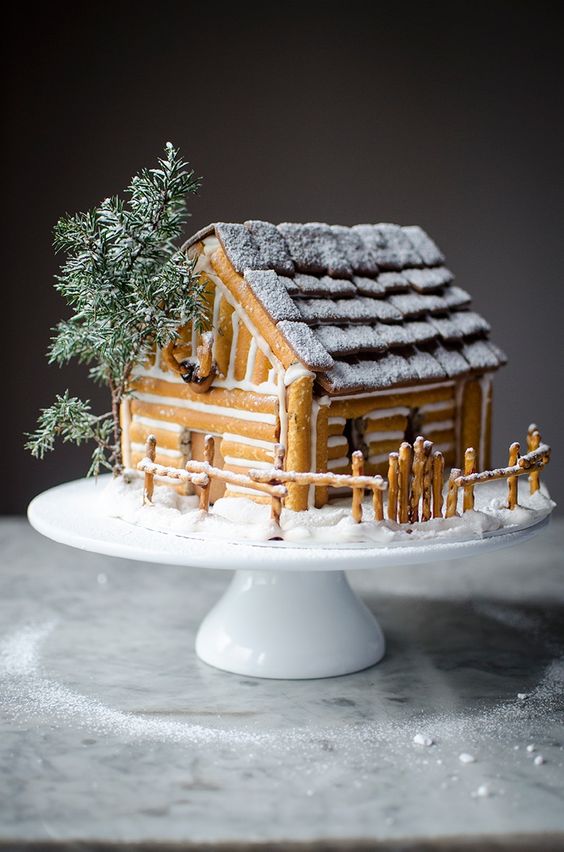 This particular gingerbread house is utterly adorable! You can make stacking the gingerbread cookies a lot easier by using your frosting as glue!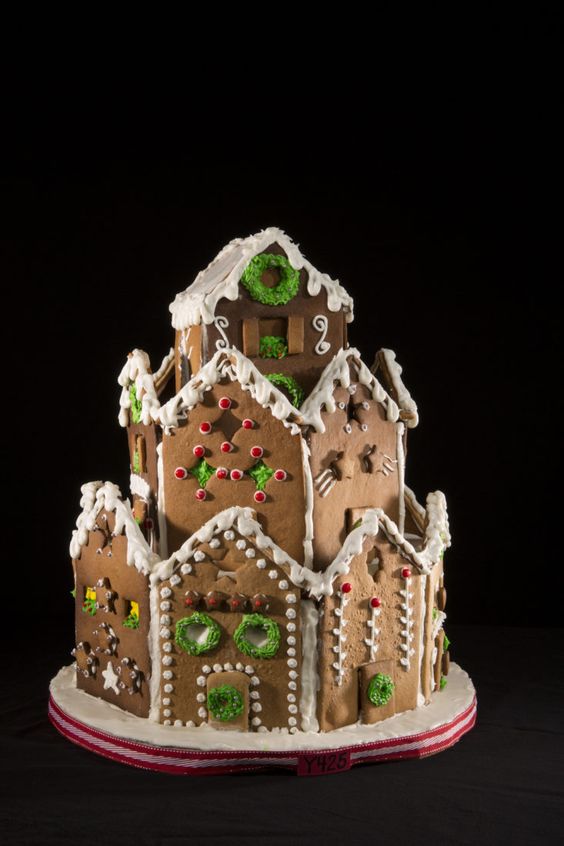 Elevate the usual gingerbread house by making this victorian mansion-themed gingerbread house! The bigger, the better!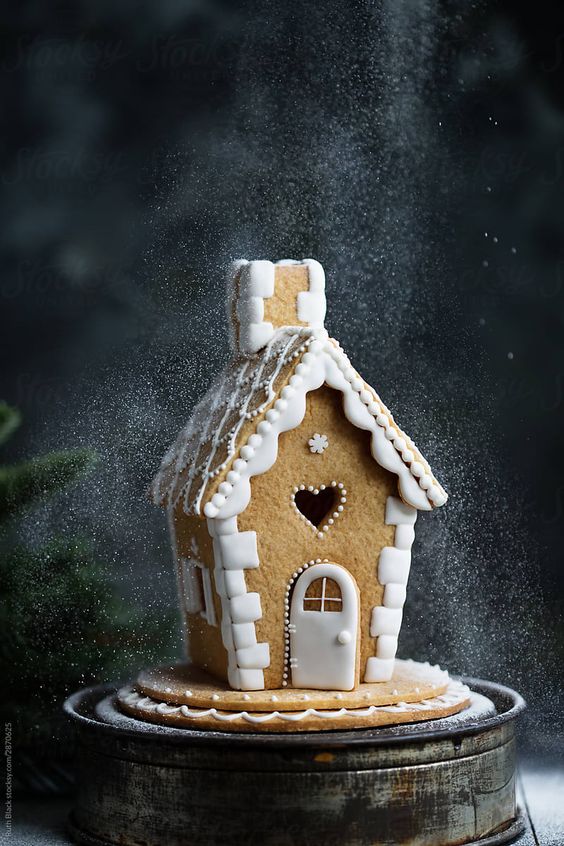 Definitely another gingerbread house on my top list of favorites! I love how simple yet so pretty it is!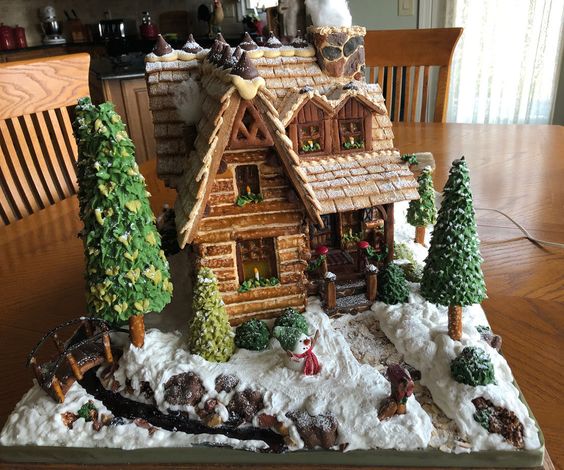 I am obsessed with how intricate and ornate this gingerbread house is! This would be so perfect as your mantle's centerpiece throughout the holiday season!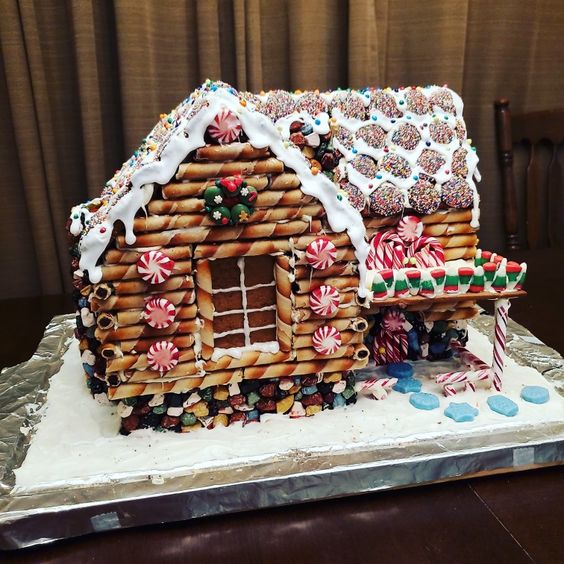 Apart from pretzels and biscuits, you can also use wafers as an alternative to gingerbread cookies to create your Christmas gingerbread house!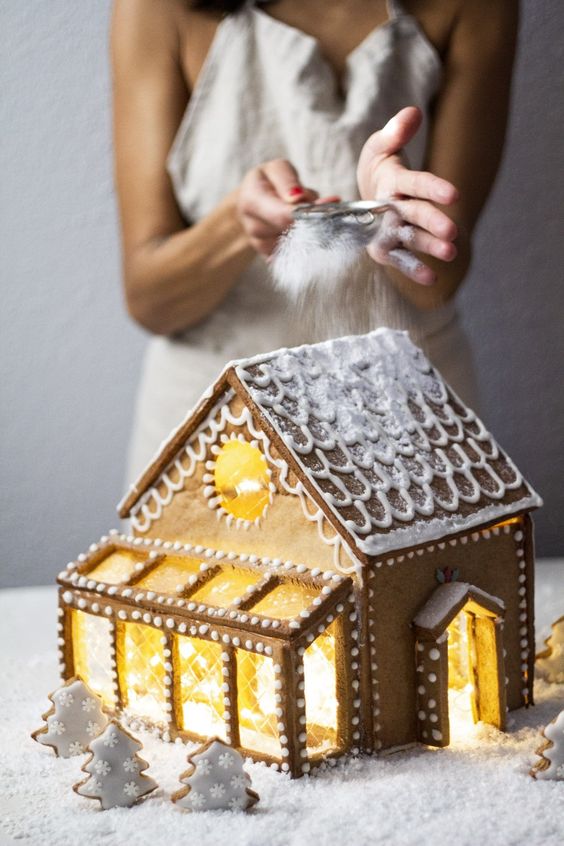 A bit of powdered sugar can really elevate your gingerbread to the next level. Whether you're looking to make a winter wonderland theme or simply want to give your gingerbread house an added layer of glaze, powdered sugar is the answer!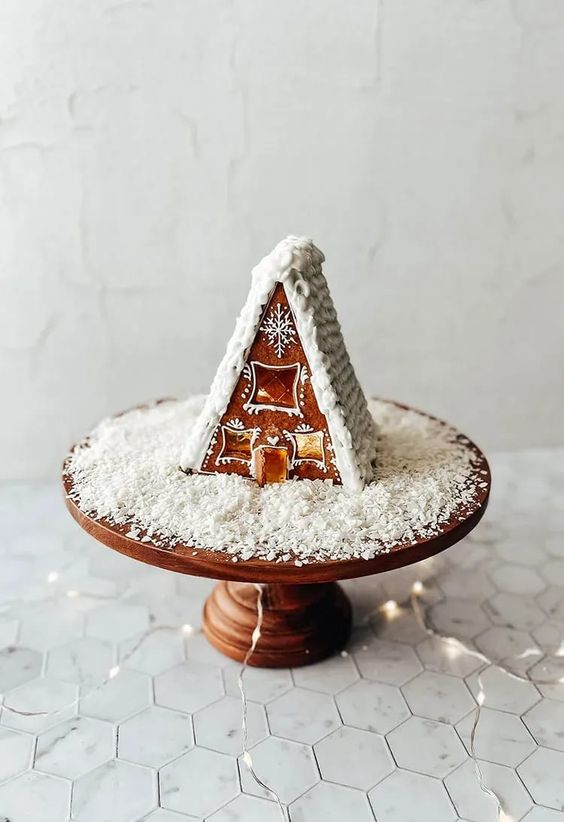 This adorable gingerbread house can make such a huge impact on your Christmas decor despite its tiny size. You can put it as a centerpiece for your dining table or your mantle!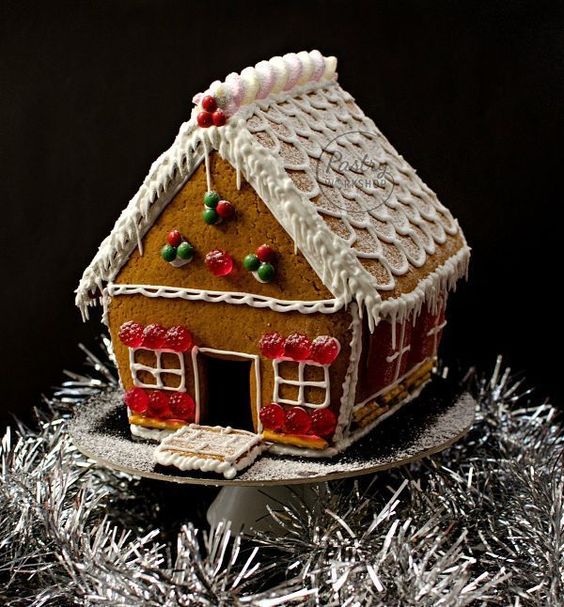 If you're planning to eat your gingerbread house as dessert, you can opt to add other types of candy and sweets into your gingerbread house to make it more flavorful!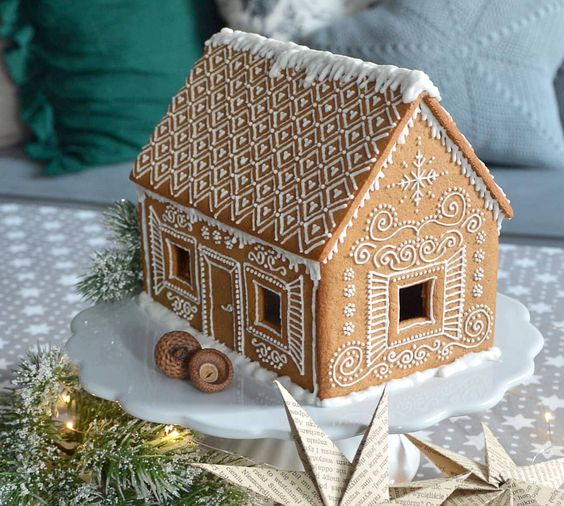 For those skilled with piping and are no rookies to creating cookie masonry, you might want to try this one out!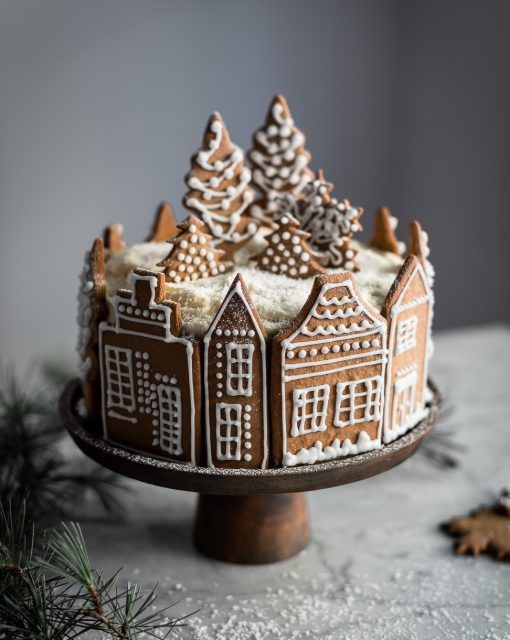 Honestly, this looks more like a gingerbread cake to me with the sides drawn on like gingerbread buildings. But I find it really cool and creative!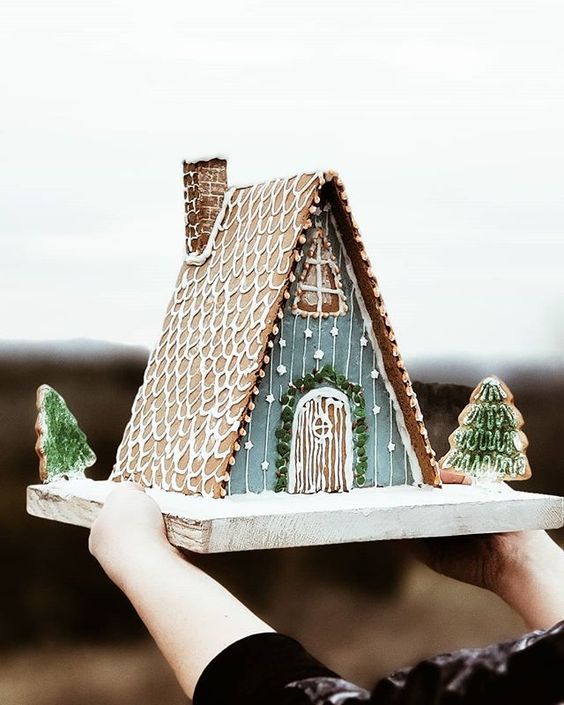 I love the whimsical vibe of this gingerbread cabin! This would look so utterly pretty as a centerpiece on your Christmas mantle.
Here's another simple gingerbread house you can do for the Christmas season! It's small, it's sweet, and even rookie bakers can do this!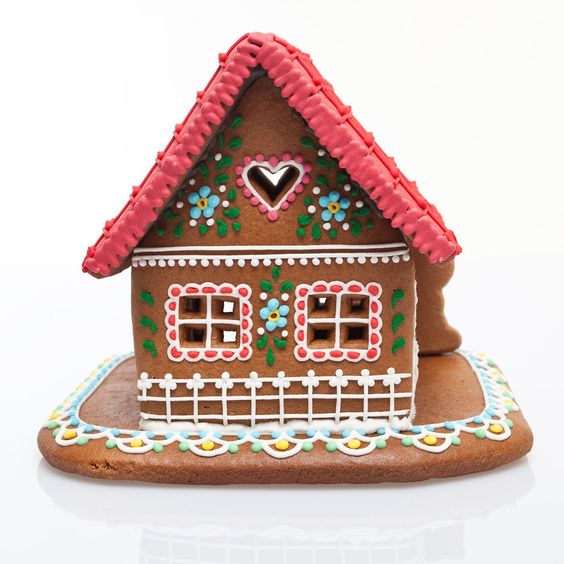 Looking for gingerbread houses with some color? Well here's one you can recreate! You can keep things simple with your piping and let the colors pop on their own!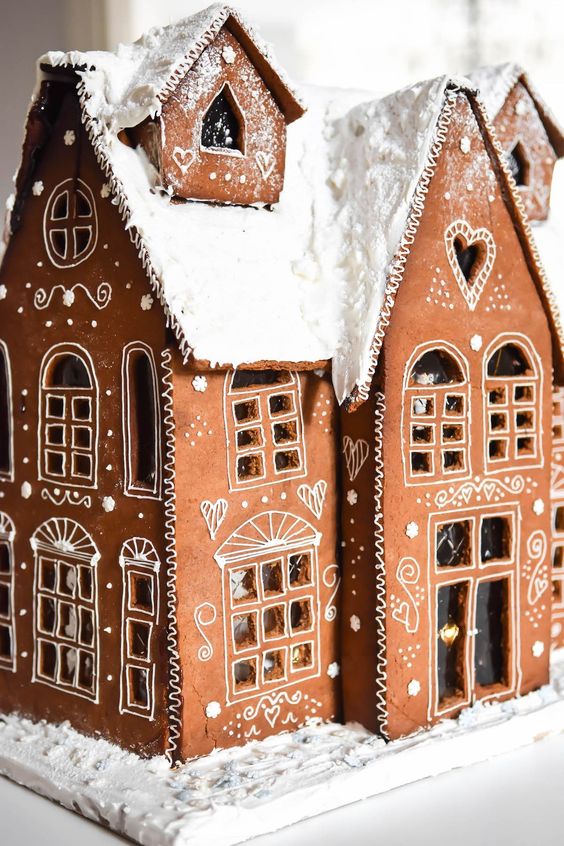 This gingerbread house can either be the townhouse of your dreams or make it look like the building of your apartment!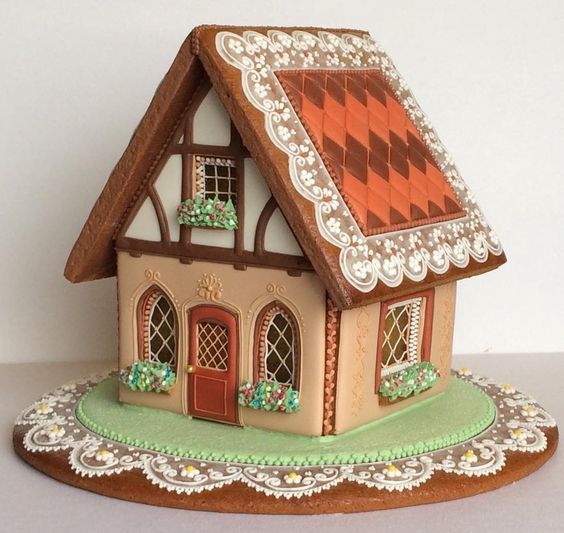 These fun-sized gingerbread houses are some of the most adorable Christmas decorations I've seen! You can keep it plain with their natural deep brown hues or cover them up with colorful icing!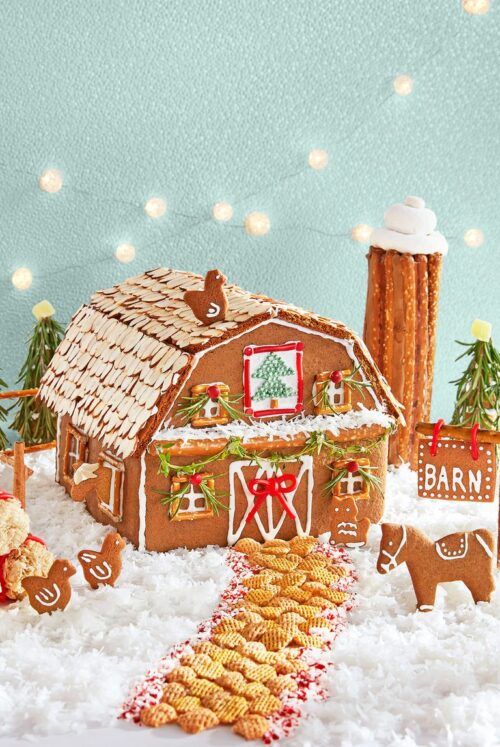 Whether you live in a barn and want to recreate a piece of home or perhaps you've always liked the idea of living on a ranch, this gingerbread farmhouse is for you!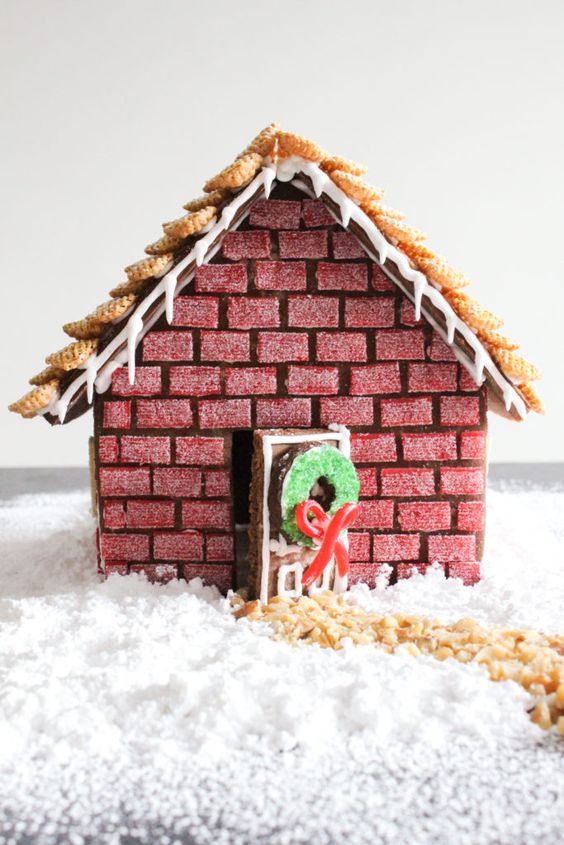 I'm loving how this gingerbread house has bricks on it! This might take more time than your usual mini gingerbread houses but it's totally worth it!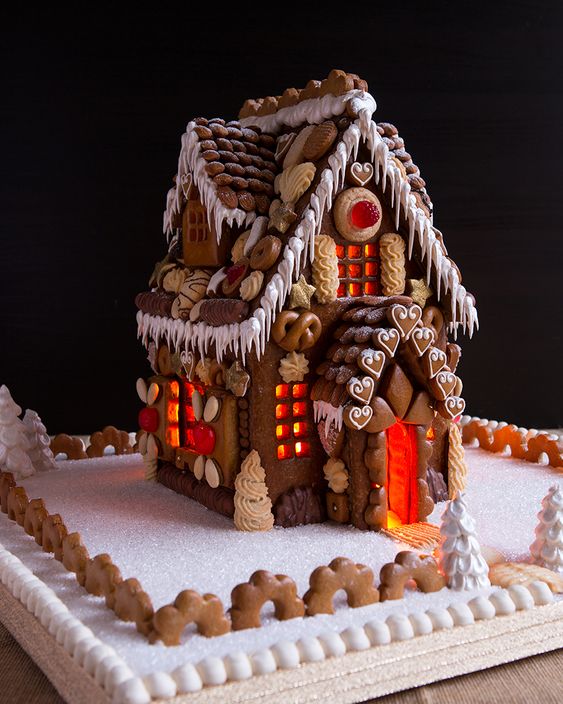 You know what's better than your plain old gingerbread house? Adding chocolate details on them!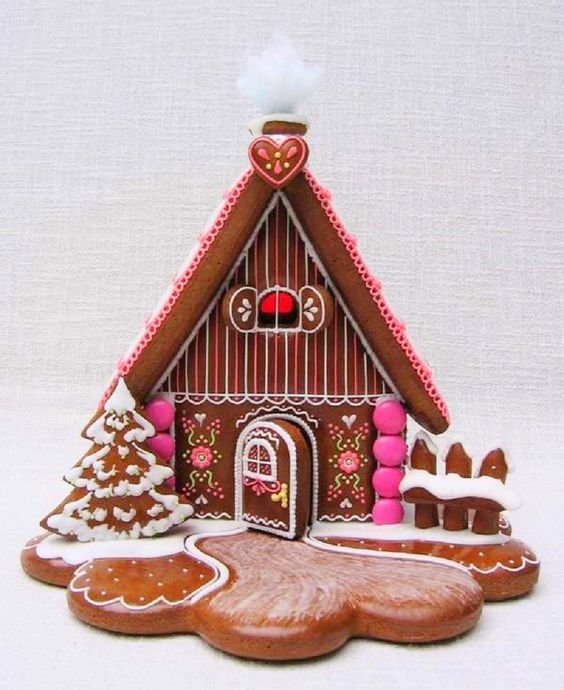 Add brighter pops of color into your gingerbread house like this vivid bright pink hue! It will really make your gingerbread house look a lot livelier!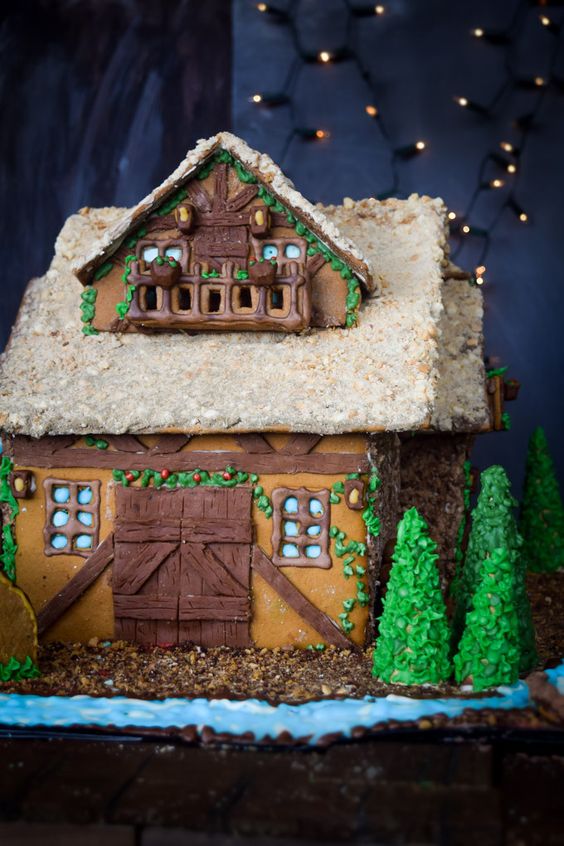 This rustic gingerbread house would look so good for farmhouse-themed Christmas decor!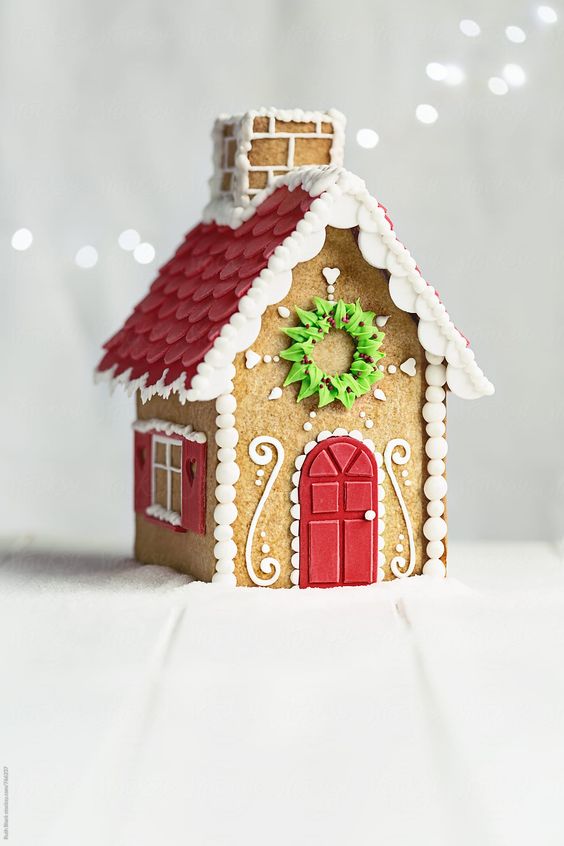 Another vivid pop of color you can add to your gingerbread house is red! It's a classic, festive color you can never go wrong with!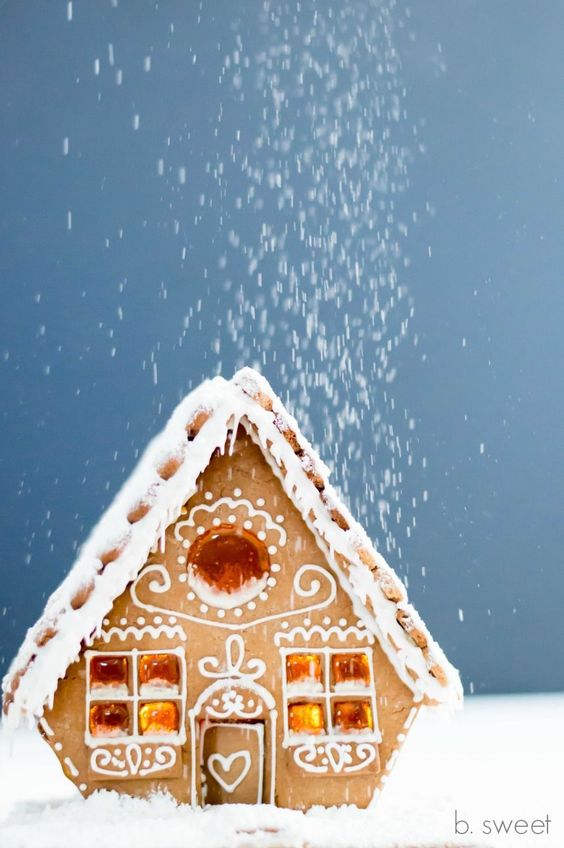 Little gingerbread houses can just be as charming as their bigger counterparts. But the best part? They take way less effort and hours to do!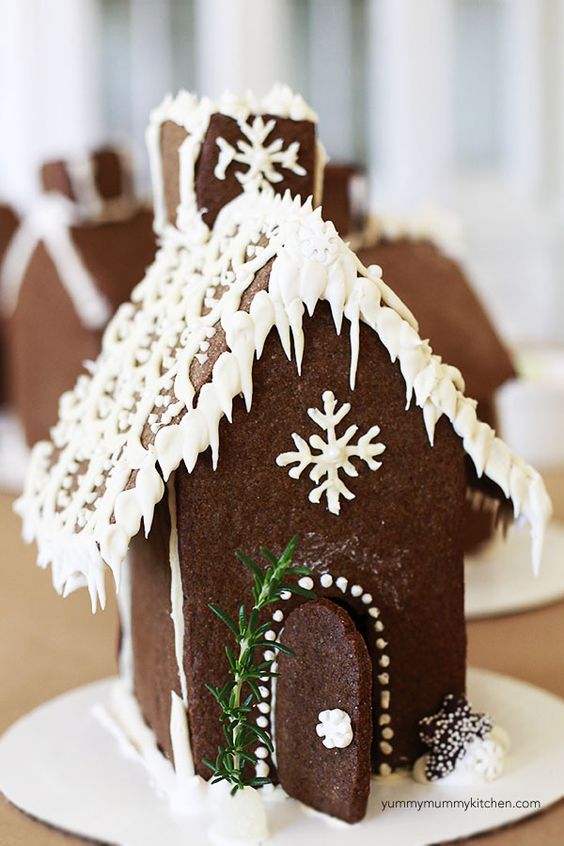 Add a chocolatey twist to your gingerbread house for something different this year!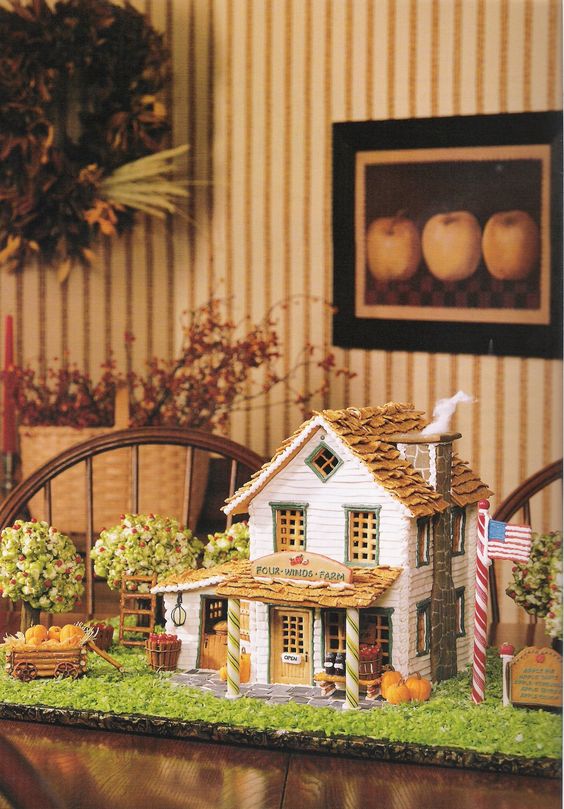 Not only is this gingerbread house adorable but the whole setting around it is just as stunning! It's so detailed and festive!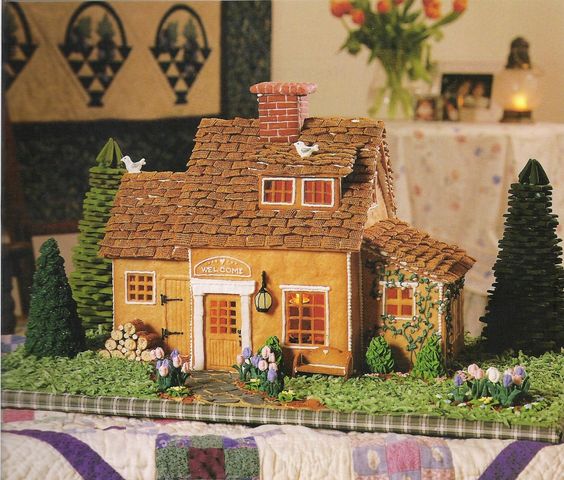 Here's another simple gingerbread house you can do. Add some foliage with your icing and setup and your edible Christmas decor is perfect to go!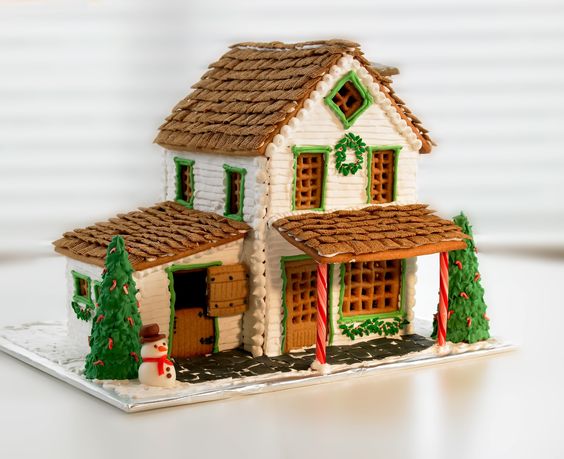 This miniature gingerbread house really stands out with its all-white icing. Makes it look classier!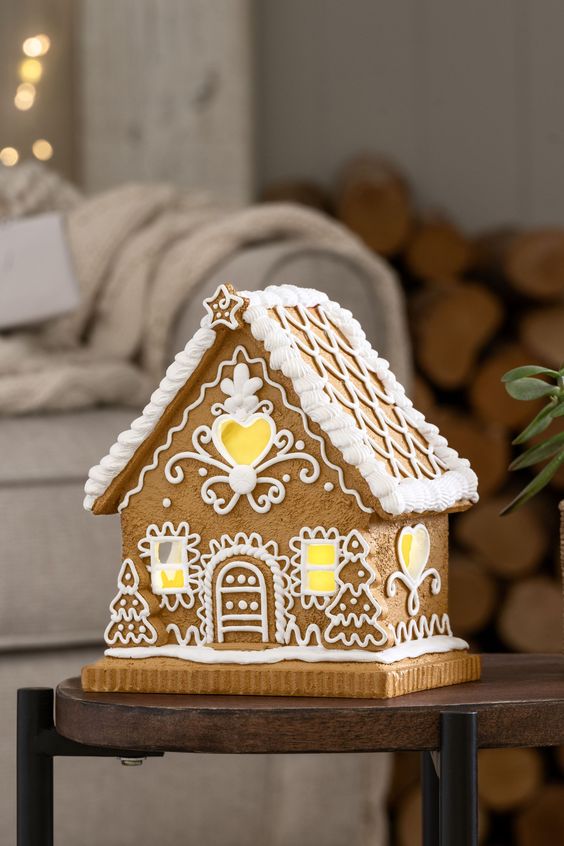 I love how fun and whimsical the icing details on this gingerbread house are! And look, this can even fit perfectly on your coffee table for your guests to see!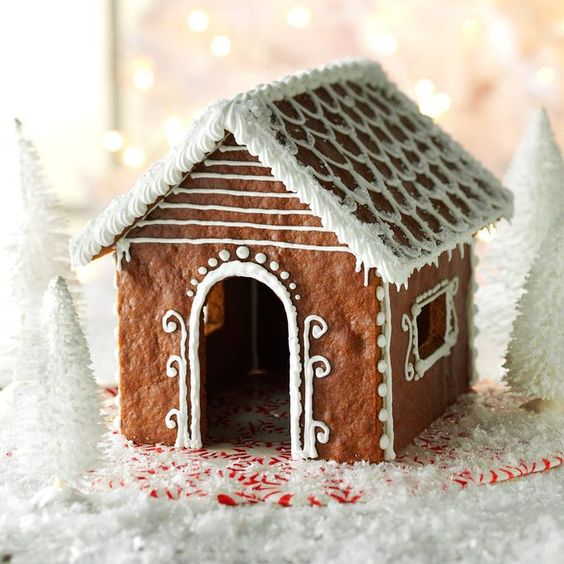 This frosty-themed gingerbread house is utterly cute! It's small and all that icing would make such good practice for your piping skills too!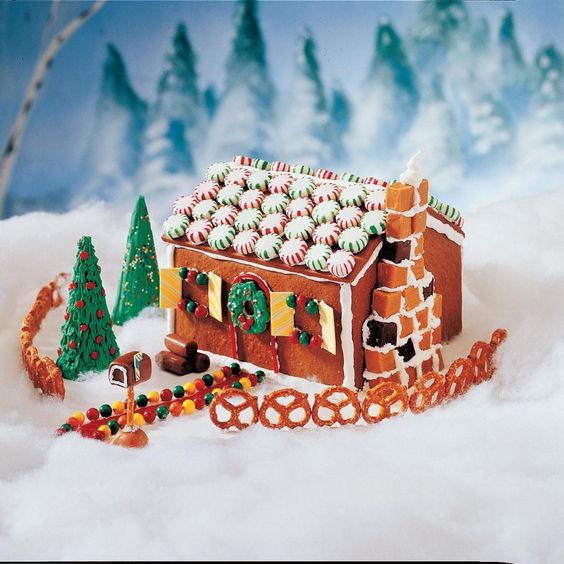 Not too confident with playing around with icing? Don't worry! You can use peppermint candies to add more detail to your gingerbread house instead!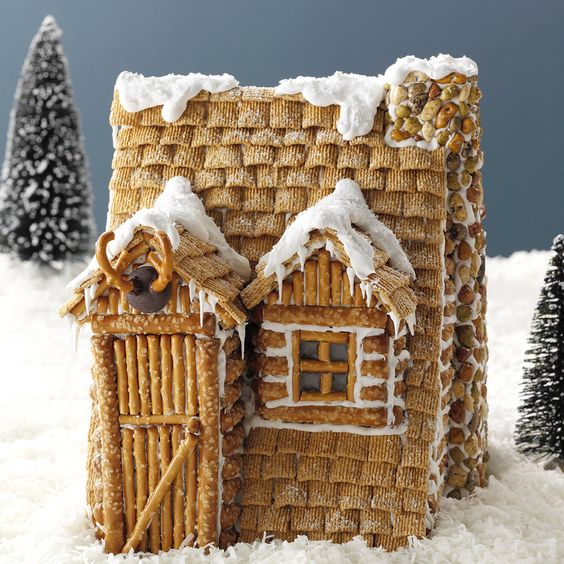 Here's another favorite of mine on this list. I just love the texture and different kinds of biscuits and pretzels used to create this gorgeous gingerbread house!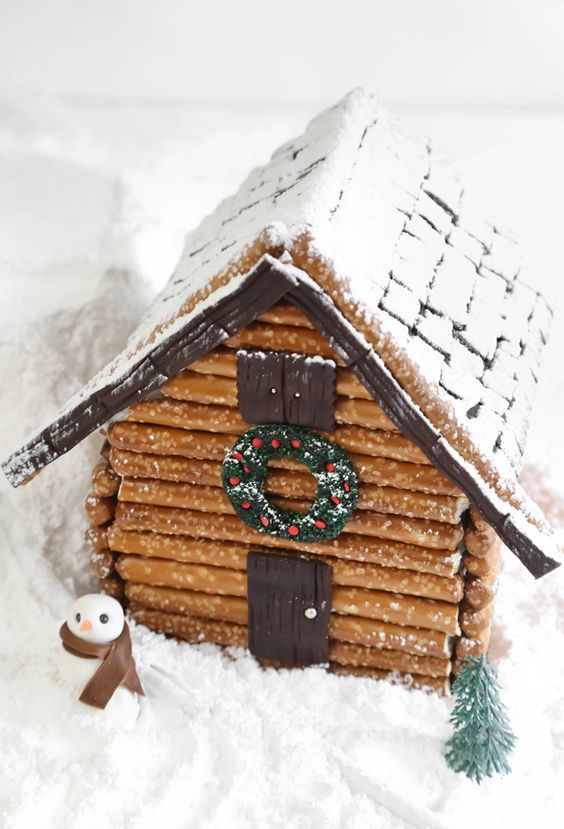 Ran out of gingerbread cookies to create more houses? You can always opt for other kinds of snacks to make more edible Christmas decor like this pretzel one!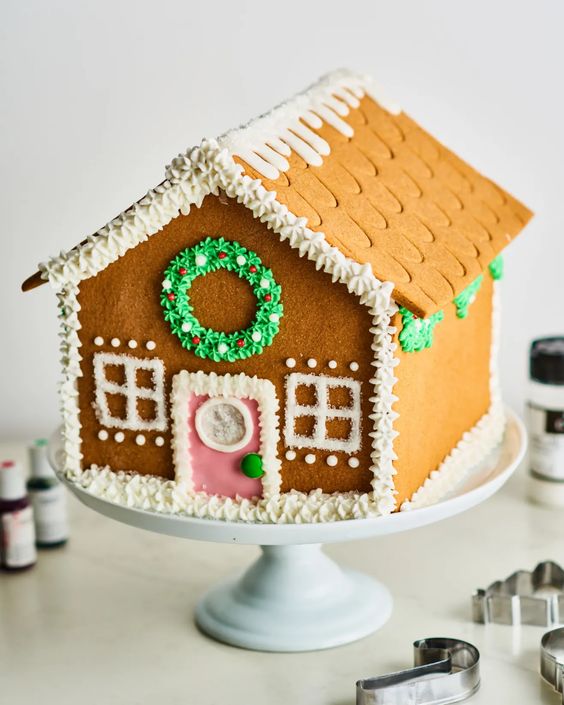 This gingerbread house looks utterly classy and sophisticated with its icing detail.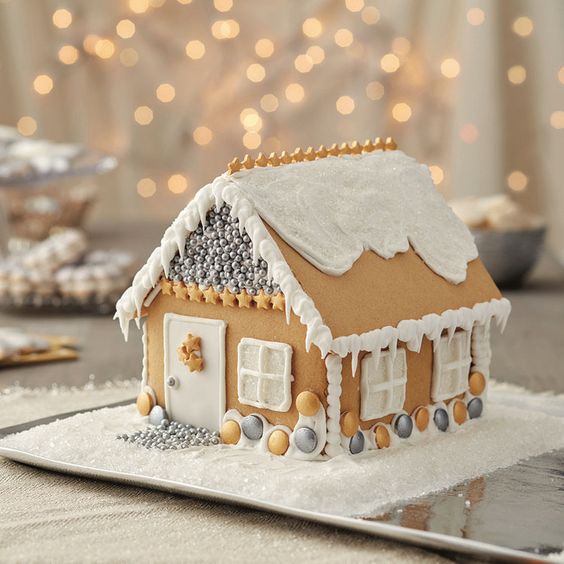 When it comes to using icing as decoration for your gingerbread house, this is one of the best ones I've seen! I just love how it perfectly mimics snow when it blankets a house.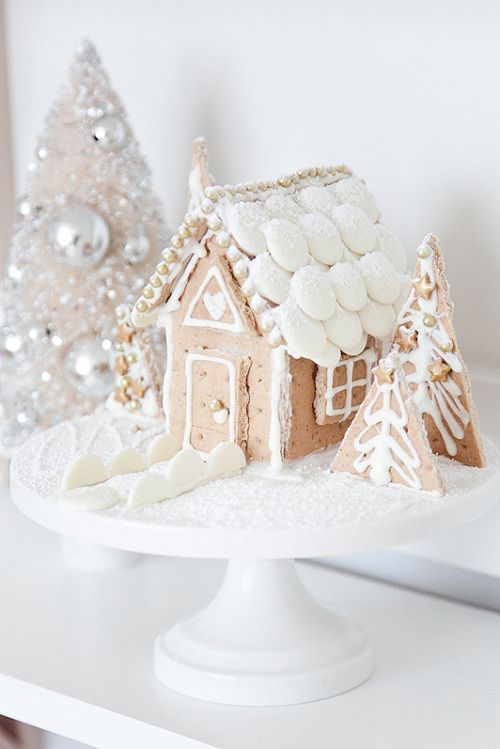 This gingerbread house looks like it was just taken out of a winter wonderland! If you got spare gingerbread cookies, you can also use that as the pine trees surrounding the house.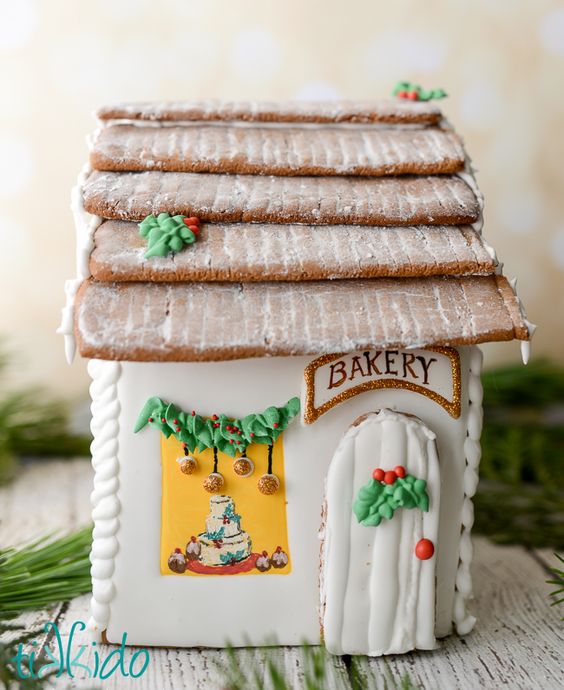 Aside from houses, you can also create other things with your gingerbread cookies like a cute, little bakery!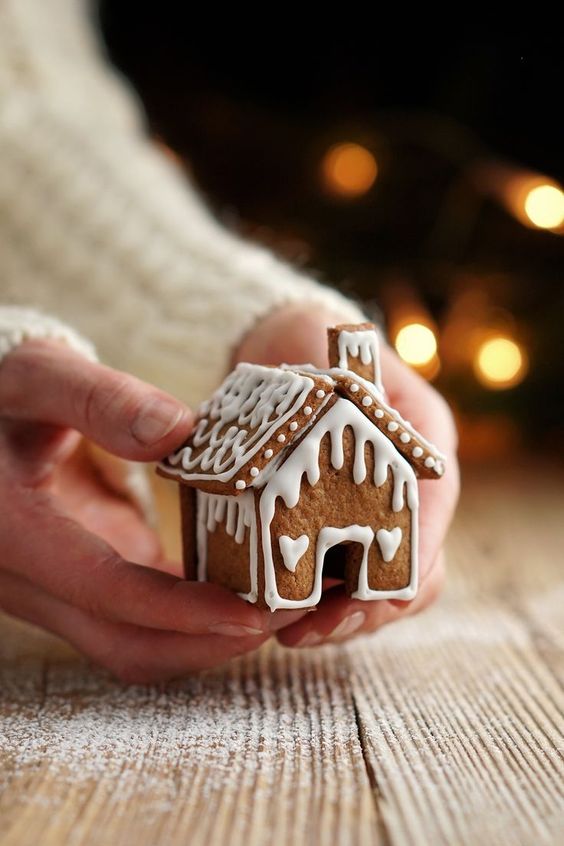 This miniature gingerbread house is utterly adorable! You can make it a part of a bigger gingerbread-themed Christmas decor or use it on its own!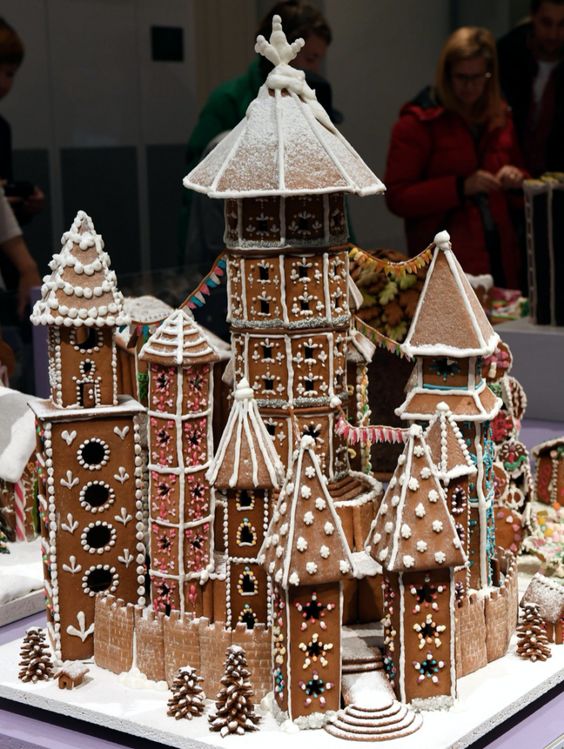 This giant gingerbread house might take you hours to set up but you'll definitely leave your guests awestruck once they see what you come up with!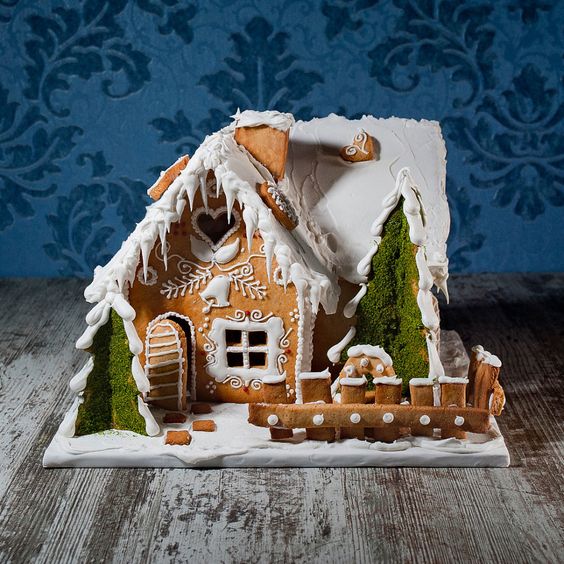 This whimsical gingerbread house is quite cute to look at! I love the added green colors from the foliage.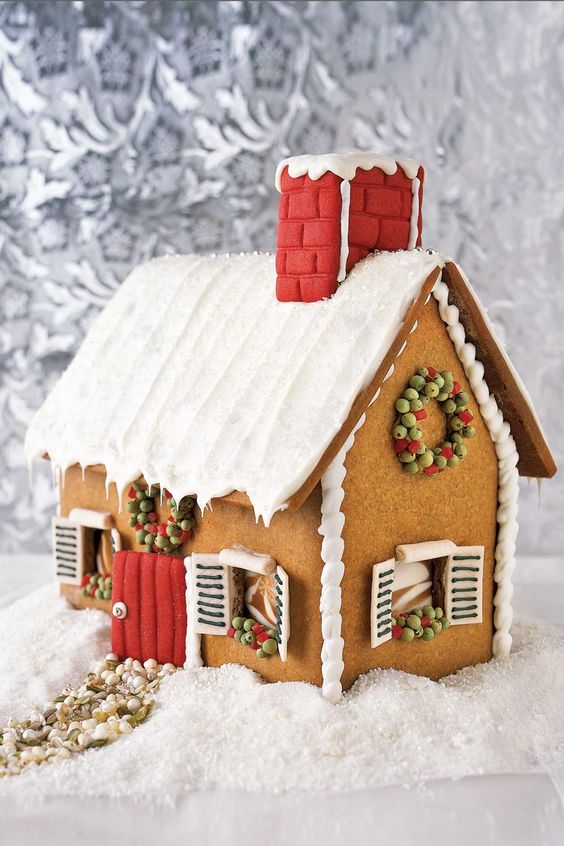 Even if you're a complete rookie in the kitchen, you can still create magic with your gingerbread cookies like this one!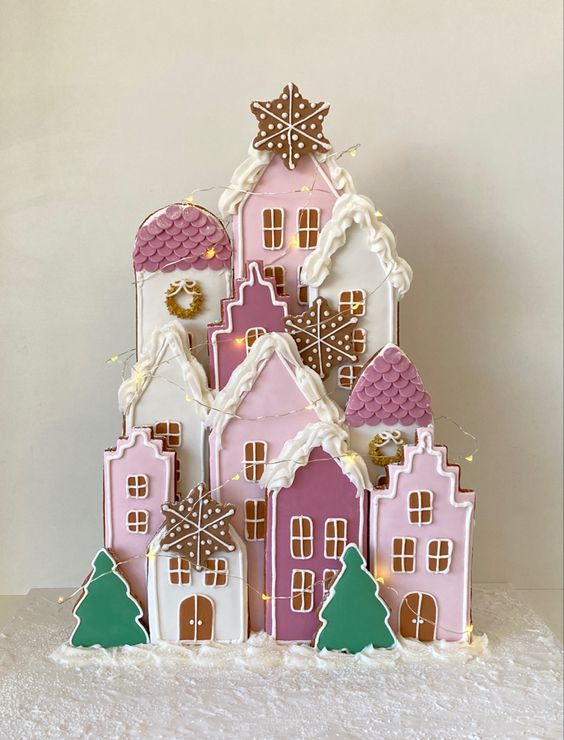 Pink makes such a classy color for the Christmas season. It makes things look a lot softer, more delicate, and if you want to add a feminine touch, you'd certainly love this!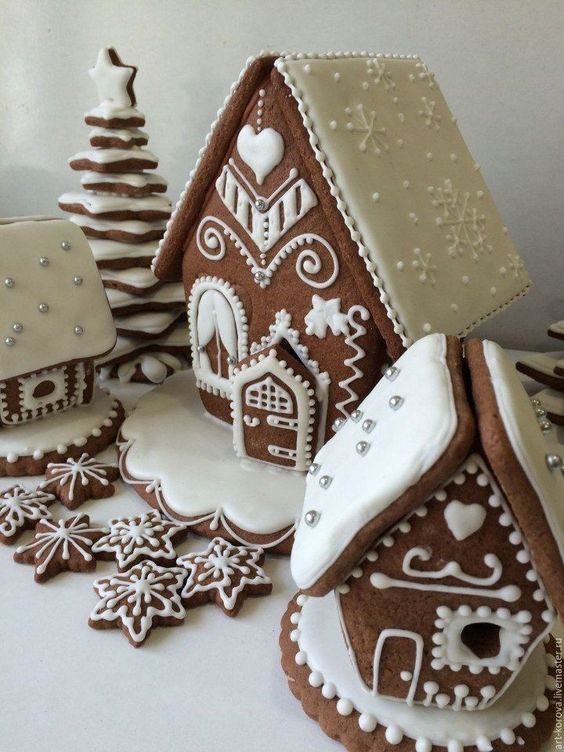 Making giant gingerbread houses can be daunting. So if you're not up for that kind of challenge, maybe you can try making a batch of miniature gingerbread houses instead!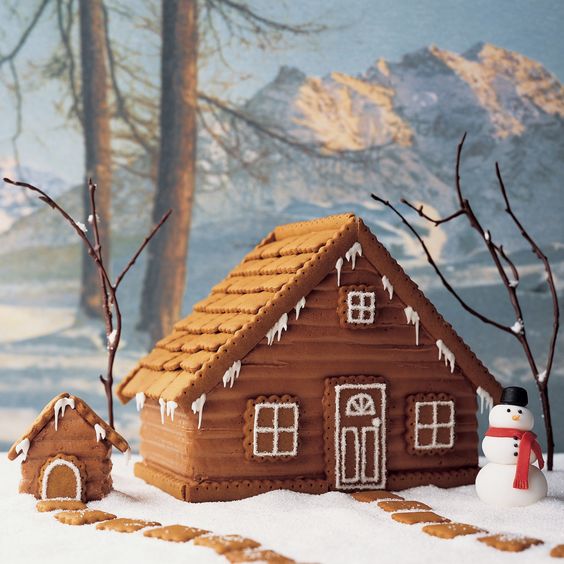 For a gingerbread house with a minimalist design, you might like this one! It requires very little icing and piping!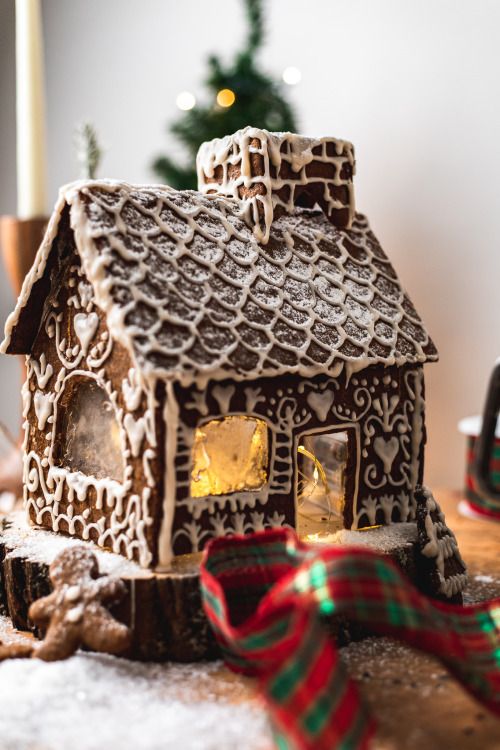 I love the patterns of the icing on this gingerbread house. It looks so cute and whimsical!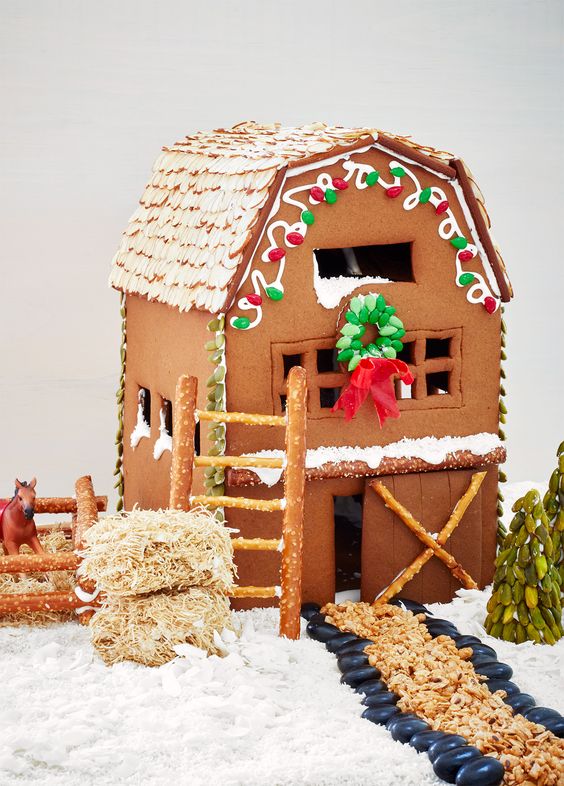 Here's another farmhouse-themed gingerbread house you might want to do for Christmas this year.
And there you have it! We've explored over 80 super creative gingerbread house ideas that are sure to inspire your holiday creations. From classic designs to innovative concepts, these gingerbread house ideas encompass a wide range of styles and complexities. Remember, the beauty of these creative gingerbread house ideas lies not just in their aesthetic appeal but also in the fun and joy they bring to the holiday season.
For those looking for a twist on tradition, our funny gingerbread house ideas offer a playful approach. These designs, ranging from whimsical cottages to humorous themes, show that gingerbread houses can be as amusing as they are delightful. They're perfect for adding a bit of cheer and laughter to your holiday festivities.
On the other hand, if simplicity is more your style, don't overlook our easy gingerbread house ideas. These designs prove that you don't need to be a professional baker to create a stunning gingerbread masterpiece. With straightforward instructions and accessible decorations, these easy gingerbread house ideas are ideal for beginners or for those short on time but still looking to participate in this sweet holiday tradition.
Incorporating these creative, funny, and easy gingerbread house ideas into your holiday celebrations can become a cherished tradition for years to come. Whether you're crafting with family, friends, or even taking on a solo project, the joy of building and decorating a gingerbread house is unmatched.