It's never too early to start prepping for the holiday festivities, especially when it comes to food! So while you decide on which entrees to include in your holiday feast, check out these scrumptious Christmas appetizer recipes!
As the snowflakes fall gently outside your window, and the warm glow of twinkling lights fills your home, there's no denying that the holiday season has arrived. Christmas, with its festive charm, brings friends and family together to celebrate the joy and warmth of togetherness.
So what better way to kick off your festive gathering than with a delightful array of Christmas appetizers? Not only will these tantalize the taste buds but also add a touch of elegance to your table!
From savory bites to irresistible finger foods, I've handpicked a selection of recipes that will make your Christmas celebrations memorable. Whether you're hosting a grand holiday feast, a cozy family dinner, or a casual get-together with friends, these appetizers are perfect for setting the tone for a magical Christmas season.
Christmas Appetizer Recipes
Put on your apron, gather your ingredients, and let's explore the world of holiday flavors and festive delights that will leave your guests craving for more.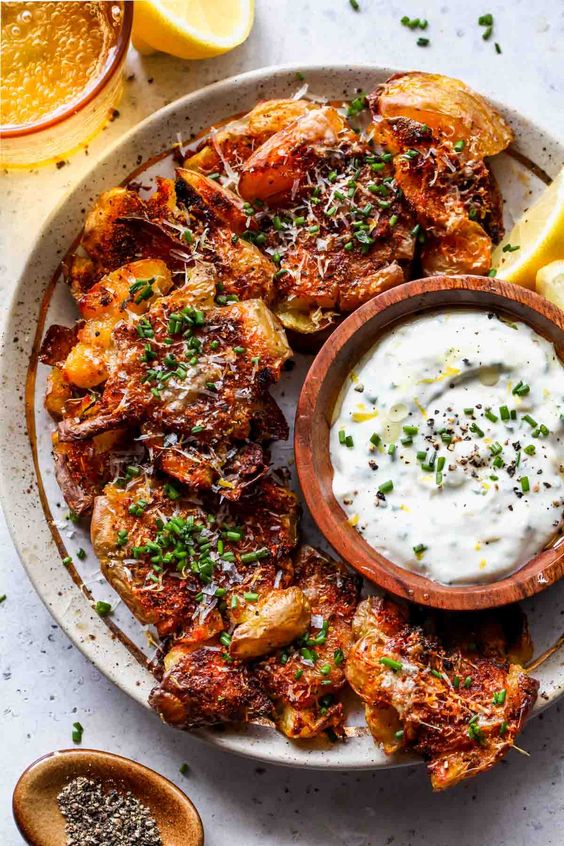 This Paprika-Parmesan Smashed Potatoes with Garlic Aioli is a roasted potato delight you can't resist! These spuds are outrageously crispy, and generously seasoned. The best part? They're paired with a dipping sauce that's truly addictive. You simply have to give them a try!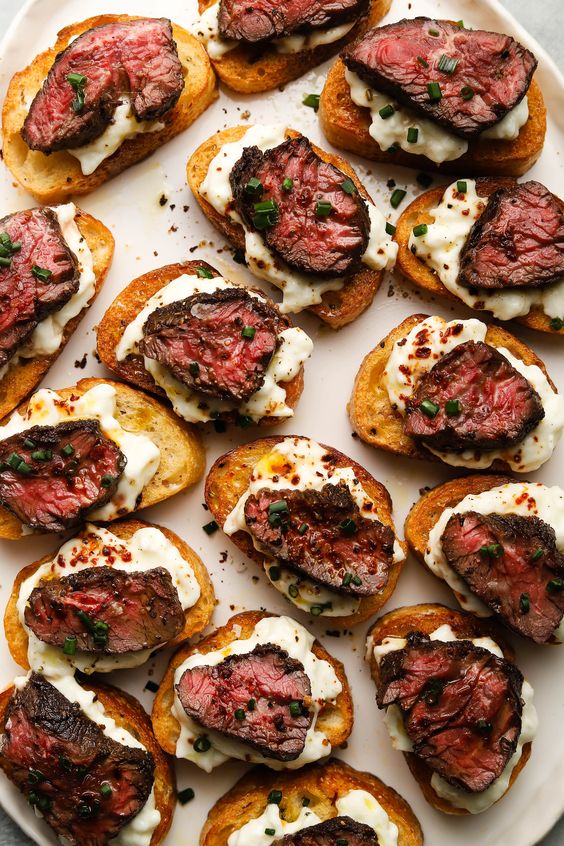 Creamy burrata atop garlicky sourdough toasts, paired with impeccably cooked hanger steak, a sprinkle of pepper flakes, fresh chives, and a tantalizing balsamic vinegar drizzle. The harmonious combination of flavors in this dish is exceptional! It's a low-effort appetizer that yields a delicious reward and presents itself with impressive elegance.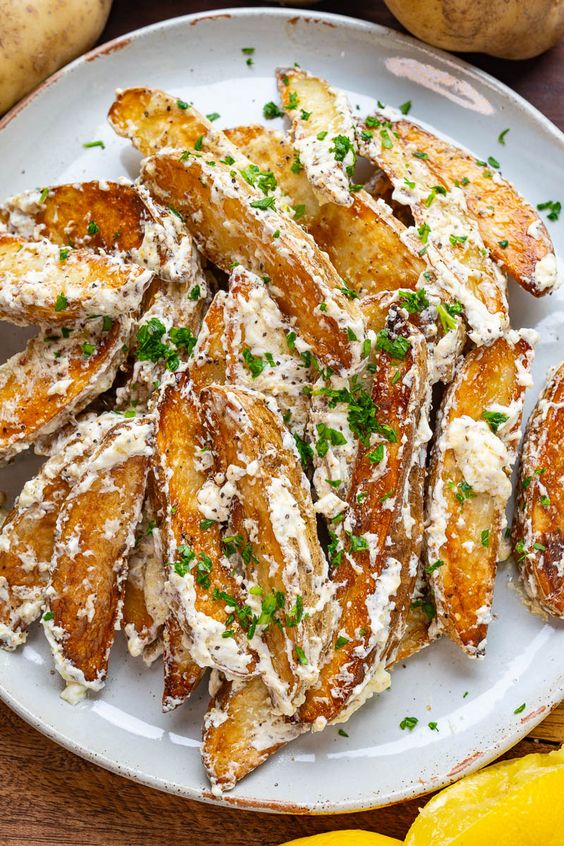 This recipe brings together the crunch of roasted potato wedges and the creaminess of melted goat cheese, all enhanced by a zesty lemon Dijon vinaigrette! Making this appetizer is as simple as roasting the potatoes and drizzling on the dressing while they're still warm! You can enjoy these delights fresh from the oven but they also reheat beautifully for later enjoyment.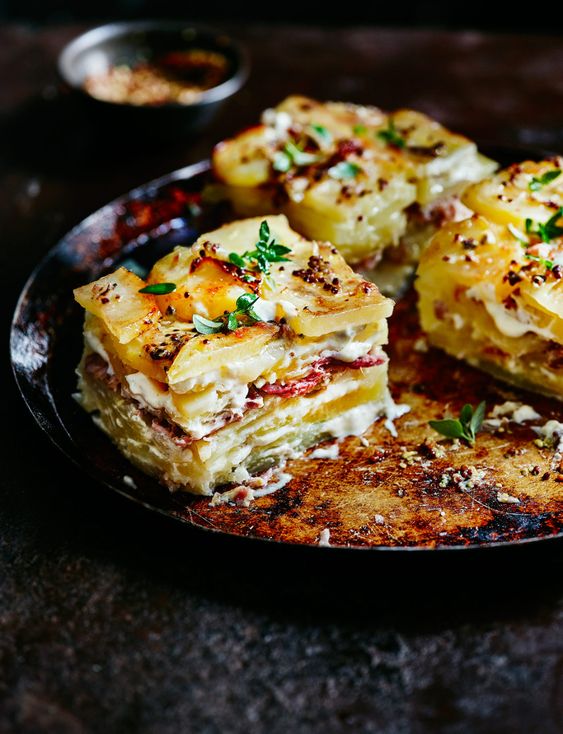 Elevate your Dauphinoise with the delightful twist of ham hock and a touch of mustard. Vivaldi potatoes are the ideal choice for this recipe, thanks to their creamy texture and exceptional ability to maintain their shape.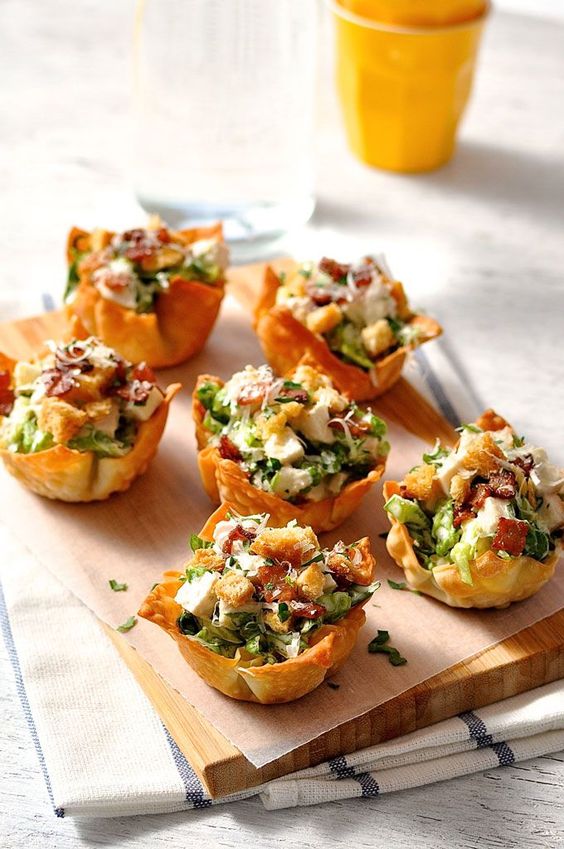 I'm obsessed with anything bite-sized! They're just so easy to hold and even easier to eat! The best part? These miniature wanton cups let you hold more of them in your hand to munch on during the festivities!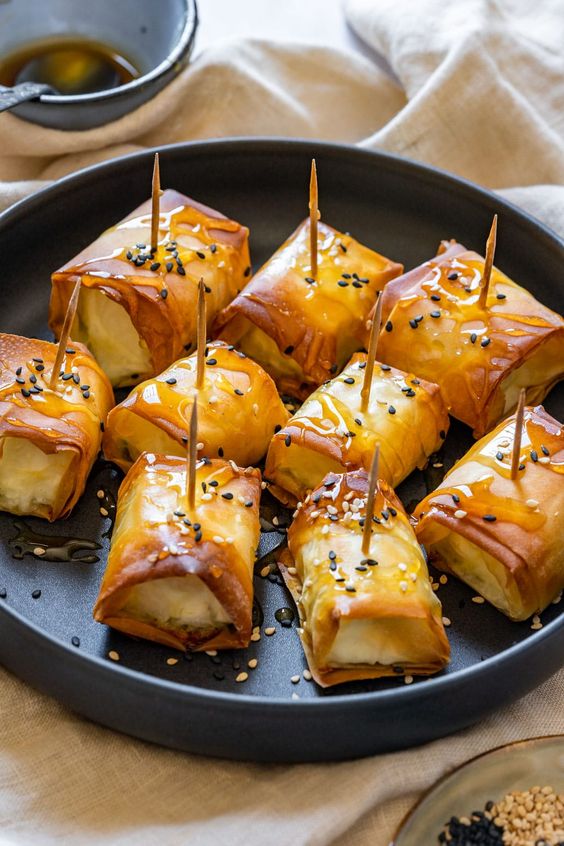 These baked feta bites wrapped in delicate phyllo pastry are delightful, bite-sized appetizers suitable for any holiday party. A gentle drizzle of honey counterbalances the cheese's saltiness. But it will also elevate these bites to a whole new realm of flavor!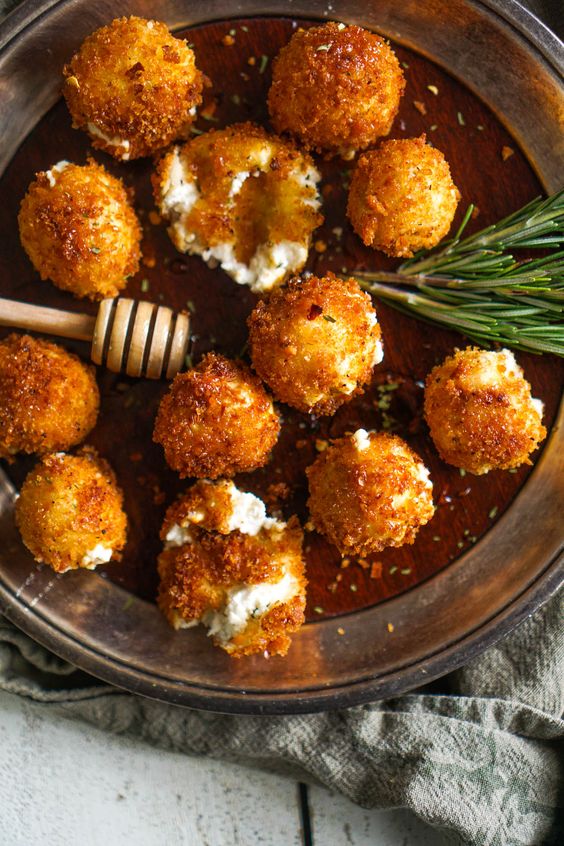 I love anything cheese, so be prepared to see a lot of recipes here incorporating cheese. That said, elevate goat cheese with the infusion of honey and tarragon. Shape them into a ball before frying them to a crispy, golden perfection. After that, finish it off with an additional drizzle of honey and a hint of red pepper.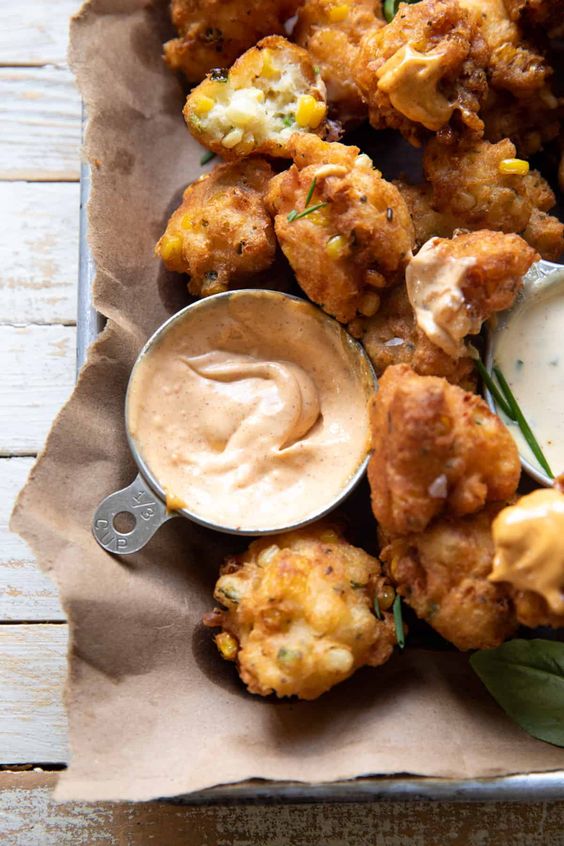 For a quick and delightful appetizer, whip up a batch of Jalapeño Cheddar Corn Fritters with Chipotle Aioli. These fritters are not only crispy but also carry a hint of spiciness. In under 30 minutes, you'll have a platter of golden, crispy corn fritters, infused with the flavors of jalapeño, garlic, and chive.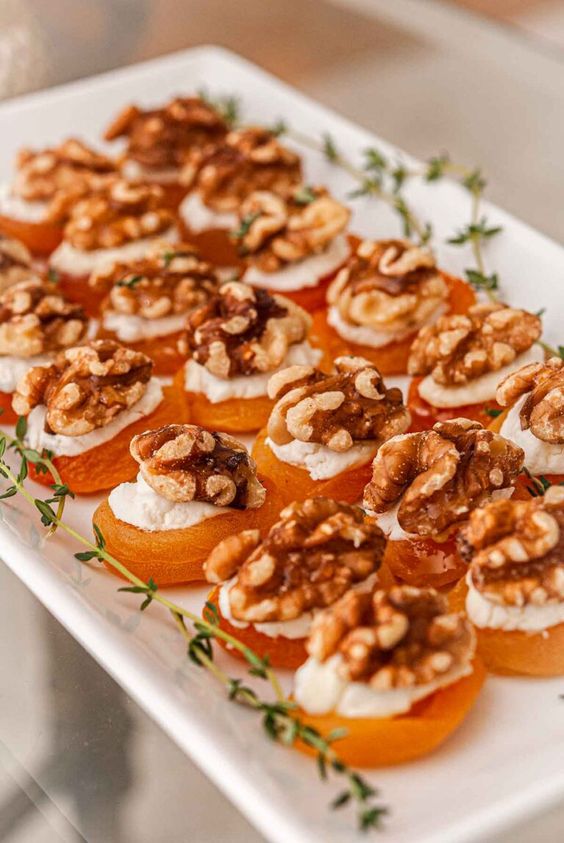 Elegance meets simplicity in these apricot appetizers. They're adorned with goat cheese, walnuts, and a luscious drizzle of honey. With just four ingredients, they are the epitome of easy yet flavorful appetizers. These are the ideal hors d'oeuvres for adding a touch of vibrancy to your Christmas, New Year's Eve, or any festive gathering.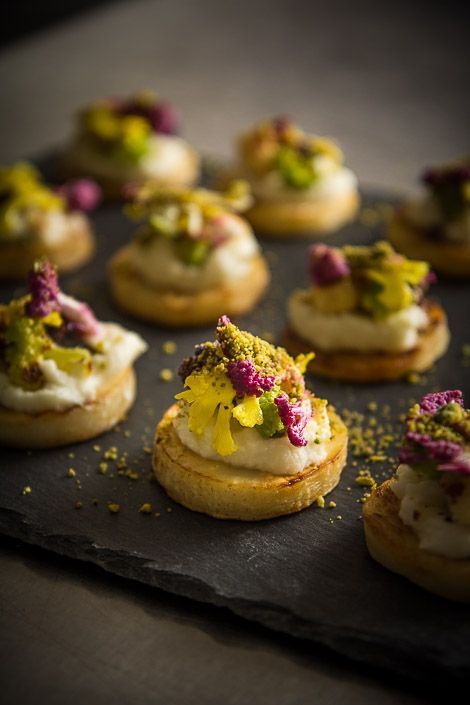 This plant-based masterpiece combines tender celeriac medallions with a luxurious truffled puree and an array of perfectly roasted and pickled cauliflower.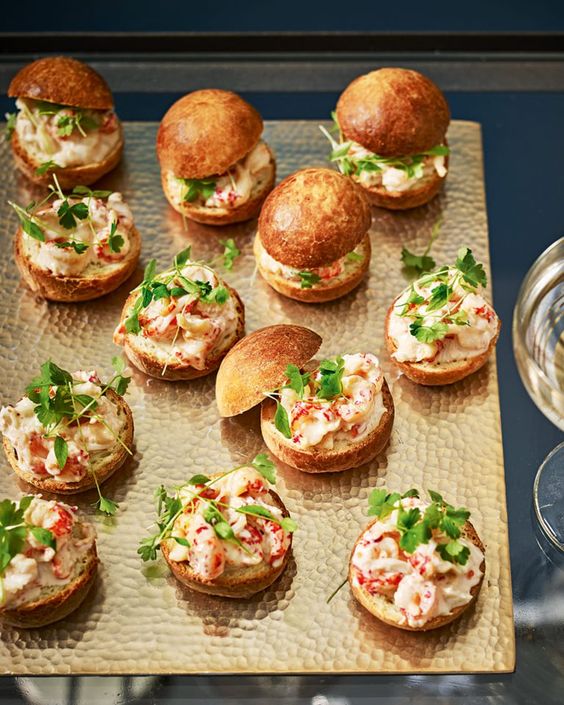 This recipe puts a twist on the classic seventies prawn cocktail. Try out these delicious crayfish and crab brioche bites. To save time in the kitchen, consider using a cutter to create perfect circles from a store-bought brioche loaf.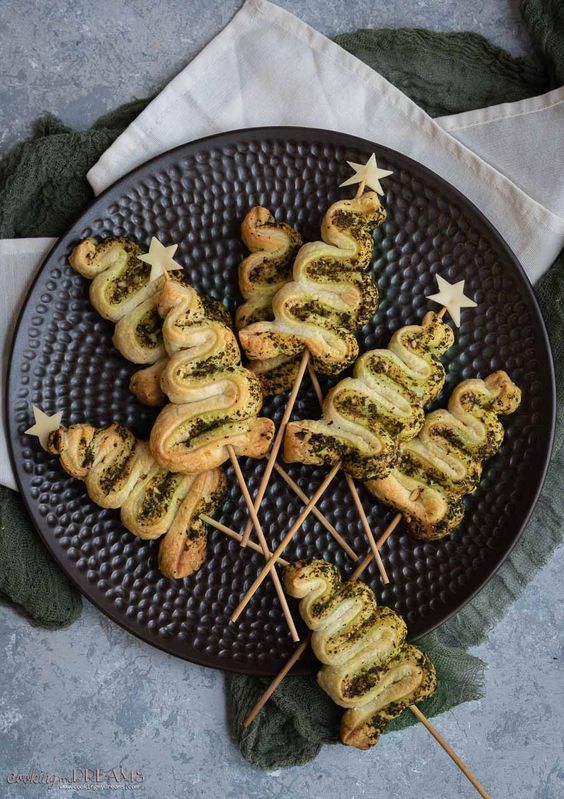 Get into the holiday spirit with these adorable Christmas Tree-shaped appetizers! These Pesto Puff Pastry Christmas Trees are not only cute but also offer a delightful crunch and an explosion of flavor. They make the perfect Aperitivo for your holiday gatherings. Even better complemented by a glass of white wine or Prosecco.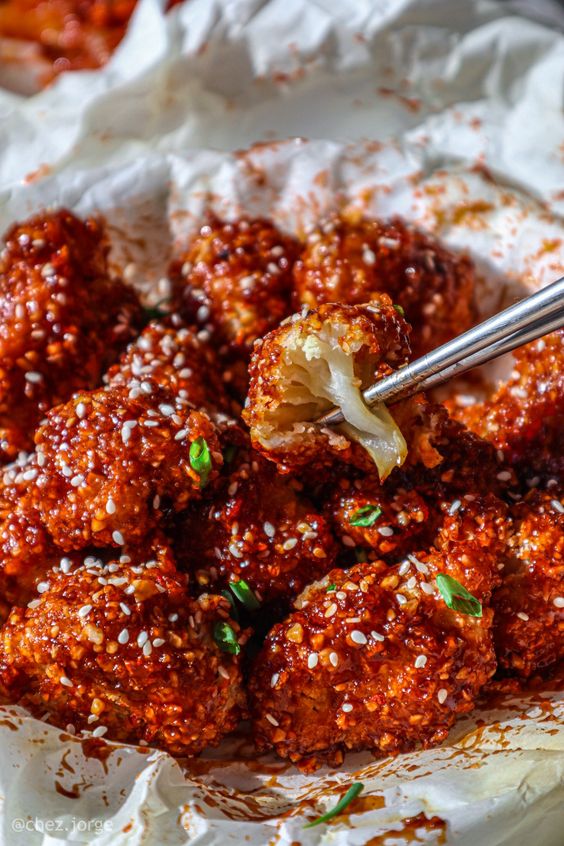 Drawing inspiration from the flavors of pub-style Korean Fried Chicken. This plant-based version is not only a healthier choice but might just be even more delicious!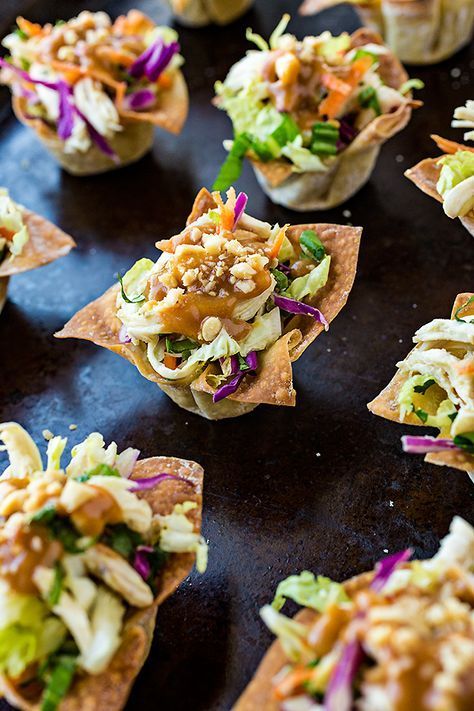 Put a summery twist to your winter festivities and parties with these Thai Chicken Salad Wonton Cups!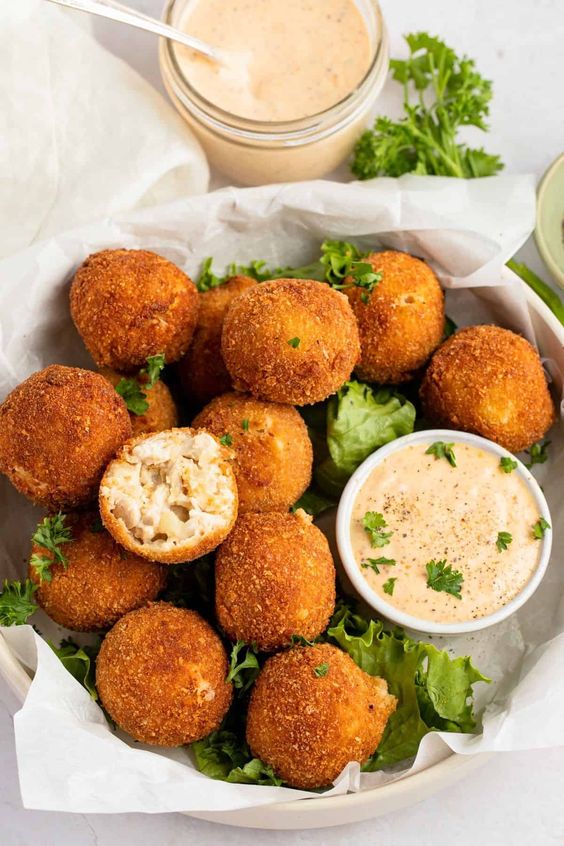 Chicken nuggets are fun and all but these chicken croquettes are next level! They boast a delightful crisp outside and a tender inside.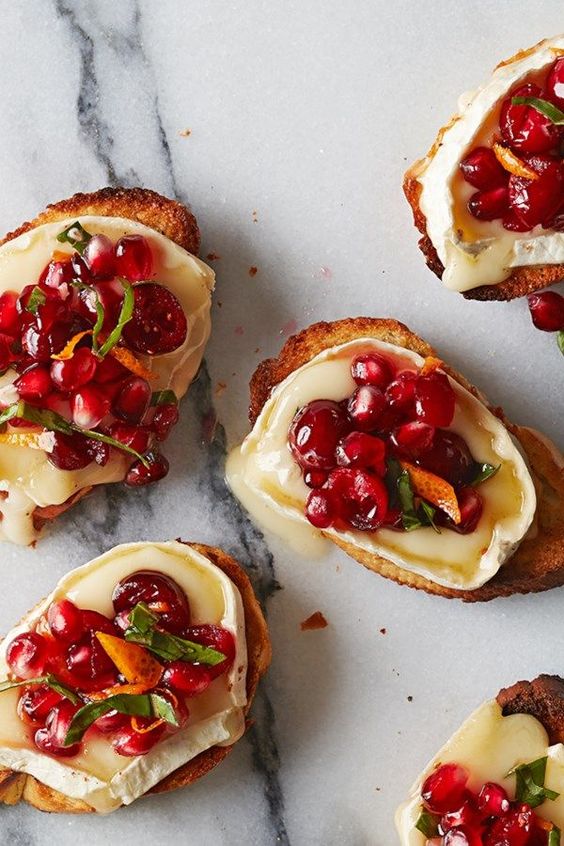 Craft this easy yet festive appetizer to delight your holiday guests. Take toasted baguette slices, layer them with creamy, melted brie, and finish with a luscious blend of orange-cranberry-pomegranate. With every bite, you'll enjoy a symphony of flavors and textures!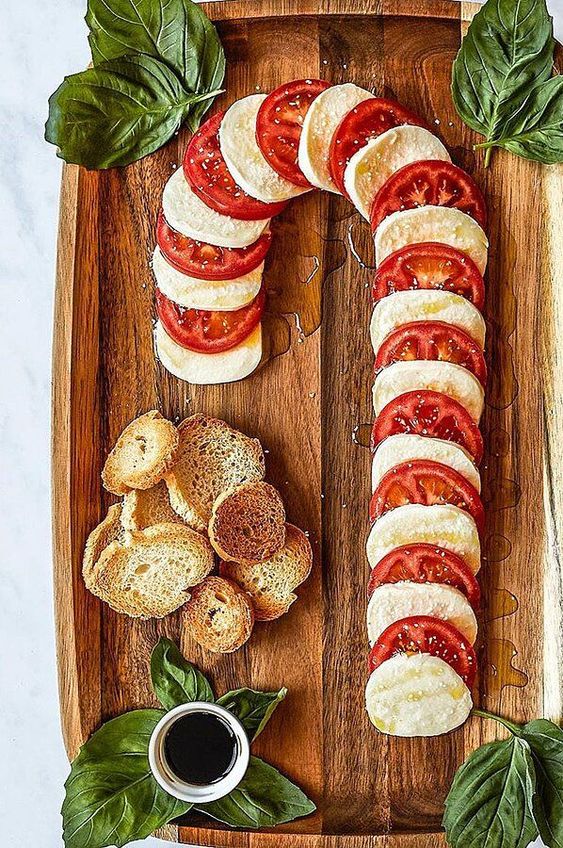 Not only does this come together with just a few simple ingredients but it's ready within minutes. This lets you cherish more moments with your loved ones instead of toiling away in the kitchen.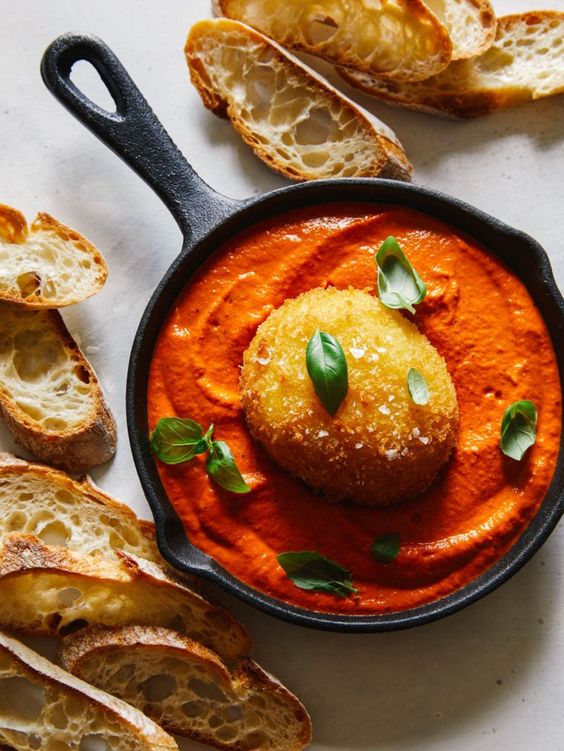 Think of this as a fancier version of mozzarella sticks! This is perfect for an appetizer before your holiday feast or as comfort food!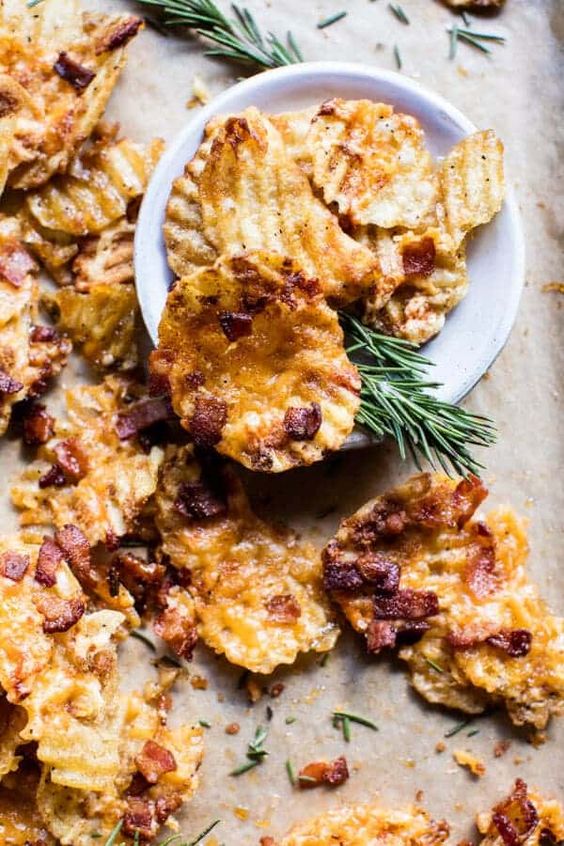 Whether you're feeling snackish or looking for the perfect finger food for your appetizer, this is for you!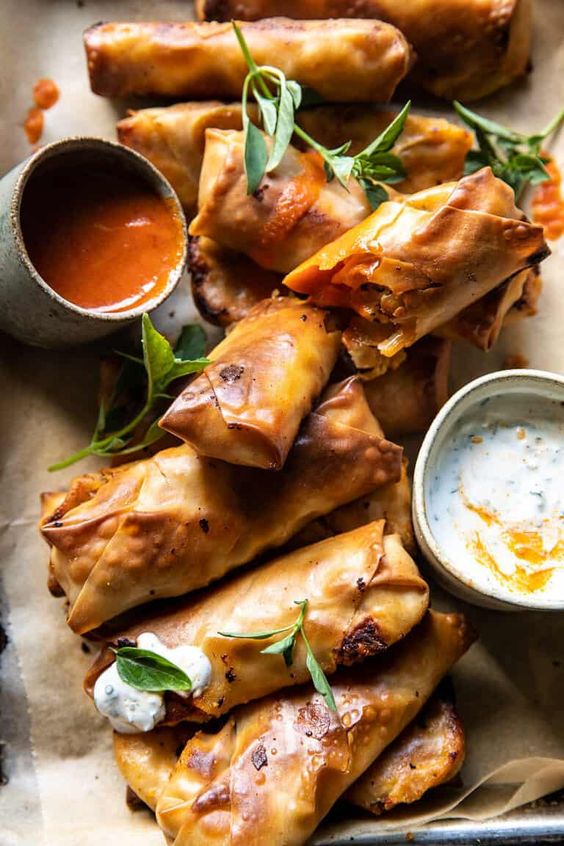 Whip up these egg rolls in just a few minutes. They boast a crispy exterior and a spicy, cheesy interior. Pair them with a delectable cilantro lime ranch dressing that's both creamy and salty. Don't forget the extra dash of buffalo sauce for that perfect finishing touch!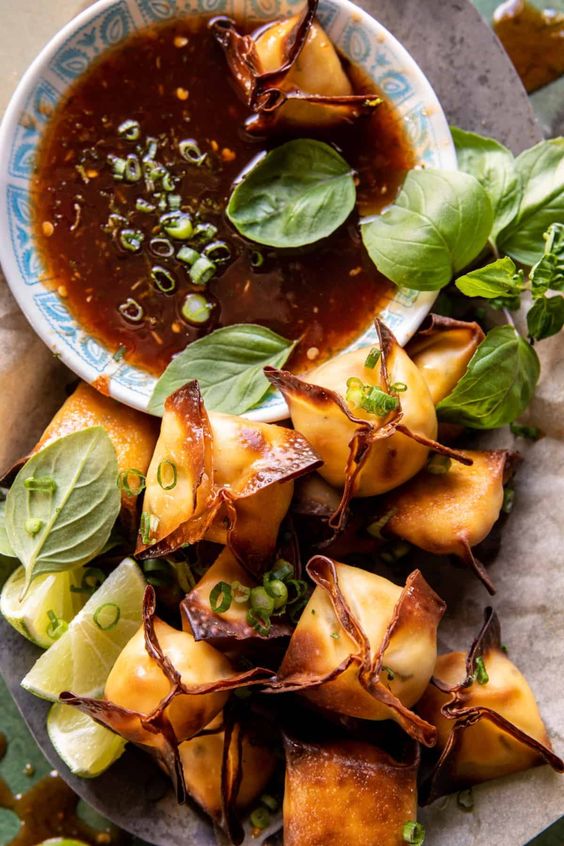 Crafted with care, these cheese rangoons are baked to crispy perfection. With a satisfying crunch on the outside and a creamy interior, these delectable treats become so irresistible when generously dipped into a homemade chili sauce.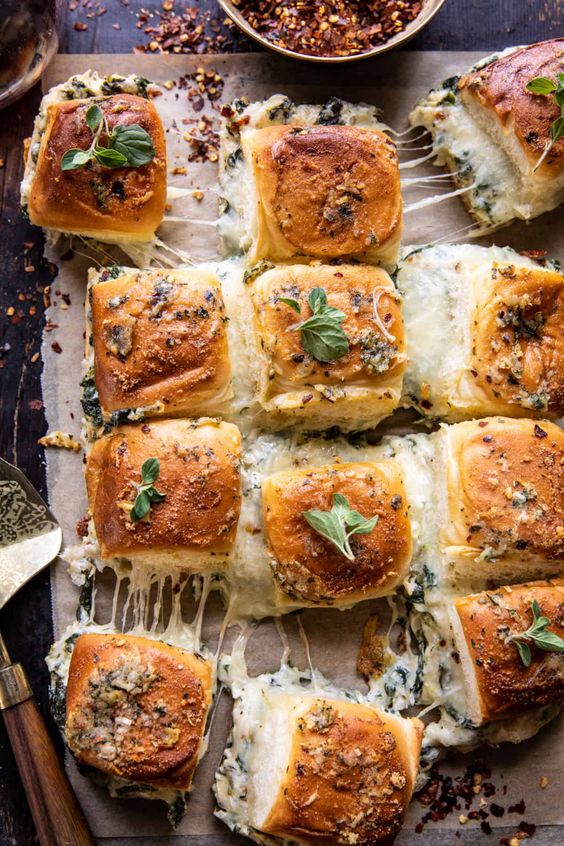 Enjoy these fun Pull Apart Garlic Butter Spinach and Artichoke Dip Sliders! It's perfect for both game day and holiday parties. These sliders are like soft dinner rolls filled with homemade spinach and artichoke dip. They're cheesy inside and have a golden toasty exterior with a tasty roasted garlic butter topping.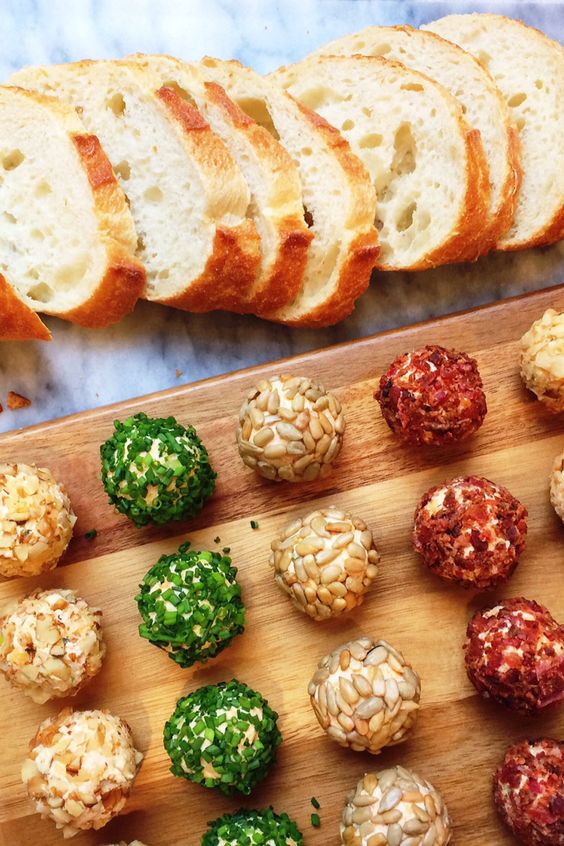 Get festive with these mini cheese balls! They're a delightful holiday starter that's a breeze to make and can be rolled in various tasty coatings. Short on time? No worries! Prepare and shape the cheese ball bites (without coatings) up to two days in advance.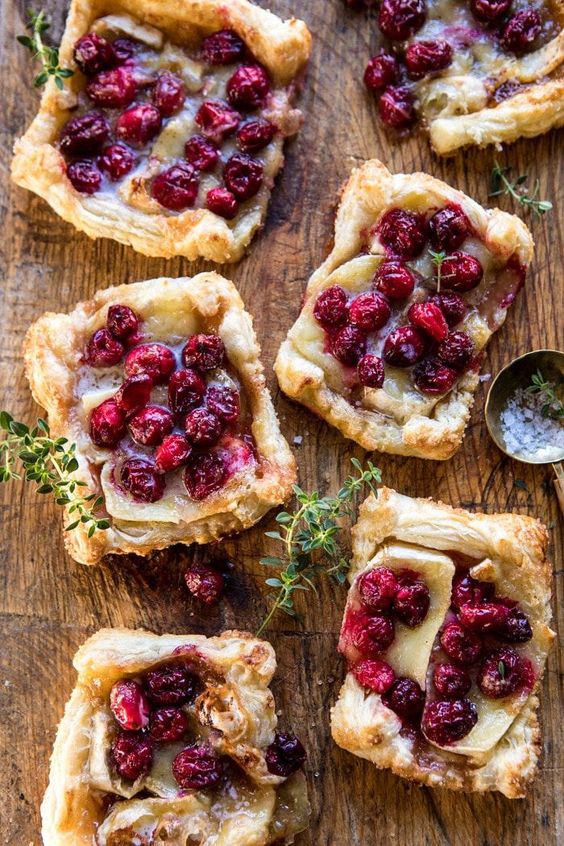 Bake together puff pastry, creamy brie, and fresh cranberries. You'll get delectable mini tarts filled with cheesy goodness. Top each tart with a sprig of fresh thyme to create a festive appetizer that's ideal for holiday gatherings.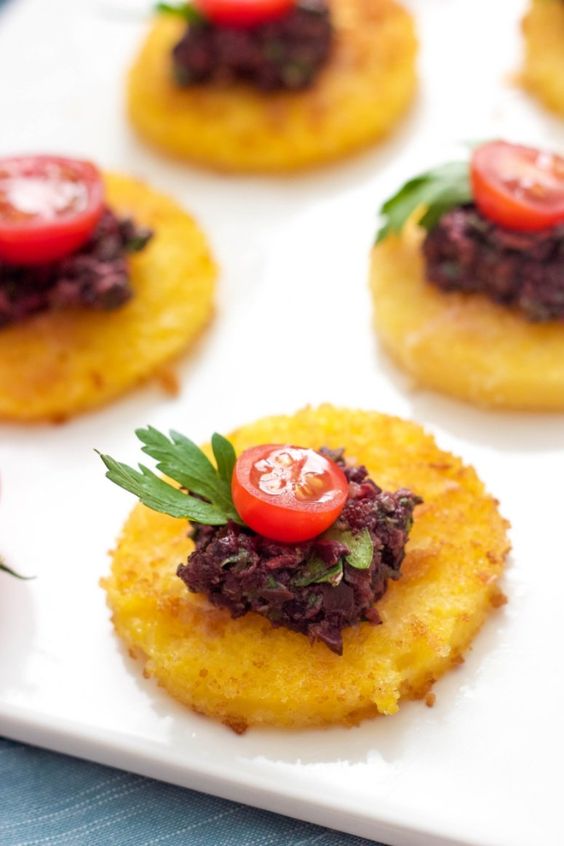 For a quick 30-minute vegan appetizer, try these Polenta Bites. Crispy fried tubed polenta is topped with a zesty Kalamata Olive-Caper spread. This creates a simple and delectable crowd-pleaser.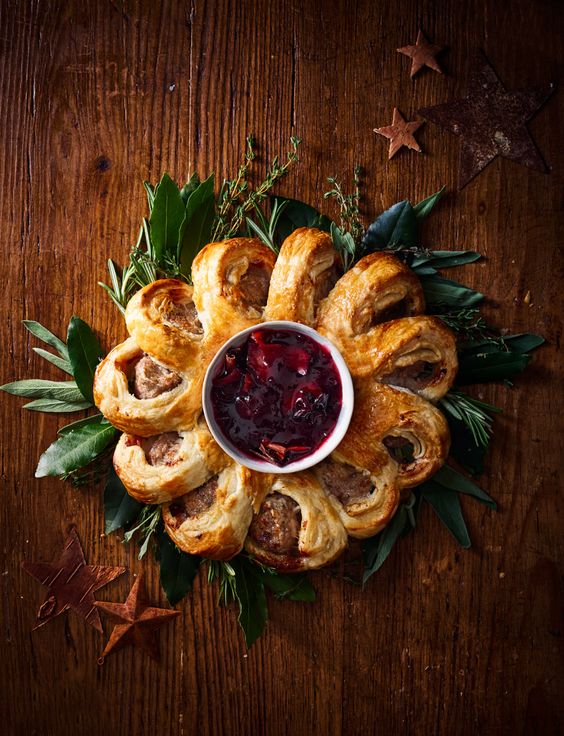 Sausage rolls are always a hit. But this tear-and-share version serves as a fantastic party centerpiece. Customize it with your choice of bay leaves, rosemary, thyme, and sage sprigs for a delightful presentation.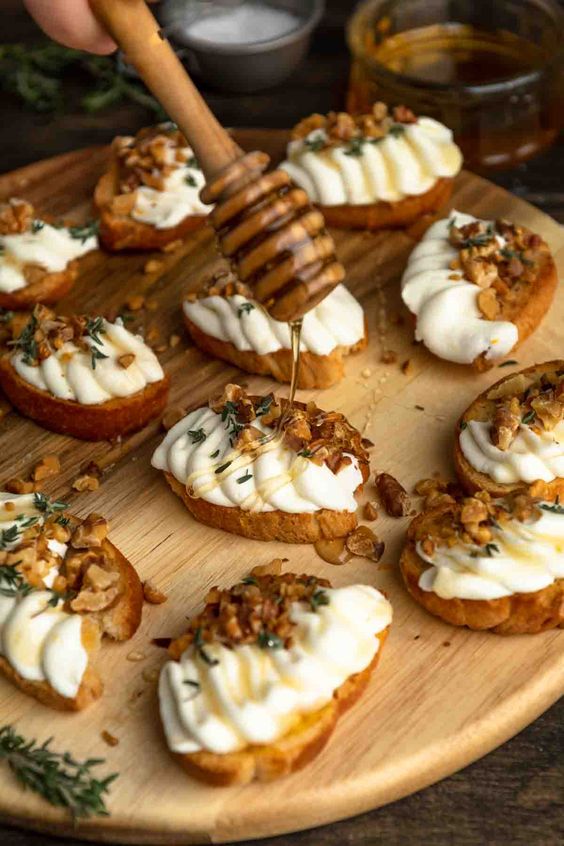 These bite-sized party toasts offer an effortless appetizer solution. They feature whipped ricotta with lemon on crispy crostini, adorned with toasted walnuts, a drizzle of honey, and a sprinkle of flaky salt, resulting in a simply divine combination.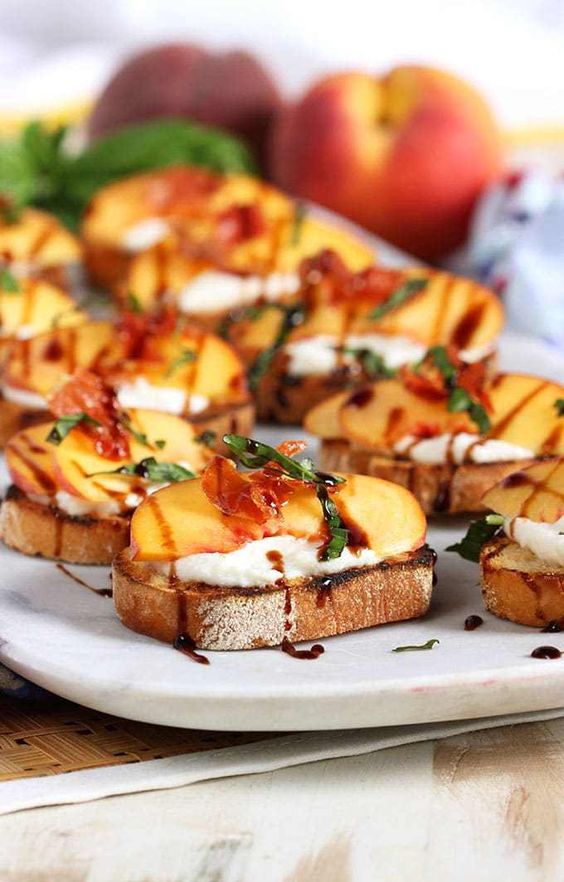 This Honey Ricotta Peach Crostini and Crispy Pancetta is the summer flavor you're looking for on your appetizer menu. Without a doubt, this is a versatile crowd-pleaser that will be a hit throughout the holiday season!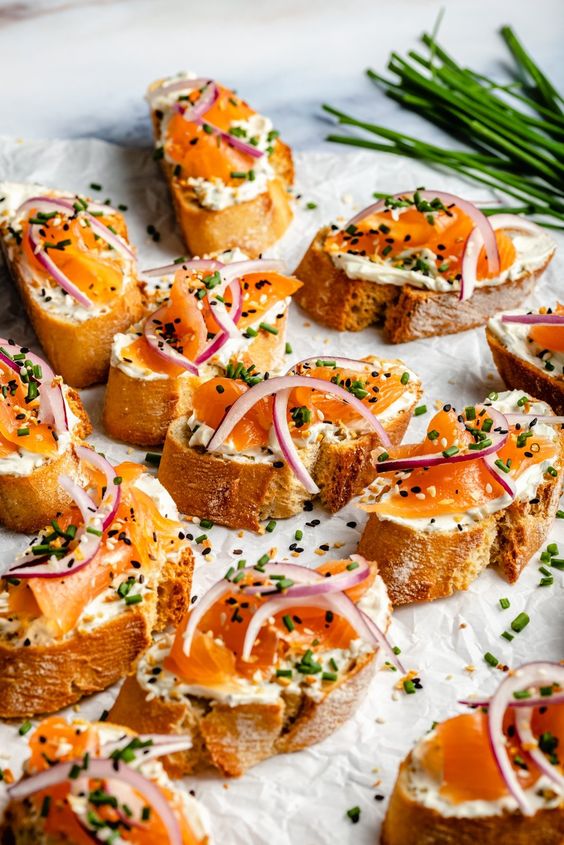 Enjoy delectable smoked salmon crostini during your holiday parties. It's a simple yet fantastic appetizer or snack for your guests. Perfect for brunch and ready in just 20 minutes.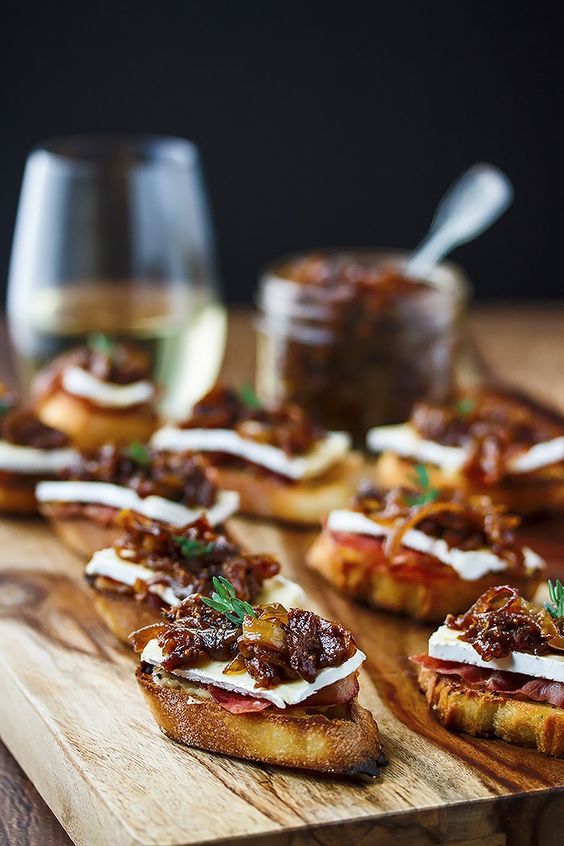 Elevate your appetizer game with this recipe! A sweet and savory onion and fig jam paired with creamy brie, crispy prosciutto, and roasted garlic, all atop buttery toasted crostini.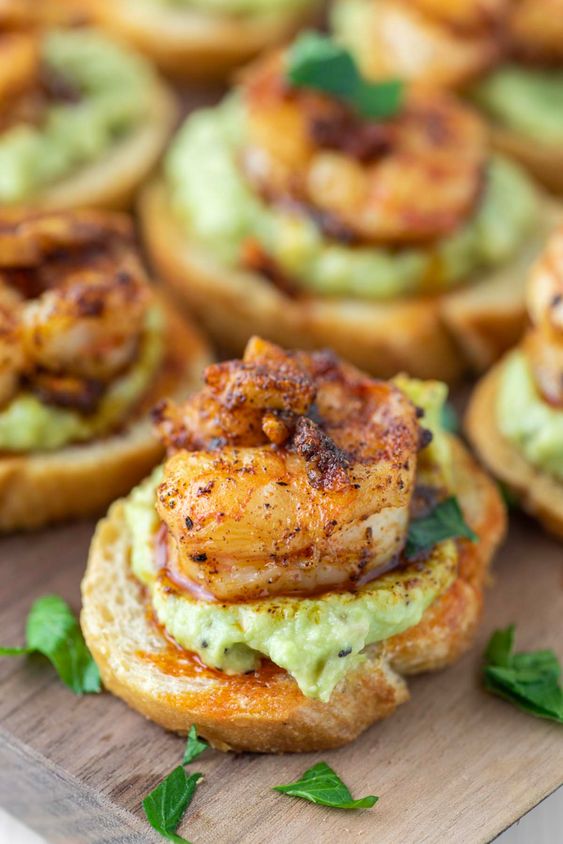 These garlic shrimp crostini with avocado are the ideal bite-sized appetizers for any gathering or party. They're a hit wherever you take them!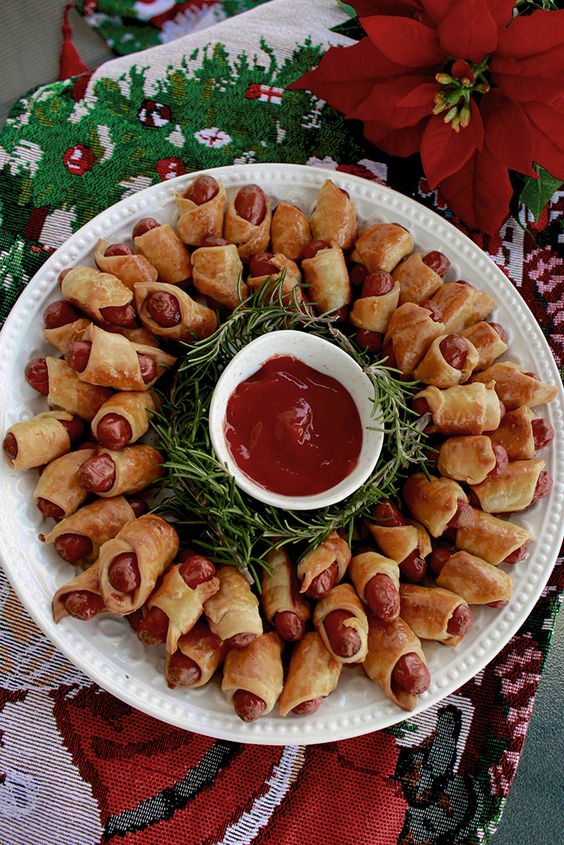 Hotdogs wrapped in dough, baked and arranged in a holiday wreath. I can't think of an appetizer as festive as this!
Whip up these ultra-festive bacon jalapeño popper cheese balls in just 10 minutes. Your guests will relish spreading these delectable appetizers on toast or crackers! Be sure to prepare extra batches of these cream cheese balls as they'll disappear quickly from your table. They're an absolute crowd-pleaser for the holiday season!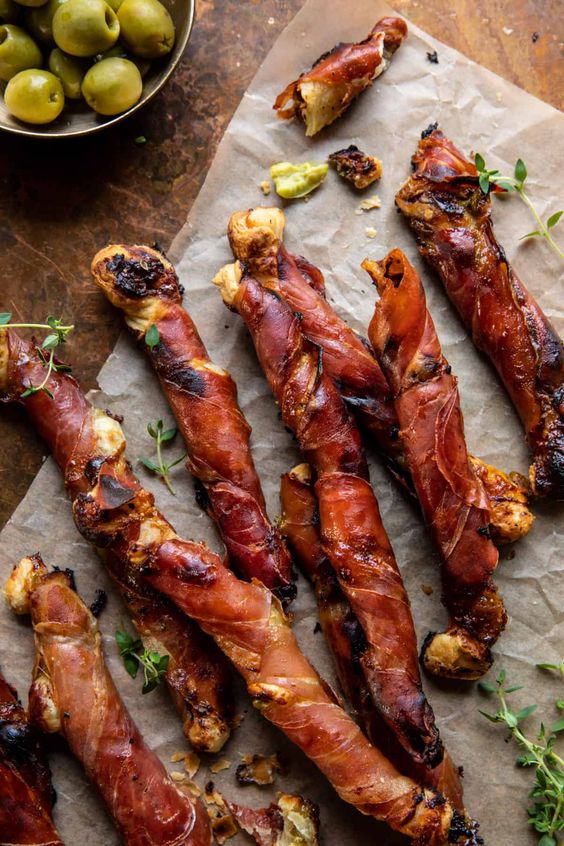 These quick and easy twists are a universal favorite! Take flaky puff pastry, twist it with cheese and olives, wrap it in salty prosciutto. Afterwards, bake for an irresistibly addictive, festive treat.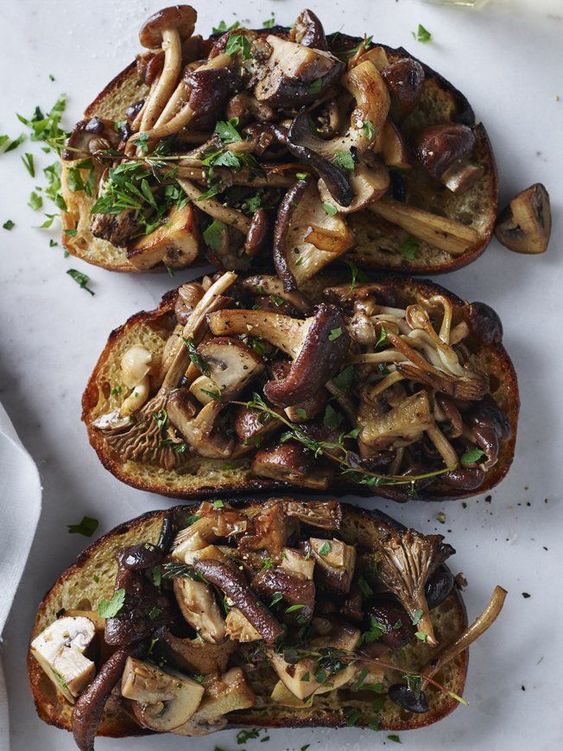 Elevate wild mushrooms with aromatic truffle butter. A versatile dish for your sides or paired with your main course.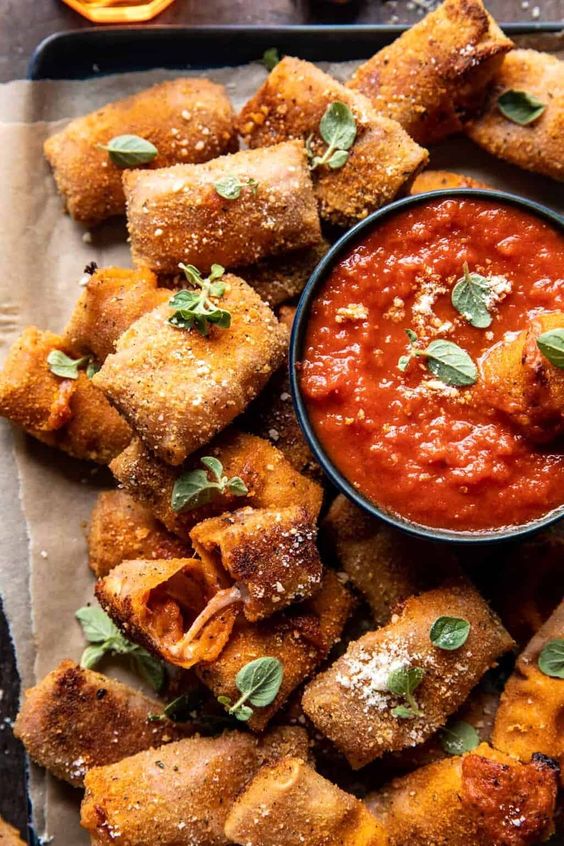 Make yummy Homemade Cheesy Pizza Rolls for your holiday feasts. Stuffed with cheese and marinara, coated with breadcrumbs, and baked to perfection. Cheesy inside, golden outside, and ideal with spicy marinara sauce!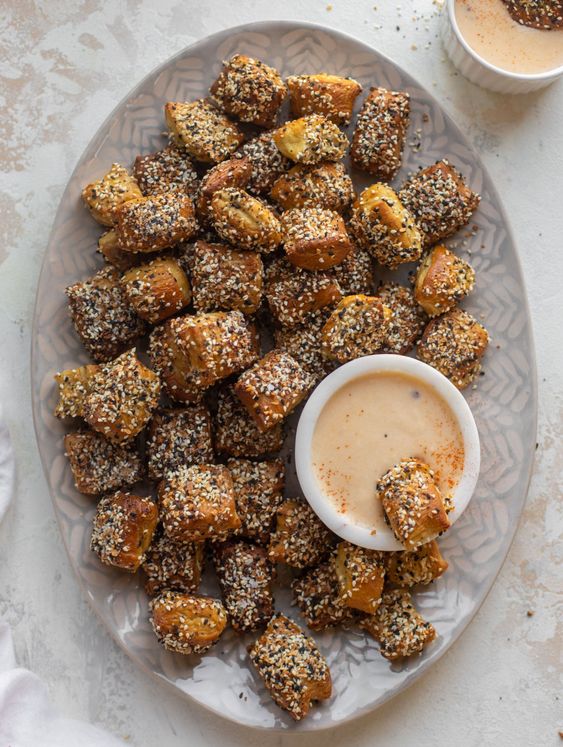 Savor soft and chewy everything soft pretzel bites. Pair with chipotle cheddar beer cheese dip for a heavenly combination.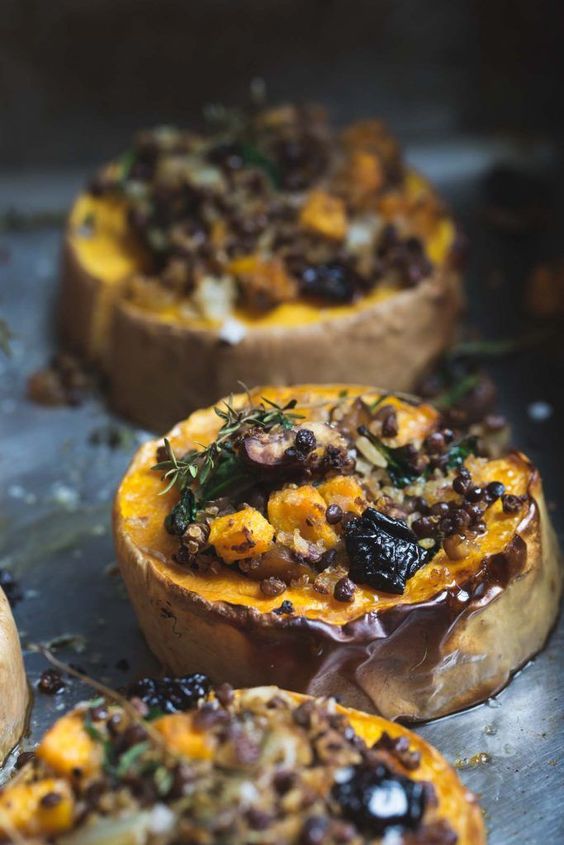 Enjoy this vegan and gluten-free Christmas appetizer recipe. It's oasted butternut squash with spiced chestnut, quinoa, lentil stuffing, and dried cranberries.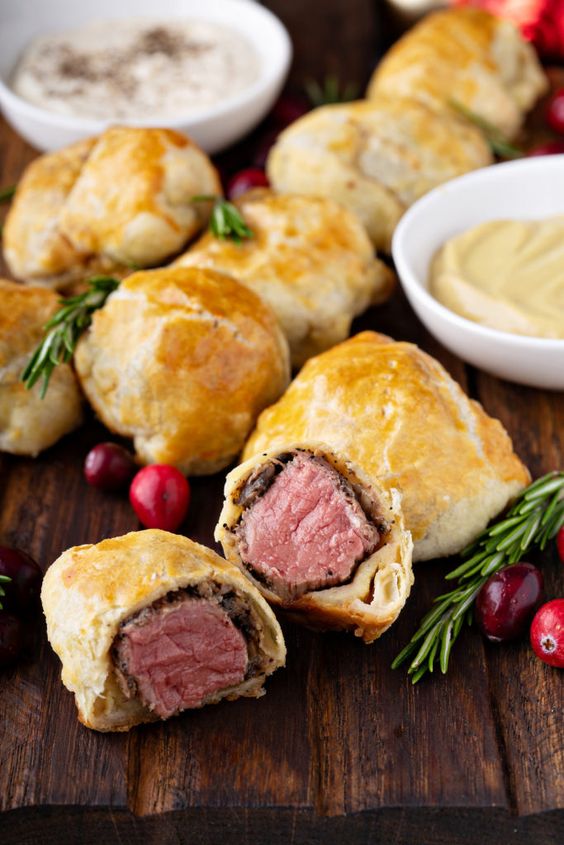 You know what's better than perfectly cooked meat? Perfectly baked puff pastry! And this recipe combines the best of both worlds!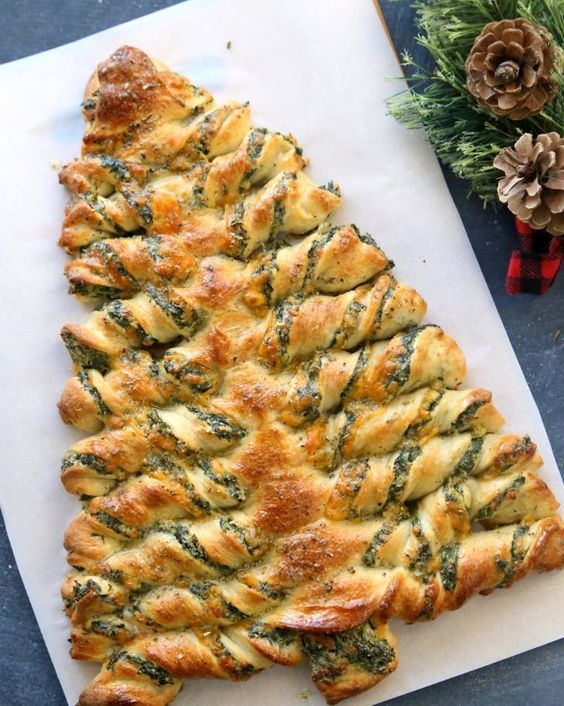 Delight in Christmas tree breadsticks, the perfect holiday party appetizer! They're stuffed with spinach dip and topped with garlic butter for a savory flavor.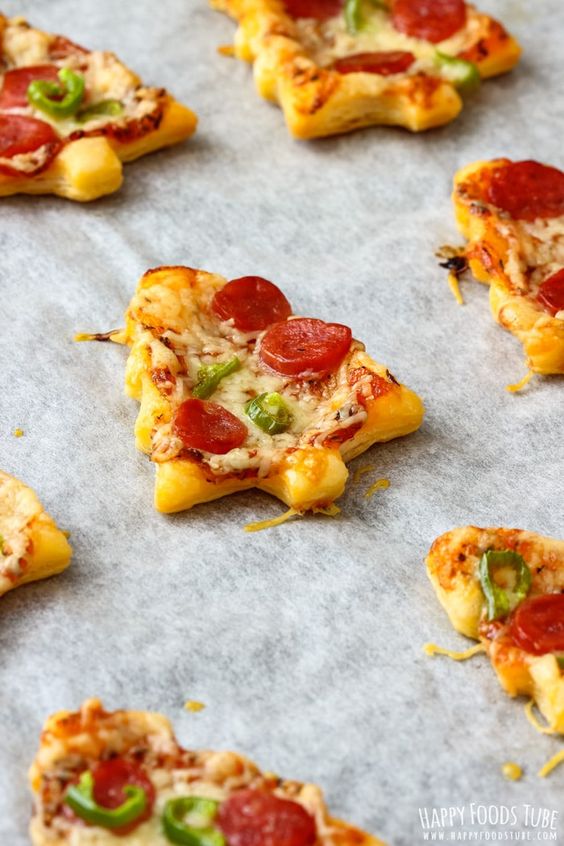 Who doesn't love pizza? If you're looking for the ideal appetizers to satisfy your guests, these mini pizzas won't do you wrong!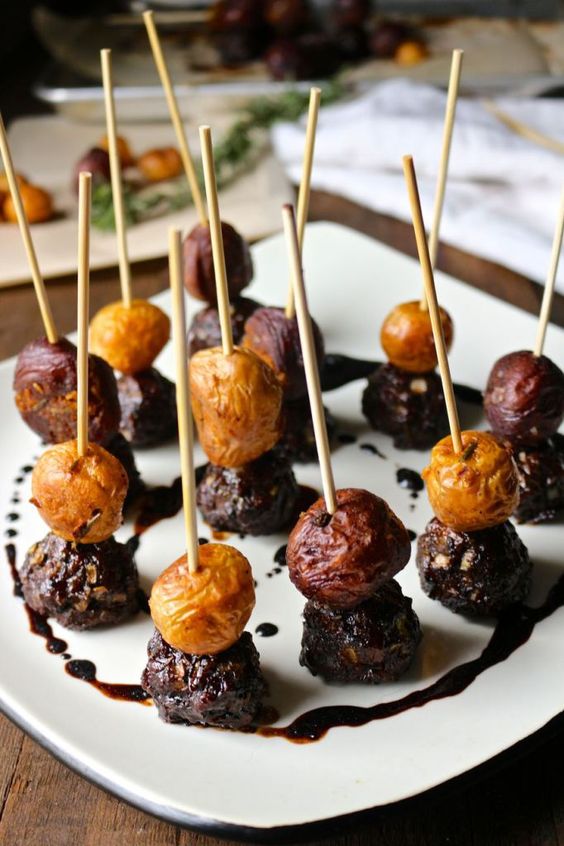 These meatballs are little bites of heaven! If your guests love their meat as much as I do, then they'll surely fall in love with these!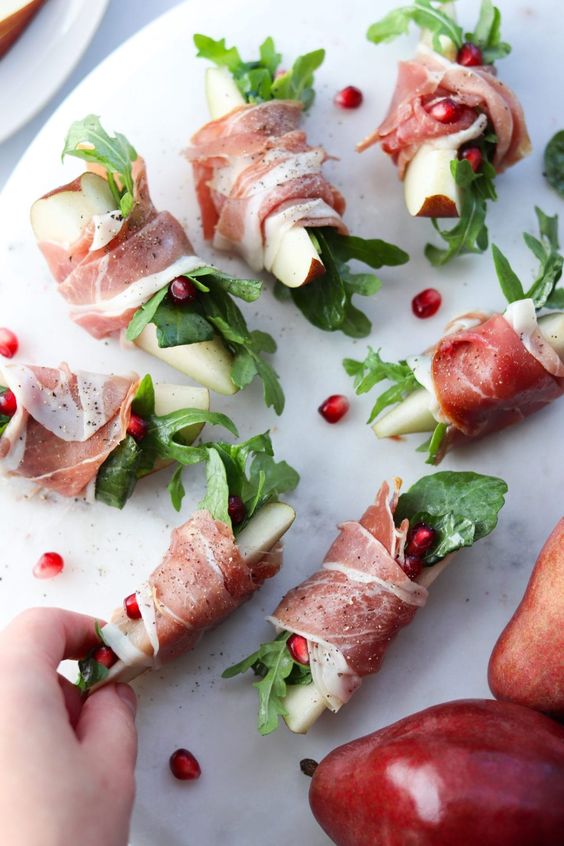 Try these no-cook Prosciutto Pears with Arugula Salad at your next holiday gathering. Vegan and completely gluten-free, they're healthier alternatives to other dishes on this list.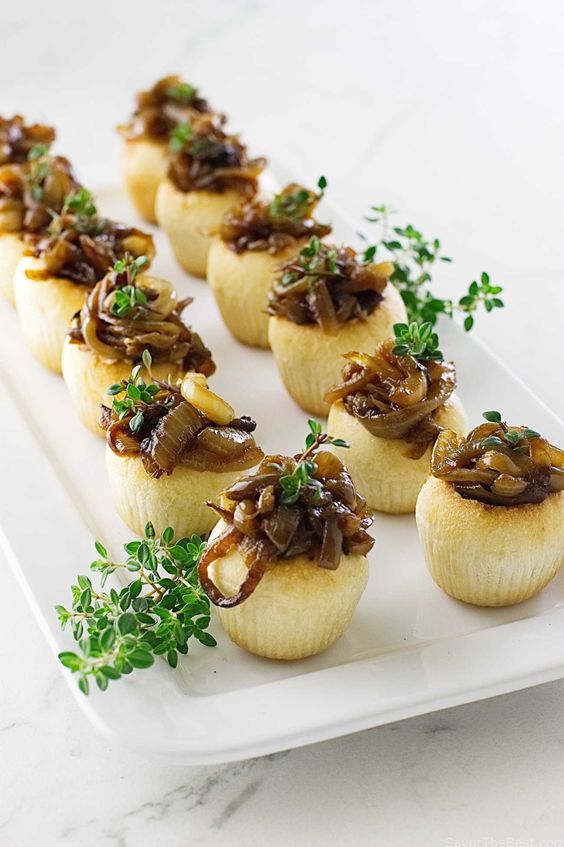 Enjoy the taste of French Onion Soup with this savory recipe. Caramelized onions, fresh thyme, and creamy gruyere cheese make this appetizer a delicious twist on a classic.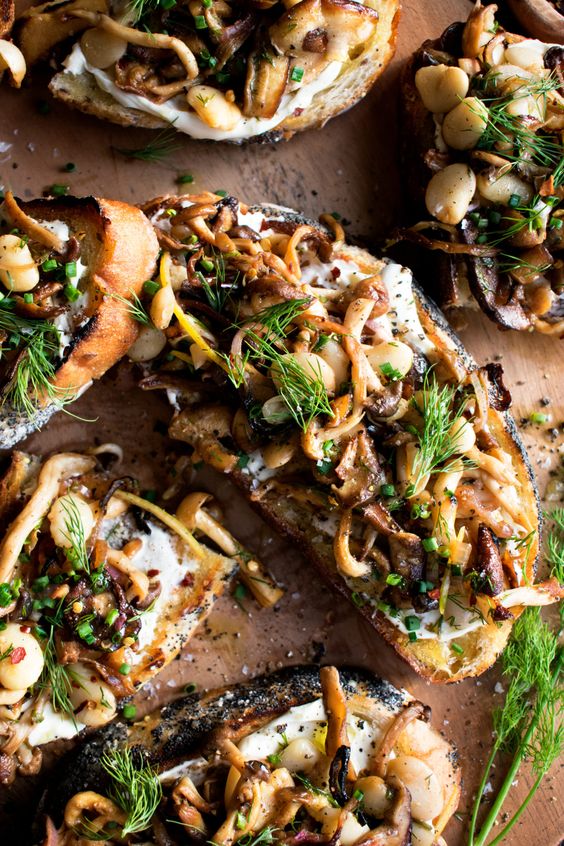 This recipe makes the ultimate comfort food and the ideal addition to your appetizer menu. Toasted bread, creamy mascarpone cheese, caramelized mushrooms and shallots, butter beans. You also get lots of flavor from lemon, balsamic vinegar, crushed red pepper, and herbs.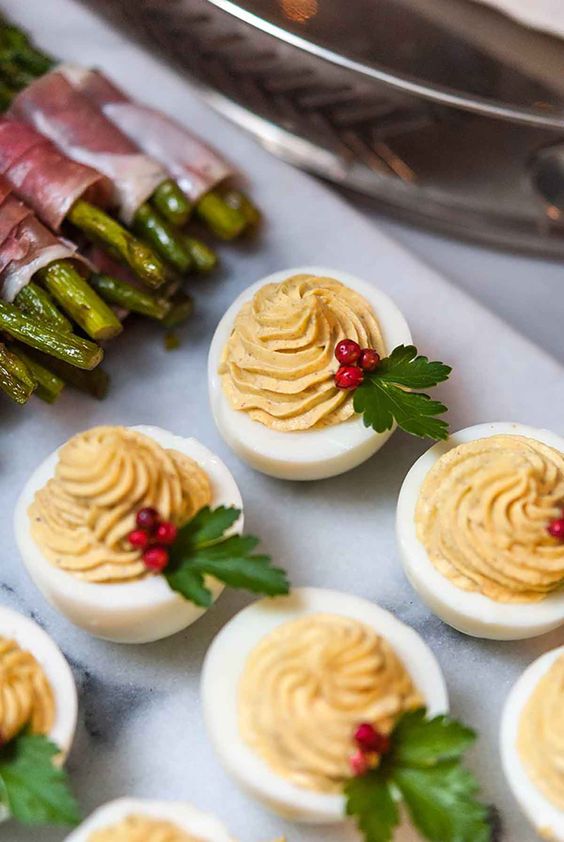 These festive Christmas deviled eggs are not only cute but also really tasty. Transform them into jolly little snacks with a touch of pink peppercorns and parsley leaves.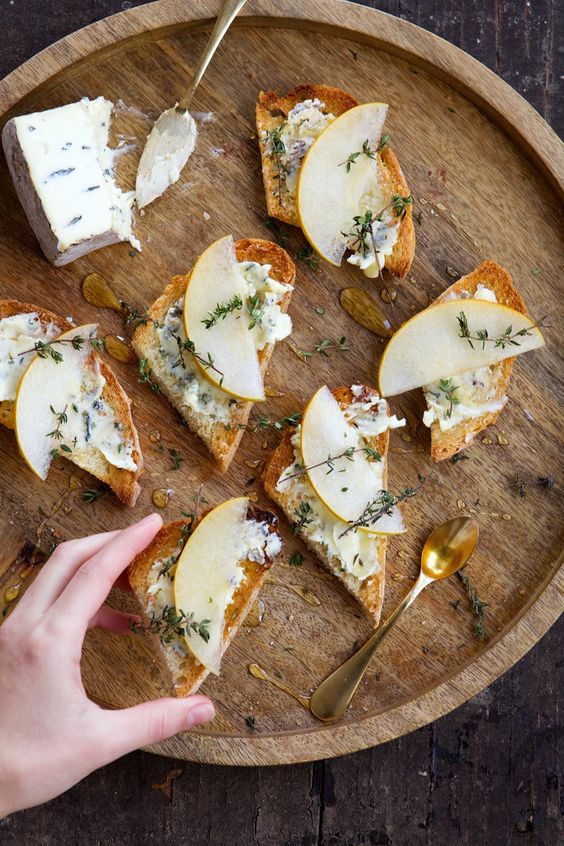 Share the perfect bite with family and friends with creamy cambozola cheese, crisp Asian pear, and thyme sprigs.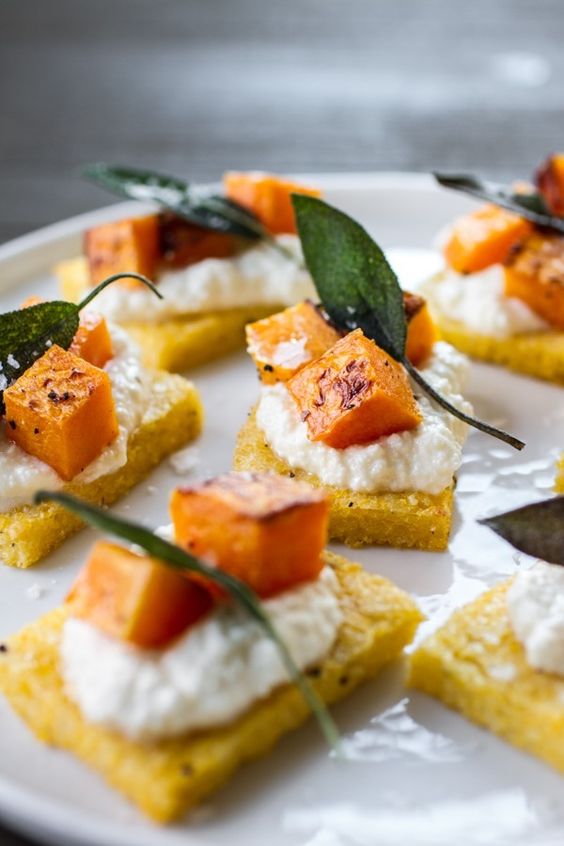 This Polenta Crostini is a bite-sized piece of heaven. The ricotta is gently sweetened with maple syrup. It enhances the natural sweetness of the butternut squash and creates a nice contrast with the savory polenta.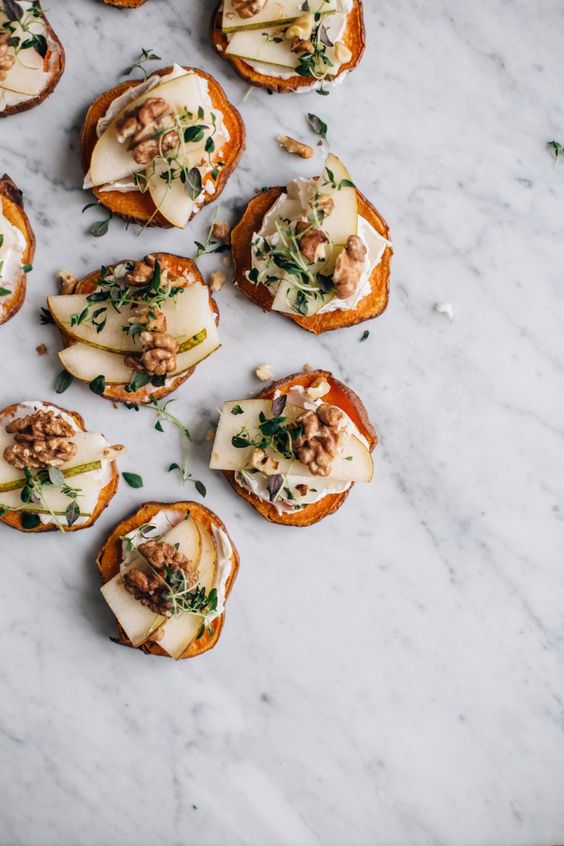 Can't get enough of crostinis? Me neither! But what can I say? They're just so versatile and practically good with everything!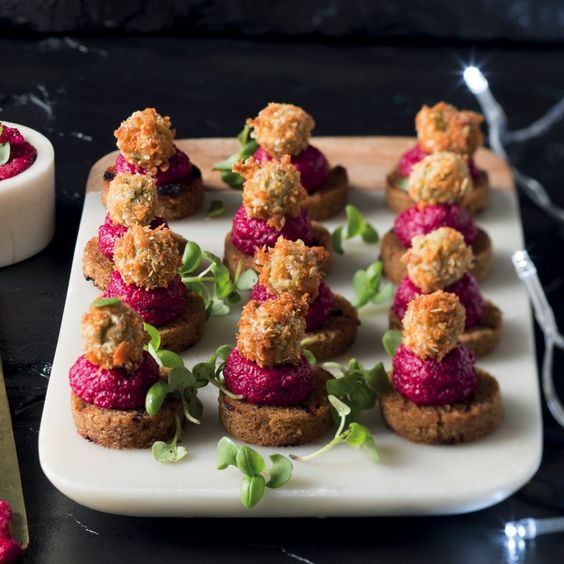 Creating nutritious treats doesn't have to be costly. Try these rye toast bites with fried olives and beetroot dip for perfect canapés on a budget.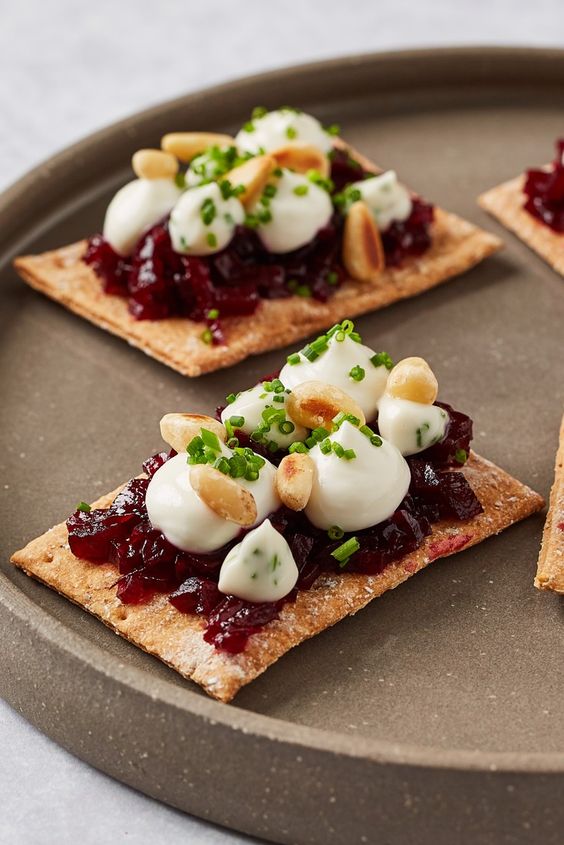 These canapés set the stage for a vegetarian dinner party during the holiday season. Spelt and fig crispbreads are made with juniper-spiced beetroot jam, whipped goat's cheese, chive mayonnaise, and toasted pine nuts.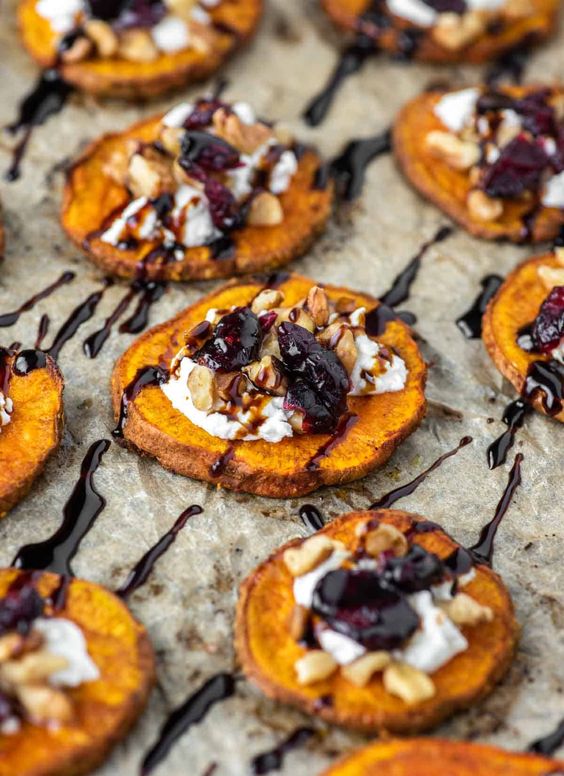 Indulge in the ideal healthy appetizer! These easy and delicious sweet potatoes with goat cheese are drizzled with balsamic vinegar and honey.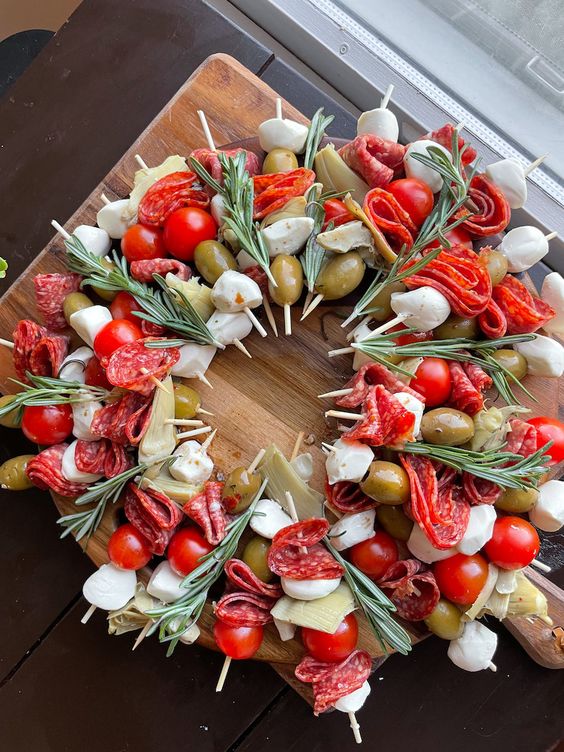 Another appetizer that'll get you into the Christmas spirit is this Holiday Wreath Charcuterie Board! These skewered delights are the perfect finger food!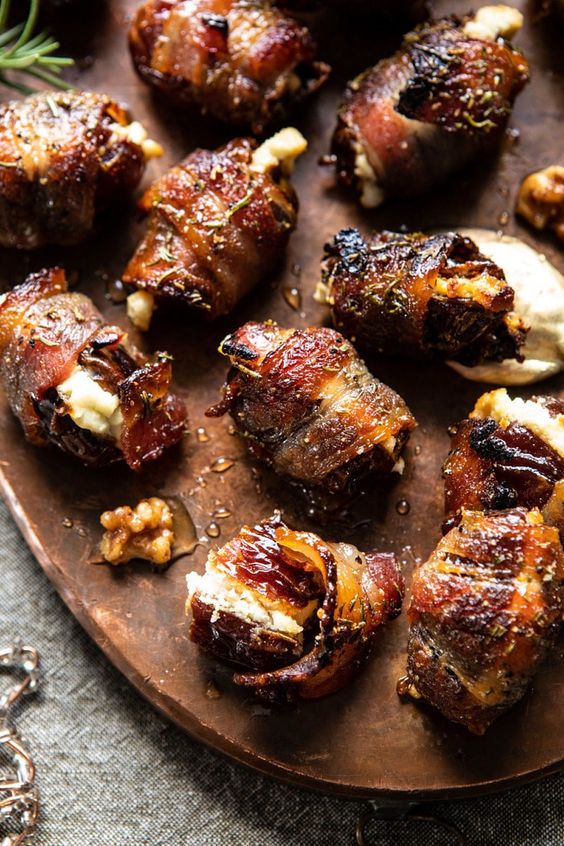 These bacon-wrapped dates are a breeze to make and a total crowd-pleaser! These sweet and savory bites are adored by all.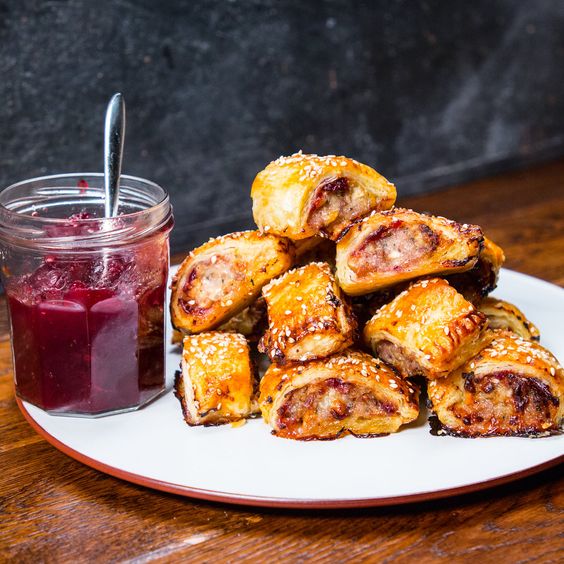 Savor the unbeatable combination of flaky pastry, tender sausage stuffing, and sticky caramelized cranberry sauce. It's simply delicious finger food for the holiday season!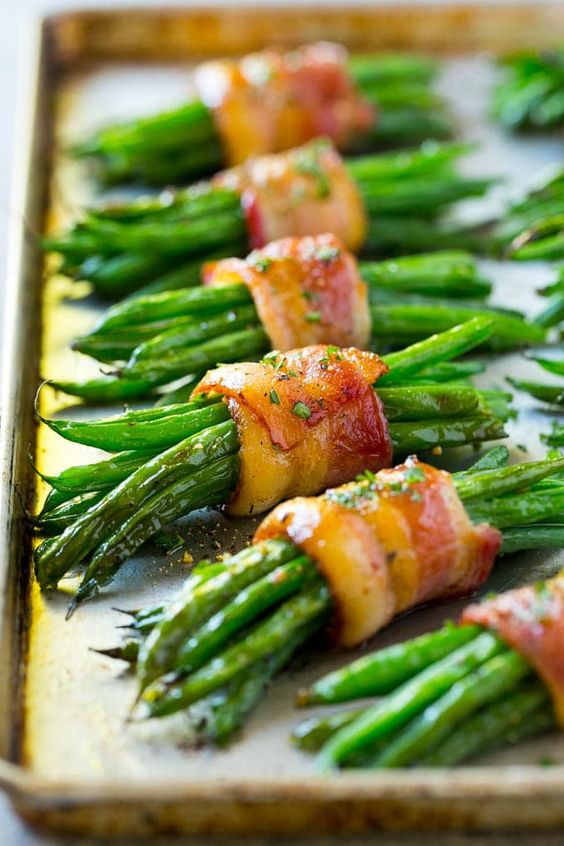 Impress your guests with these delightful bacon-wrapped green beans. This holiday season, skip the green bean casserole and opt for these flavorful green bean bundles instead!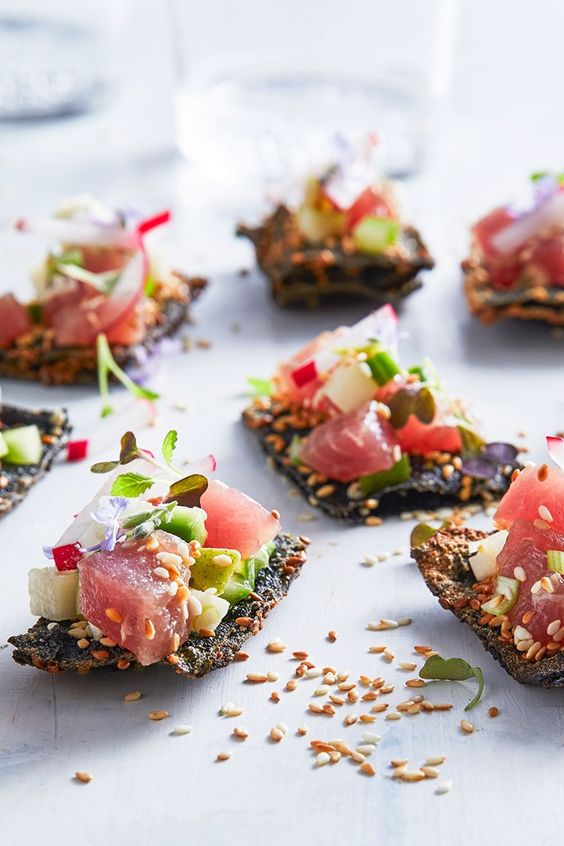 Enjoy a genius and delicious treat with this poké bowl on a crispy cracker! It's perfect for an afternoon snack or as bite-sized party food for your holiday feast!