Looking to take your style up a few levels and dress like a chic coastal grandmother this year? Here's our official guide with everything you need to know about coastal grandmother style!
What Is The Coastal Grandmother Aesthetic?
Let's begin with a look at the origins of the coastal grandmother aesthetic. The background is important to understand how the trends have shifted over time to focus specifically on the coastal grandmother.
On TikTok and other social media, the coastal grandmother aesthetic, an offshoot of Nancy Meyers chic, is trending big. It's especially popular with the millennial age group and those looking for a classy but chic summer look.
The phrase was created and coined by Lex Nicoleta on Instagram/TikTok and really took off!
Coastal grandmother recalls the clean and classic style of wealthier women living on oceanfront properties, such as Diane Keaton in Nancy Meyer's Hamptons film, Something's Gotta Give.
Coastal grandmothers wear cashmere and linen, enjoy gardening, and take leisurely strolls on the beach when it's a little windy. They sip white wine while reading on their wraparound front porches. These are women who make fresh backyard food with food from the local market and eat on their Serena & Lily patio furniture surrounded by hydrangeas. And isn't that just the life?
What Do Coastal Grandmothers Wear?
The coastal grandmother style is a pretty clear aesthetic. Some of the top coastal grandmother pieces include:
Neutral-colored chinos (both pants and shorts)
Cashmere sweaters
Linen dresses, shirts, and skirts
Button-up shirts
White turtlenecks
Preppy silk scarves
Straight-leg denim
Straw bags and totes
Straw sun hats
Button-down cardigans
Sun visors
Pearls and high-end accessories
Where to Shop For Coastal Grandmother Style:
You can shop for coastal grandmother style at many stores and can definitely shop for your own closet. But these are some of my favorite stores to find these pieces!
KJP: One of my new favorite stores, KJP will definitely have everything preppy you could need! I especially love their shirt dresses, cardigan sweaters, and linen summer pieces.
Vineyard Vines: I love Vineyard Vines for all types of shirts, fabric shorts, and accessories. You won't find a better button-down anywhere else.
Southern Tide: If you're looking for colorful preppy pieces, Southern Tide is definitely your store. They have super cute pieces including dresses and bathing suits (my favorite).
Abercrombie: If you're looking for slightly trendier coastal grandmother-styled pieces then check out Abercrombie. It's a good blend of chic and preppy.
Ralph Lauren: The ultimate classic for coastal grandmother style is Ralph Lauren. If you can afford the prices, you'll find just about everything you need here.
Coastal Grandmother Outfits:
Here are 30+ of our favorite coastal grandmother style outfits to copy. Enjoy!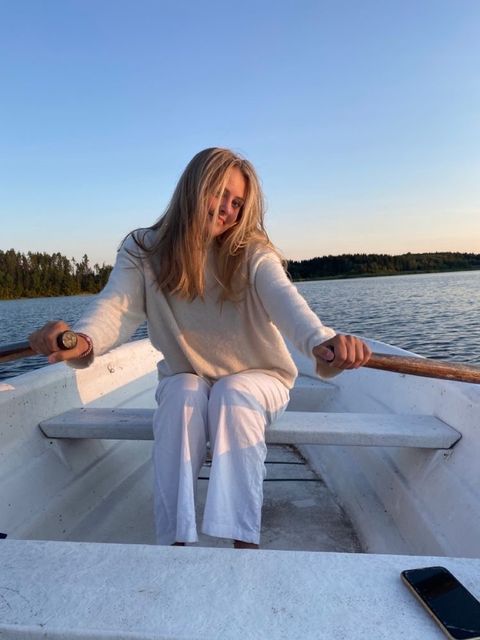 Casual, comfy, and a little bit demure, when it comes to the coastal grandmother aesthetic, you can never go wrong with a beige and white color combo of sweater and pants. Such an outfit is perfect for almost any kind of day. But I can totally see this being perfect to wear on a leisurely morning walk or even for fun boat rides and other activities.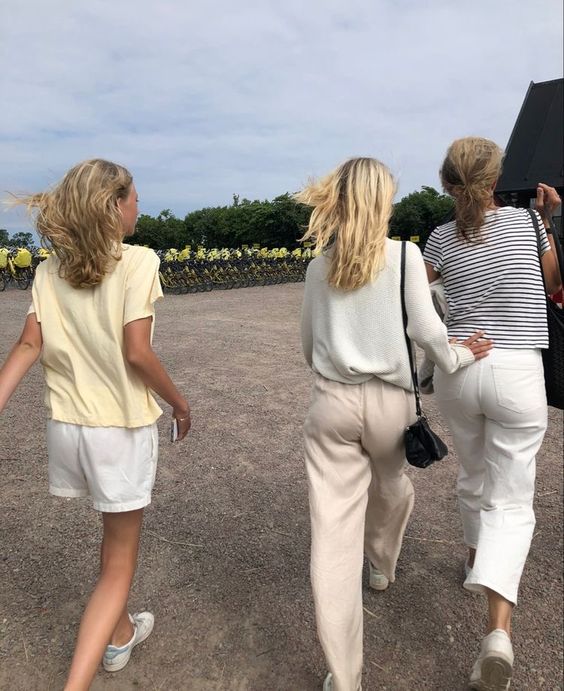 If you're going out with your friends, a breezy outfit that's comfortable to move around in and wear for long hours is an ideal choice. You can opt for a pair of shorts or a trusted pair of pants or even slacks. Keep in mind to keep your color scheme neutral, but a soft pop of color like a pastel yellow or even a stripey pattern for your blouse could work too!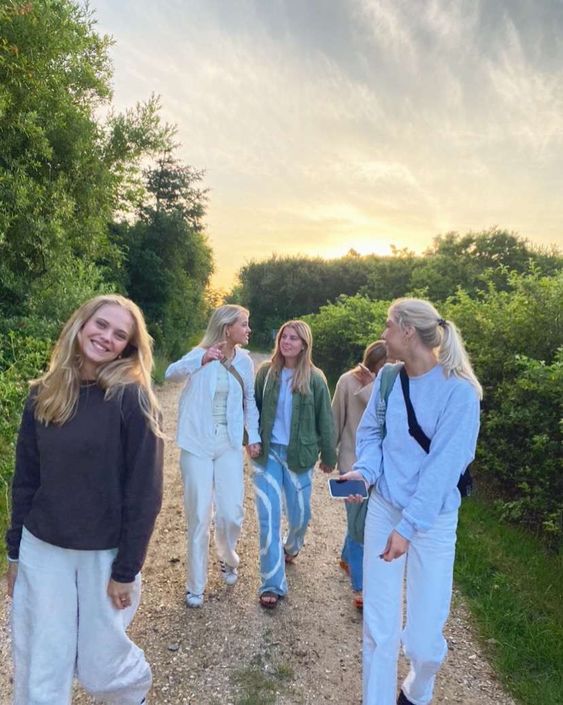 I love boy shorts as much as the next person, but chinos and relaxed pants have a special place in my heart. Flowy, oversized sweaters and polo shirts are the perfect tops to pair them with as well. On a chilly morning walk or brunch with friends during the fall and spring seasons, these are my ideal outfits to wear. They're so cozy and they're warm enough to keep you comfortable.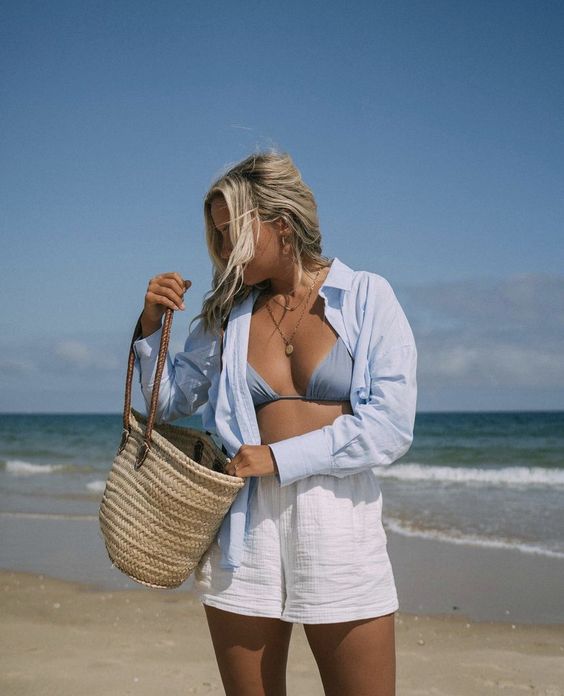 Live your best coastal grandmother lifestyle with this gorgeous outfit for the beach! This is such a great option for those who don't like to show off too much skin when they're spending their vacation near the shore. Mix and match your lightweight polo shirts with your favorite bikini top along with a pair of flowy shorts. Bring a woven tote bag for the perfect beach accessory!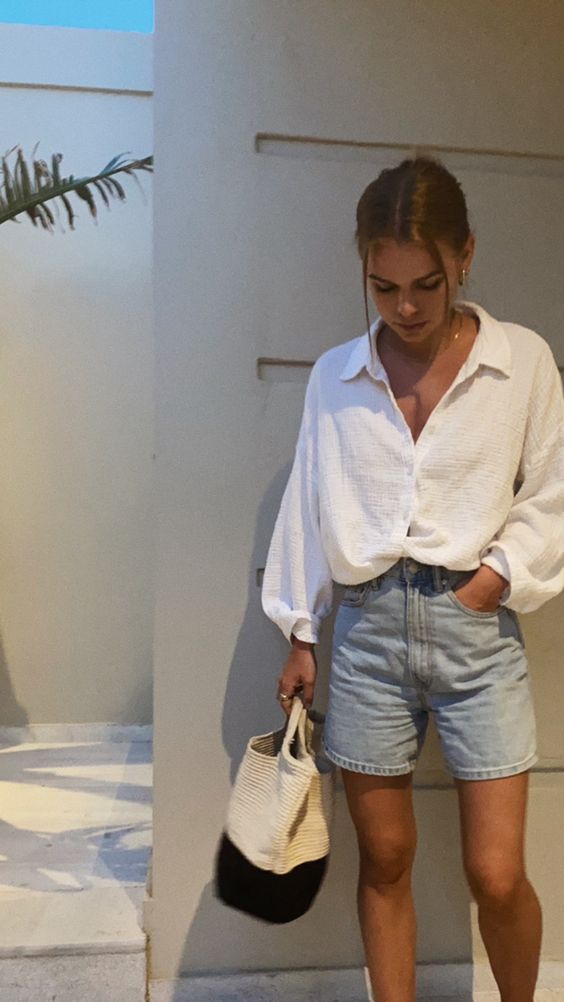 When in doubt, stick with the classics. It's honestly hard to go wrong with a trustee white polo shirt and bleached denim boy shirts combination when you're dressing up for your coastal grandmother aesthetic. Make sure that the overall fit is flowy and loose for utmost comfort too! You'd be looking like old money rich as you take a stroll around the city or the countryside in no time!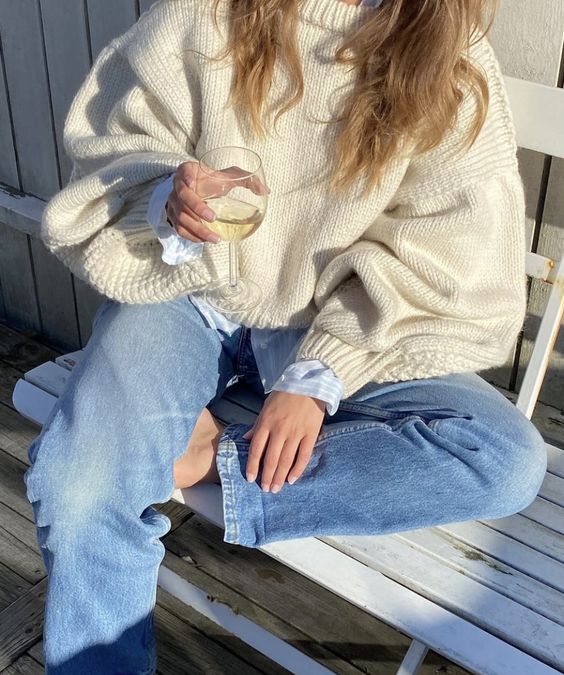 Regardless of the style and aesthetic I'm going for, an oversized knit sweater will always be one of my favorite pieces. Thankfully, a knit sweater also fits the preppy coastal grandmother look. You can wear it as is or layer it up with a plain or striped polo shirt underneath. Pair it with a light-colored pair of denim jeans to complete the overall look!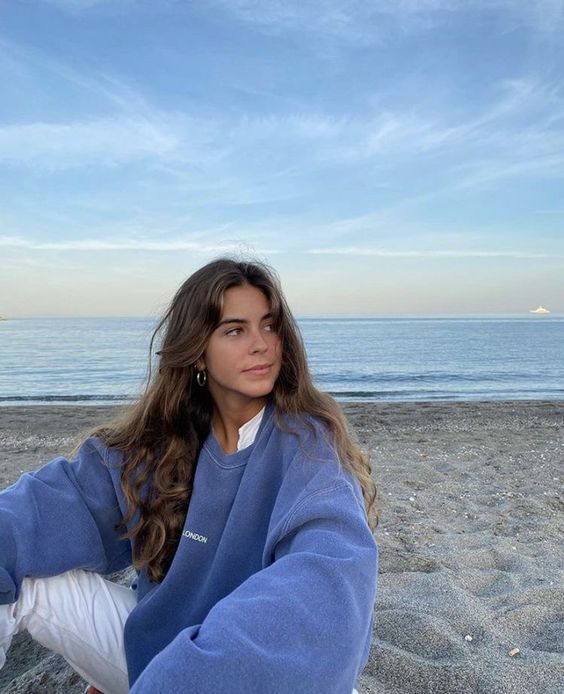 Whenever I see coastal grandmother outfits, a lot of the time it's mostly comprised of neutral colors like beiges and light browns. But soft pops of colors can just as easily fit in with this aesthetic and style as well! Personally, I love pairing whites and beiges with a gorgeous shade of blue. It gives off such a calming and serene vibe that's perfect for a beach date.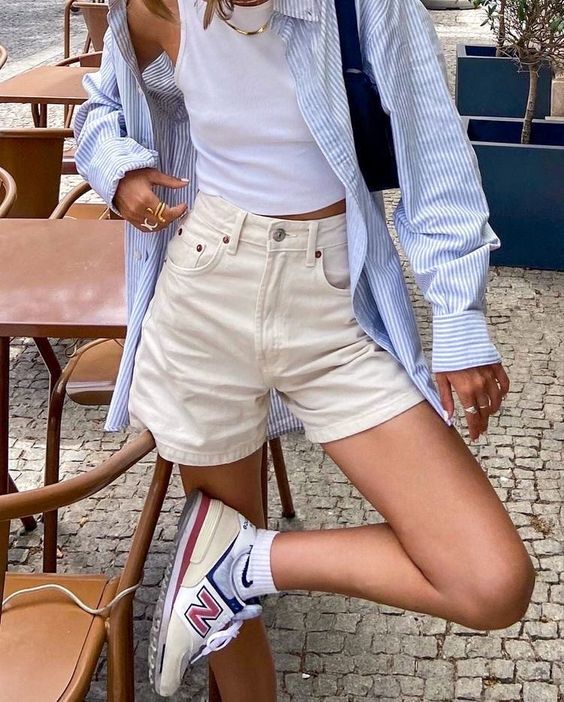 An oversized polo shirt, a cropped top, and a pair of beige boy shorts are definitely the ideal casual coastal grandmother fit. It's such a clean and preppy vibe that makes you look effortlessly elegant and sophisticated. It almost reminds me of Gossip Girl outfits whenever the characters are spending their summer days in the Hamptons.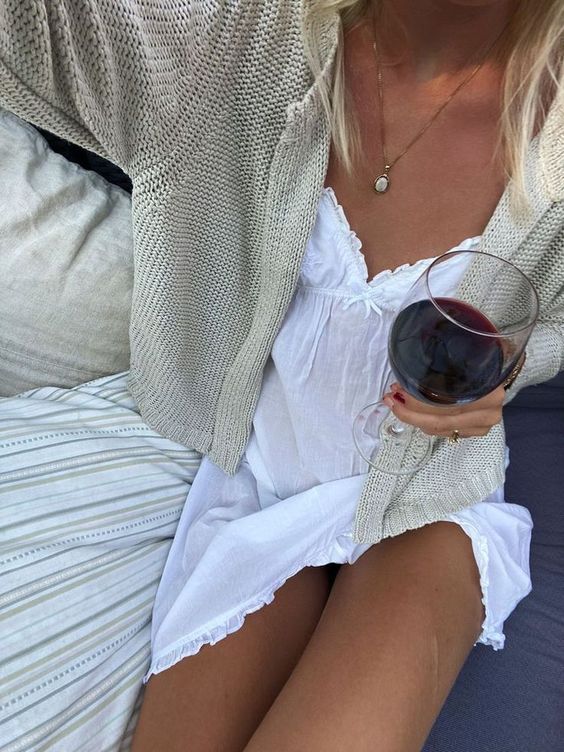 Staying in? That doesn't mean you can't dress up! Stay casual and comfy with a loose sundress and keep warm with your favorite knit sweater. Now you can lounge on your couch all day and not worry about anything else while looking good at the same time.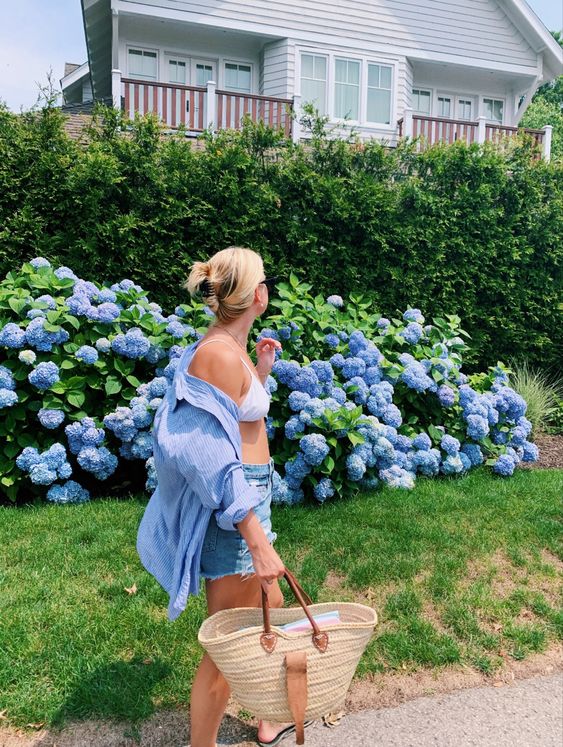 Springtime is here and what better way to take a stroll around blooming gardens than by wearing the ideal coastal grandmother outfit? If you want to show off a little bit of skin, you can wear your favorite bikini top along with an oversized polo shirt and ripped sun-washed denim shorts.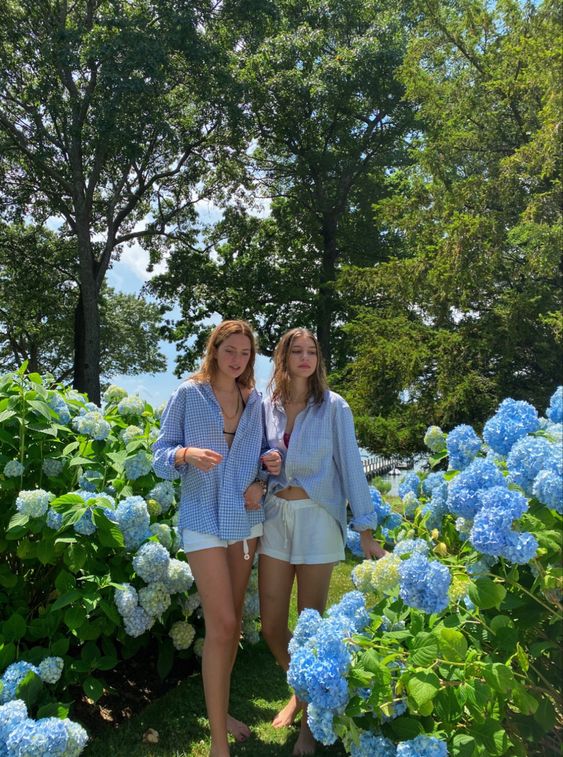 Here's another favorite outfit style of mine when it comes to coastal grandmother aesthetics: oversized gingham polo shirts and a pair of really short shorts! They look so casual and comfy to wear on any given day and just as effortlessly stylish. Whether you're walking on cobbled paths or sandy shores, this is just the perfect outfit!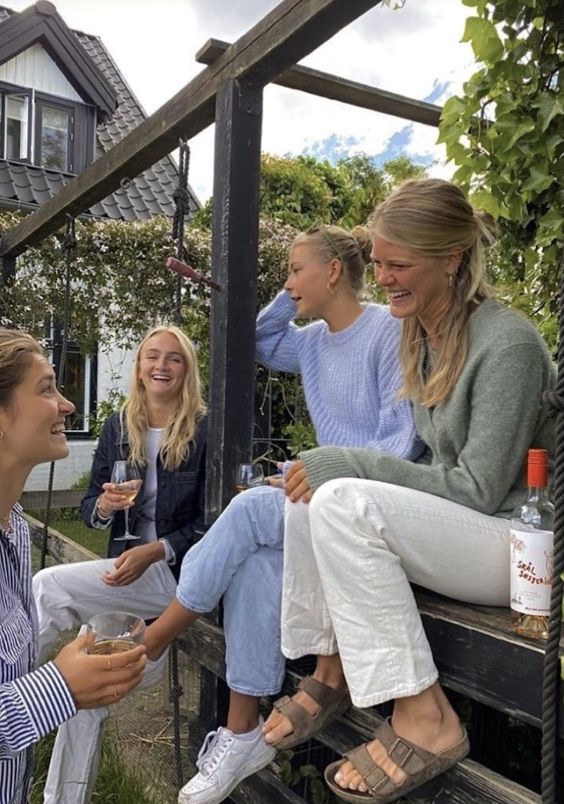 Depending on the current weather and season, some of the staple pieces of coastal grandmother outfits are long-sleeved blouses and chunky knit sweaters. One of the best things about these clothing pieces is how versatile and easy to style they are. You can pair them with chino trousers, denim jeans, or your favorite linen shorts.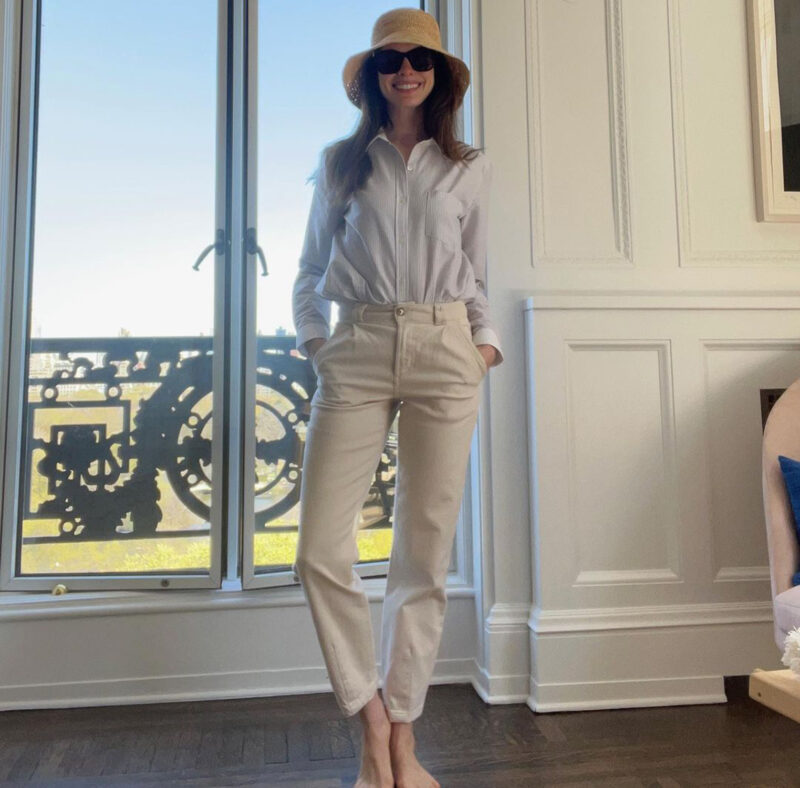 Aside from the classic beige jeans and off-white button-down polo shirt, you can also elevate this basic preppy look with some designer sunglasses and a gorgeous sunhat. Now, you certainly look like you're living the high life with the ideal coastal grandmother aesthetic.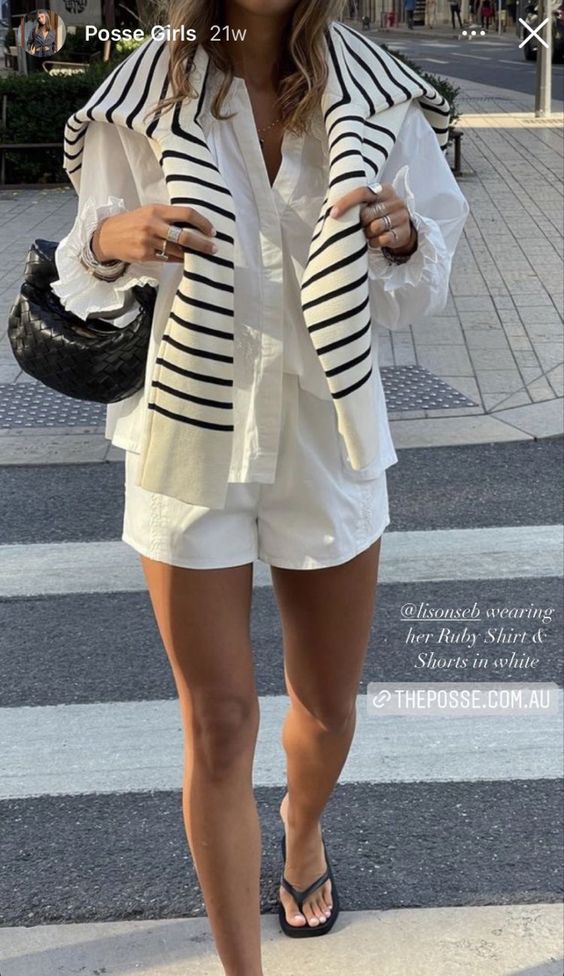 Elevate your crisp monochrome off-white outfit by slinging a striped cardigan around your shoulders for some interesting dimensions. If you're just running some small errands, you don't even need to wear shoes. Flipflops will fit this coastal grandmother outfit just as well as your sneakers.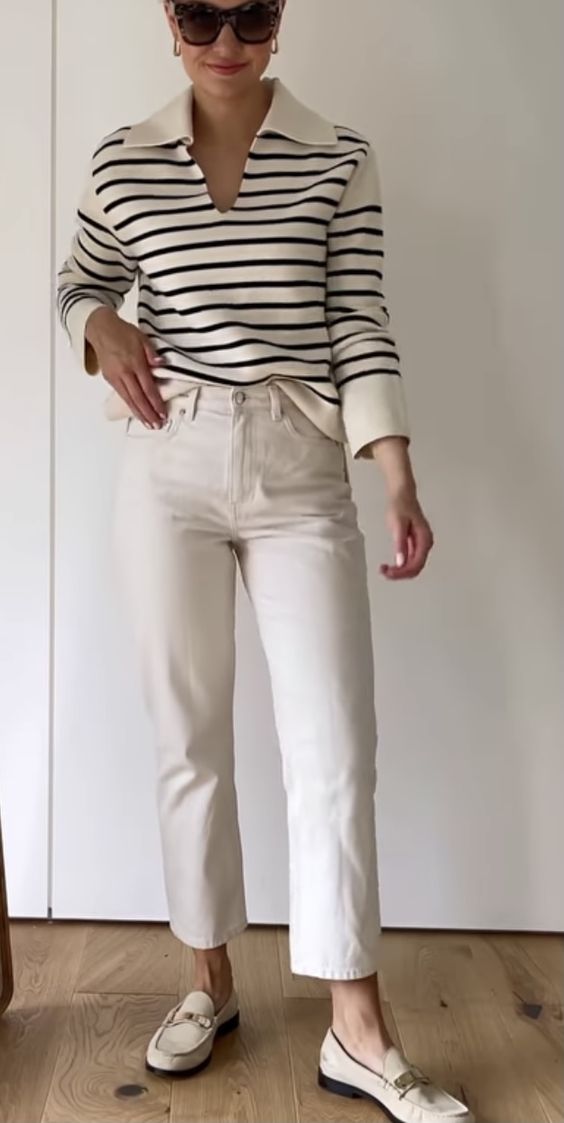 For the ideal preppy coastal grandmother look, pair your stripey long-sleeved blouse with beige capris and your trustee loafers. I assure you, you'll look sophisticated on any casual occasion.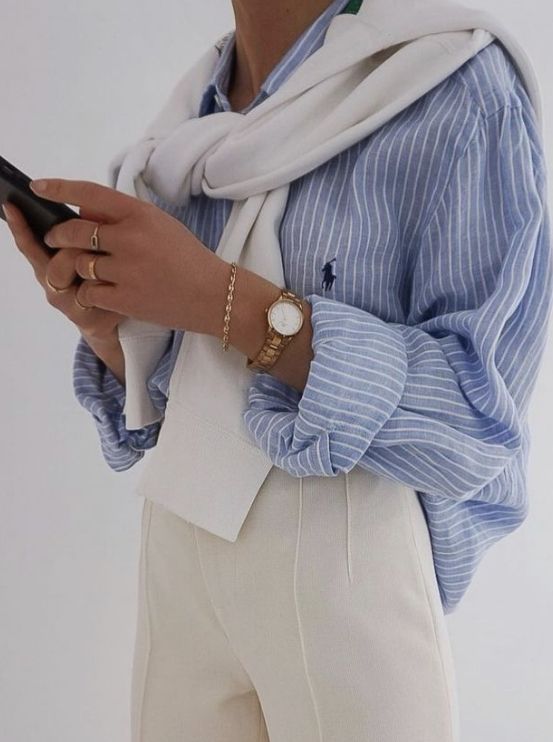 A blue stripey oversized button-down shirt is one of the coastal grandmother outfits' staple pieces. It's timeless and looks effortlessly classy. Pair it with some light-colored trousers like beige or white, and you're going to look elegant in casual wear in no time.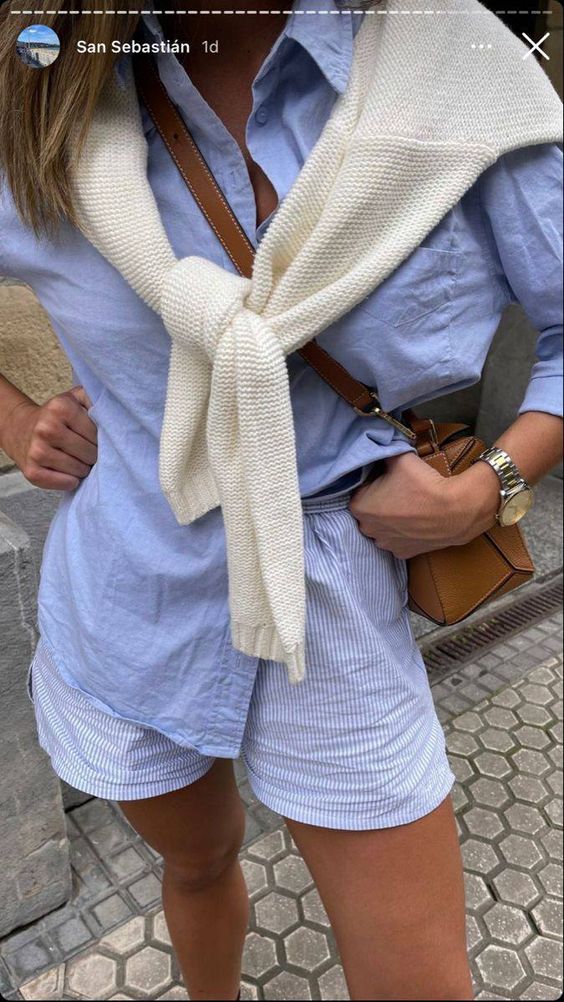 If you're tired of wearing white on white with your coastal grandmother outfits, spice it up by wearing a gorgeous sky-blue outfit. You can also sling a knit chunky sweater around your shoulders just in case the weather is a little bit chilly around your area.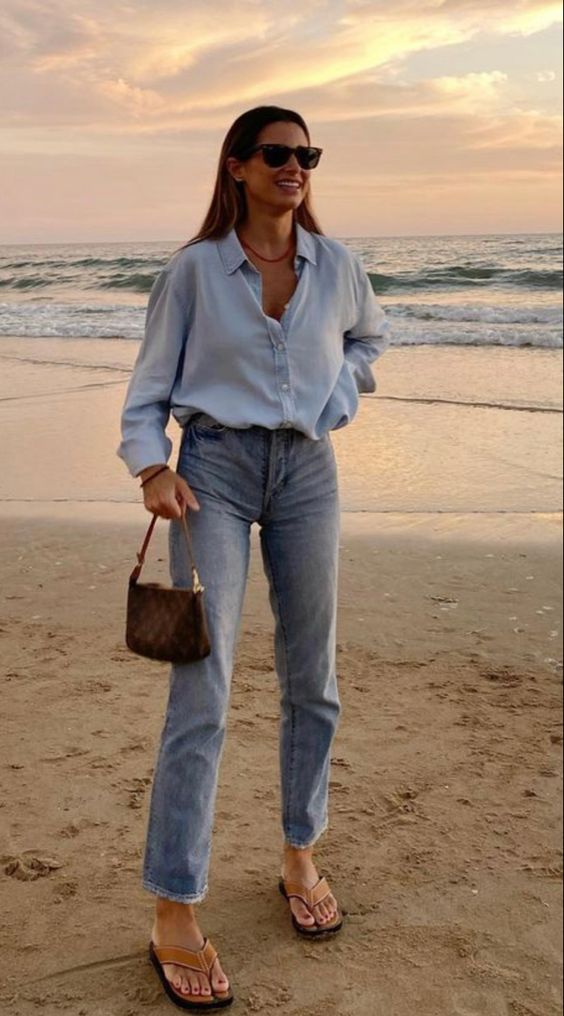 Who says a pair of denim jeans doesn't fit the beach? Definitely not me! If you have no plans of taking a swim or drenching yourself in the ocean, you can definitely get away with an outfit like this!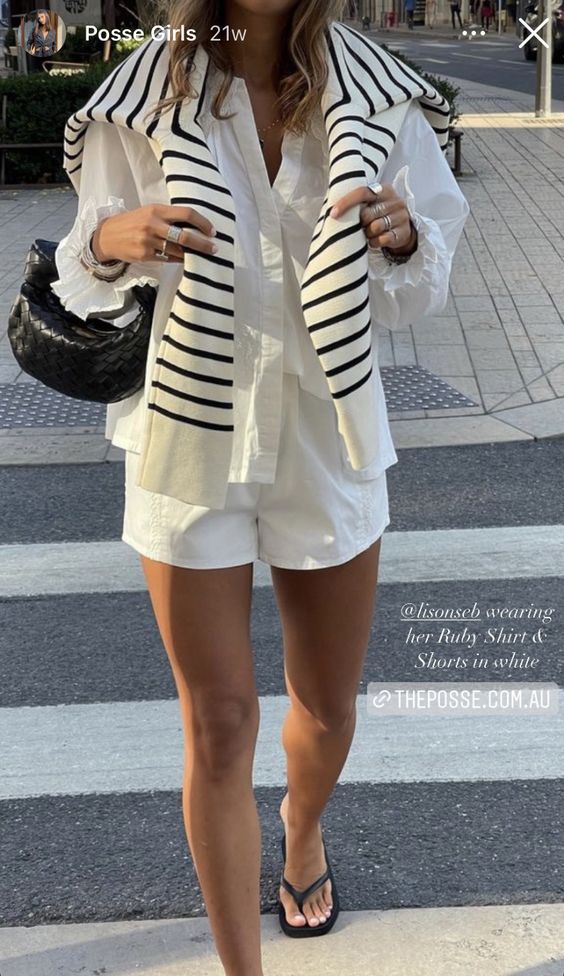 Create interesting dimensions with your coastal grandmother look by pairing your basic monochrome white outfit with stripey patterned sweaters. You can use one that has black stripes for a classic color combination.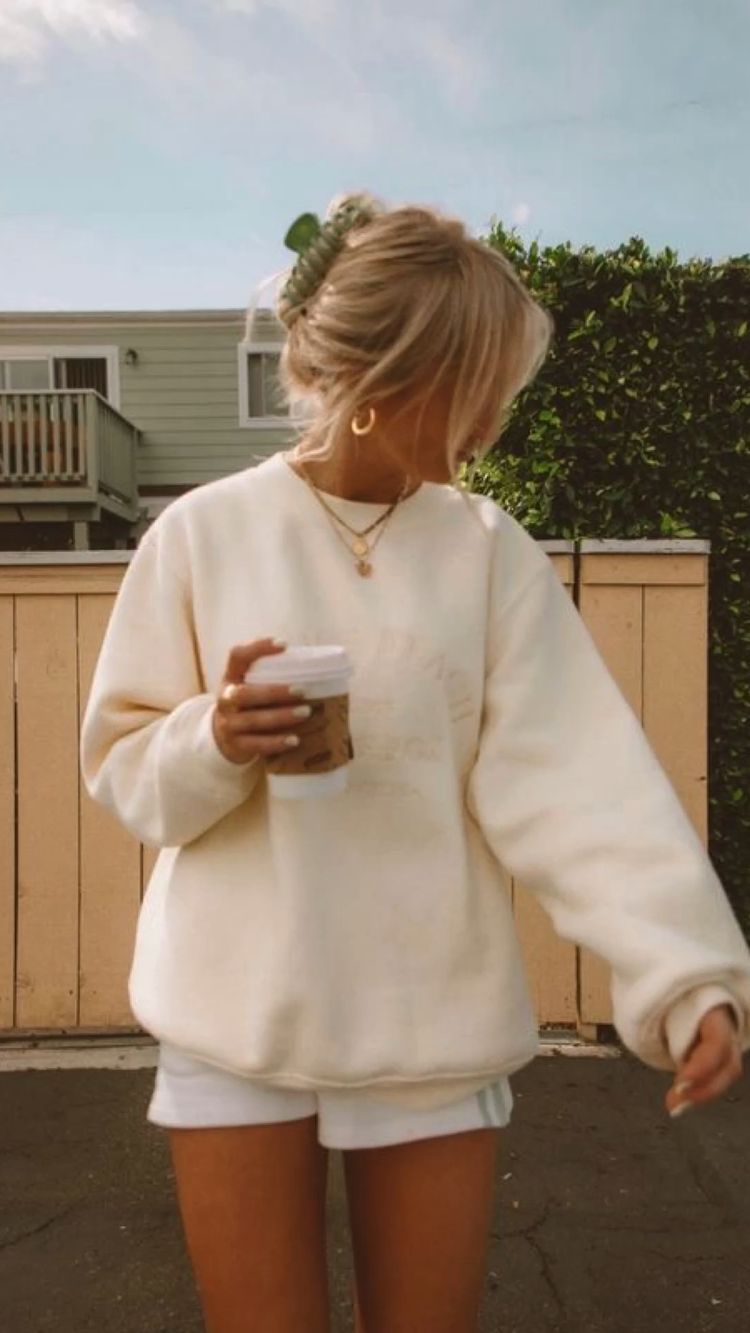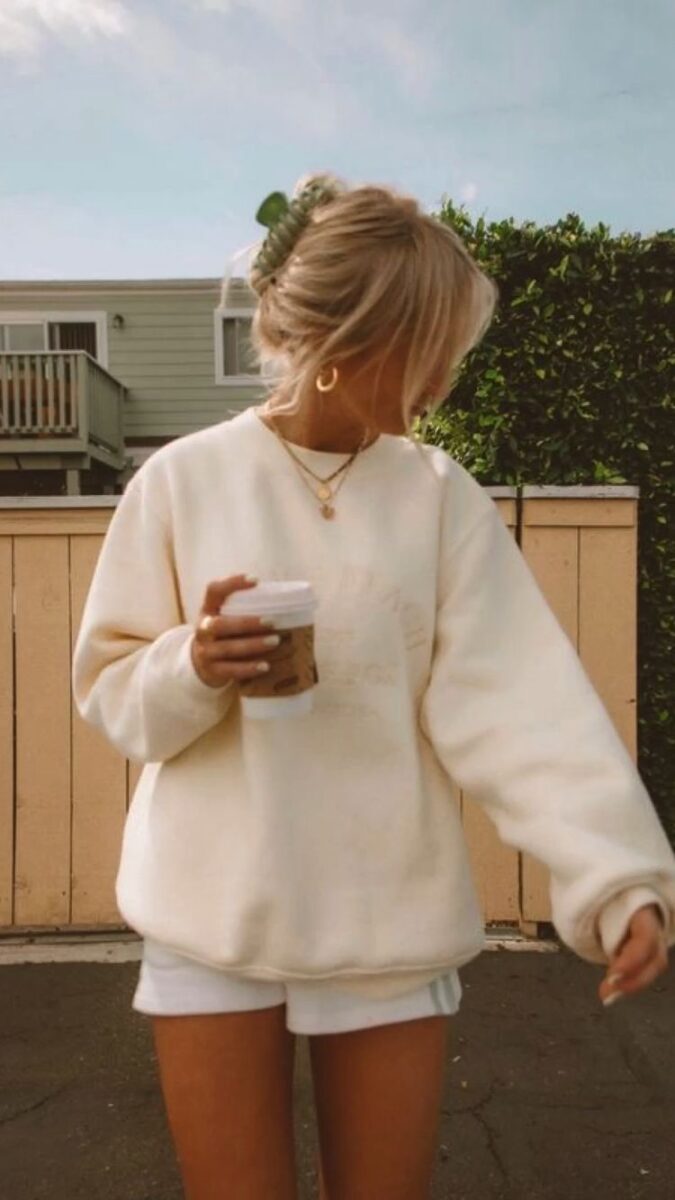 Another way to elevate your basic coastal grandmother outfit is through accessories! Silver is good and all but I find that gold jewelry stands out a lot against all-white looks. It'll surely make you look classy and sophisticated.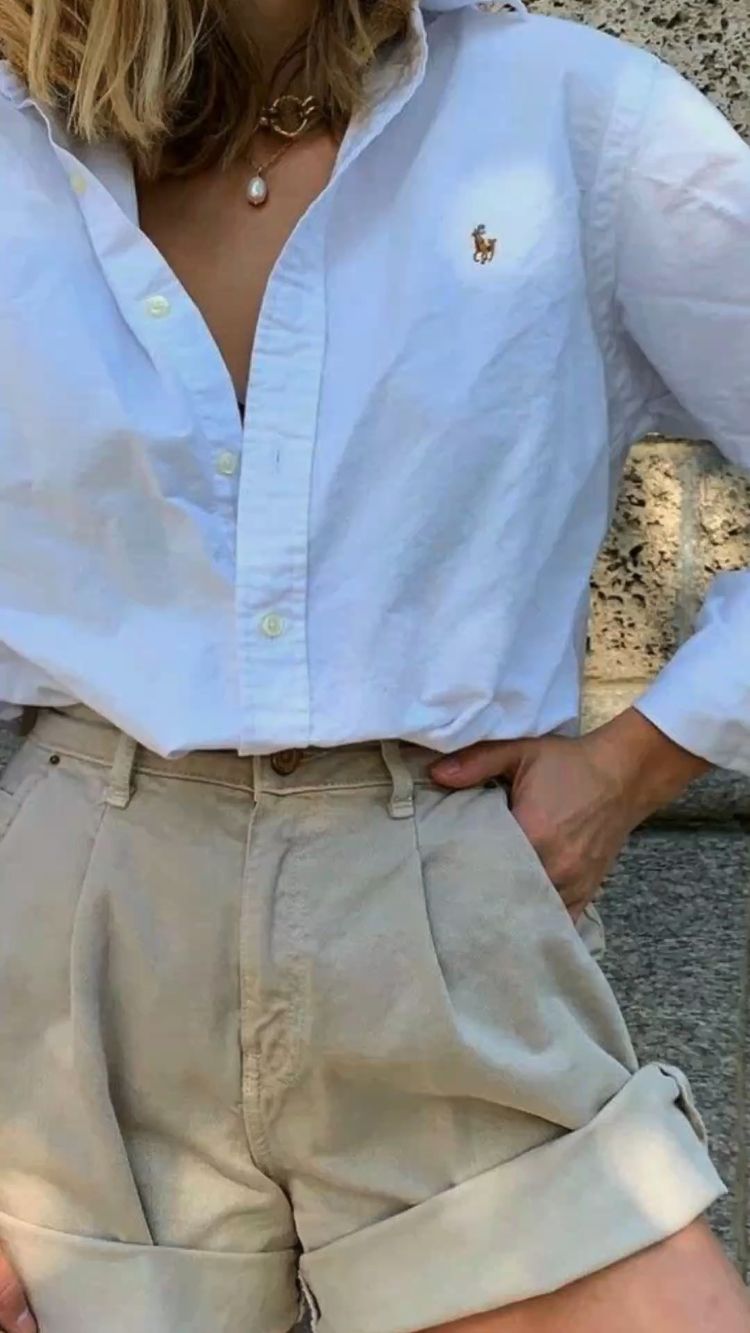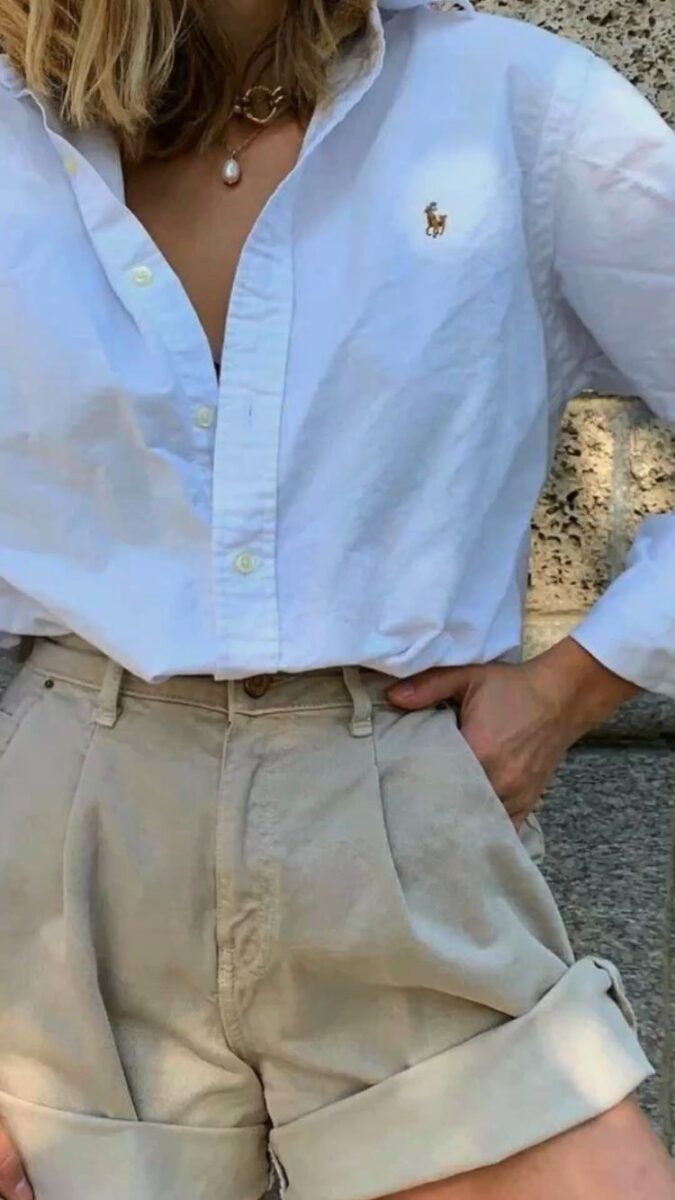 Pair up your favorite white button-down polo shirt with some beige boy shorts to recreate this classic coastal grandmother look. Whether you're going to the beach or taking a stroll down the streets, you can never go wrong with this outfit!