Looking for swimmingly cool beach nails? Whether you're a fan of mermaid nails, ocean nails, or straight-up tropical nails that remind you of Hawaii, you'll love these beachy manicures!
It's time for some seriously fun warm-weather nails! While I always love classic white nails in the summer, it can be especially fun to do something a little brighter.
Enter beach nails. All different types of beach nail designs are super in this year, so I wanted to put my favorite nail art in one place.
What are beach nails? Well, simply put, beach nails are anything that reminds you of the beach.
You will typically see mermaid nails, neon nails, palm tree designs, and colors that remind you of the ocean and tropical locations when you're browsing beach nails.
Beach nails range from super simple colors to complicated designs with stick-on pieces.
How To Do Beach Nails:
These nails are all pretty tricky to do at home.
If you do want to take a stab at them, I recommend getting stick-on nails from Etsy. There are some seriously cute options on there for affordable prices!
Click here to check out all the different types of beach nails on Etsy.
Otherwise, you'll have to find a technician that can do these designs. Make sure you ask beforehand because some of them are pretty complicated!
Tropical & Beach Nails:
Here are my favorite 30+ beach nails and tropical, mermaid designs.
Feel free to save any of these photos to your phone for reference later. Just click and hold save to camera roll. Enjoy!
Seashell Nails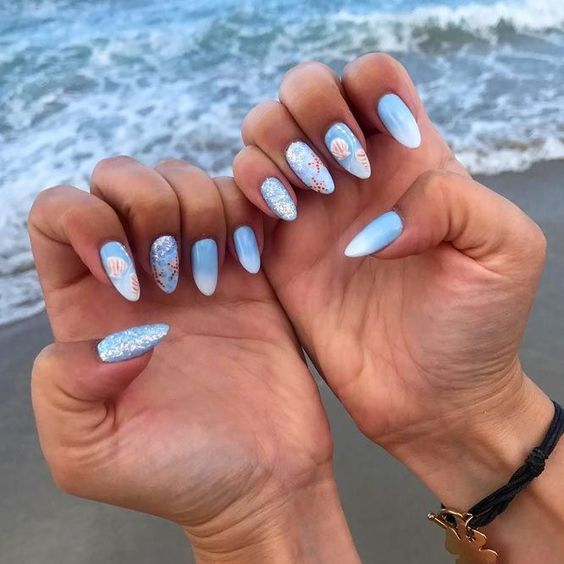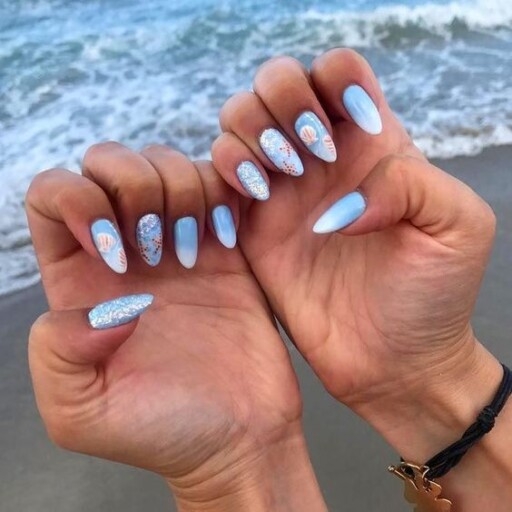 Seashells are such a pretty theme to choose for your summer beach nails, especially if you're planning to go on a beach trip soon. It's fun and cute, and your tropical nails are going to look so on point once you take a dip into the ocean!
Blue Mermaid Nails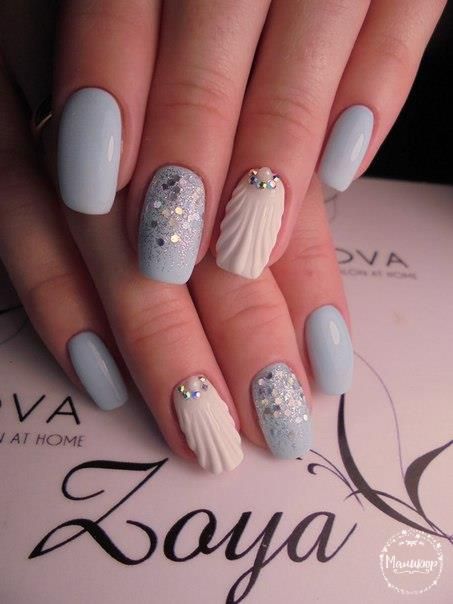 I love mermaid nails. They're one of my absolute favorites to do with my manicure whenever the summer season comes. They're a lot of fun to do, but I usually leave the more intricate nail art patterns to my trusted manicurist. You can play with lots of colors and finishes, though a baby blue shade and some sparkly accents would look so stunning to match the sea.
Purple & Shimmer Mermaid Nails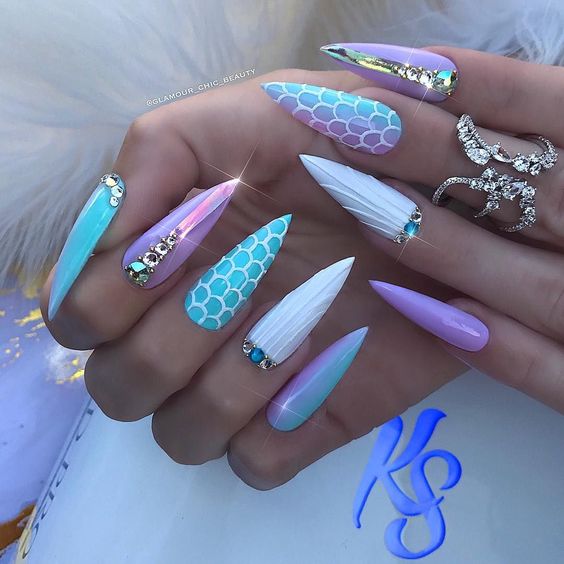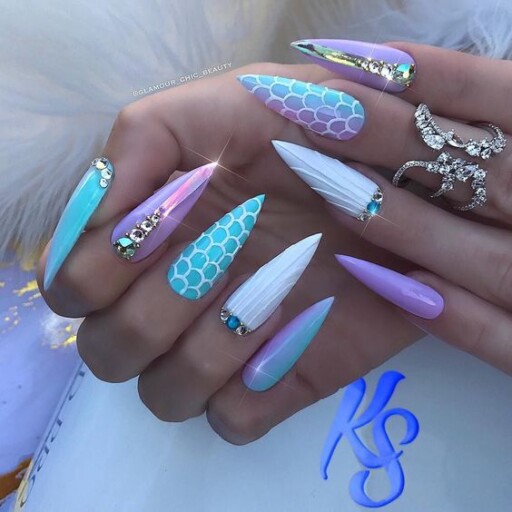 If you want something more eye-catching with lots of gleams, length, and a different pattern for each nail, these shimmery purple mermaid nails might just be for you. I really like the stiletto-shaped nails on this manicure. It gives a sharper, more femme fatale vibe that looks like you'll be snatching sailors off their boats.
Ombre Beach Nails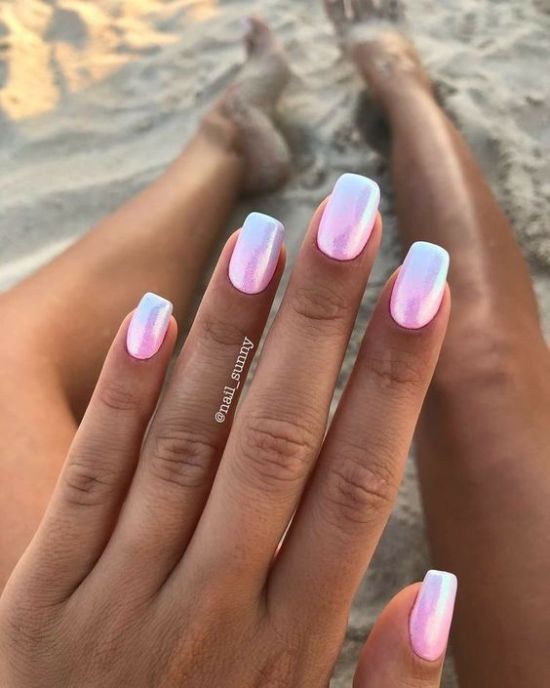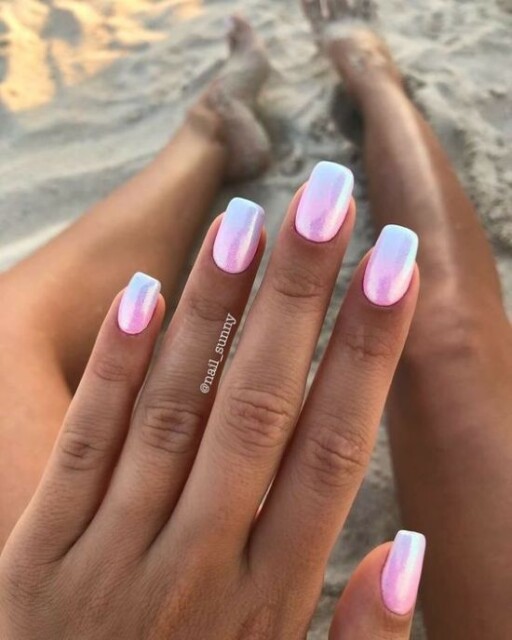 On a time crunch and you're looking for tropical nails that you can do in the comfort of your home? Then you might want to give these gorgeous ombre beach nails a try!
Not only are these easy to do, but you can pick so many color combinations that you can wear on each nail or go for a more cohesive look. Top them off with some sparkly top coat for an extra layer of shine.
Purple & White Mermaid Nails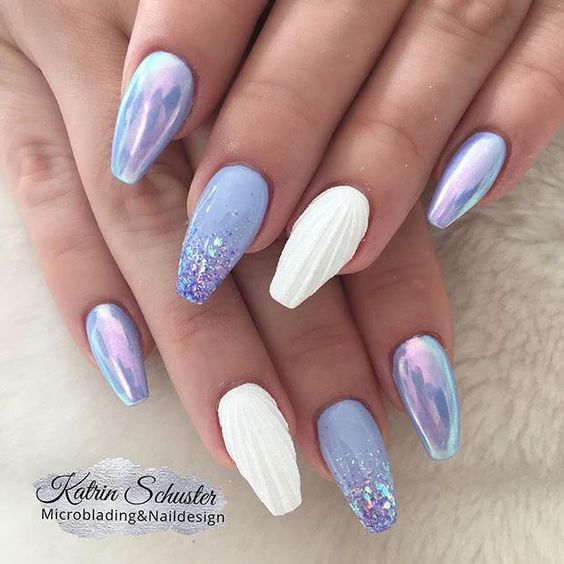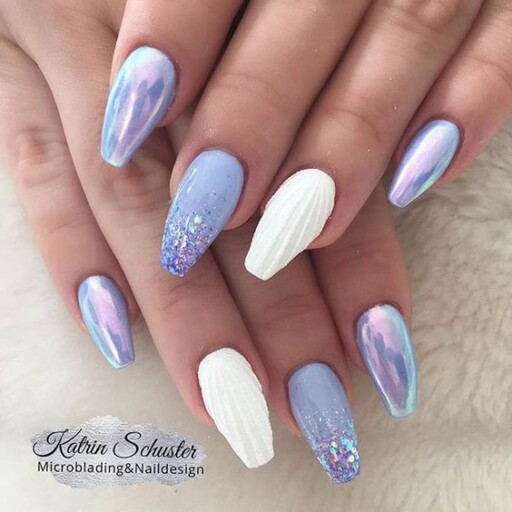 If there's a particular color that I can't resist, it's definitely purple. Pair this color with the prettiest mermaid nails and I'm obsessed! From that iridescent sheen, and glittery tips, to white seashell accent tropical nails, I can't ask for a better set of beach nails for the summer.
Blue/Purple/Rhinestone Tropical Nails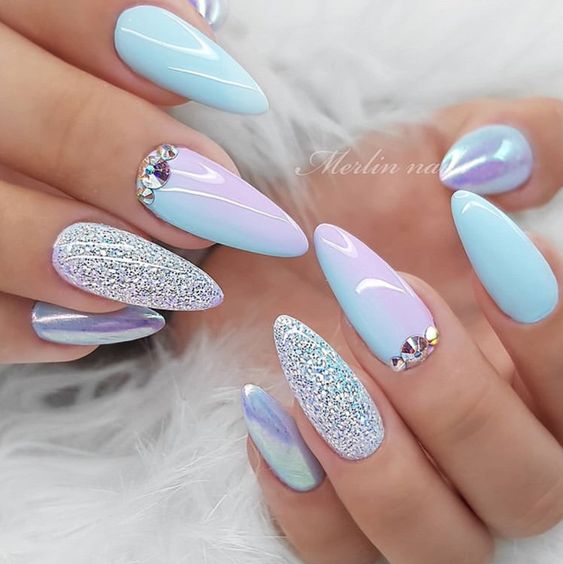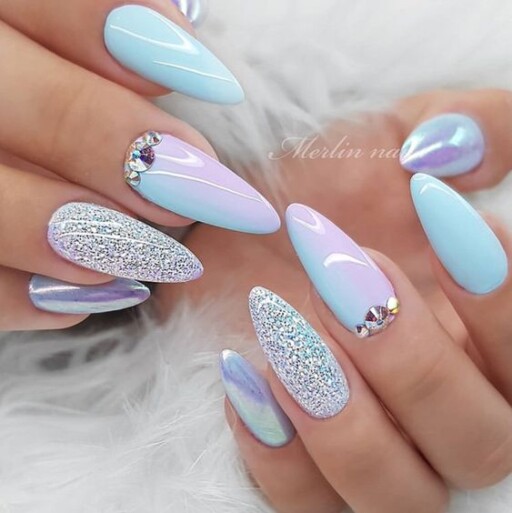 When it comes to my summer nails, I always prefer to go with bright colors like these beautiful pastel shades. You can go for a regular mani, but to spice things up, you can also do a different nail design for each finger just like these vibrant blue and purple summer nails! The rhinestones and the glitter sparkle nails are just the cherries on top!
Ombre Mermaid Nails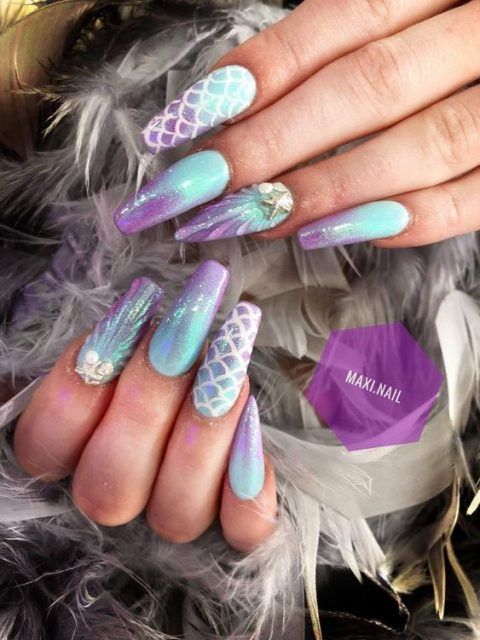 If you truly want to make the most magical mix of colors for your beach nails this summer, these ombre mermaid nails are a must-try for your next summer getaway! I love the mermaid tail patterns and how each nail gives off the most beautiful iridescent shine! What's more, you can even mix and match different shapes for each nail.
Turquoise Green Mermaid Nails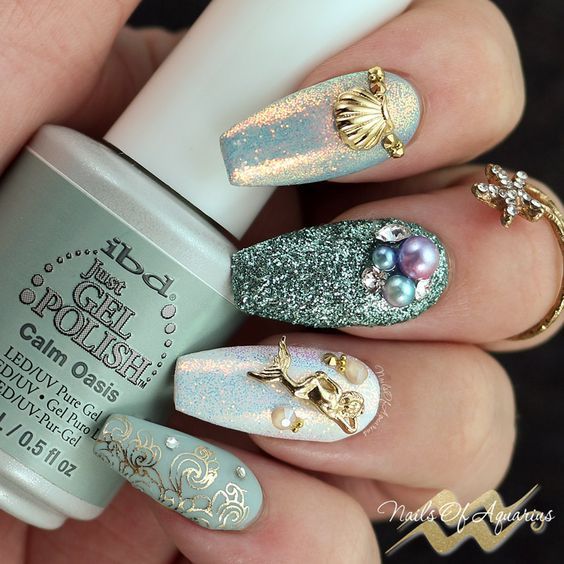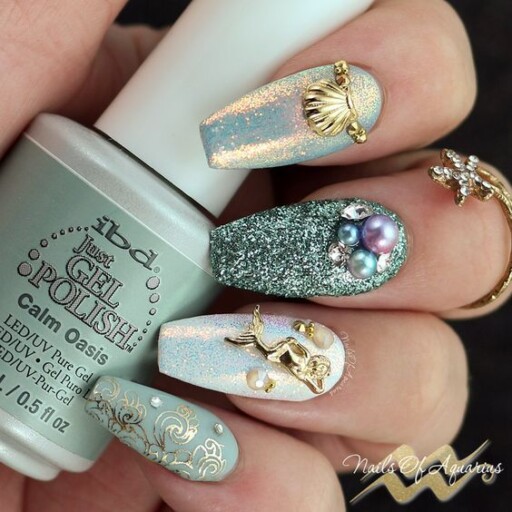 These stunning turquoise mermaid nails are so breathtaking! It's reminding me of nails fit for mermaid royalty. Go big or go home with ocean-themed embellishments and add lots of sparkles to make sure that your nails shine all throughout the beach. And if you don't like nails that are too long, you can always opt for a pretty ballerina cut.
Soft White Shell Nails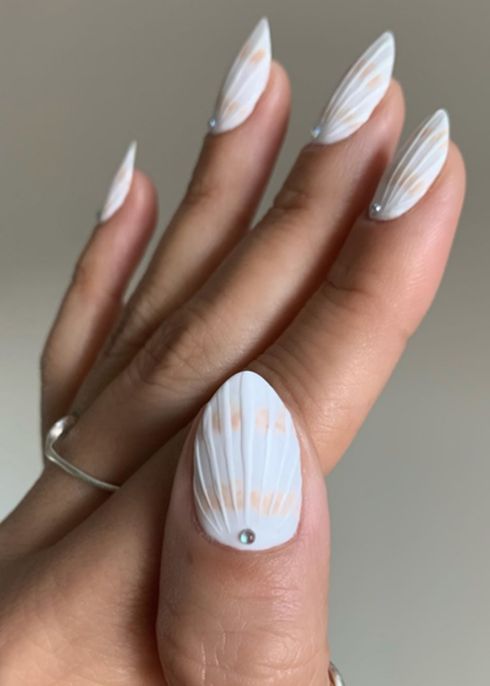 Simple and just my kind of "minimalistic", these soft white seashell nails look so elegant and chic. I would totally wear this all summer long. If you're missing the beach and want a fix ASAP, you can always settle for these summer-themed nails while you wait for your next vacation.
Accent Shimmer Mermaid Nails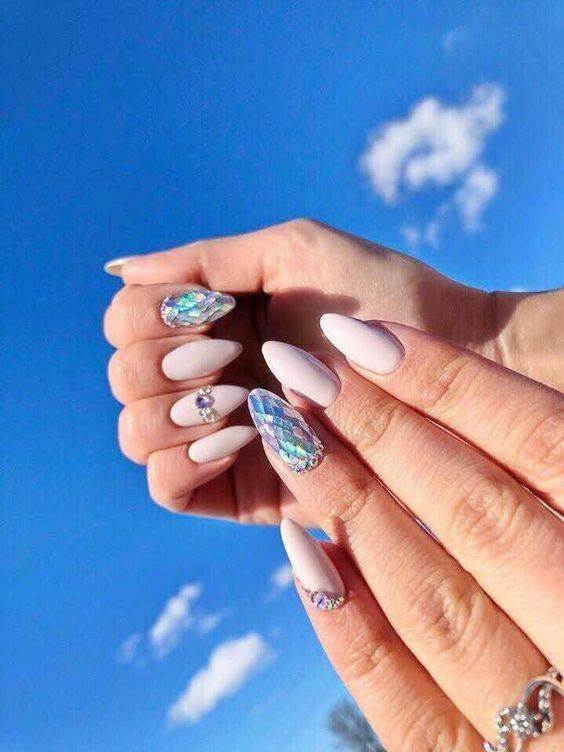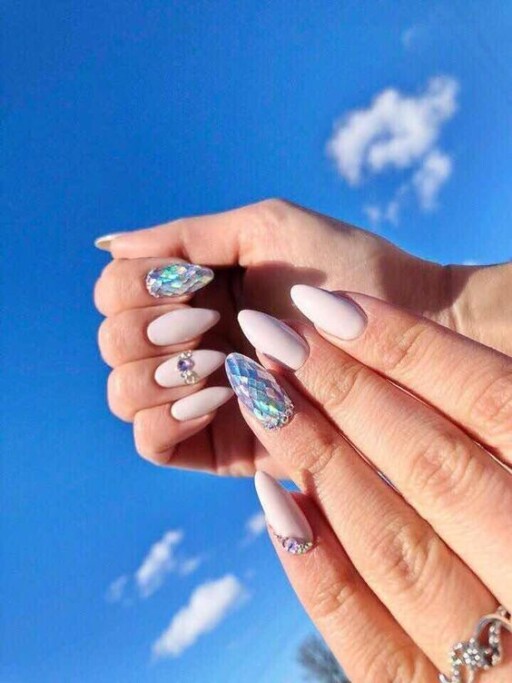 If you don't want a full set of nails that are filled with rhinestones, glitter, or any other nail art, then why not go for these accent nails instead? This way, you can keep most of your nails simple or natural while your accent nails pop off with rhinestones and mermaid-themed nail art.
Pink Ombre Sea Nails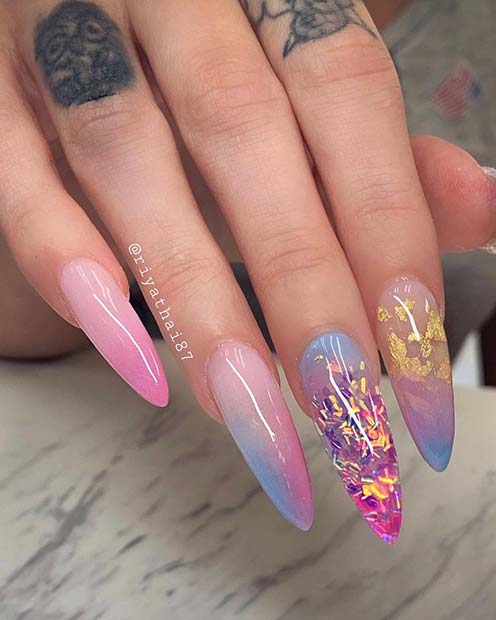 I love the jelly look on these nails! The pink and blue ombre combination is utterly gorgeous. Not to mention, the elongated shape of the nails gives your summer manicure a more feminine look too. Top it off with some gold foils and other colorful accents for more pops of color.
Turquoise Beach Nails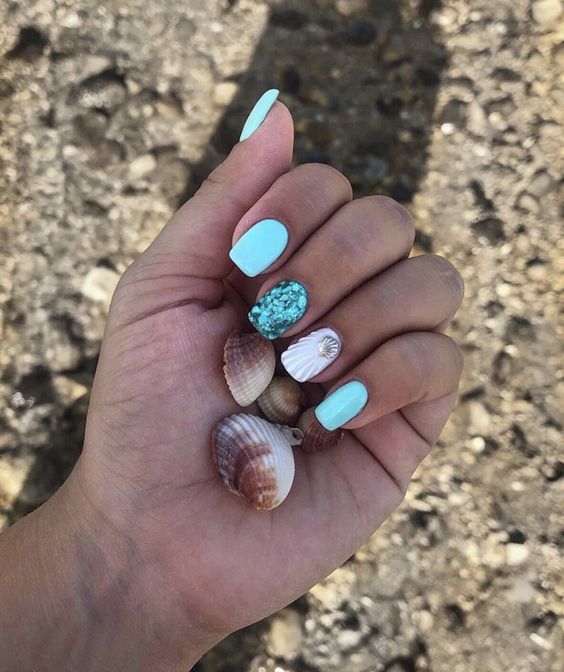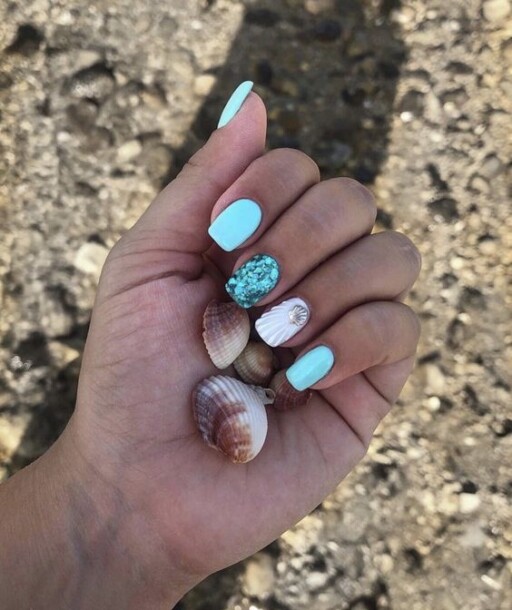 Turquoise is one of the many colors that I love playing with on my nails whenever summer comes around. They're just the perfect shade of blue that gives a really vibrant and summery feel. They're ideal for tropical nail art and it just simply reminds me of the ocean and how beautiful it is.
Pool Mermaid Nails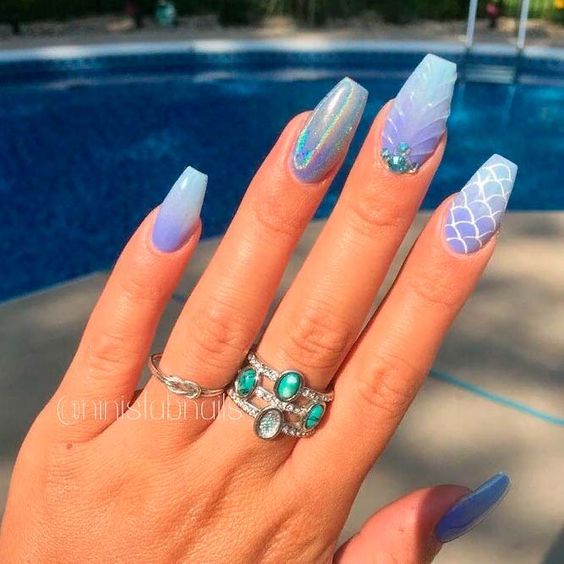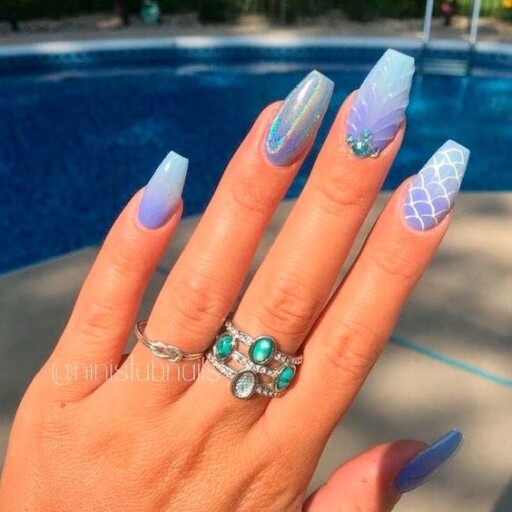 Whether you're going on a beach trip or just planning to lounge all day by the poolside, these pool-themed mermaid nails are versatile enough to be worn anyway all summer long! I love the gradient and ombre effects these nails have. What's more, mermaid nails are a fun way to practice your nail art skills at home too while we wait for the summer season.
Tropical Color Nails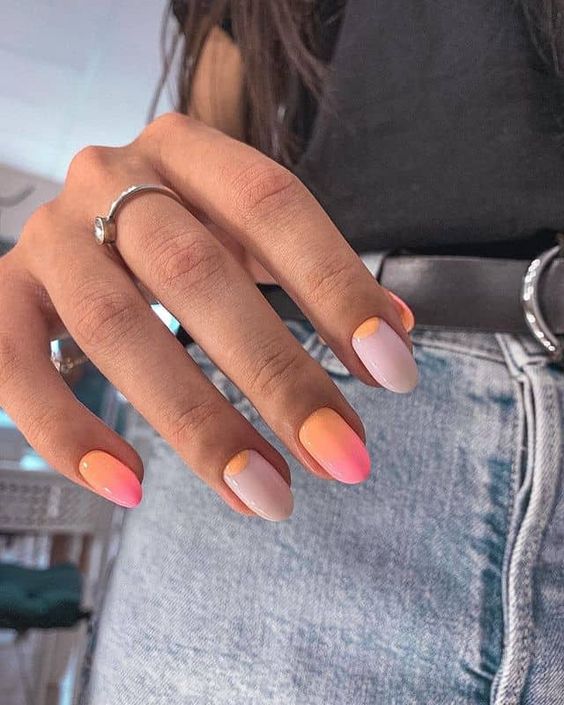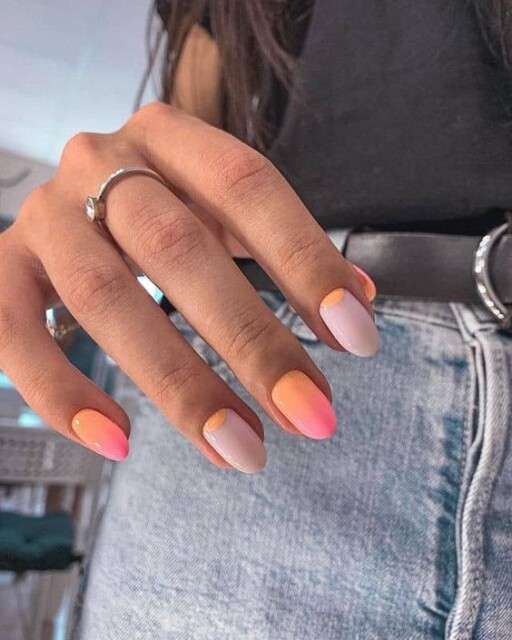 If you prefer to keep your nails at a classic almond length, then these fun and vibrant tropical nail designs might be something you'll like! I love the combination of orange and pink on these beach nails so much. They remind me of gorgeous sunsets on the beach. The nude accent nails also give it a more muted look to balance the bolder colors.
Metallic Beach Nails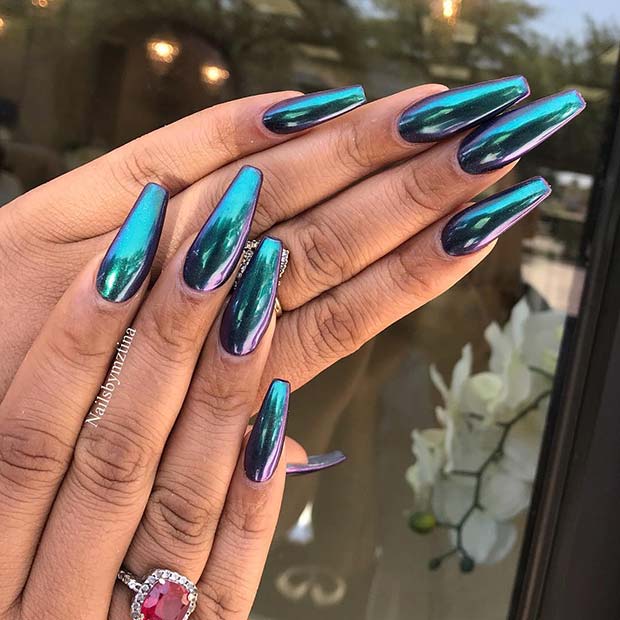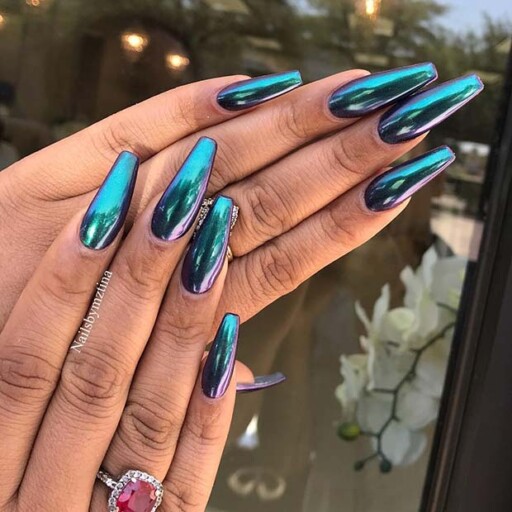 For a glam and chrome look on your nails, these metallic beach nails would be perfect for you. What I love about metallic nail designs is that you can get as creative as you like with your color options and they easily suit any type of nail shape. Though I do recommend going for a classic coffin shape for extra length.
Colorful Mermaid Nails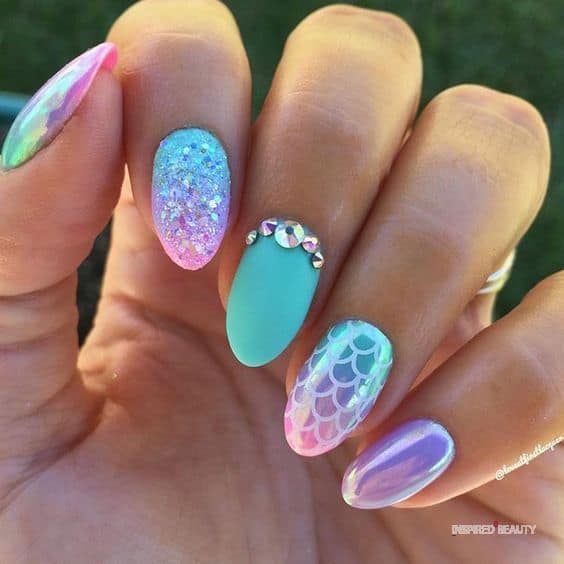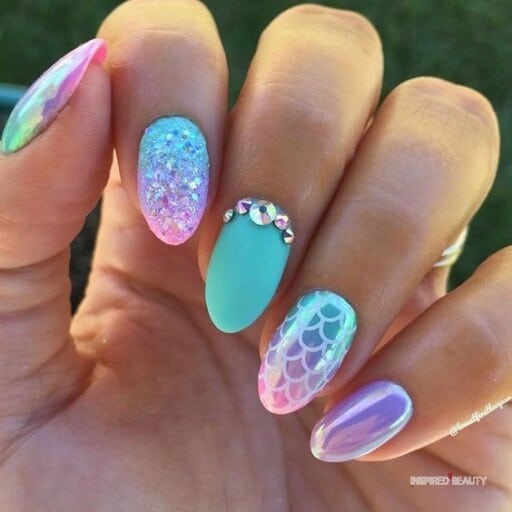 But if you don't feel like having long nails during the summer because you're worried about getting sand under your nails, then this short and sweet almond cut would be ideal for you. These colorful mermaid nails would go so well even with really short nails too!
Blue Marble Nails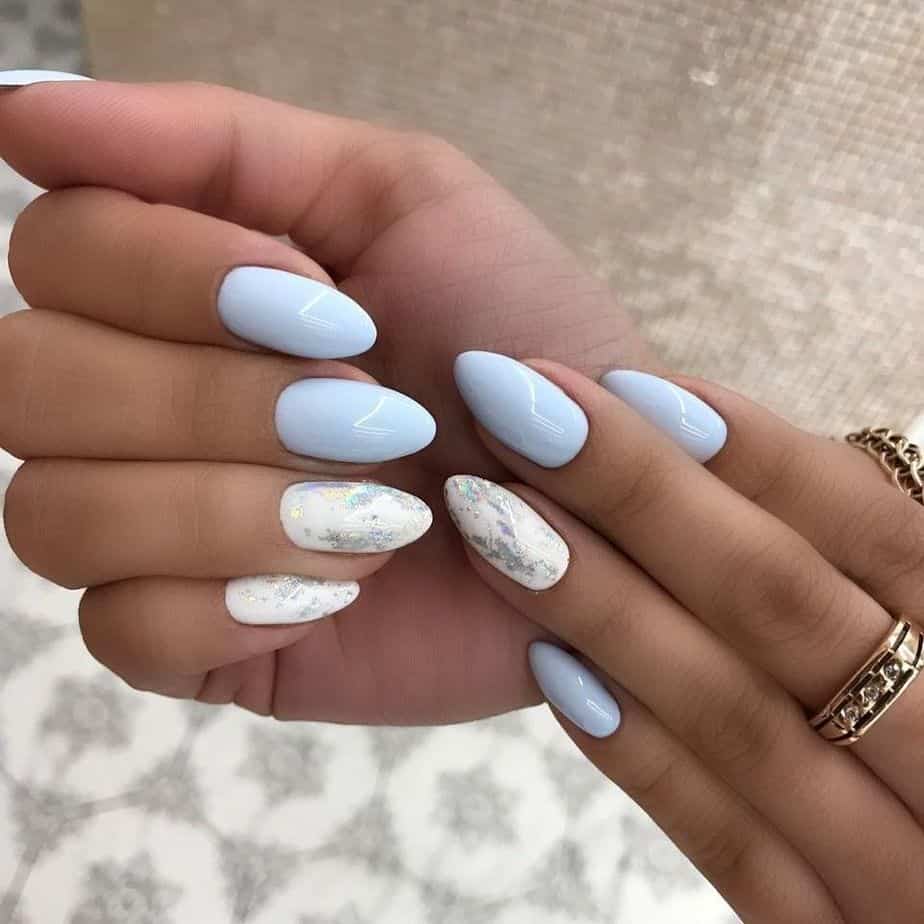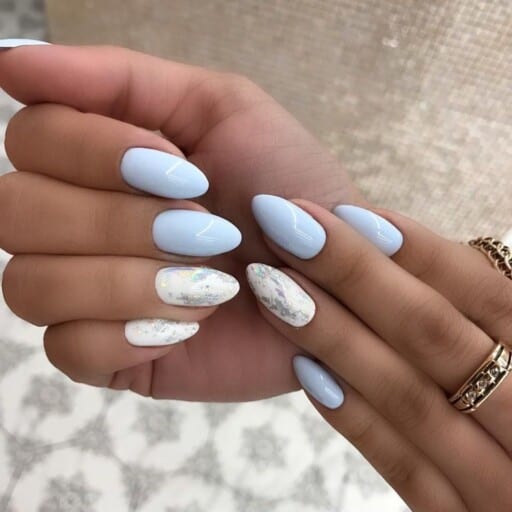 Tired of looking through mermaid nails and wanting something a little different? Then these marble nails might interest you for your next beach nails. It's not the most "tropical" design but if you opt for summery colors this will still give you those beautiful beach vibes!
Blue Palm Tree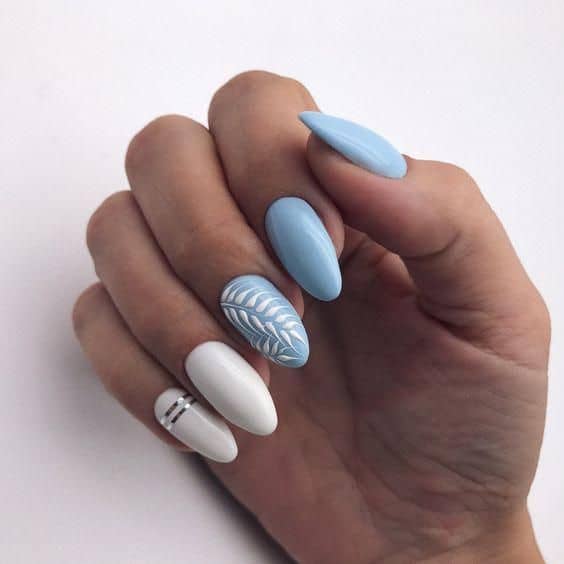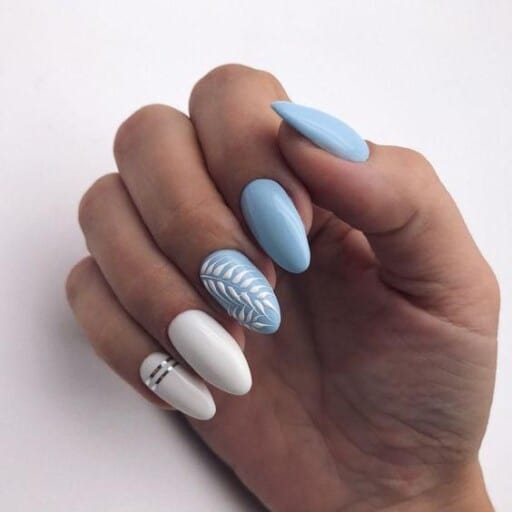 Blue might be a cool-toned color but you can always give it a summery twist by painting tropical elements into your manicure. For example, these palm trees as your accent nail design. They look gorgeous and with a bit of practice, you can do this right at home!
Clear & White Mermaid Nails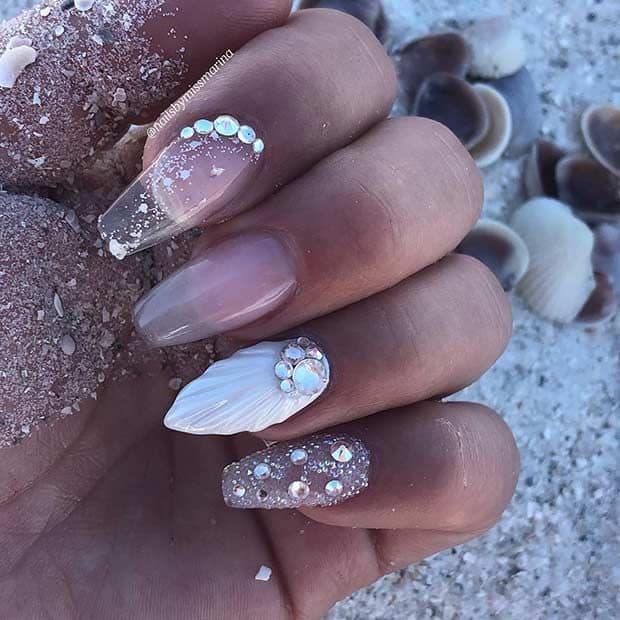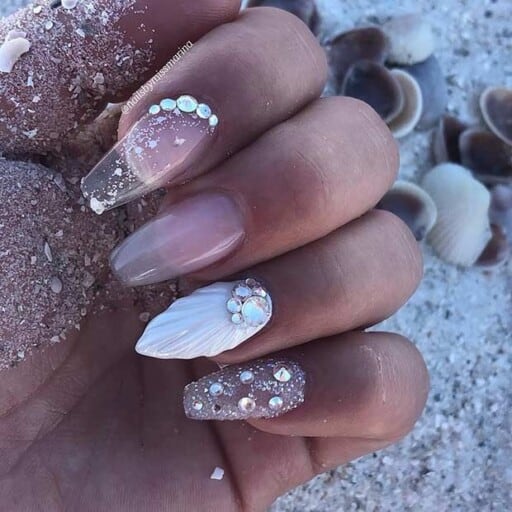 These days, I really love incorporating negative space into my regular manicures. They just give this chic, modern look that gives my natural nails a break from all the colors. To not make it look too plain, top them off with some rhinestones, glitters, and maybe even some soft gel extensions for longer nail shapes.
Turquoise Ombre Nails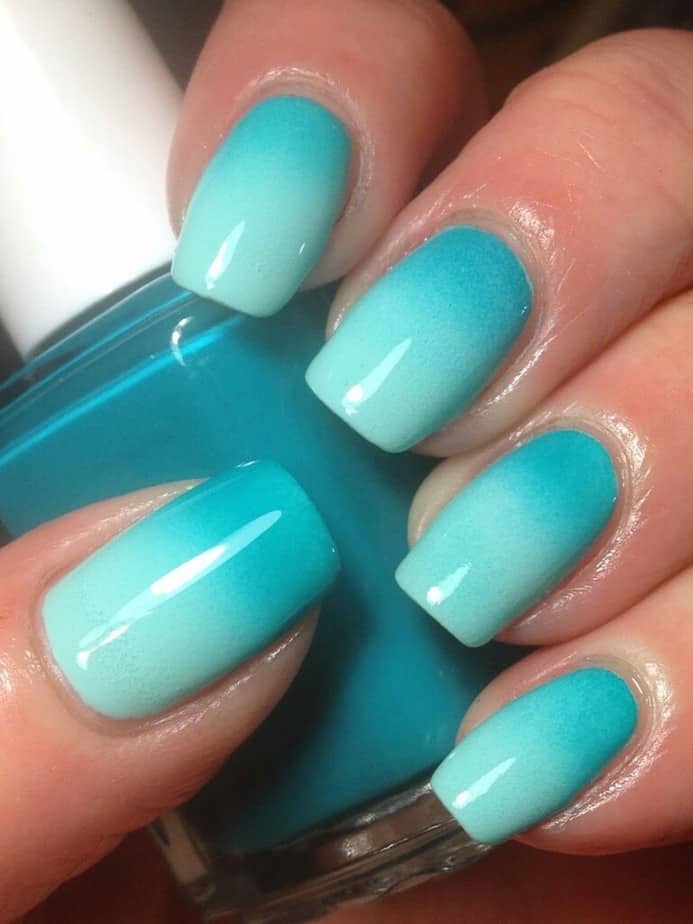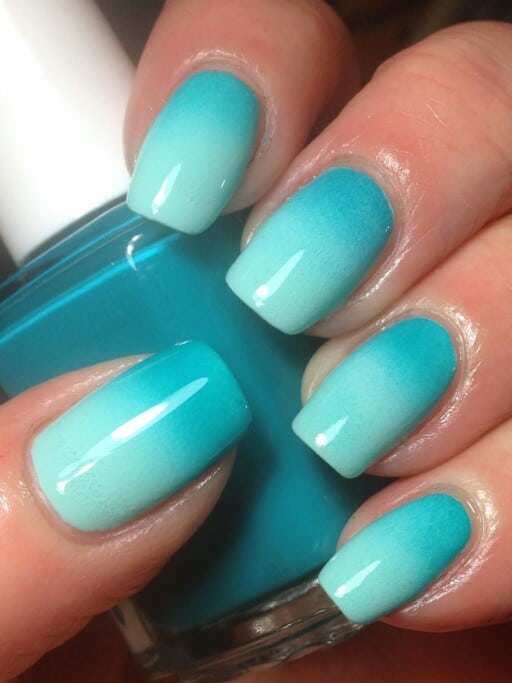 This ombre turquoise manicure is so simple yet so pretty! These would be so perfect for girls who don't like anything too fussy or intricate for their beach nails. Because I understand it can be such a pain to lose a nail while you're taking a dip in the ocean.
White Palm Tree Nails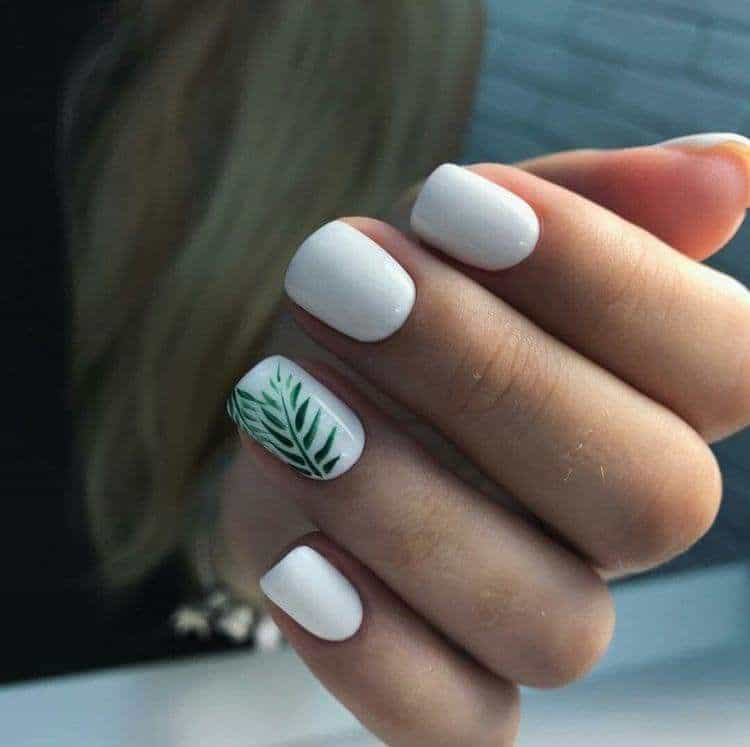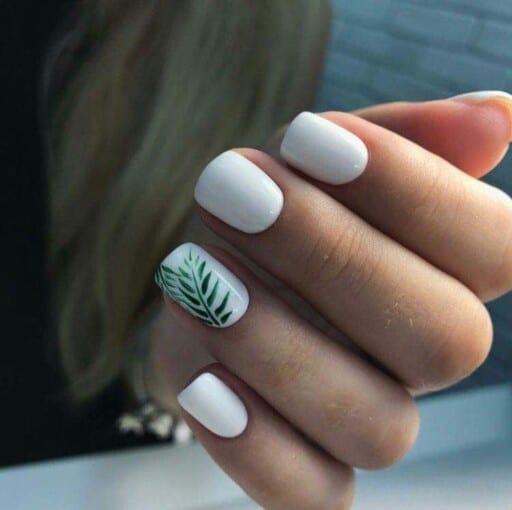 Keep your classic white manicure fresh and summery by adding a palm tree accent nail. This is ideal for anyone who's just starting out on trying nail art. It's not too overwhelming for beginners and it's quite easy to do as well!
Muted Artsy Beach Nails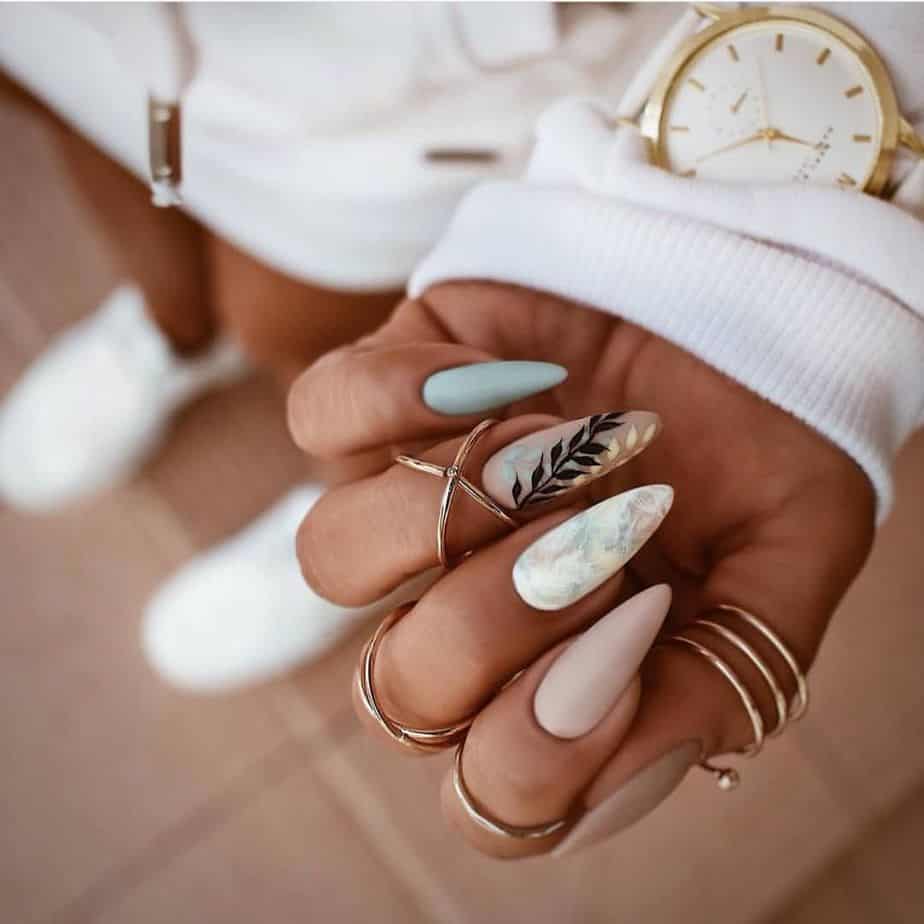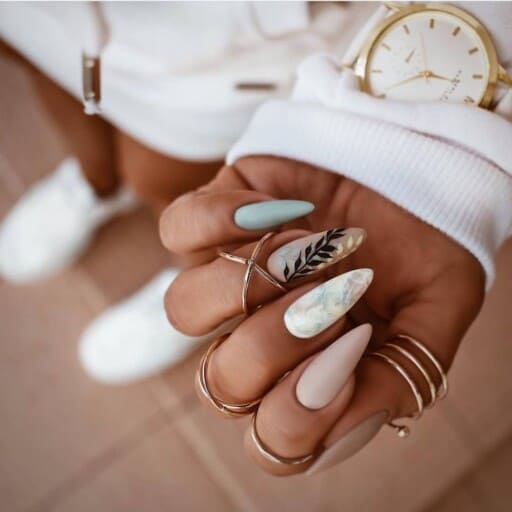 Not a big fan of bright, bold nail colors that you usually see during the summer? That's totally fine! You can always opt for muted colors like this one but still find a way to keep it summery and tropical. Add some palm tree accents or even florals to match the season.
White Summer Design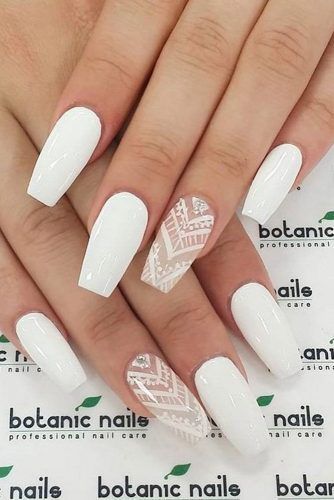 Who doesn't love a classic white manicure? It's an effortlessly elegant and sophisticated look on the nails and you can still keep those summer vibes by adding tropical accents to some of your nails.
Green Beach Nails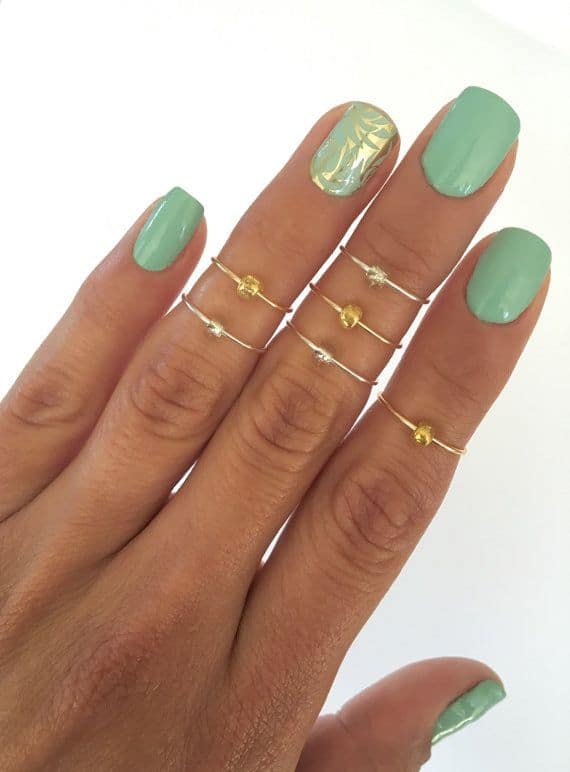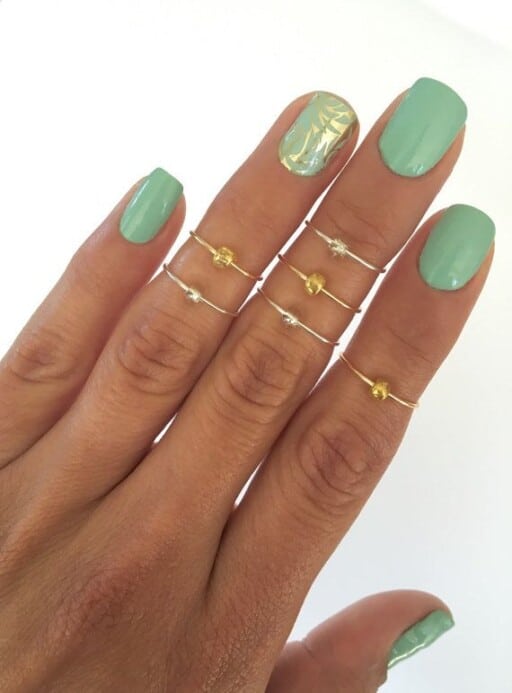 As you may already know, I love the color green and I especially love wearing it on my nails. To me, they're one of my ideal summer colors but I also love how versatile they are when it comes to doing different kinds of nail art. For a rather simple look, you can just add some gold foils to your accent nail.
Yellow Pineapple Designs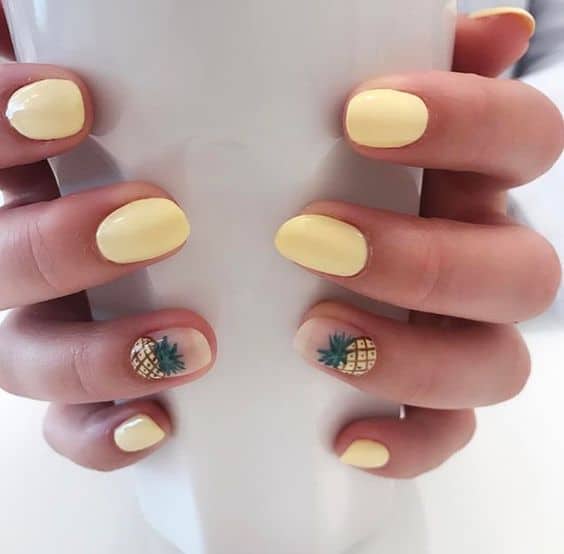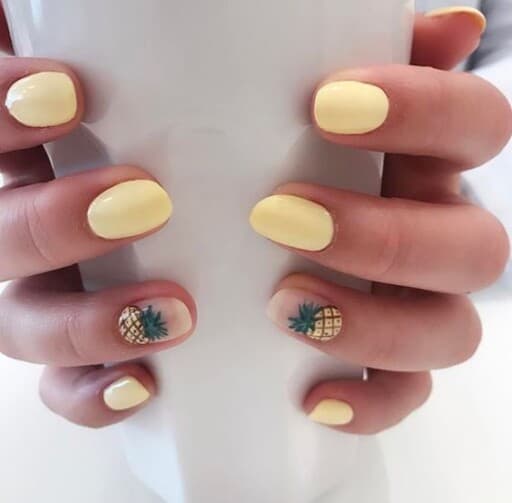 Summer isn't really ever complete without getting to sip on some pina coladas. While you can always drink this at any time of the year, the summer season is the perfect time to make your nails match this classic cocktail drink!
Black, Pink, & White Palms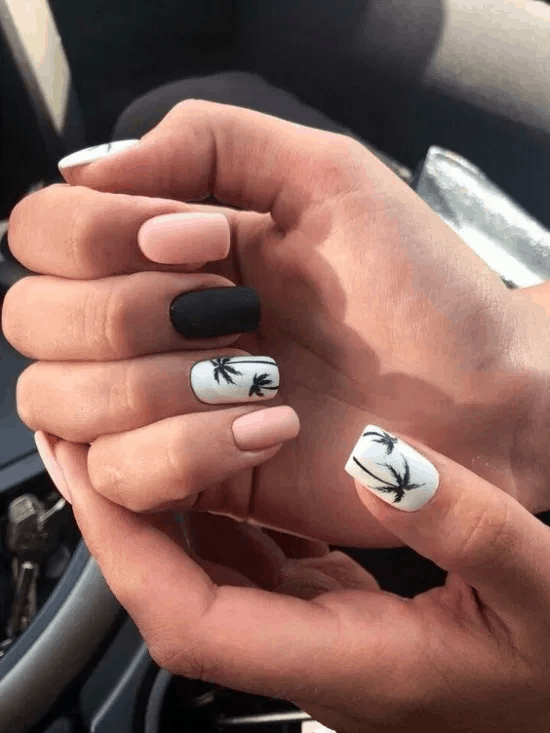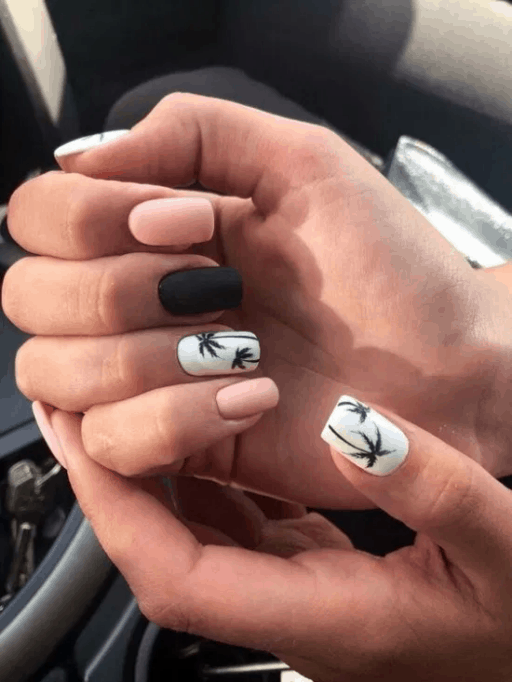 Nothing gets beachier than the look of palm trees around your manicure as nail art. You can even mix and match your favorite summer colors or keep things understated with neutral colors like black, white, and a soft shade of pink.
Green & White Floral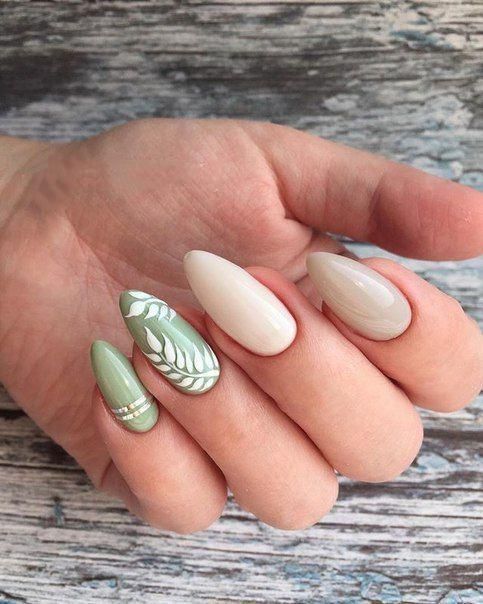 Here's one of my favorite designs on this list. There are so many things I love about this particular summer manicure. It's the different shades of green and nudes, and how it's creating this gorgeous and sophisticated vibe. Those intricate tropical and dainty patterns just really tie the whole look together too!
Neon Pink Beach Nails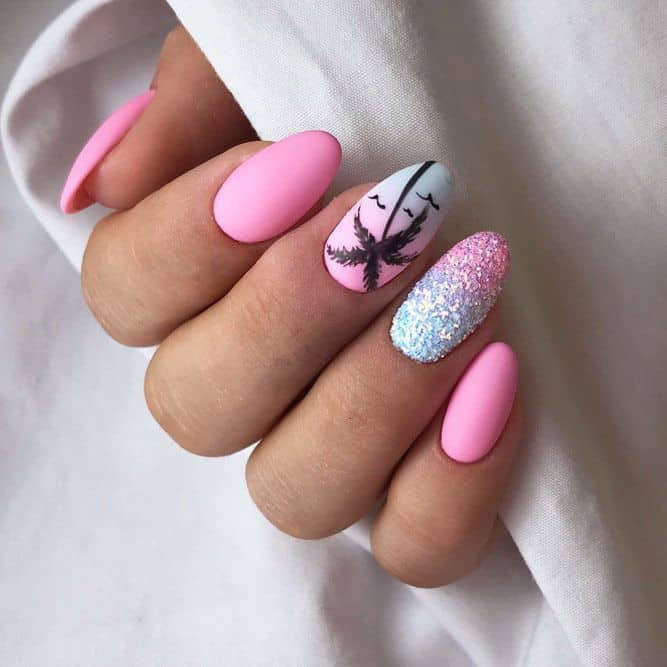 I love wearing pink colors all year long, but there's not a more perfect time to wear hot pink or bright, neon pink than during the summer. You can add some palm tree nail art or a glittery gradient accent nail to finish the whole look!
Navy, Preppy Beach Nails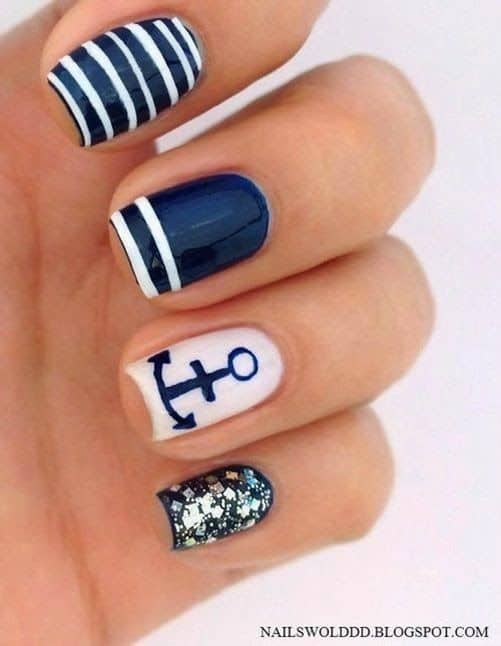 I usually reserve my deeper, moody nail polish colors for the chillier seasons but navy blue is an exception. If you're looking to wear darker colors for your beach nails, you can't go wrong with this beautiful navy blue manicure. You can even recreate this pretty, sailor-themed nail art!
Pink Ombre Palm Nails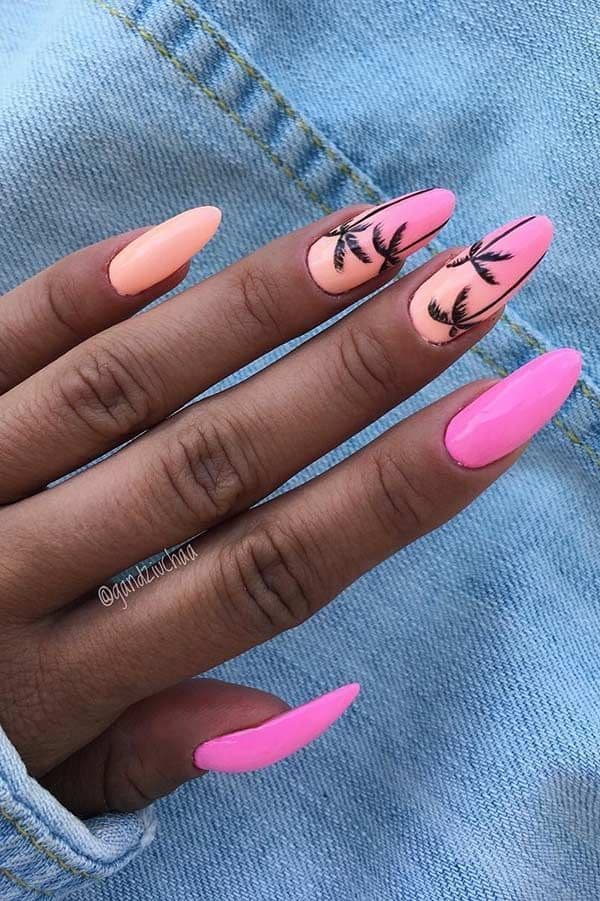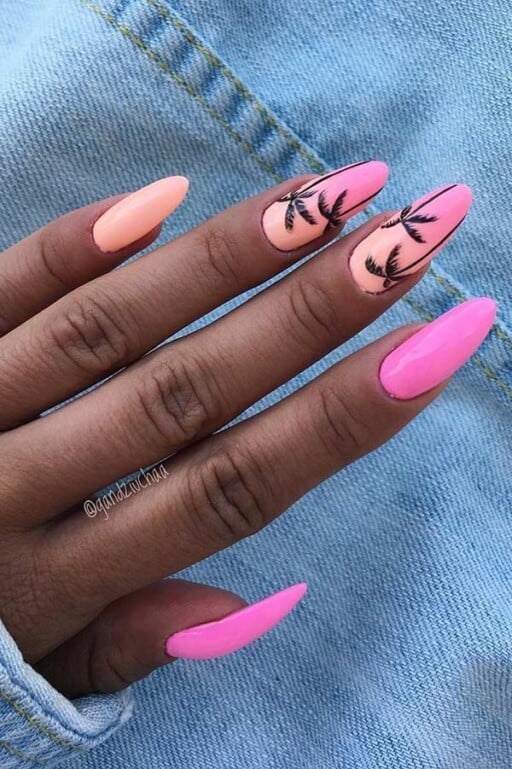 I'm loving this set of bright pink nails! They're perfect for any skin tone as well as any shape of nails. You can even spice it up with some ombre accent nails and top it off with some pretty palm tree nail art!
Pink & Green Tropical Nails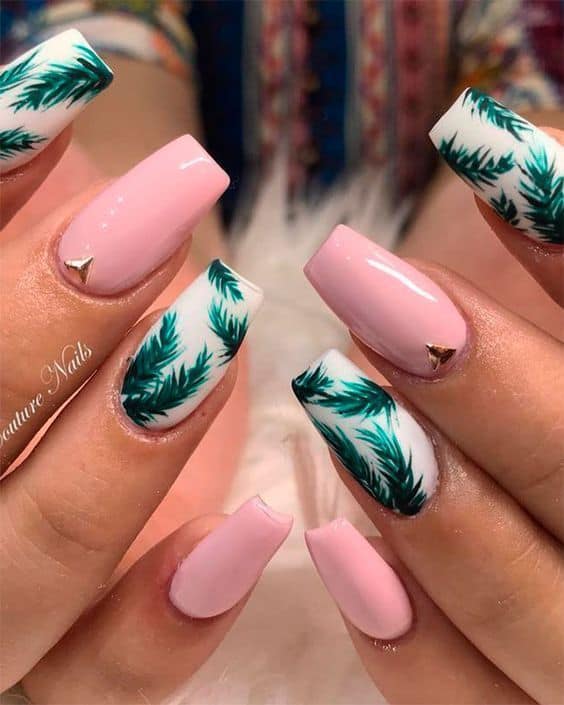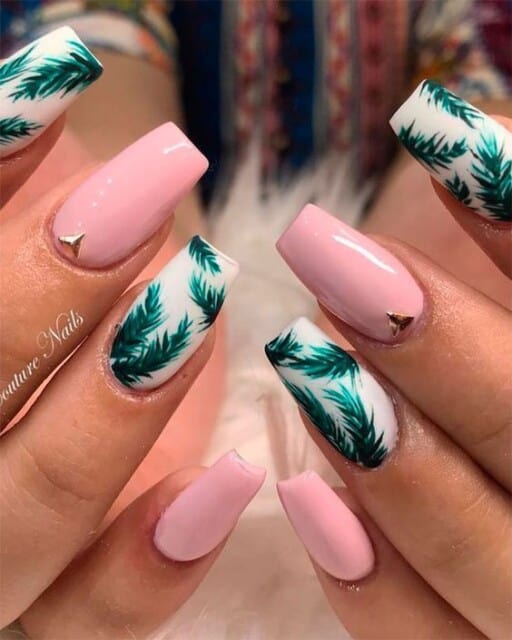 Pink and green are such a gorgeous color combination! The contrast of the deep green palm trees against the simple soft pink nails is utterly stunning! It's such a cute way to make your regular manicure be beach-ready!
French Floral Nails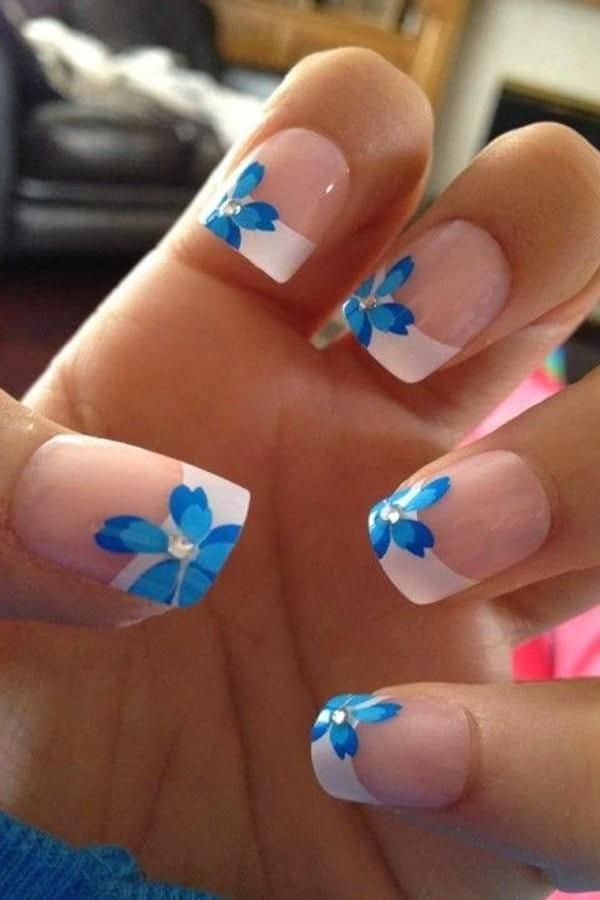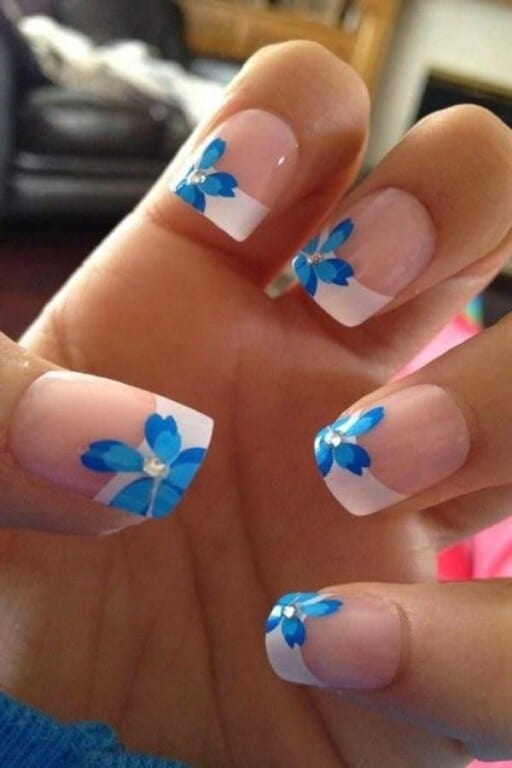 For a rather minimalist yet summery nail design, you can opt to put some tropical flowers on your classic French manicure. The vibrant blue against the white tips is so pretty but you can also opt for other bright colors you like!
Tropical Shades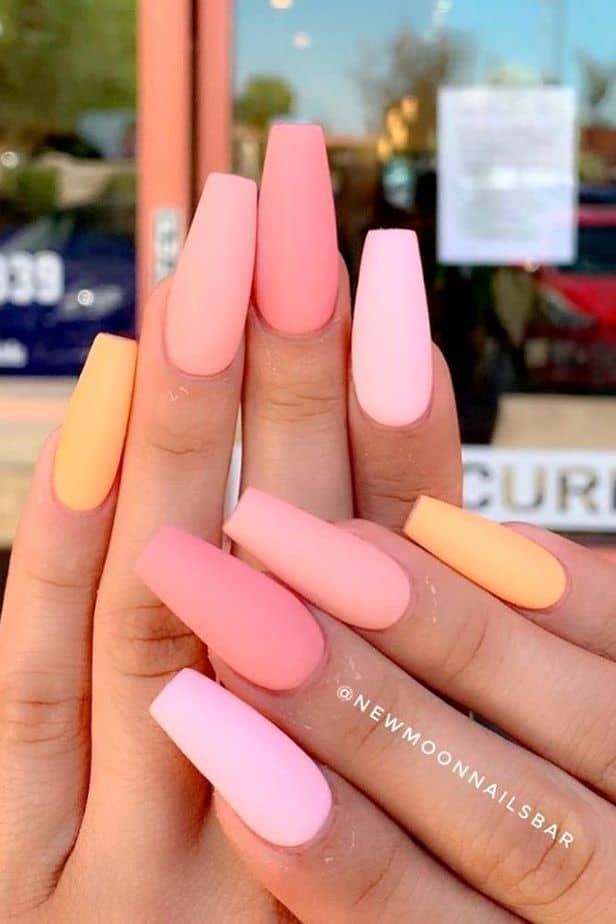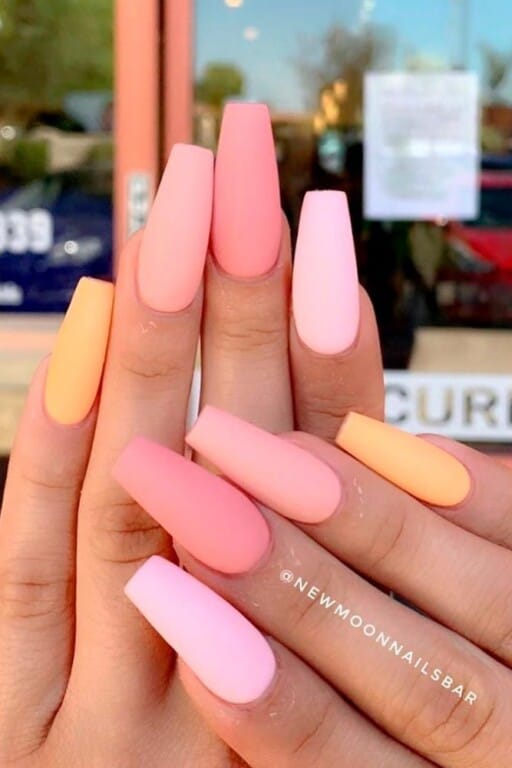 For simple yet gorgeous beach nails that you can DIY in the comfort of your home, these gradient bright pink nails are perfect for you! All you need are different shades of pink polish to recreate these multi-colored nails. Though I would recommend picking brighter tones than muted ones to keep things summery.
Ocean Marble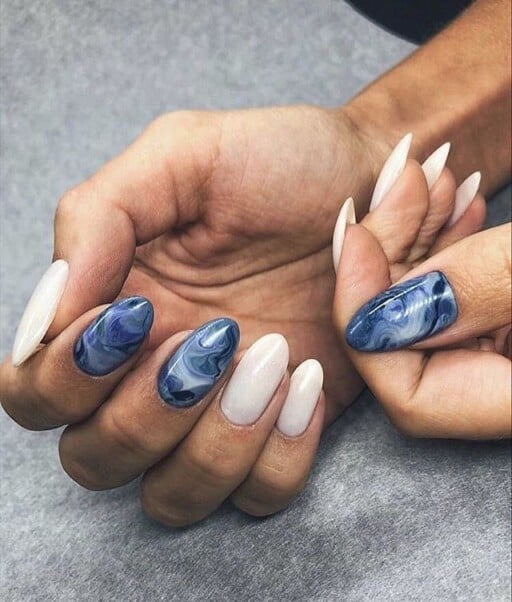 These ocean marble nails are another absolute favorite of mine on this list. Just looking at these nails makes me nostalgic for the ocean and I cannot wait until I get to go on my next beach trip. I'm definitely trying out this manicure too!
Turquoise Sparkle Ombre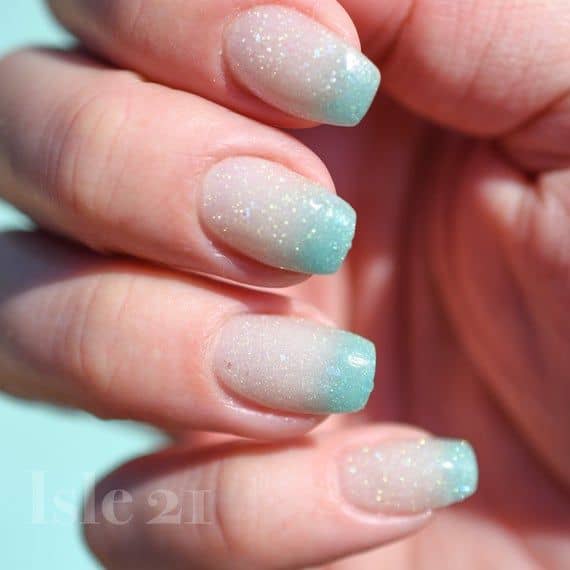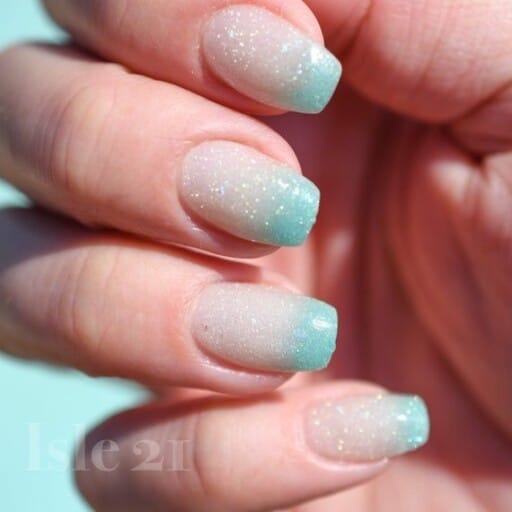 For a dainty, summer manicure, I recommend these ombre turquoise nails! For some reason, these beach nails remind me of the beach and the seashore. The added sparkle just makes the whole manicure look even more stunning!
Seahorse Nails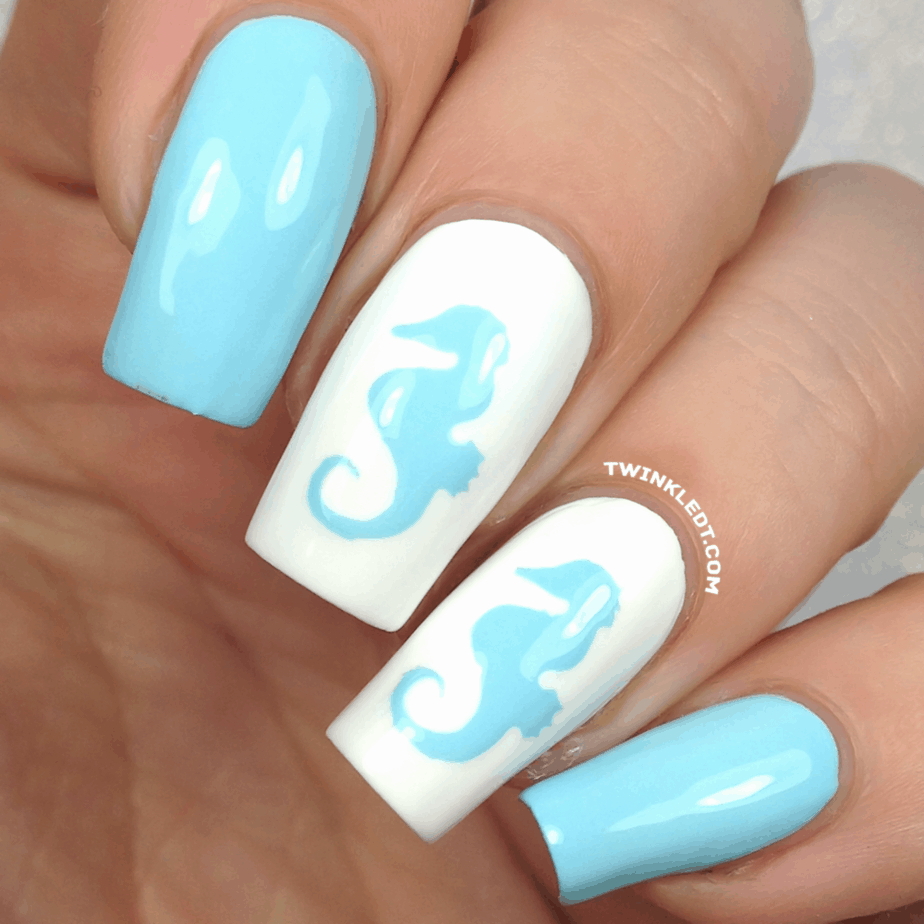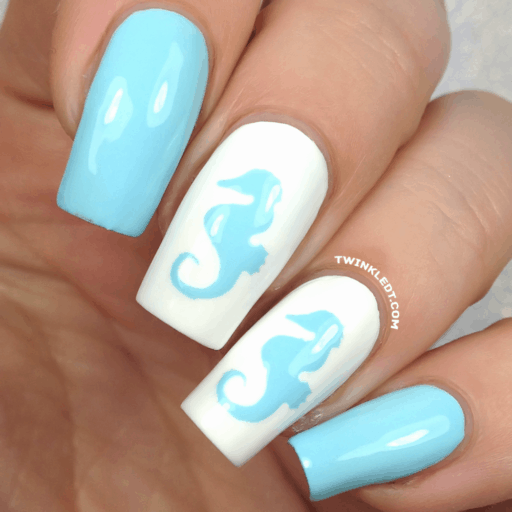 If you want a unique set of beach nails that you won't see too often from others on your summer vacation, then these fun and bright seahorse-themed nails might be a good idea! They're quirky and the blue and white color scheme gives such a refreshing and cool effect!
Neon Flower Nails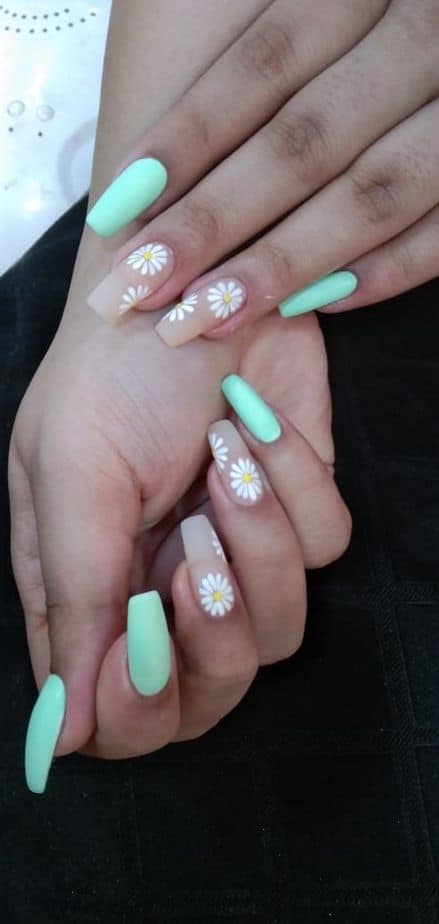 Floral nail art is one of the best ways you can give your nails a summer makeover. They're also suitable for spring so they make gorgeous transition manicures in between the seasons as well!
Orange Beach Nails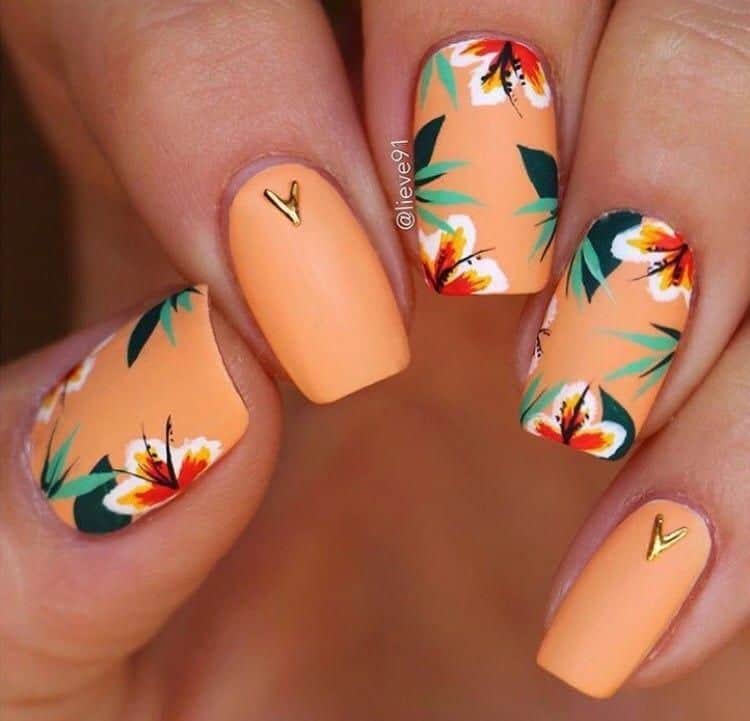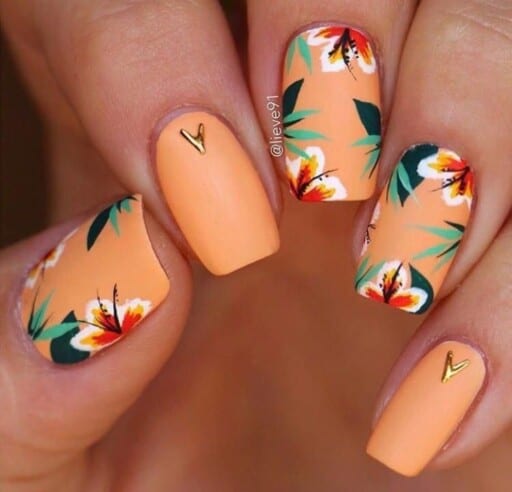 During the summer, orange is one of my go-to colors for my beach nails. They're just the ideal base coat before laying down my tropical-themed nail art like in this photo! Don't you think it's pretty, too?
Turquoise Palm Trees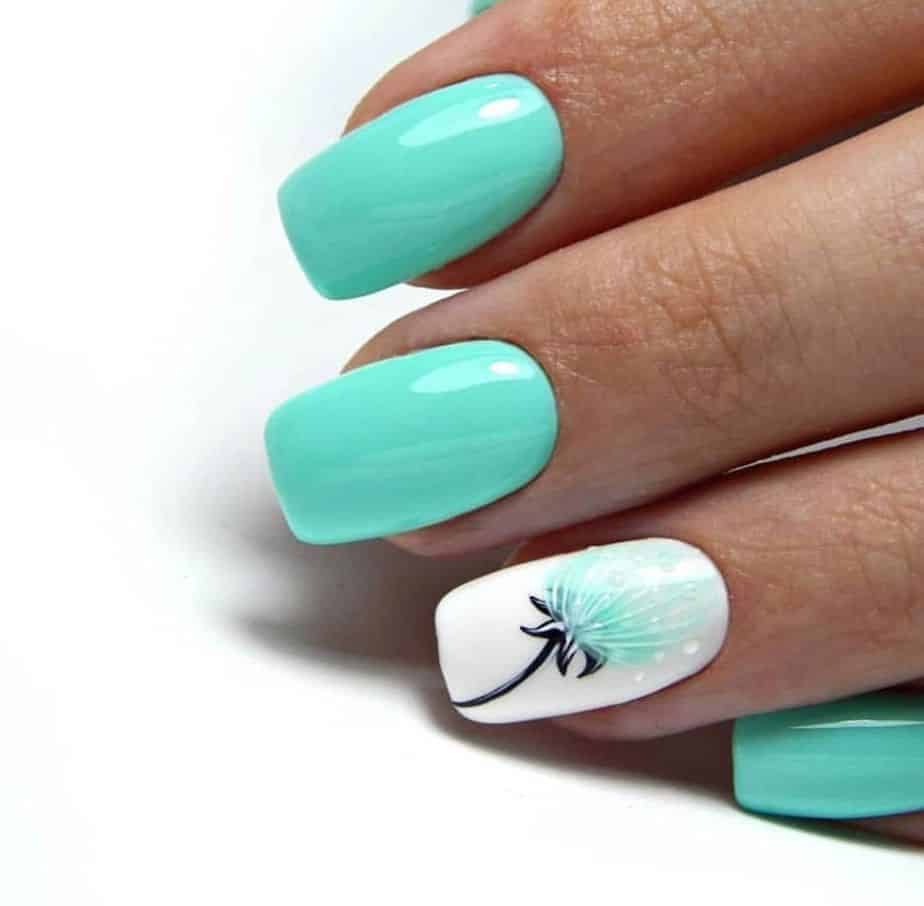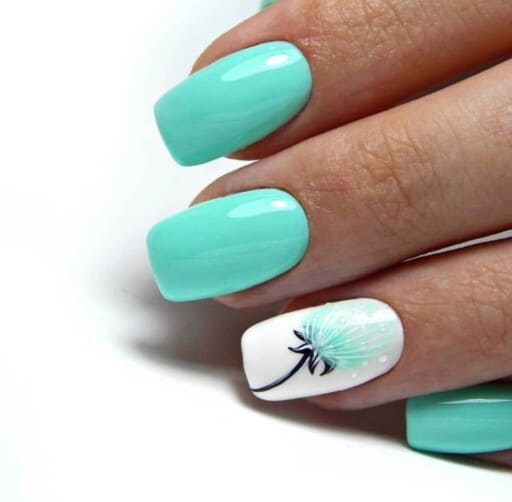 If you can't get enough of turquoise, here's another set of beach nails you might want to try out. This one's also pretty simple to do. But if you're not too comfortable doing your own nail art for the palm trees, you can always get some nail stickers!
Ocean Wave Beach Nails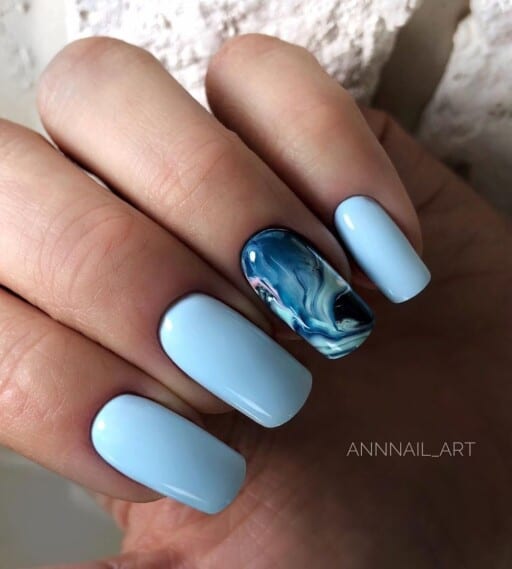 Ask your manicurist to give you an ocean-themed marble accent nail on your next appointment to recreate this stunning summer manicure! I just love the different shades of blue on these nails, especially that accent nail. Quite a mesmerizing sight!
Shades Of Blue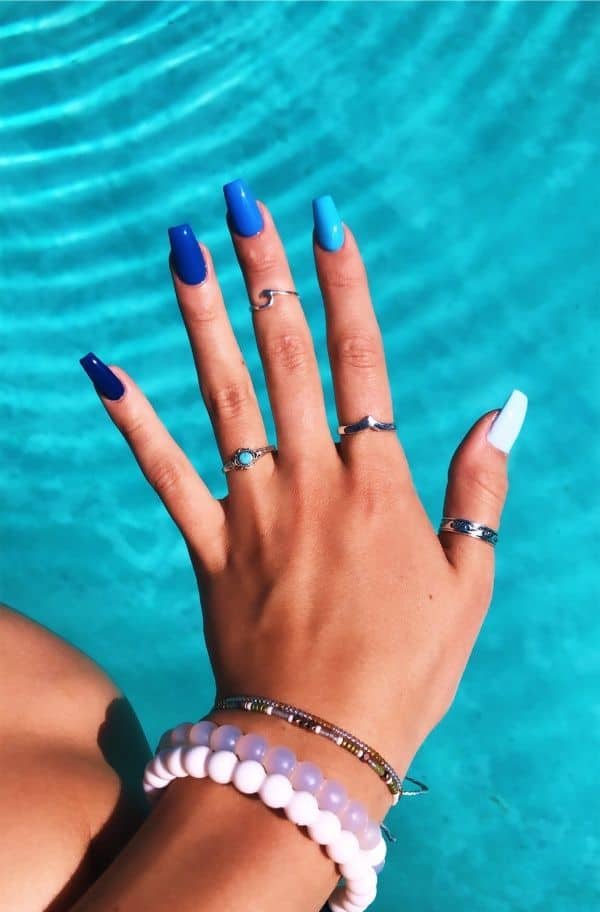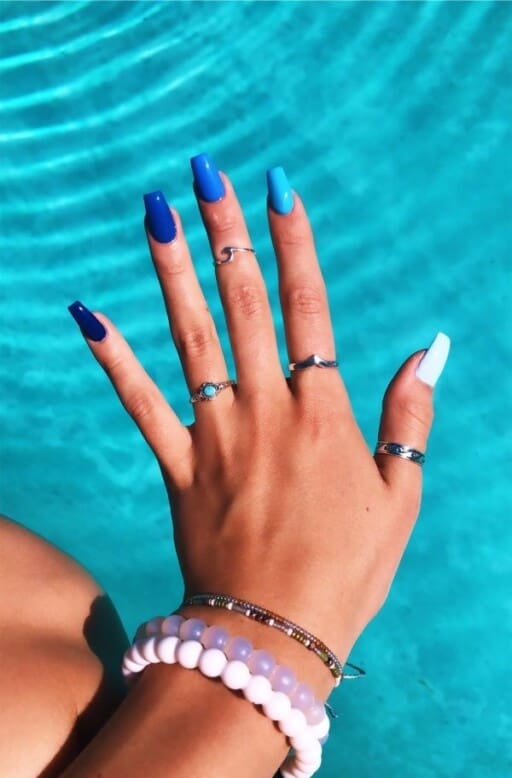 If you want a simple manicure with multi-colored nails that will fit your poolside party, try these different shades of blue!
Cloud Nails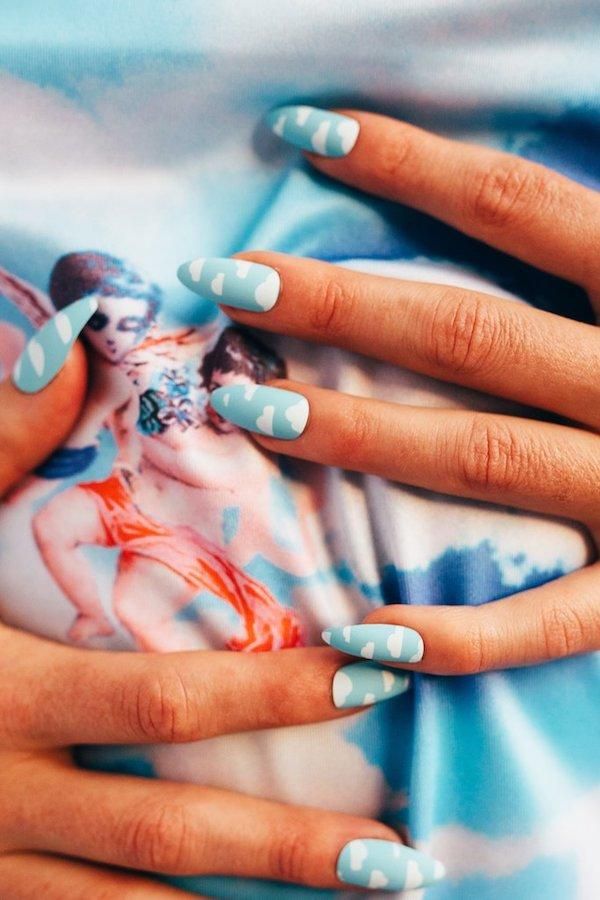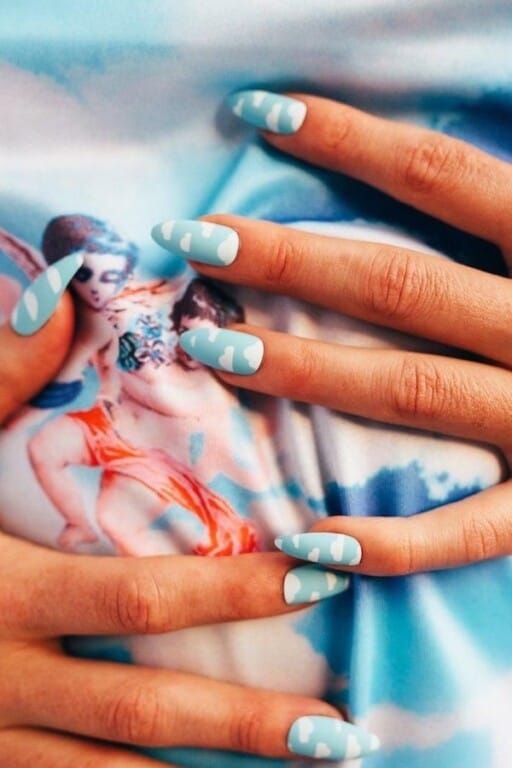 These fluffy cloud nails are oh-so-cute! If you can't do them on your own, don't worry! You can always opt for press-on nails or stickers to do the trick for you!
Orange Flowers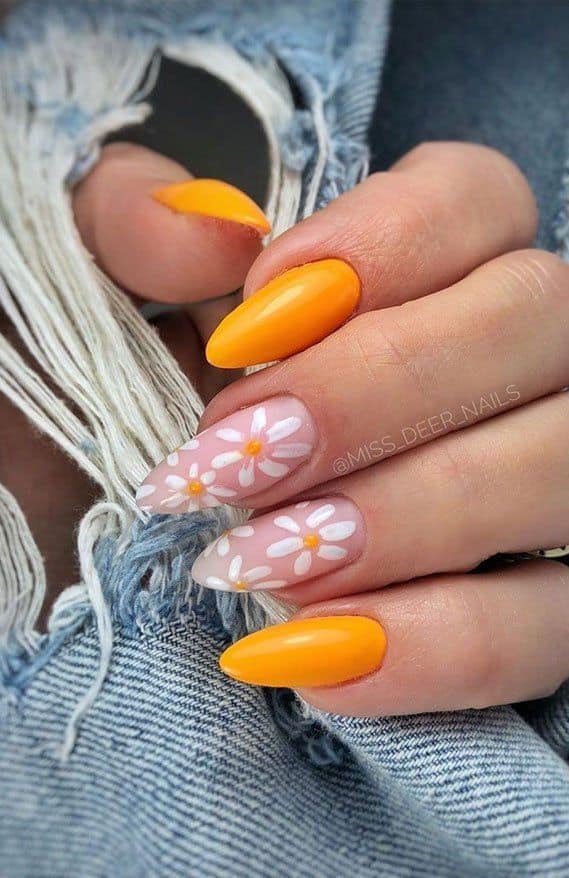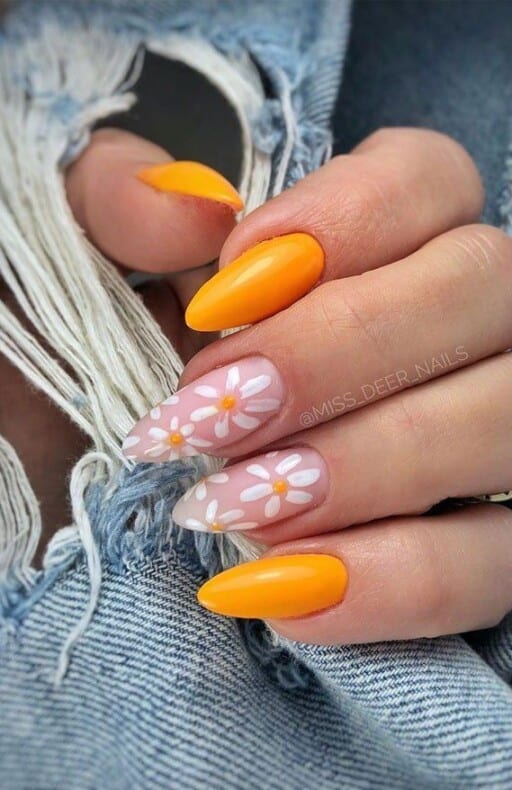 These vibrant orange flower tropical nails are gorgeous! Another instant favorite of mine for sure!