This shop has been compensated by Collective Bias, Inc. and its advertiser. All opinions are mine alone. #VeryVeggieHoliday#MorningStarFarms #CBias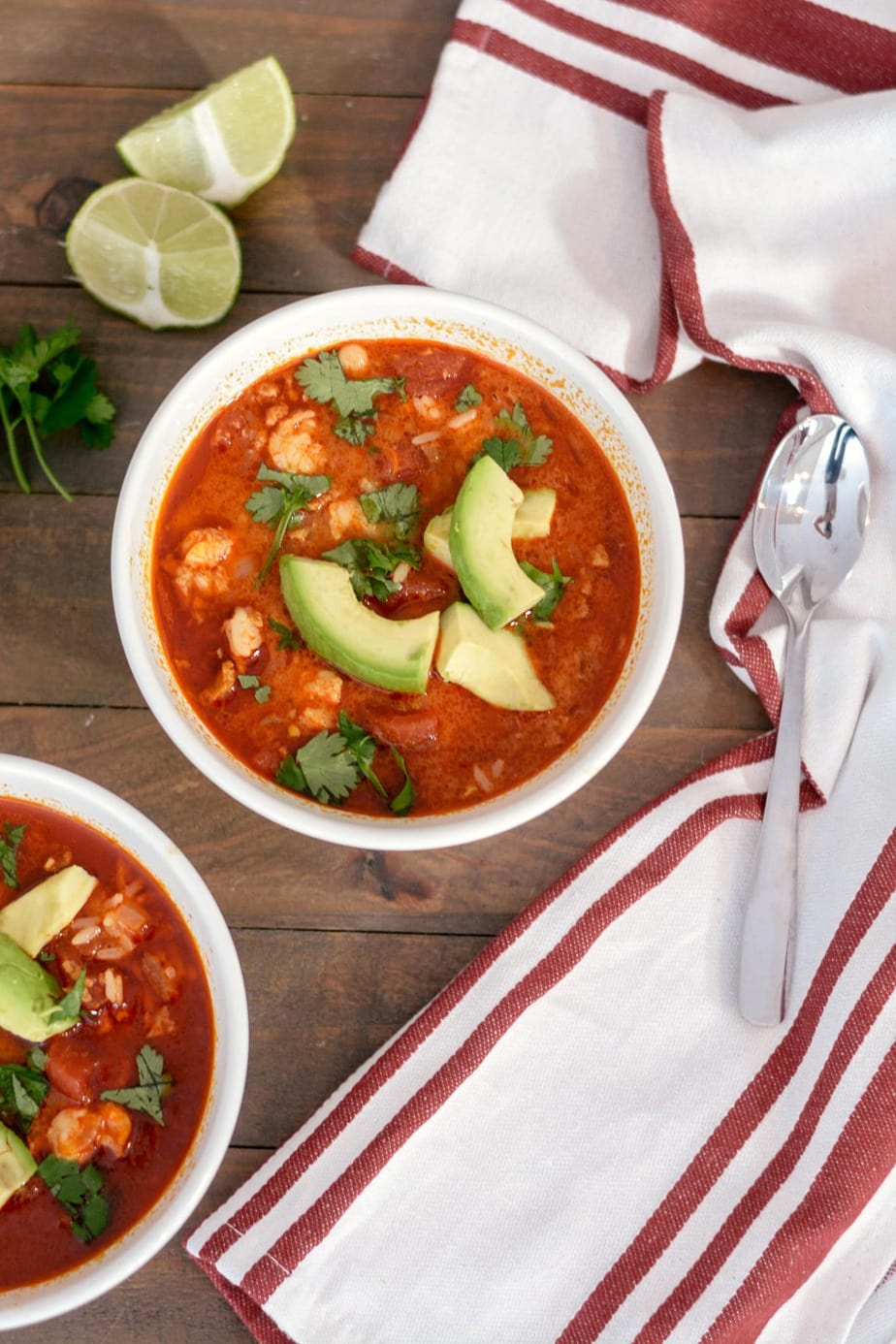 I love a nice hearty soup any time of the year, but this is one of my favorite recipes I've come up with! After making all of the normal soups (e.g. chicken, vegetable, and lentil) multiple times, I wanted to try something new and this recipe fit the bill. We've had some seriously cold nights here in Boston, but I've found that any chilly evening is made way better with this Citrus Smoked Shrimp & Chorizo Soup.
This chorizo soup recipe has a hint of lime that mixes so nicely with the avocado. It's on the thinner side but is packed with protein and super yummy ingredients. It's also really really filling! I could only eat half of a bowl and I have a pretty good appetite.
Main Ingredients
You can get fresh shrimp for this recipe; finding it peeled and deveined before makes the process a lot easier. I sometimes buy frozen as well because I can get it wild, which is pretty hard to find fresh.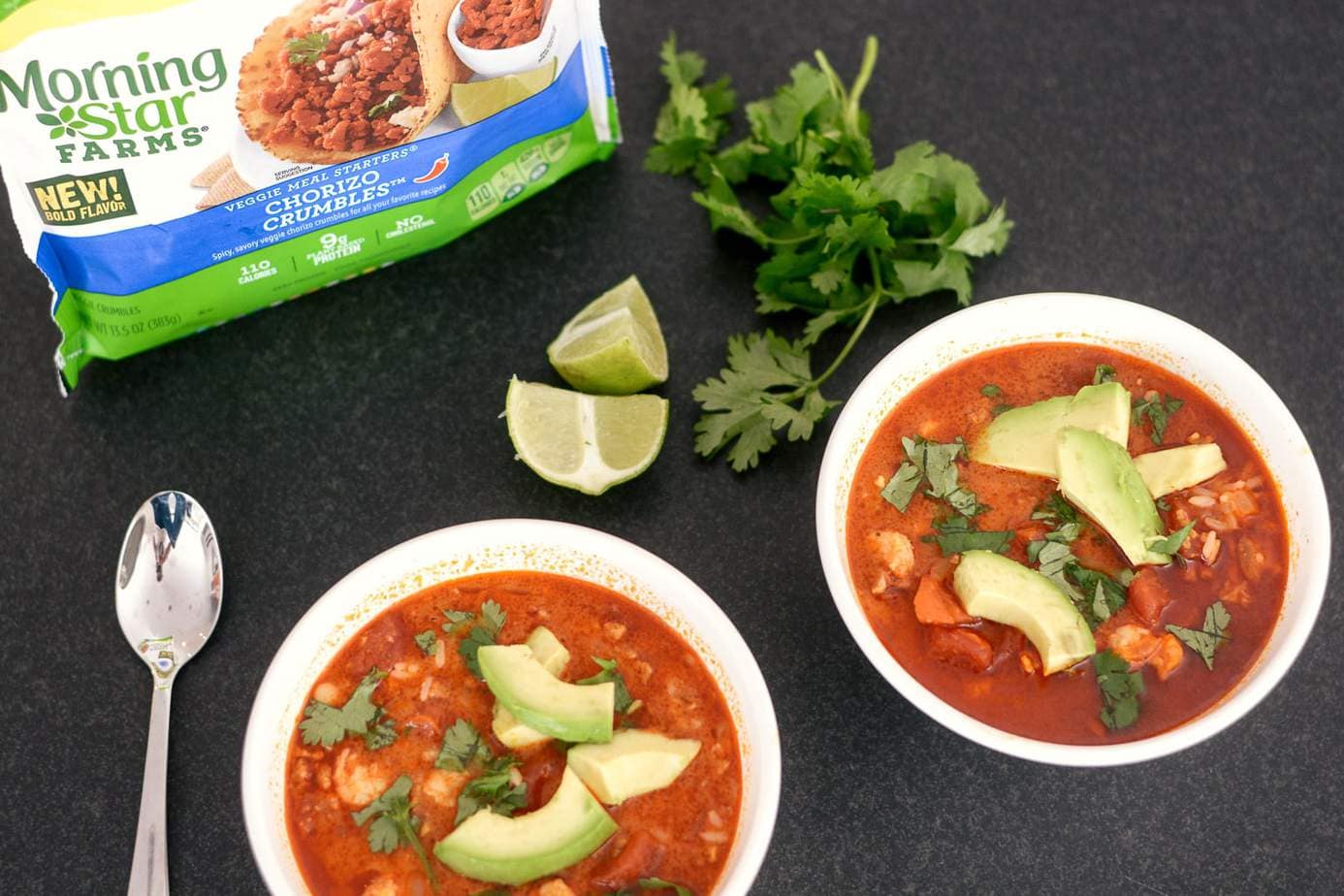 I used MorningStar Farms® Chorizo Crumbles from Walmart, and do so purposefully because it's vegan. Personally, I use a less-is-more approach to the amount of meat dishes I make a week, and since I included shrimp and a ton of other protein in this recipe, I wanted to try a veggie cuisine. Funny enough, Morningstar Farms uses this same less-is-more philosophy, so these products have no artificial colors or flavors.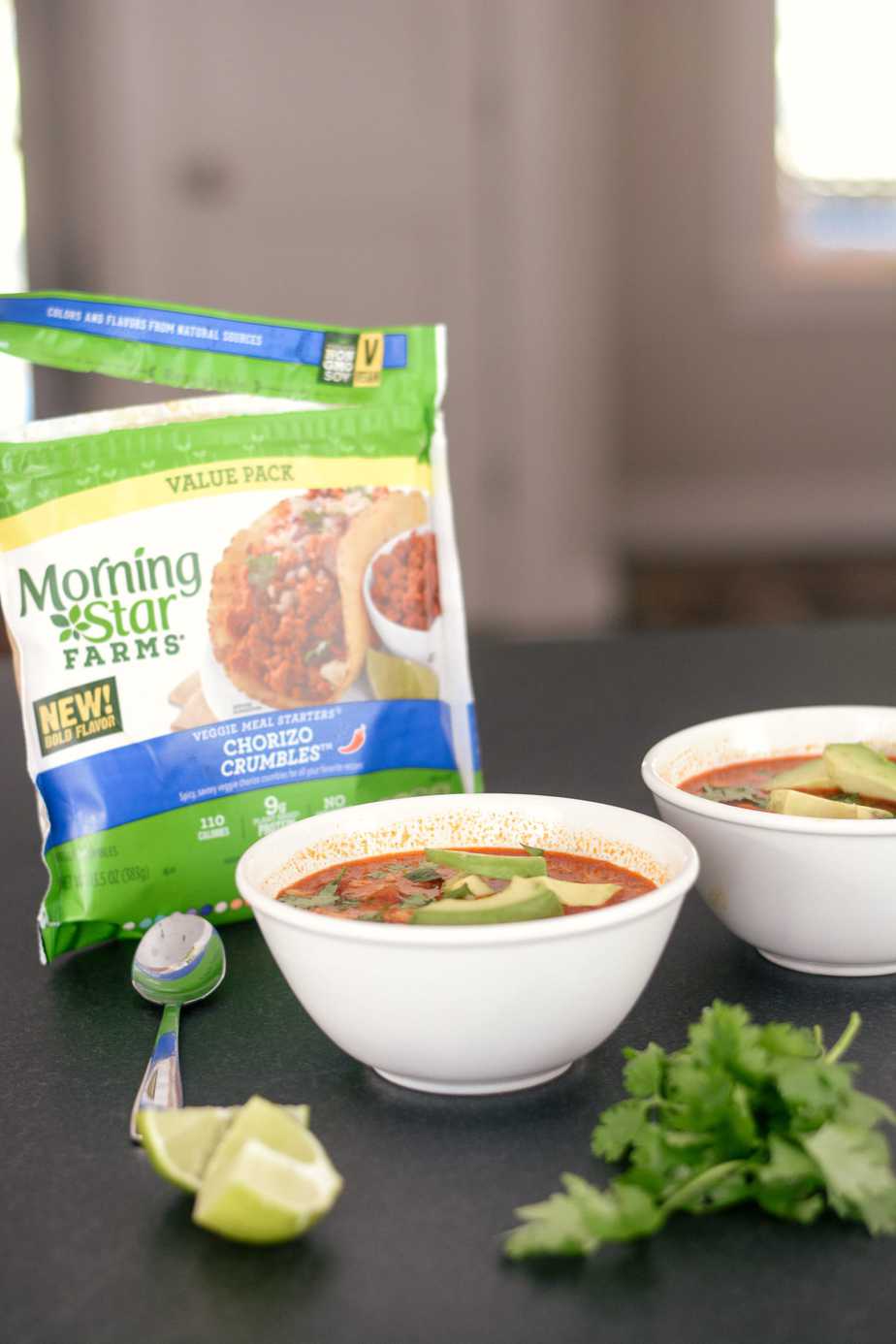 These MorningStar Farms® Chorizo Crumbles added a really different flavor that made the dish! They're an as-is meal solution so it makes it a lot quicker to put this dish together.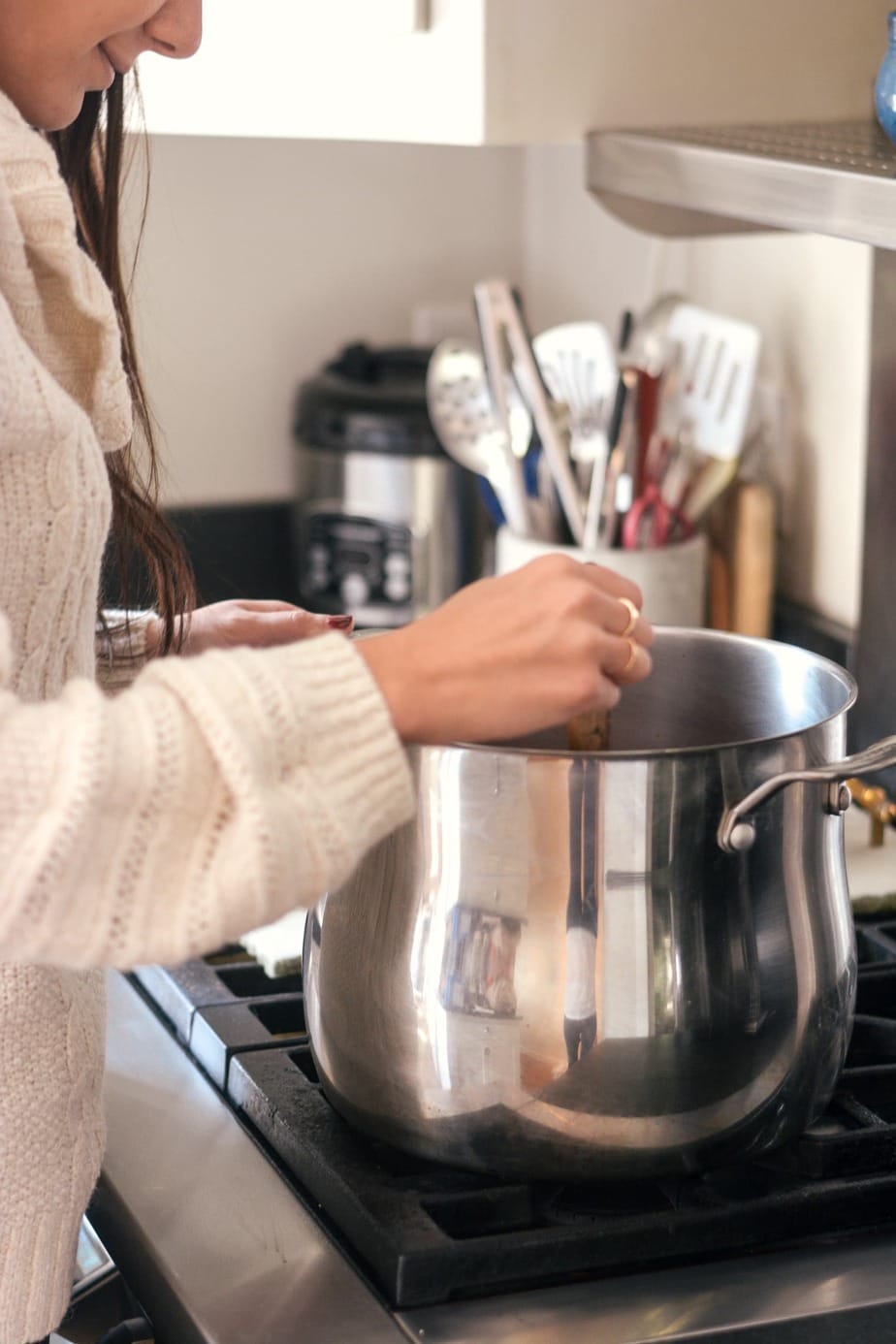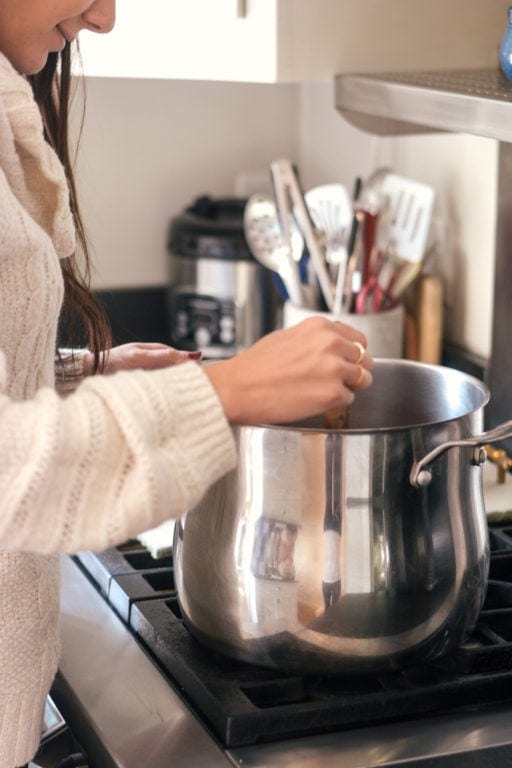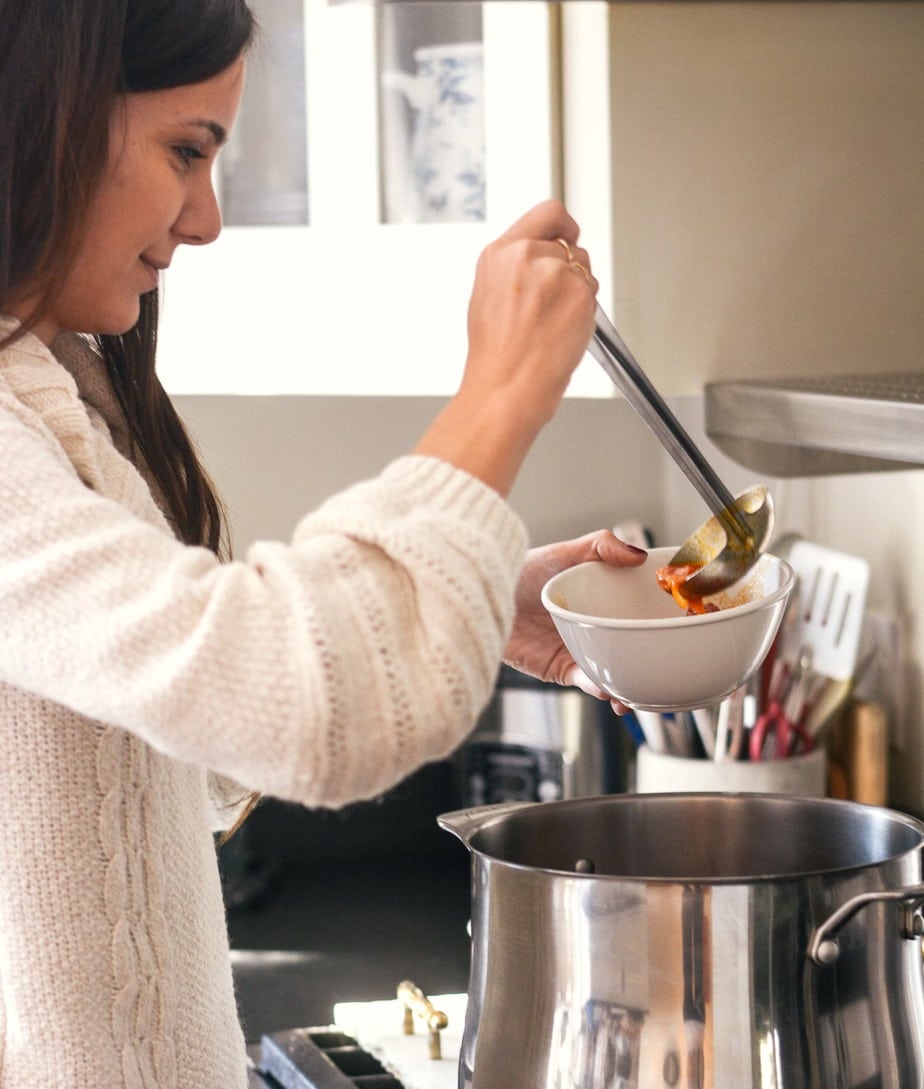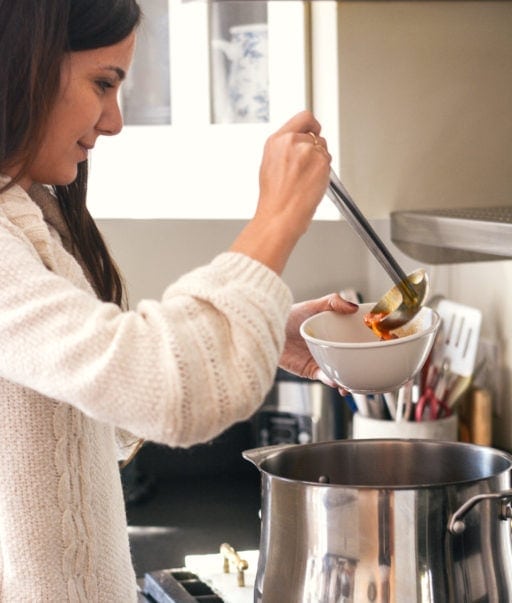 I also threw in some white beans, and loved the added texture (plus it's a little bit more protein), but this step is definitely optional.
Citrus Smoked Shrimp & Chorizo Soup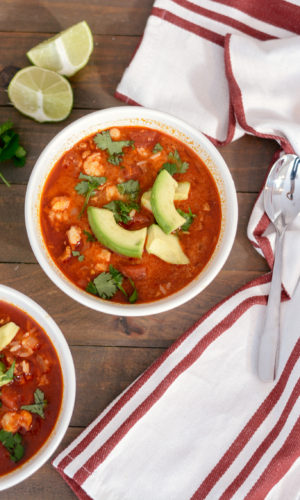 1 medium onion (chopped)
4 garlic cloves (minced )
1 tbs olive oil
1 tbs flour
4 tbs butter
13.5 ounces MorningStar Farms® Chorizo Crumbles ((1 bag))
1 tbs tomato paste
1 28 ounce can diced tomatoes
1 14 ounce can cannellini beans (white kidney beans)
1 1/2 tsp paprika
1 tsp coriander
1/2 tsp celery seed
1 tsp salt
32 ounces chicken stock
1 1/2 pound shrimp (peeled, deveined, and chopped)
4 cups white rice (cooked and set aside)
2 avocados
2 limes
A handful chopped cilantro
Sautee the onion and garlic in olive oil until translucent. Do this over low heat so you don't burn the garlic.

Add in the butter and flour. Mix it until it thickens.

Add in 1 bag of MorningStar Farms® Chorizo Crumbles. Stir in the tomato paste.

Add paprika, coriander, celery seed, and salt. Mix, then add the chicken broth and diced tomatoes. Simmer for 20 minutes.

Add in the shrimp and the white kidney beans. Cook for an additional 3-4 minutes.

Spoon one cup of rice into each bowl and cover with the soup. Squeeze in 1/2 lime per bowl and stir. Garnish with sliced avocados and chopped cilantro.

Enjoy!
I found these MorningStar Farms® Chorizo Crumbles in the frozen section in Walmart.