Whether you're looking for something more traditional or more out-of-the-box with your holiday decorations this year, you definitely need to take a look at my list of the best Christmas tree themes you can recreate for your home!
There's no doubt that each year, putting up a Christmas tree brings many joys to any household. These might include yearly traditions that have been passed down from generation to generation, nostalgia, and festive cheer.
But after a while, things might begin to appear a little too conventional for some of you. So why not change things up this year and be daring with a particular Christmas tree theme?
But regardless of what you're looking for in a Christmas tree theme, there is definitely something here for you.
To fit what you guys could adore and what could fit your individual taste, I've taken the liberty to compile the best Christmas tree theme ideas for this article. I've put together themes that are classic, refined, colorful, old-fashioned, eclectic, rustic, and much more!
Best Christmas Tree Themes
If you're already planning your holiday décor, look no further than my selection of the best Christmas tree themes you can copy for ideas! Just keep on reading to find out more!
Warm Woodland Christmas Tree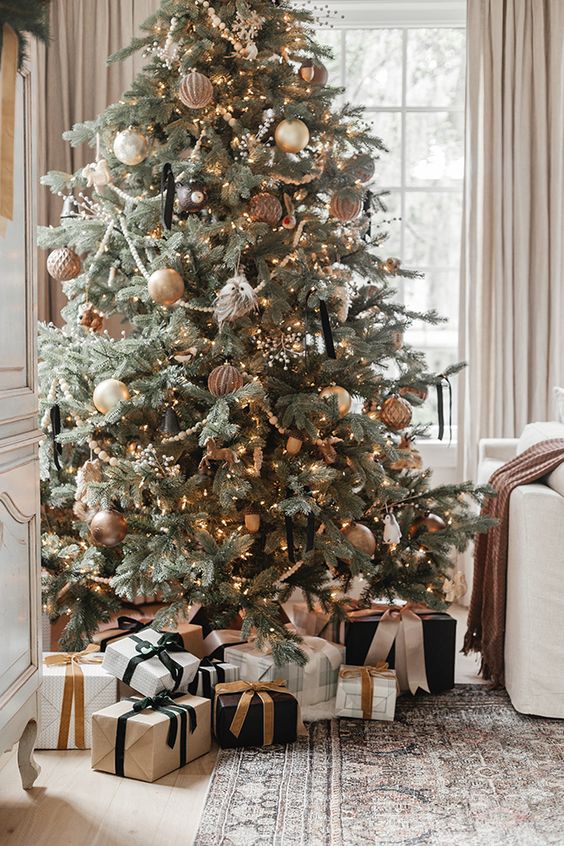 This woodland-inspired Christmas tree theme is all about the luscious greenery and those gorgeous, earthy, warm tones you can easily get with some Christmas lights and ornaments. To achieve this look, you'll be going to need several strands of wood bead garlands, black velvet ribbons, a mix of gold/champagne/copper ornaments, and some woodland ornaments as well.
City Of Lights Christmas Tree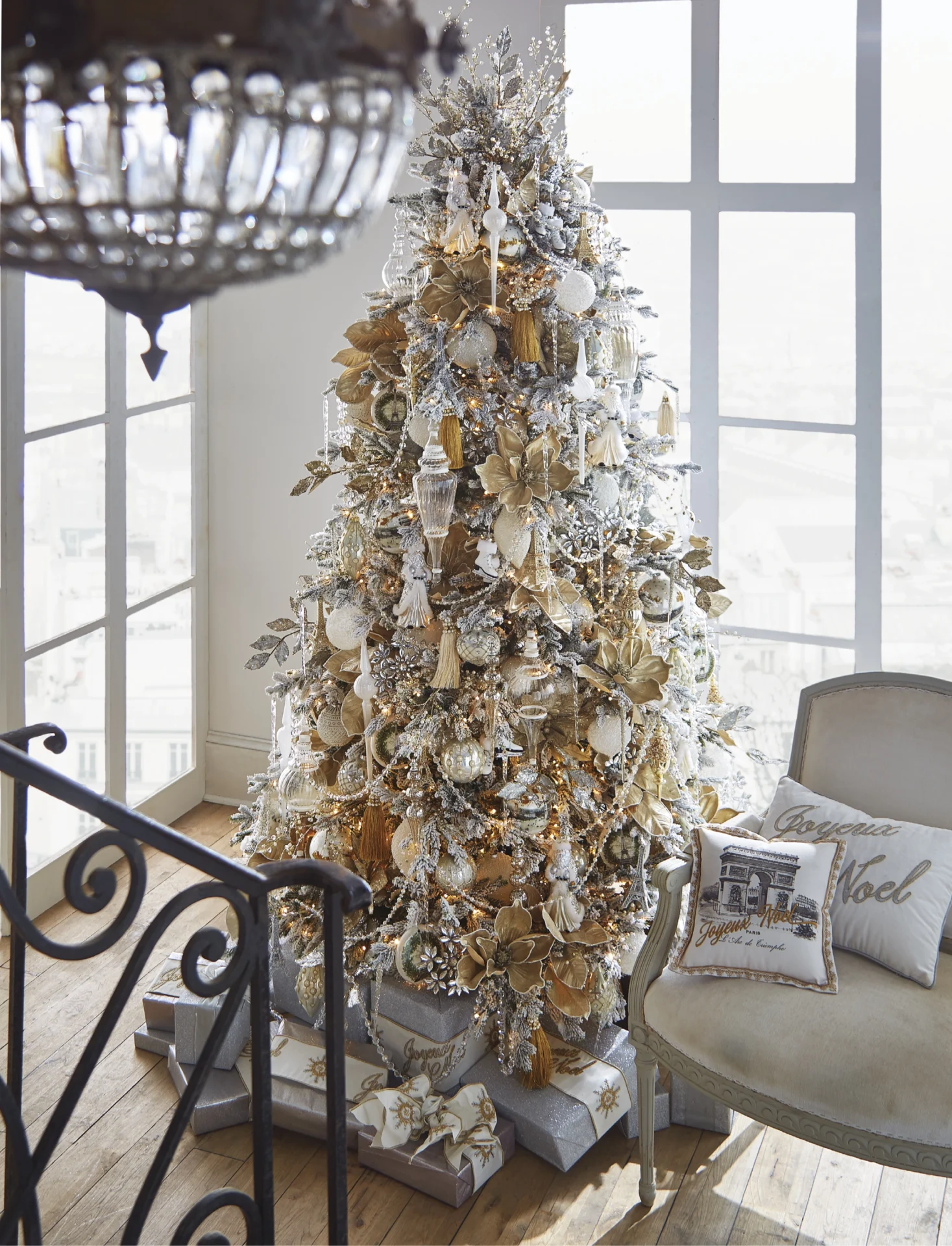 With this Christmas tree, you can add a touch of champagne and the elegance of crystal to your house during this festive period. What you will want is to adorn your Christmas tree with magnificent clear crystal ornaments, and shimmering white, silver, and gold accents.
Spooky Vintage Halloween-Themed Christmas Tree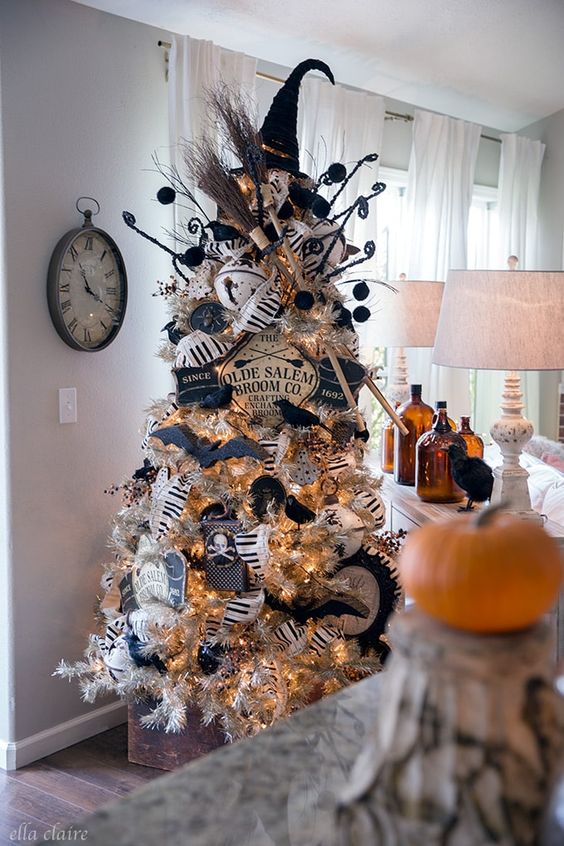 If Halloween happens to be your favorite holiday of the year, then nothing should stop you from creating this spooky Halloween-themed Christmas tree! This will totally tick all the boxes if you're looking to make things extra spooky this holiday season!
With a witchy, vintage charm, you'll totally bewitch and cast a spell on your family and guests with this out-of-the-box Christmas tree theme!
Harry Potter-Inspired Christmas Tree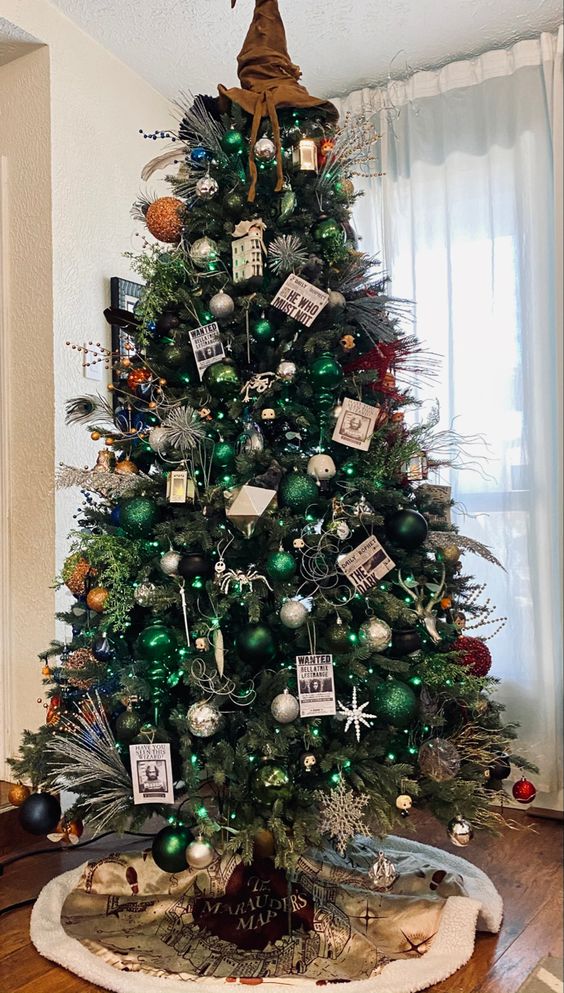 Calling all wizards, witches, and muggles! This Harry Potter-inspired Christmas tree is perfect for any Potterhead celebrating Christmas this year! You can easily recreate this look by adorning your traditional Christmas tree with elements and references from the movies and the entire franchise. And instead of a traditional star, you can put a sorting hat on top of your Christmas tree!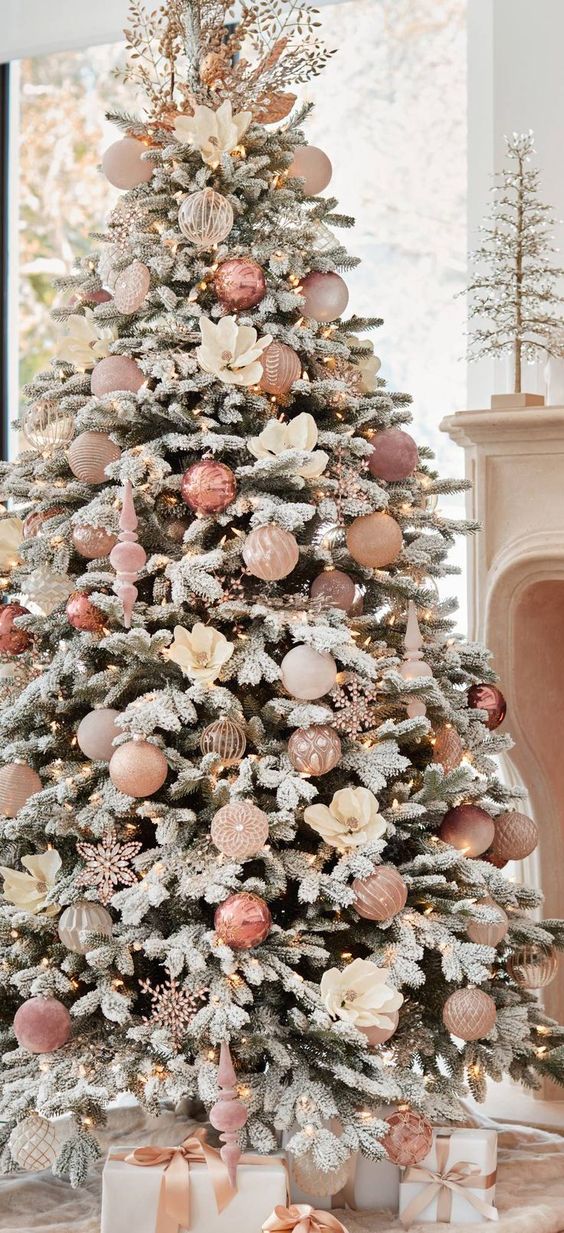 This blushing Christmas tree just looks utterly ethereal, especially with those frosted leaves and delicate accents decorating the greenery. To get the same elegant and romantic vibe, opt for gold, blush, and ivory accents and ornaments to adorn your Christmas tree.
Green and Blue Plaid Christmas Tree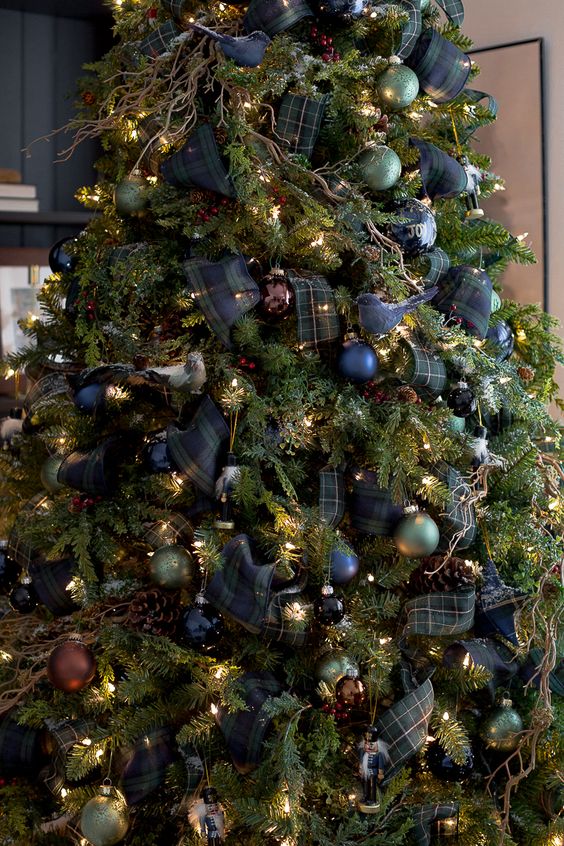 Christmas is truly the season of plaid! And I won't blame you if it's something you want to incorporate into your own Christmas tree. Just look how gorgeous this one is! The dark blue and green jewel tones adorning the greenery create such a moody yet cozy vibe. If you can't decide between rustic and elegant, then this Christmas tree will give you that perfect balance of both.
Burnished Metal Ornaments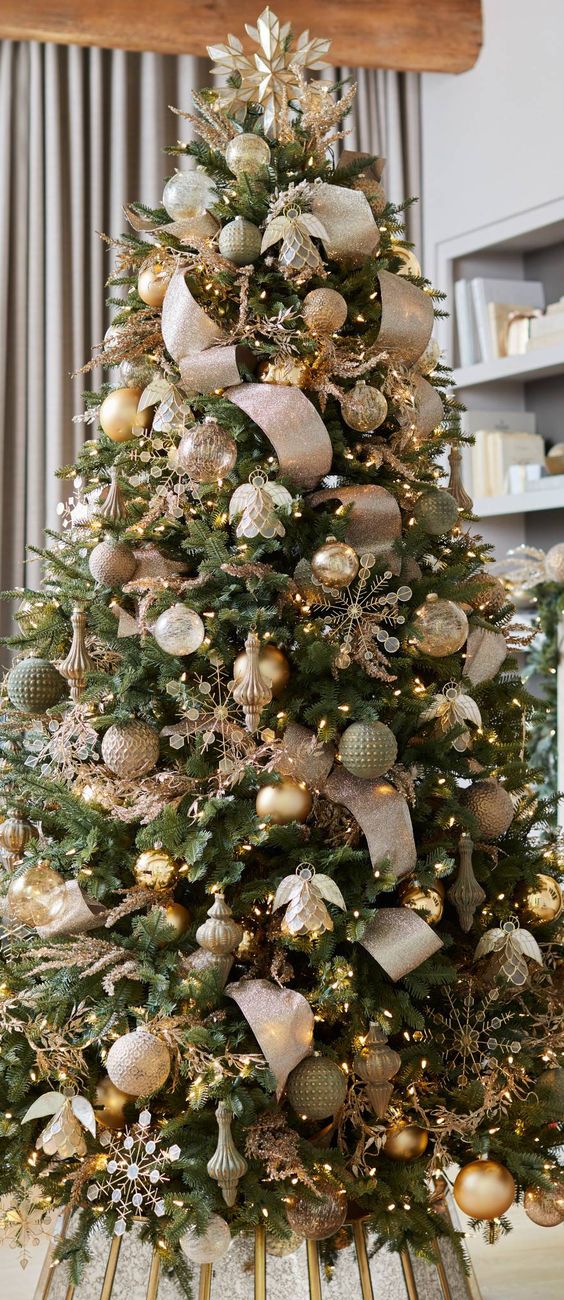 This year, add accents of gold and earthy tones to your Christmas tree to create a gorgeous contrast against the lush greenery. The metallic ornaments are sure to add dazzling brilliance and sparkle to your tree. What you'll get is a stunning golden Christmas tree with a vintage feel. This is one of our favorite Christmas tree themes this season!
Scandinavian-Inspired Christmas Tree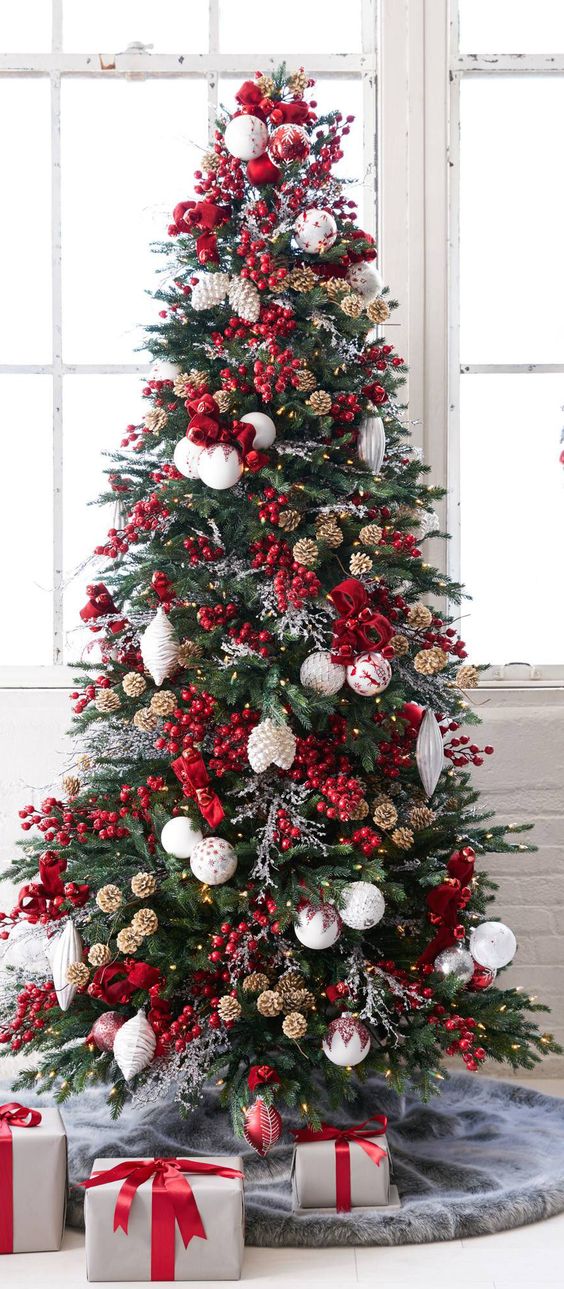 The Scandinavian aesthetic is known for its clean and minimalistic approach. If this sounds like something you're wanting to give a try or this kind of aesthetic speaks to you, then you should definitely take a look at this gorgeous Christmas tree!
It's not the most "minimalistic" tree on this list but it also has far fewer ornaments used. You might want to mix and match plaid and Scandinavian decorations with bold red ribbons to give your tree those lovely and dramatic splashes of color.
Vintage & Old-Fashioned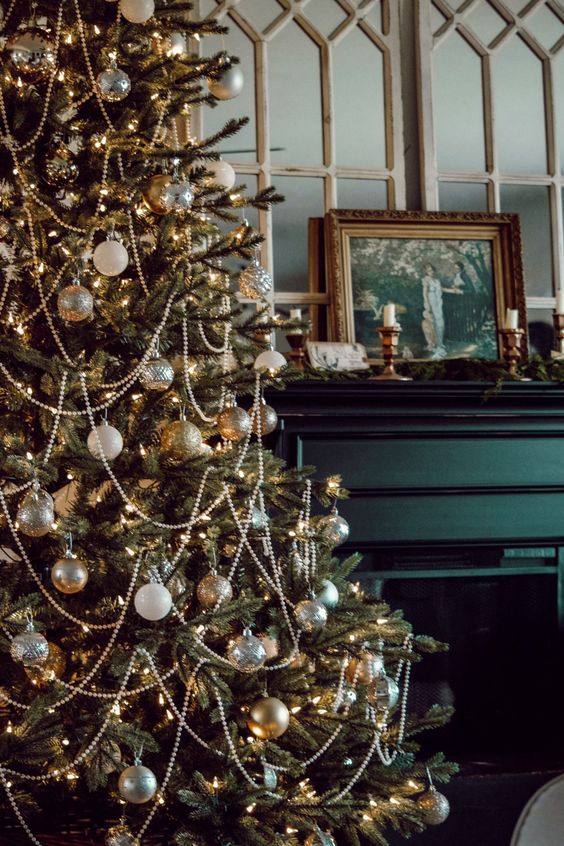 There is just something about an old-fashioned decorated Christmas tree that instantly makes me think of a warm and cozy home. This particular tree makes me feel all warm and cozy too as if I can vividly picture myself sitting near a fireplace. Not only does this tree's aesthetic bring good and fuzzy vibes, but those beaded garlands, glowing Christmas lights, and shiny ornaments give the overall tree such a classy look. This is one of our favorite Christmas tree themes for an elegant and vintage look.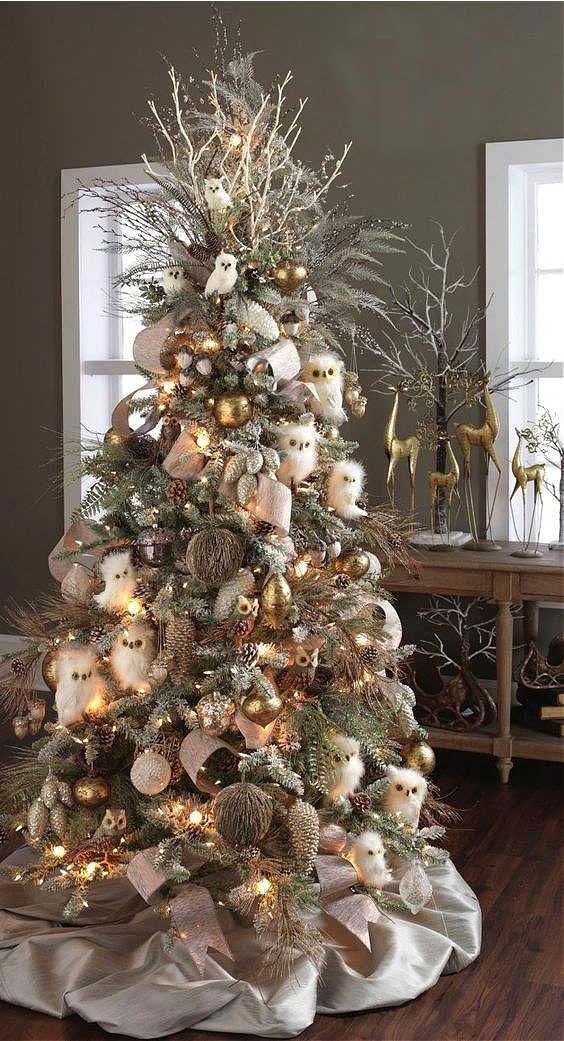 This year, you might want to bring the outdoors right into your home. And no, I don't mean literally. But this woodland-inspired Christmas tree can easily give off that same effect! I mean, look at those adorable owls peeking through the greenery!
Boho-Inspired Christmas Tree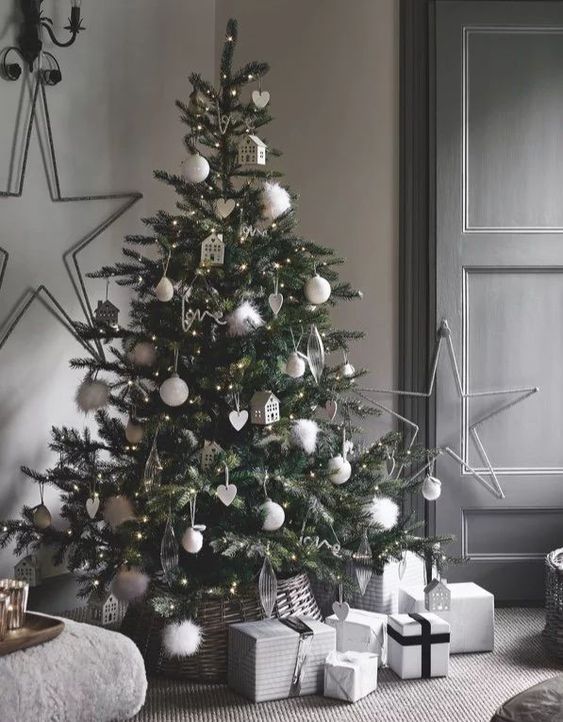 Clean, simple, and very modern, this Boho-inspired Christmas tree is the perfect theme for busy girls! If you find yourself a little tight on time, then you definitely consider trying out this all-white minimalistic Christmas tree. This won't require a lot of fuss and effort but it also doesn't compromise in the aesthetic department.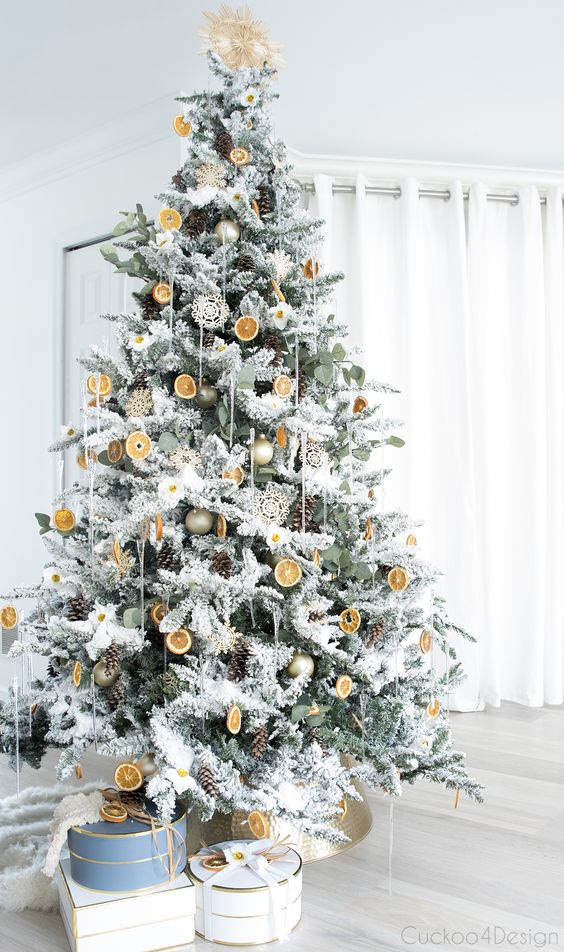 If you're going for a winter wonderland theme this Christmas, then you should check out this Natural German-themed Christmas tree! This particular one has been decorated with gold ball ornaments, frosted leaves, glass icicles, pines, dried fruits, and so much more. This is one of our favorite Christmas tree themes that just screams winter!
Cozy Bohemian Christmas Tree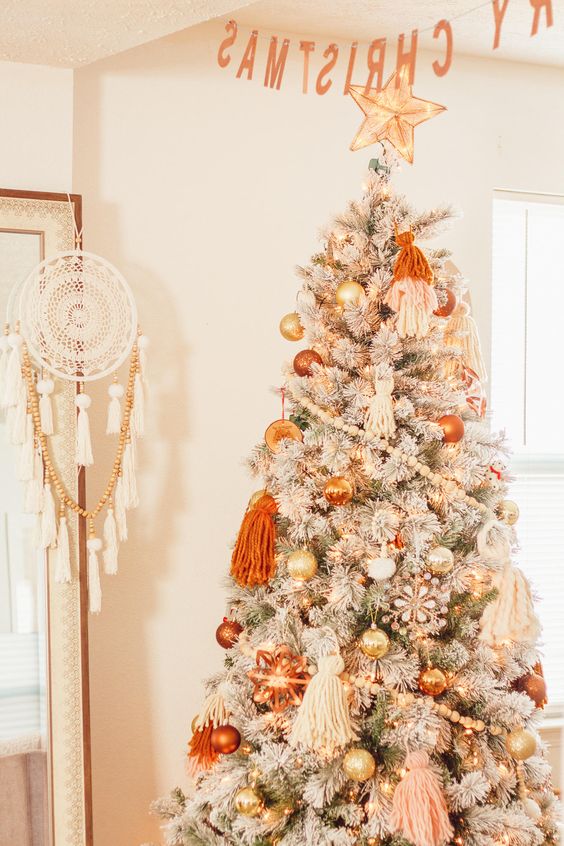 If you're all about the bohemian aesthetic, then there's no reason for you not to carry that same theme to your Christmas tree! By using wooden and woven accents as well as some pretty tassels to adorn your tree, you can easily recreate this look!
The Minimalistic Christmas Tree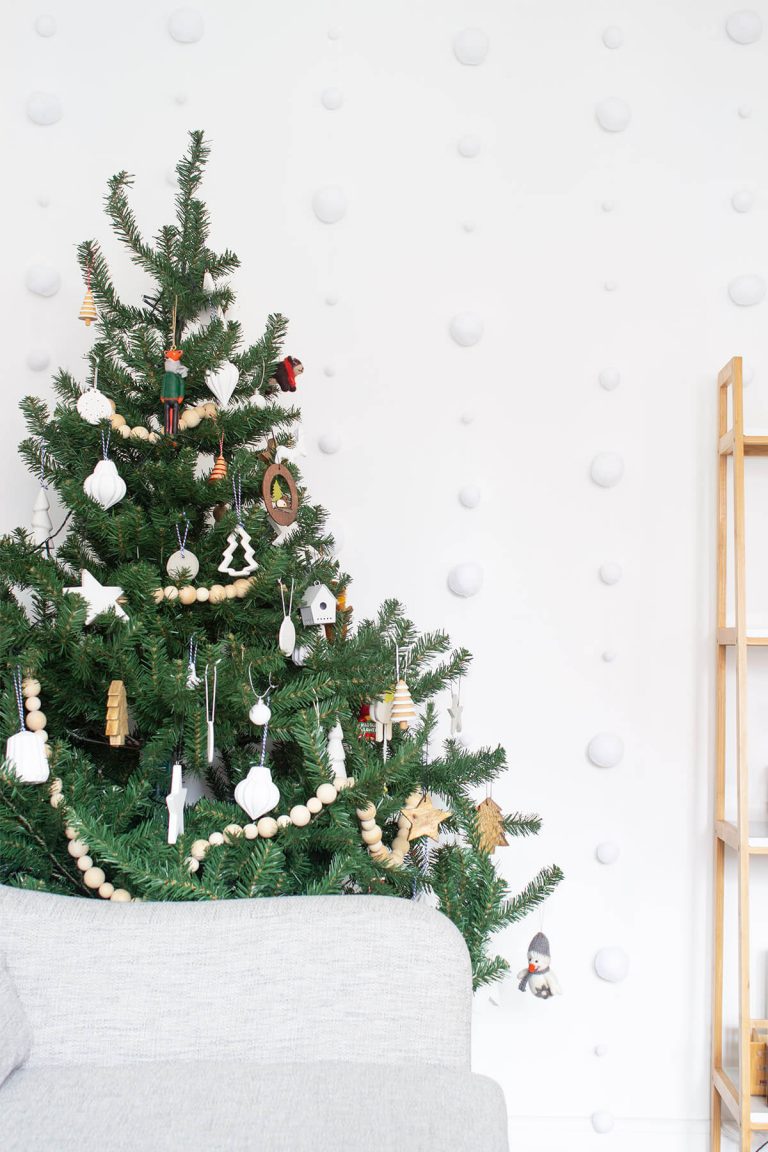 Not feeling the traditional red and gold this Christmas? Worry not! You can always try going for a cleaner and more minimalist theme for your Christmas tree this year! To achieve this kind of look, just make sure to use white accents and wooden ornaments as decoration.
Seasonal Florals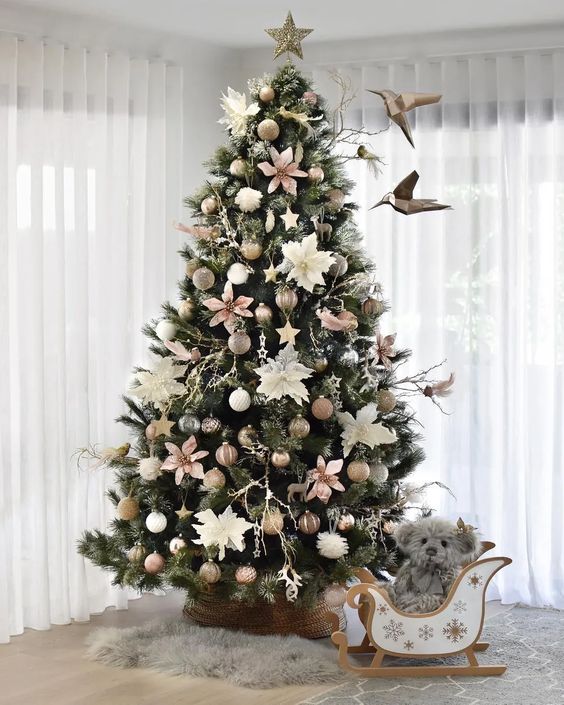 For a more feminine touch to your Christmas tree, you can always opt for some gorgeous seasonal flowers to decorate your tree with! You can also pick muted colors for an added layer of elegance.
Monochromatic Christmas Tree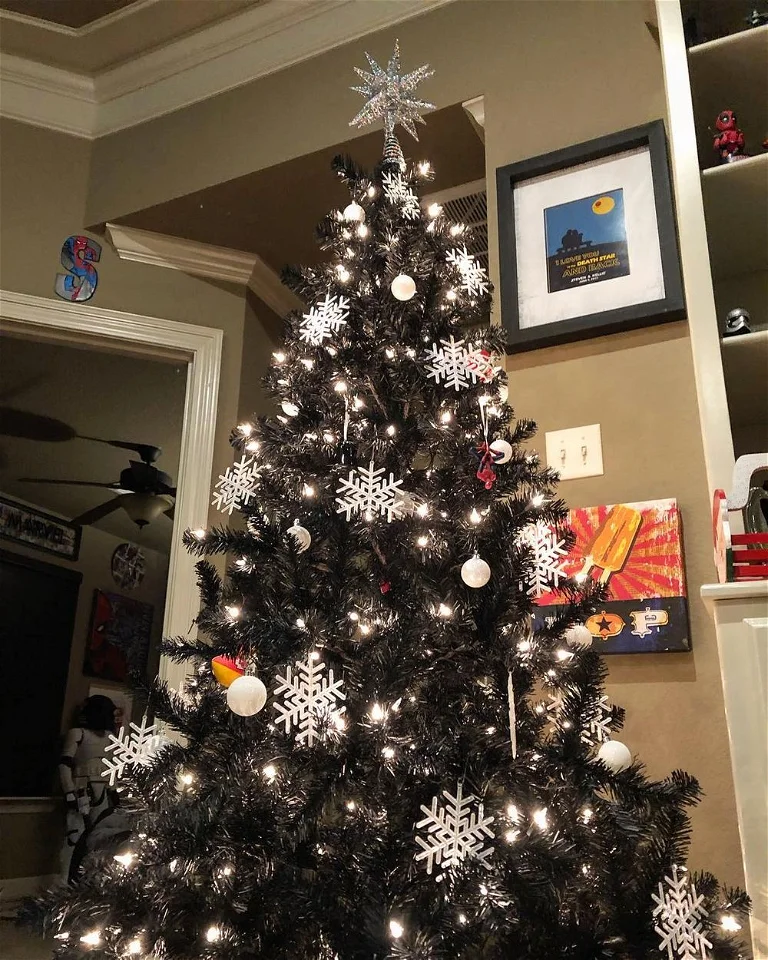 Feeling edgy this holiday season? Then you should definitely get your Christmas tree to reflect that! Who knew a jet-black Christmas tree with white ornaments would look this good?!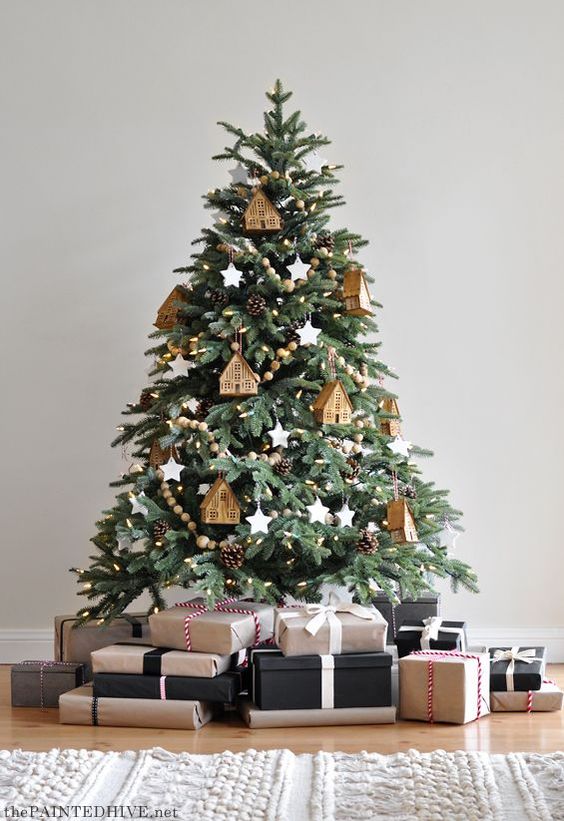 If you're eyeing something that's not too overly done this festive period, you can opt to use natural elements and a rustic, neutral theme to create a refreshing, relaxed, at-home atmosphere.
Burlap Ribbon & Pine Cones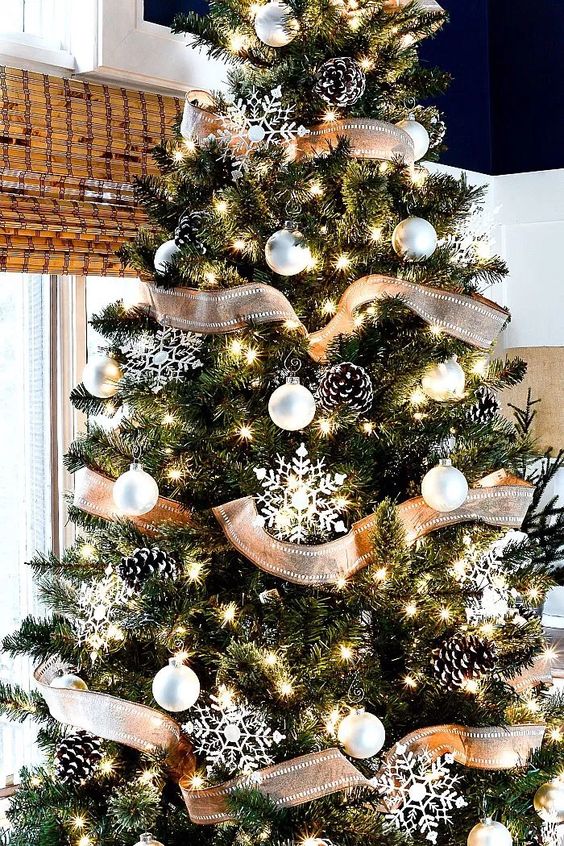 Here's another take on the rustic and natural Christmas tree theme. And the key elements to make this work are by using burlap ribbons, snowflakes, and metallic ornaments as well as some pine cones.
Countryside Christmas Tree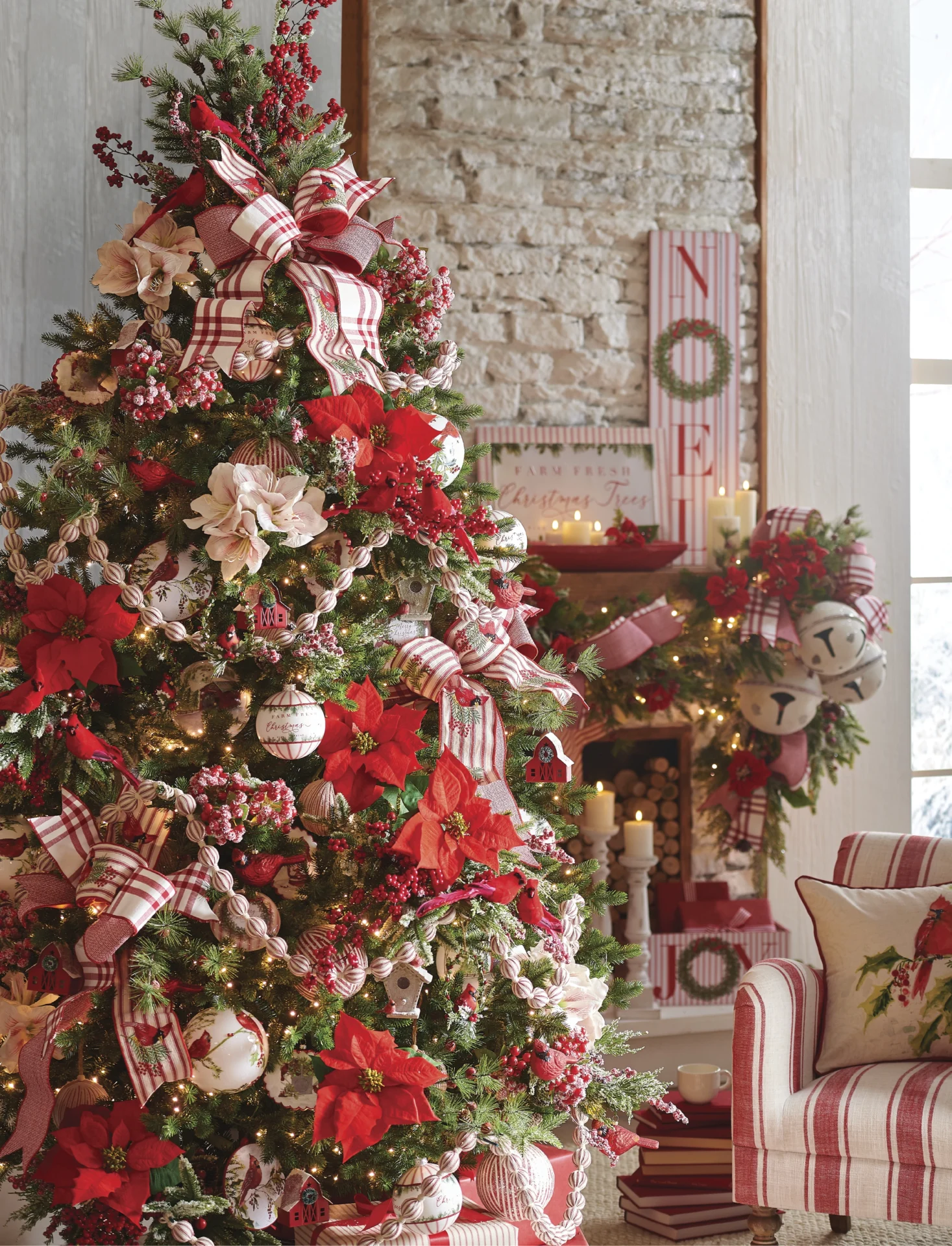 If you want to test your limits with how festive you can make your Christmas tree, then this countryside theme could be perfect for you! This is sure to give everyone in your hours (including guests) that holiday spirit throughout the Christmas season.
Peppermint Christmas Tree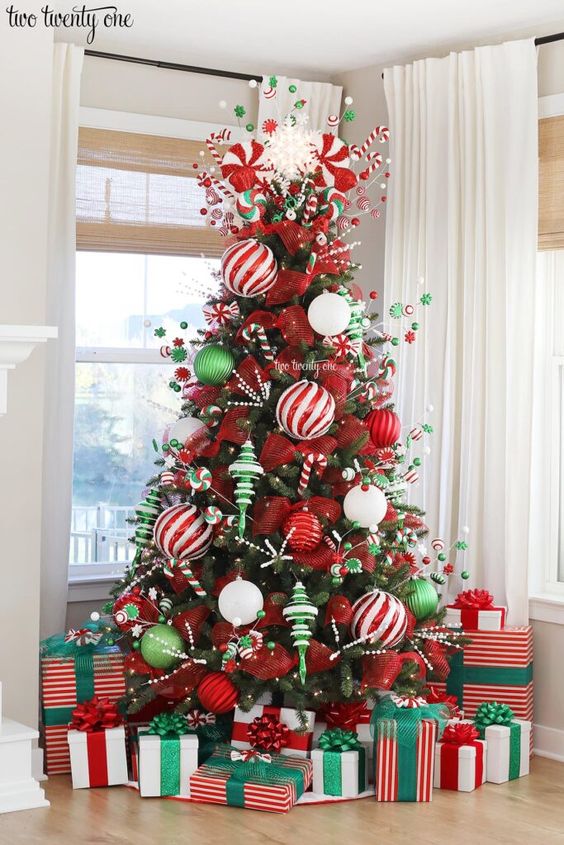 Quirky and fun, this Peppermint-themed Christmas tree is truly one of a kind!
Gold, Silver, and Hymnal-Themed Christmas Tree
This beautiful Christmas tree is ideal for anyone going for a neutral palette this holiday season. It's full of vintage accents that are both affordable and unique.
Romantic Vintage Christmas Tree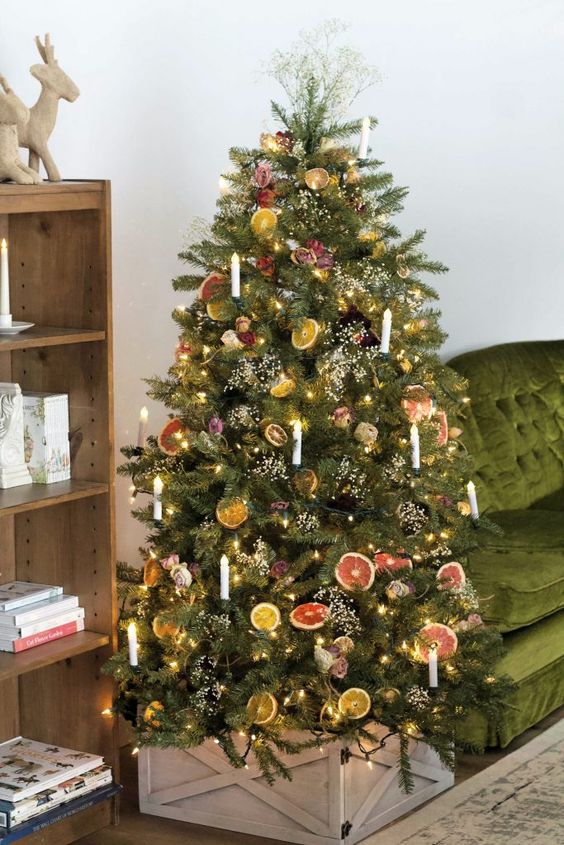 If you're feeling romantic this holiday season, then this vintage-themed Christmas tree is something worth checking! It's filled with dried citrus and pines, as well as soft glowing Christmas lights that give off a cozy and relaxing vibe.
Amber Hues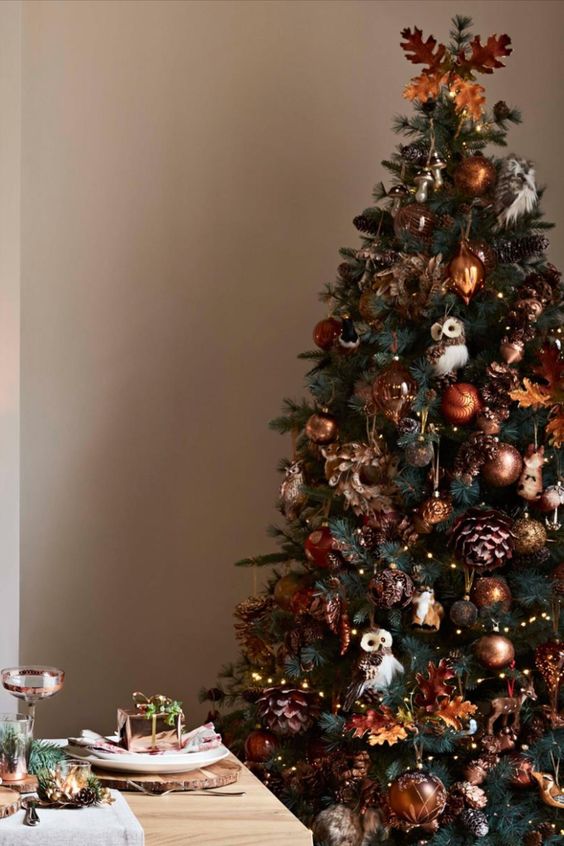 This amber-colored Christmas tree is perfect for women who just can't get enough of the fall season. Not to mention, this could help a rustic household seamlessly transition between seasons with copper hues, oak leaves, and forest creatures.
Florals Galore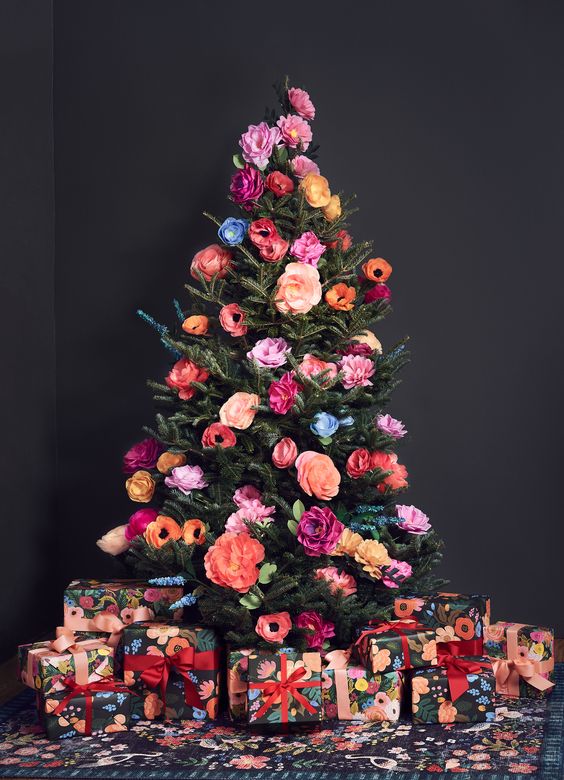 The floral-themed Christmas tree is a trend I am definitely excited to see unfold over the holidays. I mean, look how gorgeous and colorful those flower pieces are.
Sunflower-Themed Christmas Tree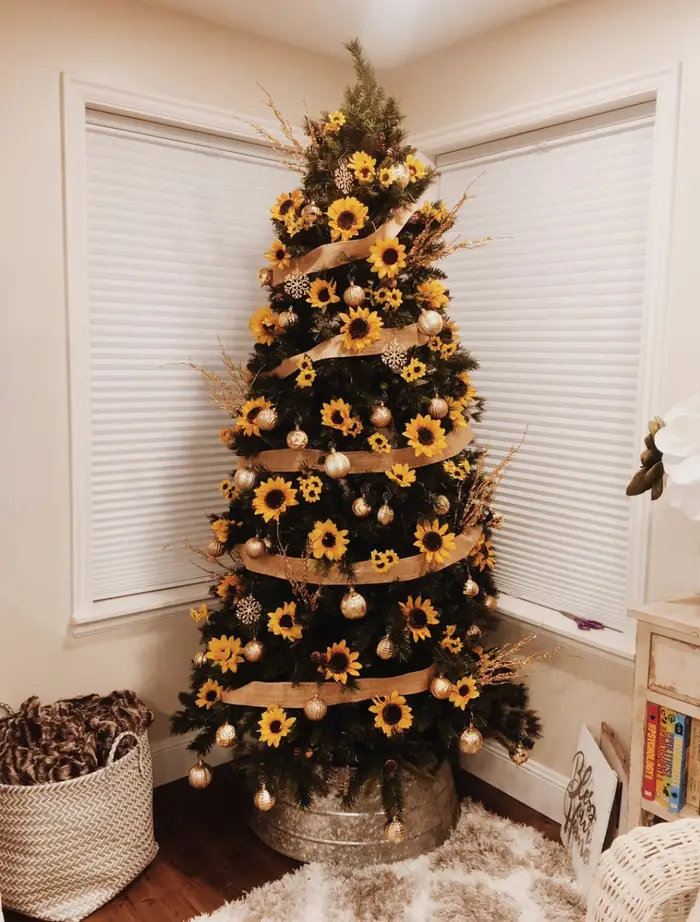 Sunflowers may not be the first thing on your mind this holiday season but if you want to have a Christmas tree that's totally unique and out-of-the-box, then this is a must-try!
White Flocked Christmas Tree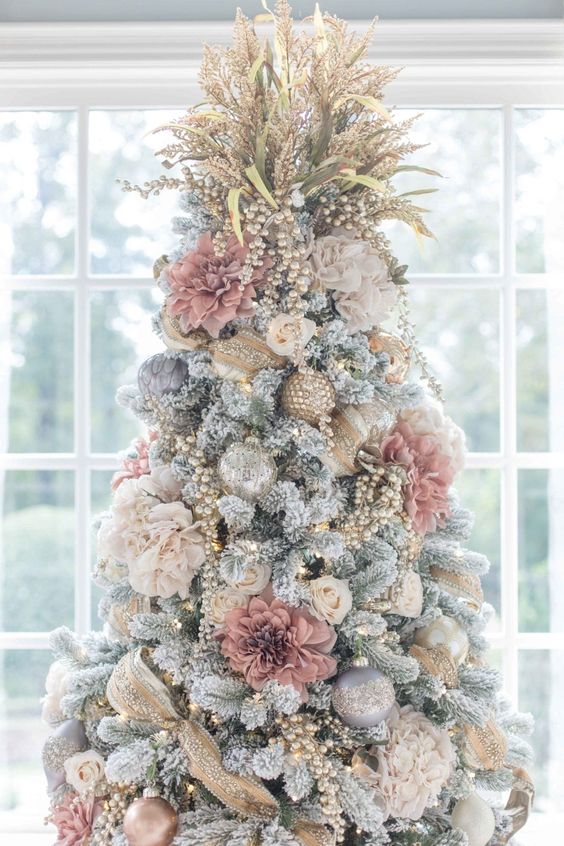 There's just something truly magical when you look at a flocked Christmas tree. If you're up for trying out something untraditional and want to stray from the usual Christmas elements, then this is a tree worth checking out!