The holiday season is coming in fast, so there is no better time than now to start planning how you'll decorate for the season.
However, while putting up a beautiful tree and making sure your mantel is lovely are important things to consider, now is also the ideal time to update the exterior of your home with some Christmas lights, wreaths, and ribbons.
As you know, leveling up your front entrance with decorations, whether through the greenery, bows, or other seasonal bits and bobs, is an easy way to get into the holiday spirit and share that vibe with your visitors.
With that being said, it's time to make a spirited effort to brighten up everyone who enters your home for the Christmas holidays with our list of Christmas Door Decorations you can try out this year.
Christmas Door Decorations
Here are some of our favorite Christmas door decor ideas to try. Enjoy!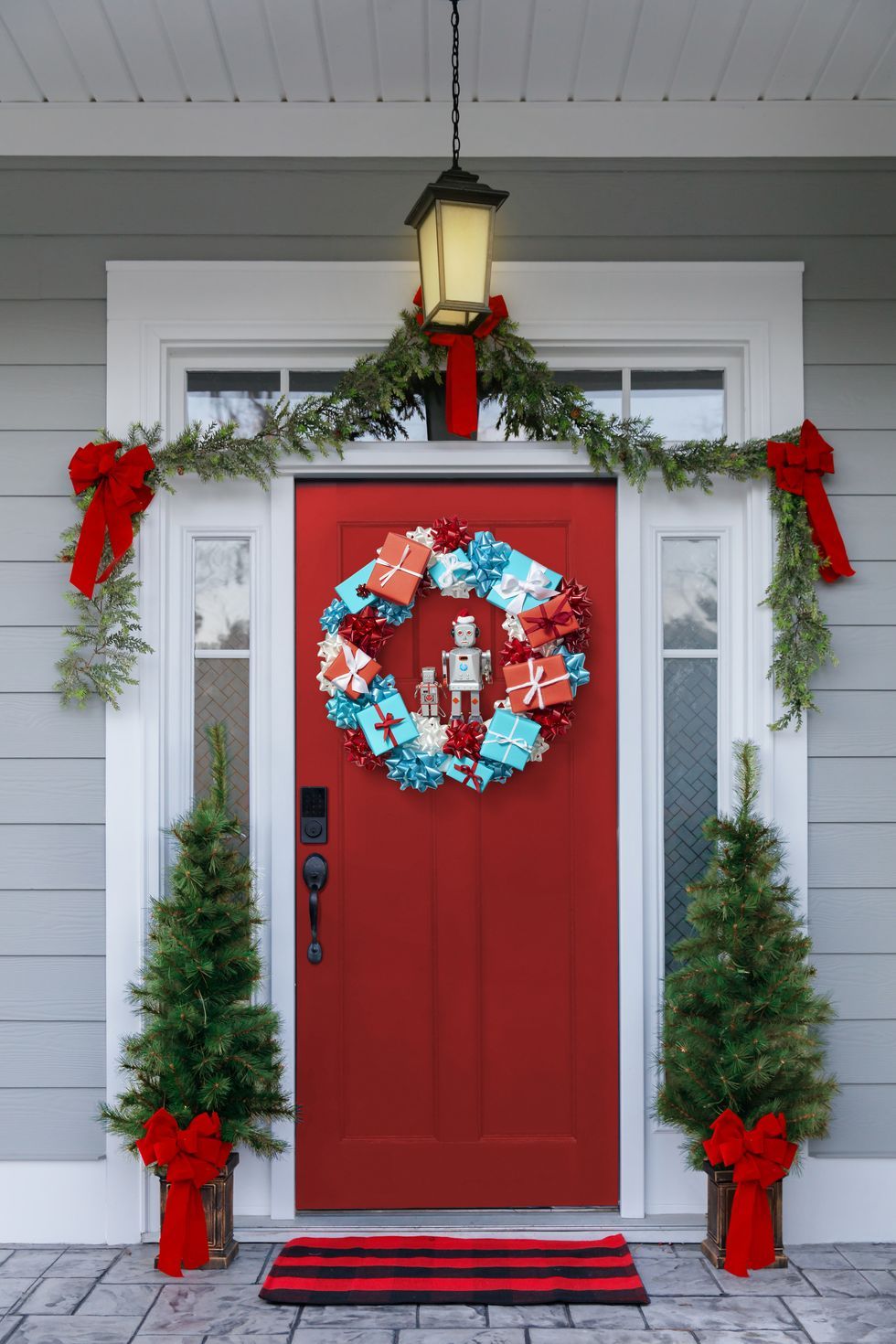 Keep things fun and joyful with this cute gift box wreath with a robot in the middle! The kids will surely love this one!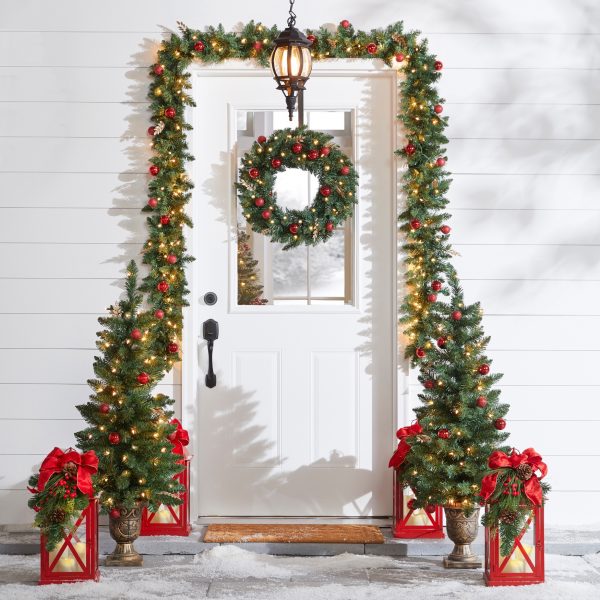 This lush green decor with Christmas lights, ribbons, and ornaments around this white exterior just really adds a merry vibe to your home!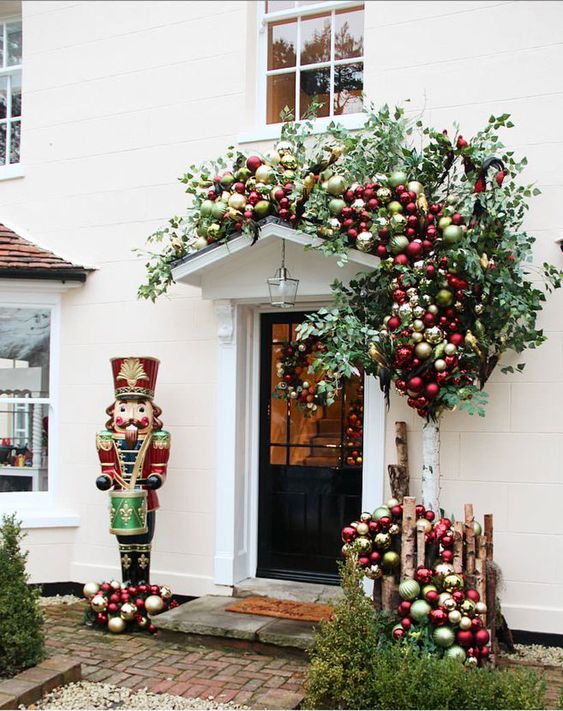 This abundance of greenery and ornaments decorating your front porch is nothing short of epic!
Here's another idea on how you can spruce up your front door decorations with a Christmas statue!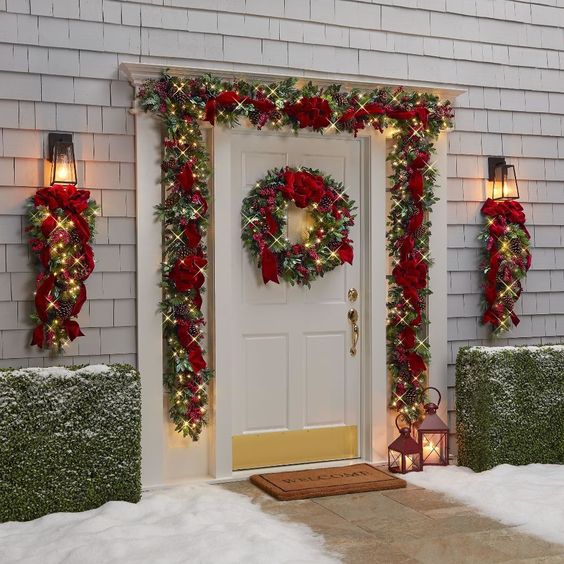 Christmas lights strewn around your front door with matching greens and reds will surely leave your exterior decorations sparkling!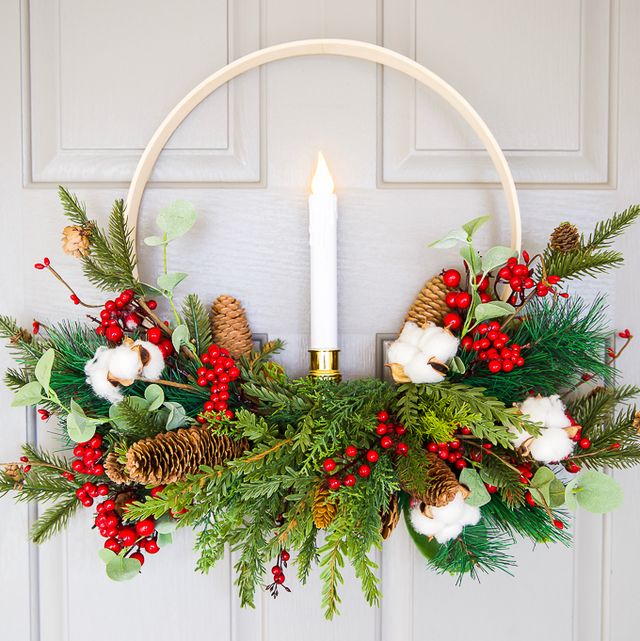 You can never go wrong with placing a beautiful wreath such as this one as part of your front door Christmas decorations.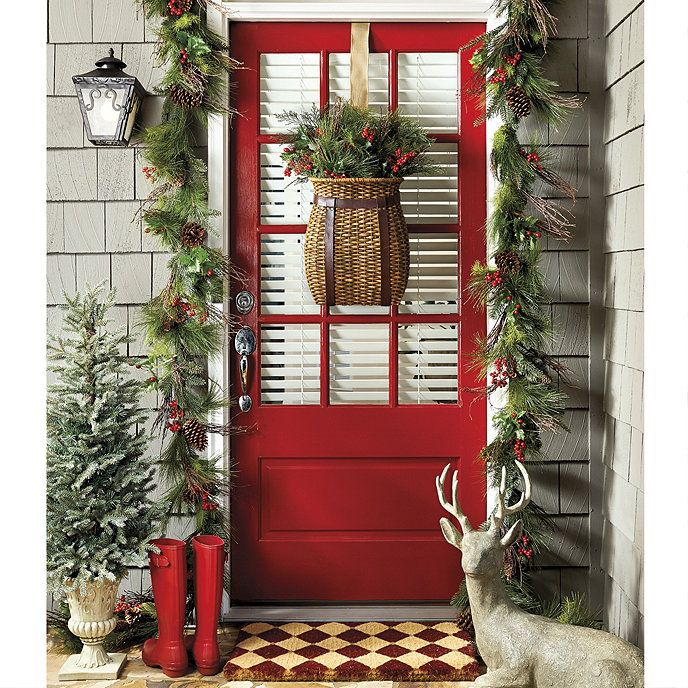 Aside from the usual Christmas decorations like placing a wreath by your front door, you can also opt to hang a basket instead and fill it with flowers, acorns, holly berries, and other greenery.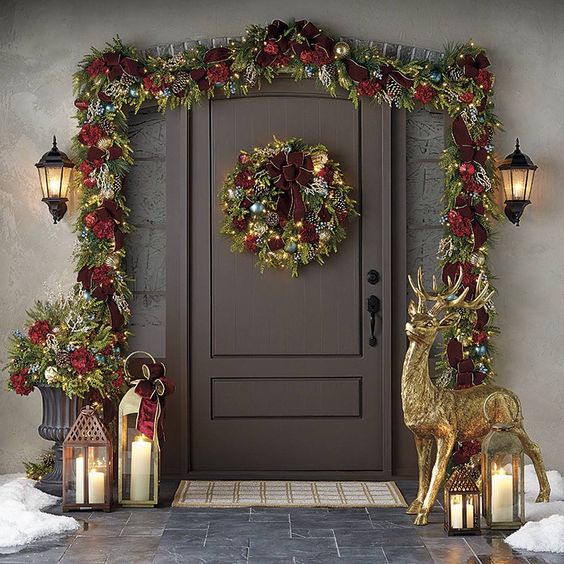 Garlands are staples in every Christmas decoration. Just look how these garlands really tie the look together on this front door!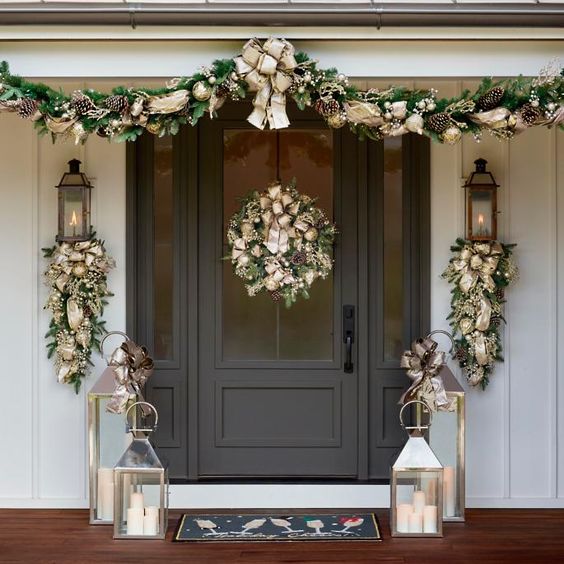 Something about the neutral color scheme of these Christmas decorations makes the upcoming holidays feel luxurious!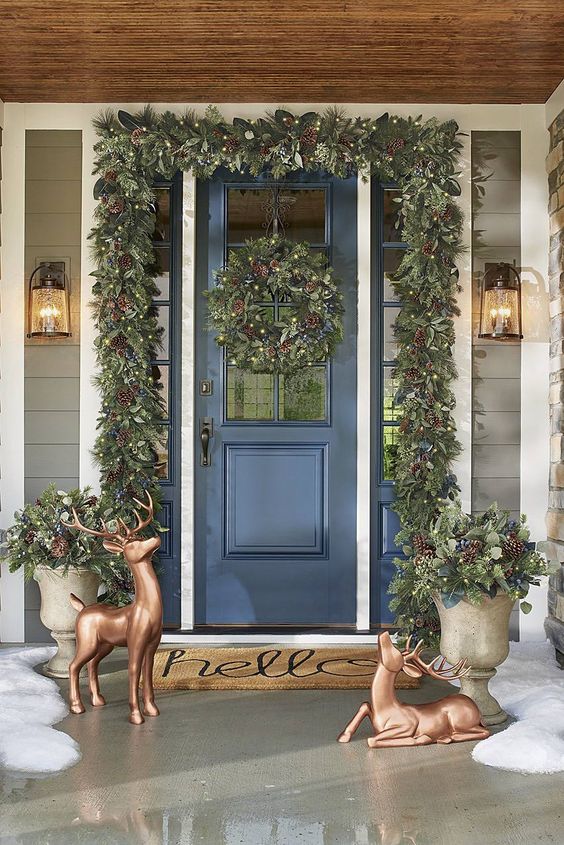 Make your home feel like you're in a winter wonderland by adding a few woodland creatures by your front porch.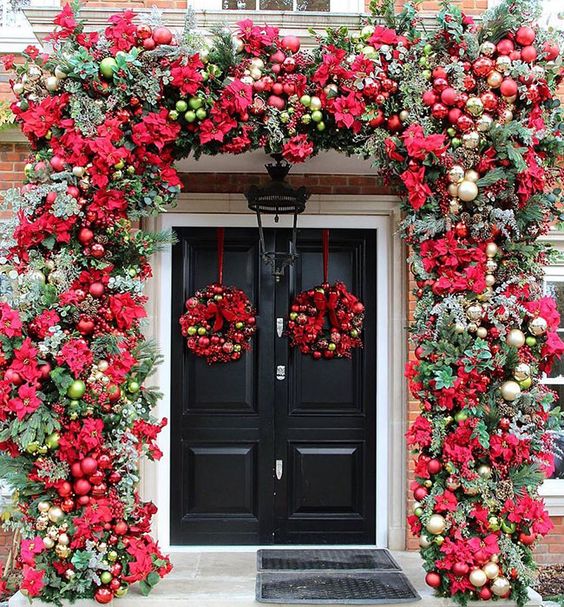 Take inspiration from this Christmas door decoration if you're planning to go all out and be extra this upcoming holiday season.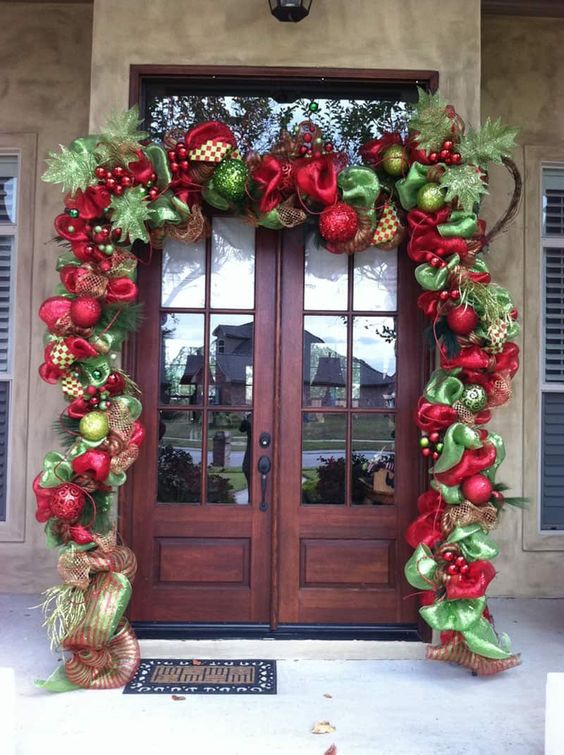 I just love how the colors of this Christmas door decoration blend so well together!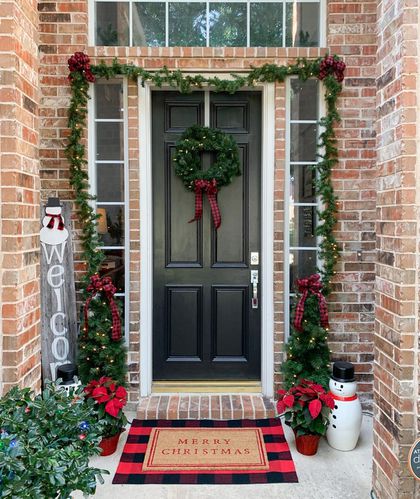 Sometimes simple and traditional is the best way to go when it comes to your Christmas door decorations!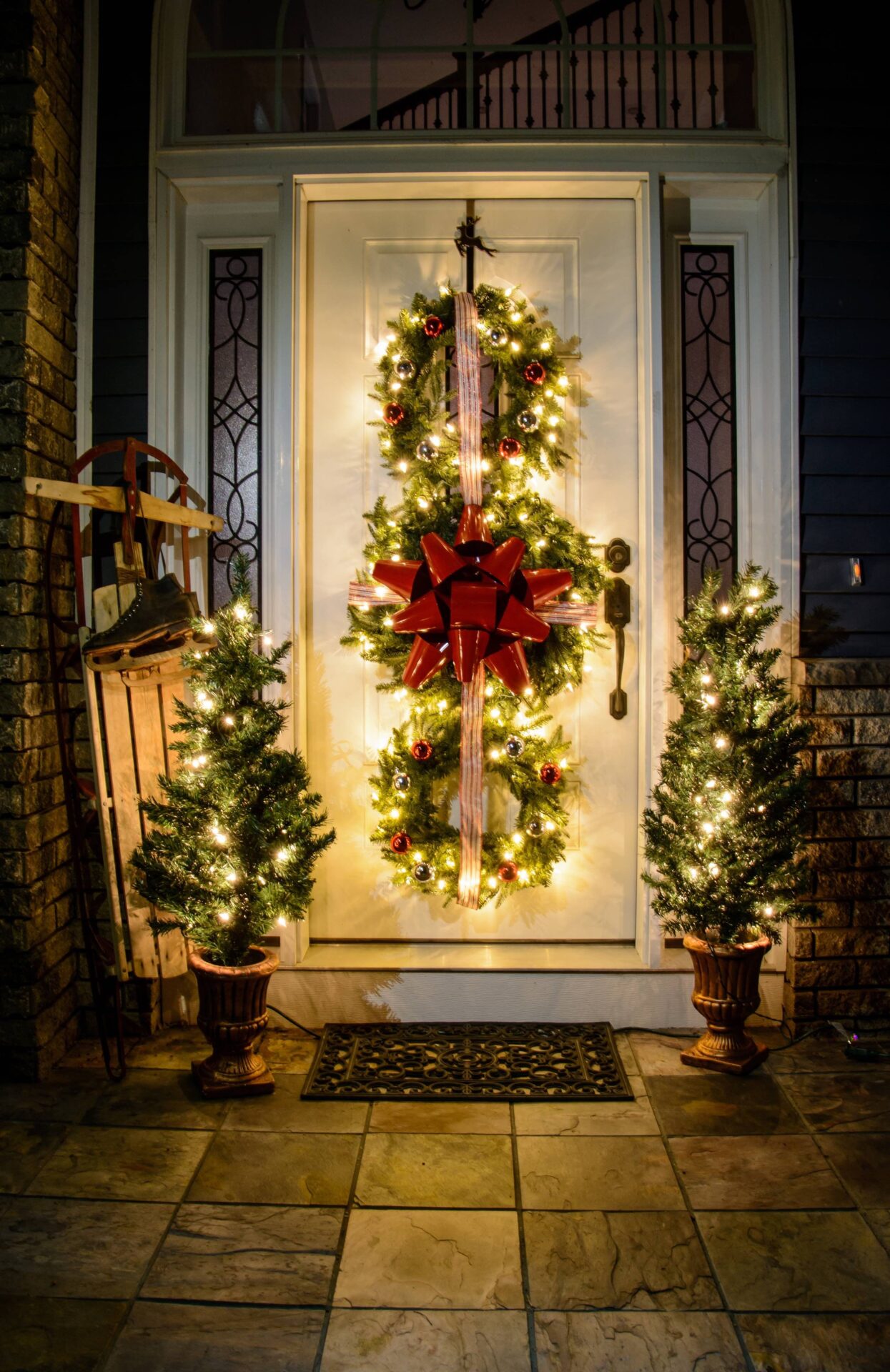 Your front door will surely be glowing all throughout Christmas Eve with these eclectic Christmas door decorations!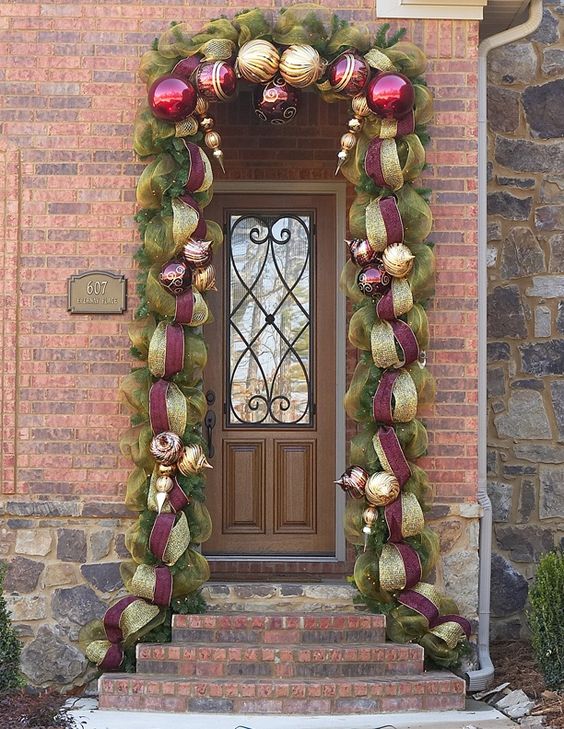 If you don't want to do anything fussy for your front door this Christmas, then a traditional garland like this one could be perfect for you.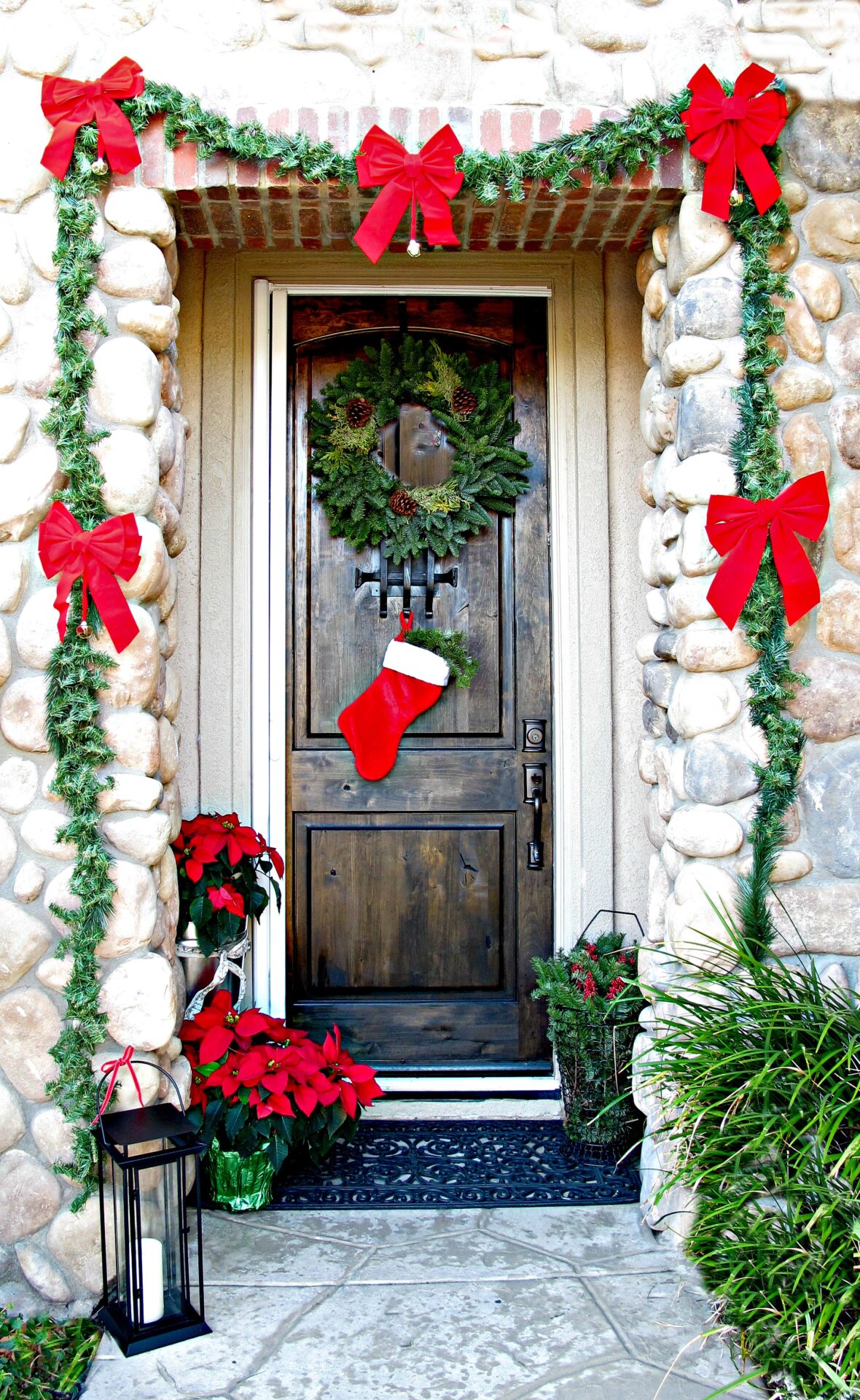 I just love how the red and green colors on these decorations stand out so much against the white background!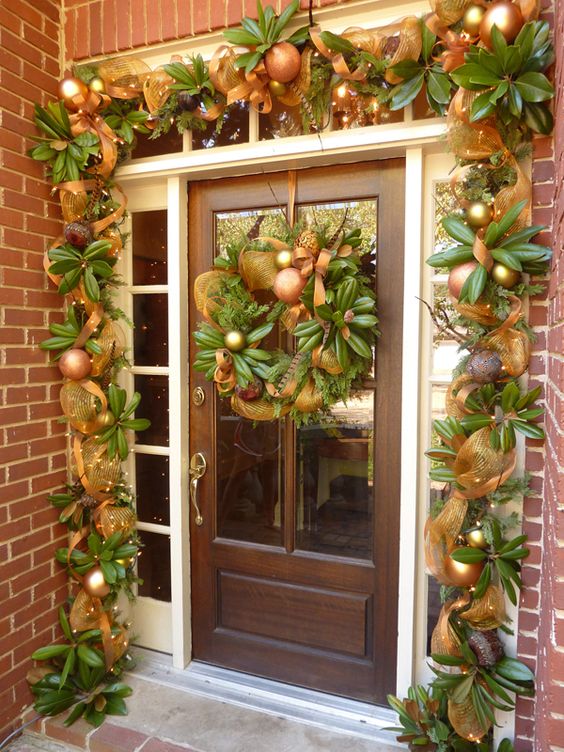 Try a green and gold color scheme for this year's Christmas door decorations if you're tired of the usual red and greens.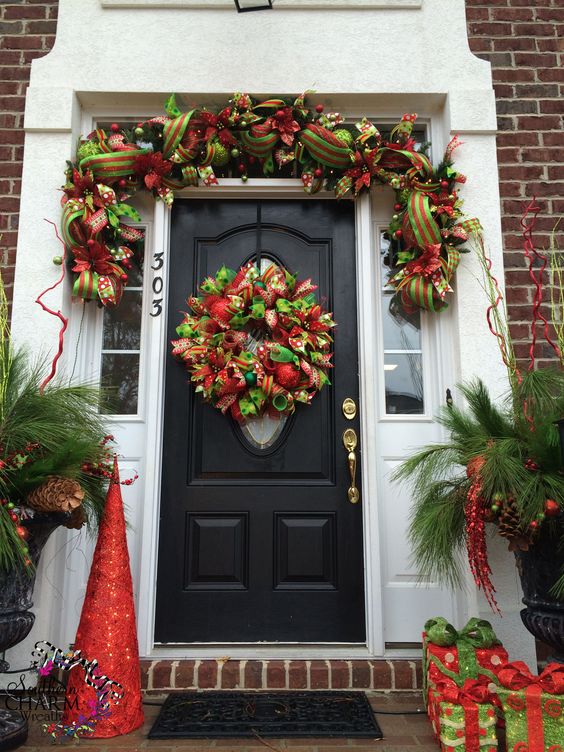 These colorful Christmas decorations just give off such a jolly vibe that's perfect for this holiday season!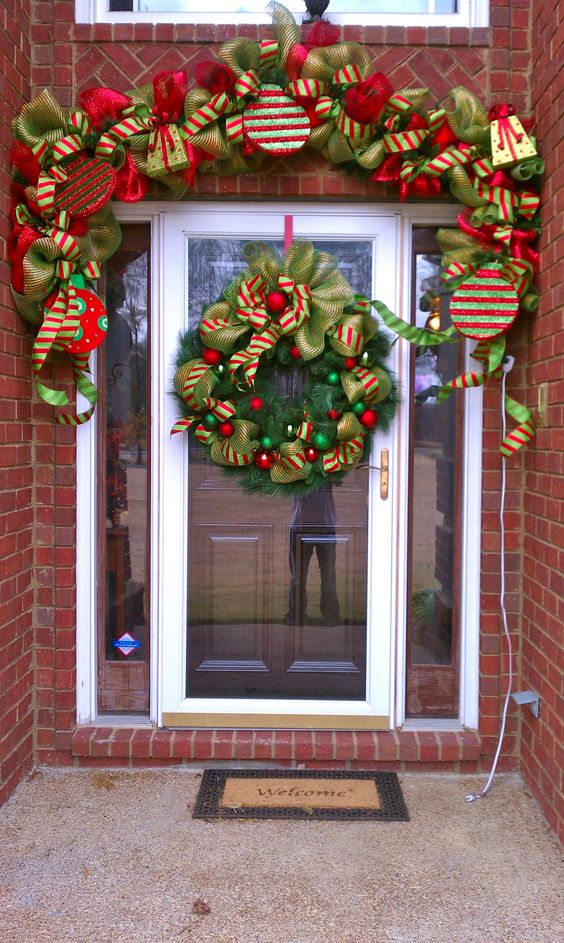 Everything about this front porch just screams "Christmas" to me!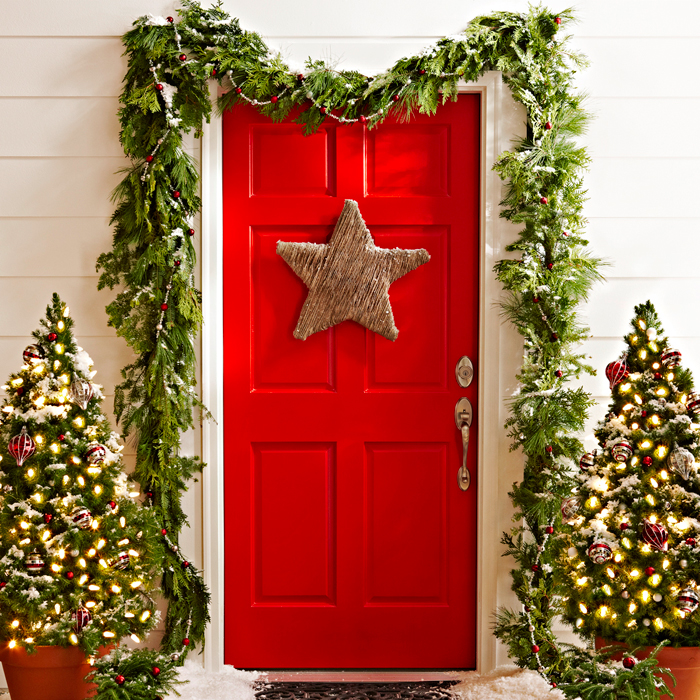 Have yourself a Merry little Christmas by decorating your red door with lots of greenery, bright lights, and a star to really tie the look together!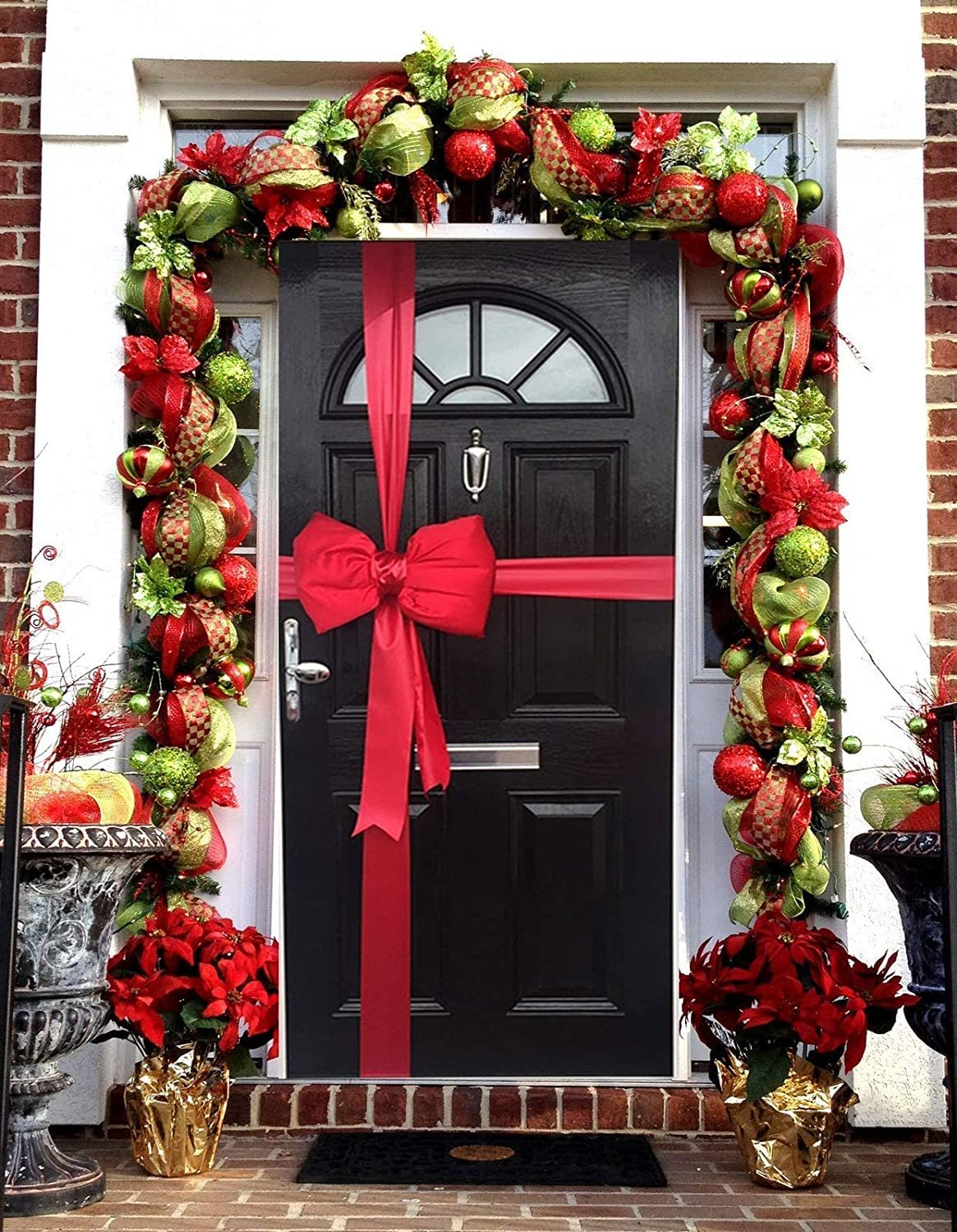 Make your guests feel like they're opening a gift each time they visit your home!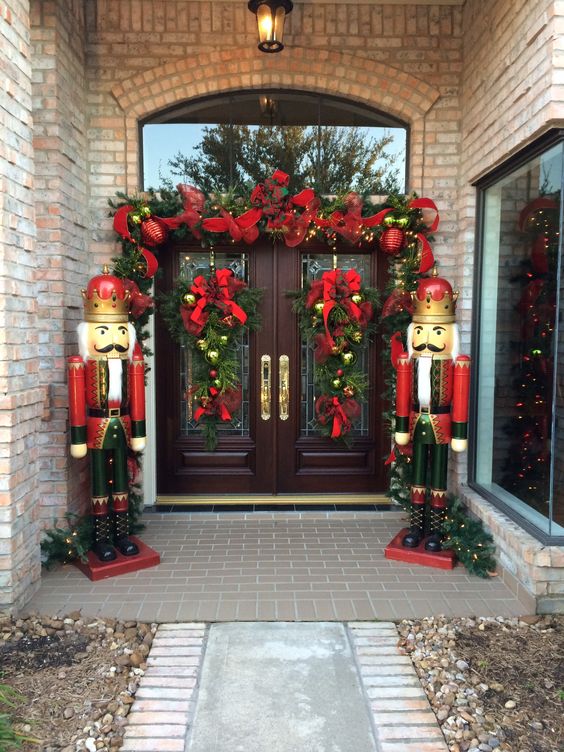 Each one of your guests will surely feel like they're stepping into a magical place once they see this kind of Christmas decor by your front porch!
This giant red ribbon over your front entrance will certainly make things look majestic for your Christmas door decorations!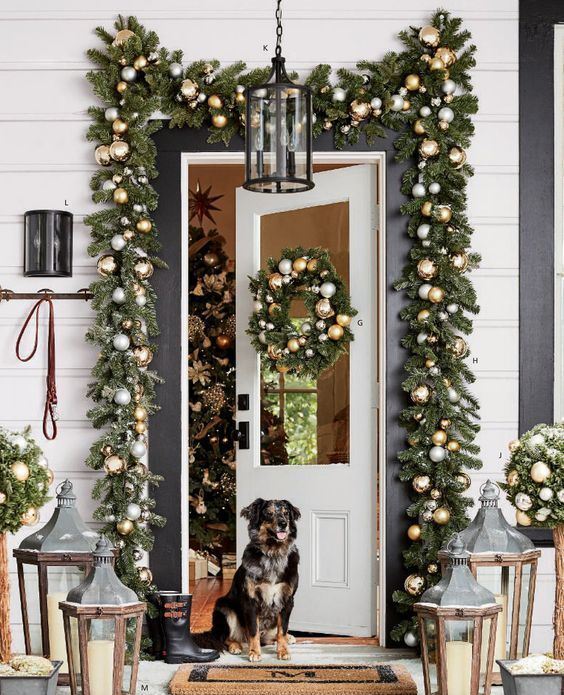 Not a fan of bold colors like red? Why not try a metallic color scheme of gold and silver for your Christmas door decorations?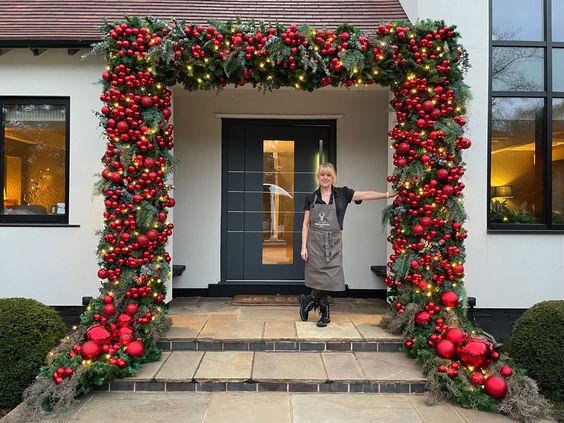 An overflowing Christmas garland is the way to go if you're willing to take things over the top this Christmas season!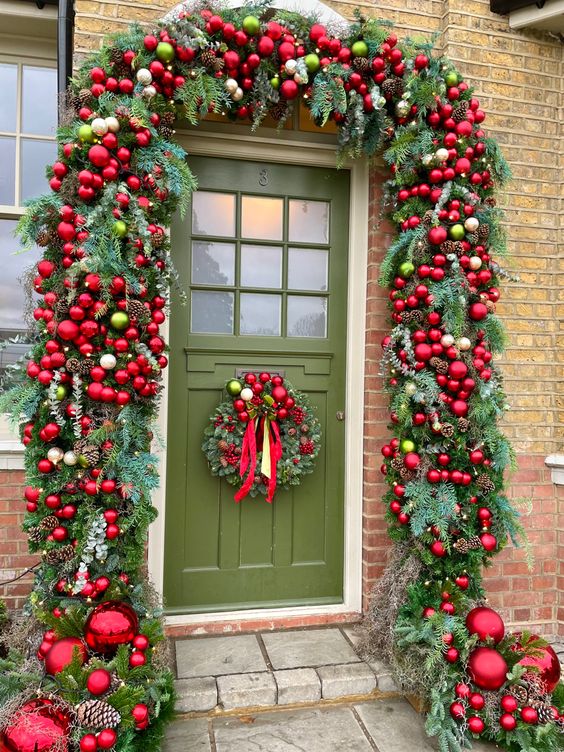 Fill your garlands and greenery with red ornaments to make those details really pop!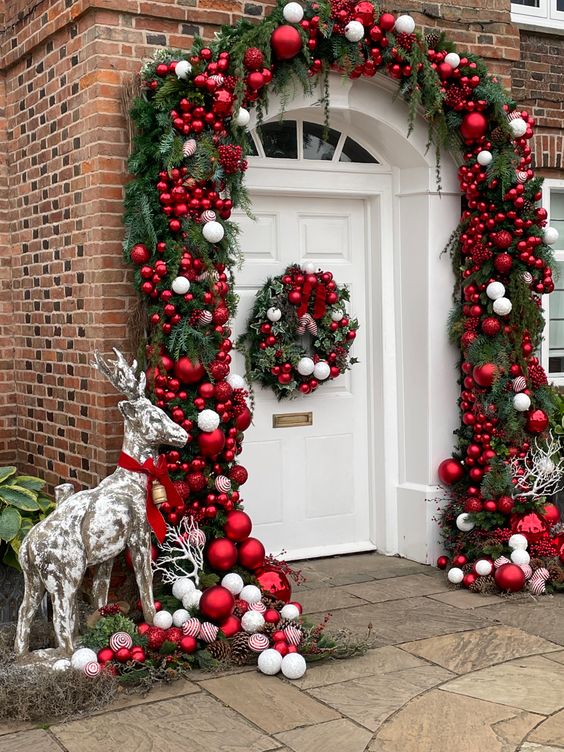 There's nothing more inviting than an archway that's spruced up with Christmas decorations during the holiday season.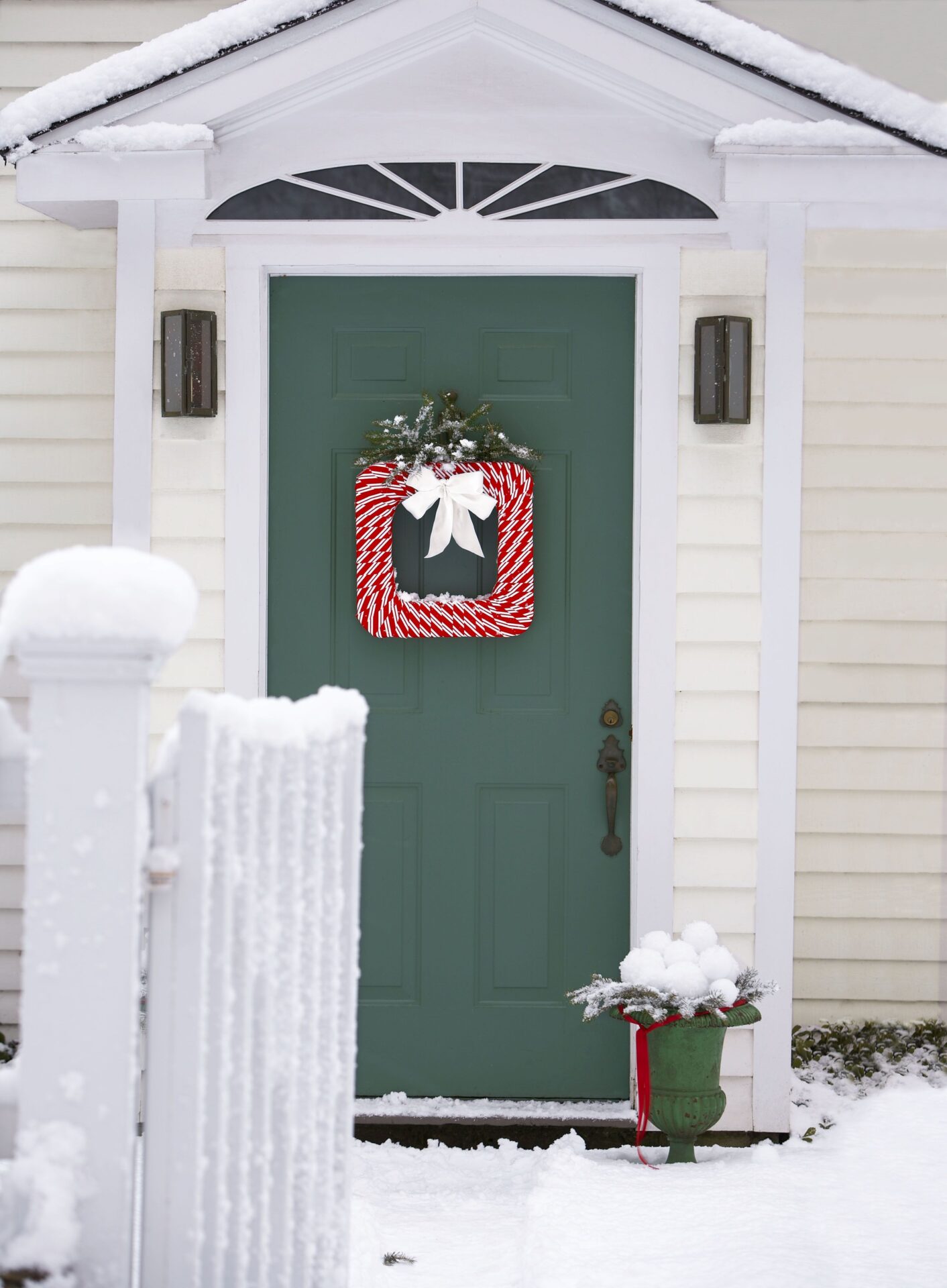 If you're going for the minimalistic route, a simple ornament or wreath can be more than enough to make things jolly this Christmas! Just make sure to pick a color that will contrast nicely with your existing exterior.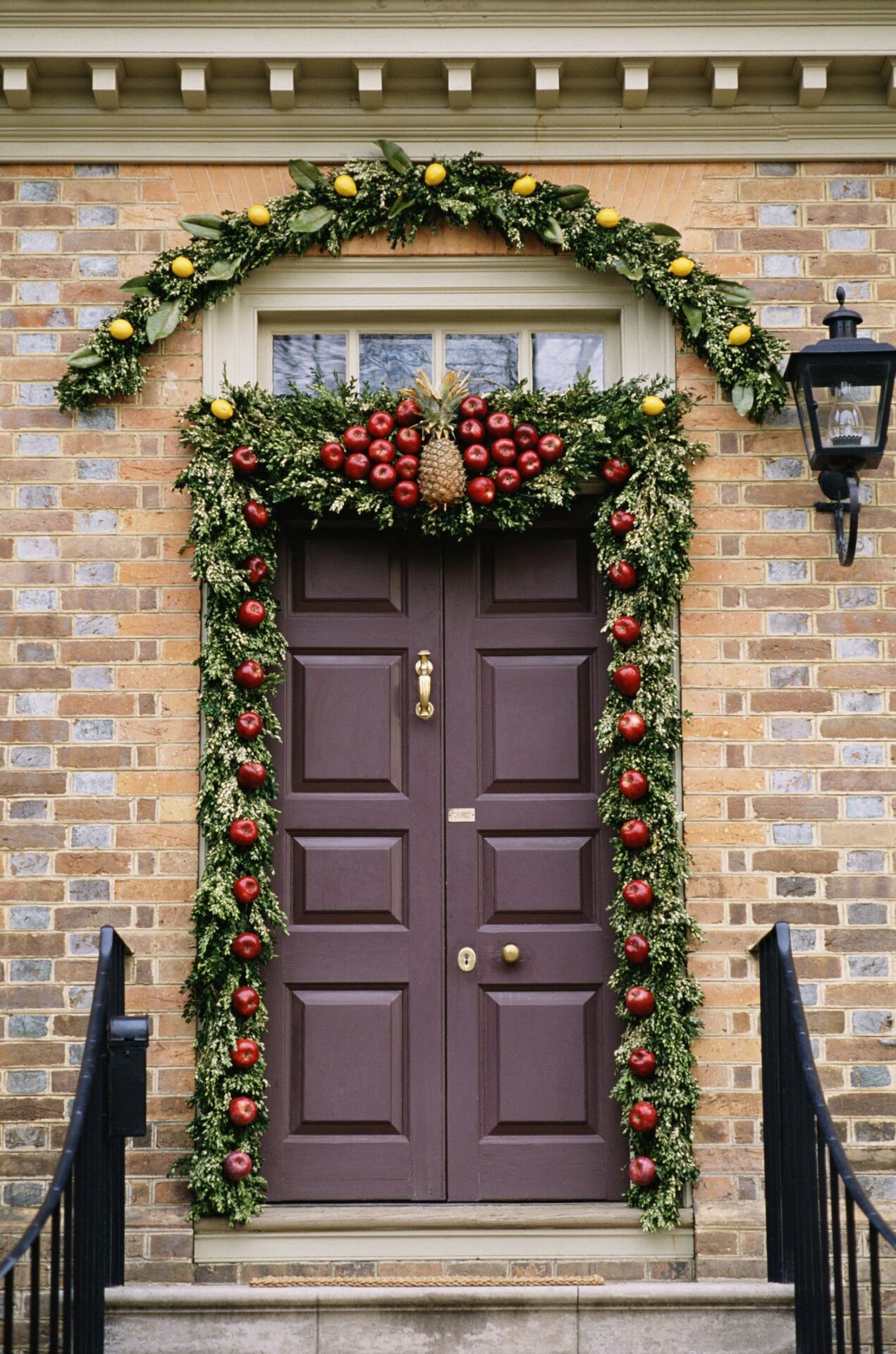 Embrace the holidays with something different like decorating your garlands with fruits like apples, lemons, and even pineapples to keep things fresh!
The Christmas season is the perfect holiday to get in touch with nature. So why not try making a handmade wreath and garlands of your own by using different kinds of greenery?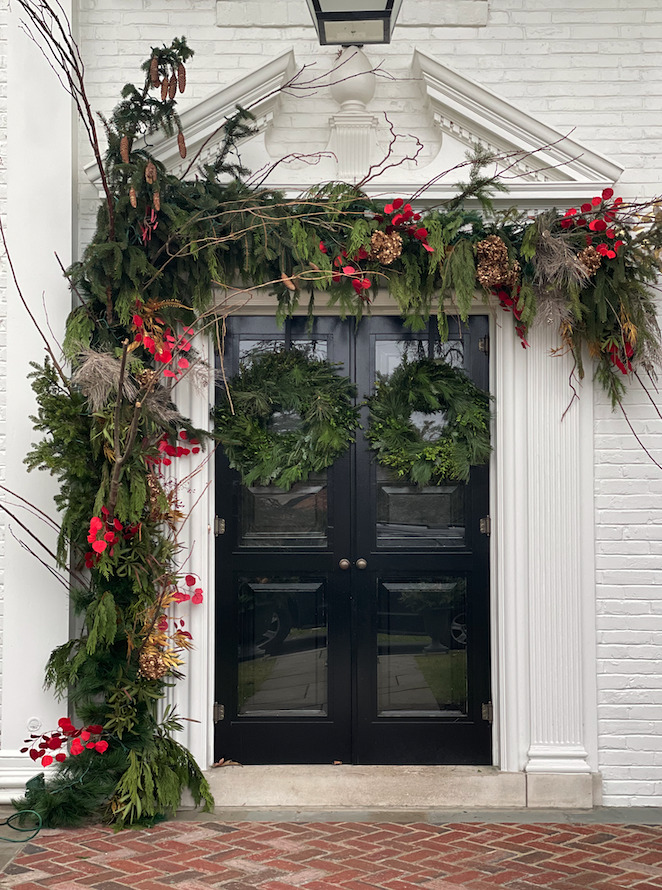 There's no such thing as "too much" during Christmas. So why not go big with your Christmas door decorations this year? Set up a magnificent floral arrangement by your front porch and pair it up with a couple of wreaths to finish the look!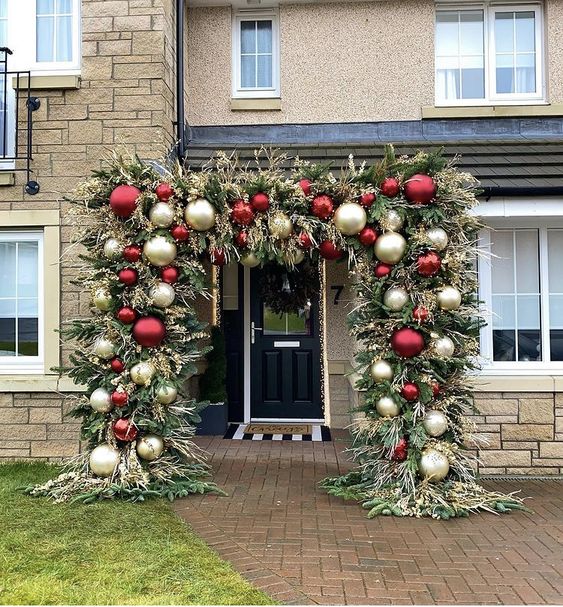 If you can't get enough of massive decorations this holiday season, take a look at another one!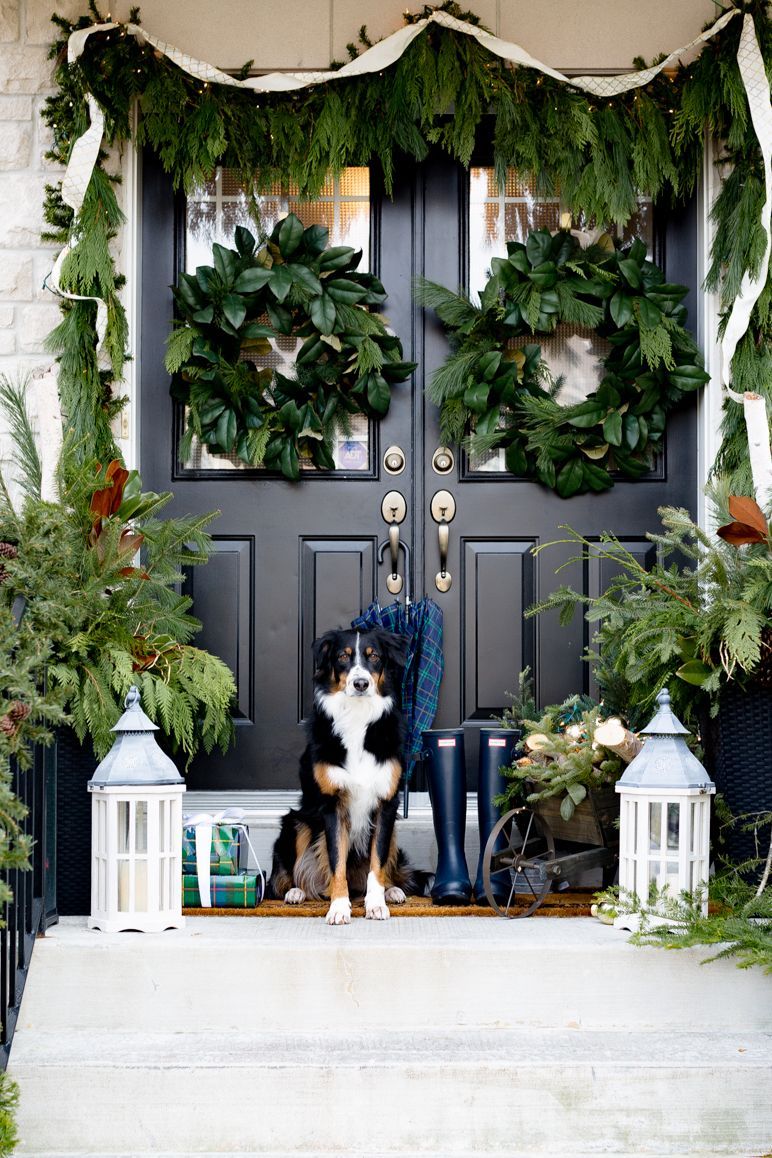 Lush greenery can easily bring a lot of elegance to your front entrance this holiday season, so why not go with double wreaths on your Christmas door decorations?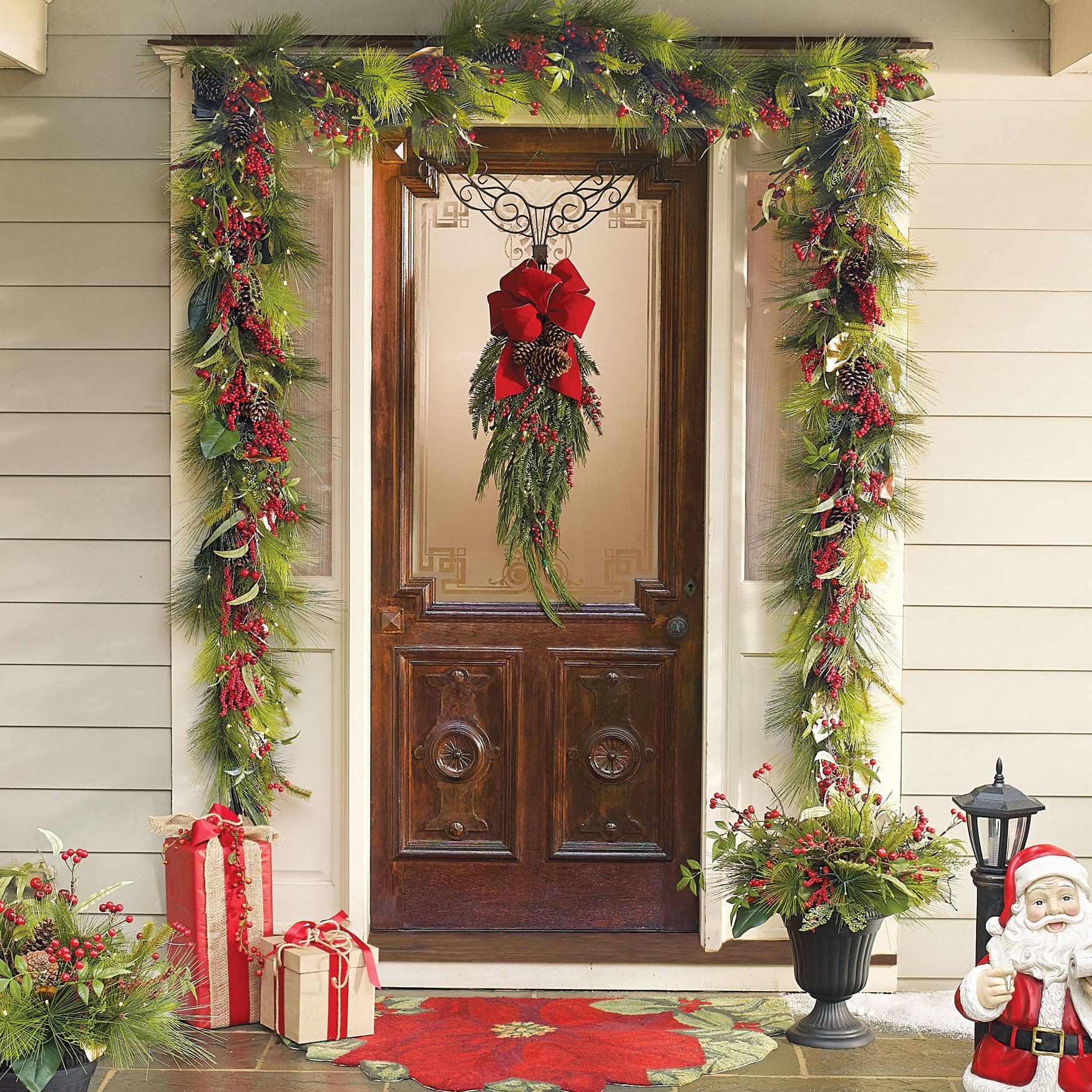 Adorn your front door with a variety of Christmas decorations like holly berries, gift boxes, flower arrangements, and an abundance of greenery!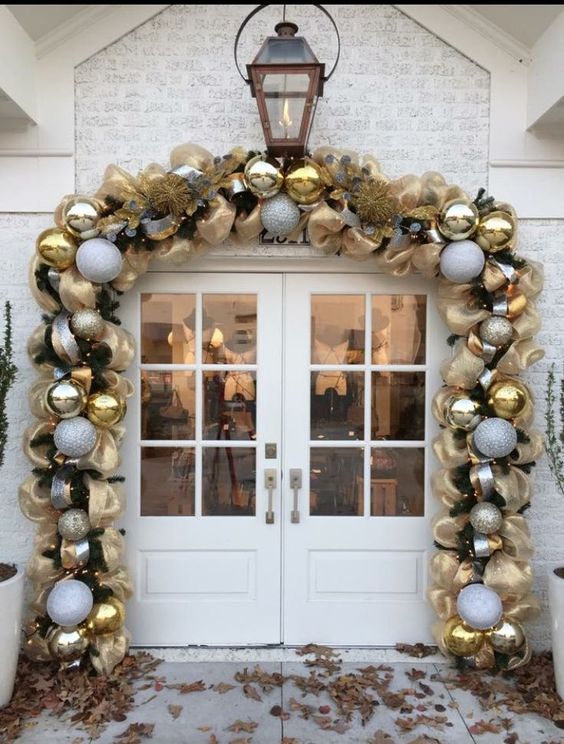 Silver and gold are definitely in this Christmas season! So if you don't want to go the usual route of reds and greens, this one's for you!
Here's another Christmas door decoration filled with fruits and greenery for your next holiday inspiration!
Gilded pinecones are one of the most versatile Christmas decorations you can find. So adding these little golden chunks to your lush greenery will certainly add a layer of sophistication to your front entrance this holiday season!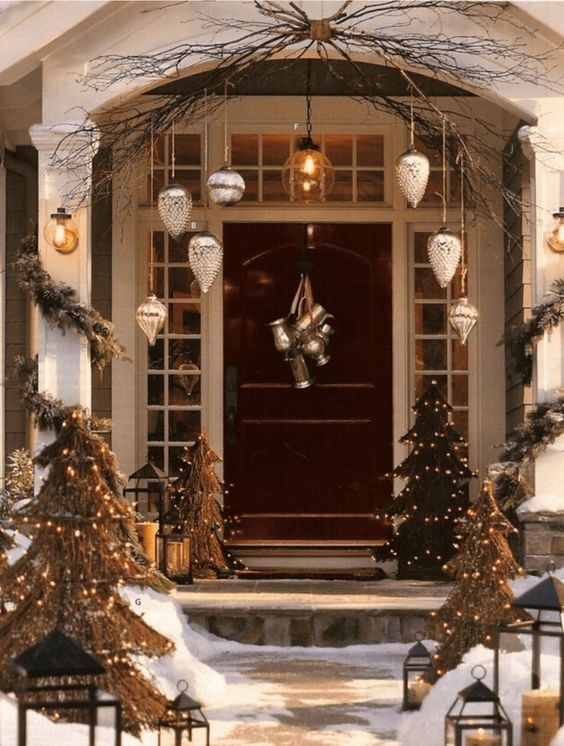 Create your own little Christmas tree farm on your front porch with these Christmas door decorations. You can also spruce them up by adding some Christmas lights to make sure they glow throughout the holiday season!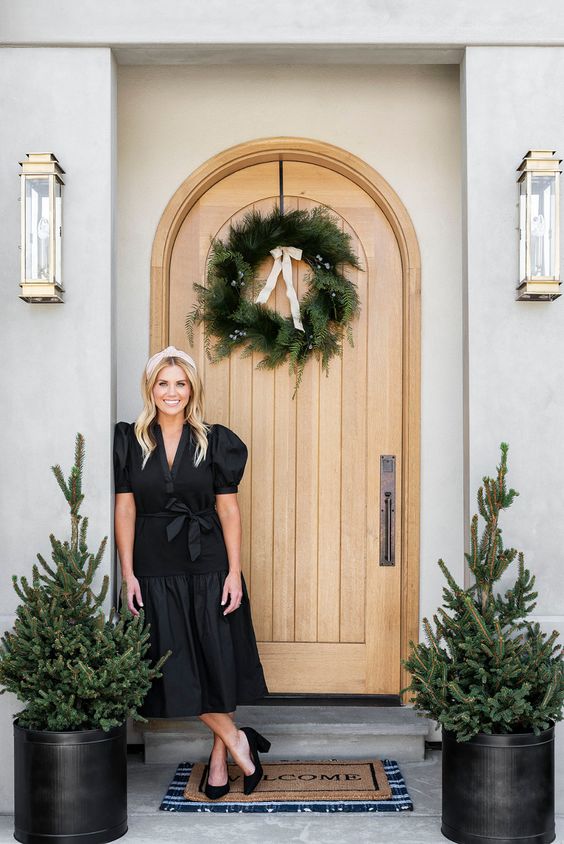 Less is better for some people and I have to agree. Sometimes, all you need is a simple, beautiful wreath with minimal details to give your house that sophisticated Christmas look.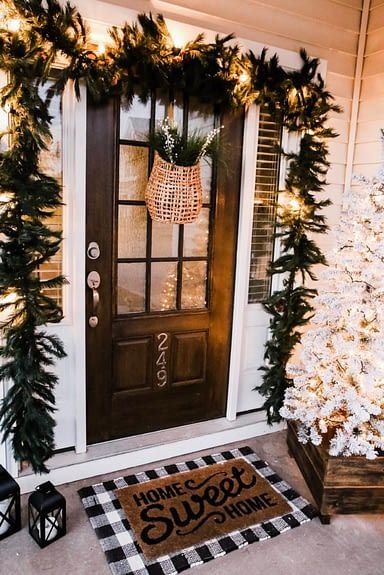 Give your guests that warm, cozy feeling by adding freshening up your front door's look with these Christmas decorations!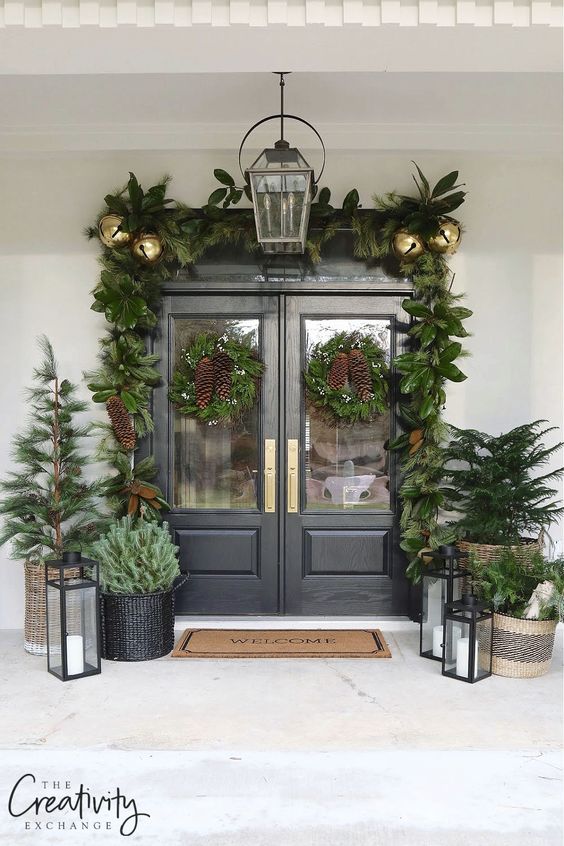 You can really hear the jingle bells on these particular Christmas door decorations!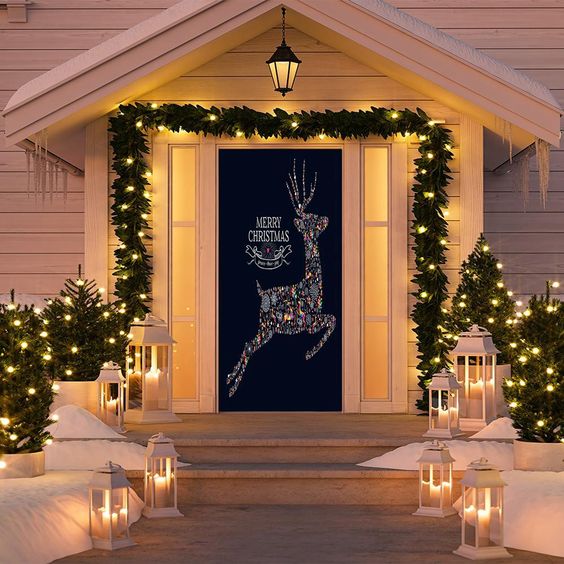 Get creative with your Christmas door decorations by using a Christmas-themed fabric door wrap for your front entrance this Yuletide season!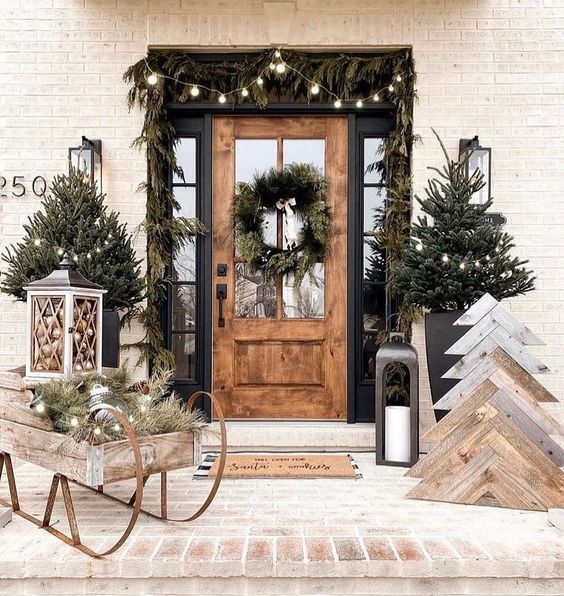 Things can't get cozier with this rustic type of Christmas door decorations.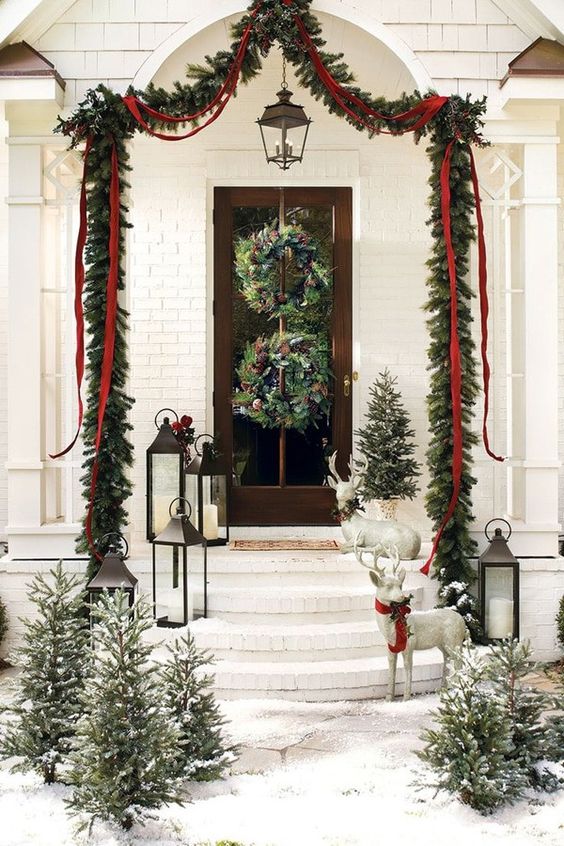 When your exterior is all white, all you need is some greenery to frame your door and bold pops of color to complete the details!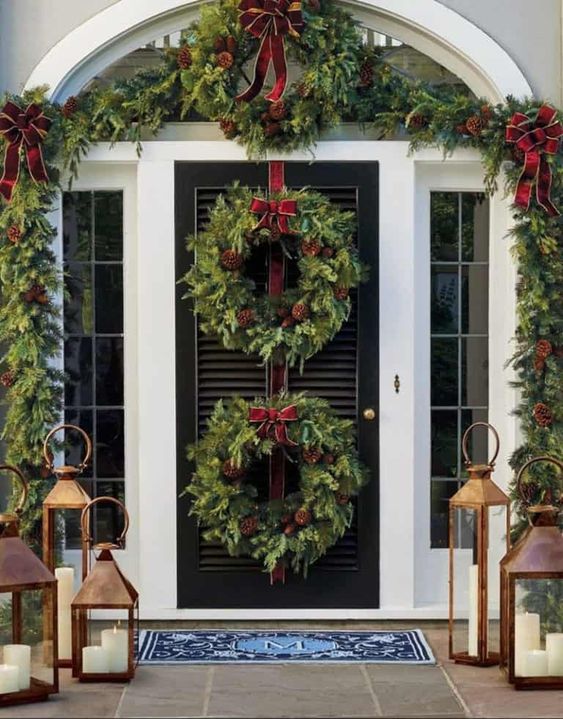 You are sure to have a joyous Christmas season with these fabulous Christmas door decorations!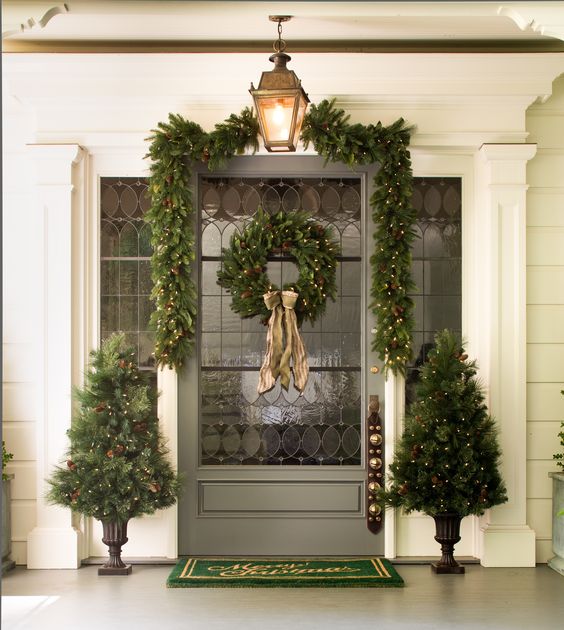 This mixture of greeneries for your Christmas door decorations instantly gives your house a trendy and chic look.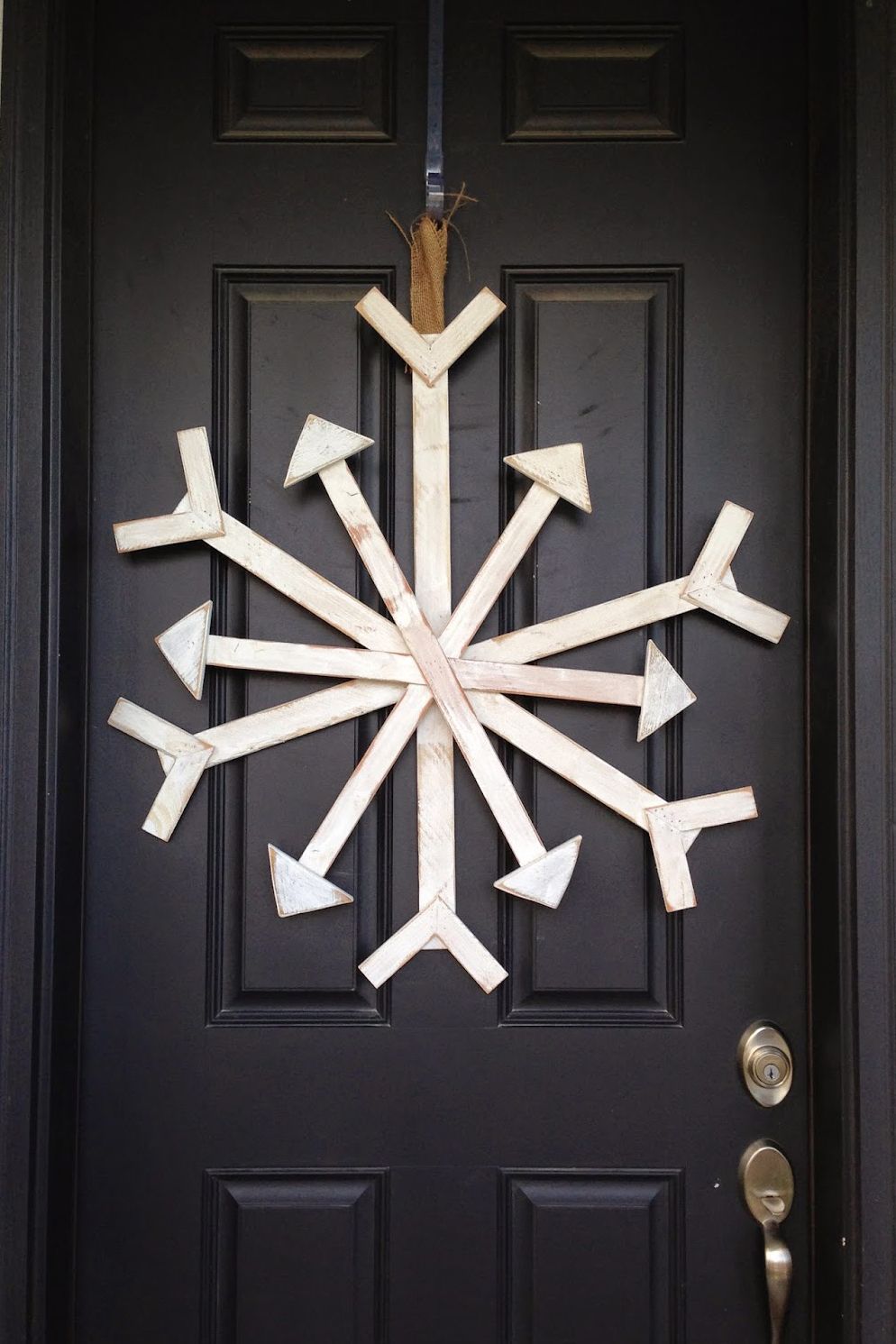 Keep things minimal by putting a giant snowflake ornament against your dark wooden door for Christmas.