Are you looking for edgy cat eye nails that you can recreate at home or at the nail salon? If so, you're in the right place!
It is impossible not to notice the marbly, mystical appearance of our favorite feline friends' eyes. Seriously: cats' eyes are beautiful! An almost metallic swirly appearance is created by the combination of blue, green, brown, purple, gold, black, and amber, complete with a striking dark pupil. And it's so gorgeous, so why not recreate the viral cat-eye look on your nails like a true nail art enthusiast?
The leopard manicure may have long dominated nail art inspired by cats, but perhaps it's time to let cat-eye nails take over. A magnet adds hypnotic depth to all sorts of nail polish colors with cat eye nails, inspired by the mesmerizing pupils in real feline eyes.
Cat eye nails are our favorite brand-new nail trend and we're here to bring you all the hottest inspiration!
How To Do Cat Eye Nails:
To achieve this beautiful trend, metallic diagonal lines are painted across the nail in different deep jewel tones, giving the illusion of staring straight into the eye of a cat.
Professionals and DIYers usually use magnetic nail polish to achieve the illusion. The magnet is used as the final step to finish the look and drag the polish across.
You can create a real cat's eye with just one dramatic center line, enhance glitter's shine, create a cosmic sky with comet-like streaks, create a swirling blend of interlocking lines, or combine new shapes — the fun of cat eye nails is their customizability.
If you'd rather have an easier version of cat eye nail designs, check out the press-on nails on Etsy. They're super high quality and last a while!
Cat Eye Nails For Inspiration:
Here are some of our favorite cat eye nail designs. Browse through and see what you like. Enjoy!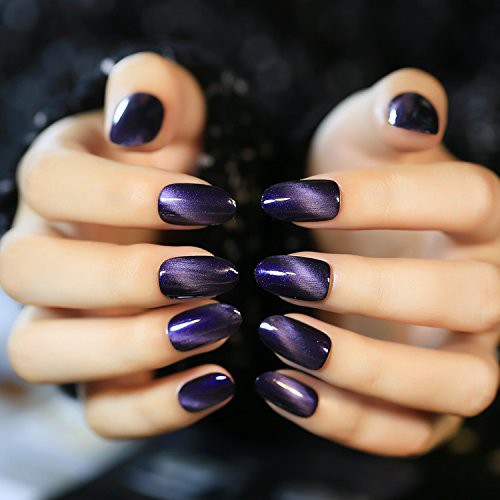 We love this deep purple color on these cat eye nails. Not only do these remind me of an actual cat's eye, but it also makes me think of a starry galaxy in outer space. If you're looking to recreate this, you'll definitely need a magnet for this look!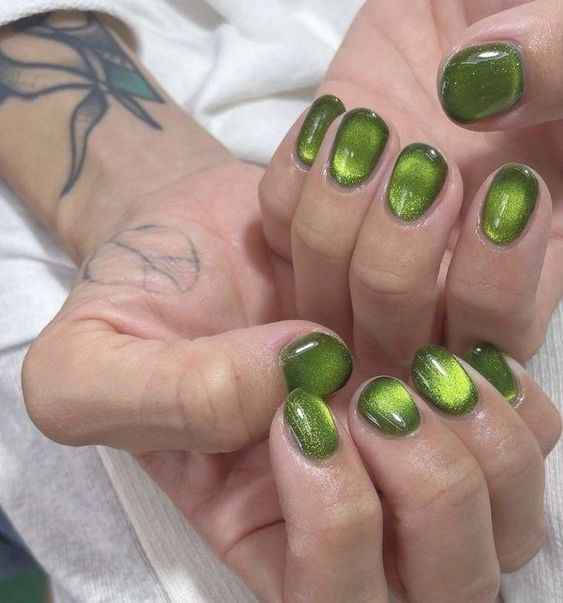 Ever noticed that cats' eyes look kind of like marbles? This is one of the cat eye nail designs that really gets it right. I also really love the shade of green used for this cat eye nail design. It's like an iridescent green with hints of sage, olive, and lime green.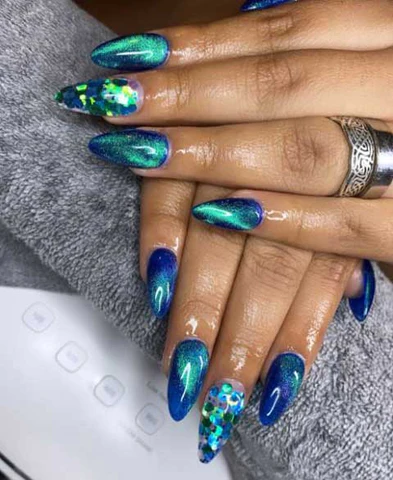 This cat eye nail design looks a little like a mermaid design, too, making it perfect for summer. The iridescent hues of blue and green as well as the sequined accent nail are sure to remind you of the beautiful ocean as well. Ugh, now I'm missing the beach!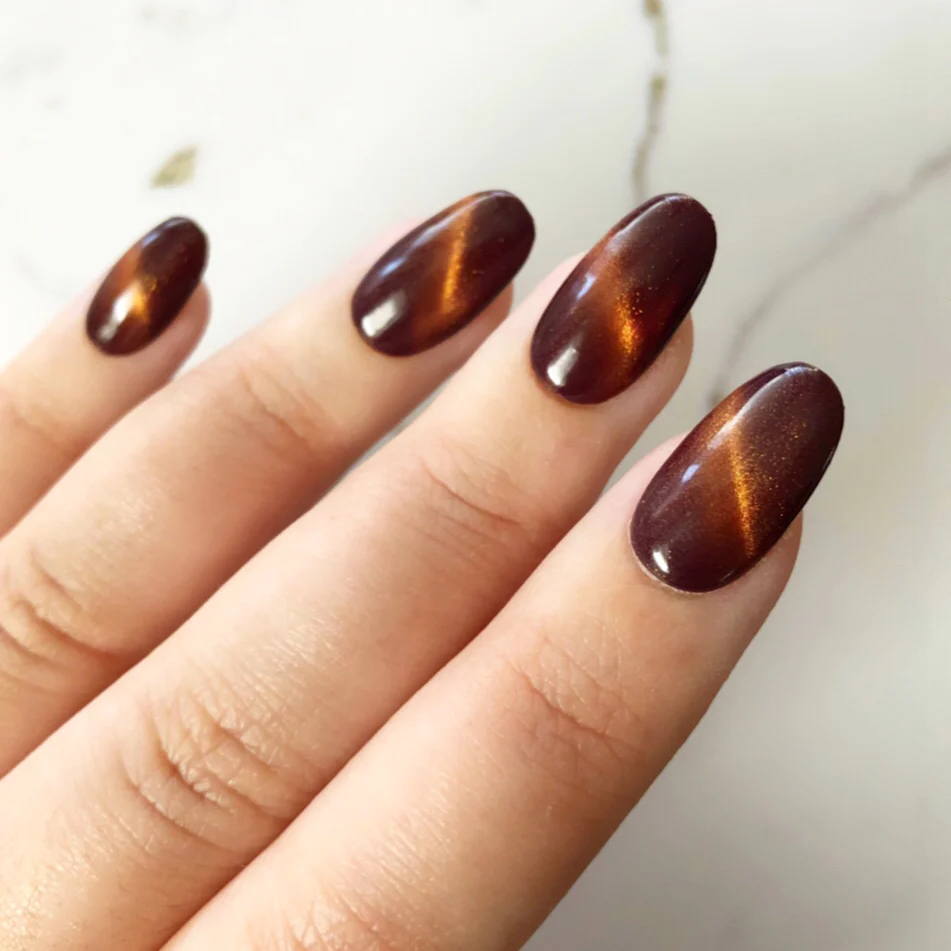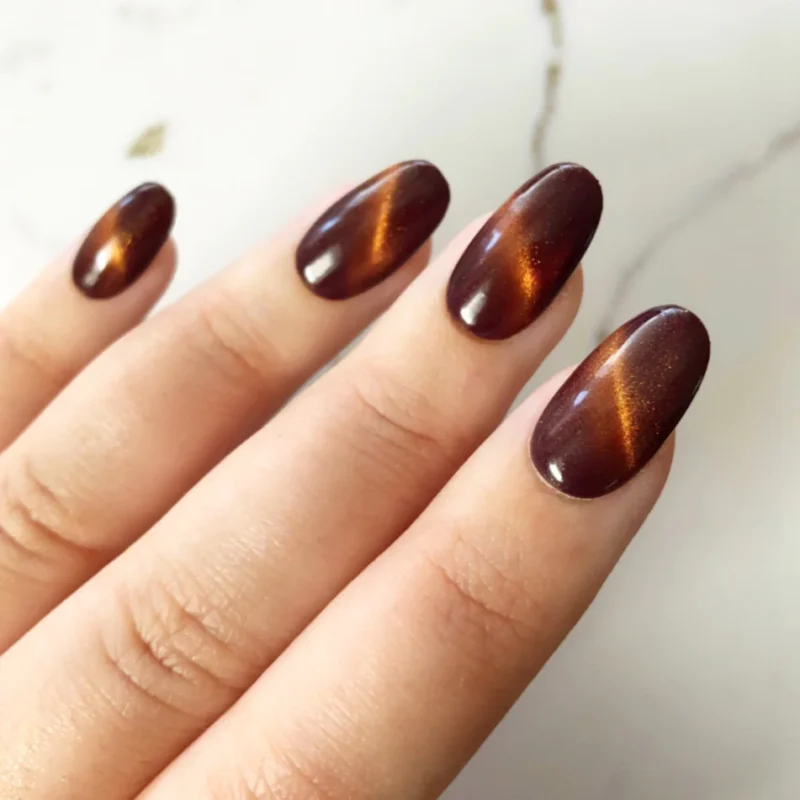 Looking for a cat eye nails design for your fall nails? This is the perfect shade! A brown cat eye nail is one of the most versatile colors you can use for your next manicure. It has such a cozy vibe and depending on the shade of brown you use, you can get that moody, espresso hue that coffee lovers will adore or that light brown nude shade that gives you a subtle shimmer.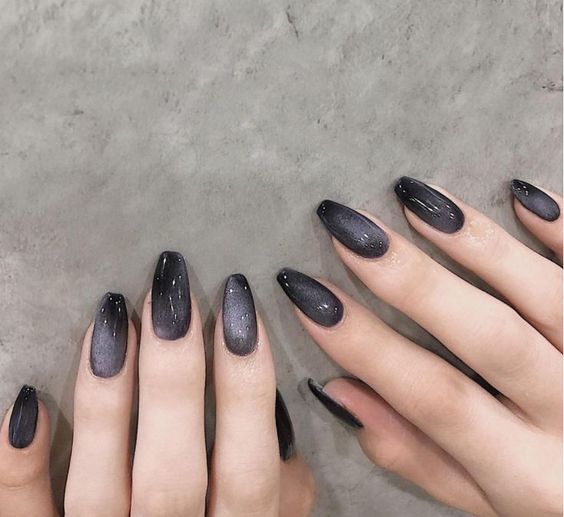 I just love a moody or edgy cat eye nail! I am totally obsessed with the black and grey hues on this particular manicure. It gives off such a smoky vibe that adds a touch of edginess to your overall look and aesthetic. Not to mention, darker colors like these just seem so classy and sophisticated to me. They're understated enough to fit in formal events without being too plain.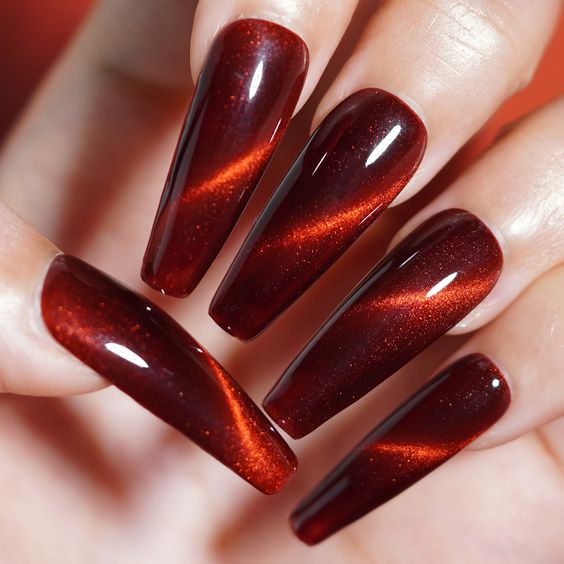 Whether it be a summery, cherry red, a rich oxblood, or a deep burgundy, I can't help but love these red shades for a cat eye nail. Just look at this particular one, it's such a deep, fiery red that's perfect for the winter to keep you hot! These nails will surely leave a fiery blaze and impression wherever you go.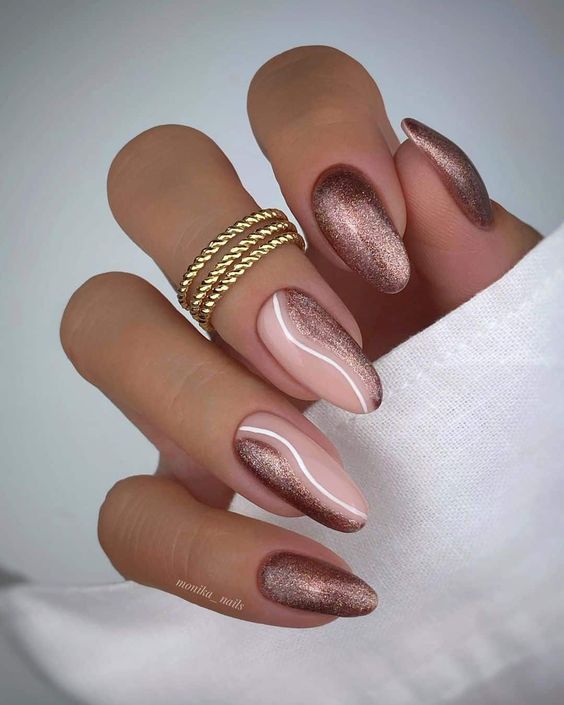 Make your cat eye nail a whole lot more interesting by mixing and matching it with other polish textures. This one incorporates both a glossy and shimmery finish for its nail accents, giving the manicure an added sparkle to it. I also love the different tones of pink used for the nails. It's perfect for the holidays too if you're looking for your next holiday nail at your upcoming Christmas gatherings!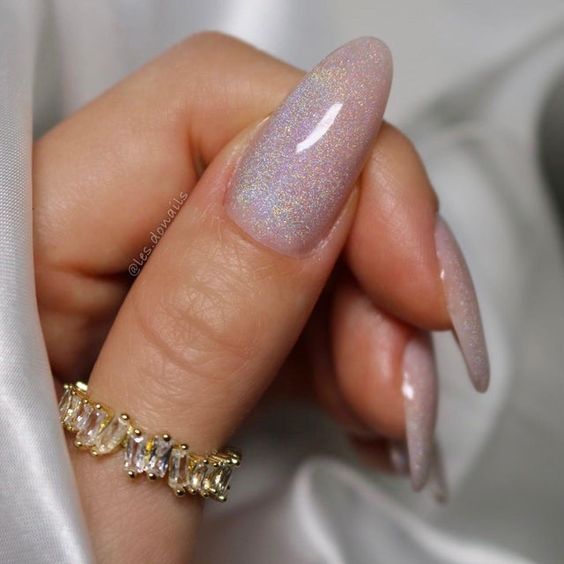 I love the iridescent colors in this particular cat eye nail! It's like a subtle burst of pastel colors and depending on how the light hits it, your nails are going to be showing off a different color. I also love the shimmery finish it gives, it's almost frost-like and so perfect for the winter season!
This deep green cat eye nail looks will look so good on any skin complexion! It has this shimmery yet marble-like finish that is so beautiful along with its mixture of jewel-toned colors of green, brown, black, and subtle hints of gold. it has such a sophisticated vibe to it.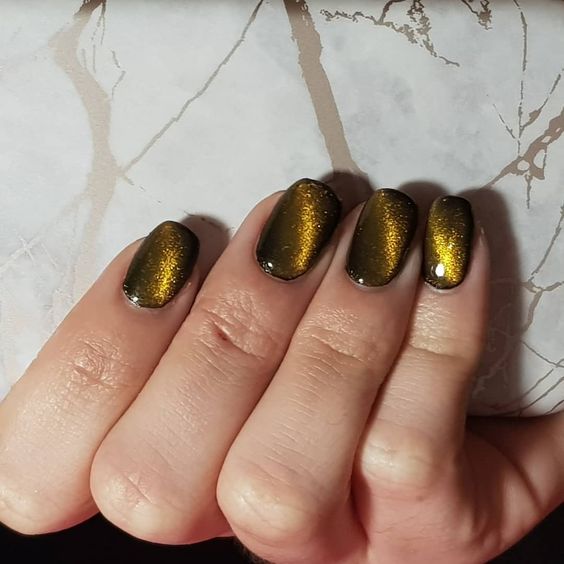 Never thought I would love black and yellow together this much! The yellowish and golden tones bring out such a warmth against the stark contrast of the black color. For some reason, I think of opulence as well as some edginess the more I look at this particular nail set. It's just utterly gorgeous!
Here's another cat eye nail that will remind you of the beautiful ocean! This has such a gorgeous blue shade that gives off this calming vibe as if you're staring into the sea as the waves meet the shore. If you're already looking for nail ideas for the summer, then this should definitely be up on your list!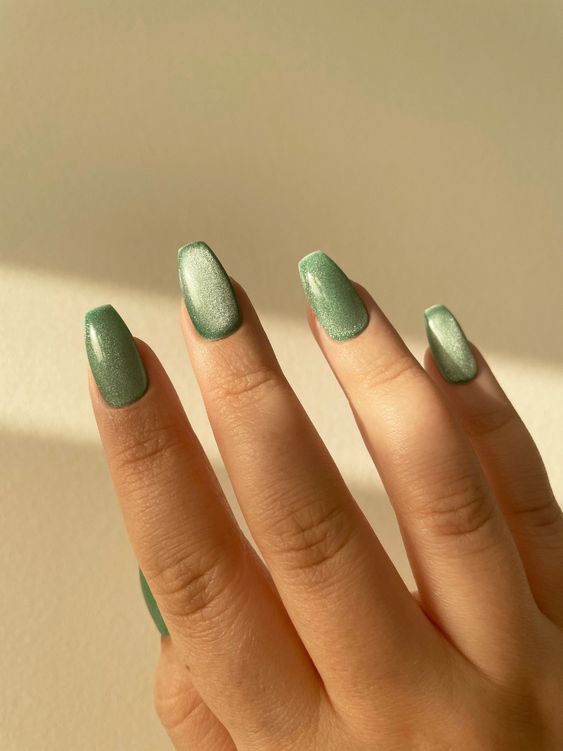 I am honestly in love with this shade of green! This sage cat eye nail would be the perfect manicure once springtime comes around! You can also experiment with different angles when doing the shimmers so you can have these varying nail accents that differ depending on how the light hits them!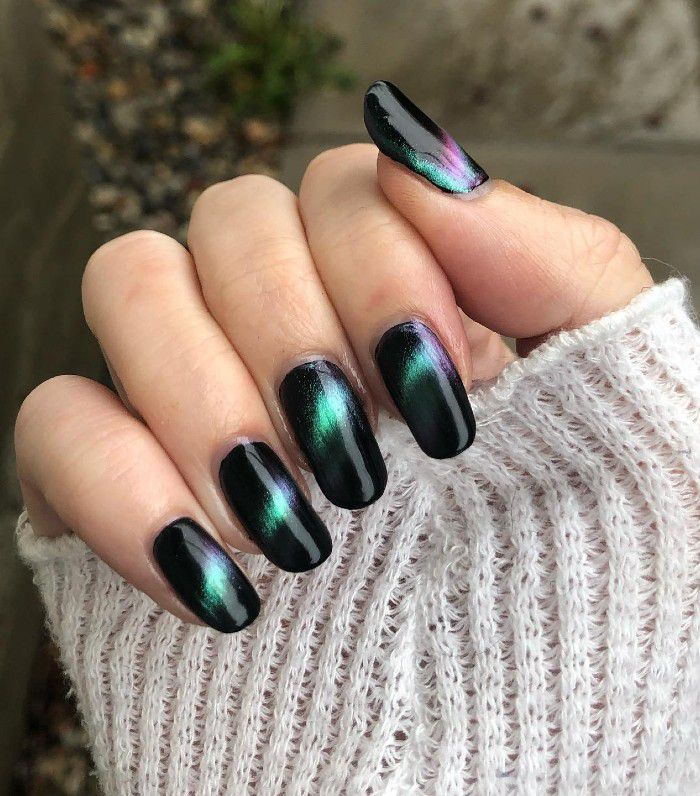 For some reason, this set of cat eye nails reminds me of those beautiful aurora lights in the colder parts of the world. And just like those gorgeous phenomenons, these nails are just as ethereal and heavenly to look at! The main black polish makes the bluish and purplish hues stand out so much!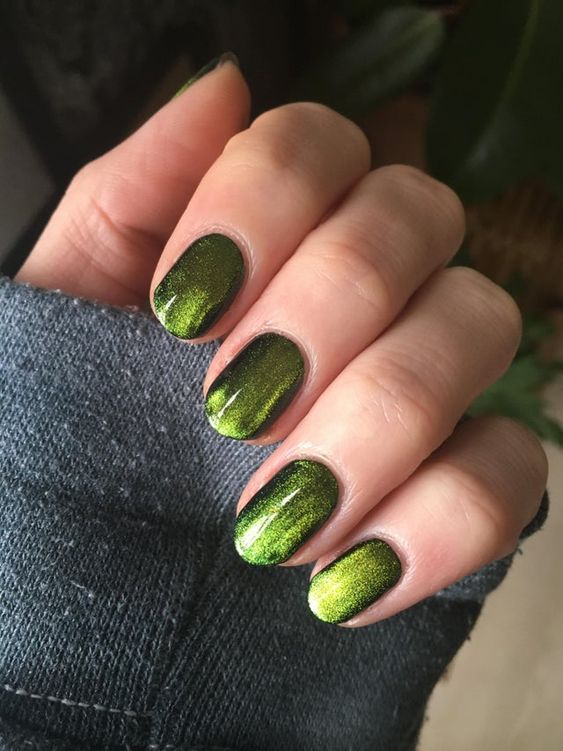 If you're looking for the perfect summer green nails, then look no further than these green cat eye nails! I love the gradient and iridescent effect on the green hues that go from a deep green to an almost bright, neon (and shimmery) green.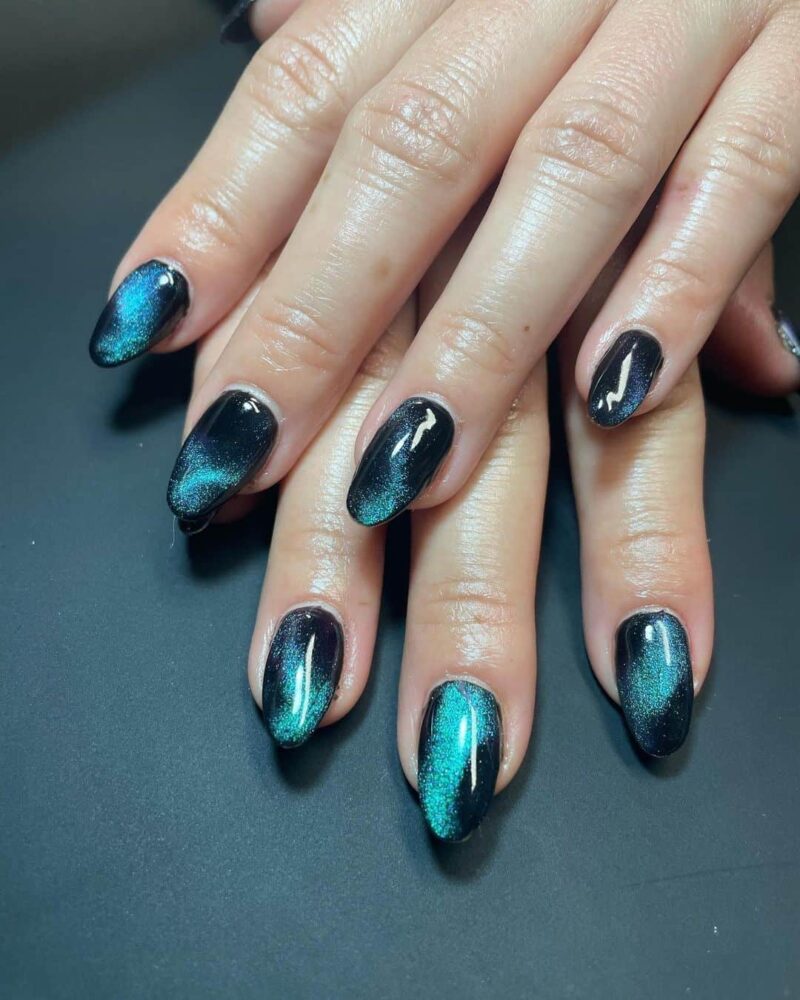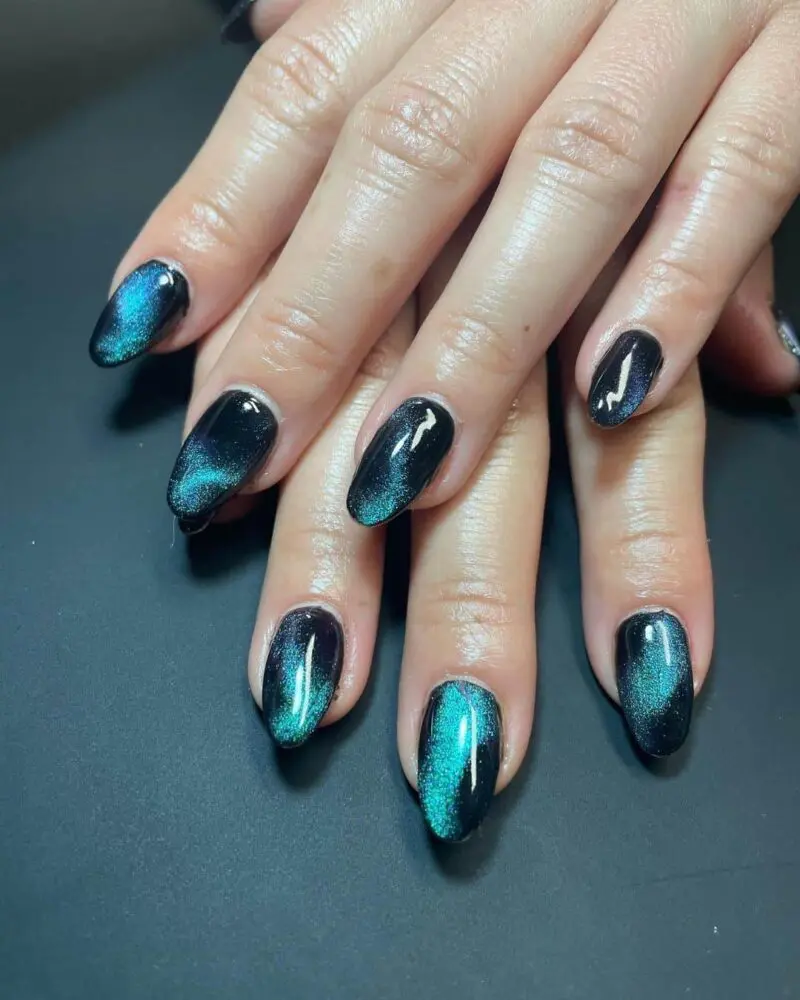 As you may already know, it's undeniably cool that the starry-sky aspect of magnetic polish makes for a lot of stellar nail art. Depending on how you angle your magnet, you can easily add comet tails, shooting stars, or starry swirls to your manicure by carefully moving the magnet in specific locations to create these gorgeous, glimmering patterns.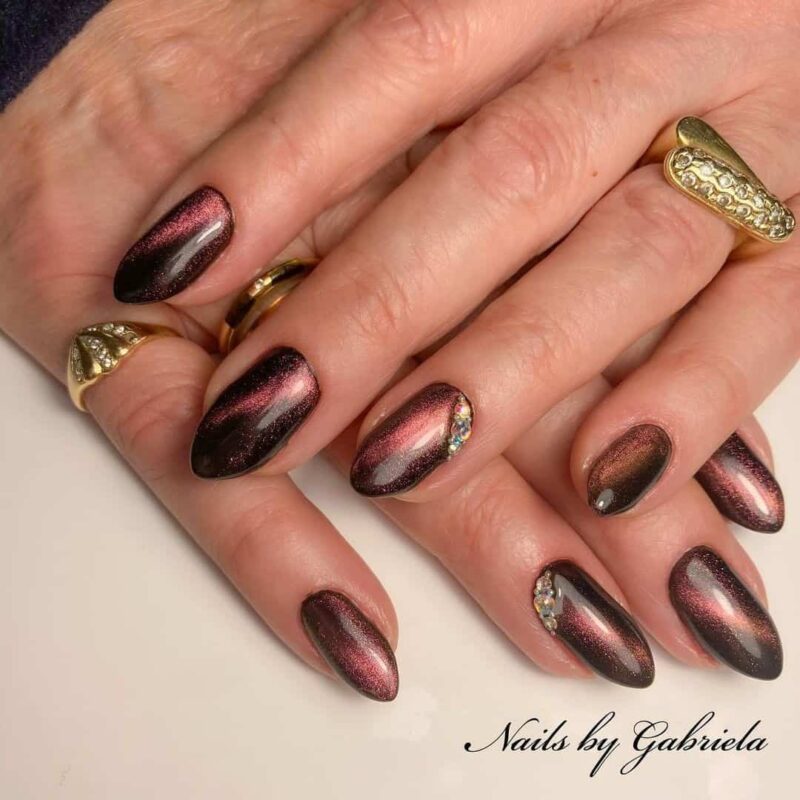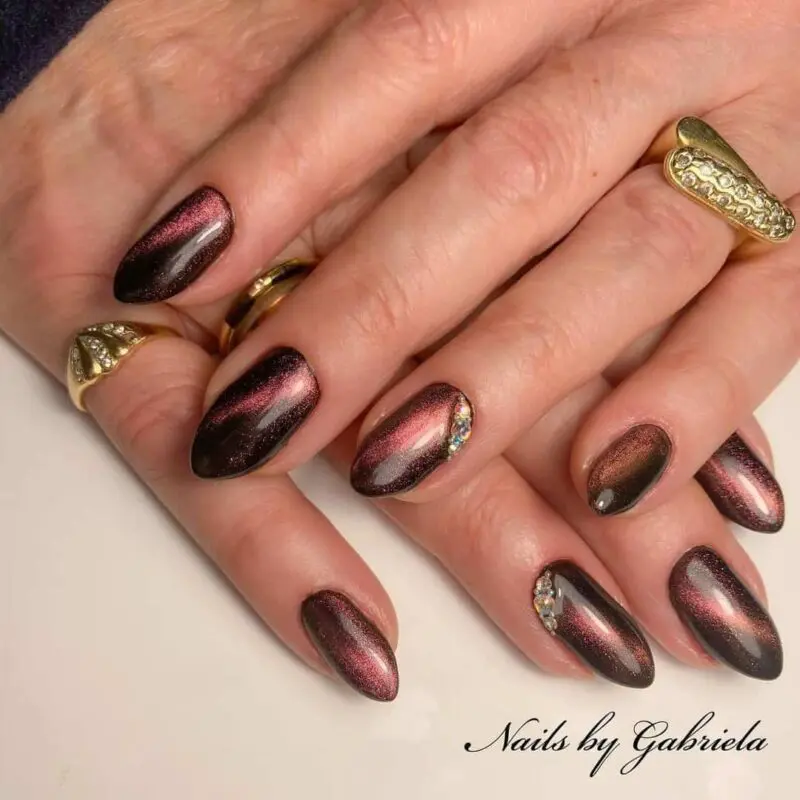 There's something about this color scheme of the cat eye nail that reminds me of crushed velvet. The deep berry tones used have such a sophisticated vibe that's perfect for any classy holiday party and social event.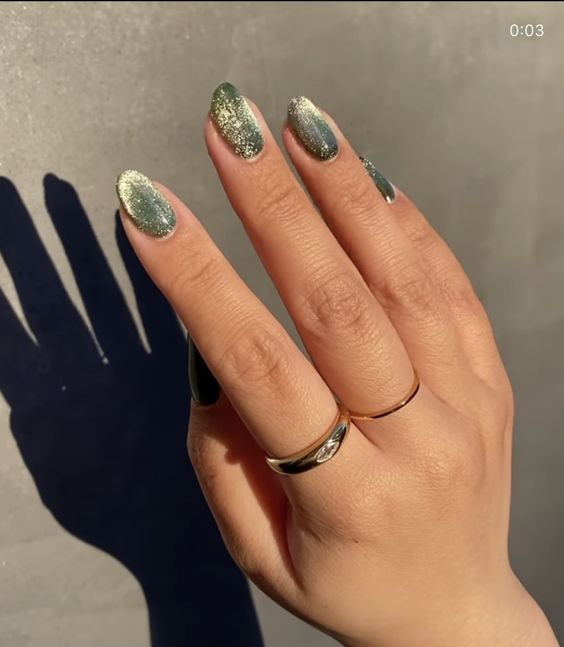 Something about this particular cat eye nail set makes me think of freshly fallen snow on the grass. Just the way those white shimmers look like snowflakes and has frosted over some greenery makes it so perfect for the Christmas season! If you haven't made plans yet on what your nails would be for the holidays, this one is a must-try!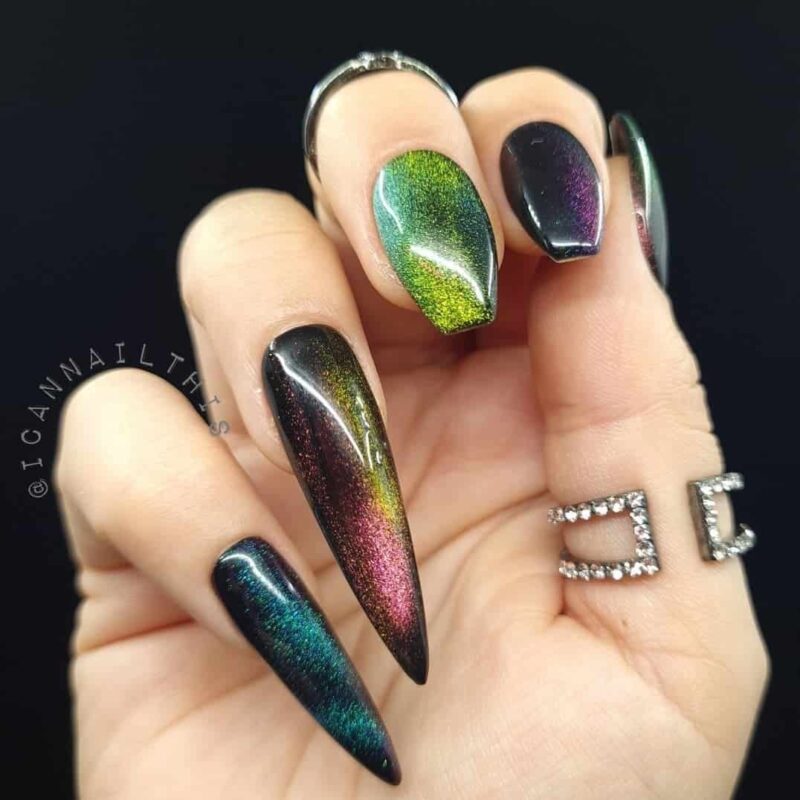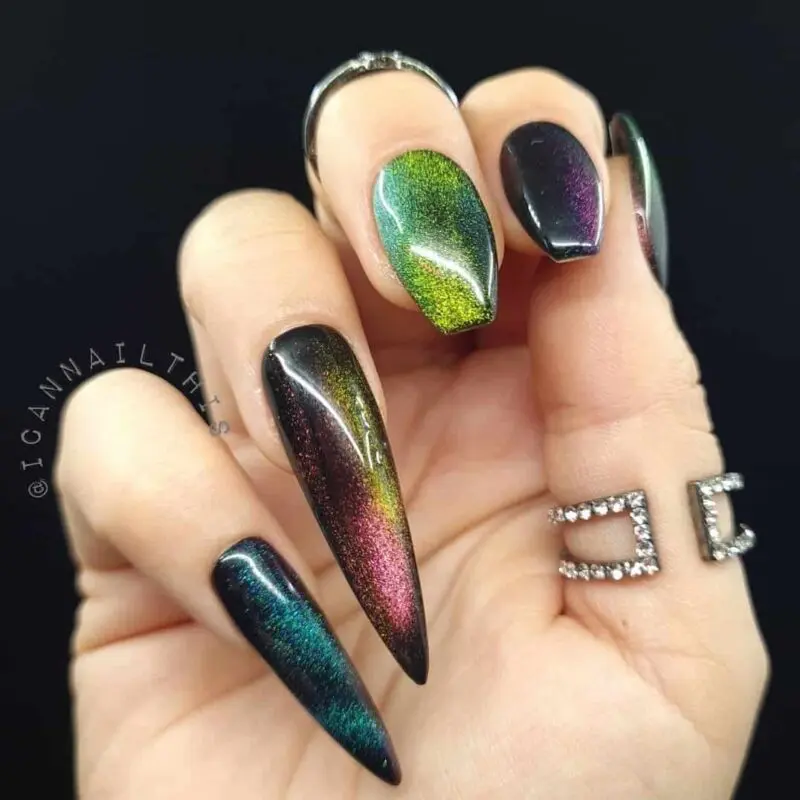 If you can't settle for one color with your cat eye nail, don't be afraid to do different colors for each nail! The more, the merrier! The color combinations you can do with this beautiful nail design are practically endless!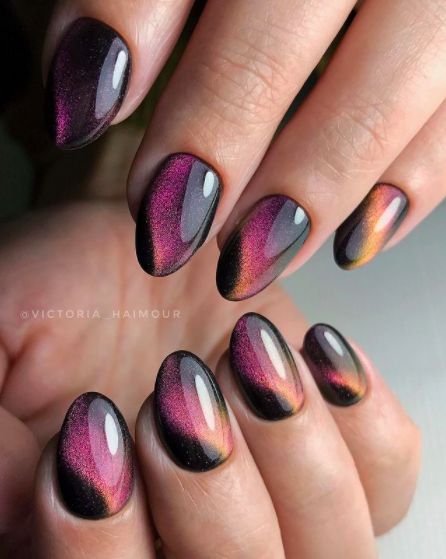 Another color combination you can mix with black polish is pink and orange. I mean, just look how these bright colors create a brilliant contrast against its dark background! It gives off a feminine feel with a slight edginess to it.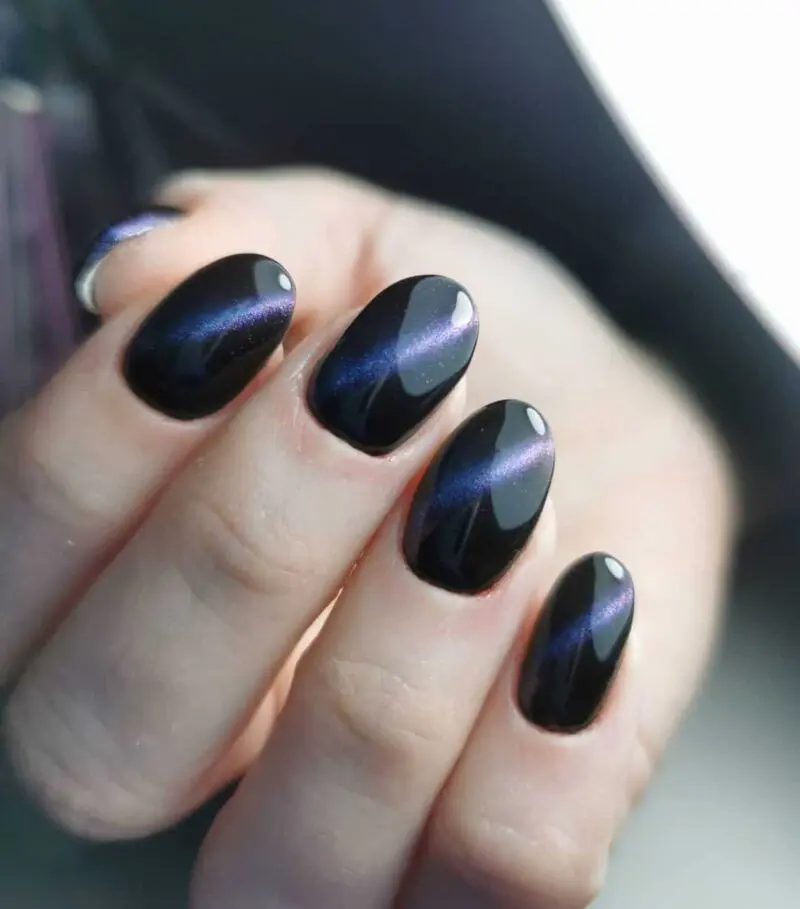 If you have never done a cat eye nail before and you're unsure whether you'd like it for your next manicure or not, why not try this more understated design then? From afar, it'll only look like you have an iridescent black polish, but the subtle sheen is enough to give it an interesting touch.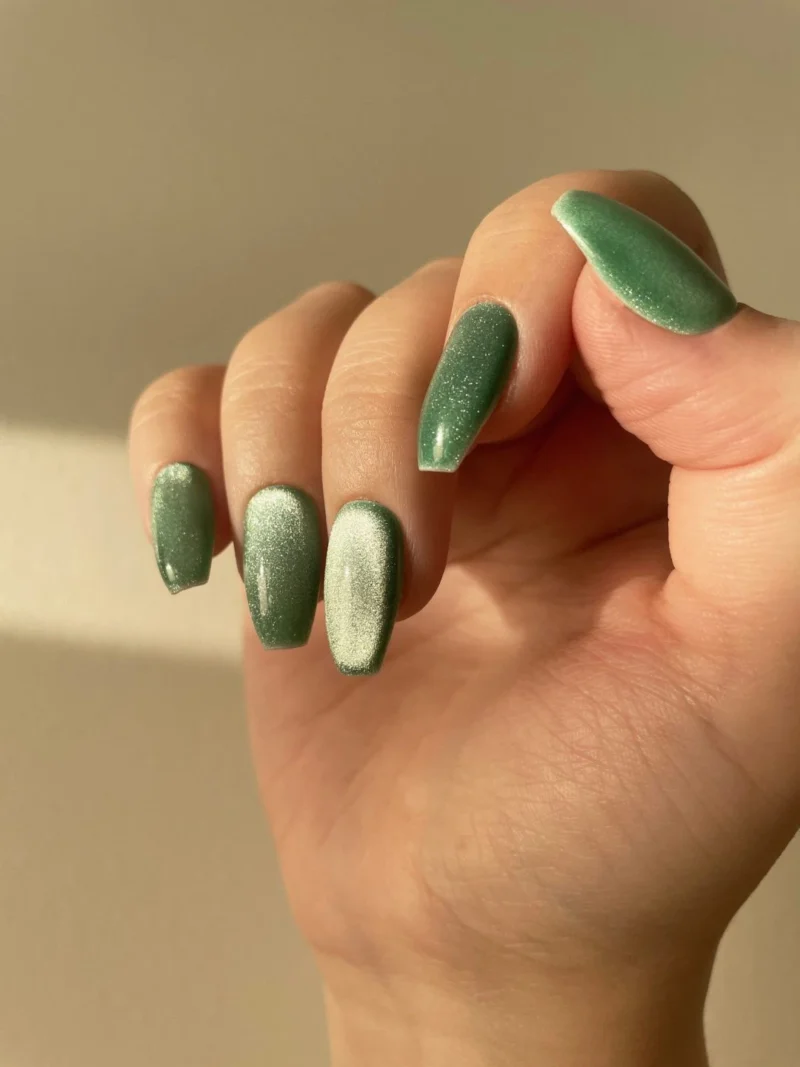 Doesn't this just remind you of freshly fallen snow on a grass-covered field? The way the white shimmers just let the green hues breakthrough gives off such a whimsical feel!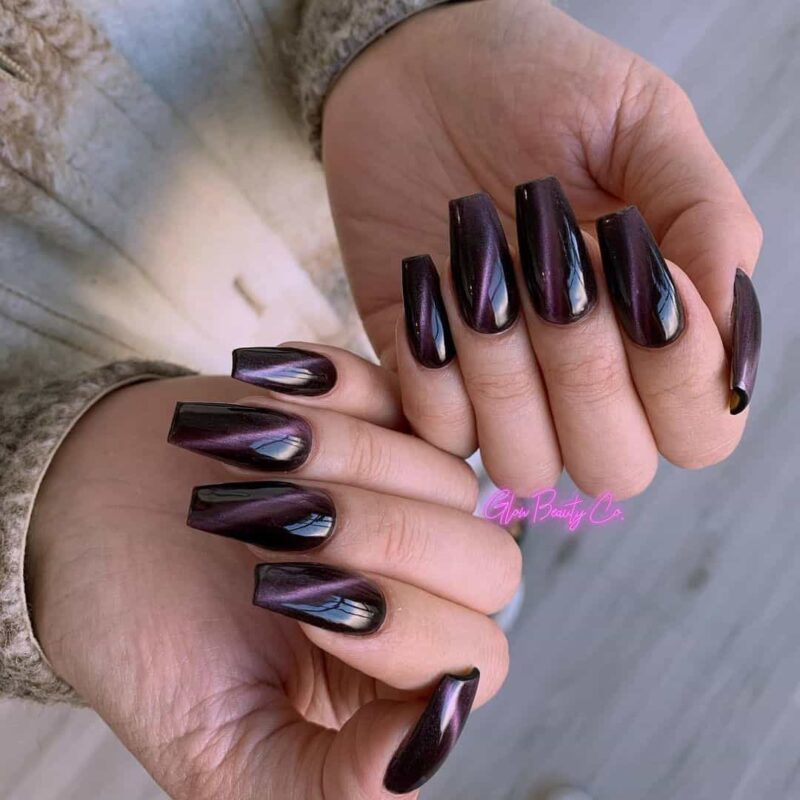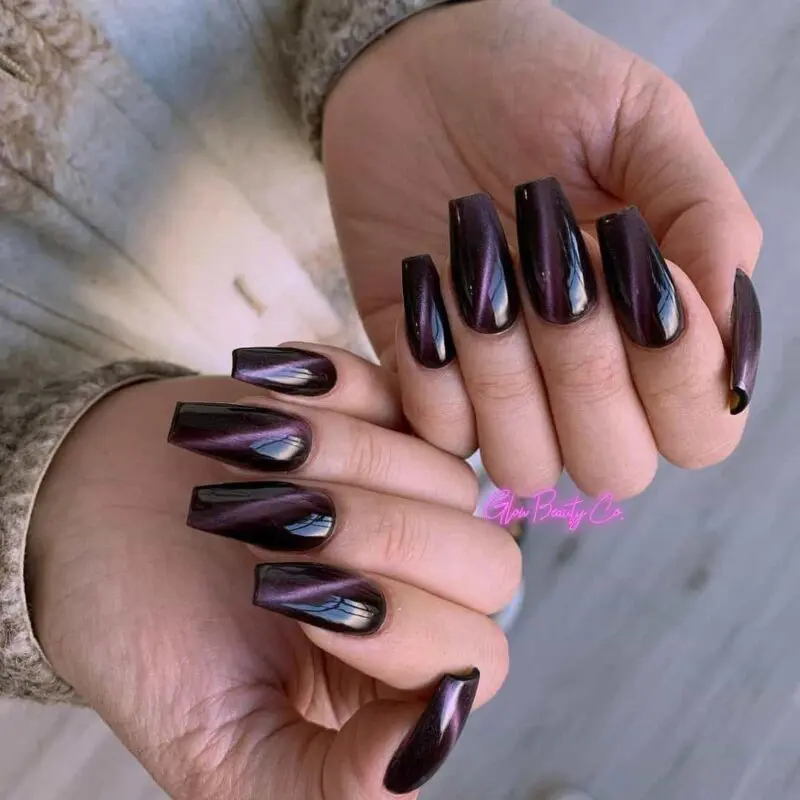 If you're not too confident with how you should maneuver the magnet to create patterns, you can always opt to dress up a single-color polish with a single magnet streak for an immediate, through-the-nail stripe of a slightly lighter hue. It's simple and easy to do!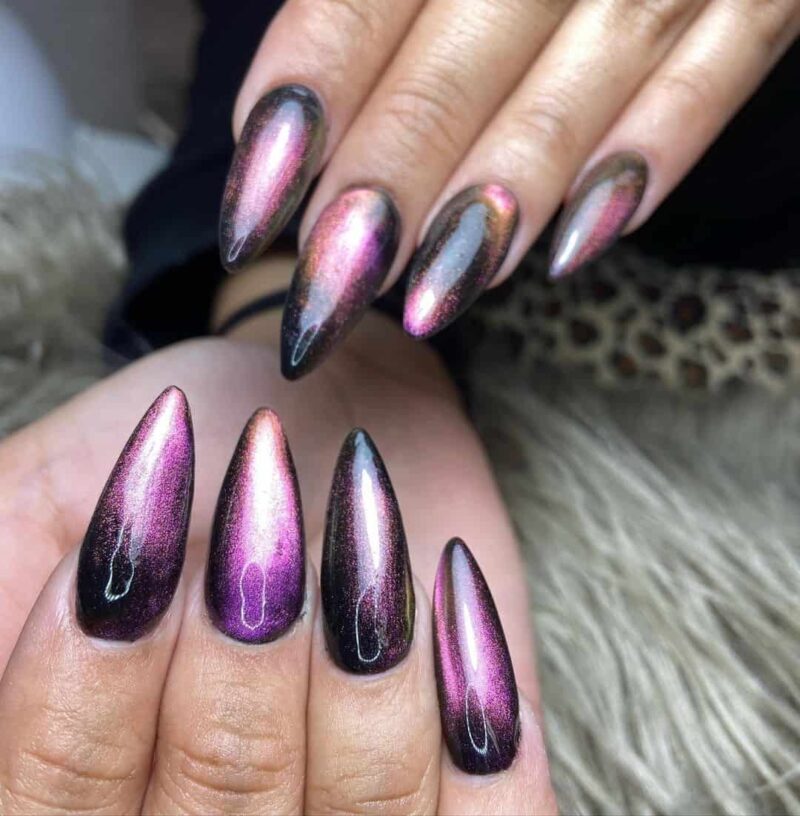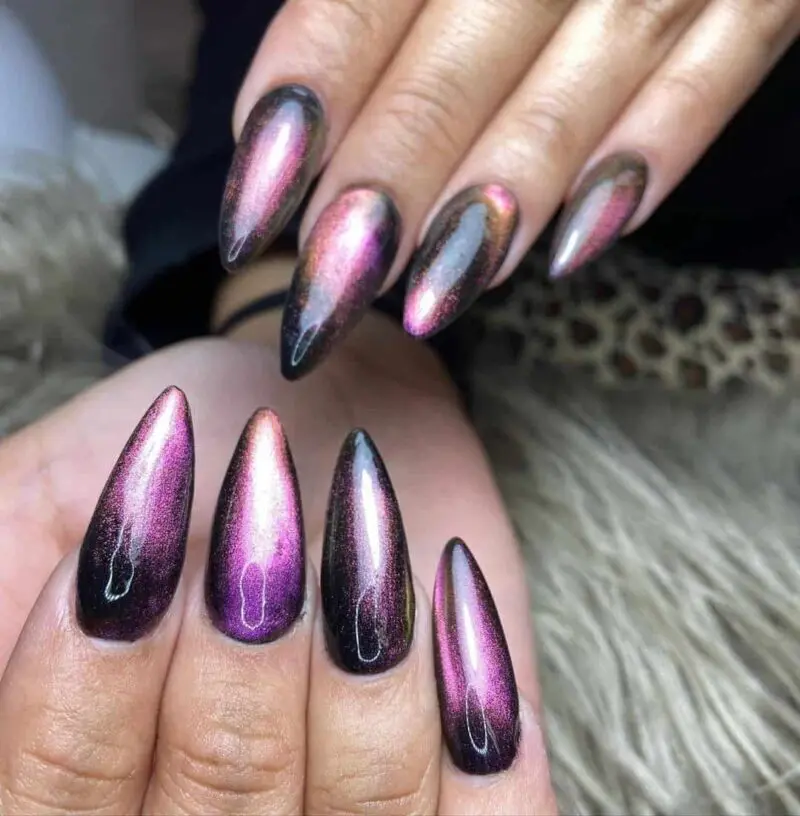 Create stark contrasts with your cat eye nail with colors in the opposite spectrums. You can do these gradient nails by starting with a deeper and darker color that goes lighter and lighter in the middle.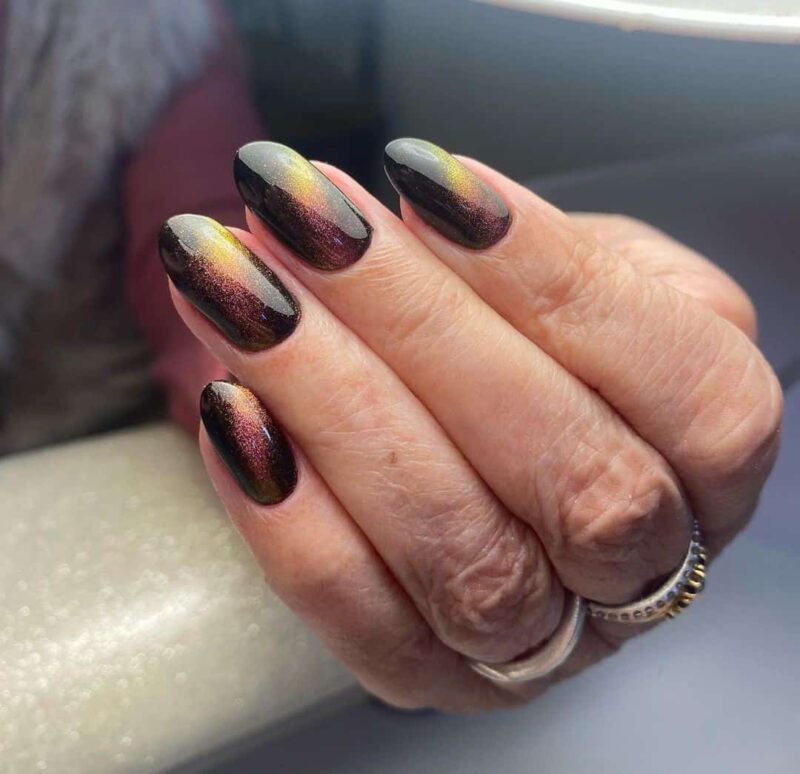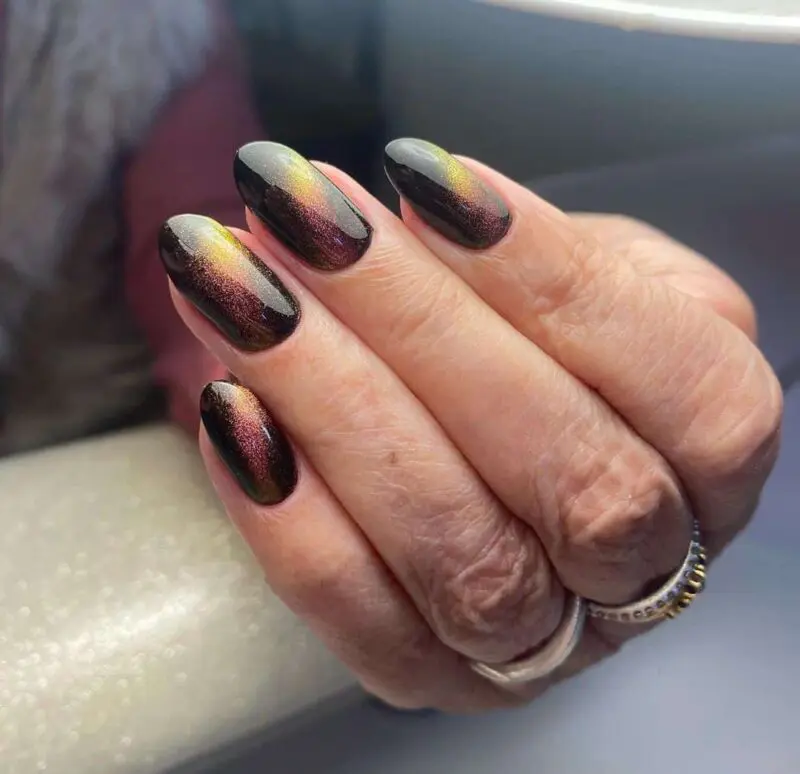 These galaxy-like cat eye nails have such a shimmer to them that when the light hits them, the iridescence it creates is just simply out of this world! Just look at those beautiful colors!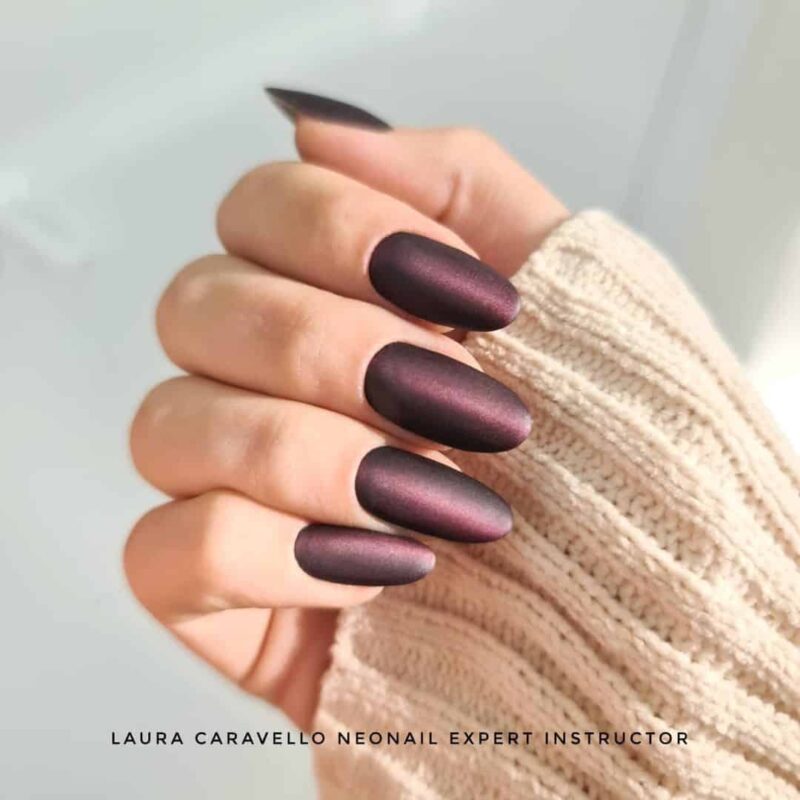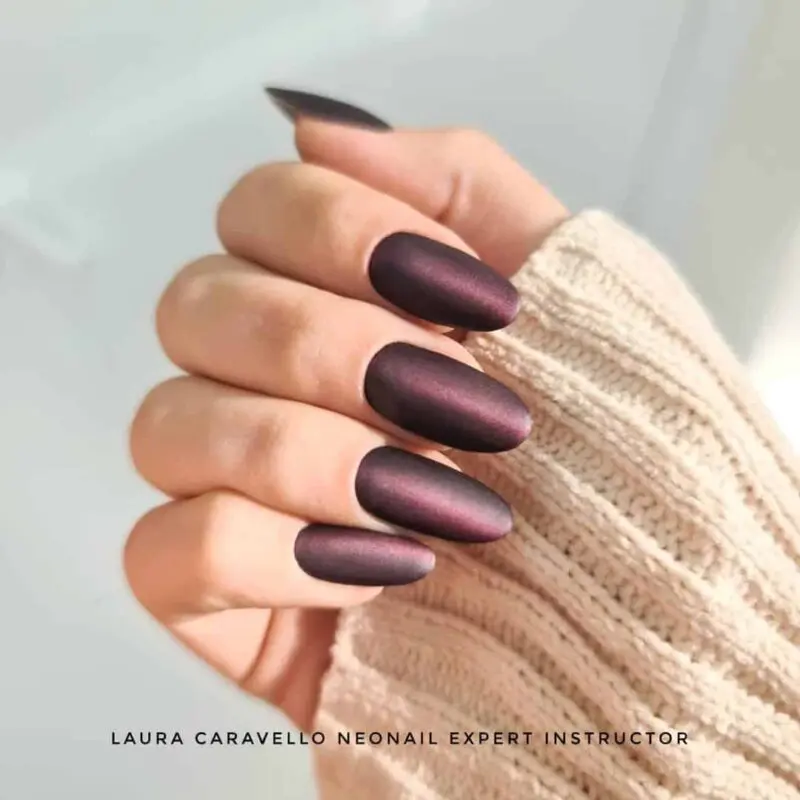 I am totally obsessed with the plum tones in these cat eye nails! It has such a moody hue that's so perfect for the winter season.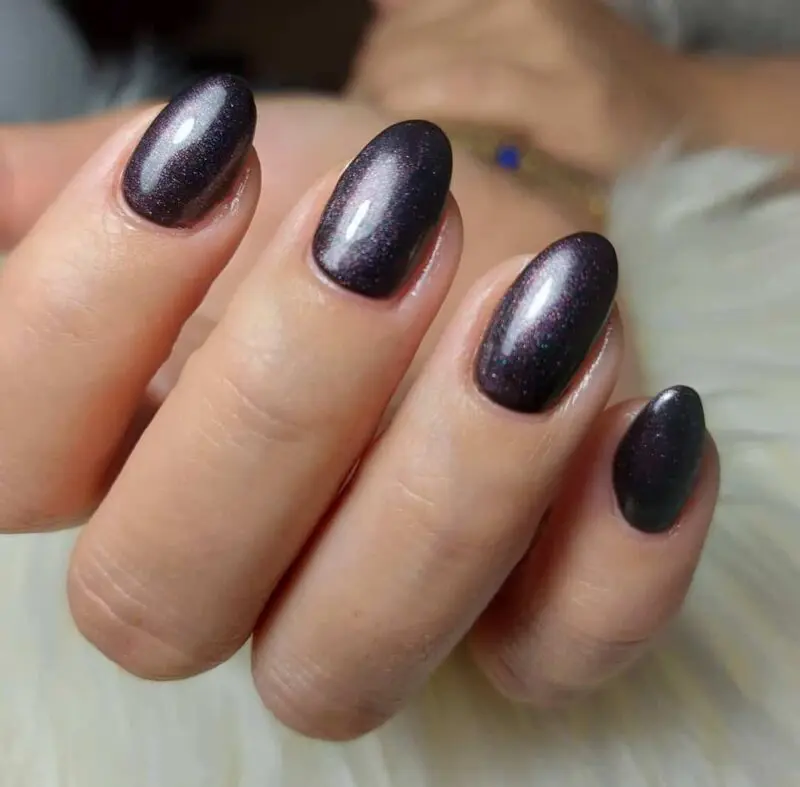 If you like purple tones on your nails like me, then here's another cat eye nail set that you will love! The difference with this one is that it has a more subtle sheen against the deeper shade of violet.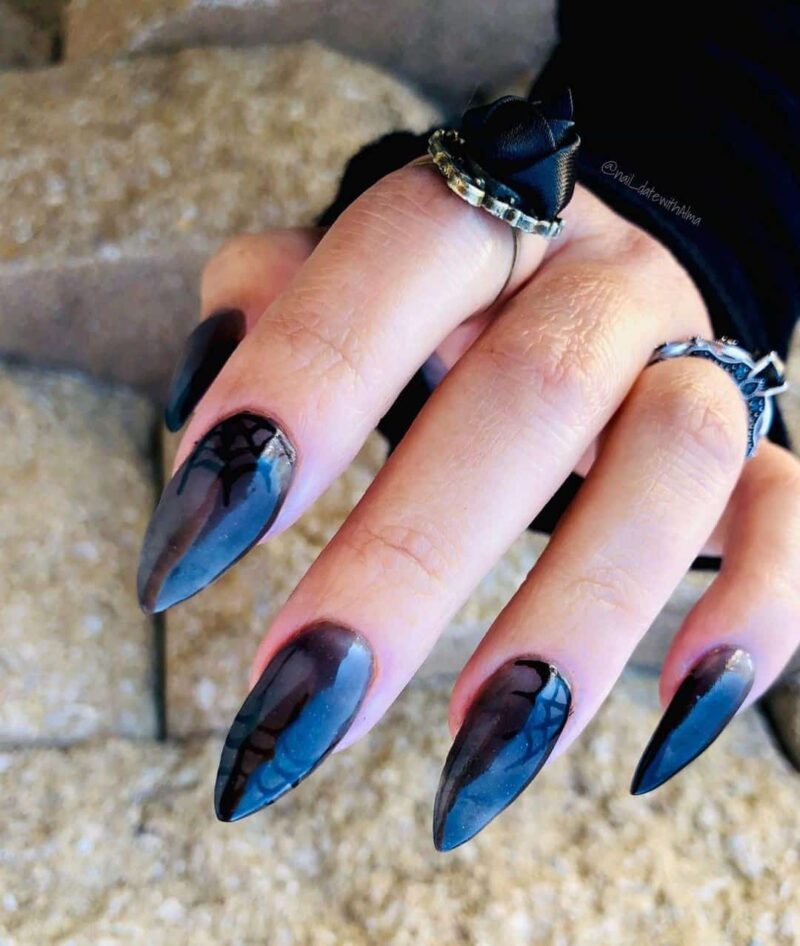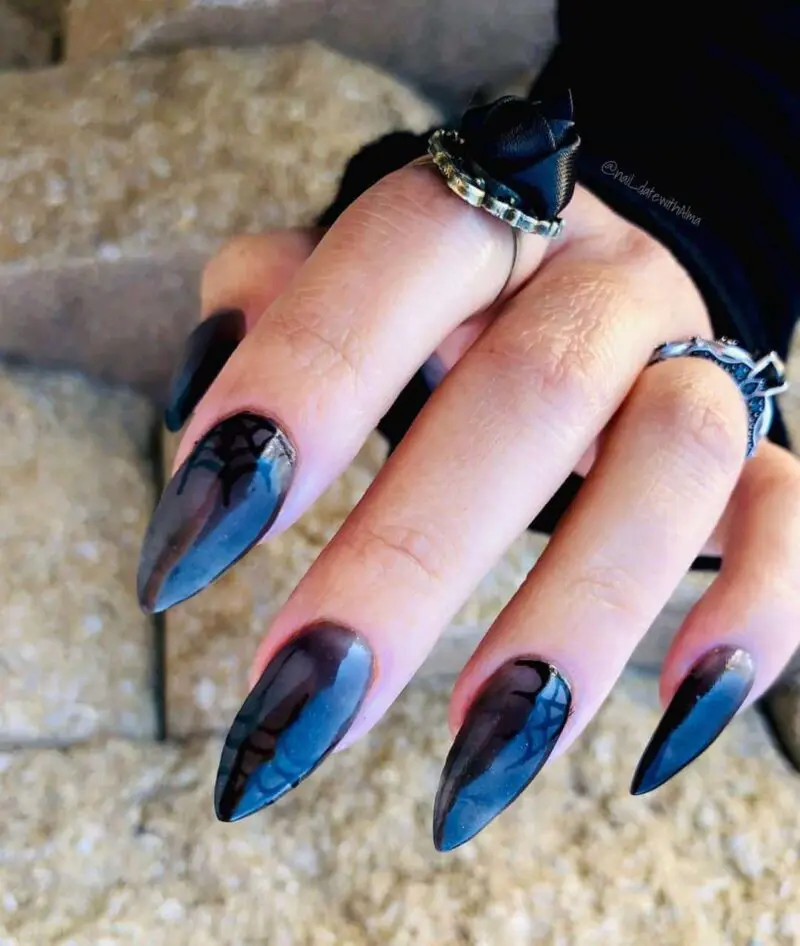 Peep those subtle cobweb designs on each nail! This cat eye nail is so creative and it's also perfect for the spooky season! The stiletto shaped-cut for the nails gives it such a feminine vibe as well.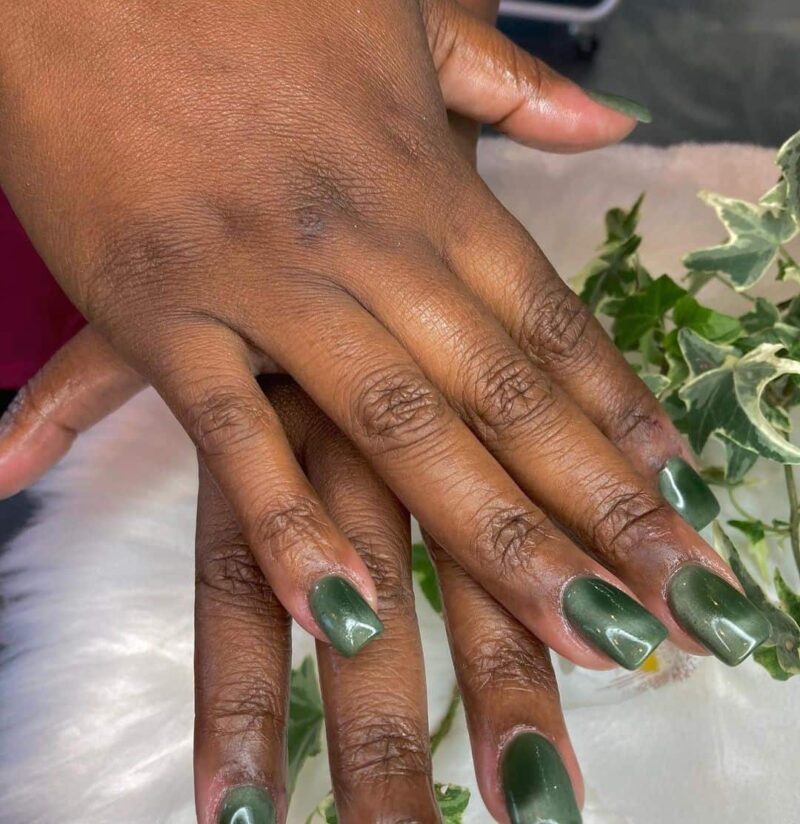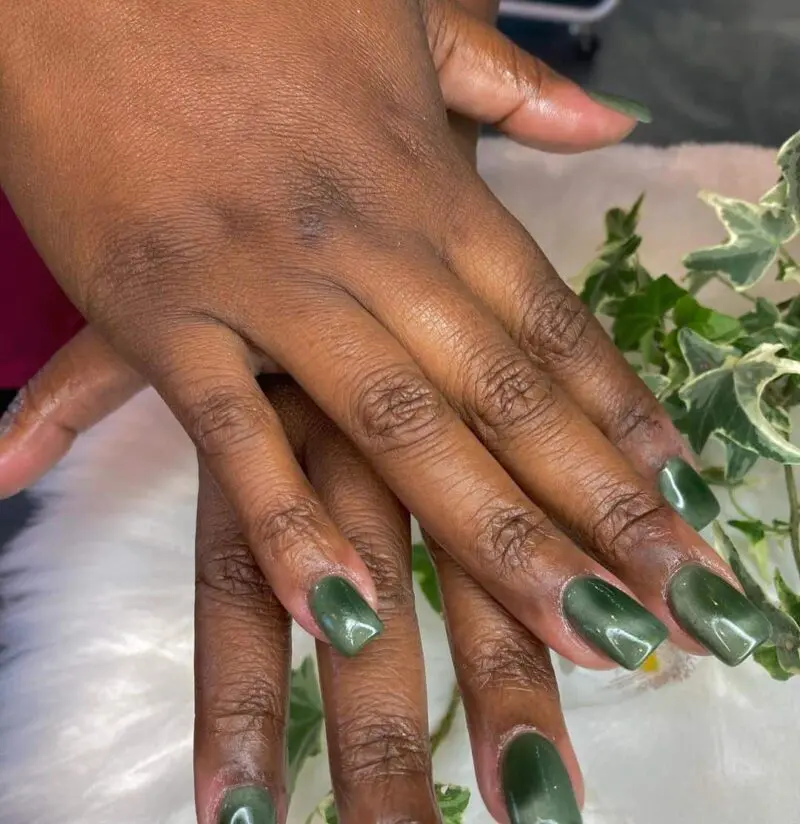 Get in touch with your love for nature with these gorgeous green cat eye nails! They'd be so perfect for the upcoming spring and summer when the leaves come alive once more.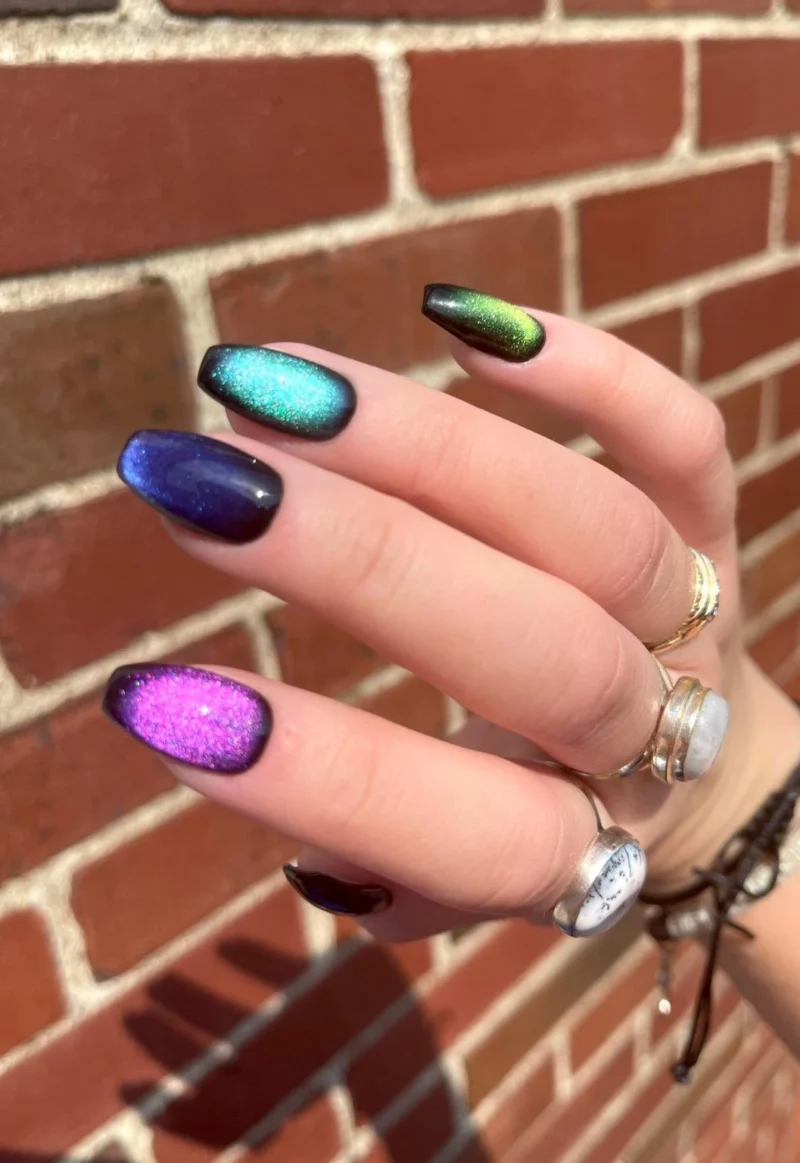 Can't decide on what color you want to do for your cat eye nails? Why not try a different color for each nail instead so you don't have to pick one? I mean, look how stunning those bright, neon colors are!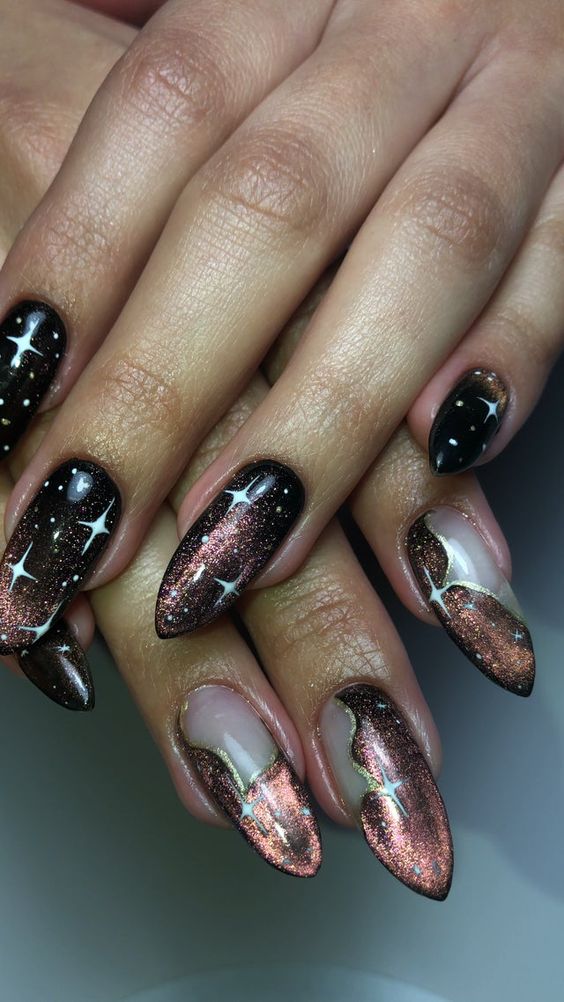 It's no surprise that cat eye nails make great inspiration for galaxy-themed nail art. Just look how those intricately drawn stars shine against the shimmery and gradient hues of black and pink!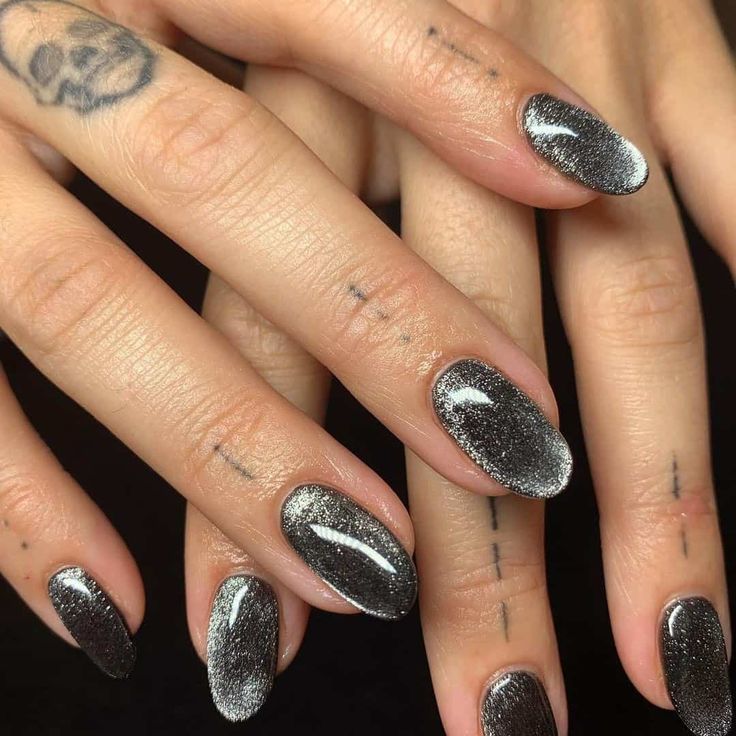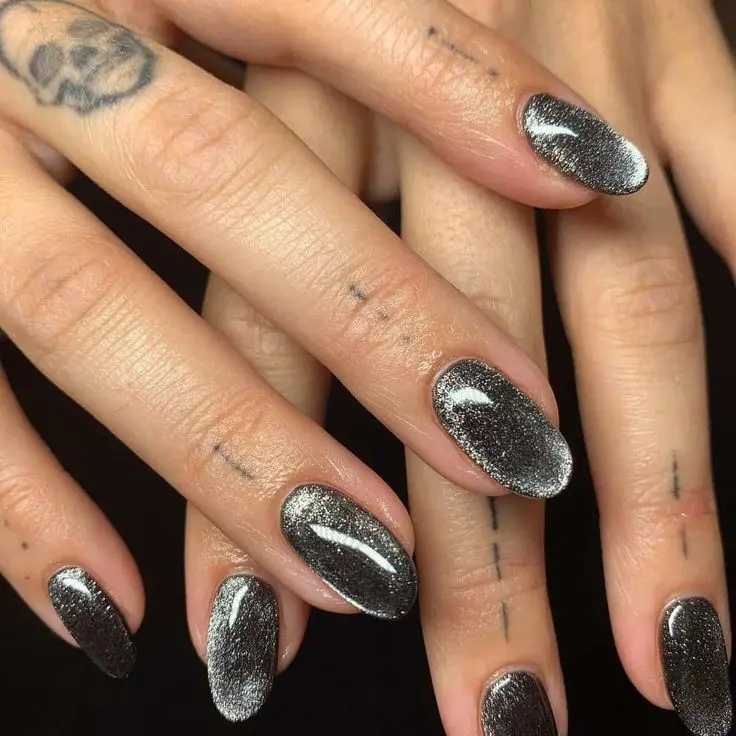 If you're looking for a cat eye nail color that's low maintenance and will go with almost any outfit, then you should definitely give this grey cat eye manicure a try. It's even more perfect for the winter season as the white shimmers almost look like snowflakes on your nails!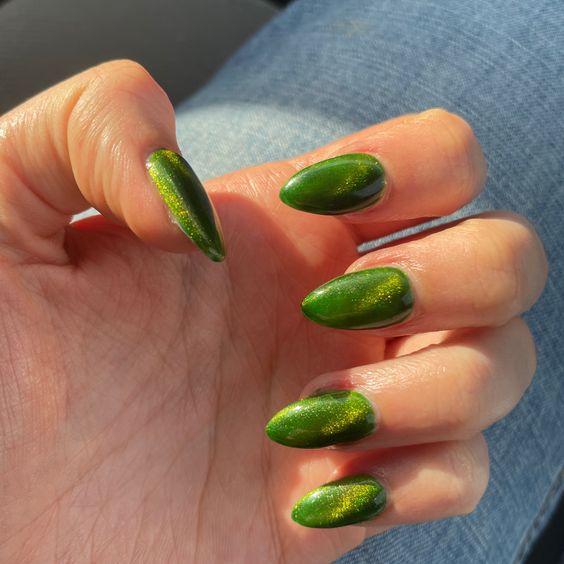 I just know that this beautiful lime green cat eye nail design would be so trendy once summer comes! The color gives such a burst of freshness!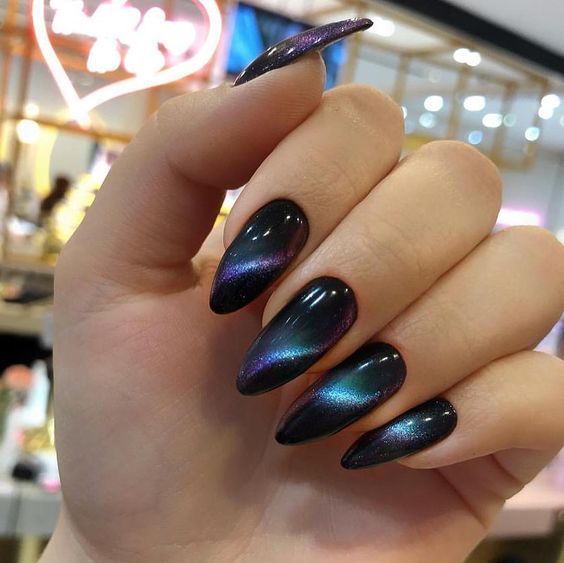 Here's another easy way you can create a subtle sheen with a single curvy line with your next cat eye manicure. All you need to do is move the magnet in an S-like manner and you'll get this gorgeous iridescent hue!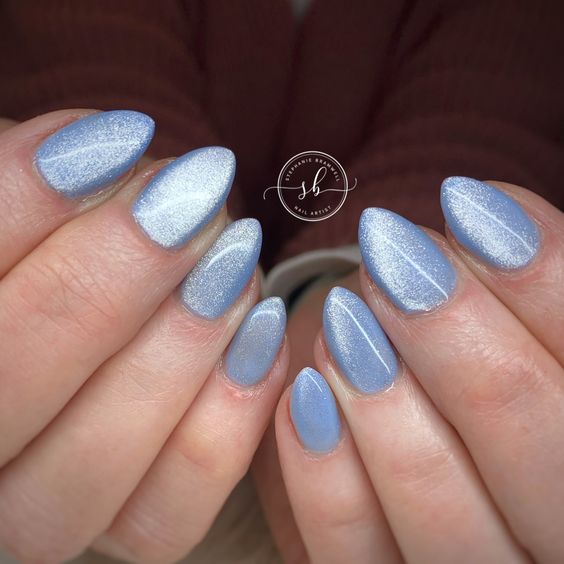 This beautiful baby blue hue is probably my favorite cat eye nail out of this whole list. Not only is it the perfect winter color, but it looks utterly ethereal!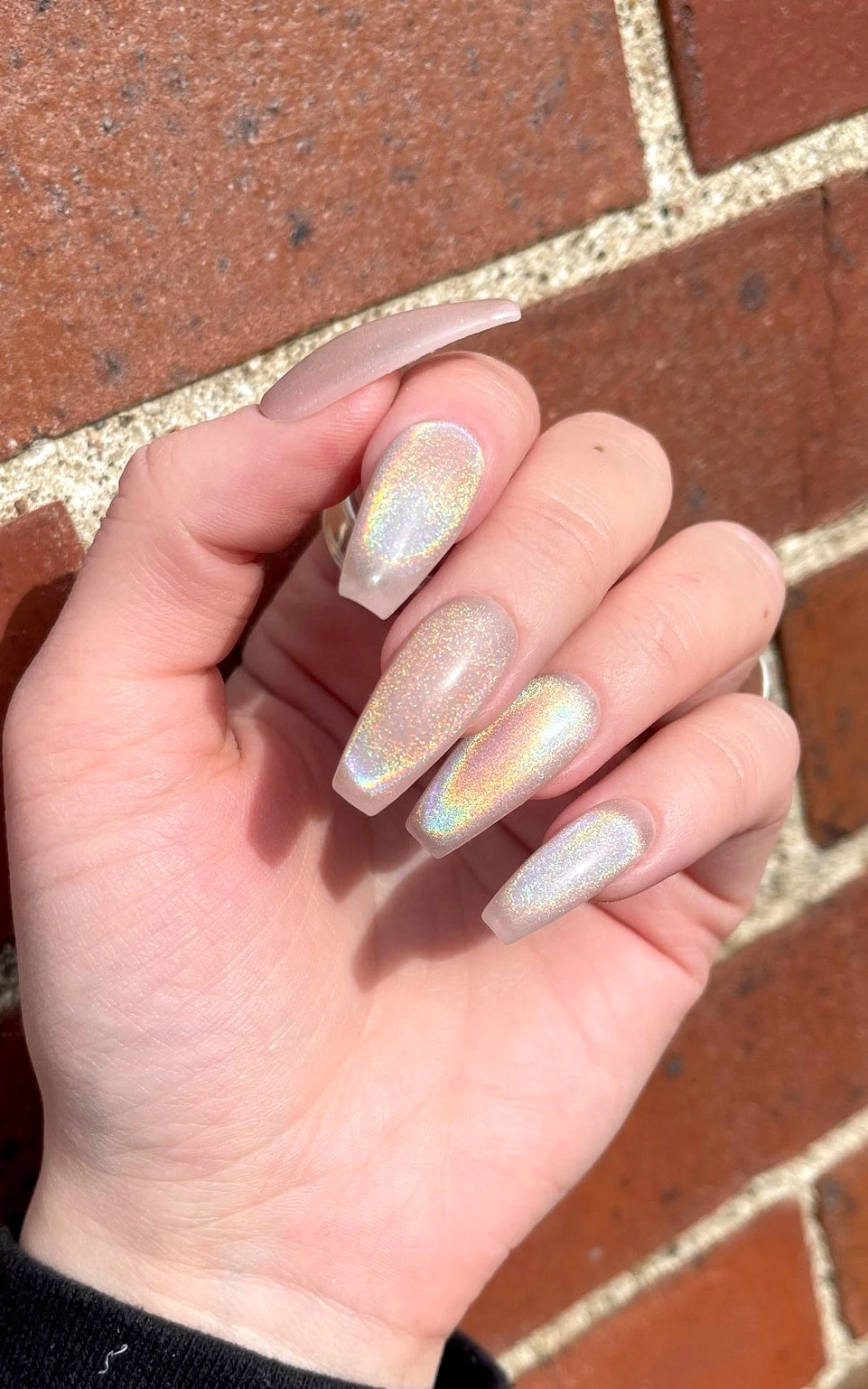 Not fond of bold and deep colors? Then this nude, pearlescent cat eye manicure might just be the perfect one for you! Just look at how those nails shine under the sun!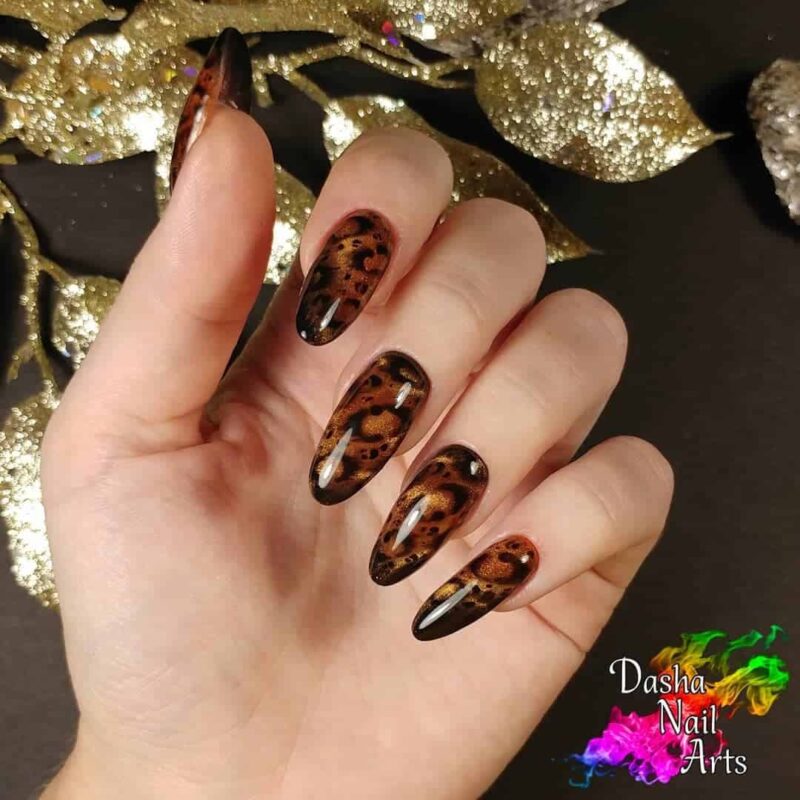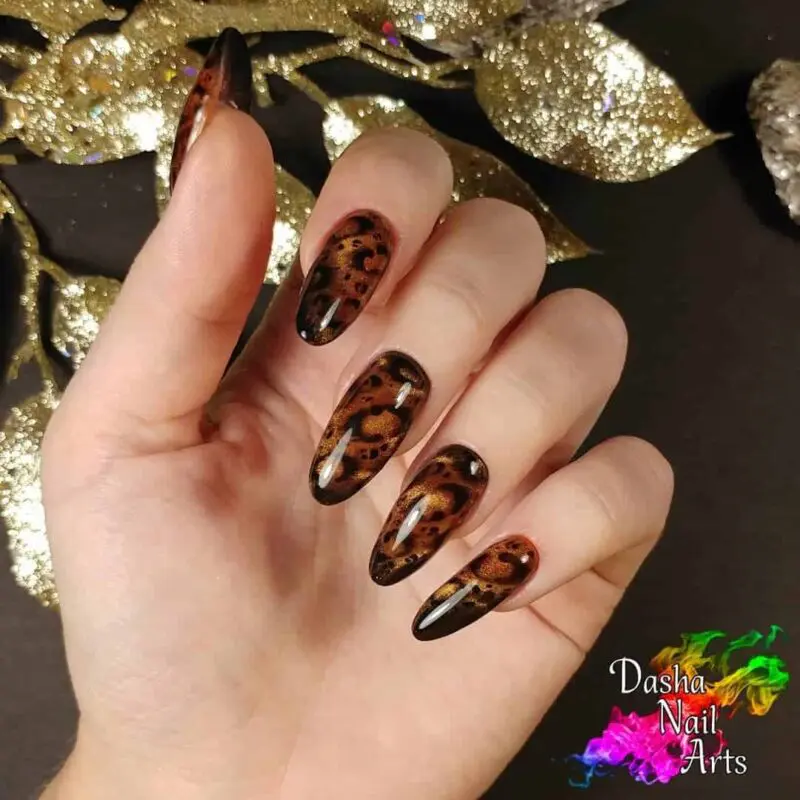 Want to try out cat eye nails but can't get away from your staple animal print nail art? Why not mix those two themes you love together and get the best of both worlds?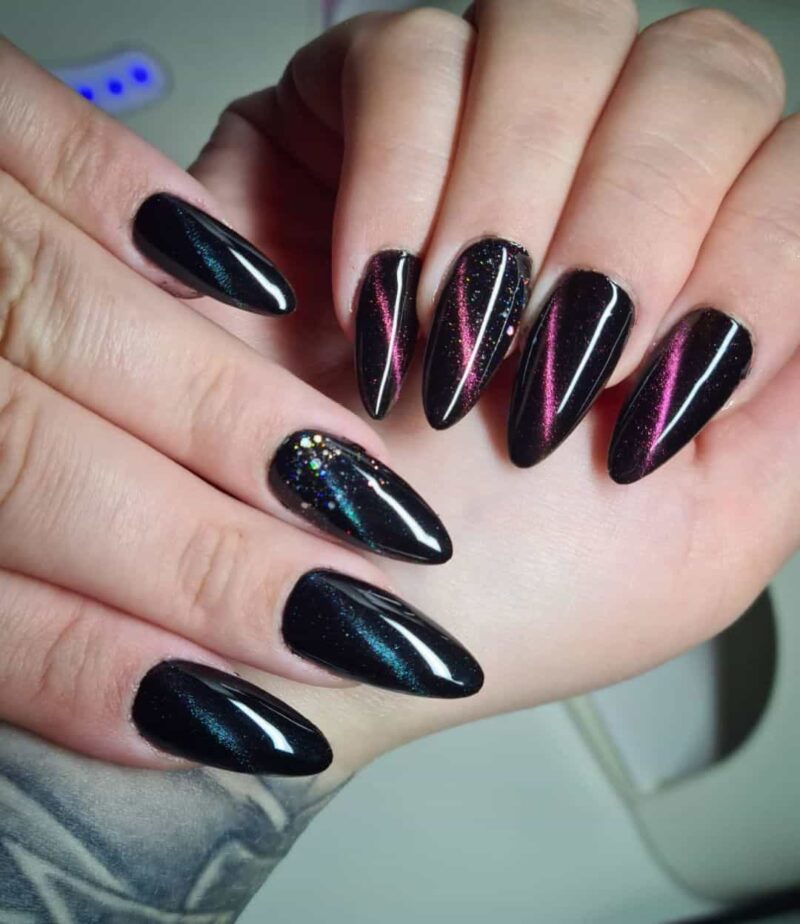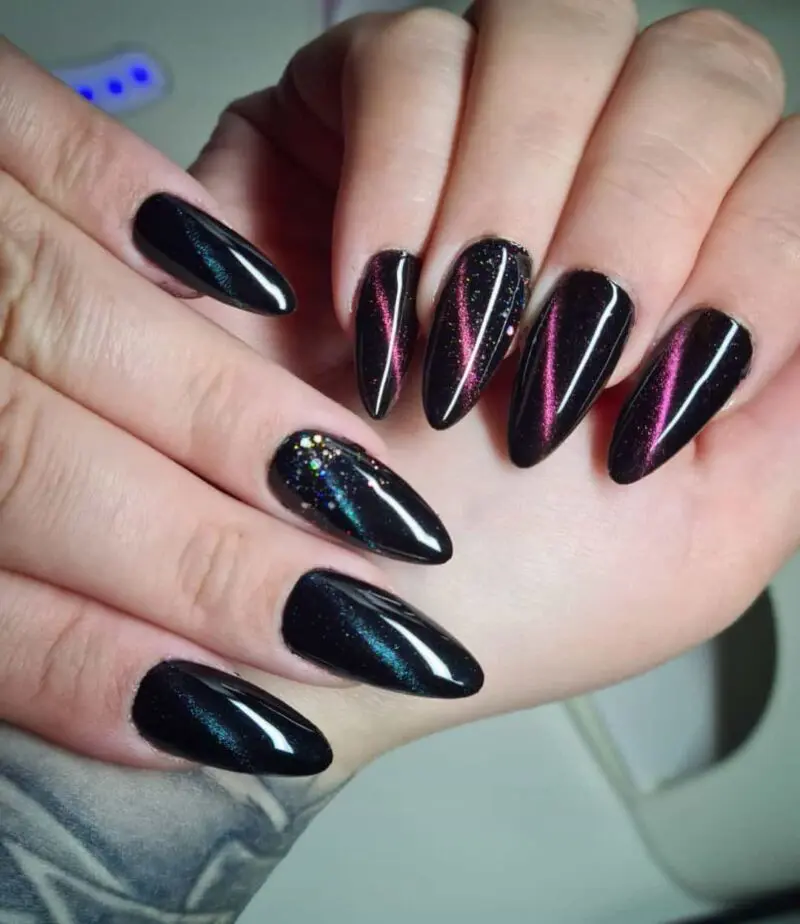 Can't decide between blue and pink for your cat eye nails? Then the answer is simple – get them both!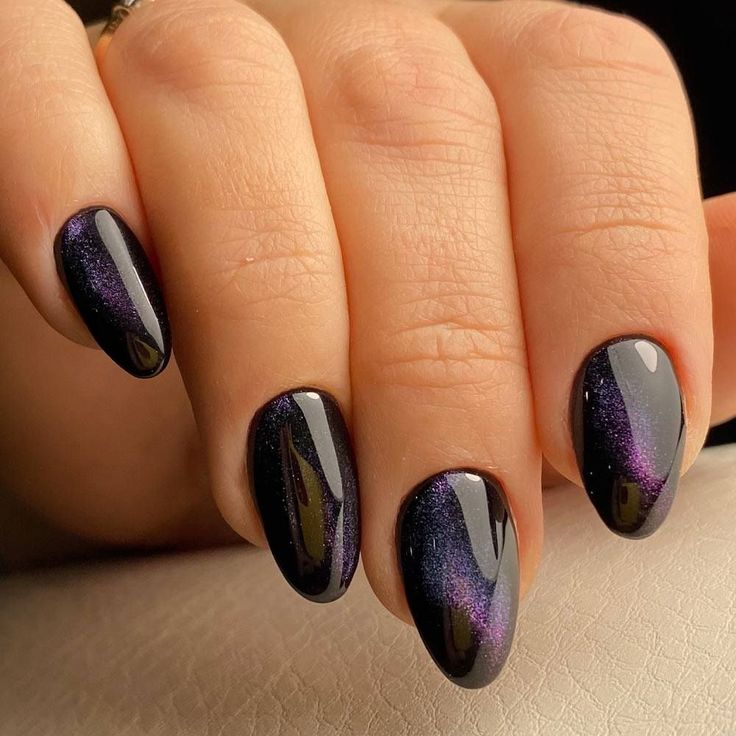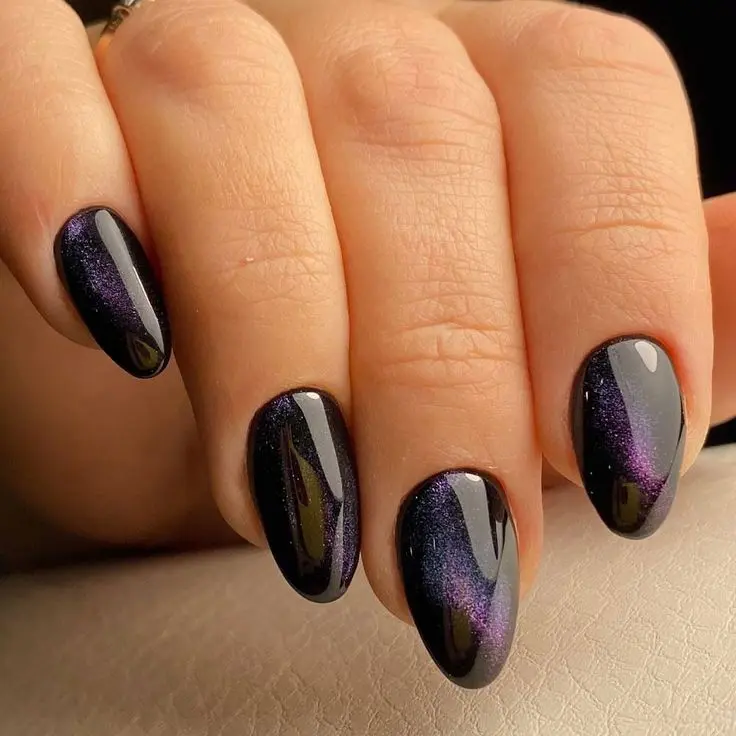 Loving the deep purple undertones on these cat eye nails! And with every angle, you're also getting different shades of violet!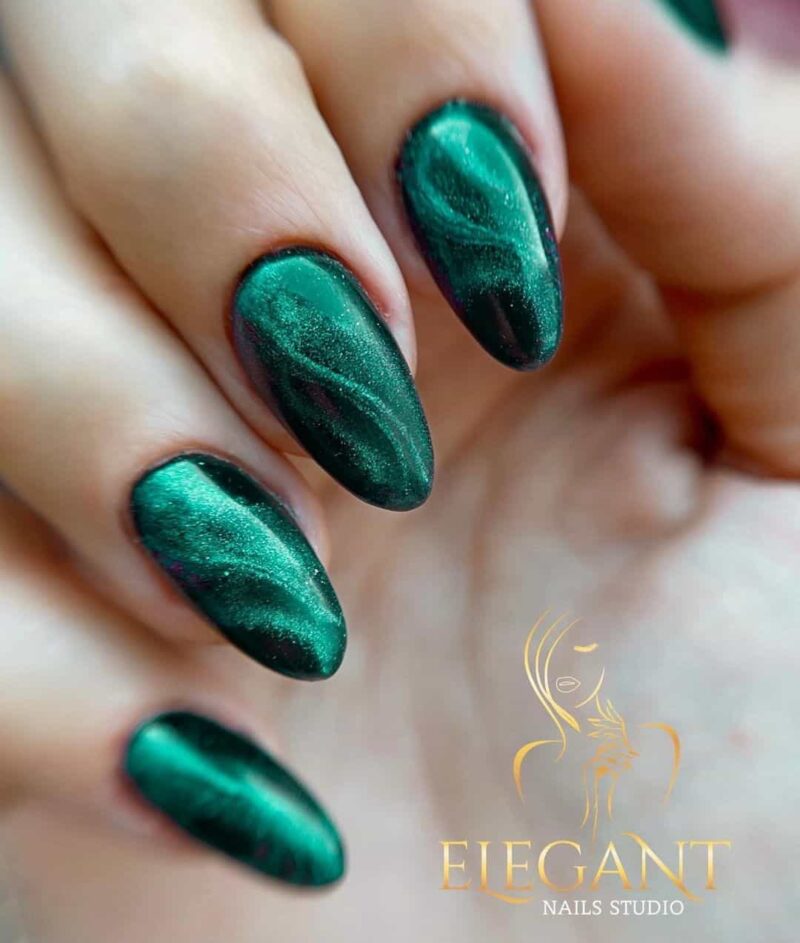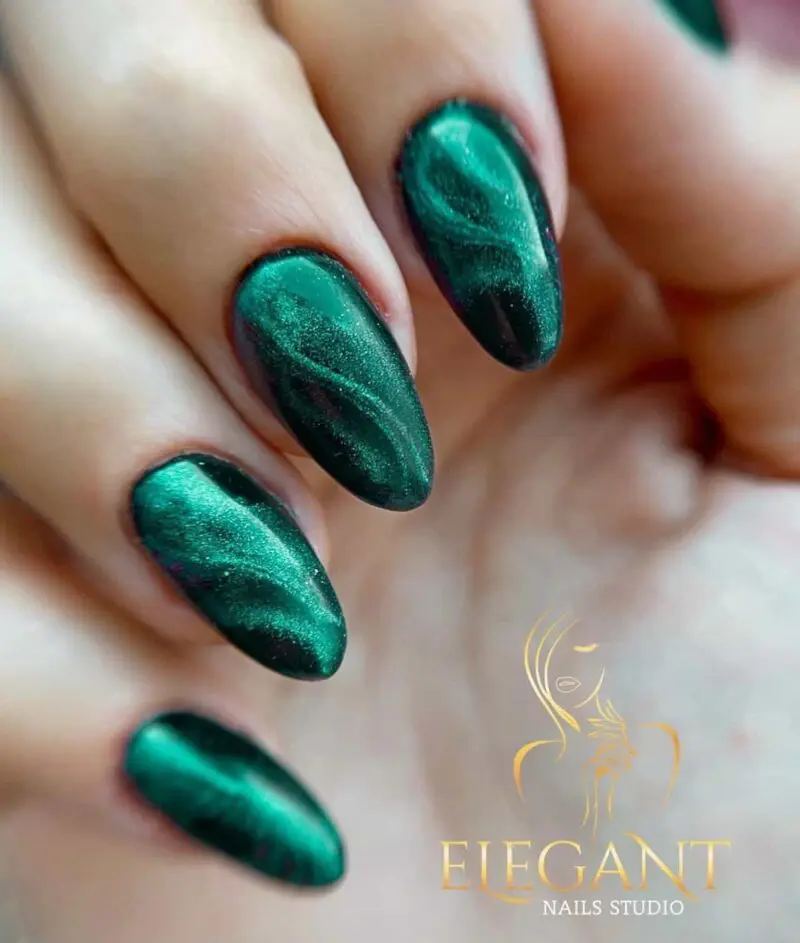 This shade of green is so nice and just in time for the holidays! These cat eye nails will surely make things festive!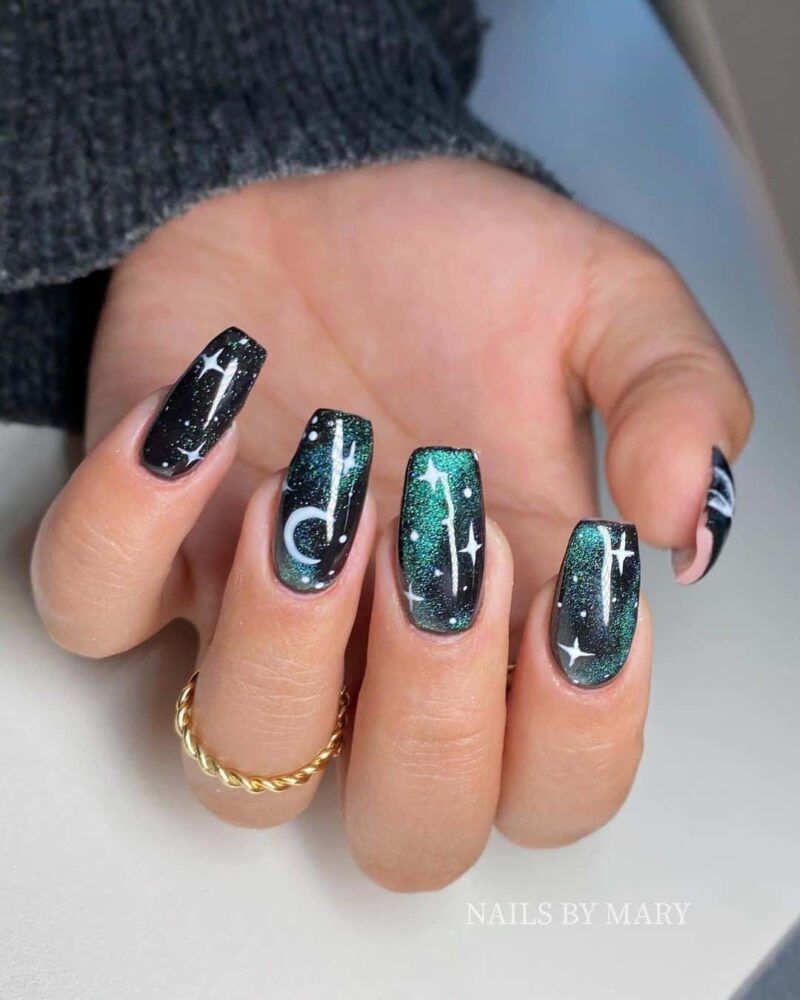 These cat eye nails truly make for some good starry-themed nail art!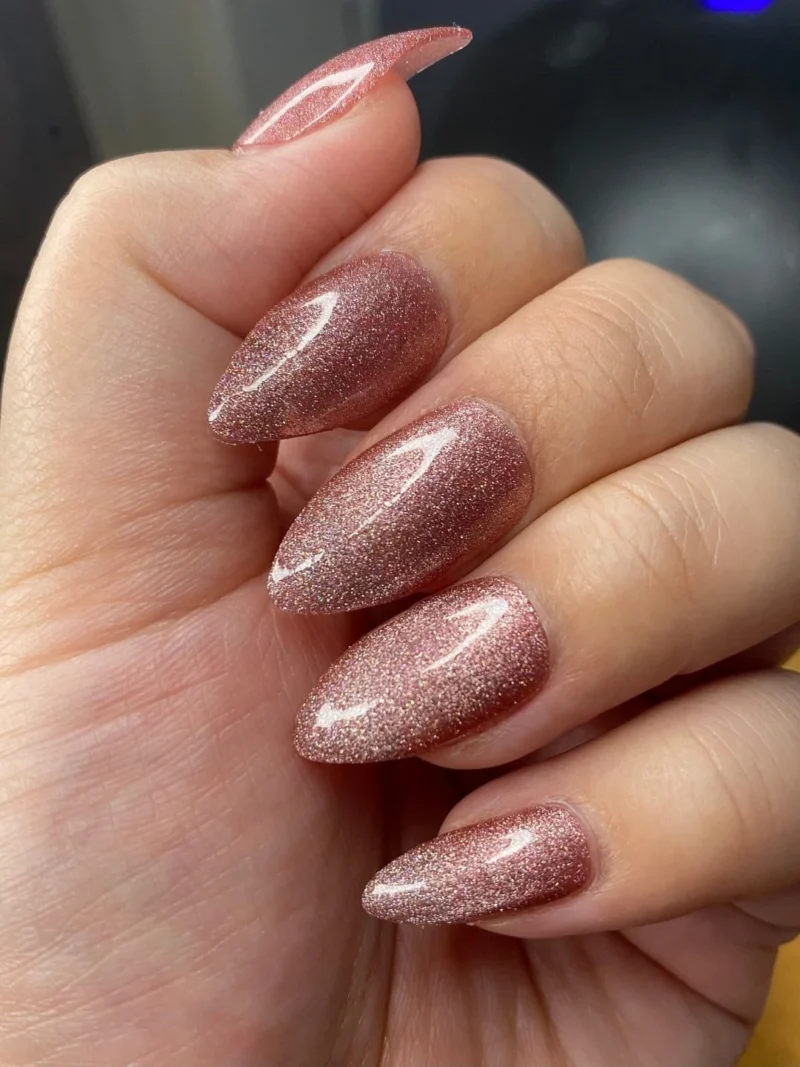 Get in touch with your feminine side with these pretty pink cat eye nails! I just love how delicate and soft these look!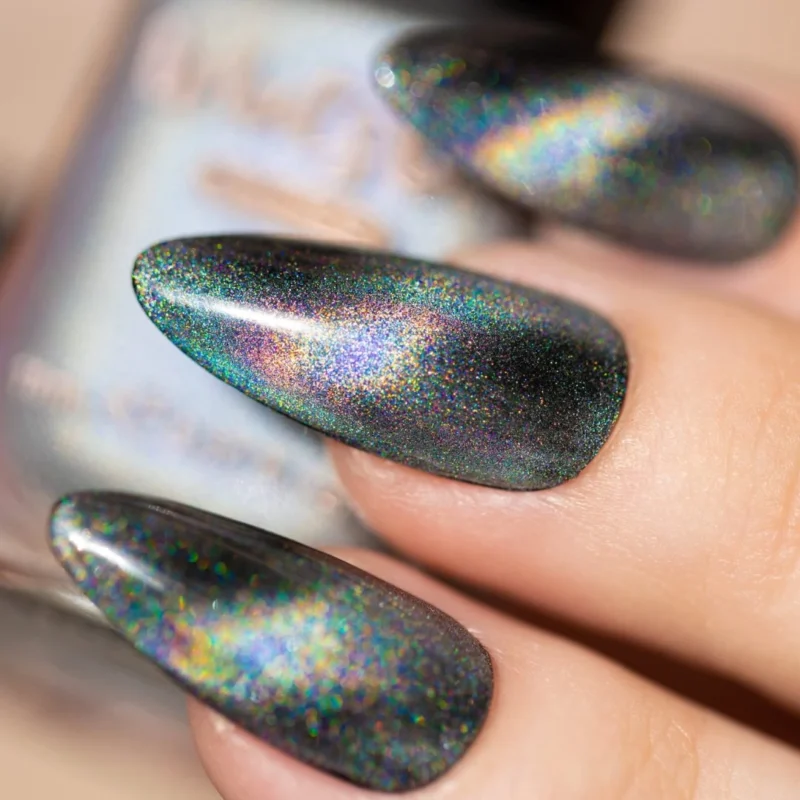 Another fave of mine is these iridescent cat eye nails. I just love the greyish undertone of the base coat and how the sparkles are all multi-colored.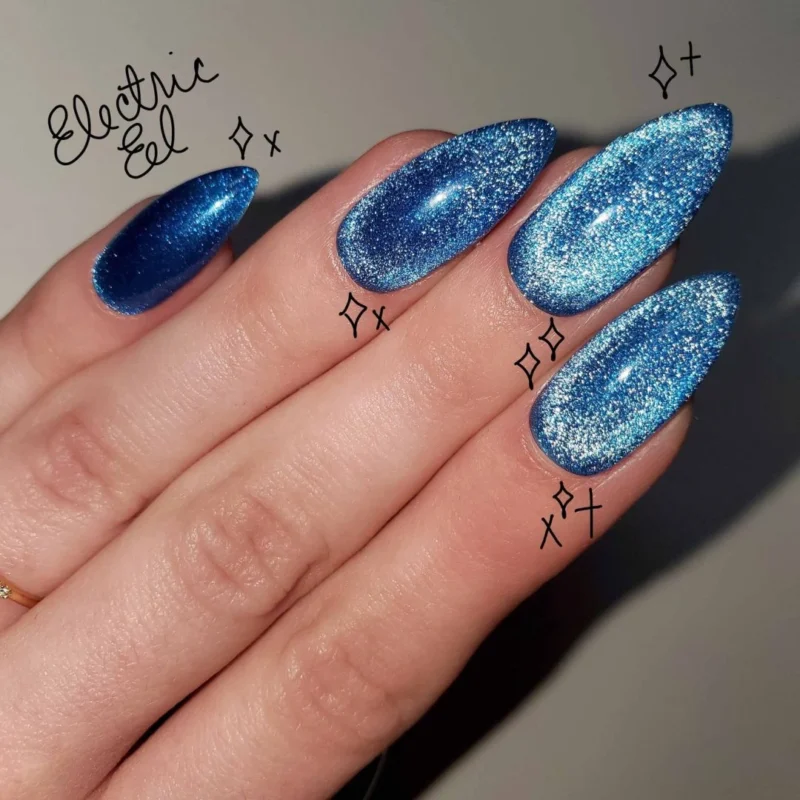 Make waves with these gorgeous blue-toned frosted cat eye nails! These would look so good for the holidays too!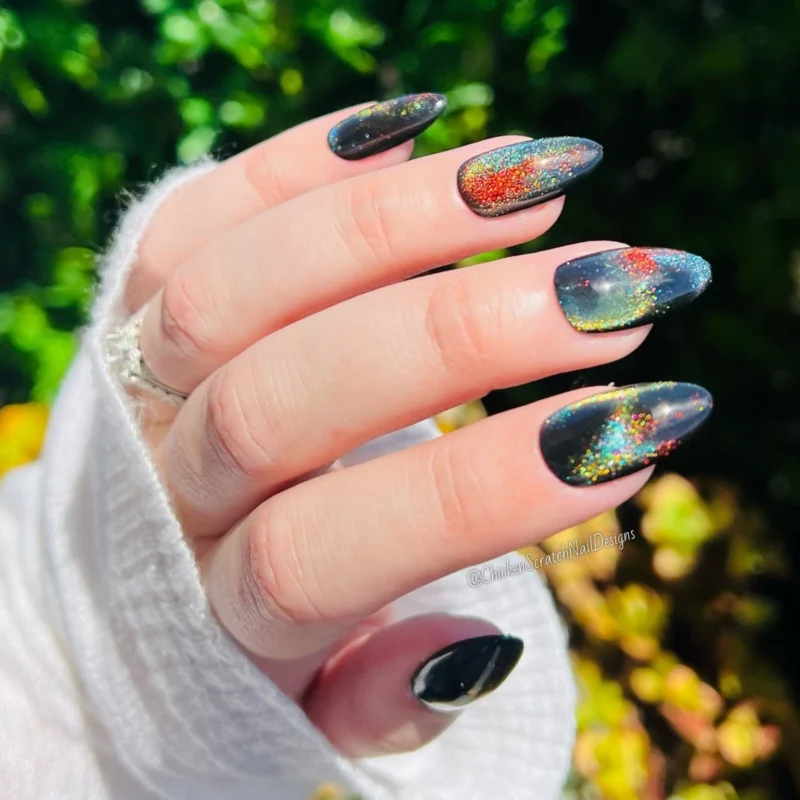 Create interesting patterns with your magnet as you create your very own version of cat eye nails. There are no rules here!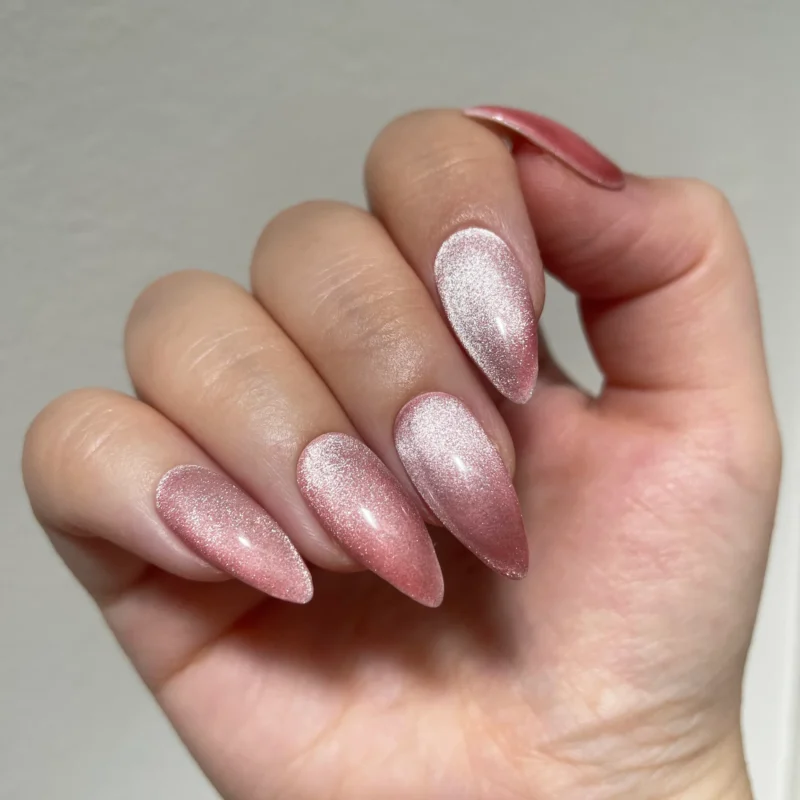 Who doesn't love a good pink nail set? And with the cat eye design, you can take your usual pink nails to the next level! Not only are these ideal for the winter season, but they are just ethereal to look at!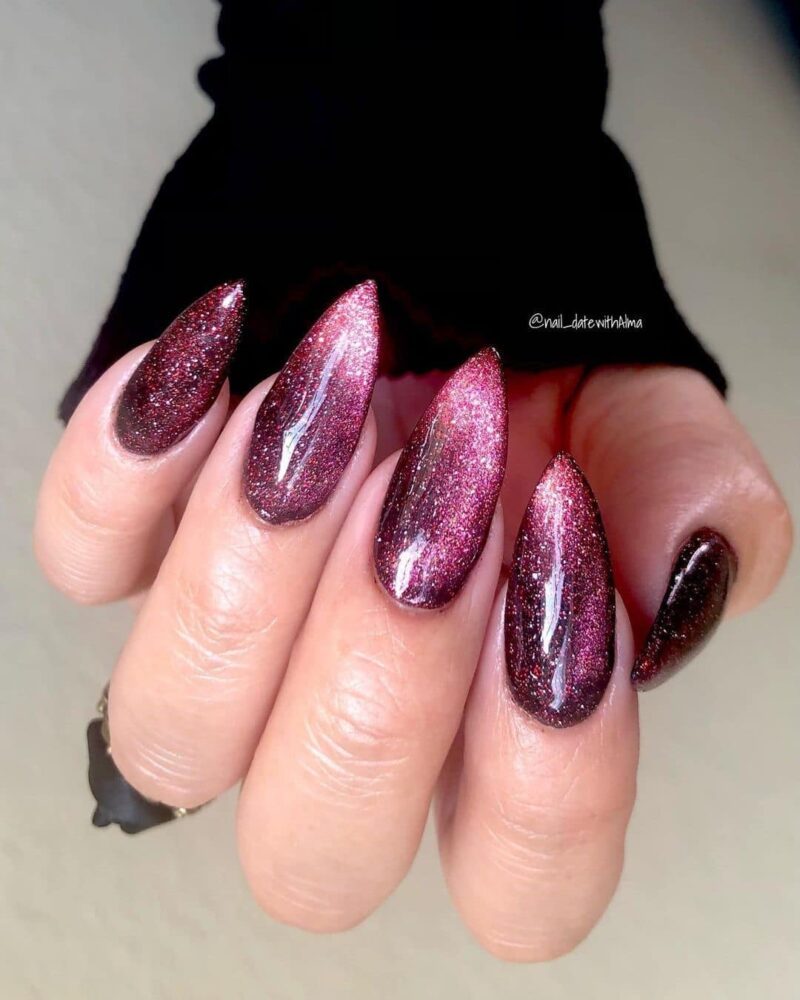 I am totally in love with the berry tones on these cat eye nails! Plus, these would suit any skin complexion as well!