Looking for current, edgy biker shorts outfits? These biker shorts outfit combos are perfect for just about any occasion!
Biker shorts are the type of clothing that is laid-back but not sloppy or lazy. While they are found in shopping sections alongside sweats and leggings, these babies are a lot more stylish than you think. It's really about layering and knowing how to balance the elements of your outfit.
There is nothing more versatile and underrated than a pair of biker shorts. In fact, they cover the whole fashion spectrum! Whether you wear them with heels or sneakers, hoodies or blazers, biker shorts are sure make your outfit look edgy, cute, and fun.
The best time to wear biker shorts is during the summer when the sun is out and the air is warm and the last thing you'd want to do is wear jeans or trousers. In this article, we'll walk you through our favorite fashion icons, fool-proof ways to style biker shorts, and the best outfits with biker shorts you can emulate for every season.
Ways To Style Biker Shorts Outfits
Here are some of our favorite biker shorts outfits to put together.
Wear with an oversized shirt
An oversized shirt is one of the easiest ways to pull off biker shorts. An oversized shirt covers the front or the back portion of your bottoms to avoid any awkward angles. This also adds to the relaxed aura of these shorts and is perfect for anything casual.
Wear matching sports bra for a workout
If you want to use biker shorts for their practical use, there's no reason not to! Wear them with a matching sports bra for a workout or yoga class to make your biker shorts outfit look effortlessly stylish. You can add a lightweight windbreaker jacket after class.
Wear a blazer over a halter top
One of my favorite ways to style biker shorts is with a blazer. You could wear a blazer with any top underneath, but I always suggest a fit cropped top to balance the volume of the blazer.
Alternatively, you can wear an oversized blazer, button it up (covering your top and biker shorts) and wear a belt over it. Now you have a belted mini dress!
Wear with a bright or neon top
If you're looking for biker shorts outfits with sneakers for actual biking, wearing a bright neon top is a practical help for cruising on the streets, especially at night. You can also wear a light neon jacket over a sports bra just to divert the attention to the pop of color. If you're not into neon (a big athleisure trend right now), you can lean into solid colors like purple, red, and green.
Wear with a denim jacket
Who would have thought that denim can work with a sporty fit? Wearing a denim jacket is as easy as wearing a windbreaker over a sports bra or a halter top. This makes a great fit for a vacation trip or a day tour! Would wear this with a pair of white sneakers.
Wear with a leather jacket
A leather jacket is a great way to spice up or add a creative edge to an outfit. It's a versatile piece especially for people who adhere to a monochromatic style. I would style a leather jacket with a white button down, black biker shorts, and combat boots.
*Tip: it's all about playing with classic and familiar ensembles!
Iconic Biker Shorts Outfits
Biker shorts have been wildly popular over the years, so there are some seriously iconic biker shorts outfits out there. Here are some of our favorites!
Princess Diana in Biker Shorts

If there's a pioneer award for styling biker shorts, then it would be Princess Diana! Her ensembles are definitely way ahead of her time. Biker shorts, an oversized grey sweater, and a pair of white sneakers? That's something that you see a lot in our time. Little did we know how much this outfit is a classic!
It was believed that after Diana got through with the divorce, she completely changed her style – and most of it consisted of biker shorts in every color. I love how she's blooming in this graphic navy blue sweater and salmon shorts. Her scrunched-up socks add to the vibe too!
This may be one of my favorite color palettes from her biker short outfits. Every piece in this fit just adds a retro, fun-looking, candy twist that adds nostalgia!
Kim Kardashian In Biker Shorts
Kim K. is one of the iconic people today who brought back biker shorts to life. I love how versatile these are for her. Now, what you would usually wear with sneakers, you can finally wear with heels in confidence. She definitely makes her biker shorts outfits work with heels which is impressive!
Despite the pieces in this outfit looking mismatched, Kim K. did not fail to make them all work. A grey inner, a bright orange jacket, and a pair of beige sandals. An outcome that comes from a good eye!
Who would have thought you could wear biker shorts with knee-high boots? I definitely stan the creativity here! Plus, the matching grey outfit.
If there's a word that describes this outfit well, it would be 'unpredictable'! Feeling creative? Score a long leather coat, a matching hoodie, and "Cinderella heels" to achieve this look.
More Chic & Comfy Outfits With Biker Shorts
An easy way to flaunt your curves with biker shorts outfits is simply putting on an oversized shirt and tucking parts of it into your shorts. You can choose to tuck it into the sides or the back part of your bottoms. Touch up with a pair of white sneakers for a sporty-casual look!
This look has a close resemblance to Diana's styles. I love how she used a contrasting color for her shorts instead of a matching black pair. Her cap is also a great addition to the street fit.
Who says you can't wear biker shorts outfits with sneakers while on a trip? Look how she added a dainty and stylish twist to a practical biker outfit. I like how discrete and unassuming this look turned out.
Love monochrome styles? Then this biker shorts outfit is perfect for you. An oversized white tee, black biker shorts, white "dad sneakers", and a black purse. Talk about the silver hair clamp too. What a lovely touch!
Prints are not dead! I love how fun-looking and laid-back this outfit looks. Despite having little to no color, the contrast of the prints gave life to this fit. Her hair looks great with it too!
A black blazer is a quick way to spice up any sporty outfit. Since it's all black, splurging on silver/gold jewelry is a good idea! I also love how her blonde-grey hair adds contrast and shine to this all-black outfit.
Not a fan of the monochrome, black-and-white life? You can always add a splash of color to your outfit! I love how she used every opportunity in her outfit to add a hint of color! Barbie pink blazer, brown leather bag, shimmering gold heels, and red sunglasses. Who would have thought they fit well together?
I call this outfit a "just-finished-working-out" look. With the hair in a high ponytail, any girl in this ensemble would look confident in her skin. Best for running errands or going for a quick smoothie run.
This outfit reminds me of Diana's first looks with biker shorts! The twist here is wearing a pair of white combat boots instead of sneakers. I like how familiar but unique this outfit is.
If you think about it, there's really nothing new about this outfit. But just by tucking your shirt into your shorts, and adding a few dainty jewelry, you create a whole new look!
The softness of this color palette looks absolutely divine! Wearing grey biker shorts is also a good change for typical black pairs. Finish off with a cream blazer and a matching purse! I would wear this on travel trips and day tours.
Personally, I would say nothing else could pair this shimmering silky top perfectly! Since the top carries heavy visual volume, baggy shorts or full-length jeans wouldn't be able to make it work. Plus, the biker shorts elongated her legs and her silhouette.
This outfit proves how tucking in your sweater can change the look of your outfit! While other body shapes benefit from simply wearing sweaters with biker shorts as is, a pear-shaped body can look absolutely gorgeous with a tucked-in sweater. Alternatively, you can wear a cropped sweater.
Want to add a subtle pop of color? A colored shirt underneath a grey sweater can do just the trick! Match it with sneakers that have accents of the same color. How effortless!
If you don't like how sweaters deform the fit of your biker shorts outfits, then it's time to get a cropped sweater! Afraid of cutting your favorite ones? You can tuck them into your bra or a secret belt under your chest area. There are surprisingly many ways to tuck them!
This ensemble is not entirely new, but the palette is! The softness and femininity of these muted colors look fitting for a vacation or a trip – especially if you wish to blend into your background.
Straightforward, sleek, and sporty. That is how I would describe this elegant garcon style. If you're not into layering for the day, you can simply put on a soft-colored blazer jacket and you're good to go!
Though many love using blazers over biker shorts, it's no denying that wearing one can seem too formal for some occasions. A great alternative for a blazer is an oversized colored button-down like this.
Every material girl needs a pink ensemble for every occasion – whether you're running errands, walking your dog, or going for a walk. This Barbie pink outfit with the white sneakers looks stunning in its own simple way!
A bright orange shirt can easily match the contrast of a black pair of biker shorts. I love how this outfit gives street-style vibes. The purse is an unexpected match too, but a good one!
There's something about darker green shades that instantly make any outfit elegant! This oversized blazer looks absolutely gorgeous with her black two-piece, triangular purse, cat-eye sunglasses, and combed-back hairstyle.
There are plenty of blazer outfits that we are yet to discover! This outfit is one of my favorites: a pastel plaid blazer paired with white biker shorts and a matching white sports top. She pulled off those layered necklaces too!
I don't see why you can't be creative with a piece of plaid button-down! If you can't wear 'em, strap them around your waist for a nice accent. Plus, you get an emergency cover-up when it gets cold during the day. I also love how she transformed her belt bag into a sling. Looks seamless!
The plaid blazer, the white biker two-piece set, the white sneakers, the purse, the sunglasses, and the body chain is just absolutely perfect. Body chains really set the tone of this outfit too. A real gamechanger!
Who would have thought that you could wear biker shorts to a fashion show? I love how intricate and well-thought every detail of this outfit is. From the blazer's unique design, the purse, to the luxury scarf.
What I love most about this outfit is her sports top/sports bra. Unique, right? But if you want to give this look a try, you can actually wear both straps on one side (leaving the one shoulder bare). This can look silly at first, but once you get comfortable, then you're good!
Love oversized clothes but hate how it cuts the curves on your waist? A hiker's belt or a belt bag can do the trick. Look how it elongated the silhouette of the woman in this outfit. A matching ensemble is a plus too! This is one of our favorite monochrome outfits with biker shorts.
If you're not into belts or if a defined waist is not a priority, that's fine too! See how this outfit looks well-thought and stylish with just one accent. Some days, a chunky chain necklace is all you need! Subtle jewelry like rings and a wristwatch can add to the simple look too.
If you're into street style, this look is for you! I love how she played with classic pairs. While camouflage and black look perfectly familiar, she added her own twist by wearing yellow Jordans, giant hoop earrings, and a luxury Gucci purse. This is one of our favorite outfits with biker shorts to go with designer pieces!
It's not about getting matching sets; it's about mismatching shades! If you want to add depth and layer to your outfit without adding too many garments, all you have to do is find a top in a different shade than your bottoms. This easily adds contrast to your outfit. This is one of the best biker shorts outfits for everyday summer use!
A pair of biker shorts is a piece you need in your closet if you love layering whatever season. I like how she played this fit out with a graphic/lined sports bra, graphic socks, and layered necklaces. The red bag also matches the little hearts on her socks. Now that's what I call detail-oriented! This is one of our favorite outfits with biker shorts that adds a pop of color.
Looking for biker shorts outfits that work for casual, city street style? When you have pretty, rocking shoes, the best thing you can do for them is to make them shine! See how the outfit directs the attention to the shoes. Despite her blazer's light and noticeable lilac color, it is hard not to look at her shoes.
There's something about long coats that transform a biker fit into a sleek outfit that you can confidently wear on the streets of Paris. Denim long coats are not very easy to find, which makes them even more of a head-turner. When you get your hands on one, pair them with all things white! Trust me, they work all the time.
This outfit is a modern replica of Diana's style for sure. I love how vivid and Barbie-like her pink biker shorts are. Colors as bright as this pair very well with lighter colors than with matching shades.
Where To Buy Biker Shorts
A classic silhouette. Not short nor too long – perfect if you're looking for a versatile pair!
Bandier's biker shorts are slightly shorter than typical but only cut enough to show your assets well.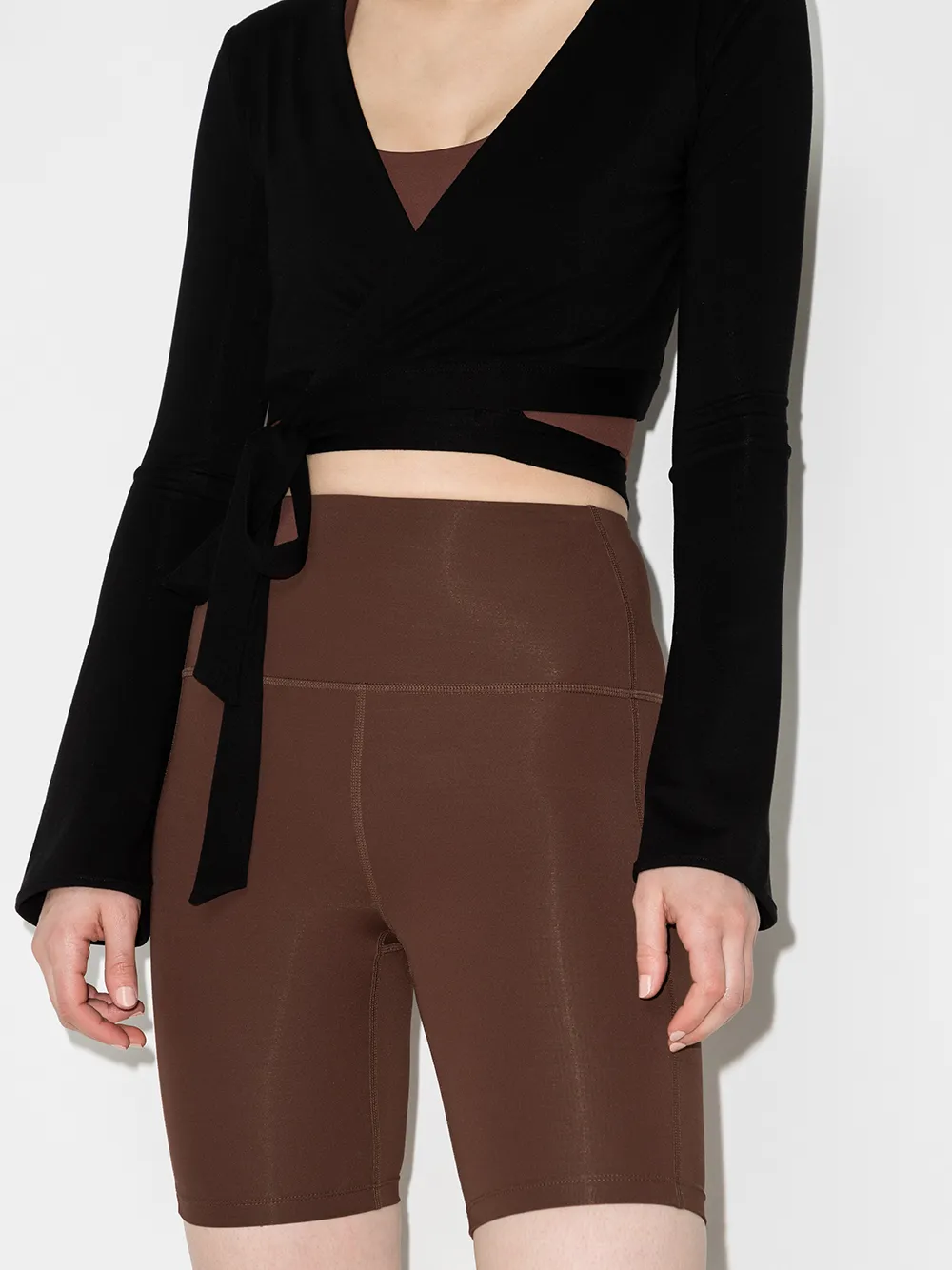 Earthy colors are great additions to your wardrobe if you like to keep yours neutral and minimal.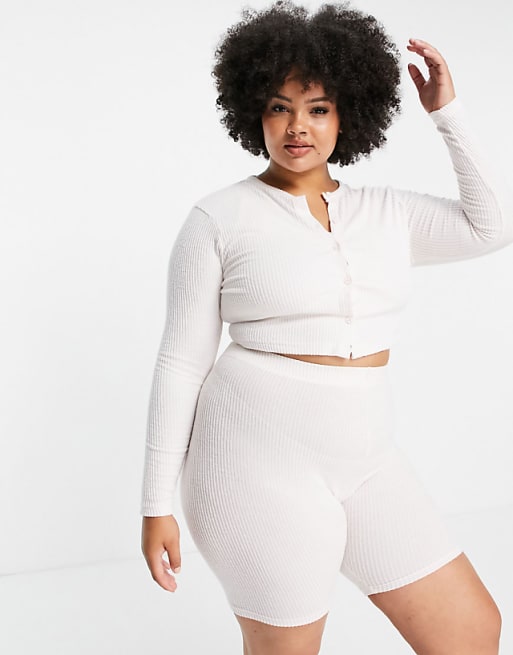 Ribbed biker shorts are great for layering and adding texture to your outfit. This one also looks gorgeous with a matching ribbed top.
These biker shorts are longer than your average pair and they work very well if you're searching for something to wear to yoga class or the gym.
These white biker shorts hug the legs quite well and the fabric is thick enough to hide the seams of your undies.
Here's another shop where you can get white ribbed biker shorts for less.
Torrid offers a wide range of biker shorts for sizes 10 to 30. They also have a whole shop for girls in that size. What a life saver!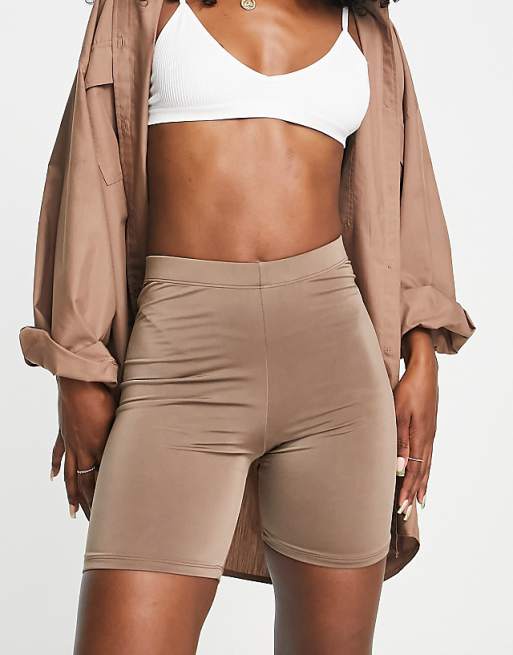 Biker shorts in rose gold? Count me in!
If you want to get biker shorts in every color possible, then check this out!