Miami is considered one of the best tourist destinations in America. While its luxurious shopping centers, Art Deco glam, and whizzing nightlife are major draws, many backpackers head to this holiday hot spot for its spotless beaches – some of the best in the U.S.!
Whether your beach goal is relaxation, drinking, tanning, playing fetch with your puppy, or meeting people, Miami has it all. People travel from all over the world to experience the Miami beach vibes because Miami is just that unique.
While you're probably thinking of South Beach, Miami actually has many different beaches, each with its own amenities and charm. There are beaches for socializing, snorkeling, diving, or serenity; for adults, family, senior, or gay singles. Some are congested by huge dwellings, other to make you forget you're in the city.
No matter what your preferences are when it comes to your beach vacation, you will find what you're looking for in one of Miami's beach areas. Read on to discover our favorite beaches in Miami Florida for every kind of beach day!
16. Sunny Isles Beach
Are you looking for a beach that is uber close to award-winning restaurants, luxury hotels, splendid golf courses, and amazing museums? Head to Sunny Isles Beach!
This clean and less-crowded two-mile beach at the northern tip of Miami Beach is backed by beautiful residential buildings. It still has a city feel but is much less congested and crazy than South Beach.
Just park your vehicle at the lot 174th street and start walking to the beach through Samson Oceanfront Park – you'll see a lifeguard tower and volleyball set nearby.
At 165th street, Newport Fishing Pier bulges almost 600ft in the sea, allowing it to be a picture-perfect location for a scenic stroll or grab bite to eat, too.
Sunny Isles Beach is a great spot for families to spend the day.
15. Haulover Beach Park
This beach lies in front of beautiful rolling dunes and is sandwiched between the Intracoastal Waterway and the Atlantic Ocean.
Just a few miles away from Bal Harbour, Haulover Park Beach is home to the only nudist beach in Miami. This is a place where you must go if you want to bare it all in Miami.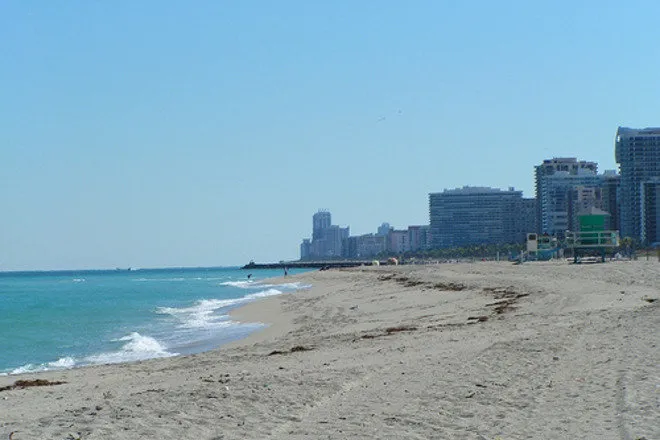 However, this beach isn't just for nudists – there are many sections. Family and pet lovers abound at this popular beach in Miami Florida. Apart from the dog-friendly part, nestled between more than 2 lifeguard towers, the area also offers Bark Park, a nice park that's ideal for your pet.
The calm white sand draws other visitors, too. Human visitors are welcomed with warm crystal-clear water, pristine white sand, stunning vistas, and all the required amenities, such as bathrooms, water sport accessories, concession stands, and picnic tables.
There is also a diving charter facing the Intracoastal Waterway and a marina that is full of fishing. I would advise you to try lunch at the food truck. It's is super delicious!
14. Surfside Beach
Over a mile-long spread of white sand greets wanderers to this impeccable beach just north of Miami Beach.
This beach boasts paved walking and bike path as well as a large sandy area. Locals head to this gorgeous location, which they call Miami's "uptown beach town" for its calm and relaxing more natural vibe, even though low-rise condos and hotels can be spotted behind it.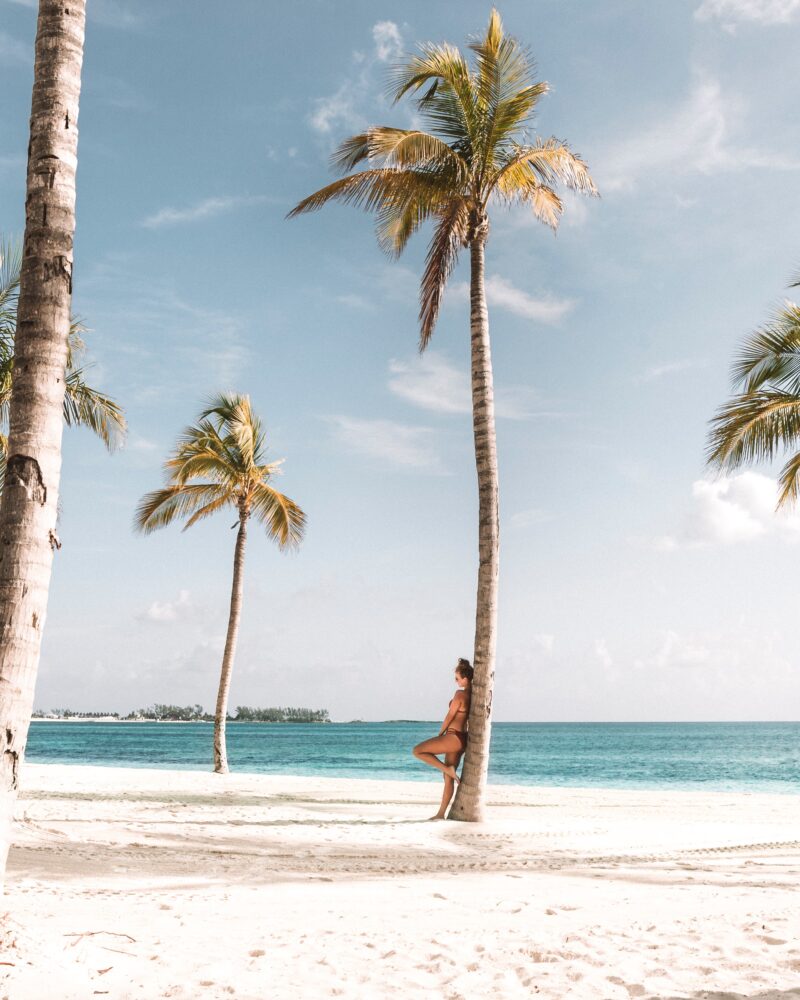 The beach's location makes it perfect for an oceanfront stroll, run, or bike ride. It is a great way to spend quality time with relaxing sounds and views of nature, which is kind of rare in Miami.
You'll come across paddleboarders and kite-surfers zipping across the waves. If you're into water sports, Surfside is a great place to go.
You can guess how popular this beach must be as locals always prefer this location! It still has the Miami Beach vibe but is much quieter for a full day on the beach. It also feels a bit safer.
The actual town of Surfside is just behind the beach and is a great place to grab a tasty bite or soak up some sun rays while roaming around downtown and shopping. I love this area because everything is pretty accessible on foot, unlike most of Miami.
13. Matheson Hammock Park
In 1930, conservationist William J. Matheson gifted the impressive 630-acre Matheson Hammock Park to the country in a campaign "to preserve the wild and natural beauty" of Miami.
If you've never witnessed a circular beach before then you definitely need to check this out! Matheson Hammock Park is just famous for that. You can hangout on the golden sand that surrounds the manmade pool (filled with ocean water, of course) in a circular shape.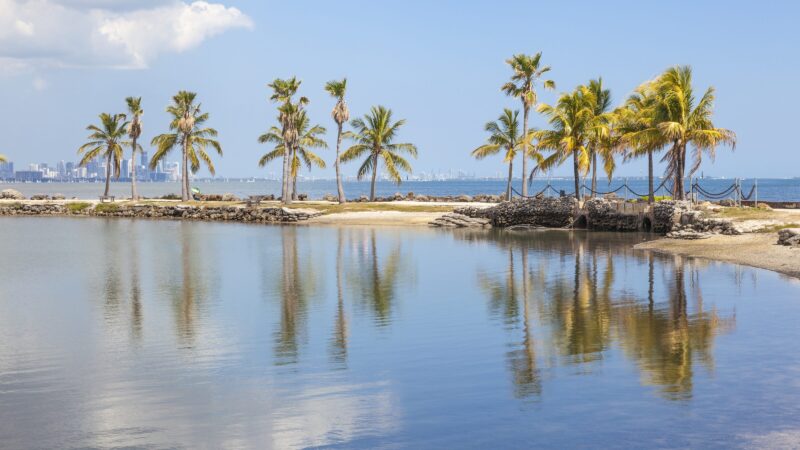 Similar to a sandbar, the pool is covered by a big ring-shaped coral reef, which lets the water from Bay reach and exit with the wave. The main pro here is that you never have to worry about sharks or waves. This relaxed and eye-catching Miami beach is ideal for those traveling with a child.
Matheson Hammock Park is smaller in size but has all the facilities you need including a tree-lined walking trail, picnic areas, lifeguards, and outstanding views of the Miami Skyline.
At the Park, you can rent kayaks and canoes at the shore and snorkel in the calm, clean water of a man-made atoll pool, or you can go on a hike along trails through the hammock.
While Matheson Park isn't one of the most well-known beaches in Miami Florida, it's a personal favorite of mine since I lived right near it. If you're looking for a low-key day or have kids who are afraid of the usually large Miami waves, you should definitely check it out!
12. Oleta River State Park
The 1,043 acres that Oleta River State Park and touch Biscayne Bay boast everything you need for a day of outdoor adventure.
As the largest urban park in Florida, this haven offers a multitude of secluded beaches to enjoy. It is a nirvana for big-city dwellers seeking a little peace and tranquility.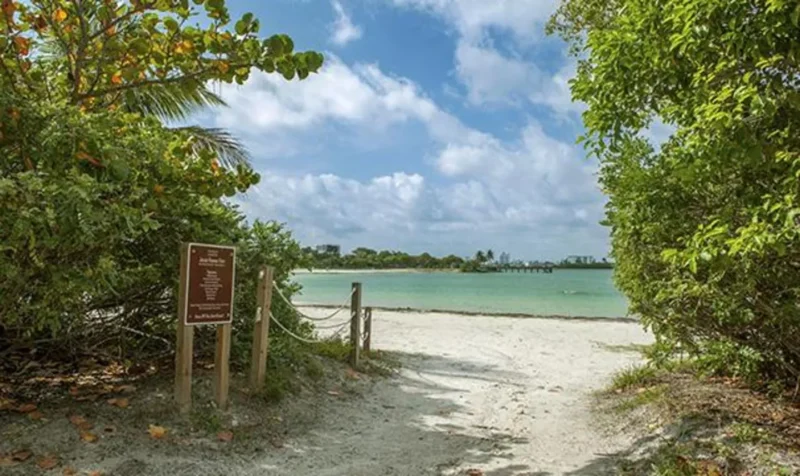 When you're fed up with beachin', there are several opportunities to get active. Rent Kayaks and canoes at Roam, Oleta's outdoor center, at $30 for 80 minutes for a single kayak and paddle through the protected mangrove forest. You can also rent a bike and cycle along the 15 miles paths shaded by tropical shrubbery.
While cycling, keep a lookout for native birds and manatees. This is one of the best beaches in Miami to see wildlife!
If you opt for relaxing then find the perfect beach spot, which isn't hard to do on this beach. As for swimming and diving, this is a great spot for families. The location offers a sandbar nearby the shore with shallow water that is both calm and clean.
11. Lummus Park
Lummus Park is sited in Miami's South Beach neighborhood within the city's active Art Deco District, snuggled between 5th and 14th streets along Ocean Drive. It's a famous place where you'll see the most postcard-worthy vistas.
Lummus Park is quite popular for film shoots, so be ready to find one or two movie sets. We stumbled upon Baywatch a few years ago which was a blast! There are also plenty of hotels right near Lummus Park so it's an idea walking beach.
This is definitely where a lot of the Miami action happens, so it's an ideal spot for people-watching. Check out the various celebrities, models posing for photographs, locals rollerblading down the path, and more. From sunbathing to bodyboarding, swimming, and showing up just to be seen, there's someone doing it all here.
You can move your muscles by playing different games like volleyball in the park's sand courts or wandering the tree-lined promenade and checking out the views. Head to the several beachfront restaurants across the street to satisfy your hunger. If you are feeling overheated, pick up ice cream from one of the trucks located on the sand, and to make it more enjoyable, rent a chair and umbrella on the beach.
Lummus Park is the part of Miami Beach that you want to find if you'd like to be right in the middle of the action.
10. Bal Harbour Beach
Want to socialize on a sunny day? Head to Bal Harbour Beach. Nestled between Surfside (to the south) and Sunny Isles Beach (to the north), the beach is set in a gorgeous location backed by high-end luxurious hotels in Miami and first-class residences.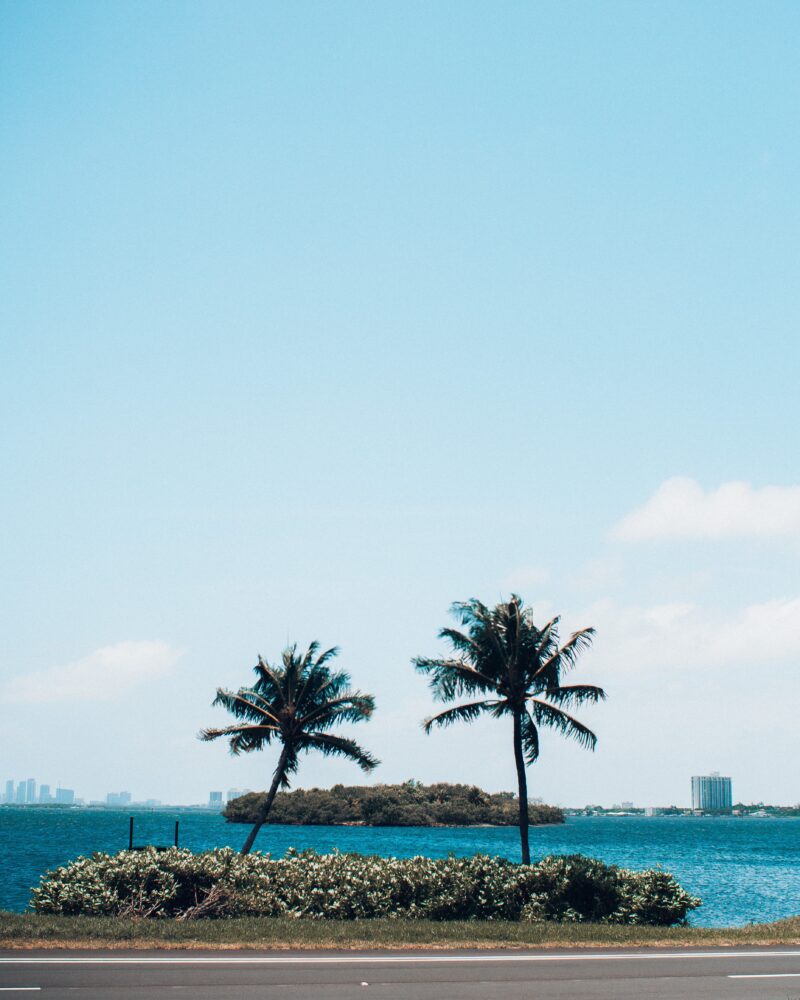 The jogging path twists around the impressive beach, covered by palms, and is a beautiful place to walk or exercise. There is a limited metered parking lot beneath the Haulover Bridge making it somewhat easy to drive here.
If you're ready to spend a chunk of change, head to the nearby Bal Harbor Village. You'll find restaurants and the famous Bal Harbour Shops as well as some sweet little restaurants.
9. South Beach
Once you have visited South Beach you'll never forget it. There's something so specific about the SoBe area that is really hard to describe. From models and celebrities to vacations and even drug dealers, SoBe has it all.
Art Deco architecture meets contemporary high-end design at SoBe, so it's even worth a visit to check out the architecture. However, the beach itself is really nice, too!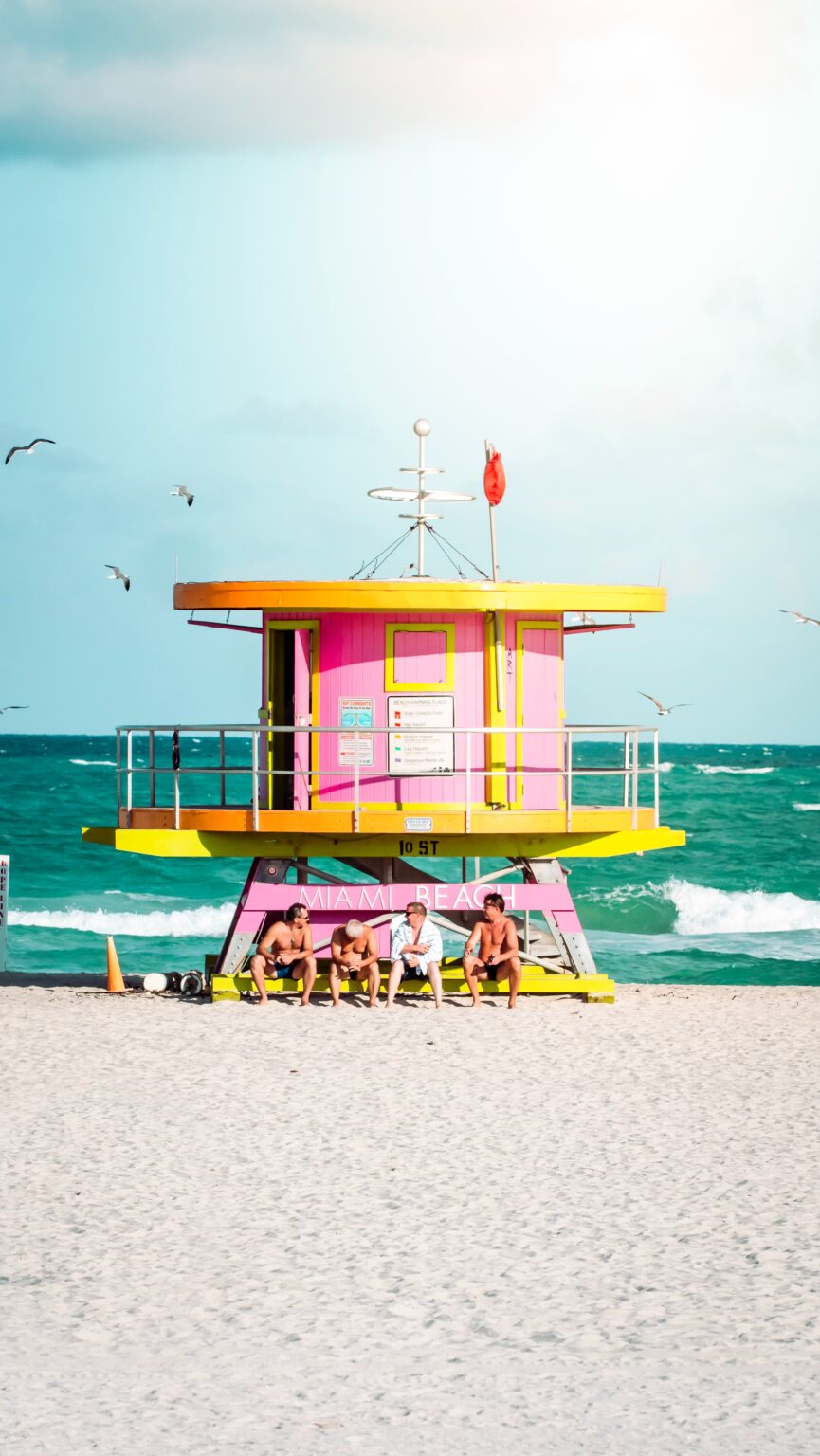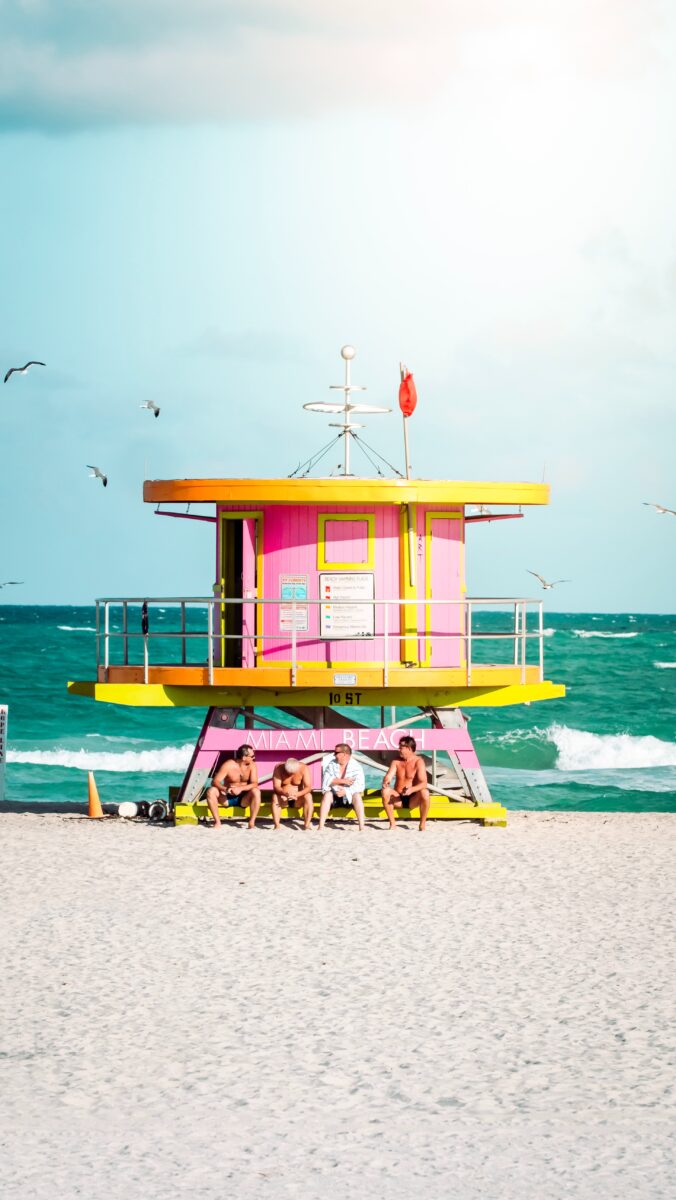 You'll find some of the city's top-class coolest galleries, restaurants, and most energetic nightlife. More importantly, South Beach has been deemed the best beach in Miami for a reason. It's not only the most popular beach in Miami but has a ton to offer!
Boasting a mile-long stretch of sand, a walking trail, and a bundle of other activities includes snorkeling, swimming, sunbathe, dining, volleyball, it's not difficult to decide why South Beach is so popular. Plus, you can admire colorful lifeguard towers spotted across the beach and you have got a picture-perfect location for thousands of selfies.
You'll find many options to grab a bite as many companies set upright on the sand. Want to have ice cream or a frozen drink? There are tons of places to grab it along South Beach.
South Beach exists on the southernmost part of the barrier island located just east of downtown, starting from South Pointe Park and ending at Lummus Park.
8. Crandon Park
Are you looking for a gorgeous beach away from the more congested South Beach? You should head to Crandon Park, offering over 800 acres of land. The calm and serene Crandon Park is a photo-worthy gem that runs into Key Biscayne and is one of my favorite beaches in Miami for a quiet day on the water.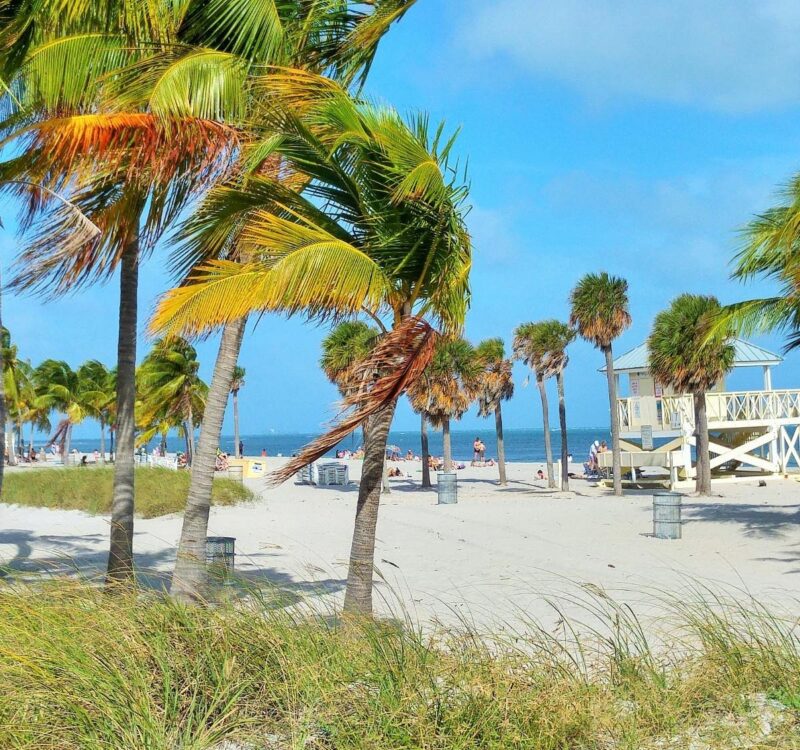 To get there, you'll need to drive across the Rickenbacker Causeway, which connects the beach to the mainland. It's worth a trip for the driving views alone!
The crystal-clear waters are calms and shallow, making this an ideal destination for families. Children and adults can enjoy the tennis court, nature, and golf.
You can find so many things to do on this beach in Miami but won't feel overwhelmed or crowded, unlike South Beach. Crandon Park is as peaceful as it gets.
7. 21st to 45th Street Beach
Technically, this is part of Miami Beach, but it's a really specific strip that's way quieter and has a different vibe.
At first sight, you won't be impressed with the 21st to 45th Street Beach. Yes, the water here is clean, and the sand is soft, and the beach is fronted by crystal-clear azure water. And yes, there's a sweet fishing pier, but there aren't any of the snack shops, concession stands, and lifeguard huts like South Beach.
What you'll get to see in bulk at this chilled-out beauty is gorgeous white sand, turquoise water, and high-end waterfront hotels and beach clubs.
Celebs like John Legend, Jay-Z, Beyonce, and Leonardo DiCaprio have all been seen here stunning themselves on this beach, so keep your eyes open. Feeling hungry? Head a few miles away, across 21st Street to Collins Ave, where can grab a bite at Joe & the Juice, a popular spot amongst locals.
6. Bill Baggs Cape Florida State Park
Bill Baggs Cape Florida State Park lies on the southern tip of Key Biscayne and is one of my favorite beaches in Miami Florida.
Technically Bill Baggs Cape Florida State Park is located outside Miami, but getting there is quite easy: it's just five minutes' drive away from downtown Miami across the Key Biscayne Bridge.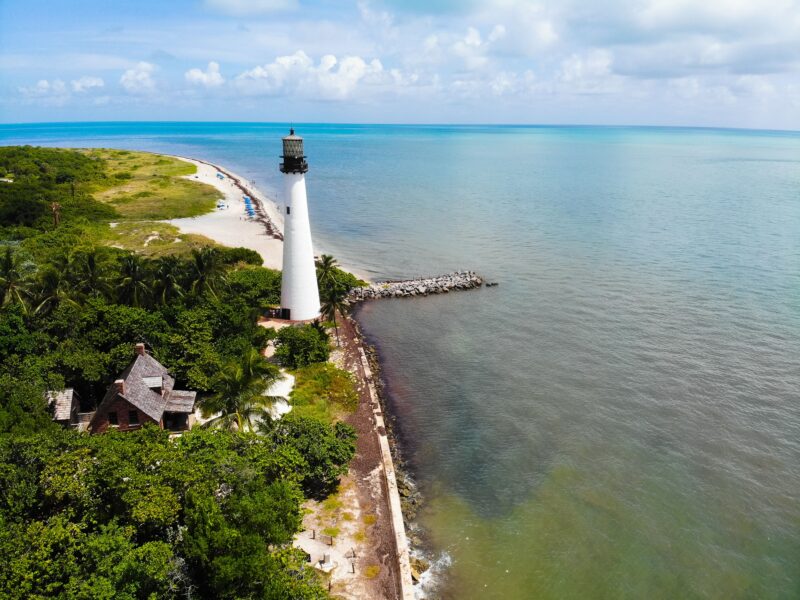 This is one of the most tranquil beaches in Miami for a reason. If you need to get away from South Beach, you should definitely head to Bill Baggs.
However, you won't be bored. There are plenty of engaging activities available, from windsurfing to fishing to kayaking to cycling.
When you need to eat, head to the adorable Lighthouse Cafe', which offers tons of really yummy food.
5. Hollywood Beach
Hollywood Beach, a place to lounge and day drink, is sandwiched between Miami and Broward and is super famous for a reason. Enjoy the lush sand and take advantage of all the amenities at this beach.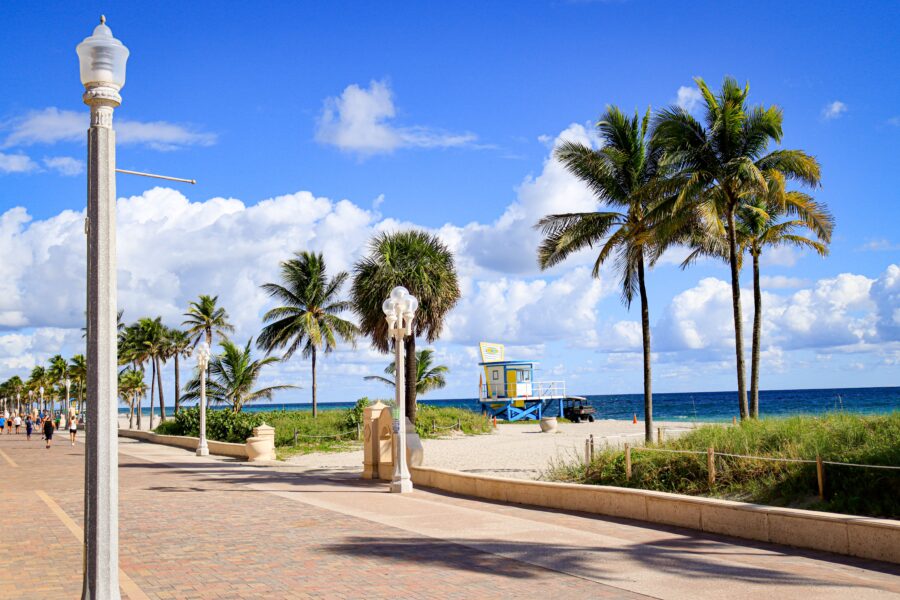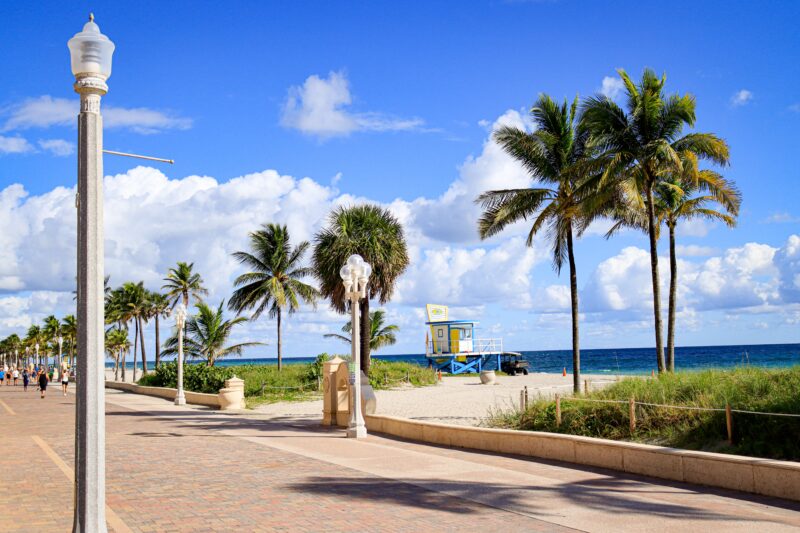 Featuring a pretty beach, a boardwalk, and catering to an old crow, Hollywood beach is quite famous in town for its wide, walkable boardwalk. It also offers the famous Le Tub Saloon to grab the best burger in town.
You'll encounter a few rum runners running on the beach, and until recently, this was known as the home of Jimmy Buffett's humongous Holly Beach resort.
Keep in mind that Hollywood Beach isn't actually located right in Miami. However, it's still considered a classic location in the area and is totally worth a drive if you're up for a day trip.
4. Hobie Beach
Pet-lovers Unite! Hobie Beach is one of the favorite pet-friendly beaches in Miami, Florida. Even though it's comparatively smaller in size, Hobie Beach is renowned for its spotless sand, warm water, and breathtaking scenery of the city.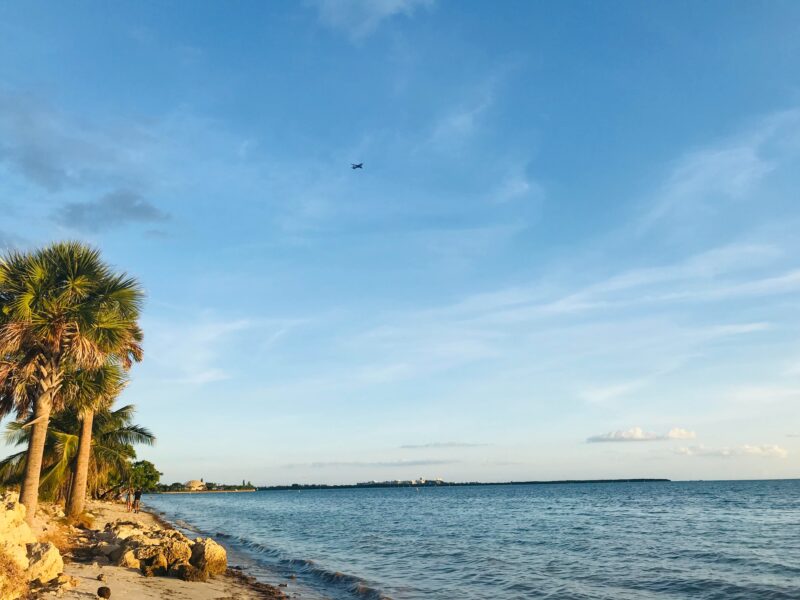 Hobie is deemed the only pet-friendly beach in all Miami-Dade County where pets can roam freely and play with owners. It's also a favorite for water sports lovers. From jet skiing to surfing to windsurfing to boating, there's a range of sports on offer at this amazing place. You can even rent a catamaran here and learn how to sail it.
The water is often quite shallow, making it perfect for those visiting with kids or four-legged companions. While enjoying windsurfing or Kayak, take some time to appreciate the amazing view, ranging from natural mangroves to Miami's looming buildings.
This is definitely one of the best Miami Florida beaches for those of you looking to relax with the whole gang!
3. North Beach
SoBe is a loud party beach, but North Beach is a quieter, slightly more reserved beach in Miami that's located in the North part of Miami Beach.
In addition to miles of gorgeous sand, North Beach also boasts a boardwalk frequented by runners, bikers, rollerblades, and dog walkers.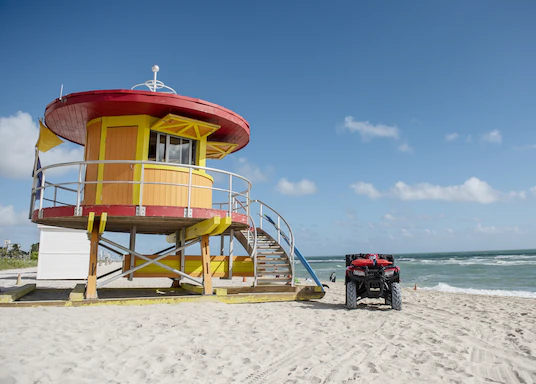 Here you can find all the best qualities that a great beach should have: clean water, showers, soft sand, concession, and restrooms. North Beach is close to many restaurants and shops too, making it a great less-crowded beach in Miami.
The North Beach Oceanside Park is located right on North Beach, which comprises 28 acres sandwiched between 78th and 87th street. Dotted with pavilions and trees, this is a jubilant place to escape from the burning sun and enjoy a BBQ (grills are available for use) or allow children to play on the playground.
Pro Tip: As is quite common on Florida beaches, seaweed can accumulate at certain times of the year, so either be prepared to step on some squishy spots or bring swim shoes.
2. Virginia Key Beach Park
Virginia Key Beach Park lies just off the Rickenbacker Causeway, south of Lummus Park. This mile-long island is home to the palm-tree-lined oasis and is a breath of fresh air compared to other, more trendy Miami beaches.
Virginia Key Beach Park is one of the most seduced beaches in Miami Florida, so it's great for those who want a quiet day by the ocean.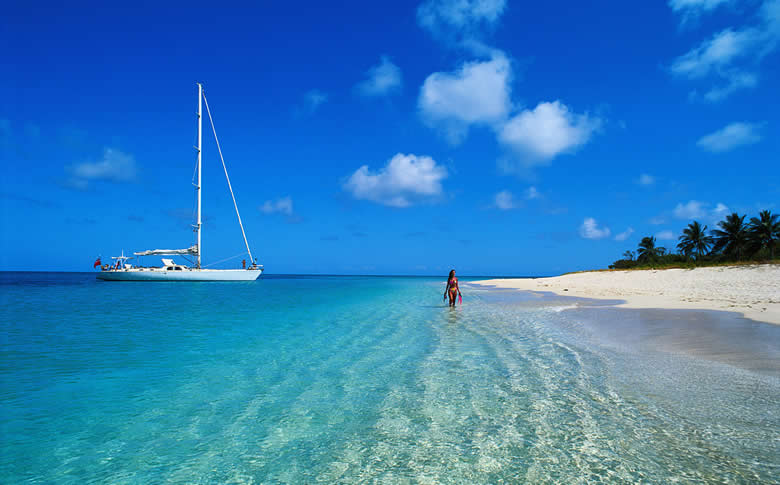 You will be surprised to see the old-time charm of this region and it's hard not to fall in love with this majestic beauty. This Miami beach harkens us back to days when we enjoy spending more time admiring the incredible nature than the screen of our gadgets.
You can enjoy the large sunbathing area, but there is also a carousel and small train which you can ride around the area. The beach also holds two big size playgrounds to keep children entertained. Basically, there's plenty to do for everyone!
Pro Tip: Bring water shoes. The ocean floor is a little rocky here, so you might want to put them on while you swim/explore.
1. South Pointe Park
South Pointe Park is home to the greenest area strands in Miami, so visiting South Pointe Park must be on your Miami beaches bucket list. South Pointe boasts the requisite white, sandy beach, with a lush 17 acres of a natural wonderland begging to be discovered.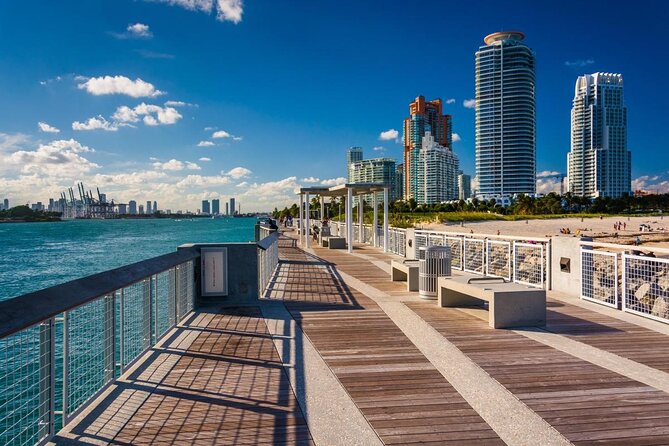 It's the well-maintained walking trails and attractive vistas of the Atlantic Ocean that make this beach in Miami stand out from the others.
Recently decorated in 2014, the 450 feet pier is a nirvana for the visitors. It has a special station for washing fish and cutting bait that makes it fully functional.
Are you planning to come with the kids? Don't worry, they have fun playgrounds, dog parks, and refreshing water features, making this one of the most family-friend beaches in Miami Florida.
I hope this list gives you a good overview of the beach Miami, Florida beaches to check out! Happy sunbathing!