The 4th of July is one of the best times of year to make super boozy drinks. These 4th of July jello shots are especially fun because they can turn into a group activity!
While I'm not always a fan of jello shots, these ones are actually really yummy.
Even my mom liked them and she hates the taste of alcohol. They're not weak, either!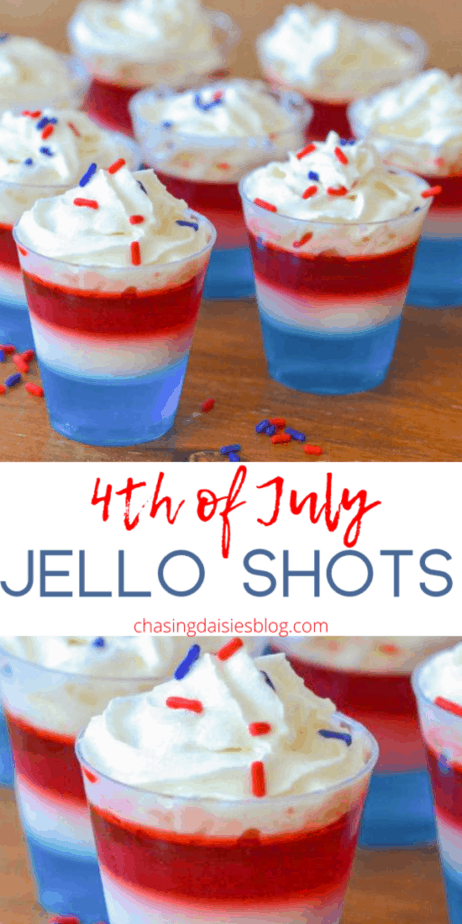 4th Of July Jello Shots Ingredients:
There really aren't too many ingredients in these 4th of July jello shots. I placed an Instacart order last week and had everything I needed!
You will need one pack of jello in each color. I chose to go with the cherry flavor for the red, berry flavored for the blue, and unflavored for the white so the flavors wouldn't clash.
I also recommend using flavored vodka if you want these 4th of July jello shots to taste really good. They'll certainly be a crowd favorite if you get the right vodka!
Cherry vodka works well for me, but this will depend on what jello flavors you find. Make sure to stick with a flavor that is on the sweeter side.
You will also need a juice that corresponds to each color. Using a sweetened juice makes a big difference; I don't recommend using water, although the jello pack instructions tells you to use plain water.
Juice works just as well and is much yummier!
I used red berry and blue berry punch for the two colors, then I tried using both sprite and coconut milk for the white layer.
You can also use water for the while layer if that's all you have. The flavor in the red and blue colors will definitely be enough for these 4th of July jello shots to taste super yummy.
Which Cups To Use:
Jello shots do not work in regular glass shot glasses.
You definitely need plastic shot cups so that you can scoop the jello out. The "bendier" the cup is, the better!
Try to steer clear of the super hard plastic. These cups on Amazon are a great option.
Make sure to order your shot cups ahead (or at the very least pick them up) because they can sometimes be hard to find. You definitely need clear glasses so you can see these beautiful shots!
Jello Shots Toppings:
This was my first time making these, and let me tell you: these guys are strong! Luckily, there's plenty of ways to add cute toppings that really tones down the taste of the alcohol, on top of the sweetened juice mix.
You can certainly add whipped cream on top like I did. This is always a big hit with guests because it makes these 4th of July jello shots feel more like a dessert.
American flag toothpicks would also be cute. I have also seen mini cocktail straws that are red, white, and blue. I'm sure guests who don't want to suck down these jello shots would love those!
What's really great about these 4th of July jello shots is that they last in the fridge for 4-5 days. You can even try out different toppings if you want to serve them during a few different occasions.
These 4th of July jello shots are always a huge hit at parties and cookouts!
4th Of July Jello Shots Recipe:
Here is the full recipe I used. It's pretty simple, but you will need to plan ahead since these jello shots need to chill in the fridge.
Yield: 30
4th of July Jello Shots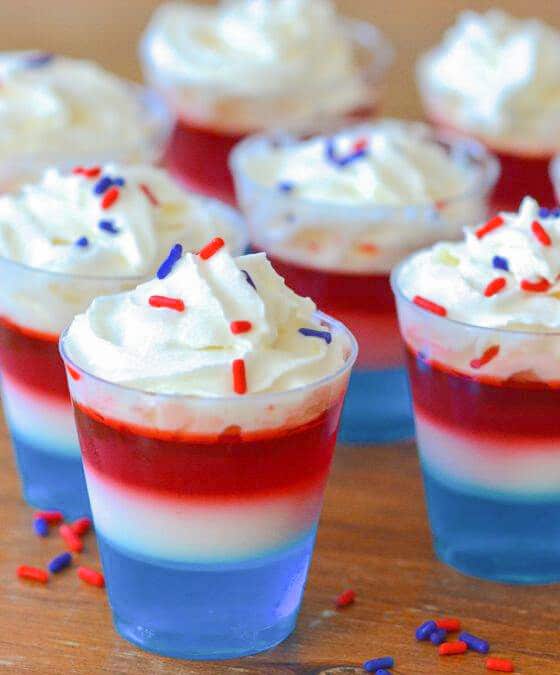 Delicious layered 4th of July jello shots with flavored vodka and a whipped cream topping.
Total Time
3 hours
30 minutes
Ingredients
30 clear shot glasses
1 pack each of red (cherry flavored), blue (berry flavored), and unflavored (or white) jello or gelatin
A corresponding juice that matches in color for each jello (think pink punch, blue berry juice, and sprite or coconut milk)
Flavored vodka
Whipped cream
Red, white, and blue sprinkles
Instructions
1. For the blue layer, boil one cup of the juice then stir in the jello packet. After about 2 minutes, remove the mixture from the heat and add one cup of vodka. Pour into 1/3 of each cup. Put the cups in the fridge for at least 3 hours.

2. Repeat these steps for each layer, but make sure to let the jello mix completely cool before pouring it, or the hot liquid will melt the layer below it (resulting in a sort of horrible brown mixture - trust me, it wasn't pretty). Each layer should be completely chilled in the fridge before you add the next.

3. Top with whip cream and sprinkles, then enjoy this super festive treat!
Pin To Save For Later: