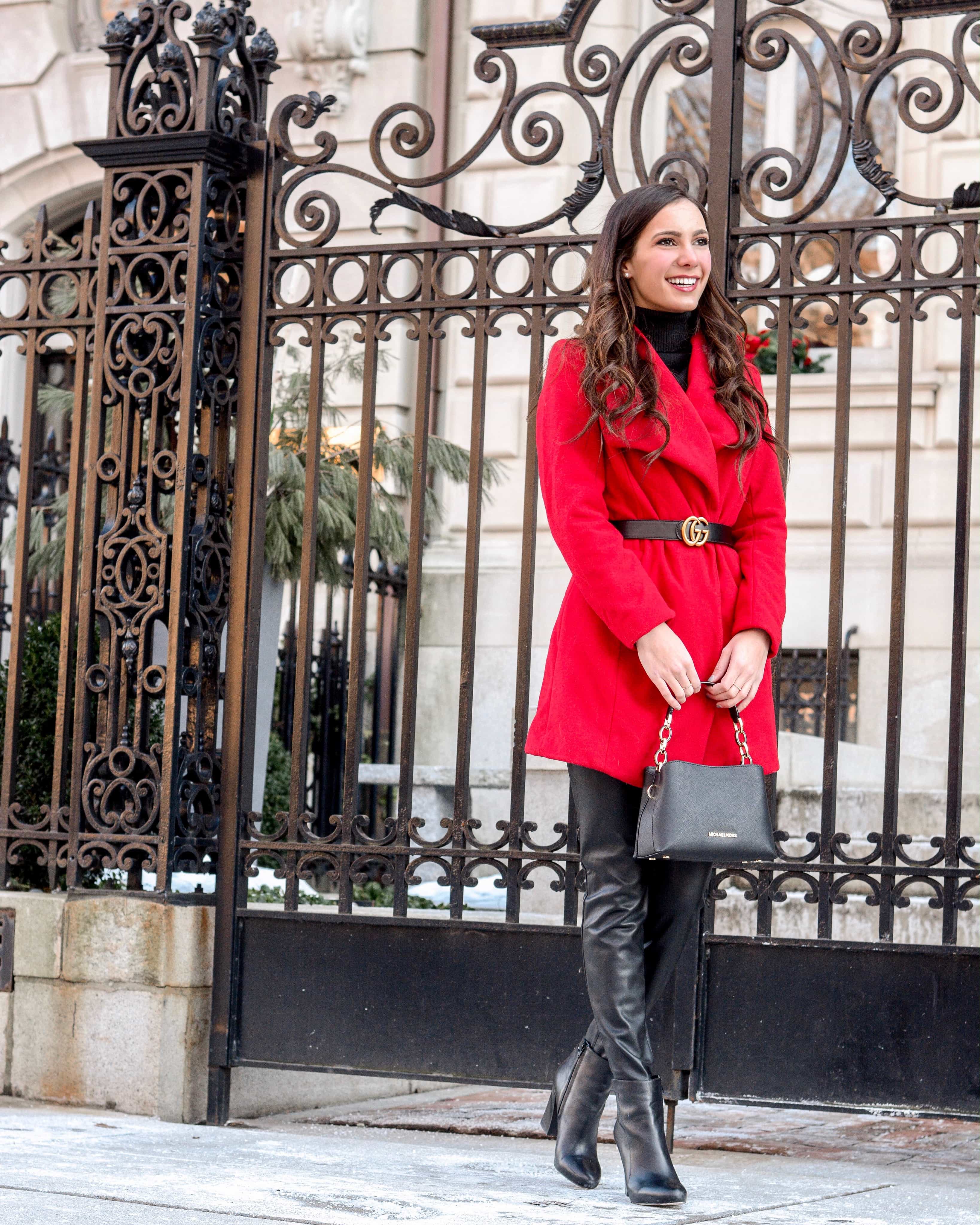 I love the belted winter coat look that's trending right now! It's super classy and tailored while remaining chic. There's also a ton of easy ways to style it.
This red coat from Forever 21 paired super well with my Gucci belt. It was a warm, sleek, and stylish outfit. What I love about this look is that you can wear it for a fancy night out or a simple walk to a cafe! The belt makes it a little more upscale without compromising the coat at all.
I like to pair these types of coats with skinny jeans, black ripped jeans, leather leggings, regular leggings (seamless), or even a dress or skirt with tights and booties.
I've compiled my favorite coats under $75 that go great with belts, then added a list of affordable belts (including dupe options) below. Some of these are great brands like Topshop and ASOS.
Scroll to the bottom of the page to enter my $400 Amazon Gift Card Giveaway!
Click on any of these options below to shop!
Coats:

Belts:
These are all pretty affordable options, mostly under $30-$40. If you want the real Gucci belt, click here. In my opinion, the main difference is that it lasts longer and is clearly real to anyone who knows their designer material well. There's lots of different options, such as the typical gold, glitter option, and silver.

Win a $400 Amazon Gift Card!
Win a $400 Amazon gift card by just giving a few minutes of your time!
How to enter
Entering is easy! Use the widget below to enter. You can earn points for every action you take (follow someone on Instagram, click through to a blog post, etc) The more actions you take, the more points you win! The widget will randomly pick a winner, so your odds increase with the more points you have!
Make sure to actually do an action as we check to make sure you really entered correctly and will not award prizes to people lying.
Email Newsletter
As a heads-up, by entering this giveaway, you are opting into all the hosts' email newsletters. You may opt out of their newsletters at anytime after receiving them.
If you're interested in an additional giveaway, head to my Instagram page to enter my latest giveaway for two $500 Target gift cards! Happy Valentine's Day!